Visited on: 19th October, 2017 and 30th March, 2018.
Location
Thiru Naaraiyur is situated at a distance of about 8 kms from Kattumannar Koil on the Kattumannar Koil to Chidambaram route, near Kumaratchi. It is about 18 kms from Chidambaram.
Other Devara Paadal Petra Shiva Sthalam near this place are – Omampuliyur, Thirukkadampur, Kanattampuliyur, Erukkathampuliyur (Rajendrapatinam) and Thiru Kudalaiyatrur.
General Information
Moolavar

Sri Soundareswarar, Sri Swayamprakasa Eswarar

Ambal

Sri Thiripurasundari

Theertham (Holy water)

Karunya Theertham

Sthala Vriksham (Sacred Tree)

Punnai tree

Pathigam (Hymn) rendered by

Saint Thirugnanasambanthar-3,
Saint Thirunavukarasar (Appar)-2

This is one of the 276 Devara Paadal Petra Shiva Sthalams and 33rd Shiva Sthalam on the northern bank of the river Cauvery in Chozha Nadu (Vadakarai).
Lord Shiva in this temple is a Swayambumurthi (self-manifested).
This east facing temple has a single corridor and its main tower (Raja Gopuram) has 3-tiers.

Lord Polla Pillaiyar (Vinayakar) in this temple is a Swayambu murthy and is very popular.

This is the birth place of Nambiyandar Nambi, who along with King Rajaraja Chola recovered the Saiva Thirumurais from the Chidambaram Shiva temple.

The last consecration ceremony (Kumbabishekam) took place on 06.09.2009.
History of the Temple
The most significant aspect of this temple is the Vinayakar – also called "Polla Pillaiyar". Polla Pillaiyar means that this idol is not chiselled but has appeared on its own as "Swayambu". He is very popular and regarded as the most powerful deity here.
This temple is under the administrative control of the Hindu Religious and Charitable Endowments Department of Government of Tamil Nadu (HR&CE).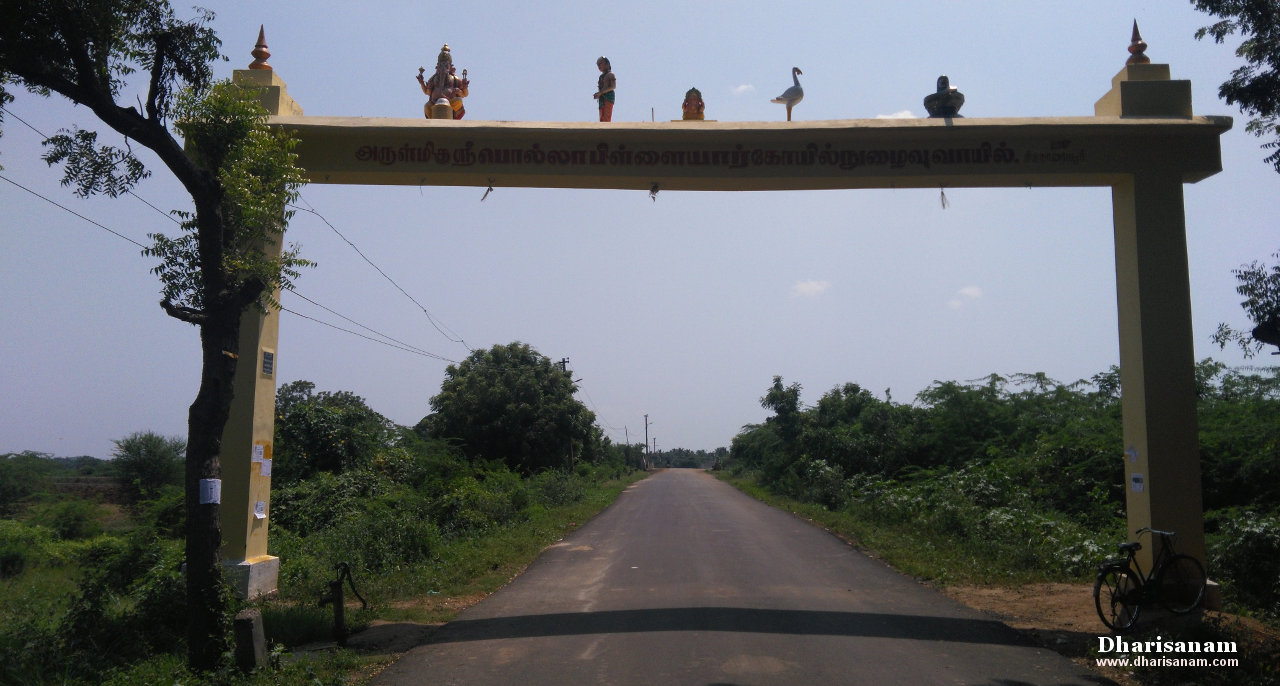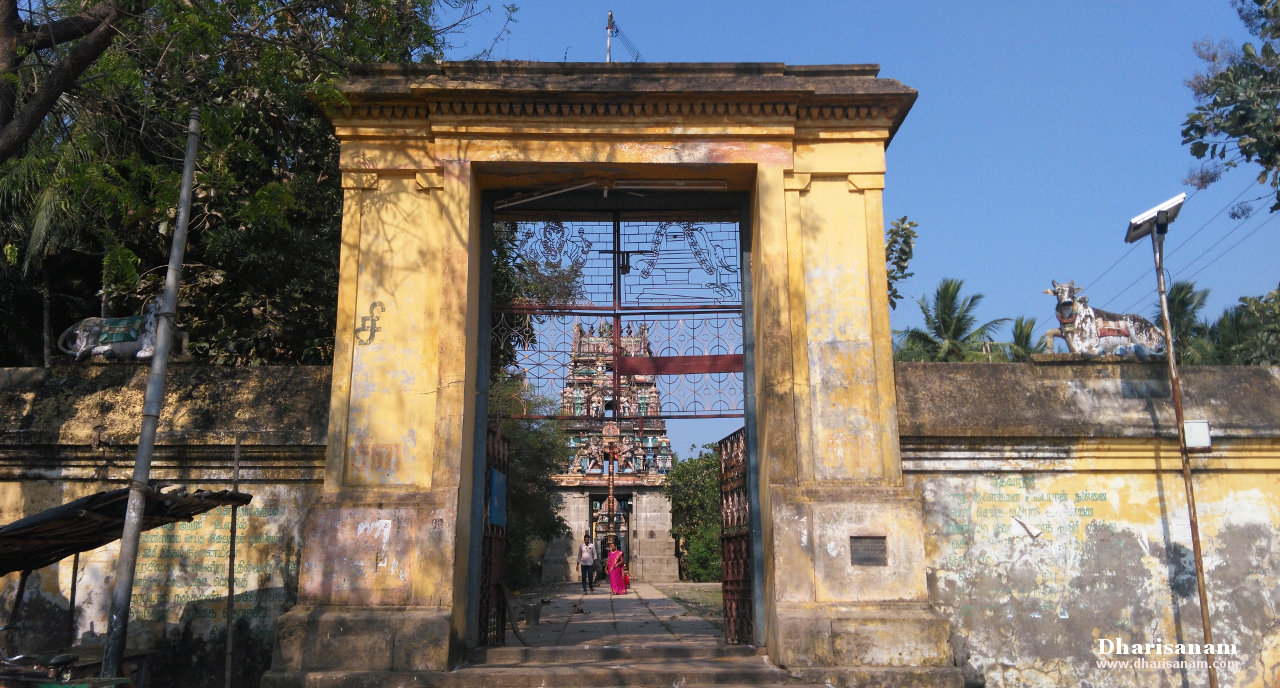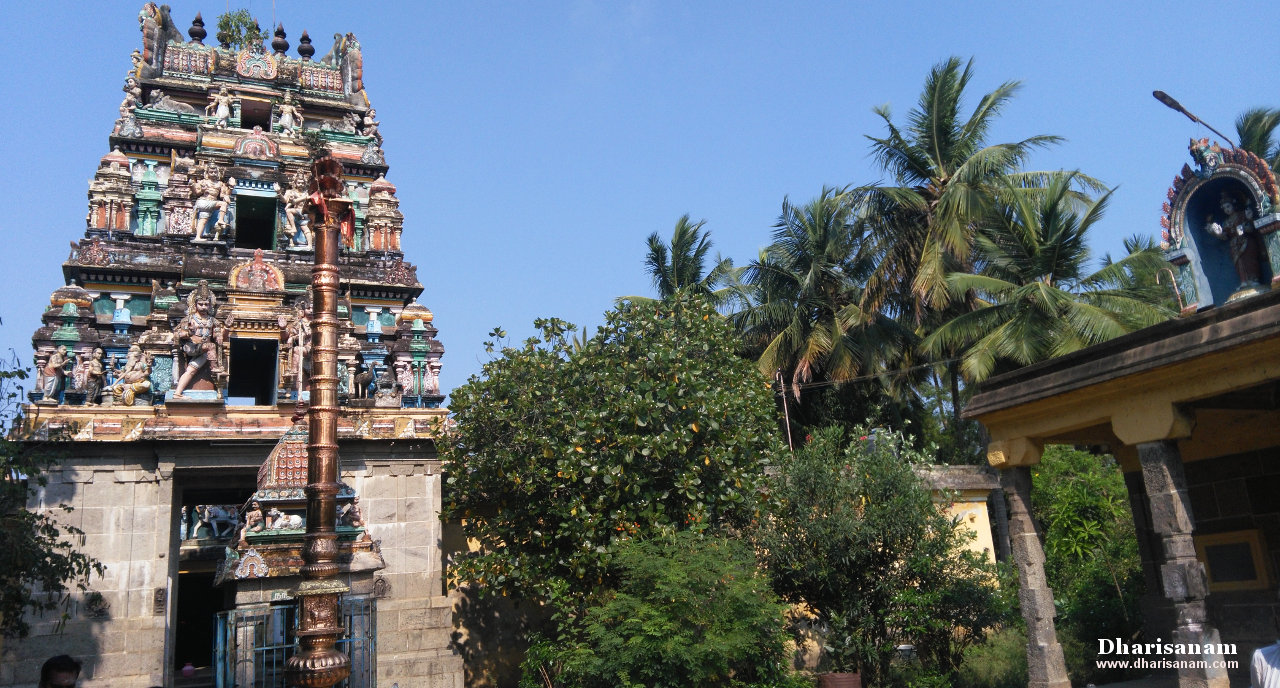 Legend
The legend associated with this temple is that of Sage Durvasa. The sage wanted to seek the darshan of Lord Shiva and was performing rigorous penance. His penance was disturbed by a Gandharva (dancers and singers from the celestial world). Sage Durvasa cursed the Gandharva that he would turn into a crane (Naarai bird). When he begged for forgiveness, the sage advised him to come to this place (Naraiyur) and worship the lord every day with water from the Ganges in Banaras to get relieved from this curse.
As a bird, the Gandharva flew to Varanasi (Kasi) every day as fast as he could, fetched water from the Ganges in his beak and performed abishekam. One day there was a heavy storm and he could not continue his journey against the direction of the winds. Despite all the hardships, the bird laboured on. Slowly, he lost all is feathers and started falling down. Some of the water that he was carrying for the abishekam also fell from his mouth. Lord Shiva was very pleased with his devotion and blessed him with salvation ("mukthi"). Hence this place gets the name Naraiyur and this temple is considered to be a "Mukthi Sthalam". The place where the water fell turned into a pond and it is now known as "Karunya Theertham". The place where the feathers fell is known as "Sirakizhantha Nallur" ("siraku" means wing and "vizhuntha" means "to fall" in Tamil). This village is about 3 kms away from this temple.
Another legend associated with this temple is that of Nambiyandar Nambi and Chola King Rajarajan (985-1014 AD). Nambiyandar Nambi was born in Thirunaaraiyur and his father Ananthesar was the temple priest. At a young age, Nambiyandar was well versed in the Vedas and agamas. As a young boy, he used to watch his father perform poojas in the temple. One day, when his father returned from the temple, he asked his father where the offering (nivedhanam) was. His father replied that the Vinayakar (Pollap Pillaiyar) had eaten it as usual. He had said this only in jest and the nivedhanam was distributed among the devotees.
One day, when his father had gone to a nearby village, Nambi was asked to perform poojas in the temple. After completing the regular poojas in the temple, he offered the nivedhanam to the Vinayakar and asked him to eat. However, there was no response from Lord Vinayakar idol. Nambi was worried that he had committed some mistakes in the poojas because of which the lord had refused the offering. He repeatedly requested the lord to eat the offerings. He started weeping and punishing himself by bashing his own head on the foot of the idol. Pleased with the sincere devotion of the child, Vinayakar came down to that shrine and stopped Nambi hurting himself. He also ate the offering. When Nambi told this story to his parents, they didn't believe him. Next day, his parents hid themselves in the shrine and watched in bewilderment as Lord Vinayakar started eating the offering.
The story of this miracle spread all across the nation. When King Rajaraja Cholan came to know about this miracle, he refused to believe it and decide to come to this place. The King came with some offerings and asked Nambi to offer it to the Pillaiyar. Initially, the lord did not take the offering. Nambi became worried and rendered his hymn which later came to be known as "Irattai Mani Malai". Pleased with his hymn, Vinayakar consumed the offerings in the presence of the gathering which included the king.
The King then bowed before the child and requested him to seek information about the whereabouts of the Devara hymns. On Nambi's request, Polla Pillaiyar, by way of a divine voice, said that the hymns were kept in a room in the Chidambaram Natarajar temple. The divine voice also informed him that on the door, there would be a symbol of "hand". Hence this Vinayakar is also praised as "Thirumurai Kattiya Vinayakar" (the lord who revealed the Thirumurais).
The lord further disclosed to Nambi the number of hymns rendered by each of the three saints -Thirugnanasambanthar (16000 pathigams), Thirunavukkarasar (4900 pathigams) and Sundharar (3800 pathigams).
The king took Nambi to Thillai Natarajar Temple at Chidambaram in search of the hymns written on the palm leaves. They found it in the room but most of them had been destroyed by termites.
Though the local Dikshithars from Chidambaram temple opposed this mission, the king intervened and helped Nambi procure these scripts and complete his task of compiling and arranging them. The king also assigned a few scholars to assist Nambi.
However, what could be recovered later was not even 10% of the total pathigams. The number of pathigams that were recovered are - Thirugnanasambanthar (383 pathigams), Thirunavukkarasar (313 pathigams) and Sundharar (100 pathigams) only. Nambi was saddened by the loss of so many pathigams. At that time, the divine voice was heard stating that whatever was essential had been recovered and instructed everyone to be content with it.
Nambi's "Irattai Mani Malai" hymn, available in the 11th Thirumurai, is considered very auspicious. It is sung before the Polla Pillaiyar here at every "Sankatahara Chuthurthi" festival.
To read Saint Nambiyandar Nambi's "Irattai Mani Malai" click here.
In Saint Sundarar's "Thiruthondar Thogai", the names of the 63 Nayanmars have been mentioned. Nambiyandar Nambi has written a brief history of each of the 63 Nayanmars. Saint Sekkizhar's "Periya Puranam" (also called "Thiruthondar Puranam") builds on the base provided by Nambi's work. Nambi is also one of the authors of the 11th Thirumurai of the "Panniru Thirumurai".
The whole Saivite world is indebted to these great people – King Rajaraja Chola and Nambiyandar Nambi – for recovering these priceless hymns, which would otherwise have never seen the light of the day.
Deities in the temple
Other than the shrines of Lord Shiva and Goddess Parvathy, shrines and idols of
Vinayakar (Polla Pillaiyar, a Swayambu Moorthy), Murugan, Thirumula Nathar, Natarajar, Gajalakshmi, Saneeswarar, Bairavar (3), Suryan, Navagraham and Bairavar, can be seen in the main hall and the corridors
There is a separate shrine in the corridor which houses the idols of Nalvar, Sekkizhar, Agasthiyar, Bagamunivar, Narayana Munivar and Ganapathy.
Also, in a separate shrine, the four Santhanacharyars - Meikanda Devar, Arul Nandhi Sivachariyar, Marai Ganasambanthar and Umapathy Sivachariyar can be seen.
There is a separate shrine for Polla Pillayaar. Idols of Nambiyandar Nambi and King Rajaraja Cholan can be seen in this shrine.
In the "koshtam" (place surrounding the sanctum sanctorum), idols of Dakshinamurthy, Annamalayar, Brahma, Durgai and Chandikeswarar (2) can be seen.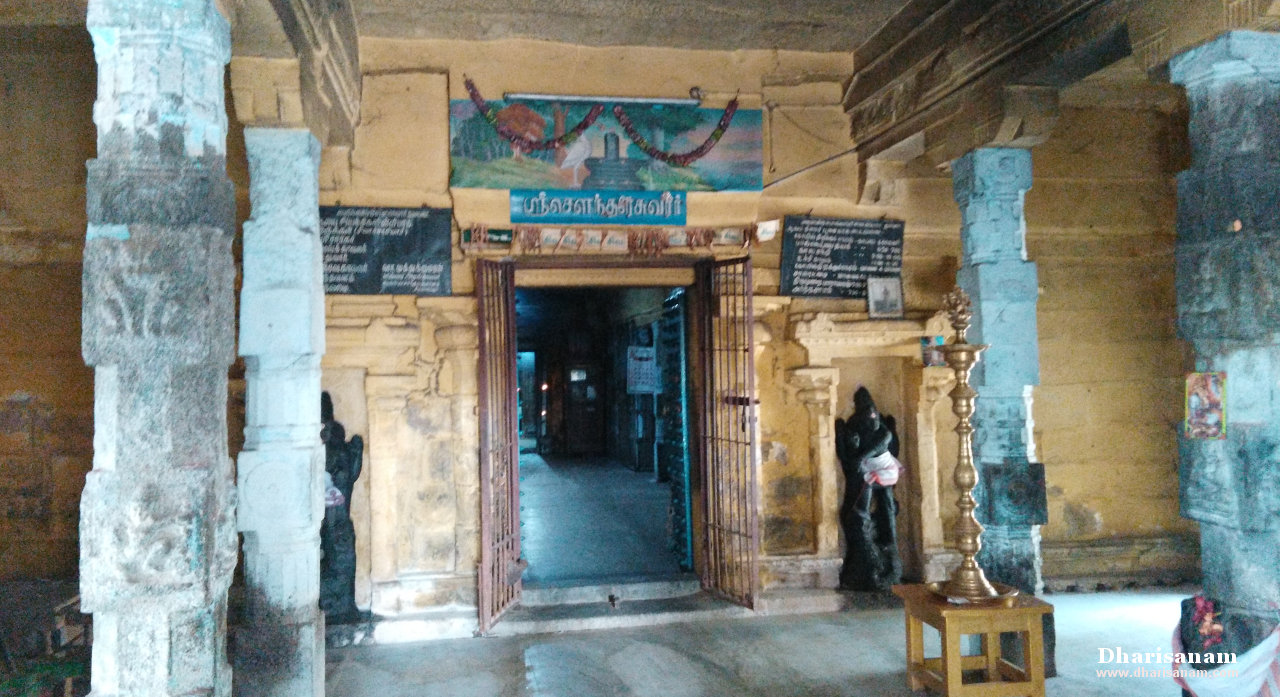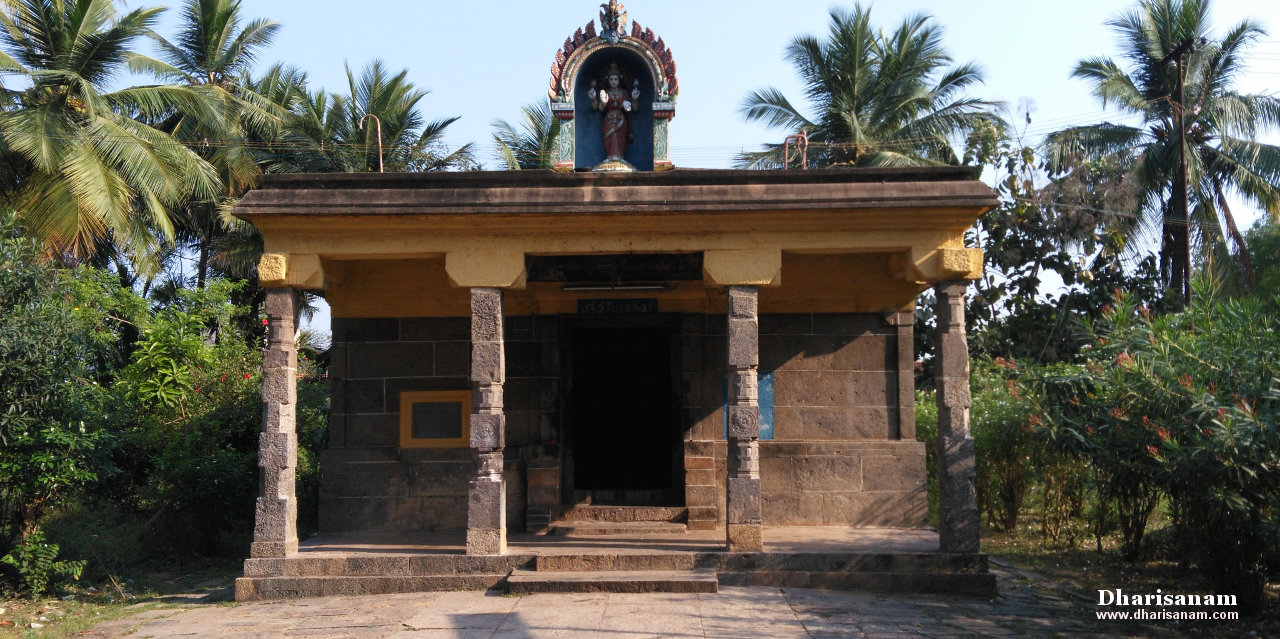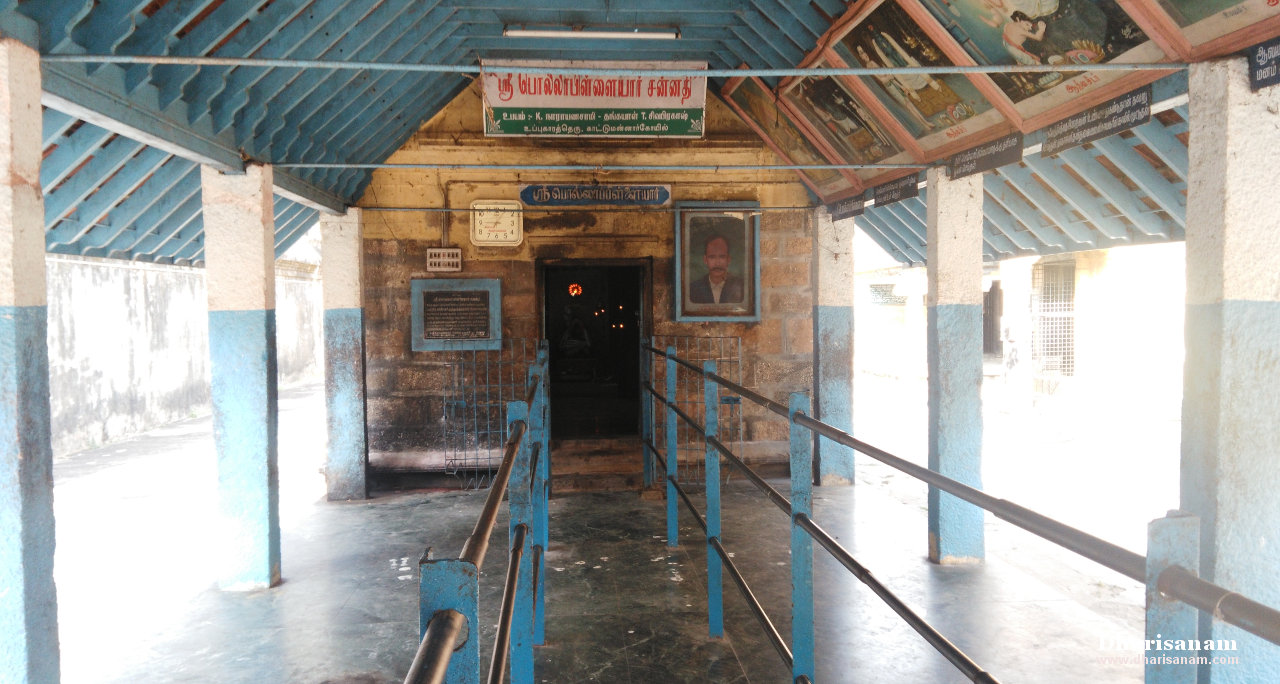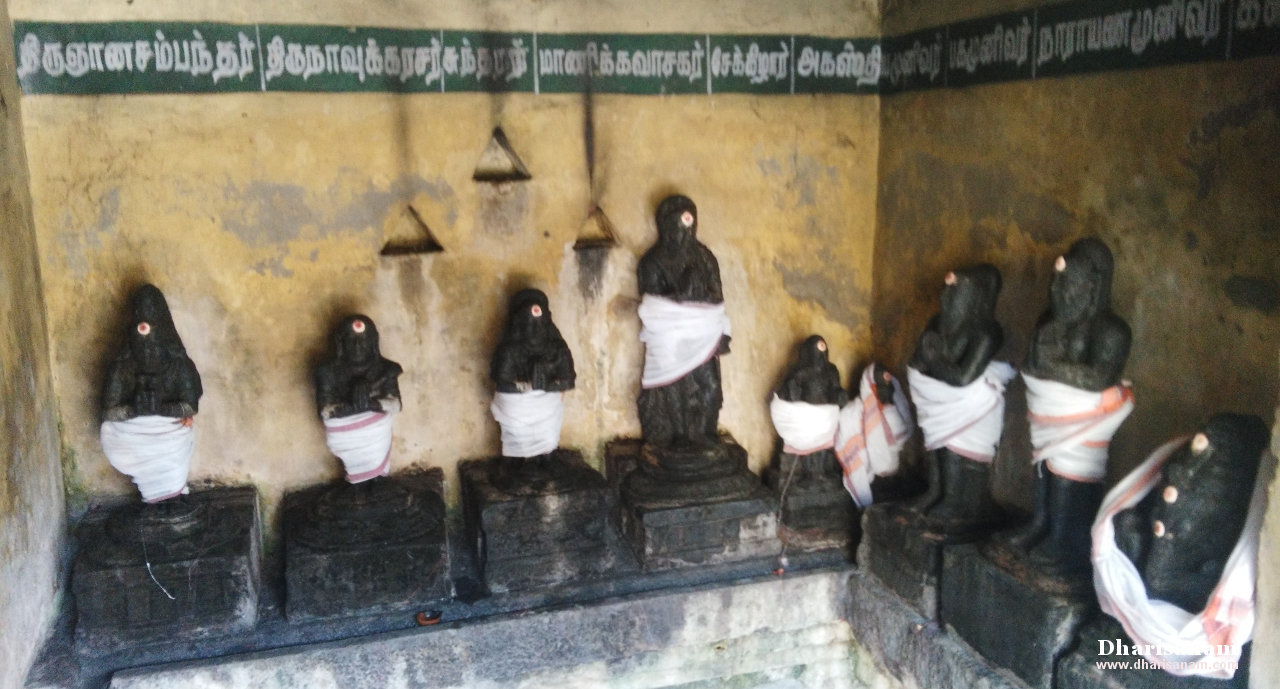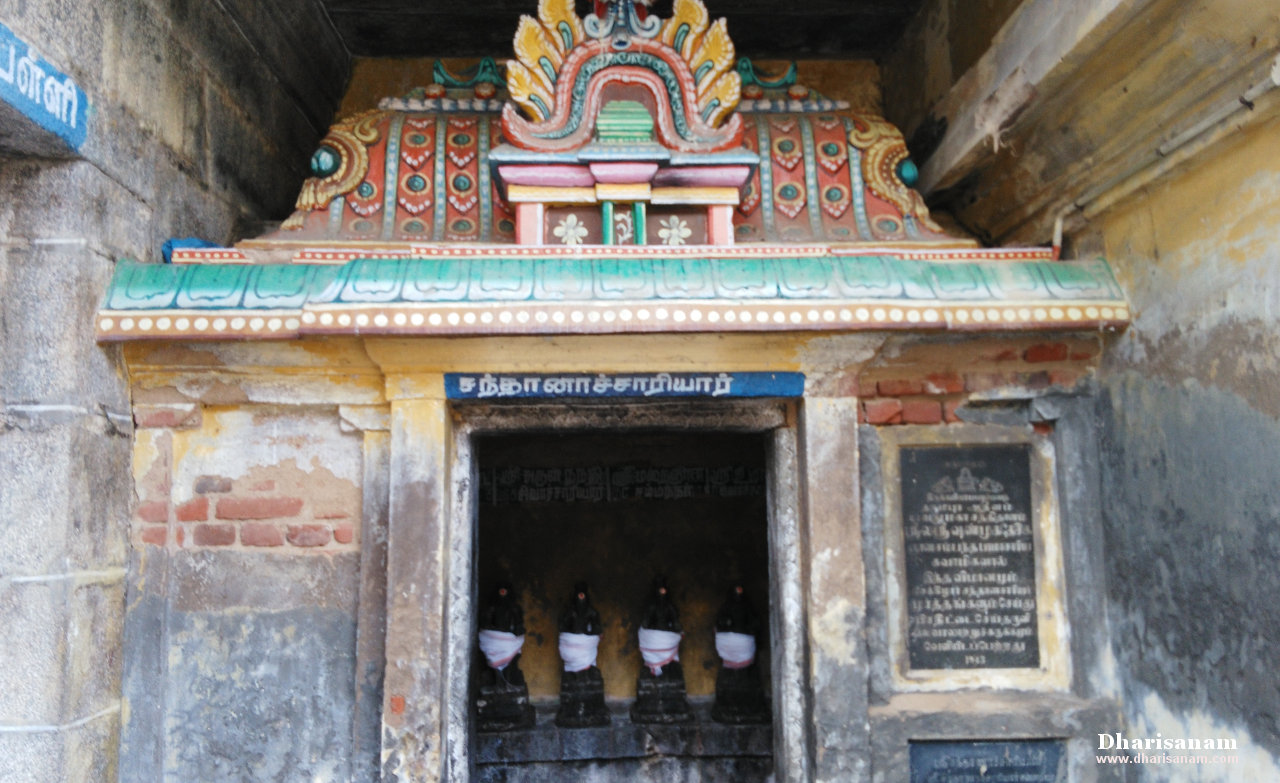 Salient Features
As the primary Shivalingam is "swayambu", the lord here is praised as "Sri Swayamprakasa Eswarar".
Like his brother Murugan, Lord Vinayakar also has six abodes. They are Thirunaraiyur (this place) Thiruvannamalai, Virudhachalam, Thirukkadaiyur, Madurai and Kasi. Thirunaraiyur is considered to be his first abode.
There are two Chandikeswarar here - one is for the Moolavar and the other one is for the Thirumulanathar.
The shikara on top of the sanctum sanctorum is in the shape of a half- moon. There are two "kalas" on top of it. This is an architectural rarity. It is believed that Goddess Parvathy is always a part of Lord Shiva, thus signifying the second Kalas.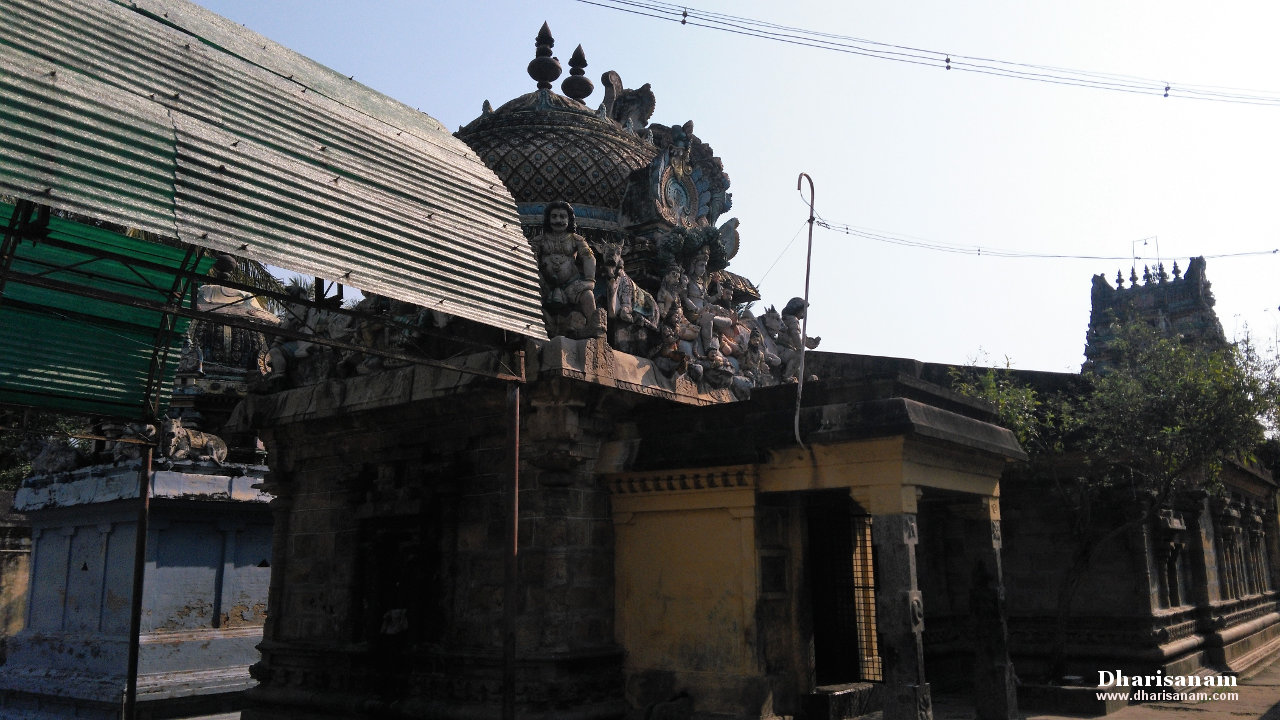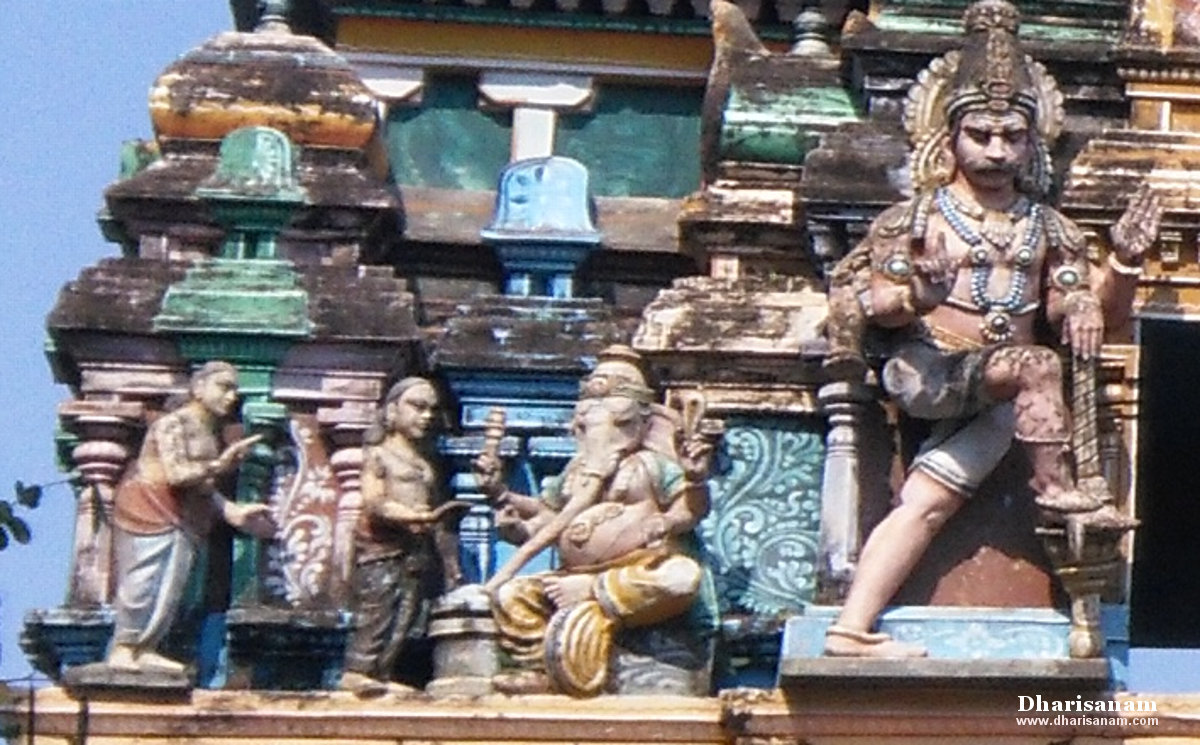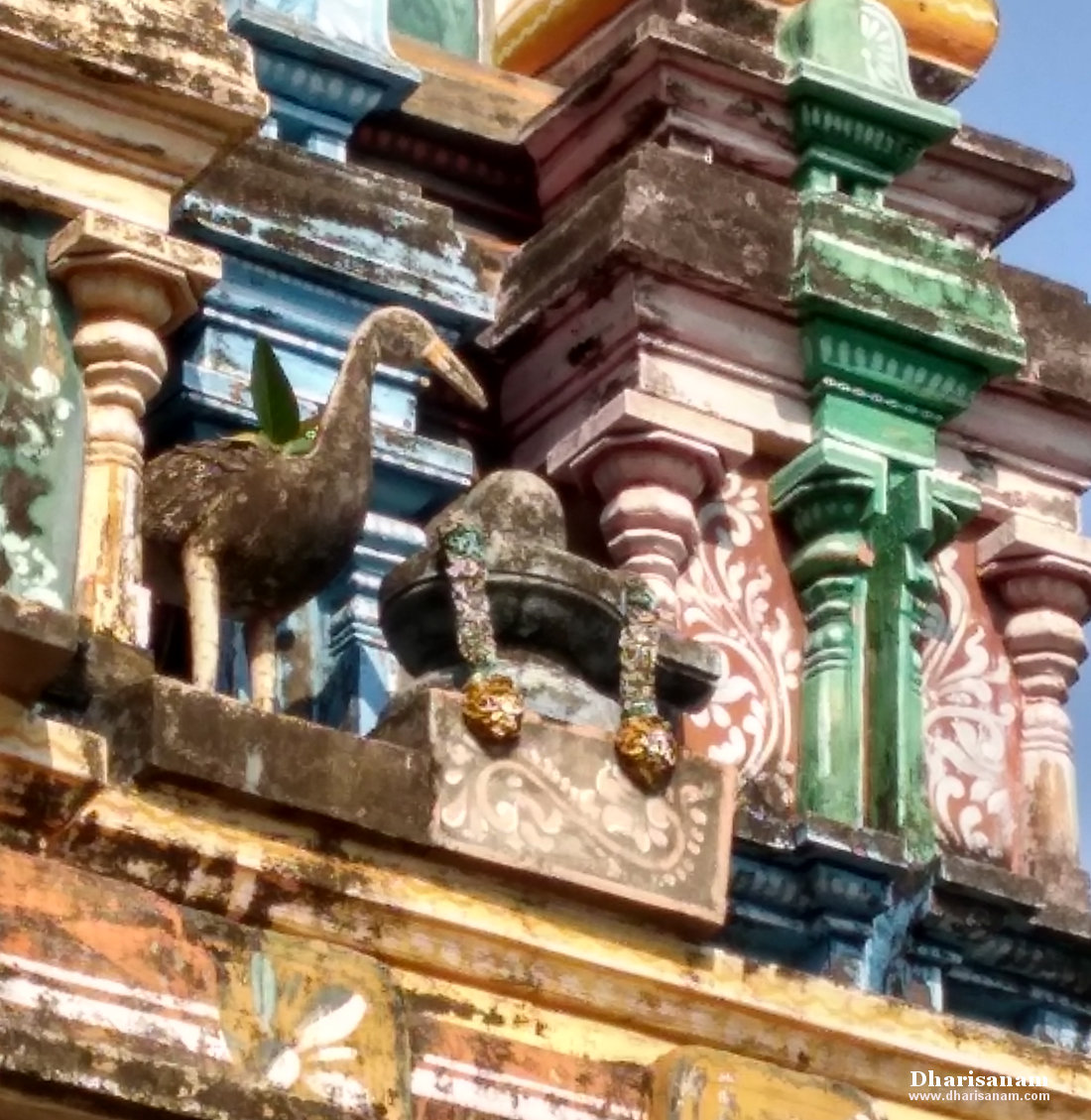 There is also a separate small temple for Nambiyandar Nambi in front of this temple.
During every "Sankatahara Chuthurthi" festival, Nambi's "Irattai Mani Maalai" Pathigam is recited before Polla Pillaiyar.
There are beautiful sculptures on either side of the second gopuram. On one side Polla Pillaiyar is shown taking offerings from Nambiyandar Nambi and on the other side, the sculpture depicts a crane (Naarai) worshiping a Shivalingam.
Greatness of this temple
By worshiping the lord here, devotees can seek forgiveness for all their sins – even those which were committed unknowingly.
Important Festivals
The highlights of this temple are the 13-day Brahmotsavam - Rajarajan festival and the Nambiyandar's Guru Poojai (date of salvation) festival which are celebrated in the Tamil month of Vaikasi (May-June).
Other important festivals celebrated in this temple are –
Vaikasi Visakam in the Tamil month of Vaikasi (May-June),
Vinayakar Chaturthi in the Tamil month of Aavani (Aug-Sept),
Skanda Shashti and Annabishekam in the Tamil month of Aippasi (Oct–Nov),
Thiru Karthikai in the Tamil month of Karthikai (Nov-Dec),
Thiruvadhirai in the Tamil month of Markazhi (Dec-Jan) and
Shivrathri in the Tamil month of Masi (Feb-Mar).
Pradosham is also observed regularly.
Note: It has been notified by the temple authorities that the Brahmotsavam festival will be celebrated this year (2018) after a long gap of 70 years.
Temple Timings
From 06.30 AM to 11.30 Noon and from 04.30 PM to 07.30 PM.
Temple Address
Sri Soundareswarar Temple,
Thiru Naaraiyur,
Kattumannarkoil Taluk,
Cuddalore District.
Tamil Nadu - 608 303.
Tele: +91- 98420 73704, 94439 06219.

The temple priest Sri Muthukumaraswamy Gurukkal can be contacted at 99432 54861.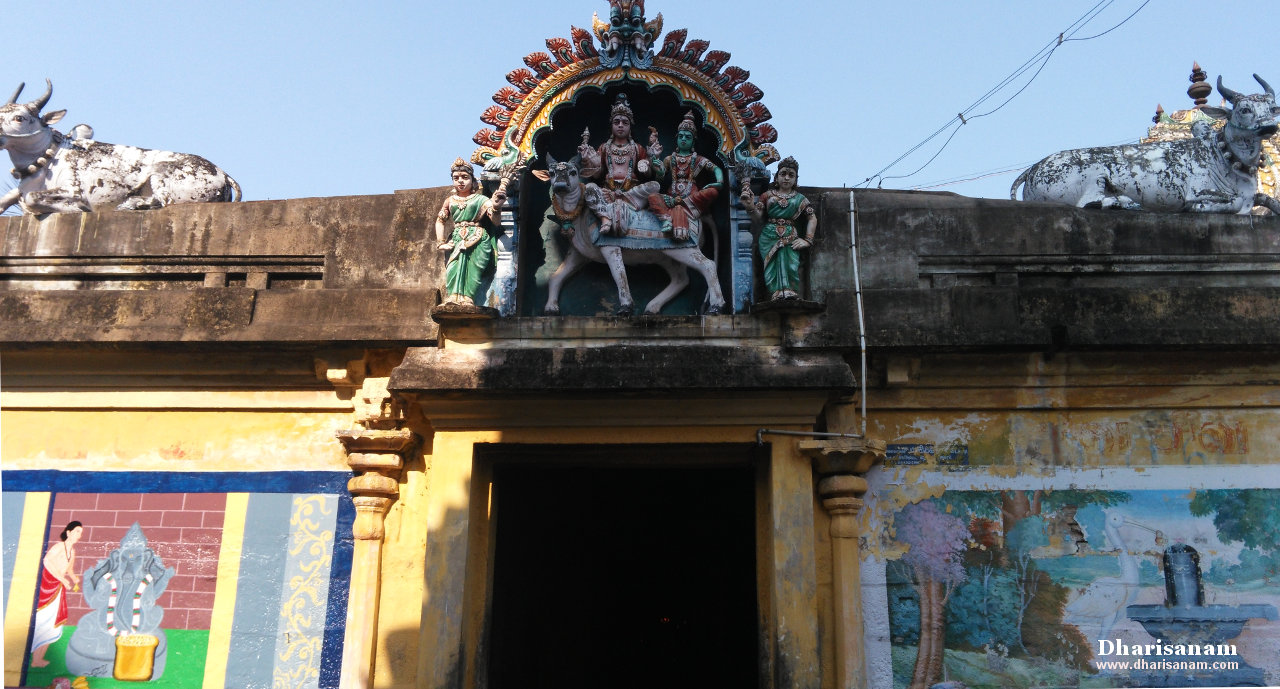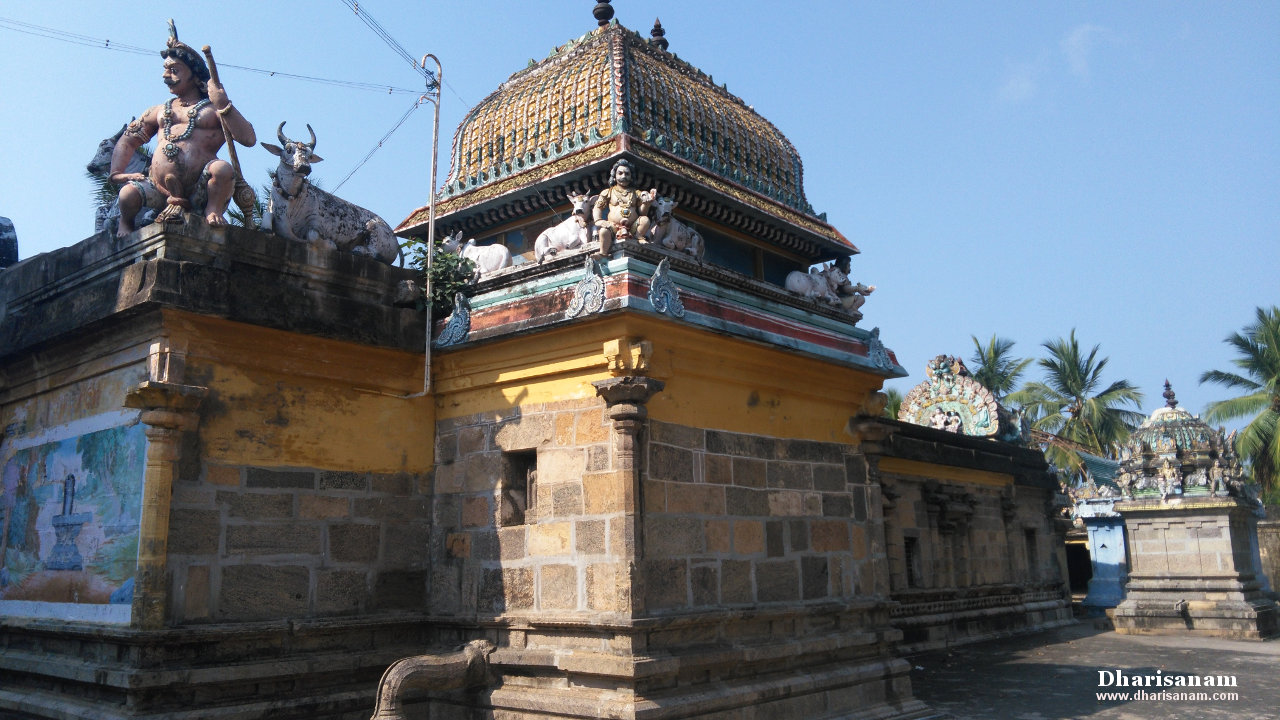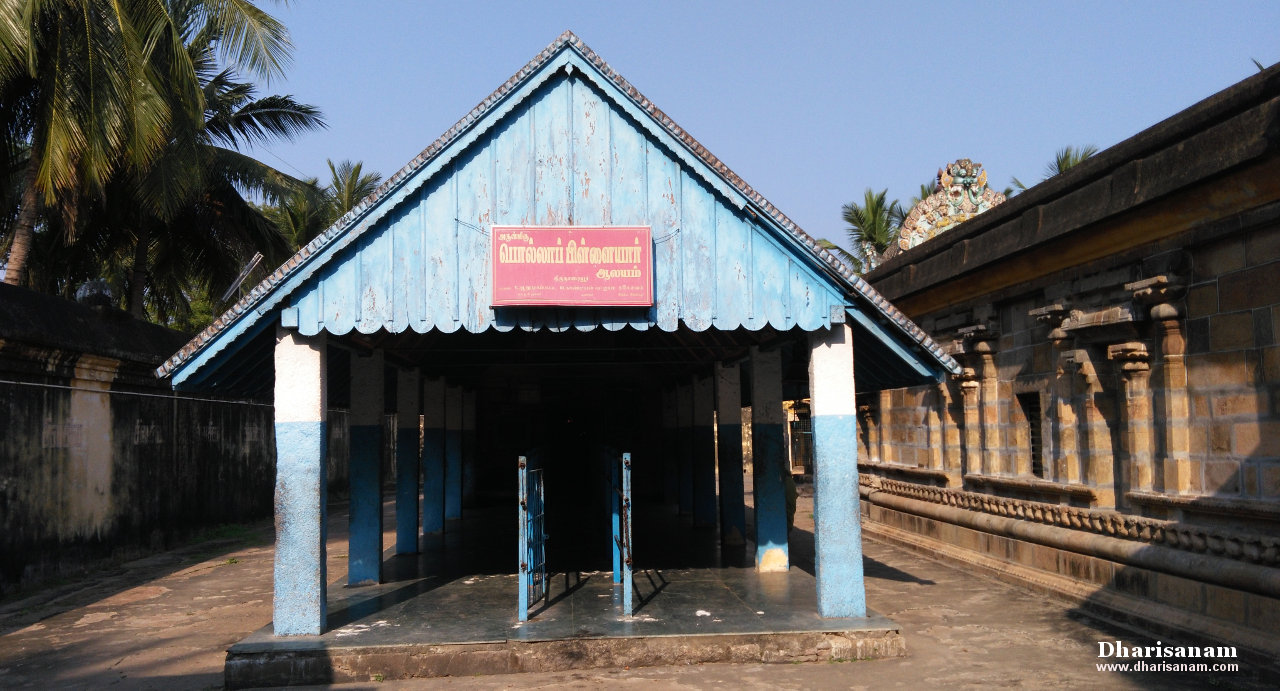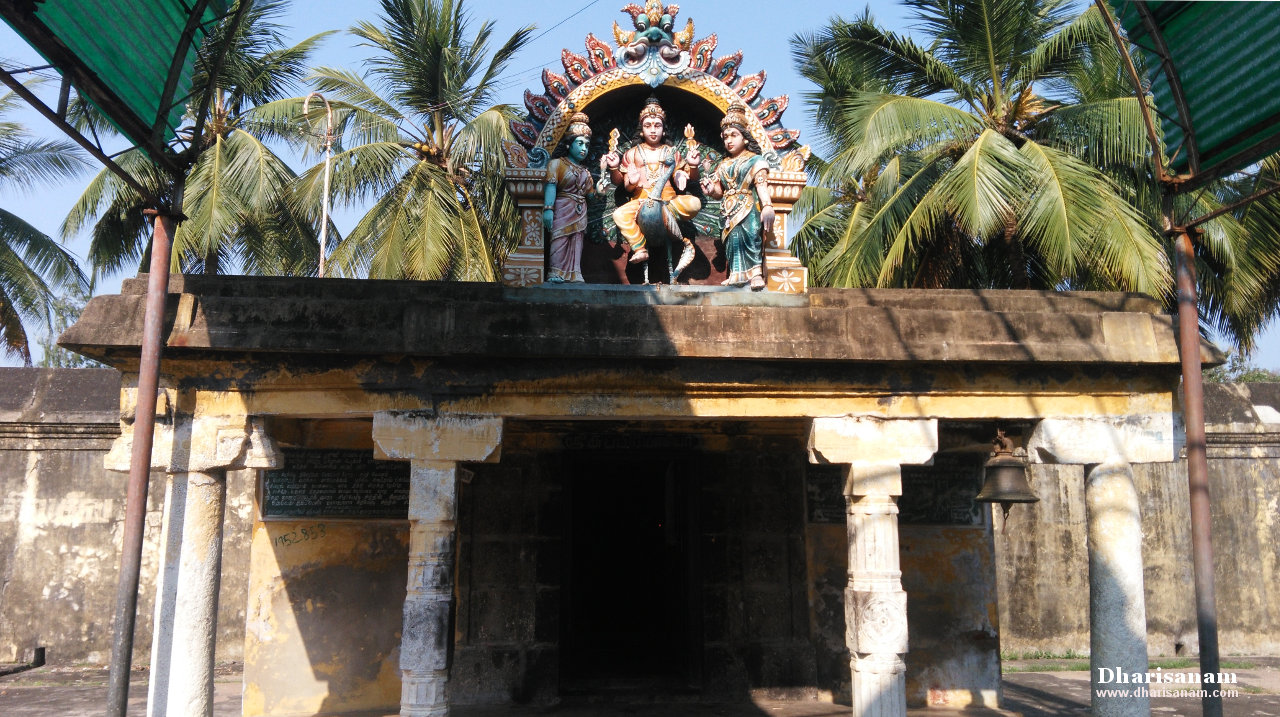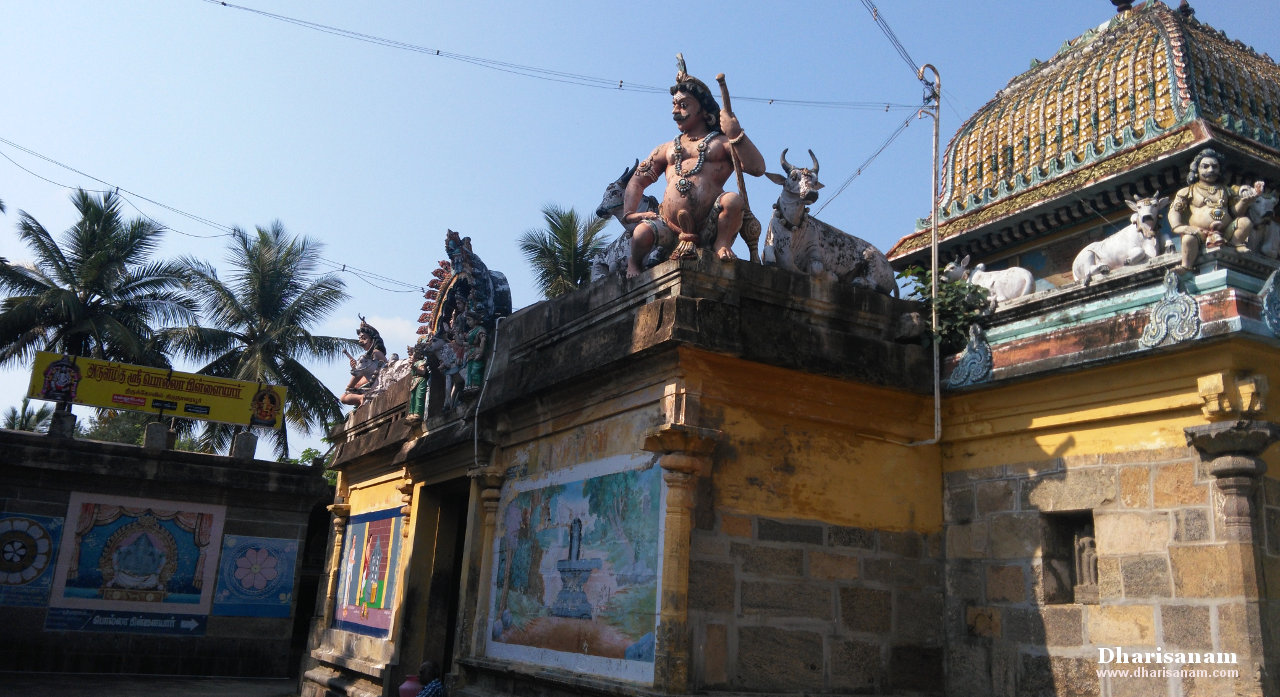 ---
Pathigam (Hymn) with English transliteration
Saint Thirunavukkarasar (Appar) visited this temple and sang this Pathigam.
Devotees visiting this temple should make it a practice to recite this Pathigam.
சொல்லானைப் பொருளானைச் சுருதி யானைச்
சுடராழி நெடுமாலுக் கருள்செய் தானை
அல்லானைப் பகலானை அரியான் றன்னை
அடியார்கட் கெளியானை அரண்மூன் றெய்த
வில்லானைச் சரம்விசயற் கருள்செய் தானை
வெங்கதிரோன் மாமுனிவர் விரும்பி யேத்தும்
நல்லானைத் தீயாடு நம்பன் றன்னை
நாரையூர் நன்னகரிற் கண்டேன் நானே.
"Sollāṉaip poruḷāṉaich suruthi yāṉaich
chuṭarāzhi neṭumāluk karuḷcey thāṉai
allāṉaip pakalāṉai ariyāṉ tṟaṉṉai
aṭiyārkaṭ keḷiyāṉai araṇmūṉ tṟeytha
villāṉaich charamvisayaṟ karuḷcey thāṉai
veṅkathirōṉ māmuṉivar virumpi yēththum
nallāṉaith thīyāṭu nampaṉ tṟaṉṉai
nāraiyūr naṉṉakariṟ kaṇṭēṉ nāṉē".
பஞ்சுண்ட மெல்லடியாள் பங்கன் றன்னைப்
பாரொடுநீர் சுடர்படர்காற் றாயி னானை
மஞ்சுண்ட வானாகி வானந் தன்னில்
மதியாகி மதிசடைமேல் வைத்தான் றன்னை
நெஞ்சுண்டென் நினைவாகி நின்றான் றன்னை
நெடுங்கடலைக் கடைந்தவர்போய் நீங்க வோங்கும்
நஞ்சுண்டு தேவர்களுக் கமுதீந் தானை
நாரையூர் நன்னகரிற் கண்டேன் நானே.
"Pañchuṇṭa mellaṭiyāḷ paṅkaṉ tṟaṉṉaip
pāroṭunīr suṭarpaṭarkāt ṟāyi ṉāṉai
mañchuṇṭa vāṉāki vāṉan thaṉṉil
mathiyāki mathisaṭaimēl vaiththāṉ tṟaṉṉai
neñchuṇṭeṉ niṉaivāki niṉtṟāṉ tṟaṉṉai
neṭuṅkaṭalaik kaṭainthavarpōy nīṅka vōṅkum
nañchuṇṭu thēvarkaḷuk kamuthīn thāṉai
nāraiyūr naṉṉakariṟ kaṇṭēṉ nāṉē".
மூவாதி யாவர்க்கும் மூத்தான் றன்னை
முடியாதே முதல்நடுவு முடிவா னானைத்
தேவாதி தேவர்கட்குந் தேவன் றன்னைத்
திசைமுகன்றன் சிரமொன்று சிதைத்தான் றன்னை
ஆவாத அடலேறொன் றுடையான் றன்னை
அடியேற்கு நினைதோறும் அண்ணிக் கின்ற
நாவானை நாவினில்நல் லுரையா னானை
நாரையூர் நன்னகரிற் கண்டேன் நானே.
"Mūvāthi yāvarkkum mūththāṉ tṟaṉṉai
muṭiyāthē muthalnaṭuvu muṭivā ṉāṉaith
thēvāthi thēvarkaṭkun thēvaṉ tṟaṉṉaith
thisaimukaṉtṟaṉ siramoṉtṟu sithaiththāṉ tṟaṉṉai
āvāta aṭalēṟoṉ tṟuṭaiyāṉ tṟaṉṉai
aṭiyēṟku niṉaithōṟum aṇṇik kiṉtṟa
nāvāṉai nāviṉilnal luraiyā ṉāṉai
nāraiyūr naṉṉakariṟ kaṇṭēṉ nāṉē".
செம்பொன்னை நன்பவளந் திகழு முத்தைச்
செழுமணியைத் தொழுமவர்தஞ் சித்தத் தானை
வம்பவிழும் மலர்க்கணைவேள் உலக்க நோக்கி
மகிழ்ந்தானை மதிற்கச்சி மன்னு கின்ற
கம்பனையெங் கயிலாய மலையான் றன்னைக்
கழுகினொடு காகுத்தன் கருதி யேத்தும்
நம்பனையெம் பெருமானை நாதன் றன்னை
நாரையூர் நன்னகரிற் கண்டேன் நானே.
"Sempoṉṉai naṉpavaḷan thikazhu muththaich
chezhumaṇiyaith thozhumavarthañ chiththath thāṉai
vampavizhum malarkkaṇaivēḷ ulakka nōkki
makizhnthāṉai mathiṟkachchi maṉṉu kiṉtṟa
kampaṉaiyeṅ kayilāya malaiyāṉ tṟaṉṉaik
kazhukiṉoṭu kākuththaṉ karuthi yēththum
nampaṉaiyem perumāṉai nāthaṉ tṟaṉṉai
nāraiyūr naṉṉakariṟ kaṇṭēṉ nāṉē".
புரையுடைய கரியுரிவைப் போர்வை யானைப்
புரிசடைமேற் புனலடைத்த புனிதன் றன்னை
விரையுடைய வெள்ளெருக்கங் கண்ணி யானை
வெண்ணீறு செம்மேனி விரவி னானை
வரையுடைய மகள்தவஞ்செய் மணாளன் றன்னை
வருபிணிநோய் பிரிவிக்கும் மருந்து தன்னை
நரைவிடைநற் கொடியுடைய நாதன் றன்னை
நாரையூர் நன்னகரிற் கண்டேன் நானே.
"Puraiyuṭaiya kariyurivaip pōrvai yāṉaip
purisaṭaimēṟ puṉalaṭaiththa puṉithaṉ tṟaṉṉai
viraiyuṭaiya veḷḷerukkaṅ kaṇṇi yāṉai
veṇṇīṟu sem'mēṉi viravi ṉāṉai
varaiyuṭaiya makaḷthavañchey maṇāḷaṉ tṟaṉṉai
varupiṇinōy pirivikkum marunthu thaṉṉai
naraiviṭainaṟ koṭiyuṭaiya nāthaṉ tṟaṉṉai
nāraiyūr naṉṉakariṟ kaṇṭēṉ nāṉē".
பிறவாதும் இறவாதும் பெருகி னானைப்
பேய்பாட நடமாடும் பித்தன் றன்னை
மறவாத மனத்தகத்து மன்னி னானை
மலையானைக் கடலானை வனத்து ளானை
உறவானைப் பகையானை உயிரா னானை
உள்ளானைப் புறத்தானை ஓசை யானை
நறவாரும் பூங்கொன்றை சூடி னானை
நாரையூர் நன்னகரிற் கண்டேன் நானே.
"Piṟavāthum iṟavāthum peruki ṉāṉaip
pēypāṭa naṭamāṭum piththaṉ tṟaṉṉai
maṟavātha maṉaththakaththu maṉṉi ṉāṉai
malaiyāṉaik kaṭalāṉai vaṉaththu ḷāṉai
uṟavāṉaip pakaiyāṉai uyirā ṉāṉai
uḷḷāṉaip puṟaththāṉai ōsai yāṉai
naṟavārum pūṅkoṉtṟai chūṭi ṉāṉai
nāraiyūr naṉṉakariṟ kaṇṭēṉ nāṉē".
தக்கனது வேள்விகெடச் சாடி னானைத்
தலைகலனாப் பலியேற்ற தலைவன் றன்னைக்
கொக்கரைசச் சரிவீணைப் பாணி யானைக்
கோணாகம் பூணாகக் கொண்டான் றன்னை
அக்கினொடும் என்பணிந்த அழகன் றன்னை
அறுமுகனோ டானைமுகற் கப்பன் றன்னை
நக்கனைவக் கரையானை நள்ளாற் றானை
நாரையூர் நன்னகரிற் கண்டேன் நானே.
"Thakkaṉathu vēḷvikeṭach chāṭi ṉāṉaith
thalaikalaṉāp paliyētṟa thalaivaṉ tṟaṉṉaik
kokkaraisach charivīṇaip pāṇi yāṉaik
kōṇākam pūṇākak koṇṭāṉ tṟaṉṉai
akkiṉoṭum eṉpaṇintha azhakaṉ tṟaṉṉai
aṟumukaṉō ṭāṉaimukaṟ kappaṉ tṟaṉṉai
nakkaṉaivak karaiyāṉai naḷḷāt ṟāṉai
nāraiyūr naṉṉakariṟ kaṇṭēṉ nāṉē".
அரிபிரமர் தொழுதேத்தும் அத்தன் றன்னை
அந்தகனுக் கந்தகனை அளக்க லாகா
எரிபுரியும் இலிங்கபுரா ணத்து ளானை
எண்ணாகிப் பண்ணா ரெழுத்தா னானைத்
திரிபுரஞ்செற் றொருமூவர்க் கருள்செய் தானைச்
சிலந்திக்கும் அரசளித்த செல்வன் றன்னை
நரிவிரவு காட்டகத்தி லாட லானை
நாரையூர் நன்னகரிற் கண்டேன் நானே.
"Aripiramar thozhutēththum aththaṉ tṟaṉṉai
anthakaṉuk kanthakaṉai aḷakka lākā
eripuriyum iliṅkapurā ṇaththu ḷāṉai
eṇṇākip paṇṇā rezhuththā ṉāṉaith
thiripurañchetṟ ṟorumūvark karuḷsey thāṉaich
silanthikkum arasaḷiththa selvaṉ tṟaṉṉai
nariviravu kāṭṭakaththi lāṭa lāṉai
nāraiyūr naṉṉakariṟ kaṇṭēṉ nāṉē".
ஆலால மிடற்றணியா அடக்கி னானை
ஆலதன்கீழ் அறம்நால்வர்க் கருள்செய் தானைப்
பாலாகித் தேனாகிப் பழமு மாகிப்
பைங்கரும்பா யங்கருந்துஞ் சுவையா னானை
மேலாய வேதியர்க்கு வேள்வி யாகி
வேள்வியினின் பயனாய விமலன் றன்னை
நாலாய மறைக்கிறைவ னாயி னானை
நாரையூர் நன்னகரிற் கண்டேன் நானே.
"Ālāla miṭatṟaṇiyā aṭakki ṉāṉai
ālathaṉkīzh aṟamnālvark karuḷsey thāṉaip
pālākith thēṉākip pazhamu mākip
paiṅkarumpā yaṅkarunthuñ suvaiyā ṉāṉai
mēlāya vēthiyarkku vēḷvi yāki
vēḷviyiṉiṉ payaṉāya vimalaṉ tṟaṉṉai
nālāya maṟaikkiṟaiva ṉāyi ṉāṉai
nāraiyūr naṉṉakariṟ kaṇṭēṉ nāṉē".
மீளாத ஆளென்னை உடையான் றன்னை
வெளிசெய்த வழிபாடு மேவி னானை
மாளாமை மறையவனுக் குயிரும் வைத்து
வன்கூற்றின் உயிர்மாள உதைத்தான் றன்னைத்
தோளாண்மை கருதிவரை யெடுத்த தூர்த்தன்
தோள்வலியுந் தாள்வலியுந் தொலைவித் தாங்கே
நாளோடு வாள்கொடுத்த நம்பன் றன்னை
நாரையூர் நன்னகரிற் கண்டேன் நானே.
"Mīḷātha āḷeṉṉai uṭaiyāṉ tṟaṉṉai
veḷiseytha vazhipāṭu mēvi ṉāṉai
māḷāmai maṟaiyavaṉuk kuyirum vaiththu
vaṉkūtṟiṉ uyirmāḷa uthaiththāṉ tṟaṉṉaith
thōḷāṇmai karuthivarai yeṭuththa thūrththaṉ
thōḷvaliyun thāḷvaliyun tholaivith thāṅkē
nāḷōṭu vāḷkoṭuththa nampaṉ hṟaṉṉai
nāraiyūr naṉṉakariṟ kaṇṭēṉ nāṉē".