"Shubham karoti kalyanam Arogyam Dhanasampada
Shatru buddhi vinashaya Deepa Jyoti namostute"
Jyothi means "radiance" and lingam the "Image or Sign" of Shiva - Jyothir Lingam thus means the Radiant Sign of the Lord Shiva. The legend goes like this - according to Shiva Mahapuraṇa, once Brahma - the lord of creation and Vishnu - the lord of Preservation had an argument over supremacy. To settle the debate, Lord Shiva said that whosoever could find the top or bottom portion of his body would be considered as supreme. Lord Shiva pierced the three worlds appearing as an infinite pillar of light. Vishnu and Brahma split their ways to downward and upward directions respectively to find the end of the light in either directions. Brahma lied that he found out the end, while Vishnu conceded his defeat. In support of his claim, Brahma gave an evidence of a flower called Thazhampoo. Since Lord Shiva knew that Brahma was lying, he cursed him that he would not be worshiped in a separate temple and the flower would not be accepted for worship.
It is said that this infinite pillar of light that lord Shiva transformed into is called the Jyothirlingam. This later cooled to form the holy mountain of Annamalai, where the Arunachaleshwarar temple is located.
The jyothirlingam shrines are places where Lord Shiva appeared as a fiery column of light. In all these temples, the primary deity is lingam representing the 'beginning less' and 'endless' pillar, symbolizing the infinite nature of Lord Shiva.
The Jyothirlingam in all Shiva temples is worshiped in the form of Lingothbavar which is located just behind the sanctum sanctorum. It is believed that there are 64 such Jyothirlingam shrines but 12 of them are considered as the most important and auspicious.
Jyothirlinga Slokam
"Saurashtre Somanathamcha Srisaile Mallikarjunam|
Ujjayinya Mahakalam Omkaramamaleswaram ||
Paralyam Vaidyanathancha Dakinyam Bheema Shankaram |
Setu Bandhethu Ramesam, Nagesam Darukavane||
Varanasyantu Vishwesam Tryambakam Gautameethate|
Himalayetu Kedaaram, Ghrishnesamcha shivaalaye||
Etani jyotirlingani, Saayam Praatah Patennarah|
Sapta Janma Kritam papam, Smaranena Vinashyati||"
It is believed that if one recites this Jyothirlinga Slokam daily, he/she is relieved of all sins committed in past lives.
Sri Somnath Temple
Location: Prabhas Patan, near Veraval, Saurashtra region, Gujarat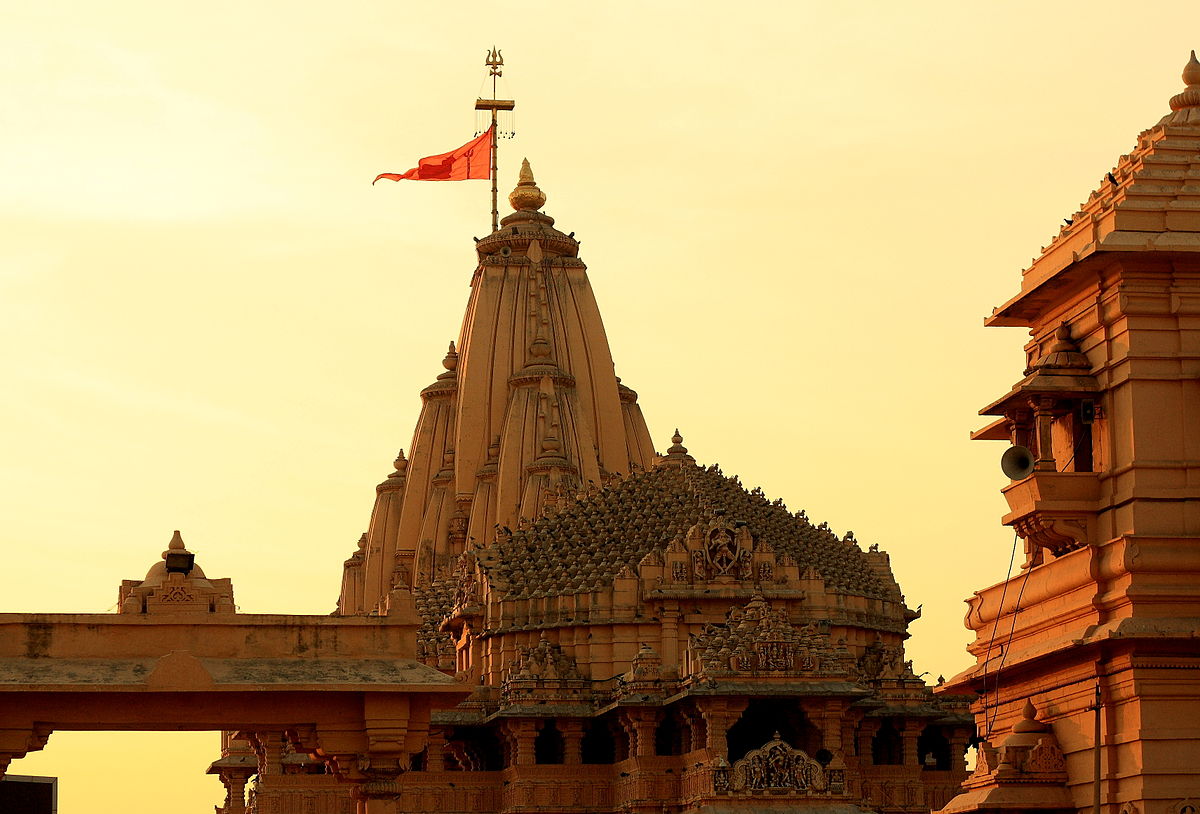 Somnath is traditionally considered the first pilgrimage place. The history reveals that this temple was continuously looted, destroyed and re-built seventeen times by the Muslim invaders and rulers, especially by Ghazni Mahammmad. Even the original Swayambhu lingam was said to have been destroyed by Ghazni. Another lingam was reinstated at a later date. This temple has significance reverence throughout India and is rich in legend, tradition, and history. It is believed that praying at this temple helps devotees getting rid of illness.
Sri Mallikarjunar Temple
Location: Kurnool District in Rayalaseema, Andhra Pradesh (also called as Srisailam)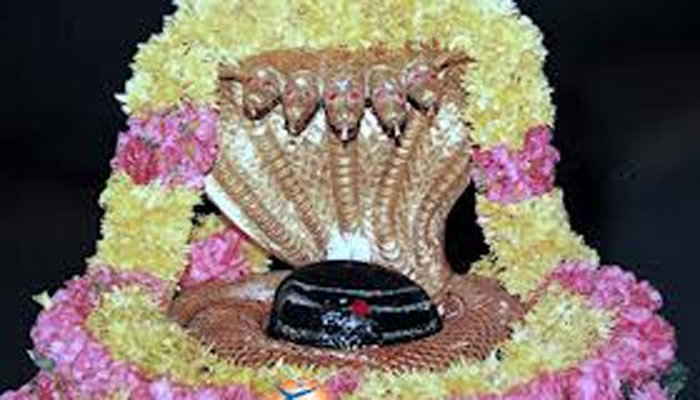 This Jyothilingam temple is located on a mountain and on the banks of River Krishna. Mallikarjuna is an ancient temple and is architecturally and sculpturally rich. This is also one of the Shakti Peedams. It is said that Saint Adi Shankara composed his Sivananda Lahiri here. It is also one of the Padal Petra Sthalam of Vada Naadu mentioned in Thevaaram. It is believed that devotees desire of wealth and prosperity are fulfilled in this auspicious temple.
Sri Mahakaleshwar Temple
Location: Mahakal, Ujjain (Avanti), Madhya Pradesh
The Jyothirlingam is believed to be a Swayambhu. This lingam is the only one facing south and also the temple to have a Shree Yantra perched upside down at the ceiling of the Sanctum Sanctorum (Garbhagraham). This is also one of the Shakti Peedams. People pray here for getting rid of fear of death.
Sri Omkareshwar Temple
Location: Khandwa District, Madhya Pradesh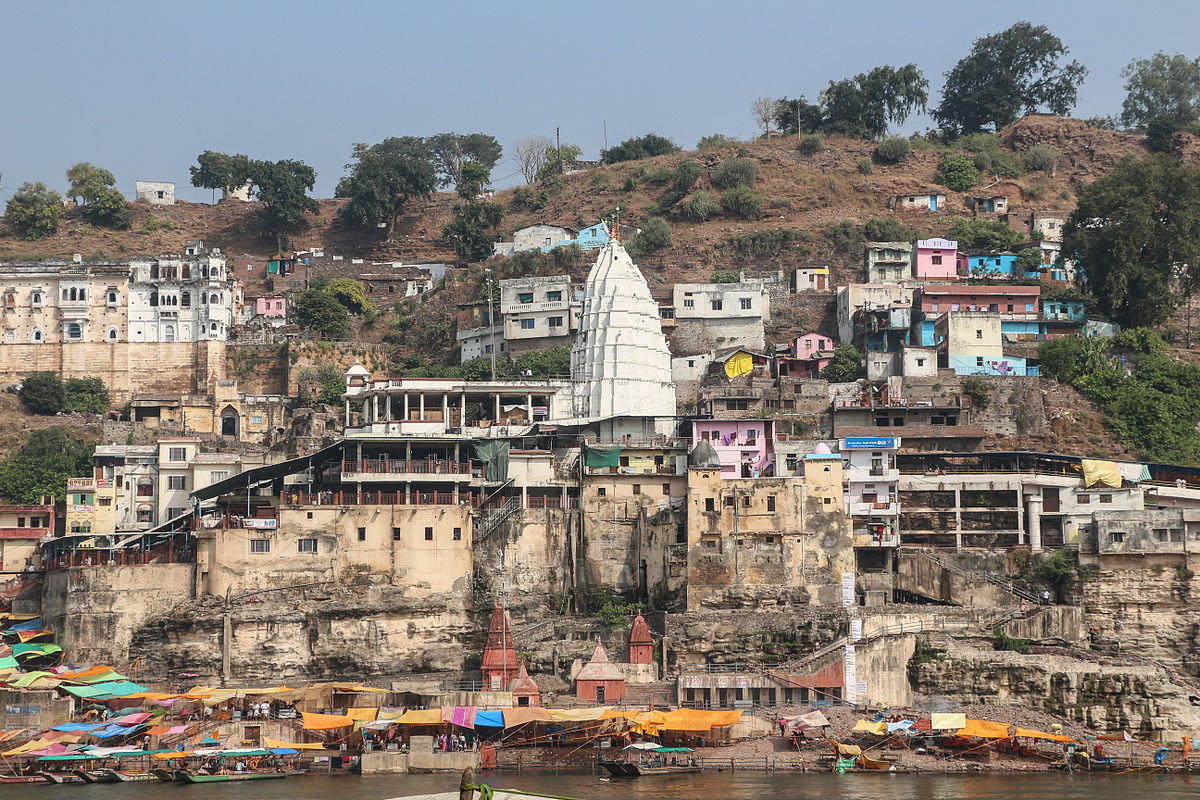 This temple is situated in an island of the River Narmada. Omkareshwar is a beautiful self-manifested (Swayambhu) lingam. On the banks of river Narmada, there is a huge island on which the Jyothirlingam "Omkaram Amaleshwar" temple is situated. This island and the river are shaped like "OM" and that is how it derives its name. It is a natural phenomenon. Brahma and Vishnu also lived in the same place as Omkar Amaleshwar. That is why on the banks of Narmada Brahmapuri, Vishnupuri and Rudrapuri are built which are known as Tripuri Kshetra. The Amareshwar Jyothiringam is situated in Rudrapuri. Sri Mamaleshwar temple is also situated here. The devotees who go around the temple consider themselves blessed because they are doing a Parikrama or Circumambulation of Omkara and also believe that they would be free from obstacles in their life.
Sri Kedarnath Temple
Location: In Uttarakhand and is about 200 kms from Rishikesh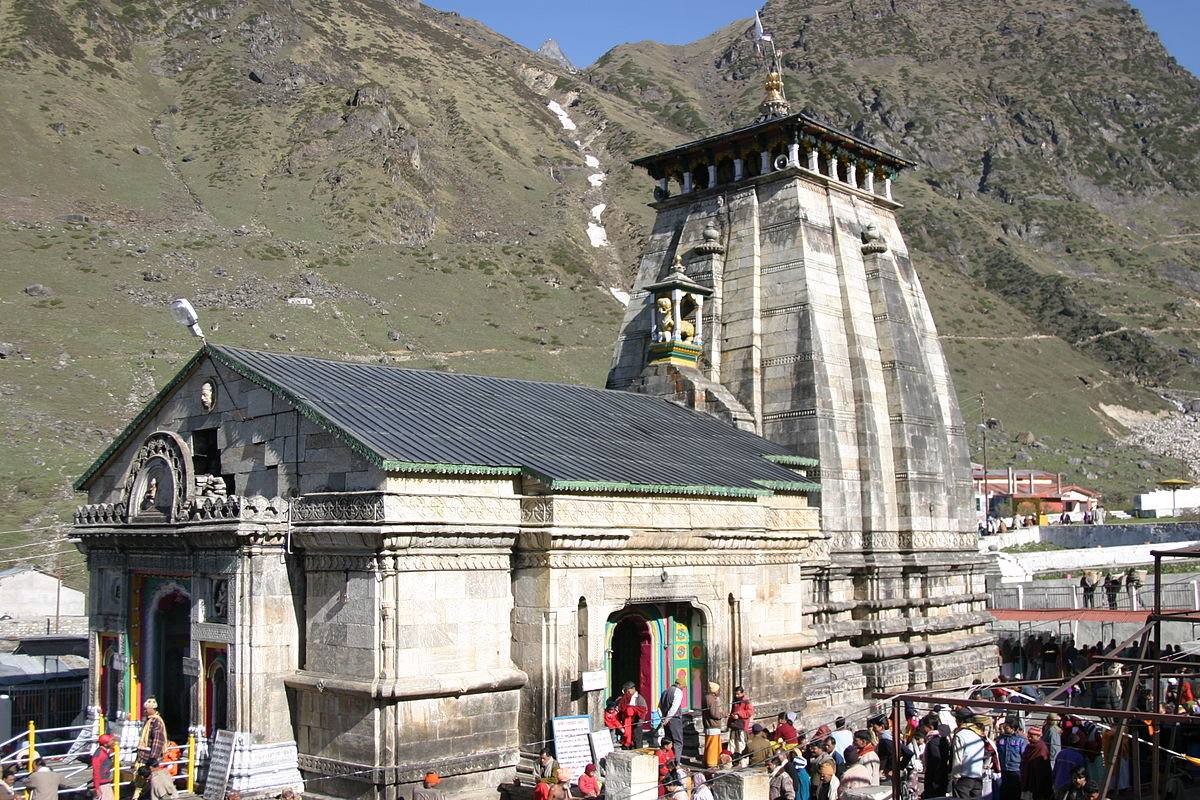 Kedarnath is revered as the northernmost and the closest Jyothirlingam to Lord Shiva's eternal abode of Mount Kailash. Kedarnath nestled in the snow clad
Himalayas, is an ancient shrine, rich in legend and tradition. It is accessible only for six months in a year (May to October). The Shivalingam here is self-manifested and not installed by anyone and is triangular shaped. The legend is that Pandavas were on pilgrimage to Kailash to seek the blessings of Lord Shiva and to absolve themselves from the sin due to the killing of their kith and kin. On their way, Bheema met an unique Mahisha (he buffalo) and he wanted to catch it but the buffalo had hidden its face in the earth. Bheema tried to pull it out but in vain. But from this hind part a glorious Jyothirlingam appeared and blessed the Pandavas. It is said that its hind part stayed here as Swayambhu Lingam and its face went straight to Nepal, where it is known as Pashupathinath. Kedarnath is also one of the Paadal Petra Sthalams of Vada Naadu mentioned in Devaram.
Sri Bhimashankar Temple
Location: Near Pune Maharashtra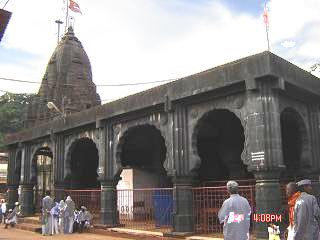 Bhimashankar is very much debated because in 3-4 other places also it was claimed as Bhimashankar temple. Lord Shiva temples in Kashipur in Uttarakhand, Sahyadri in Maharashtra, Guwahati in Assam and Bhimpur in South Orissa are said to be the Bhimashankar. However, the temple near Pune is considered more auspicious and accepted as Bhimashankar by the people.
Sri Kashi Vishwanathar Temple
Location: Varanasi (Kasi) Uttar Pradesh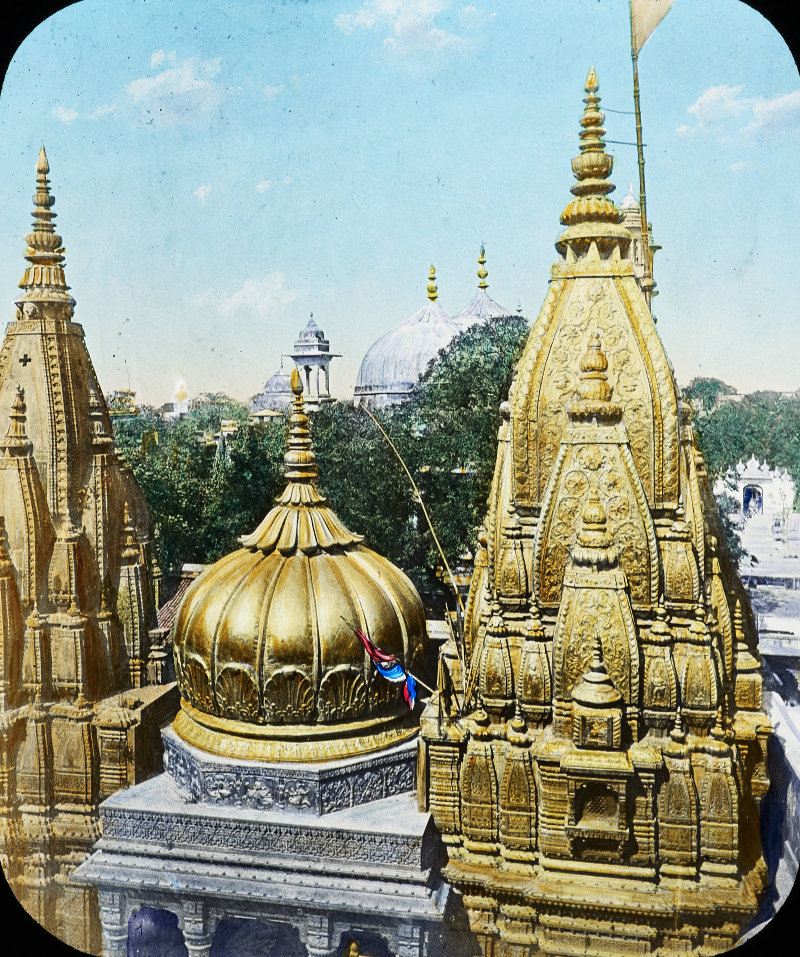 The Vishwanath Jyothirlingam shrine, which is perhaps the most sacred of Hindu shrines. It is also one of the Paadal Petra Sthalams of Vada Naadu mentioned in Devaram. The temple is situated in Varanasi, the holiest city for Hindus, where a Hindu is expected to make a pilgrimage at least once in his life, and if possible, also pour the remains of cremated ancestors on the river Ganges. The temple stands on the western bank of the holy river Ganges. Another significance of this temple is that this is also one of the 51 Shakti Peedams. This temple town, is considered to be the oldest living city in the world, with 3500 years of documented history. People visit this world famous temple to attain "moksha".
Sri Triambakeshwarar Temple
Location: Near Nashik, Maharashtra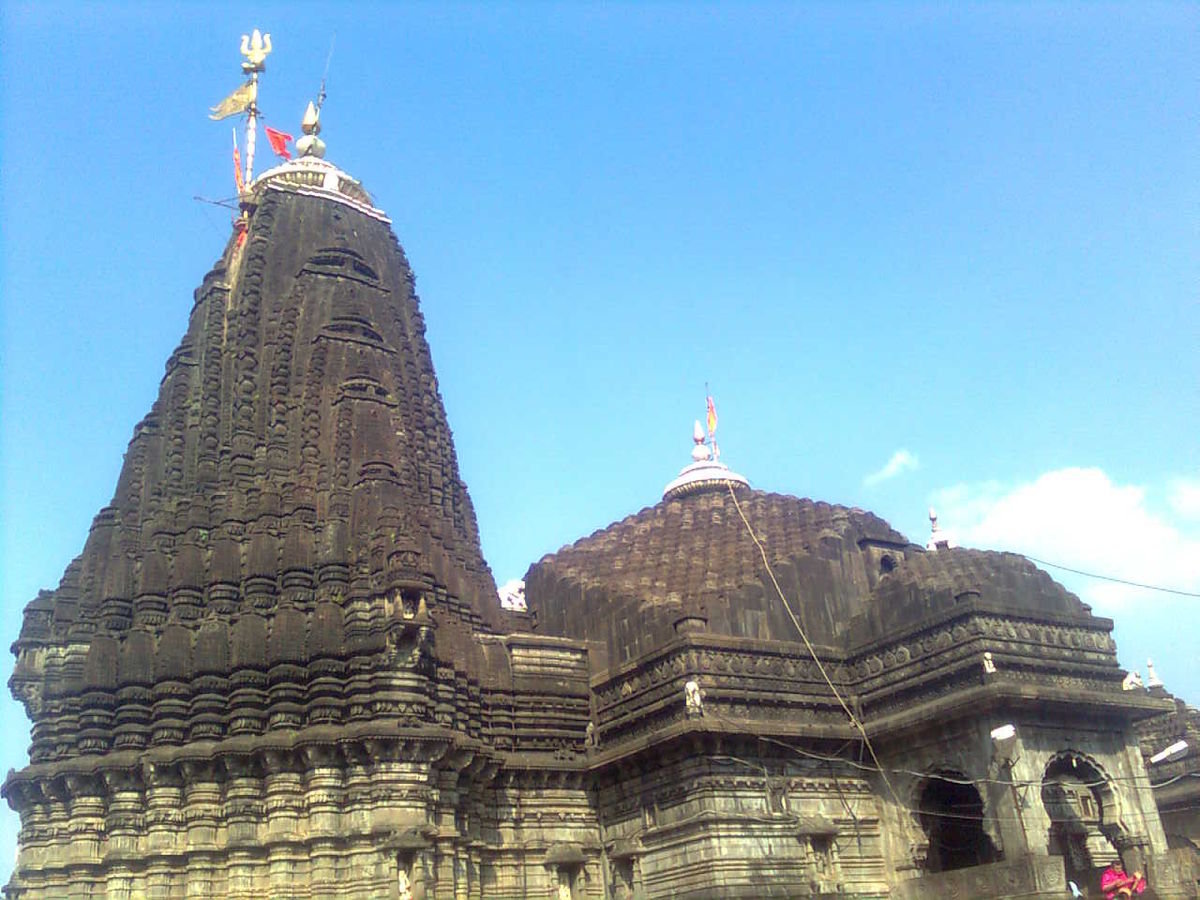 This Jyothirlingam shrine is located on the banks of the river Godavari in Maharashtra. It is believed that devotees will get rid of their sins if they worship Lord Shiva with full faith.
Sri Nageshvarar Temple
Location: in Jageshwar, Darukavanam, Near Dwarka, Gujarat.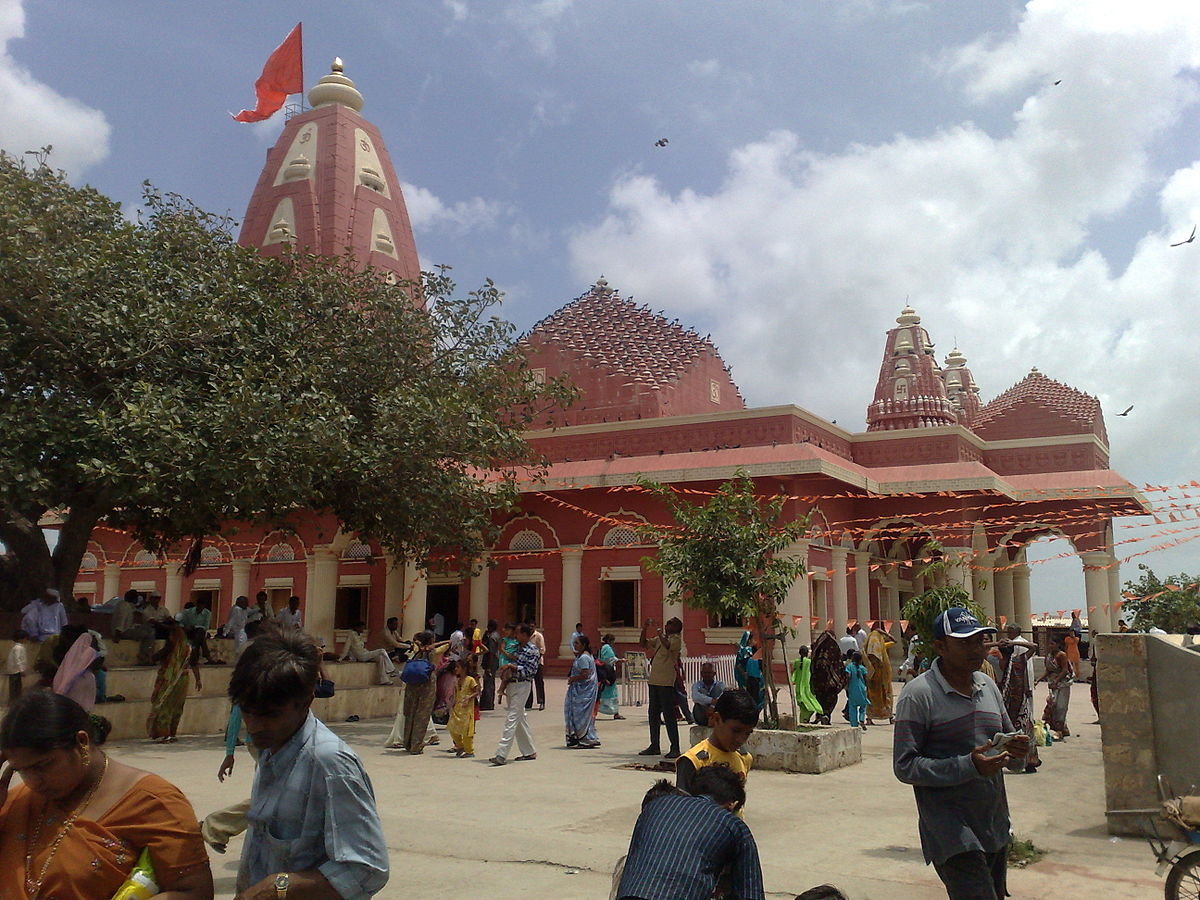 Nageshvara Jyothirlingam is one of the 12 Jyothirlingam shrines mentioned in the Shiva Puranam. Nageshvarar is believed to be the first such shrine. This temple is famous for fulfilling people's desire of getting 'good fortune'.
Sri Baidyanath Temple
Location: In Santhal Parganas, Deoghar, Jharkhand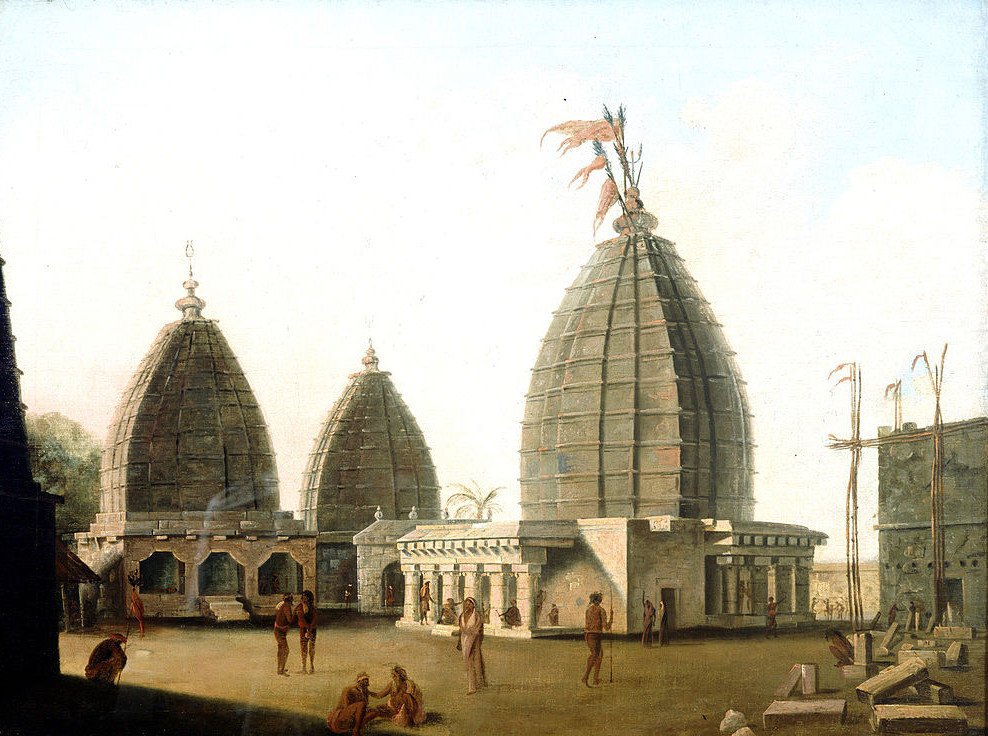 Baidyanath Jyothirlinga temple, also known as Baba Baidyanath Dhamand
Baidyanath dham, is one of the twelve Jyothirlingams. It is a temple complex consisting of the main temple of Baba Baidyanath, where the Jyothirlingam is installed, and 21 other temples. According to Hindu beliefs, the demon king Ravana worshipped Shiva at this place to get the boons that he later used to wreak havoc in the world. Ravana offered his ten heads one after another to Lord Shiva as a sacrifice. Pleased with this, Lord Shiva descended to cure Ravana who was injured. As he acted as a doctor, he is referred to as Vaidhya ("Doctor") hence, the lord and the place got this name.
Sri Rameshwar Temple
Location: In Rameswaram, Tamil Nadu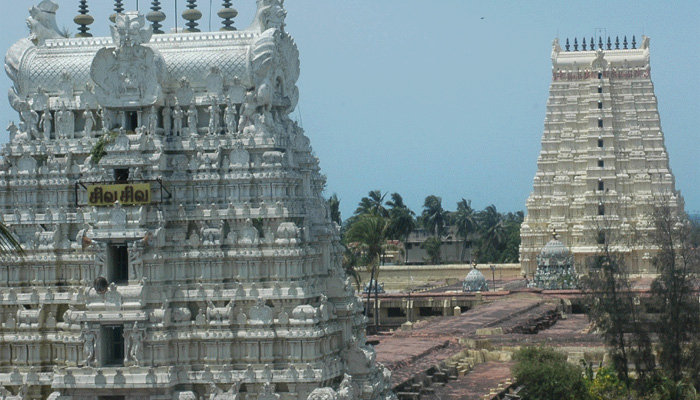 The huge Ramalingeswarar Jyothirlingam temple is revered as the southernmost of the twelve Jyothirlingam shrines of India. It enshrines the Ramesvara ("Lord of Rama") pillar.
It is also one of the Paadal Petra Sthalams of Pandya Naadu mentioned in Devaram. This is one of the four holy places that a Hindu wish to visit during his lifetime.
It is believed that Lord Shiva fulfils devotees desire of winning.
Sri Grishneshwar Temple
Location: Near Village Verul, Aurangabhad District, Maharashtra
Grishneshwar Jyothirlingam is one of the twelve Jyothirlingam shrines mentioned in the Shiva Puranam "kotirudra Sahinta", referred as 'Ghushmeshwar Jyothirlingam'. Ghushmeshwar is believed as the last or the twelfth Jyothirlingam on earth.
It is believed that praying here helps lost family members re-unite.
This temple is situated just adjacent to the famous Ellora Caves.
Photo courtesy – Wikipedia/Wikimedia
---
Read more about -
276 Devara Paadal Petra Sthalam
Lord Murugan's Abode - Arupadai Veedu