Sundaramurthy Nayanar was an eighth-century Poet-Saint and was one of the most prominent Nayanmars. He was born in Thirunavalur village located in erstwhile Thirumunaippadi Nadu (Panruti Taluk, Cuddalore District, Tamil Nadu) to Sadaya Nayanar and Isaignaniyar. His childhood name was Nambiyarurar. It is significant to note that both of his parents find a place among the 63 Nayanmars.
Sundarar also known affectionately as "Thampiran Thozhan" (Comrade of Lord Shiva) and "Vanthondan" (the argumentative follower). He was a contemporary of Chola King Cheraman Perumal, and Kotpuli Nayanar, both of them also figure in the 63 Nayanmars.
There is a legend associated with Sundarar's life – that he was once an attendant of Lord Shiva in Mount Kailash and he went by name Alala Sundararan. There he came across two girls - Aninthithai and Kamalini, who were attendants to Goddess Parvathi and wanted to marry them. Knowing his desire, Lord Shiva blessed them to be born on earth. Alala Sundaran was born as Nambiyarurar, Kamalini as Paravai Nachiyar and Aninthithai as Sangili Nachiyar, in different locations.
When Sundarar's marriage was about to take place, Lord Shiva intervened and stopped the marriage. He visited the place as an old ascetic and said that Sundarar was meant to be his servant. He further said that Sundharar's grandfather, Aruran of Navalur had pledged him as his servant and had given this in writing on a palm leaf manuscript. Sundarar and the people assembled for the wedding scoffed at him and called him a madman ("piththan"). When the crowd asked the ascetic to show the evidence, he asked them to follow him to Thiruvennainallur where he had kept the original palm leaf manuscript.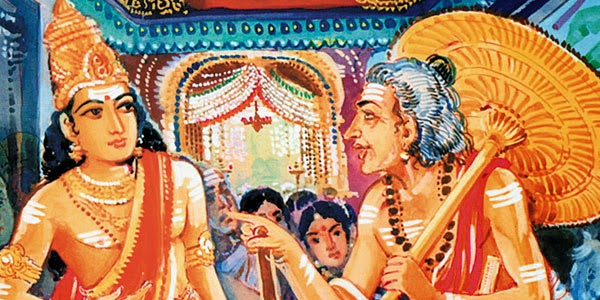 On reaching the Thiru Arudthurai temple in Thiruvennainallur, the ascetic went inside the sanctum and disappeared. Sundarar and others were shocked. Then the Lord's divine voice was heard saying that he had come to remind Sundarar of his previous birth as Alala Sundaran – a servant in Mount Kailash. He further told Sundharar that since he quarrelled with him, he would henceforth be known as "Vanthondan" and asked Sundarar to worship him by way of singing his praise.
Since Sundarar had called Lord Shiva a madman, the lord instructed him to compose a hymn starting with a word piththan. This resulted in his first song - Piththa Piraichudi". Since Lord Shiva stopped Sundarar's wedding, the lord at Thiruvennainallur is called by the name "Thaduththatkonda Nathar".
After this, it is believed that Sundarar travelled many places and rendered many pathigams in praise of Lord Shiva. At some places, it is further believed his renderings performed miracles.
It is believed that once Thirupunkoor, a place near Vaitheeswarankoil, was devoid of rains for a long time. The reigning Chola king sought Sundarar's help to address this problem. The saint agreed to help but put up a condition saying that 12 acres of land be donated to the Thirupunkoor temple if he is able to bring the rains. The king agreed and as soon as Sundarar completed his hymn praising the lord at Thirupunkoor temple it started pouring incessantly. After few days, Sundarar was summoned again by the king to fix the problem of heavy rains. Sundarar once again insisted that 12 more acres be given to the temple should the rains stopped after his song. The same happened and the temple became richer by 12 more acres.
At Avinashi temple, Sundarar rendered his pathigam and resurrected an eight-year-old boy who had died three years ago, after being swallowed by a crocodile.
The legend states that at Thiruvarur he recited the names of all sixty-three Nayanars and this recitation is called "Thiruthondar Thokai". In one of his pathigams, he refers to himself as the servant of these Nayanmars.
During his pilgrimage, he met Paravai Nachiyar in Thiruvarur and Sangili Nachiyar in Thiruvottriyur. These were the incarnation of the two attendants of Goddess Parvathy whom Alala Sundaram had fallen in love with. In both the places, it is believed that Lord Shiva had played a major role in arranging his marriage to these two women.
Sundarar is believed to have visited 84 temples and rendered around 3800 pathigams (hymns). However, only 100 hymns (1000 verses) are available today. It is significant to note that he travelled to all these temples by foot, covering at least a few thousand kilometres.
Sundarar's pathigams "Thiruppattu" are collected into the seventh volume of the Thirumurai along with the compositions of Thirugnanasambanthar and Appar.
The popular compositions of Sundarar are Ponnar Meniyane, Piththa Piraichudi etc.
Saint Sekkizhar's Periya Puranam speaks in great details about Sundaramurthy
Nayanar's life.
Both Sundarar and his contemporary King Cheraman Perumal embarked on various pilgrimages together. However, when Sundarar reached Thiruvanchikulam, he became tired of life and requested Lord Shiva to take him up to his abode. It is said that Lord Shiva instructed the celestial gods to bring him to Mount Kailash on a white elephant. The king followed him on his horse. This occurred on a "Swathi Nakshtram" day in the Tamil month of "Aadi".
Read more about -