Thirugnanasambanthar was a young Saiva poet-saint, who lived in the seventh century CE. He is one of the most prominent saints amongst the 63 Nayanmars. Sambanthar's entire collection of hymns about Lord Shiva is called "Thirukkadaikappu". These were later collected to form the first three volumes of the Thirumurai – one of the principle texts of Saiva Siddhantha philosophy. Sambanthar was a contemporary of Thirunavukkarasar (Appar), another renowned Saiva saint who lived in the same period.
Sambanthar was born in a Brahmin family in Sirkazhi to Sivapada Hrudiyar and his wife Bhagavathiar. According to the legend, once when Sambanthar was about three years old, his father had taken him to the nearby Shiva temple. When his father had gone to take a dip in the temple tank, young Sambanthar started crying. Noticing the crying child, Lord Shiva and his wife Goddess Parvathi appeared before him. It is believed that Goddess Parvathi fed him with milk. When Sambanthar's father returned, he was astonished to see drops of milk on the child's mouth. He asked him who had fed him, whereupon the boy pointed to the sky and responded with a song "Thodudaya Seviyan" - the first verse of the Devaram.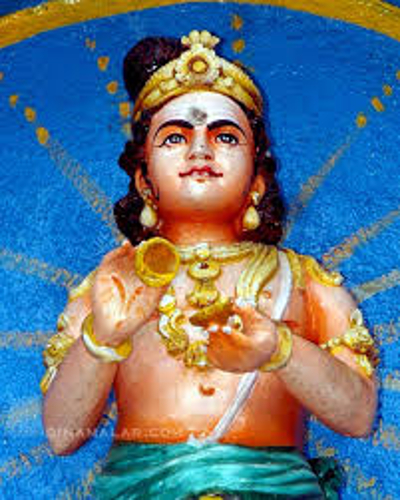 On hearing that he had rendered a song about Lord Shiva at the young age of three, people started believing that Sambanthar had been blessed by lord himself. Soon he started gaining hundreds of followers and supporters who would accompany him to various Shiva temples.
It is believed that at the age of seven, his sacred thread wearing ceremony (Upanayanam) took place and he is said to have expounded the Vedas with great clarity.
It is significant to note that another devara saint - Thirunavukkarasar also accompanied him to various temples and both of them rendered Pathigams about Lord Shiva separately. Even Thirunavukkarasar was believed to have enjoyed carrying Sambanthar's palanquin occasionally.
Thirukolakka near Sirkazhi is said to be the second Shiva temple where Sambanthar rendered pathigam. It is believed that while Sambanthar was rendering his pathigam and clapping his hands in ecstasy, Lord Shiva noticed that the young child's hands had gone red from pain. In order to relieve him from the pain, Lord Shiva gave him two golden "Thalam" plates. Since striking two gold plates does not produce any sound, Goddess Parvathi infused divine energy into them to make them produce musical notes.
It is said that in a place called Thiruidaichuram, when Sambanthar was taking rest, Lord Shiva took the form of a shepherd, came to him and offered some buttermilk to quench his thirst, and guided him to the temple.
In another incident, at a place called Thiruvavaduthurai, Sambandar rendered a pathigam praying to Lord Shiva for gold and other materials for conducting a yagna (Yagam), which his father wanted to do at Sirkazhi. Lord Shiva blessed him with a "purse of gold" (Porkizhi).
In a place called Thiru Arathurai, it is believed that Lord Shiva even gifted Sambanthar with a pearl palanquin and a pearl umbrella as he did not want the child to suffer during his pilgrimage.
It is believed that in some of the Shiva Sthalams, Sambanthar performed miracles with his hymns. Here are two such incidents –
At Sri Kabaleeswarar temple in Mylapore, it is believed that Sambanthar brought the daughter of a business man back to life who had died due to snake bite. Sambanthar was offered her hand in marriage but he declined due to the knowledge that he would die soon. Another miracle took place at a village called Thirumarugal where the power of Sambanthar's hymns brought a merchant back to life after he was bit by a snake.
It is believed that Sambanthar travelled extensively across the southern parts of India and visited 220 Shiva temples. It is said that he rendered over 16000 Pathigams (hymns) where each Pathigam contained 10 to 11 verses. However, only 383 Pathigams have been recovered so far totalling up to 4000 verses.
Sambanthar attained salvation (mukti) on "Visaka Nakshtaram" day in the Tamil month of "Vaikasi" at the age of sixteen during his marriage ceremony at Nallur Perumanam (Achalpuram).
Read more about -