Devaram hymns was rendered by three great Saiva Poet-Saints and scholars - Thirugnanasambanthar, Thirunavukkarasar (Appar) and Sundaramurthy Nayanar (Sundarar). These "Devara Moovars" graced these temples with their presence and rendered Pathigams (hyms) praising the lord at these temples. Although the saints belonged to different centuries, it is intriguing to note that some of the temples were visited by all three or by two of these great poets.
Although Devaram hymns have been rendered by these three poet-saints, in most of the temples you can see idols of "Nalvars" wherein poet-saint Manickavasakar has been included along with them. Manickavasagar was a 9th century Tamil poet-saint who wrote "Thiruvasakam and Thiruchitrambala Kovayar" which constitutes one of the twelve volumes of Thirumurai. Despite his valuable contributions to Tamil literary texts, he is not counted among the sixty-three nayanmars.
It is pertinent to mention here that these great saints were blessed with the vision of Lord Shiva himself. In majority of Shiva temples these Devaram hymns are sung by Odhuvars/Priests after the daily poojas, rituals and divine offering.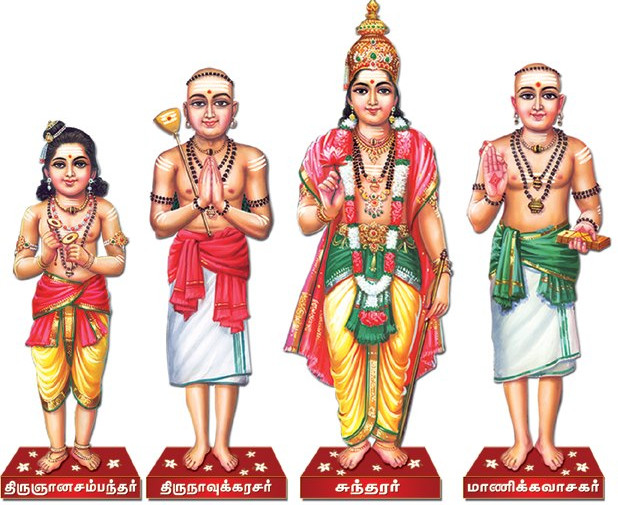 Devara Moovars
Sundaramurthy Nayanar (Sundarar)