Thirunavukkarasar was a seventh-century Saiva Tamil poet-saint and one of the most prominent of the 63 Nayanars. He was an older contemporary of Thirugnanasambanthar.
Appar was born in the middle of 7th century to Thiru Pukalanar and Mathiniyar as their second child in a village called Thiruvamur in Thirumunaipadi Nadu (Panruti Taluk, Cuddalore District, Tamil Nadu). His childhood name was Marulneekiar. His sister, Thilagavathiar was betrothed to a military commander who died in action. When his sister was about to end her life, he pleaded with her not to leave him alone in the world. She decided to lead an ascetic life and bring up her only brother. She devoted her life to Lord Shiva, became a saint and started serving in the Shiva temple at Athikai (now called Thiruvathigai Veerattanam).
However, during his childhood, he was drawn to Jainism and started studying its scriptures. He travelled to Padaliputhiram (Cuddalore) and joined a Jain monastery where he was given the name Dharmasena. Thilagavathiar was not pleased by his brother's conversion to Jainism and prayed to Lord Shiva to bring him back. The legend is that Lord Shiva answered Thilagavathiar's prayers by giving Appar an acute stomach pain which was not cured despite his efforts and the efforts of the healers in the monastery. Finally, he turned to his sister for help who in turn started giving him the temple's holy water and sacred ash (viputhi) as medicines. It is believed that Appar was relieved of his pain instantly. Understanding the extent of Lord Shiva's power, Appar spontaneously sang his first hymn called "Kodhil Neediya Thirupathigam" beginning with the line "Kootru Aayinavaru Vilakka hileer". Lord Shiva was pleased by his poetic skill and it is believed that at this point the lord's divine voice was heard saying that "Marulneekiyar will henceforth be known to the world as 'Thirunavukkarasar' (Thiru meaning Sri; Navu meaning Tongue; and Arasar meaning King) and that his glories will be etched in history forever".
Thirunavukkarasar stayed for many years at Thiruvathikai with his sister and rendered many Pathigams about Lord Shiva of this temple. Later, he started visiting other Shiva temples. Appar sanctified all these temples by his verses and was also involved in cleaning of the dilapidated temples (called "Uzhavarapani"). He was always seen with an Uzhavaram (a blade with a long handle) on his shoulder. He used this as a tool to remove any obstructions in the corridors and other places inside the temple.
It is believed that the monks from the Jain monastery of Padaliputhiram (now village Padalikuppam near Cuddalore) were unable to bear with Appar's rising popularity after he had switched back to Hinduism. They took the help of the Pallava King, Mahendra Verman and tried to kill Appar. First, he was poisoned but with the grace of Lord Shiva the poison turned into nectar. Next, the king's mahouts were ordered to kill him using the royal elephant, but the elephant obediently circumambulated him. In the third and the last attempt, Appar was tied to a rock and thrown into the sea but the rock started floating and brought him back to the shore at Cuddalore.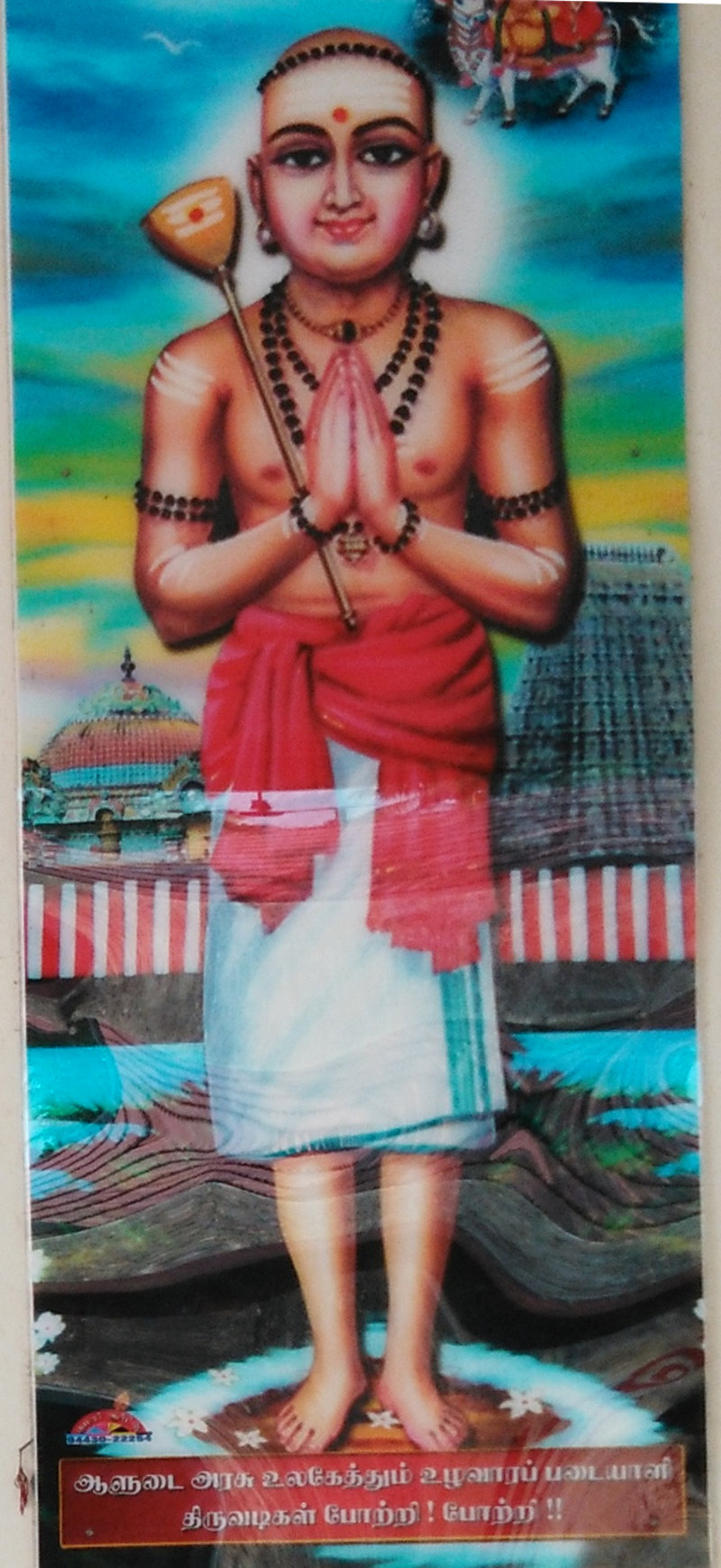 With this, the king realized that Appar had been blessed by the lord himself and surrendered to him with the request to forgive him. Appar forgave the king and instead opened the king's eyes to the wonders of Lord Shiva. Thereafter the king switch to Shaivism and started constructing another Shiva temple near the Thiruvathigai temple called "Gunabara Veecharam".
Appar heard about Thirugnanasambanthar and went to Sirkazhi to meet the young boy. Thirugnanasambanthar respectfully addressed Thirunavukkarasar as Appar (father). It is believed that this is why Thirunavukkarasar is also fondly referred to as Appar. Both of them together travelled to many temples and rendered their Pathigam separately.
In Sekkizhar's Periya Puranam one finds reference to the fact that Appar travelled to many temples in South India including Sri Kalahasthi in Andhra Pradesh and continued his journey all the way to Kasi (Varanasi) by foot. He wanted to go to Mount Kailash also but his health did not permit him. He prayed to Lord Shiva seeking his help who in turn asked him to take a dip in a pond that he had created nearby. When he took a dip in that pond, Appar was surprised to find himself in Thiruvaiyaru. He rushed to the temple to praise the lord and it is believed that at this place Lord Shiva and Goddess Parvathi gave him Kailash dharisanam.
It is further believed that in some of the Shiva sthalams, he performed miracles by rendering his pathigams. For example, in a place called Thingalur, his hymns brought Apputhi Adigal's son back to life after he was bitten by a snake.
Out of 276 Paadal Petra temples, Appar is believed to have personally visited 126 temples. It is significant to note that he travelled to all these temples by foot, covering at least a few thousand kilometres. He is also the only Nayanmar who is believed to have visited the Thirukokarnam temple in Karnataka.
Sundarar states in his Thiruthondarthokai that Appar composed 4,900 hymns consisting of ten to eleven verses each. This was reiterated by Nambiyandar Nambi and Sekkizhar, but sadly only 313 hymns (3120 verses) are available today. Appar's pathigams, also called "Devaram", were compiled by Nambiyandar Nambi into the 4th to 6th volumes of the Thirumurai.
Appar attained mukti (salvation - union with the lord) at the age of 81, on a Sadhaya Nakshtram day in the Tamil month of Chithirai at Thirupukalur Shiva temple. This was the last temple where he did his cleaning work ("Uzhavarapani").
Read more about -