RELIEF FROM SANEESWARA DOSHAM
Significance of Anakkudi temple – where Lord Saneeswaran himself was relieved from his dosham
Lord Saneeswaran (Shani) refers to one of the nine heavenly planets (Navagraham) that governs the world. He is seen as the upholder of justice and the lord who looks over the activities undertaken by living beings. However, he is also considered inauspicious and the harbinger of bad luck. Shani dosham occurs when Shani occupies any one of the fundamental houses in one's horoscope. This can lead to delay in successes and cause hardship and disappointments. The temple at Anakkudi has a beautiful legend and story concerning Lord Saneeswaran. Worshipping the lord at this place will provide relief from the ill effects of Shani dosham.
It is believed that during the era of Satya Yuga (also known as Kritha Yuga) Lord Saneeswaran was afflicted with "Pakshi Sabam" and was experiencing its repercussions. His wives, Mantha Devi and Jesta Devi advised him to go to Varanasi (Kasi) to take a holy dip in the Ganges and pray to Lord Vishwanathar and Goddess Visalakshi to seek relief from this curse. Shani agreed to visit Kasi and started his pilgrimage. However, as soon as he started his pilgrimage, his daily responsibility of upholding justice and karma came to a standstill.
Since Lord Shani's works had come to a standstill, it disrupted the balance of the world and lead to chaos. The celestial gods (Devars) were terrified and prayed to Lord Shiva and Goddess Parvathi for their intervention. Goddess Parvathi informed Lord Shiva about Shani's pilgrimage and requested him to absolve Shani's sins and let him get back to his responsibilities. Lord Shiva agreed to Goddess Parvathi's suggestion but asked her to wait till next morning to witness the proceedings.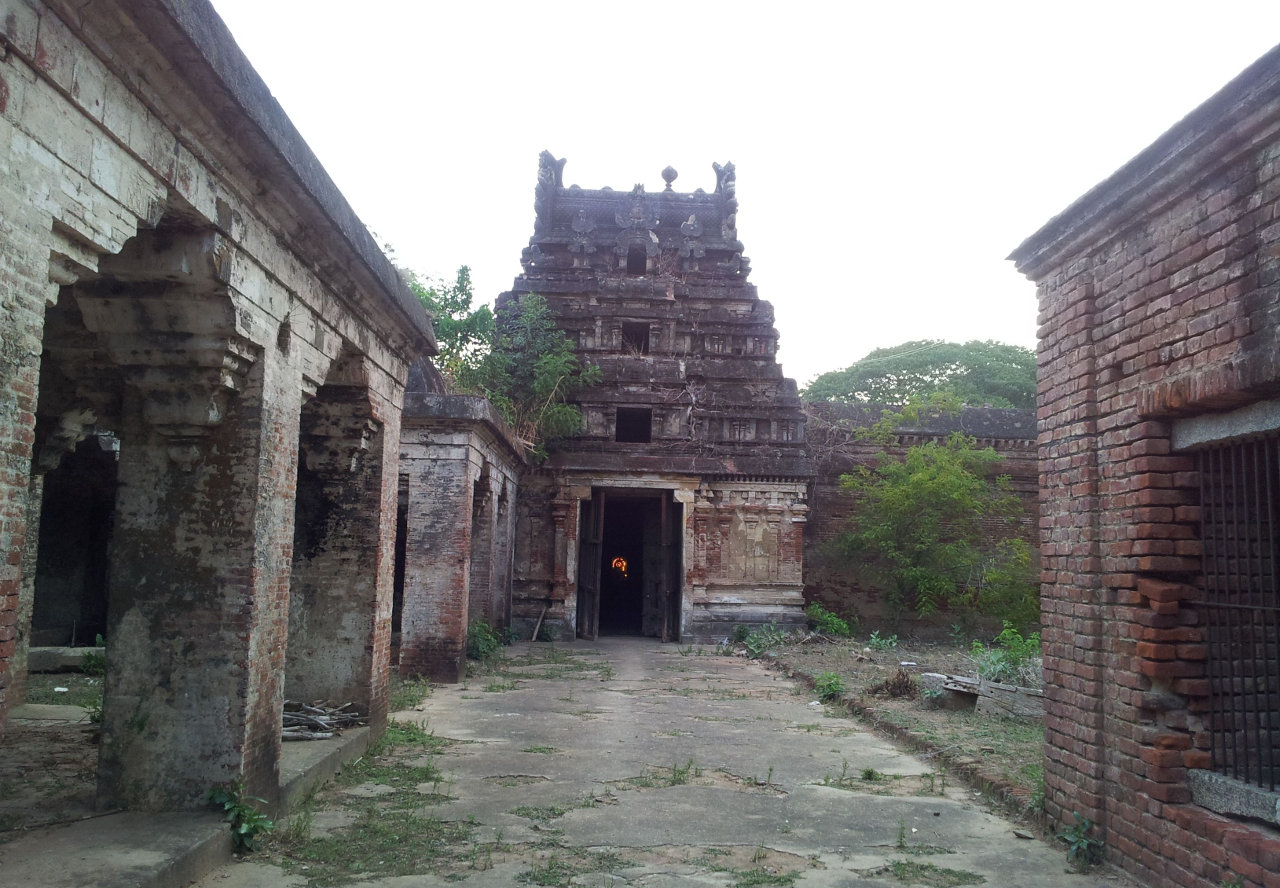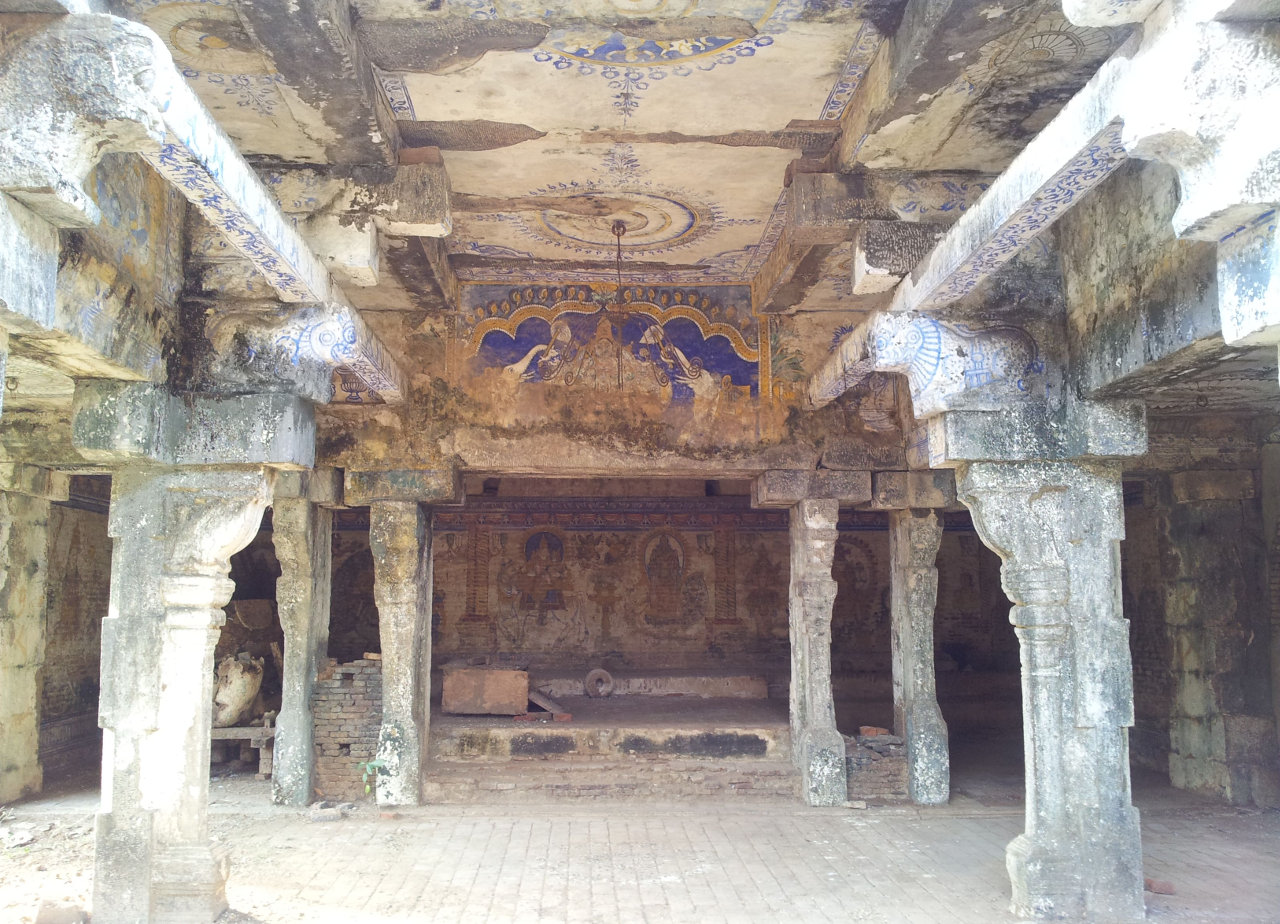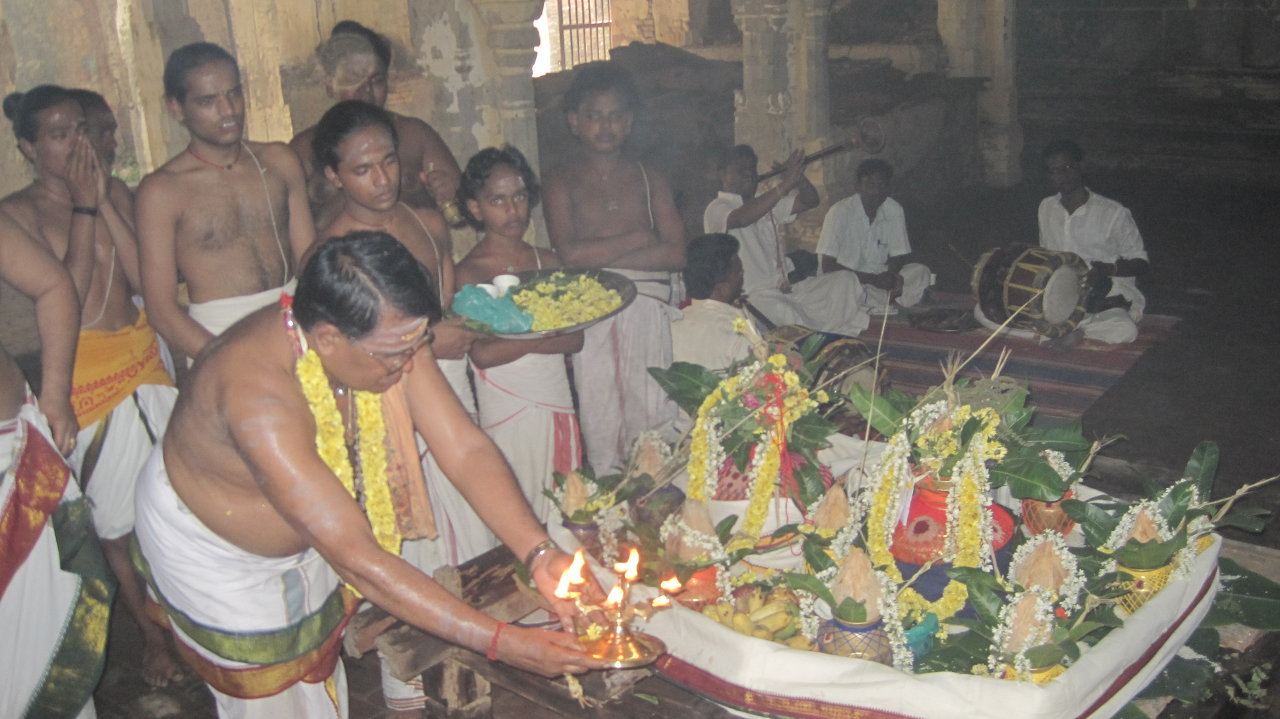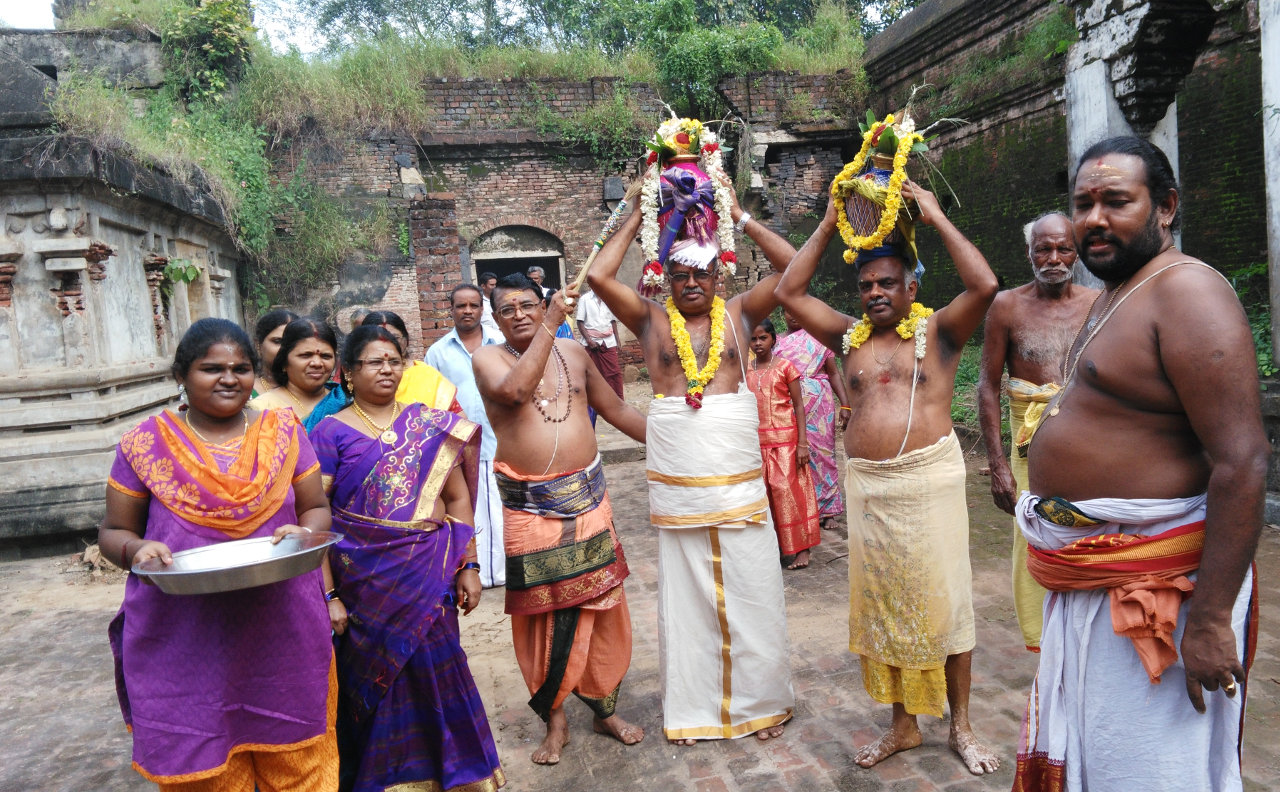 That night, Shani was taking rest in a village under a "Vilva" tree. When he woke up from his sleep the next morning, he was astonished to see that instead of the village, that place had transformed into Kasi itself. He could see the Ganges flowing, there was a Shiva temple nearby which greeted him with the sounds of bhajans and mantras.
He took dip in the river, went inside the temple and offered his prayers to Lord Viswanathar and Goddess Visalakshi. Lord Shiva blessed him with his dharshan and absolved him from his "Pakshi Sabam". Overjoyed by the fact that he did not have to visit Kasi to seek absolution, Shani prayed to Lord Shiva and requested him to continue to bless the devotees who are afflicted by Shani dosham. Lord Shiva conceded to his request and said that devotees who worship him at this temple would be blessed with prosperity, relief from debts, longevity and relief from ill effects of Shani dosham.
Shani was happy to have had Lord Shiva's dharshan and returned to his abode to continue his responsibilities. This place where Shani had taken rest, received Lord Shiva's darshan and his blessings was known as "Viswanathapuram". It is now called Anakkudi. Similar to Kasi, the temple at this place houses Lord Vishwanathar and Visalakshi. There is tank in front of this temple where the holy Ganges is believed to have appeared before Lord Shani. The sacred tree (Sthala Vriksham) of this temple is a Vilva tree (the tree under which Lord Shani is believed to have taken rest).
As Lord Shani himself is believed to have worshiped Lord Shiva of this temple, devotees who are afflicted by Lord Shani's Ashtama Shani, Arthastama Shani and 7½ years Shani can visit this temple and pray to Lord Vishwanathar to seek relief from the ill effects. It is also considered very auspicious to provide offerings of food (Annadhanam) here.
Although this temple has such a rich legend and mythological significance associated with it, it is sad to see this temple in a very dilapidated condition. We request devotees to visit this temple, perform poojas and offer annadhanam here. We strongly believe that the blessings of Lord Vishwanathar at Anakkudi would prove to be a turning point in your lives.
Directions:
Anakkudi is at a distance of about 5 kms from Thiruvidaimaruthur and 12 kms from Kumbakonam. There is a motorable road to Anakkudi and town bus facility is available from both these places.