Visited on: 2nd November, 2015
Location
Bhavani is 16 kms away from Erode and about 55 kms away from Selam. The nearest Railway station for Bhavani is Erode. It is on the main Chennai-Trichi-Coimbatore bypass route. Nearest Airport is at Coimbatore which is 100 kms away.
General Information
Moolavar

Sri Sangamuganatheswarar /
Sri Sangameswarar

Ambal

Sri Vedhanayaki / Sri Sangameswari

Theertham (Holy water)

Cauvery, Bhawani, Surya, Deva and Gayatri Theertham

Sthala Vriksham (Sacred Tree)

Ilanthai (Jujuba Tree)

Pathigam (Hymn) rendered by

Saint Thirugnanasambanthar

This is one of the 276 Devara Padal Petra Shiva Sthalam and 3rd Sthalam in Kongu Nadu.
Lord Shiva in this temple is a Swayambumurthi (self-manifested).
The town, the Goddess of this temple and the nearby river all have the same name - Bhavani.
Bhavani is mentioned in the Hymns as Thiru Nana whereas it is now called Kooduthurai by the locals.
The temple was built at the confluence of rivers Cauvery, Bhavani and 'Amutha Nathi', an invisible underground water source. So the Lord Shiva here is called as Sri Sangameswarar (Sangamam meaning confluene).
The temple is situated at the foothill of Padma Giri and is surrounded by four hills - Naga Giri, Veda Giri, Mangala Giri and Sanga Giri.
The temple has a beautiful five-tiered main tower (Rajagopuram) with two corridors.
History of the Temple
Bhavani Sangameshwarar temple is an ancient one, having been built by the first Pallava King, Mahendra Verman. The bird's eye view of this temple shows it as an island surrounded by the two rivers.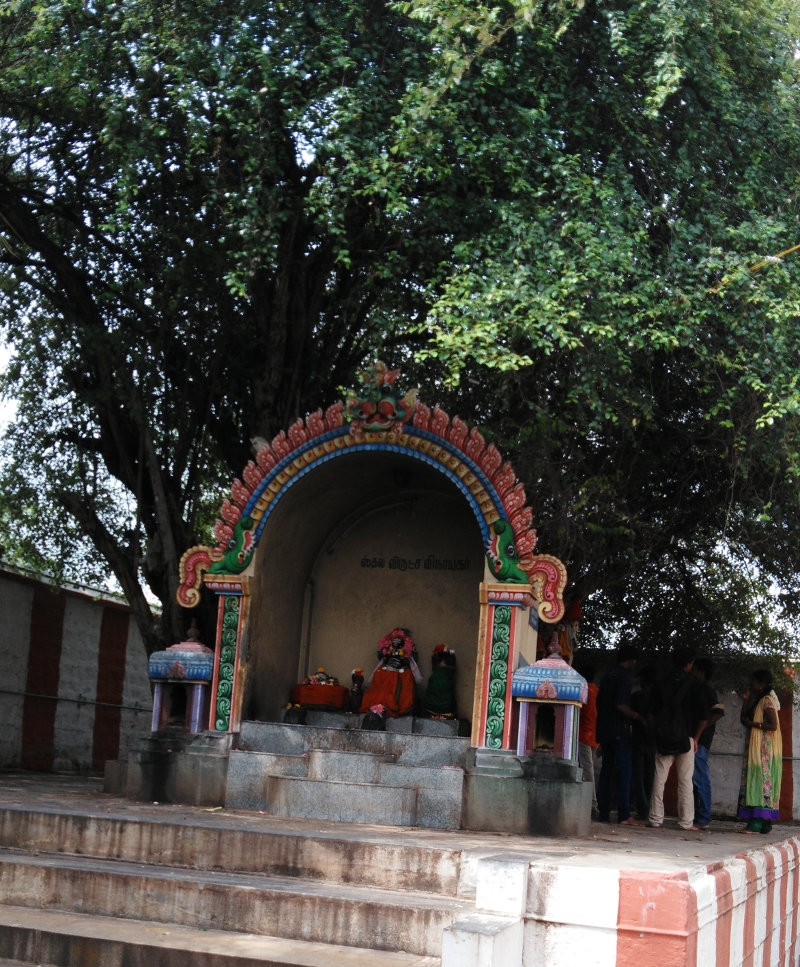 It is also said that a British dignitary by the name of William Garo donated a swing / cradle (Oonjal) made of ivory after he miraculously escaped from the collapse of his Rest house in the year 1802. He felt that he was saved by the Goddess herself and became an ardent devotee after this incident. His signature can be seen on the frame of the cradle.
Legend
The legend is that Kuberan, the lord of wealth was visiting various Shiva temples when he saw an Ilandhai tree on the banks of Cauvery. He was astonished to see that a deer, a tiger, a cow, an elephant, a snake and a rat were drinking water without any sign of enmity. He felt that the peace and prosperity of this place could be due to the worship and penance performed by the holy men (Gandharvas) who inhabited this place.
It is believed that Kuberan heard a voice from the sky saying that this was the place where the Vedas had originated and that he would find a Shivalingam beneath the Ilandhai tree. He was also advised to worship the Shivalingam to seek the Lord's blessings. Kuberan worshiped the Lord and was blessed with a darshan. The tree is still there and bears a lot of fruits.
Another legend associated with this place is that Sage Vishwamithrar is said to have installed another lingam on the banks of the river and worshipped it by chanting the Gayathri Mantram. Hence this lingam is called "Gayathri Lingam".
Deities in the temple
At the entrance, shrines of Kottai Vinayagar on the left and Kottai Anjaneyar on the right can be seen. Inside the main tower, shrines of Raja Ganapathi and Lord Muthukumaraswamy (Murugan) are present.
Shrines of Lord Vinayakar, Lord Murugan and his consorts, Goddess Gajalakshmi, 63 Nayanmars, Jurahareshwarar (in dancing posture), "Pancha Bhootha" Lingams, Kasi Viswanathar, Goddess Visalakshi, Amirthalingam, and Jeshtadevi can be seen in the corridors.
Separate shrines for Lord Adhikesava Perumal, Goddess Soundaranayaki and Yoga Narasimhar are also present in this temple.
Salient Features
Bhavani is a famous Sthalam for performing rituals to satiate one's ancestors. Here Parikarams are also conducted for all dhoshams, including Nagadhosham.
During Adi Perukku day, large number of devotees can be seen taking a dip at the junction of rivers Cauvery and Bhavani.
Daily Komadha Pooja (Cow pooja) is performed in this temple for the welfare of the populace. Cows are revered in Hindu mythology because every body part of a cow is attributed to a separate Hindu gods or goddesses.
Saint Arunagirinathar in his Thirupugazh praised lord Murugan of this temple.
Lord Dakshinamoorthy's shrine is beautifully architected with intricate reliefs and iconographical sculptures.
The procession idols of all the 63 Nayanmars are beautifully arranged on a few steps (displayed like a "Navratri Golu"). Surprisingly, Thirumuruga Kripananda Vaariyaar also finds his place as the 64th Nayanmar.
There are two identical stone statues in front of the Ambal shrine. When water or milk is poured on them, it looks as if one of the idols is smiling while the other is shedding a tear. This exemplifies the artistic excellence of the era.
Greatness of this temple
It is believed that those who take a dip at the confluence spot of rivers Cauvery and Bhavani during the Solar and Lunar Eclipse can attain moksham (salvation).
It is also believed that worshiping the Amirtha Lingam in this temple can grant the boon of childbirth to couples.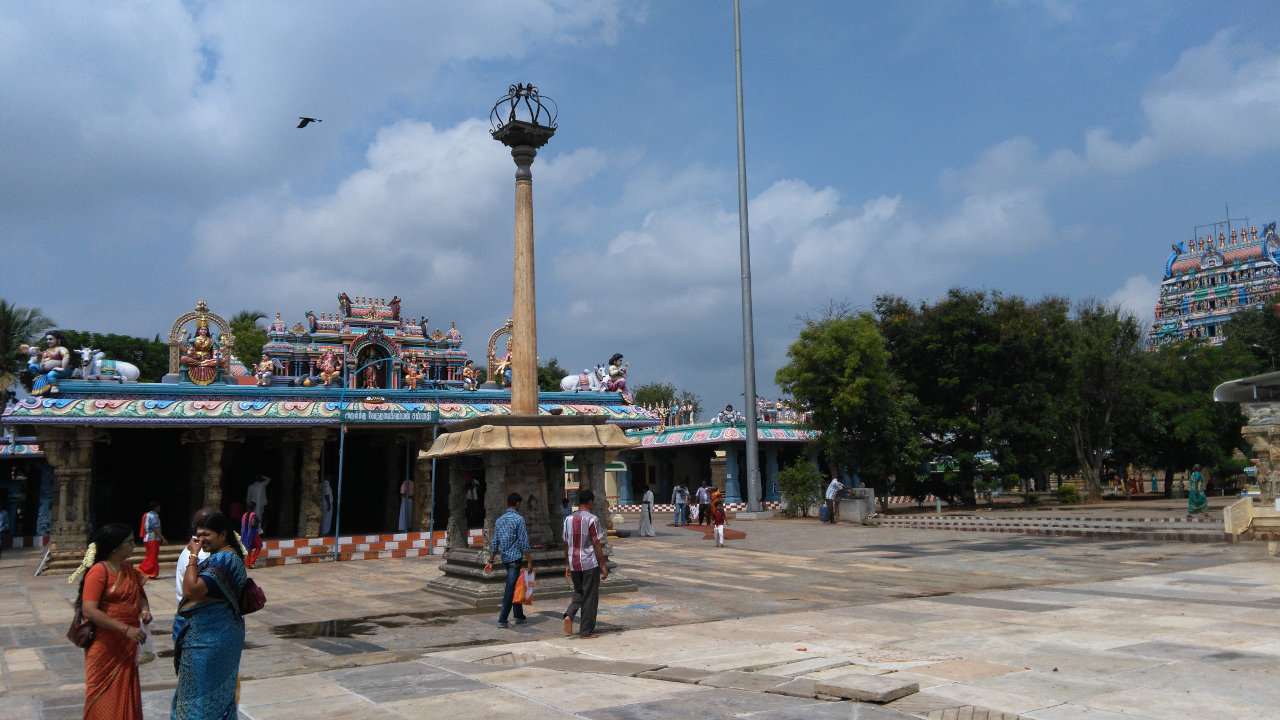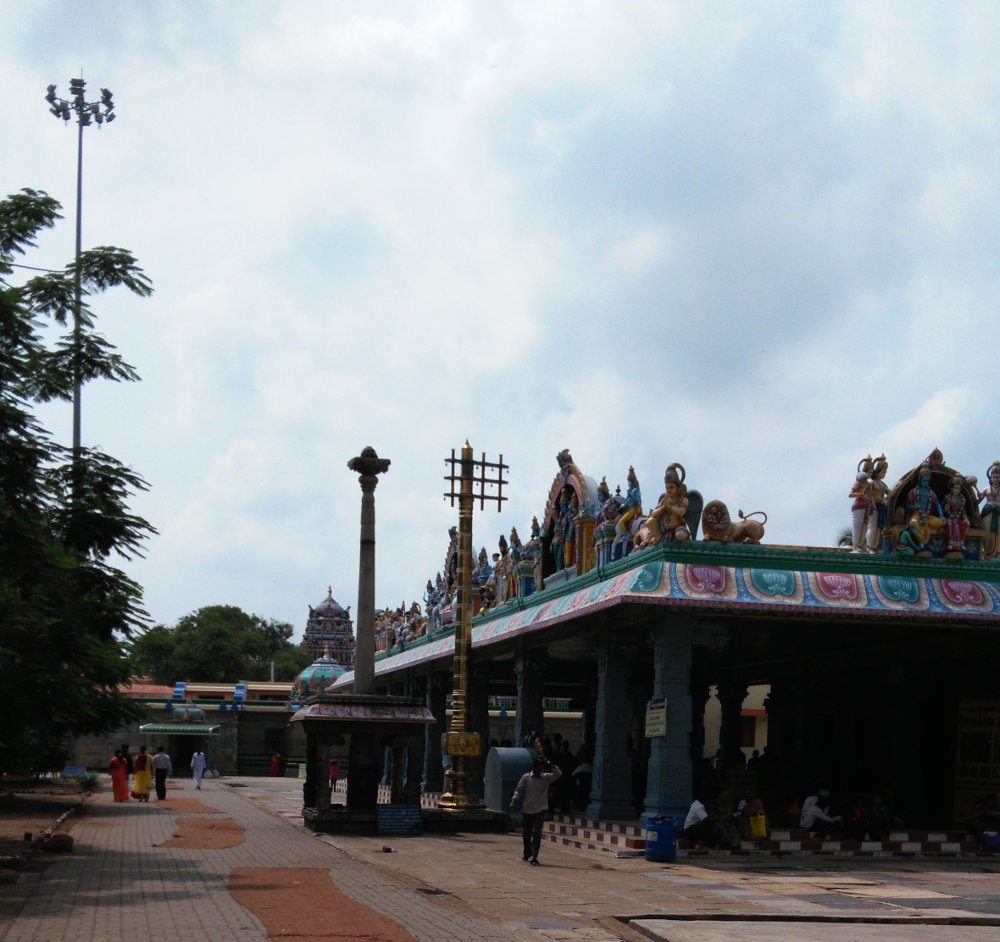 Important Festivals
The thirteen-day long Car festival (Ther) in the Tamil month of Chithirai (April-May) is the most famous festival celebrated in this temple. It attracts lakhs of devotees from across of the country. Pradosham Pooja is conducted grandly.
The 18th day of Tamil month Aadi (July-August) is called "Adiperukku" and it attracts large number of devotees who perform poojas on the river banks.
Taking a dip in the river and performing rites during Amavasyas, especially Thai Amavasya and eclipse days are traditionally followed in this temple.
Temple Timings
From 05:30 AM to 01:00 PM and from 04:00 PM to 09:00 PM.
Temple Address
Sri Arulmigu Sangameswarar Temple,
Bhavani Kudal,
Bhavani - 638 301,
Erode District.
Tele: (04256) - 230192.
---
Pathigam (Hymn) with English transliteration
Saint Thirugnanasambanthar visited this temple and sang this Pathigam.
Devotees visiting this temple should make it a practice to recite this Pathigam.
பந்தார் விரல்மடவாள் பாகமா நாகம்பூண் டேறதேறி
அந்தார் அரவணிந்த அம்மானிடம் போலும் அந்தண்சாரல்
வந்தார் மடமந்தி கூத்தாட வார்பொழிலில் வண்டுபாடச்
செந்தேன் தெளியொளிரத் தேமாக்கனி யுதிர்க்குந் திருநணாவே.
"Panthār viralmadavāḷ pākamā nākampūṇ ṭēṟathēṟi
anthār aravaṇintha am'māṉiṭam pōlum anthaṇsāral
vanthār madamanthi kūthāda vārpozhilil vaṇdupādach
senthēṉ theḷiyoḷirath thēmākkaṉi yuthirkkunth thirunaṇāvē".
நாட்டம் பொலிந்திலங்கு நெற்றியினான் மற்றொருகை வீணை யேந்தி
ஈட்டுந் துயரறுக்கும் எம்மா னிடம்போலு மிலைசூழ் கானில்
ஓட்டந் தருமருவி வீழும் விசைகாட்ட முந்தூ ழோசைச்
சேட்டார் மணிகள் அணியுந் திரைசேர்க்குந் திருநணாவே.
Nāṭṭam polinthilaṅku netṟiyiṉāṉ matṟorukai veeṇai yēnthi
īṭṭunth thuyaraṟukkum em'mā ṉiṭampōlu milaisūzh kāṉil
ōṭṭanth tharumaruvi vīzhum visaikāṭṭa munthū zhōsaich
chēṭṭār maṇikaḷ aṇiyunth thiraisērkkunth thirunaṇāvē".
நன்றாங் கிசைமொழிந்து நன்னுதலாள் பாகமாய் ஞாலமேத்த
மின்தாங்கு செஞ்சடையெம் விகிதர்க்கிடம்போலும் விரைசூழ்வெற்பில்
குன்றோங்கி வன்திரைகள் மோத மயிலாலுஞ் சாரற்செவ்வி
சென்றோங்கி வானவர்க ளேத்தி யடிபணியுந் திருநணாவே.
"Naṉtṟāṅg kisaimozhinthu naṉṉuthalāḷ pākamāy gñālamētha
miṉthāṅku cheñchadaiyem vikitharkkiṭampōlum viraichūzhveṟpil
kuṉtṟōṅki vaṉthiraikaḷ mōtha mayilāluñj chāraṟchevvi
seṉtṟōṅki vāṉavarka ḷēthi yaṭipaṇiyunth thirunaṇāvē".
கையில் மழுவேந்திக் காலிற் சிலம்பணிந்து கரித்தோல் கொண்டு
மெய்யில் முழுதணிந்த விகிர்தர்க் கிடம்போலு மிடைந்து வானோர்
ஐயஅரனே பெருமான் அருளென்றென் றாதரிக்கச்
செய்ய கமலம் பொழிதே னளித்தியலுந் திருநணாவே.
"Kaiyil mazhuvēnthik kāliṟ silampaṇinthu karithōl koṇdu
meyyil muzhuthaṇintha vikirthark kidampōlu miṭainthu vāṉōr
aiya'araṉē perumāṉ aruḷeṉtṟeṉ ṟātharikkach
cheyya kamalam pozhithē ṉaḷithiyalunth thirunaṇāvē".
முத்தேர் நகையா ளிடமாகத் தம்மார்பில் வெண்ணூல்பூண்டு
தொத்தேர் மலர்சடையில் வைத்தாரிடம்போலுஞ் சோலைசூழ்ந்த
அத்தேன் அளியுண் களியா லிசைமுரல ஆலத்தும்பி
தெத்தே யெனமுரலக் கேட்டார் வினைகெடுக்குந் திருநணாவே.
"Muthēr nakaiyā ḷidamākath tham'mārpil veṇṇūlpūṇdu
thothēr malarchadaiyil vaithāriṭampōluñj chōlaisūzhntha
athēṉ aḷiyuṇ kaḷiyā lisaimurala ālathumpi
thethē yeṉamuralak kēṭṭār viṉaikedukkunth thirunaṇāvē".
வில்லார் வரையாக மாநாகம் நாணாக வேடங்கொண்டு
புல்லார் புரமூன் றெரித்தார்க் கிடம்போலும் புலியுமானும்
அல்லாத சாதிகளு மங்கழல்மேற் கைகூப்ப அடியார்கூடிச்
செல்லா வருநெறிக்கே செல்ல அருள்புரியுந் திருநணாவே.
"Villār varaiyāka mānākam nāṇāka vēdaṅgkoṇdu
pullār puramūṉ tṟerithārk kidampōlum puliyumāṉum
allātha sāthikaḷu maṅgkazhalmēṟ kaikūppa adiyārkūdich
chellā varuneṟikkē sella aruḷpuriyunth thirunaṇāvē".
கானார் களிற்றுரிவை மேல்மூடி ஆடரவொன் றரைமேற்சாத்தி
ஊனார் தலையோட்டி லூணுகந்தான் தானுகந்த கோயிலெங்கும்
நானா விதத்தால் விரதிகள் நல்நாமமே யேத்தி வாழ்த்தத்
தேனார் மலர்கொண் டடியார் அடிவணங்குந் திருநணாவே.
"Kāṉār kaḷitṟurivai mēlmūdi āṭaravoṉ tṟaraimēṟsāthi
ūṉār tahlaiyōṭṭi lūṇukanthāṉ thāṉukantha kōyileṅkum
nāṉā vithathāl virathikaḷ nalnāmamē yēthi vāzhthath
thēṉār malarkoṇ daṭiyār adivaṇaṅkunth thirunaṇāvē".
மன்னீ ரிலங்கையர்தங் கோமான் வலிதொலைய விரலாலூன்றி
முந்நீர்க் கடல்நஞ்சை யுண்டார்க் கிடம்போலும் முனைசேர்சீயம்
அன்னீர் மைகுன்றி அழலால் விழிகுறைய வழியுமுன்றிற்
செந்நீர் பரப்பச் சிறந்து கரியொளிக்குந் திருநணாவே.
"Maṉṉī rilaṅkaiyarthaṅg kōmāṉ valitholaiya viralālūṉtṟi
munnīrk kadalnañchai yuṇdārk kidampōlum muṉaisērsīyam
aṉṉīr maikuṉtṟi azhalāl vizhikuṟaiya vazhiyumuṉtṟiṟ
sennīr parappach chiṟanthu kariyoḷikkunth thirunaṇāvē".
மையார் மணிமிடறன் மங்கையோர் பங்குடையான் மனைகடோறும்
கையார் பலியேற்ற கள்வன் இடம்போலுங் கழல்கள் நேடிப்
பொய்யா மறையானும் பூமியளந்தானும் போற்ற மன்னிச்
செய்யார் எரியாம் உருவமுற வணங்குந் திருநணாவே.
"Maiyār maṇimidaṟaṉ maṅgkaiyōr paṅgkudaiyāṉ maṉaikadōṟum
kaiyār paliyētṟa kaḷvaṉ iṭampōluṅg kazhalkaḷ nēdip
poyyā maṟaiyāṉum pūmiyaḷanthāṉum pōtṟa maṉṉich
cheyyār eriyām uruvamuṟa vaṇaṅkunth thirunaṇāvē".
ஆடை யொழித்தங் கமணே திரிந்துண்பார் அல்லல்பேசி
மூடு ருவம்உகந் தார்உரை யகற்றும் மூர்த்திகோயில்
ஓடு நதிசேரும் நித்திலமும் மொய்த்தகிலுங் கரையிற்சாரச்
சேடர் சிறந்தேத்தத் தோன்றியொளி பெருகுந் திருநணாவே.
"Ādai yozhithaṅg kamaṇē thirinthuṇpār allalpēsi
mūdu ruvamukan thār'urai yakatṟum mūrthikōyil
ōdu natihsērum nithilamum moythakiluṅg karaiyiṟsārach
chēdar siṟanthēthath thōṉtṟiyoḷi perukunth thirunaṇāvē".
கல்வித் தகத்தால் திரைசூழ் கடற்காழிக் கவுணிசீரார்
நல்வித் தகத்தால் இனிதுணரும் ஞானசம் பந்தன் எண்ணும்
சொல்வித் தகத்தால் இறைவன் திருநணா ஏத்து பாடல்
வல்வித் தகத்தான் மொழிவார் பழியிலரிம் மண்ணின் மேலே.
"Kalvith thakathāl thiraichūzh kadaṟkāzhik kavuṇisīrār
nalvith thakathāl iṉithuṇarum gñāṉasam pantaṉ eṇṇum
solvith thakathāl iṟaivaṉ thirunaṇā ēthu pādal
valvith thakathāṉ mozhivār pazhiyilarim maṇṇiṉ mēlē".