Visited on: August 15, 2016
Location
Srikalahasthi is 45 kms from Tirupathi, 100 kms from Chittoor and 120 kms from Chennai. It is well connected by road from all places in Andhra Pradesh. There is a Railway Station in Srikalahasthi. The nearest airport is Tirupathi, which is 20 kms away.
General Information
Moolavar

Sri Kalahastheeswarar / Sri Kudumithevar /
Sri Jyothi Vidankar / Sri Thenkayilainathar

Ambal

Sri Gnanappungothai / Sri Vandarkuzhalal /
Sri Gnana Prasunamba

Theertham (Holy water)

River Ponmukali / Brahma Theertham

Sthala Vriksham (Sacred Tree)

Vilvam

Pathigam (Hymn) rendered by

Saint Thirugnanasambanthar (2 Pathigam)
Saint Thirunavukarasar (1 Pathigam)
Saint Sundaramurthy (1 Pathigam)

This is one of the 276 Devara Paadal Petra Sthalams and 19th in Thondai Nadu.
Srikalahasthi is one of the "Pancha Pootha Sthalams" and Lord Shiva here is considered to be Vayu Lingam (Air).
Lord Shiva graces this temple as a Swayambhu Moorthy (self-manifested), and is said to be white in colour. This lingam is not touched by human hands, not even by the priests, as it is "Theendathirumeni".
This is also the Gnana Shakti Pedam - one of the 51 Shakti Pedams in India.
This temple is considered as "Dakshin Kailash" - Mount Kailash of South India.
This is a very big temple and is situated between two steep hills, Sripuram and Mummudi-cholapuram.
This temple is also popular as a Rahu-Kedu Parikara Sthalam.
There are two flag posts (Kodimaram) here - one is covered by metal and the other one is 60 feet tall and is made of a single stone.
History of the Temple
This temple was originally constructed by Pallava kings in 5th Century CE. It is believed that it was reconstructed in 12th Century CE by Chola and Vijayanagara Kings. Unlike many other Shiva temples in India this temple has a large number of impressive structures.
This temple was carved out of a huge stone hill on the banks of river Ponmukali. There is a 100-pillar hall (mandapam) that is believed to have been constructed by the Vijayanagara King, Krishnadevaraya in the year 1516. This hill is also called as "Kailash Hill".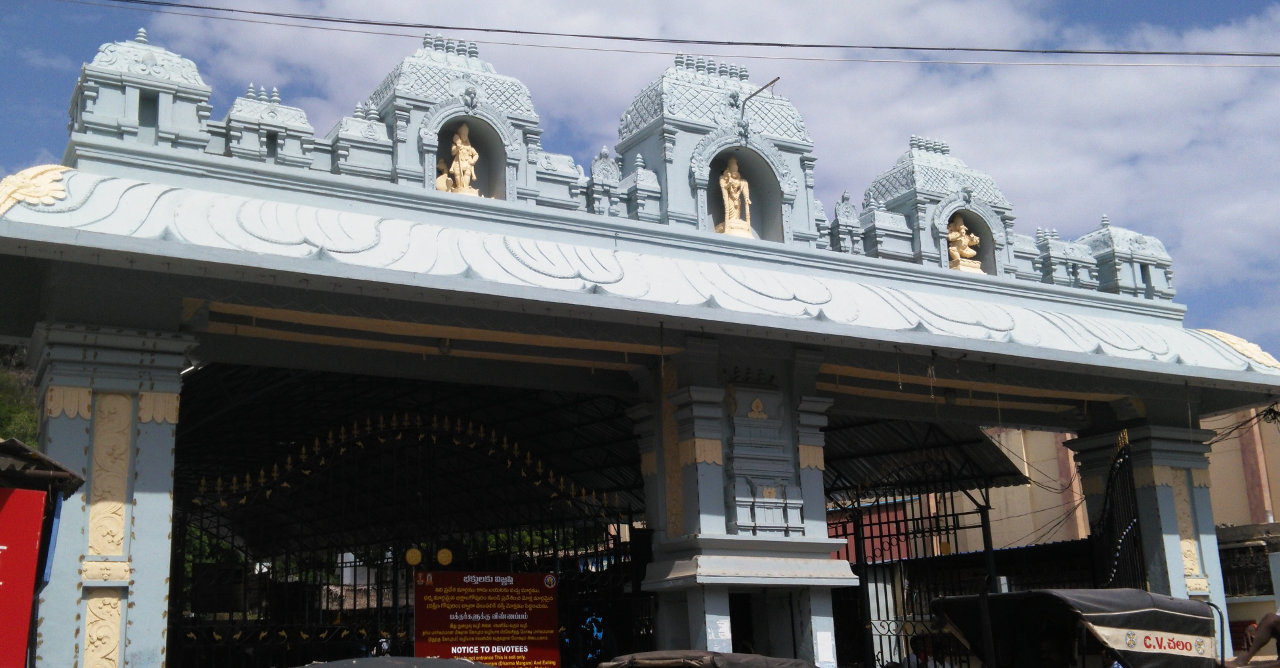 Legend

According to the legend, there were once three staunch devotees of Lord Shiva – a spider (Sri), a serpent (Kala) and an elephant (Hasti). It is believed that the elephant used to clean the deity Lord Shiva by watering the idol with river-water carried in its trunk and placing "Vilva" leaves on the lingam. Similarly, the spider praised Lord Shiva by weaving its web to provide shelter to the lingam and the snake praised the lord by placing its precious gem on the lingam to adorn the lord. Impressed by their unflinching devotion, Lord Shiva granted them a boon that their names would be merged with the name of the lingam itself and it will henceforth be called as Srikalahastheeswarar.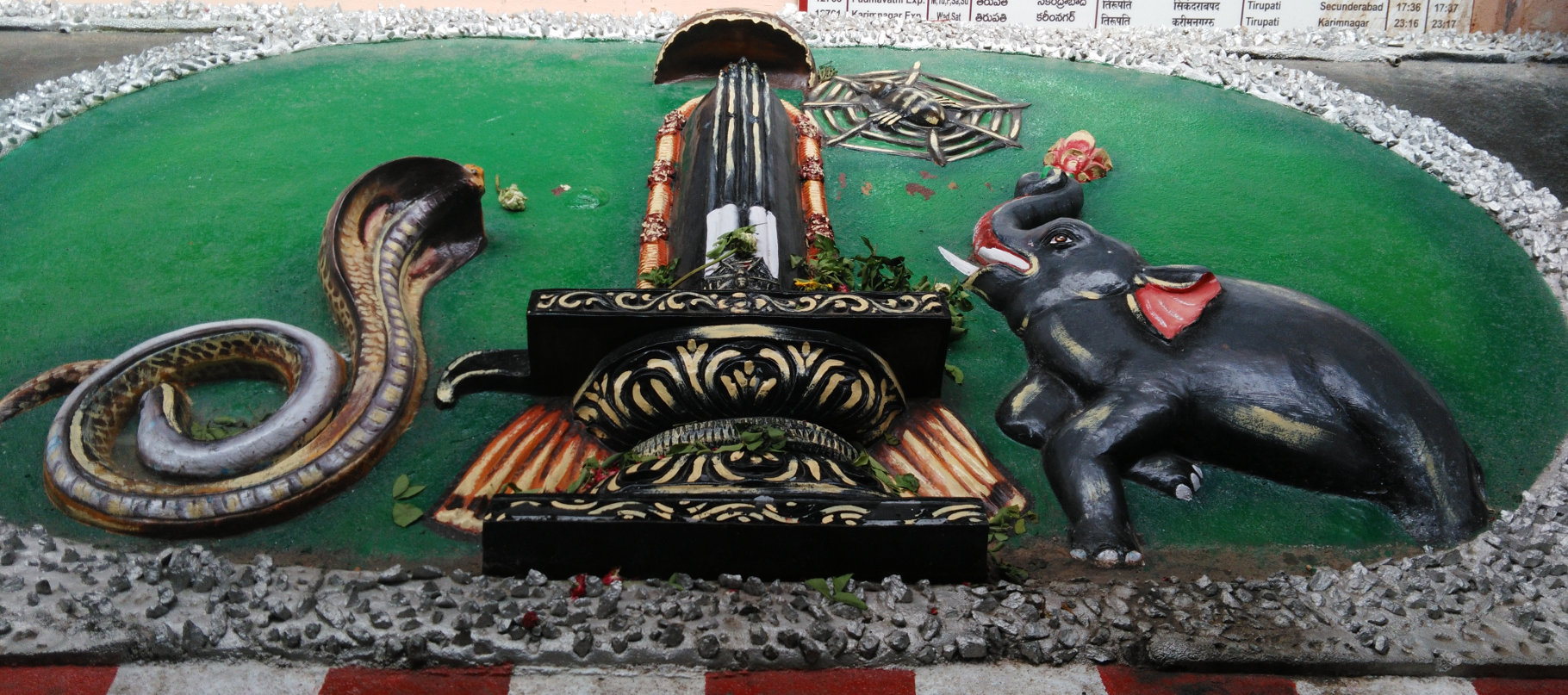 Another legend associated with this temple is that of Kannappa Nayanar (one of the 63 Nayanmars). It is believed that there was a hunter called Thinnanar who used to worship Lord Shiva by bringing water in his mouth from a nearby river and pouring it on the lingam as a form of abhishekam. He would also make offerings of fresh flowers and cooked meat. The priest at this temple felt that the offerings made by the hunter were inappropriate. He complained to Lord Shiva asking the lord to put an end to this. However, this continued for a few more days and on one specific day, Lord Shiva instructed the priest to bear witness to the proceedings. Obeying the lord's instructions, the priest hid himself to see what was going on.
As usual, Thinnanar came to offer water from his mouth, adorn the lingam with fresh flowers and to make offerings of cooked meat. In order to show the world the true depth of Thinnanar's devotion the lord decided to play a prank. Suddenly one of the eyes of the lingam started bleeding. Thinnanar immediately tried to stop the bleeding by applying some medicinal plants but his efforts were not fruitful. Unable to think of anything else, he immediately took out one of his arrows and proceeded to pluck out his eye. He then tried to stop the lingam's bleeding by placing his eye at that spot.
Although the bleeding at that spot stopped, Thinnanar noticed that the lingam had started bleeding from the other eye. Without any hesitation, he decided to pluck out his other eye and place it on the lingam. However, Thinnanar realised that if he plucked out his other eye also, he would become blind and would not be able to determine the location of the lingam's bleeding eye. He decided to place his foot on the lingam's bleeding eye before proceeding to pluck out his other eye.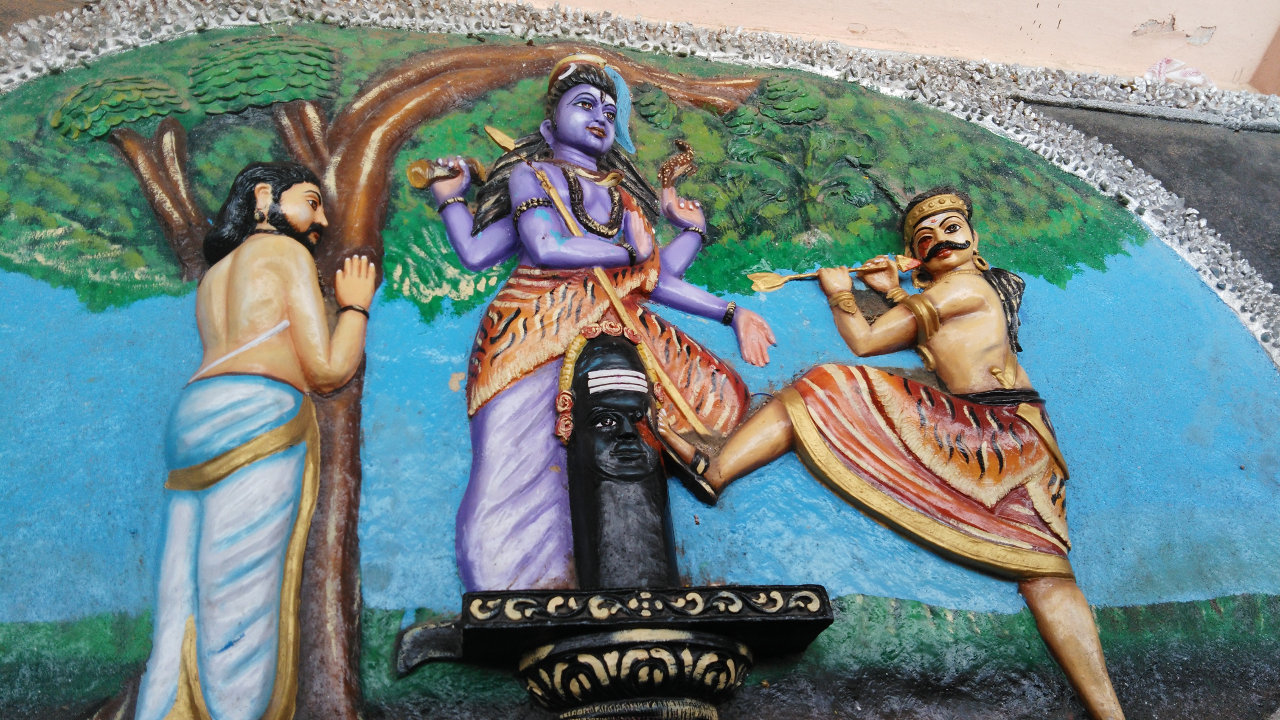 Moved by Thinnanar's unflinching devotion, Lord Shiva appeared before him and granted him the boon of salvation. He also said that from now on Thinnanar would become known to the world as Kannappa Nayanar ("Kan" meaning eye) and would find his place among one of the 63 Nayanmars.
Deities in the temple
Apart from the main deity Lord Shiva and Goddess Gnanappungothai, idols of Lord Shiva that are believed to have been installed and worshiped by Lord Ram, Seeta, Lakshmanan, Hanuman, Yudhishthira, Sage Vyasa, Chitragupta and Yaman can be seen adjacent to the sanctum sanctorum. An idol of Kannappar can also be seen adjacent to the sanctum sanctorum.
There is no Navagraham in this temple but only idol of Sani Bhagawan can be seen in the corridor.
There is a small underground shrine for "Pathala Ganapathy", which is about 35 feet below the ground level and has 20 steps.
Salient Features
Since this lingam is considered to be the "Vayu lingam", inside the inner sanctum of this temple, you can observe the lamp constantly oscillating / flickering despite the lack of air movement.
It is estimated that lakhs of Shiva devotees visit this temple every year to seek the blessings of the Lord and to attain Moksha.
This temple is considered as "Dakshin Kailash" - the Mount Kailash of South India. Similar to river Ganga in Kasi, at Srikalahasthi the river "Ponmugali" flows in the north direction. This add to the belief of this temple being the Dakshin Kailash.
Both Kasi (Banaras) and Srikalahasthi are considered to be Mukthi Sthalam (where one can seek to attain salvation).
It is also believed that Rahu and Kethu worshiped Lord Shiva in this temple and were absolved from their sins.
The lingam in this temple is always adorned with a gold-plated cover. This gold-plated cover signifies the 27 constellations (nakshatrams). Sometimes when the aarthi is shown, this cover is temporarily removed. During such occasion, one can see the reliefs of a spider, an elephant and a five-headed snake at the base of the lingam. A relief depicting the eye that Kannappa Nayanar placed on the lingam can also be seen.
A separate temple for Kannappar is also there on the top of a nearby hill. Vibhuti (sacred ash) is not offered in this temple, but symbolizing the Abhishek Theertham of Kannappar, only Theertham (water mixed with camphor) is offered to the devotees.
"Tharaka Mantra" (commonly known as "Karna Manthra") is a shlokam that is uttered in the ears of a departing soul. It is believed that like Lord Viswanatha (in Kasi) uttered this mantra in the ears of a dying devotee, the lord of this temple did the same at Srikalahasti.
It is believed that Lords Mahavishnu, Lakshmi, Brahma, Saraswathi, Indiran, Ram, Adisheshan, Sages Agasthiar, Vashistar, Nakkeerar, Emperor Musukunda Chakravarthi, and many others have worshiped Lord Shiva here.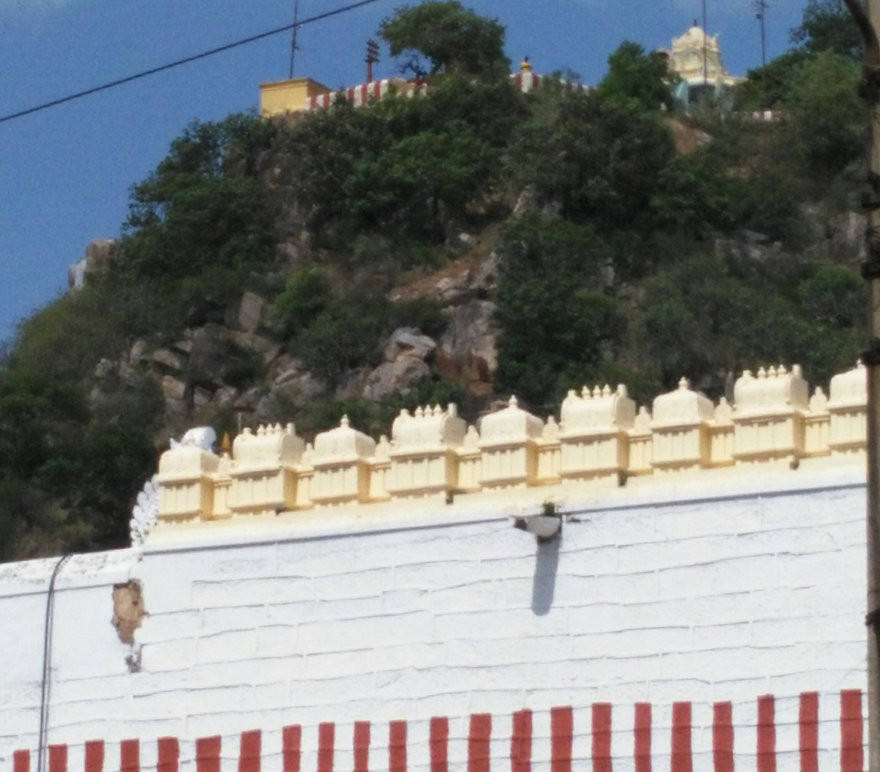 There are two temples at this place – a small temple at the top of hill and a much larger one at the foothill. It is believed that the lingam of Lord Kudumithevar that was worshipped by Kannappa Nayanar is the one that is at the top of the hill. It is also said that all the three Saints (the "Moovars") claimed atop the hill and rendered their respective Pathigams.
Instead of physically travelling to Mount Kailash, it is believed that Saint Thirugnanasambanthar, Saint Sundaramurthy Nayanar (Sundarar) and Saint Nakkeerar rendered their pathigams about Lord Shiva at Mount Kailash from here itself.
Greatness of this Temple
Abhishekam is performed on the Avudaiyar (base) only and not on the Lingam.
It is a common belief among devotees that simply by visiting this temple and worshipping the lord here one can attain salvation.
Rahu – Kethu and Sarpa Dosha Nivarana Pooja is conducted daily which attracts a large number of devotees.
Important Festivals
Mahashivaratri in the Tamil month of Maasi (January-February) is an important festival celebrated in this temple. Thirukarthigai in the Tamil month of Karthigai (November-December), Makara Sankranthi (Pongal) in the Tamil month of Thai (January), Giri Valam (circumambulation of the hill) on Shivrathri days are the other important festivals celebrated here.
Oonjal Urchavam (swing/cradle festival) is celebrated here on all Fridays During this occasion, Goddess Gnanappungothai is decorated with golden saree.
Temple Timings
05:45 AM to 08:00 PM
Temple Address
Sri Kalahastheeswara Swamy Temple,
Srikalahasthi
Srikalahasthi Devasthanam,
Chittoor District, Andhra Pradesh-517 644.
Telephone: +91 8578 222 240
---
Pathigam (Hymn) with English transliteration
Saint Thirugnanasambanthar visited this temple and sang this Pathigam.
Devotees visiting this temple should make it a practice to recite this Pathigam.
சந்தமார் அகிலொடு சாதிதேக் கம்மரம்
உந்துமா முகலியின் கரையினில் உமையொடும்
மந்தமார் பொழில்வளர் மல்குவண் காளத்தி
எந்தையார் இணையடி யென்மனத் துள்ளவே.
"Santhamār akiloṭu sāthithēk kam'maram
unthumā mukaliyiṉ karaiyiṉil umaiyodum
mantamār pozhilvaḷar malkuvaṇ kāḷathi
enthaiyār iṇaiyaṭi yeṉmaṉath thuḷḷavē".
ஆலமா மரவமோ டமைந்தசீர்ச் சந்தனஞ்
சாலமா பீலியுஞ் சண்பக முந்தியே
காலமார் முகலிவந் தணைதரு காளத்தி
நீலமார் கண்டனை நினையுமா நினைவதே.
"Ālamā maravamō damainthachīrch santaṉañj
chālamā pīliyuñj saṇpaka munthiyē
kālamār mukalivanth thaṇaitharu kāḷathi
nīlamār kaṇdaṉai niṉaiyumā niṉaivathē".
கோங்கமே குரவமே கொன்றையம் பாதிரி
மூங்கில்வந் தணைதரு முகலியின் கரையினில்
ஆங்கமர் காளத்தி யடிகளை அடிதொழ
வீங்குவெந் துயர்கெடும் வீடெளி தாகுமே.
"Kōṅgkamē kuravamē koṉtṟaiyam pāthiri
mūṅkilvanth thaṇaitharu mukaliyiṉ karaiyiṉil
āṅgkamar kāḷathi yadikaḷai adithozha
vīṅgkuventh thuyarkeṭum vīṭeḷi thākumē".
கரும்புதேன் கட்டியுங் கதலியின் கனிகளும்
அரும்புநீர் முகலியின் கரையினி லணிமதி
ஒருங்குவார் சடையினன் காளத்தி யொருவனை
விரும்புவா ரவர்கள்தாம் விண்ணுல காள்வரே.
"Karumputhēṉ kaṭṭiyuṅg kathaliyiṉ kaṉikaḷum
arumpunīr mukaliyiṉ karaiyiṉi laṇimathi
oruṅgkuvār sadaiyiṉaṉ kāḷathi yoruvaṉai
virumpuvā ravarkaḷthām viṇṇula kāḷvarē".
வரைதரும் அகிலொடு மாமுத்தம் உந்தியே
திரைதரு முகலியின் கரையினில் தேமலர்
விரைதரு சடைமுடிக் காளத்தி விண்ணவன்
நிரைதரு கழலிணை நித்தலும் நினைமினே.
"Varaitharum akilodu māmutham untihyē
thiraitharu mukaliyiṉ karaiyiṉil thēmalar
viraitharu sadaimuṭik kāḷathi viṇṇavaṉ
niraitharu kazhaliṇai nithalum niṉaimiṉē".

(இப்பதிகத்தில் 6-ம், 7-ம் செய்யுட்கள் மறைந்து போயின.)
முத்துமா மணிகளும் முழுமலர்த் திரள்களும்
எத்துமா முகலியின் கரையினில் எழில்பெறக்
கத்திட அரக்கனைக் கால்விரல் ஊன்றிய
அத்தன்றன் காளத்தி அணைவது கருமமே.
"Muthumā maṇikaḷum muzhumalarth thiraḷkaḷum
ethumā mukaliyiṉ karaiyiṉil ezhilpeṟak
kathida arakkaṉaik kālviral ūṉtṟiya
athaṉtṟaṉ kāḷathi aṇaivathu karumamē".
மண்ணுமா வேங்கையும் மருதுகள் பீழ்ந்துந்தி
நண்ணுமா முகலியின் கரையினில் நன்மைசேர்
வண்ணமா மலரவன் மாலவன் காண்கிலா
அண்ணலார் காளத்தி ஆங்கணைந் துய்ம்மினே.
"Maṇṇumā vēṅgkaiyum maruthukaḷ pīzhnthunthi
naṇṇumā mukaliyiṉ karaiyiṉil naṉmaisēr
vaṇṇamā malaravaṉ mālavaṉ kāṇkilā
aṇṇalār kāḷathi āṅgkaṇainth thuym'miṉē".
வீங்கிய உடலினர் விரிதரு துவருடைப்
பாங்கிலார் சொலைவிடும் பரனடி பணியுமின்
ஓங்குவண் காளத்தி யுள்ளமோ டுணர்தர
வாங்கிடும் வினைகளை வானவர்க் கொருவனே.
"Vīṅkiya udaliṉar viritharu thuvarudaip
pāṅkilār solaiviṭum paraṉadi paṇiyumiṉ
ōṅgkuvaṇ kāḷathi yuḷḷamō duṇarthara
vāṅkidum viṉaikaḷai vāṉavark koruvaṉē".
அட்டமா சித்திகள் அணைதரு காளத்தி
வட்டவார் சடையனை வயலணி காழியான்
சிட்டநான் மறைவல ஞானசம் பந்தன்சொல்
இட்டமாப் பாடுவார்க் கில்லையாம் பாவமே.
"Aṭṭamā csthikaḷ aṇaitharu kāḷathi
vaṭṭavār sadaiyaṉai vayalaṇi kāḻzhyāṉ
siṭṭanāṉ maṟaivala gñāṉasam panthaṉsol
iṭṭamāp pāduvārk killaiyām pāvamē".