Visited on: November 2, 2017.
Location
Thiruvaikavur is situated at a distance of about 15 kms from Kumbakonam on the Kumbakonam to Thiruvaiyaru route (via Puliancheri). Take the diversion road from Puliancheri and proceed for about 9 kms to reach this temple. It is 12 kms away from Papanasam and 10 kms away from Swamimalai.
Other Devara Paadal Petra Shiva Sthalams near this place are –
Thiruvisayamangai (Govandha Puthur), Thiruppurambiam, Innambur, Kottaiyur, Patteeswaram, Sakthimutram, Pazhayarai Vadathali, Thiruvalanchuzhi and Kumbakonam (3 temples – Kudamukku, Keezhkkottam and Karonam).
General Information
| | |
| --- | --- |
| Moolavar | Sri Vilvavaneswarar, Sri Vilvavana Nathar |
| Ambal | Sri Sarvajana Rakshaki, Sri Valaikkai Valliammai |
| Theertham (Holy water) | Yama Theertham, Agni Theertham |
| Sthala Vriksham (Sacred Tree) | Vilvam tree |
| Pathigam (Hymn) rendered by | Saint Thirugnanasambanthar-1 |
This is one of the 276 Devara Paadal Petra Shiva Sthalams and 48th Shiva Sthalam on the northern bank of the river Cauvery in Chozha Nadu (Vadakarai).
Lord Shiva in this temple is a Swayambumurthi (self-manifested).
There is no flag post ("Dwajasthambam") here.
This east facing temple's main tower is not tiered. In place of the Gopuram, there are beautiful sculptures depicting Lord Shiva, Goddess Parvathy, Vinayakar, Murugan, Brahma and Mahavishnu.
This east facing temple has three corridors.
The last consecration ceremony (Maha Kumbabishekam) took place on 11.06.2003.
History of the Temple
This ancient temple is located on the southern bank of the river Kollidam and towards the north of the river Manniyaru.
The historical names of this place are Vilva Vanam and Bhoomi Puram.
As per the stone inscriptions present here, Chola King Kulothungan-I rebuilt this temple using granite in 11th century AD.
This temple is under the administrative control of the Hindu Religious and Charitable Endowments Department of Government of Tamil Nadu (HR&CE).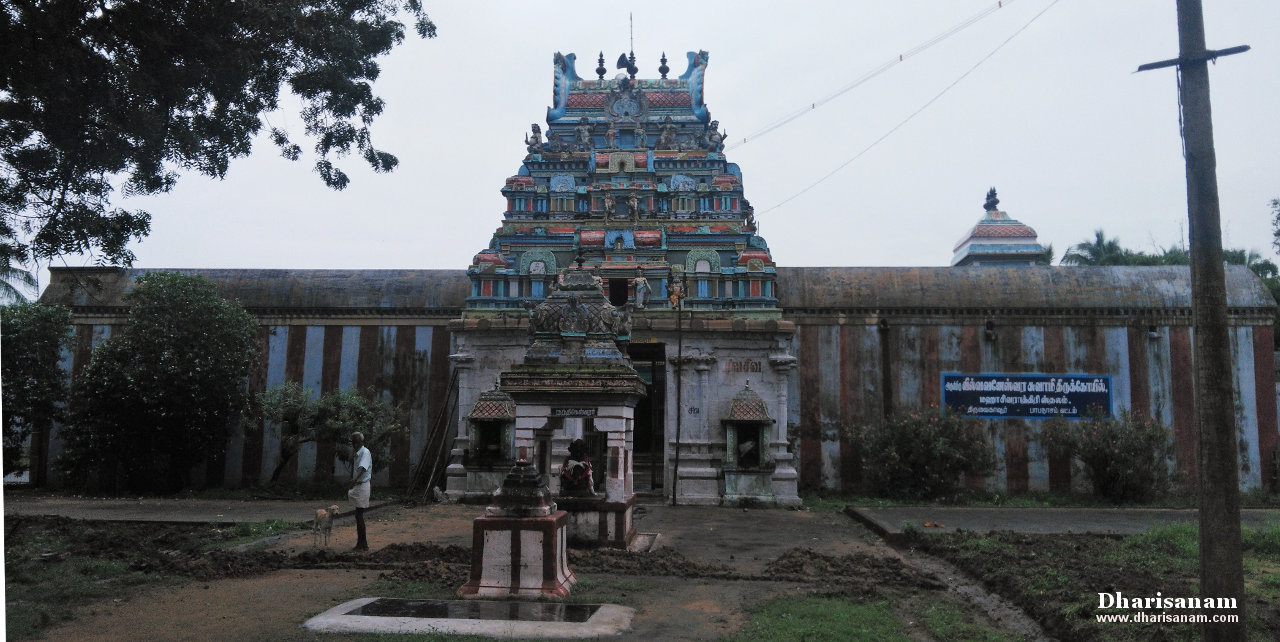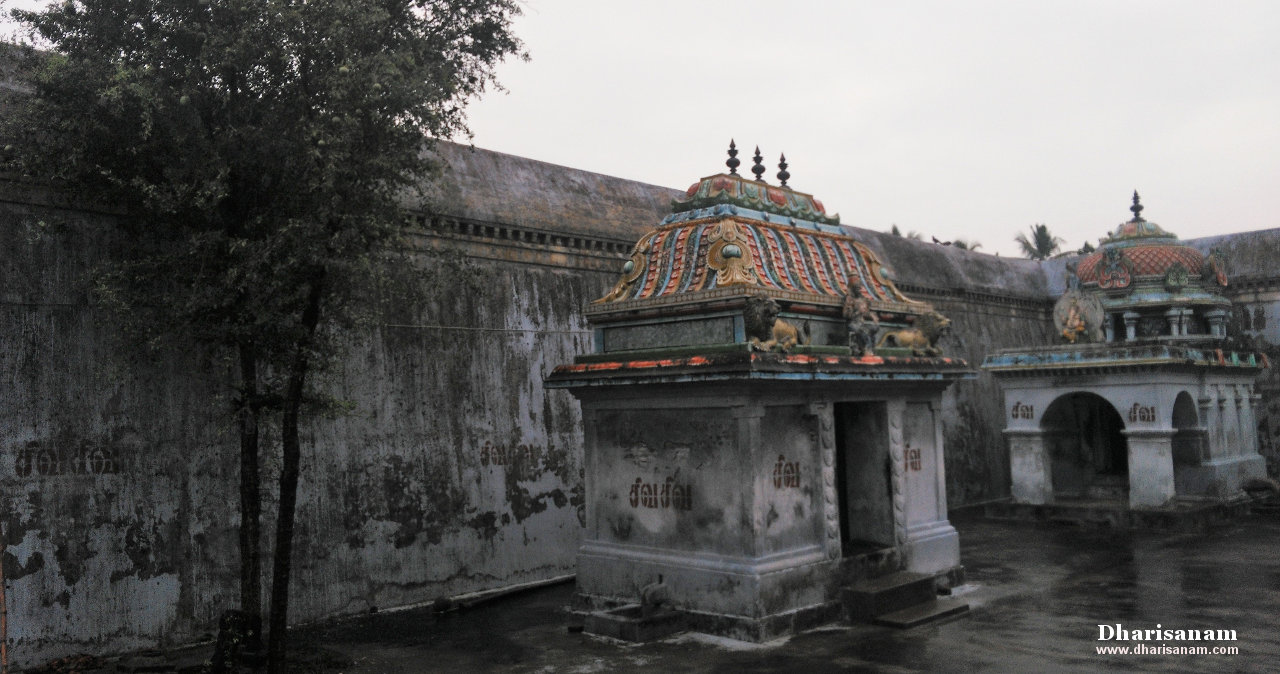 Legend
The legend of this temple involves a hunter who came here while chasing a deer. It is believed that the deer surrendered to Sage Dhavanithi who was performing penance in this temple. The hunter reached the spot and asked the sage to release the deer. The sage advised him to leave the deer alone but the hunter was adamant and threatened to kill him if he did not release the deer.
Even after his threat, the sage did not back down and refused to let go of the dear. It is believed that at this point, Lord Shiva came in the form of a tiger in order to save the sage and the deer. On seeing the tiger, the hunter climbed on a tree. The tiger sat under the tree and did not leave. Even as the night approached, both of them did not move from their positions. The hunter was afraid that he might doze off and fall down from the tree. To keep himself busy, he started plucking the leaves one by one and throwing it on the tiger. Incidentally, the night was a Maha Shivratri and the leaf was Vilvam. Pleased with the hunter's act, Lord Shiva blessed him with his darshan and gave him salvation. It is believed that both Lord Mahavishnu and Lord Brahma had also come here to witness this event.
In the meantime, Yama (lord of death) had also reached this place. He had divined that the hunter's life would end in the morning. He was not aware that the hunter had been granted salvation by Lord Shiva. He entered the temple to find the hunter and perform his duty. However, Nandhi did not notice Yama entering into the temple. As soon as he entered, the lord took the form of Dakshinamurthy and drove him away with a stick. Lord Shiva then instructed the Dwarapalakas and Nandhi to chase and drive Yama away. Lord Shiva also scolded Nandhi for his carelessness. Eager to seek forgiveness for his mistake, Nandhi used all his might and inhaled deeply to stop the fleeing Yama in his place. Yama prayed to the lord for forgiveness and pleaded that he be released. Lord Shiva then instructed Nandhi to release him.
In order to show his respect for the lord, Yama created a tank here and performed abhishekam to the lord. He stayed here for a few days and performed poojas. The holy water created by Yama is known as Yama Theertham. It is in front of this temple. The idol of Nandhi in this temple is facing towards the entrance. This signifies that he is keeping a watch to stop Yama in case he tries to enter the temple again.
Other legends from Sthala Puranam
As Lord Shiva sent out the dwarapalakas to chase Yama, there are no idols of dwarapalakas here. In their place, Lords Mahavishnu and Brahma are acting as dwarapalakas. Lord Brahma created a tank (Theertham) here and worshiped the lord to retain his role as the creator of the universe.
Lord Mahavishnu had lied to the demon Salandhiran's wife before killing him. Because of this sin, she cured Lord Mahavishnu. In order to seek relief, he visited this place and worshiped Lord Shiva here. Hence Lord Shiva here is also praised as "Sri Hariesar".
It is also believed that Goddess Bhooma Devi visited this place and worshiped the lord. Hence this place also gets the name "Bhoomi Puram".
It is believed that on a Shivrathri day, a thief killed a sleeping child while trying to steal the child's ornaments. The father of the child, a staunch Shiva devotee, prayed to Lord Shiva to resurrect the child. It is believed that Lord Shiva gave rebirth to the child. Hence, he is also praised here as Sri Makavarulesar.
It is believed that Sage Unthaala had cursed the Saptha Kannihas. They visited this place, worshiped the lord and were relieved of their sins.
Other than the Yama Theertham, there is another Theertham called Agni Theertham. It is believed that Lord Agni created this holy water and worshiped the lord here.
It is also believed that on the advice of Lord Shiva, the four Vedas visited this place and performed penance here in the form of Vilva trees. Hence this place also gets the name Vilva Vanam.
Deities in the temple
Other than the shrines of Lord Shiva and Goddess Parvathy, shrines and idols of
Vallabha Vinayakar, Murugan with his consorts, Sapthamadas, Kasi Vishwanathar, Mahalakshmi, Saraswathi, Vishnu Durgai (2), Bairavar (2), Saneeswarar and Navagraham can be seen in the hall and corridors.
In the main hall, Saptha lingams, Brahma, Vishnu, Vinayakar and the procession idol of Sri Baktha Anjaneyar can be seen.
The idol of lord Dakshinamurthy here is shown holding a stick in his hands.
In place of Dwarapalakis in Goddess Sarvajana Rakshaki's shrine, Vinayakar idols are placed on both sides.
Idols of Vishnu, Narayani, Bairavar, Suryan, Chandran and Saneeswarar are placed in a row.
There is a separate shrine for Lord Siddhi Vinayakar at the entrance of this temple.
In the "koshtam" (place surrounding the sanctum sanctorum), idols of Narthana Vinayakar, Agasthiyar, Dakshinamurthy, Pitchandavar, Arthanaareswarar, Lingothbavar, Brahma, Kala Bairavar, and Durgai can be seen. There are two idols of Chandikeswarar in front of Goddess Durgai.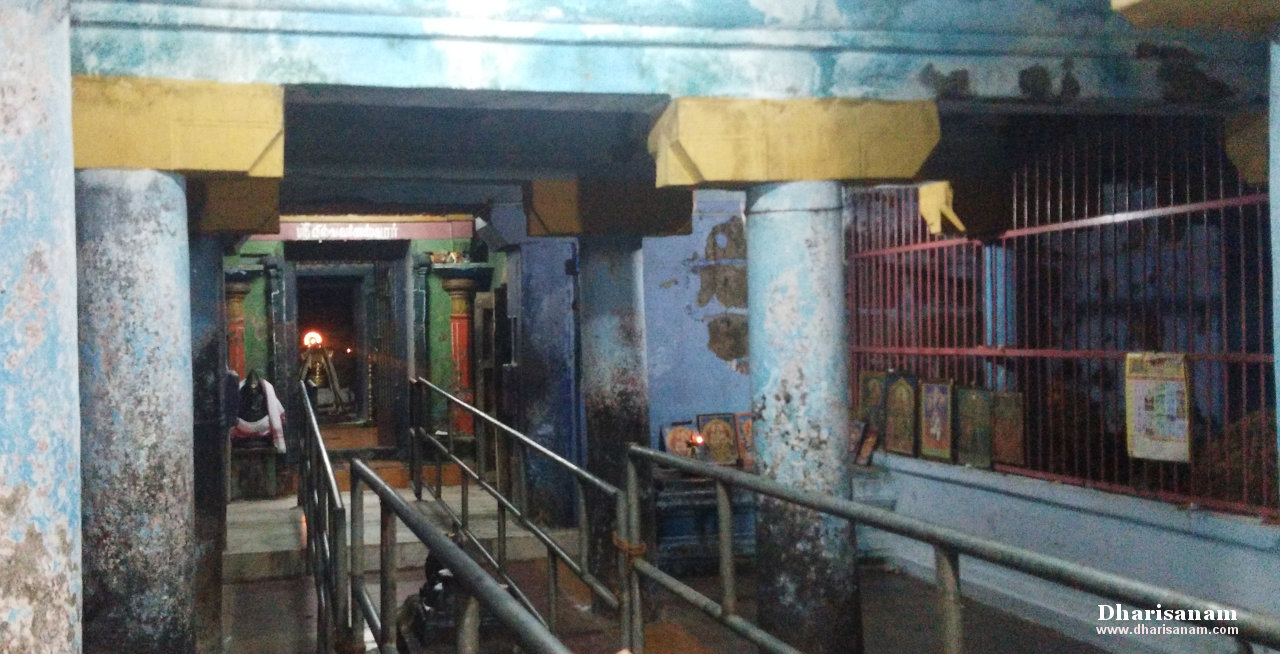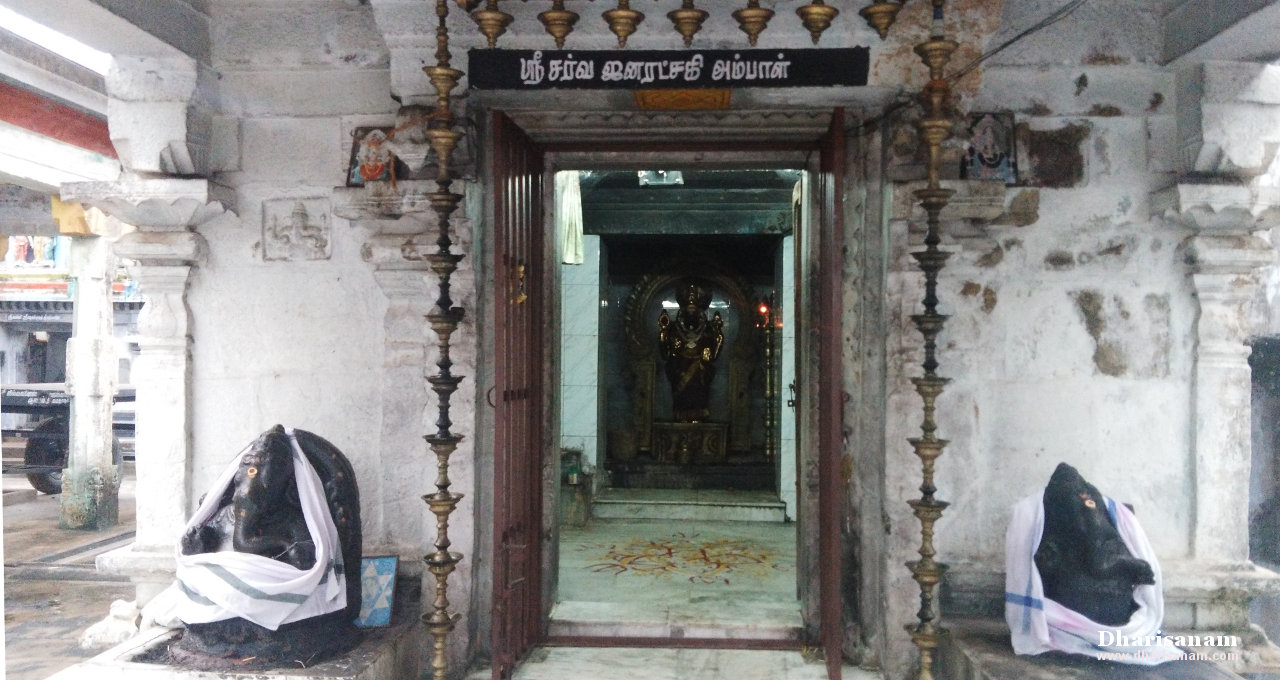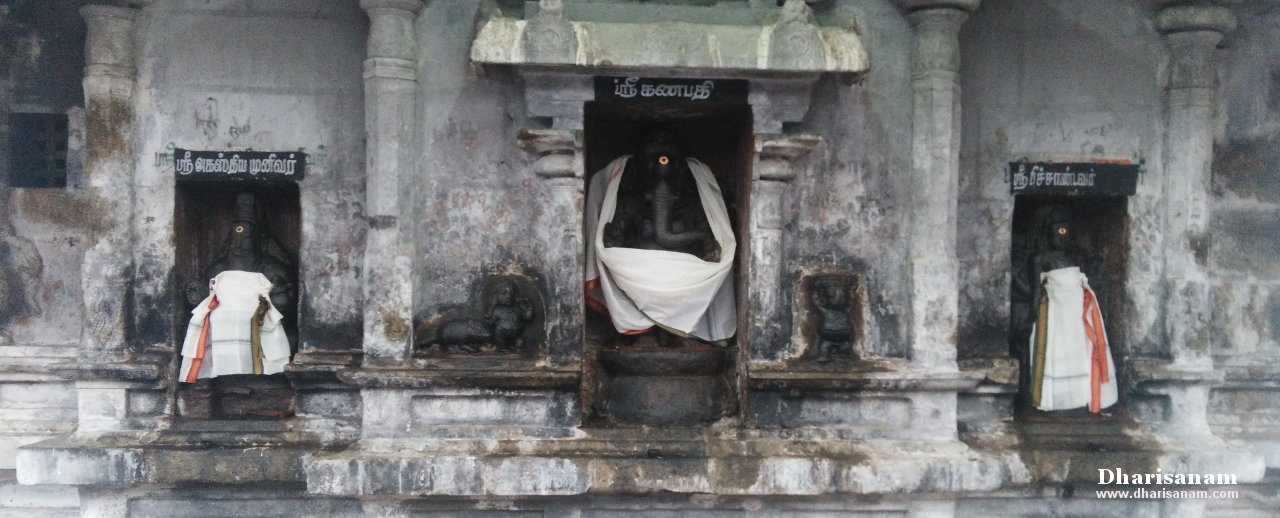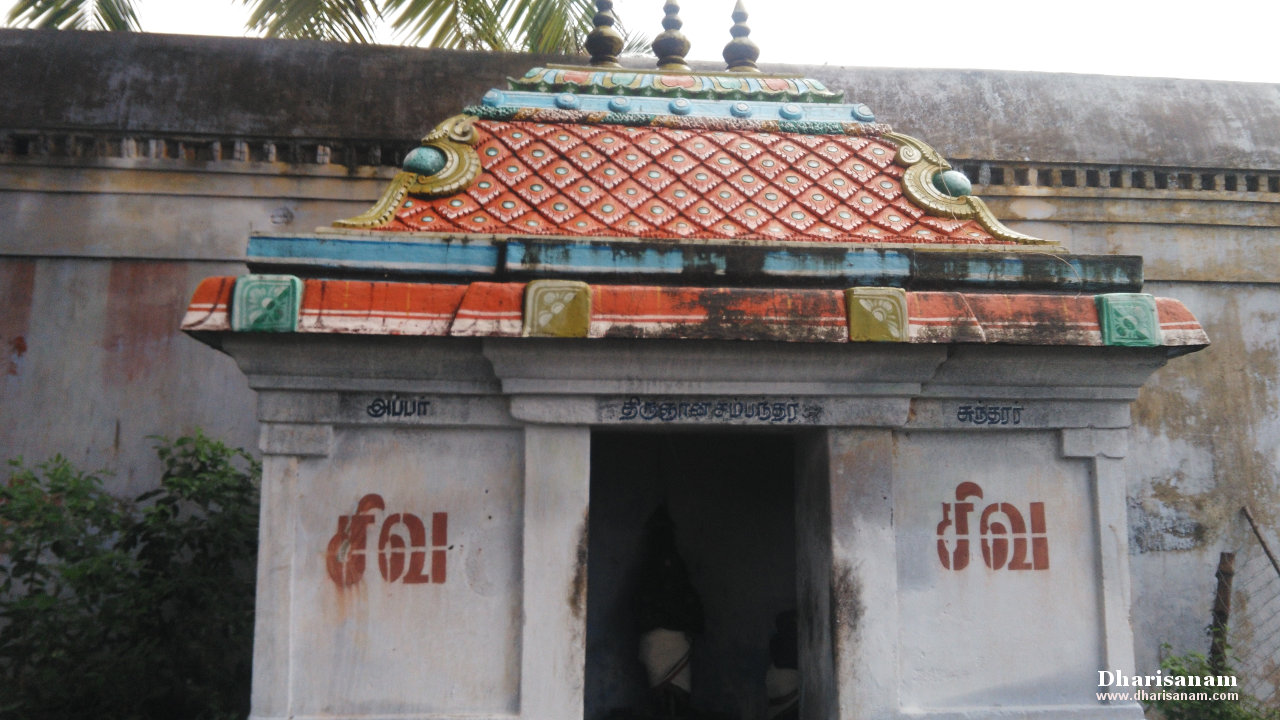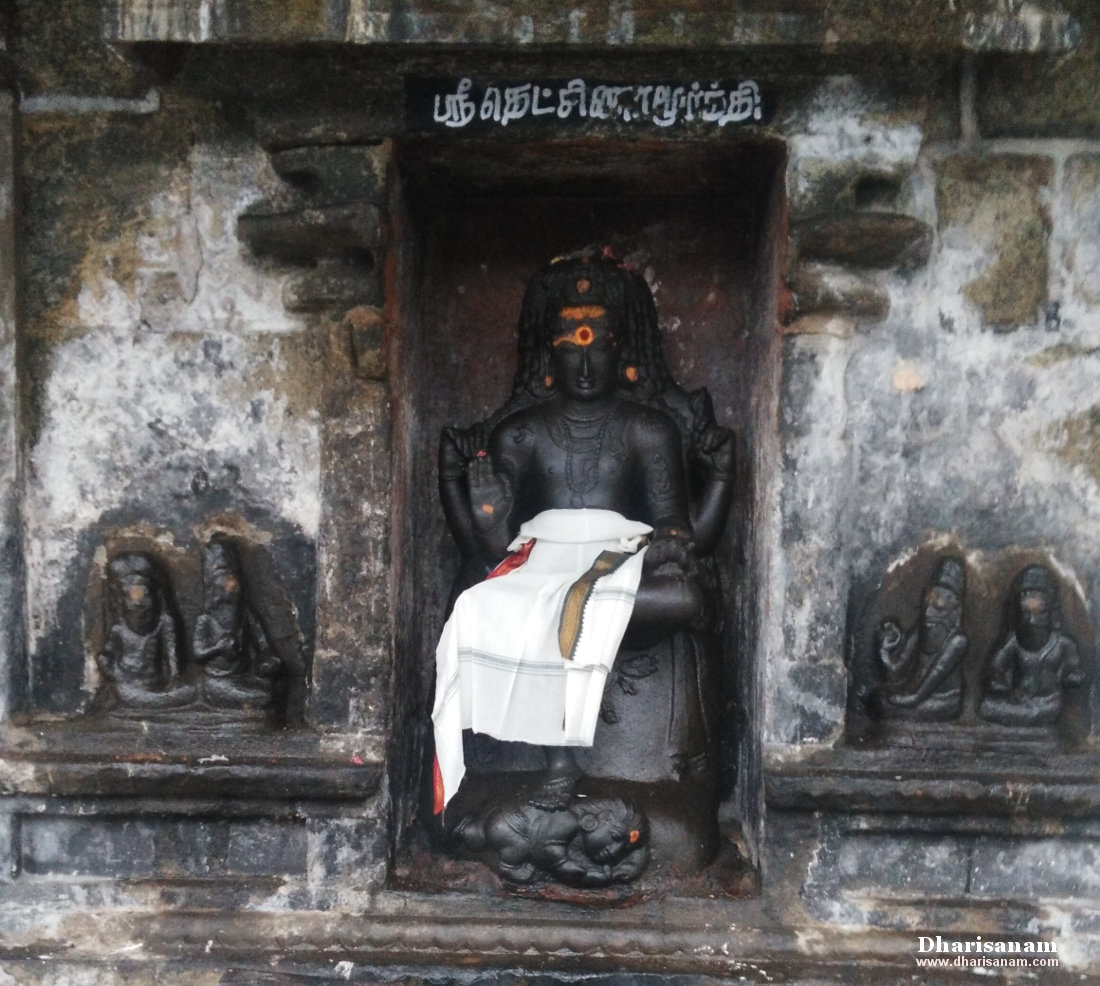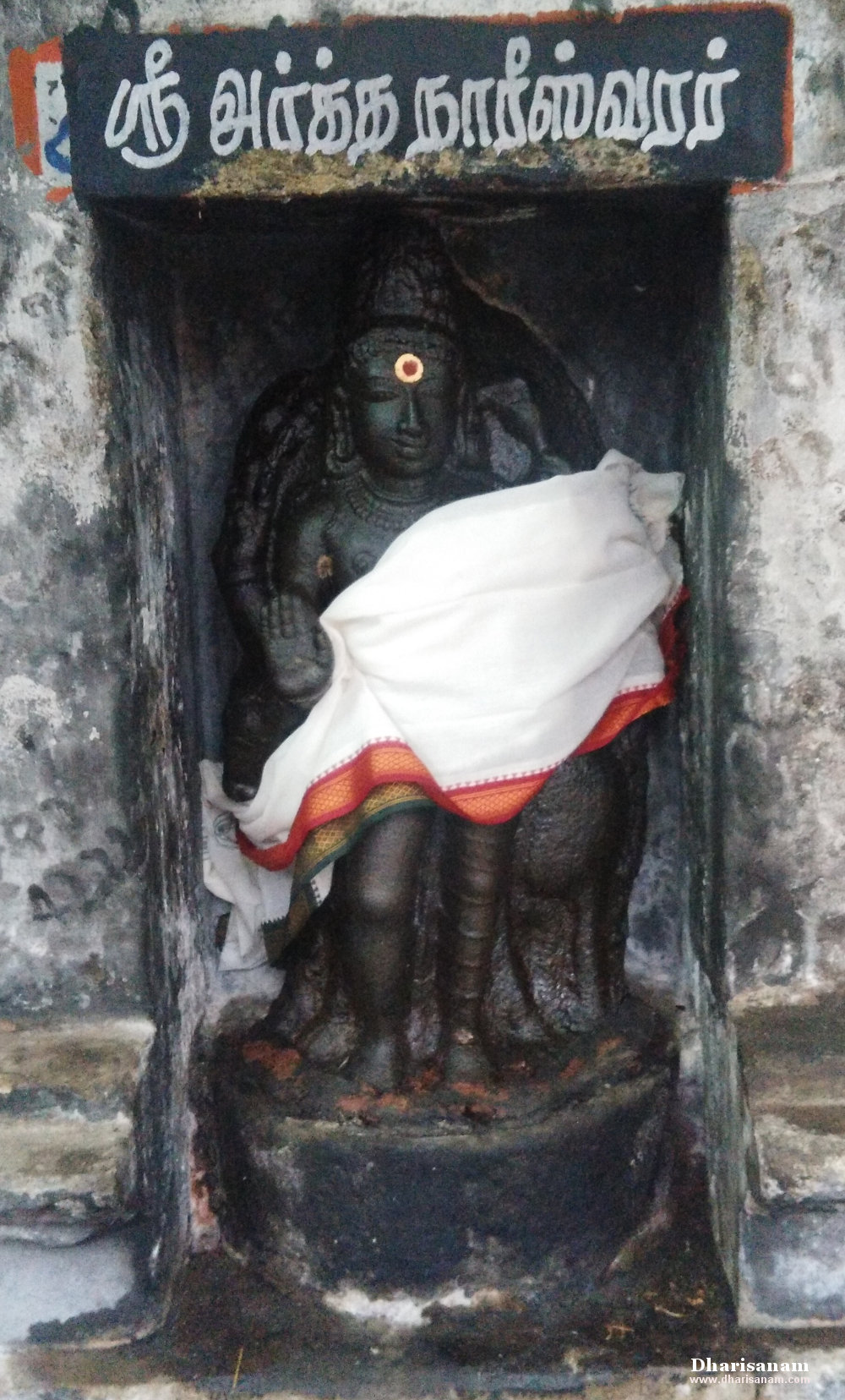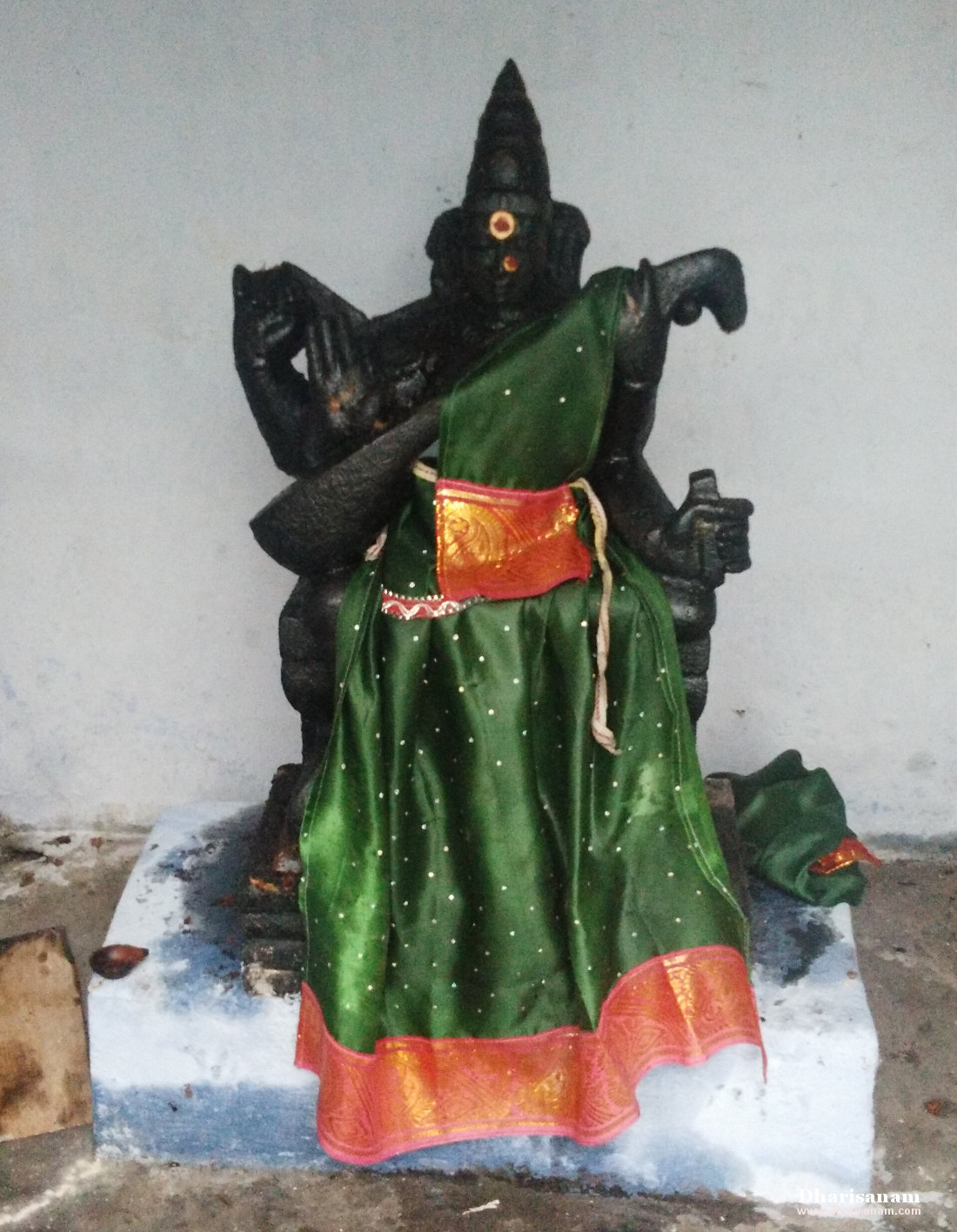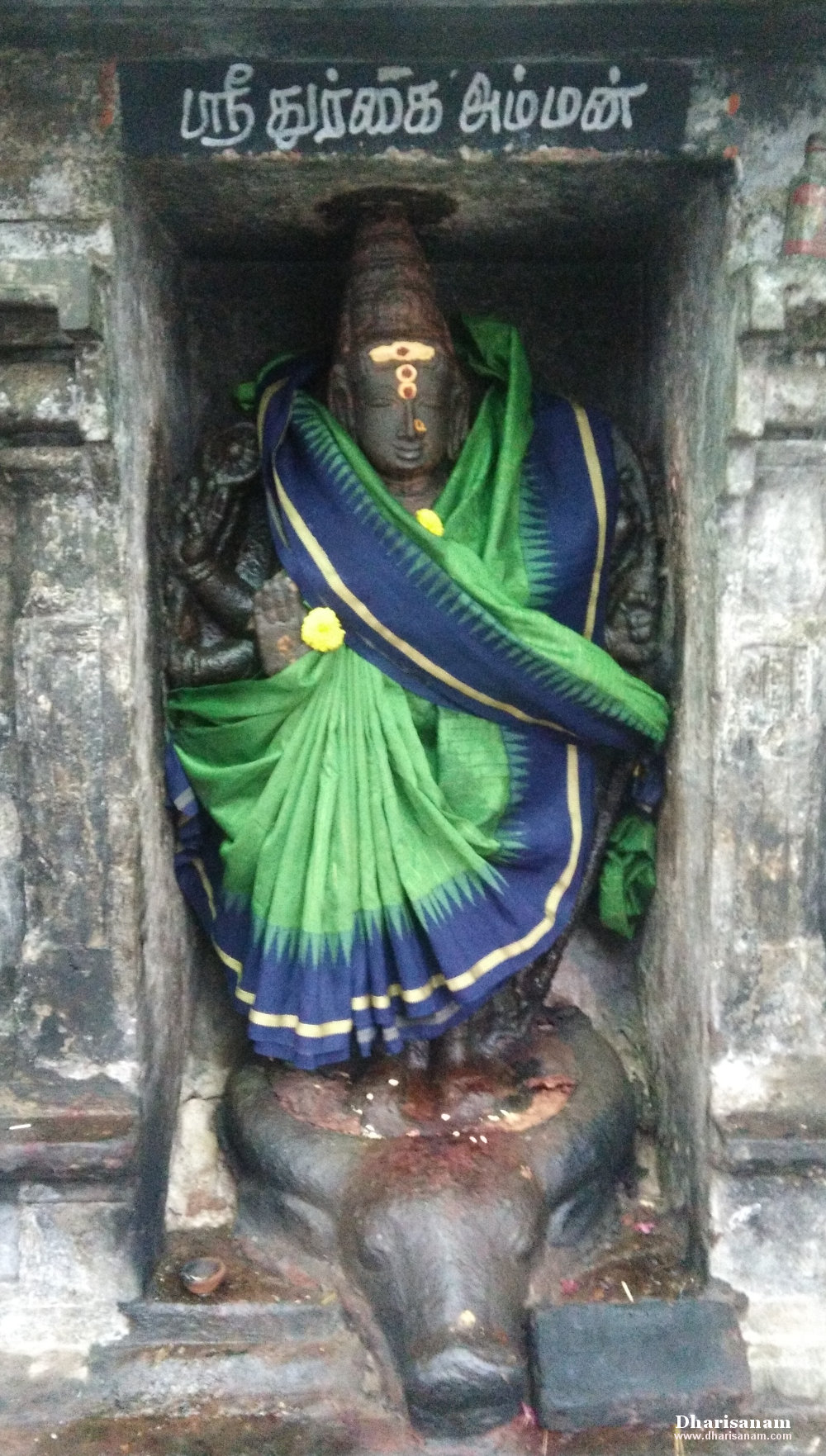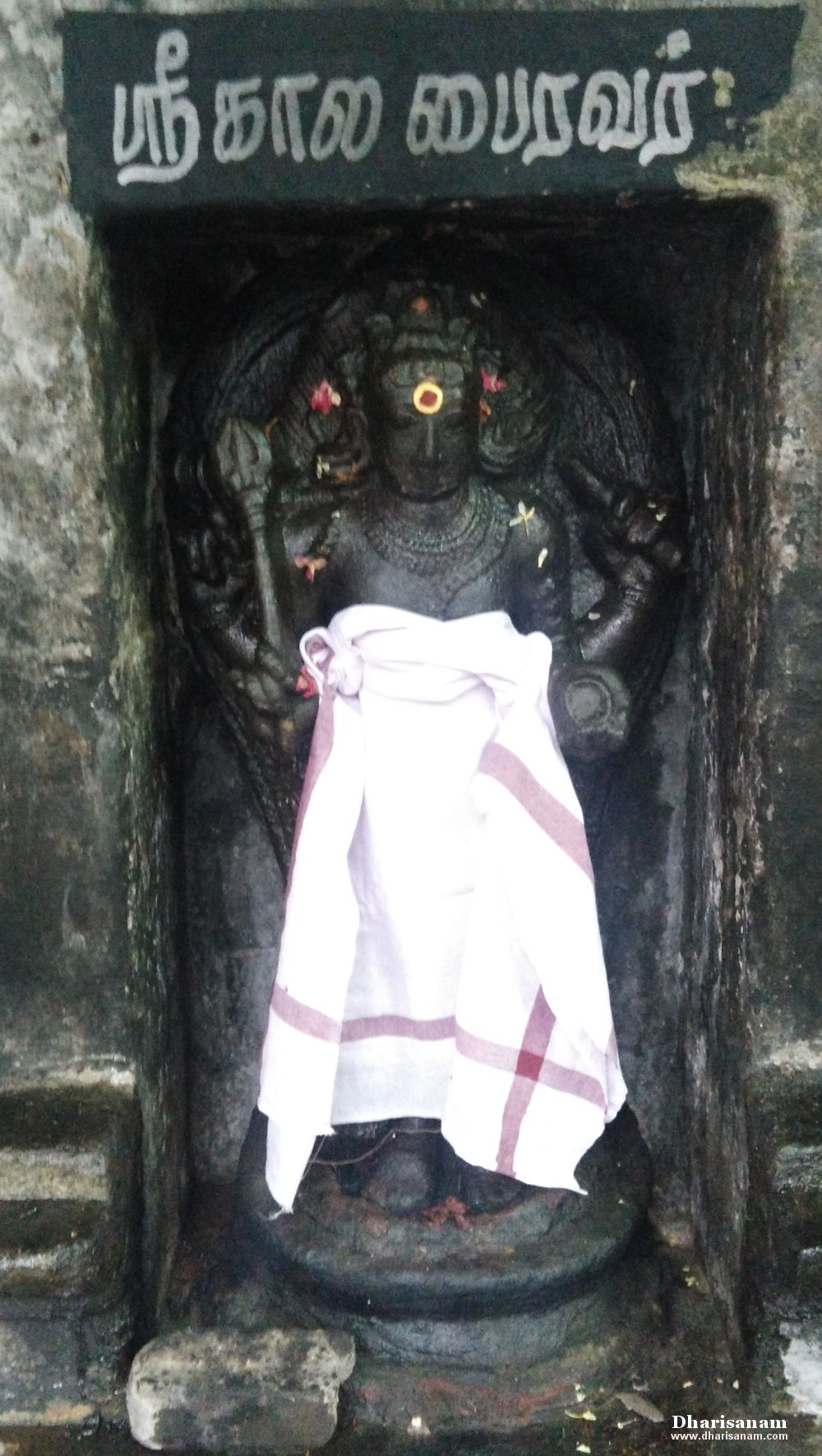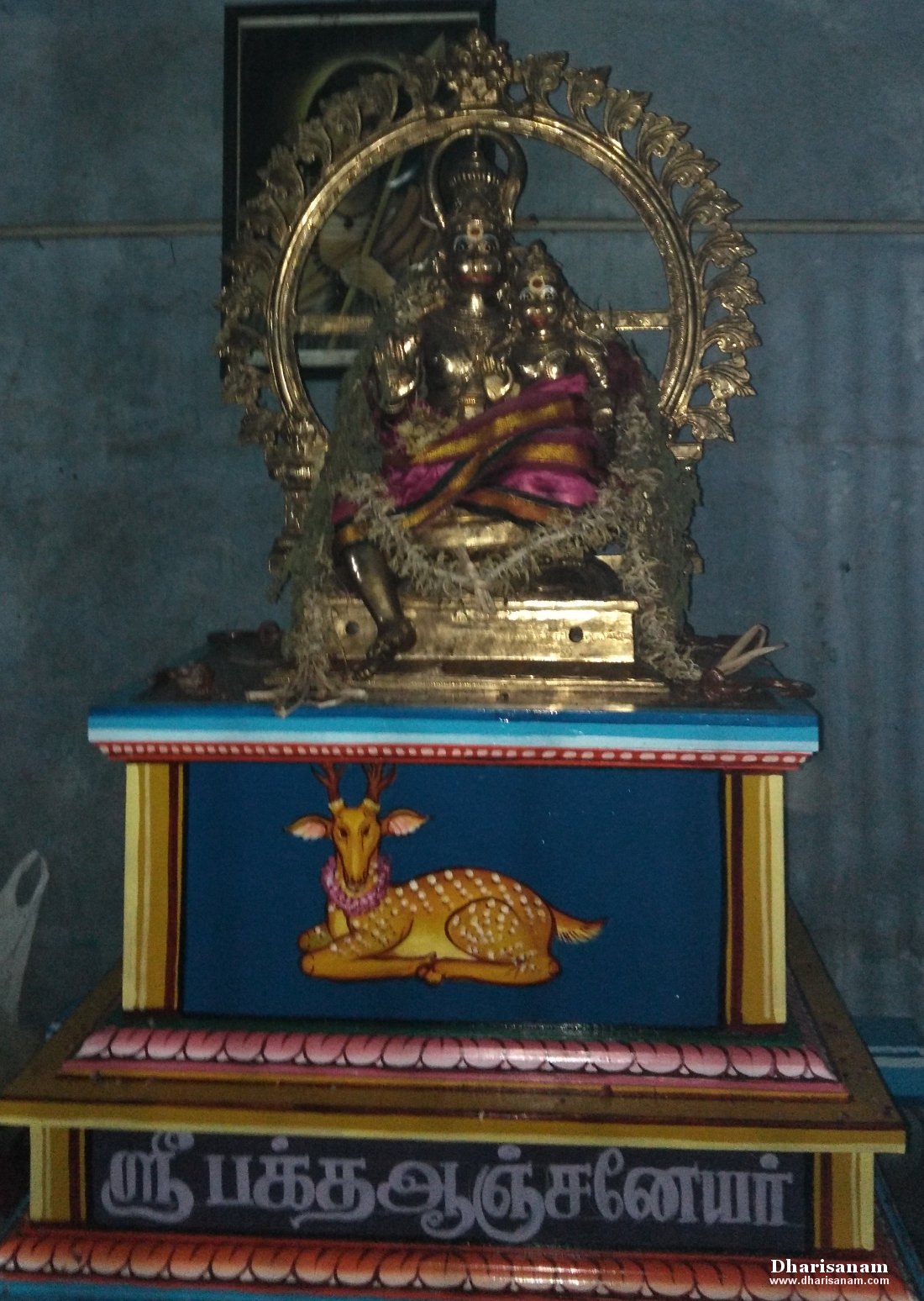 Salient Features
In the main hall, Lord Dakshinamurthy is seen in a standing posture with a stick in his hand. This is quite unique and such an idol cannot be seen anywhere else. Idols of Lords Vinayakar, Mahavishnu and Brahma can be seen next to him.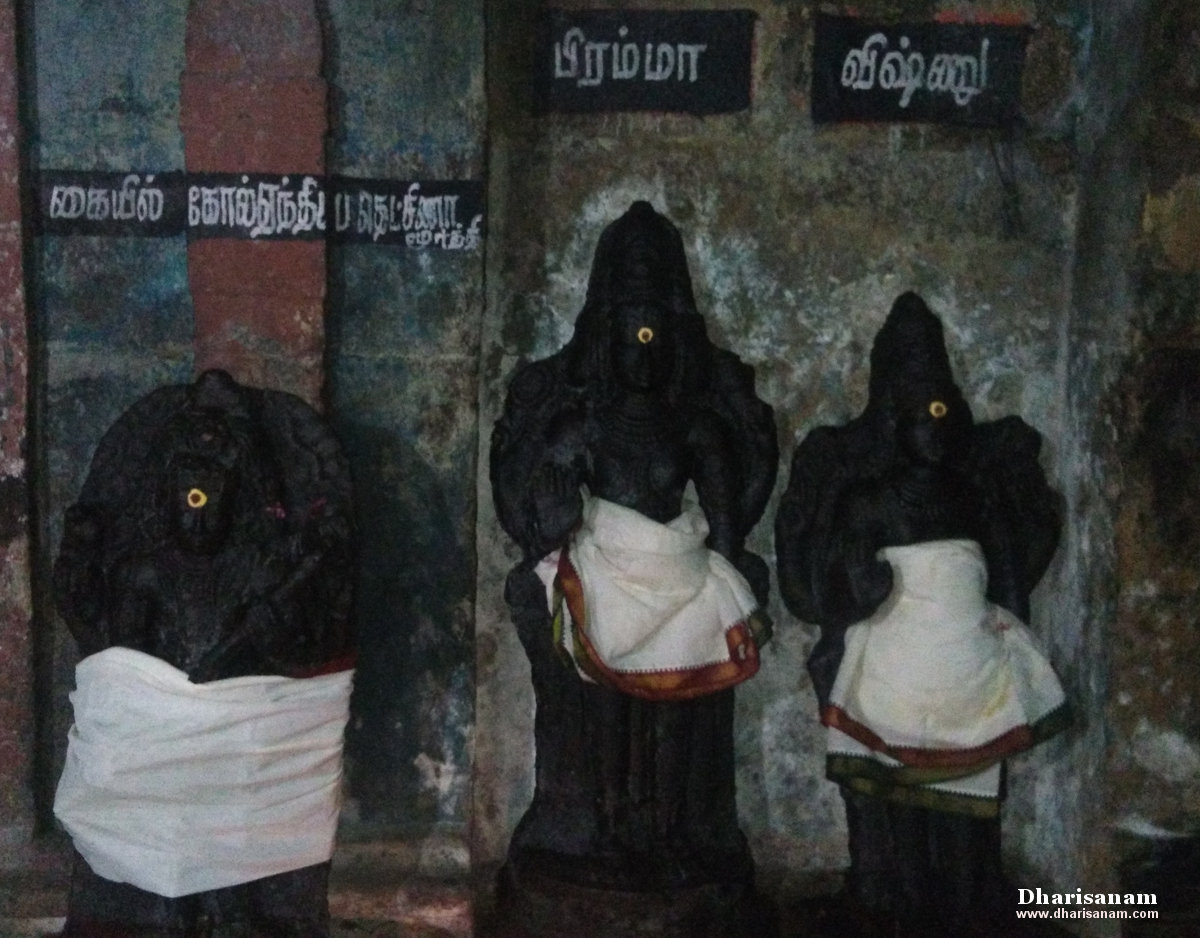 It is believed that the festival of Shivrathri originated in this temple.
At the second entrance, on the left side, beautiful sculptures depicting the legend of the hunter worshiping the lord and obtaining salvation can be seen.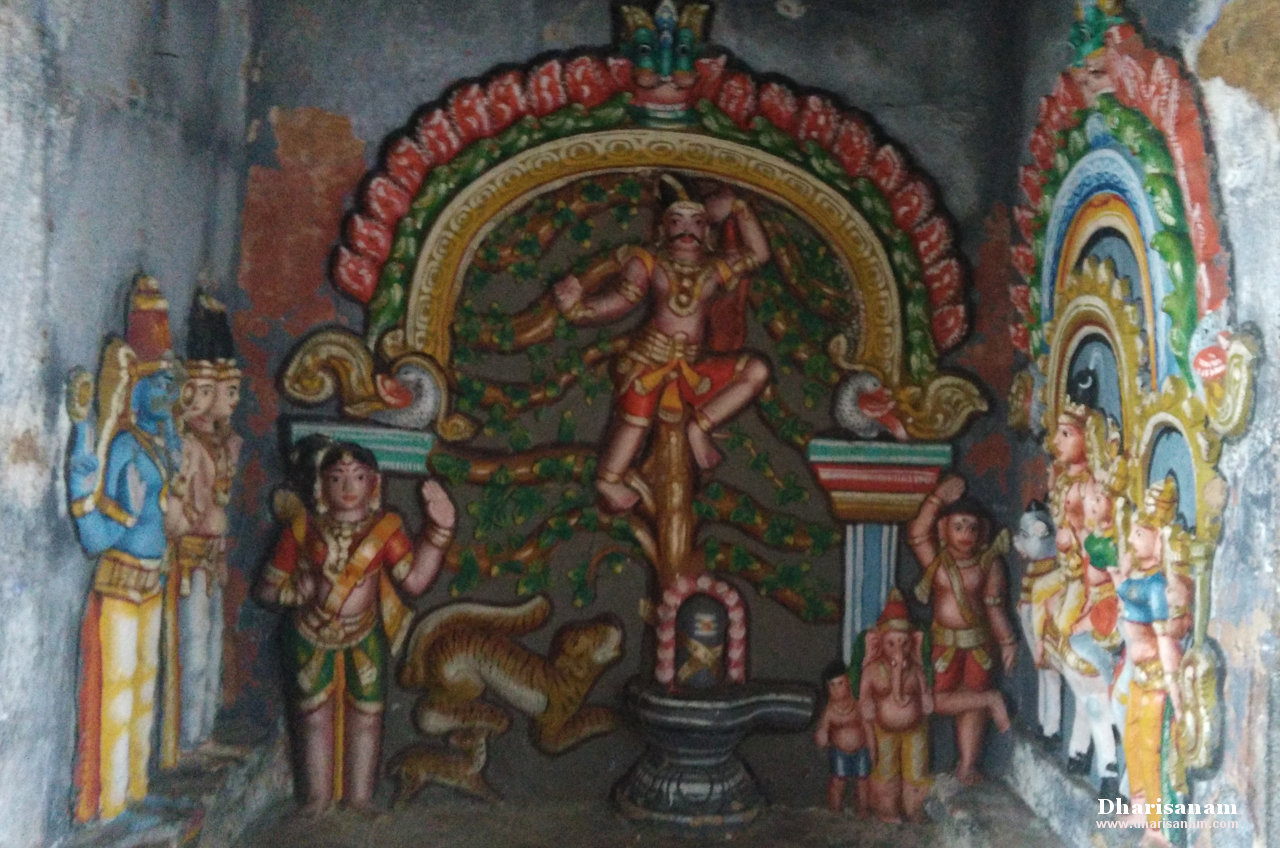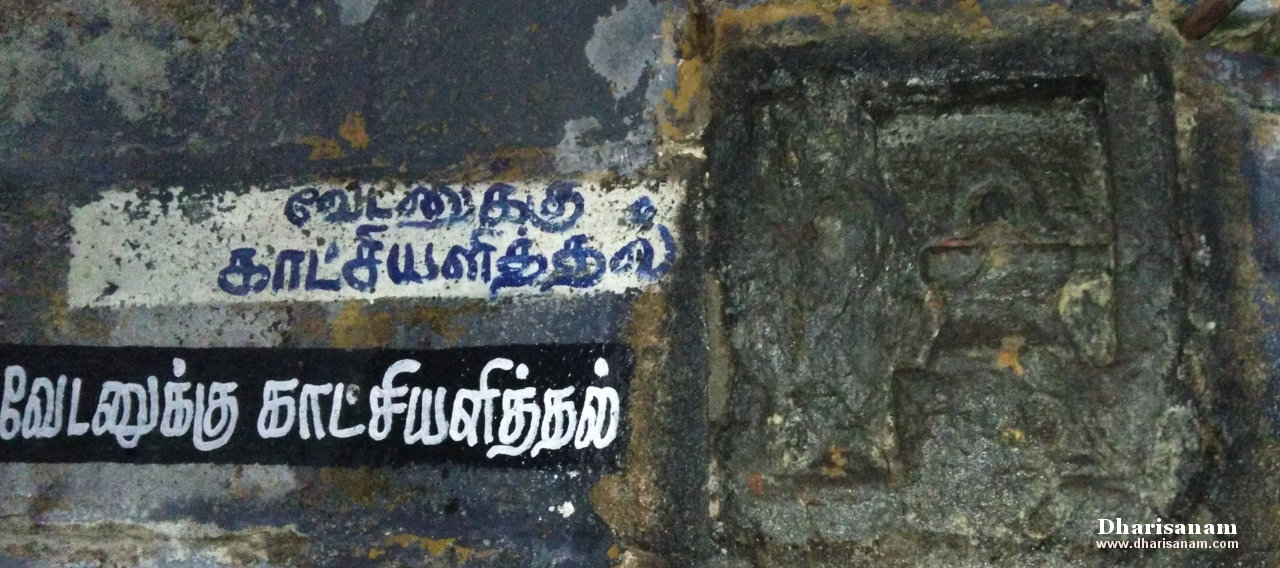 In this temple, all the idols of Nandhi have their backs facing the deities.
The idol of Lord Murugan is very beautiful. This idol has been carved out of a single stone. It depicts him with six faces, seated on his peacock mount with the sacred arc ("Thiruvatchi") behind him. Another significant aspect is that the peacock is facing the left direction.
It is believed that there are six places where one can get relieved from the fear of death (Lord Yama) – Thirukkadayur, Thiruveezhimizhalai, Thiruvaiyaru, Thiruvenkadu, Thiruvaikavoor (this place) and Thiruvanchiyam.
Saint Arunagirinadhar has sang songs in praise of Lord Murugan of this temple in his revered Thirupugazh.
Greatness of this temple
Worshiping Lord Shiva here on Shivrathri days is considered to be very auspicious and doing so will yield manifold benefits.
Devotees believe that by worshiping Goddess Sarvajana Rakshaki here, their prayers will be heard and resolved.
Important Festivals
Some of the important festivals celebrated in the temple are –
Vinayakar Chaturthi in the Tamil month of Aavani (Aug-Sept),
Navarathri in the Tamil month of Purattasi (Sept-Oct),
Annabishekam in the Tamil month of Aippasi (Oct–Nov),
Thiru Karthikai in the Tamil month of Karthikai (Nov-Dec),
Thiruvadhirai in the Tamil month of Markazhi (Dec-Jan), and
Maha Shivrathri in the Tamil month of Masi (Feb-Mar).
Pradosham is also observed regularly.
Temple Timings
From 06.30 AM to 12.00 Noon and from 04.30 PM to 08.00 PM.
Temple Address
Sri Vilvavana Nathar Temple,
Thiruvaikavur Post,
Papanasam Taluk,
Tanjure District,
Tamil Nadu – 612 301.
The temple priest Sri Hariharan Iyer can be contacted at: 93443 30834.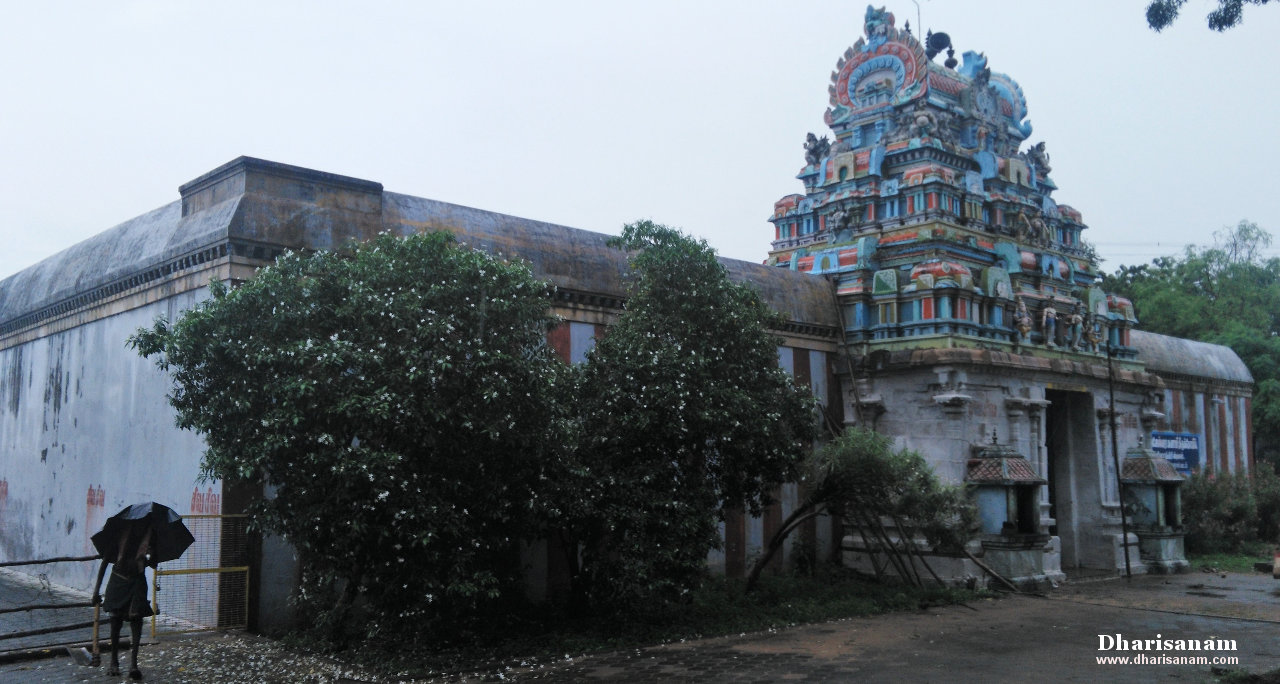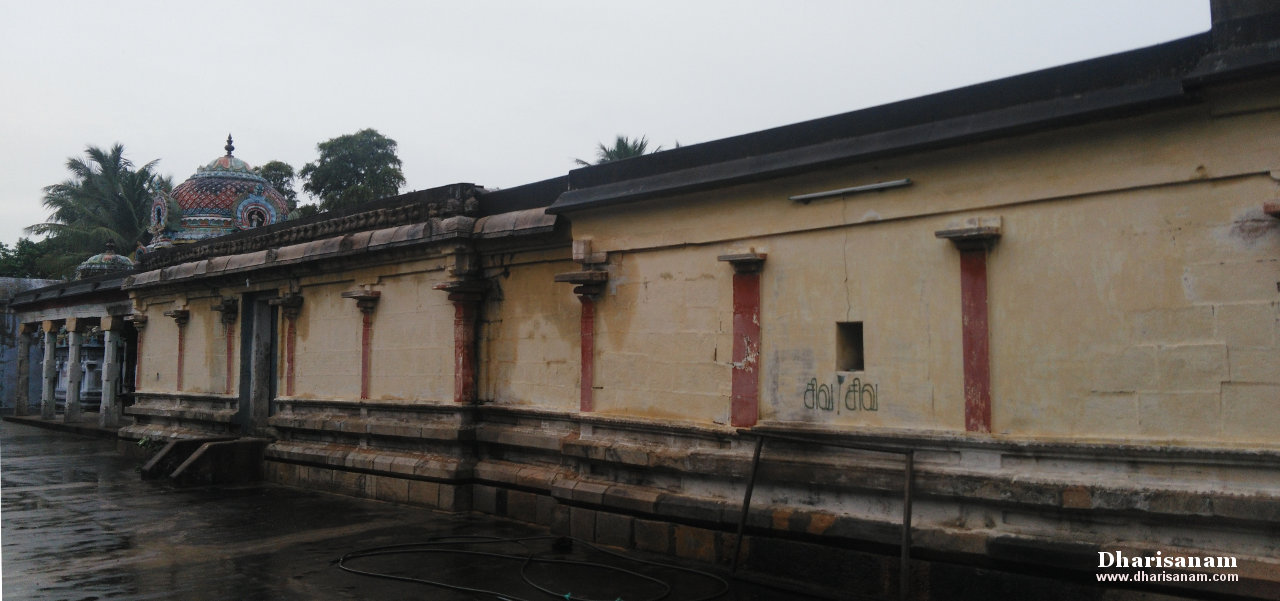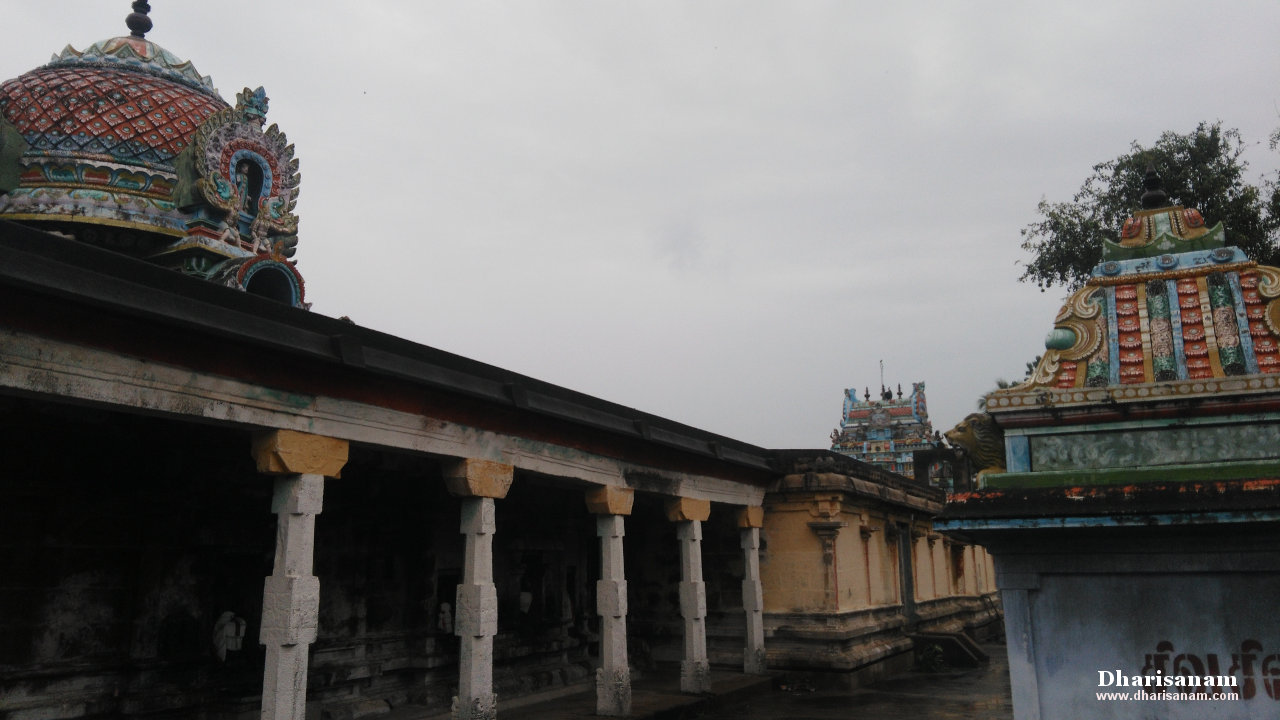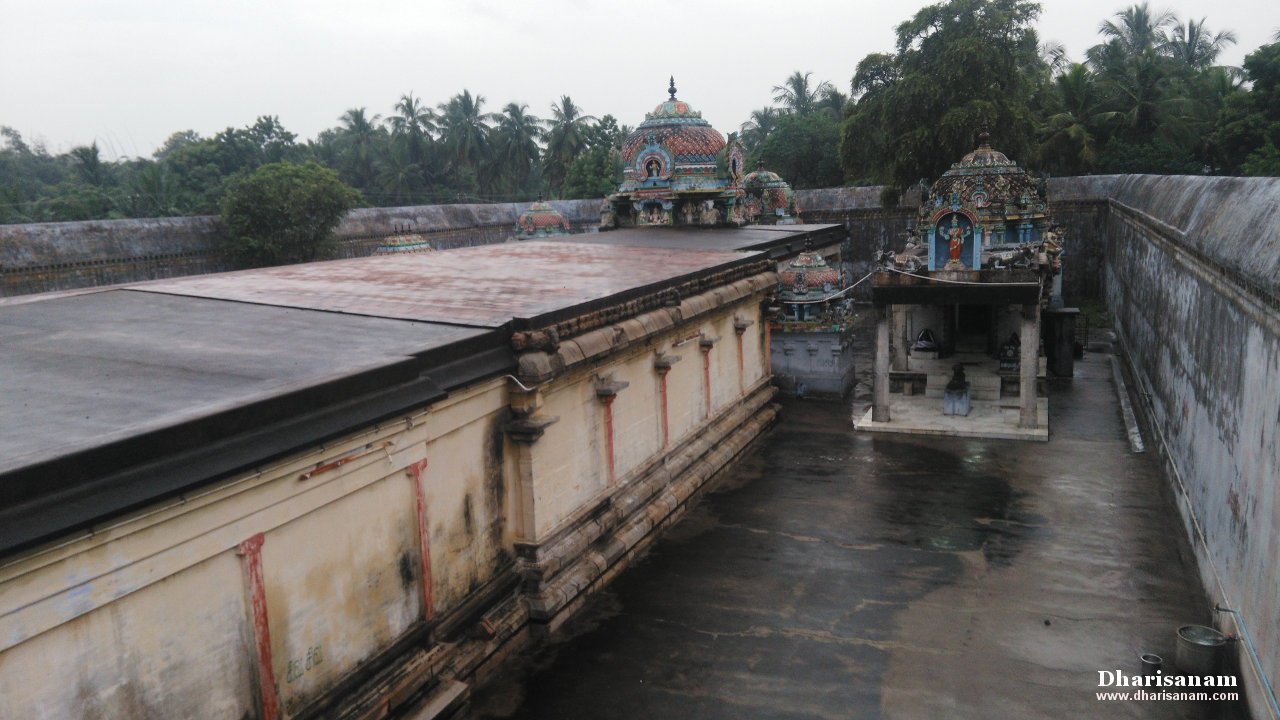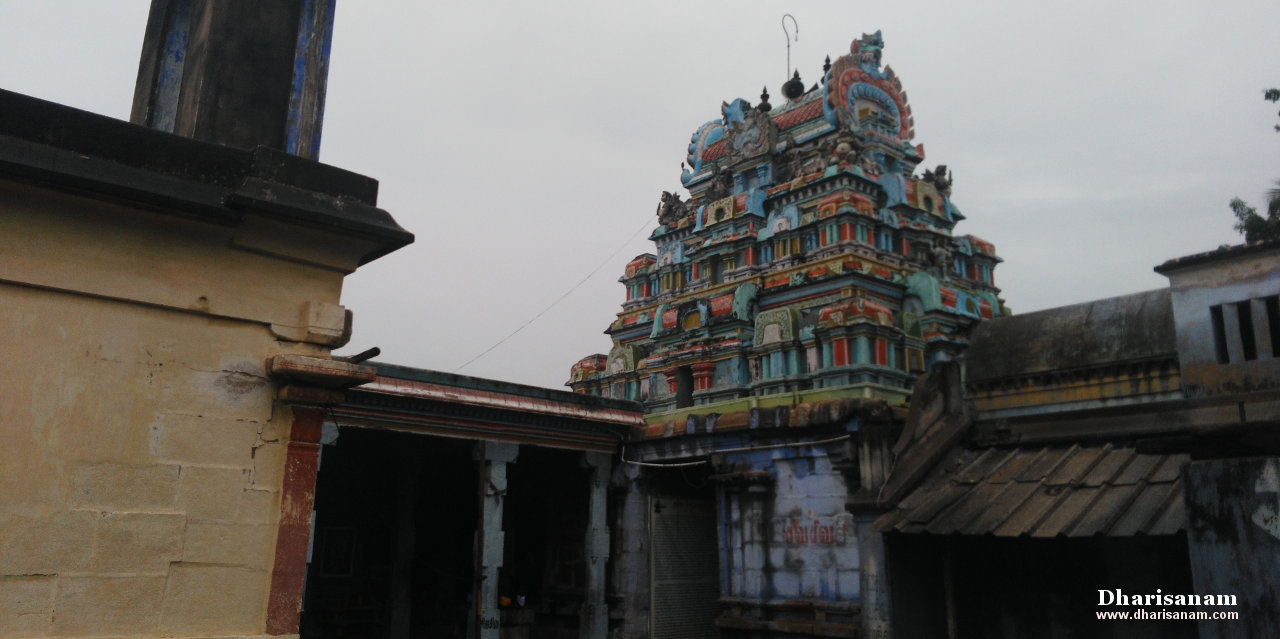 ---
Pathigam (Hymn) with English transliteration
Saint Thirugnanasambanthar visited this temple and sang this Pathigam.
Devotees visiting this temple should make it a practice to recite this Pathigam.
கோழைமிட றாககவி கோளுமில வாகஇசை கூடுவகையால்
ஏழையடி யாரவர்கள் யாவைசொன சொன்மகிழும் ஈசனிடமாந்
தாழையிள நீர்முதிய காய்கமுகின் வீழநிரை தாறுசிதறி
வாழையுதிர் வீழ்கனிகள் ஊறிவயல் சேறுசெயும் வைகாவிலே.
"Kōzhaimiṭa ṟākakavi kōḷumila vāka'isai kūṭuvakaiyāl
ēzhaiyaṭi yāravarkaḷ yāvaisoṉa soṉmakizhum īsaṉiṭamān
thāzhaiyiḷa nīrmuthiya kāykamukiṉ vīzhanirai thāṟusithaṟi
vāzhaiyuthir vīzhkaṉikaḷ ūṟivayal sēṟuseyum vaikāvilē".
அண்டமுறு மேருவரை யங்கிகணை நாணரவ தாகஎழிலார்
விண்டவர்த முப்புரமெ ரித்தவிகிர் தன்னவன் விரும்புமிடமாம்
புண்டரிக மாமலர்கள் புக்குவிளை யாடுவயல் சூழ்தடமெலாம்
வண்டினிசை பாடஅழ கார்குயில்மி ழற்றுபொழில் வைகாவிலே.
"Aṇṭamuṟu mēruvarai yaṅkikaṇai nāṇarava thāka'ezhilār
viṇṭavartha muppurame riththavikir thaṉṉavaṉ virumpumiṭamām
puṇṭarika māmalarkaḷ pukkuviḷai yāṭuvayal chūzhthaṭamelām
vaṇṭiṉisai pāṭa'azha kārkuyilmi zhatṟupozhil vaikāvilē".
ஊனமில ராகியுயர் நற்றவமெய் கற்றவையு ணர்ந்தஅடியார்
ஞானமிக நின்றுதொழ நாளுமருள் செய்யவல நாதனிடமாம்
ஆனவயல் சூழ்தருமல் சூழியரு கேபொழில்கள் தோறுமழகார்
வானமதி யோடுமழை நீள்முகில்கள் வந்தணவும் வைகாவிலே.
"Ūṉamila rākiyuyar natṟavamey katṟavaiyu ṇarntha'aṭiyār
ñāṉamika niṉtṟuthozha nāḷumaruḷ seyyavala nāthaṉiṭamām
āṉavayal chūzhtharumal chūzhiyaru kēpozhilkaḷ thōṟumazhakār
vāṉamathi yōṭumazhai nīḷmukilkaḷ vanthaṇavum vaikāvilē".
இன்னவுரு இன்னநிறம் என்றறிவ தேலரிது நீதிபலவுந்
தன்னவுரு வாமெனமி குத்ததவன் நீதியொடு தானமர்விடம்
முன்னைவினை போம்வகையி னால்முழு துணர்ந்துமுயல் கின்றமுனிவர்
மன்னஇரு போதுமரு வித்தொழுது சேரும்வயல் வைகாவிலே.
"Iṉṉavuru iṉṉaniṟam eṉtṟaṟiva thēlarithu nīthipalavun
thaṉṉavuru vāmeṉami kuththatavaṉ nīthiyoṭu thāṉamarviṭam
muṉṉaiviṉai pōmvakaiyi ṉālmuzhu thuṇarnthumuyal kiṉtṟamuṉivar
maṉṉa'iru pōthumaru viththozhuthu sērumvayal vaikāvilē".
வேதமொடு வேள்விபல வாயினமி குத்துவிதி யாறுசமயம்
ஓதியுமு ணர்ந்துமுள தேவர்தொழ நின்றருள்செ யொருவனிடமாம்
மேதகைய கேதகைகள் புன்னையொடு ஞாழலவை மிக்கஅழகான்
மாதவிம ணங்கமழ வண்டுபல பாடுபொழில் வைகாவிலே.
"Vēthamoṭu vēḷvipala vāyiṉami kuththuvithi yāṟusamayam
ōthiyumu ṇarnthumuḷa thēvarthozha niṉtṟaruḷse yoruvaṉiṭamām
mēthakaiya kēthakaikaḷ puṉṉaiyoṭu ñāzhalavai mikka'azhakāṉ
māthavima ṇaṅkamazha vaṇṭupala pāṭupozhil vaikāvilē".
நஞ்சமுது செய்தமணி கண்டன்நமை யாளுடைய ஞானமுதல்வன்
செஞ்சடையி டைப்புனல் கரந்தசிவ லோகனமர் கின்றஇடமாம்
அஞ்சுடரொ டாறுபத மேழின்இசை யெண்ணரிய வண்ணமுளதாய்
மைஞ்சரொடு மாதர்பல ருந்தொழுது சேரும்வயல் வைகாவிலே.
"Nañchamuthu seythamaṇi kaṇṭaṉnamai yāḷuṭaiya ñāṉamuthalvaṉ
cheñchaṭaiyi ṭaippuṉal karanthasiva lōkaṉamar kiṉtṟa'iṭamām
añchuṭaro ṭāṟupatha mēzhiṉisai yeṇṇariya vaṇṇamuḷathāy
maiñcharoṭu mātharpala runthozhuthu sērumvayal vaikāvilē".
நாளுமிகு பாடலொடு ஞானமிகு நல்லமலர் வல்லவகையாற்
தோளினொடு கைகுளிர வேதொழும வர்க்கருள்செய் சோதியிடமாம்
நீளவளர் சோலைதொறும் நாளிபல துன்றுகனி நின்றதுதிர
வாளைகுதி கொள்ளமது நாறமலர் விரியும்வயல் வைகாவிலே.
"Nāḷumiku pāṭaloṭu ñāṉamiku nallamalar vallavakaiyāṟ
thōḷiṉoṭu kaikuḷira vēthozhuma varkkaruḷsey chōthiyiṭamām
nīḷavaḷar chōlaithoṟum nāḷipala thuṉtṟukaṉi niṉtṟathuthira
vāḷaikuthi koḷḷamathu nāṟamalar viriyumvayal vaikāvilē".
கையிருப தோடுமெய்க லங்கிடவி லங்கலையெ டுத்தகடியோன்
ஐயிருசி ரங்களையொ ருங்குடன் நெரித்தஅழ கன்றனிடமாங்
கையின்மலர் கொண்டுநல காலையொடு மாலைகரு திப்பலவிதம்
வையகமெ லாமருவி நின்றுதொழு தேத்துமெழில் வைகாவிலே.
"Kaiyirupa thōṭumeyka laṅkiṭavi laṅkalaiye ṭuththakaṭiyōṉ
aiyirusi raṅkaḷaiyo ruṅkuṭaṉ neriththa'azha kaṉtṟaṉiṭamāṅ
kaiyiṉmalar koṇṭunala kālaiyoṭu mālaikaru thippalavitham
vaiyakame lāmaruvi niṉtṟuthozhu thēththumezhil vaikāvilē".
அந்தமுதல் ஆதிபெரு மானமரர் கோனையயன் மாலுமிவர்கள்
எந்தைபெரு மான்இறைவன் என்றுதொழ நின்றருள்செ யீசனிடமாஞ்
சிந்தைசெய்து பாடும்அடி யார்பொடிமெய் பூசியெழு தொண்டரவர்கள்
வந்துபல சந்தமலர் முந்தியணை யும்பதிநல் வைகாவிலே.
"Anthamuthal āthiperu māṉamarar kōṉaiyayaṉ mālumivarkaḷ
enthaiperu māṉiṟaivaṉ eṉtṟuthozha niṉtṟaruḷse yīsaṉiṭamāñ
chinthaiseythu pāṭumaṭi yārpoṭimey pūsiyezhu thoṇṭaravarkaḷ
vanthupala santhamalar munthiyaṇai yumpathinal vaikāvilē".
ஈசனெமை யாளுடைய எந்தைபெரு மானிறைவ னென்றுதனையே
பேசுதல்செ யாவமணர் புத்தரவர் சித்தமணை யாவவனிடந்
தேசமதெ லாமருவி நின்றுபர வித்திகழ நின்றபுகழோன்
வாசமல ரானபல தூவியணை யும்பதிநல் வைகாவிலே.
"Īsaṉemai yāḷuṭaiya enthaiperu māṉiṟaiva ṉeṉtṟuthaṉaiyē
pēsuthalse yāvamaṇar puththaravar siththamaṇai yāvavaṉiṭan
thēcamathe lāmaruvi niṉtṟupara viththikazha niṉtṟapukazhōṉ
vāsamala rāṉapala thūviyaṇai yumpathinal vaikāvilē".
முற்றுநமை யாளுடைய முக்கண்முதல் வன்திருவை காவிலதனைச்
செற்றமலி னார்சிரபு ரத்தலைவன் ஞானசம் பந்தனுரைசெய்
உற்றதமிழ் மாலையீ ரைந்துமிவை வல்லவர் உருத்திரரெனப்
பெற்றமர லோகமிக வாழ்வர்பிரி யாரவர்பெ ரும்புகழொடே.
"Mutṟunamai yāḷuṭaiya mukkaṇmuthal vaṉthiruvai kāvilathaṉaich
chetṟamali ṉārsirapu raththalaivaṉ gñāṉasam banthaṉuraisey
utṟatamizh mālaiyī rainthumivai vallavar uruththirareṉap
petṟamara lōkamika vāzhvarpiri yāravarpe rumpukazhoṭē".