Visited on: 26th August, 2016
Location
Thiruvalam is about 130 kms from Koyambedu, Chennai on the Chennai to old Bangalore road. If you are travelling from Chennai, on Chennai to old Bangalore road, the route is Walajapet – Ranipet - Muthukadai – Thiruvalam. From Ranipet, Thiruvalam is at a distance of about 12 kms. It is located near the famous old iron bridge.
Another route to reach Thiruvalam is via Veore. It is 25 kms from Vellore on the Vellore to Katpadi road.
General Information
| | |
| --- | --- |
| Moolavar | Sri Vilvanatheswarar, Sri Vallanathar |
| Ambal | Sri Thanumathyambal, Sri Vallaambikai |
| Theertham (Holy water) | Gouri Theertham, Neeva River |
| Sthala Vriksham (Sacred Tree) | Vilvam |
| Pathigam (Hymn) rendered by | Saint Thirugnanasambanthar |
This is one of the 276 Devara Padal Petra Shiva Sthalams and 10th Shiva Sthalam in Thondai Nadu.
Lord Shiva in this temple is a Swayambumurthi (self-manifested lingam).
This temple's main tower (Rajagopuram) has 4-tiers and this temple has three corridors (Praharam).
The temple is facing east with an entrance from south.
History of the Temple
This temple is located on the banks of the Neeva river (also called Ponnai river).
It is said that Lord Shiva was worshiped by a demon (asura) called Theekkali, so this place is also known as Theekkali Vallam.
This is a huge and beautiful temple, built by the kings of Pallava and Chola dynasties. There are quite a few references of Rajendra Chola in the stone inscriptions.
The stone inscriptions in this temple reveal that this was an important pilgrimage centre in the past. We can find references of pilgrims using Thiruvalam as a resting place before journeying to other pilgrimages in southern states and as far off places as Banaras (Kasi) in Uttar Pradesh.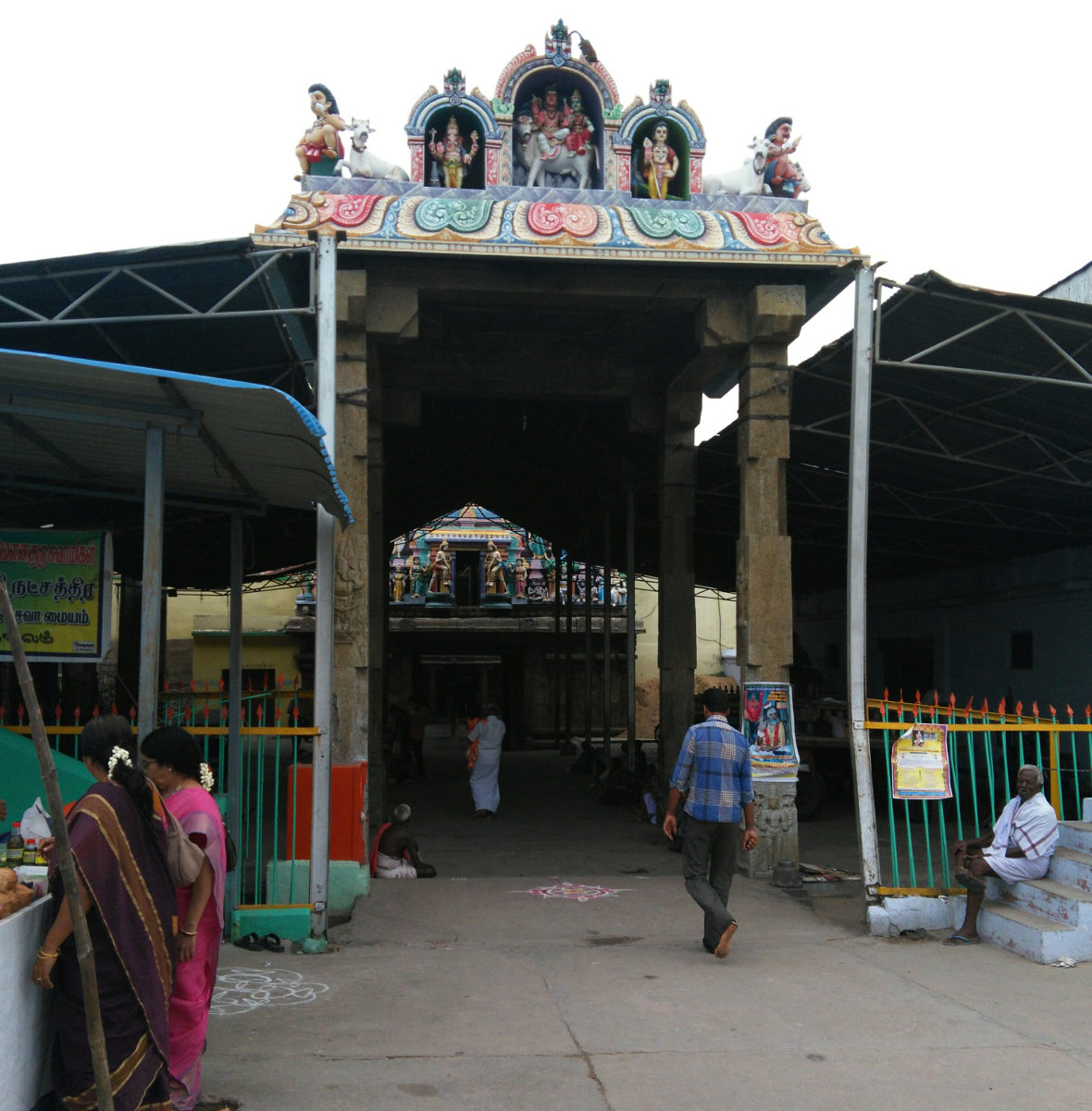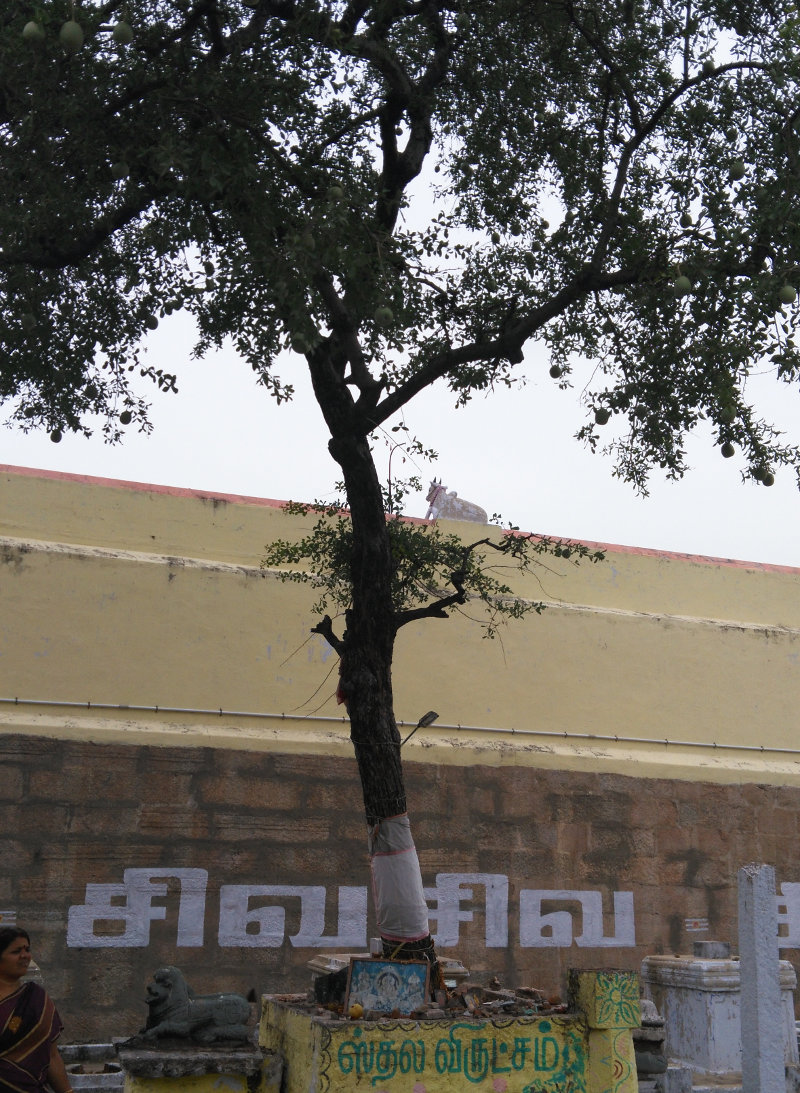 Legend
According to legend, in ancient times this region was densely covered with Vilva trees. It is believed that once, a few locals had noticed a cow pouring its milk on a particular ant-hill every day. After clearing that place, they found a Swayambu lingam and built a temple around it.
Another legend associated with this place is that when the temple priest used to bring water for Pooja / Abishekam, he was being troubled by a demon (asura) called Kanjan. The priest complained to Lord Shiva about his troubles and on hearing his plea, Lord Shiva instructed Nandhi (his mount) to kill the demon.
Nandhi executed the lord's order and killed the demon. It is said that Nandhi tore the demon into eight pieces and these eight parts fell in eight different places – Lalapettai (skull), Seekarajapuram (head), Maveri (chest), Vadakal (right leg), Thenkal (left leg), Maniampattu (wrist), Kugayanallur (intestines), Narasingapuram (nerves) and Maruthampakkam (thorax). Later, in all these places Shiva temples were constructed.
Seeking absolution for his sins, the demon Kanjan pleaded to Lord Shiva. The lord answered his pleas and his request for pardon and granted him "mukti". The lord also blessed him by saying that wherever his blood had fallen, a Shiva lingam would appear. Even today one can see hundreds of such Shiva lingams on the nearby hill. It is also believed that if one digs anywhere on the hill, he can find a Shiva lingam.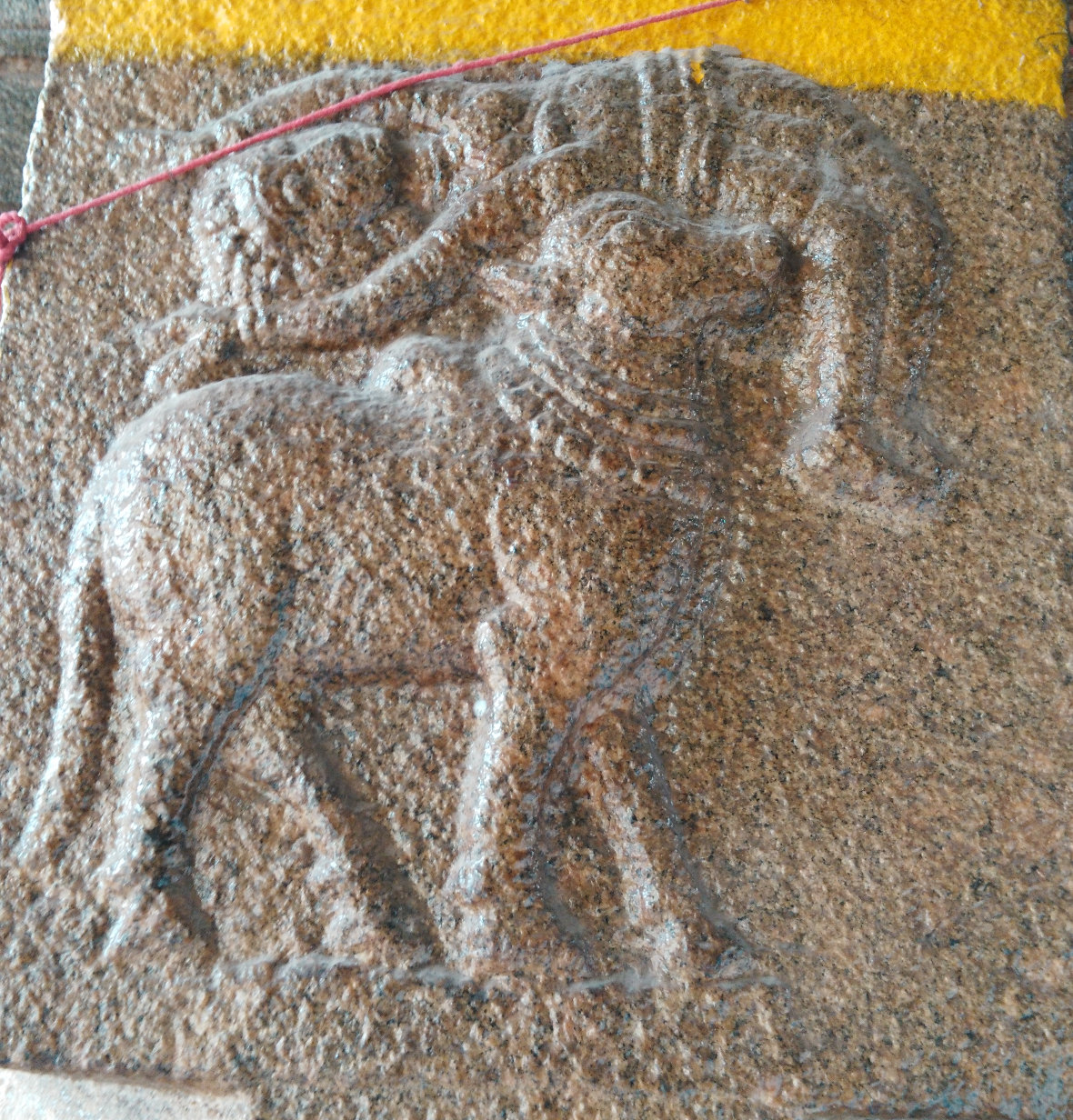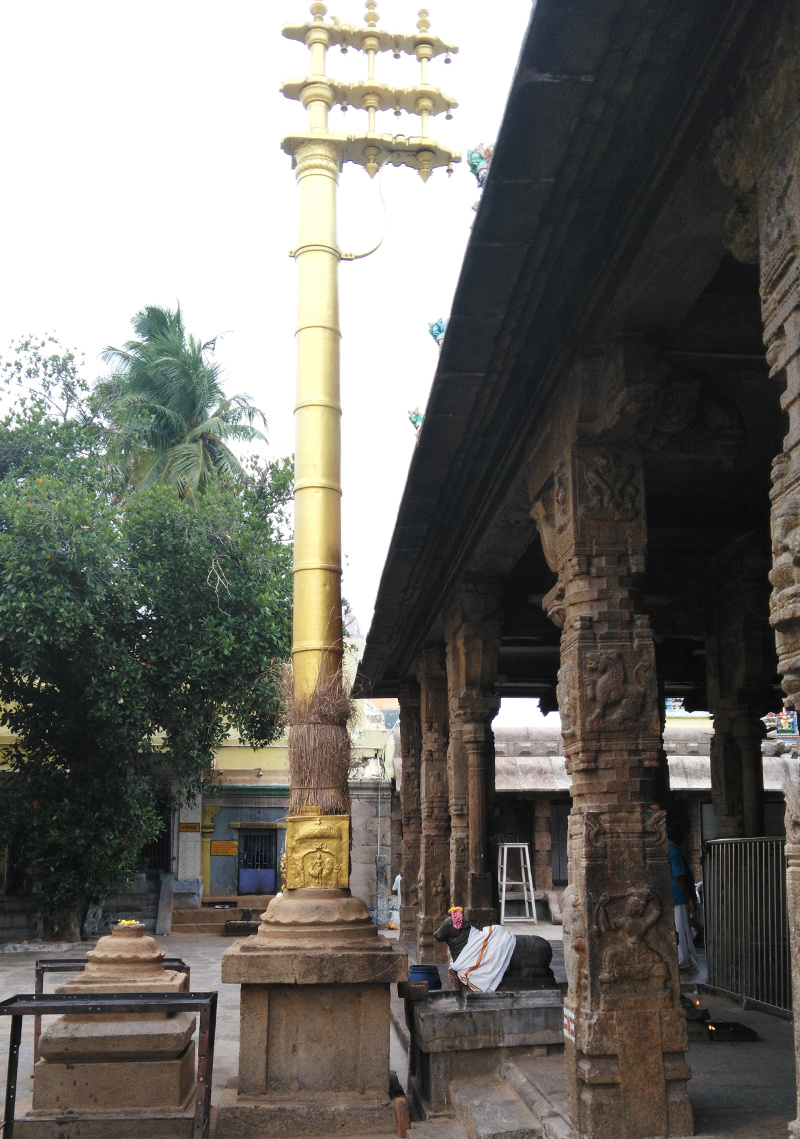 It is believed that since Lord Shiva found that the temple priest was struggling to bring water from the nearby river, he called the river to come near his temple. The river changed its course and started flowing near the temple. Since Lord Shiva called the river to come near to his temple ("nee vaa" meaning come here in Tamil), this river is now called Neeva.
Sine the lord instructed the Nandi to safeguard this temple from the demon, the Nandi idol at this temple is seen facing away from the lord and looking towards the nearby hill (Kanjangiri).
The legend of Nandhi fighting with the demon Kanjan is depicted in a sculpture in the hall (Sabha Mandapam) and also in the form of reliefs chiselled on the hall pillars.
Another legend related to this temple is that once a person was on his way to Kasi to dissolve a relative's ashes ("Asthi") in the Ganges. Since Thiruvalam was a famous pilgrimage centre in the past, he decided to take some rest here and he kept the ashes near the temple tank. When he decided to resume his journey, he was surprised to see the Asthi changed to jasmine flowers. He proceeded to Kasi as planned and after reaching there, another surprise awaited him – the jasmine flowers had again changed back to ashes. Since he found that the Thiruvalam temple had changed the ashes into jasmine flowers, he decided not to dissolve the ashes in the Ganges, but instead bring it back to this temple and dissolve it in the temple tank itself.
Even Saint Thirugnanasambanthar in his hymn has praised Lord Shiva of this temple as the lord who can grant the boon of salvation. This temple is also referred to as a Mukthi Sthalam (a place to attain salvation).
Deities in the temple
The goddess "Sri Thanumathyambal" is in a separate temple and she is also called "Theekali Ambal". The corridor of this temple houses the Shiva lingams that are believed to have been installed and worshipped by Goddess Parvathi (Gouri), Lord Mahavishnu and Sage Sanakar.
In the outer corridor idols of Kasi Viswanthar, Chandramouleeswarar, Annamalaiyar, Sadhasivar, Anandhar, Sreekandar, Ambikeswarar, Vitharaeswarar and Guru Eswarar can be seen. Also, there is a separate Sahasra lingam (1008 very small lingams engraved in a big lingam) in the corridor.
Separate shrines for Lord Murugan with Valli and Devasena, Aadhi Vilvanathar, Sundareswarar with Meenakshi and idol of "Kani Vangiya Vinayagar" can be seen. Both granite and bronze procession idols of the 63 Nayanmars can be seen in the inner corridor.
There is a huge Nandhi sculpture at the entrance of the temple and is said to have been installed by Siddhar Sivanandha Mouna Guru Swamigal.
Salient Features
It is believed that Thiruvalam is the place where Lord Vinayaka established the truth that 'world' means one's father and mother. Lord Vinayakar is said to have obtained the divine fruit from his father, Lord Shiva after the circumambulation of Lord Shiva and Goddess Parvathi. That is why the place is called Thiruvalam (valam in Tamil means making a round). Here the Vinayakar is called "Kani Vangiya Vinayagar" (the lord who received the fruit).
As Lord Mahavishnu worshiped Lord Shiva here, his footprint is kept for worship in front of the flag post.
There are beautiful sculptures for the 27 Nakshatrams (constellation depicting the birth stars) on one of the towers (Vimaanam).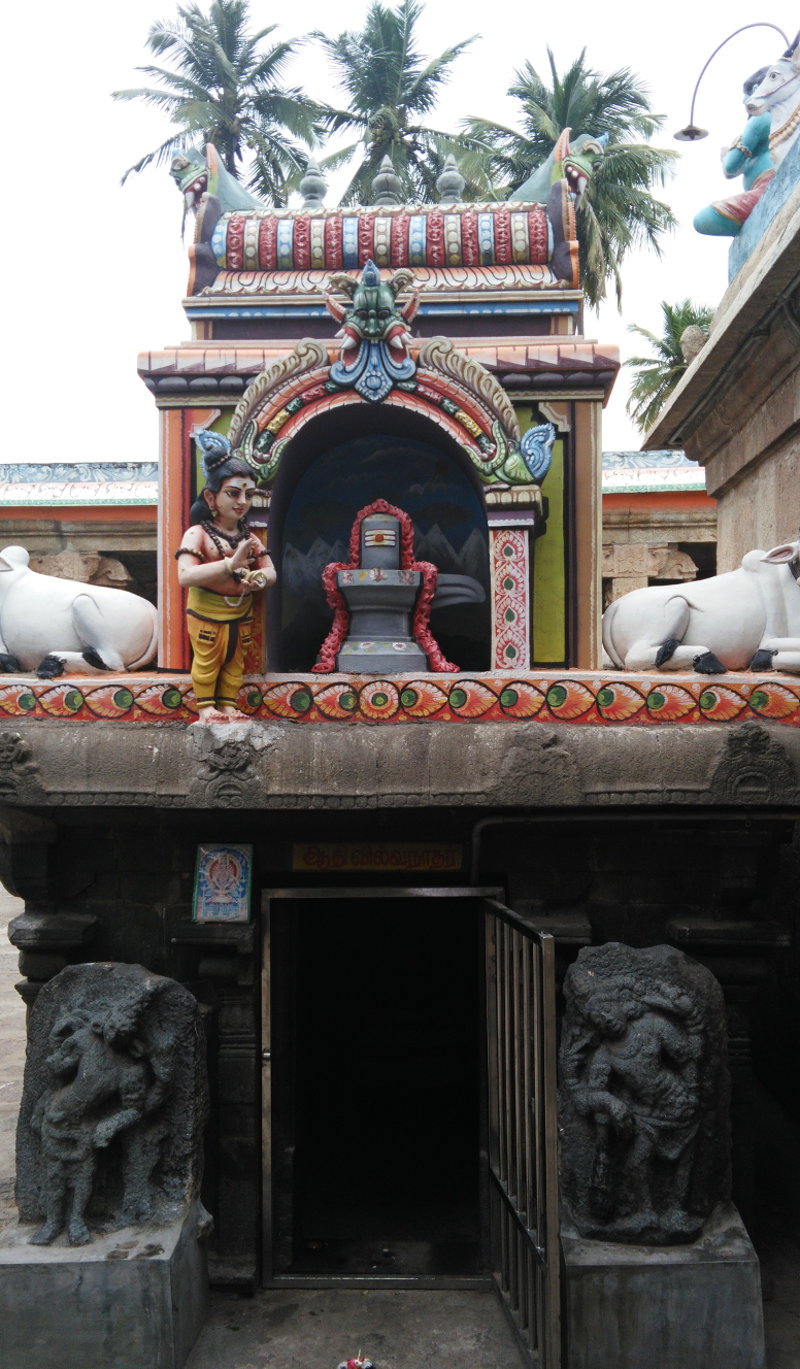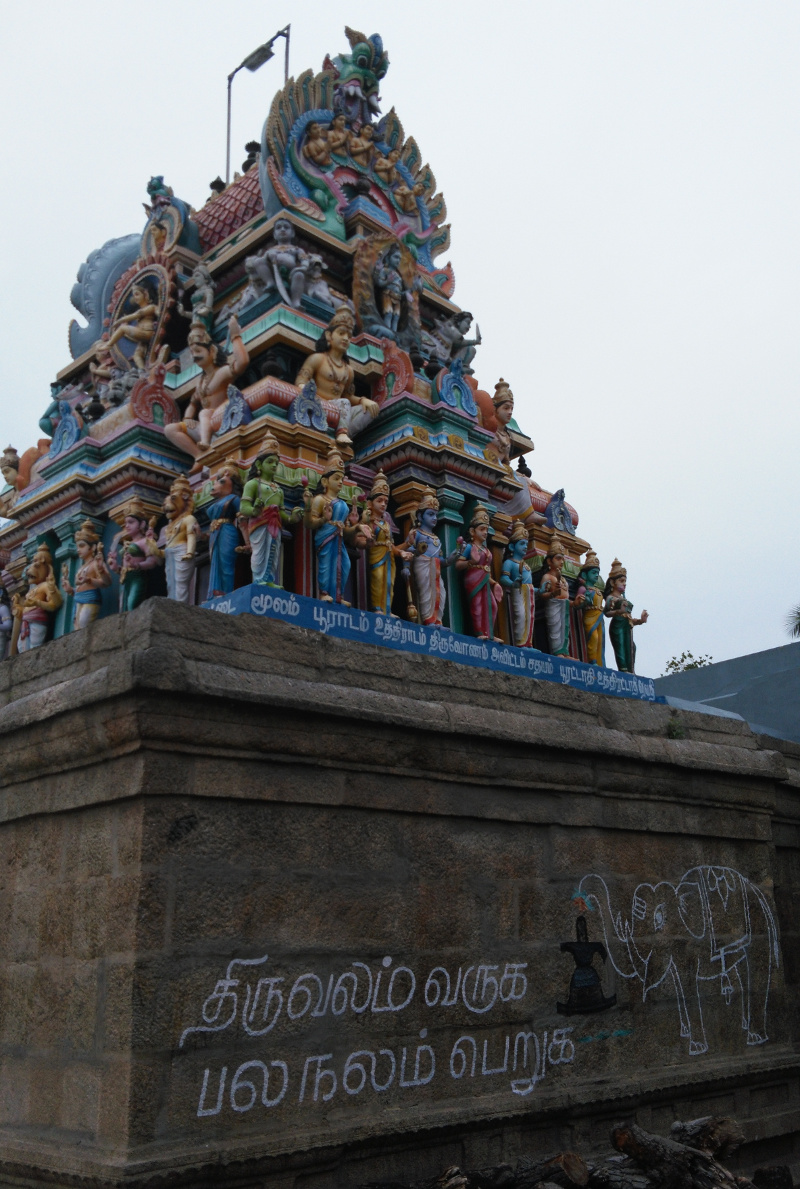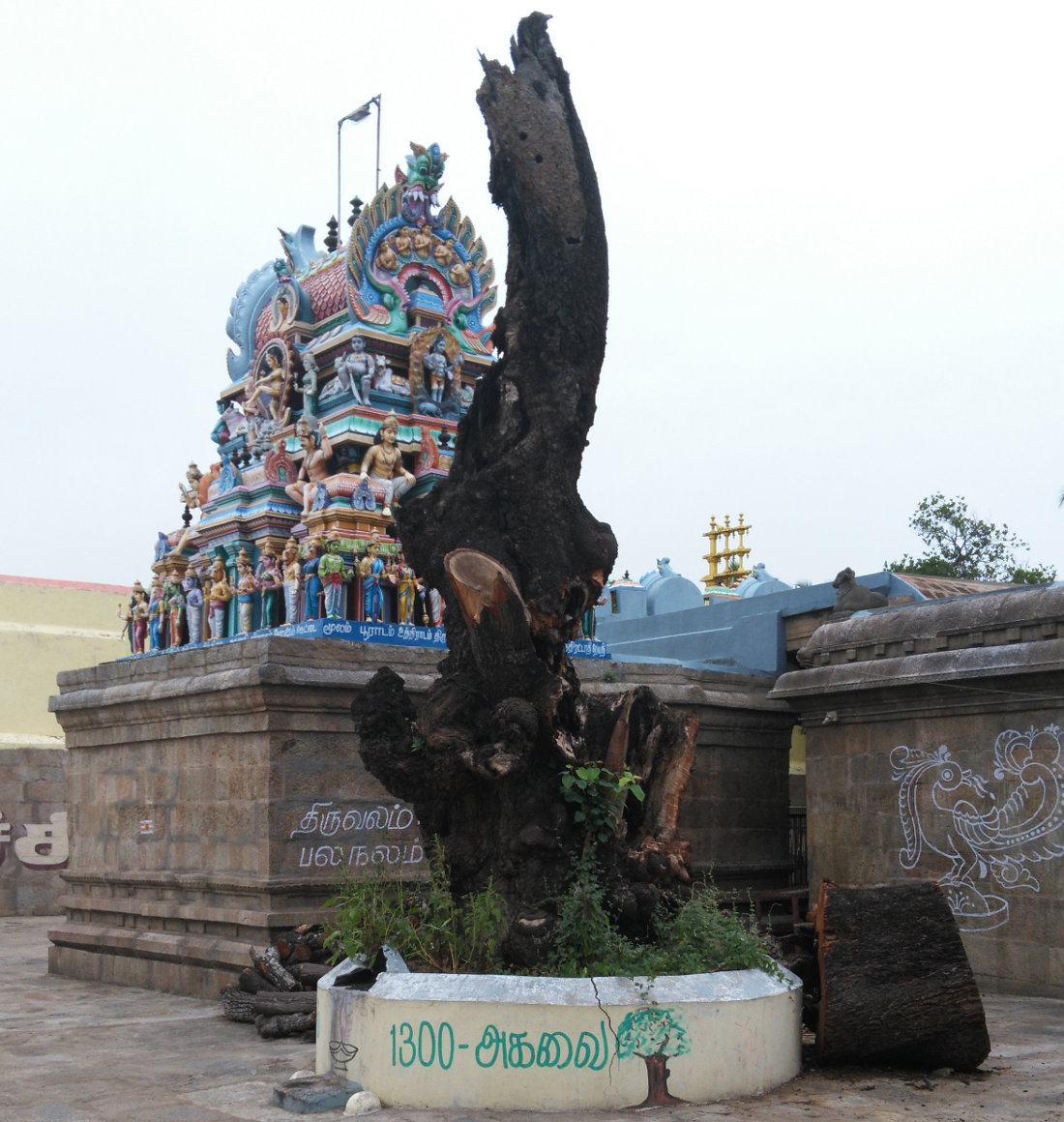 Also, almost all the pillars are very nicely decorated with beautiful sculptures and reliefs.
A small shrine dedicated to Sage Sanakar, a disciple of Lord Dakshinamurthy, can be seen between the idol of Nandhi and Lord Shiva. It is believed that meditating here can relieve devotee from sins of their previous birth.
This temple was home to a very old mango tree (almost 1300 years old) but it fell down recently. There is also another old jack fruit tree here.
Near the second tower entrance, there is a beautiful bowl chiselled in the stone – depicting the game "Kolattam" – a game often played by ladies.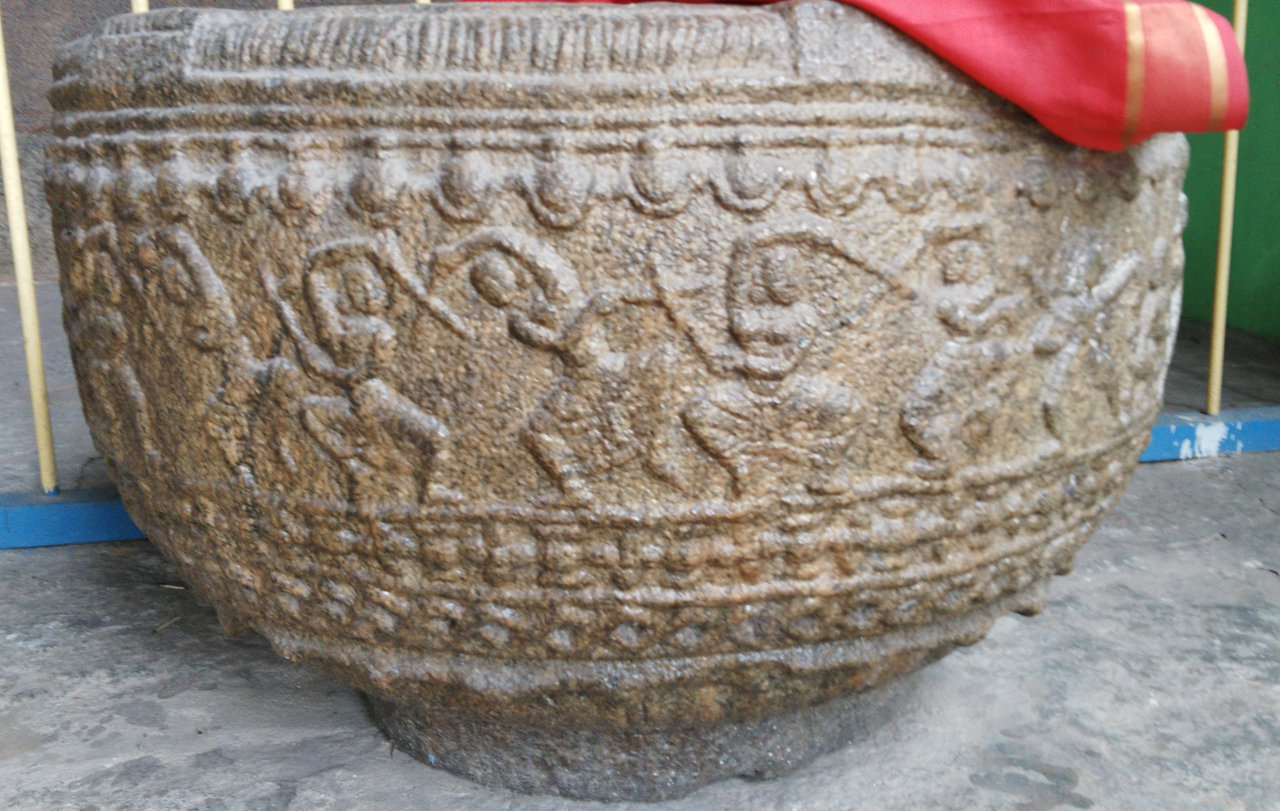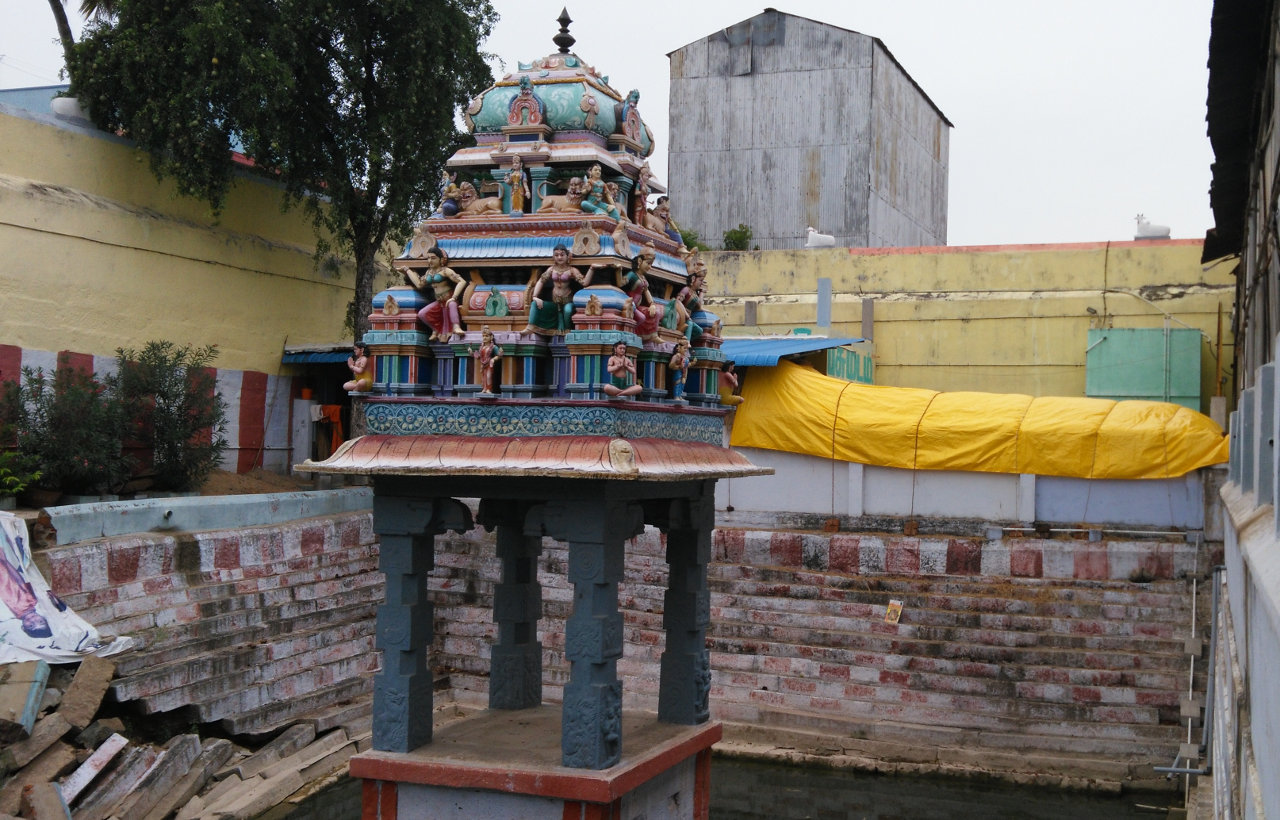 Saint Arunagirinadhar has also sang songs in praise of Lord Murugan of this temple in his revered Thirupugazh.
Siddhar Sivanandha Mouna Guru Swamigal's jeeva samadhi can be seen on the left side of the temple. It is said that he had done a lot of services (Thirupani) for this temple. It is believed that he was blessed by the lord and he had cured many diseases by offering sacred ash (Vibudhi) and Vilva leaves to the patients. He spent all the donations he received for the improvement and renovation of this temple. His idol is kept in the front hall (Mandapam) and devotees regularly perform bhajan and poojas.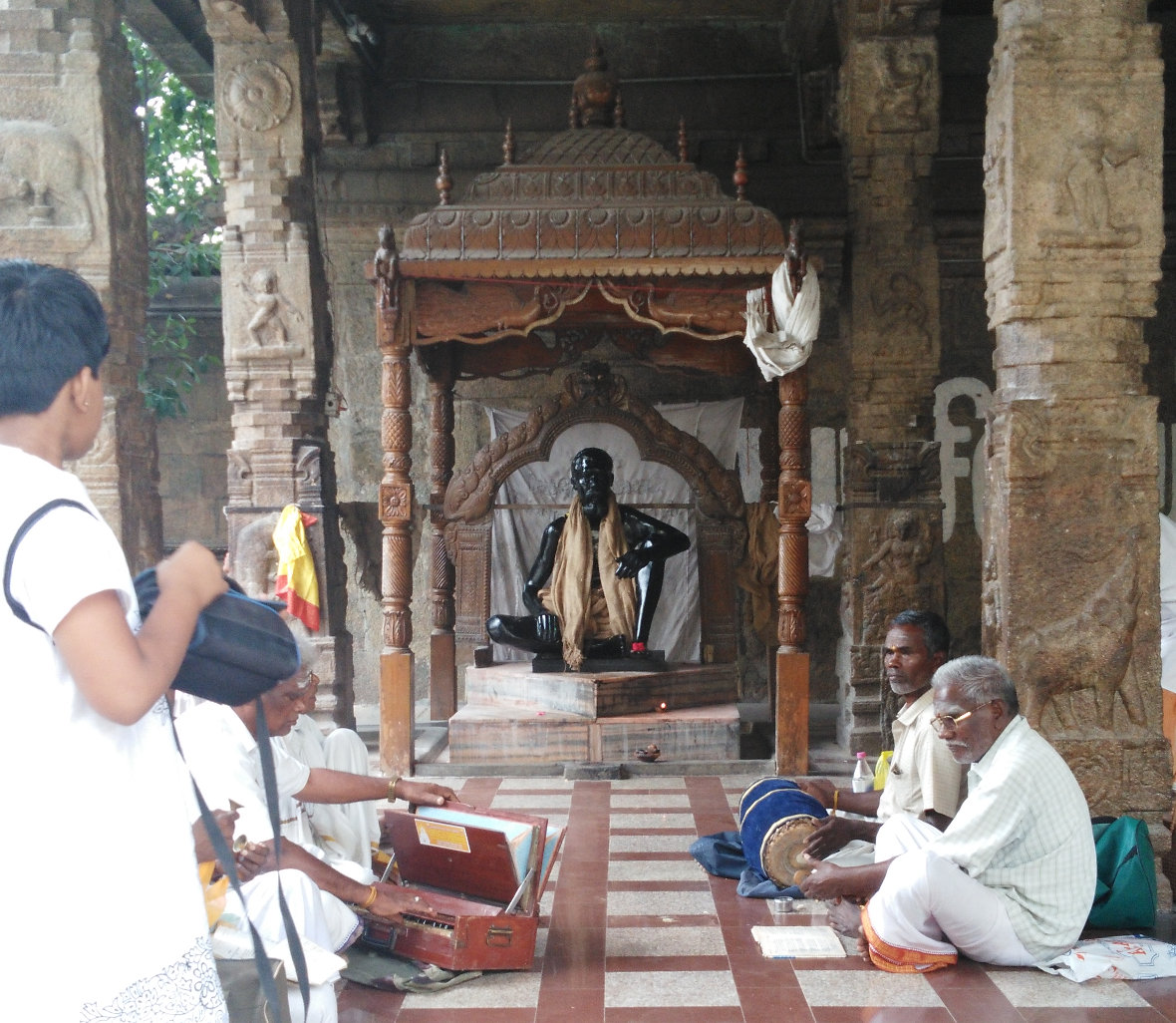 Greatness of this Temple
This temple is considered as holy as Lord Vishvanath temple in Kasi. This temple is also referred to as a Mukthi Sthalam (a place to attain salvation).
Important Festivals
On all full moon days, special poojas are performed to the Shiva lingams in the Kanjan hill.
The event of Lord Shiva granting "mukti" to the demon Kanjan is celebrated in a grand manner on the 10th day of the Tamil month of Thai (January-February). On this day, the procession idol of Lord Shiva is taken to Kanjanagiri (a nearby hill).
Other important festivals celebrated in this temple are - Brahmotsavam in the Tamil month of Pankuni (March-April) and Theerthavari in the Neeva river on Masi Makam day (February-March).
Temple Timings
06.00 AM to 12.00 Noon and 04.00 PM to 08.00 PM.
Temple Address
Sri Vilvanatheswarar Temple
Thiruvalam Post
Ranipet Via, Kudiyatham Taluk
Velore District
Tamil Nadu – 632 515.
Tele: 0416 – 2236088
Sri Umapathi Gurukkal: 09894922166, Sri Chellappa Gurukkal: 09043363818


Note: At a distance of about 10 kms from this place is the hill station called Vallimalai. Vallimalai is considered to be the birthplace of Goddess Valli, Lord Murugan's second consort. It is believed that she had spent her childhood in this place before getting married to Lord Murugan in Thiruthani. A small temple for Valli can be seen at the foothill. There is also a large temple for Lord Subramanya Swamy at the top of the hill. This Subramanya Swamy's temple has a cave – like structure and is carved out of a single rock. There are about 500 steps to reach the top. This temple has a marvellous surrounding and breath-taking scenic beauty. It is highly recommended to visit Vallimalai.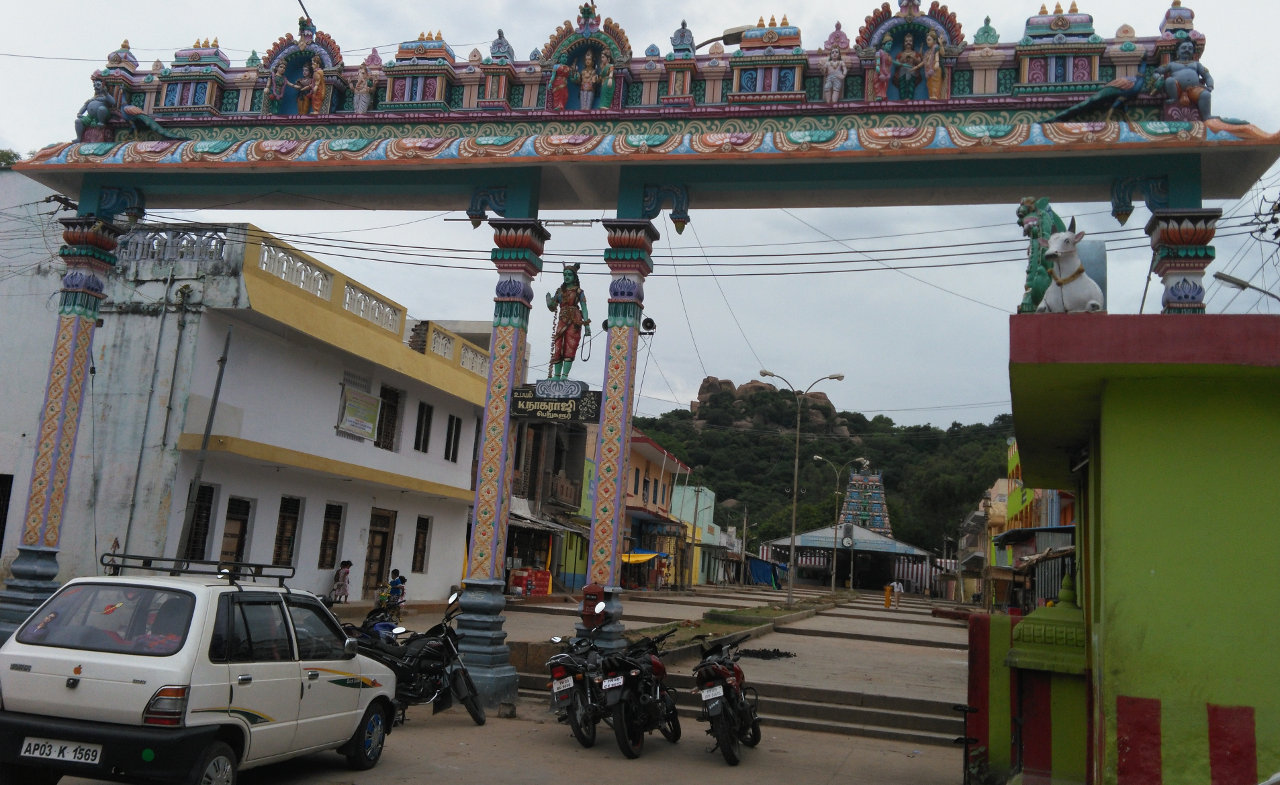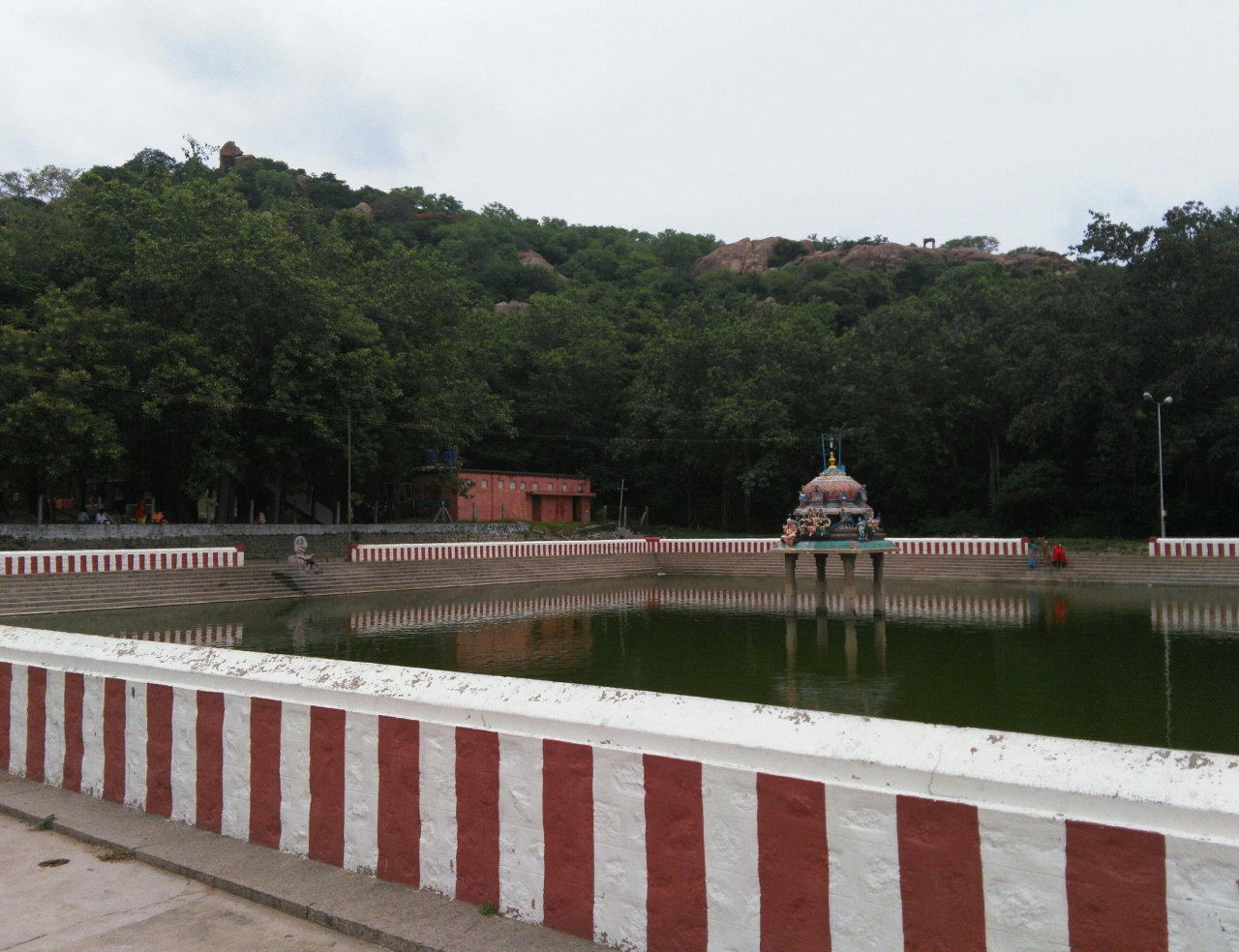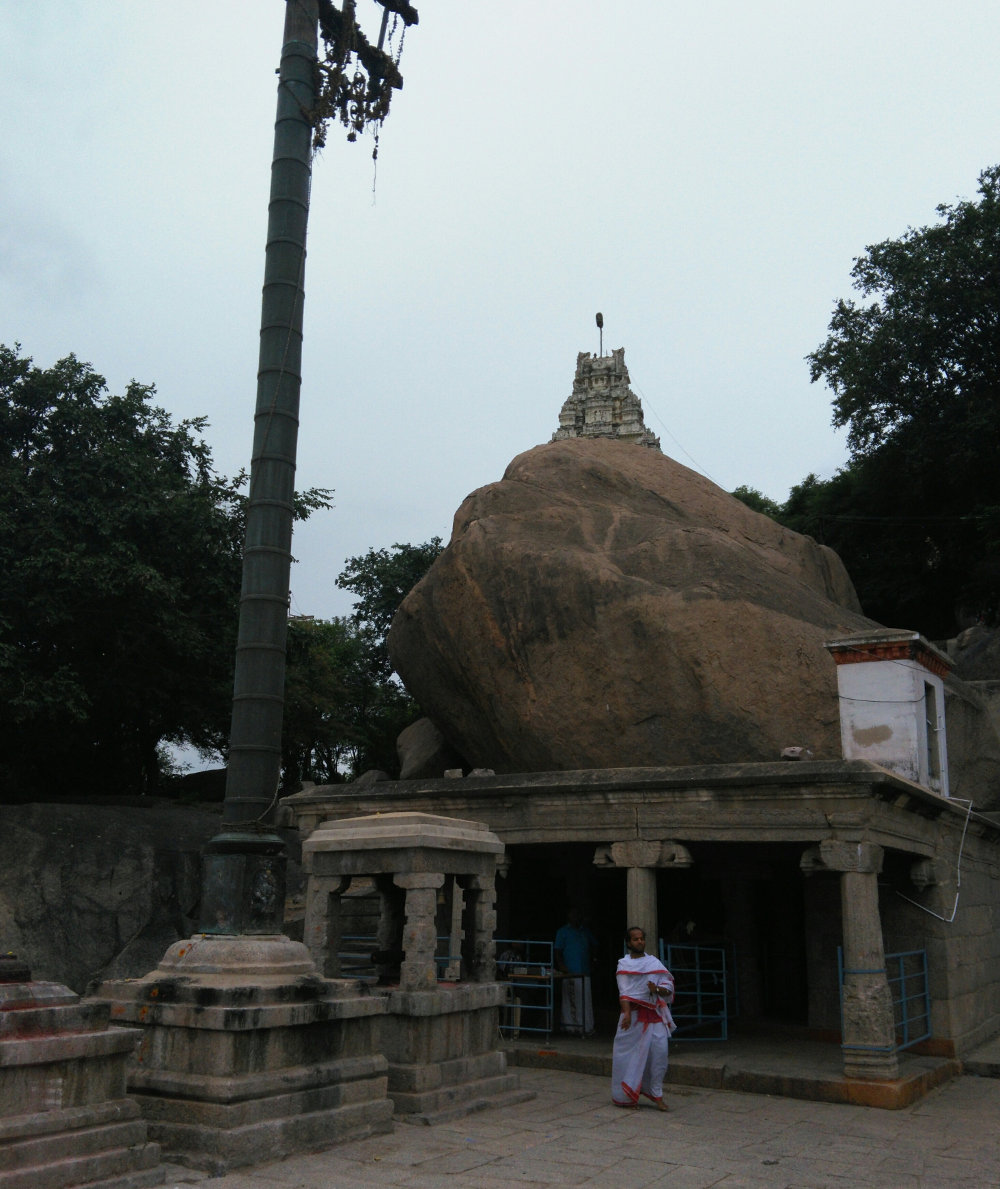 ---
Pathigam (Hymn) with English transliteration
Saint Thirugnanasambanthar visited this temple and sang this Pathigam.
Devotees visiting this temple should make it a practice to recite this Pathigam.
எரித்தவன் முப்புரம் எரியில்மூழ்கத்
தரித்தவன் கங்கையைத் தாழ்சடைமேல்
விரித்தவன் வேதங்கள் வேறுவேறு
தெரித்தவன் உறைவிடந் திருவல்லமே.
"Erithavaṉ muppuram eriyilmūzhkath
tharithavaṉ kaṅgaiyaith thāzhsaṭaimēl
virithavaṉ vēthaṅkaḷ vēṟuvēṟu
therithavaṉ uṟaiviṭan thiruvallamē".
தாயவன் உலகுக்குத் தன்னொப்பிலாத்
தூயவன் தூமதி சூடியெல்லாம்
ஆயவன் அமரர்க்கும் முனிவர்கட்குஞ்
சேயவன் உறைவிடந் திருவல்லமே.
"Thāyavaṉ ulakukkuth thaṉṉoppilāth
thūyavaṉ thūmathi sūṭiyellām
āyavaṉ amararkkum muṉivarkaṭkuñj
chēyavaṉ uṟaiviṭan thiruvallamē".
பார்த்தவன் காமனைப் பண்பழியப்
போர்த்தவன் போதகத் தின்னுரிவை
ஆர்த்தவன் நான்முகன் தலையையன்று
சேர்த்தவன் உறைவிடந் திருவல்லமே.
"Pārthavaṉ kāmaṉaip paṇpazhiyap
pōrthavaṉ pōthakath thiṉṉurivai
ārthavaṉ nāṉmukaṉ thalaiyaiyaṉtṟu
sērthavaṉ uṟaiviṭan thiruvallamē".
கொய்தஅம் மலரடி கூடுவார்தம்
மைதவழ் திருமகள் வணங்கவைத்துப்
பெய்தவன் பெருமழை யுலகமுய்யச்
செய்தவன் உறைவிடந் திருவல்லமே.
"Koytha'am malaradi kūduvārtham
maithavazh thirumakaḷ vaṇaṅkavaithup
peythavaṉ perumazhai yulakamuyyach
cheythavaṉ uṟaiviṭan thiruvallamē".
சார்ந்தவர்க் கின்பங்கள் தழைக்கும் வண்ணம்
நேர்ந்தவன் நேரிழை யோடுங்கூடித்
தேர்ந்தவர் தேடுவார் தேடச்செய்தே
சேர்ந்தவன் உறைவிடந் திருவல்லமே.
"Sārnthavark kiṉpaṅkaḷ thazhaikkum vaṇṇam
nērnthavaṉ nērizhai yōduṅkūṭith
thērnthavar thēduvār thēṭacheythē
sērnthavaṉ uṟaiviṭan thiruvallamē".
பதைத்தெழு காலனைப் பாதமொன்றால்
உதைத்தெழு மாமுனிக் குண்மைநின்று
விதிர்த்தெழு தக்கன்றன் வேள்வியன்று
சிதைத்தவன் உறைவிடந் திருவல்லமே.
"Pathaithezhu kālaṉaip pāthamoṉtṟāl
uthaithezhu māmuṉik kuṇmainiṉtṟu
vithirthezhu thakkaṉtṟaṉ vēḷviyaṉtṟu
sithaithavaṉ uṟaiviṭan thiruvallamē".

(*) இப்பதிகத்தில் 7-ம் செய்யுள் சிதைந்து போயிற்று.
இகழ்ந்தரு வரையினை எடுக்கலுற்றாங்
ககழ்ந்தவல் லரக்கனை அடர்த்தபாதம்
நிகழ்ந்தவர் நேடுவார் நேடச்செய்தே
திகழ்ந்தவன் உறைவிடந் திருவல்லமே.
"Ikazhntharu varaiyiṉai edukkalutṟāṅ
kakazhnthaval larakkaṉai aṭarthapātham
nikazhnthavar nēṭuvār nēṭacheythē
thikzhnthavaṉ uṟaiviṭan thiruvallamē".
பெரியவன் சிறியவர் சிந்தைசெய்ய
அரியவன் அருமறை யங்கமானான்
கரியவன் நான்முகன் காணவொண்ணாத்
தெரியவன் உறைவிடந் திருவல்லமே.
"Periyavaṉ siṟiyavar chinthaiseyya
ariyavaṉ arumaṟai yaṅkamāṉāṉ
kariyavaṉ nāṉmukaṉ kāṇavoṇṇāth
theriyavaṉ uṟaiviṭan thiruvallamē".
அன்றிய அமணர்கள் சாக்கியர்கள்
குன்றிய அறவுரை கூறாவண்ணம்
வென்றவன் புலனைந்தும் விளங்கவெங்குஞ்
சென்றவன் உறைவிடந் திருவல்லமே.
"Aṉtṟiya amaṇarkaḷ sākkiyarkaḷ
kuṉtṟiya aṟavurai kūṟāvaṇṇam
veṉtṟavaṉ pulaṉainthum viḷaṅkaveṅkuñ
cheṉtṟavaṉ uṟaiviṭan thiruvallamē".
கற்றவர் திருவல்லங் கண்டுசென்று
நற்றமிழ் ஞானசம் பந்தன்சொன்ன
குற்றமில் செந்தமிழ் கூறவல்லார்
பற்றுவர் ஈசன்பொற் பாதங்களே.
"Katṟavar thiruvallaṅ kaṇduseṉtṟu
natṟamizh gñāṉasam panthaṉsoṉṉa
kutṟamil senthamizh kūṟavallār
patṟuvar īsaṉpoṟ pāthaṅkaḷē".