Visited on: 12th March, 2017.
Location
Thirukkurukavur is located at a distance of about 6 kms from Sirkazhi. Sirkazhi is on the Chidambaram to Mayiladuthurai route.
It is very near to Thirumullaivasal temple. Other Devara Paadal Petra Sthalams near this place are – Sirkazhi, Thirukkolakka, Achalpuram, Mahendrapalli, Thirumullaivasal, Thiruvenkadu, Chayavanam and Poompukar.
General Information
| | |
| --- | --- |
| Moolavar | Sri Velladai Eswarar, Sri Velvidai Nathar, Sri Ratnagireeswarar, Sri Swetha Rishabeswarar |
| Ambal | Sri Kaviyangkanni Amman, Sri Neelothpava Visalakshi |
| Theertham (Holy water) | Velvidai Theertham (a well) / Paalkinaru |
| Sthala Vriksham (Sacred Tree) | Vilvam tree |
| Pathigam (Hymn) rendered by | Saint Thirugnanasambanthar and Saint Sundaramurthy (Sundarar) |
This is one of the 276 Devara Paadal Petra Shiva Sthalams and 13th Shiva Sthalam on the northern bank of the river Cauvery in Chozha Nadu (Vadakarai).
Lord Shiva in this temple is a Swayambumurthi (self-manifested).
This east facing temple has a single corridor. Although it has no main tower (Rajagopuram) or dwajasthambam (Flag post), there is a beautiful arch at the entrance.
The water in this temple's well is believed to turn white on the new moon day in the Tamil month of Thai.
The last consecration ceremony (Kumbabishekam) took place on 18.06.1986.
History of the Temple
The historical name of this village is Kurukavur and that of the temple is Velladai. Now the village is known as Thirukkadaavur.
The stone inscriptions available in this temple are from the periods of Kings Rajendra Cholan, Kulottunga Cholan-I, Vikrama Cholan, Parakesari Varman and Rajathirajan. The temple was rebuilt in stone in the 10th century during the period of King Uttama Cholan.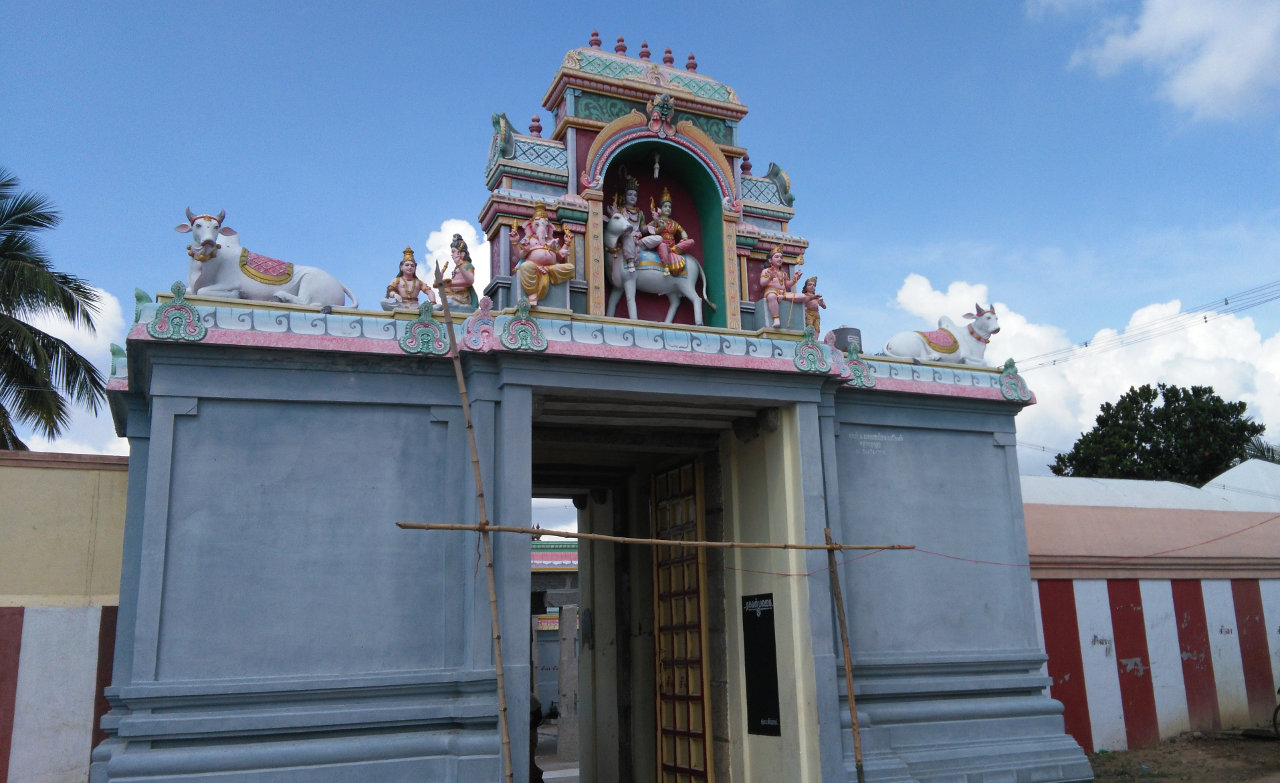 Legend
It is believed that lords Mahavishnu, Brahma, Indiran, Varunan and Goddess Saraswathi have worshiped the lord of this temple.
Lord Mahavishnu is believed to have taken the form of a white bull (Rishabham) and worshiped Lord Shiva here, hence this place is called Velladai ("Vellai" means White in Tamil), Rishabapuram, and Vishnupuram.
Velladai also means "Paramakayam" in Sanskrit. This can roughly be translated to "abode of deity".
It is also believed that Lord Shiva instructed Kuberan to provide a poor devotee with a gift of gems, hence the lord here is also praised as "Sri Ratnagireswarar". ("Ratnam" means gems in Tamil).
It is believed that Agni took the form of a pigeon to test King Sibi. Afterwards, in order to regain his original form, he created a river and offered its water as prayer to Lord Shiva. Hence this place is called "Kurukavur" ("kuruvi" means pigeon in Tamil).
Another legend is that when Saint Sundarar was approaching Thirukkurukavur, he was quite hungry and tired. Lord Shiva came in the guise of an old man and made a small shelter and waited for him. He received Sundarar and his followers and offered them food and water. He also asked them to take rest there. After resting, Sundarar wanted to thank the old man but to his surprise both the old man and the tent were nowhere to be found. Sundarar realised that this was a play of Lord Shiva himself. With tears of thanks and affection, he rendered his Pathigam there. The place where Lord Shiva provided meals to his devotees is known as "Varisaipatru" or "Daddiyonnapuram".
Another legend associated with this place is that Saint Thirugnanasambanthar fought the Jains who had waged a war against Saivism. Sambanthar overcame all the challenges that the Jains put forth and re-established the glory of Saivism in Tamil Nadu. As was agreed between Sambanthar and the Jains, the latter were hanged after Sambanthar emerged victorious in all the challenges. However, Sambanthar had to incur the sin of causing the death of the Jains and wanted to go to Kasi (Banaras) to seek respite from the sin. As Sirkazhi was his birthplace, he went to the Sirkazhi temple to seek Lord Shiva's permission to proceed to Kasi. Lord Shiva appeared before Sambanthar and asked him to go to Kurukavur instead.
When Sambanthar came to this temple, the lord is believed to have brought the Ganges itself in a well near the temple. The Saint took a dip in the holy Ganges and got relieved of his sins. This well is known as "Pal Kinaru". On the new moon day in the Tamil month of Thai, Theerthavari festival is celebrated here. During this time, the colour of the water in the well become while. Hence the name "Pal Kinaru" ("Pal" means milk and "Kinaru" means well in Tamil). Devotees are allowed to take a dip on this day only and the well remains closed during the rest of the year.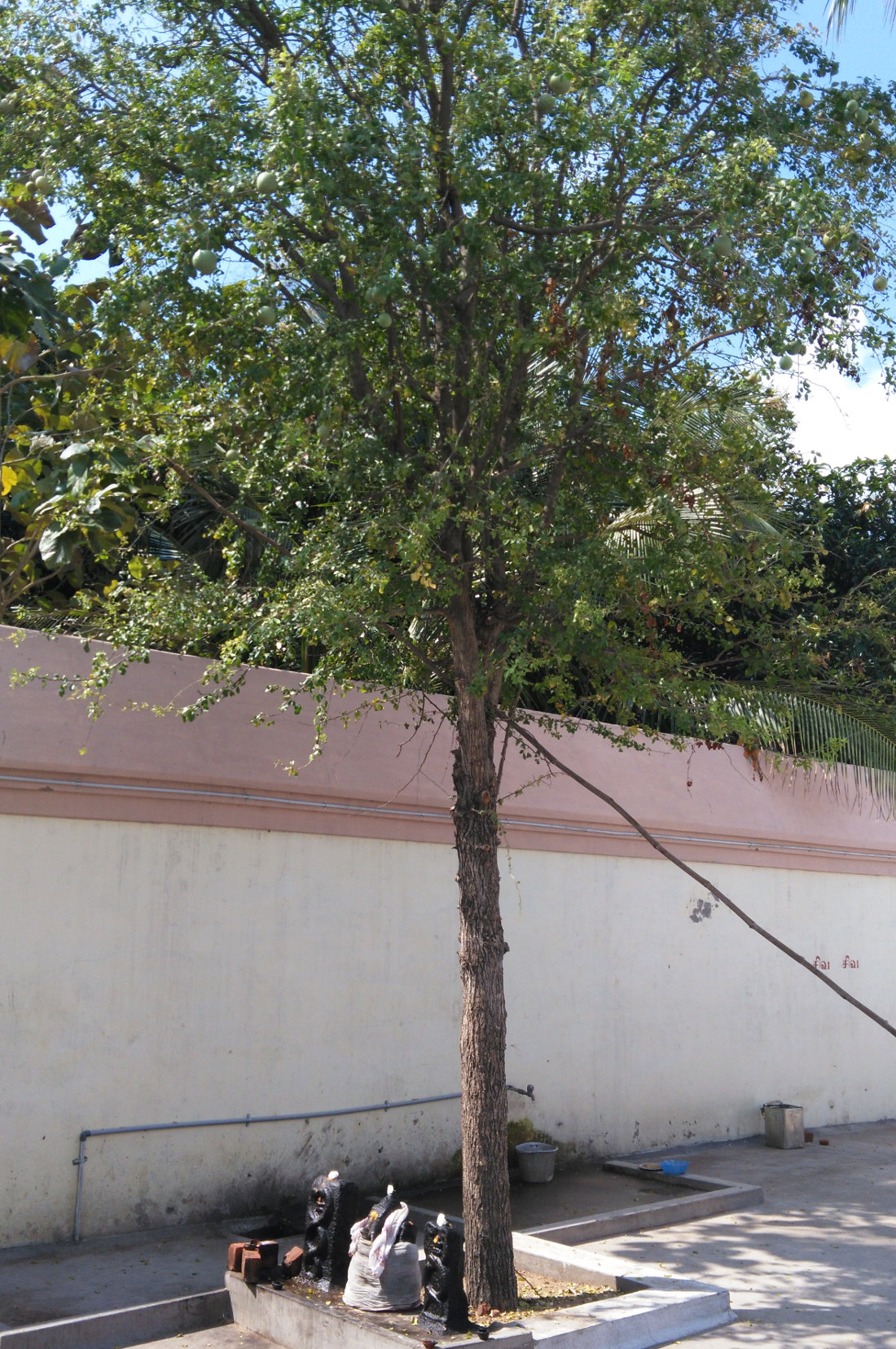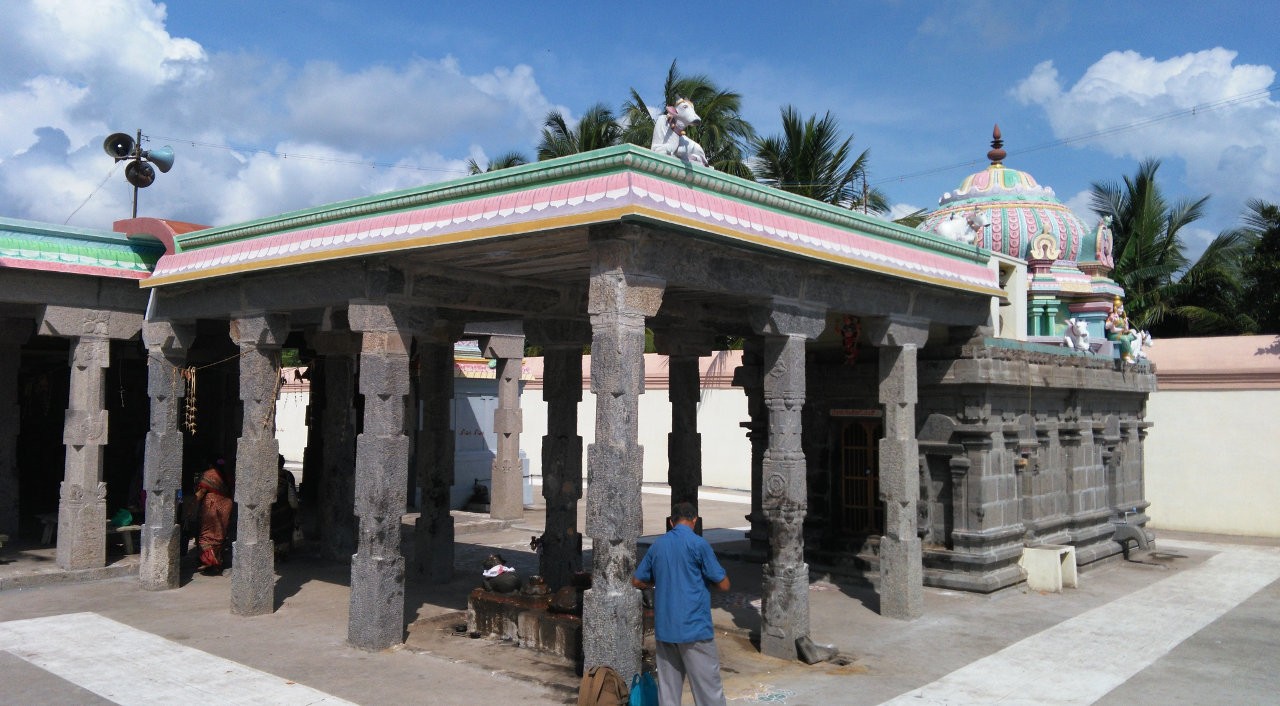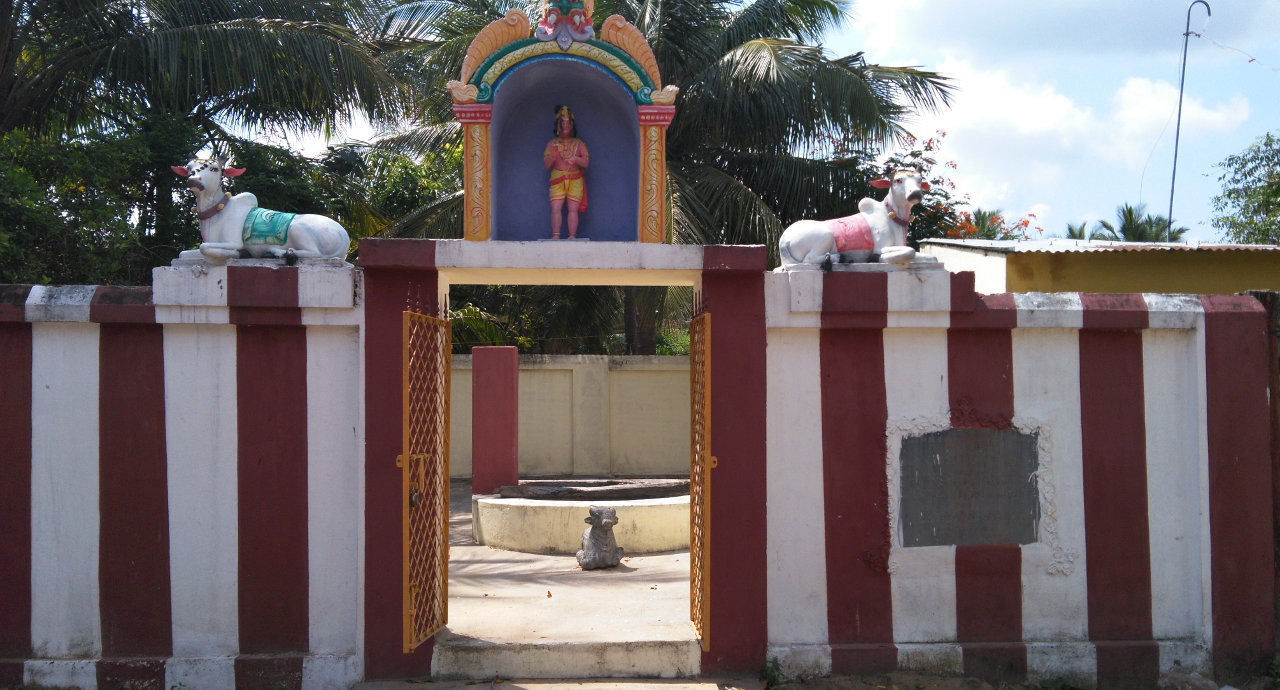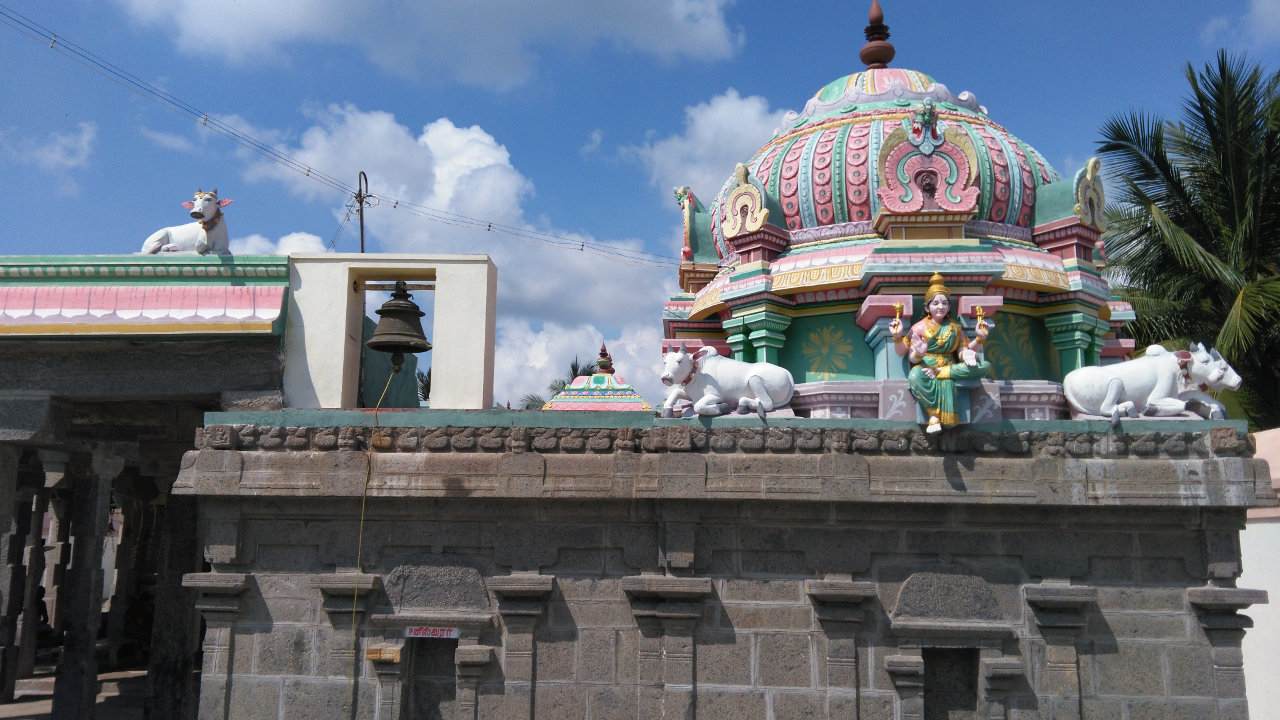 Deities in the temple
Other than the shrines of Lord Shiva and Goddess Parvathy, shrines and idols of lords Vinayakar, Murugan with his consorts, Natarajar, Dakshinamurthy, Kasi Viswanathar and Vishalakshi, Lingothbhavar, Brahma, Durgai, Vishnu and Mohini, Nalvar, Gajalakshmi, Sivalokanathar, Bhulokanathar, Sage Dhurvasar, Bairavar, Suryan Iyyanar and Mariamman can be seen in the corridors.
Here Lord Vishnu is named Kariamaanikka Perumal and his consort is Sri Bumi Devi. Lord Saneeswaran graces from a separate shrine.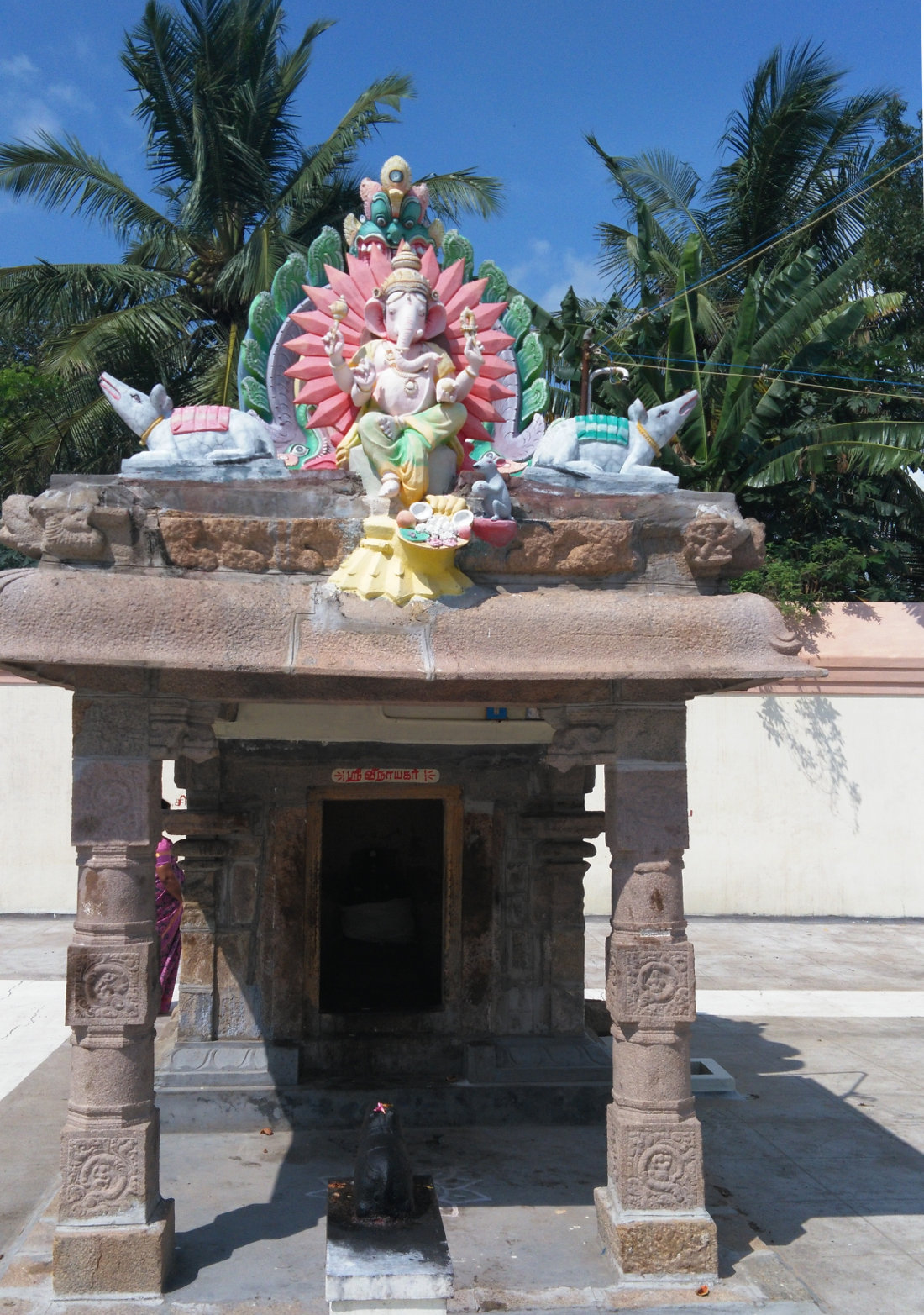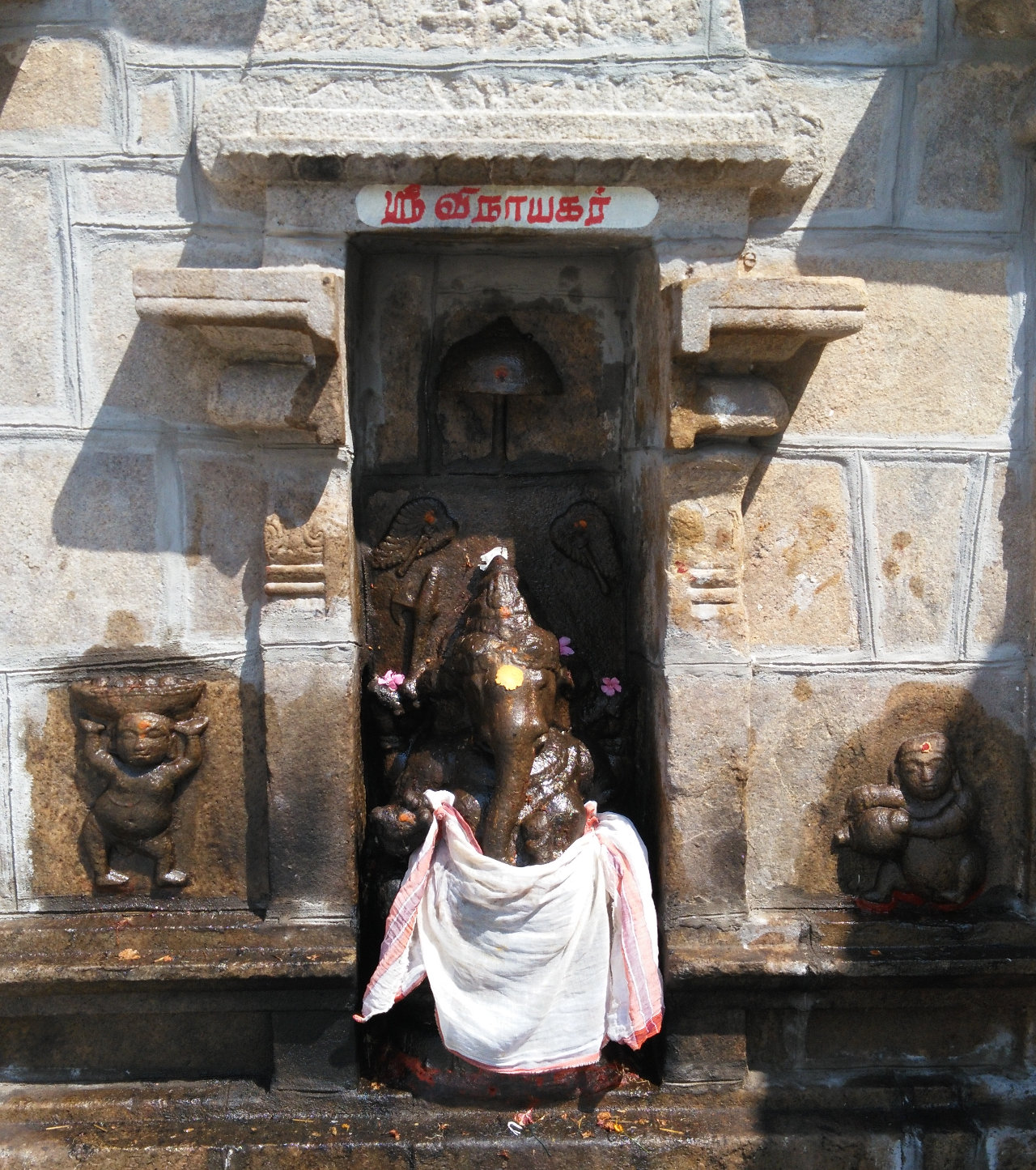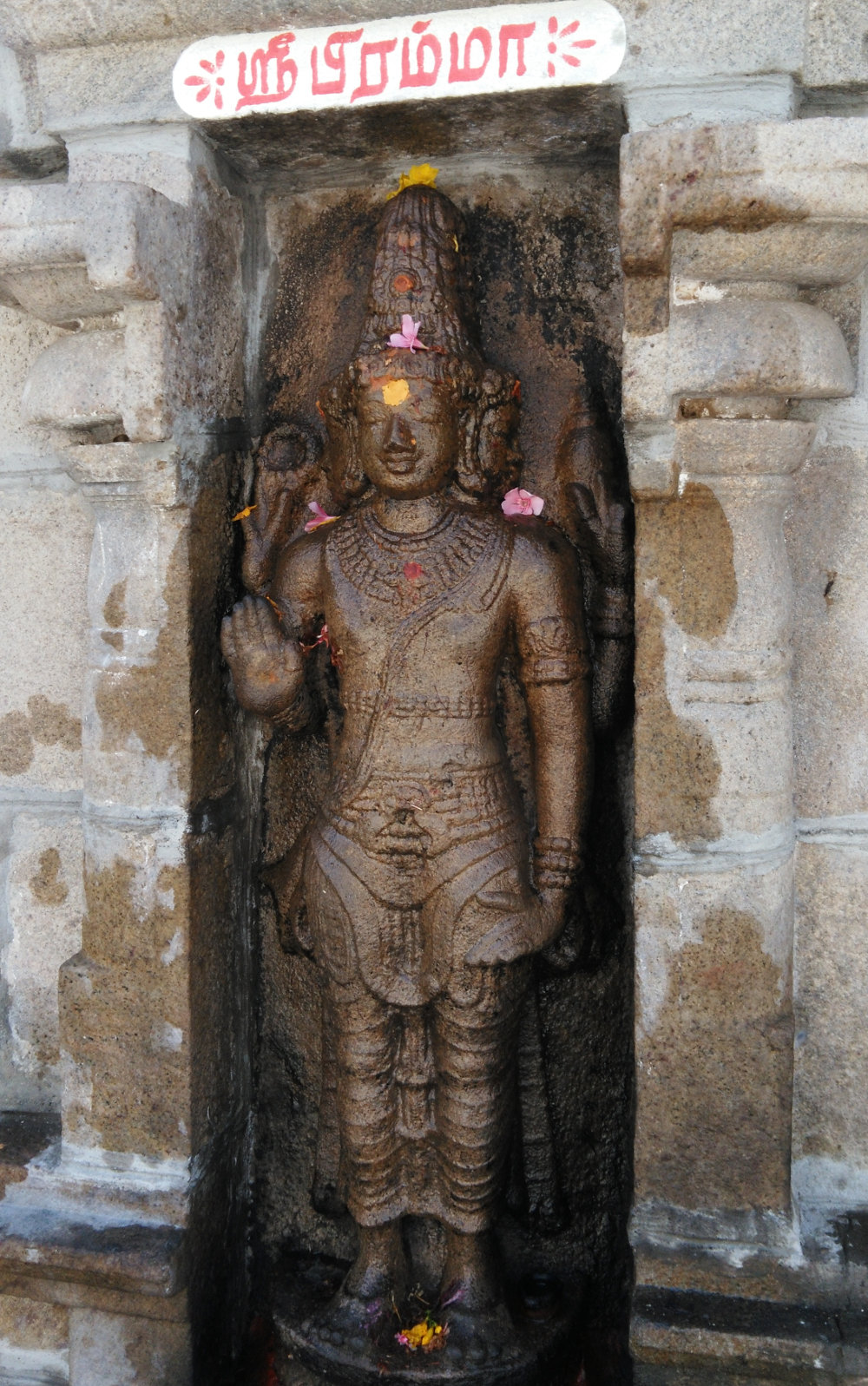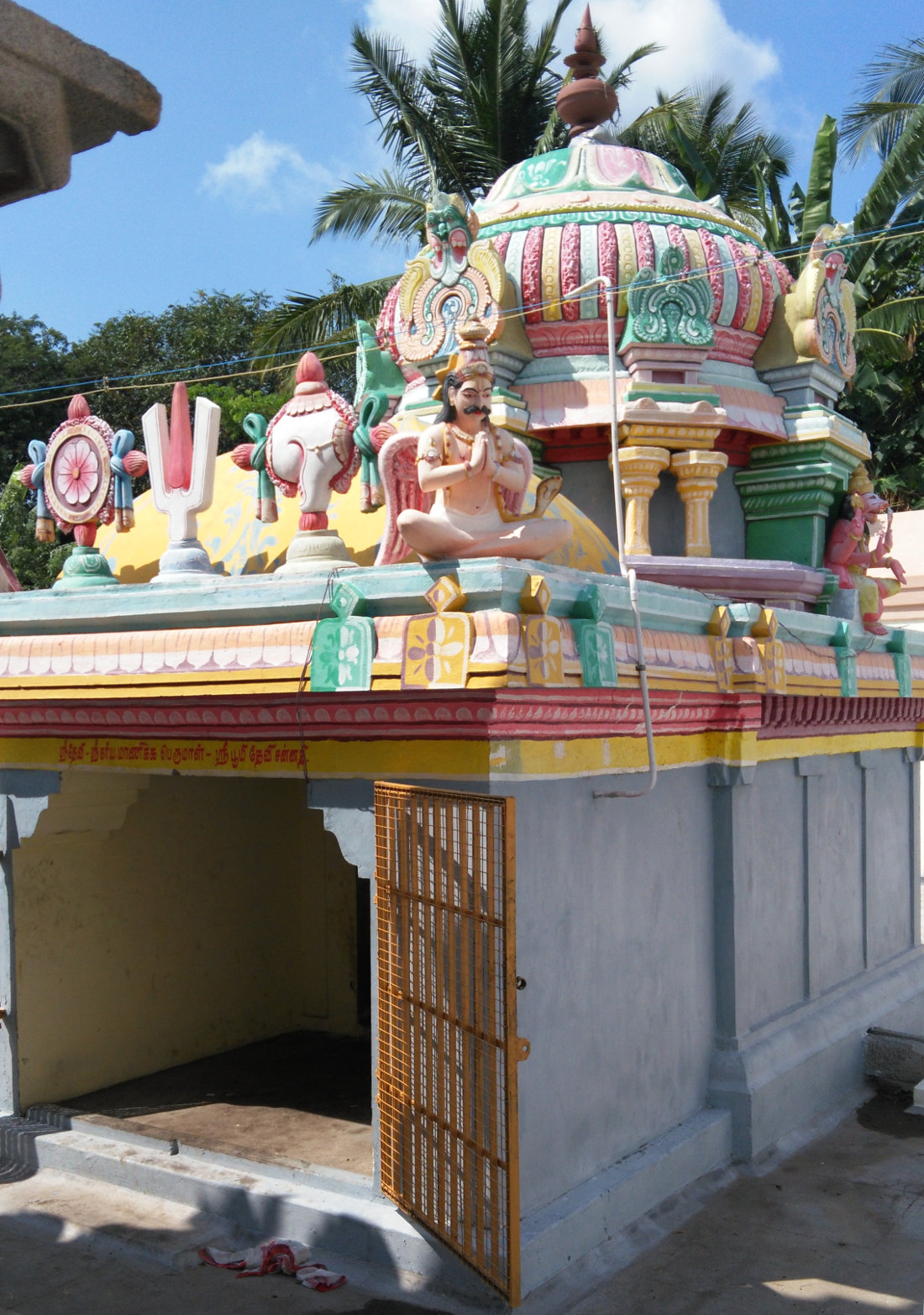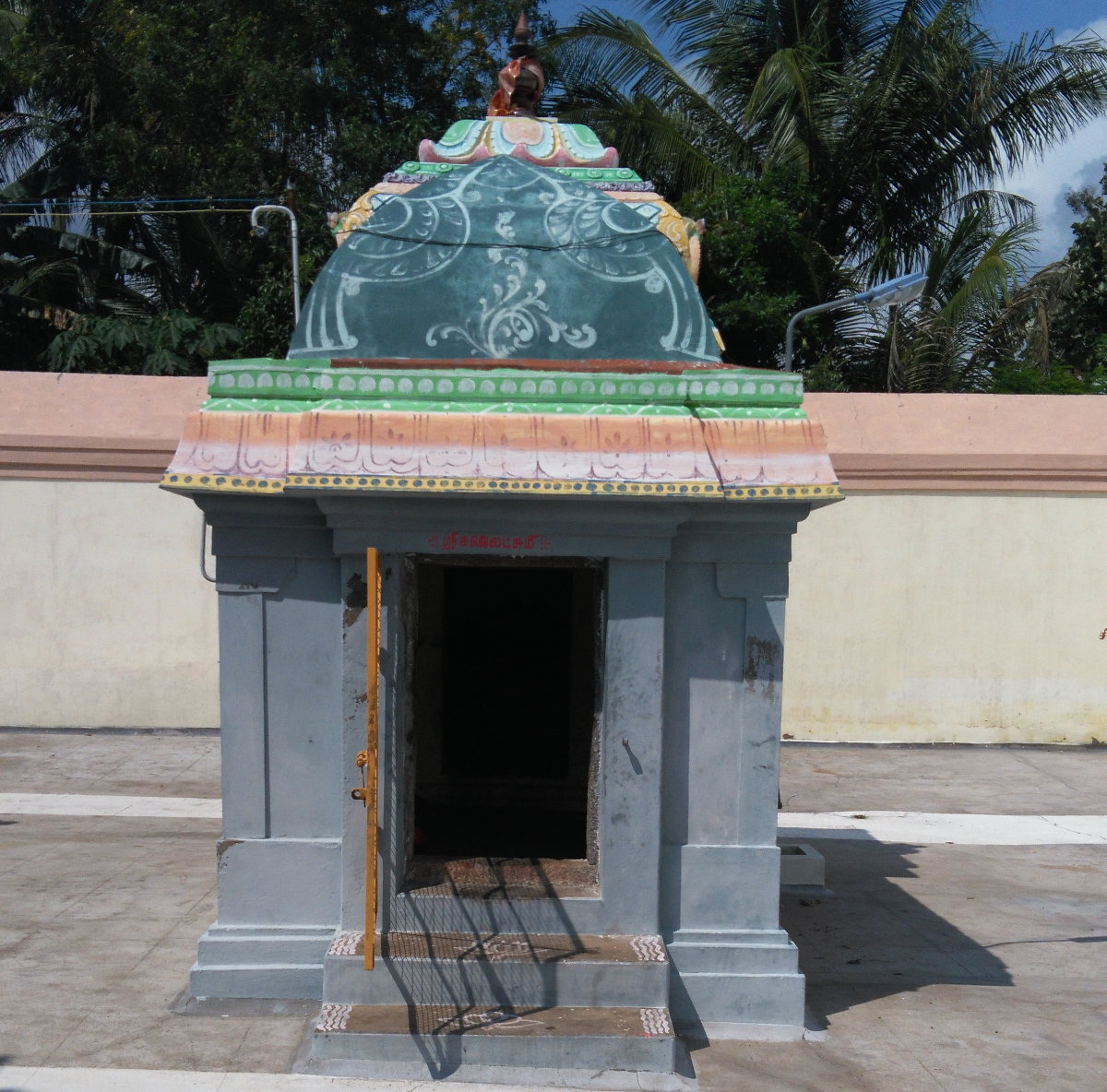 Salient Features
Traditionally, idols of Lord Murugan are east facing. However, in this temple Lord Murugan can be seen facing the south, a direction that is usually attributed to Lord Guru.
There is no shrine for Navagraham in this temple.
Greatness of this temple
Lord Murugan is revered as Dakshinamurthy in this temple. He graces with his consorts Valli and Deivanai. Special poojas are performed to him on Thursdays, a day considered to be auspicious for Guru.
Since Lord Shiva of this temple offered food to saint Sundarar, devotees believe that worshipping him here would ensure that they never face shortage of food.
Important Festivals
The event of Shiva blessing Sundaramoorthy Nayanar with food is enacted on Chitra Pournami (full moon day) in the Tamil month of Chithirai (April-May).
The event of Lord Shiva blessing Sambanthar with water from the Ganges is celebrated on Thai Amavasai (new moon day) in the Tamil month of Thai (January-February). The water turns white on this day. On this day, the procession idol of Sambanthar is brought to this temple from the Sirkazhi Brahmmapureeswarar temple. The presiding deities of this temple - Sri Velladainathar and Goddess Kavianganni grants darshan to Sambanthar and give him the Theertham. Sambanthar returns to Sirkazhi in the evening. This event is celebrated in a grand manner.
Thai Poosam, Skanda Sashti and monthly Pradosham are also celebrated here.
Temple Timings
From 08:30 AM to 10:30 AM only.
Temple Address
Sri Velladai Eswarar Temple,
Thirukkurukavur,
Vadakal Post,
Sirkazhi Taluk,
Nagapattinam District,
Tamil Nadu – 609115.

Temple priest Sri Muthu Mani Gurukkal can be contacted at: +91 96555 23342 and 94892 53941.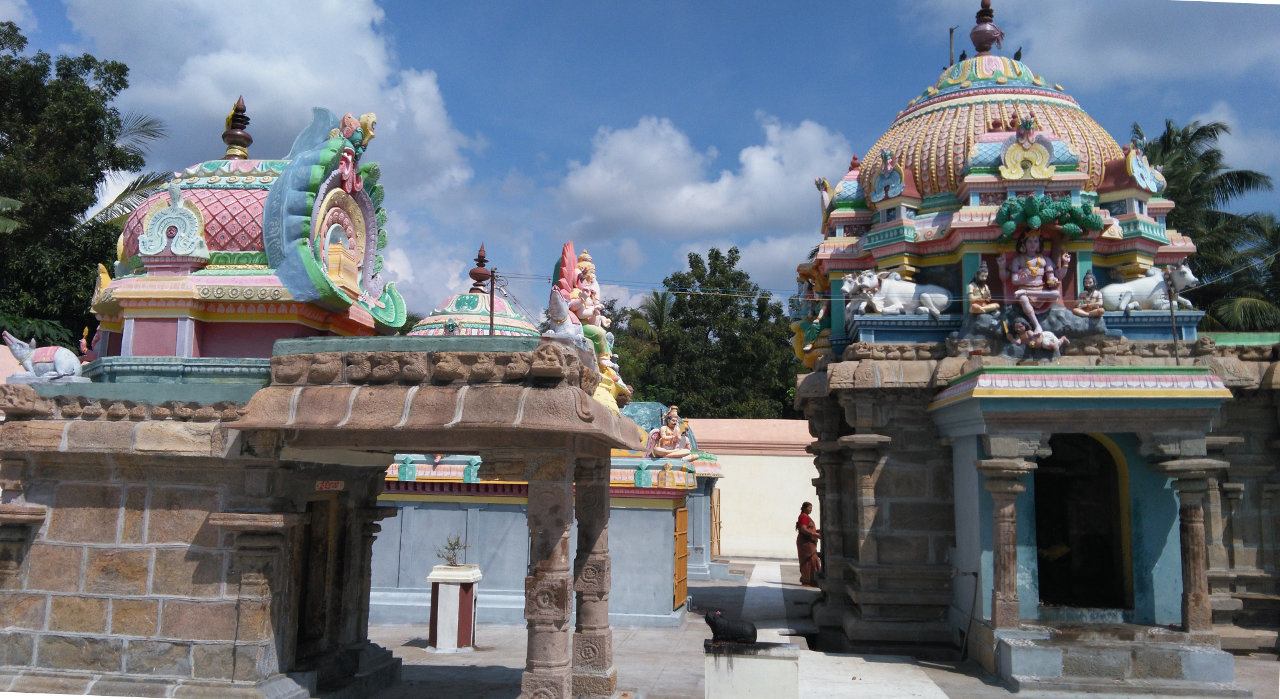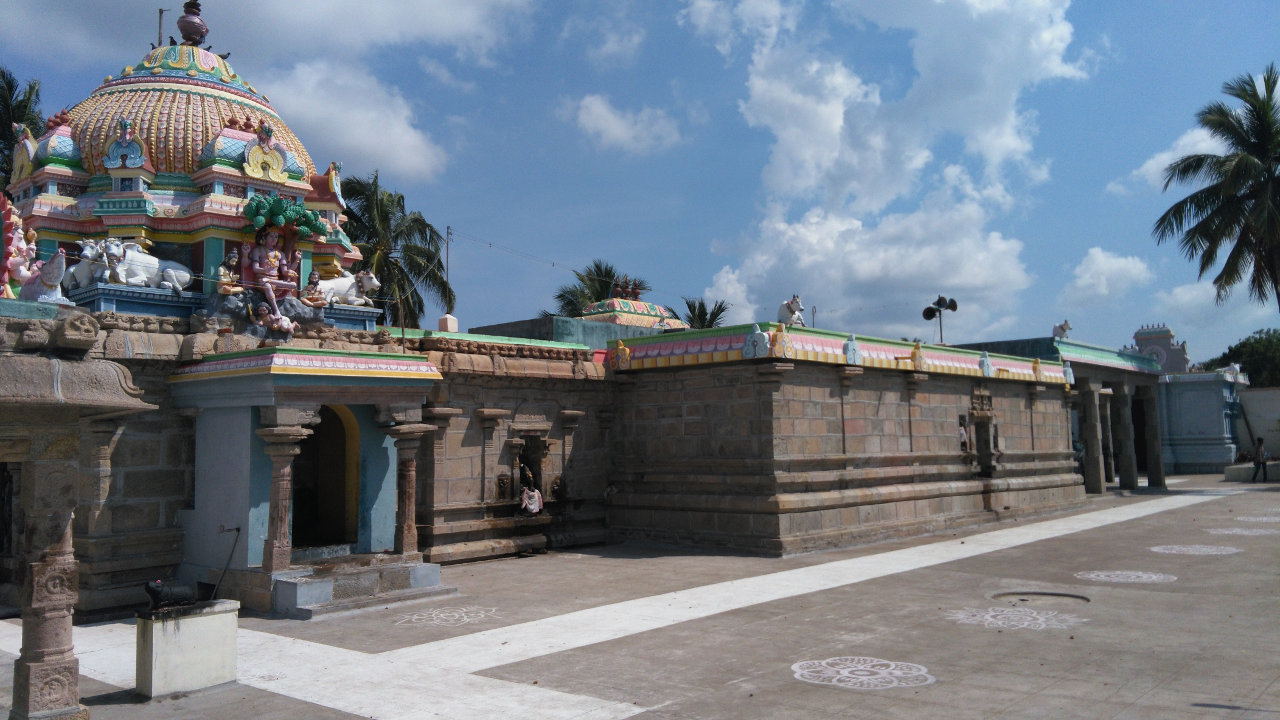 ---
Pathigam (Hymn) with English transliteration
Saint Sundararamurthy Nayanar visited this temple and sang this Pathigam.
Devotees visiting this temple should make it a practice to recite this Pathigam.
இத்தனை யாமாற்றை அறிந்திலேன் எம்பெருமான்
பித்தரே என்றும்மைப் பேசுவார் பிறரெல்லாம்
முத்தினை மணிதன்னை மாணிக்கம் முளைத்தெழுந்த
வித்தனே குருகாவூர் வெள்ளடை நீயன்றே.
"Ithaṉai yāmātṟai aṟinthilēṉ emperumāṉ
pitharē eṉtṟum'maip pēsuvār piṟarellām
muthiṉai maṇithaṉṉai māṇikkam muḷaithezhuntha
vithaṉē kurukāvūr veḷḷaṭai nīyaṉtṟē".
ஆவியைப் போகாமே தவிர்த்தென்னை ஆட்கொண்டாய்
வாவியிற் கயல்பாயக் குளத்திடை மடைதோறுங்
காவியுங் குவளையுங் கமலஞ்செங் கழுநீரும்
மேவிய குருகாவூர் வெள்ளடை நீயன்றே.
"Āviyaip pōkāmē thavirththeṉṉai āṭkoṇṭāy
vāviyiṟ kayalpāyak kuḷaththiṭai maṭaithōṟuṅ
kāviyuṅ kuvaḷaiyuṅ kamalañcheṅ kazhunīrum
mēviya kurukāvūr veḷḷaṭai nīyaṉtṟē".
பாடுவார் பசிதீர்ப்பாய் பரவுவார் பிணிகளைவாய்
ஓடுநன் கலனாக உண்பலிக் குழல்வானே
காடுநல் லிடமாகக் கடுவிருள் நடமாடும்
வேடனே குருகாவூர் வெள்ளடை நீயன்றே.
"Pāṭuvār pasithīrppāy paravuvār piṇikaḷaivāy
ōṭunaṉ kalaṉāka uṇpalik kuzhalvāṉē
kāṭunal liṭamākak kaṭuviruḷ naṭamāṭum
vēṭaṉē kurukāvūr veḷḷaṭai nīyaṉtṟē".
வெப்பொடு பிணியெல்லாந் தவிர்த்தென்னை ஆட்கொண்டாய்
ஒப்புடை ஒளிநீலம் ஓங்கிய மலர்ப்பொய்கை
அப்படி அழகாய அணிநடை மடவன்னம்
மெய்ப்படு குருகாவூர் வெள்ளடை நீயன்றே.
"Veppoṭu piṇiyellān thavirththeṉṉai āṭkoṇṭāy
oppuṭai oḷinīlam ōṅkiya malarppoykai
appaṭi azhakāya aṇinaṭai maṭavaṉṉam
meyppaṭu kurukāvūr veḷḷaṭai nīyaṉtṟē".
வரும்பழி வாராமே தவிர்த்தென்னை ஆட்கொண்டாய்
சுரும்புடை மலர்க்கொன்றைச் சுண்ணவெண் ணீற்றானே
அரும்புடை மலர்ப்பொய்கை அல்லியும் மல்லிகையும்
விரும்பிய குருகாவூர் வெள்ளடை நீயன்றே.
"Varumpazhi vārāmē thavirththeṉṉai āṭkoṇṭāy
surumpuṭai malarkkoṉtṟaich chuṇṇaveṇ ṇītṟāṉē
arumpuṭai malarppoykai alliyum mallikaiyum
virumpiya kurukāvūr veḷḷaṭai nīyaṉtṟē".
பண்ணிடைத் தமிழொப்பாய் பழத்தினிற் சுவையொப்பாய்
கண்ணிடை மணியொப்பாய் கடுவிருட் சுடரொப்பாய்
மண்ணிடை அடியார்கள் மனத்திடர் வாராமே
விண்ணிடைக் குருகாவூர் வெள்ளடை நீயன்றே.
"Paṇṇiṭaith thamizhoppāy pazhaththiṉiṟ suvaiyoppāy
kaṇṇiṭai maṇiyoppāy kaṭuviruṭ chuṭaroppāy
maṇṇiṭai aṭiyārkaḷ maṉaththiṭar vārāmē
viṇṇiṭaik kurukāvūr veḷḷaṭai nīyaṉtṟē".
போந்தனை தரியாமே நமன்தமர் புகுந்தென்னை
நோந்தன செய்தாலும் நுன்னல தறியேன்நான்
சாந்தனை வருமேலுந் தவிர்த்தென்னை ஆட்கொண்ட
வேந்தனே குருகாவூர் வெள்ளடை நீயன்றே.
"Pōnthaṉai thariyāmē namaṉthamar pukuntheṉṉai
nōnthaṉa seythālum nuṉṉala thaṟiyēṉnāṉ
sānthaṉai varumēlun thavirththeṉṉai āṭkoṇṭa
vēnthaṉē kurukāvūr veḷḷaṭai nīyaṉtṟē".
மலக்கில்நின் னடியார்கள் மனத்திடை மால்தீர்ப்பாய்
சலச்சல மிடுக்குடைய தருமனார் தமரென்னைக்
கலக்குவான் வந்தாலுங் கடுந்துயர் வாராமே
விலக்குவாய் குருகாவூர் வெள்ளடை நீயன்றே.
"Malakkilniṉ ṉaṭiyārkaḷ maṉaththiṭai mālthīrppāy
chalachala miṭukkuṭaiya tharumaṉār thamareṉṉaik
kalakkuvāṉ vanthāluṅ kaṭunthuyar vārāmē
vilakkuvāy kurukāvūr veḷḷaṭai nīyaṉtṟē".
படுவிப்பாய் உனக்கேயாட் பலரையும் பணியாமே
தொடுவிப்பாய் துகிலொடுபொன் தோலுடுத் துழல்வானே
கெடுவிப்பாய் அல்லாதார் கேடிலாப் பொன்னடிக்கே
விடுவிப்பாய் குருகாவூர் வெள்ளடை நீயன்றே.
"Paṭuvippāy uṉakkēyāṭ palaraiyum paṇiyāmē
thoṭuvippāy thukiloṭupoṉ thōluṭuth thuzhalvāṉē
keṭuvippāy allāthār kēṭilāp poṉṉaṭikkē
viṭuvippāy kurukāvūr veḷḷaṭai nīyaṉtṟē".
வளங்கனி பொழில்மல்கு வயலணிந் தழகாய
விளங்கொளி குருகாவூர் வெள்ளடை உறைவானை
இளங்கிளை ஆரூரன் வனப்பகை யவளப்பன்
உளங்குளிர் தமிழ்மாலை பத்தர்கட் குரையாமே.
"Vaḷaṅkaṉi pozhilmalku vayalaṇin thazhakāya
viḷaṅkoḷi kurukāvūr veḷḷaṭai uṟaivāṉai
iḷaṅkiḷai ārūraṉ vaṉappakai yavaḷappaṉ
uḷaṅkuḷir thamizhmālai paththarkaṭ kuraiyāmē".