Visited on: 10th March, 2017
Location
The temple is located in a place called Kizhur or Kizhaiyur in Thirukkoilure. Thirukkoilure is at a distance of about 40 kms from Thiruvannamalai and from Villupuram it is about 37 kms.
General Information
| | |
| --- | --- |
| Moolavar | Sri Veeratteswarar, Sri Andhakaanthakan |
| Ambal | Sri Sivananthavalli, Sri Periyanayagi |
| Theertham (Holy water) | Thenpennai river |
| Sthala Vriksham (Sacred Tree) | Vilvam and Sarakkontrai trees |
| Pathigam (Hymn) rendered by | Saint Thirugnanasambanthar, Saint Thirunavukarasar |
This is one of the 276 Devara Paadal Petra Shiva Sthalams and 11th Shiva Sthalam in Nadu Naadu.
Lord Shiva in this temple is a Swayambumurthi (self-manifested).
This is one of the eight "Veerattana Sthalams" of Lord Shiva.
In this temple Lord Shiva himself is a Bairavar.
Both Moolavar and Ambal Shrines are facing west and are built as separate temples.
Both temples' main towers (Rajagopuram) have 3-tiers and 2 corridors each.
Two of the 63 Nayanmars - Saint Meiporul Nayanar and Saint Narasinga Munaiarayar lived in this place.
This is the birth place of the great Chola King Arunmozhith Devan, popularly known as Raja Raja Cholan; his mother Vaanavan Madevi and Adithya Karikalan.
History of the Temple
The temple is on the southern bank of Pennai river. The historical name of this place is "Andhakapuram".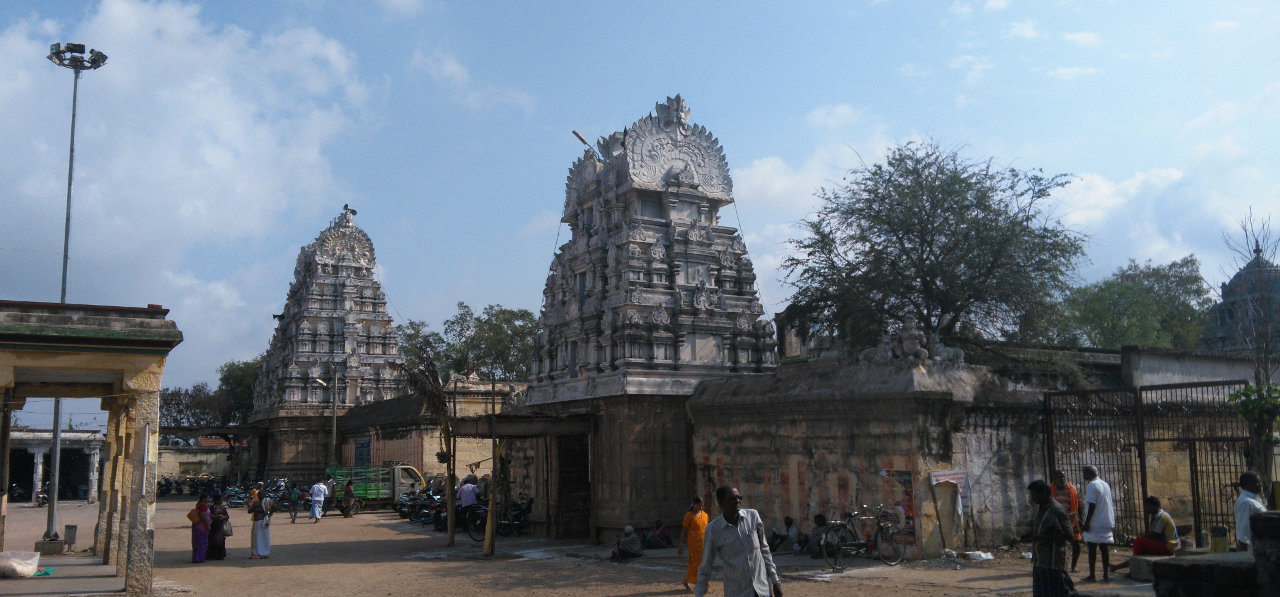 In Hindu mythology, there are eight special places where it is believed that Lord Shiva vanquished various demons and exhibited acts of bravery. These places are Veeratta Sthalams. In Tamil, this is referred to as "Atta Veerattanam" ("Atta" means eight and "Veeram" means bravery). Thirukkovilur is the second Veerattana Sthalam where the lord is believed to have vanquished the demon Andhakasuran. The other seven Veeratta Sthalams are –
Thirukkandiyur where one of Lord Brahma's five heads was plucked;
Thiruvathigai where the three forts – "Thiripuram" were burnt;
Keezha Parasalur where Dakshan's yagna was stopped and he was killed;
Thiruvirkudi where the demon Jalandharasuran was killed;
Thiru Vazhuvur where the elephant Gajasuran was vanquished;
Thiru Korukkai where Manmathan was burnt and later blessed;
Thirukkadaiyur where Lord Yama was kicked and punished.
Legend
This is the place where Lord Shiva destroyed the demon Andhakasura. Of the eight Veeratta sthalas, this is the second one and it has significant historical importance and antiquity. In this temple's sanctum sanctorum, Lord Shiva is seen as Bairavar.
It is believed that, once while playing with Lord Shiva, Goddess Parvathi covered his eyes. Since the lord's eyes are believed to be Sun and Moon, covering them turned the world dark. It is believed that this darkness took the form of a demon called "Andhakasuran". "Andha" means darkness and also ignorance. This demon obtained a lot of powers from Lord Shiva after rigorous penance. Emboldened by his powers, he started troubling the devas in the celestial world. They went to Lord Shiva to seek his intervention. Lord Shiva struck Andhakasuran on his head with his trident. The head of the demon began to bleed. Every drop of blood that fell on earth grew into another demon and this lead to a war between the demons and Lord Shiva. Goddess Parvathi prevented the blood from falling down by collecting it in a bowl. But before she could so, some of it fell down to the earth in the form of 8 vertical and 8 horizontal lines and thus made 64 squares. With his power, Lord Shiva created 64 Bhairavas – one for each square and prevented further production of demons.
It is believed that Sukrachariar, leader of the demons, created many more demons to aid Andhakasuran in his fight with Lord Shiva. Lord Shiva punished Sukrachariar by swallowing him. Sukrachariar then realized his mistake and pleaded to the lord for forgiveness. Lord Shiva took pity on him, gave him rebirth and blessed him with a place among the Navagrahas as Sukran.
It is believed that Lord Shiva struck Andhakasuran with his trident and lifted him off the ground. It is significant to note that this kind of killing is unique to this Veeratta Sthalam because in other seven places Lord Shiva vanquished the demons by pinning them to the ground.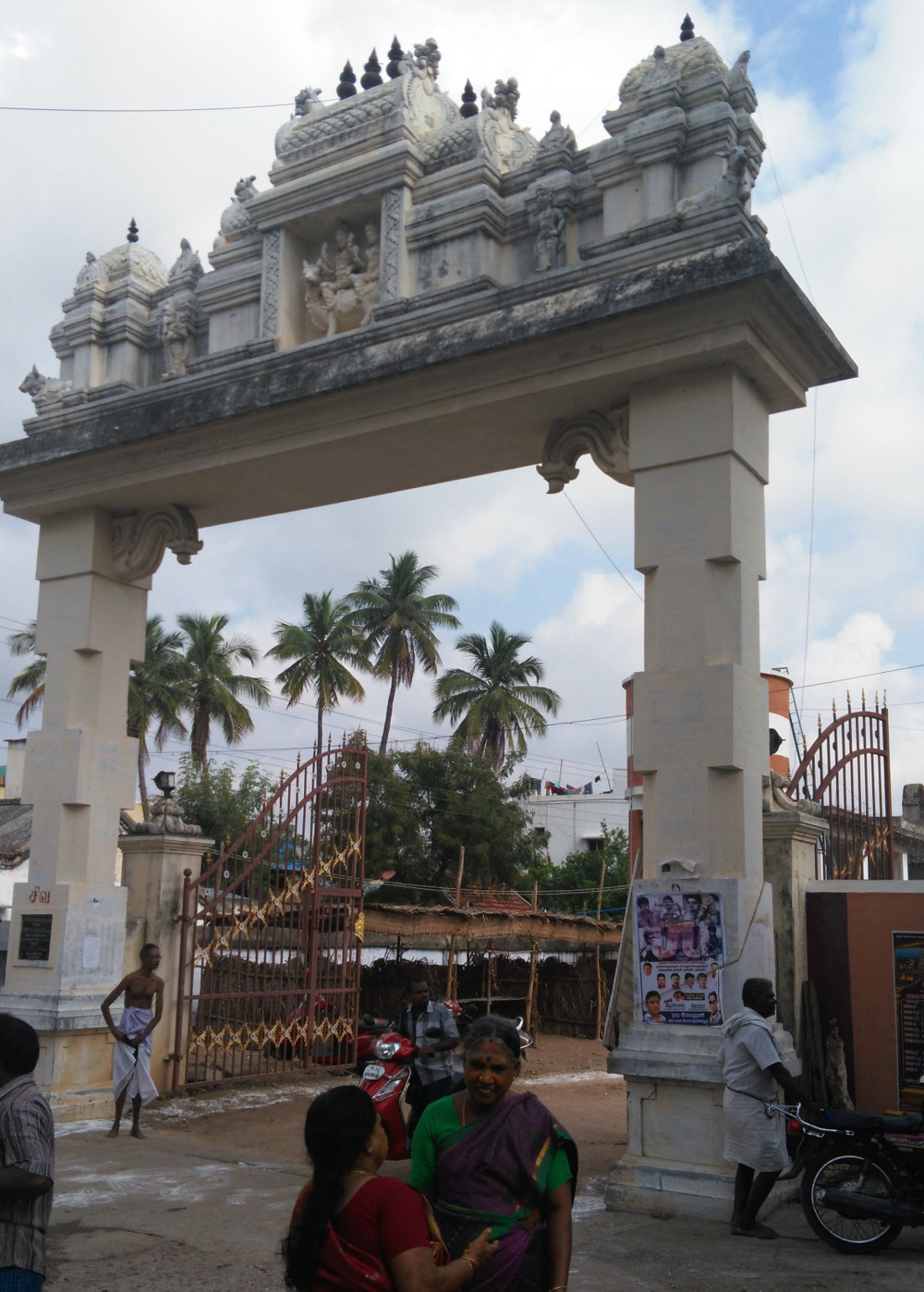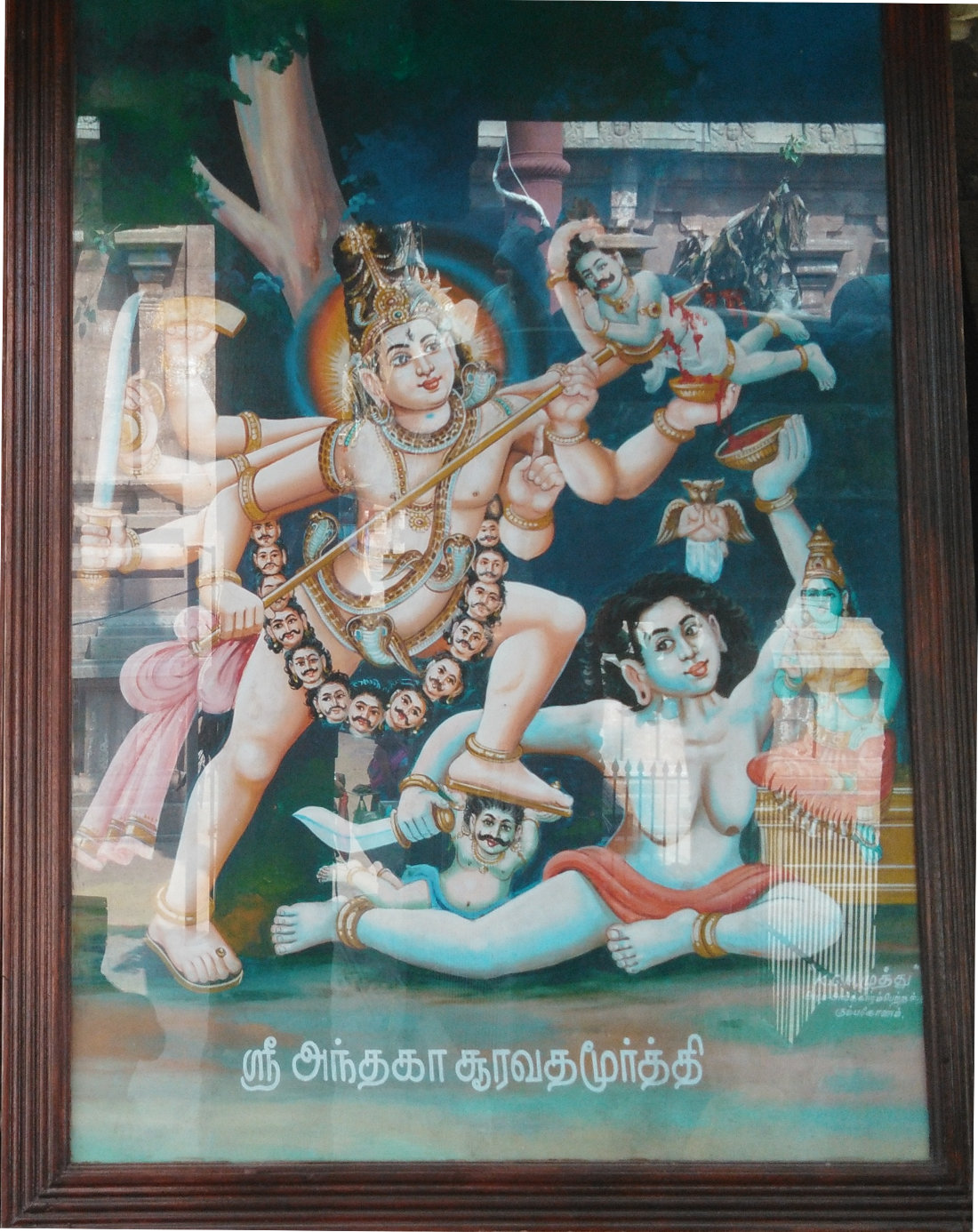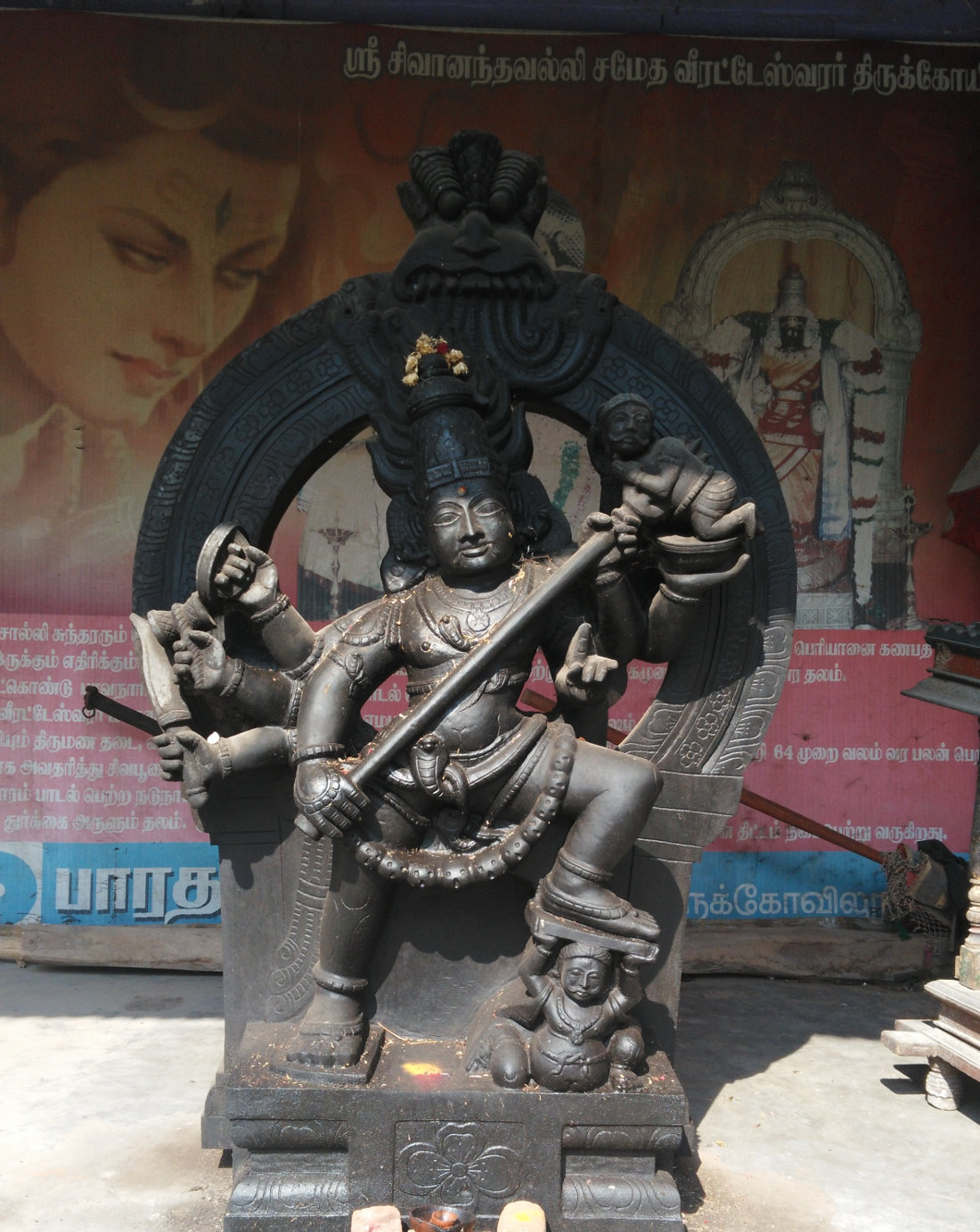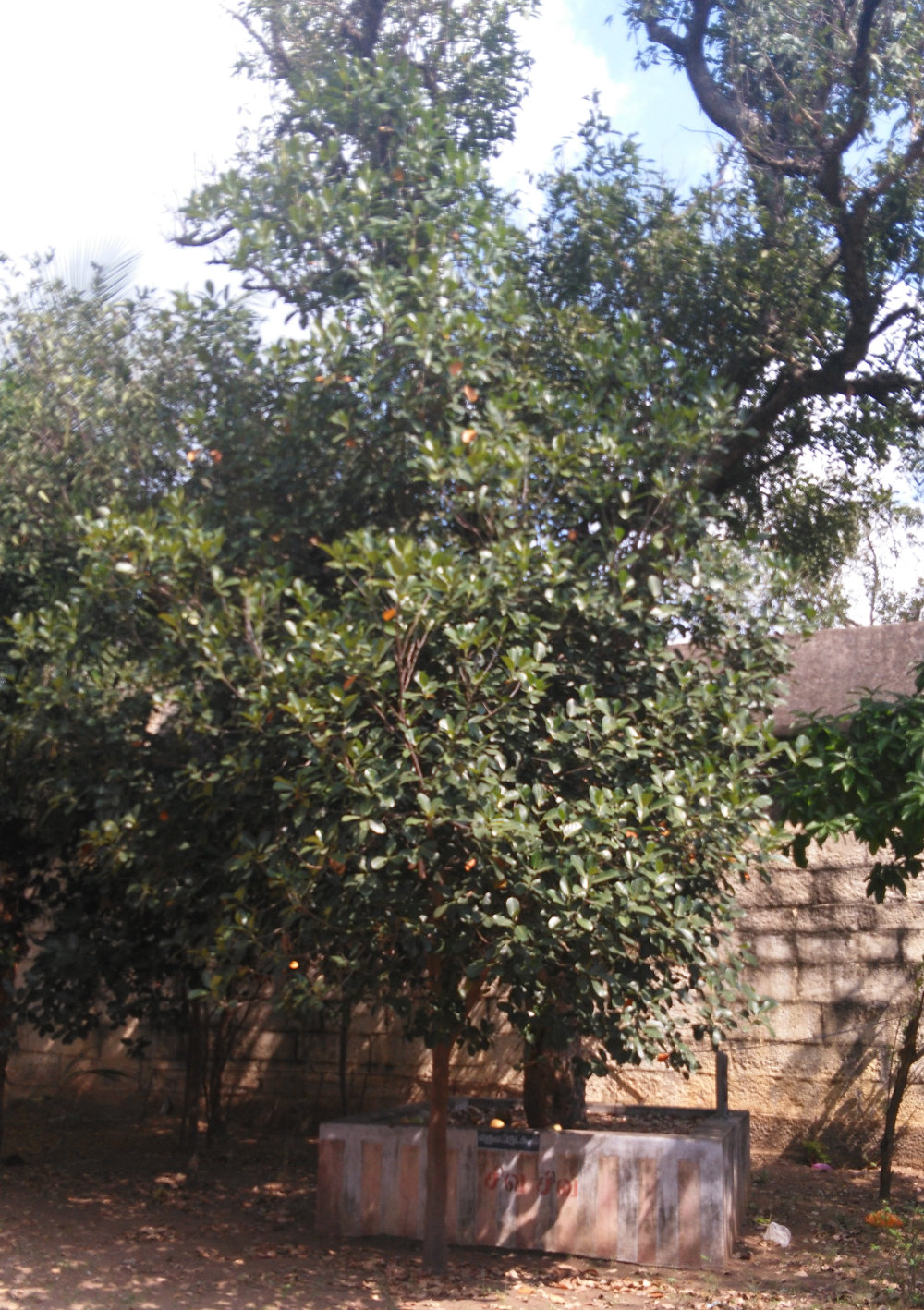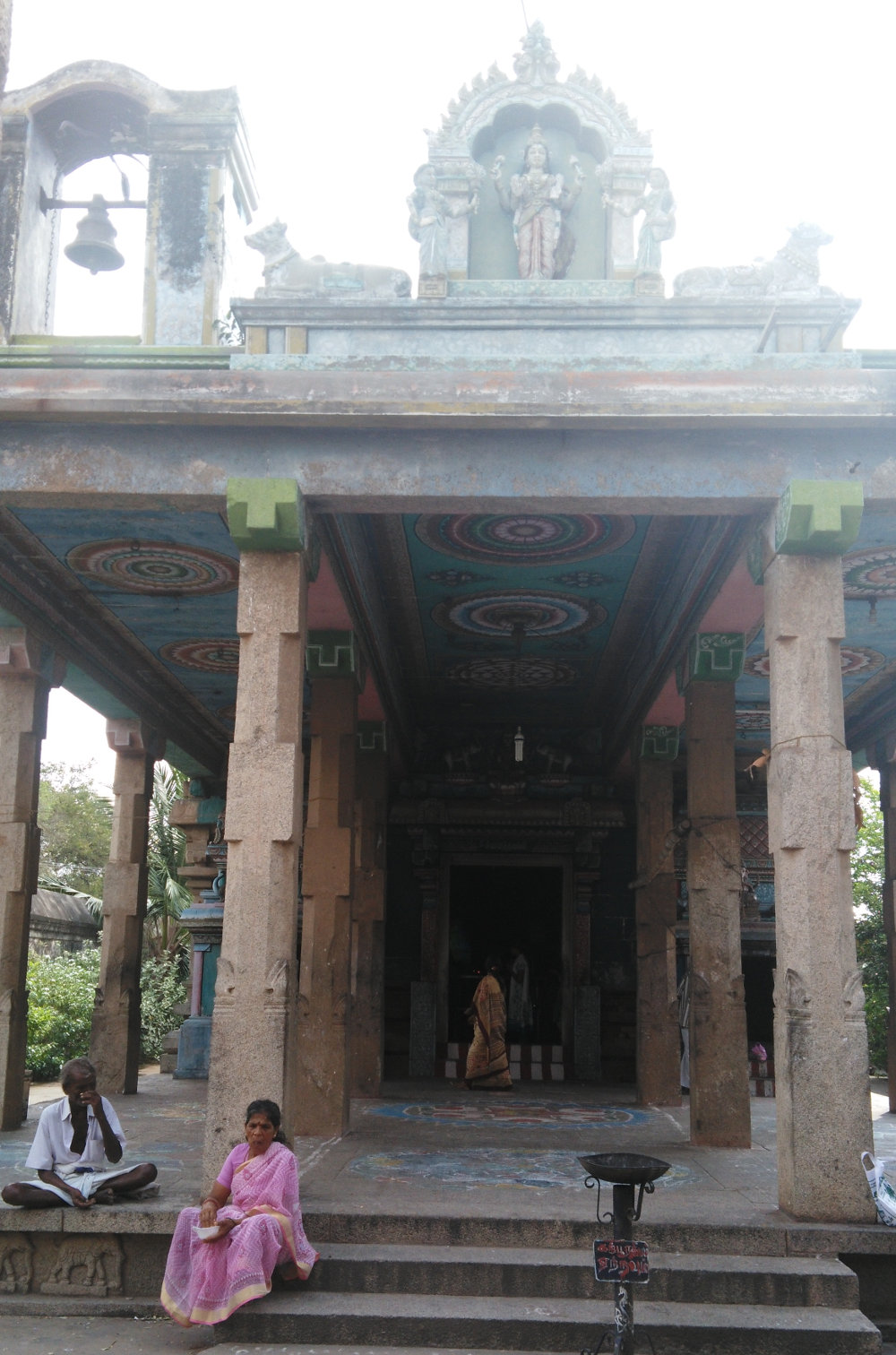 Saptha Madhas, Mother Maha Tripura Sundari, 64 Bhairavas and 64 Bhairavis are believed to have come into existence at this sacred land. This is also the place where "Sapta Mathruganangal" and 36 "Mathruganangal" are believed to have taken birth.
The origin of Vasthu Sastra (the traditional Hindu system of architecture) can be traced back to this place. It is believed that while fighting the demon Andhakasuran, Lord Shiva started sweating profusely. His sweat took the form of a man called Vastu Purusha. A stone sculpture depicting Vastu in his sleeping posture can be seen in the wall of the sanctum sanctorum.
Another legend associated with this temple is that the Periyanai Ganapathi's shrine is believed to have been worshipped by the renowned poet-saint Avvaiyar. Avvaiyar has sung the famous "Vinayakar Agaval" dedicated to Vinayakar of this temple.
While offering her prayers to Lord Ganesha of this temple, Avvaiyar divined an image of Saint Sundaramurthy Nayanar and his contemporary King Cheraman Perumal going to Mount Kailash. She wanted to join them and tried to hasten her worship. Lord Ganesha blessed her with his appearance and advised her that there was no need for her to hasten her worship and that he himself would take her to Kailash (Kailayam). It is believed that Lord Ganesha then took his universal form ("Vishwaroopam"), lifted Avvaiyar up with his trunk and placed her ahead of Saint Sundarar on the route to Mount Kailash. As he took his universal form here, Lord Ganesha here is also praised as Periya Yanai ("periya" meaning huge and "Yanai" meaning elephant in Tamil). Beautiful reliefs depicting this story can be seen on the walls next to the Periyanai Ganapathi's shrine.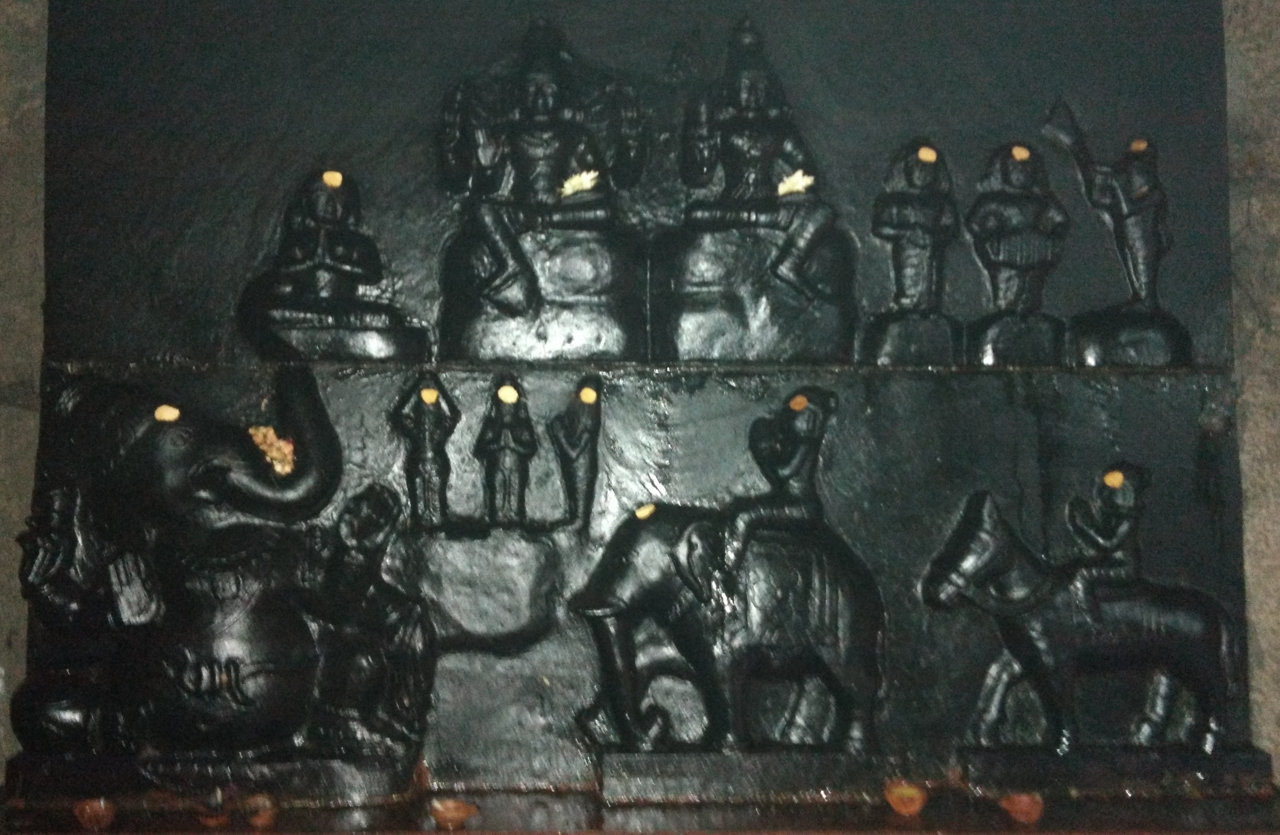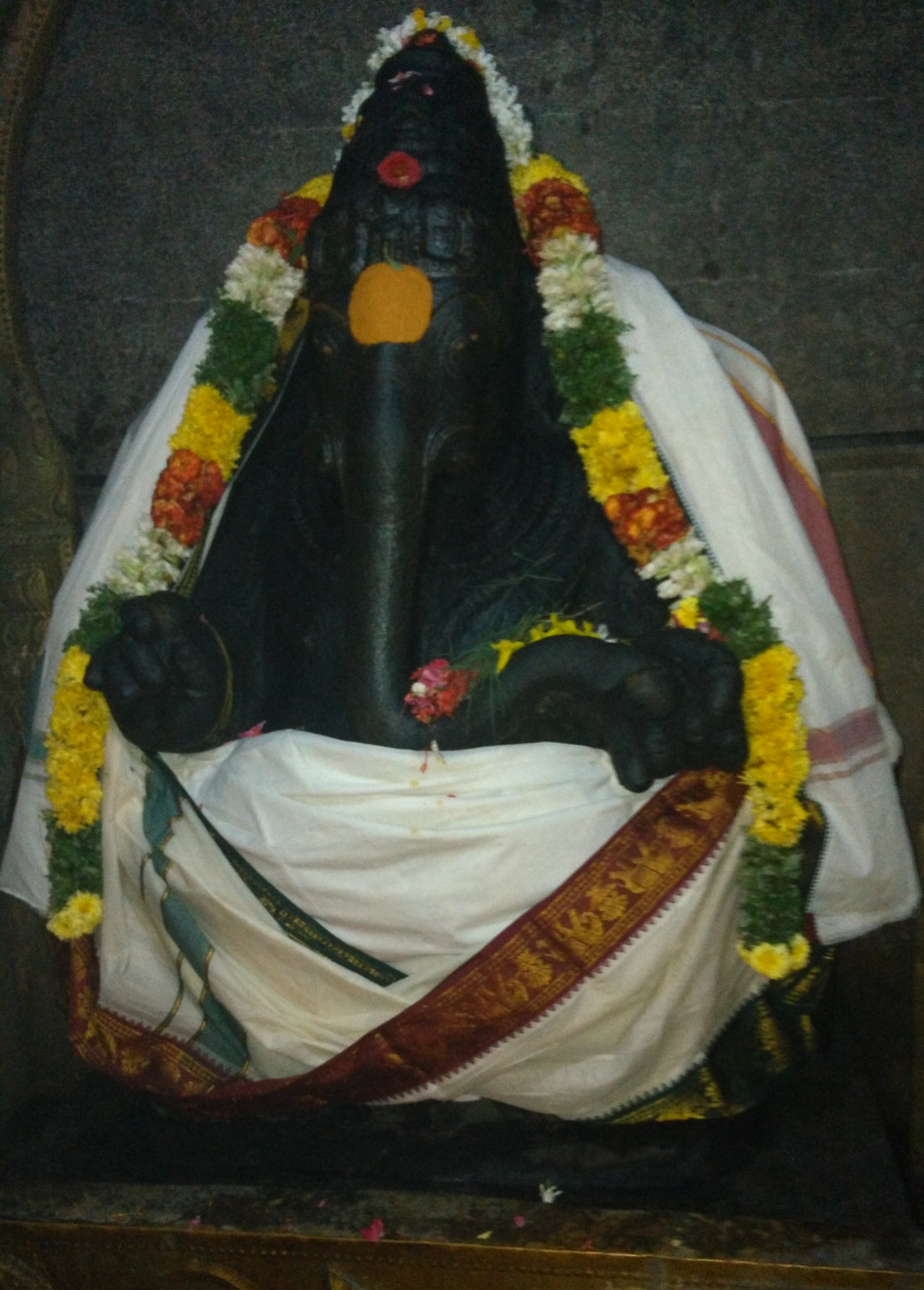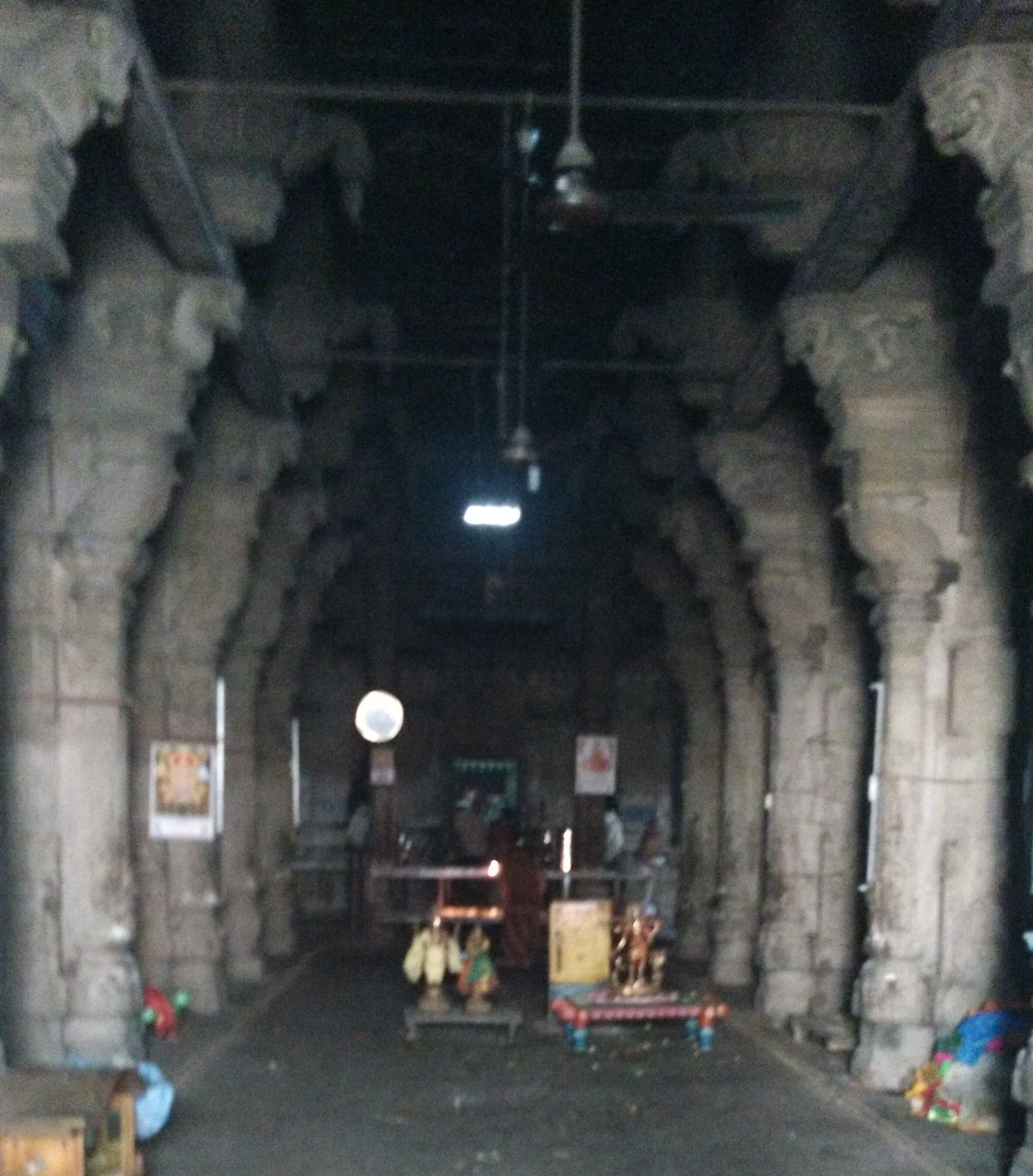 It is believed that Lords Vinayakar, Murugan, Ram, Parasuram, Krishna, Indira, Yama, Suriyan, Kubera, Adisheshan, Goddess Kali, Saints Roma Rishi, Kannuva Rishi, Pathanjali, Viyakrapathar, Saptharishis, Kaman and Vanasuran are believed to have worshiped the lord here and received his blessings.
Deities in the Temple
Shrines and idols of Lords Periyanai Ganapathi, Narthana Ganapathi, Murugan and his consorts, Meenakshi and Sundareswarar, Visalakshi and Vishwanathar, Chidambareswarar, Agastheeswarar, Sri Kalahastheeswar, Abitha Gujambal and Arunachaleswarar, Jambukeswarar, Ekambareswarar, Natarajar, Varadaraja Perumal, Gajalakshmi, 63-Nayanmars, Dakshinamurthy, Brahma, Lingothbavar and Durgai (with eight hands), Chandikeswarar, Navagraham, Suryan, Chandran, Thirugnanasambanthar, Saints Meipporul Nayanar and Narasinga Munaiyaraiyar can be seen in the corridors. Lord Murugan here is depicted as Arumugar – with twelve hands and seated on his peacock mount.
Procession idol of Lord Andhakaanthakan depicts him with his trident in his hands. Such depiction of Lord Shiva is unique to this procession idol.
There is a separate shrine for saint Meipporul Nayanar near the entrance of this temple.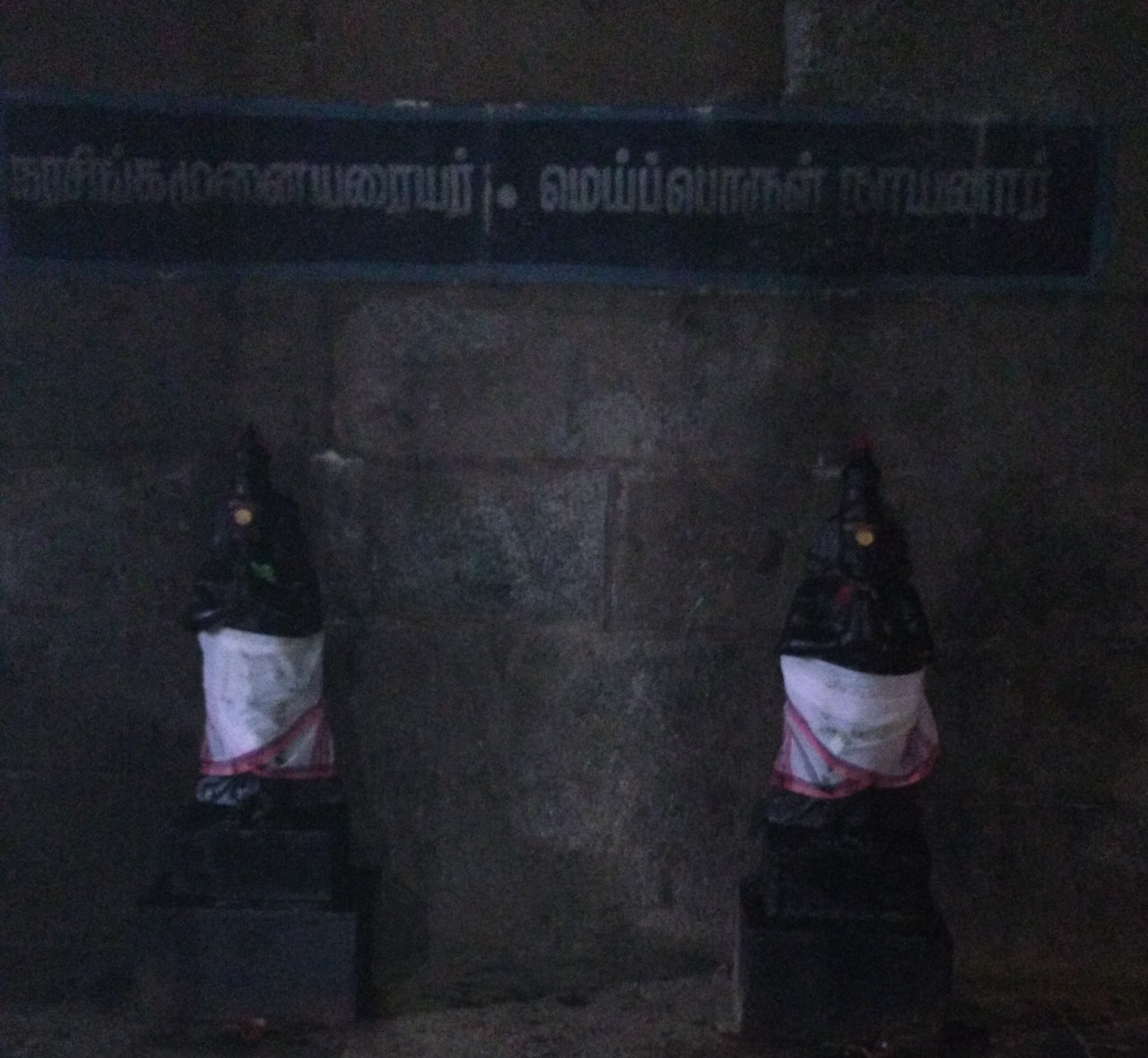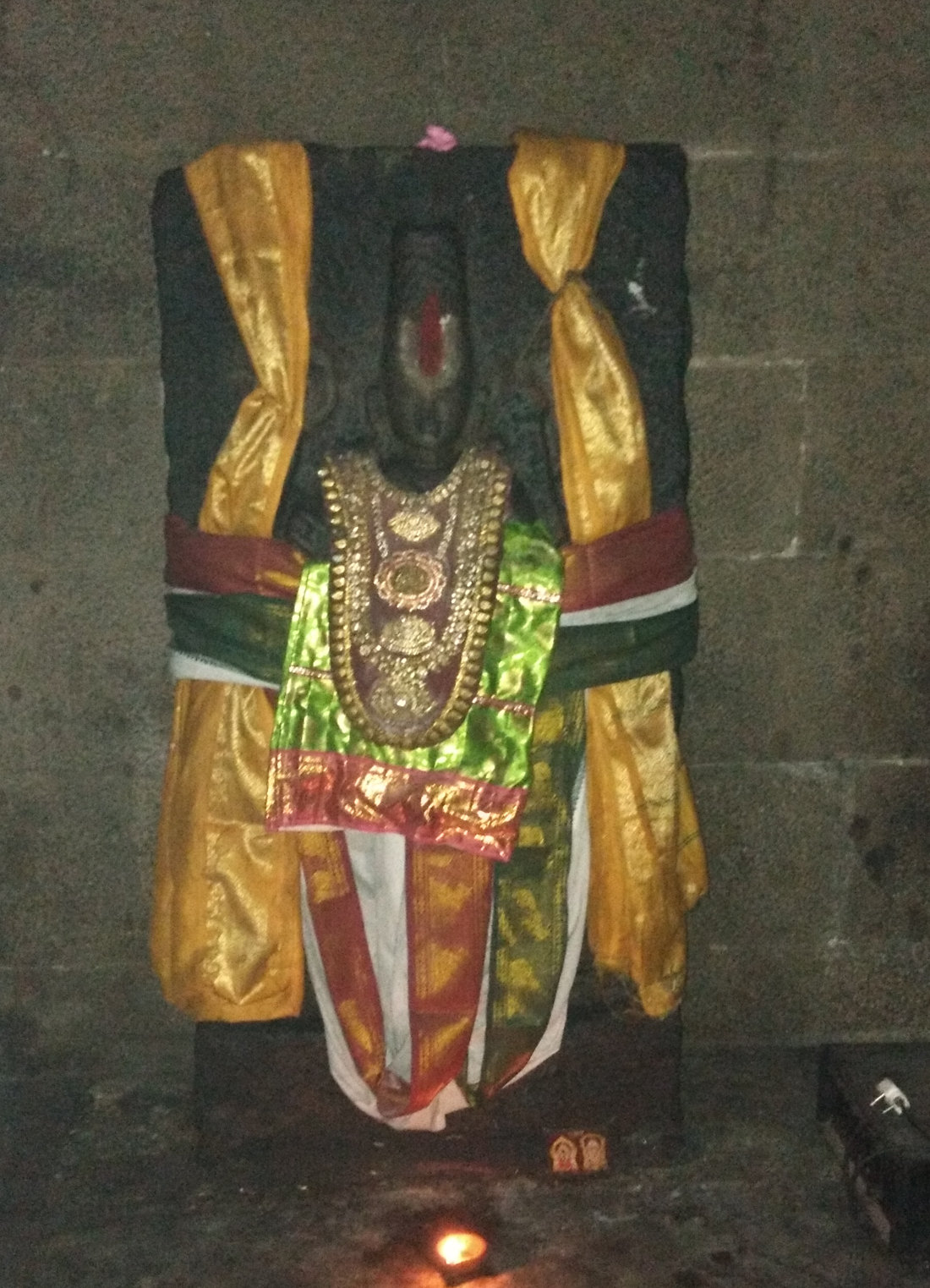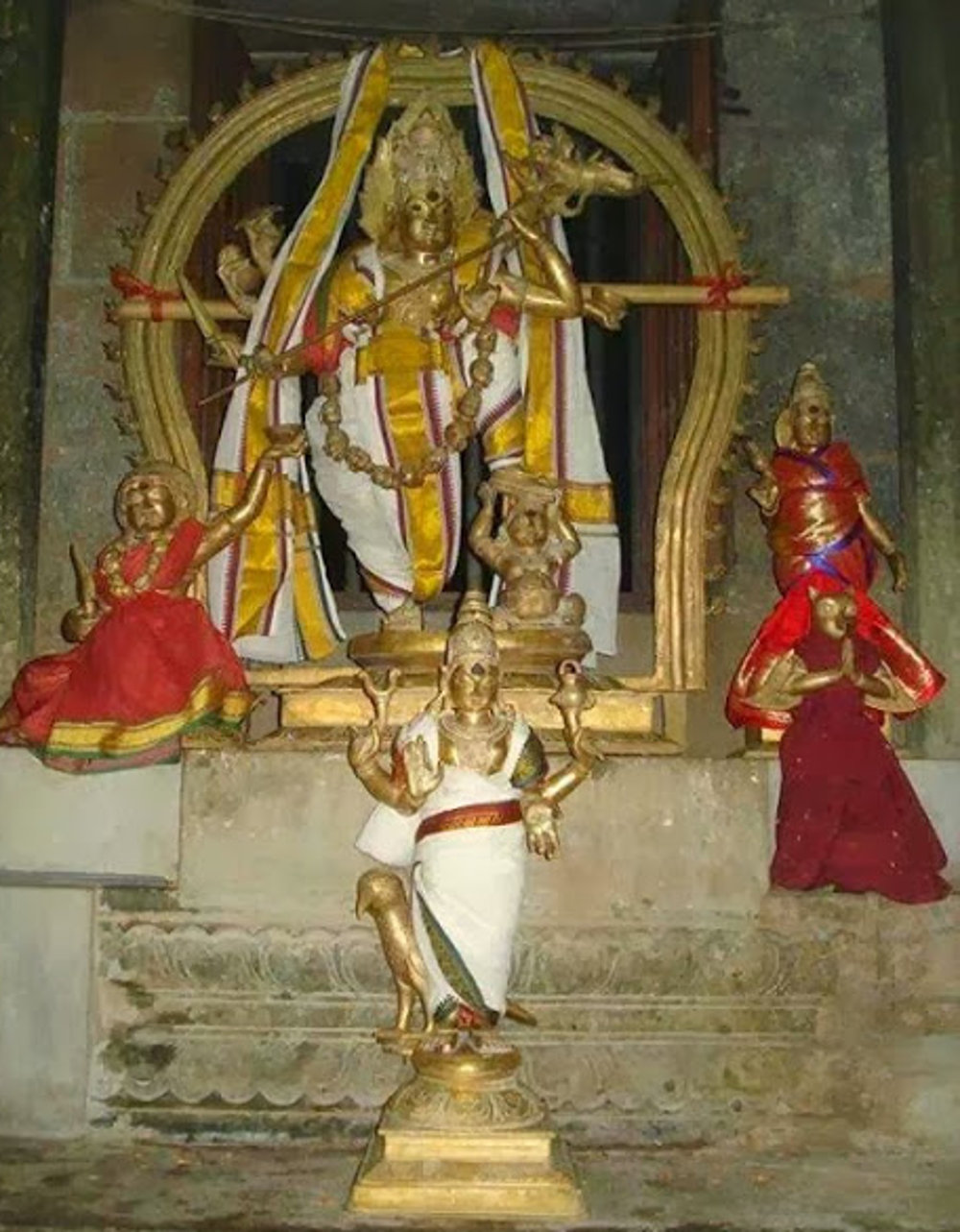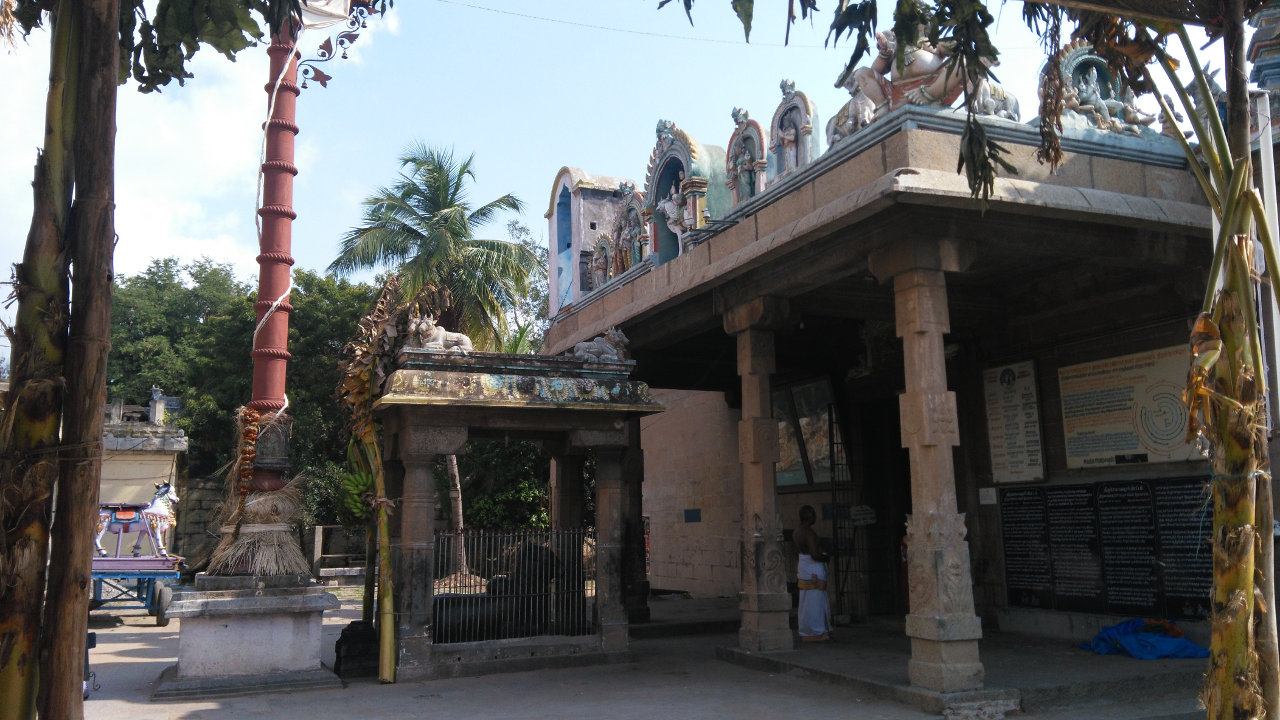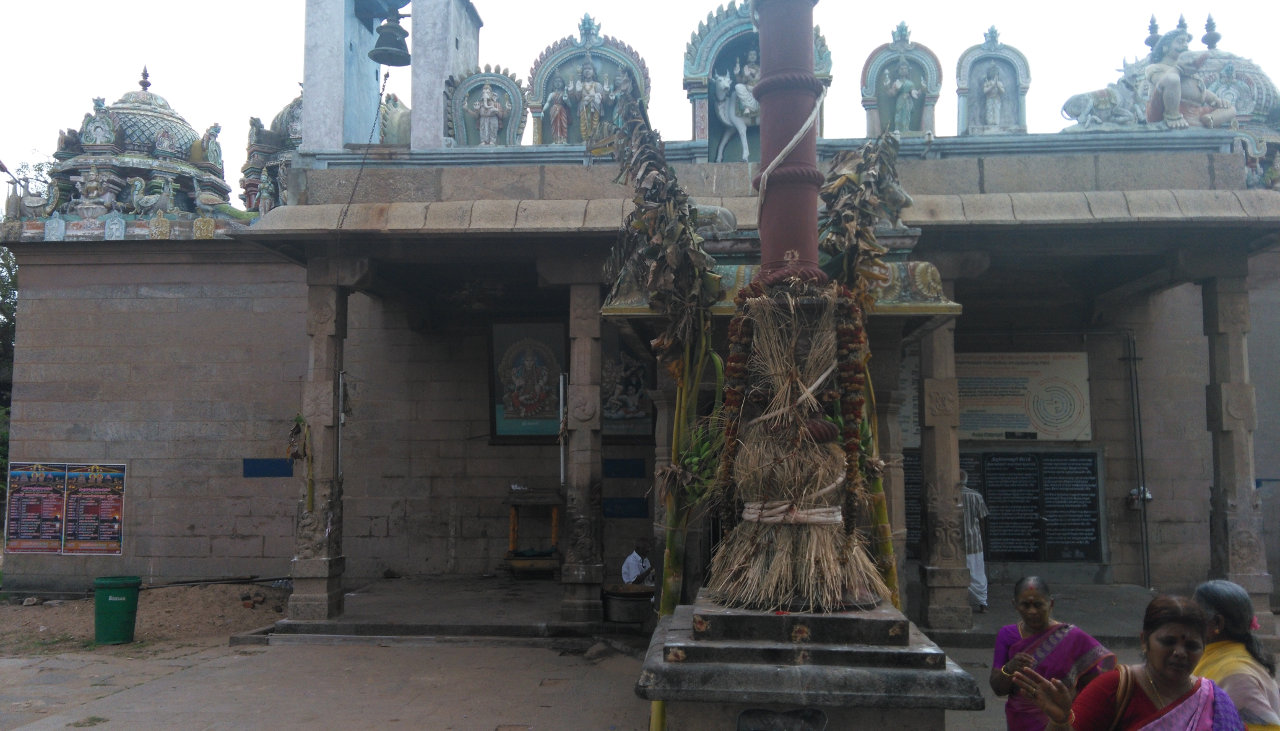 Salient Features
The Moolavar here is a big Swayambu lingam. At the time of Kumbabhishekam, the area around this lingam was dug up. It was found that the base of the lingam goes down way below 25 feet and hence further digging was discontinued.
Both Lord Veerateswarar and Goddess Sivananthavalli's temples are separate and adjacent to each other. Both these temples are facing west.
Goddess Durga's idol here is very unique. Although the idol is sculpted in black granite stone, her eyes appear white in colour much like the human eyes.
Saint Arunagirinadhar has also sang songs in praise of Lord Murugan of this temple in his revered Thirupugazh.
It is said that King Raja Raja Cholan was born in this place. As per stone inscriptions found in this temple, his elder sister donated funds for lighting lamps in this temple.
Poet Kabilar worshiped the lord of this temple. Thirukovilur has the reputation of being the place where the weddings of Angavai and Sangavai (the daughters of noted Tamil philanthropist and King Pari Vallal) were held. It is also believed that this wedding took place because of the efforts of poets Avvaiyar and Kabilar. The bridegroom was Deiveekan, the king of Nadu Naadu.
After King Pari Vallal's death, his daughters Angavai and Sangavai had suffered a lot. The poet - saint Kabilar, a good friend of Pari and the caretaker of the girls could not find a suitable groom for them because of King Pari's enmity with the rest of the kings. Kabilar requested the great poetess Avvaiyar, who was also a good friend of him, to help him arrange their marriage.
Despite continued efforts, Kabilar was unable to find a suitable match for them. Unable to bear the agony of not being able to help his friend's daughters, he went to a cave ("Kugai"), and started fasting till his death. It was after his death that Avvaiyar finally convinced King Deiveekan to marry the girls.
There is a small temple called "Kabilar Kugai" (also known as "Kabilar Rock" or "Kabilar Kuntru") situated in the middle of the Pennaiyar river. Inside this Kabilar Kuntru, there is another Shiva lingam. This Kabilar Kuntru, is being maintained by the State Archaeological Department.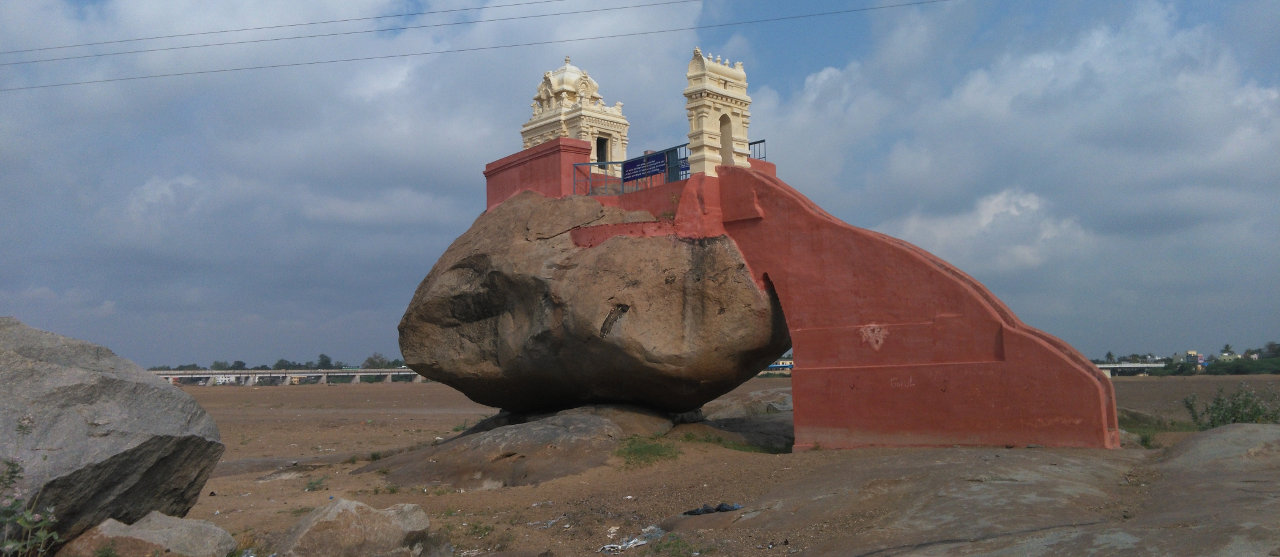 Kabilar Kuntru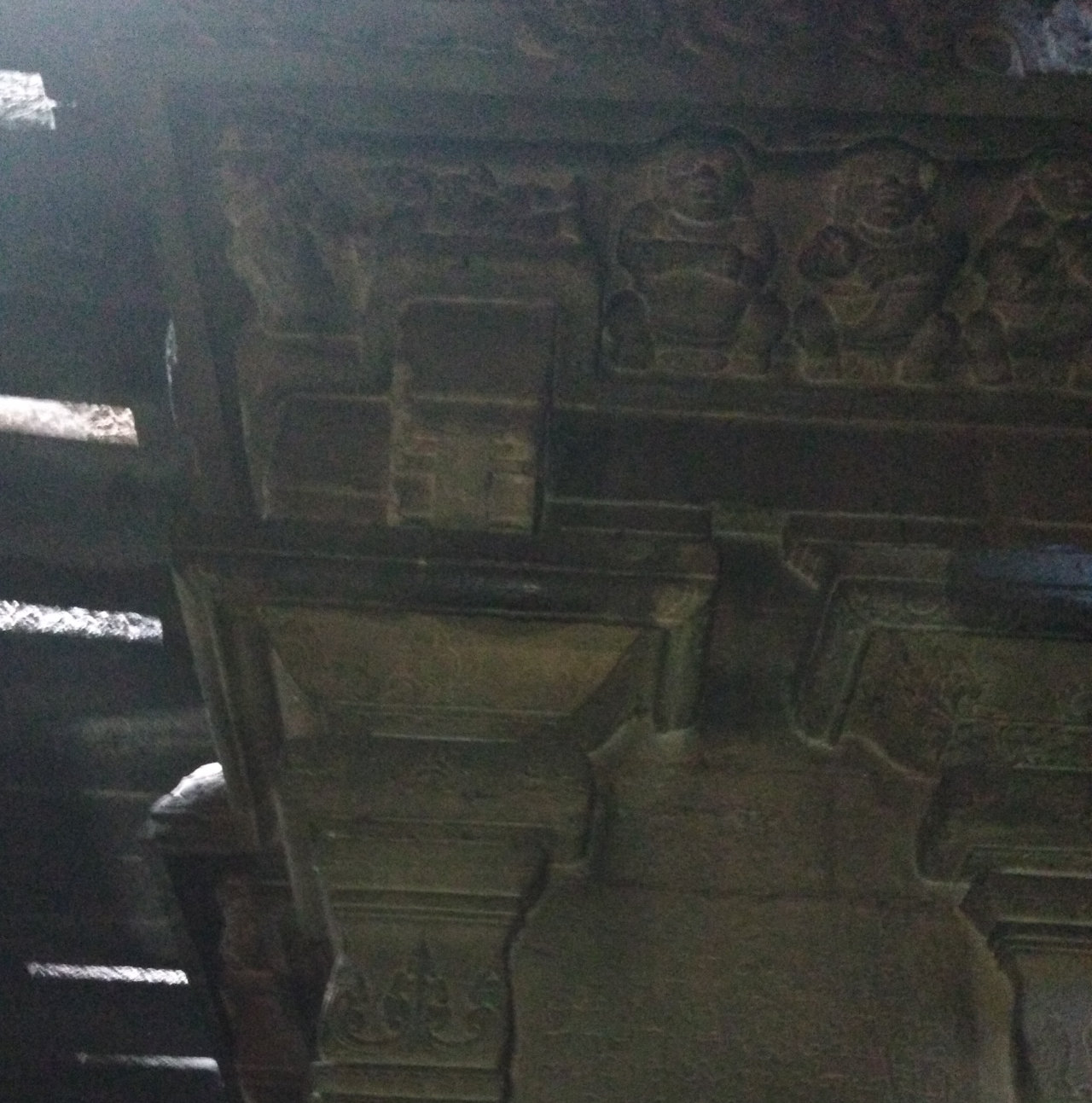 Vastu's relief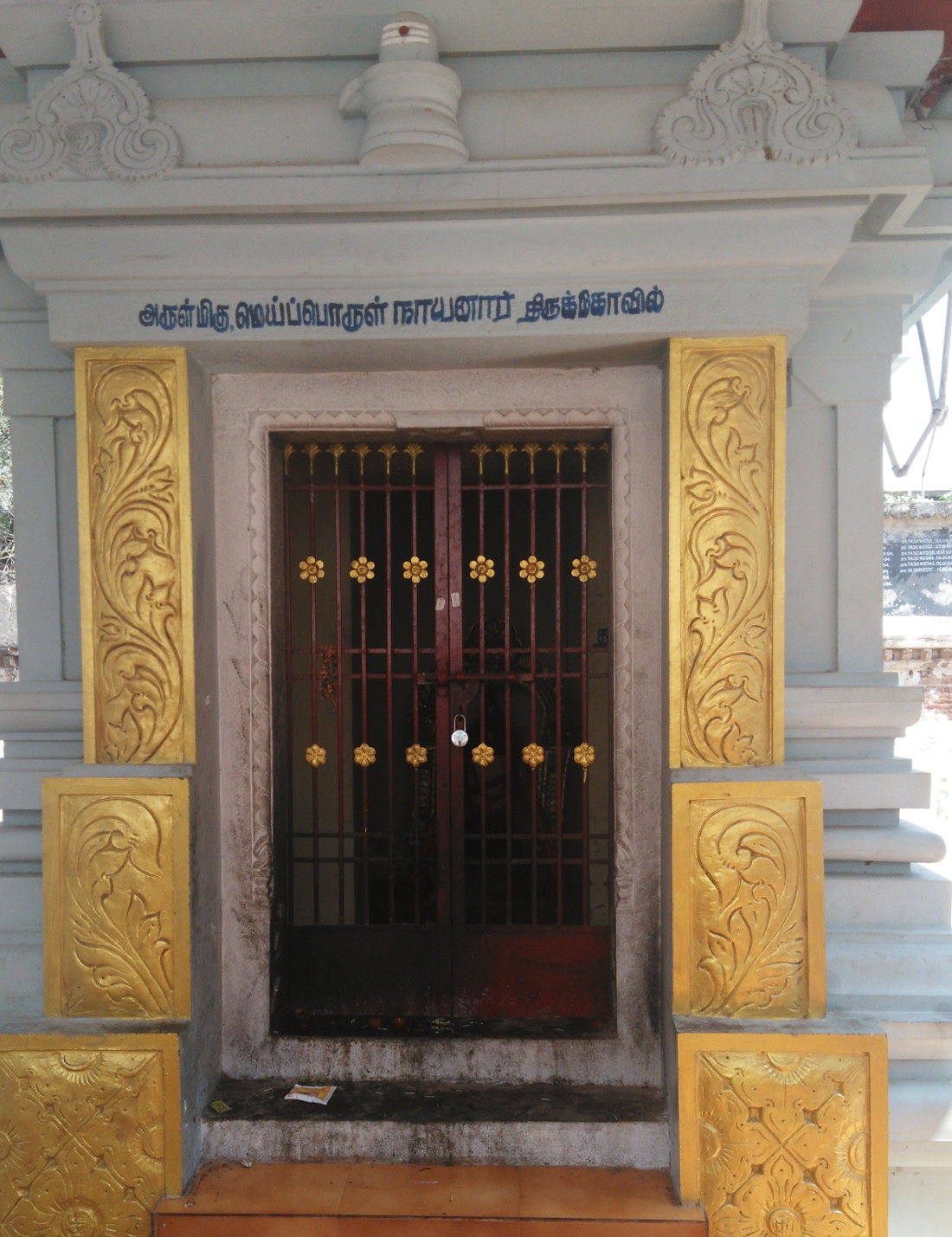 Greatness of this temple
This is a Parikara Sthalam for all doshas related to planet Sukran.
It is believed by devotees that worshiping the lord here will absolve them of the sins of their previous birth.
As this is the place where Vasthu Sastra came into existence, many devotees bring their building plans here and seek the lord's blessings before starting the construction of their houses.
As planet Venus (Sukran) was relieved of his curse here, devotees believe that worshiping the lord here will remove obstacles from their marriage proposals.
Thirukkovilur is also seen as a place where those afflicted by evil spirits can find relief.
Important Festivals
Important festivals celebrated in this temple are –
10 day Brahmotsavam (Masi Magam) in the Tamil month of Masi (Feb-Mar),
Thiru Karthikai in the Tamil month of Karthigai (Nov-Dec),
Aadi Fridays in the Tamil month of Aadi (July-Aug),
Navarathri in the Tamil month of Purattasi (Sept-Oct),
Annabishekam, Skanda Sashti and Soora Samharam in the Tamil month of Aipasi (Oct-Nov),
Thiruvadirai and Manickavasagar festival in the Tamil month of Margazhi (Dec-Jan)
Aani Thirumanjanam in the Tamil month of Aani (June-July.
Pradosham is also regularly observed.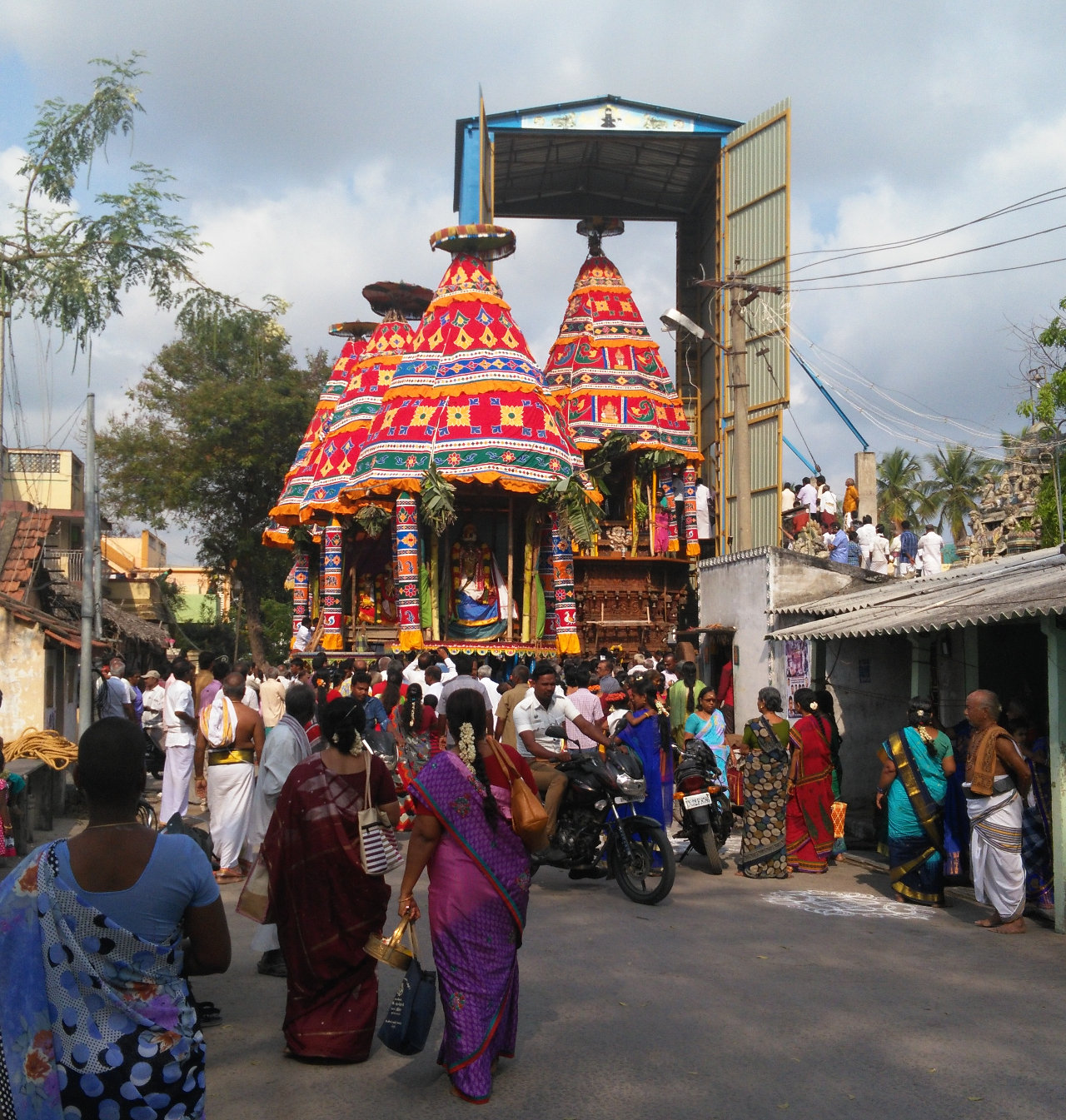 Car Festival-2017
Temple Timings
From 06.00 AM to 12.00 Noon and 04.00 PM to 09.00 PM.
Temple Address

Sri Veeratteswarar Temple
Keezhayur,
Thirukovilur Post & Taluk
Villupuram District
Tamil Nadu 605 757.
Contact: +91 4153-252220, 253532, 93456 60711, 9486280030.
---
Pathigam (Hymn) with English transliteration
Saint Thirugnanasambanthar visited this temple and sang this Pathigam.
Devotees visiting this temple should make it a practice to recite this Pathigam.
படைகொள் கூற்றம் வந்துமெய்ப் பாசம்விட்ட போதின்கண்
இடைகொள்வா ரெமக்கிலை யெழுகபோது நெஞ்சமே
குடைகொள்வேந்தன் மூதாதை குழகன்கோவ லூர்தனுள்
விடையதேறுங் கொடியினான் வீரட்டானஞ் சேர்துமே.
"Paṭaikoḷ kūtṟam vanthumeyp pāsamviṭṭa pōthiṉkaṇ
iṭaikoḷvā remakkilai yezhukapōthu neñchamē
kuṭaikoḷvēnthaṉ mūthāthai kuzhakaṉkōva lūrthaṉuḷ
viṭaiyathēṟuṅ koṭiyiṉāṉ vīraṭṭāṉañ sērthumē".
கரவலாளர் தம்மனைக் கடைகள் தோறுங் கால்நிமிர்த்
திரவலாழி நெஞ்சமே இனியதெய்த வேண்டில் நீ
குரவமேறி வண்டினங் குழலொடியாழ்செய் கோவலூர்
விரவிநாறு கொன்றையான் வீரட்டானஞ் சேர்துமே.
"Karavalāḷar tham'maṉaik kaṭaikaḷ thōṟuṅ kālnimirth
thiravalāzhi neñchamē iṉiyatheytha vēṇṭil nī
kuravamēṟi vaṇṭiṉaṅ kuzhaloṭiyāzhchey kōvalūr
viravināṟu koṉtṟaiyāṉ vīraṭṭāṉañ sērthumē".
உள்ளத்தீரே போதுமின் னுறுதியாவ தறிதிரேல்
அள்ளற்சேற்றிற் காலிட்டிங் கவலத்துள் அழுந்தாதே
கொள்ளப்பாடு கீதத்தான் குழகன்கோவ லூர்தனுள்
வெள்ளந்தாங்கு சடையினான் வீரட்டானஞ் சேர்துமே.
"Uḷḷathīrē pōthumiṉ ṉuṟuthiyāva thaṟithirēl
aḷḷaṟchētṟiṟ kāliṭṭiṅ kavalathuḷ azhunthāthē
koḷḷappāṭu kīthathāṉ kuzhakaṉkōva lūrthaṉuḷ
veḷḷanthāṅku saṭaiyiṉāṉ vīraṭṭāṉañ sērthumē".
கனைகொள் இருமல் சூலைநோய் கம்பதாளி குன்மமும்
இனையபலவும் மூப்பினோ டெய்திவந்து நலியாமுன்
பனைகளுலவு பைம்பொழிற் பழனஞ்சூழ்ந்த கோவலூர்
வினையை வென்ற வேடத்தான் வீரட்டானஞ் சேர்துமே.
"Kaṉaikoḷ irumal sūlainōy kampathāḷi kuṉmamum
iṉaiyapalavum mūppiṉō ṭeythivanthu naliyāmuṉ
paṉaikaḷulavu paimpozhiṟ pazhaṉañchūzhnta kōvalūr
viṉaiyai veṉtṟa vēṭathāṉ vīraṭṭāṉañ sērthumē".
உளங்கொள் போகம் உய்த்திடார் உடம்பிழந்த போதின்கண்
துளங்கிநின்று நாடொறுந் துயரலாழி நெஞ்சமே
வளங்கொள்பெண்ணை வந்துலா வயல்கள்சூழ்ந்த கோவலூர்
விளங்குகோவ ணத்தினான் வீரட்டானஞ் சேர்துமே.
"Uḷaṅkoḷ pōkam uythiṭār uṭampizhantha pōthiṉkaṇ
thuḷaṅkiniṉtṟu nāṭoṟun thuyaralāzhi neñchamē
vaḷaṅkoḷpeṇṇai vanthulā vayalkaḷchūzhntha kōvalūr
viḷaṅkukōva ṇathiṉāṉ vīraṭṭāṉañ sērthumē".
கேடுமூப்புச் சாக்காடு கெழுமிவந்து நாடொறும்
ஆடுபோல நரைகளாய் யாக்கைபோக்க தன்றியும்
கூடிநின்று பைம்பொழிற் குழகன்கோவ லூர்தனுள்
வீடுகாட்டு நெறியினான் வீரட்டானஞ் சேர்துமே.
"Kēṭumūppuch sākkāṭu kezhumivanthu nāṭoṟum
āṭupōla naraikaḷāy yākkaipōkka thaṉtṟiyum
kūṭiniṉtṟu paimpozhiṟ kuzhakaṉkōva lūrthaṉuḷ
vīṭukāṭṭu neṟiyiṉāṉ vīraṭṭāṉañ sērthumē".
உரையும் பாட்டுந் தளர்வெய்திஉ டம்புமூத்த போதின்கண்
நரையுந் திரையுங் கண்டெள்கி நகுவர்நமர்கள் ஆதலால்
வரைகொள் பெண்ணை வந்துலா வயல்கள்சூழ்ந்த கோவலூர்
விரைகொள்சீர்வெண் ணீற்றினான் வீரட்டானஞ் சேர்துமே.
"Uraiyum pāṭṭun thaḷarveythi'u ṭampumūtha pōthiṉkaṇ
naraiyun thiraiyuṅ kaṇṭeḷki nakuvarnamarkaḷ āthalāl
varaikoḷ peṇṇai vanthulā vayalkaḷchūzhntha kōvalūr
viraikoḷsīrveṇ ṇitṟiṉāṉ vīraṭṭāṉañ sērthumē".
ஏதமிக்க மூப்பினோ டிருமல்ஈளை யென்றிவை
ஊதலாக்கை ஓம்புவீர் உறுதியாவ தறிதிரேல்
போதில்வண்டு பண்செயும் பூந்தண்கோவ லூர்தனுள்
வேதமோது நெறியினான் வீரட்டானஞ் சேர்துமே.
"Ēthamikka mūppiṉō ṭirumalīḷai yeṉtṟivai
ūthalākkai ōmpuvīr uṟuthiyāva thaṟithirēl
pōthilvaṇṭu paṇseyum pūnthaṇkōva lūrthaṉuḷ
vēthamōthu neṟiyiṉāṉ vīraṭṭāṉañ sērthumē".
ஆறுபட்ட புன்சடை அழகன்ஆயி ழைக்கொரு
கூறுபட்ட மேனியான் குழகன்கோவ லூர்தனுள்
நீறுபட்ட கோலத்தான் நீலகண்டன் இருவர்க்கும்
வேறுபட்ட சிந்தையான் வீரட்டானஞ் சேர்துமே.
"Āṟupaṭṭa puṉsaṭai azhakaṉāyi zhaikkoru
kūṟupaṭṭa mēṉiyāṉ kuzhakaṉkōva lūrthaṉuḷ
nīṟupaṭṭa kōlathāṉ nīlakaṇṭaṉ iruvarkkum
vēṟupaṭṭa sinthaiyāṉ vīraṭṭāṉañ sērthumē".
குறிகொளாழி நெஞ்சமே கூறை துவரிட் டார்களும்
அறிவிலாத அமணர்சொல் லவத்தமாவ தறிதியேல்
பொறிகொள்வண்டு பண்செயும் பூந்தண்கோவ லூர்தனுள்
வெறிகொள்கங்கை தாங்கினான் வீரட்டானஞ் சேர்துமே.
"Kuṟikoḷāzhi neñchamē kūṟai thuvariṭ ṭārkaḷum
aṟivilātha amaṇarsol lavathamāva thaṟithiyēl
poṟikoḷvaṇṭu paṇseyum pūnthaṇkōva lūrthaṉuḷ
veṟikoḷkaṅkai thāṅkiṉāṉ vīraṭṭāṉañ sērthumē".
கழியொடுலவு கானல்சூழ் காழி ஞான சம்பந்தன்
பழிகள்தீரச் சொன்னசொல் பாவநாச மாதலால்
அழிவிலீர்கொண் டேத்துமின் அந்தண்கோவ லூர்தனுள்
விழிகொள்பூதப் படையினான் வீரட்டானஞ் சேர்துமே.
"Kazhiyoṭulavu kāṉalchūzh kāzhi gñāṉa sambanthaṉ
pazhikaḷthīrach soṉṉasol pāvanāsa māthalāl
azhivilīrkoṇ ṭēthumiṉ anthaṇkōva lūrthaṉuḷ
vizhikoḷpūthap paṭaiyiṉāṉ vīraṭṭāṉañ sērthumē".