Visited on: 27th August, 2016 and 22nd November, 2016
Location
Thiru Vothur is situated at a distance of about 30 kms from Kanchipuram. From Kanchipuram, there is a straight road to Thiruvothur.
From Vandavasi, it is about 16 kms on the Vandavasi - Arcot route and from Thusi it is about 20 kms on the Kanchipuram - Vandavasi route.
Other Paadal Petra Shivasthalams near Thiruvothur are – Vanparthan Panagattur (20 kms), Kuranganil Muttam (24 kms) and Thirumagaral (28 kms).
General Information
| | |
| --- | --- |
| Moolavar | Sri Vedapureeswarar / Sri Vedanathar |
| Ambal | Sri Balakujambigai / Sri Ilamulai Nayaki |
| Theertham (Holy water) | Cheyyaru river and Kalyana Kodi Thertham |
| Sthala Vriksham (Sacred Tree) | Palm Tree |
| Pathigam (Hymn) rendered by | Saint Thirugnanasambanthar |
This is one of the 276 Devara Paadal Petra Shiva Sthalams and 8th Shiva Sthalam in Thondai Nadu.
Lord Shiva in this temple is a Swayambumurthi, (self-manifested).
This temple has two corridors and its main tower (Rajagopuram) has 7-tiers
This is one of the few temples where palm tree is the sthala viruksham – they are – Thiruvothur, Thirupananthal, Thirupanaiyur, Thiru Vanparthan Panangkattur, Puravar Panangkattur, Thiru Mazhapadi and Thiru Valampuram.
History of the Temple
It is believed that this temple was constructed during 6th century CE.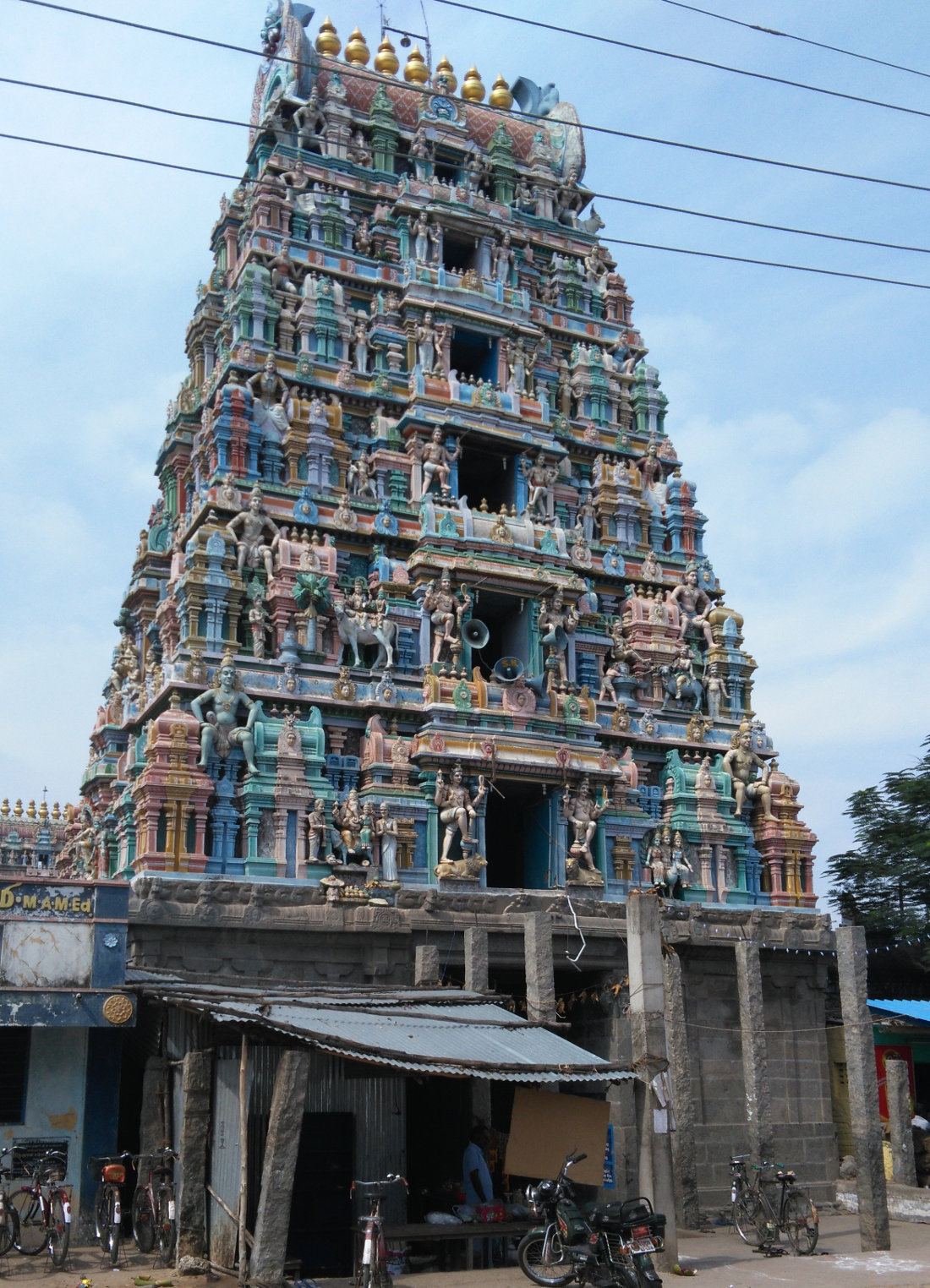 Legend
The legend is that Lord Shiva preached (meaning "Othu" in Tamil) Veda to celestial gods (Devas) and sages at this place, hence this place gets the name "Thiruvothoor" and the lord is praised as "Vedapureeswarar".
According to Hindu mythology, Dakshayani, daughter of Dakshan and the granddaughter of Lord Brahma was married to Lord Shiva. Once, when Dakshan was performing a grand yagna, he intentionally failed to invite Lord Shiva. Goddess Dakshayani took offence to this and decided to visit the Yagna against the wishes of her husband with the purpose of asking her father to invite Lord Shiva.
But clouded by his arrogance and pride, Dakshan humiliated both Dakshayani and Lord Shiva. Furious, Dakshayani cursed her father that his Yagna would not be successful. Furthermore, she wanted to seek absolution for the sin of being the daughter of an opponent of Lord Shiva and decided to perform penance at this place (Thiruvothur).
Another legend associated with this place is that a devotee of Lord Shiva who was looking after this temple, had grown palm trees on the banks of the river Cheyyar and around the temple's fields to protect the temple's walls from erosion and floods. However, all of these palm trees were male and did not yield any fruits. The Jains laughed at him and started taunting him by saying "why don't you ask your God to change these male palm trees into female (fruit bearing) ones?".
When Saint Thirugnanasambanthar came to this temple, he was informed about this incident. It is believed that as a result of Thirugnanasambanthar's hymns, all the male palm trees were transformed into female palm trees. Some of these trees can still be seen in this temple.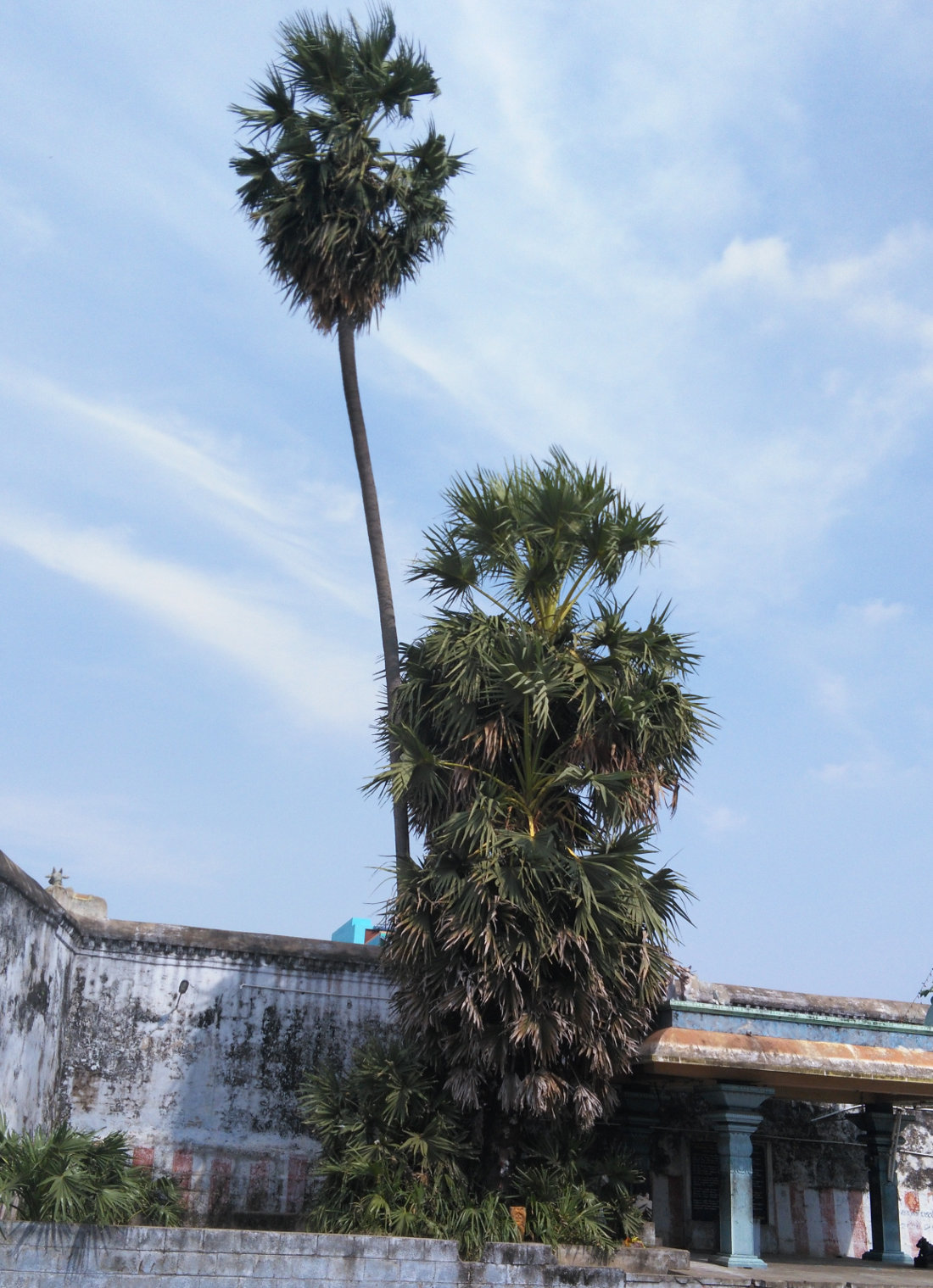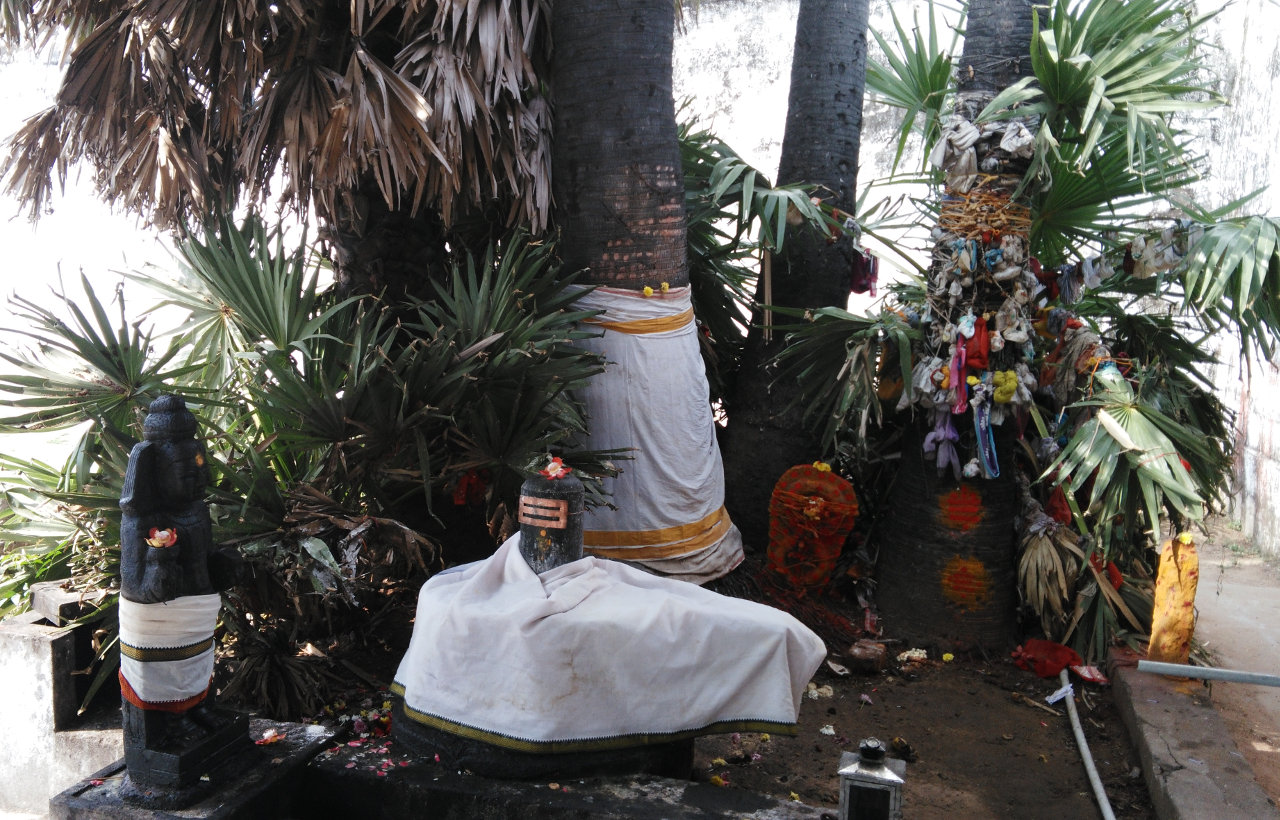 Sthala Vriksham

Kalyana Kodi Thertham
Another legend is that when Saint Thirugnanasambanthar visited Thiruvothur, the Jains at this place conducted a yagna and sent a poisonous snake to kill him. He redirected the snake back to their leader who realized Sambanthar's power and surrendered to him. Sambanthar prayed to Lord Shiva who then appeared as a snake charmer and took the snake away. To commemorate this incident, there is a huge idol of Nagalingam / Sri Naganathar (snake with five heads) installed in this temple.
After failing in their attempts to kill him, the Jains invited Thirugnanasambanthar for a competition (Punalvadam in Tamil). During this competition, the Jains wrote their slokas on a palm leaf and put it in the river Cheyyar. This palm leaf got carried away in the river stream. Whereas when Thirugnanasambanthar did the same, the palm leaf in which he wrote his pathigam floated against the stream, came back and got stationed at a particular place. After this incident, it is believed that the Jains accepted their defeat. This place is called "Cheyyatril Ventran".
It is believed that similar type of incidents and competition had also taken place in Madurai.
Even though Saint Thirunavukkarasar (Appar) is believed to have visited this temple and rendered pathigams, those pathigams have not been recovered.
It is also said that Lord Shiva performed his "Veera Nadanam" here.
This is one of the temples where Lord Murugan is believed to have worshiped Lord Shiva. The Cheyyaru river itself is believed to have been created by Lord Murugan and it serves as the Theertham of this temple.
Another legend is that once, a local ruler by the name of Thondaiman requested Lord Shiva to help him conquer the kingdom of King Visuvasu. Lord Shiva sent Nandhi along with Thondaiman to help him defeat Visuvasu. In memory of this, Nandhi here is facing the entrance of the temple instead of facing the lord.
Another legend about the Nandhi's posture here is that when Lord Shiva preached Veda to the celestial gods and sages, Nandhi was instructed to keep a watch at the entrance to prevent any disturbances.
Salient Features
On the left side of the entrance, there is a huge palm tree made of stone - half of it depicts a male palm tree and the other half depicts a female palm tree. Lord Shiva can be seen seated under this tree, and Saint Thirugnanasambanthar can also be seen at his side. Thirugnanasambanthar's idol looks as if he is reciting his pathigam.
Another significance of this temple is that from the centre of the main hall you can see and worship all the five deities at the same time - Lord Shiva, Goddess Parvathi, Vinayakar, Murugan, Navagraham and the Palm trees. This is a unique feature of this temple and you cannot find such placement of shrines in any other temple in Tamil Nadu.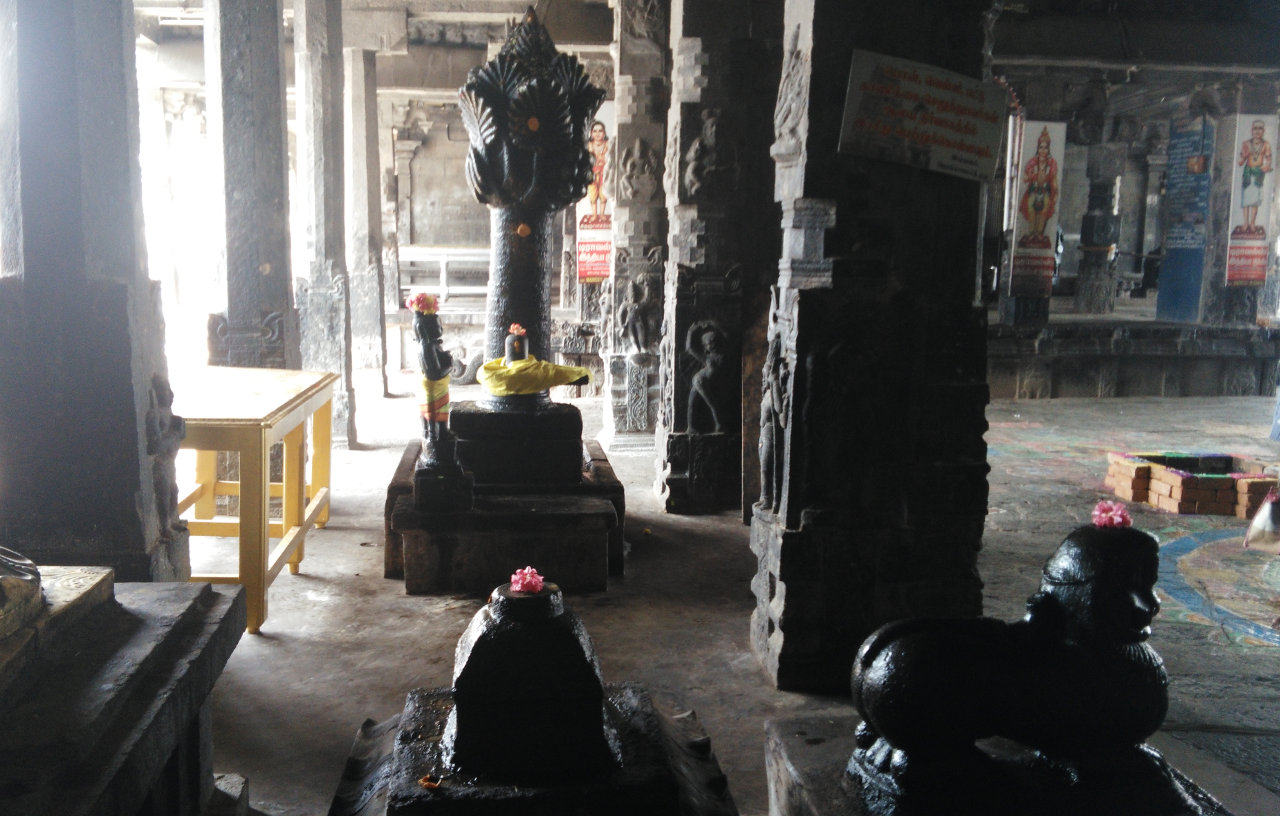 Another significance of this temple is that everyday sun rays fall directly on the Shivalingam.
Saint Arunagirinadhar has also sang songs in praise of Lord Murugan of this temple in his revered Thirupugazh.
Another significance of this temple is that in the outer corridor, separate shrines for all the five "Panchapootha" lingams can be seen. It is believed that devotees will get the benefit of visiting Kanchipuram, Thiruvanaikkaval, Sri Kalahasthi, Chidambaram and Thiruvannamalai by worshiping these five lingams from here itself.
In this temple, there is a separate shrine for Nagalingam. Special poojas are conducted for this Nagalingam on all Saturdays between 0900 and 1030 AM. It is believed that devotees can worship this lingam to get relief from "Naga Dosham".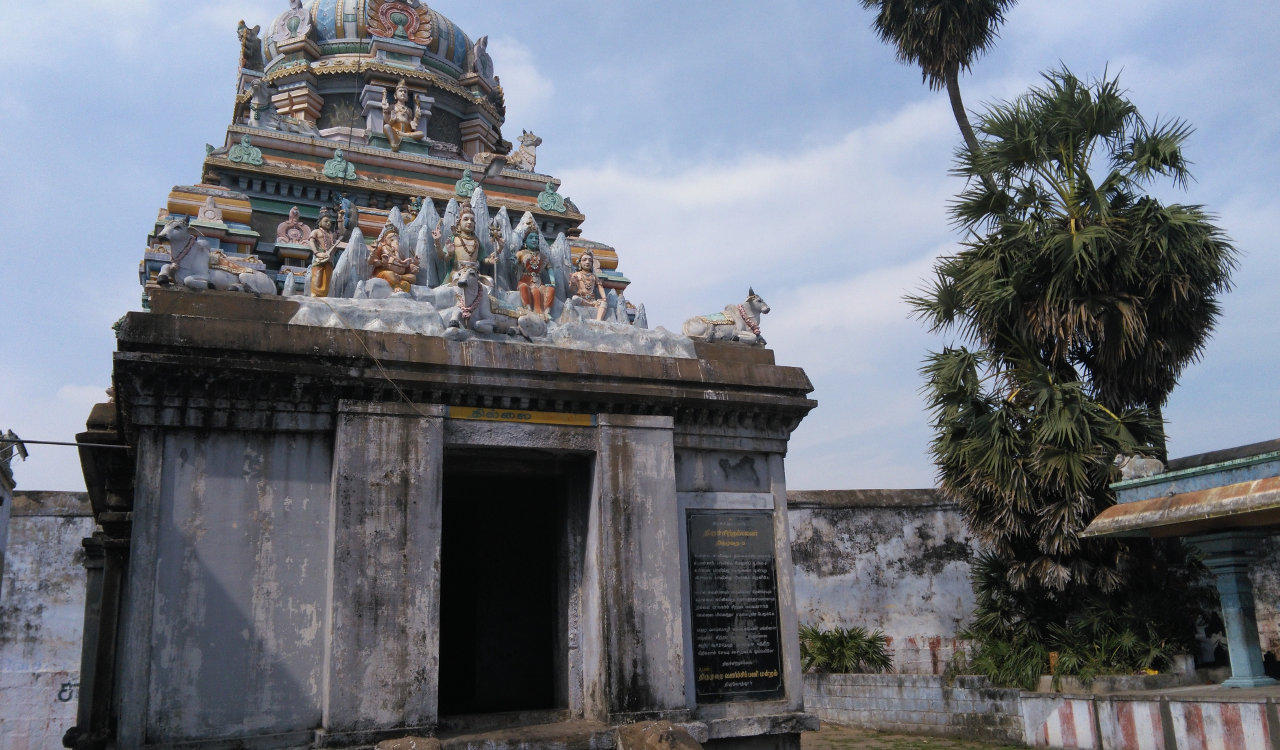 Sri Thirumulanathar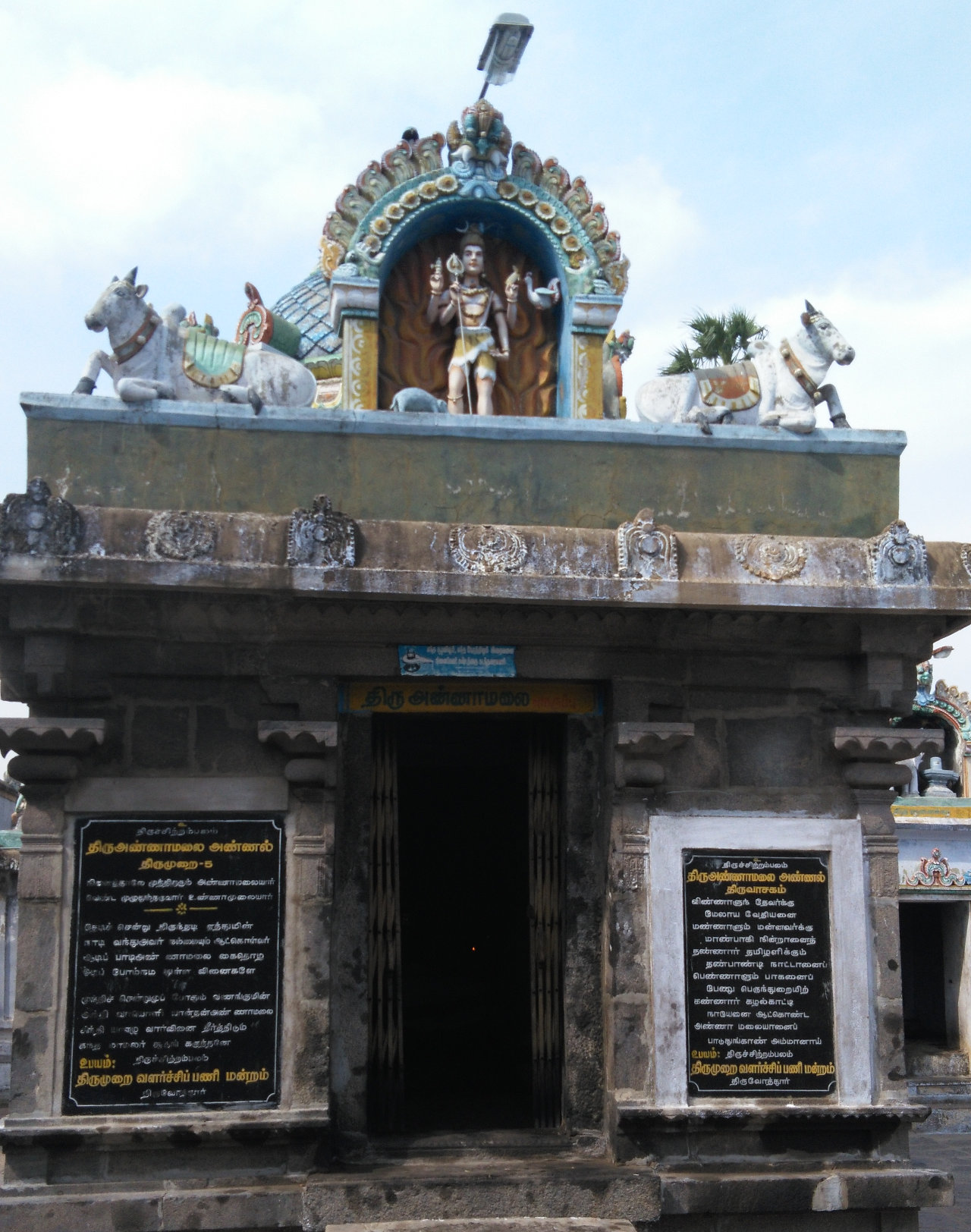 Sri Annamalaiyar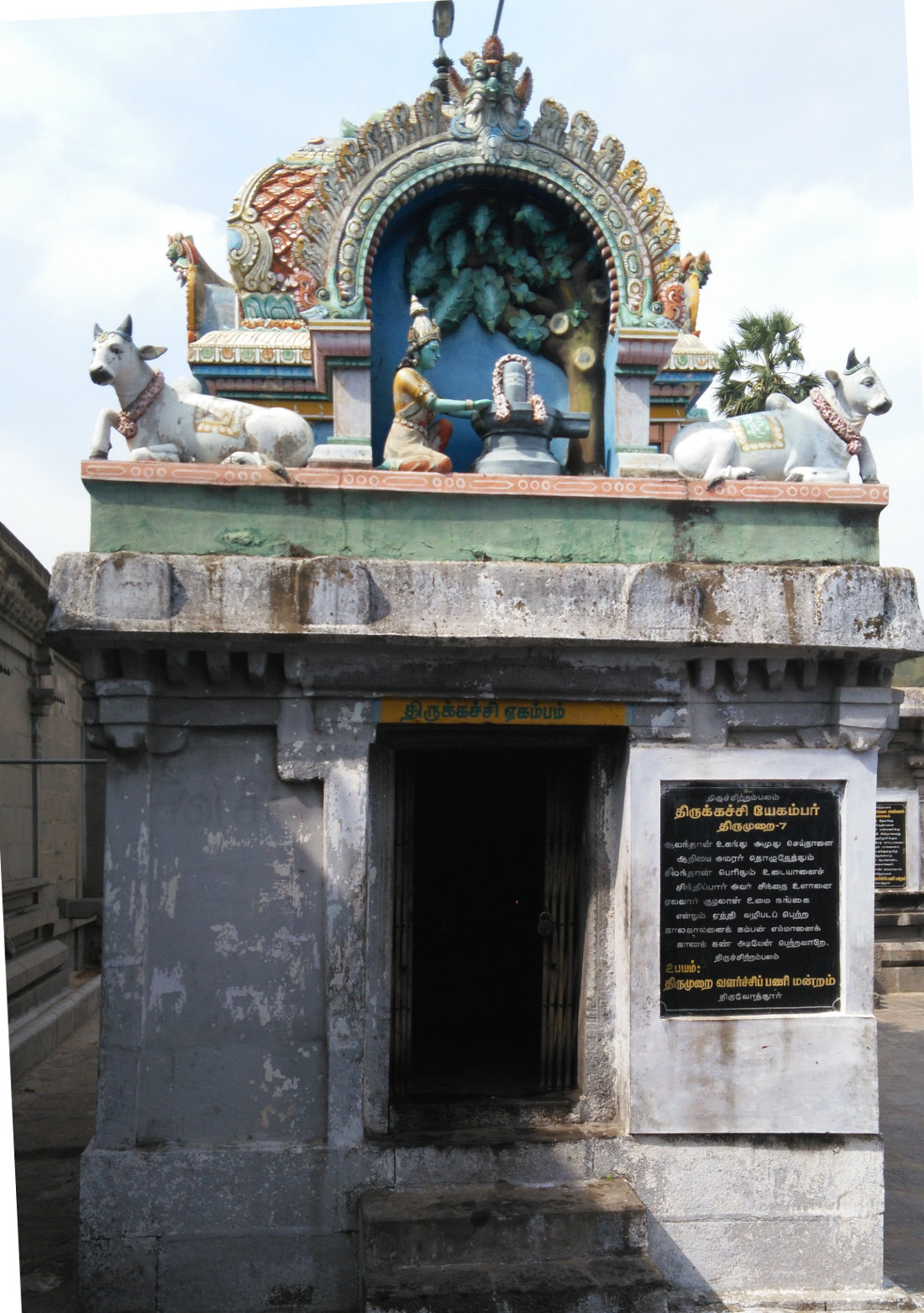 Sri Ekambareswarar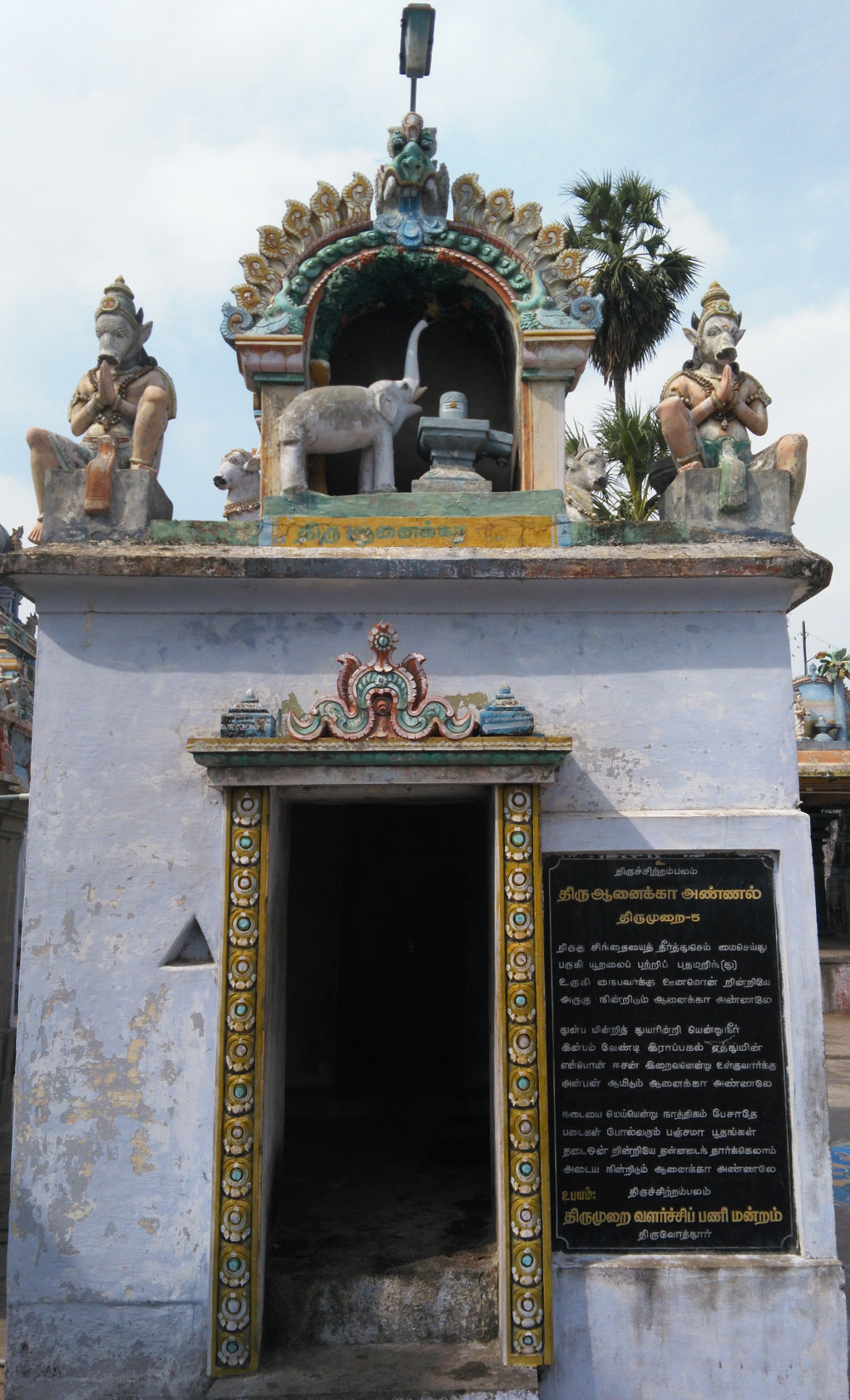 Sri Jambukeswarar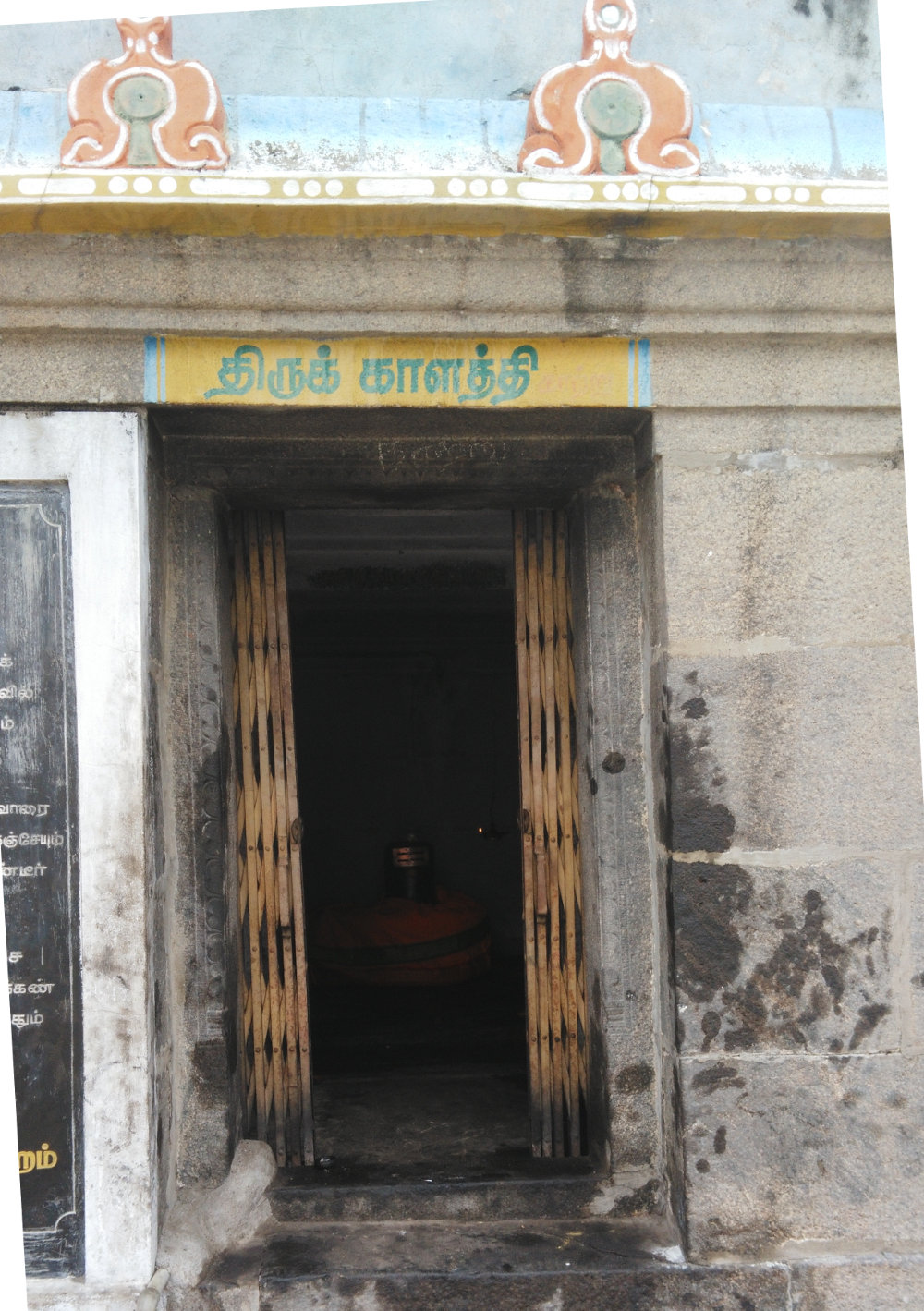 Sri Kalahasthiswarar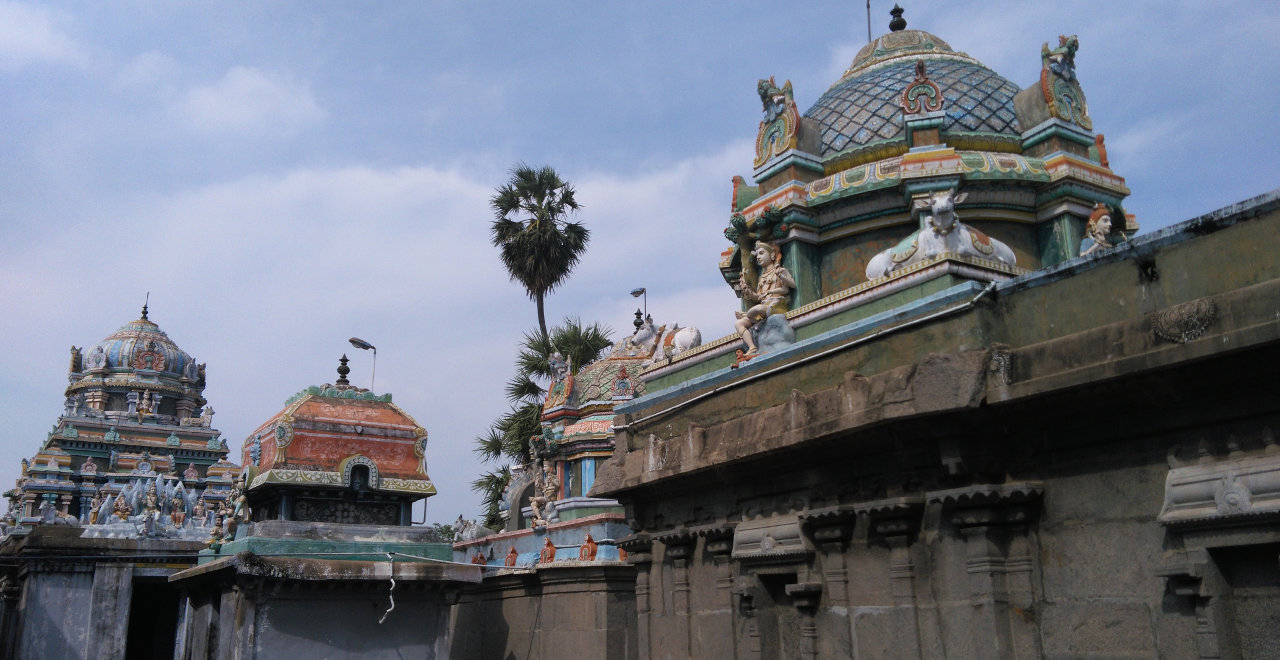 Deities in the temple
Idols and shrines of Lords Vinayakar, Murugan with his consorts, Natarajar, Dakshinamurthy, Brahma, Durgai, Bairavar, Veerabathrar, Nagalingam, Valampuri Vinayakar, Nalvars, Suriyan, Chandran, Mahavishnu, Saptha Madakkal, and 63 Nayanmars can be seen in the temple.
The idols of all the "Santhanachariars" namely, Meykandar, Arulnandhi Sivam, Maraignana Sambanthar and Umapathi Sivam can also be seen in the corridors. Also in the outer corridor, under the Sthalaviruksham (Palm tree), a Shivalingam and Thirugnanasambanthar's idol can be seen.
There is a separate shrine for Lord Mahavishnu in the name of Aadhi Kesava Perumal.
Greatness of this temple
It is believed that those seeking "santhana prapthi" (child boon) can pray to the Goddess here by making offering of palm fruits and then consuming it.
Devotees also worship Lord Shiva of this temple for prosperity and wisdom.
Important Festivals
Ten days Bhramotsavam in the Tamil month of Thai (January-February) is celebrated in a grand manner. Lakshadeepam and Gnanasambanthar festival on Visakam day in the Tamil month of Aadi (July-August), Magam and Shivrthri in the Tamil month of Masi (February-March), Pankuni Uthiram in the Tamil month of Pankuni (March-April) are also celebrated here. Monthly Pradosham is also regularly observed.
Temple Timings
From 06.00 AM to 12.00 Noon and from 04.00 PM to 08.30 PM.
Temple Address
Sri Vedapureeswarar Temple
Thiruvothur (Thiruvathipuram)
Cheyyar-Taluk
Thiruvannamalai District
Tamil Nadu – 604 407.
Tele: +91- 4182-224 387.

The priests, Sri Kanthasamy Gurukkal at 09443345793 and Sri Dhakshinamoorthy
Gurukkal at 09688612660 may be contacted.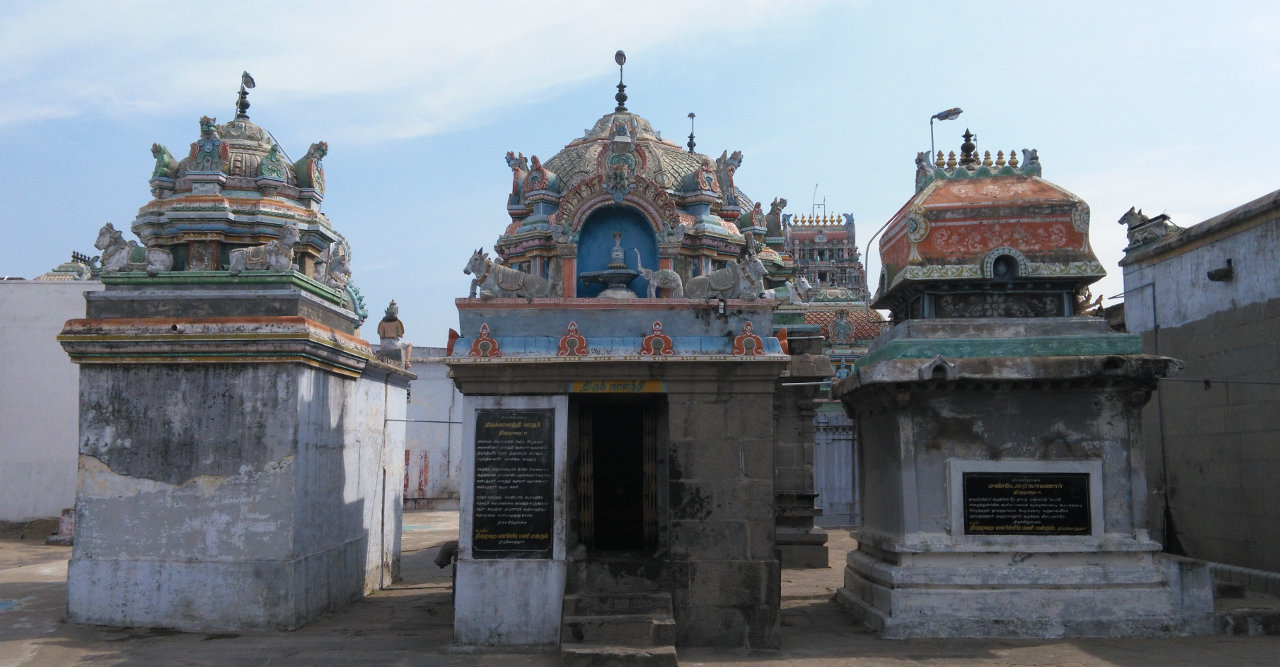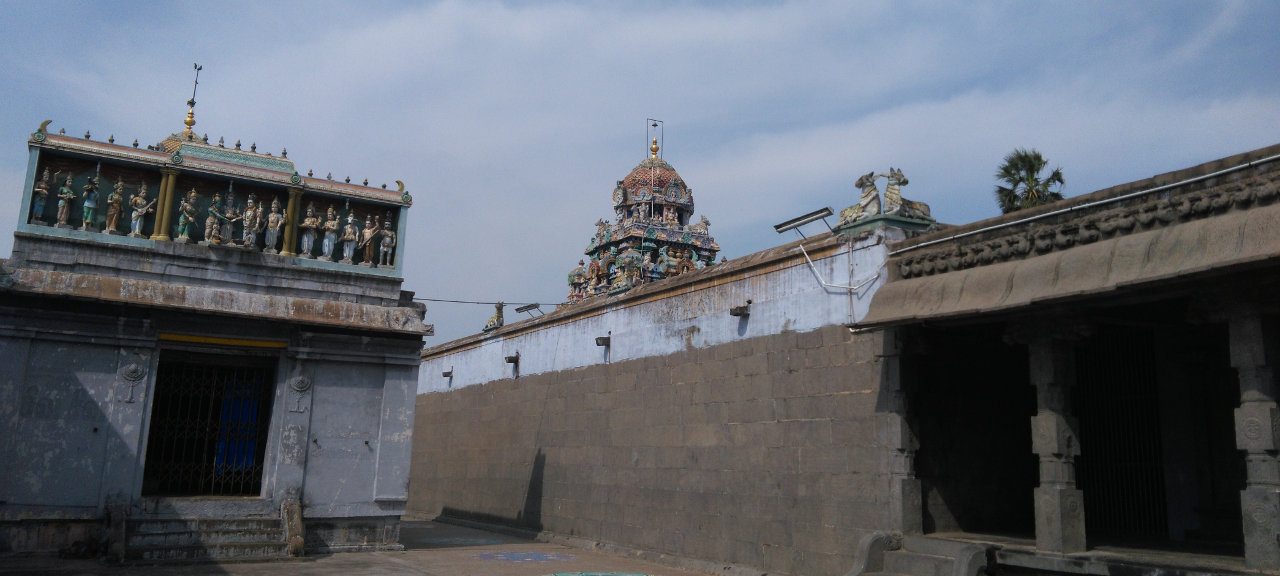 ---
Pathigam (Hymn) with English transliteration
Saint Thirugnanasambanthar visited this temple and sang this Pathigam.
Devotees visiting this temple should make it a practice to recite this Pathigam.
பூத்தேர்ந் தாயன கொண்டுநின் பொன்னடி
ஏத்தா தாரில்லை யெண்ணுங்கால்
ஓத்தூர் மேய வொளிமழு வாள்அங்கைக்
கூத்தீ ரும்ம குணங்களே.
"Pūthērn thāyaṉa koṇduniṉ poṉṉadi
ēthā thārillai yeṇṇuṅkāl
ōthūr mēya voḷimazhu vāḷaṅkaik
kūthī rum'ma kuṇaṅkaḷē".
இடையீர் போகா இளமுலை யாளையோர்
புடையீ ரேபுள்ளி மானுரி
உடையீ ரேயும்மை யேத்துதும் ஓத்தூர்ச்
சடையீ ரேயும தாளே.
"Idaiyīr pōkā iḷamulai yāḷaiyōr
puṭaiyī rēpuḷḷi māṉuri
udaiyī rēyum'mai yēthuthum ōthūrch
chadaiyī rēyuma thāḷē".
உள்வேர் போல நொடிமையி னார்திறம்
கொள்வீ ரல்குலோர் கோவணம்
ஒள்வா ழைக்கனி தேன்சொரி யோத்தூர்க்
கள்வீ ரேயும காதலே.
"Uḷvēr pōla nodimaiyi ṉārthiṟam
koḷvī ralkulōr kōvaṇam
oḷvā zhaikkaṉi thēṉsori yōthūrk
kaḷvī rēyuma kāthalē".
தோட்டீ ரேதுத்தி யைந்தலை நாகத்தை
ஆட்டீ ரேயடி யார்வினை
ஓட்டீ ரேயும்மை யேத்துதும் ஓத்தூர்
நாட்டீ ரேயருள் நல்குமே.
"Thōṭṭī rēthuthi yainthalai nākathai
āṭṭī rēyadi yārviṉai
ōṭṭī rēyum'mai yēthuthum ōthūr
nāṭṭī rēyaruḷ nalkumē".
குழையார் காதீர் கொடுமழு வாட்படை
உழையாள் வீர்திரு வோத்தூர்
பிழையா வண்ணங்கள் பாடிநின் றாடுவார்
அழையா மேயருள் நல்குமே.
"Kuzhaiyār kāthīr koṭumazhu vāṭpadai
uzhaiyāḷ vīrthiru vōthūr
pizhaiyā vaṇṇaṅkaḷ pādiniṉ tṟāṭuvār
azhaiyā mēyaruḷ nalkumē".
மிக்கார் வந்து விரும்பிப் பலியிடத்
தக்கார் தம்மக்க ளீரென்
றுட்கா தாருள ரோதிரு வோத்தூர்
நக்கீ ரேயருள் நல்குமே.
"Mikkār vanthu virumpip paliyiṭath
thakkār tham'makka ḷīreṉ
tṟuṭkā thāruḷa rōthiru vōthūr
nakkī rēyaruḷ nalkumē".
தாதார் கொன்றை தயங்கு முடியுடை
நாதா என்று நலம்புகழ்ந்
தோதா தாருள ரோதிரு வோத்தூர்
ஆதீ ரேயருள் நல்குமே.
"Thāthār koṉtṟai thayaṅku muṭiyudai
nāthā eṉtṟu nalampukazhn
thōthā thāruḷa rōthiru vōthūr
āthī rēyaruḷ nalkumē".
என்றா னிம்மலை யென்ற அரக்கனை
வென்றார் போலும் விரலினால்
ஒன்றார் மும்மதி லெய்தவ னோத்தூர்
என்றார் மேல்வினை யேகுமே.
"Eṉtṟā ṉim'malai yeṉtṟa arakkaṉai
veṉtṟār pōlum viraliṉāl
oṉtṟār mum'mathi leythava ṉōthūr
eṉtṟār mēlviṉai yēkumē".
நன்றா நால்மறை யானொடு மாலுமாய்ச்
சென்றார் போலுந் திசையெலாம்
ஒன்றா யொள்ளெரி யாய்மிக வோத்தூர்
நின்றீ ரேயுமை நேடியே.
"Naṉtṟā nālmaṟai yāṉodu mālumāych
cheṉtṟār pōlun thisaiyelām
oṉtṟā yoḷḷeri yāymika vōthūr
niṉtṟī rēyumai nēdiyē".
கார மண்கலிங் கத்துவ ராடையர்
தேரர் சொல்லவை தேறன்மின்
ஓரம் பாலெயி லெய்தவ னோத்தூர்ச்
சீர வன்கழல் சேர்மினே.
"Kāra maṇkaliṅ kathuva rādaiyar
thērar chollavai thēṟaṉmiṉ
ōram pāleyi leythava ṉōthūrch
chīra vaṉkazhal sērmiṉē".
குரும்பை யாண்பனை யின்குலை யோத்தூர்
அரும்பு கொன்றை யடிகளைப்
பெரும்பு கலியுள் ஞானசம் பந்தன்சொல்
விரும்பு வார்வினை வீடே.
"Kurumpai yāṇpaṉai yiṉkulai yōthūr
arumpu koṉtṟai yadikaḷaip
perumpu kaliyuḷ gñāṉasam banthaṉsol
virumpu vārviṉai vīdē".