Visited on: 17th July, 2016.
Location
Thiruverkadu is situated at a distance of about 7 kms from Poonamallee on the Poonamallee to Avadi route. From Koyambedu Bus stand (Chennai) it is about 10 kms.
This temple is about 1 kilometre away from the popular Sri Devi Karumariamman temple.
Other Devara Paadal Petra Shiva Sthalams near this place are – Thiruvotriyur, Thiruvalithayam, Thirumullaivayil, Mylapore and Thiruvanmiyur.
General Information
| | |
| --- | --- |
| Moolavar | Sri Vedapureeswarar, Sri Verkattu Nathar |
| Ambal | Sri Balambikai, Sri Verkanni Ambal |
| Theertham (Holy water) | Velayutha Theertham, Veda Theertham |
| Sthala Vriksham (Sacred Tree) | Vela tree |
| Pathigam (Hymn) rendered by | Saint Thirugnanasambanthar |
This is one of the 276 Devara Paadal Petra Shiva Sthalams and 23rd Shiva Sthalam in Thondai Nadu.
Lord Shiva in this temple is a Swayambumurthi (self-manifested).
This east facing temple has a 5-tiered main tower (Rajagopuram) and it has 3 corridors.
The vimanam (roof tower) of the sanctum sanctorum has been constructed according to the Gaja Brishtam style of architecture.
This is the birth place of Saint Moorka Nayanar, one of the 63 Nayanmars.
History of the Temple
This ancient temple is situated on the banks of river Paalaru and is believed to be more than 1300 years old. Based on the architecture of this temple, it can be inferred that it was built during the Chola period. The historical name of this place is Vada Vedaranyam.
This temple is under the administrative control of Sri Devi Karumariyamman Temple, Thiruverkadu.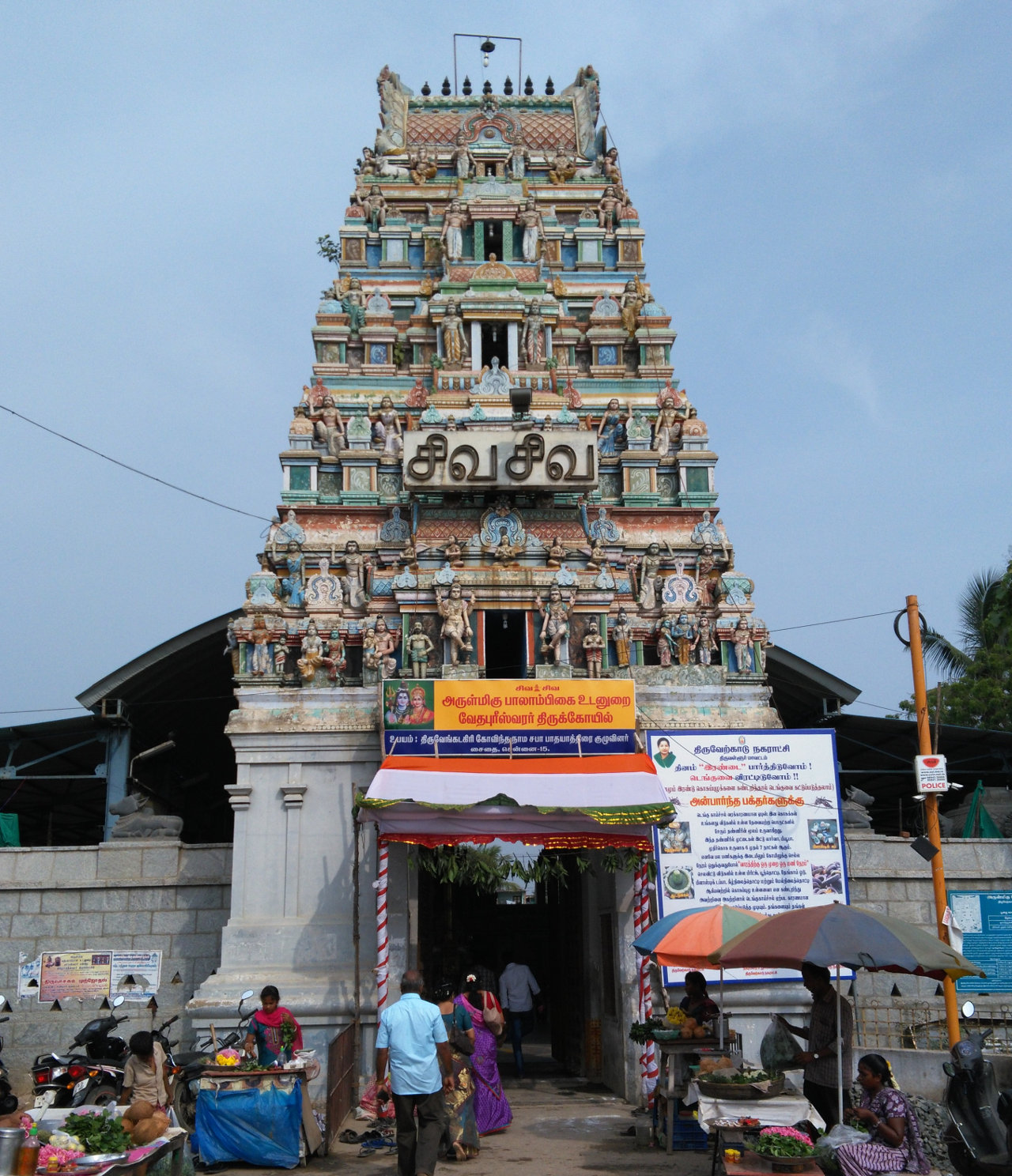 Legend
It is believed that this is one of the temples where Sage Agasthiar was blessed with the wedding darshan of Lord Shiva and Goddess Parvathi. In the sanctum sanctorum, behind the main deity, there is a relief that depicts the lord and goddess in their wedding posture.
It is believed that all the four Vedas have worshiped the lord here in the form of Vela trees (Acacia Nilotica). Hence this place gets the name "Vel Kadu" (kadu means forest in Tamil). Later, over a period of time, the auspicious prefix "Thiru" has been added and this place is now called Thiruverkadu.
Another legend associated with this temple is that of Lord Murugan. It is believed that Lord Murugan imprisoned Lord Brahma for not being able to explain the meaning of "Pranava Mantra" (Aum / Om). Lord Shiva sent Nandhi to Lord Murugan's abode asking him to release Lord Brahma. But Lord Murugan was not willing to do so. Lord Shiva himself went to Lord Murugan and explained him the importance of Lord Brahma's work which were being put on hold due to his captivity. Lord Shiva then got Lord Brahma released. However, Lord Shiva asked Lord Murugan to go to this temple and offer his prayers in order to seek absolution for all the trouble that he had caused by imprisoning Lord Brahma.
It is believed that Lord Murugan then created the "Velayutha Theertham" (sacred holy water tank) at this temple using his spear (Vel) and worshiped Lord Shiva. This beautiful tank can still be seen inside the temple complex. Lord Murugan can be seen here with a Shivalingam in front of him.
As per the 'sthala puranam', serpant Adisheshan is believed to have worshiped the lord here and promised that he would not bite anyone in this place. Hence, the place is also known as "Visham Theenda Pathy" – a place where no snake bite occurs.
Sage Paraachara, who is considered to be a great scholar in astrology, is also believed to have worshiped the lord here.
Saint Moorka Nayanar, one of the 63 Nayanmars, was born in this place. It is believed that he spent his entire money by offering food to devotees of Lord Shiva. He resolutely followed the principle of taking his food only after offering food to some Shiva devotees. When his entire wealth was extinguished, he started gambling and spent whatever he earned for the same cause. When the losers refused to pay him his dues, he used violence to recover the money. As he is believed to have been ruthless in recovering what he was owed by the losers, he is called "Moorka Nayanar" (Moorka means violent in Tamil).
Deities in the temple
Apart from the shrines of Lord Vedapureeswarar and Goddess Balambikai, shrines and idols of lords Varasidhi Vinayakar, Nagarajar (Adisheshan), Murugan, Dakshinamurthy, Lingothbavar, Brahma, Nalvar, 63 Nayanmars, Kasi Viswanathar with Visalakshi, Sekkizhar, Durgai, Chandikeswarar, Bairavar, Suryan, Chandran, Navagraham, Saint Agasthiar and King Anabaya Cholan can be seen in the corridors.
There are separate shrines for Lord Saneeswaran, Saint Moorka Nayanar and Saint Arunagirinathar in the outer corridors.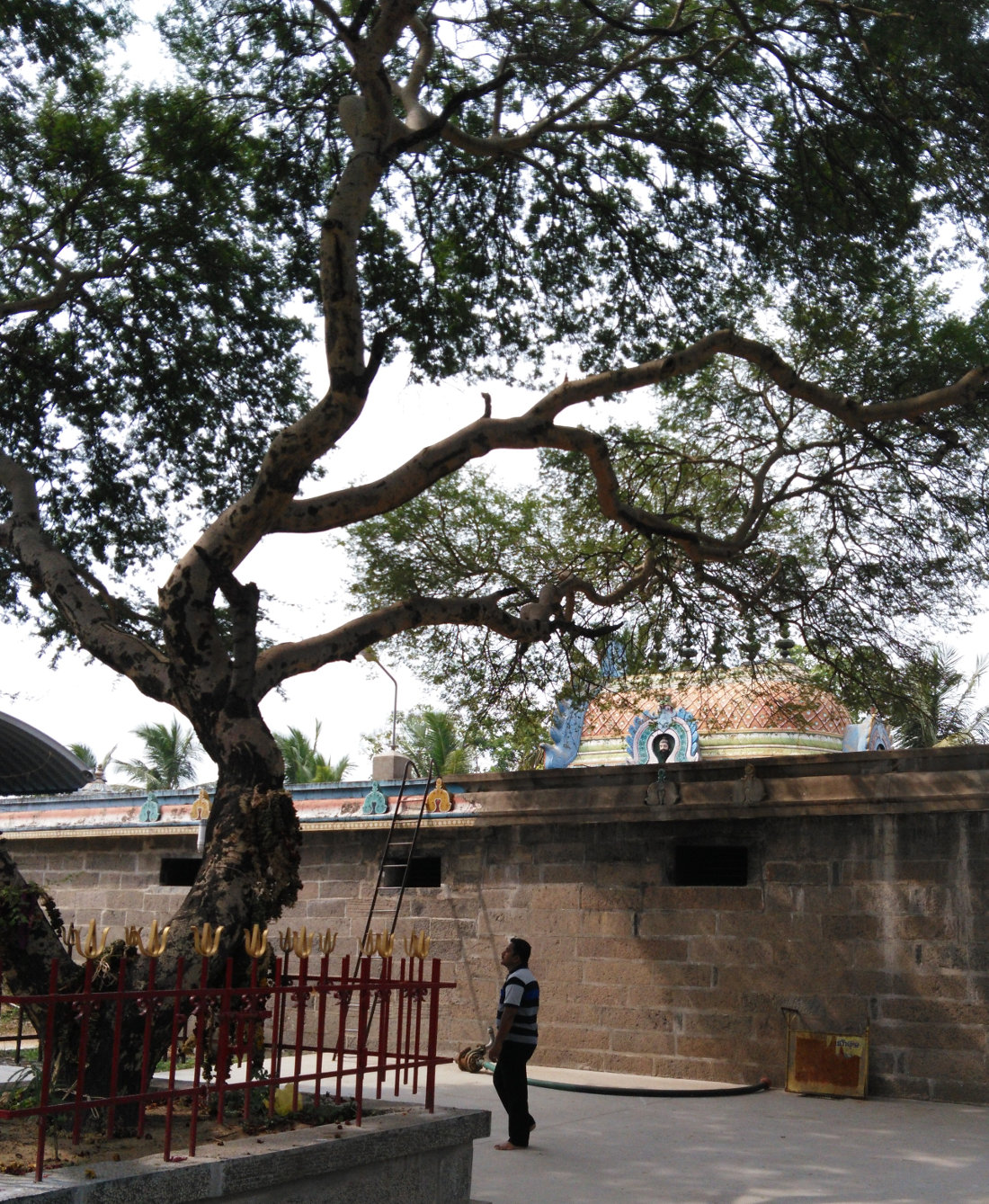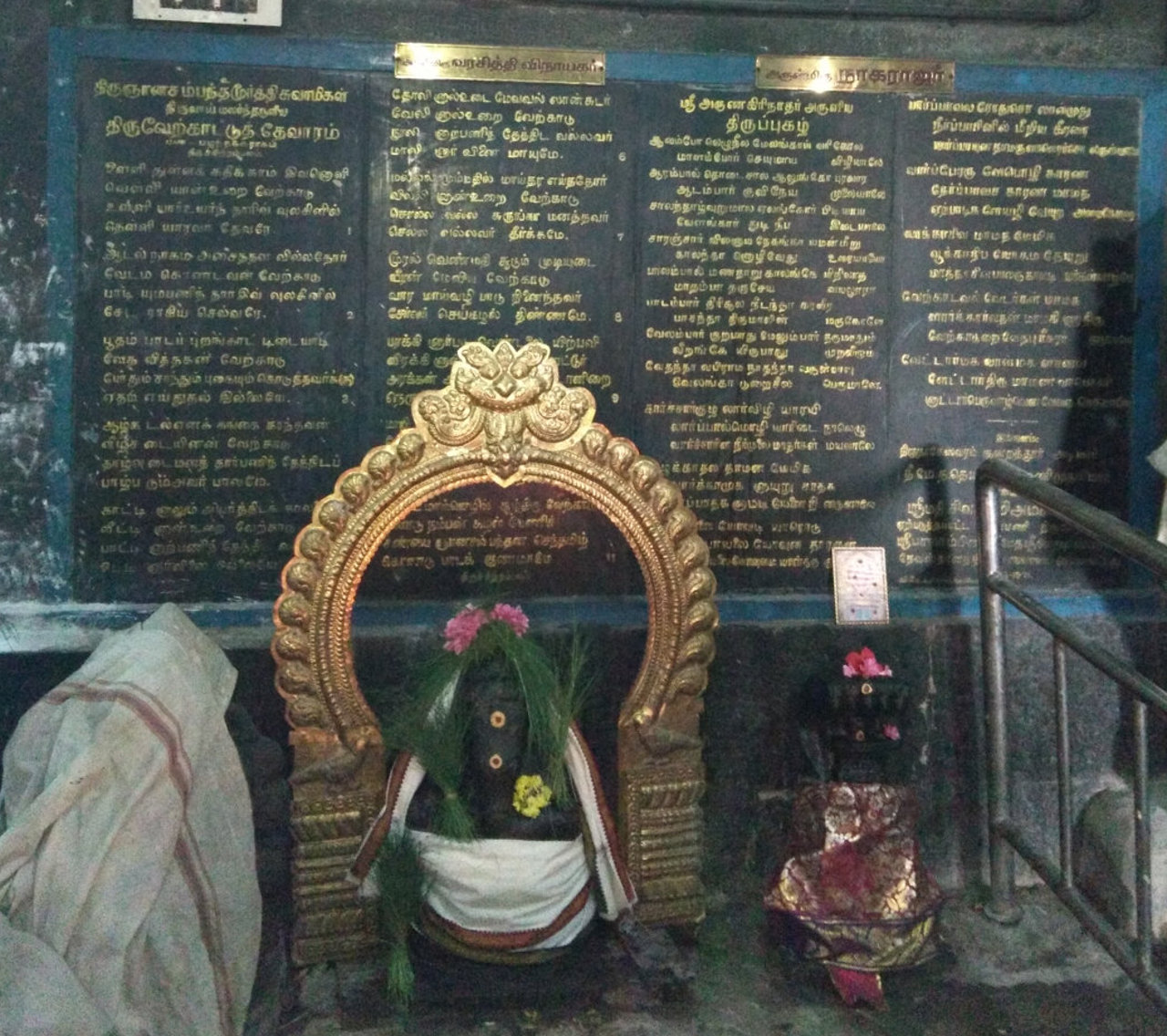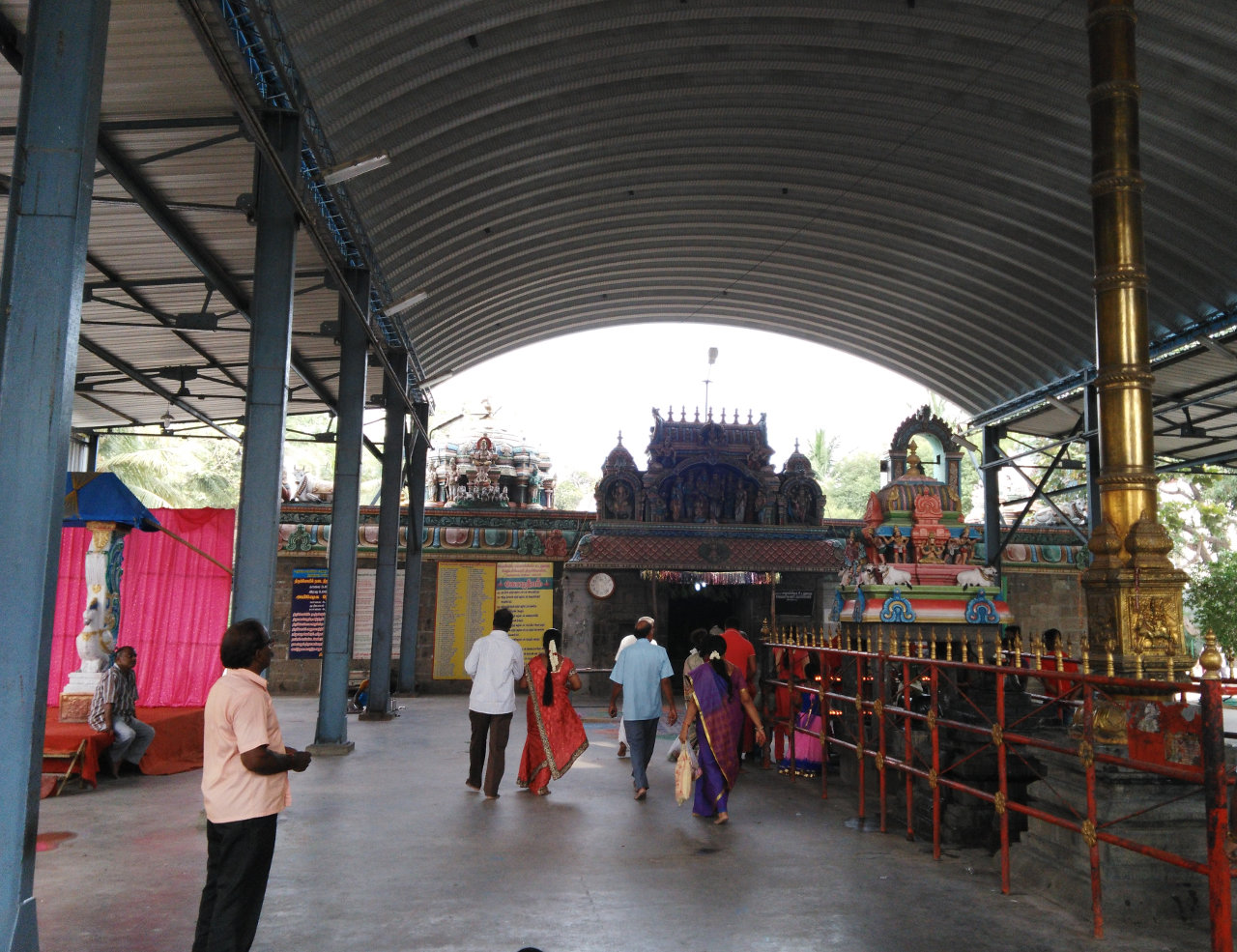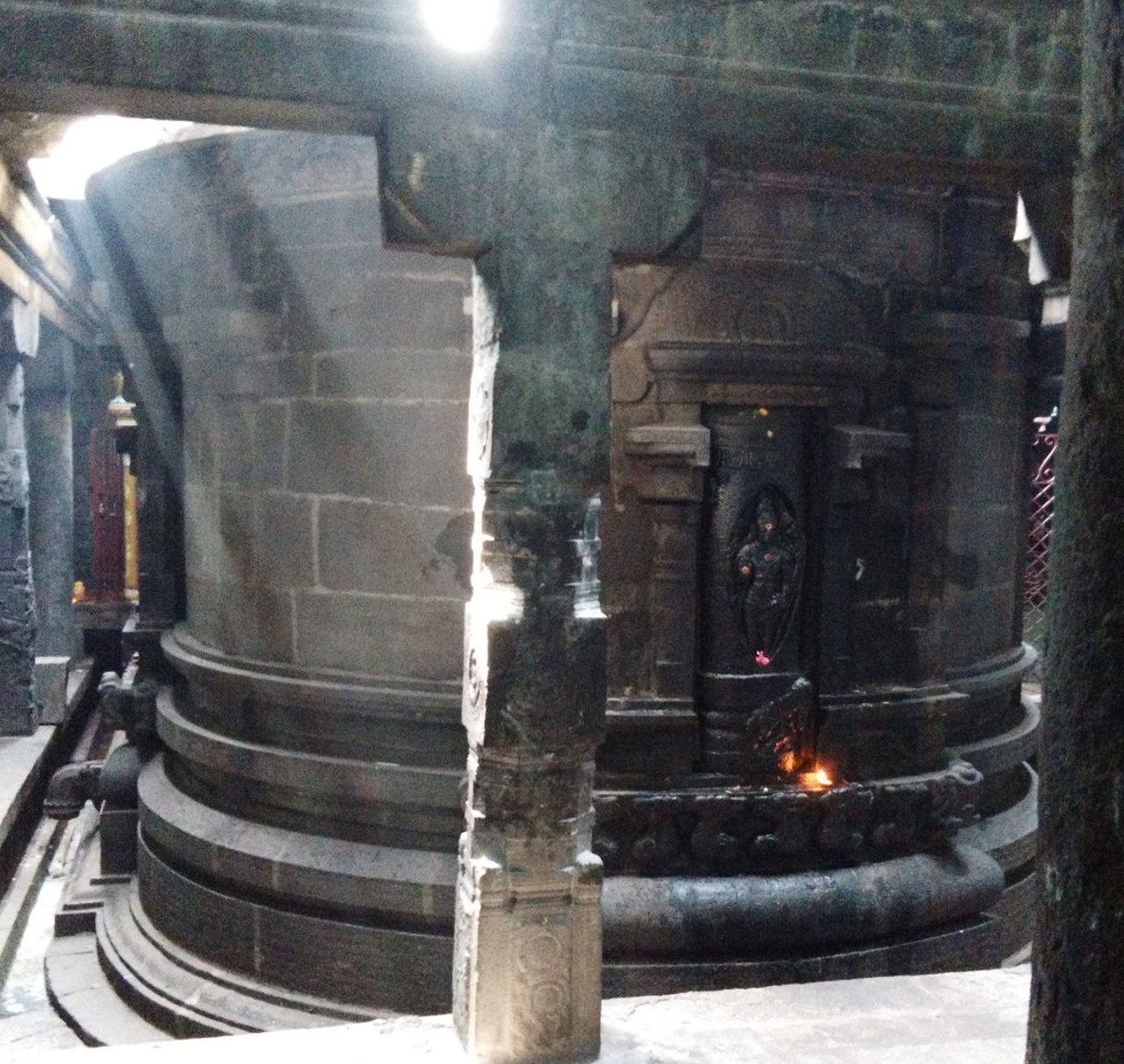 Salient Features
The vimana (roof tower) of the sanctum sanctorum is designed in a special style of architecture called the Gaja Brishtam. This makes the vimanam look like the rear of an elephant (Gaja - elephant, brishtam - rear). This is also known as "Thoonganai Maadam" in Tamil (thoong(um) - sleeping, aanai - elephant, maadam - top of a temple).
The fact that there is a Shivalingam in front of Lord Murugan's idol is unique to this temple. Also, Lord Murugan is seen holding a bow and arrow instead of his usual spear.
It is significant to note that in this temple the Navagraham is placed on "Padma Pedam" and is in the shape of an octagon. This temple is also famous as a parihara sthalam for Navagraha dosham.
Saint Arunagirinadhar has sang songs in praise of Lord Murugan of this temple in his revered Thirupugazh.
Greatness of this temple
Since Lord Shiva of this temple is in his wedding form, devotees believe that worshiping the lord here will remove obstacles from their marriage proposals.
Devotees prefer to conduct their 81st birth day ("Sadabishekam") in this temple.
Important Festivals
On a full moon day in the Tamil month of Chithirai (Apr-May), Attrural festival is celebrated in a grand manner.
Other important festivals celebrated in this temple are –
Maha Shivrathri in the Tamil month of Masi (Feb-Mar),
Navarathri in the Tamil month of Purattasi (Sept-Oct),
Thiruvadhirai in the Tamil month of Margazhi (Dec-Jan) and
Panguni Uthiram in the Tamil month of Panguni (Mar-Apr).
Pradosham is also observed regularly.
Temple Timings
From 06:30 AM to 08:30 PM.
Temple Address
Sri Vedapureeswarar Temple,
Thiruverkadu Post,
Thiruvallur District,
Chennai,
Tamil Nadu – 600 077.
Tele: +91 44-2627 2430, 2627 2487.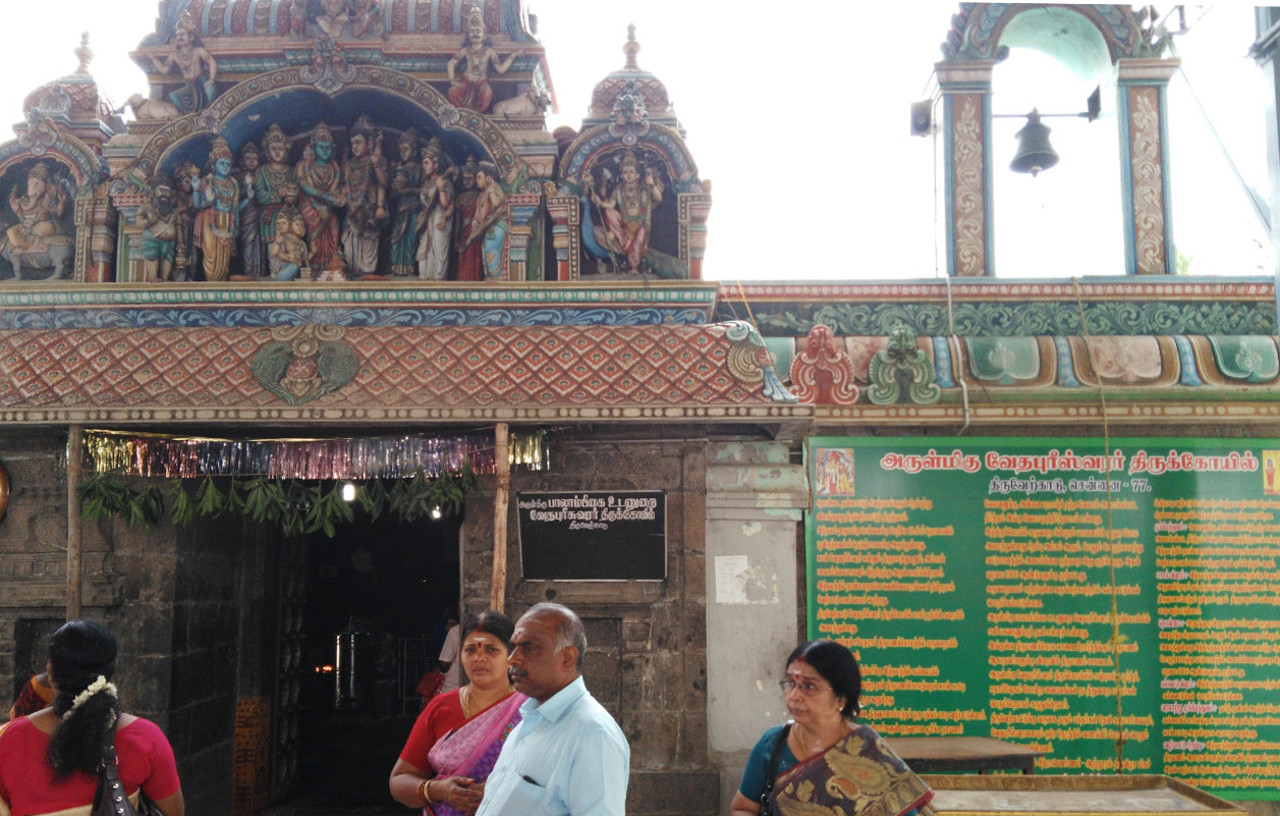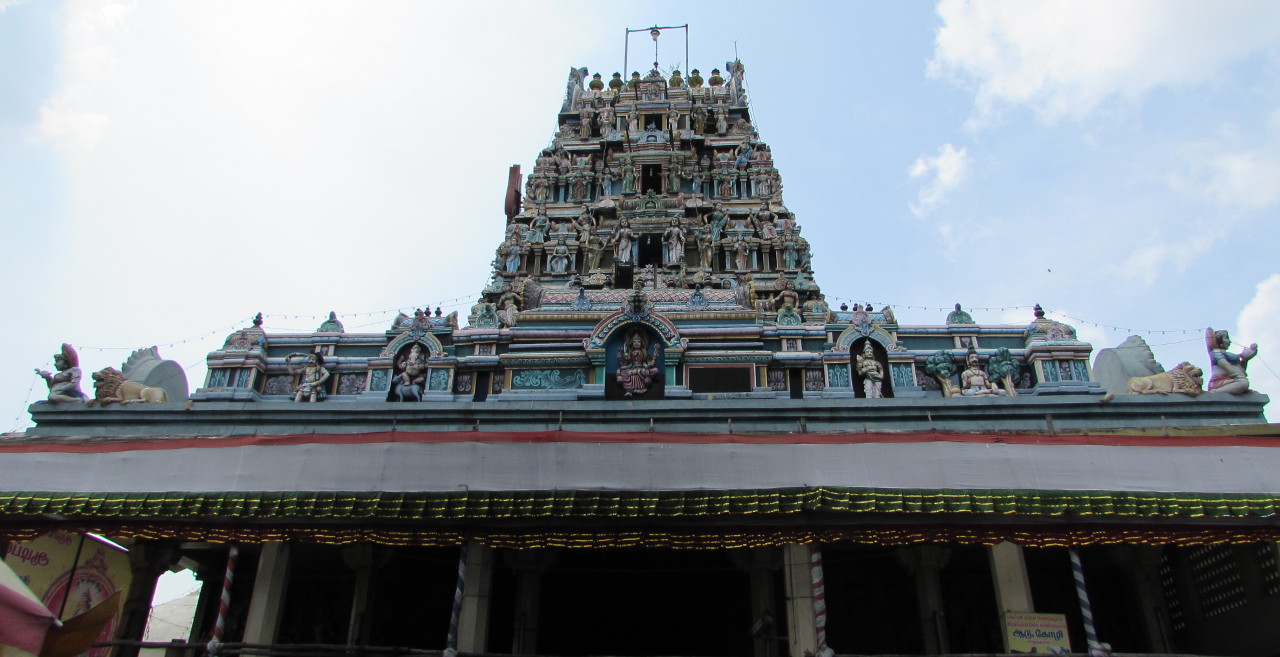 ---
Pathigam (Hymn) with English transliteration

Saint Thirugnanasambanthar visited this temple and sang this Pathigam.
Devotees visiting this temple should make it a practice to recite this Pathigam.
ஒள்ளி துள்ளக் கதிக்கா மிவனொளி
வெள்ளி யானுறை வேற்காடு
உள்ளி யாருயர்ந் தாரிவ் வுலகினில்
தெள்ளி யாரவர் தேவரே.
"Oḷḷi thuḷḷak kathikkā mivaṉoḷi
veḷḷi yāṉuṟai vēṟkāṭu
uḷḷi yāruyarn thāriv vulakiṉil
theḷḷi yāravar thēvarē".
ஆடல் நாகம் அசைத்தள வில்லதோர்
வேடங் கொண்டவன் வேற்காடு
பாடி யும்பணிந் தாரிவ் வுலகினில்
சேட ராகிய செல்வரே.
"Āṭal nākam asaithaḷa villathōr
vēṭaṅ koṇṭavaṉ vēṟkāṭu
pāṭi yumpaṇin thāriv vulakiṉil
sēṭa rākiya selvarē".
பூதம் பாடப் புறங்காட் டிடையாடி
வேத வித்தகன் வேற்காடு
போதுஞ் சாந்தும் புகையுங் கொடுத்தவர்க்
கேதம் எய்துத லில்லையே.
"Pūtam pāṭap puṟaṅkāṭ ṭiṭaiyāṭi
vētha vithakaṉ vēṟkāṭu
pōthuñ chānthum pukaiyuṅ koṭuthavark
kētham eythutha lillaiyē".
ஆழ்க டலெனக் கங்கை கரந்தவன்
வீழ்ச டையினன் வேற்காடு
தாழ்வி டைமனத் தாற்பணிந் தேத்திடப்
பாழ்ப டும்மவர் பாவமே.
"Āzhka ṭaleṉak kaṅkai karanthavaṉ
vīzhsa ṭaiyiṉaṉ vēṟkāṭu
thāzhvi ṭaimaṉath thāṟpaṇin thēththiṭap
pāzhpa ṭum'mavar pāvamē".
காட்டி னாலும் அயர்த்திடக் காலனை
வீட்டி னானுறை வேற்காடு
பாட்டி னாற்பணிந் தேத்திட வல்லவர்
ஓட்டி னார்வினை ஒல்லையே.
"Kāṭṭi ṉālum ayarththiṭak kālaṉai
vīṭṭi ṉāṉuṟai vēṟkāṭu
pāṭṭi ṉāṟpaṇin thēththiṭa vallavar
ōṭṭi ṉārviṉai ollaiyē".
தோலி னாலுடை மேவவல் லான்சுடர்
வேலி னானுறை வேற்காடு
நூலி னாற்பணிந் தேத்திட வல்லவர்
மாலி னார்வினை மாயுமே.
"Thōli ṉāluṭai mēvaval lāṉsuṭar
vēli ṉāṉuṟai vēṟkāṭu
nūli ṉāṟpaṇin thēththiṭa vallavar
māli ṉārviṉai māyumē".
மல்லல் மும்மதில் மாய்தர எய்ததோர்
வில்லி னான்உறை வேற்காடு
சொல்ல வல்ல சுருங்கா மனத்தவர்
செல்ல வல்லவர் தீர்க்கமே.
"Mallal mum'mathil māythara eythathōr
villi ṉāṉuṟai vēṟkāṭu
solla valla churuṅkā maṉathavar
sella vallavar thīrkkamē".
மூரல் வெண்மதி சூடும் முடியுடை
வீரன் மேவிய வேற்காடு
வார மாய்வழி பாடுநி னைந்தவர்
சேர்வர் செய்கழல் திண்ணமே.
"Mūral veṇmathi chūṭum muṭiyuṭai
vīraṉ mēviya vēṟkāṭu
vāra māyvazhi pāṭuni ṉainthavar
sērvar seykazhal thiṇṇamē".
பரக்கி னார்படு வெண்டலை யிற்பலி
விரக்கி னான்உனறை வேற்காட்டூர்
அரக்கன் ஆண்மை யடரப்பட் டான்இறை
நெருக்கி னானை நினைமினே.
"Parakki ṉārpaṭu veṇṭalai yiṟpali
virakki ṉāṉuṉaṟai vēṟkāṭṭūr
arakkaṉ āṇmai yaṭarappaṭ ṭāṉiṟai
nerukki ṉāṉai niṉaimiṉē".
மாறி லாமல ரானொடு மாலவன்
வேற லானுறை வேற்காடு
ஈறி லாமொழி யேமொழி யாஎழில்
கூறி னார்க்கில்லை குற்றமே.
"Māṟi lāmala rāṉoṭu mālavaṉ
vēṟa lāṉuṟai vēṟkāṭu
īṟi lāmozhi yēmozhi yā'ezhil
kūṟi ṉārkkillai kutṟamē".
விண்ட மாம்பொழில் சூழ்திரு வேற்காடு
கண்டு நம்பன் கழல்பேணிச்
சண்பை ஞானசம் பந்தன செந்தமிழ்
கொண்டு பாடக் குணமாமே.
"Viṇṭa māmpozhil chūzhthiru vēṟkāṭu
kaṇṭu nampaṉ kazhalpēṇich
saṇpai gñāṉasam banthaṉa senthamizh
koṇṭu pāṭak kuṇamāmē".