Visited on: 11th February, 2017.
Location
Thiruvazhundur is situated at a distance of about 12 kms from Mayiladuthurai. From Mayiladuthurai proceed towards Kumbakonam via Kuthalam. After Kuthalam, Komal road can be reached. From there take the diversion road towards Komal, then proceed for about 4 kms to reach Therazhunthur.
Other Devara Paadal Petra Shiva Sthalams near this temple are – Aduthurai, Thiruneelakkudi, Kuthalam, Kanjanur, Thirukkozhambam, Thiruvaduthurai, Thiruvelvikudi, Ethirkolpadi, Thirumanancheri, Thirumangalakkudi and Thirukkodikkaval.
General Information
| | |
| --- | --- |
| Moolavar | Sri Vedapureeswarar |
| Ambal | Sri Soundarambigai |
| Theertham (Holy water) | Veda Theertham |
| Sthala Vriksham (Sacred Tree) | White Sandalwood tree and Vilvam |
| Pathigam (Hymn) rendered by | Saint Thirugnanasambanthar |
This is one of the 276 Devara Paadal Petra Shiva Sthalams and 38th Shiva Sthalam on the Southern bank of the river Cauveri in Chozha Nadu (Thenkarai).
Lord Shiva in this temple is a Swayambumurthi (self-manifested).
This temple is counted as one of the seventy Maadak Koils built by King Kochengat Cholan.
This west facing temple has two corridors and its main tower (Rajagopuram) has 5-tiers.
History of the Temple
There are six stone inscriptions in this temple which relate to the period of Chola Kings Kulothungan-III and Rajarajan.
According to legend, in ancient times, this region was densely covered with Sandalwood trees. Hence the historical name of this place is "Santhanaranyam" ("Santhanam" means sandalwood and "Aranyam" means forest in Tamil).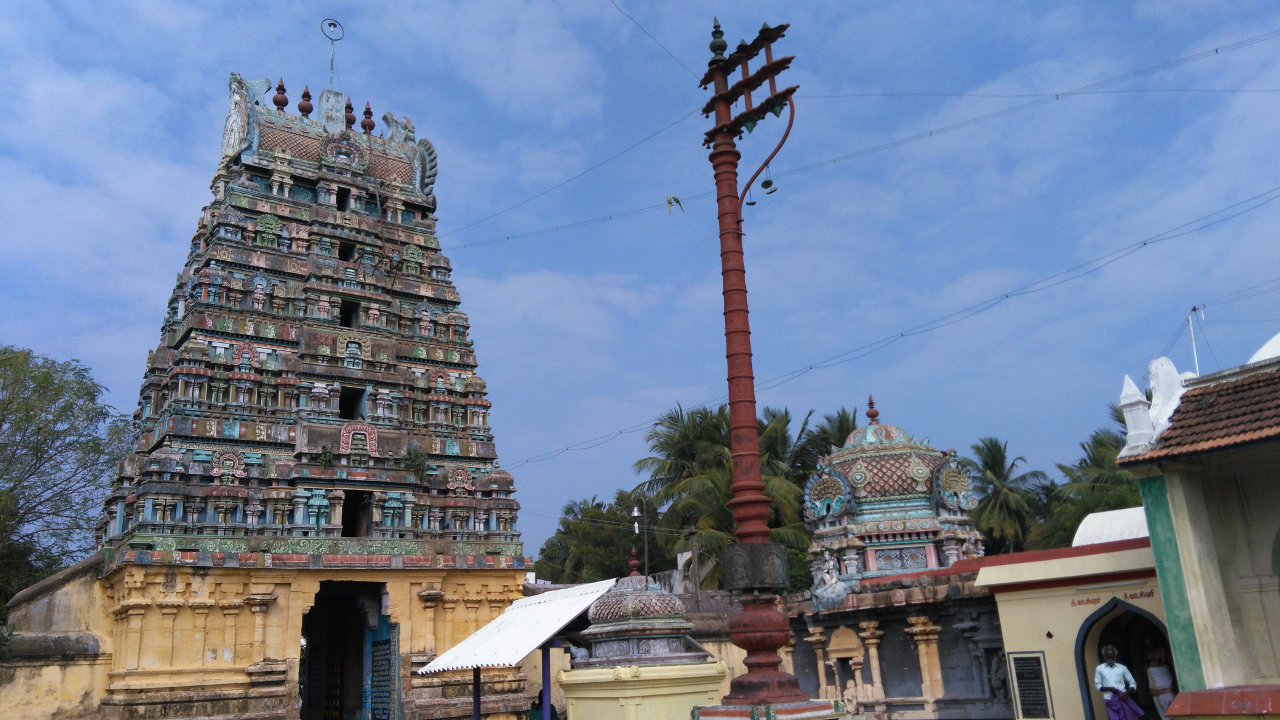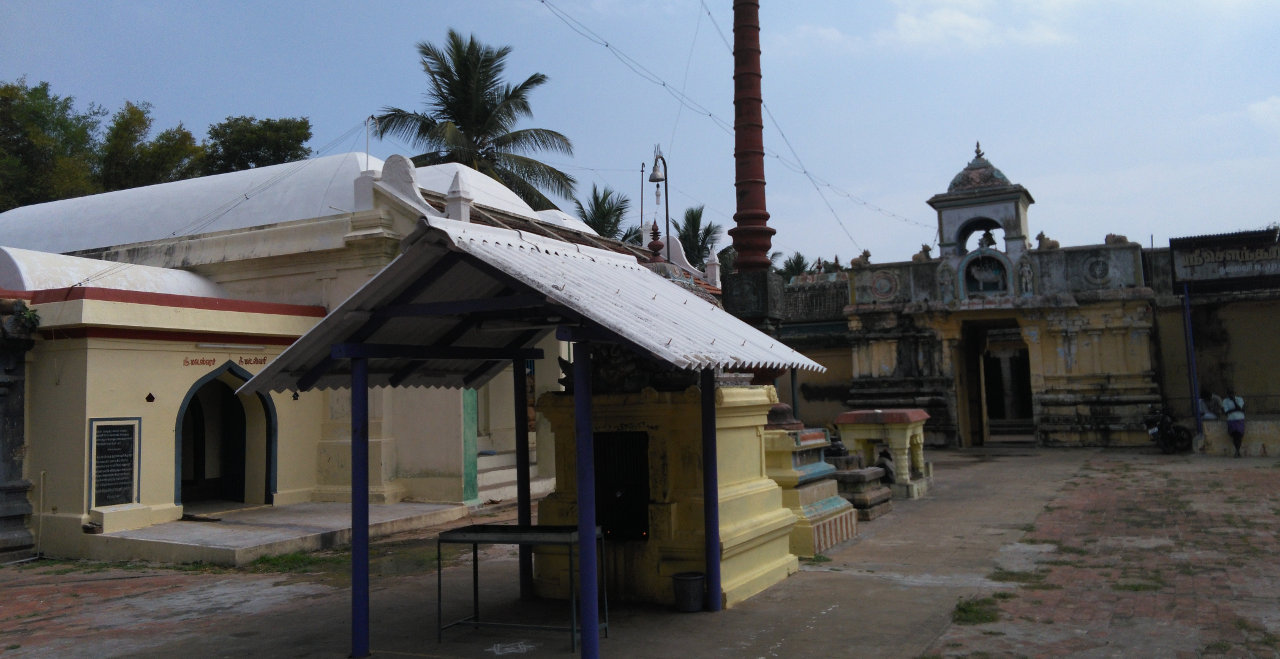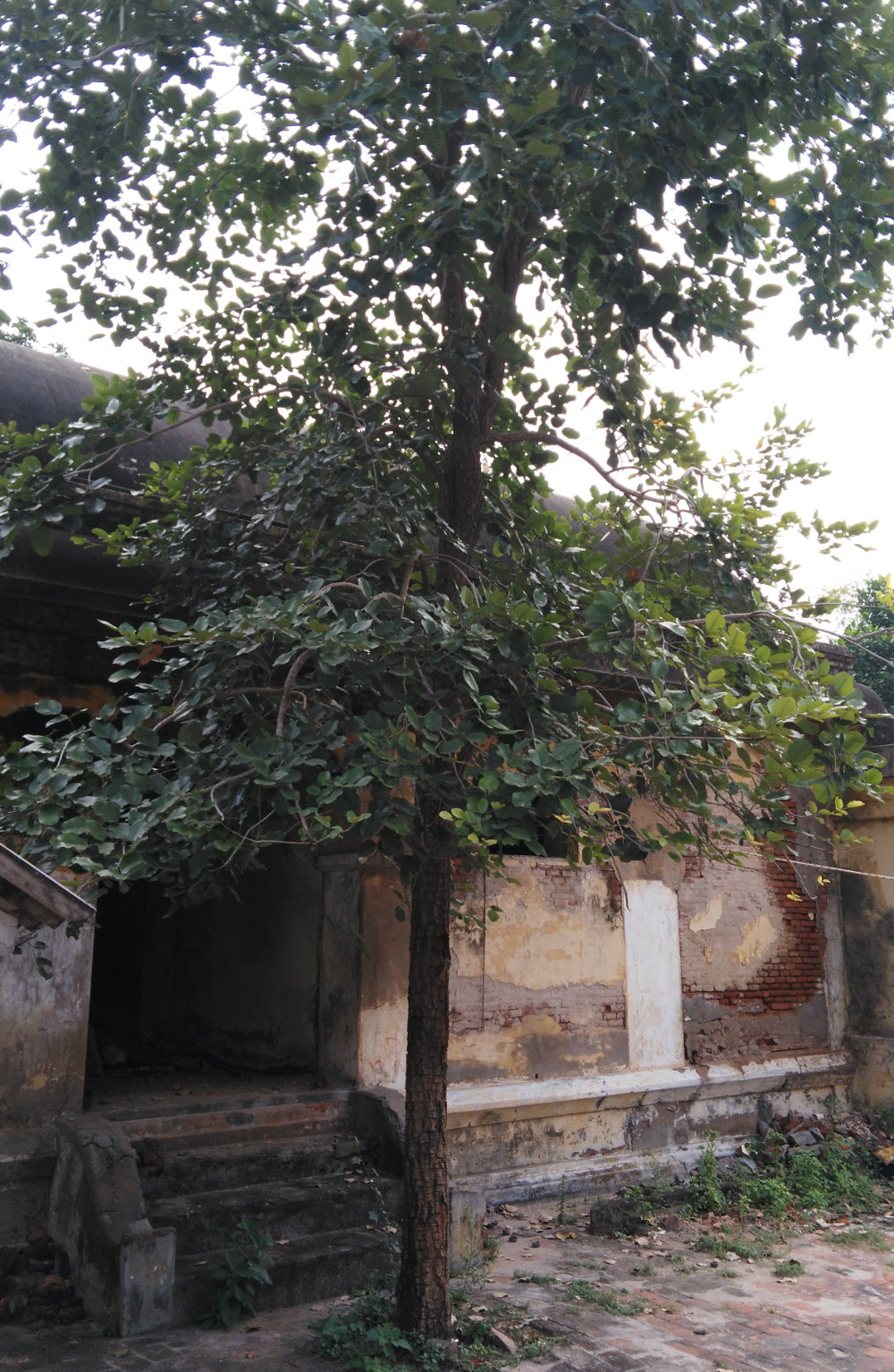 Legend
Therezhunthur enjoys a special place in mythology because it is linked to the legends of a few nearby Paadal Petra Shiva Sthalams.
At Therezhunthur, Lord Shiva cursed Goddess Parvathy which made her turn into a cow. Lord Mahavishnu played the role of a shepherd here.
At Thirukkozhambam, Goddess Parvathy, who was in the form of a cow, worshiped Lord Shiva. During the worship, as the cow's leg hit Lord Shiva by mistake, its hoof made a mark on the lord's chest.
At Thiruvaduthurai, again Goddess Parvathy (in the form a cow) worshiped Lord Shiva. It is here that Goddess Parvathy was relieved of her curse and got restored to her original form.
At Thiruthuruthi (Kuthalam), Sage Bharatha performed a yagna and it is believed that Goddess Parvathy came out of the fire in the form of a child.
At Ethirkolpadi, Lord Shiva was received as a groom by his father-in-law, Sage Bharatha.
At Thiruvelvikudi, the wedding ceremony including the yagna ("Velvi") was performed. This is the great place where the earthly wedding of Lord Shiva and Goddess Parvathy took place.
At Thirumanancheri, Lord Shiva and Goddess Parvathy granted their wedding darshan to everyone.
As per the Sthala Puranam of this temple, once Lord Shiva and Lord Mahavishnu played a game of dice. Goddess Parvathi was chosen to be the mediator. During the course of the game, there was a doubt regarding the numbers. It is believed that Goddess Parvathi supported her brother, Lord Mahavishnu. Angered by her act, Lord Shiva cursed her to become a cow. Lord Vishnu also felt guilty about it and regretted the fact that she was punished because of him. So, he decided to take the form of a shepherd to protect her. Goddess Parvathi prayed to Lord Shiva to pardon her. Lord Shiva told her that she would be relieved from this curse and restored to her original form in due course of time at a place called Thiruvaduthurai.
It is believed that after cursing Goddess Parvathy to become a cow, Lord Shiva stayed in this place as a brahman and taught Vedas under the sandal tree, this temple's sacred tree. Hence the lord is known as "Sri Vedapureeswarar".
It is also believed that Devas, Vedas, Ashtadikpalakars (Directional Gods) Sage Agasthiyar and River Kaveri have worshiped the lord here.
Another legend associated with this place is that of Mazhavanadu King Oorthuvaradhan. The king was a devotee of Lord Brahma. Pleased with his worship, Lord Brahma gifted him a chariot which could fly in the sky. Once the king was flying on his chariot when it got stuck and got grounded in this place. He found that Sage Agasthiyar was worshipping Lord Shiva here. He realised that this was the reason why his chariot could not move any further. He apologised to the sage and worshiped the lord here. Hence this place gets the name Therazhundur ("Ther" means chariot, "azhundhiya" means "getting stuck" and "Oor" means village in Tamil).
There is a Vinayakar temple on the way to this temple. It is believed that when Saint Thirugnanasambanthar visited this place, he was stuck at a crossing and was not sure on which way to proceed. This Vinayakar guided him and hence he is praised as Vazhikaati Vinayakar ("Vazhikaati" means guide in Tamil).
Deities in the temple
Other than the shrines of Lord Shiva and Goddess Parvathy, shrines and idols of Vinayakar, Murugan, Kailasa Nathar, Bhabahareswarar, Kadambavaneswarar, Agasthiar, Markandeyar, Cauvery, Navagraham, Sorna Bairavar, Kala Bairavar and Chandikeswarar can be seen in the corridors.
Near the temple's sacred tree, there is a shrine for "Kshetra Lingam" with idols of Vinayakar and a Nandhi.
There are separate shrines for Sri Madeswarar and Sri Madeswari in the outer corridor. It is believed that initially only these two shrines constituted this temple. The other shrines and buildings were constructed at a later date.
In the "koshtam" (place surrounding the sanctum sanctorum), idols of Narthana Vinayakar, Dakshinamurthy, Lingothbavar, Brahma and Vishnu Durgai can be seen.
There is a separate temple for Lord Mahavishnu which faces this temple.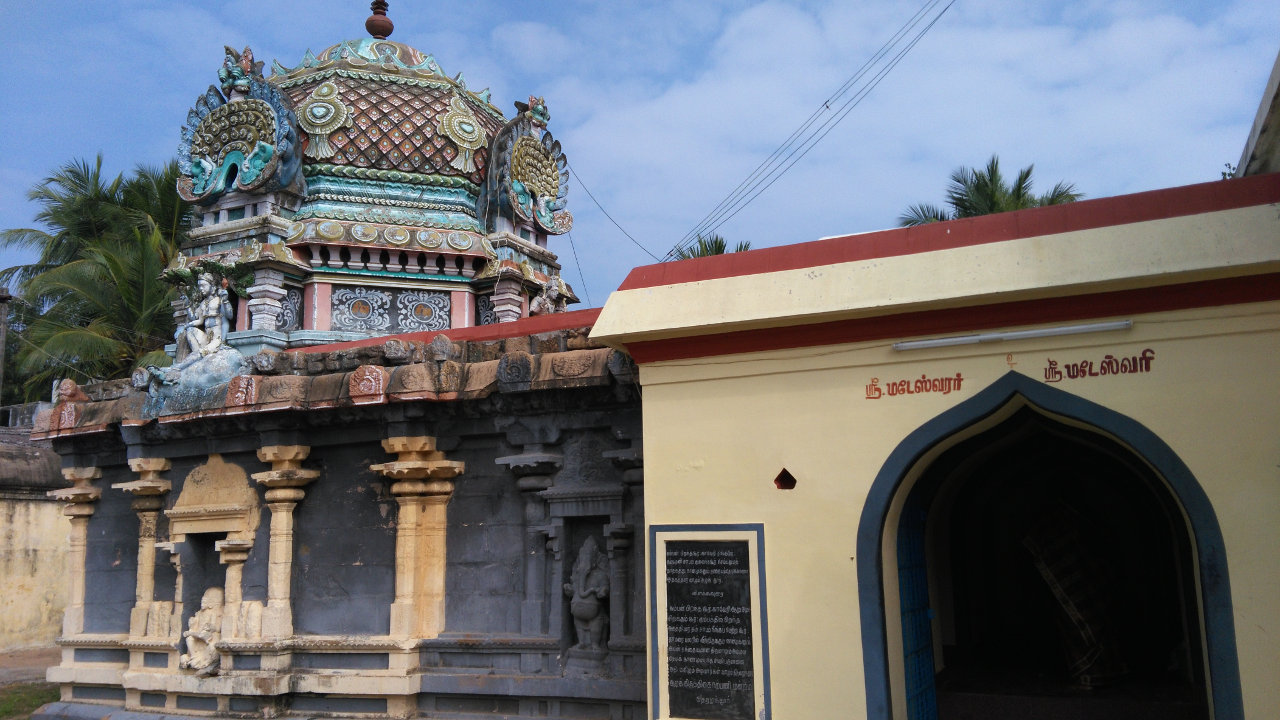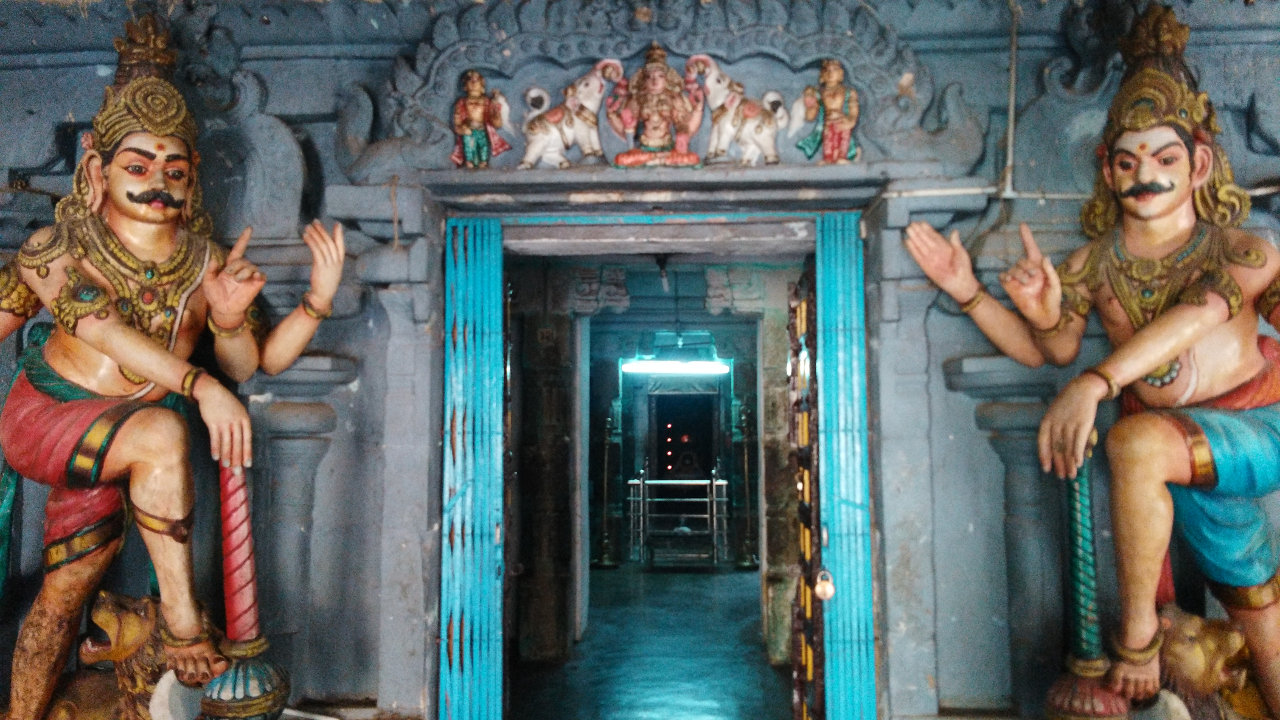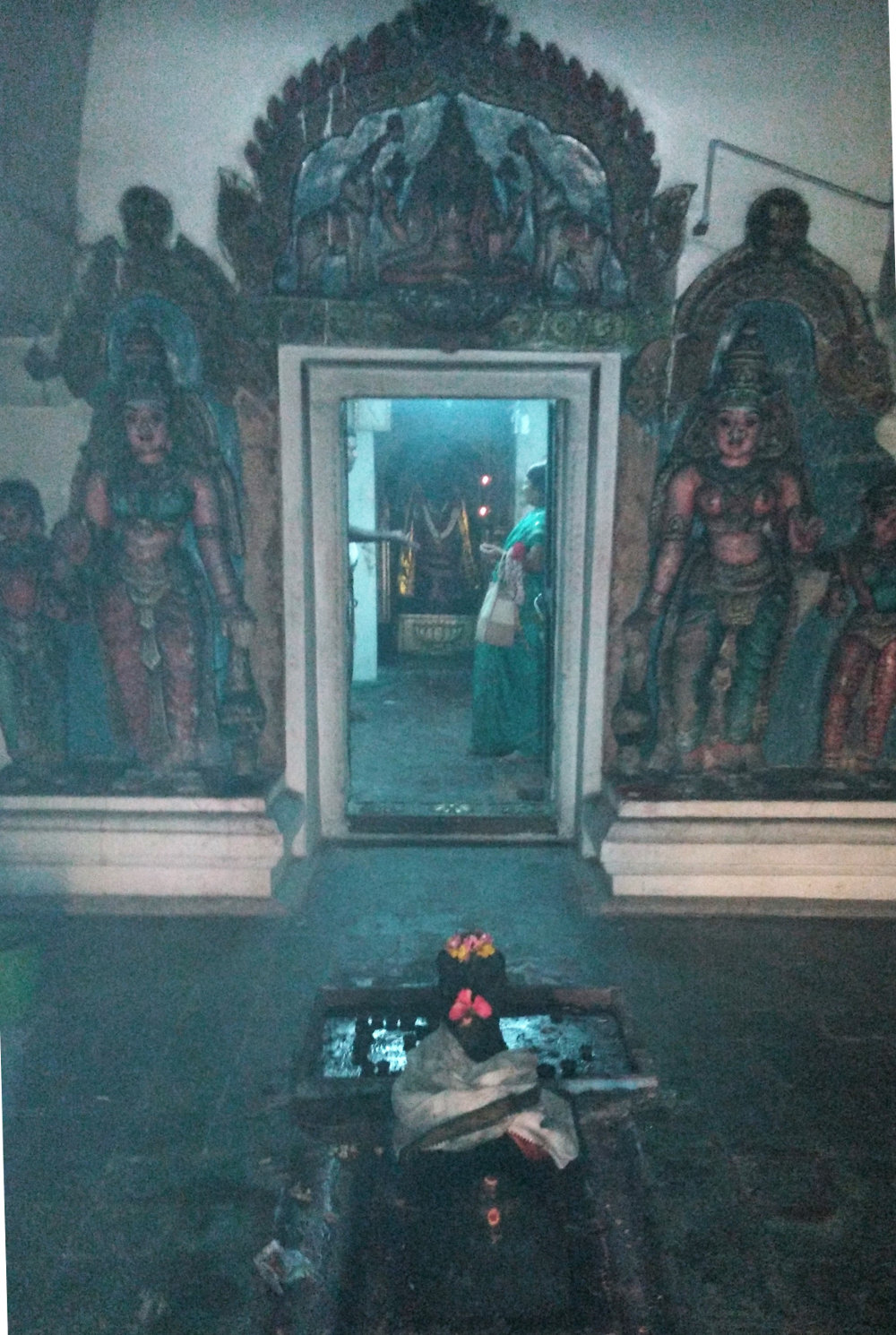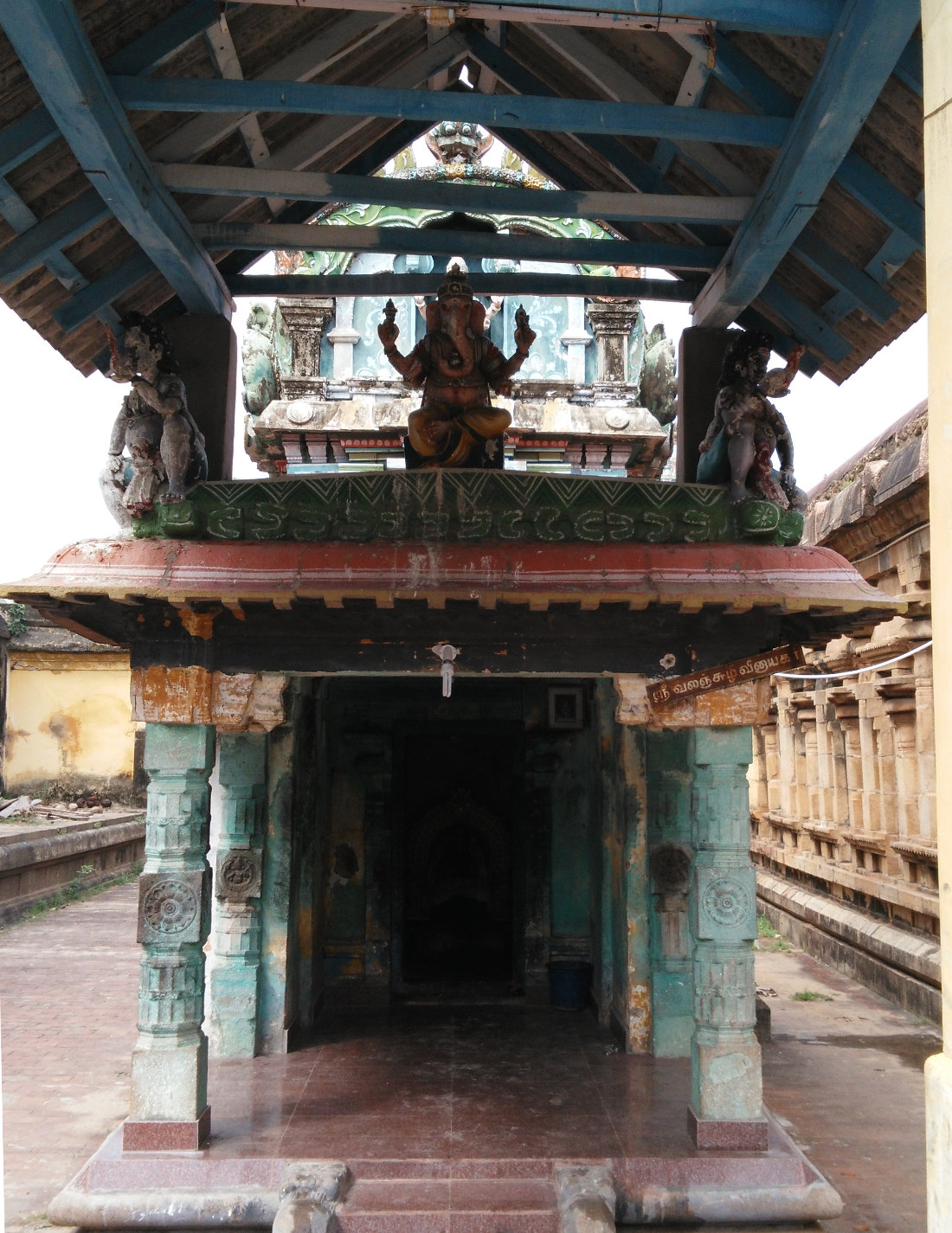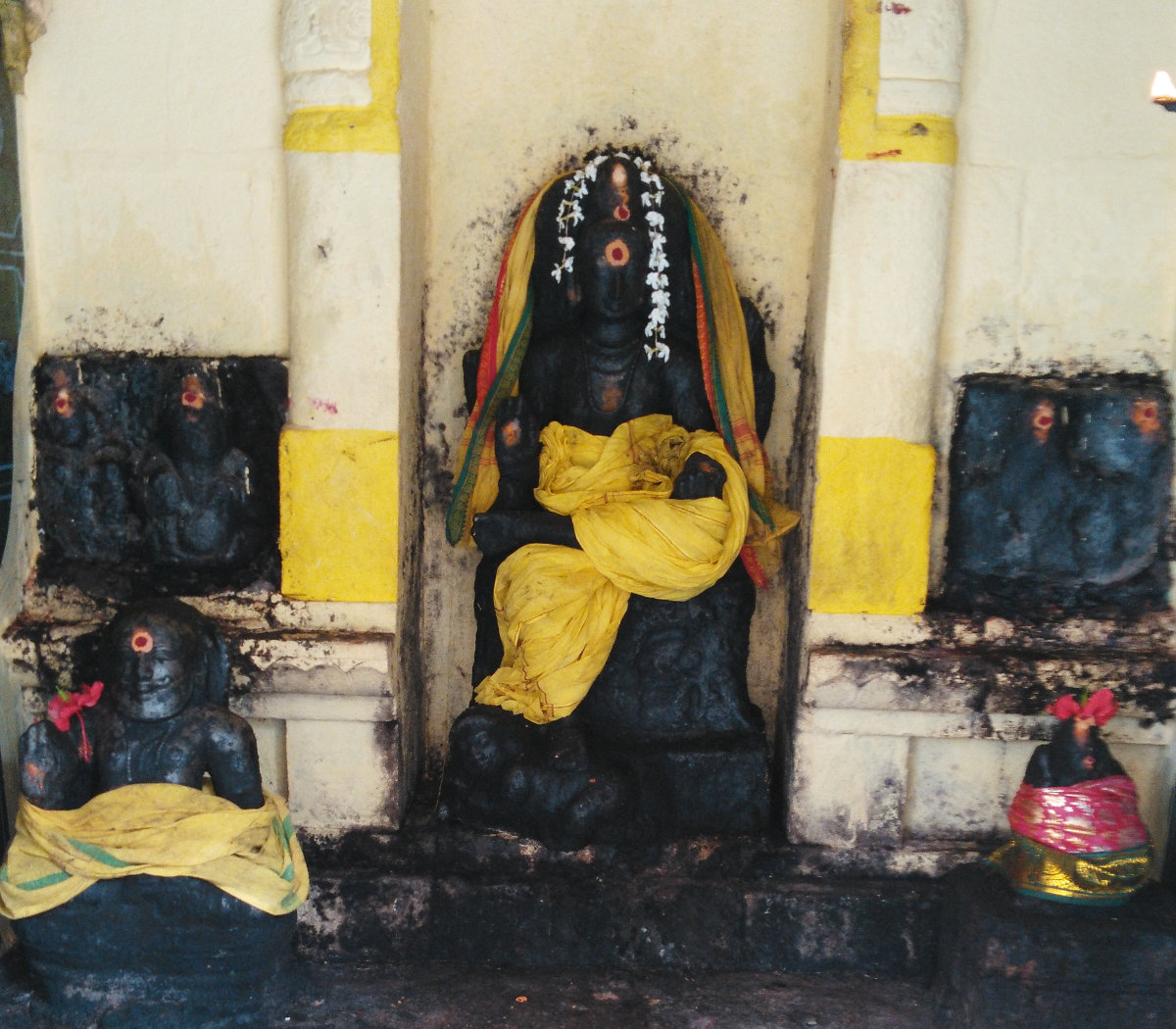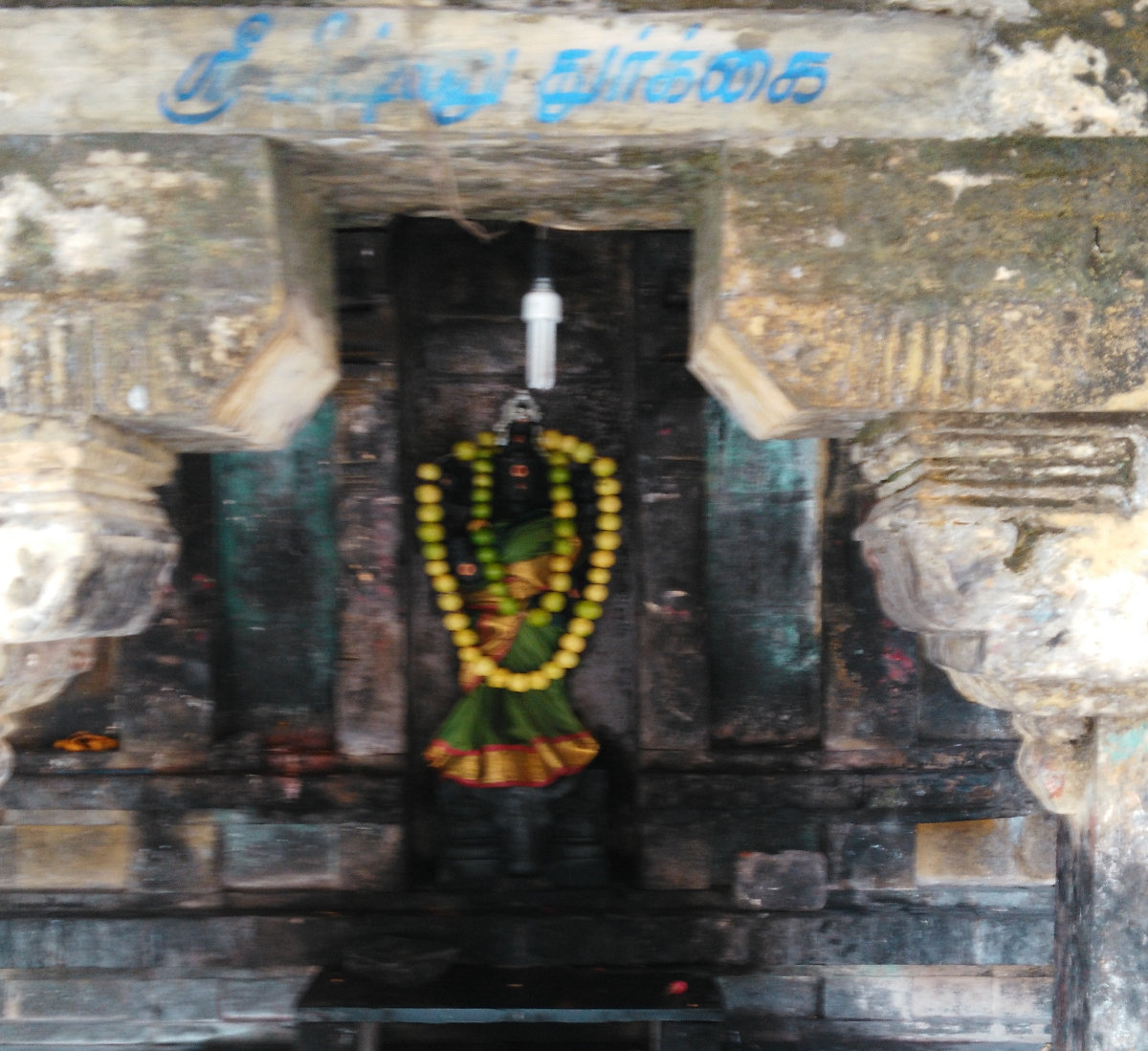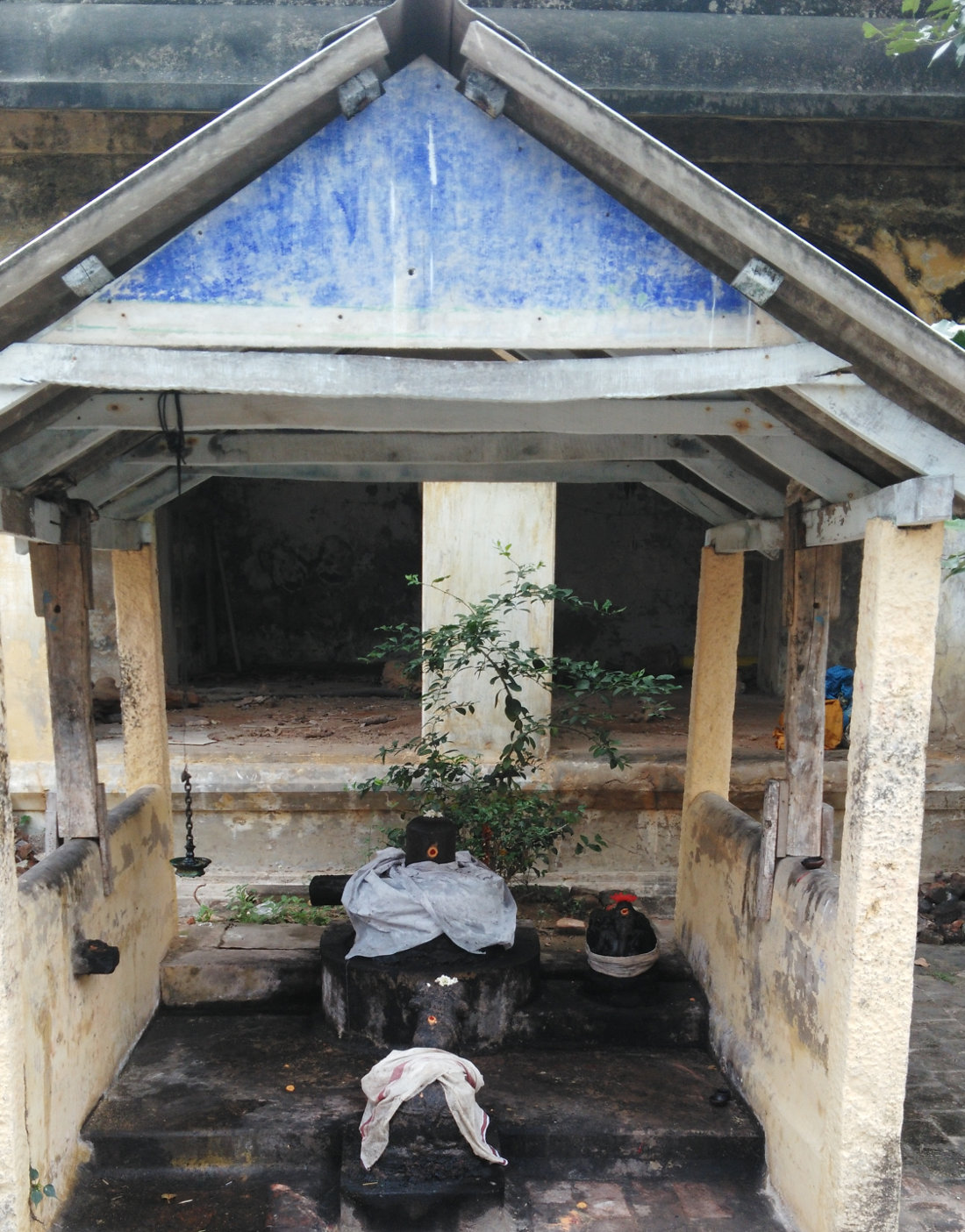 Salient Features
It is believed that Lord Suryan (Sun) worships Lord Shiva of this temple by directing his rays on the lingam every year for three days (23rd to 25th in the Tamil month of Maasi (Feb-Mar)) between 5.50 PM and 6.18 PM.
It is believed that King Kochengat Chola built about 70 "Madakkoils". The distinguishing feature of a Madakkoil is that it is not easily approachable by an elephant. He built these temples at an elevation and there are a few steps that need to be climbed before seeing the lord. Also, the sanctum sanctorum's (Karpagragam) entrance is narrow such that no elephant can enter it.
The sanctum sanctorum is in the form of semi-circular tank (akazhi in Tamil).
The hall (mandapam) where Lord Shiva and Lord Vishnu played the game of dice can still be seen. In this hall, there are beautiful paintings depicting this legend.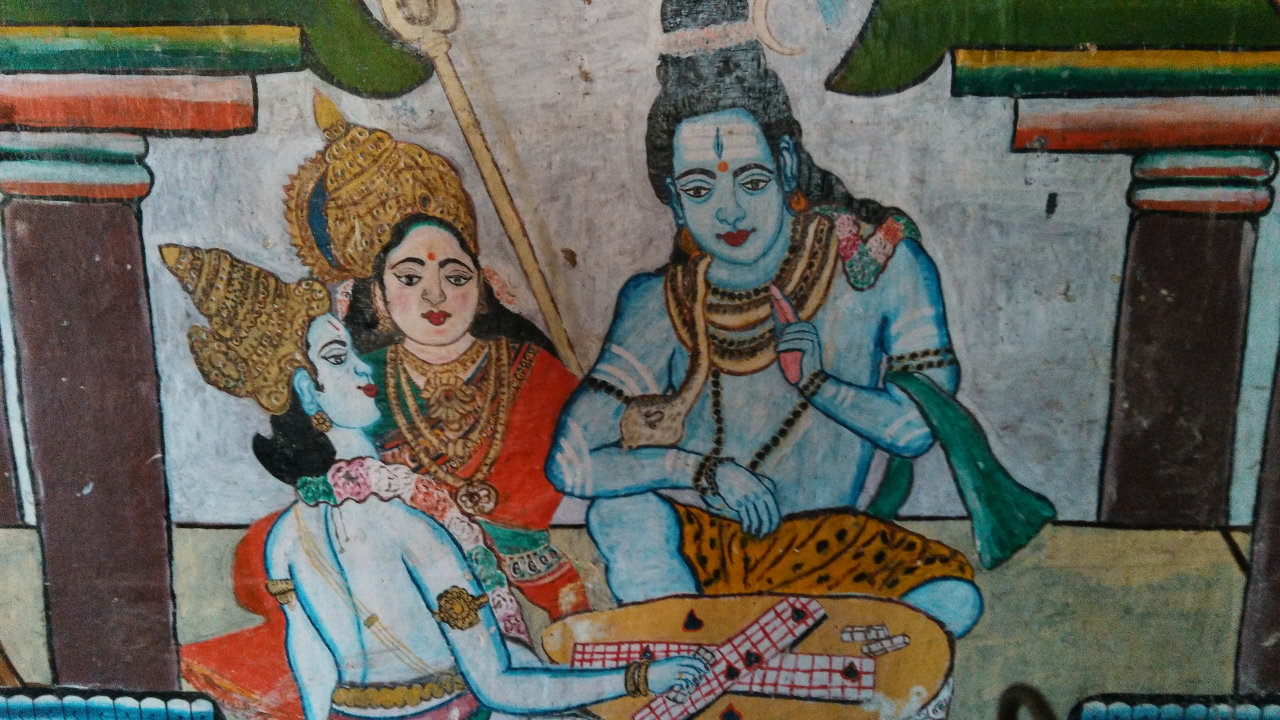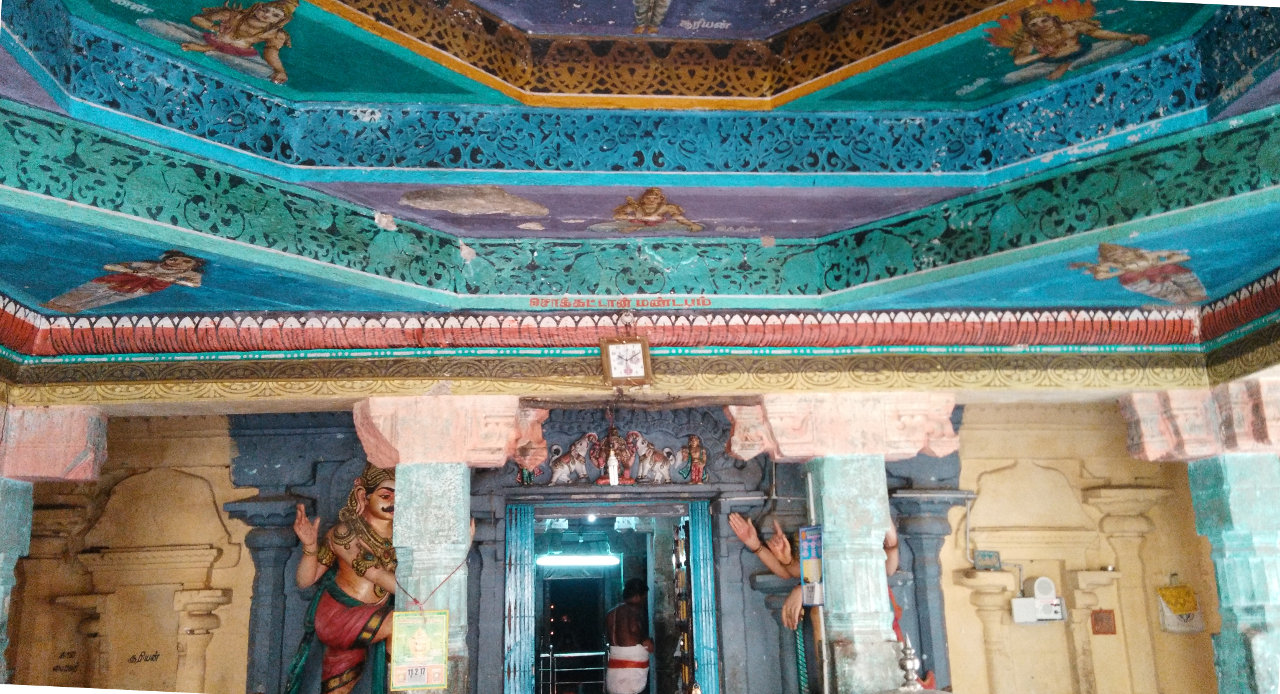 This is the birth place of the great Tamil poet Kambar, the author of Kamba Ramayanam. He is popularly known as "Kavichakravarthi". The house where he lived is known as "Kambar Medu". It is a memorial now and it is under the control of Archaeological Survey of India.
Greatness of this temple
It is believed that those seeking wedding boon can pray to the lord here.
Couples with strained relations can pray to the lord here for relief and reunion.
Important Festivals
10-day Brahmotsavam in the Tamil month of Chithirai is celebrated in a grand manner.
Other important festivals celebrated here are -
Vinayakar Chaturthi in the Tamil month of Aavani (Aug-Sept),
Navarathri in the Tamil month of Purattasi (Sept-Oct),
Annabishekam in the Tamil month of Aippasi (Oct – Nov),
Thiru Karthikai in the Tamil month of Karthikai (Nov-Dec) and
Shivrathri and Surya Pooja in the Tamil month of Masi (Feb-Mar).
Pradosham is also observed regularly.
Temple Timings
From 06:30 AM to 11:30 AM and from 04:30 PM to 08:30 PM.
Temple Address
Sri Vedapureeswarar Temple,
Therazhunthur Post,
Kuthalam Taluk,
Nagapattinam District,
Tamil Nadu – 609 805.
Tele: +91- 4364-237 650.
The temple priest Sri Rajamohana Sivam can be contacted at: 098421 53947 and 94864 57103.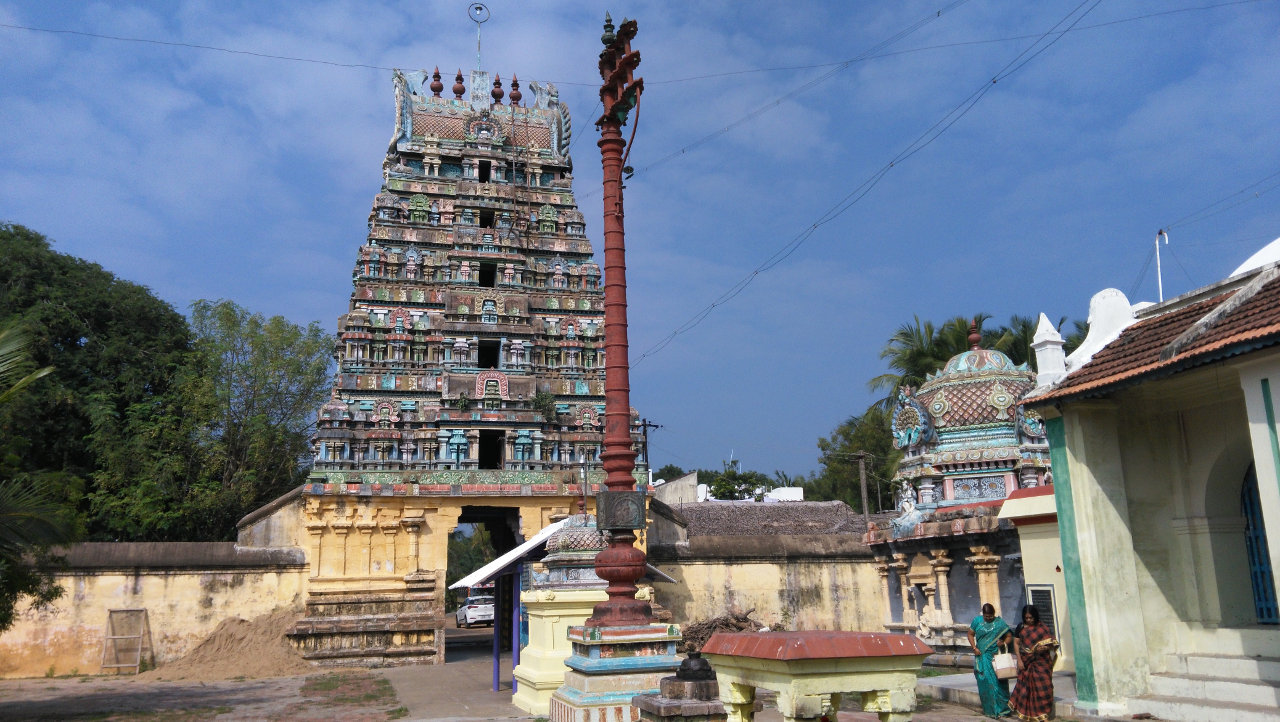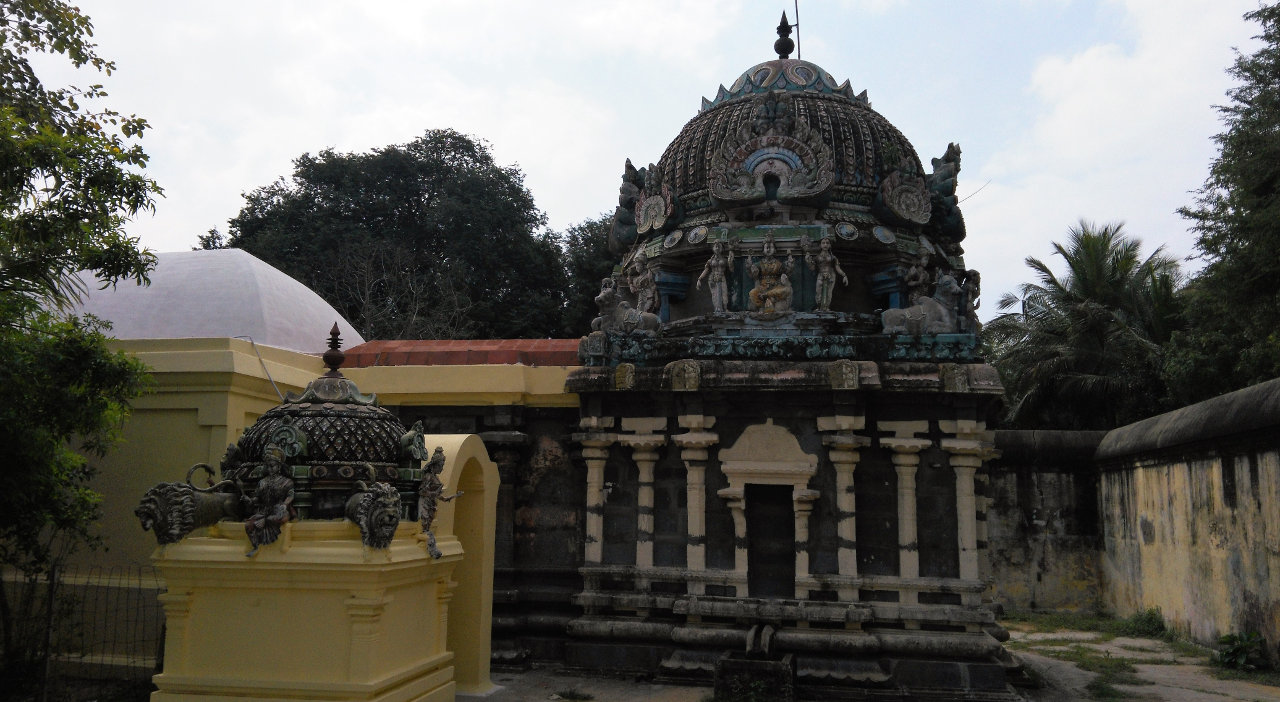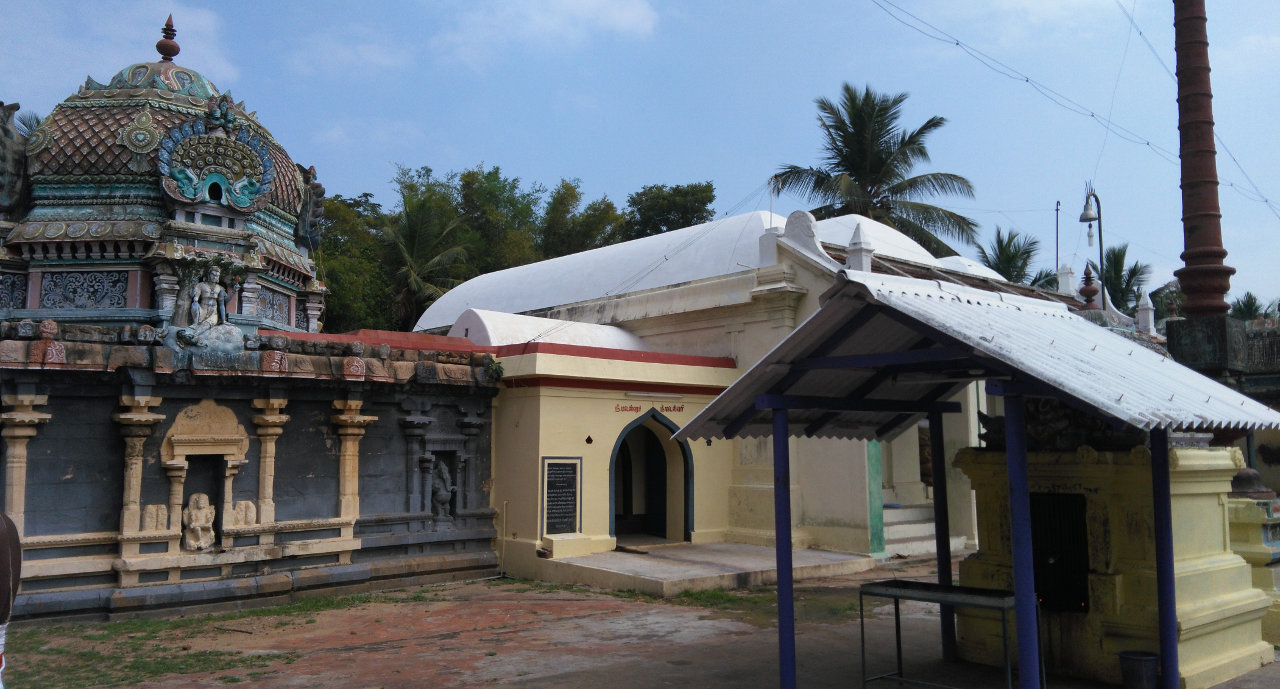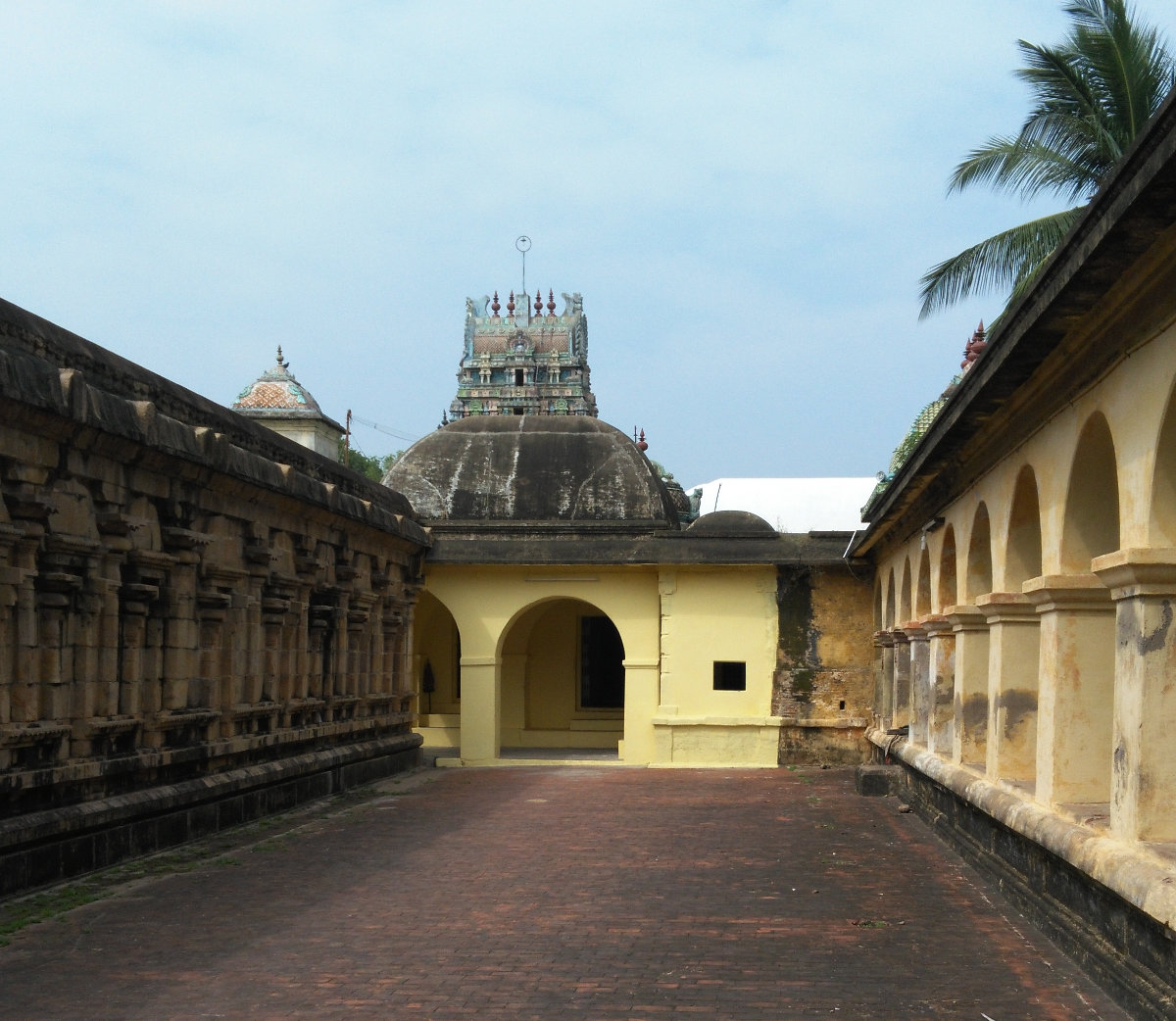 ---
Pathigam (Hymn) with English transliteration
Saint Thirugnanasambanthar visited this temple and sang this Pathigam.
Devotees visiting this temple should make it a practice to recite this Pathigam.
தொழுமா றுவல்லார் துயர்தீ ரநினைந்
தெழுமா றுவல்லார் இசைபாட விம்மி
அழுமா றுவல்லார் அழுந்தை மறையோர்
வழிபா டுசெய்மா மடம்மன் னினையே.
"Thozhumā ṟuvallār thuyarthī raniṉain
thezhumā ṟuvallār isaipāda vim'mi
azhumā ṟuvallār azhunthai maṟaiyōr
vazhipā duseymā maṭam'maṉ ṉiṉaiyē".
கடலே றியநஞ் சமுதுண் டவனே
உடலே உயிரே உணர்வே யெழிலே
அடலே றுடையாய் அழுந்தை மறையோர்
விடலே தொழமா மடம்மே வினையே.
"Kadalē ṟiyanañ chamuthuṇ ṭavaṉē
udalē uyirē uṇarvē yezhilē
adalē ṟuṭaiyāy azhunthai maṟaiyōr
vidalē thozhamā maṭam'mē viṉaiyē".
கழிகா டலனே கனலா டலினாய்
பழிபா டிலனே யவையே பயிலும்
அழிபா டிலராய் அழுந்தை மறையோர்
வழிபா டுசெய்மா மடம்மன் னினையே.
"Kazhikā dalaṉē kaṉalā daliṉāy
pazhipā dilaṉē yavaiyē payilum
azhipā dilarāy azhunthai maṟaiyōr
vazhipā ducheymā maṭam'maṉ ṉiṉaiyē".
வானே மலையே யெனமன் னுயிரே
தானே தொழுவார் தொழுதாள் மணியே
ஆனே சிவனே அழுந்தை யவரெம்
மானே யெனமா மடம்மன் னினையே.
"Vāṉē malaiyē yeṉamaṉ ṉuyirē
thāṉē thozhuvār thozhuthāḷ maṇiyē
āṉē sivaṉē azhunthai yavarem
māṉē yeṉamā maṭam'maṉ ṉiṉaiyē".
அலையார் புனல்சூழ் அழுந்தைப் பெருமான்
நிலையார் மறியும் நிறைவெண் மழுவும்
இலையார் படையும் மிவையேந் துசெல்வ
நிலையா வதுகொள் கெனநீ நினையே.
"Alaiyār puṉalchūzh azhunthaip perumāṉ
nilaiyār maṟiyum niṟaiveṇ mazhuvum
ilaiyār paṭaiyum mivaiyēn thuselva
nilaiyā vathukoḷ keṉanī niṉaiyē".
நறவார் தலையின் நயவா வுலகில்
பிறவா தவனே பிணியில் லவனே
அறையார் கழலாய் அழுந்தை மறையோர்
மறவா தெழமா மடம்மன் னினையே.
"Naṟavār thalaiyiṉ nayavā vulakil
piṟavā thavaṉē piṇiyil lavaṉē
aṟaiyār kazhalāy azhunthai maṟaiyōr
maṟavā thezhamā maṭam'maṉ ṉiṉaiyē".
தடுமா றுவல்லாய் தலைவா மதியம்
சுடுமா றுவல்லாய் சுடரார் சடையில்
அடுமா றுவல்லாய் அழுந்தை மறையோர்
நெடுமா நகர்கை தொழநின் றனையே.
"Thadumā ṟuvallāy thalaivā mathiyam
sudumā ṟuvallāy sudarār saṭaiyil
adumā ṟuvallāy azhunthai maṟaiyōr
nedumā nakarkai thozhaniṉ tṟaṉaiyē".
பெரியாய் சிறியாய் பிறையாய் மிடறும்
கரியாய் கரிகா டுயர்வீ டுடையாய்
அரியாய் எளியாய் அழுந்தை மறையோர்
வெரியார் தொழமா மடம்மே வினையே.
"Periyāy siṟiyāy piṟaiyāy midaṟum
kariyāy karikā duyarvī duṭaiyāy
ariyāy eḷiyāy azhunthai maṟaiyōr
veriyār thozhamā maṭam'mē viṉaiyē".
மணீநீள் முடியான் மலையை அரக்கன்
தணியா தெடுத்தான் உடலந் நெரித்த
அணியார் விரலாய் அழுந்தை மறையோர்
மணிமா மடம்மன் னியிருந் தனையே.
"Maṇīnīḷ muṭiyāṉ malaiyai arakkaṉ
thaṇiyā theṭuththāṉ uṭalan neriththa
aṇiyār viralāy azhunthai maṟaiyōr
maṇimā maṭam'maṉ ṉiyirun thaṉaiyē".
முடியார் சடையாய் முனநா ளிருவர்
நெடியான் மலரான் நிகழ்வா லிவர்கள்
அடிமே லறியார் அழுந்தை மறையோர்
படியாற் றொழமா மடம்பற் றினையே.
"Mudiyār saṭaiyāy muṉanā ḷiruvar
nediyāṉ malarāṉ nikazhvā livarkaḷ
aṭimē laṟiyār azhunthai maṟaiyōr
padiyāṟ tṟozhamā maṭampat ṟiṉaiyē".
அருஞா னம்வல்லார் அழுந்தை மறையோர்
பெருஞா னமுடைப் பெருமா னவனைத்
திருஞா னசம்பந் தனசெந் தமிழ்கள்
உருஞா னமுண்டாம் உணர்ந்தார் தமக்கே.
"Aruñā ṉamvallār azhunthai maṟaiyōr
peruñā ṉamuṭaip perumā ṉavaṉaith
thiruñā ṉasamban thaṉasen thamizhkaḷ
uruñā ṉamuṇṭām uṇarnthār thamakkē".