Visited on: 1st October, 2017.
Location
Thittai is situated at a distance of about 10 Kms from Thanjavur on the Tanjure - Melattur - Kumbakonam route. Nearest railway station is Thittai on the Kumbakonam to Tanjure line which is two kilometres away from this temple.
Other Devara Paadal Petra Shiva Sthalam near this place are – Thiruppullamangai (Pasupathi Koil), Thiru Sakkarapalli (Iyampettai), Thirukkarukavur, Thiru Paalaithurai and Thiru Nallur.
General Information
Moolavar

Sri Vashishteswarar, Sri Dhenupureeswarar,
Sri Pasupathinathar

Ambal

Sri Suganda Kundalambikai, Sri Ulaganayagi,
Sri Mangaleswari

Theertham (Holy water)

Pasu Theertham, Soola Theertham, Chakra Theertham

Sthala Vriksham (Sacred Tree)

Mullai, Chenbagam and Chevvanthi

Pathigam (Hymn) rendered by

Saint Thirugnanasambanthar

This is one of the 276 Devara Paadal Petra Shiva Sthalams and 15th Shiva Sthalam on the Southern bank of the river Cauveri in Chozha Nadu (Thenkarai).
Lord Shiva in this temple is a Swayambumurthi (self-manifested).
This is one of the famous Guru (Jupitar) Parikara sthalam.
Drops of water fall from the ceiling on the main deity in the sanctum sanctorum every 24 minutes without fail.
This east facing temple has 2 corridors and its main tower (Rajagopuram) has 3-tiers.
The flag post (Dwajasthambam) is made out of granite.
History of the Temple
Thenkudi Thittai is located between the rivers Vennaru and Vettaru, both of which are tributaries of river Kaveri.
There are stone inscriptions available here which date back to the 10th and 12th centuries. It is believed that this temple was built by the Chola King Kulothungan. In 1922, the entire temple was reconstructed using granite by Sri Ramaswamy Chettiar of Chettinadu Nagarathar family.
This place is also known as Therur or Rathapuri which originates from the legend that the chariot ("Ther") of a king got stuck in the sand dunes here.
The historical names of this place are Vilvaranyam, Vasishtasramam, Dhenupuri and "Kudeethveepam" (in Sanskrit).
This temple is under the administrative control of the Hindu Religious and Charitable Endowments Department of Government of Tamil Nadu (HR & CE).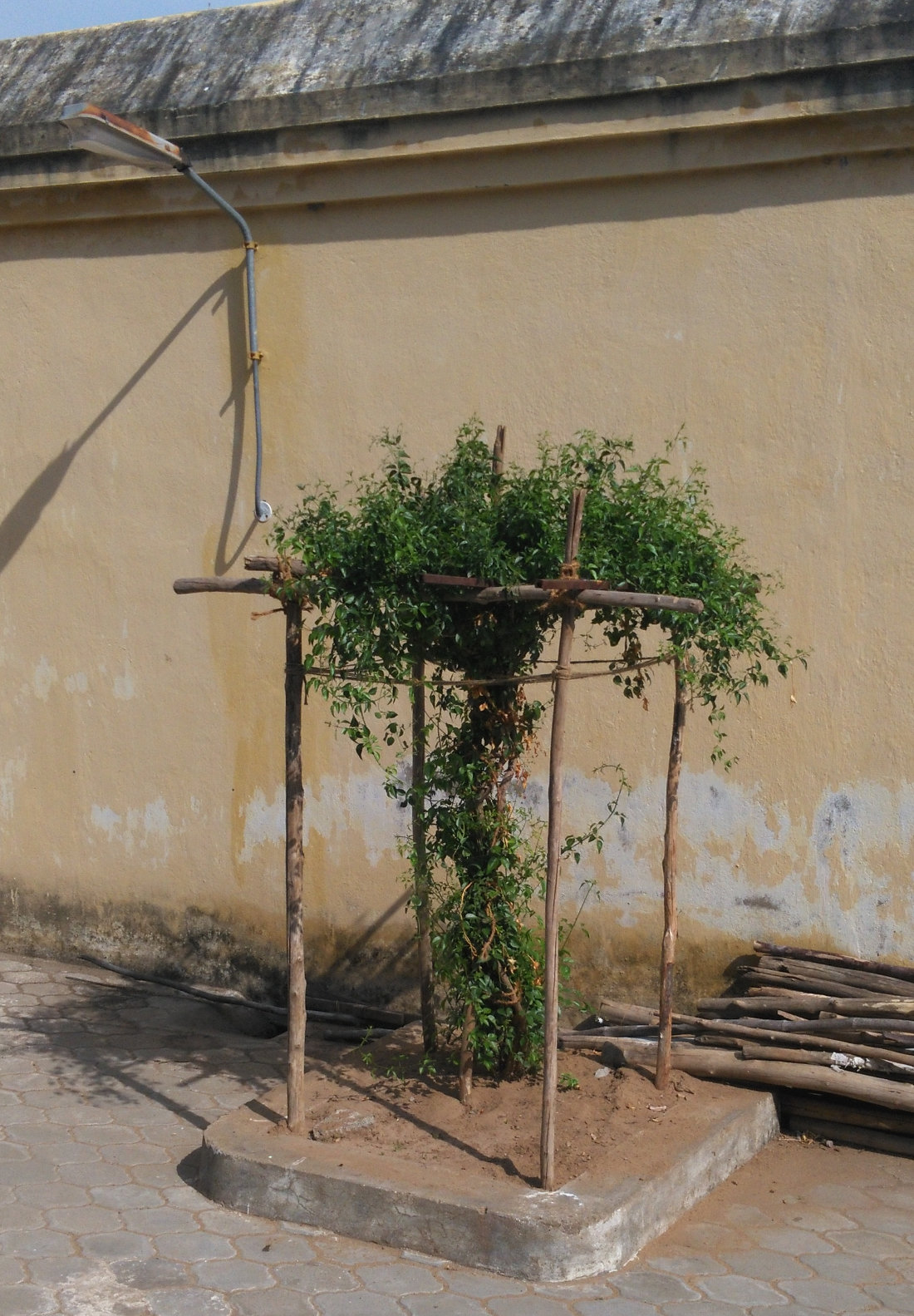 Legend
It is believed that there are 28 places where Lord Shiva emerged in the form of a Shivalingam. Apart from this place (Thittai), some of the other such places are Chidambaram, Thiruvannamalai, Thiruvarur, Thiruvaiyaru and Thirukkazhukkundram.
According to legend, during the great deluge ("pralayam"), when the entire universe was submerged, this place stood aloft like a sand dune (Thittai in Tamil). It is believed that Lord Shiva appeared at this place as a Swayambu Lingam. Hence this place gets the name Thenkudi Thittai (sand dune on the southern side).
According to Hindu mythology, Guru ("Viyazhan" in Tamil) is the seventh son of Sage Aankirasa. Guru became a very learned scholar and became the teacher (Guru) to the Devas. Under his stewardship, the Devas lived peacefully. Once when he had gone to visit Indira, Indira did not receive him as he was busy watching Urvasi's dance. Angered by this slight, Guru abandoned the Devas and started living as a recluse. Without his guidance, the life of Devas became miserable and the demons started terrorising them. Realising his mistake, Indira searched for Guru in order to ask for his apology but he could not find him. Indira visited many Shiva temples and prayed to the lord to help him find Guru. When he visited this temple, Guru decided to appear before him and pardoned him.
It is believed that Sage Vashishtar had his hermitage here, he installed a lingam and performed penance. Hence, Lord Shiva is praised here as "Sri Vashishteswarar". Also, as a mark of respect, Guru stood up and received teachings from Sage Vashishtar. It is believed that Lord Shiva elevated Guru to a place in the Navagrahams at this place.
Other legends
The legend is that a Chola king named Jayan performed the maha yagna "Rudra Paasupatha" here, which is equal to performing 100 "Aswametha yagna". This earned him the position of Indira.
The Goddess Ulakanayaki of this temple is also praised as Sugantha Kunthalambigai because she is believed to have given rebirth to the husband of a girl named Suganthi.
It is also believed that lords Brahma, Vishnu, Murugan, Vedas, Bhairavar, Suriyan, Saneeswaran, Yama (the lord of death), Parasuramar, Indiran, Aadisheshan, Kamadenu, Sage Vashishtar, Sage Gautamar and Sage Jamadagni have worshipped the lord here.
Deities in the temple
Other than the shrines of Lord Shiva and Goddess Parvathy, shrines and idols of Sidhi Vinayakar, Murugan with his consorts, 4 Shivalingams at four corners, Gajalakshmi, Mahalingam with Ambal, Navagraham and Bairavar can be seen in the corridors.
In the "koshtam" (place surrounding the sanctum sanctorum), idols of Narthana Ganapathy, Dakshinamurthy, Lingothbavar, Brahma and Durgai can be seen.
There is a separate shrine for Guru Bhagawan and he is worshiped as "Raja Guru".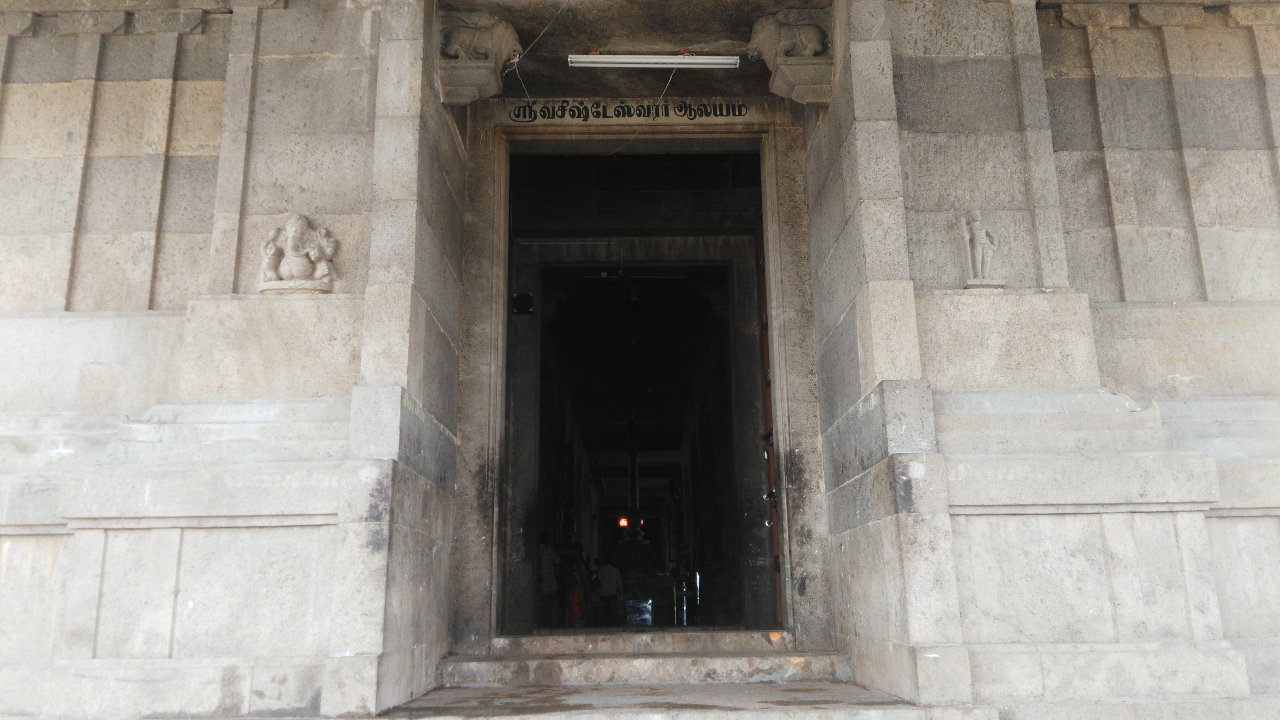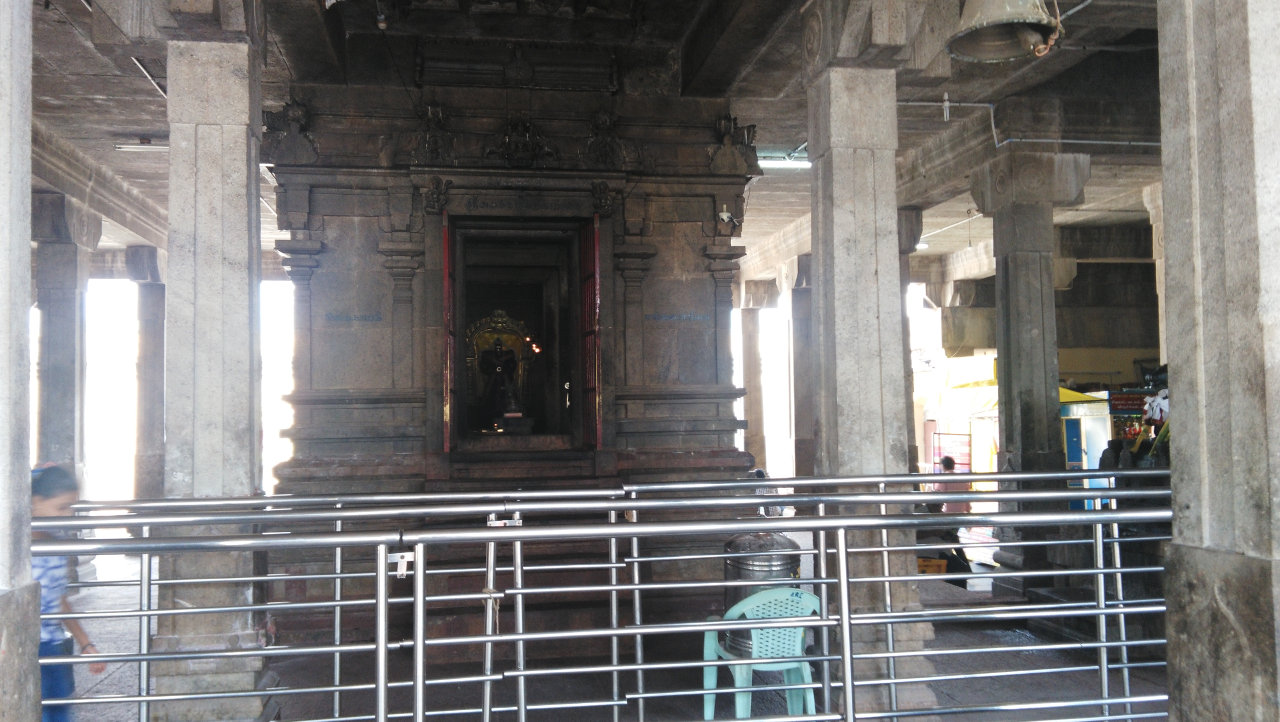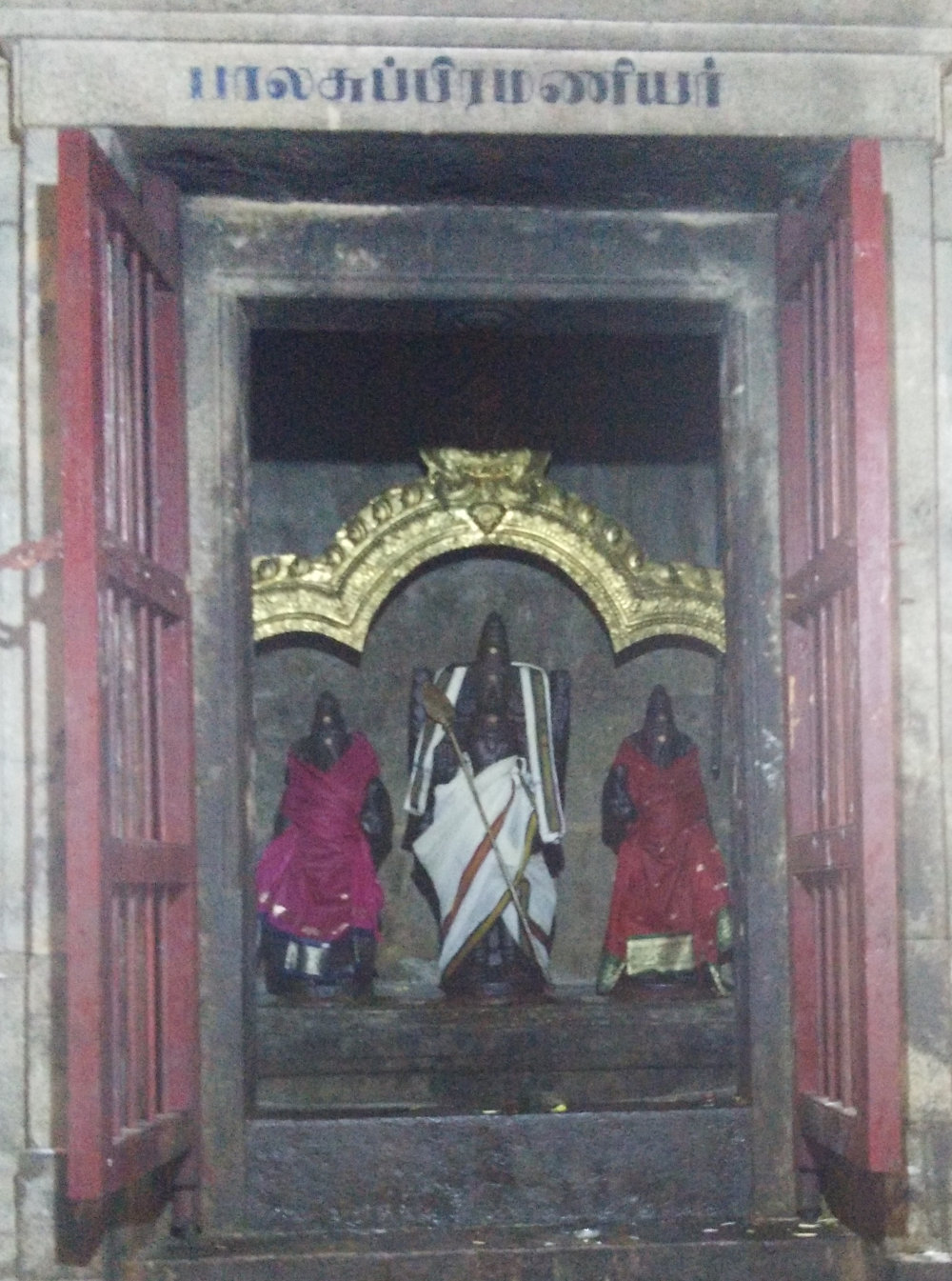 Salient Features
In most of the temples Lord Dakshinamoorthy is worshipped as Guru Bhagwan but only in three places – Thittai (here), Thiruvalithayam (popularly known as Padi near Chennai) and Thiruchendur, the Navagraha star Guru is worshipped as Guru Bhagawan.
This is probably the only place in the world where Guru Bhagavan has a separate shrine with a separate Vimanam. This shrine is in between the shrines of Lord Shiva and Goddess Parvathy. Also, this is the only place where you can see Guru Bhagavan in a standing posture with 4 hands – two of them holding his weapon and books and the other two in the "Abhaya Hastam" posture.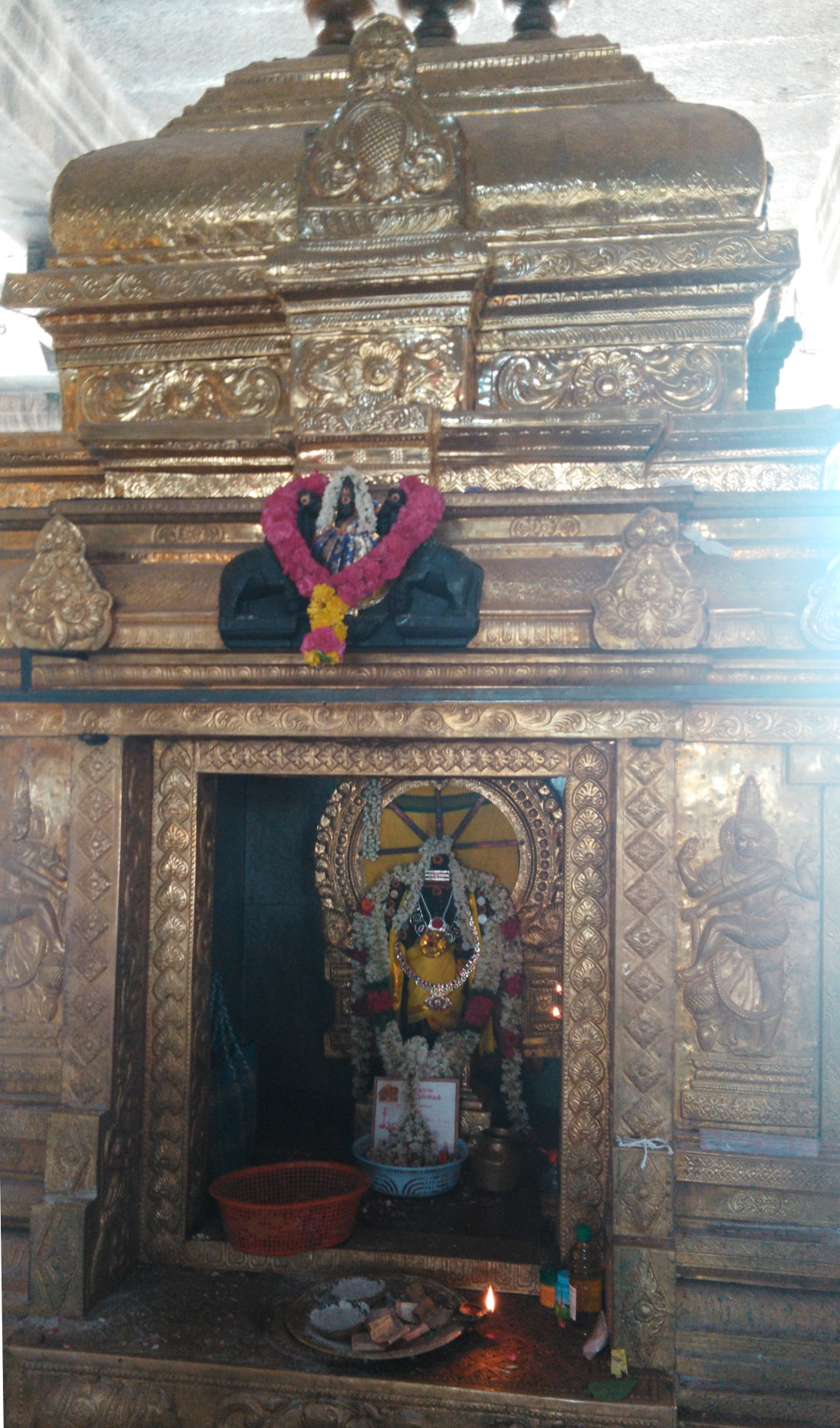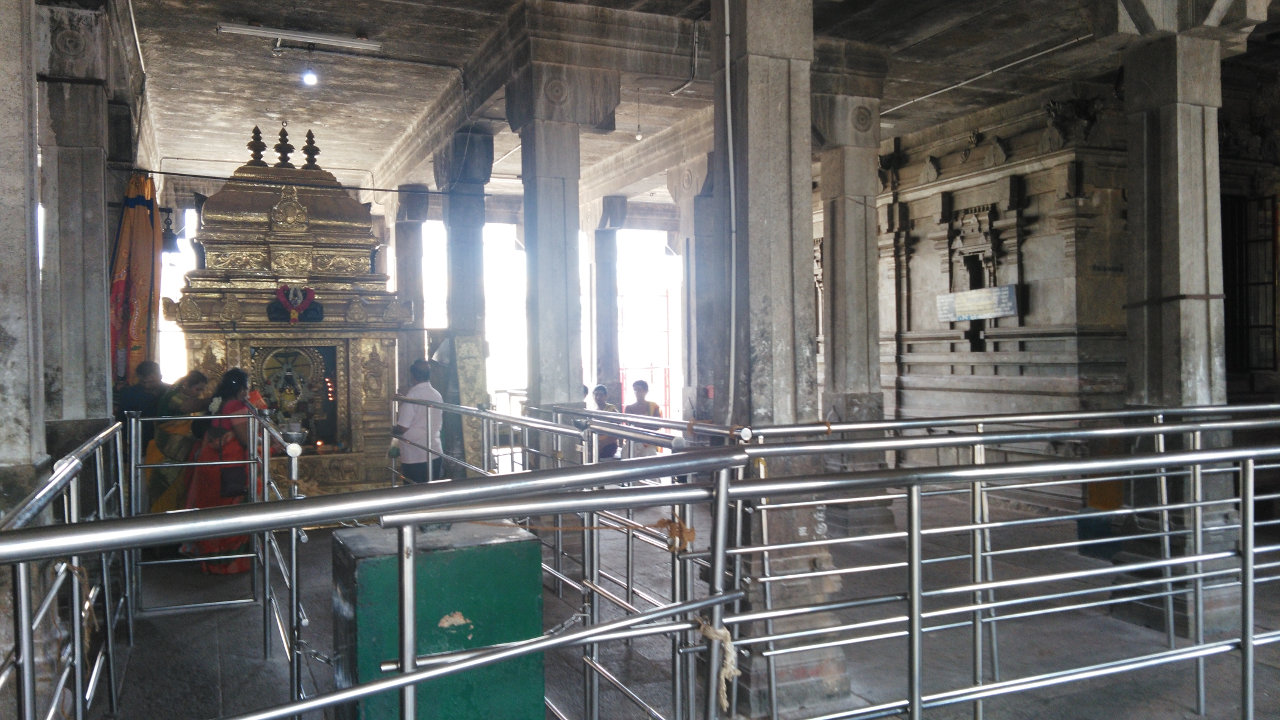 A unique feature of this temple is that a drop of water falls on the main deity, exactly every twenty-four minutes (1 Naazhigai in Tamil) from the roof. But for a small hole, there is no visible source of water on the tower (Vimanam) of the main deity. It is believed that two stones "Suryakaanthakkal" and "Chandrakaanthakkal" (precious stones) which are placed at strategic points above the tower is the reason for this miraculous phenomenon. These 2 stones absorb moisture from the atmosphere, convert it into a water droplet and perform a natural abhishekam of the lord. This is a clear testament to the advanced scientific and architectural knowledge that our country had possessed.
In front of the hall of Goddess Parvathy's shrine, on the ceiling, 12 zodiac signs are carved beautifully in stone. It is believed that by standing under one's respective zodiac sign and praying to the goddess, one's wishes will be fulfilled.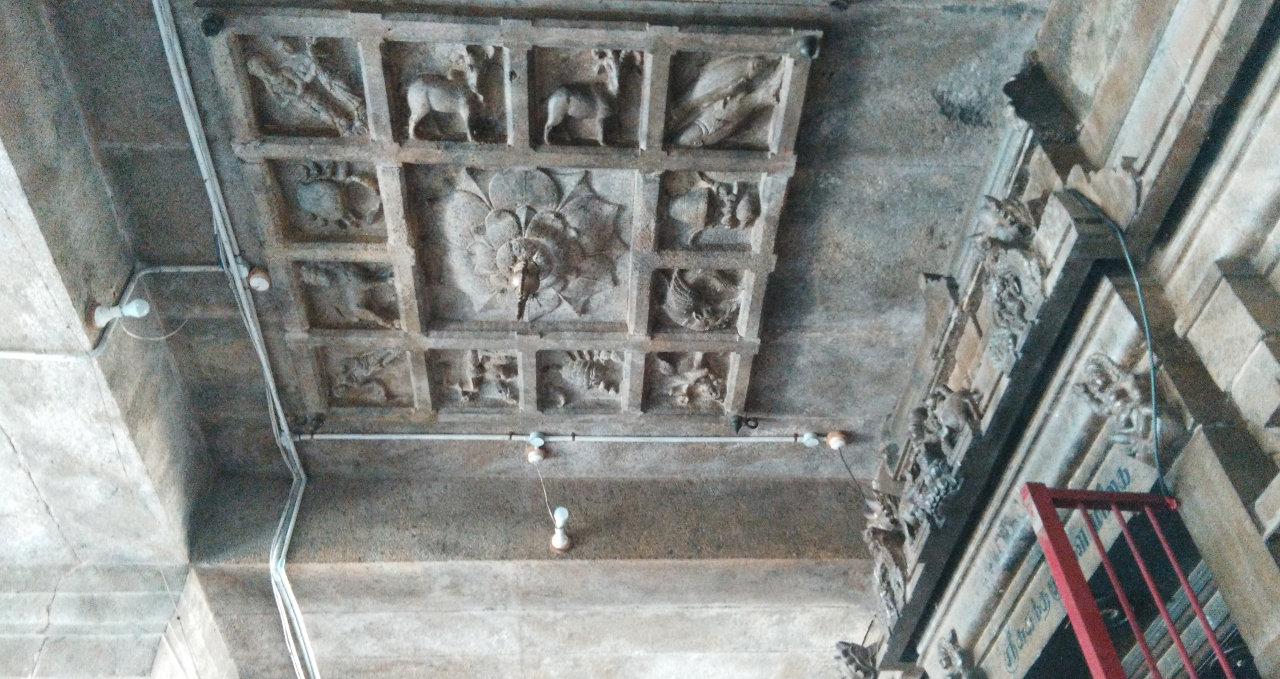 Thittai is one of the holy places, extolled by Saint Thirugnanasambanthar, who holds the sanctity of this place in high esteem.
There are many beautiful granite reliefs that are artistically carved in the pillars such as those of the Nalvars, Lord Shiva and Goddess Parvathy seated on the bull mount, lord Vinayakar, lord Murugan, etc.
Thengudi Thittai is one of the "Sabthasthanam" temples of Thiru Karanthattaikudi (Karanthai). The other temples are - Thiruvennaru, Thirukudalampathi (Kudalur), Thirukadanapatham (Kadakadappai), Thiru Punnainallur Maariyammankoil (Shiva's shrine) and Thiru Poomaalai Ravuthankoil.
There are 4 Shivalingams installed on the four corners of this temple keeping the main deity at the centre. Hence this temple is also known as "Pancha linga Kshetram". It is believed that worshiping the lord here is equal to worshiping the lord at all the Pancha Bhootha Sthalams (Chidambaram, Kalahasthi, Thiruvannamalai, Thiruvanikka and Kanchipuram).
It is believed that Lord Suryan (Sun) worships Lord Shiva of this temple by directing his rays on the lingam twice in a year – on 15th,16th and 17th of the Tamil month of Aavani (Aug-Sept) ("Thatchinayana punya kalam") and on 25th , 26th and 27th of the Tamil month of Panguni (Mar-Apr) ("Uththarayana punya kalam").
This temple is considered to be significant for its three important attributes – Moorthy, Sthalam and Theertham - glory of Lord, sacredness of the land and the auspicious temple tank.
Another significance of this temple is that the entire temple is constructed using granite - from foundation to the tower.
Greatness of this temple
Devotees can get relief from the adverse effects of planet Jupiter by praying to the lord here.
Students pray to the lord here for attaining excellence in their studies.
As Guru was elevated to Navagraham in this place, devotees believe that worshiping Lord Shiva here will yield promotion in their work.
It is believed that those seeking "santhana prapthi" (child boon) can pray to the lord here. Devotees can also pray for removal of obstacles from their marriage proposals.
Devotees also believe that worshiping Goddess Parvathy here will result in a long and prosperous married life.
Important Festivals
Some of the important festivals celebrated in the temple are –
Chitra Pournami in the Tamil month of Chithirai (Apr-May),
Vinayakar Chaturthi in the Tamil month of Aavani (Aug-Sept),
Annabishekam in the Tamil month of Aippasi (Oct – Nov),
Thiru Karthikai in the Tamil month of Karthikai (Nov-Dec),
Thiruvadhirai in the Tamil month of Markazhi (Dec-Jan),
Shivrathri in the Tamil month of Masi (Feb-Mar).
The annual Brahmotsavam and the festival commemorating Vasishtar's marriage with Arundhathi are celebrated in the Tamil month of Vaikasi (May-June).
Guru transition day is celebrated here in a grand manner.
Surya Puja is performed during the time when Sun worship the lord here.
Pradosham is also observed regularly.
Temple Timings
From 07.00 AM to 12.30 PM and from 05.00 PM to 08.30 PM.
Temple Address
Sri Vashishteswarar Temple,
Thenkudi Thittai
Pasupathikoil Post
Thanjavur District,
Tamil Nadu – 613 003.
Tele: +91 4362 252 858, 94435 86453.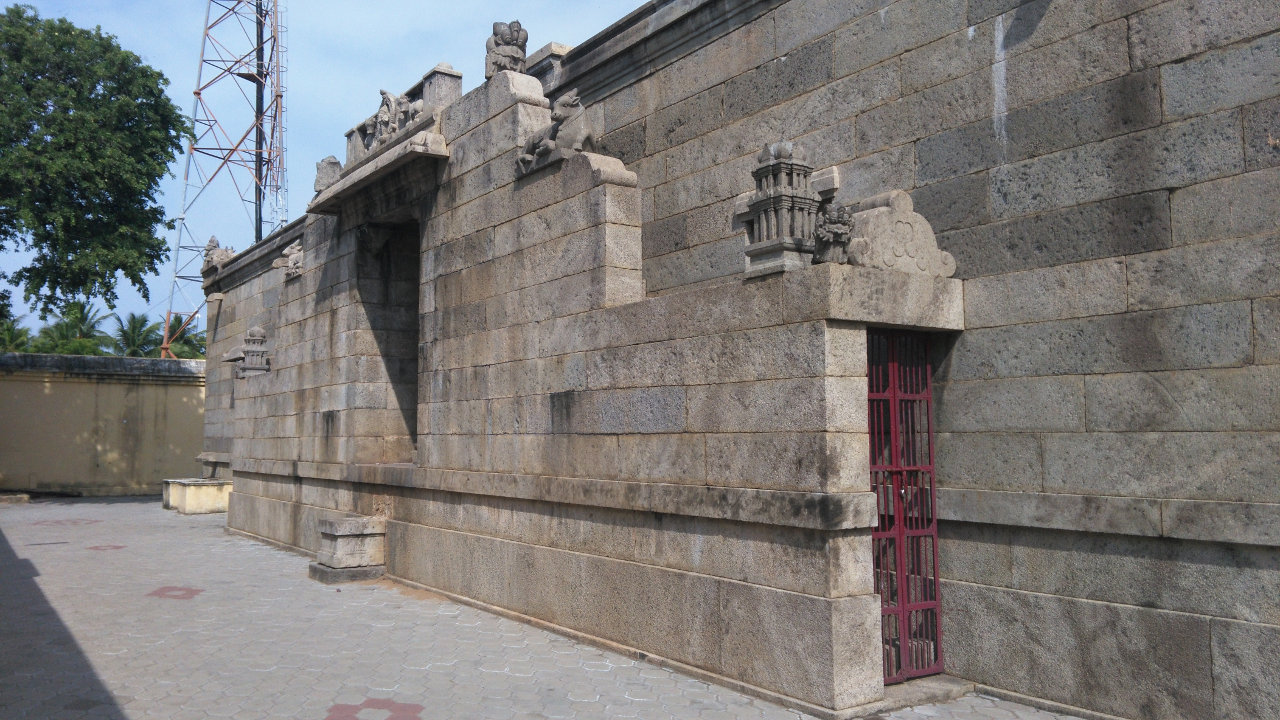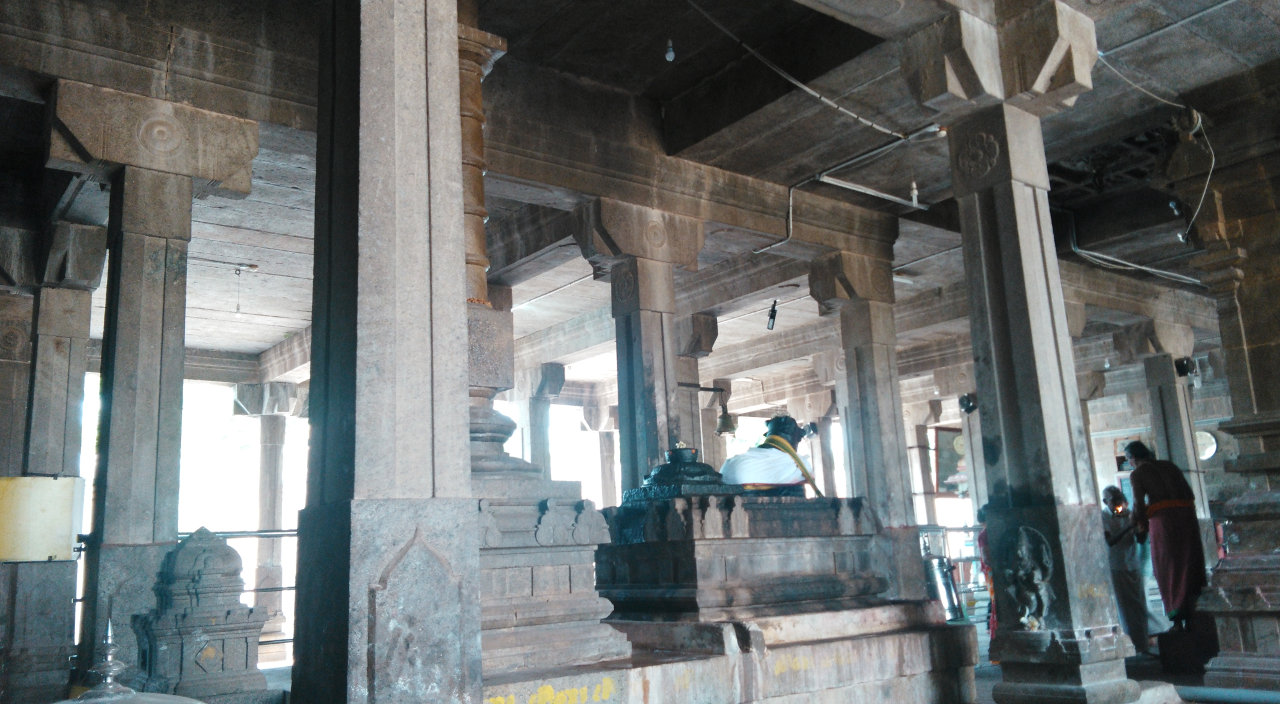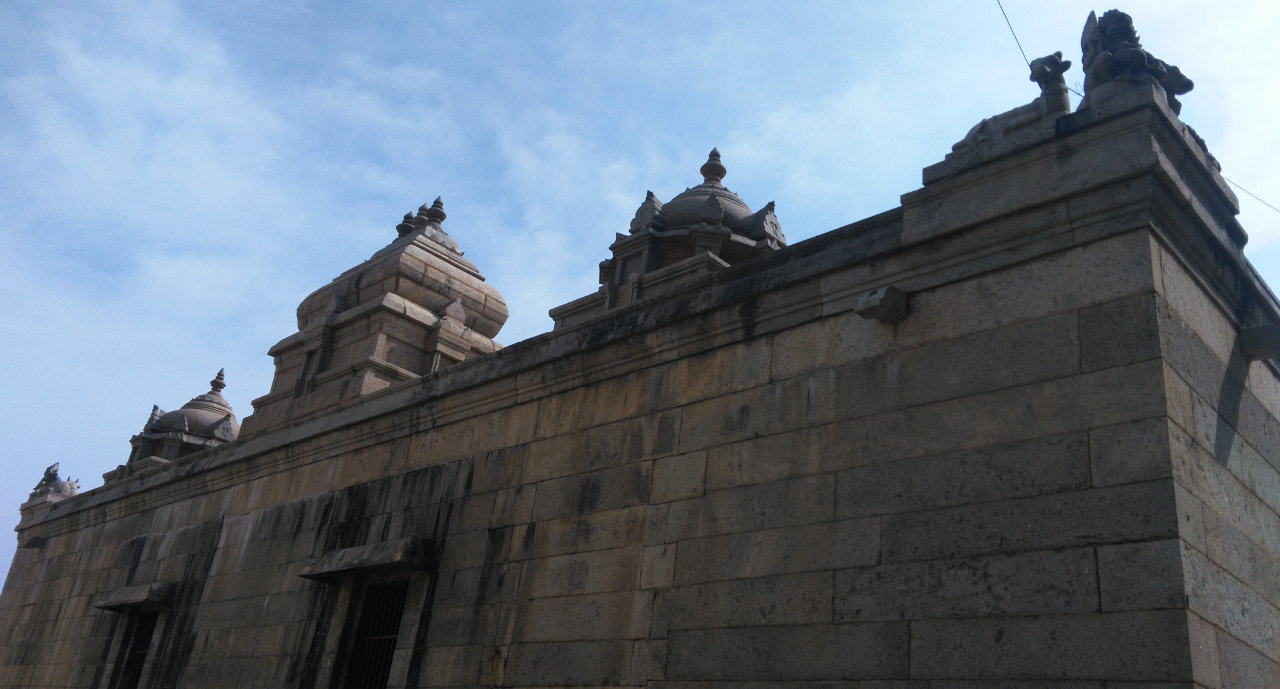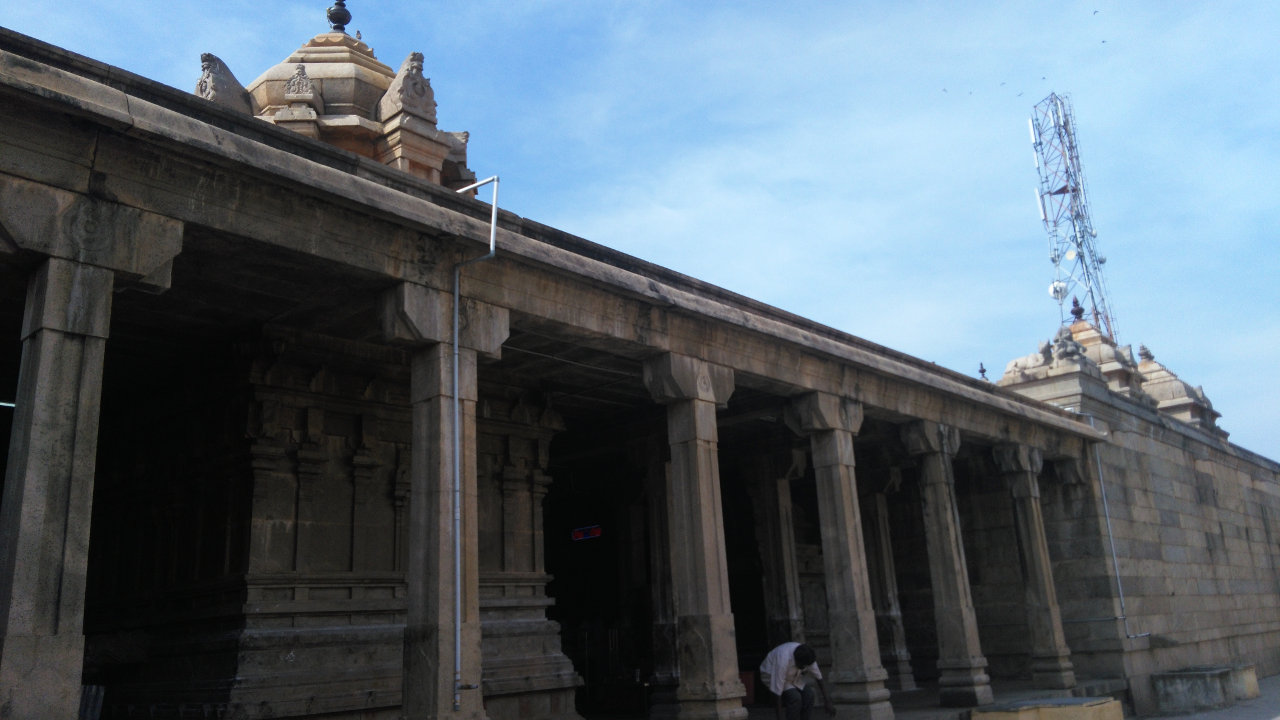 ---
Pathigam (Hymn) with English transliteration
Saint Thirugnanasambanthar visited this temple and sang this Pathigam.
Devotees visiting this temple should make it a practice to recite this Pathigam.
முன்னைநான் மறையவை முறைமுறை குறையொடுந்
தன்னதாள் தொழுதெழ நின்றவன் தன்னிடம்
மன்னுமா காவிரி வந்தடி வருடநற்
செந்நெலார் வளவயல் தென்குடித் திட்டையே.
"Muṉṉaināṉ maṟaiyavai muṟaimuṟai kuṟaiyoṭun
thaṉṉathāḷ thozhuthezha niṉtṟavaṉ thaṉṉiṭam
maṉṉumā kāviri vanthaṭi varuṭanaṟ
sennelār vaḷavayal theṉkuṭith thiṭṭaiyē".
மகரமா டுங்கொடி மன்மத வேள்தனை
நிகரலா காநெருப் பெழவிழித் தானிடம்
பகரபா ணித்தலம் பன்மக ரத்தோடுஞ்
சிகரமா ளிகைதொகுந் தென்குடித் திட்டையே.
"Makaramā ṭuṅkoṭi maṉmatha vēḷthaṉai
nikaralā kānerup pezhavizhith thāṉiṭam
pakarapā ṇiththalam paṉmaka raththōṭuñ
sikaramā ḷikaithokun theṉkuṭith thiṭṭaiyē".
கருவினா லன்றியே கருவெலா மாயவன்
உருவினா லன்றியே உருவுசெய் தானிடம்
பருவநாள் விழவொடும் பாடலோ டாடலுந்
திருவினான் மிகுபுகழ்த் தென்குடித் திட்டையே.
"Karuviṉā laṉtṟiyē karuvelā māyavaṉ
uruviṉā laṉtṟiyē uruvusey thāṉiṭam
paruvanāḷ vizhavoṭum pāṭalō ṭāṭalun
thiruviṉāṉ mikupukazhth theṉkuṭith thiṭṭaiyē".
உண்ணிலா வாவியா யோங்குதன் தன்மையை
விண்ணிலார் அறிகிலா வேதவே தாந்தனூர்
எண்ணிலார் எழில்மணிக் கனகமா ளிகையிளந்
தெண்ணிலா விரிதருந் தென்குடித் திட்டையே.
"Uṇṇilā vāviyā yōṅkuthaṉ thaṉmaiyai
viṇṇilār aṟikilā vēthavē thānthaṉūr
eṇṇilār ezhilmaṇik kaṉakamā ḷikaiyiḷan
theṇṇilā viritharun theṉkuṭith thiṭṭaiyē".
வருந்திவா னோர்கள்வந் தடையமா நஞ்சுதான்
அருந்திஆர் அமுதவர்க் கருள்செய்தான் அமருமூர்
செருந்திபூ மாதவிப் பந்தர்வண் செண்பகந்
திருந்துநீள் வளர்பொழில் தென்குடித் திட்டையே.
"Varunthivā ṉōrkaḷvan thaṭaiyamā nañchuthāṉ
arunthi'ār amuthavark karuḷseythāṉ amarumūr
serunthipū māthavip pantharvaṇ seṇpakan
thirunthunīḷ vaḷarpozhil theṉkuṭith thiṭṭaiye".
ஊறினார் ஓசையுள் ஒன்றினார் ஒன்றிமால்
கூறினார் அமர்தருங் குமரவேள் தாதையூர்
ஆறினார் பொய்யகத் தையுணர் வெய்திமெய்
தேறினார் வழிபடுந் தென்குடித் திட்டையே.
"Ūṟiṉār ōsaiyuḷ oṉtṟiṉār oṉtṟimāl
kūṟiṉār amarttaruṅ kumaravēḷ ttāttaiyūr
āṟiṉār poyyakath thaiyuṇar veythimey
thēṟiṉār vazhipaṭun theṉkuṭith thiṭṭaiyē".
கானலைக் கும்மவன் கண்ணிடந் தப்பநீள்
வானலைக் குந்தவத் தேவுவைத் தானிடந்
தானலைத் தெள்ளமூர் தாமரைத் தண்டுறை
தேனலைக் கும்வயல் தென்குடித் திட்டையே.
"Kāṉalaik kum'mavaṉ kaṇṇiṭan thappanīḷ
vāṉalaik kunthavath thēvuvaith thāṉiṭan
thāṉalaith theḷḷamūr thāmaraith thaṇṭuṟai
thēṉalaik kumvayal theṉkuṭith thiṭṭaiyē".
மாலொடும் பொருதிறல் வாளரக் கன்நெரிந்
தோலிடும் படிவிர லொன்றுவைத் தானிடங்
காலொடுங் கனகமூக் குடன்வரக் கயல்வரால்
சேலொடும் பாய்வயல் தென்குடித் திட்டையே.
"Māloṭum poruthiṟal vāḷarak kaṉnerin
thōliṭum paṭivira loṉtṟuvaith thāṉiṭaṅ
kāloṭuṅ kaṉakamūk kuṭaṉvarak kayalvarāl
sēloṭum pāyvayal theṉkuṭith thiṭṭaiyē".
நாரணன் தன்னொடு நான்முகன் தானுமாய்க்
காரணன் அடிமுடி காணவொண் ணானிடம்
ஆரணங் கொண்டுபூ சுரர்கள்வந் தடிதொழச்
சீரணங் கும்புகழ்த் தென்குடித் திட்டையே.
"Nāraṇaṉ thaṉṉoṭu nāṉmukaṉ thāṉumāyk
kāraṇaṉ aṭimuṭi kāṇavoṇ ṇāṉiṭam
āraṇaṅ koṇṭupū churarkaḷvan thaṭithozhach
chīraṇaṅ kumpukazhth theṉkuṭith thiṭṭaiyē".
குண்டிகைக் கையுடைக் குண்டரும் புத்தரும்
பண்டுரைத் தேயிடும் பற்றுவிட் டீர்தொழும்
வண்டிரைக் கும்பொழில் தண்டலைக் கொண்டலார்
தெண்டிரைத் தண்புனல் தென்குடித் திட்டையே.
"Kuṇṭikaik kaiyuṭaik kuṇṭarum puththarum
paṇṭuraith thēyiṭum patṟuviṭ ṭīrthozhum
vaṇṭiraik kumpozhil thaṇṭalaik koṇṭalār
theṇṭiraith thaṇpuṉal theṉkuṭith thiṭṭaiyē".
தேனலார் சோலைசூழ் தென்குடித் திட்டையைக்
கானலார் கடிபொழில் சூழ்தருங் காழியுள்
ஞானமார் ஞானசம் பந்தன செந்தமிழ்
பானலார் மொழிவலார்க் கில்லையாம் பாவமே.
"Thēṉalār chōlaichūzh theṉkuṭith thiṭṭaiyaik
kāṉalār kaṭipozhil chūzhtharuṅ kāzhiyuḷ
gñāṉamār gñāṉasam banthaṉa senthamizh
pāṉalār mozhivalārk killaiyām pāvamē".