Visited on: 18th September, 2016 and 15th December, 2016
Location
Thirumanikkuzhi is situated at a distance of about 10 kms from Cuddalore and about 5 kms from Thiruvahindrapuram on the Cuddalore to Panruti (via Palur) route.
General Information
| | |
| --- | --- |
| Moolavar | Sri Vamanapureeswarar, Sri Uthavinayagar, Sri Manikkavarathar |
| Ambal | Sri Ambujakshi, Sri Uthavinayagi, Sri Manikkavalli |
| Theertham (Holy water) | Swetha and Gadilam rivers |
| Sthala Vriksham (Sacred Tree) | Kondrai |
| Pathigam (Hymn) rendered by | Saint Thirugnanasambanthar |
This is one of the 276 Devara Paadal Petra Shiva Sthalams and 17th Shiva Sthalam in Nadu Naadu.
Lord Shiva in this temple is a Swayambumurthi (self-manifested).
It is said that this temple is the first among the 1008 renowned Shiva temples.
This east facing temple has three corridors (Prakarams) with a 5-tier main tower (Rajagopuram).
The last consecration ceremony (Maha Kumbabishekam) took place on 28.10.2012.
History of the Temple
The temple is situated on the southern banks of river Gadilam and at the foothill of the Capper hills. It is believed that this temple was renovated by the ancient emperors Thirisangu and Harichandra. It was also improved during the time of the Chola kings. The historical names of this place are Vamanapuri, Indiralogam and Bheemasangama Kshetram.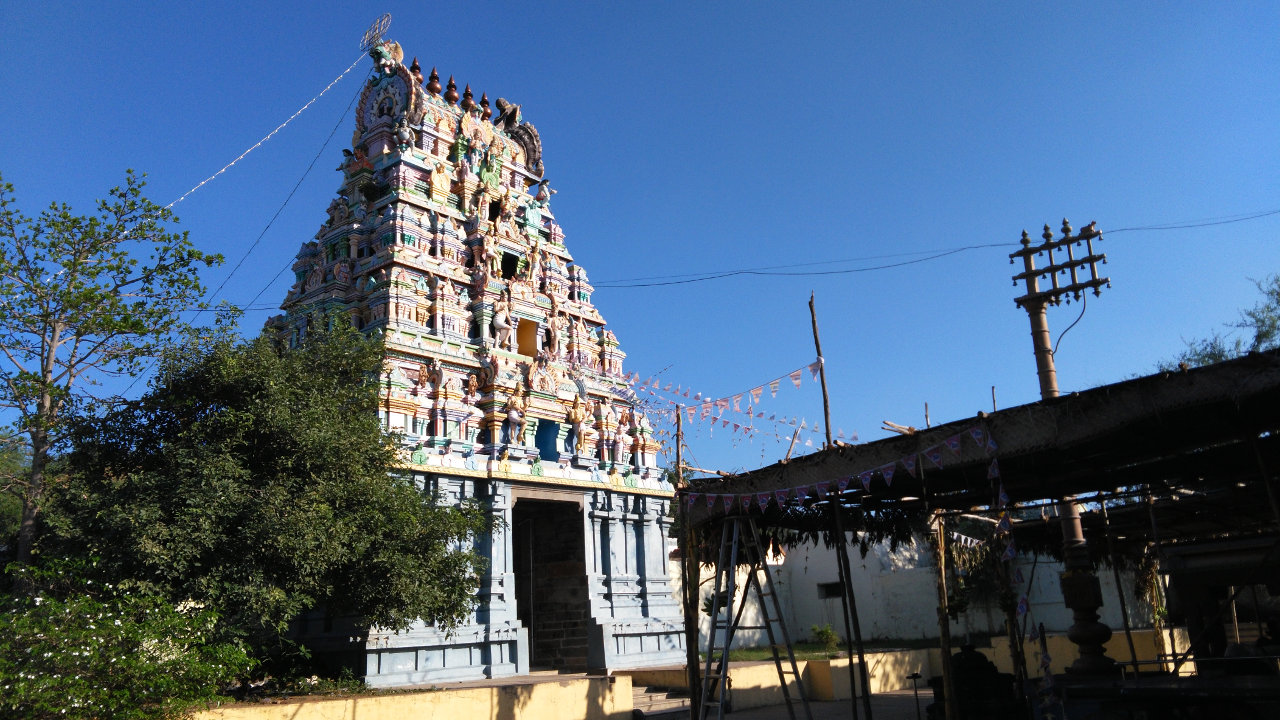 Legend

The legend of this temple involves Lord Mahavishnu and Mahabali Chakravarthy - the grandson of the celebrated Vishnu devotee Prahlada. It is believed that Mahabali was a rat in his previous birth. While eating the ghee from a lamp in this temple's sanctum, it incidentally raised the lamp's wicks which was about to burn out. Pleased that the rat had lit a lamp in the temple, Lord Shiva granted the rat a boon that it will be reborn in a family of asura (demon) kings. This is how Mahabali Chakravarthy came into existence.
Mahabali was very charitable by nature. He would be ready to offer assistance to anyone in need of help. The celestial gods were very jealous of him and they sought the help of Lord Mahavishnu to bring about his downfall. Lord Mahavishnu took the avtar of "Vamana Brahmmachari" to destroy Mahabali.
Vamana approached Mahabali seeking three feet of land which he readily offered. Lord Mahavishnu then took his Thiruvikrama avatar and measured the entire earth with a single step of his feet. His second step covered the entire space. He then asked Mahabali what he had to offer for the third feet. Left with no other option, Mahabali politely offered his head. Pleased with his devotion, Lord Mahavishnu pushed him down towards the underworld ("Pathalam") and made him one of the "Chiranjeevis" - the immortals.
It is believed that Lord Mahavishnu came to this place as a bachelor (Brahmachari), and worshiped Lord Shiva at the end of his "Vaamana Avathar", to seek respite from his "Brahmhathi dosham". Since Vaamana was of small stature and he would not have been able to see Lord Shiva face, Lord Shiva took a smaller form and appeared inside a pit (pit is called "kuzhi" in Tamil) to enable Mahavishnu to worship him. Since Lord Mahavishnu worshipped the lord here as a bachelor (bachelor means "Maani" in Tamil) and since the lord appeared inside a pit (kuzhi), this place is called "Thiru Manikkuzhi" ("Thiru" is a respectful prefix). The lord here is praised as "Sri Manikkavarathar".
It is believed that Lord Mahavishnu is always worshiping Lord Shiva here. He also requested Lord Shiva that there should not be any disturbances to his worship. Lord Shiva asked one of his "Sivaganams" (guards) - Kubera Bheema Rudra, to stay back at this place, form a protective screen and protect Mahavishnu any interference. Lord Shiva also absolved Lord Mahavishnu of his sins.
It is to be noted that Pooja is first offered to Kubera Bheema Rudra to get his permission and then offered to Lord Shiva. Kubera Bheema Rudra's image can be seen on the screen in front of Lord Shiva. This screen is closed after every Aarathi. This procedure is unique to this temple.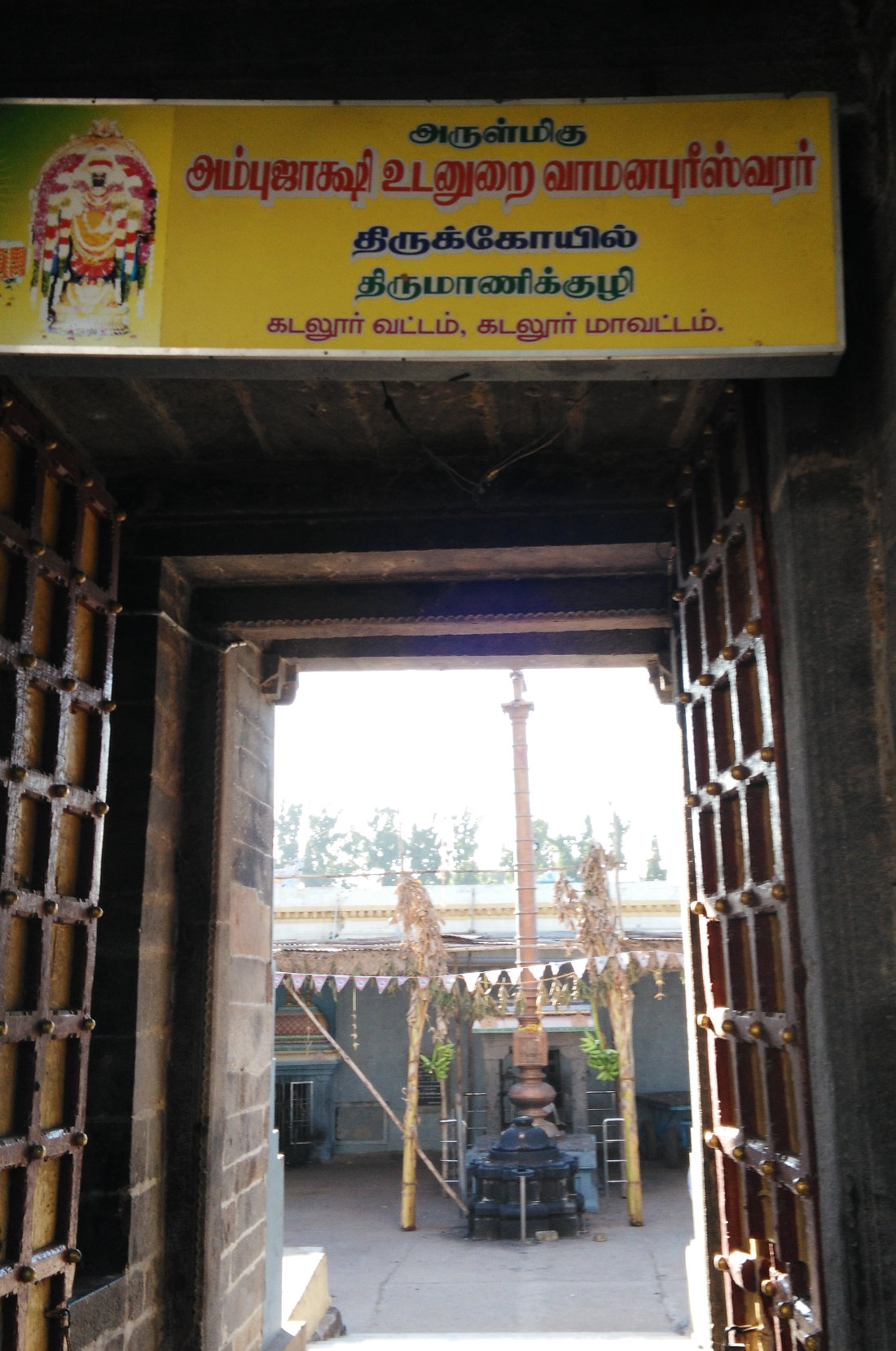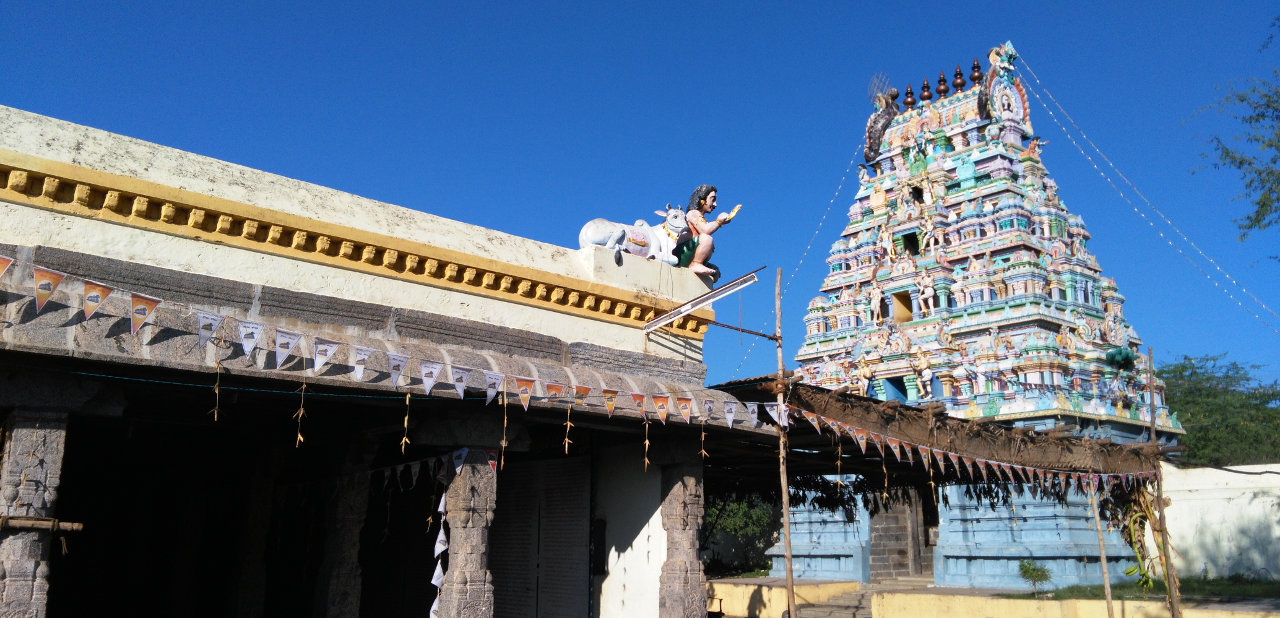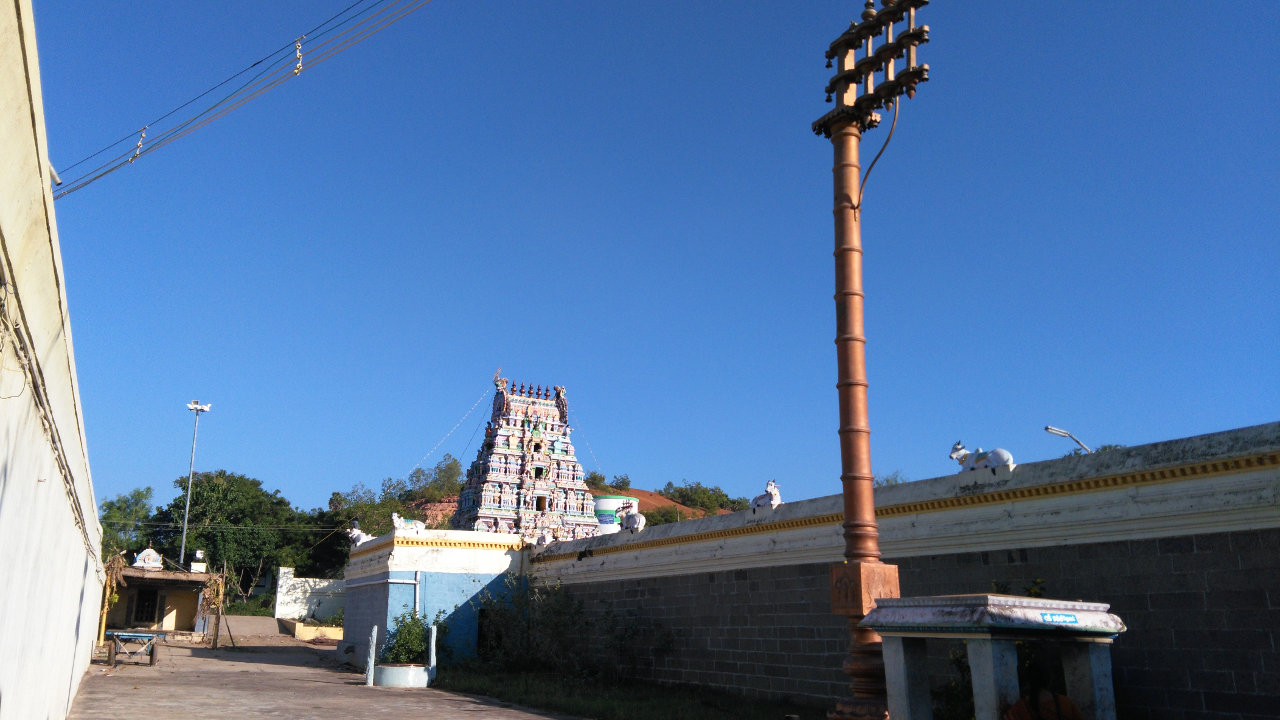 Another legend associated with this place is that Lord Shiva saved a north Indian merchant called Athri from thieves. Hence the lord here is also praised as "Sri Udhavi Nayakar" and the Goddess Parvathy is called "Sri Udhavi Nayagi" (Udhavi means help in Tamil). This place was also earlier known as Udhavi. This has been mentioned in the stone inscriptions present in this temple. Saint Thirugnanasambanthar has referred to this place as "Udhavi Maanikuzhi" in his hymn of this temple.
There is another legend which states that this temple was raised by Lord Suryan (Sun God) to perform his poojas to Lord Shiva.
Gadilam River represents the grace of Goddess Mahalakshmi while Goddess Saraswathi flows in the form of the river Swetha. It is believed that Thirumanikkuzhi is the meeting point of both these rivers.
Deities in the temple
Apart from the shrines of Lord Vamanapureeswarar's and Goddess Ambujakshi, there are shrines and idols of lords Selva Vinayakar, Udhavi Vinayakar, Murugan and his consorts, Bala Saasta, Lingothbavar, Vishnu Sidhar Lingam, 63 Nayanmars, Saptha Madhakkals, Pancha Murthys, 4 Yuga Lingams, Theraya Maharishi, Markandeyar, Thirunavukarasar, Sattanathar, Goddess Gajalakshmi, Durgai, Chandikeswarar, Navagraham, Bhairavar, Suryan and Chandran can be seen in the corridors.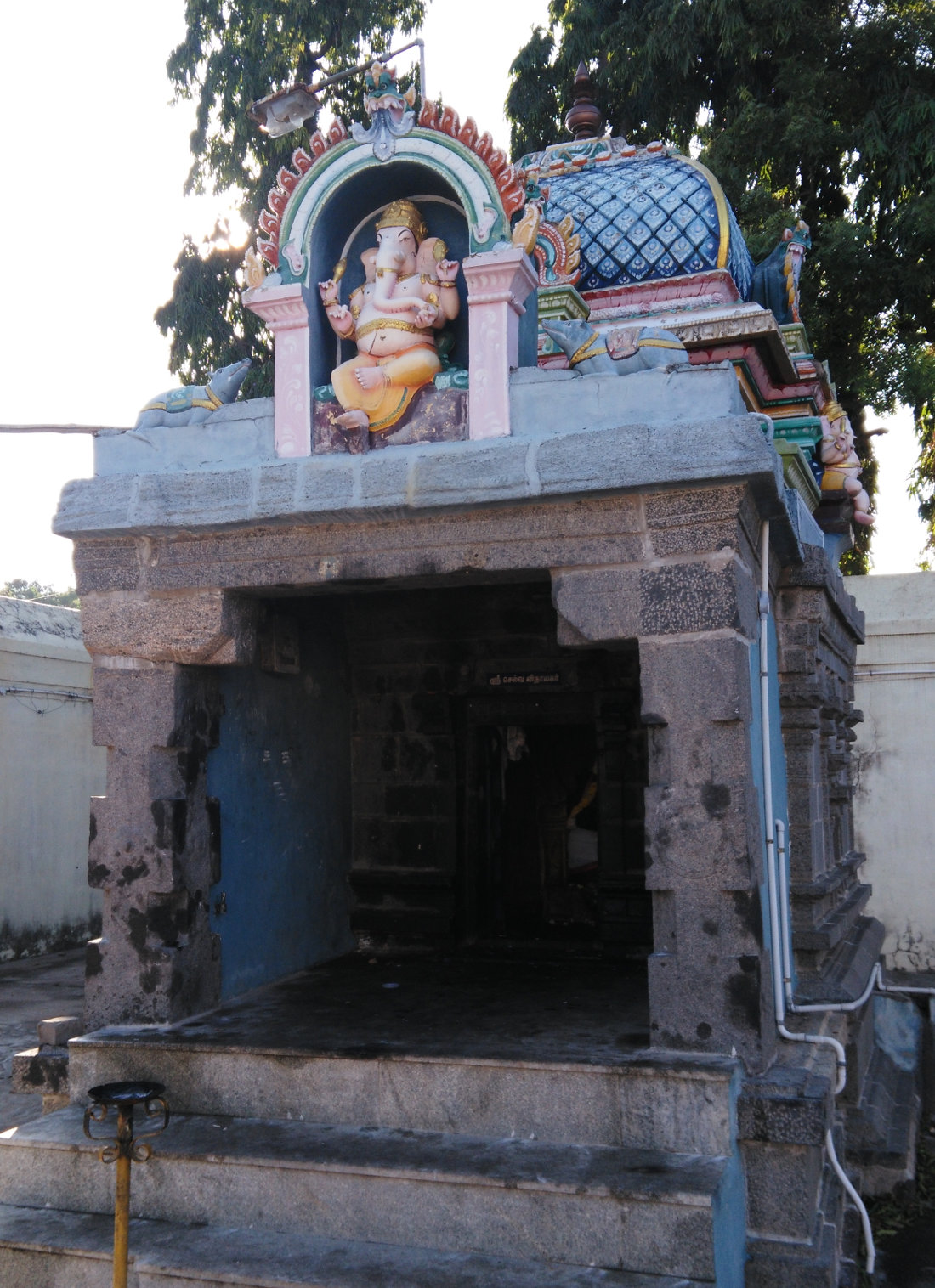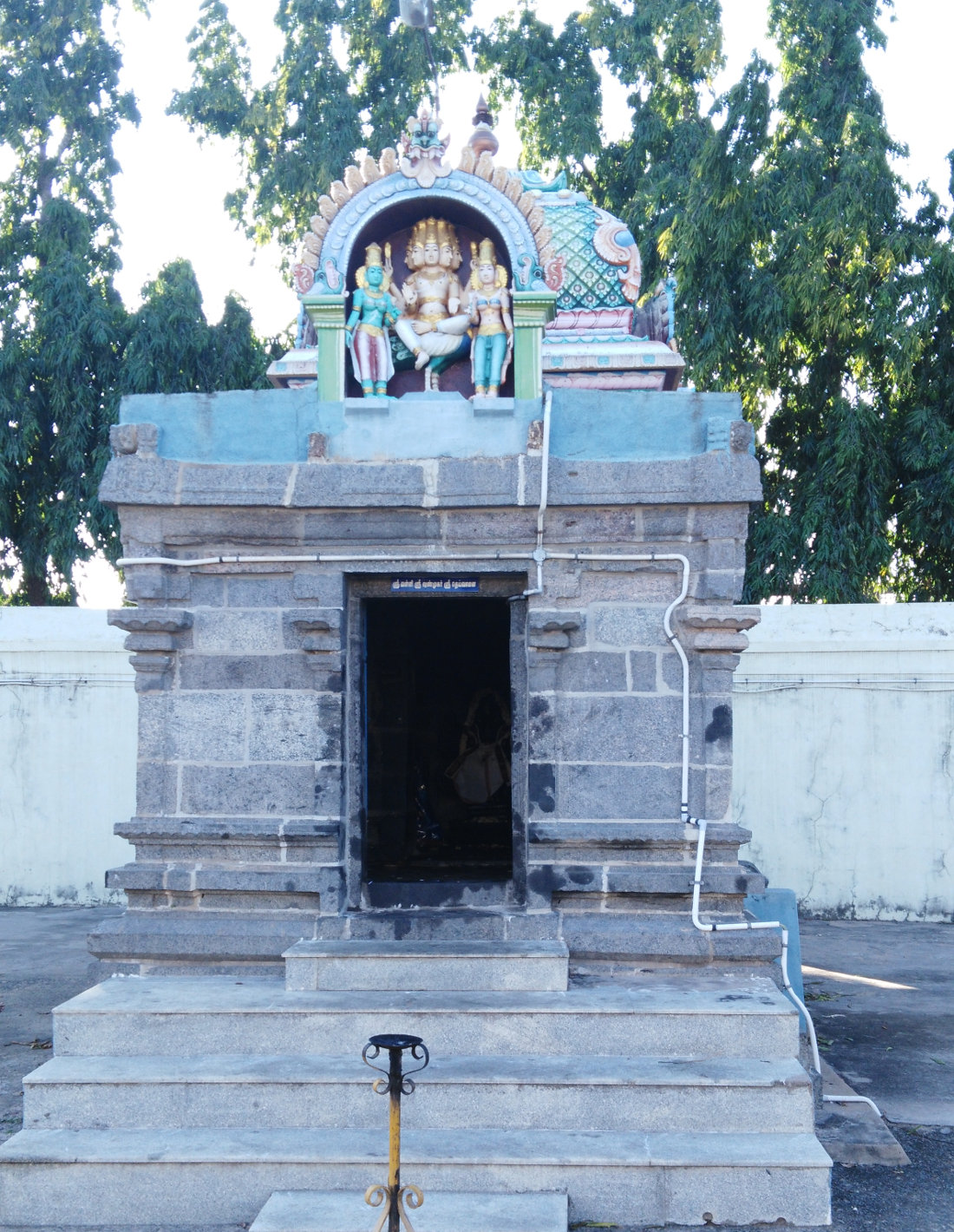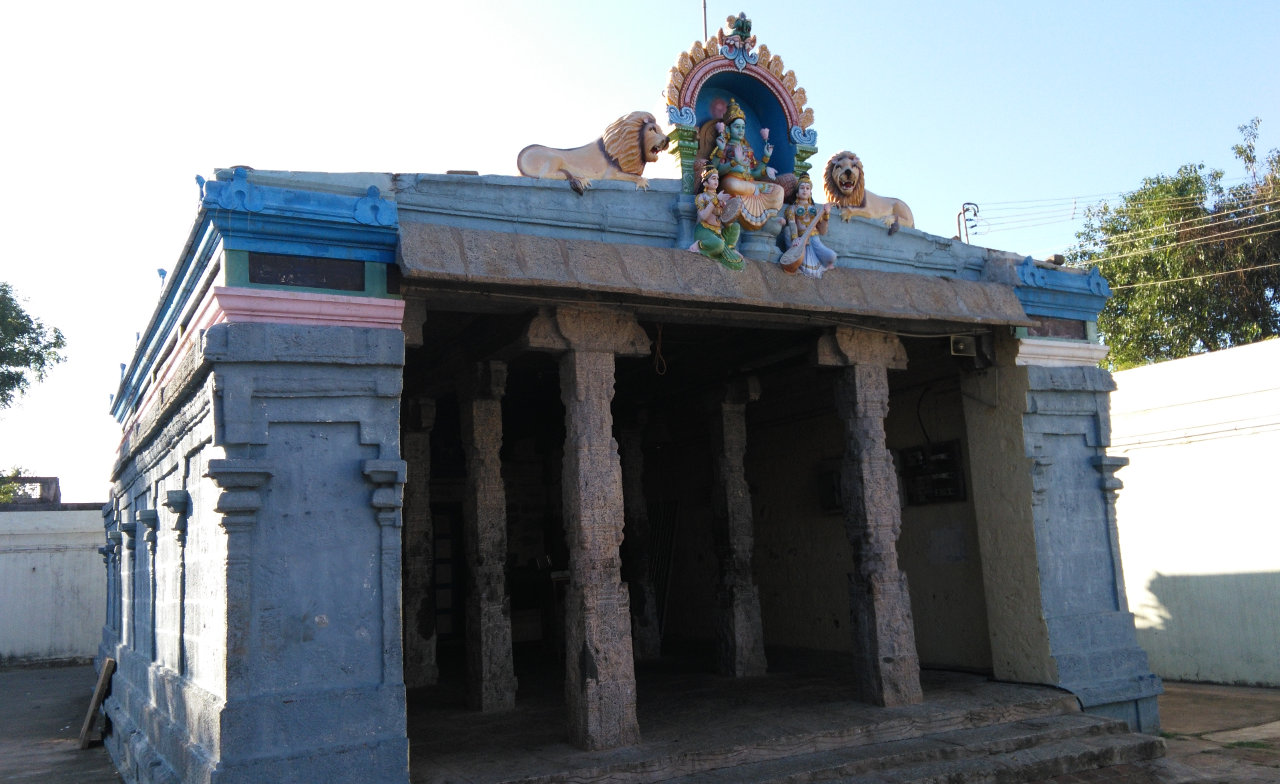 Salient Features
It is believed that Lord Shiva here is always present with Goddess Parvathy as "Shivashakti". The sanctum sanctorum itself is considered to be the bed room ("Palliyarai" in Tamil) of Lord Shiva.
This is the only Shiva temple where you cannot have dharisanam of the lord without the help of a priest. Devotees can worship the lord for a matter of 2 minutes when the screen is removed. As per the Sthala puranam, it is believed that this 2 minutes' worth of worship is equal to performing Shiva Pooja for 12 days. If this darshan happens on a Prodosham day, it is considered to be equivalent to worshiping 3 times at Chidambaram, 8 times at Thiruvannamalai and 16 times at Banaras (Kasi).
This temple is considered to be significant for its three important attributes – Murthy, Sthalam and Theertham - glory of Lord, sacredness of the land and the auspicious temple theertham.
The legend (Sthala Puranam) related to Lord Mahavishnu's Vamana Avtar and Mahabali Chakravarthi is beautifully chiselled on the front entrance wall of the sanctum.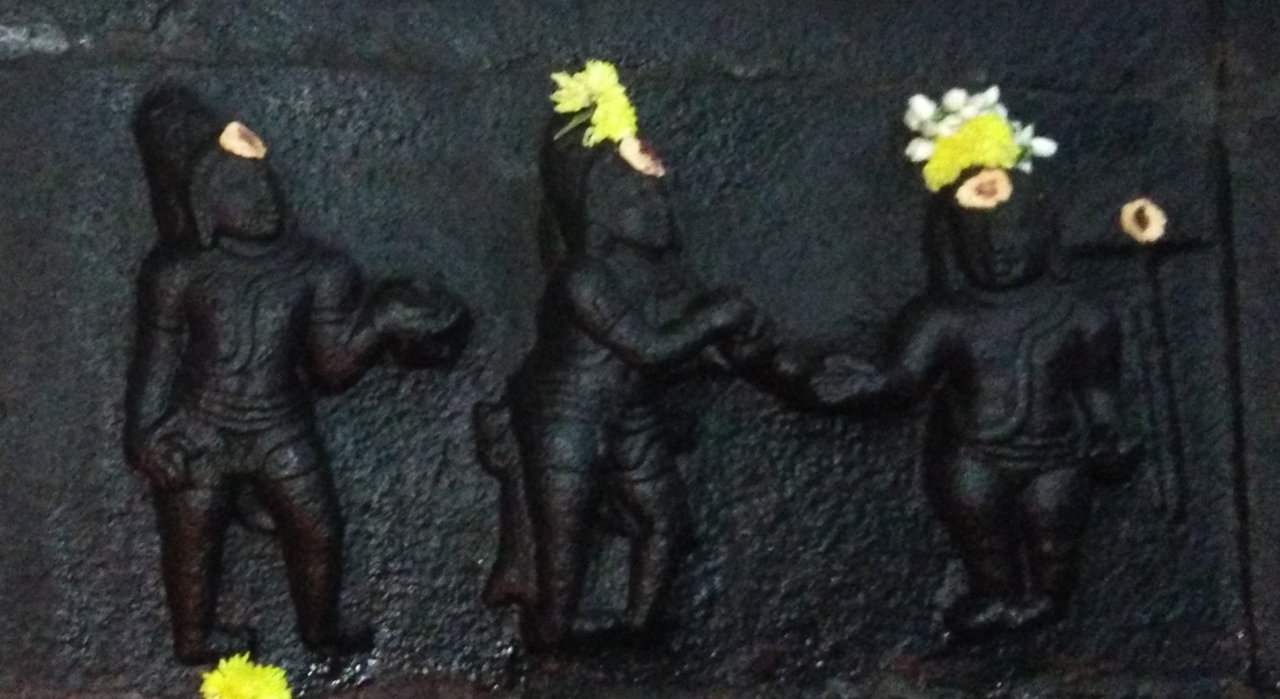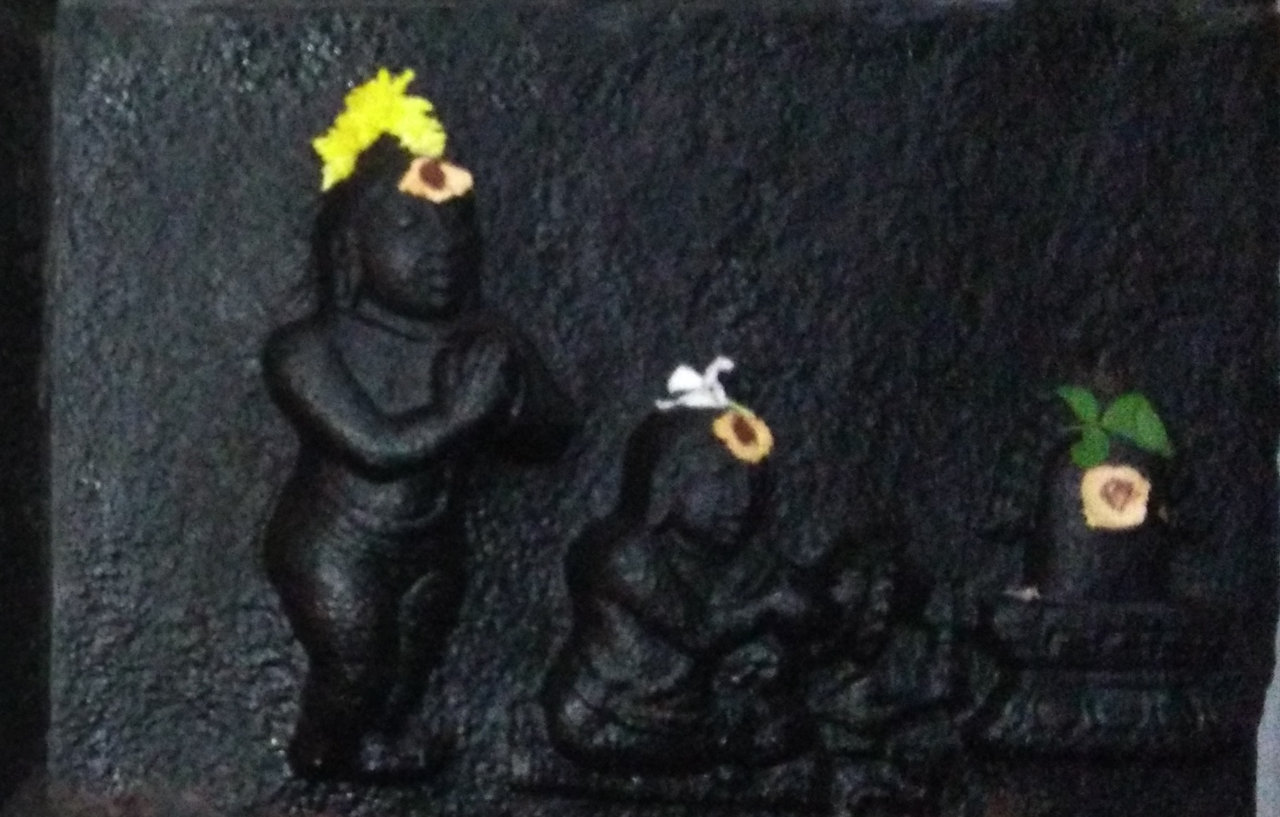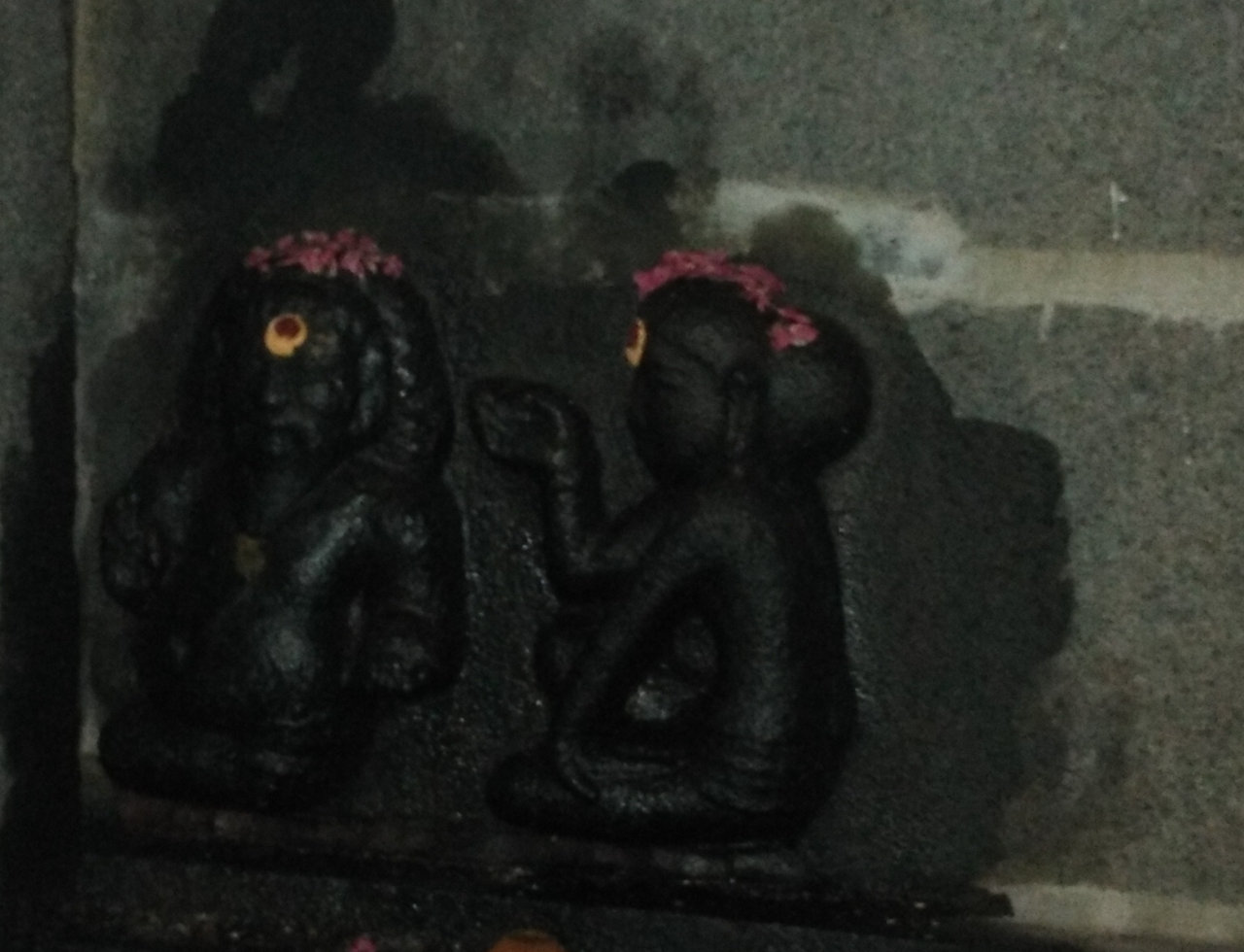 Goddess Parvathi is holding two flowers in her hands - Lotus and Neelotpala. It is believed by devotees that worshiping the Goddess here would lessen their woes.
The Sthala puranam says that the four pillars in the hall (mandapam) before Lord Shiva's shrine represent the four Vedas. In the next hall, the six pillars represent the six sashtras. The 28 pillars in the corridors represent the 28 agamas.
The Sthala puranam also says that Lord Dakshinamurthy here was worshiped by the Naga Devars and they were blessed with his discourses.
It is also believed that Markandeya visited and worshiped the lord here before visiting Thirukkadaiyur.
Saint Arunagirinadhar has also sang songs in praise of Lord Murugan of this temple in his revered Thirupugazh.
This temple's Sthala viruksham, Kontrai tree is very old and is said to have existed through the previous yugas.
Greatness of this temple
Devotees seeking "Santhana Prapthi" (child boon) come here and worship Goddess Ambujakshi. There is also a procedure involved in this worship. The devotees are advised to circumambulate the shrine eleven times wearing wet clothes on a new moon day. They are also advised to offer butter as "naivedhyam" and consume it for 45 days.
Important Festivals
The important festivals celebrated in this temple are as follows -
Navarathri in the Tamil month of Purattasi (Sept-Oct),
Maha Shivrathri in the Tamil month of Masi (Feb-Mar),
Rohini Deepa Brahmotsavam (Car Festival) in the Tamil month of Karthikai (Nov-Dec).
During the Brahmotsavam, a lamp (called the moksha lamp) is lit on a hill opposite to the temple. This hill is called Jyothigiri or Rathnagiri.
On the day of the Rohini Nakshatram, thousands of devotees undertake Girivalam (circumambulation of the hill). This is similar to the Girivalam that takes place in Thiruvannamalai temple on full moon days (Purnima).
Prodosham is also observed regularly.
Temple Timings

07.00 AM to 11.00 AM and 04.30 PM to 08.30 PM
Temple Address

Sri Vamanapureeswarar temple,
Tirumanikuzhi Post,
Cuddalore Taluk and District
Tamil Nadu – 607 401.
Tele: +91 4142-224 328.

Contact the temple priests' Sri Nataraja Gurukkal at 09486387154, Sri Satish Gurukkal at 09047238423, 09626321383 and Sri Manikandan Gurukkal at 9787607727.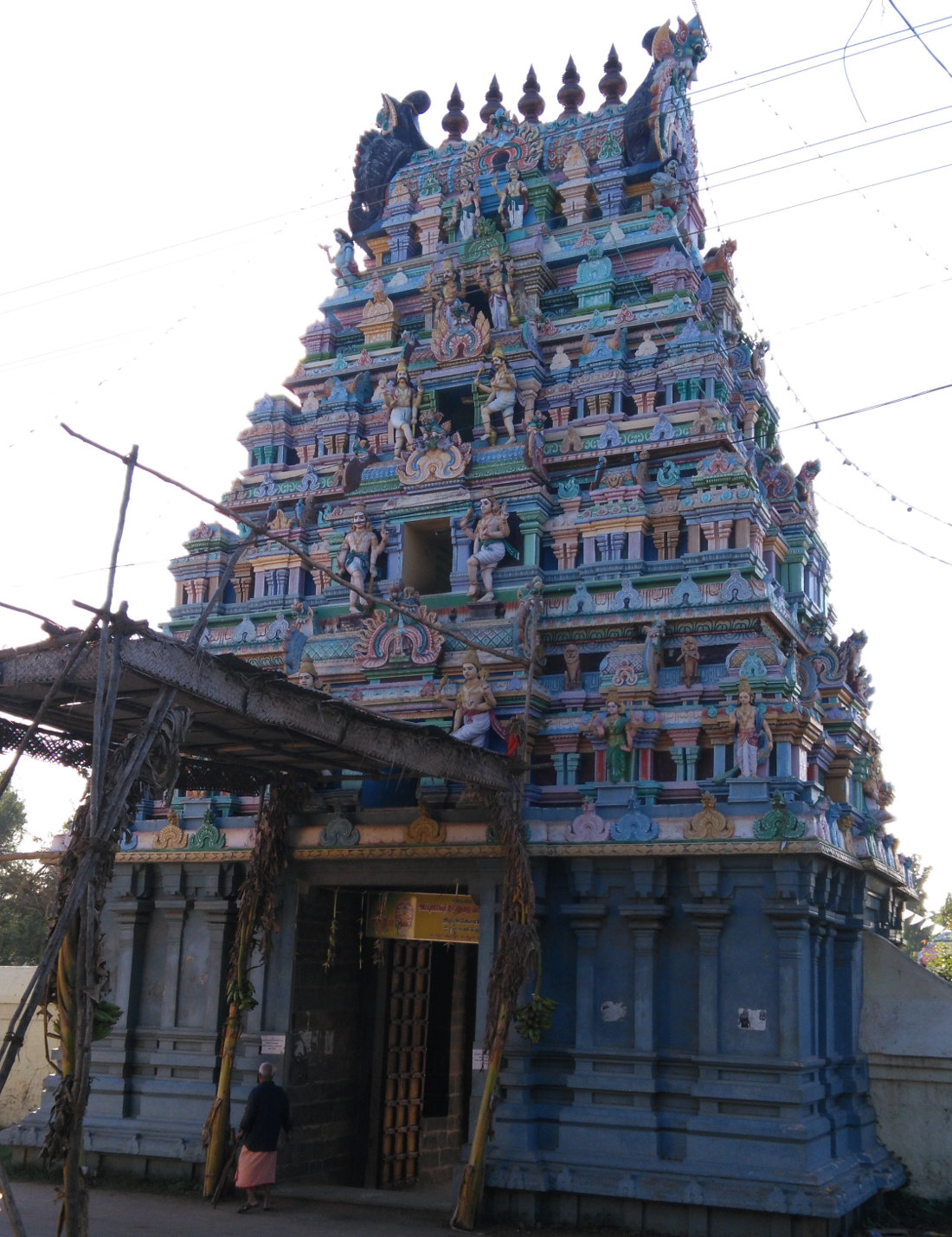 ---
Pathigam (Hymn) with English transliteration

Saint Thirugnanasambanthar visited this temple and sang this Pathigam.

Devotees visiting this temple should make it a practice to recite this Pathigam.
பொன்னியல் பொருப்பரையன் மங்கையொரு பங்கர்புனல் தங்குசடைமேல்
வன்னியொடு மத்தமலர் வைத்தவிறல் வித்தகர் மகிழ்ந்துறைவிடங்
கன்னியிள வாளைகுதி கொள்ளவிள வள்ளைபடர் அள்ளல்வயல்வாய்
மன்னியிள மேதிகள் படிந்துமனை சேருதவி மாணிகுழியே.
"Poṉṉiyal porupparaiyaṉ maṅkaiyoru paṅkarpuṉal thaṅkusaṭaimēl
vaṉṉiyoṭu mathamalar vaithaviṟal vithakar makizhnthuṟaiviṭaṅ
kaṉṉiyiḷa vāḷaikuthi koḷḷaviḷa vaḷḷaipaṭar aḷḷalvayalvāy
maṉṉiyiḷa mēthikaḷ paṭinthumaṉai sēruthavi māṇikuzhiyē".
சோதிமிகு நீறதுமெய் பூசியொரு தோலுடை புனைந்துதெருவே
மாதர்மனை தோறும்இசை பாடிவசி பேசும்அர னார்மகிழ்விடந்
தாதுமலி தாமரைம ணங்கமழ வண்டுமுரல் தண்பழனமிக்
கோதமலி வேலைபுடை சூழுலகில் நீடுதவி மாணிகுழியே.
"Chōthimiku nīṟathumey pūsiyoru thōluṭai puṉainthutheruvē
mātharmaṉai thōṟumisai pāṭivasi pēsumara ṉārmakizhviṭan
thāthumali thāmaraima ṇaṅkamazha vaṇṭumural thaṇpazhaṉamik
kōthamali vēlaipuṭai chūzhulakil nīṭuthavi māṇikuzhiyē".
அம்பனைய கண்ணுமை மடந்தையவள் அஞ்சிவெரு வச்சினமுடைக்
கம்பமத யானையுரி செய்தஅர னார்கருதி மேயவிடமாம்
வம்புமலி சோலைபுடை சூழமணி மாடமது நீடியழகார்
உம்பரவர் கோன்நகர மென்னமிக மன்னுதவி மாணிகுழியே.
"Ampaṉaiya kaṇṇumai maṭanthaiyavaḷ añchiveru vachiṉamuṭaik
kampamatha yāṉaiyuri seytha'ara ṉārkaruthi mēyaviṭamām
vampumali chōlaipuṭai chūzhamaṇi māṭamathu nīṭiyazhakār
umparavar kōṉnakara meṉṉamika maṉṉuthavi māṇikuzhiyē".
நித்தநிய மத்தொழில னாகிநெடு மால்குறள னாகிமிகவுஞ்
சித்தமதொ ருக்கிவழி பாடுசெய நின்றசிவ லோகனிடமாங்
கொத்தலர் மலர்ப்பொழிலின் நீடுகுல மஞ்ஞைநடம் ஆடலதுகண்
டொத்தவரி வண்டுகளு லாவியிசை பாடுதவி மாணிகுழியே.
"Nithaniya mahozhila ṉākineṭu mālkuṟaḷa ṉākimikavuñ
chithamatho rukkivazhi pāṭuseya niṉtṟasiva lōkaṉiṭamāṅ
kothalar malarppozhiliṉ nīṭukula mañjainaṭam āṭalathukaṇ
ṭothavari vaṇṭukaḷu lāviyisai pāṭuthavi māṇikuzhiyē".
மாசில்மதி சூடுசடை மாமுடியர் வல்லசுரர் தொன்னகரமுன்
நாசமது செய்துநல வானவர்க ளுக்கருள்செய் நம்பனிடமாம்
வாசமலி மென்குழல் மடந்தையர்கள் மாளிகையில் மன்னியழகார்
ஊசல்மிசை யேறியினி தாகஇசை பாடுதவி மாணிகுழியே.
"Māsilmathi chūṭusaṭai māmuṭiyar vallasurar thoṉṉakaramuṉ
nāsamathu seythunala vāṉavarka ḷukkaruḷsey nampaṉiṭamām
vāsamali meṉkuzhal maṭanthaiyarkaḷ māḷikaiyil maṉṉiyazhakār
ūsalmisai yēṟiyiṉi thāka'isai pāṭuthavi māṇikuzhiyē".
மந்தமலர் கொண்டுவழி பாடுசெயு மாணியுயிர் வவ்வமனமாய்
வந்தவொரு காலனுயிர் மாளவுதை செய்தமணி கண்டனிடமாஞ்
சந்தினொடு காரகில் சுமந்துதட மாமலர்கள் கொண்டுகெடிலம்
உந்துபுனல் வந்துவயல் பாயுமண மாருதவி மாணிகுழியே.
"Manthamalar koṇṭuvazhi pāṭuseyu māṇiyuyir vavvamaṉamāy
vanthavoru kālaṉuyir māḷavuthai seythamaṇi kaṇṭaṉiṭamāñ
chanthiṉoṭu kārakil sumanthuthaṭa māmalarkaḷ koṇṭugaṭilam
unthupuṉal vanthuvayal pāyumaṇa māruthavi māṇikuzhiyē".
எண்பெரிய வானவர்கள் நின்றுதுதி செய்யஇறை யேகருணையாய்
உண்பரிய நஞ்சதனை உண்டுலகம் உய்யஅருள் உத்தமனிடம்
பண்பயிலும் வண்டுபல கெண்டிமது உண்டுநிறை பைம்பொழிலின்வாய்
ஒண்பலவின் இன்கனி சொரிந்துமணம் நாறுதவி மாணிகுழியே.
"Eṇperiya vāṉavarkaḷ niṉtṟuthuthi seyya'iṟai yēkaruṇaiyāy
uṇpariya nañchathaṉai uṇṭulakam uyya'aruḷ uthamaṉiṭam
paṇpayilum vaṇṭupala keṇṭimathu uṇṭuniṟai paimpozhiliṉvāy
oṇpalaviṉ iṉkaṉi sorinthumaṇam nāṟuthavi māṇikuzhiyē".
எண்ணமது வின்றியெழி லார்கைலை மாமலை யெடுத்ததிறலார்
திண்ணிய அரக்கனை நெரித்தருள் புரிந்தசிவ லோகனிடமாம்
பண்ணமரும் மென்மொழியி னார்பணைமு லைப்பவள வாயழகதார்
ஒண்ணுதல் மடந்தையர் குடைந்துபுன லாடுதவி மாணிகுழியே.
"Eṇṇamathu viṉtṟiyezhi lārkailai māmalai yeṭuthathiṟalār
thiṇṇiya arakkaṉai neritharuḷ purinthasiva lōkaṉiṭamām
paṇṇamarum meṉmozhiyi ṉārpaṇaimu laippavaḷa vāyazhakathār
oṇṇuthal maṭanthaiyar kuṭainthupuṉa lāṭuthavi māṇikuzhiyē".
நேடும்அய னோடுதிரு மாலும்உண ராவகை நிமிர்ந்துமுடிமேல்
ஏடுலவு திங்கள்மத மத்தமித ழிச்சடையெம் ஈசனிடமாம்
மாடுலவு மல்லிகை குருந்துகொடி மாதவி செருந்திகுரவின்
ஊடுலவு புன்னைவிரி தாதுமலி சேருதவி மாணிகுழியே.
"Nēṭumaya ṉōṭuthiru mālumuṇa rāvakai nimirnthumuṭimēl
ēṭulavu thiṅkaḷmatha mathamitha zhichaṭaiyem īsaṉiṭamām
māṭulavu mallikai kurunthukoṭi māthavi serunthikuraviṉ
ūṭulavu puṉṉaiviri thāthumali sēruthavi māṇikuzhiyē".
மொட்டையமண் ஆதர்முது தேரர்மதி யில்லிகள் முயன்றனபடும்
முட்டைகள் மொழிந்தமொழி கொண்டருள்செய் யாதமுதல் வன்றனிடமாம்
மட்டைமலி தாழையிள நீர்முதிய வாழையில் விழுந்தஅதரில்
ஒட்டமலி பூகம்நிரை தாறுதிர வேறுதவி மாணிகுழியே.
"Moṭṭaiyamaṇ ātharmuthu thērarmathi yillikaḷ muyaṉtṟaṉapaṭum
muṭṭaikaḷ mozhinthamozhi koṇṭaruḷsey yāthamuthal vaṉtṟaṉiṭamām
maṭṭaimali thāḻaiyiḷa nīrmuthiya vāzhaiyil vizhuntha'atharil
oṭṭamali pūkamnirai thāṟuthira vēṟuthavi māṇikuzhiyē".
உந்திவரு தண்கெடில மோடுபுனல் சூழுதவி மாணிகுழிமேல்
அந்திமதி சூடியஎம் மானையடி சேருமணி காழிநகரான்
சந்தம்நிறை தண்டமிழ் தெரிந்துணரும் ஞானசம் பந்தனதுசொல்
முந்தியிசை செய்துமொழி வார்களுடை யார்கள்நெடு வானநிலனே.
"Unthivaru thaṇgaṭila mōṭupuṉal chūzhuthavi māṇikuzhimēl
anthimathi chūṭiya'em māṉaiyaṭi sērumaṇi kāzhinakarāṉ
santhamniṟai thaṇṭamizh therinthuṇarum gñāṉasam banthaṉathusol
munthiyisai seythumozhi vārkaḷuṭai yārkaḷneṭu vāṉanilaṉē".