Visited on: 27th August, 2016 and 22nd November, 2016
Location
Thiru Kuranganilmuttam is on the Kanchipuram to Vanthavasi route. After travelling about 10 kms from Kanchipuram, you can reach village Thusi and from here take a diversion road to Kuranganilmuttam. The temple is at a distance of about 2 kms from Thusi.
Other Paadal Petra Shivasthalams near Kuranganilmuttam are – Vanparthan Panangattur (10 kms), Thirumagaral (13 kms), Thirumalpur (25 kms), and Thiruvothur (Cheyyar) (25 kms).
General Information
| | |
| --- | --- |
| Moolavar | Sri Valeeswarar / Sri Koyyamalarnathar |
| Ambal | Sri Irayar Valaiyammai |
| Theertham (Holy water) | Kakkai Madu Theertham, Vali Theertham |
| Sthala Vriksham (Sacred Tree) | Elandhai |
| Pathigam (Hymn) rendered by | Saint Thirugnanasambanthar |
This is one of the 276 Devara Paadal Petra Shiva Sthalams and 6th Shiva Sthalam in Thondai Nadu.
Lord Shiva in this temple is a Swayambumurthi (self-manifested).
This is a west-facing temple with two corridors and no main tower (Rajagopuram).
The last Consecration ceremony (Mahakumbabishegam) was held on 04.02.1985.
History of the Temple
The temple is situated on the southern bank of Palaru river and it is believed to have been built by Pallava King Mahendra Verman in 637 CE.
Legend
The legend is that once Vali (the monkey king of Kishkindha), Indhran (the king of the celestial gods) and Yama (the lord of death) were cursed by sages for their wrong doings and were made to take the forms of a monkey, a squirrel and a crow respectively.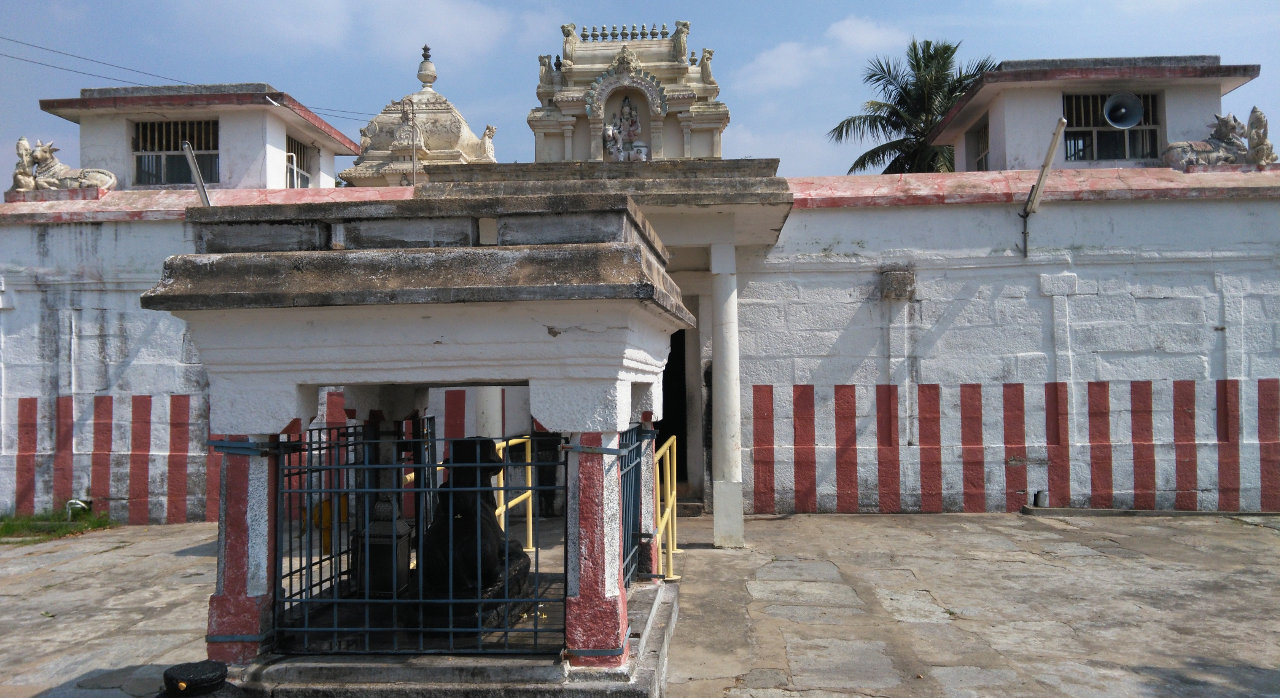 They went to Mount Kailash and prayed to Lord Shiva to seek his blessings and to request Lord Shiva to restore them to their original forms. Lord Shiva directed them to visit this place (Kuranganil Muttam) and offer their prayers. When they came to this place and worshiped Lord Shiva, he graced them with his dharisanam and absolved their sins. Lord Shiva stayed in this place as a Swayambumurthy.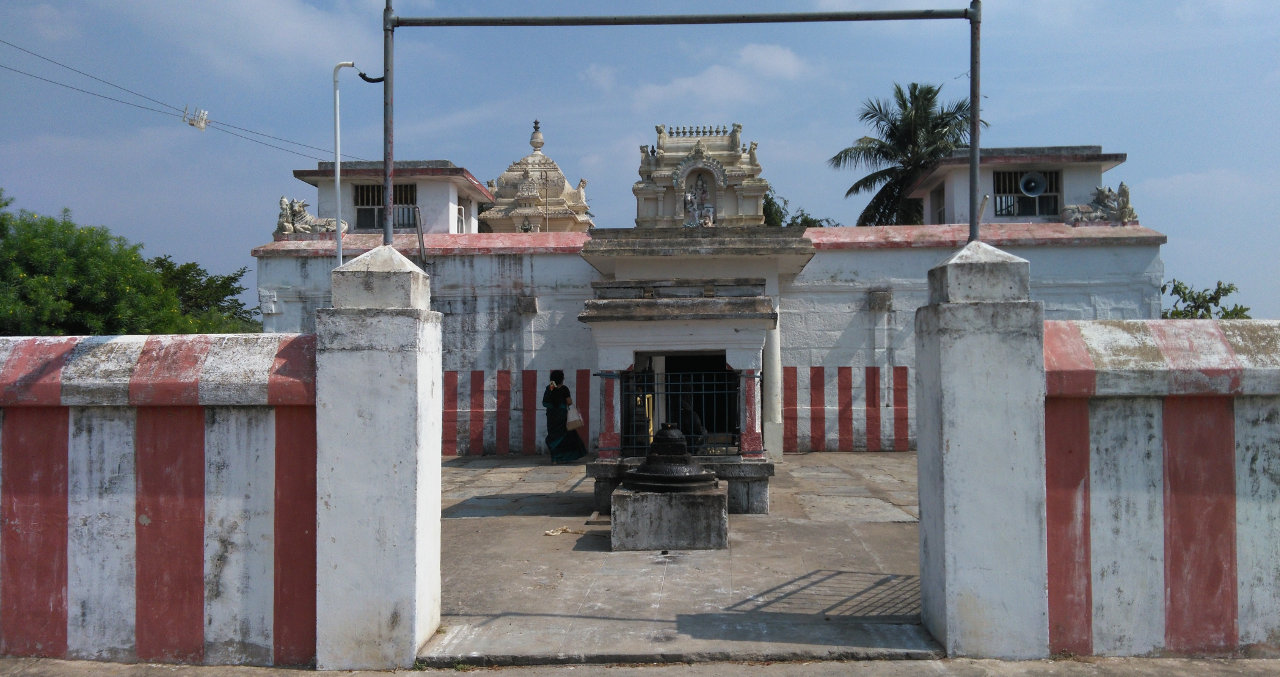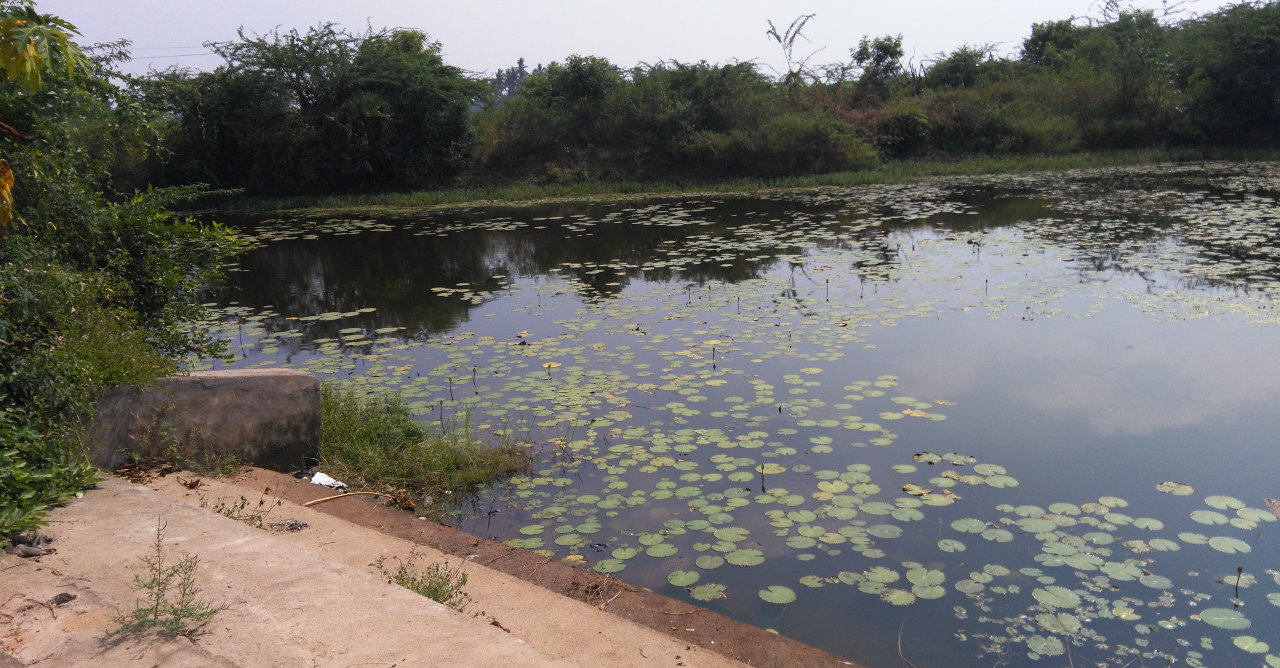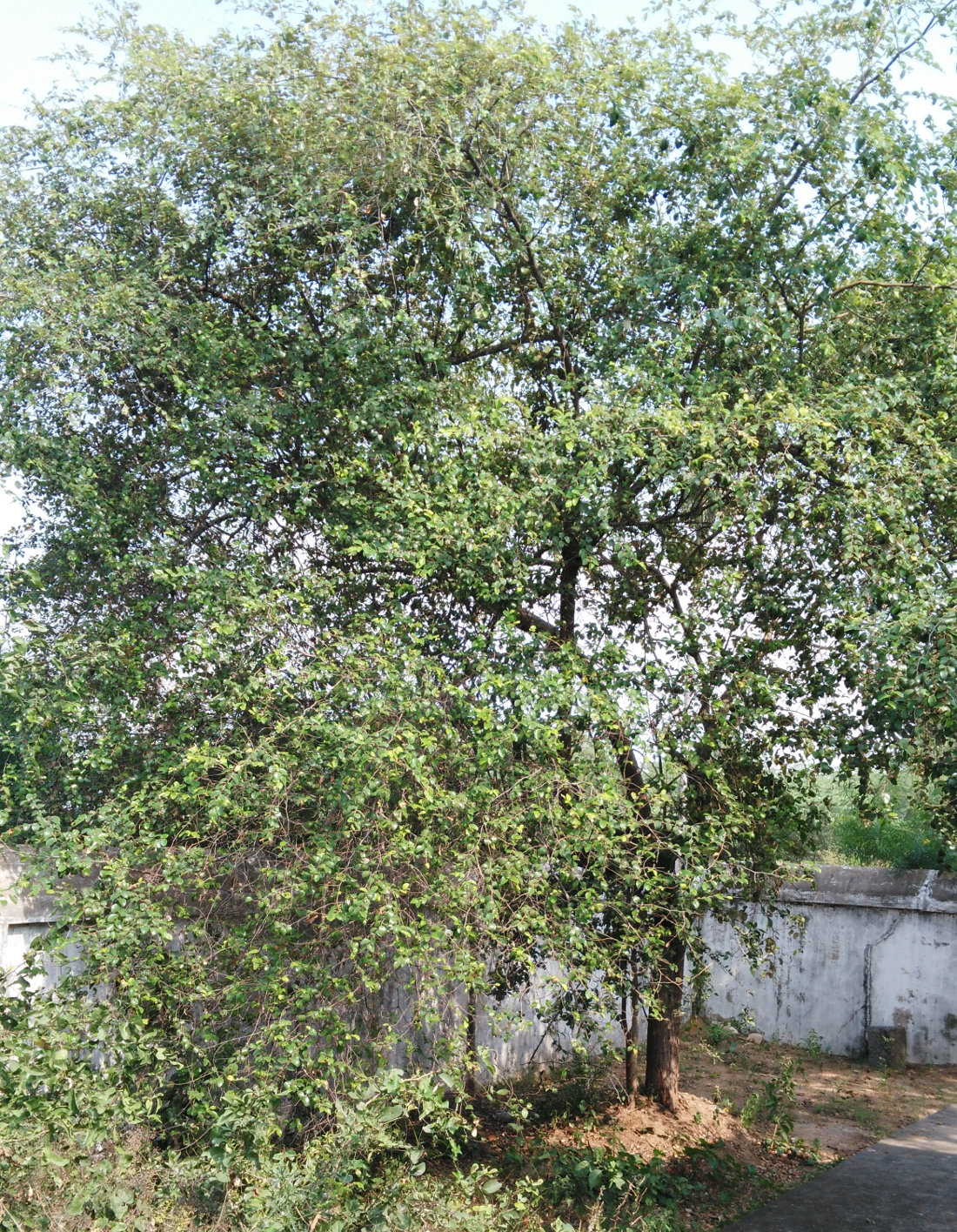 At Kuranganil Muttam Yama was in the form of a crow before worshipping Lord Shiva. He scratched the land with his beak and created a spring. He took bath in that spring, took water for lord's abishekam from it and offered it to the lord. The spring was made in the shape of a new moon (semi-circular) surrounding the temple on three sides while the lord is seated on a rock on the other side. This spring is called "Kakkaimadu theertham" and "Vayasamadu theertham" - (Crow meaning Kakkai / muttam in Tamil and Vayasam in Sanskrit).
Vali was an ardent Shiva devotee. When he came to worship the Lord Shiva here, he did not want to pick the flowers by hand but instead, he shook the tree in order to make the flowers fall on the Lord directly. The lord here is also known as "Koyyamalar Nathar" referring to the fact that the flowers that were offered to him were untouched by hands. "Koyya" meaning untouched and "Malar" meaning flower in Tamil. Saint Thirugnanasambanthar in his pathigam on Lord Shiva here also mentioned the lord as "Koyyamalar Chudi" (in 8th Stanza).
The Tamil names of monkey, squirrel and crow are "Kurangu", "Anil" and "Muttam" respectively. Hence the place gets the name, "Kuranguanil Muttam". Also since Vali is believed to have worshipped Lord Shiva here, the lord here is named "Valeeswarar".
Deities in the temple
Idols and shrines of Lords Vinayakar, Murugan with his consorts, Kasi Viswanathar and Vishalakshi, Durgai, Chandikeswarar, Mahavishnu, Brahma, Dakshinamurthy, Sapthamathars, Suryan, Navagrahams, Bairavar, Nalwars can be seen in the corridors. Separate idols for Saint Thirugnanasambanthar and Saint Sekkizhar are also present.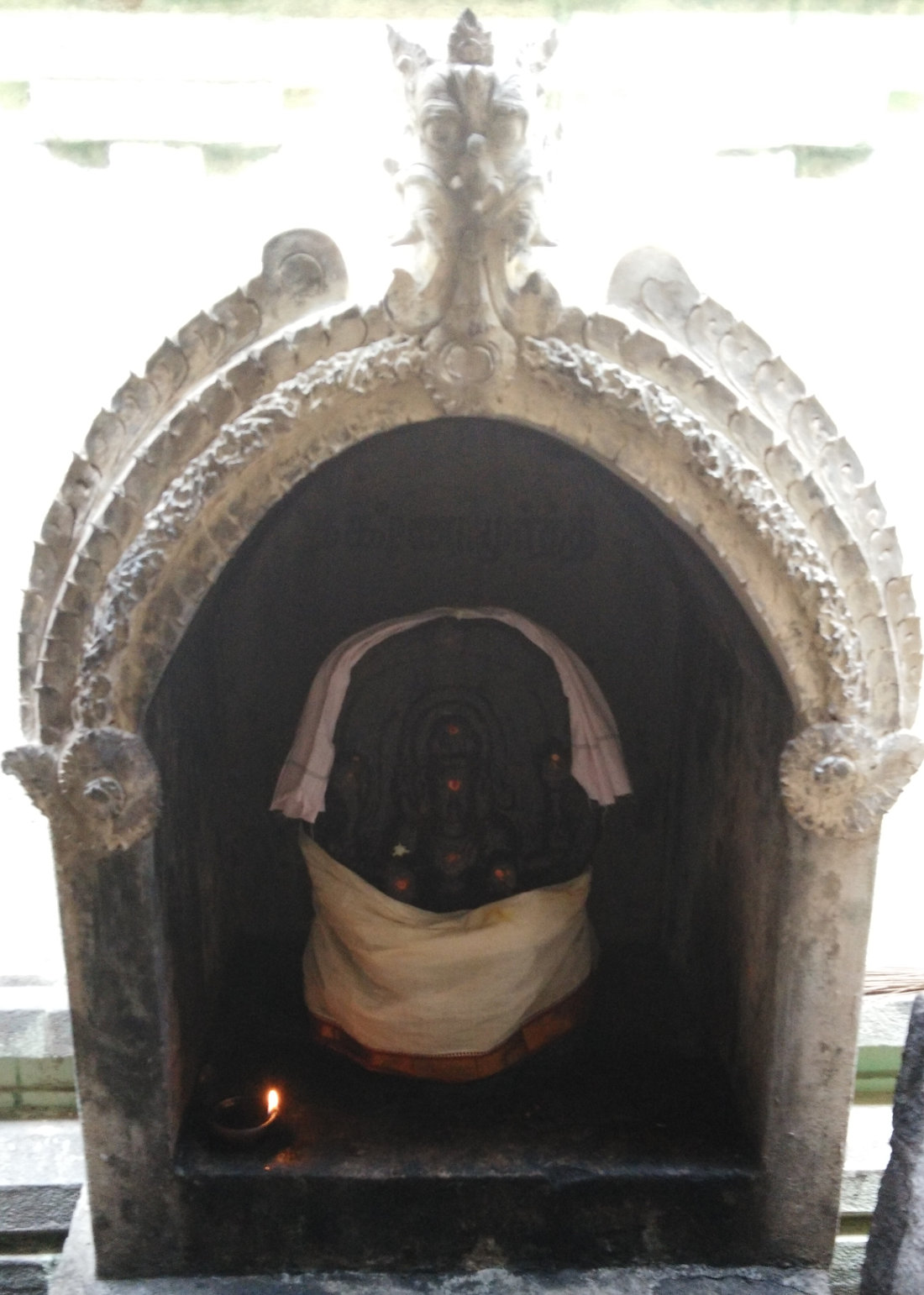 Salient Features
It is pertinent to note that in Indian mythology even birds and animals are depicted as having faith in Lord Shiva. There are also references where they have attained salvation through their penance. This has been substantiated by Saint Sundaramurthy Nayanar in his Pathigam (6th stanza) rendered at Thiruppunkur.
Goddess Irayar Valai Ammai graces from a separate shrine facing west. Vali, Indira and Yama are believed to have worshiped this goddess before worshipping the Lord. They are also believed to have sought her help to negate the effects of the curse and revert back to their original forms. The goddess is believed to have yielded to their request. "Valai" in this context can be translated as "yielding". This is one of the reasons behind the name "Irayar Valai Ammai". Saint Thiruganasambanthar had also praised the goddess as "Irayar valai" in his hymns.
"Valai" in Tamil also means bangles. Married women and expectant mothers offer bangles to the goddess before wearing them with the hope that they would be blessed with healthy children and their deliveries would be safe. They also pray to the goddess for relief from "Balarishta dosham". "Bala" means children and "arishta" means illnesses. Balarishta dosham are illnesses that afflict the new born child. They are caused due to specific planetary positions or combinations present at the time of birth of the child. The ill-effects of this dosham can be seen for many years.
It is said that on specific days during the Tamil month of Chithirai (April-May) sun rays fall directly on the lingam in the sanctum sanctorum.
Beautiful stone engravings depicting these animals worshipping the lord can be seen at the entrance wall of the temple.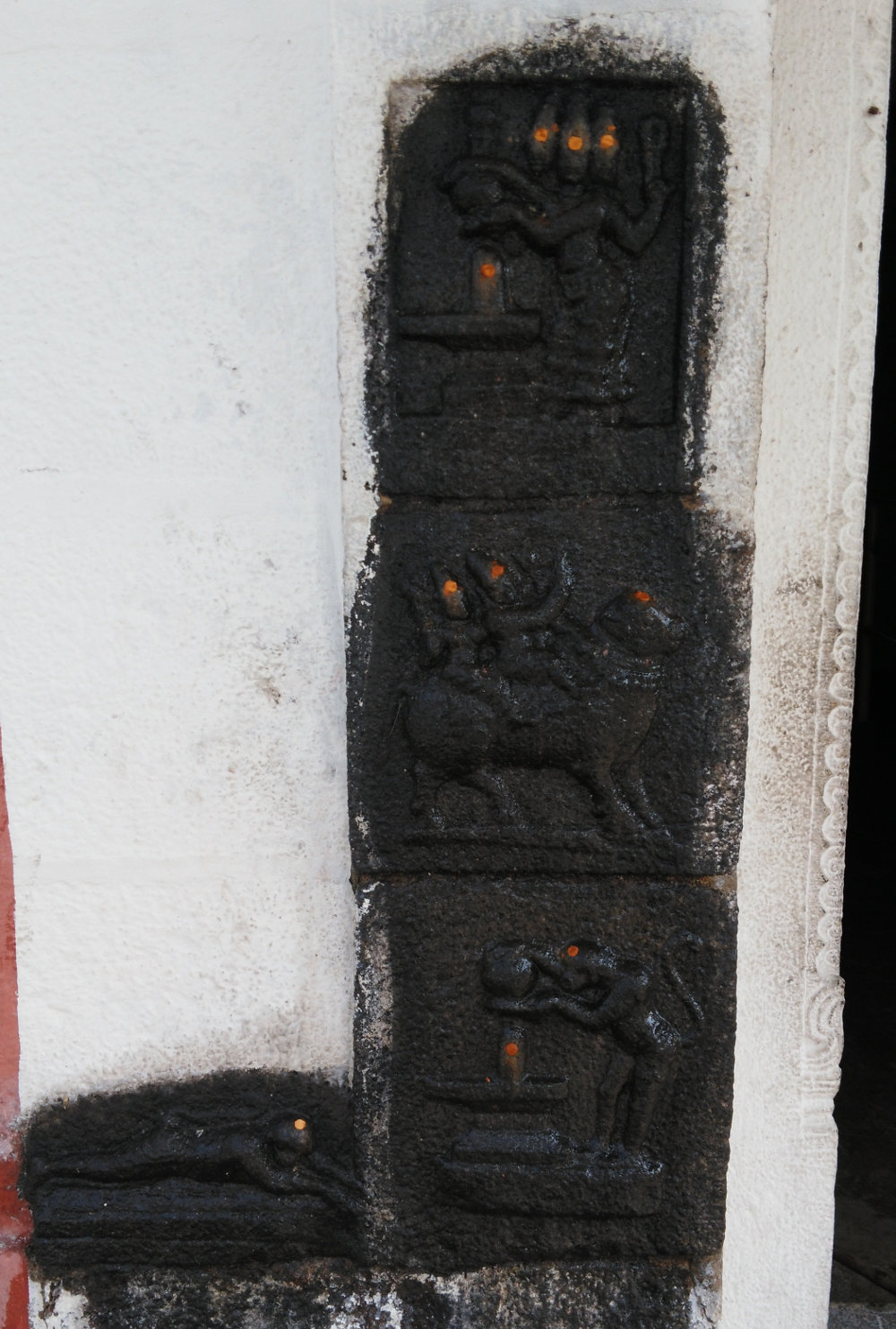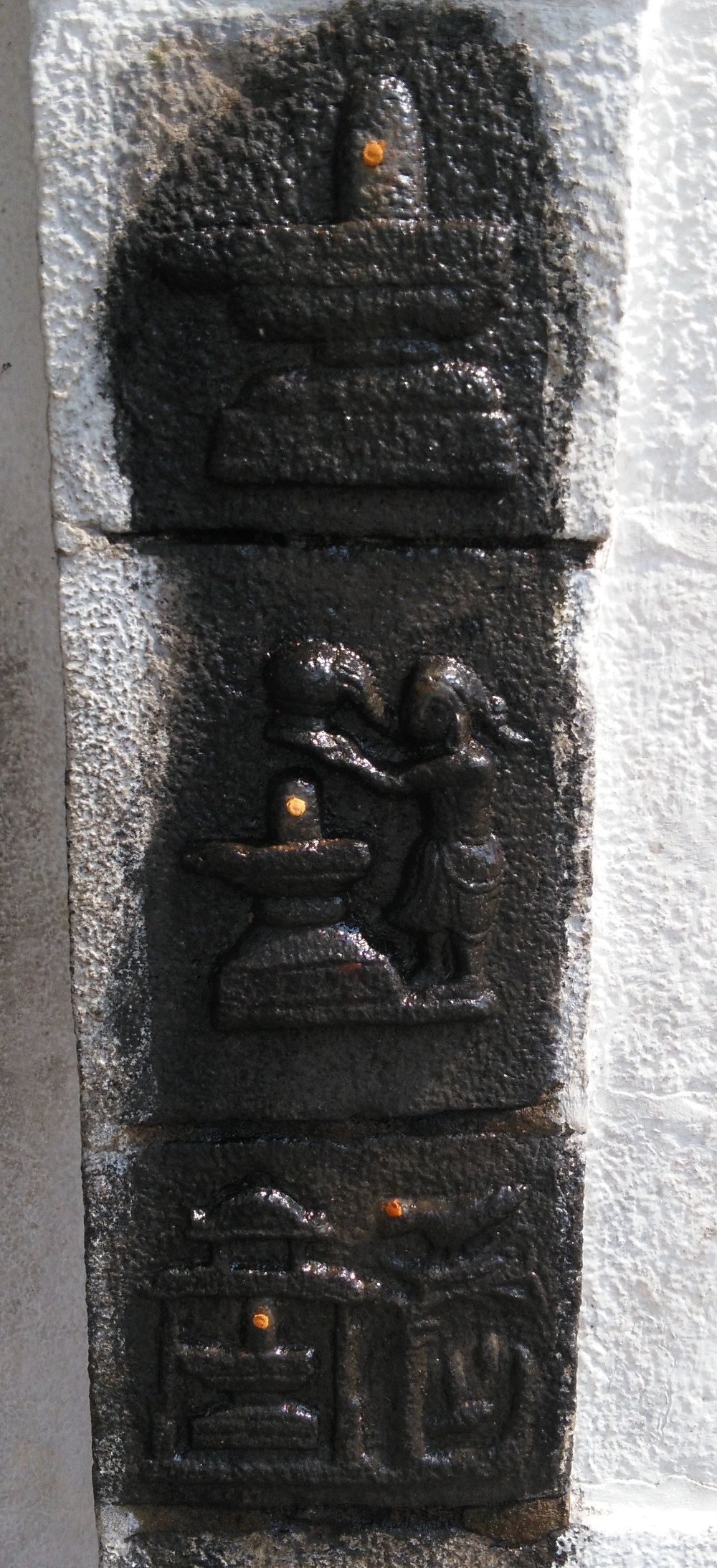 Greatness of this temple
Yama is considered to be the presiding lord of Planet Saturn. Those seeking relief from ill-effects of this planet (Sani dosham) can worship Lord Shiva here.
It is believed that by worshiping Lord Shiva here devotees are relieved of sins and are blessed with wisdom and knowledge.
Important Festivals
Lakshadeepam (one lakh lamps) on Tirukarthikai in the Tamil month of Karthikai (November-December), Shivarathri in the Tamil month of Masi (February-March) and Annabishekam in the Tamil month of Aippasi (October-November) are the main festivals celebrated in this temple.
Pradosha Pooja is regularly observed in a grand manner.
Temple Timings
07.00 AM to 10.00 AM and 04.00 PM 07.00 PM
Temple Address
Sri Valeeswarar Temple
Kuranganil Muttam Village
Thusi Post, Mamandur Via
Cheyyaru Taluk, Thiruvannamalai District,
Tamil Nadu – 631 702.
Tele: Shri K.M.Sridhar Gurukkal: 07299904344, 09445642409.
---
Pathigam (Hymn) with English transliteration
Saint Thirugnanasambanthar visited this temple and sang this Pathigam.
Devotees visiting this temple should make it a practice to recite this Pathigam.
விழுநீர்மழு வாள்படை அண்ணல் விளங்குங்
கழுநீர்குவ ளைம்மல ரக்கயல் பாயுங்
கொழுநீர்வயல் சூழ்ந்த குரங்கணின் முட்டந்
தொழுநீர்மையர் தீதுறு துன்ப மிலரே.
"Vizhunīrmazhu vāḷpadai aṇṇal viḷaṅkuṅ
kazhunīrkuva ḷaim'mala rakkayal pāyuṅ
kozhunīrvayal chūzhntha kuraṅkaṇiṉ muṭṭan
thozhunīrmaiyar thīthuṟu thuṉpa milarē".
விடைசேர்கொடி அண்ணல் விளங்குயர் மாடக்
கடைசேர்கரு மென்குளத் தோங்கிய காட்டில்
குடையார்புனல் மல்கு குரங்கணின் முட்டம்
உடையானெனை யாளுடை யெந்தை பிரானே.
"Vidaisērkodi aṇṇal viḷaṅkuyar mādak
kaṭaisērkaru meṉkuḷath thōṅkiya kāṭṭil
kudaiyārpuṉal malku kuraṅkaṇiṉ muṭṭam
udaiyāṉeṉai yāḷudai yenthai pirāṉē".
சூலப்படை யான்விடை யான்சுடு நீற்றான்
காலன்றனை ஆருயிர் வவ்விய காலன்
கோலப்பொழில் சூழ்ந்த குரங்கணின் முட்டத்
தேலங்கமழ் புன்சடை யெந்தை பிரானே.
"Sūlappadai yāṉvidai yāṉsudu nītṟāṉ
kālaṉtṟaṉai āruyir vavviya kālaṉ
kōlappozhil chūzhntha kuraṅkaṇiṉ muṭṭath
thēlaṅkamazh puṉsadai yenthai pirāṉē".
வாடாவிரி கொன்றை வலத்தொரு காதில்
தோடார்குழை யான்நல பாலன நோக்கிக்
கூடாதன செய்த குரங்கணின் முட்டம்
ஆடாவரு வாரவ ரன்புடை யாரே.
"Vādāviri koṉtṟai valathoru kāthil
thōṭārkuzhai yāṉnala pālaṉa nōkkik
kūṭāthaṉa seytha kuraṅkaṇiṉ muṭṭam
āṭāvaru vārava raṉpudai yārē".
இறையார்வளை யாளையொர் பாகத் தடக்கிக்
கறையார்மிடற் றான்கரி கீறிய கையான்
குறையார்மதி சூடி குரங்கணின் முட்டத்
துறைவானெமை யாளுடை யொண்சுட ரானே.
"Iṟaiyārvaḷai yāḷaiyor pākath thaṭakkik
kaṟaiyārmiṭaṟ tṟāṉkari kīṟiya kaiyāṉ
kuṟaiyārmathi sūdi kuraṅkaṇiṉ muṭṭath
thuṟaivāṉemai yāḷuṭai yoṇsuda rāṉē".
பலவும்பய னுள்ளன பற்றும் ஒழிந்தோங்
கலவம்மயில் காமுறு பேடையொ டாடிக்
குலவும்பொழில் சூழ்ந்த குரங்கணின் முட்டம்
நிலவும்பெரு மானடி நித்தல் நினைந்தே.
"Palavumpaya ṉuḷḷaṉa patṟum ozhinthōṅ
kalavam'mayil kāmuṟu pēdaiyo dādik
kulavumpozhil chūzhntha kuraṅkaṇiṉ muṭṭam
nilavumperu māṉadi nithal niṉainthē".
மாடார்மலர்க் கொன்றை வளர்சடை வைத்துத்
தோடார்குழை தானொரு காதில் இலங்கக்
கூடார்மதி லெய்து குரங்கணின் முட்டத்
தாடாரர வம்மரை யார்த்தமர் வானே.
"Mādārmalark koṉtṟai vaḷarsadai vaithuth
thōṭārkuzhai thāṉoru kāthil ilaṅkak
kūṭārmathi leythu kuraṅkaṇiṉ muṭṭath
thāṭārara vam'marai yārthamar vāṉē".
மையார்நிற மேனி யரக்கர்தங் கோனை
உய்யாவகை யாலடர்த் தின்னருள் செய்த
கொய்யாமலர் சூடி குரங்கணின் முட்டங்
கையால்தொழு வார்வினை காண்ட லரிதே.
"Maiyārniṟa mēṉi yarakkarthaṅ kōṉai
uyyāvakai yālaṭarth thiṉṉaruḷ seytha
koyyāmalar sūdi kuraṅkaṇiṉ muṭṭaṅ
kaiyālthozhu vārviṉai kāṇṭa larithē".
வெறியார்மலர்த் தாமரை யானொடு மாலும்
அறியாதசைந் தேத்தவோர் ஆரழ லாகுங்
குறியால்நிமிர்ந் தான்றன் குரங்கணின் முட்டம்
நெறியால்தொழு வார்வினை நிற்ககி லாவே.
"Veṟiyārmalarth thāmarai yāṉodu mālum
aṟiyāthasain thēthavōr ārazha lākuṅ
kuṟiyālnimirn thāṉtṟaṉ kuraṅkaṇiṉ muṭṭam
neṟiyālthozhu vārviṉai niṟkaki lāvē".
கழுவார்துவ ராடை கலந்துமெய் போர்க்கும்
வழுவாச்சமண் சாக்கியர் வாக்கவை கொள்ளேல்
குழுமின்சடை யண்ணல் குரங்கணின் முட்டத்
தெழில்வெண்பிறை யானடி சேர்வ தியல்பே.
"Kazhuvārthuva rādai kalanthumey pōrkkum
vazhuvāchamaṇ sākkiyar vākkavai koḷḷēl
kuzhumiṉsadai yaṇṇal kuraṅkaṇiṉ muṭṭath
theḻilveṇpiṟai yāṉadi sērva thiyalpē".
கல்லார்மதிற் காழியுள் ஞானசம் பந்தன்
கொல்லார்மழு வேந்தி குரங்கணில் முட்டஞ்
சொல்லார்தமிழ் மாலை செவிக்கினி தாக
வல்லார்க்கெளி தாம்பிற வாவகை வீடே.
"Kallārmathiṟ kāzhiyuḷ gñāṉasam banthaṉ
kollārmazhu vēnthi kuraṅkaṇil muṭṭañ
sollārthamizh mālai sevikkiṉi thāka
vallārkkeḷi thāmpiṟa vāvakai vīdē".