Visited on: 2nd June, 2016 and 23rd May, 2017.
Location
Thiru Valampuram is situated at a distance of about 12 kms from Sembanarkoil and 6 kms from Poompuhaar. It is situated near Kadaimudi on the bus route of Mayiladuthurai to Poompuhar. It is about 2 kms from Keezhaperumpallam (one of the famous Navagraha temples).
Other Devara Paadal Petra Shiva Sthalams near this temple are – Thiruppallavaneecharam (Poompuhar), Thiruchaikkadu, Thiruvenkadu, Kezhai Thirukkattuppalli, Thirukkalikkamur (Annappan Pettai), Pariyal Veerattam, Thiruchempon Palli, Nani Palli, Thiru Kadaimudi (Keezhur), Thalaichangadu, Aakkur, Thirukkadaiyur and Thirukkadaiyur Mayanam.
General Information
| | |
| --- | --- |
| Moolavar | Sri Valampura Nathar, Sri Thalavana Nathar, Sri Vanni Nizhal Nathar, Sri Naga Nathar, Sri Kailasa Nathar, Sri Kasi Visweswarar and Sri Muktheesar. |
| Ambal | Sri Vaduvahirkkanni Ammai, Sri Swarna Padmambigai, Sankari and Gnana Soundari |
| Theertham (Holy water) | Brahma Theertham, Lakshmi Theertham and Swarna Pankaja Theertham |
| Sthala Vriksham (Sacred Tree) | Male Palm tree (Panai) |
| Pathigam (Hymn) rendered by | Saint Thirugnanasambanthar, Saint Thirunavukarasar (Appar) and Saint Sundaramurthy (Sundarar) |
This is one of the 276 Devara Paadal Petra Shiva Sthalams and 44th Shiva Sthalam on the Southern bank of the river Cauveri in Chozha Nadu (Thenkarai).
Lord Shiva in this temple is a Swayambumurthi (self-manifested).
This is one of the 44 Paadal petra sthalams where the "Moovar" (the three saints - Saint Thirugnanasambanthar, Saint Thirunavukarasar (Appar) and Saint Sundaramurthy (Sundarar) had rendered their Pathigams.
This east facing temple has two corridors and it has no main tower.
There is no flag post (Dwajasthambam) here.
This temple is counted as one of the Maadak Koils built by King Kochengat Cholan.
The last consecration ceremony (Maha Kumbabishekam) took place on 10.02.2008 and prior to that on 08.06.1966.
History of the Temple
As per the Sthala Puranam, this ancient temple is believed to be more than 2000 years old and it was originally constructed by King Abhisithu of Dravida kingdom. The king worshiped the lord here and was blessed with a child.
Also, the nearby place Kaveripoompattinam (Poompuhar) is very famous as it is surrounded by seven forests ("Vanam") and seven temples. They are –
Thala vanam (this place) is considered as the Ganapathy sthalam,
Chaya vanam is considered to be Lord Shiva's abode,
Pallava vanam is considered to be Goddess Parvathy sthalam,
Vellai vanam (Thiruvengadu) is considered as the Natarajar sthalam,
Mathanga vanam (Thiru Nangoor) is considered as the Murugan sthalam and
Mullai vanam (Thirumullaivoil) and Punga vanam (Perunthottam) constitute the Bairavar sthalam and Chandikeswarar sthalam respectively.
The historical names of this place are Thalavanam, Munkil Thoppu, Sangamath Thenthurai, Sangenthi, Vaanor Nagari (Vaanagari), Maal Ma Kudi (Mamakudi), Lakshmi Narayanapuram, Perumpallam and Thiruvalampuram.
Of the 276 Paadal Petra Shivasthalams, very few temples have Palm tree (Panai) as their Sthala Viruksham. This temple is one of them. Some of the others are Panaiyur, Panankattur, Puravaar Panankattur, Cheyyar, Thirumazhapadi and Thiruppanandal.
There are six stone inscriptions in this temple which date back to the periods of Chola kings Vikraman, Rajathirajan-II and Kulothungan-III.
This temple is under the administrative control of the Hindu Religious and Charitable Endowments Department of Government of Tamil Nadu (HR&CE).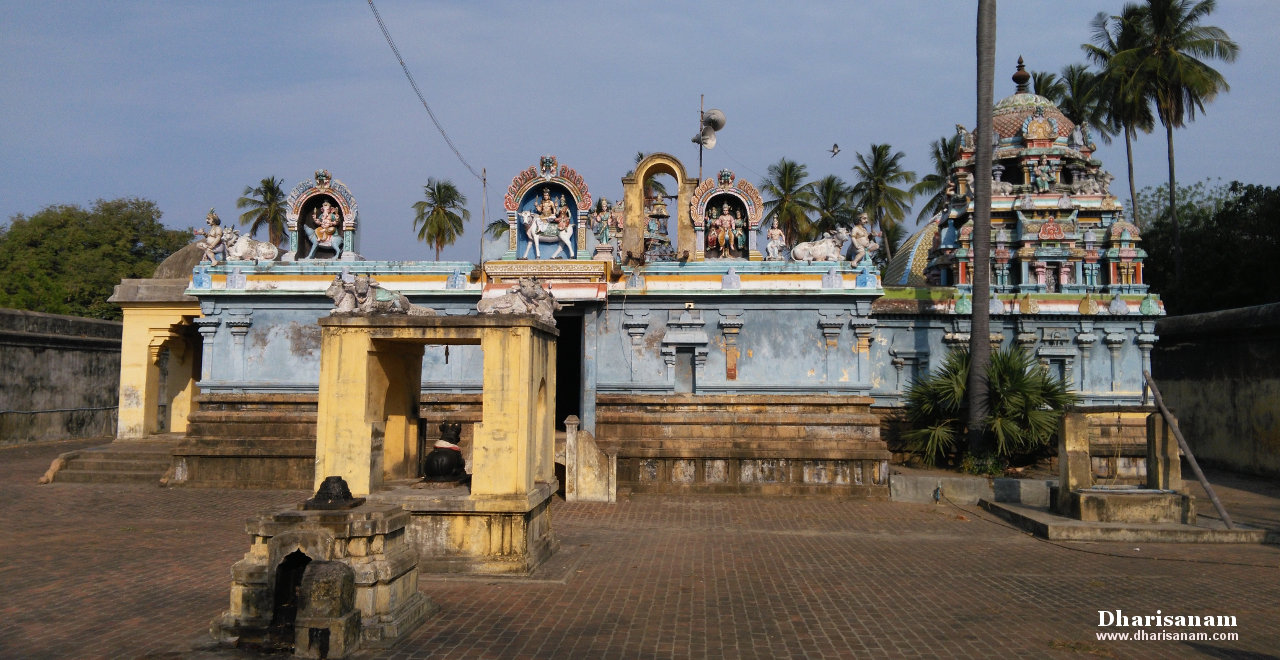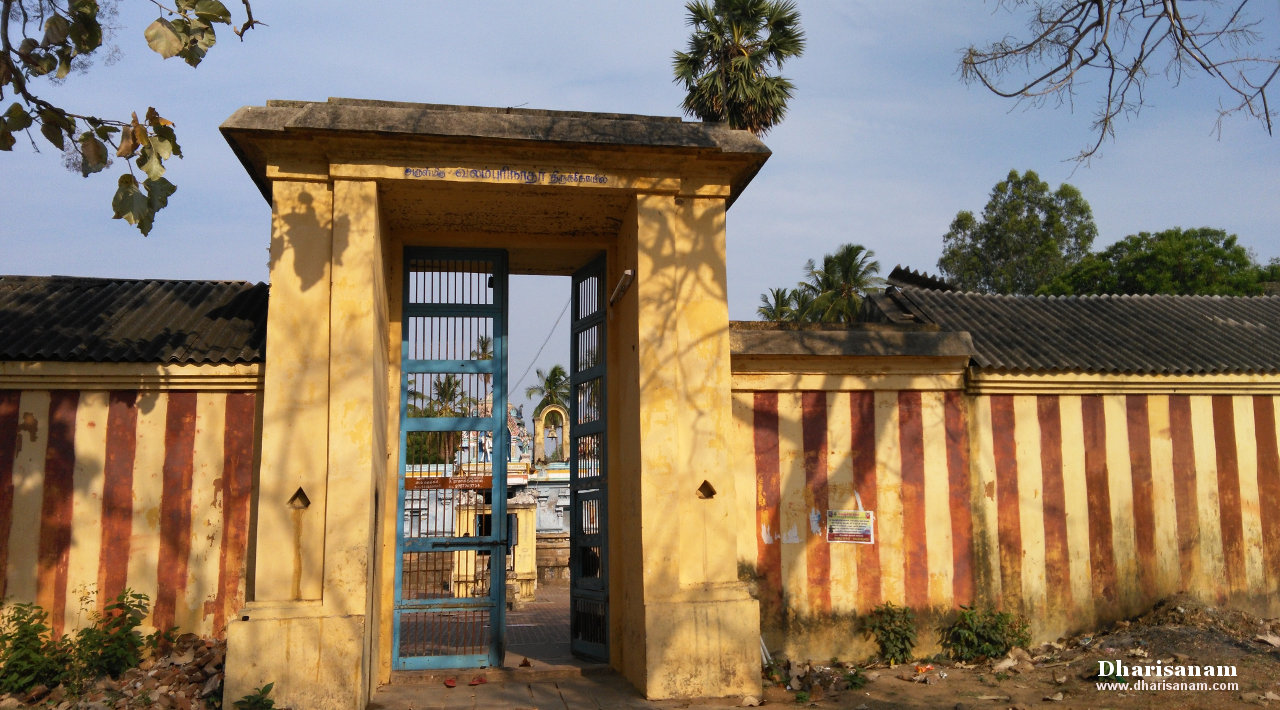 Legend
Lord Shiva's lingam here is made out of sand ("Pruthvi") and therefore abishekam is performed only after placing a cover (kavacham) on it. Also, there are two holes on top of the lingam. Hence this place also gets the name "Mela Perumpallam" ("Mela" meaning top and "perumpallam" meaning "big holes" in Tamil). Only "Punugu" (civet) is applied to the lingam once in a while. The lingam is always covered with metal sheet ("kavasam").
As per the Sthala Puranam of this temple, Lord Mahavishnu worshiped Lord Shiva here to receive a conch (Valampuri Sanghu) as a blessing. Before embarking for his penance, Vishnu left Goddess Lakshmi here to assist Goddess Parvathi. Lord Shiva was very pleased with his penance and gave him the "Chakrayudam" and "Ghatha" (club and the discus) as gifts. When he came back to this place to take Goddess Lakshmi, Goddess Parvathy gave him the conch and the lotus (Pathmam). Hence this place gets the name Valampuram.
Another legend associated with this place is that of Heranda (Athreyar) Maharishi. Once, in Thiruvalanchuzhi, Aadhiseshan came out from the "Padhala logam" (underworld) on a Shivarathri day to worship Lord Shiva. A huge hole ("phila dwaram") formed at the place where Aadhisheshan came out. Since river Cauvery was flowing through this place, she entered this hole and fell into the underworld. The Chola king who ruled from Kumbakonam, Harithuvajan got worried about this and prayed to Lord Shiva. It is believed that at this point the lord's divine voice was heard saying that a king or a sage has to sacrifice his life by entering into the hole so that the river can come back to earth. The king also sought the advice of Sage Heranda Maharishi who was performing penance in this place. The sage confirmed the divine voice. When the king decided to get into the hole for the welfare of the people, the sage stopped him and he himself entered into the hole and brought Cauvery back to earth. The place where the river came back to earth is called "Mela Cauvery", near Kumbakonam. Although he entered into the underworld at some other place, it is believed that he came back to the earth in this place. He worshiped the lord here for some time and attained salvation. There is a shrine for Heranda Maharishi ("Jeeva Samadhi") in front of this temple. In this shrine, there is also a Shivalingam that is believed to have been worshiped by this Maharishi.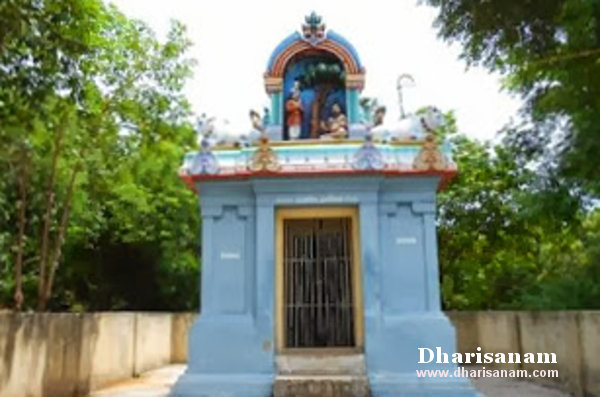 Another legend is that of Dhananjaya, a king from the Magadan empire. It is believed that he had instructed his son to dissolve his ashes after his death in some holy water (Theertham) where it could blossom into flowers. His son, King Dakshina, and his wife travelled to many Shiva temples in search of such a holy theertham. When he visited this place, the ashes turned to flowers. His son dissolved the ashes in this temples theertham and worshiped the lord here. The idol of the king and his wife can be seen in this temple. As per the Puranas, this temple is considered as holy as Banaras (Kasi).
Another legend is that a king from Kasi wanted to test the fidelity of his queen. While camping in the forests, he asked his minister to inform his wife that he was killed by a tiger during the hunt. Unable to bear the shock, the queen instantly died. For causing the death of a chaste wife by false information, the king was afflicted with "Brahmahathi dosham". The king consulted many learned pundits in order to seek absolution for his sins. He was advised to feed (provide "Annadhanam" for) 1000 brahmins every day in this place (Thiruvalampuram). They further advised the king that he should hang a big bell in front of his palace and that it will automatically ring whenever a sage takes the food.
The king followed this advice and set up a "dharamshala" where the Annadhanam took place. One day, Saint Pattinathar came to this temple and asked the people in the kitchen to give him food. They refused to offer him food as he did not look like a brahmin. With nothing else to eat, Pattinathar drank the water that is drained from cooked rice ("Kanji" in Tamil). Surprisingly, the bell began to ring. Everyone was astonished to hear the bell ringing even before the Annadhanam had started. The king rushed to the dharamshala and saw Pattinathar smiling there. The king understood the greatness of the sage and fell to his feet asking for forgiveness. It is believed that the king was relieved from his dosham immediately. To commemorate this event, a festival is celebrated in this temple even now.
Other legends
It is believed that Dakshan and his wife performed penance here to be blessed with a daughter. It is believed that Goddess Parvathy was born to them here on a "Maham" star day in the Tamil month of Maasi. They named her as Dhakshayini.
Lord Shiva granted darshan to Saint Thirunavukkarasar in this place during his pilgrimage along with Saint Thirugnanasambanthar.
It is believed that Lord Murugan, Mahavishnu, Brahma, Ekadasa Rudras, Indra, Devas, Lakshmi, Saraswathi, Suryan, Chandran, river Kaveri, Kamadenu, Iravadham, Thalavana rishis, serpent Vasuki, Sangam and Varunan have worshiped Lord Shiva here.
It is believed that Suryan was blessed with the darshan of Mount Kailash from here itself by Lord Shiva.
Deities in the temple
Other than the shrines of Lord Shiva and Goddess Parvathy, shrines and idols of Vinayagar, Murugan with his consorts, Natarajar, Somaskandar, Pitchandavar, Naalvar, Nagar, Viswanathar (Shivalingam worshiped by Lakshmanan), Ramanathar (Shivalingam worshiped by Lord Ram), Gajalakshmi, Saptamadas, Suryan, Kala Bairavar and Saneeswarar can be seen in the main hall and in the corridors.
In the "koshtam" (place surrounding the sanctum sanctorum), idols of Vinayakar, Dakshinamurthy, Mahavishnu, Brahma, Durgai and Chandikeswarar can be seen.
There is also an idol of king Dhakshina Maharaja and his wife in the corridor.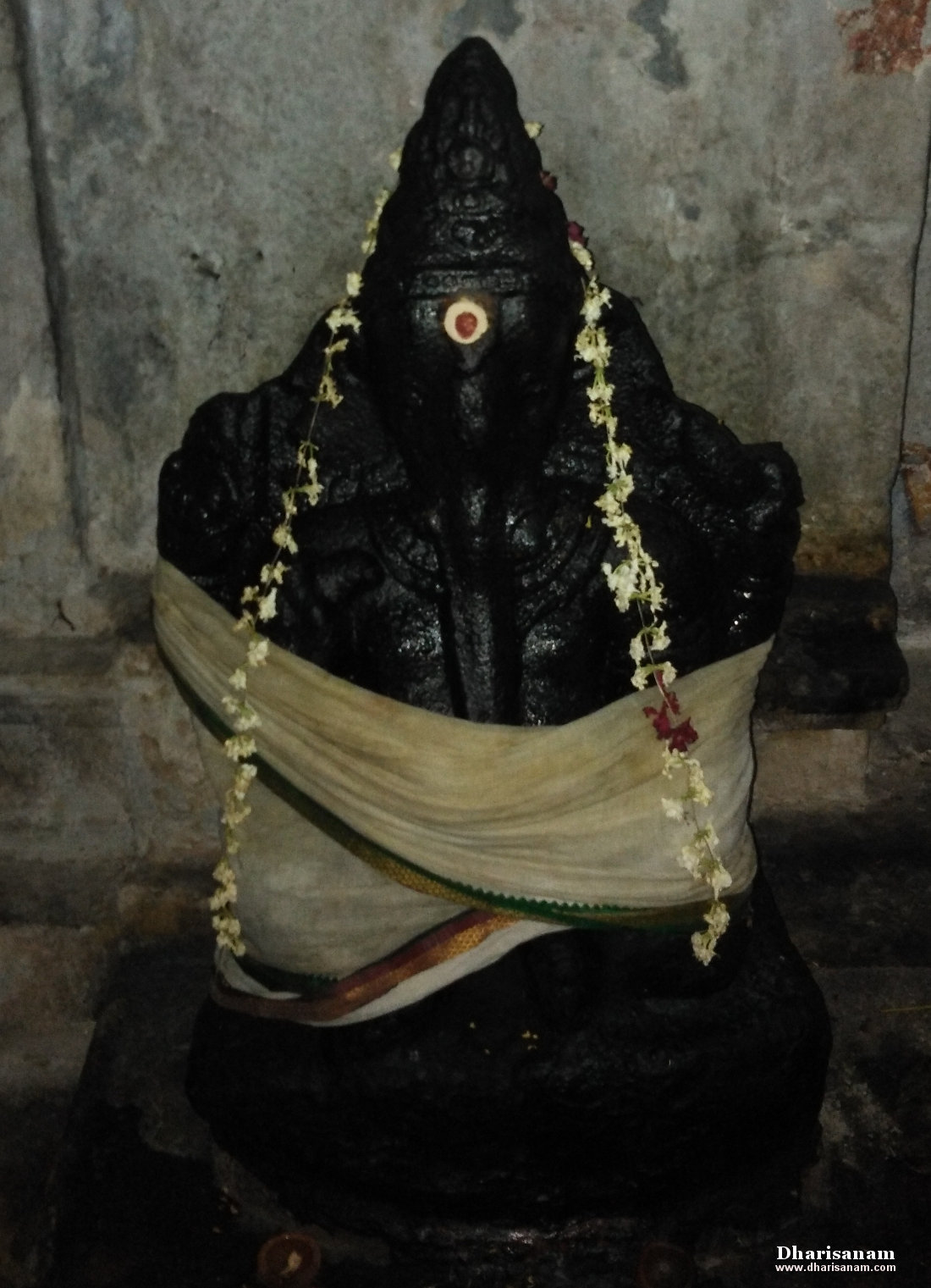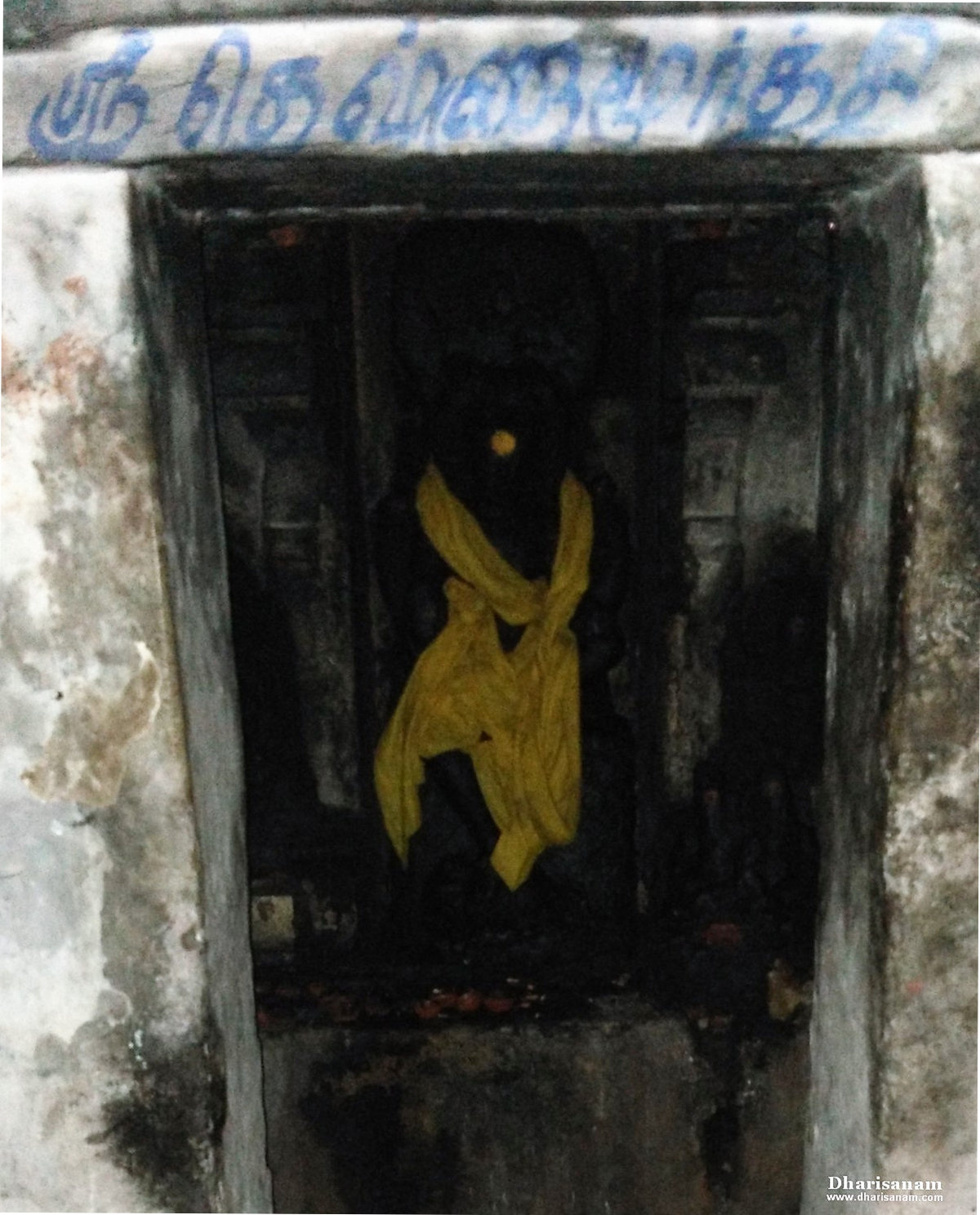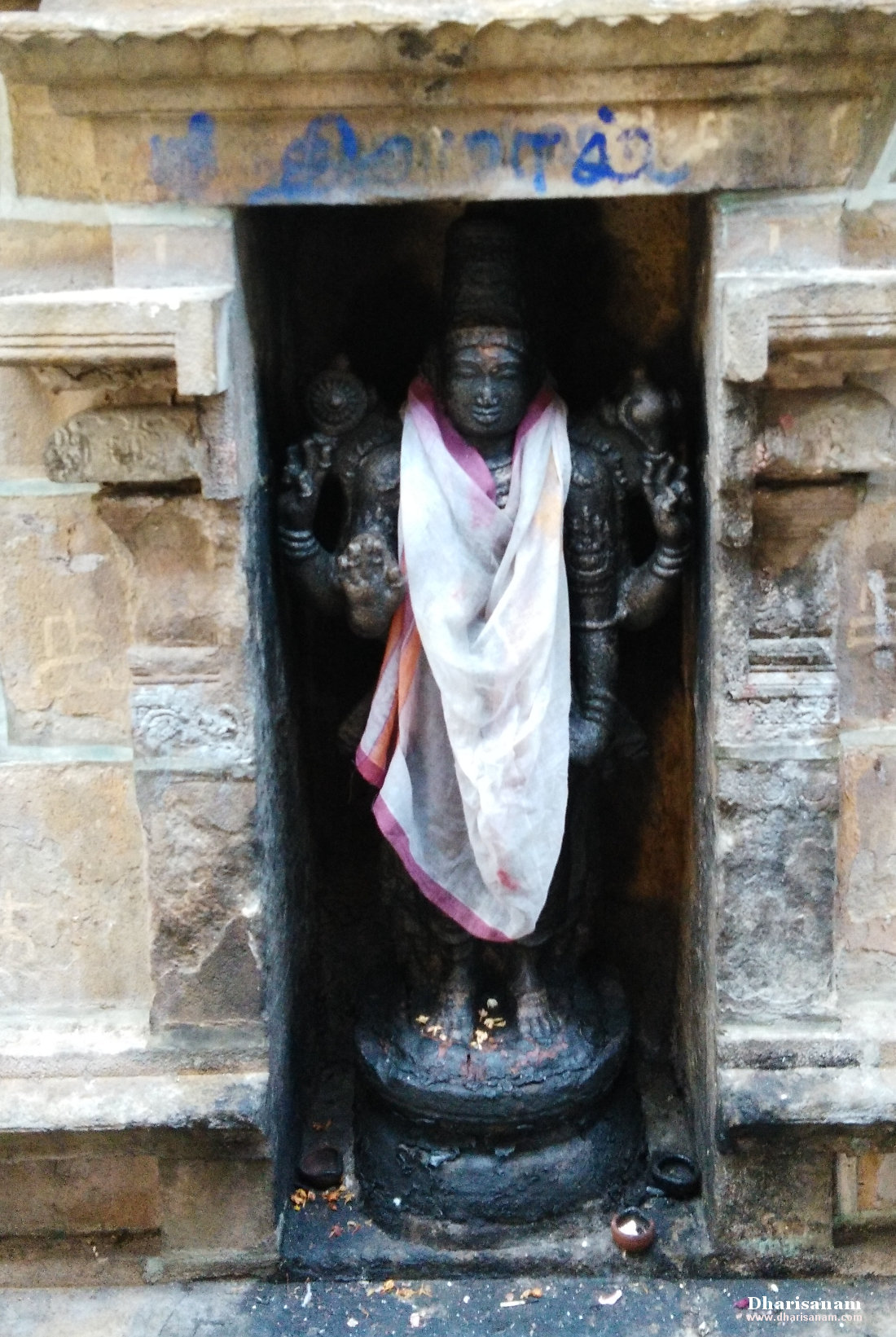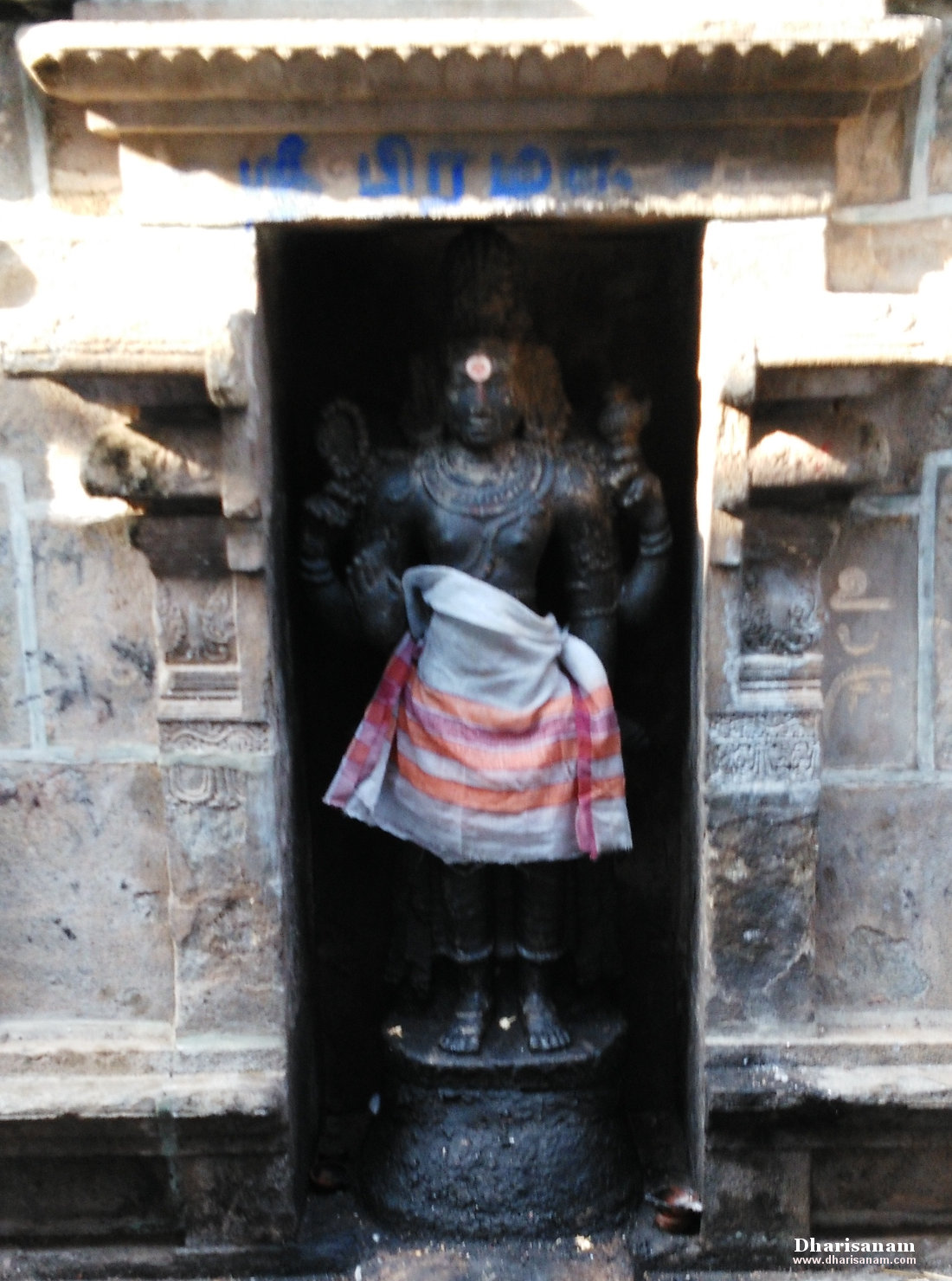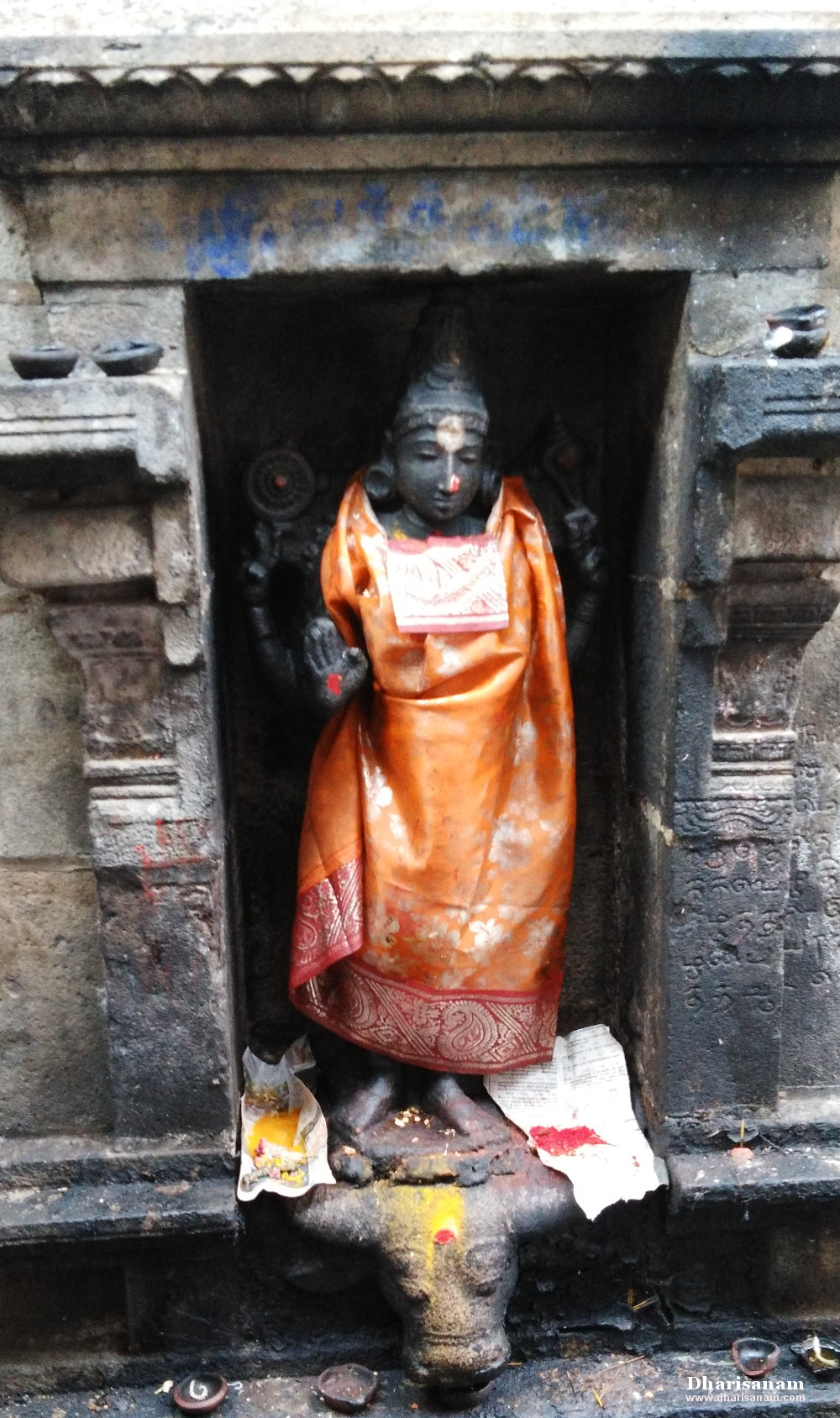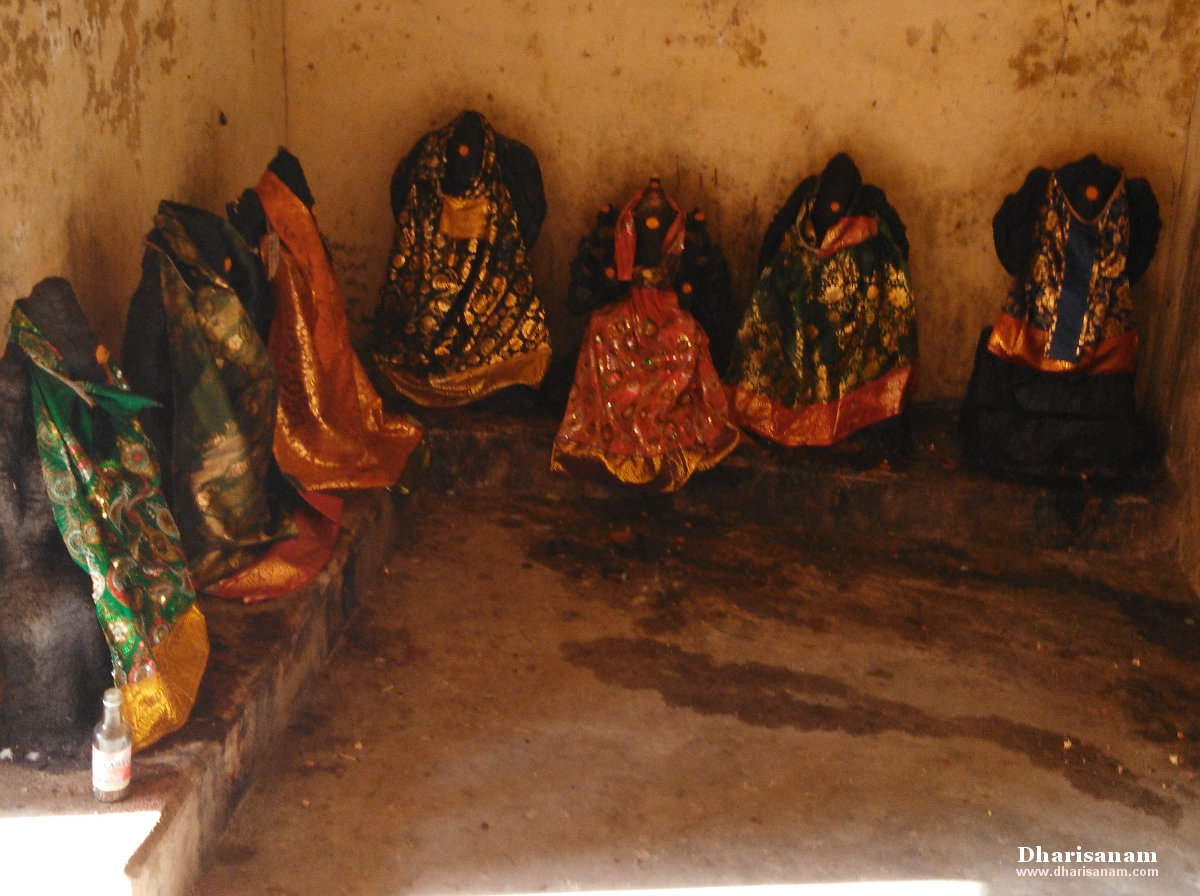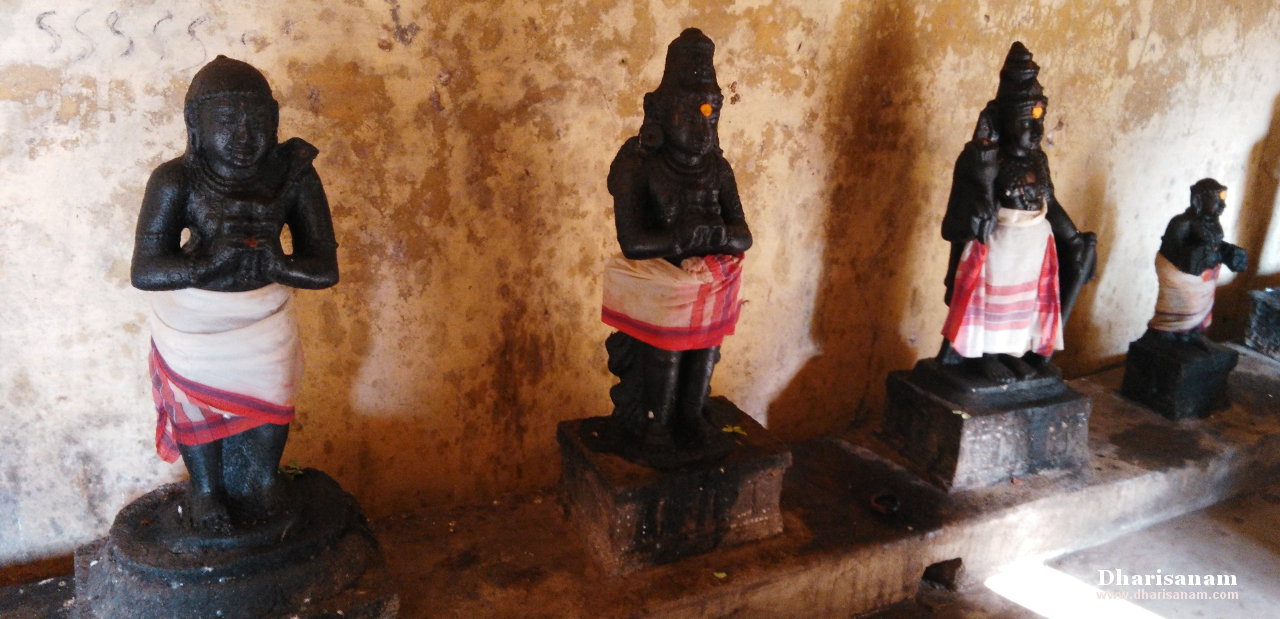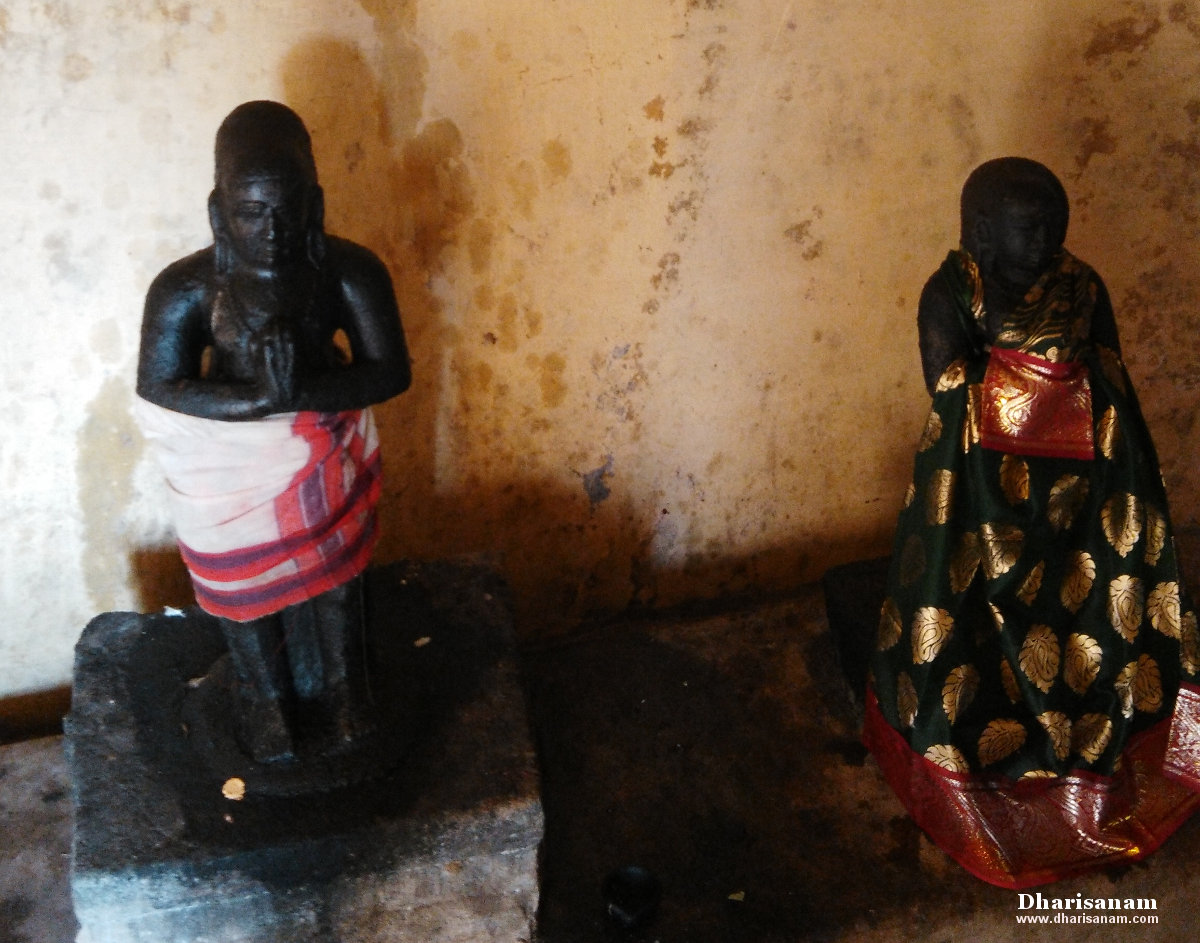 Salient Features
The idol of Bikshandavar is believed to have been found in this temple's tank. It looks very beautiful. This Bikshandavar is praised here as "Vattanai Nathar".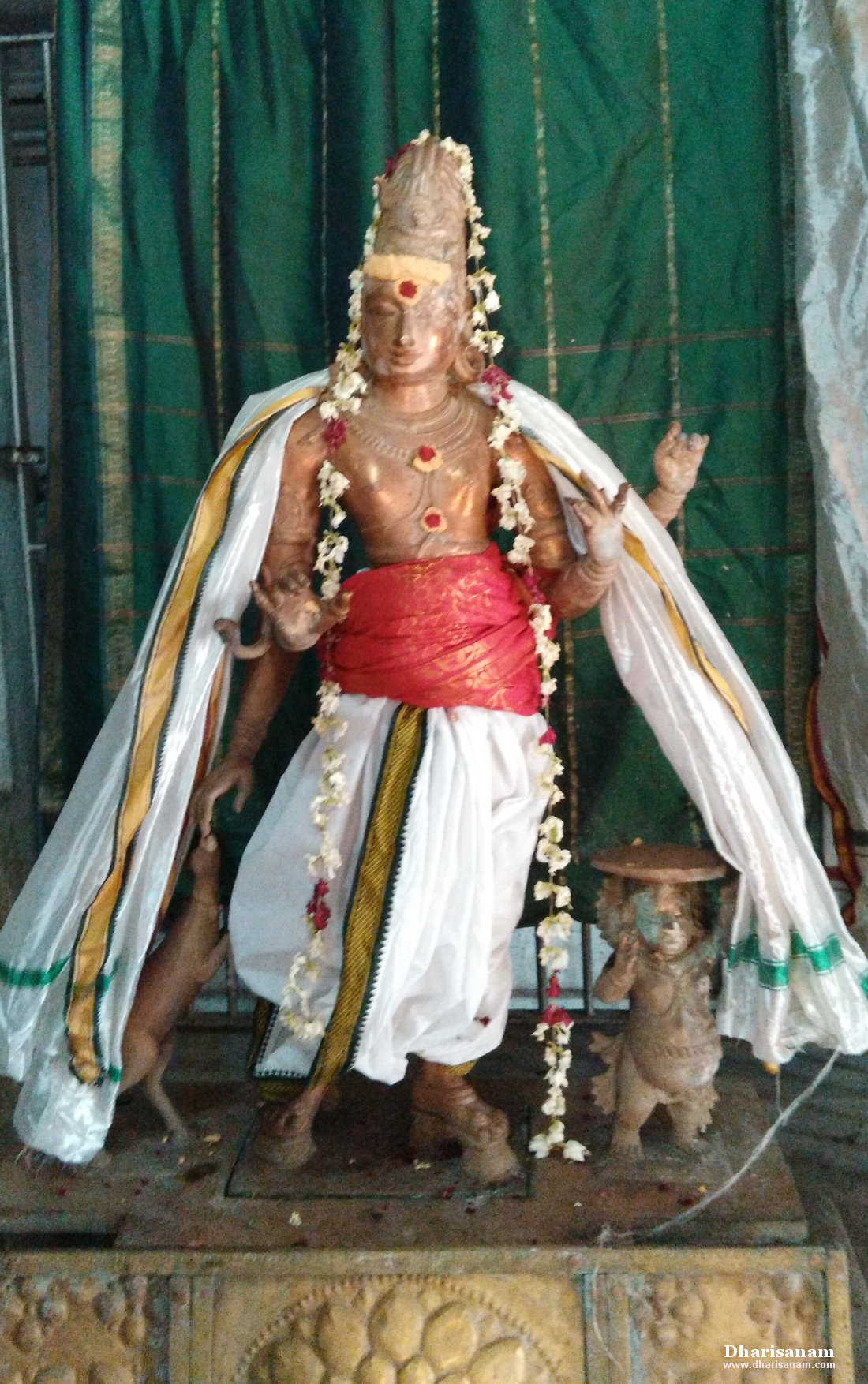 There are two tanks (Theerthams) in front of this temple. There is a shrine for Vinayakar on the banks of one of the tanks.
Vinayakar in this temple is praised as Sri Valampuri Vinayakar, Selva Ganapathy and Vellai Vinayakar.
It is believed that King Kochengat Chola built about 70 "Madakkoils". The distinguishing feature of a Madakkoil is that it is not easily approachable by an elephant. He built these temples at an elevation and there are a few steps that need to be climbed before seeing the lord. Also, the sanctum sanctorum's (Karpagragam) entrance is narrow such that no elephant can enter it.
The sanctum sanctorum is in the form of semi-circular tank ("akazhi" in Tamil).
The holy waters related to this temple are – Lakshmi Theertham, Swarnapankaja Theertham, Brahma Theertham, Mayil Theertham, Naga Theertham, Sangundi Theertham, Sengazhunir Theertham, Varuna Theertham, Kamadenu Theertham, Nakshatra Theertham, Kaviri Theertham, Samudra (sea) Theertham, Rajendra Theertham and Velan theertham.
Greatness of this temple
Those afflicted with skin problems, Stree dosham, or the adverse aspects of serpent planets can pray in this temple for relief.
It is also believed that worshiping the lord here would help devotees break away from the repetitive cycle of birth and re-birth.
Important Festivals
Some of the main festivals celebrated in this temple are-
Vinayakar Chaturthi in the Tamil month of Aavani (Aug-Sept),
Skanda Shashti and Annabishekam in the Tamil month of Aippasi (Oct–Nov),
Thiru Karthikai in the Tamil month of Karthikai (Nov-Dec),
Tiruvadhirai in the Tamil month of Margazhi (Dec-Jan),
Shivrathri in the Tamil month of Masi (Feb-Mar),
Panguni Uthiram in the Tamil month of Panguni (Mar-April) and
Bikshandavar festival on the Bharani star day in the Tamil month of Thai (Jan-Feb).
Pattinathar is another important festival that is celebrated here.
Pradosham is also observed regularly.
Temple Timings
From 08.00 AM to 12.00 Noon and from 06.00 PM to 08.30 PM.
Temple Address
Sri Valampuranathar Temple,
Melaperumpallam (Thiruvalampuram),
Melayur Post,
Tharangambadi Taluk,
Nagapattinam District,
Tamil Nadu - 609 107.
Tele: +91- 4364 - 200 890, 200 685.

The temple priest Sri P.Gnanaskanda Gurukkal can be contacted at +91 81108 05059 or Sri Pattu Gurukkal at 94428 60605.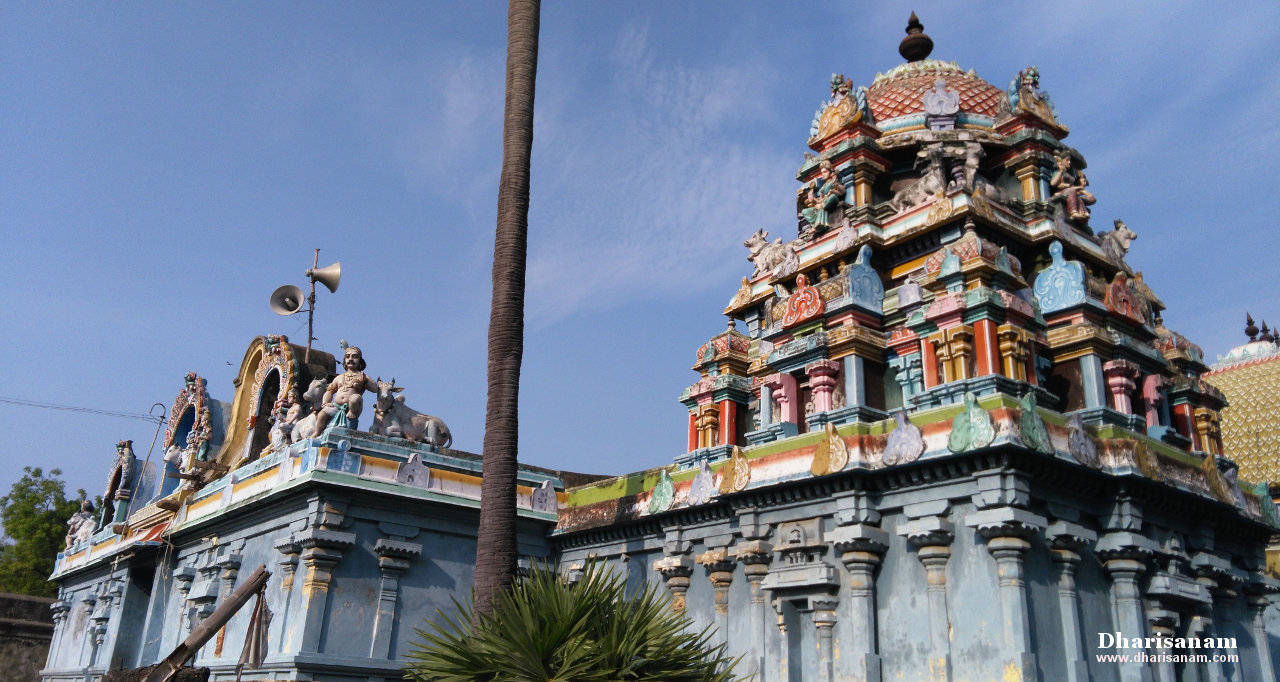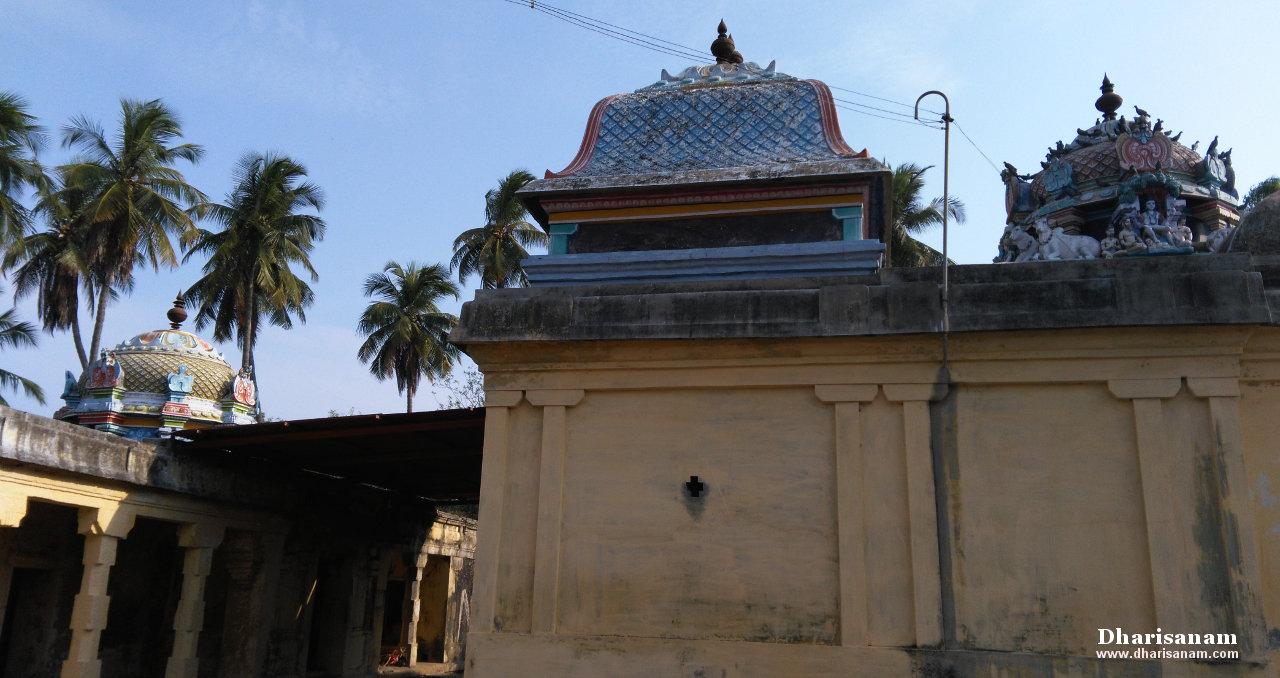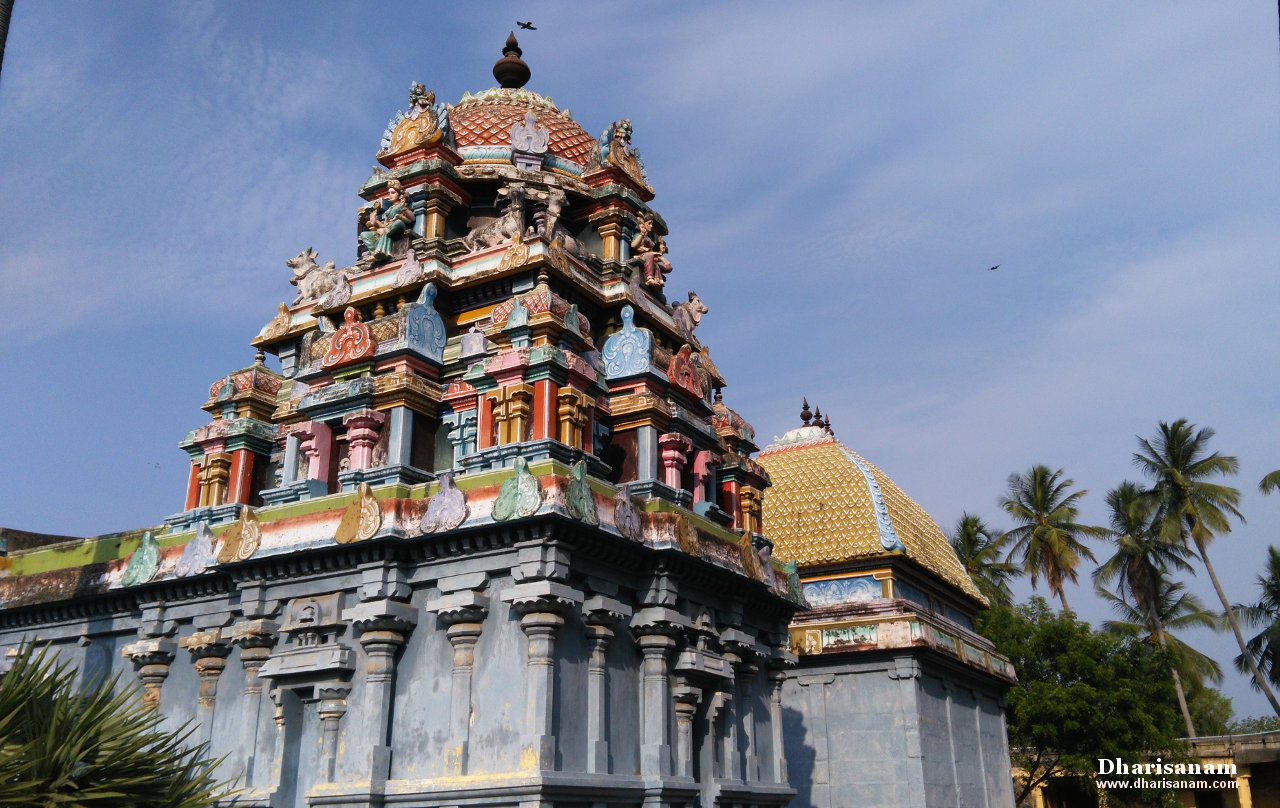 ---
Pathigam (Hymn) with English transliteration
Saint Thirugnanasambanthar visited this temple and sang this Pathigam.
Devotees visiting this temple should make it a practice to recite this Pathigam.
கொடியுடை மும்மதி லூடுருவக் குனிவெஞ் சிலைதாங்கி
இடிபட எய்த அமரர்பிரான் அடியார் இசைந்தேத்தத்
துடியிடை யாளையோர் பாகமாகத் துதைந்தா ரிடம்போலும்
வடிவுடை மேதி வயல்படியும் வலம்புர நன்னகரே.
"Koṭiyuṭai mum'mathi lūṭuruvak kuṉiveñ chilaithāṅki
iṭipaṭa eytha amararpirāṉ aṭiyār isainthēththath
thuṭiyiṭai yāḷaiyōr pākamākath thuthainthā riṭampōlum
vaṭivuṭai mēthi vayalpaṭiyum valampura naṉṉakarē".
கோத்தகல் லாடையுங் கோவணமுங் கொடுகொட்டி கொண்டொருகைத்
தேய்த்தன் றனங்கனைத் தேசழித்துத் திசையார் தொழுதேத்தக்
காய்த்தகல் லாலதன் கீழிருந்த கடவுள் ளிடம்போலும்
வாய்த்தமுத் தீத்தொழில் நான்மறையோர் வலம்புர நன்னகரே.
"Kōththakal lāṭaiyuṅ kōvaṇamuṅ koṭukoṭṭi koṇṭorukaith
thēyththaṉ tṟaṉaṅkaṉaith thēsazhiththuth thisaiyār thozhuthēththak
kāyththakal lālathaṉ kīzhiruntha kaṭavuḷ ḷiṭampōlum
vāyththamuth thīththozhil nāṉmaṟaiyōr valampura naṉṉakarē".
நொய்யதோர் மான்மறி கைவிரலின் நுனைமேல் நிலையாக்கி
மெய்யெரி மேனிவெண் ணீறுபூசி விரிபுன் சடைதாழ
மையிருஞ் சோலை மணங்கமழ இருந்தா ரிடம்போலும்
வைகலும் மாமுழ வம்மதிரும் வலம்புர நன்னகரே.
"Noyyathōr māṉmaṟi kaiviraliṉ nuṉaimēl nilaiyākki
meyyeri mēṉiveṇ ṇīṟupūsi viripuṉ saṭaithāzha
maiyiruñ chōlai maṇaṅkamazha irunthā riṭampōlum
vaikalum māmuzha vam'mathirum valampura naṉṉakarē".
ஊனம ராக்கை யுடம்புதன்னை யுணரிற் பொருளன்று
தேனமர் கொன்றையி னானடிக்கே சிறுகாலை யேத்துமினோ
ஆனமர் ஐந்துங்கொண் டாட்டுகந்த அடிகள் இடம்போலும்
வானவர் நாடொறும் வந்திறைஞ்சும் வலம்புர நன்னகரே.
"Ūṉama rākkai yuṭamputhaṉṉai yuṇariṟ poruḷaṉtṟu
thēṉamar koṉtṟaiyi ṉāṉaṭikkē siṟukālai yēththumiṉō
āṉamar ainthuṅkoṇ ṭāṭṭukantha aṭikaḷ iṭampōlum
vāṉavar nāṭoṟum vanthiṟaiñchum valampura naṉṉakarē".
செற்றெறி யுந்திரை யார்கலுழிச் செழுநீர்கிளர் செஞ்சடைமேல்
அற்றறி யாதன லாடுநட்ட மணியார் தடங்கண்ணி
பெற்றறி வார்எரு தேறவல்ல பெருமான் இடம்போலும்
வற்றறி யாப்புனல் வாய்ப்புடைய வலம்புர நன்னகரே.
"Setṟeṟi yunthirai yārkaluzhich chezhunīrkiḷar señchaṭaimēl
atṟaṟi yāthaṉa lāṭunaṭṭa maṇiyār thaṭaṅkaṇṇi
petṟaṟi vār'eru thēṟavalla perumāṉ iṭampōlum
vatṟaṟi yāppuṉal vāyppuṭaiya valampura naṉṉakarē".
உண்ணவண் ணத்தொளி நஞ்சமுண்டு வுமையோ டுடனாகிச்
சுண்ணவண் ணப்பொடி மேனிபூசிச் சுடர்ச்சோதி நின்றிலங்கப்
பண்ணவண் ணத்தன பாணிசெய்யப் பயின்றா ரிடம்போலும்
வண்ணவண் ணப்பறை பாணியறா வலம்புர நன்னகரே.
"Uṇṇavaṇ ṇaththoḷi nañchamuṇṭu vumaiyō ṭuṭaṉākich
chuṇṇavaṇ ṇappoṭi mēṉipūsich chuṭarchchōthi niṉtṟilaṅkap
paṇṇavaṇ ṇaththaṉa pāṇiseyyap payiṉtṟā riṭampōlum
vaṇṇavaṇ ṇappaṟai pāṇiyaṟā valampura naṉṉakarē".
புரிதரு புன்சடை பொன்தயங்கப் புரிநூல் புரண்டிலங்க
விரைதரு வேழத்தின் ஈருரிதோல் மேல்மூடி வேய்புரைதோள்
அரைதரு பூந்துகில் ஆரணங்கை யமர்ந்தா ரிடம்போலும்
வரைதரு தொல்புகழ் வாழ்க்கையறா வலம்புர நன்னகரே.
"Puritharu puṉsaṭai poṉthayaṅkap purinūl puraṇṭilaṅka
viraitharu vēzhaththiṉ īrurithōl mēlmūṭi vēypuraithōḷ
araitharu pūnthukil āraṇaṅkai yamarnthā riṭampōlum
varaitharu tholpukazh vāzhkkaiyaṟā valampura naṉṉakarē".
தண்டணை தோளிரு பத்தினொடுந் தலைபத் துடையானை
ஒண்டணை மாதுமை தான்நடுங்க ஒருகால் விரலூன்றி
மிண்டது தீர்த்தருள் செய்யவல்ல விகிர்தர்க் கிடம்போலும்
வண்டணை தன்னொடு வைகுபொழில் வலம்புர நன்னகரே.
"Thaṇṭaṇai thōḷiru paththiṉoṭun thalaipath thuṭaiyāṉai
oṇṭaṇai māthumai thāṉnaṭuṅka orukāl viralūṉtṟi
miṇṭathu thīrththaruḷ seyyavalla vikirthark kiṭampōlum
vaṇṭaṇai thaṉṉoṭu vaikupozhil valampura naṉṉakarē".
தாருறு தாமரை மேலயனுந் தரணி யளந்தானும்
தேர்வறி யாவகை யால்இகலித் திகைத்துத் திரிந்தேத்தப்
பேர்வறி யாவகை யால்நிமிர்ந்த பெருமான் இடம்போலும்
வாருறு சோலை மணங்கமழும் வலம்புர நன்னகரே.
"Thāruṟu thāmarai mēlayaṉun tharaṇi yaḷanthāṉum
thērvaṟi yāvakai yālikalith thikaiththuth thirinthēththap
pērvaṟi yāvakai yālnimirntha perumāṉ iṭampōlum
vāruṟu chōlai maṇaṅkamazhum valampura naṉṉakarē".
காவிய நல்துவ ராடையினார் கடுநோன்பு மேல்கொள்ளும்
பாவிகள் சொல்லைப் பயின்றறியாப் பழந்தொண்டர் உள்ளுருக
ஆவியுள் நின்றருள் செய்யவல்ல அழகர் இடம்போலும்
வாவியின் நீர்வயல் வாய்ப்புடைய வலம்புர நன்னகரே.
"Kāviya nalthuva rāṭaiyiṉār kaṭunōṉpu mēlkoḷḷum
pāvikaḷ sollaip payiṉtṟaṟiyāp pazhanthoṇṭar uḷḷuruka
āviyuḷ niṉtṟaruḷ seyyavalla azhakar iṭampōlum
vāviyiṉ nīrvayal vāyppuṭaiya valampura naṉṉakarē".
நல்லியல் நான்மறை யோர்புகலித் தமிழ்ஞான சம்பந்தன்
வல்லியந் தோலுடை யாடையினான் வலம்புர நன்னகரைச்
சொல்லிய பாடல்கள் பத்துஞ்சொல்ல வல்லவர் தொல்வினைபோய்ச்
செல்வன சேவடி சென்றணுகிச் சிவலோகஞ் சேர்வாரே.
"Nalliyal nāṉmaṟai yōrpukalith thamizhgñāṉa sambanthaṉ
valliyan thōluṭai yāṭaiyiṉāṉ valampura naṉṉakaraich
cholliya pāṭalkaḷ paththuñcholla vallavar tholviṉaipōych
chelvaṉa sēvaṭi seṉtṟaṇukich sivalōkañ sērvārē".