Visited on: December 16, 2017.
Location
Vaikal is situated at a distance of about 12 kms from Kumbakonam on the Kumbakonam to Karaikkal route. After crossing Thiruneelakkudi, S.Pudur and Pazhiyanchiya Nallur, take the diversion road and proceed further for about 2 kms to reach Vaikal.
Vaikal is about 4 kms from Thiruneelakkudi as well as Konerirajapuram (Nallam).
Other Devara Paadal Petra Shiva Sthalams near this place are - Thirunallam (Konerirajapuram), Thiru Kozhambiam, Thiruneelakkudi, Thenkurangadu Thurai (Aduthurai), Thiruvidaimaruthur and Thiruvavaduthurai.
General Information
| | |
| --- | --- |
| Moolavar | Sri Vaikalnatheswarar |
| Ambal | Sri Vaikal Ambigai, Sri Kombiyal Kothai |
| Theertham (Holy water) | Shenbaka Theertham |
| Sthala Vriksham (Sacred Tree) | Shenbaka Plant |
| Pathigam (Hymn) rendered by | Saint Thirugnanasambanthar-1 |
This is one of the 276 Devara Paadal Petra Shiva Sthalams and 33rd Shiva Sthalam on the Southern bank of the river Cauveri in Chozha Nadu (Thenkarai).
Lord Shiva in this temple is a Swayambumurthi (self-manifested).
This temple is counted as one of the Maadak Koils built by King Kochengat Cholan.
This east facing temple has a single corridor and its main tower does not have any tiers.
History of the Temple
Vaikal is situated on the southern bank of the river Nattaru. This ancient temple is believed to have been constructed by the Cholas.
Once this place was a forest full of Shenbaga trees.Hence this place gets the name Shenbagaranyam and the lord is praised as Sri Shenbagaranyeswarar.
This place's name "Vaikal" is derived from Vai-kuru-kal meaning a small hill in Tamil.
The historical names of this place are Shenbagaranyam, Mummoorthy Sthalam and Nithyavasapuram.
This temple is under the administrative control of the Hindu Religious and Charitable Endowments Department of Government of Tamil Nadu (HR&CE). This temple is under the supervision of Thirunageswaram temple EO.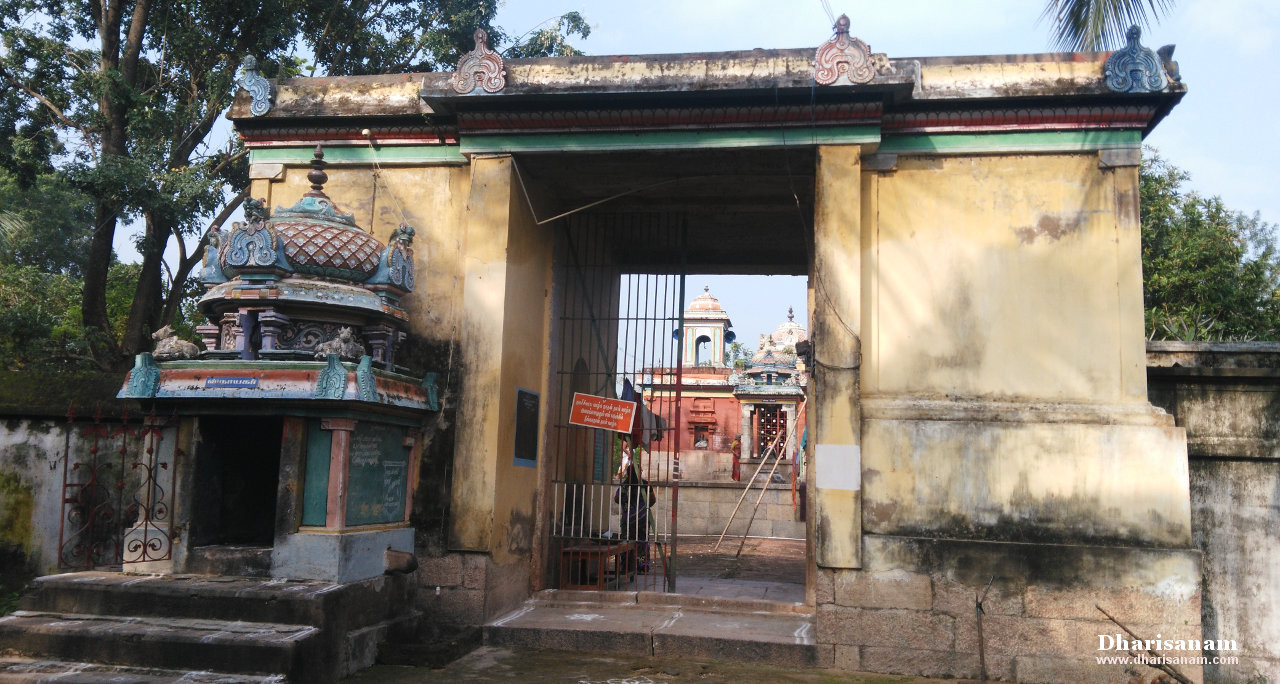 Legend
There are three Shiva temples in Vaikal – they are Vaikal Maadakkoyil, Sri Kasi Viswanathar Koil and Sri Brahmapureeswarar Koil. These three temples are considered to be representing the three eyes of Lord Shiva ("Mukkan Kshetram" or "muntru kan kshetram"). "Muntru" means three, "kan" means eye and "kshetram means temple in Tamil. All these three temples are located in a radius of one kilometre only. They are as follows -
Kasi Viswanathar Koil is considered to be the right eye of Lord Shiva. Lord Mahavishnu is believed to have worshiped Sri Kasi Viswanathar and Sri Visalakshi there.
Brahmapureeswarar Koil is considered to be the left eye. Lord Brahma is believed to have worshiped "Sri Brahmapureeswarar" and Sri Periya Nayaki there.
Sri Vaikalnathar temple is said to represent the eye on Lord Shiva's forehead. Sri Kombiyal Kothai is the goddess here. Saint Thirugnanasambanthar rendered his pathigam in this temple. This temple is counted as one of the Maadak Koils built by King Kochengat Cholan.
The legend connecting these three temples involves Bhoomidevi (Bhoodevi). It is believed that she requested Lord Mahavishnu to marry her. The lord accepted her request and married her. Angered by his marriage, Lord Mahavishnu's wife Thirumakal (Sridevi / Lakshmi) left Vishnu and came to this place. She meditated on Lord Shiva and performed rigorous penance. Vishnu and Bhoodevi also came here in search of Lakshmi and prayed to Lord Shiva.
Brahma also came to this place in search of Vishnu and worshiped Lord Shiva.
Lord Shiva advised Lakshmi to accept the marriage of Vishnu and Bhoodevi.
The Sthala Puranam of this temple states that when an elephant was searching for its calf, it inadvertently damaged an anthill. The ants bit the elephant and killed it. It is believed that both the calf and the ants prayed to Lord Shiva. The young elephant was consoled for its loss and the ants were pardoned for their sins.
Lord Vishnu, Goddess Lakshmi, Brahma, Indira, Suryan, Devas and Agasthiyar have worshiped the lord here.
Deities in the temple
At Sri Vaikalnathar temple
Sri Vaikalnathar Vinayakar, Sri Kombiyal Kothai, Vinayakar, Murugan with his consorts, Mahavishnu with Sridevi and Bhoodevi, Gajalakshmi, Chandikeswarar with Chandikeswari, Kalabairavar and Saneeswarar can be seen. There is no Navagraham here.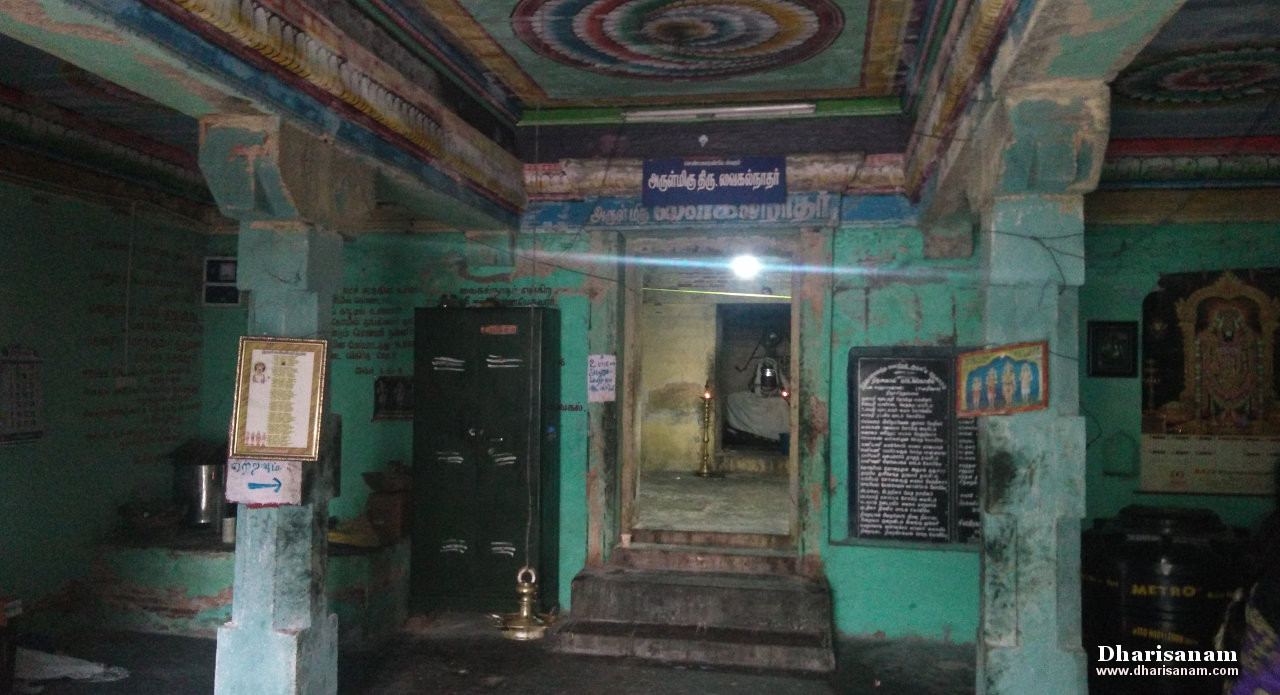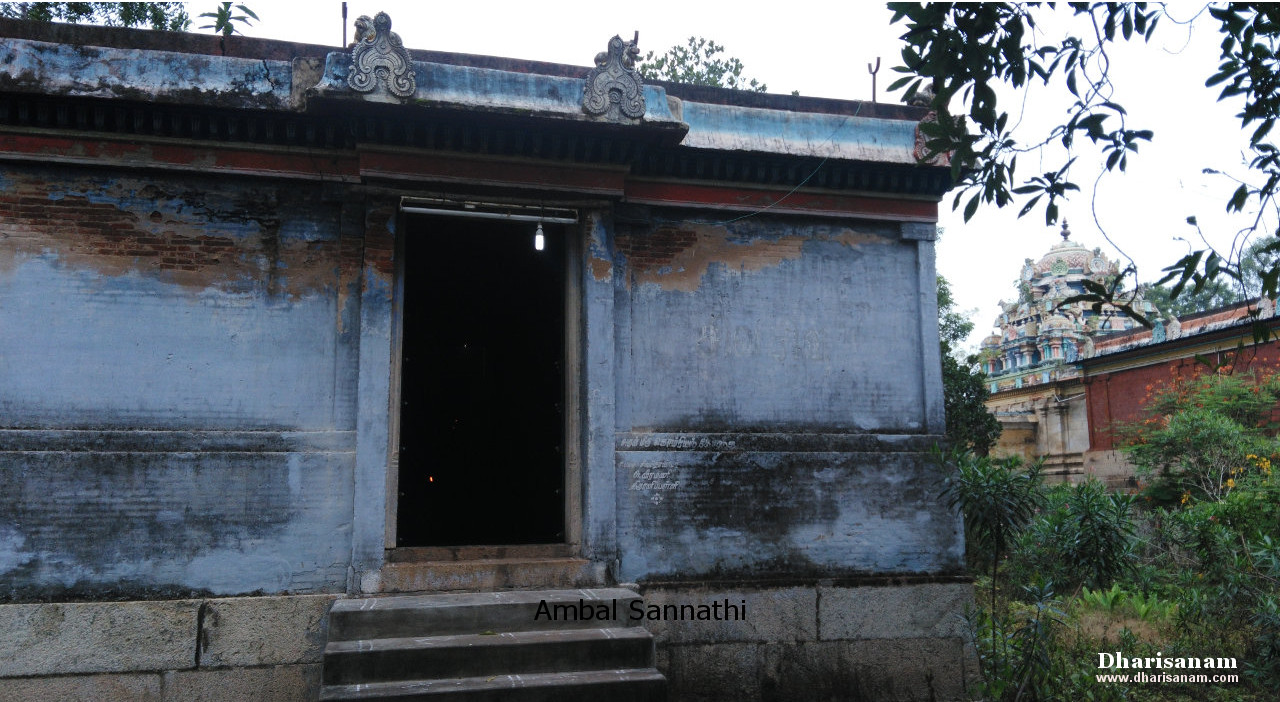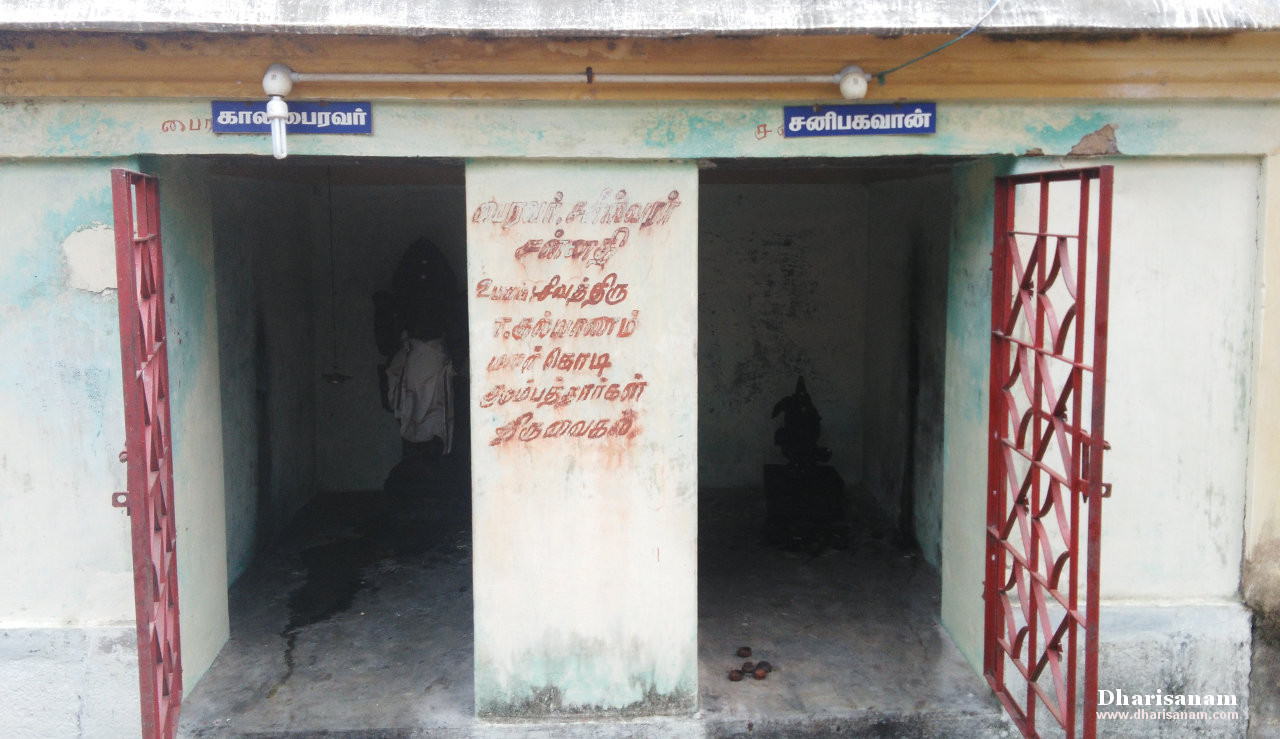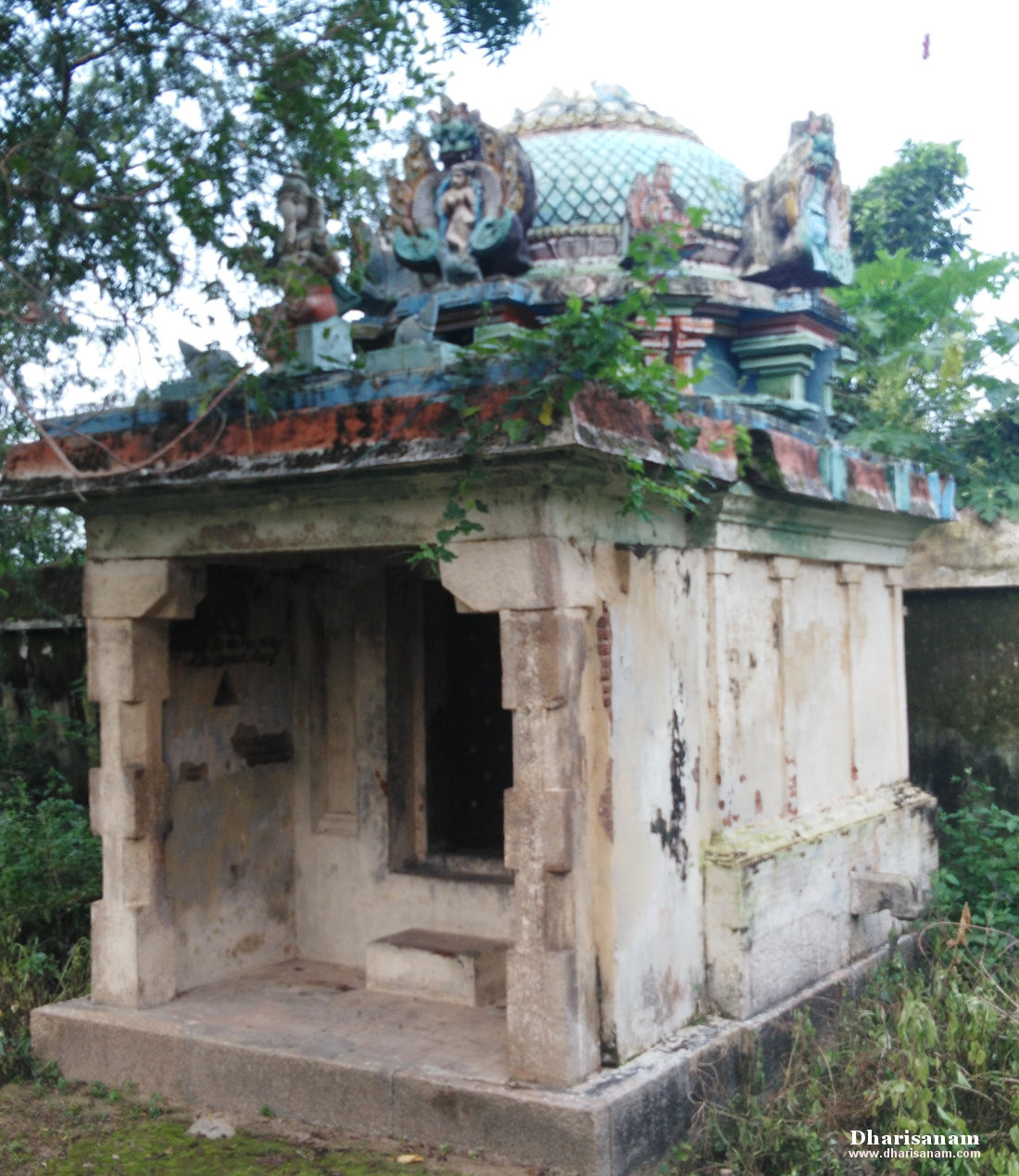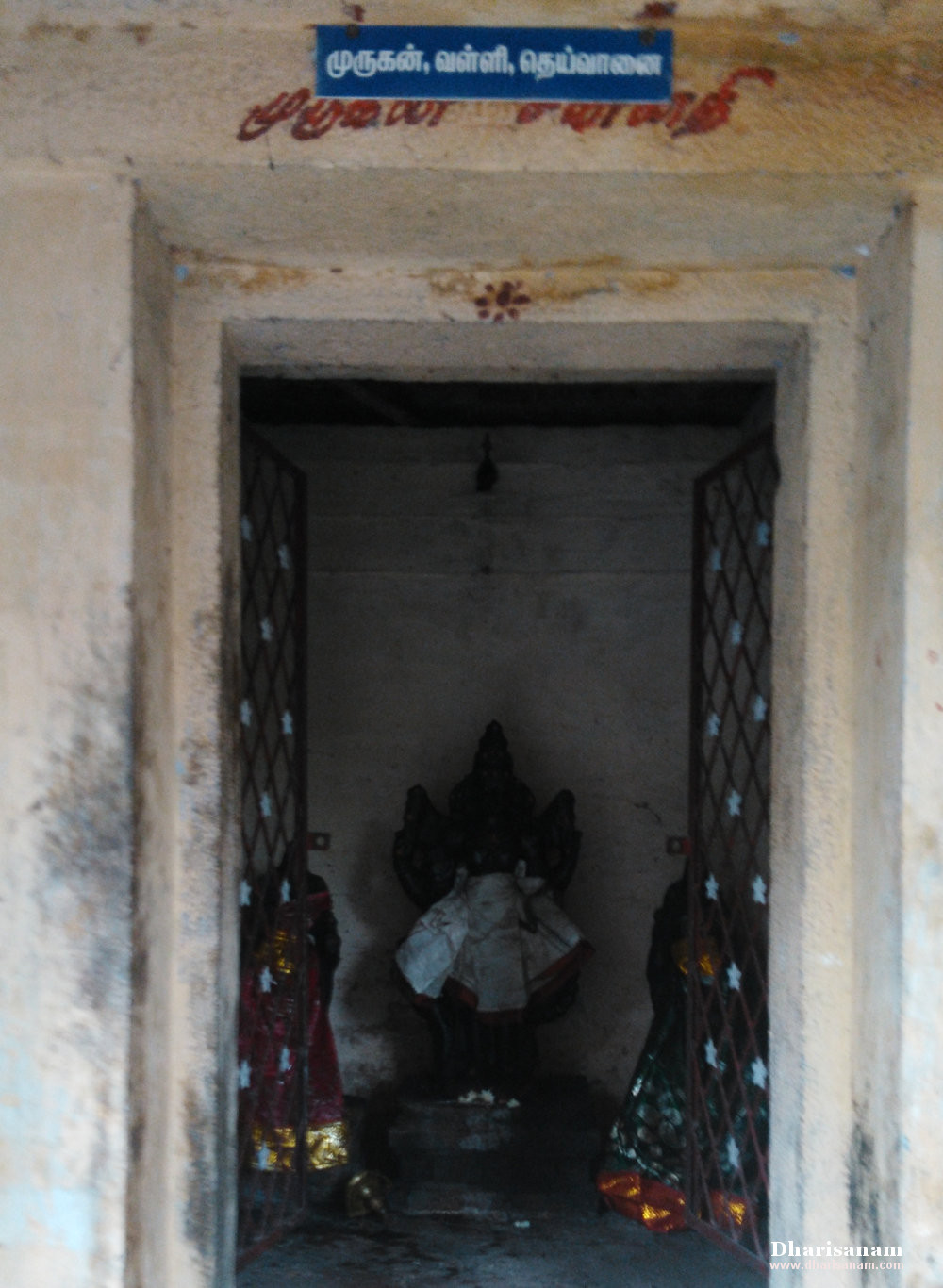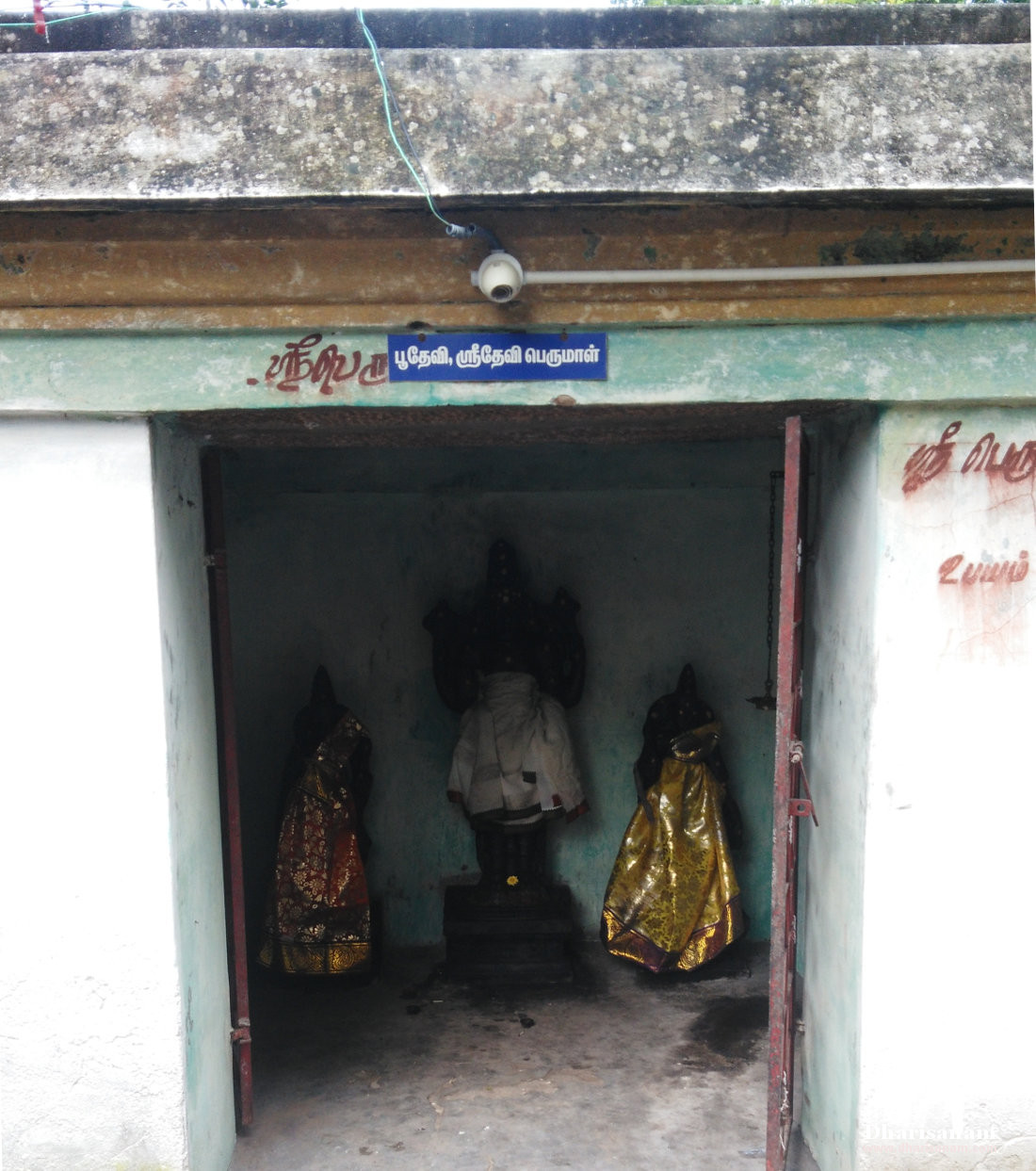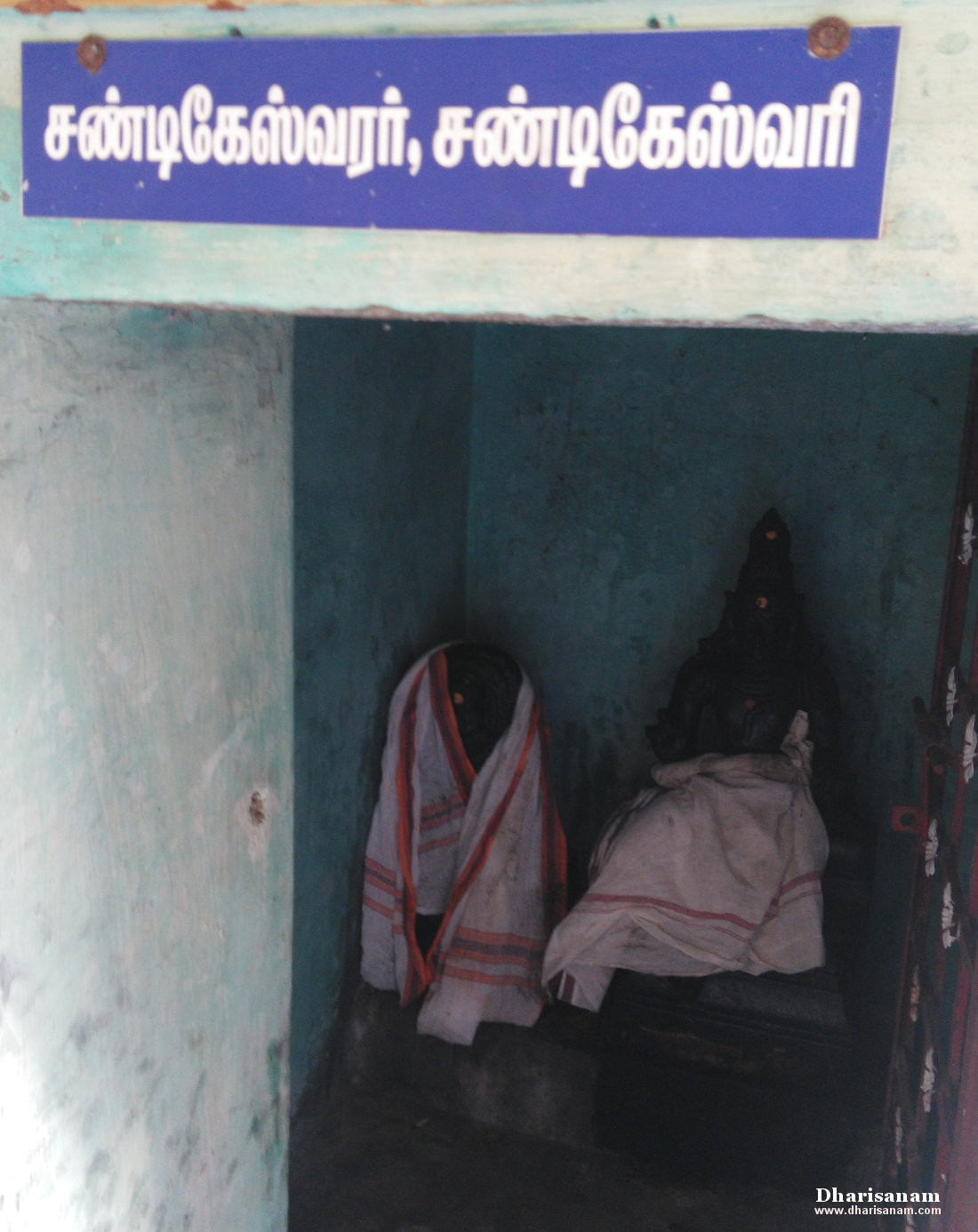 At Sri Kasi Viswanathar temple
Sri Kasi Viswanathar, Sri Visalakshi, Vinayakar, Murugan, and Chandikeswarar only.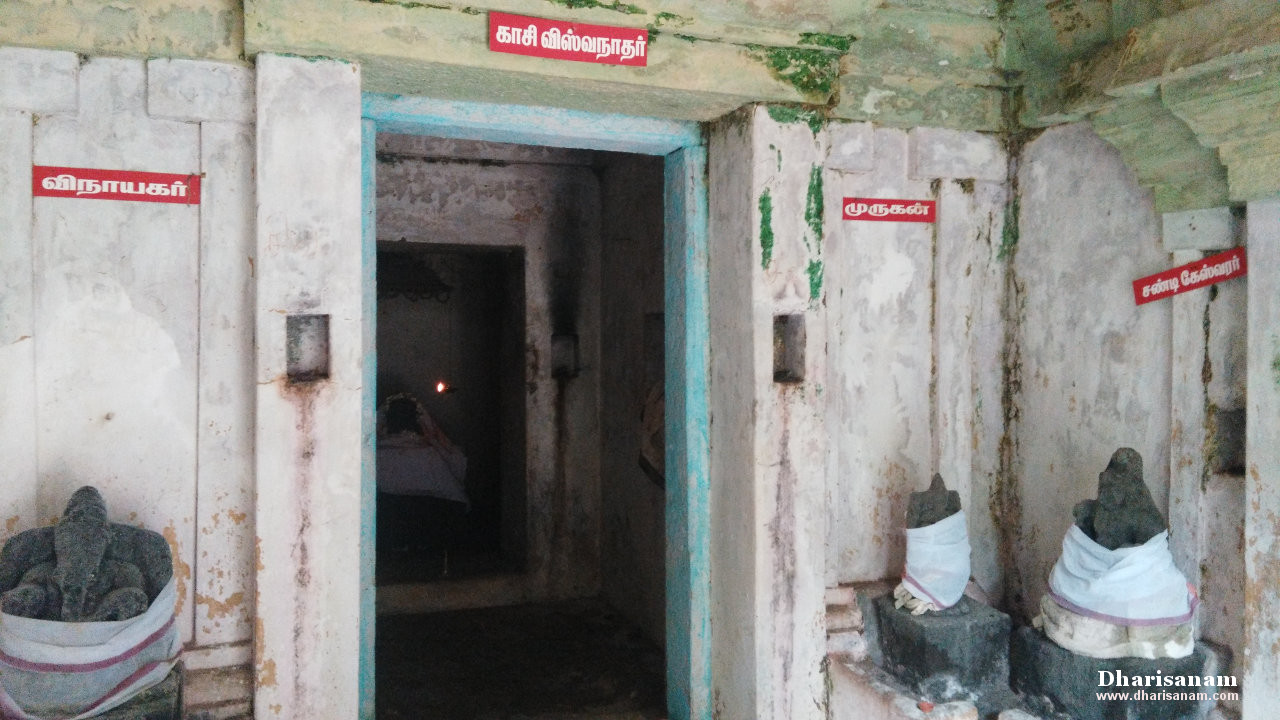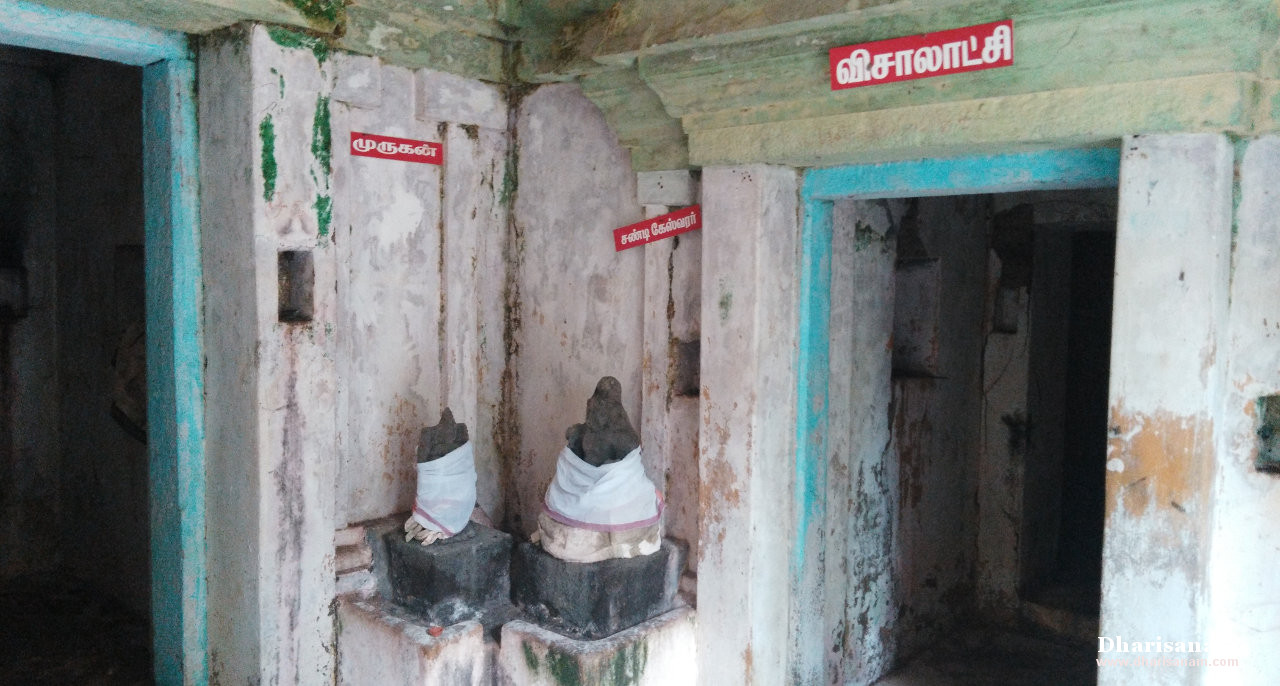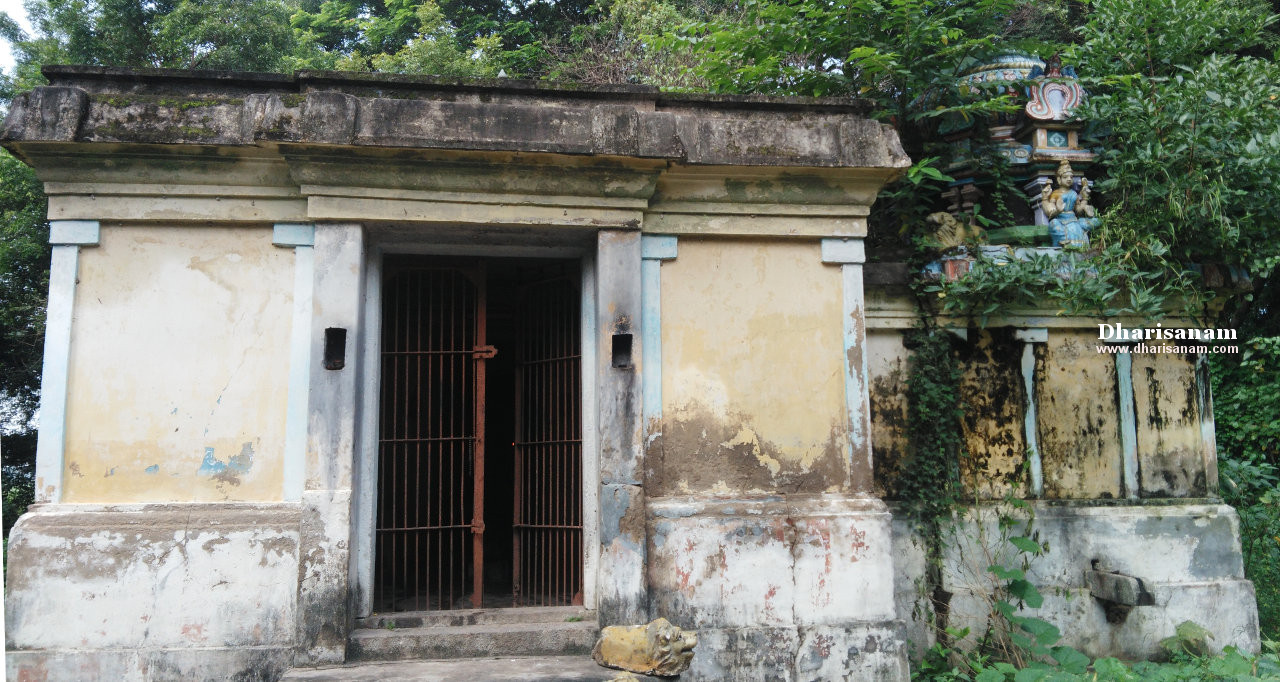 At Sri Brahmapureeswarar temple
Sri Brahmapureeswarar, Sri Periya Nayaki, Vinayakar, Murugan with his consorts, Dakshinamurthy, Durgai, Bairavar, Suryan, Chandran, Nalvar, Gajalakshmi, Navagraham, Nandhi, Balipeet and flag post can be seen.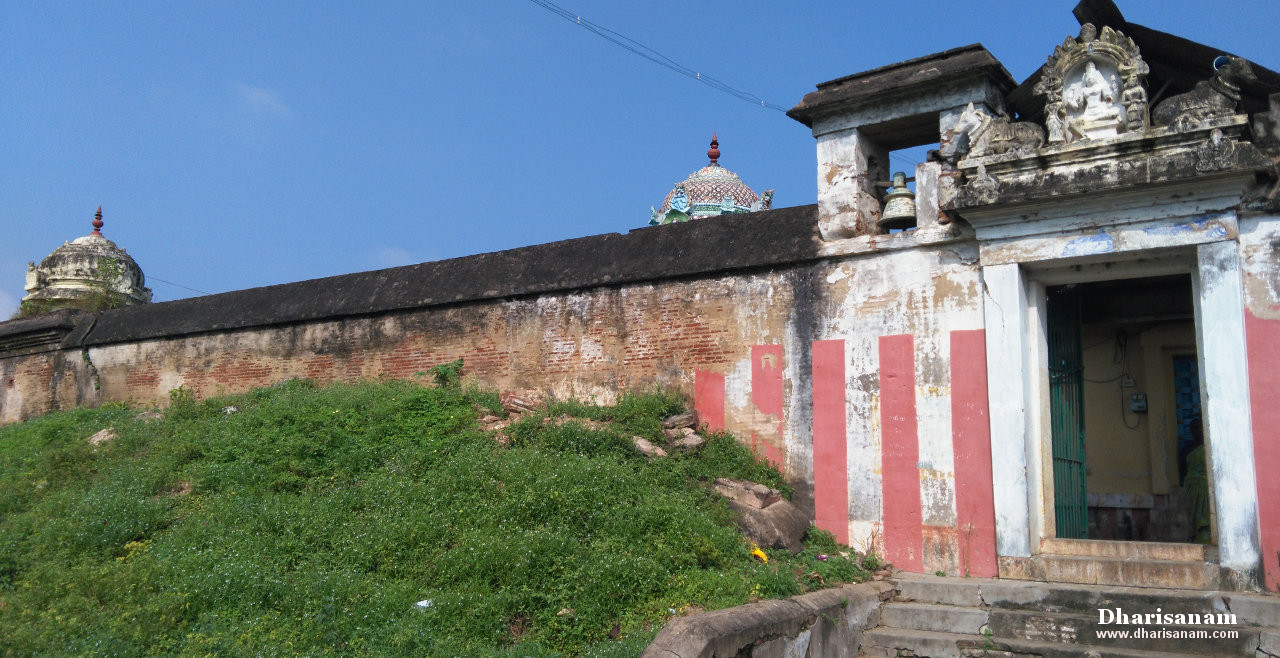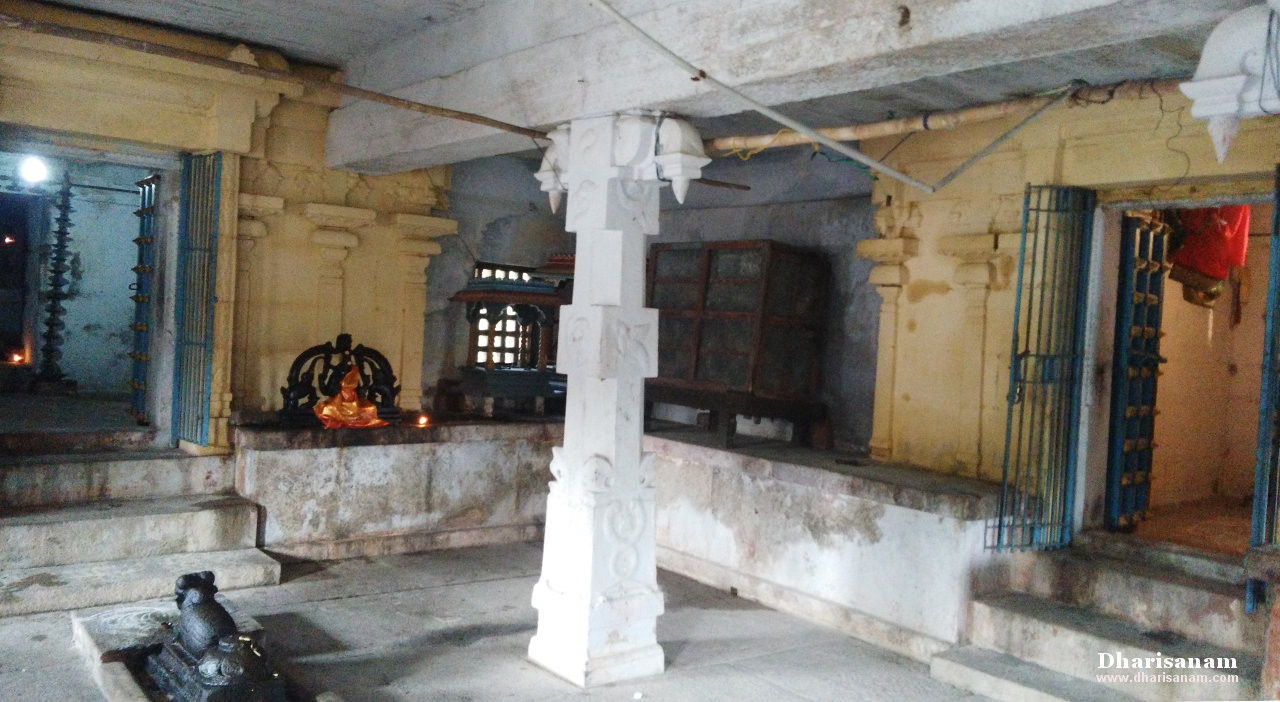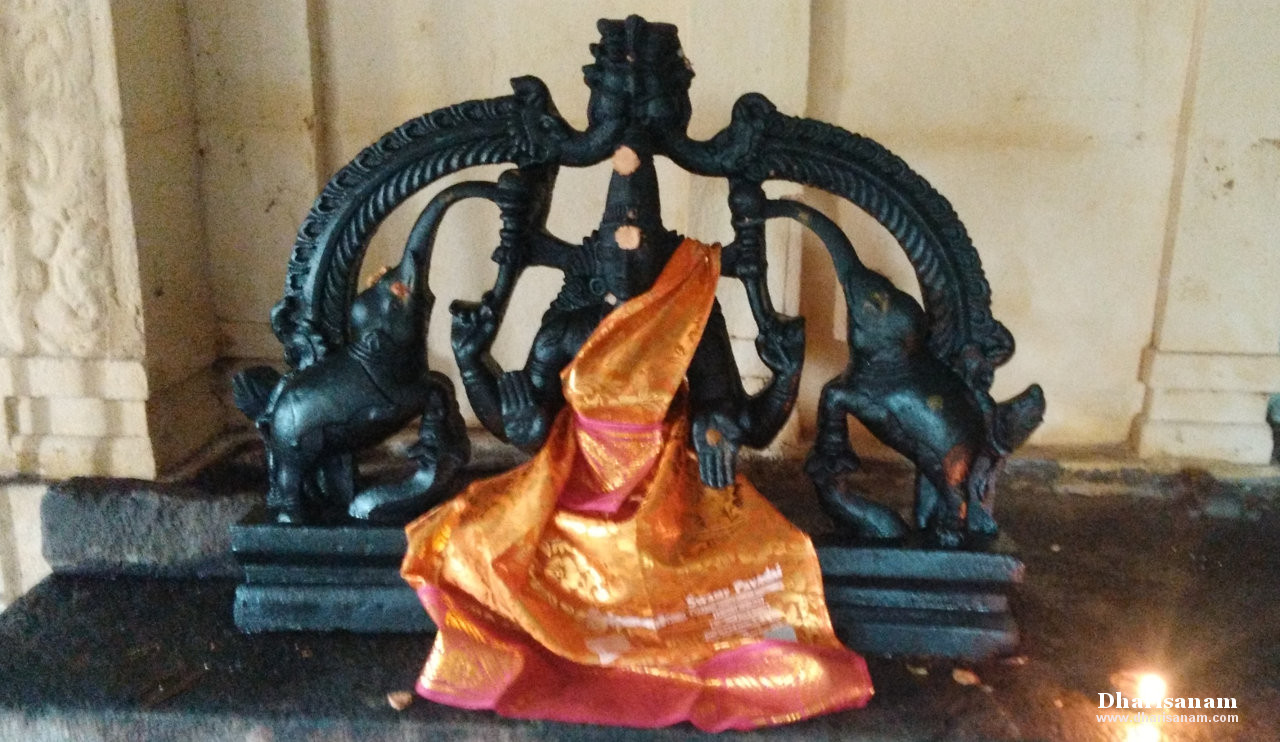 Salient Features
It is believed that King Kochengat Chola built about 70 "Madakkoils". The distinguishing feature of a Madakkoil is that it is not easily approachable by an elephant. He built these temples at an elevation and there are a few steps that need to be climbed before seeing the lord. Also, the sanctum sanctorum's (Karpagragam) entrance is narrow such that no elephant can enter it.
In his Pathigam of this temple, Saint Thirugnanasambanthar mentioned that
whoever recites this Pathigam will reach Lord Shiva's abode. Further, he mentioned that -
This temple is equivalent to Mount Kailash,
This temple was built by Kochenget Cholan,
This temple is on the western side of the village, and
He praised the Goddess as "Kombiyal Kothai".
Greatness of this temple
Devotees believe that by worshiping the lord here, obstacles from their marriage proposals will be removed.
Devotees also believe that worshipping Lord Shiva here will bless them with wealth and prosperity. Further they believe that they can rid themselves of the fear of death. (fear of Lord Yama).
Important Festivals
Some of the important festivals celebrated in the temple are –
Shivrathri in the Tamil month of Masi (Feb-Mar),
Navarathri in the Tamil month of Purattasi (Sept-Oct), and
Annabishekam in the Tamil month of Aippasi (Oct–Nov).
Temple Timings
From 07.00 AM to 07.00 PM.

The caretaker of this temple stays nearby and can be contacted for darshan. The temple priest is said to be coming here only once a day for one hour.
Temple Address
Sri Vaikal Nathar Temple,
Vaikal Village, Melaiyur Post,
Aduthurai Via,
Tanjure District,
Tamil Nadu – 612101.

Temple caretaker (Meikkaaval), Mr.Balakrishnan can be contacted at: +91 9788992860.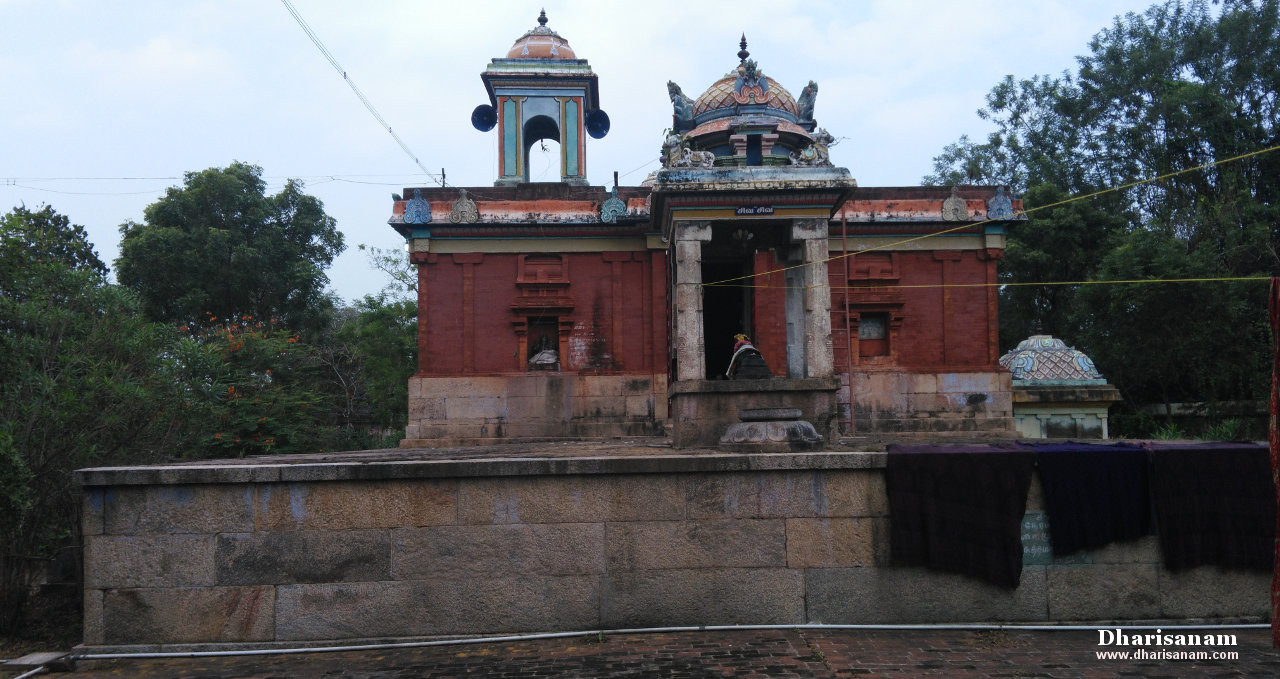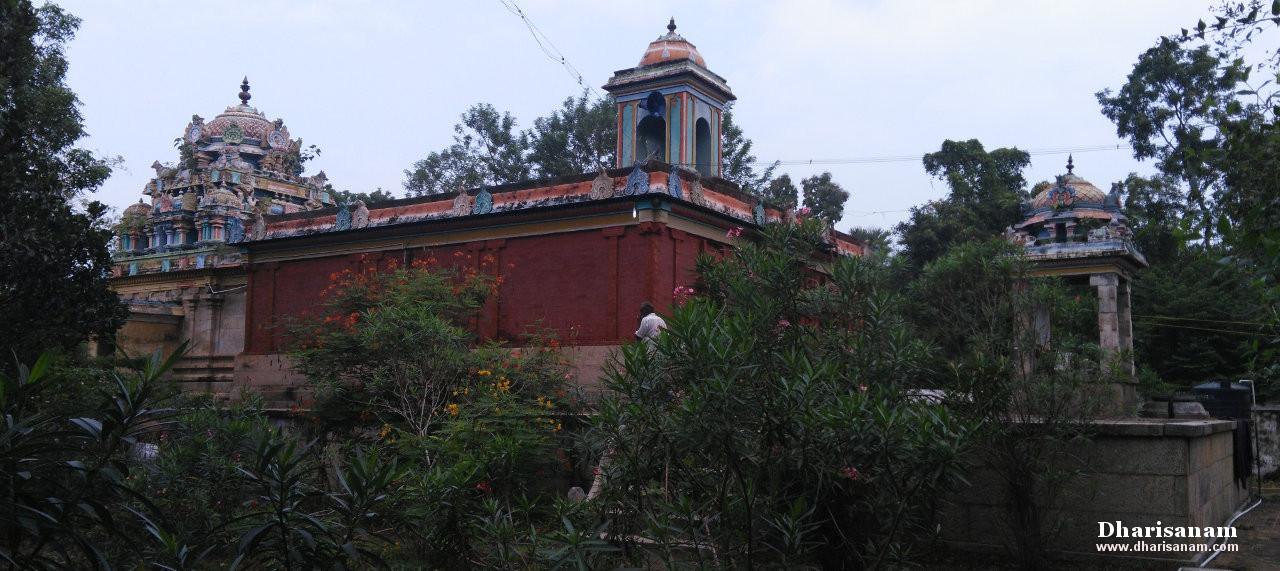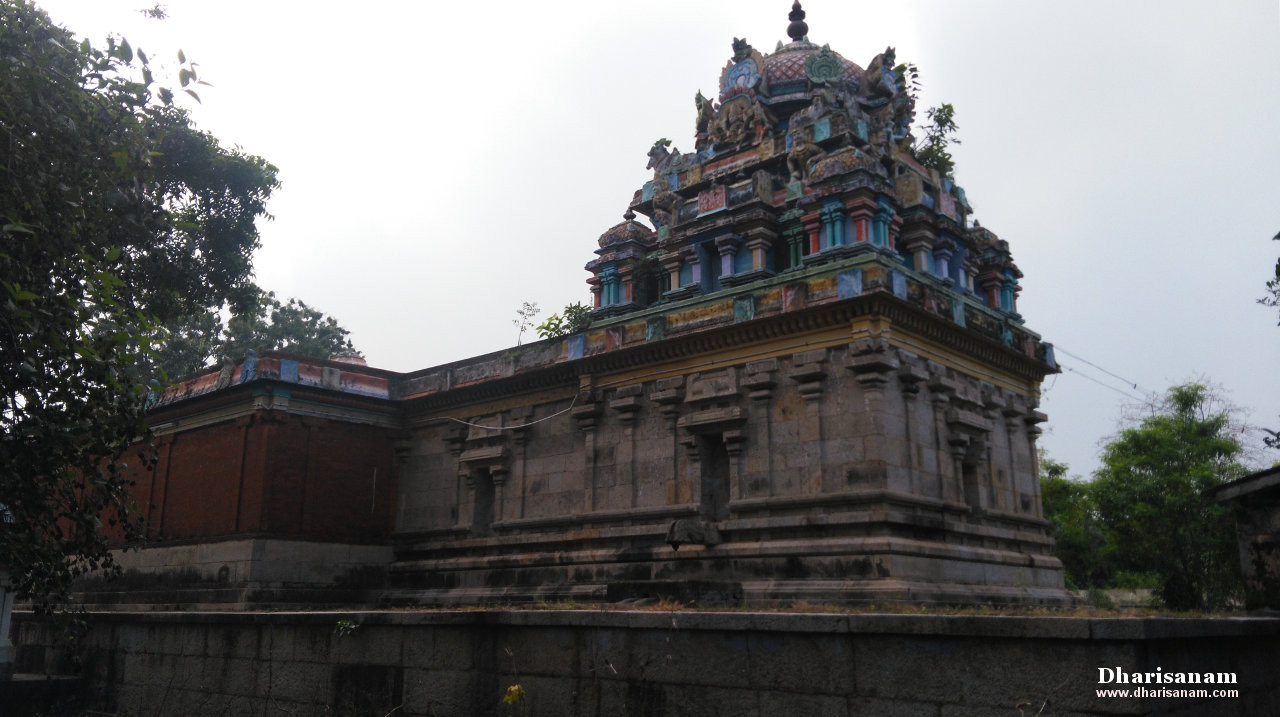 ---
Pathigam (Hymn) with English transliteration
Saint Thirugnanasambanthar visited this temple and sang this Pathigam.
Devotees visiting this temple should make it a practice to recite this Pathigam.
துளமதி யுடைமறி தோன்று கையினர்
இளமதி யணிசடை எந்தை யாரிடம்
உளமதி யுடையவர் வைக லோங்கிய
வளமதி தடவிய மாடக் கோயிலே.
"Thuḷamathi yuṭaimaṟi thōṉtṟu kaiyiṉar
iḷamathi yaṇisaṭai enthai yāriṭam
uḷamathi yuṭaiyavar vaika lōṅkiya
vaḷamathi thaṭaviya māṭak kōyilē".
மெய்யகம் மிளிரும்வெண் ணூலர் வேதியர்
மையகண் மலைமக ளோடும் வைகிடம்
வையகம் மகிழ்தர வைகல் மேற்றிசைச்
செய்யகண் வளவன்முன் செய்த கோயிலே.
"Meyyakam miḷirumveṇ ṇūlar vēthiyar
maiyakaṇ malaimaka ḷōṭum vaikiṭam
vaiyakam makizhthara vaikal mētṟisaich
cheyyakaṇ vaḷavaṉmuṉ seytha kōyilē".
கணியணி மலர்கொடு காலை மாலையும்
பணியணி பவர்க்கருள் செய்த பான்மையர்
தணியணி உமையொடு தாமுந் தங்கிடம்
மணியணி கிளர்வைகல் மாடக் கோயிலே.
"Kaṇiyaṇi malarkoṭu kālai mālaiyum
paṇiyaṇi pavarkkaruḷ seytha pāṉmaiyar
thaṇiyaṇi umaiyoṭu thāmun thaṅkiṭam
maṇiyaṇi kiḷarvaikal māṭak kōyilē".
கொம்பியல் கோதைமுன் அஞ்சக் குஞ்சரத்
தும்பிய துரிசெய்த துங்கர் தங்கிடம்
வம்பியல் சோலைசூழ் வைகல் மேற்றிசைச்
செம்பியன் கோச்செங்க ணான்செய் கோயிலே.
"Kompiyal kōthaimuṉ añchak kuñcharath
thumpiya thuriseytha thuṅkar thaṅkiṭam
vampiyal chōlaichūzh vaikal mētṟisaich
chempiyaṉ kōchcheṅka ṇāṉsey kōyilē".
விடம்அடை மிடற்றினர் வேத நாவினர்
மடமொழி மலைமக ளோடும் வைகிடம்
மடவனம் நடைபயில் வைகல் மாநகர்க்
குடதிசை நிலவிய மாடக் கோயிலே.
"Viṭamaṭai miṭatṟiṉar vētha nāviṉar
maṭamozhi malaimaka ḷōṭum vaikiṭam
maṭavaṉam naṭaipayil vaikal mānakark
kuṭathisai nilaviya māṭak kōyilē".
நிறைபுனல் பிறையொடு நிலவு நீள்சடை
இறையவ ருறைவிடம் இலங்கு மூவெரி
மறையொடு வளர்வுசெய் வாணர் வைகலில்
திறையுடை நிறைசெல்வன் செய்த கோயிலே.
"Niṟaipuṉal piṟaiyoṭu nilavu nīḷsaṭai
iṟaiyava ruṟaiviṭam ilaṅku mūveri
maṟaiyoṭu vaḷarvusey vāṇar vaikalil
thiṟaiyuṭai niṟaiselvaṉ seytha kōyilē".
எரிசரம் வரிசிலை வளைய ஏவிமுன்
திரிபுரம் எரிசெய்த செல்வர் சேர்விடம்
வரிவளை யவர்பயில் வைகல் மேற்றிசை
வருமுகி லணவிய மாடக் கோயிலே.
"Erisaram varisilai vaḷaiya ēvimuṉ
thiripuram eriseytha selvar sērviṭam
varivaḷai yavarpayil vaikal mētṟisai
varumuki laṇaviya māṭak kōyilē".
மலையன இருபது தோளி னான்வலி
தொலைவுசெய் தருள்செய்த சோதி யாரிடம்
மலர்மலி பொழிலணி வைகல் வாழ்வர்கள்
வலம்வரு மலையன மாடக் கோயிலே.
"Malaiyaṉa irupathu thōḷi ṉāṉvali
tholaivusey tharuḷseytha chōthi yāriṭam
malarmali pozhilaṇi vaikal vāzhvarkaḷ
valamvaru malaiyaṉa māṭak kōyilē".
மாலவன் மலரவன் நேடி மால்கொள
மாலெரி யாகிய வரதர் வைகிடம்
மாலைகொ டணிமறை வாணர் வைகலில்
மாலன மணியணி மாடக் கோயிலே.
"Mālavaṉ malaravaṉ nēṭi mālkoḷa
māleri yākiya varathar vaikiṭam
mālaiko ṭaṇimaṟai vāṇar vaikalil
mālaṉa maṇiyaṇi māṭak kōyilē".
கடுவுடை வாயினர் கஞ்சி வாயினர்
பிடகுரை பேணிலார் பேணு கோயிலாம்
மடமுடை யவர்பயில் வைகல் மாநகர்
வடமலை யனையநன் மாடக் கோயிலே.
"Kaṭuvuṭai vāyiṉar kañchi vāyiṉar
piṭakurai pēṇilār pēṇu kōyilām
maṭamuṭai yavarpayil vaikal mānakar
vaṭamalai yaṉaiyanaṉ māṭak kōyilē".
மைந்தன திடம்வைகல் மாடக் கோயிலைச்
சந்தமர் பொழிலணி சண்பை ஞானசம்
பந்தன தமிழ்கெழு பாடல் பத்திவை
சிந்தைசெய் பவர்சிவ லோகஞ் சேர்வரே.
"Mainthaṉa thiṭamvaikal māṭak kōyilaich
chanthamar pozhilaṇi saṇpai gñāṉasam
banthaṉa tamizhkezhu pāṭal paththivai
chinthaisey pavarsiva lōkañ sērvarē".