Visited on: 17th September, 2016 and 16th December, 2016
Location
Thiruvadukur is at a distance of about 22 kms from Pondicherry on the Pondicherry to Villupuram route. From Villupuram it is about 20 kms.
Nearest railway station is Chinnababu Samudram (4 kms) on the Villupuram to Pondicherry railway line.
General Information
Moolar

Sri Vadukeeswarar, Sri Panchanadeeswarar,
Sri Vadukurnathar

Ambal

Sri Tiripurasundari, Sri Vaduvakirkanni

Theertham (Holy water)

Vamanadeva Theertham

Sthala Vriksham (Sacred Tree)

Vanni tree

Pathigam (Hymn) rendered by

Saint Thirugnanasambanthar

This is one of the 276 Devara Padal Petra Shiva Sthalams and 16th Shiva Sthalam in Nadu Naadu.
Lord Shiva in this temple is a Swayambumurthi (self-manifested).
The lord of this temple, Lord Vadukeeswarar is slightly leaning towards the left side.
There is no flag post (Dwajasthambam) in this temple.
This east facing temple's main tower is not tiered. In place of the Gopuram, there is a beautiful sculpture depicting Lord Shiva and Goddess Parvathy.
History of the Temple
This temple is believed to have been built by the Chola King Paranthakan-I. It is constructed in a style that is similar to that of Tanjore temple but it is much smaller in size.
The historical name of this place is Vadukur and that of the temple is Andarkoil. However, over a period of time, this place's name has been changed to Thiru Andarkoil.
Currently, this temple is under the control of the Archaeological Survey of India, Department of Culture, Government of India..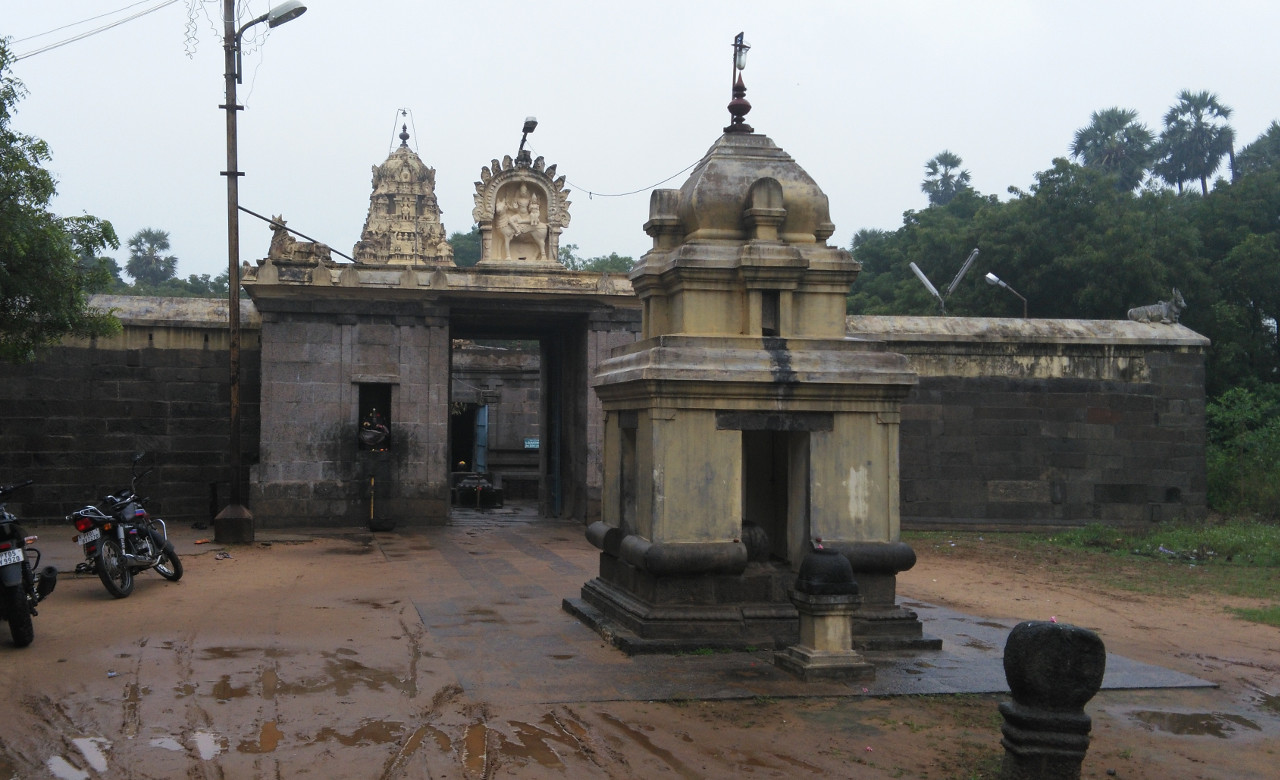 Legend
The legend associated with this temple is that of a demon called Mundasuran. After rigorous penance, he was blessed with a lot of powers by Lord Shiva. He also obtained the power that he could not be killed by other demons or devas.
He started misusing his powers by harassing Lord Brahma and other celestial gods. They complained to Lord Shiva and sought his intervention. Lord Shiva directed Vaduka Bairavar, one of the eight Bairavars, to destroy the demon.
After killing Mundasuran, it is believed that Vaduka Bairavar worshiped the lord here to seek relief from the Brahmahathi dosham (the sin accrued by the act of killing). Hence the lord here is named "Sri Vadukeeswarar" and this place gets the name Vadukur.
Another legend associated with this temple is that of Lord Brahma. Lord Brahma, the creator, had five heads like Lord Shiva. Lord Brahma was very proud of this equality. Once Goddess Parvathi mistook Lord Brahma as Lord Shiva and extended the honours which Lord Brahma did not refuse. The confusion arose because both had five heads. To remove this confusion, Lord Shiva decided to remove one head of Lord Brahma and he did this here. Lord Brahma realized his mistake, he pleaded to Lord Shiva to pardon him, which Lord Shiva acceded to. It is believed that this event took place here. As Lord Shiva removed one head of Lord Brahma, the lord here is praised as Sri Vadukeeswarar ("vaduku" means to pluck in Tamil).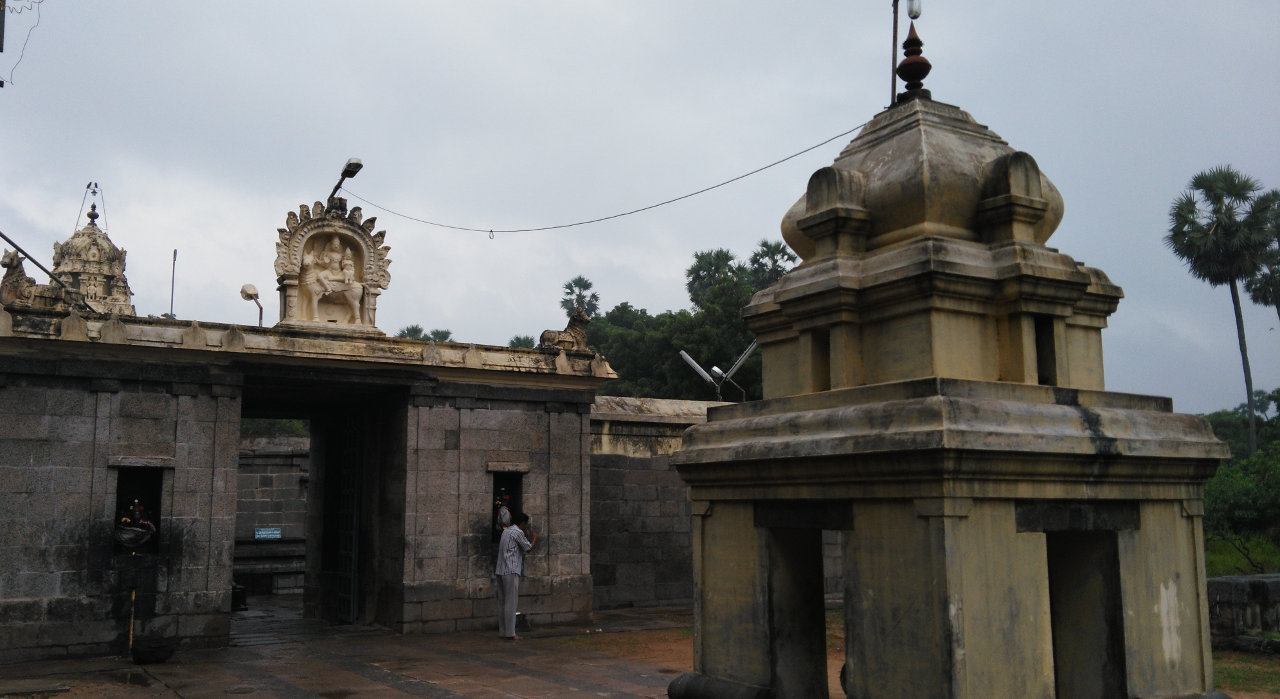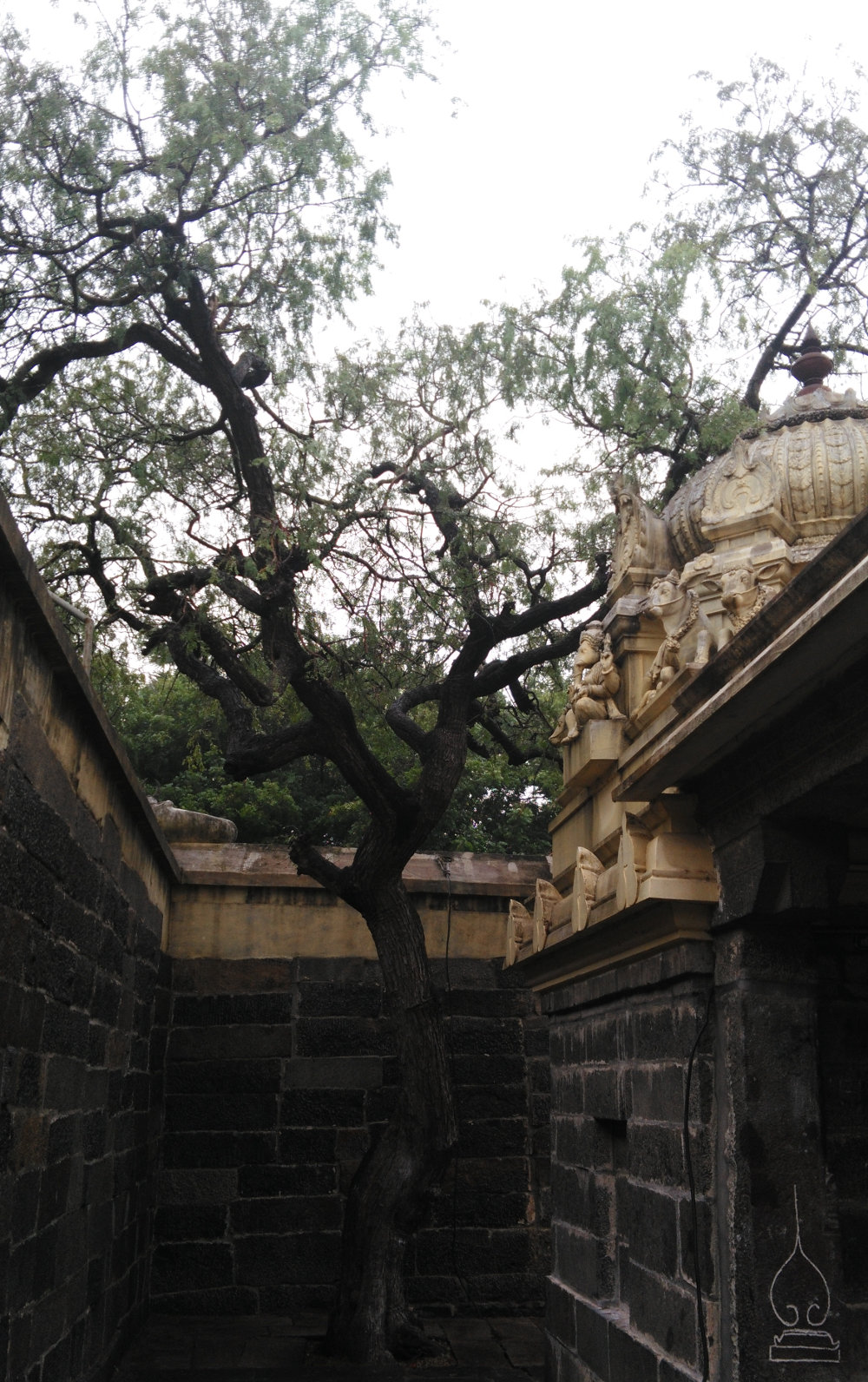 Deities in the temple
Apart from the main deities, shrines and idols of lords Vinayakar, Murugan with his consorts, Nalvar, Dakshinamurthy, Pitchandavar, Brahma, Ardhanareeswarar, Suryan, Chandiran, Durgai, Chandikeswarar, Navagraham, Saneeswarar, Sapthamathakkal and Bairavar can be seen in the corridors.
The significant feature of this temple is that the idol of Sri Anjaneyar is next to that of Lord Brahma. In the front hall (Mandapam), there is an idol of Lord Krishna where he can be seen standing between two serpents.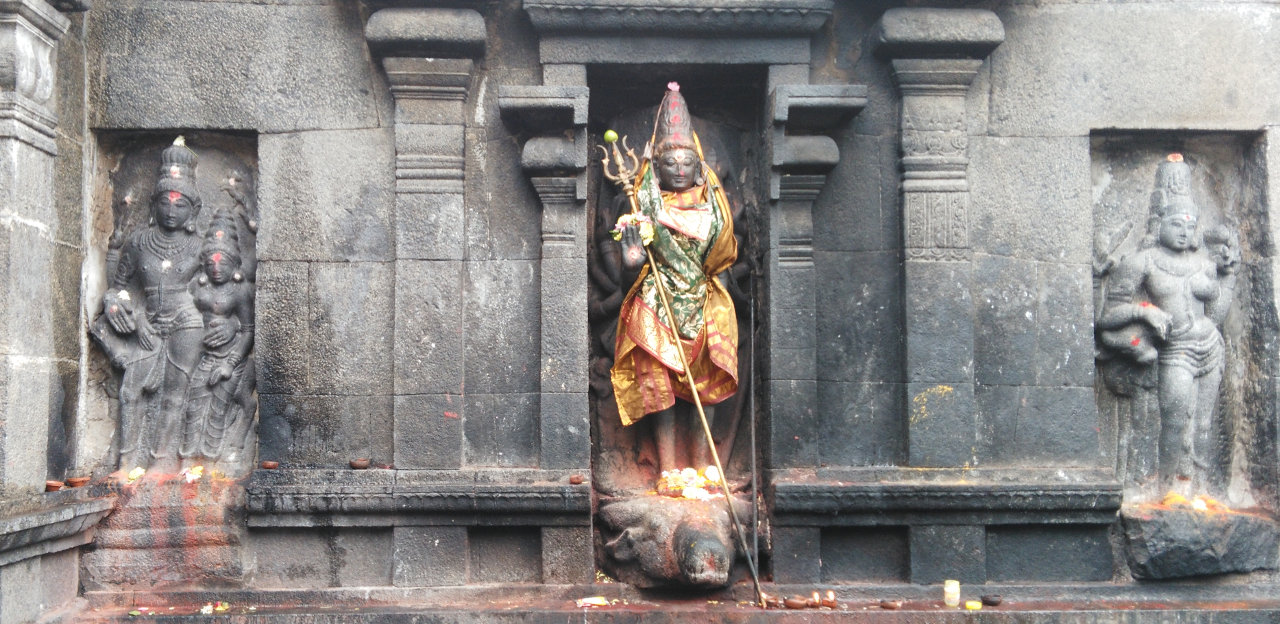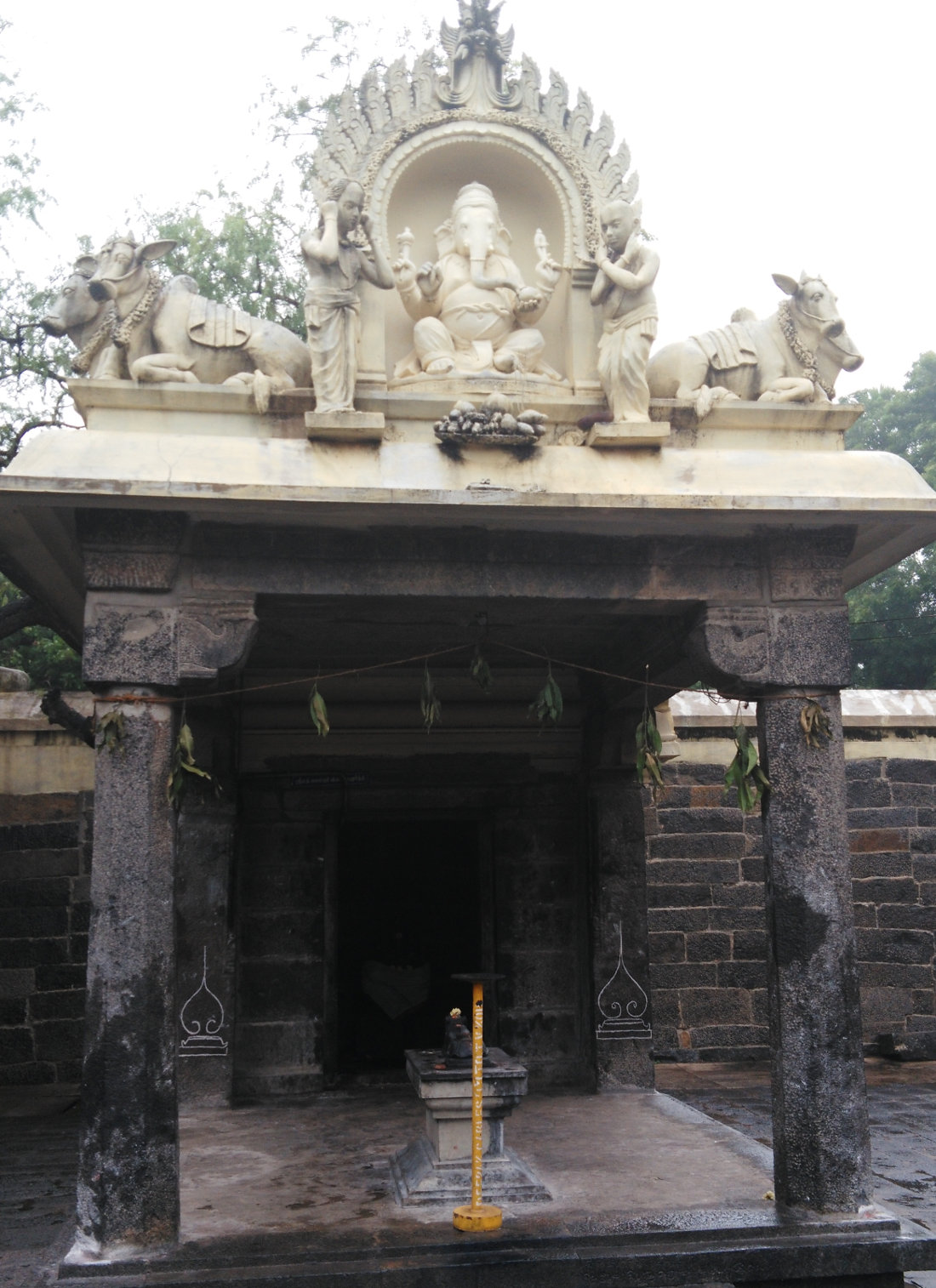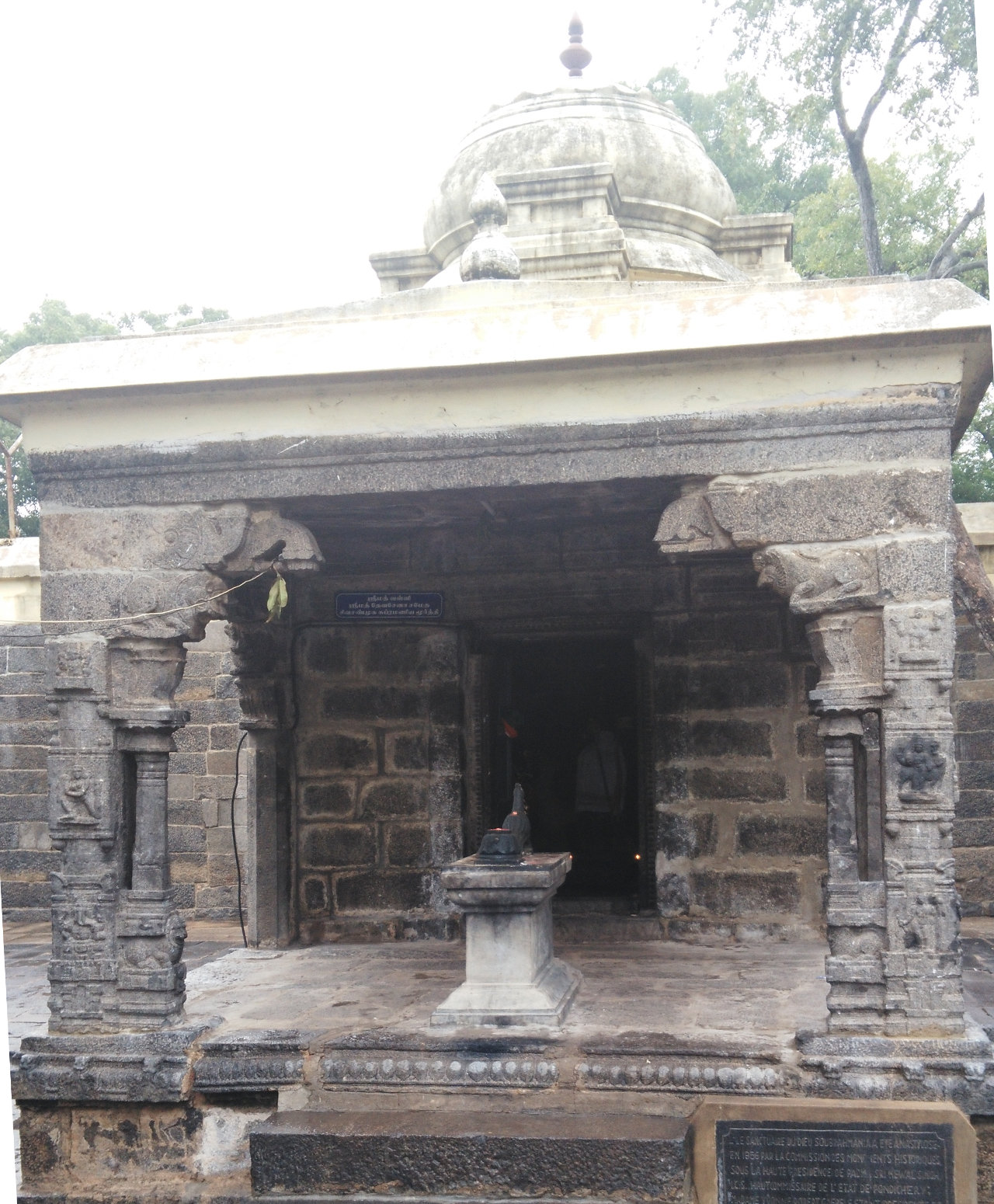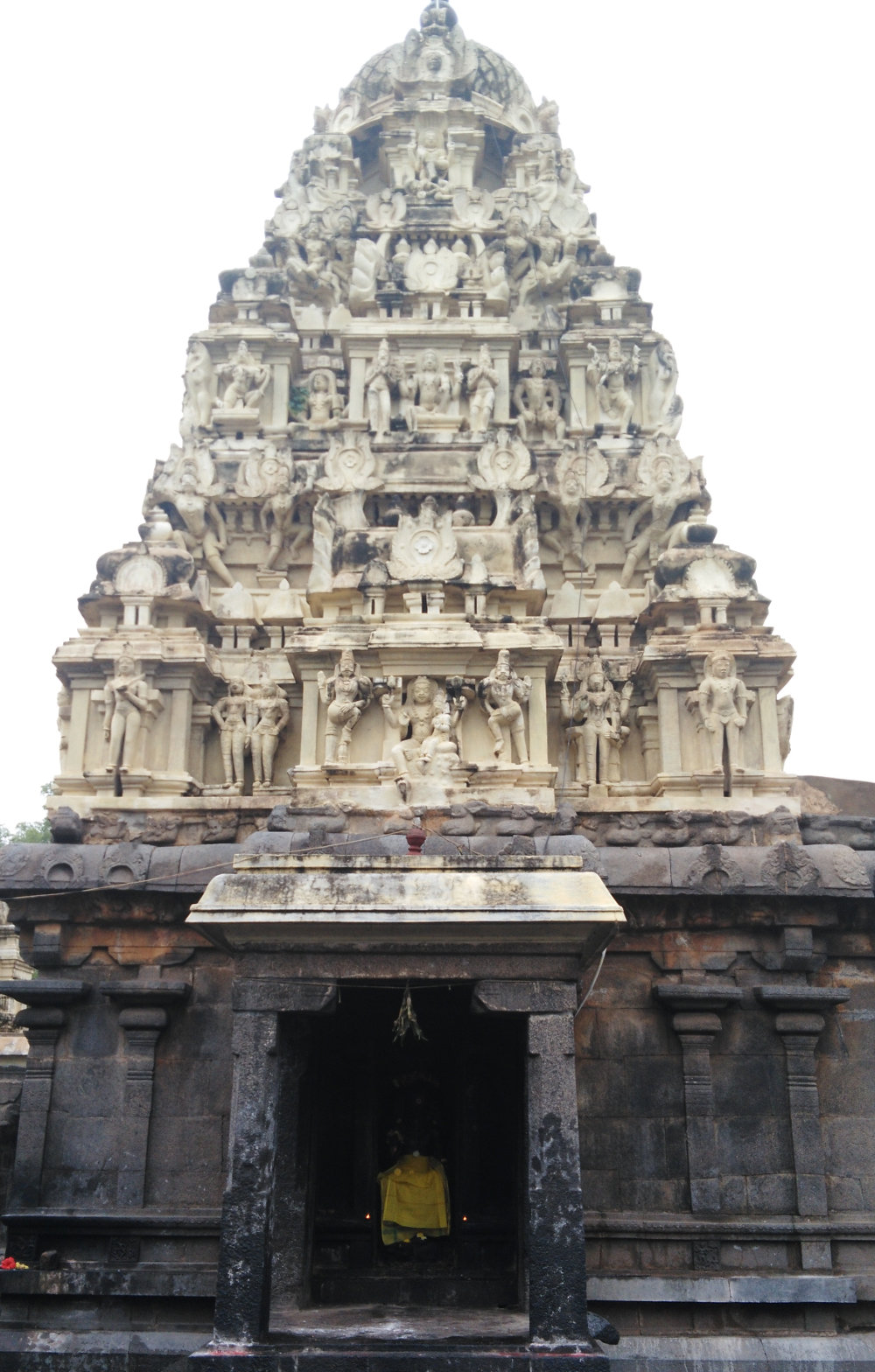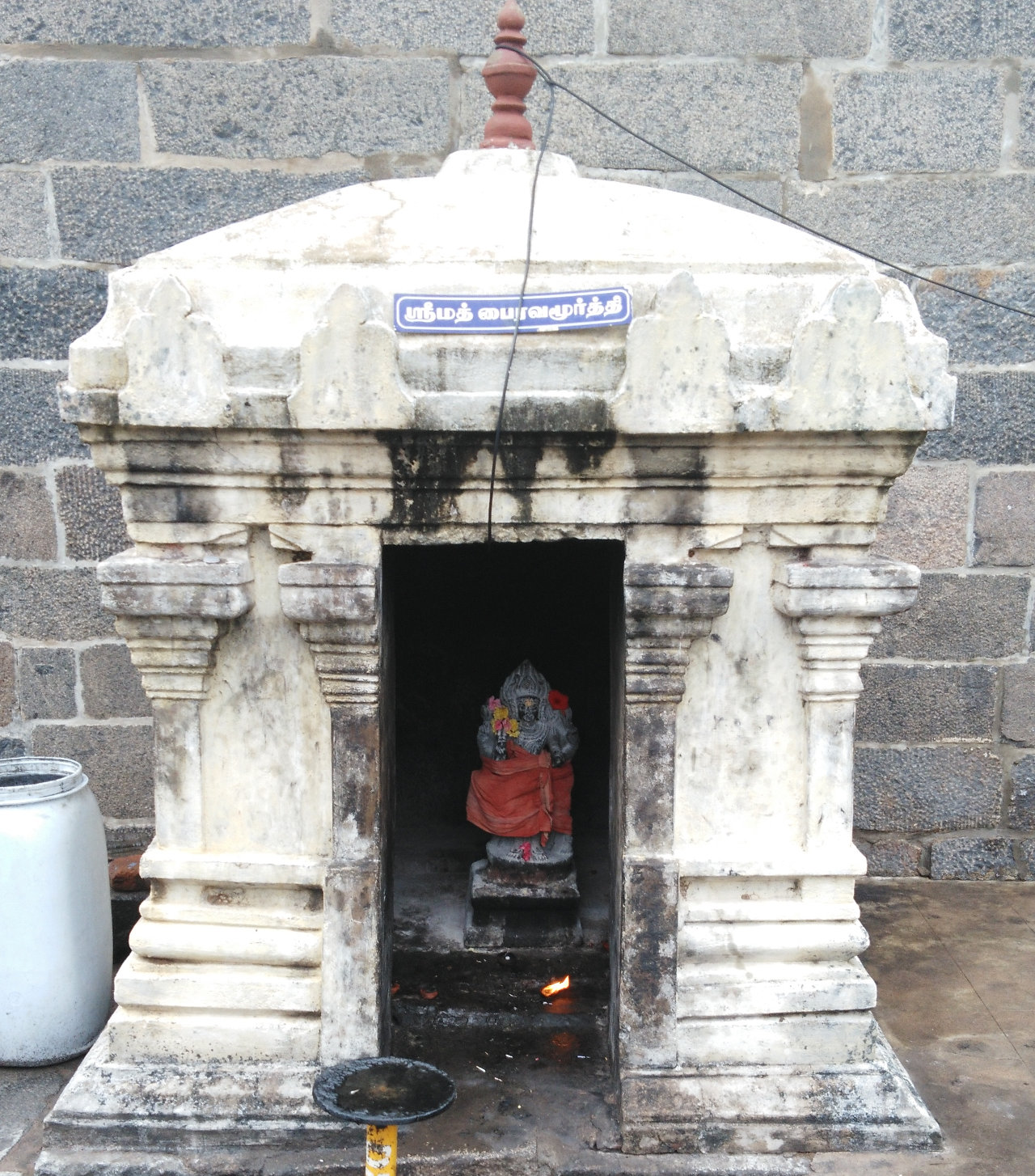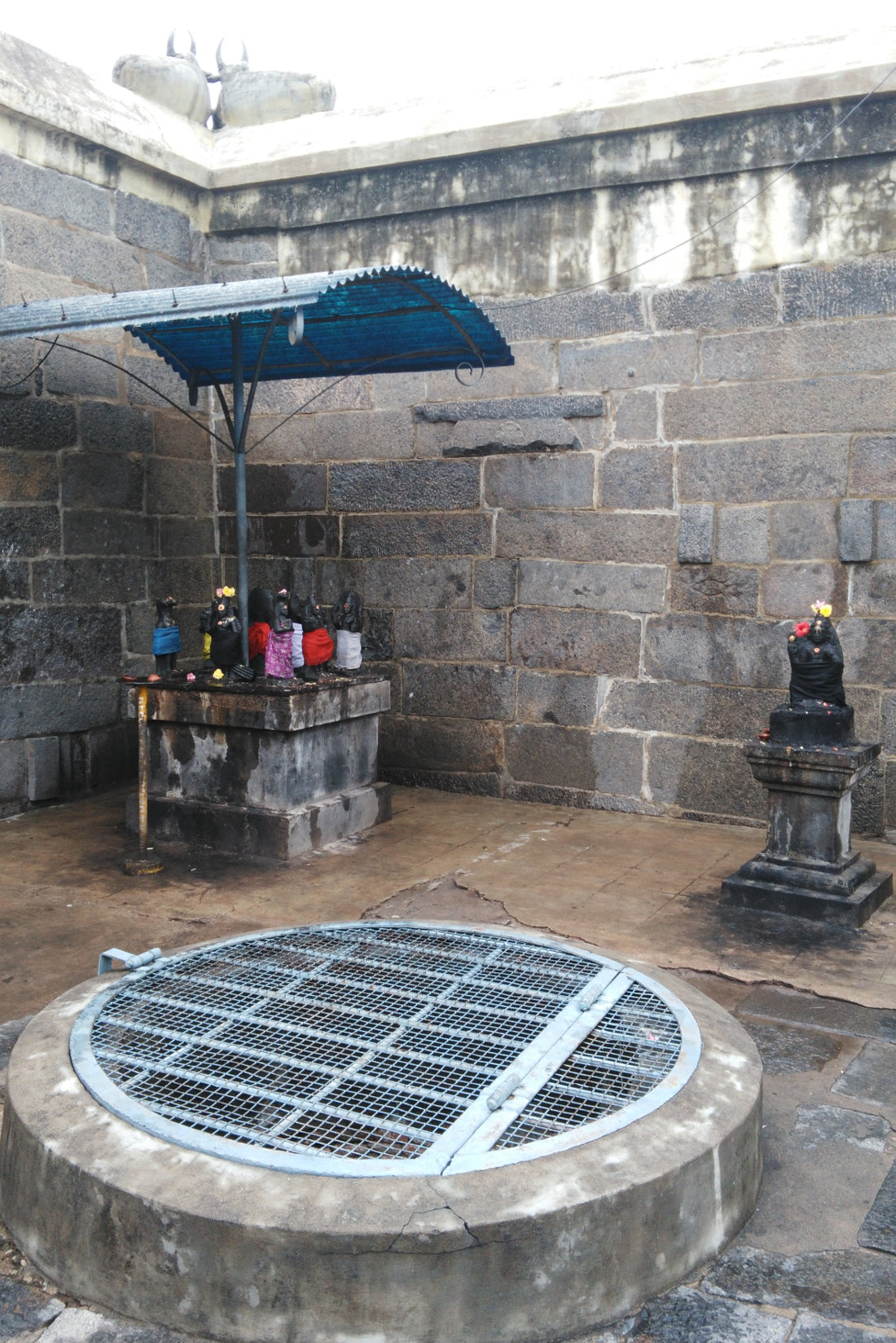 Salient Features
The Artha Mandapam (hall) in front of Lord Shiva's shrine has eight pillars. It is believed that worshipping the lord from this hall will reward the devotees with prosperity and happiness.
Saint Arunagirinadhar has also sang songs in praise of Lord Murugan of this temple in his revered Thirupugazh.
Greatness of this temple
Devotees believe that worshiping the lord of this temple would bless them with better job opportunities and promotions in works.
Important Festivals
The wedding festival of Lord Shiva and Goddess Parvathi is celebrated on the day of the Tamil New Year. It mostly falls on 14th of April every year.
Other important festivals celebrated in this temple are -
Vaikasi Visakam in the Tamil month of Vaikasi (May-June),
Skanda Shashti in the Tamil month of Aippasi (Oct-Nov),
Thirukarthikai in the Tamil month of Karthikai (Nov-Dec),
Thai Poosam in the Tamil month of Thai (Jan-Feb) and
Shivrathri in the Tamil month of Masi (Feb-Mar).
Pradosham is observed regularly. Also, poojas to Lord Bairavar is conducted on all Sundays and on all Ashtami days.
Temple Timings
From 06:00 AM to 11:00 AM and from 05:00 PM to 08:00 PM.
Temple Address
Sri Vadukeeswarar Temple,
Tiruvandar Koil Post
Kandamangalam Via,
Puducherry – 605 102.
Tele: +91- 99943 05874, 9042154182.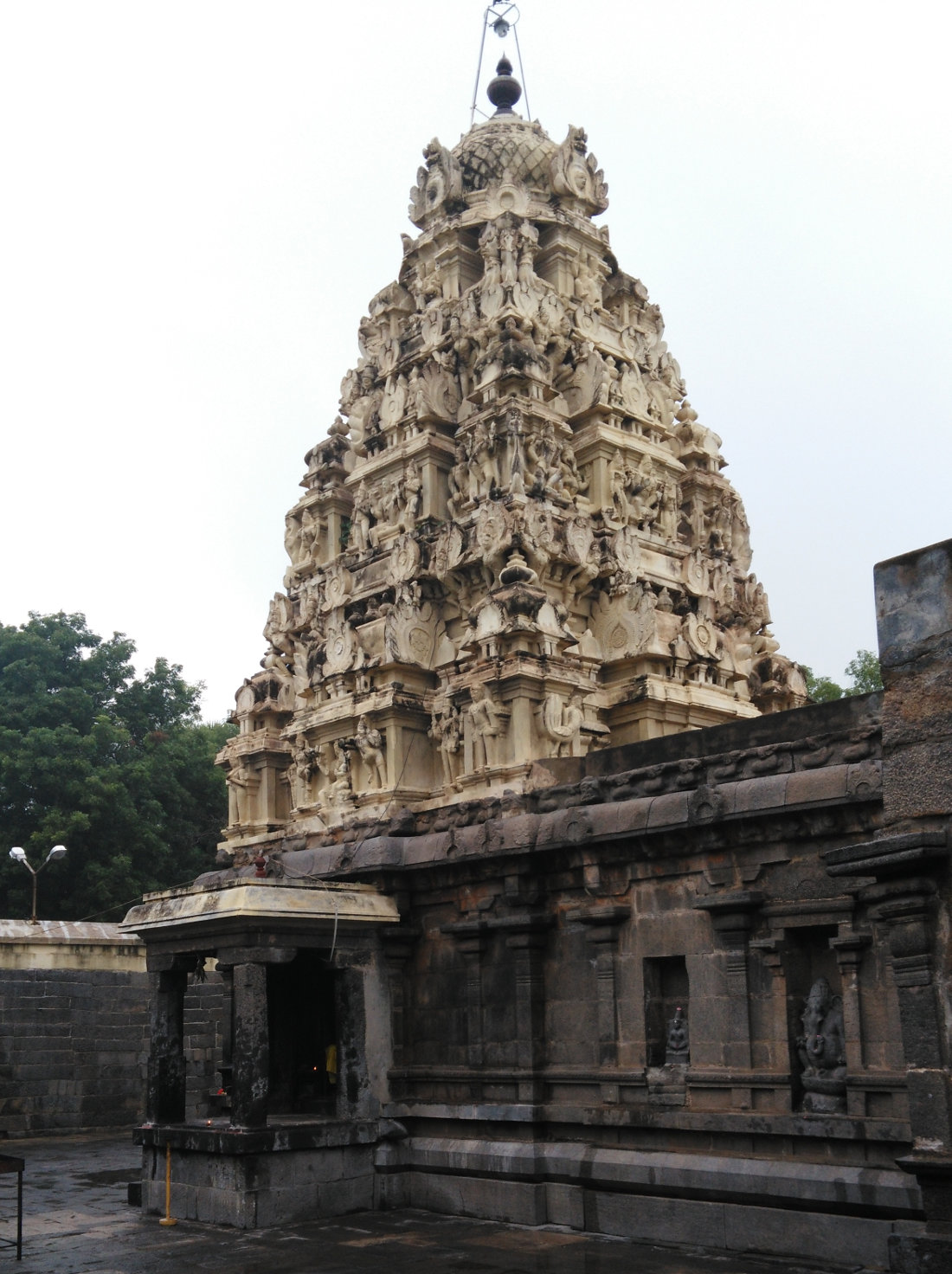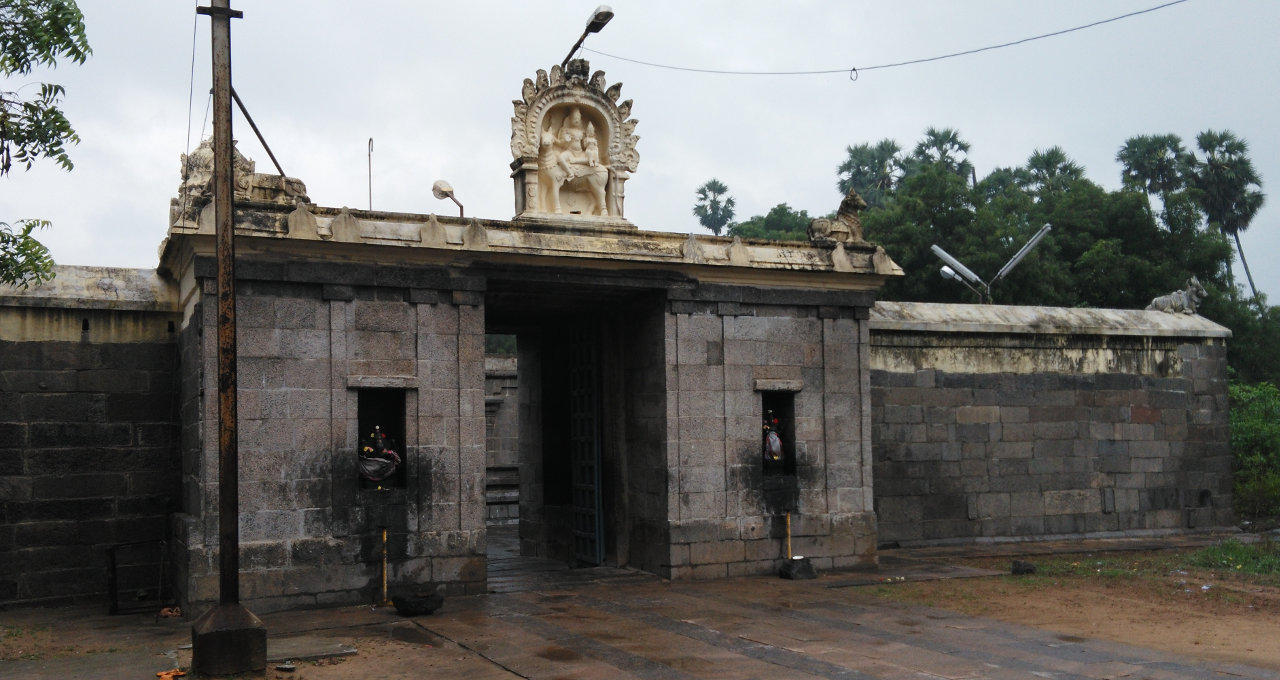 ---
Pathigam (Hymn) with English transliteration
Saint Thirugnanasambanthar visited this temple and sang this Pathigam.
Devotees visiting this temple should make it a practice to recite this Pathigam.
சுடுகூ ரெரிமாலை யணிவர் சுடர்வேலர்
கொடுகூர் மழுவாளொன் றுடையார் விடையூர்வர்
கடுகூர் பசிகாமங் கவலை பிணியில்லார்
வடுகூர் புனல்சூழ்ந்த வடுகூ ரடிகளே.
"Suṭukū rerimālai yaṇivar suṭarvēlar
koṭukūr mazhuvāḷoṉ tṟuṭaiyār viṭaiyūrvar
kaṭukūr pasikāmaṅ kavalai piṇiyillār
vaṭukūr puṉalchūzhntha vaṭukū raṭikaḷē".
பாலு நறுநெய்யுந் தயிரும் பயின்றாடி
ஏலுஞ் சுடுநீறும் என்பும் ஒளிமல்கக்
கோலம் பொழிற்சோலைக் கூடி மடவன்னம்
ஆலும் வடுகூரில் ஆடும் மடிகளே.
"Pālu naṟuneyyun thayirum payiṉtṟāṭi
ēluñ suṭunīṟum eṉpum oḷimalkak
kōlam pozhiṟchōlaik kūṭi maṭavaṉṉam
ālum vaṭukūril āṭum maṭikaḷē".
சூடும் இளந்திங்கள் சுடர்பொற் சடைதன்மேல்
ஓடுங் களியானை உரிபோர்த் துமையஞ்ச
ஏடு மலர்மோந்தங் கெழிலார் வரிவண்டு
பாடும் வடுகூரில் ஆடும் மடிகளே.
"Sūṭum iḷanthiṅkaḷ suṭarpoṟ chaṭaithaṉmēl
ōṭuṅ kaḷiyāṉai uripōrth thumaiyañcha
ēṭu malarmōnthaṅ kezhilār varivaṇṭu
pāṭum vaṭukūril āṭum maṭikaḷē".
துவரும் புரிசையுந் துதைந்த மணிமாடம்
கவர வெரியோட்டிக் கடிய மதிலெய்தார்
கவரு மணிகொல்லைக் கடிய முலைநல்லார்
பவரும் வடுகூரில் ஆடும் மடிகளே.
"Thuvarum purisaiyun thuthaintha maṇimāṭam
kavara veriyōṭṭik kaṭiya mathileythār
kavaru maṇikollaik kaṭiya mulainallār
pavarum vaṭukūril āṭum maṭikaḷē".
துணியா ருடையாடை துன்னி யரைதன்மேல்
தணியா அழல்நாகந் தரியா வகைவைத்தார்
பணியா ரடியார்கள் பலரும் பயின்றேத்த
அணியார் வடுகூரில் ஆடும் மடிகளே.
"Thuṇiyā ruṭaiyāṭai thuṉṉi yaraithaṉmēl
thaṇiyā azhalnākan thariyā vakaivaithār
paṇiyā raṭiyārkaḷ palarum payiṉtṟētha
aṇiyār vaṭukūril āṭum maṭikaḷē".
தளருங் கொடியன்னாள் தன்னோ டுடனாகிக்
கிளரும் அரவார்த்துக் கிளரும் முடிமேலோர்
வளரும் பிறைசூடி வரிவண் டிசைபாட
ஒளிரும் வடுகூரில் ஆடும் மடிகளே.
"Thaḷaruṅ koṭiyaṉṉāḷ thaṉṉō ṭuṭaṉākik
kiḷarum aravārthuk kiḷarum muṭimēlōr
vaḷarum piṟaisūṭi varivaṇ ṭisaipāṭa
oḷirum vaṭukūril āṭum maṭikaḷē".
நெடியர் சிறிதாய நிரம்பா மதிசூடும்
முடியர் விடையூர்வர் கொடியர் மொழிகொள்ளார்
கடிய தொழிற்காலன் மடிய வுதைகொண்ட
அடியர் வடுகூரில் ஆடும் மடிகளே.
"Neṭiyar siṟithāya nirampā mathisūṭum
muṭiyar viṭaiyūrvar koṭiyar mozhikoḷḷār
kaṭiya thozhiṟkālaṉ maṭiya vuthaikoṇṭa
aṭiyar vaṭukūril āṭum maṭikaḷē".
பிறையும் நெடுநீரும் பிரியா முடியினார்
மறையும் பலபாடி மயானத் துறைவாரும்
பறையும் அதிர்குழலும் போலப் பலவண்டாங்
கறையும் வடுகூரில் ஆடும் மடிகளே.
"Piṟaiyum neṭunīrum piriyā muṭiyiṉār
maṟaiyum palapāṭi mayāṉath thuṟaivārum
paṟaiyum athirkuzhalum pōlap palavaṇṭāṅ
kaṟaiyum vaṭukūril āṭum maṭikaḷē".
சந்தம் மலர்வேய்ந்த சடையின் இடைவிம்மு
கந்தம் மிகுதிங்கள் சிந்து கதிர்மாலை
வந்து நயந்தெம்மை நன்றும் அருள்செய்வார்
அந்தண் வடுகூரில் ஆடும் மடிகளே.
"Santham malarvēyntha chaṭaiyiṉ iṭaivim'mu
kantham mikuthiṅkaḷ sinthu kathirmālai
vanthu nayanthem'mai naṉtṟum aruḷseyvār
anthaṇ vaṭukūril āṭum maṭikaḷē".
திருமா லடிவீழத் திசைநான் முகனாய
பெருமா னுணர்கில்லாப் பெருமான் நெடுமுடிசேர்
செருமால் விடையூருஞ் செம்மான் திசைவில்லா
அருமா வடுகூரில் ஆடும் மடிகளே.
"Thirumā laṭivīzhath thisaināṉ mukaṉāya
perumā ṉuṇarkillāp perumāṉ neṭumuṭisēr
serumāl viṭaiyūruñ chem'māṉ thisaivillā
arumā vaṭukūril āṭum maṭikaḷē".
படிநோன் பவையாவர் பழியில் புகழான
கடிநாண் நிகழ்சோலை கமழும் வடுகூரைப்
படியா னசிந்தை மொழியார் சம்பந்தன்
அடிஞா னம்வல்லா ரடிசேர் வார்களே.
"Paṭinōṉ pavaiyāvar pazhiyil pukazhāṉa
kaṭināṇ nikazhchōlai kamazhum vaṭukūraip
paṭiyā ṉachinthai mozhiyār sambanthaṉ
aṭigñā ṉamvallā raṭisēr vārkaḷē".