Visited on: 17th July, 2016
Location
Thiruvalangadu is at a distance of about 17 kms from Thiruvallur en route Arakkonam. From Arakkonam also this place is about 17 kms.
Thiruvalangadu has a railway station on the Chennai – Arakkonam rail route and the temple is about 4 kms away from the station.
Other Paadal Petra Shivasthalams near Thiruvalangadu are – Ilambaiyangkottur (10 kms), Thiruvenpakkam (32 kms), Thakkolam (17 kms), Thiruvirkolam (20 kms) and Thirupachur (19 kms).
General Information
Moolavar

Sri Vadaranyeswarar, Sri Alavana Nathar,
Sri Oorthuvadandaveswarar, Sri Devarsingaperuman

Ambal

Sri Vandar Kuzhali Amman, Sri Brahmarambal
Sri Alavana Nayaki

Theertham (Holy water)

Mukthi Theertham, Sentradu Theertham, Siva Kara Theertham

Sthala Vriksham (Sacred Tree)

Banyan tree

Pathigam (Hymn) rendered by

Saint Thirugnanasambanthar-1
Saint Thirunavukarasar (Appar)-2
Saint Sundaramurthy (Sundarar)-1

This is one of the 276 Devara Paadal Petra Shiva Sthalams and 15th Shiva Sthalam in Thondai Nadu.
Lord Shiva in this temple is a Swayambumurthi (self-manifested).
This is one of the five places where it is believed that Lord Natarajar competed with Goddess Kali in a dance performance.
The Natarajar mandapam (hall) of this temple is called "Rathna Sabhai (Gem hall)".
This is one of the 44 Paadal petra sthalams where all the "Moovars" have rendered their pathigams.
Karaikkal Ammaiar also rendered her "Mootha Thirupathigam" about Lord Shiva here.
This temple has three corridors and its main tower (Rajagopuram) has 5-tiers.
History of the Temple
It is believed that originally this temple was constructed by the Chola and Pallava dynasties. This is a very ancient temple. The stone inscriptions available in this temple are from the periods of King Paranthaka Chola-I to the last king of Vijayanagaram.
Earlier this village was called Pazhayanur and the place where this temple was located was called Alangadu. In the Devara Hymns, this place is mentioned as "Pazhayanur Alangadu".
This temple is under the administrative control of the Hindu Religious and Charitable Endowments Department of Government of Tamil Nadu (HR&CE). This temple is controlled by Thiruthani Murugan temple's Eexcutive Officer/Joint Commissioner.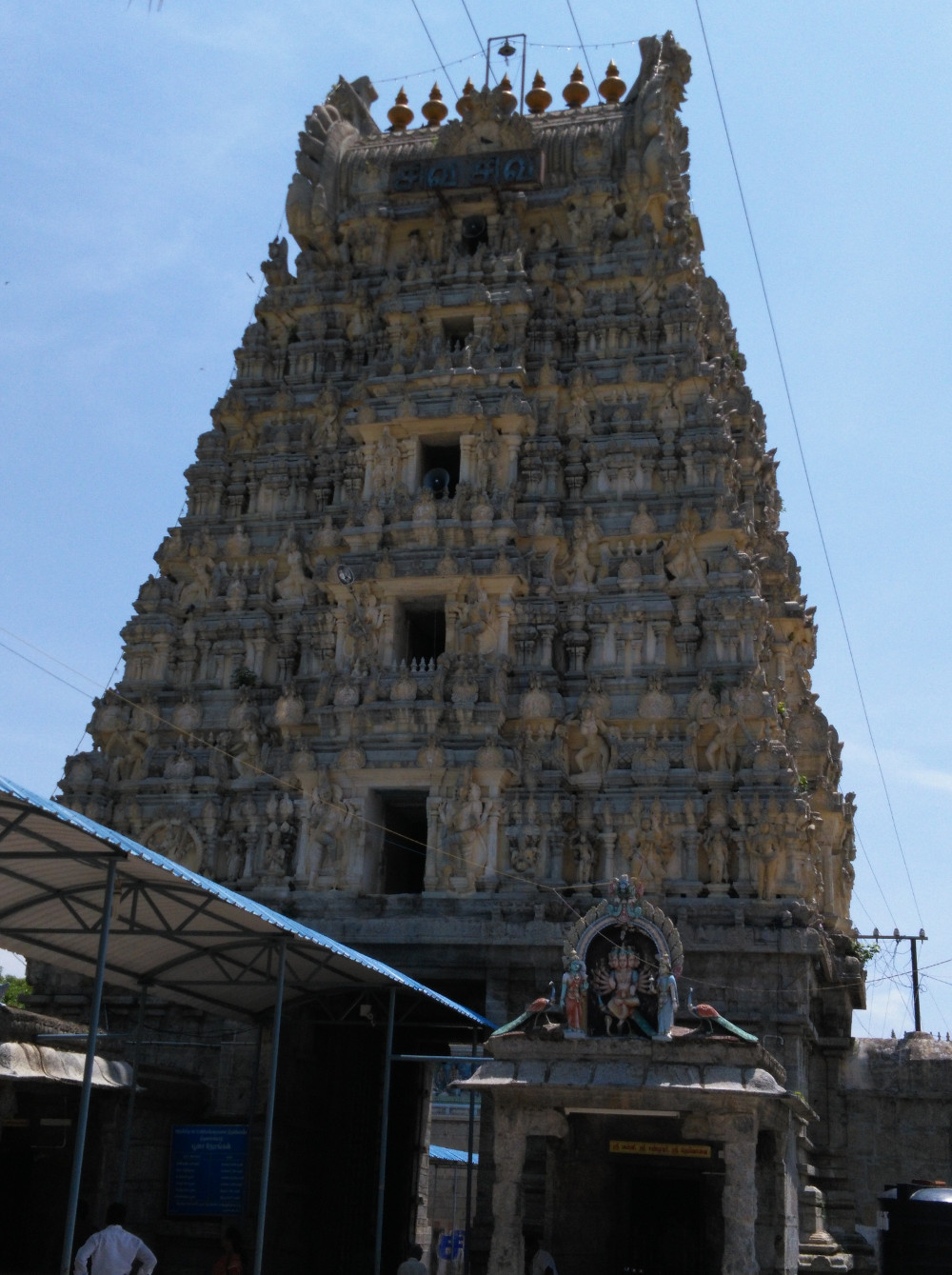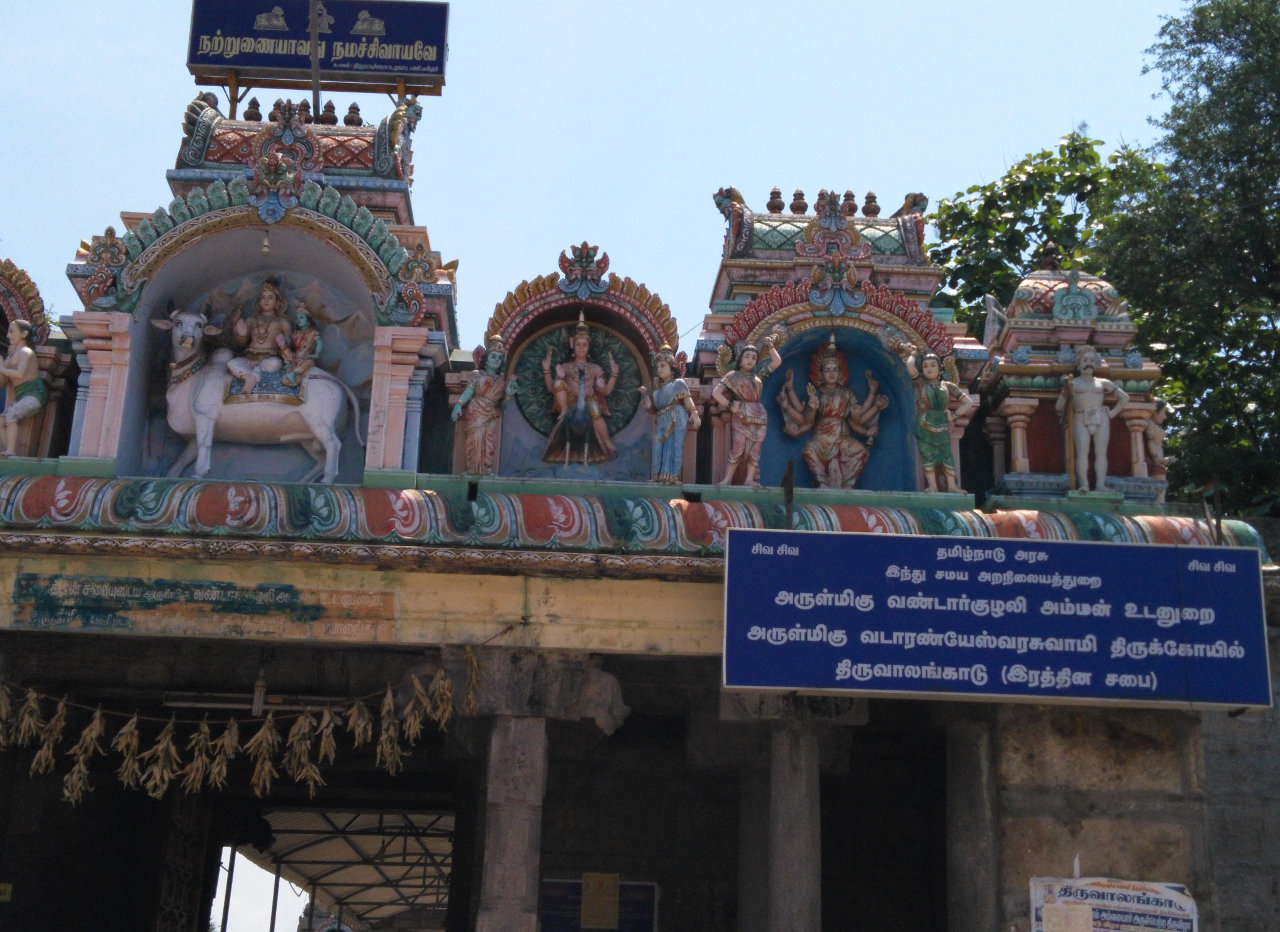 Legend
According to the legend, in ancient times this region was a forest densely covered with banyan trees (Alamaram in Tamil). It is believed that a Swayambu Lingam was discovered under a banyan tree. Later a temple was constructed and the lord was named as "Sri Vadaranyeswarar" (Vadam meaning banyan tree, Aranyam meaning forest and the Eswar represents Lord Shiva). Since the celestial gods (Devas) are also believed to have worshiped the lord of this temple, he is also praised as "Sri Devarsingaperuman".
It is believed that Lord Murugan, Goddess Lakshmi and Saint Thirumular have worshiped Lord Shiva in this temple.
Oordhuva Thandavam
The legend is that two demons - Sumban and Nisumban had worshiped Lord Shiva to seek his blessings. Impressed by their rigorous penance, Lord Shiva gave them a blessing that every drop of their blood that fell on the ground would turn into a lingam.
Having sought Lord Shiva's blessings, these two demons started terrorising the celestial gods who in turn complained to Lord Shiva. Lord Shiva asked Goddess Parvathi to create "Bathra Kali" and this Kali was advised to go to Thiruvalangadu to destroy the demons.
Kali fought with these two demons, defeated them and drank their blood. However, since she had drunk the blood of the demons, she started losing control of her senses and started acting like a demon herself. She started terrorising the celestial gods, who one again sought Lord Shiva's intervention in this matter.
To solve this problem, Lord Shiva and Goddess Parvathy came to this place. Kali who was not in control of her senses, started fighting with Lord Shiva. Lord Brahma, Lord Mahavishnu and Rishi Naradar intervened and made them accept a dance competition instead of a fight, which the duo agreed to perform.
It is believed that the dance performance was witnessed by Goddess Parvathy, Rishi Naradar, Sage Munjikesa (Sage Anantha) and serpent Karkodakar. Lord Brahma and Lord Mahavishnu are believed to have provided music for their dance. Lord Shiva performed 17 types of dances which Kali also repeated. Finally, Lord Shiva played his "Oordhuva Thandavam" – a dance with very fast movements. Lord Shiva intentionally dropped his right earring on the ground, stood on his right leg, picked up the earring with the toe of his left leg and wore it again during the dance itself. Kali could not repeat this movement and admitted her defeat.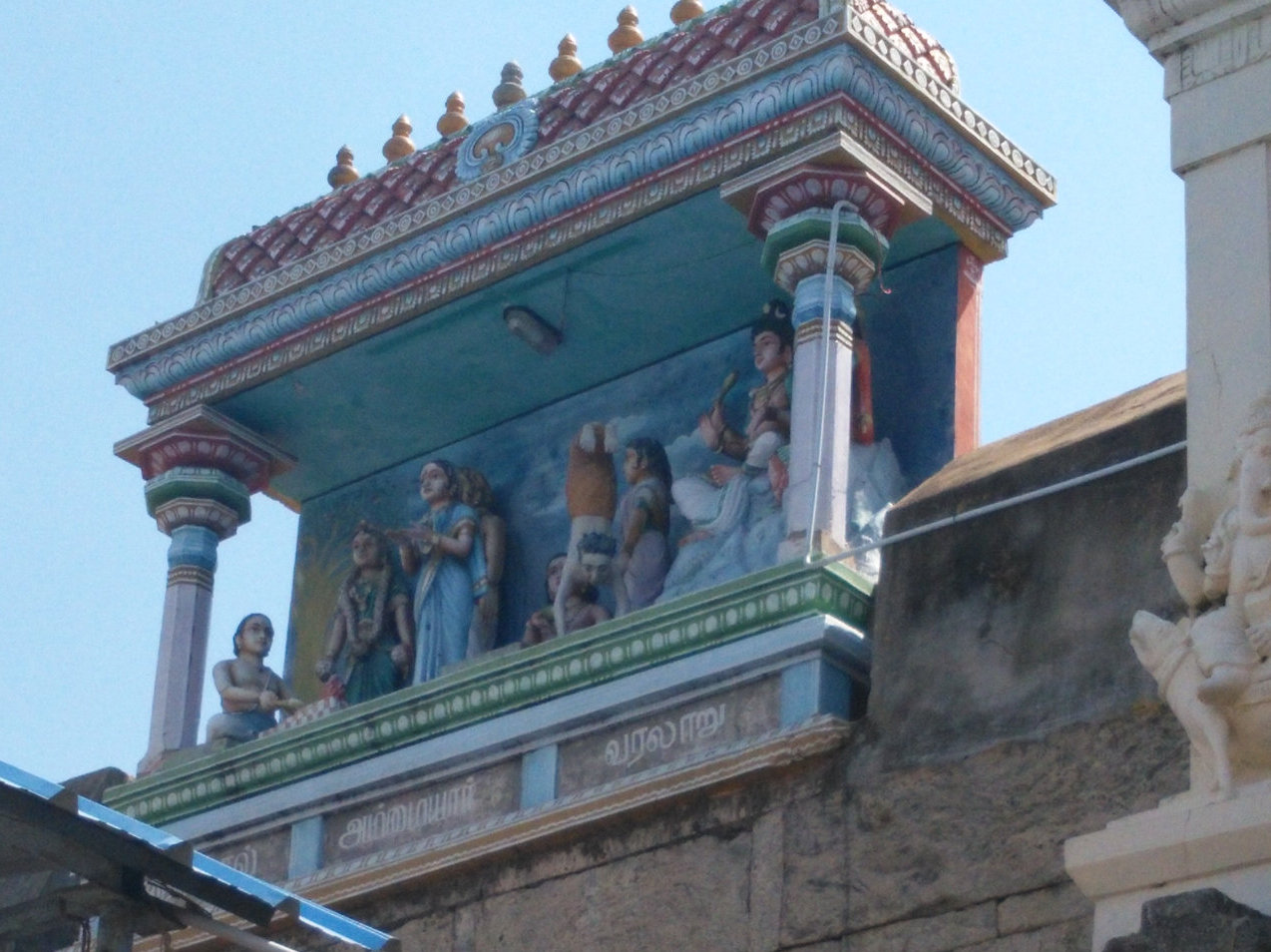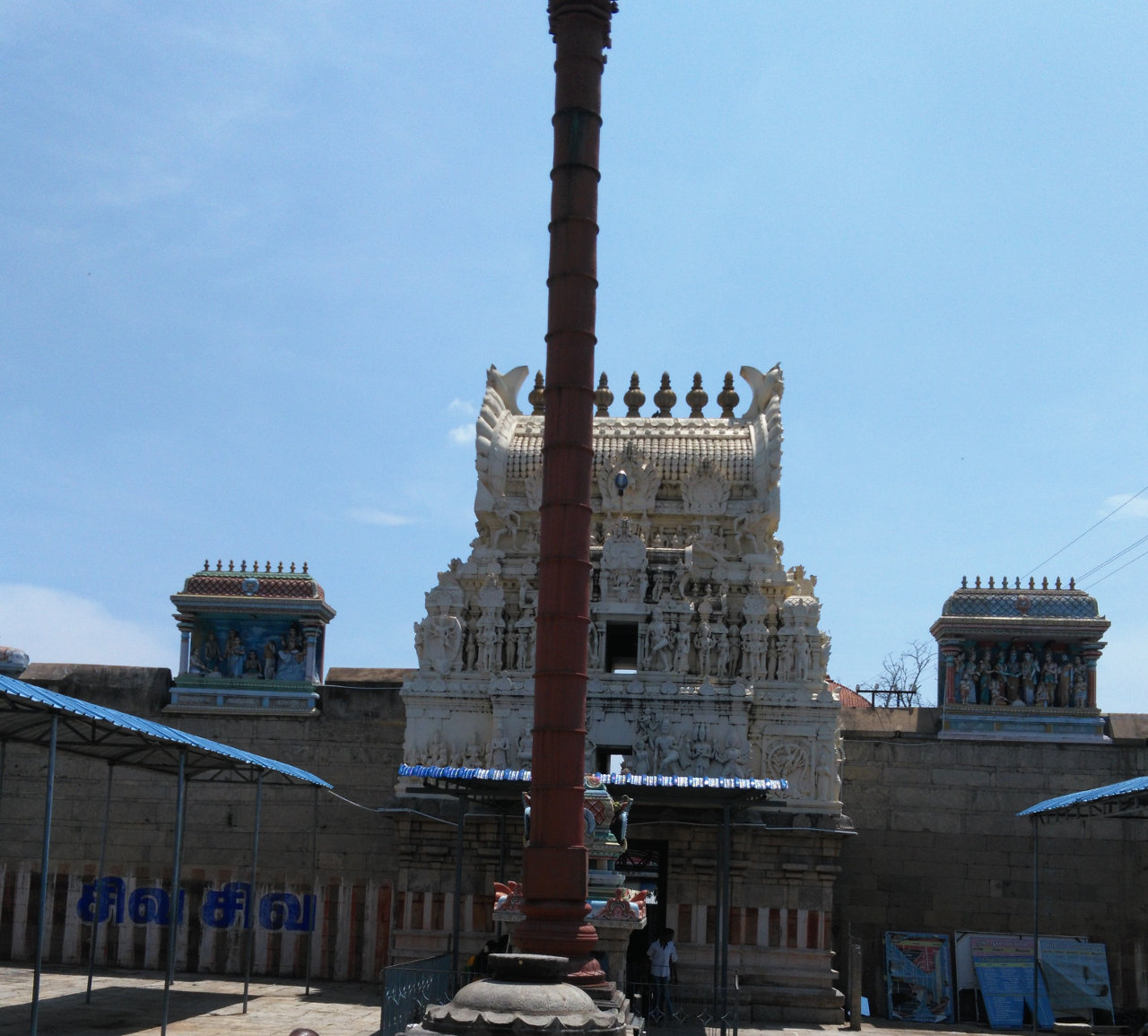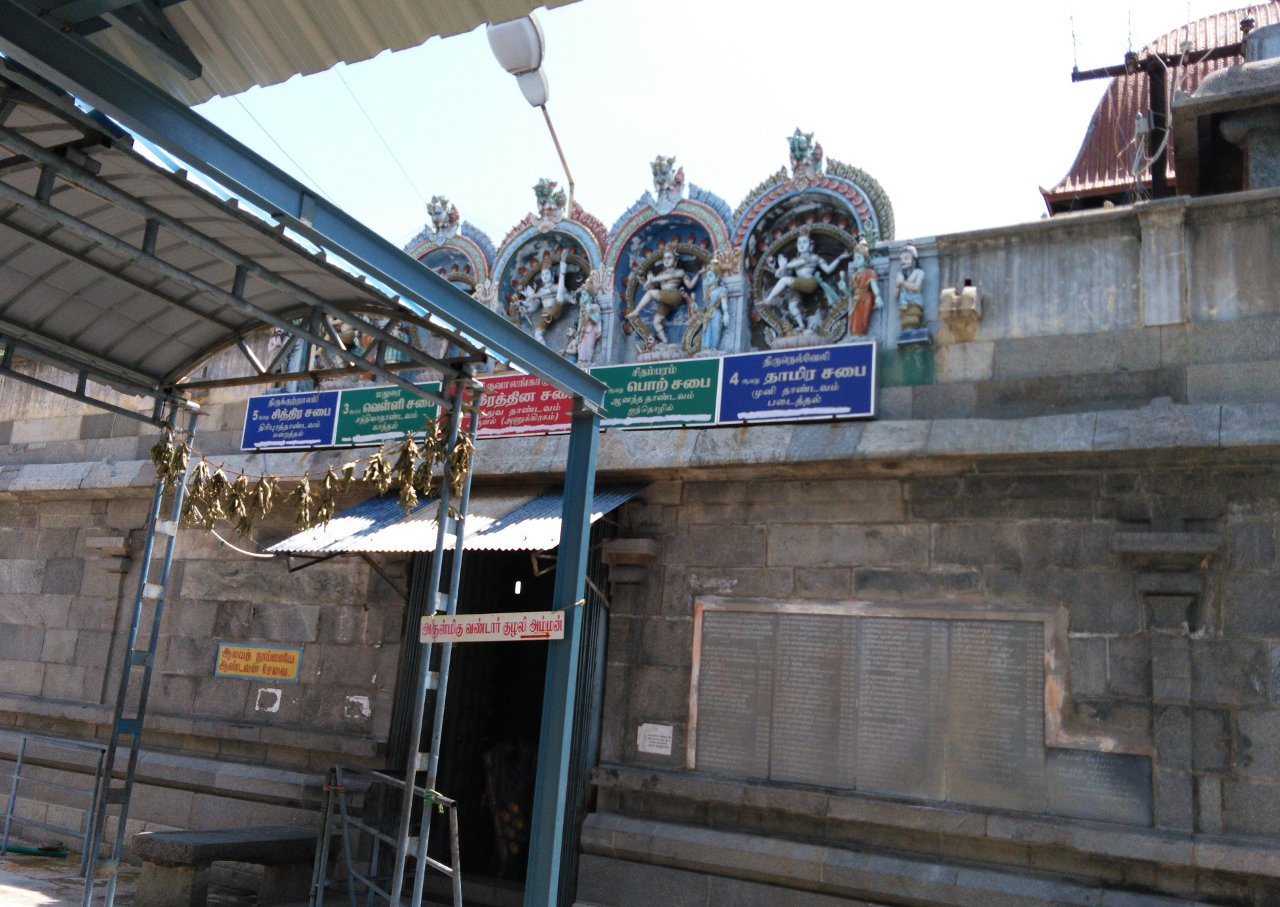 Goddess Parvathy, who was astonished to watch this performance is praised here as "Arukilirunthu Viyantha Nayaki" (goddess who witnessed the spectacular dance performance). The lord here is praised as "Andamura Nimirntharuliya Nayanar" as he performed the Oordhuva Thandavam.
Kali was very angry to accept her defeat. In order to appease her anger, Lord Shiva told her that he would be performing a pleasing dance – "Raksha dance" at Thiruvirkolam temple and she could have his dharisanam there.
The Natarajar idol of this temple can be seen with its left leg almost touching the left ear. The idol of Goddess Sivakama Sundari can be seen with her face reflecting her astonishment.
Lord Natarajar's five Sabhas
This is one of the five places where Lord Shiva performed his cosmic dance - 'Oorthava / Kali Thandavam'. The hall where he performed this dance is called "Rathina Sabhai (gem hall)". The other four places are –
Chidambaram - Por Sabhai (gold hall),
Madurai – Velli Sabhai (silver hall),
Tirunelveli – Thamira Sabhai (copper hall) and
Kutralam- Chithira Sabhai (art/picture hall).
Karaikal Ammaiyar
Lord Shiva's dance here was also witnessed by one of his great devotees, Saint Karaikal Ammaiyar. She is also one of the 63 Nayanmars. It is said that she went to Mount Kailash by walking upside down on her head to see Lord Shiva. The lord addressed her as "Mother" (Amma in Tamil) and advised her to go to Thiruvalangadu to see his dance. She came to see the lord in this temple but a Shiva lingam started appearing wherever she put her foot. In order to give respect, she decided to again walk upside down on her head. She witnessed the dance performance of Lord Shiva, rendered her pathigam (hymn) and attained salvation in this temple itself. It is believed that her last resting place was at the feet of Lord Natarajar. Since her pathigams are prior to the Moovars Devaram, they are called "Mootha Thiru Pathigam".
Thiru Gnanasambanthar
Another legend associated with this place is that since Karaikal Ammaiyar had walked on her head at this place, Saint Thiru Gnanasambanthar was afraid to set his foot on the soil. Not wanting to show any disrespect towards Karaikal Ammaiyar, he decided to stay in a nearby village and spent the night there without visiting this temple. However, Lord Shiva of this temple appeared in his dream and asked if he had forgotten to praise him. Next morning, he visited this temple and rendered a pathigam in which he mentioned about the "Neeli story" and God's reminder to praise him.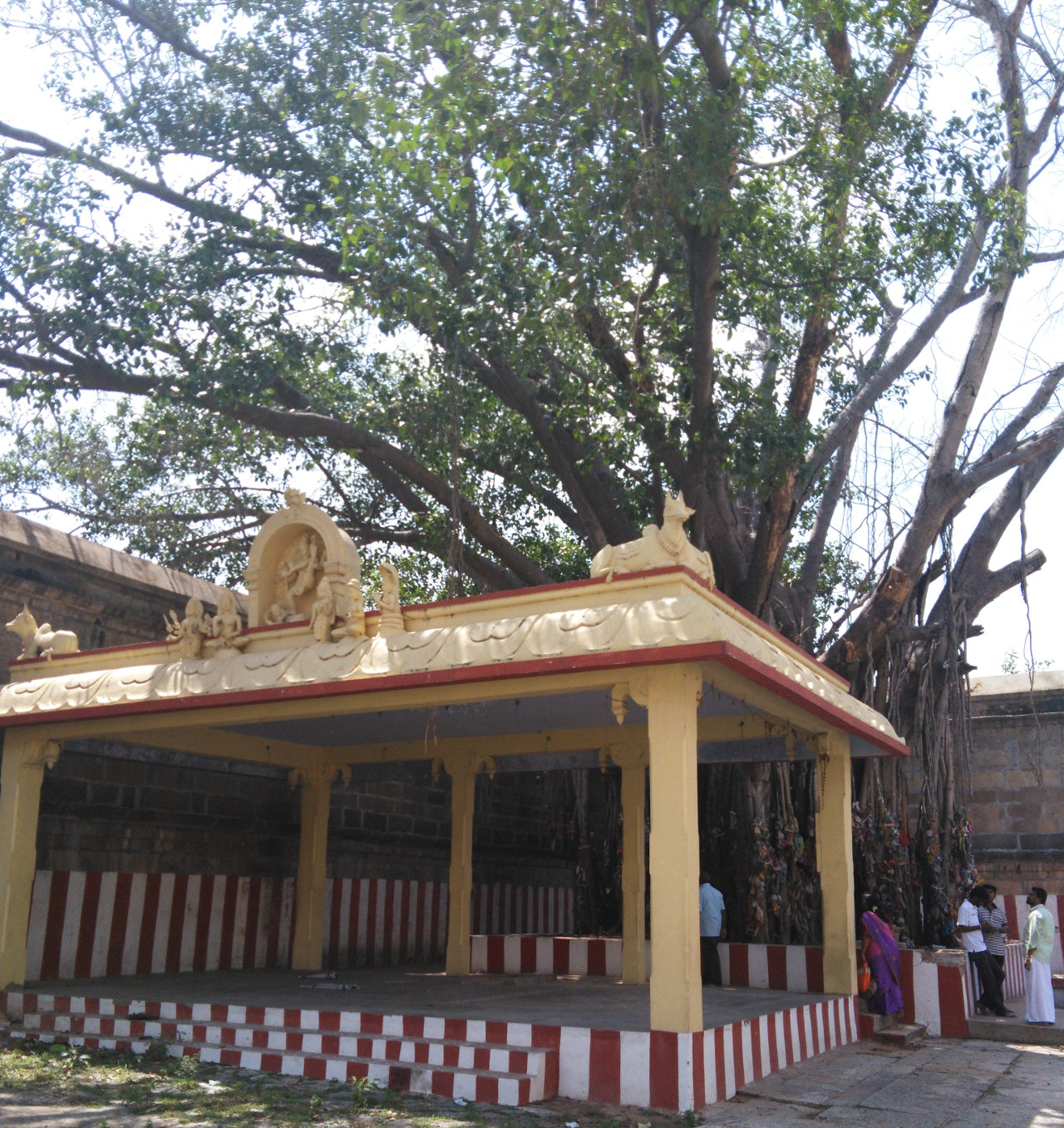 Neeli Story
Another legend associated with this place is that of a lady called "Neeli". It is believed that she was killed by her husband as he had suspected her of infidelity. After her death, she could not move on to her next birth and started roaming around this place in the form of a ghost. Incidentally, in his next birth, her husband was travelling through this place. Seeing her former husband, Neeli decided to seek revenge. She assumed the form of his present wife and wanted to go with him. He was surprised to see his wife here, he sensed that something was wrong and he refused to let her accompany him.
Neeli went to the locals (velalars) and complained that her husband was abandoning her. The locals interfered and asked him to stay with her at a nearby place and travel with her the next morning. He tried explaining to them that she might not be his wife but they refused to his pleas. Instead they vouched for his safety by saying that if anything were to happen to him, they would also give up their lives.
As soon as they went inside the house that the locals had given to them, Neeli took her original form of a ghost and killed him. In the morning when the locals found him dead, they decided to end of their lives and keep the promise that they made to him. The legend is that 70 velalars gave up their lives by self-immolation (Theekuliyal in Tamil). It is also believed that Lord Shiva gave salvation to all of them. It is interesting to note that the old Tamil proverb "Neeli Kanneer" (crocodile tears) originated from this story only.
The hall where these velalars gave up their lives can still be seen near the Sakshibootheswarar temple in Pazhayanur (at a distance of about one kilometre from Thiruvalangadu temple). It is said that the heirs of those velalars still go to Thiruvalangadu temple for worship and for offering their services.
Mantheeswarar
Another legend is that Sani Bhagawan (Saturn) advised his son, Mantheeswarar who had accrued a sin (dosham) when a lizard fell on him, to go to Thiruvalangadu and worship Lord Shiva there. Pleased with his penance, Lord Shiva appeared before him and blessed him by absolving the sin.
Deities in the temple
Natarajar is praised here as "Rathina Sababathi Eswarar" and his consort, Sivakama Sundari is praised as "Sameesenambikai".
There are as many as sixty idols in this temple. Some of the idols and shrines are - Lords Vinayakar, Murugan with his consorts, Vijayaraghava Perumal with his consorts, Karaikkal Ammaiar, Agora Veerabathrar, Pancha Bootha lingams, Sahasra lingam, Kasi Viswanathar, Iyappan, Dakshinamurthy, Brahma, Durgai with Durga Parameswarar, Chandikeswarar, Sage Munjikesar, Karkodakar, Suryan, Chandran, Nalvars, Bathrakali Amman, Sapta Kanniyars and Bairavar.
Idols of Mantheeswarar and the lingam installed and worshiped by him can also be seen.
Salient Features
A separate temple for Goddess Badhra Kali is situated at a distance of about one kilometre from this temple. It is said that after being defeated in the dance performance by Lord Shiva, she stayed in this temple.
The Thiruvalangadu temple, the Mukthi Theertham (the temple's tank) and Vada Badhrakali temple are considered very auspicious. The order in which the devotees should worship here is - first by taking a dip in the Mukthi Theertham, worshipping goddess Badhrakali and then worshipping Lord Shiva.
This temple has a beautiful 100-pillars hall where Lord Natarajar's abishekam is performed.
In Lord Natarajar's shrine, there are two shiva lingams - one made of Spadigam (crystal) and the other one made of Maragatham (emerald).
Saint Arunagirinadhar has also sang in praise of Lord Murugan of this temple in his revered Thirupugazh.
Saint Pattinathar has also sang in praise of Lord Shiva of this temple.
It is said that Saint Karaikkal Ammayar's jeeva samadhi can be seen at the end of Lord Natarajar's hall (Sabha).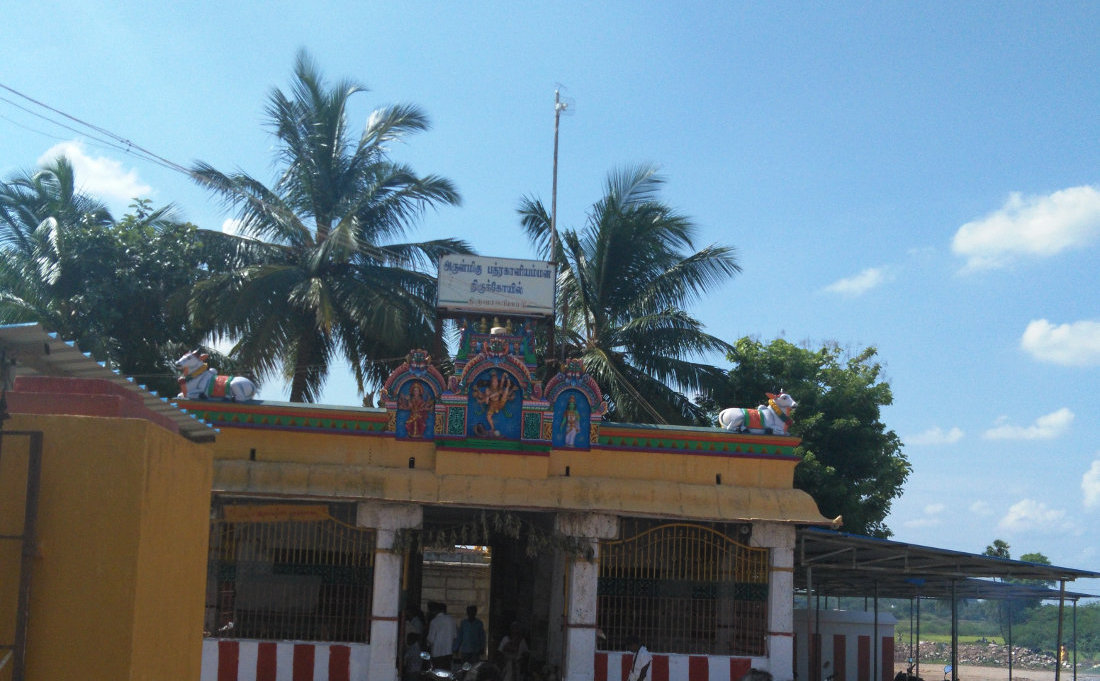 Greatness of this temple
This temple is considered to be a place where one can attain salvation.
This is a parihara sthalam for Bharani Nakshathiram (star). Those who are born during the period of Bharani nakshathiram can perform special poojas here.
This is an important place for Mantheeswarar pariharam and poojas can be performed on Saturdays. Mantheeswarar pariharam is performed for removal of obstacles in marriage proposals, to help married couples get the blessing of child birth and to seek relief from debts.
Since Mantheeswarar is the son of Lord Sani (Saturn), poojas related to Sani doshams can also be performed here.
Also, those aspiring for mastery in the art of dance can pray to Lord Vadaranyeswarar here and seek his blessings.
Important Festivals
Thiruvadhirai in the Tamil month of Margazhi (December-January) is the most important festival of this temple.
Almost all other festivals pertaining to Lord Shiva are observed in this temple.
Temple Timings
From 06:00 AM to 12:00 Noon and from 04:00 PM to 08:00 PM.
Temple Address
Sri Vadaranyeswarar Temple,
Thiruvalangadu Post,
Thiruthani Taluk,
Thiruvallur District,
Tamil Nadu – 631 210.
Tele: +91-044-27872074, 9952230906.
---
Pathigam (Hymn) with English transliteration
Saint Thirugnanasambanthar visited this temple and sang this Pathigam.
Devotees visiting this temple should make it a practice to recite this Pathigam.
துஞ்ச வருவாருந் தொழுவிப்பாரும் வழுவிப்போய்
நெஞ்சம் புகுந்தென்னை நினைவிப்பாரும் முனைநட்பாய்
வஞ்சப் படுத்தொருத்தி வாழ்நாள்கொள்ளும் வகைகேட்
டஞ்சும் பழையனூர் ஆலங்காட்டெம் அடிகளே.
"Thuñcha varuvārun thozhuvippārum vazhuvippōy
neñcham pukuntheṉṉai niṉaivippārum muṉainaṭpāy
vañchap paduthoruthi vāzhnāḷkoḷḷum vakaikēṭ
ṭañchum pazhaiyaṉūr ālaṅkāṭṭem adikaḷē".
கேடும் பிறவியும் ஆக்கினாருங் கேடிலா
வீடு மாநெறி விளம்பினாரெம் விகிர்தனார்
காடுஞ் சுடலையும் கைக்கொண்டெல்லிக் கணப்பேயோ
டாடும் பழையனூர் ஆலங்காட்டெம் அடிகளே.
"Kēdum piṟaviyum ākkiṉāruṅ kēdilā
vīdu māneṟi viḷampiṉārem vikirthaṉār
kāṭuñ chudalaiyum kaikkoṇṭellik kaṇappēyō
ṭādum pazhaiyaṉūr ālaṅkāṭṭem adikaḷē".
கந்தங் கமழ்கொன்றைக் கண்ணிசூடி கனலாடி
வெந்த பொடிநீற்றை விளங்கப்பூசும் விகிர்தனார்
கொந்தண் பொழிற்சோலை யரவின்தோன்றிக் கோடல்பூத்
தந்தண் பழையனூர் ஆலங்காட்டெம் அடிகளே.
"Kanthaṅ kamazhkoṉtṟaik kaṇṇichūṭi kaṉalāṭi
ventha poṭinītṟai viḷaṅkappūsum vikirthaṉār
konthaṇ pozhiṟchōlai yaraviṉthōṉṟik kōdalpūth
thantaṇ pazhaiyaṉūr ālaṅkāṭṭem adikaḷē".
பால மதிசென்னி படரச்சூடி பழியோராக்
கால னுயிர்செற்ற காலனாய கருத்தனார்
கோலம் பொழிற்சோலைப் பெடையோடாடி மடமஞ்ஞை
ஆலும் பழையனூர் ஆலங்காட்டெம் அடிகளே.
"Pāla mathiseṉṉi paṭarachūṭi pazhiyōrāk
kāla ṉuyirsetṟa kālaṉāya karuthaṉār
kōlam pozhiṟchōlaip peṭaiyōṭāṭi maṭamañchai
ālum pazhaiyaṉūr ālaṅkāṭṭem adikaḷē".
ஈர்க்கும் புனல்சூடி இளவெண்டிங்கள் முதிரவே
பார்க்கு மரவம்பூண் டாடிவேடம் பயின்றாருங்
கார்க்கொள் கொடிமுல்லை குருந்தமேறிக் கருந்தேன்மொய்த்
தார்க்கும் பழையனூர் ஆலங்காட்டெம் அடிகளே.
"Īrkkum puṉalsūṭi iḷaveṇṭiṅkaḷ muthiravē
pārkku maravampūṇ ṭāṭivēdam payiṉtṟāruṅ
kārkkoḷ kodimullai kurunthamēṟik karunthēṉmoyth
thārkkum pazhaiyaṉūr ālaṅkāṭṭem adikaḷē".
பறையுஞ் சிறுகுழலும் யாழும்பூதம் பயிற்றவே
மறையும் பலபாடி மயானத்துறையும் மைந்தனார்
பிறையும் பெரும்புனல்சேர் சடையினாரும் பேடைவண்
டறையும் பழையனூர் ஆலங்காட்டெம் அடிகளே.
"Paṟaiyuñ chiṟukuzhalum yāzhumpūtham payitṟavē
maṟaiyum palapādi mayāṉathuṟaiyum mainthaṉār
piṟaiyum perumpuṉalsēr sadaiyiṉārum pēdaivaṇ
ṭaṟaiyum pazhaiyaṉūr ālaṅkāṭṭem adikaḷē".
நுணங்கு மறைபாடி யாடிவேடம் பயின்றாரும்
இணங்கு மலைமகளோ டிருகூறொன்றாய் இசைந்தாரும்
வணங்குஞ் சிறுத்தொண்டர் வைகலேத்தும் வாழ்த்துங்கேட்
டணங்கும் பழையனூர் ஆலங்காட்டெம் அடிகளே.
"Nuṇaṅku maṟaipādi yādivēdam payiṉtṟārum
iṇaṅku malaimakaḷō ṭirukūṟoṉtṟāy isainthārum
vaṇaṅkuñ siṟuthoṇṭar vaikalēthum vāzhthuṅkēṭ
ṭaṇaṅkum pazhaiyaṉūr ālaṅkāṭṭem aṭdkaḷē".
கணையும் வரிசிலையும் எரியுங்கூடிக் கவர்ந்துண்ண
இணையில் எயின்மூன்றும் எரித்திட்டாரெம் இறைவனார்
பிணையுஞ் சிறுமறியுங் கலையுமெல்லாங் கங்குல்சேர்ந்
தணையும் பழையனூர் ஆலங்காட்டெம் அடிகளே.
"Kaṇaiyum varisilaiyum eriyuṅkūṭik kavarnthuṇṇa
iṇaiyil eyiṉmūṉtṟum erithṭhitārem iṟaivaṉār
piṇaiyuñ siṟumaṟiyuṅ kalaiyumellāṅ kaṅkulsērn
thaṇaiyum pazhaiyaṉūr ālaṅkāṭṭem adikaḷē".
கவிழ மலைதரளக் கடகக்கையால் எடுத்தான்றோள்
பவழ நுனைவிரலாற் பையவூன்றிப் பரிந்தாரும்
தவழுங் கொடிமுல்லை புறவஞ்சேர நறவம்பூத்
தவிழும் பழையனூர் ஆலங்காட்டெம் அடிகளே.
"Kavizha malaitharaḷak kaṭakakkaiyāl eduthāṉtṟōḷ
pavazha nuṉaiviralāṟ paiyavūṉtṟip parinthārum
tavazhuṅ kodimullai puṟavañchēra naṟavampūth
thavizhum pazhaiyaṉūr ālaṅkāṭṭem adikaḷē".
பகலும் இரவுஞ்சேர் பண்பினாரும் நண்போரா
திகலும் இருவர்க்கும் எரியாய்த்தோன்றி நிமிர்ந்தாரும்
புகலும் வழிபாடு வல்லார்க்கென்றுந் தீயபோய்
அகலும் பழையனூர் ஆலங்காட்டெம் அடிகளே.
"Pakalum iravuñchēr paṇpiṉārum naṇpōrā
thikalum iruvarkkum eriyāythōṉṟi nimirnthārum
pukalum vazhipādu vallārkkeṉtṟun thīyapōy
akalum pazhaiyaṉūr ālaṅkāṭṭem adikaḷē".
போழம் பலபேசிப் போதுசாற்றித் திரிவாரும்
வேழம் வருமளவும் வெயிலேதுற்றித் திரிவாரும்
கேழல் வினைபோகக் கேட்பிப்பாரும் கேடிலா
ஆழ்வர் பழையனூர் ஆலங்காட்டெம் அடிகளே.
"Pōzham palapēsip pōthusātṟith thirivārum
vēzham varumaḷavum veyilēthutṟith thirivārum
kēzhal viṉaipōkak kēṭpippārum kēdilā
āzhvar pazhaiyaṉūr ālaṅkāṭṭem adikaḷē".
சாந்தங் கமழ்மறுகிற் சண்பைஞான சம்பந்தன்
ஆந்தண் பழையனூர் ஆலங்காட்டெம் அடிகளை
வேந்த னருளாலே விரித்தபாடல் இவைவல்லார்
சேர்ந்த விடமெல்லாந் தீர்த்தமாகச் சேர்வாரே.
"Sānthaṅ kamazhmaṟukiṟ saṇpaigñāṉa sambanthaṉ
ānthaṇ pazhaiyaṉūr ālaṅkāṭṭem adikaḷai
vēntha ṉaruḷālē virithapādal ivaivallār
sērntha vidamellān thīrthamākach chērvārē".