Visited on: 17th July, 2016 and 23rd November, 2016
Location
Thirupachur temple is at a distance of about 3 kms from Thiruvallur on the Thiruvallur to Arakkonam route.
Nearest railway station is in Kadambathur which is at a distance of about 4 kms from this temple. Thiruvallur is about 40 kms away from Koyambedu, Chennai.
Other Paadal Petra Shivasthalams near Thirupachur are – Ilambaiyangkottor (22 kms), Thiruvirkolam (18 kms), Thakkolam (25 kms), Thiruvenpakkam (Poondi) (14 kms) and Thiruvalangadu (15 kms).
General Information
Moolavar

Sri Vaacheeswarar, Sri Pachura Nathar
Sri Pambatteeswarar, Sri Pasupatheeswarar

Ambal

Sri Pasupathi Nayaki, Sri Than-kathali Ammai
Sri Suyamohanambal

Theertham (Holy water)

Chozha Theertham, Mangala Theertham

Sthala Vriksham (Sacred Tree)

Bamboo

Pathigam (Hymn) rendered by

Saint Thirugnanasambanthar-1
Saint Thirunavukarasar (Appar)-2

This is one of the 276 Devara Padal Petra Shiva Sthalams and 16th Shiva Sthalam in Thondai Nadu.
Lord Shiva in this temple is a Swayambumurthi (self-manifested).
This lingam is not touched by human hands, not even by the priests, as it is "Theendathirumeni".
The vimanam (roof tower) of the sanctum sanctorum is designed in a special way that is exclusive to Pallava architecture - the Gaja Brishtam, that looks like the rear of an elephant (Gaja - elephant, brishtam - rear).
This east facing temple has two corridors and its main tower (Rajagopuram) has 3-tiers.
History of the Temple
It is believed that Chola King Karikalan had built this temple.
The place is also called Than-kathalipuram after the name of Goddess Thangathali. Other historical names of this place are Mayapuri, Abhayapuram, Manickapuri and Cholapuram.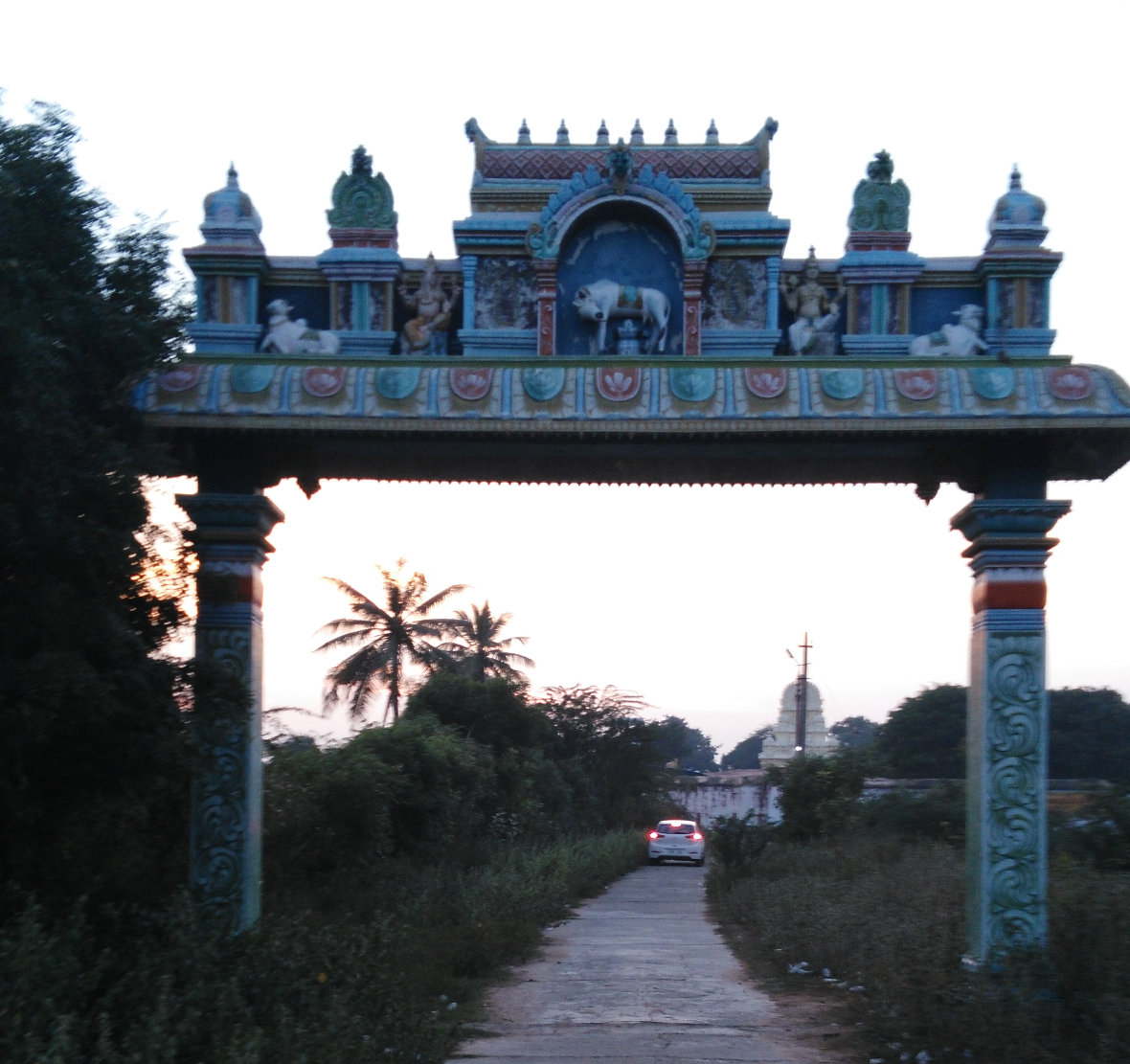 Legend
According to legend, in ancient times this region was densely covered with bamboo trees. It is believed that everyday a shepherd who was carrying milk would trip over a bush and fall down at one particular place. Angered by his regular loss of milk, one day he decided to clear the bushes. While cutting down the bushes with his axe, he found a lingam that was bleeding. Frightened, the shepherd informed about this to the local people who in turn informed the king. The king ordered a temple to be built there.
The scars on the lingam due to the use of the axe can still be seen. Also, the lingam is slightly leaning towards the left side. Owing to the scar on the lingam, this lingam is not touched by human hands and pujas are performed without touching the deity.
Bamboo is called "Pasu – Moongil" in Tamil. Since the lord here is believed to have been found in a bamboo forest, he is named "Sri Pachura Nathar" and the place is called "Thirupachur".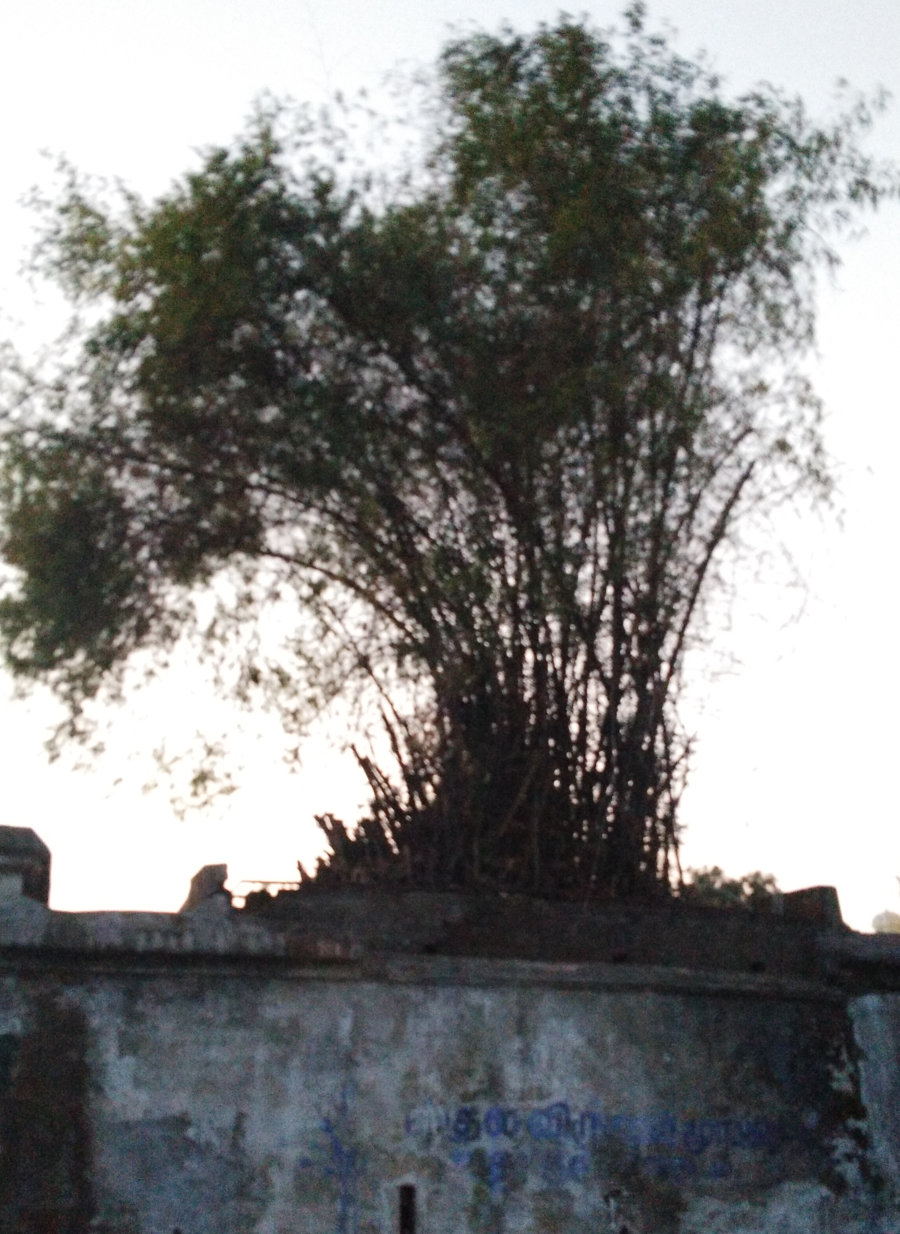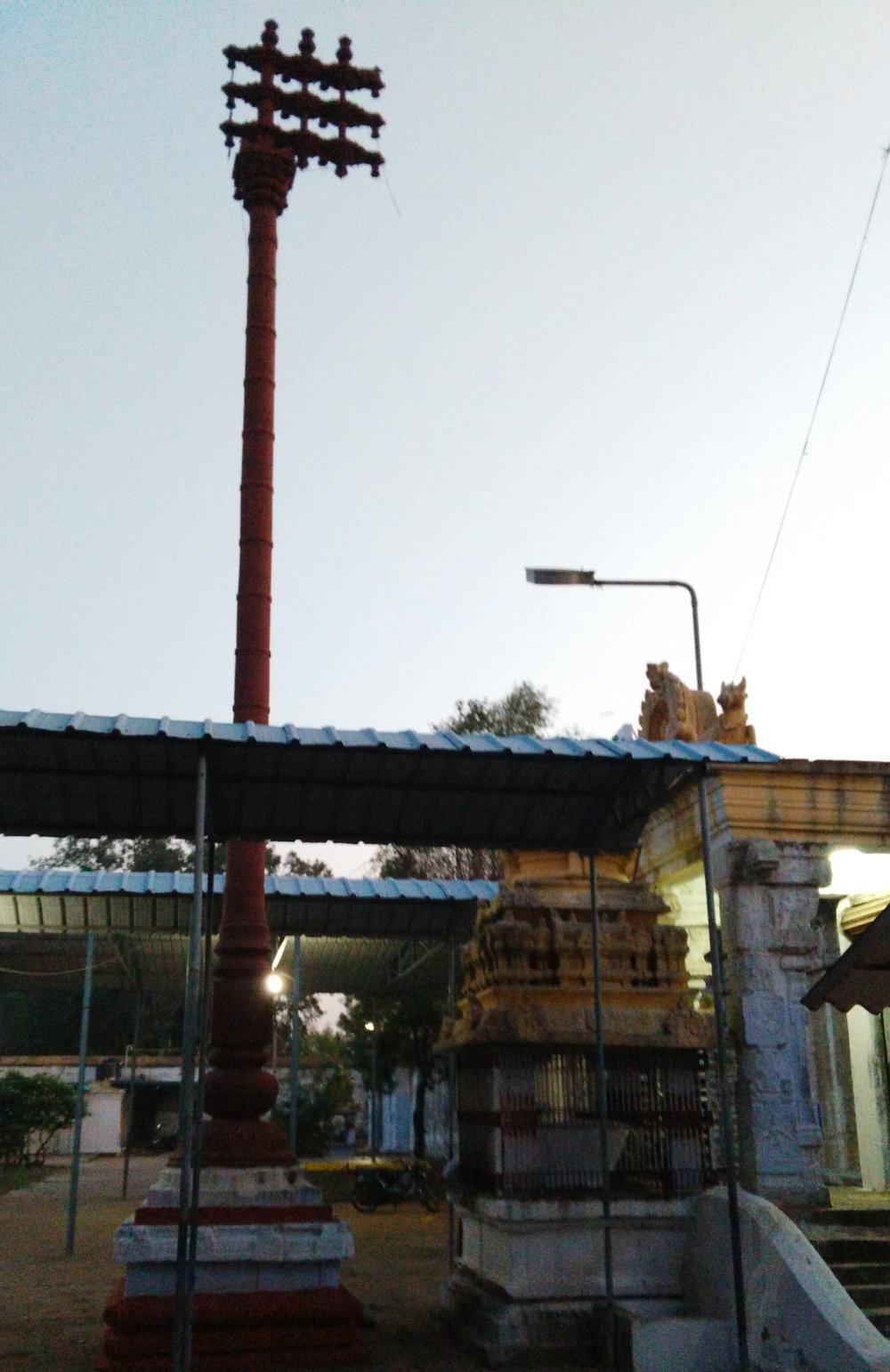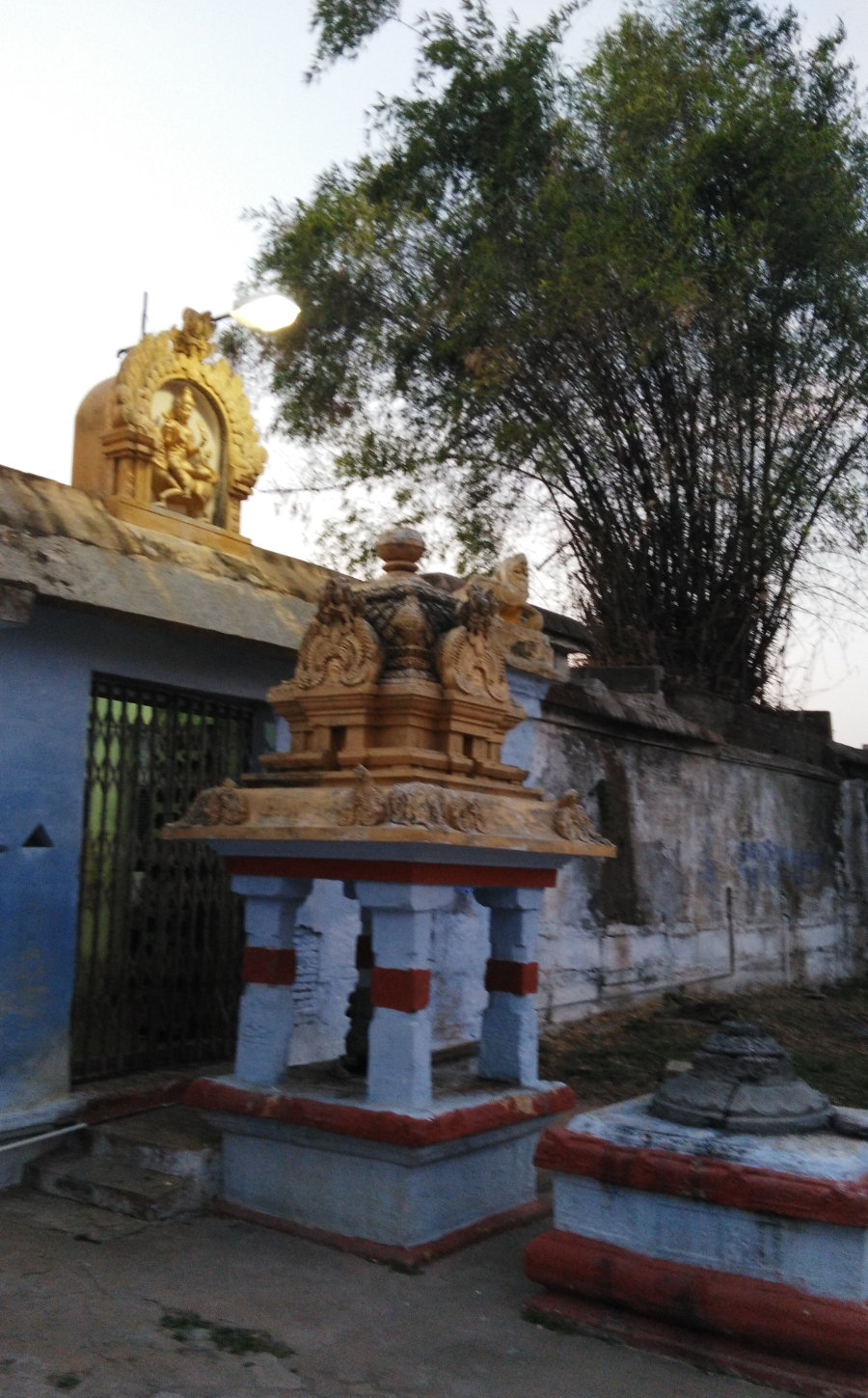 Another legend associated with this temple is that once, a local chieftain called Kurumban failed to pay the taxes that were owed to his liege lord - the Chola King Karikalan. Kurumban was an ardent devotee of Goddess Kali. When the king invaded his region for recovering the dues, the chieftain prayed to Kali who helped him defeat the king and his army.
The king, being a Shiva devotee, prayed to Lord Shiva for his help. Lord Shiva sent Nandhi to control and bind Kali. Nandhi defeated Kali and bound her with a golden chain. To honour this incident, this temple has a shrine for "Swarna Kali" where Goddess Kali's legs are bound. Evening pujas are performed in this shrine on full moon days.
It is also believed that when Chola King Karikalan was constructing this temple, his enemy Kurumban with the help of some Jains (samanar) had sent a poisonous snake in a container to kill the King. Without knowing what was in it, he tried to open the container but Lord Shiva came in the form of a snake charmer, saved his life and blessed him. Hence the lord here is also known as "Pambatteswarar" ("Pambatti" means snake charmer in Tamil).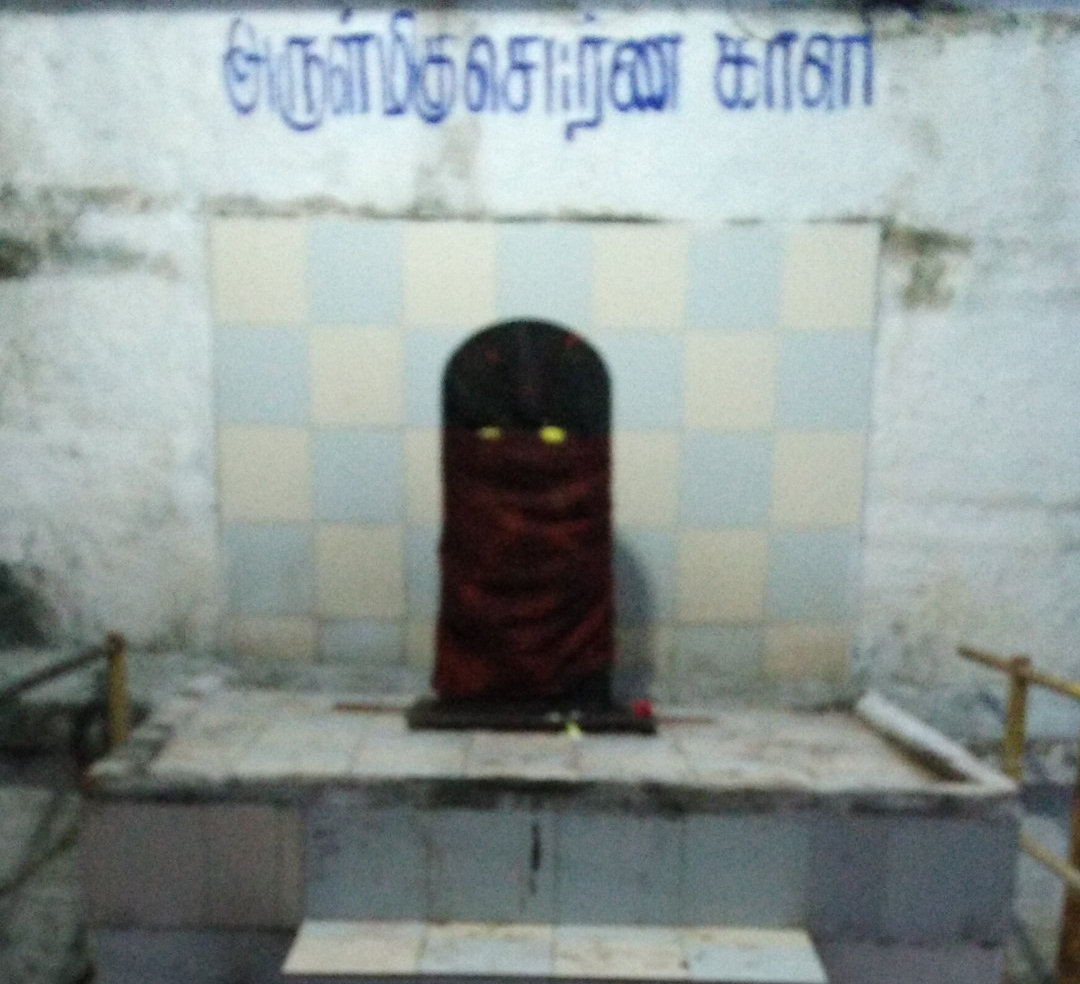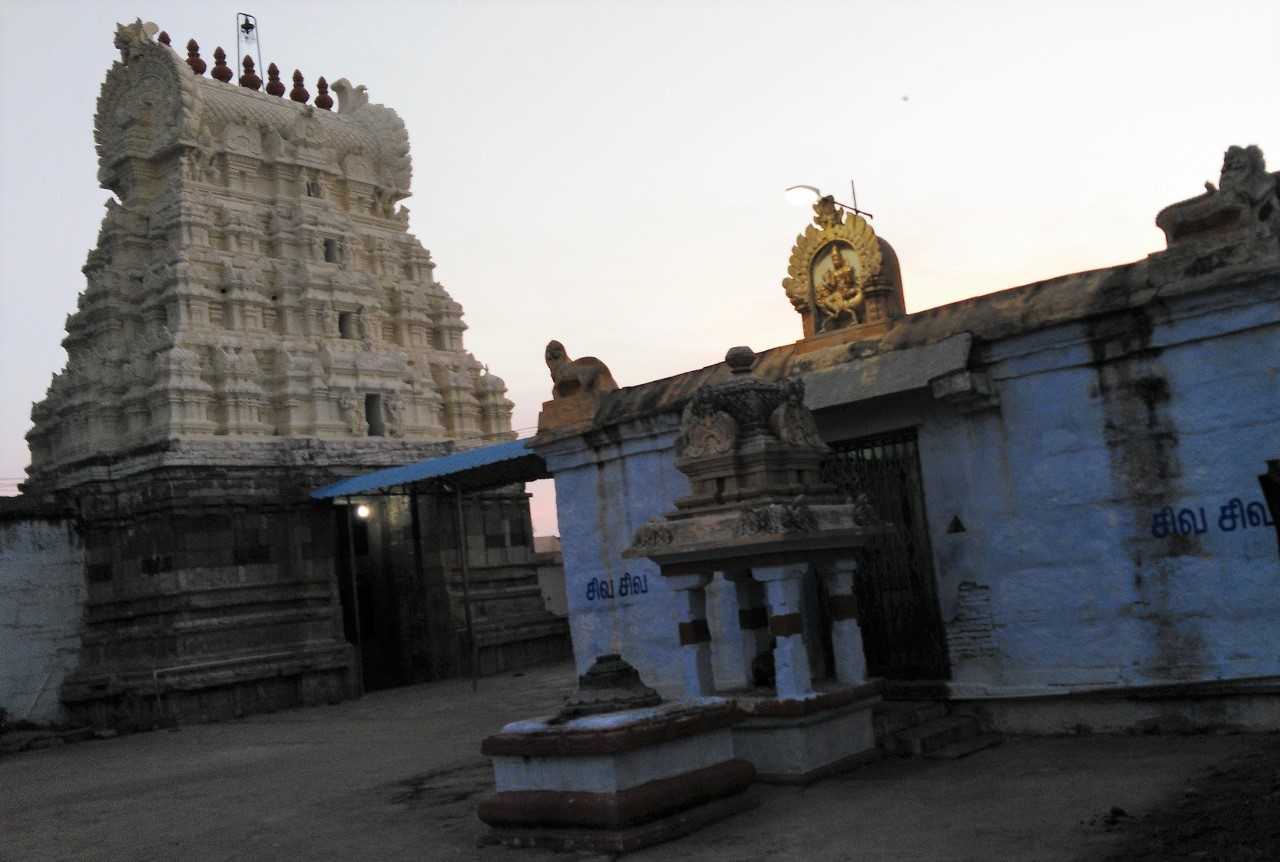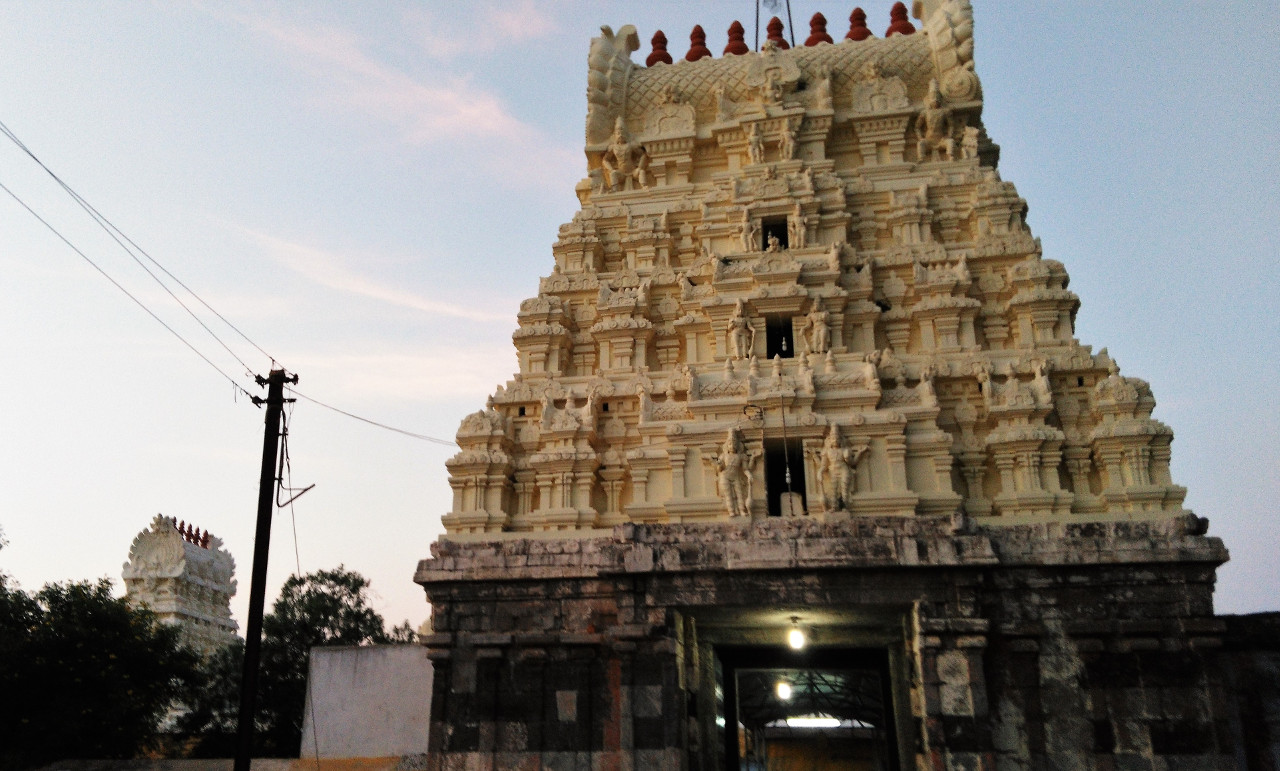 It is said that Goddess Parvathi worshipped Lord Shiva here. Pleased by her penance, it is believed that Lord Shiva addressed her as "Than-kathali" (meaning "beloved" in Tamil).
It is also said that Lord Mahavishnu worshipped Lord Shiva in this temple to seek absolution for the sin that he had accrued by killing the demons (asuras) - Madhu and Kaithaba, who were believed to have stolen the vedas. As Lord Shiva absolved Lord Mahavishnu's sins here, he is also praised as "Perumal Vinai Theertha Easwarar".
It is believed that Chandran and sage Kaushika have also worshipped Lord Shiva of this temple.
Deities in the temple
Apart from the shrines of Lord Shiva and Goddess Parvathy, there are shrines and idols of Sorna Kali, Lords Vinayagar, Mahavishnu, Natarajar, Dakshinamurthy, Annamalaiyar, Murugan with his consorts, Lord Brahma, Durgai, Nalvar, Navagraham, Somaskandhar and Sabtha Kannigaikal.
Salient Features
Both Lord Shiva and Goddess Than-kathali's shrines are east facing.
Here, Goddess Parvathy's shrine is on the right side to Lord Shiva's shrine. Such temples are considered very auspicious.
The unique feature of this temple is that the shrines of Lord Shiva's entire family is in a straight line. Goddess Than-kathali's shrine is on the right side of Lord Shiva and in between we can see the shrines of Lord Vinayaka and Lord Murugan with his consorts.
There is a group of 11 Vinayakars placed in a hall in the middle of this temple - called "Ekadasa Vinayagar" (Ekadasa means 11 in Sanskrit). This is another unique feature of this temple.
The "Sri Chakra" installed by Sri Adi Sankara can be seen in the hall in front of Lord Shiva's shrine (Artha Mandapam).
Greatness of this temple
Devotees pray to Goddess Than-kathali for conjugal unity. Also, devotees pray for removal of obstacles from their marriage proposals.
Important Festivals
10-day Brahmotsavam in the Tamil month of Vaikasi (May-June), Margazhi Thiruvadhirai in the Tamil month of Margazhi (December-January) and Maha Shivrathri in the Tamil month of Masi (February-March) are the major festivals celebrated in the temple. Every month Pradosham is also observed.
Temple Timings
07.00 AM to 12.00 noon and 04.00 PM to 08.00 PM
Temple Address
Sri Vaseeswarar Temple
Thirupachur
Kadambathur Post
Thiruvallur Via and District
Tamil Nadu-631203.
Tele: +91 98944 86890.
---
Pathigam (Hymn) with English transliteration
Saint Thirugnanasambanthar visited this temple and sang this Pathigam.
Devotees visiting this temple should make it a practice to recite this Pathigam.
சிந்தை யிடையார் தலையின் மிசையார் செஞ்சொல்லார்
வந்து மாலை வைகும் போழ்தென் மனத்துள்ளார்
மைந்தர் மணாள ரென்ன மகிழ்வா ரூர்போலும்`
பைந்தண் மாதவி சோலை சூழ்ந்த பாசூரே.
"Sinthai yidaiyār thalaiyiṉ misaiyār señchollār
vanthu mālai vaikum pōzhtheṉ maṉathuḷḷār
mainthar maṇāḷa reṉṉa makizhvā rūrpōlum `
painthaṇ māthavi sōlai chūzhntha pāsūrē".
பேரும் பொழுதும் பெயரும் பொழுதும் பெம்மானென்
றாருந் தனையும் அடியா ரேத்த அருள்செய்வார்
ஊரும் அரவம் உடையார் வாழும் ஊர்போலும்
பாரின் மிசையார் பாட லோவாப் பாசூரே.
"Pērum pozhuthum peyarum pozhuthum pem'māṉeṉ
tṟārun thaṉaiyum adiyā rētha aruḷseyvār
ūrum aravam udaiyār vāzhum ūrpōlum
pāriṉ misaiyār pāda lōvāp pāsūrē".
கையால் தொழுது தலைசாய்த் துள்ளங் கசிவார்கள்
மெய்யார் குறையுந் துயருந் தீர்க்கும் விமலனார்
நெய்யா டுதலஞ் சுடையார் நிலாவும் ஊர்போலும்
பைவாய் நாகங் கோட லீனும் பாசூரே.
"Kaiyāl thozhuthu thalaisāyht thuḷḷaṅ kasivārkaḷ
meyyār kuṟaiyun thuyarun thīrkkum vimalaṉār
neyyā duthalañ chudaiyār nilāvum ūrpōlum
paivāy nākaṅ kōda līṉum pāsūrē".
பொங்கா டரவும் புனலுஞ் சடைமேல் பொலிவெய்தக்
கொங்கார் கொன்றை சூடியென் னுள்ளங் குளிர்வித்தார்
தங்கா தலியுந் தாமும் வாழும் ஊர்போலும்
பைங்கான் முல்லை பல்லரும் பீனும் பாசூரே.
"Poṅkā daravum puṉaluñ chaṭaimēl poliveythak
koṅkār koṉtṟai chūṭiyeṉ ṉuḷḷaṅ kuḷirvithār
thaṅkā thaliyun thāmum vāzhum ūrpōlum
paiṅkāṉ mullai pallarum pīṉum pāsūrē".
ஆடற் புரியும் ஐவா யரவொன் றரைச்சாத்தும்
சேடச் செல்வர் சிந்தையு ளென்றும் பிரியாதார்
வாடற் றலையிற் பலிதேர் கையார் ஊர்போலும்
பாடற் குயில்கள் பயில்பூஞ் சோலைப் பாசூரே.
"Ādaṟ puriyum aivā yaravoṉ tṟaraichāthum
sēṭach chelvar chinthaiyu ḷeṉtṟum piriyāthār
vādatṟa laiyiṟ palithēr kaiyār ūrpōlum
pādaṟ kuyilkaḷ payilpūñ chōlaip pāsūrē".
கானின் றதிரக் கனல்வாய் நாகம் கச்சாகத்
தோலொன் றுடையார் விடையார் தம்மைத் தொழுவார்கள்
மால்கொண் டோ ட மையல் தீர்ப்பார் ஊர்போலும்
பால்வெண் மதிதோய் மாடஞ்சூழ்ந்த பாசூரே.
"Kāṉiṉ tṟathirak kaṉalvāy nākam kachākath
thōloṉ tṟudaiyār vidaiyār tham'maith thozhuvārkaḷ
mālkoṇ dō da maiyal thīrppār ūrpōlum
pālveṇ mathithōy mādañchūzhntha pāsūrē".
கண்ணின் அயலே கண்ணொன் றுடையார் கழலுன்னி
எண்ணுந் தனையும் அடியா ரேத்த அருள்செய்வார்
உண்ணின் றுருக உவகை தருவார் ஊர்போலும்
பண்ணின் மொழியார் பாட லோவாப் பாசூரே.
"Kaṇṇiṉ ayalē kaṇṇoṉ tṟudaiyār kazhaluṉṉi
eṇṇun thaṉaiyum adiyā rētha aruḷseyvār
uṇṇiṉ tṟuruka uvakai tharuvār ūrpōlum
paṇṇiṉ mozhiyār pāda lōvāp pāsūrē".
தேசு குன்றாத் தெண்ணீ ரிலங்கைக் கோமானைக்
கூச அடர்த்துக் கூர்வாள் கொடுப்பார் தம்மையே
பேசிப் பிதற்றப் பெருமை தருவார் ஊர்போலும்
பாசித் தடமும் வயலும் சூழ்ந்த பாசூரே.
"Thēsu kuṉtṟāth theṇṇī rilaṅkaik kōmāṉaik
kūsa adarthuk kūrvāḷ koduppār tham'maiyē
pēsip pithatṟap perumai tharuvār ūrpōlum
pāsith thadamum vayalum cūzhntha pāsūrē".
நகுவாய் மலர்மேல் அயனும் நாகத் தணையானும்
புகுவா யறியார் புறம்நின் றோரார் போற்றோவார்
செகுவாய் உகுபற் றலைசேர் கையார் ஊர்போலும்
பகுவாய் நாரை ஆரல் வாரும் பாசூரே.
"Nakuvāy malarmēl ayaṉum nākath thaṇaiyāṉum
pukuvā yaṟiyār puṟamniṉ tṟōrār pōtṟōvār
sekuvāy ukupaṟ tṟalaisēr kaiyār ūrpōlum
pakuvāy nārai āral vārum pāsūrē".
தூய வெயில்நின் றுழல்வார் துவர்தோய் ஆடையர்
நாவில் வெய்ய சொல்லித் திரிவார் நயமில்லார்
காவல் வேவக் கணையொன் றெய்தார் ஊர்போலும்
பாவைக் குரவம் பயில்பூஞ் சோலைப் பாசூரே.
"Thūya veyilniṉ tṟuzhalvār thuvarthōy ādaiyar
nāvil veyya sollith thirivār nayamillār
kāval vēvak kaṇaiyoṉ tṟeythār ūrpōlum
pāvaik kuravam payilpūñ chōlaip pāsūrē".
ஞானம் உணர்வான் காழி ஞான சம்பந்தன்
தேனும் வண்டும் இன்னிசை பாடுந் திருப்பாசூர்க்
கானம் முறைவார் கழல்சேர் பாடல் இவைவல்லார்
ஊனம் இலராய் உம்பர் வானத் துறைவாரே.
"Gnāṉam uṇarvāṉ kāzhi gñāṉa sambanthaṉ
thēṉum vaṇdum iṉṉisai pādun thiruppāsūrk
kāṉam muṟaivār kazhalsēr pādal ivaivallār
ūṉam ilarāy umpar vāṉath thuṟaivārē".