Visited on: 11th February, 2017.
Location
Thirumanancheri is situated at a distance of about 17 kms from Mayiladuthurai on the Mayiladuthurai to Kumbakonam (via Kuthalam) route. From Kuthalam take the diversion road to Panthanallur. After crossing the village Anjar Varthalai, ask for Thirumanancheri. (Mayiladuthurai to Kuthalam is 11 kms and Kuthalam to Thirumanancheri is 6 kms). This temple is located at a distance of about 26 Kms from Kumbakonam.
Other Devara Paadal Petra Shiva Sthalams near this temple are – Kuthalam, Therezhunthur, Thiruvaduthurai, Thirukkozhambam, Thiruvelvikudi, Ethirkolpadi, Thirumangalakkudi, Thirukkodikkaval and Kanchanur.
General Information
Moolavar

Sri Manavala Nayakar, Sri Arul Vallal Nayakar, Sri Kalyana Sundareswarar, Sri Uthvaka Nathar

Ambal

Sri Kokilambal, Sri Yazhmozhi Ammai

Theertham (Holy water)

Saptha Saharam, Kubera well

Sthala Vriksham (Sacred Tree)

Karu Oomathai, Vanni

Pathigam (Hymn) rendered by

Saint Thirugnanasambanthar-1,
Saint Thirunavukarasar (Appar)-1

This is one of the 276 Devara Paadal Petra Shiva Sthalams and 25th Shiva Sthalam on the northern bank of river Cauvery in Chozha Nadu (Vadakarai).
Lord Shiva in this temple is a Swayambumurthi (self-manifested).
This is a "parihara sthalam" for doshas related to marriage.
This east facing temple's main tower (Rajagopuram) has 5-tiers and it has 2 corridors.
The last consecration ceremony (Kumbabishekam) took place on 22.01.1970.
History of the Temple
There are 28 stone inscriptions available in this temple which relate to the period of Chola dynasty. The temple was renovated by Queen Sembian Mahadevi, wife of Chola King Kandaradithan.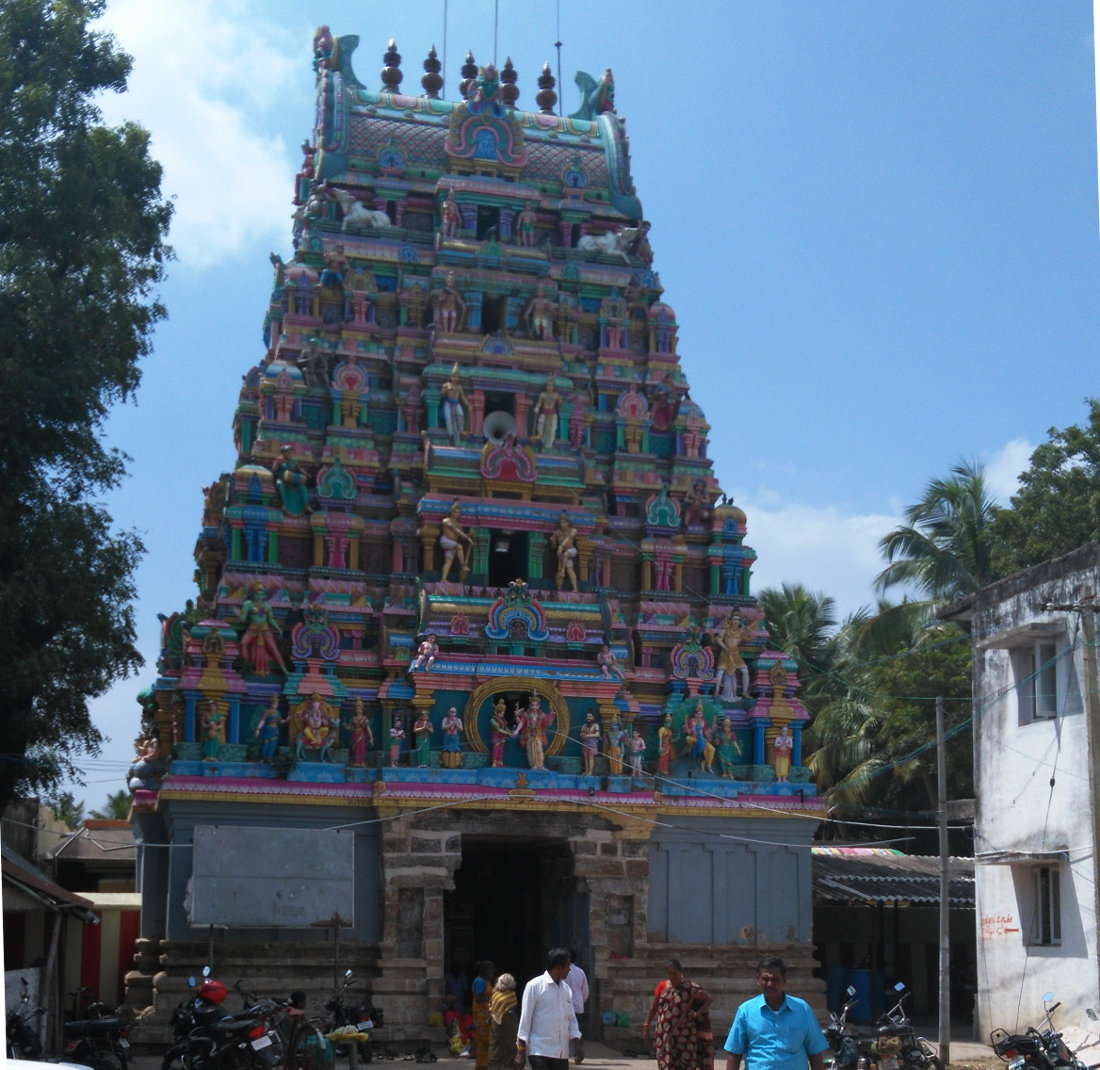 Legend
Thirumanancheri enjoys a special place in mythology because it is linked to the legends of a few nearby Paadal Petra Shiva Sthalams.
At Therezhunthur, Lord Shiva cursed Goddess Parvathy which made her turn into a cow. Lord Mahavishnu played the role of a shepherd here.
At Thirukkozhambam, Goddess Parvathy, who was in the form of a cow, worshiped Lord Shiva. During the worship, as the cow's leg hit Lord Shiva by mistake, its hoof made a mark on the lord's chest.
At Thiruvaduthurai, again Goddess Parvathy (in the form a cow) worshiped Lord Shiva. It is here that Goddess Parvathy was relieved of her curse and got restored to her original form.
At Thiruthuruthi (Kuthalam), Sage Bharatha performed a yagna and it is believed that Goddess Parvathy came out of the fire in the form of a child.
At Ethirkolpadi, Lord Shiva was received as a groom by his father-in-law, Sage Bharatha.
At Thiruvelvikudi, the wedding ceremony including the yagna ("Velvi") was performed. This is the great place where the earthly wedding of Lord Shiva and Goddess Parvathy took place.
At Thirumanancheri, Lord Shiva and Goddess Parvathy granted their wedding darshan to everyone.
It is believed that once Goddess Parvathi was cursed to be born on earth. She is believed to have appeared from the fire of Sage Bharatha's "Kameshti yagna".
Sage Bharatha raised her as his own daughter. Goddess Parvathy performed rigorous penance for 16 consecutive Mondays to seek relief from the curse and to be taken back to the abode of Lord Shiva.
When she grew up and attained the marriageable age, the sage prayed to Lord Shiva that he help him find a suitable groom for her. Responding to his prayers, Lord Shiva appeared before him and told him that he would marry his daughter soon. The lord further told the sage that his daughter was none other than Goddess Parvathy herself. He also explained him that the reason for her appearance on earth was to grant her the wish of being married on earth.
It is believed that this is the place where Lord Shiva and Goddess Parvathi came after their wedding at Thiruvelvikudi. It is further believed that they stayed back here as a married couple. Hence this place gets the name "Thirumanancheri" ("Thirumanam" means wedding and "Cherri" means village in Tamil) and the name of the Lord is "Sri Kalyanasundareswarar" ("Kalyanam" also means wedding in Tamil).
As per the "Sthala Puranam" the "seven seas" ("Sapta Saharam") came to this place and offered themselves as garlands for Lord Shiva and Goddess Parvathy. They also stayed back here to form the temple's holy tank. This tank is in the form of a semicircle ("Akazhi" in Tamil) around the temple and is known as "Sapta Sahara Theertham".
Another legend associated with this temple is that of the cupid Manmathan. It is believed that once Manmathan disturbed Lord Shiva when he was meditating. Angered by this distraction, Lord Shiva opened his third eye and burnt Manmathan by unleashing a torrent of fire. This incident happened at a nearby place called Thiru Kurukkai (another Devara Paadal Petra Sthalam). Rathi Devi, Manmathan's wife, pleaded to Lord Shiva to pardon him. Manmathan was restored back to life and united with Rathi Devi by the grace of the lord of this temple.
Deities in the temple
Apart from the shrines of Lord Shiva and Goddess Parvathy, shrines and idols of Selva Ganapathy, Murugan with his consorts, Natarajar, Dakshinamurthy, Brahma, Vishnu, Raghu (Aadhiseshan), Durgai, Suryan, Bairavar, Saneeswarar, Nalvar, and Mahavishnu with Sreedevi and Poodevi, Bharatha Maharishi, Queen Sembian Madevi can be seen in the corridors. There is no Navagraham here.
Also, the idols of Pachaiyappa Nathar, Pachai Ammai and Mallappa Naicker can be seen in the corridors. These are the people who have contributed to the reconstruction and renovation of this temple.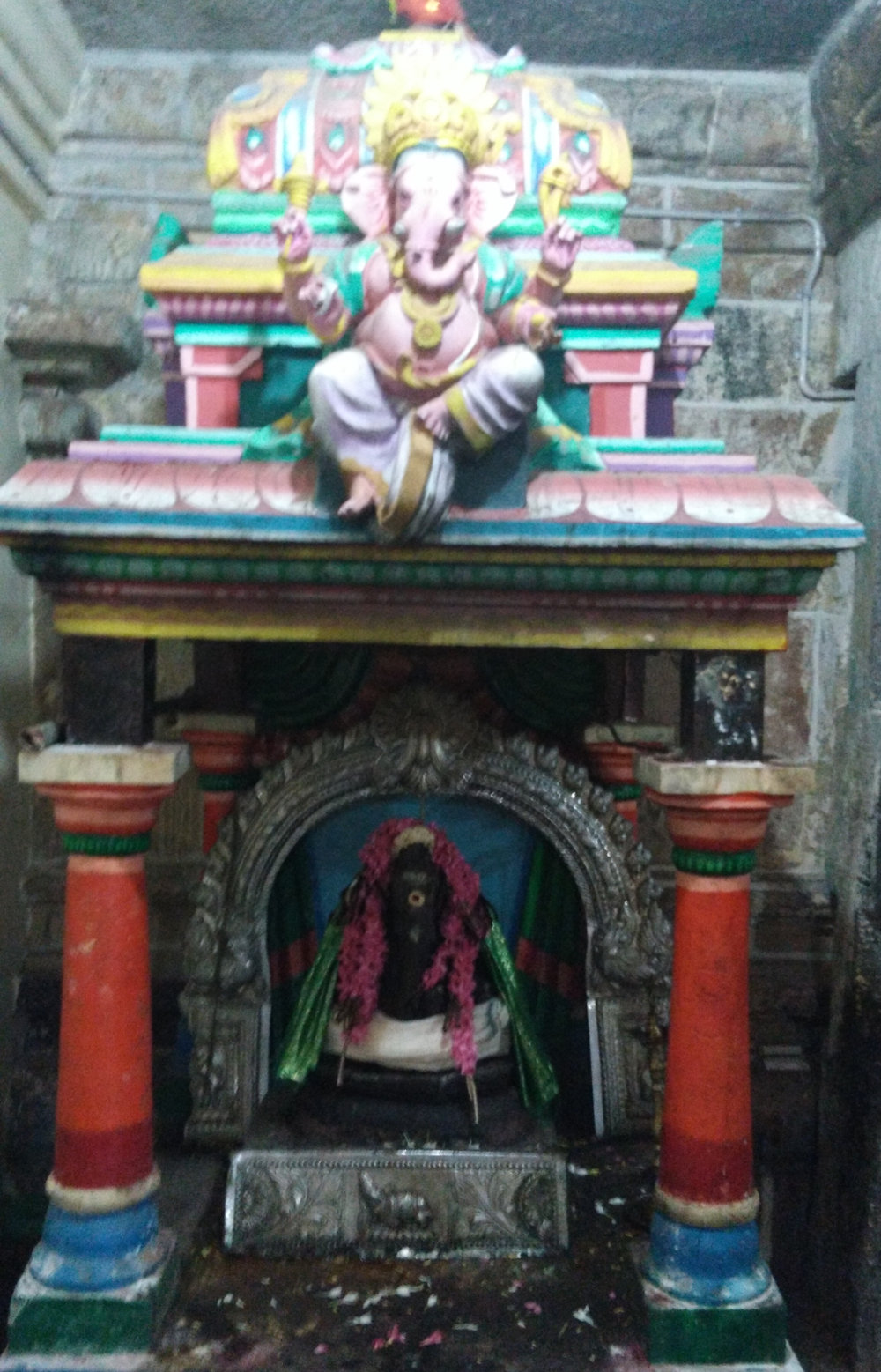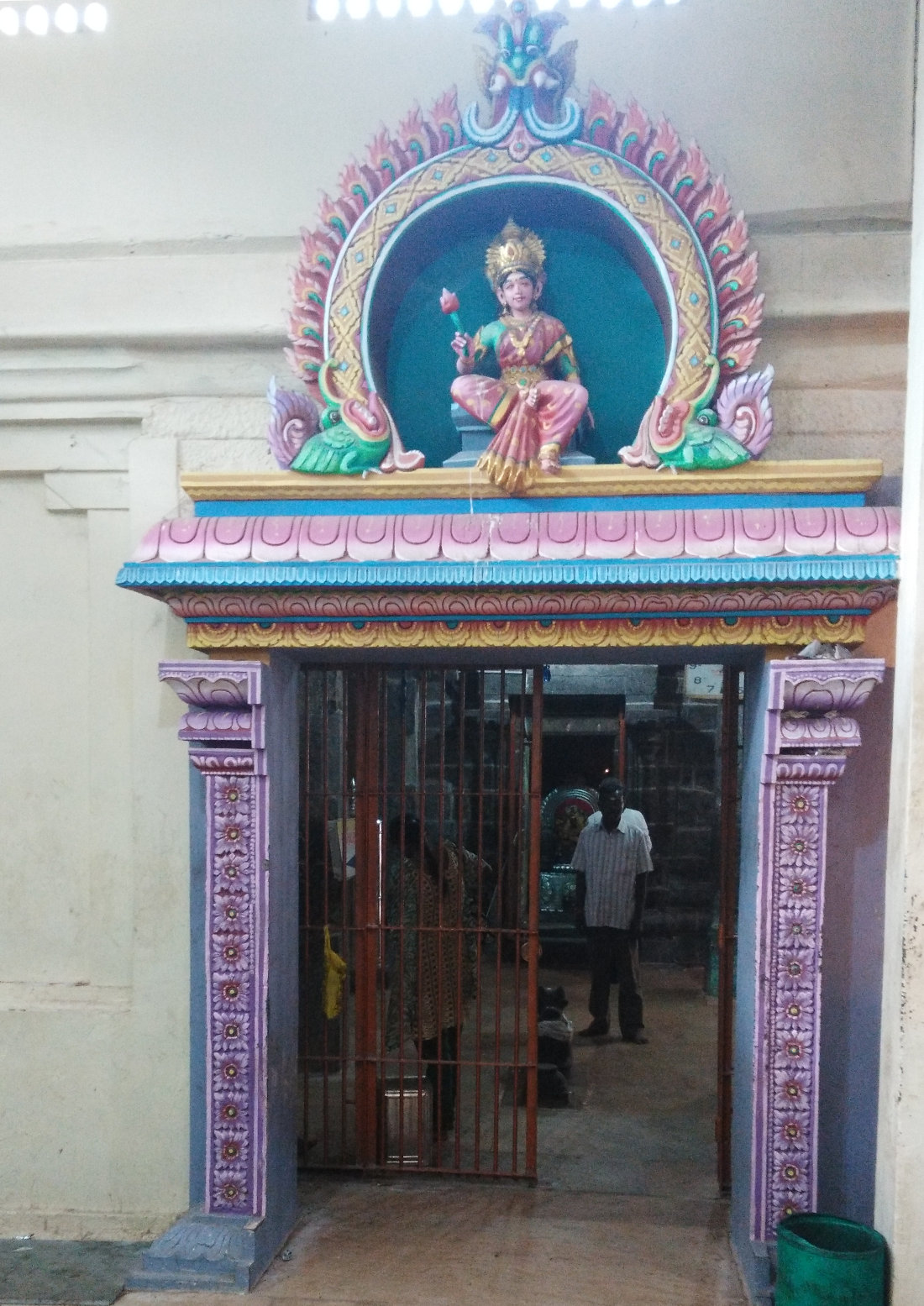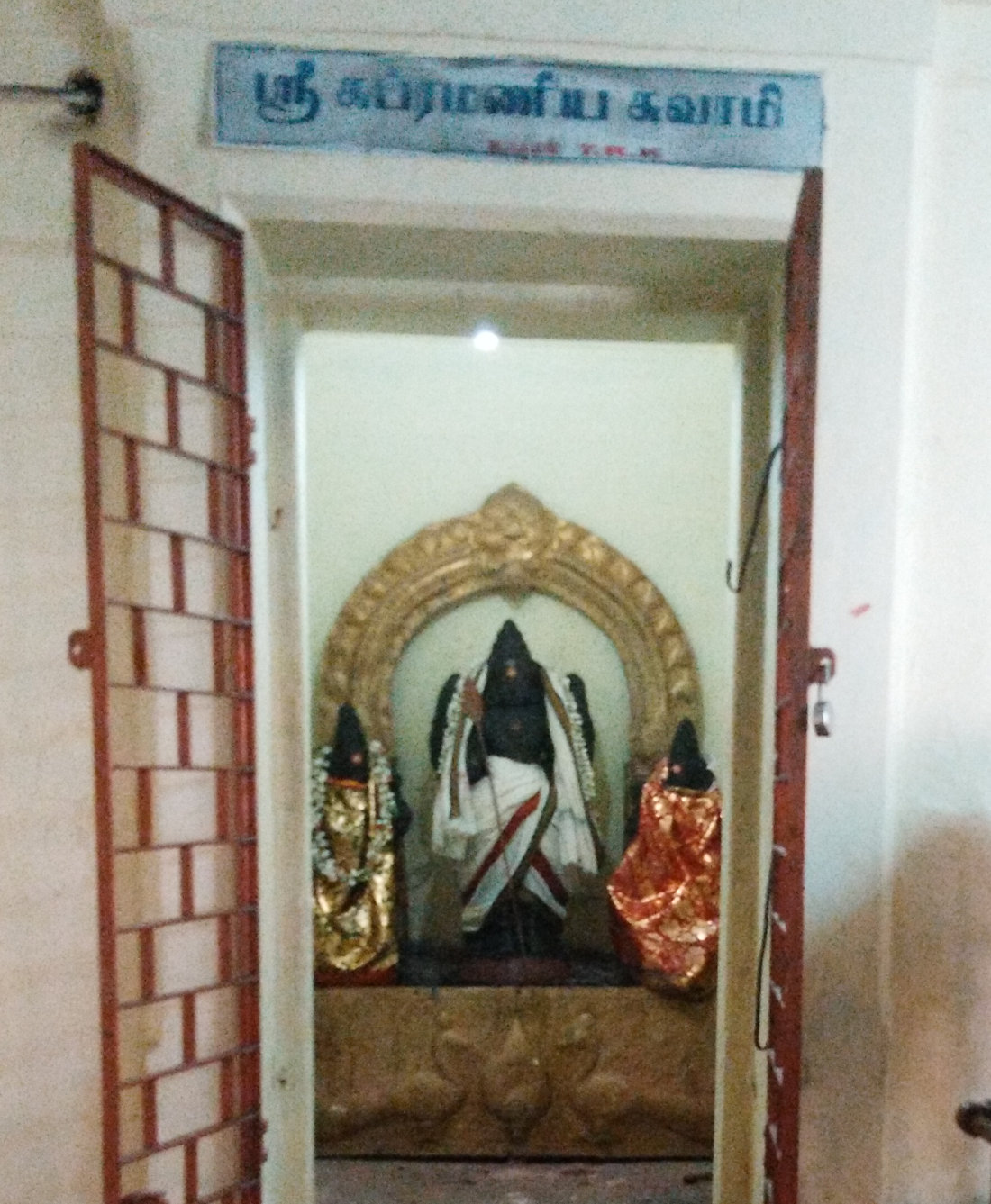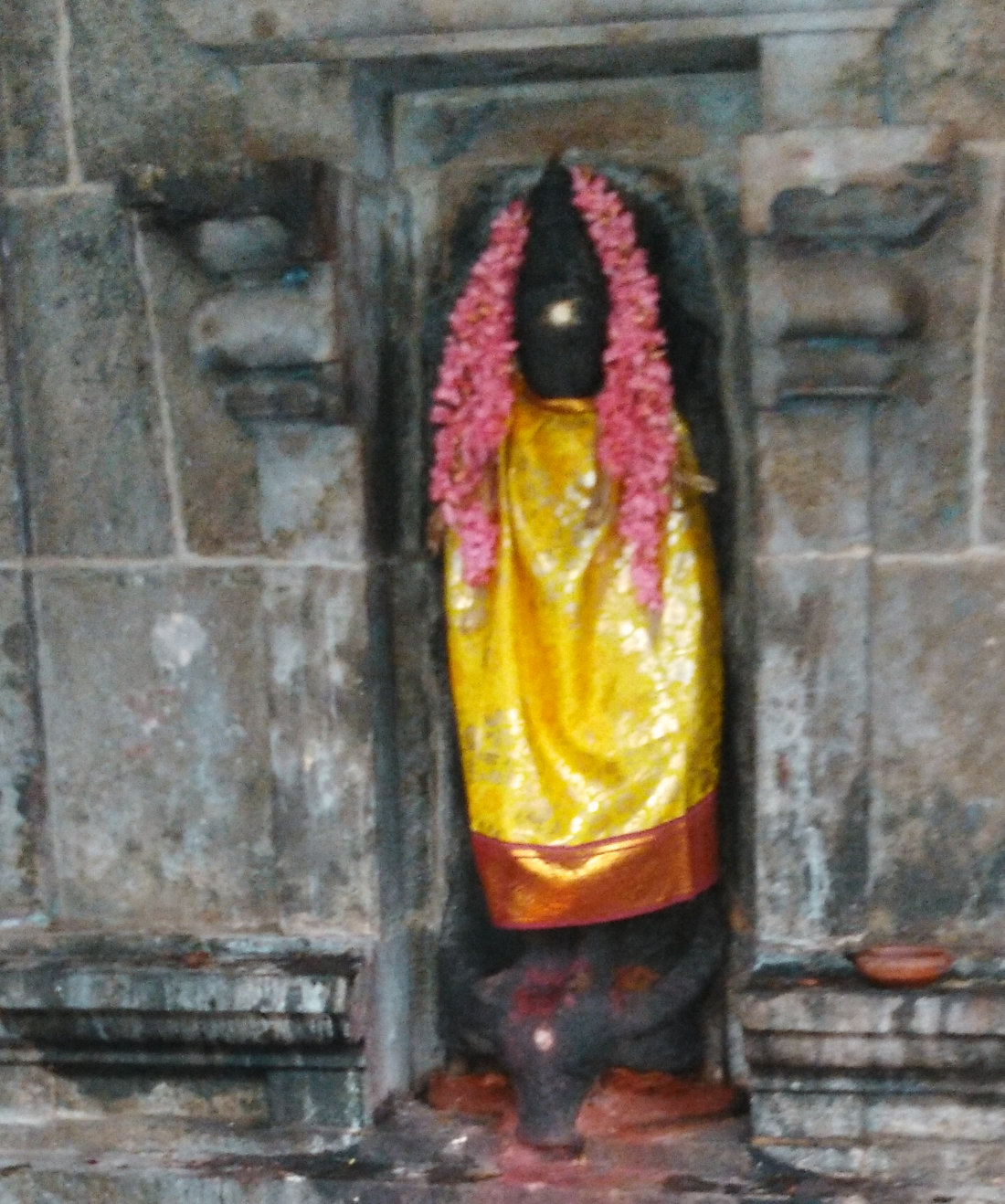 Salient Features
Goddess Parvathy can be seen here in a sitting posture with a coy look on her face. This idol depicts Goddess Parvathy as a newly-wed bride. This posture of the goddess is quite rare.
Thirumanancheri is considered to be a place where the marriage of Lord Shiva and Goddess Parvathy is celebrated every day ("Nithya Kalyana Kshetram").
In a hall on the left side of the sanctum, the procession idols of Lord Shiva holding Goddess Parvathy's hands in wedding form are placed. They are praised as Sri Kalyanasundarar and Sri Kokilambal. A large number of devotees can be seen performing special poojas to these procession idols every day.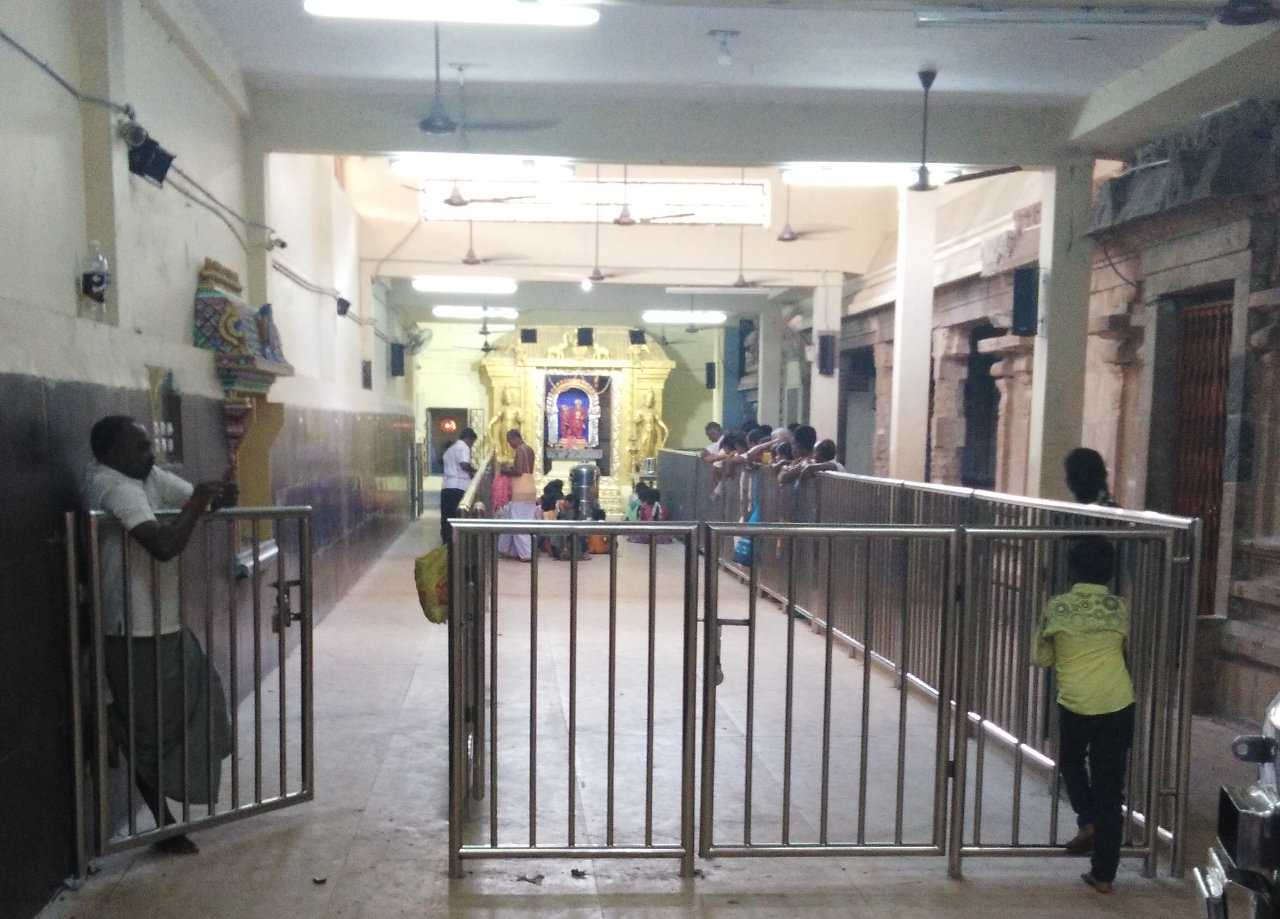 Every month during new moon day (Amavasai), special prayers are conducted in front of Lord Raahu in the morning hours. This is done so to seek the blessing of "Santhana Prapthi" (child boon).
Lord Raahu here is in his human form wearing earrings and other ornaments.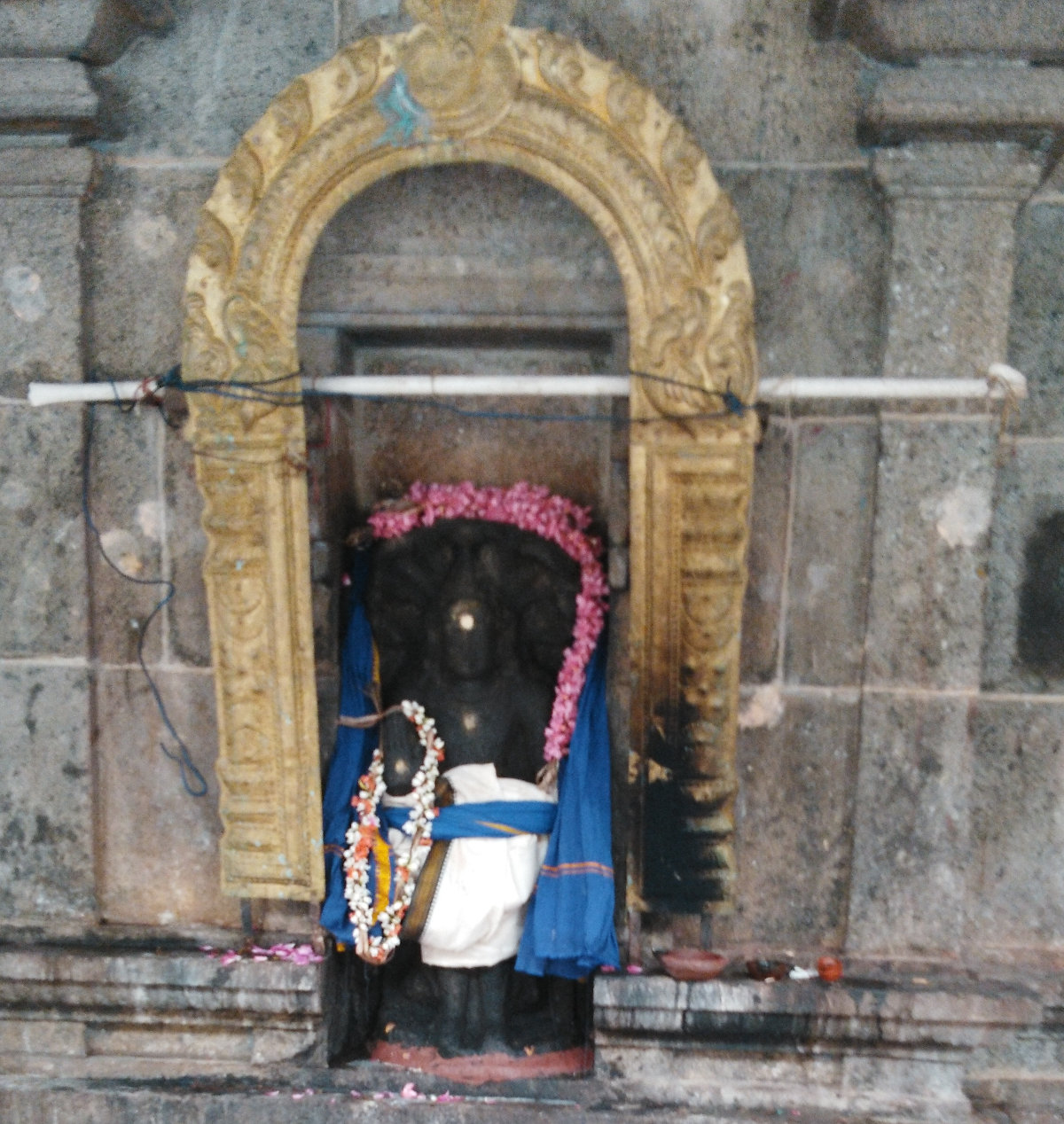 There is a well in this temple called the "Kubera well" / "Kubera Hundial".
Karu Oomathai (black daturas), Vanni and Kondrai are also considered to be the sacred trees of this temple.
Greatness of this temple
Devotees who are facing delays in their marriage can visit this place, offer two garlands to the lords and then take them back for themselves. It is believed that by doing so obstacles from marriage proposals will be removed. After successful marriage, the couples can visit this temple again with the same old garlands to perform the pooja and complete the worship.
This is a "parihara sthalam" for Raahu dosha. It is believed that those seeking "santhana prapthi" (child boon) can pray to Raahu here.
Devotees can get relief from the adverse effects of planets Raahu and Kethu by worshiping the lord here.
Important Festivals
The 3-day Wedding festival of Lord Shiva and Goddess Parvathi is celebrated in a grand manner on the Poosam star day in the Tamil month of Chithirai (April-May).
Some of the other important festivals celebrated here are –
Aadi Pooram in the Tamil month of Aadi (July-Aug);
Thirukarthikai in the Tamil month of Karthikai (Nov-Dec); and
Thiruvadhirai in the Tamil month of Margazhi (Dec-Jan).
Pradosham is also observed regularly.
Temple Timings
From 07.00 AM to 01.00 PM and 04.00 PM to 08.30 PM.
Temple Address
Sri Arul Vallal Nayakar Temple,
Thirumanancheri,
Kuthalam Via,
Mayiladuthurai Taluk,
Nagapattinam District
Tamil Nadu – 609813.
Tele: Temple Office – 04364 23500, 04364 230661, 04364 235002.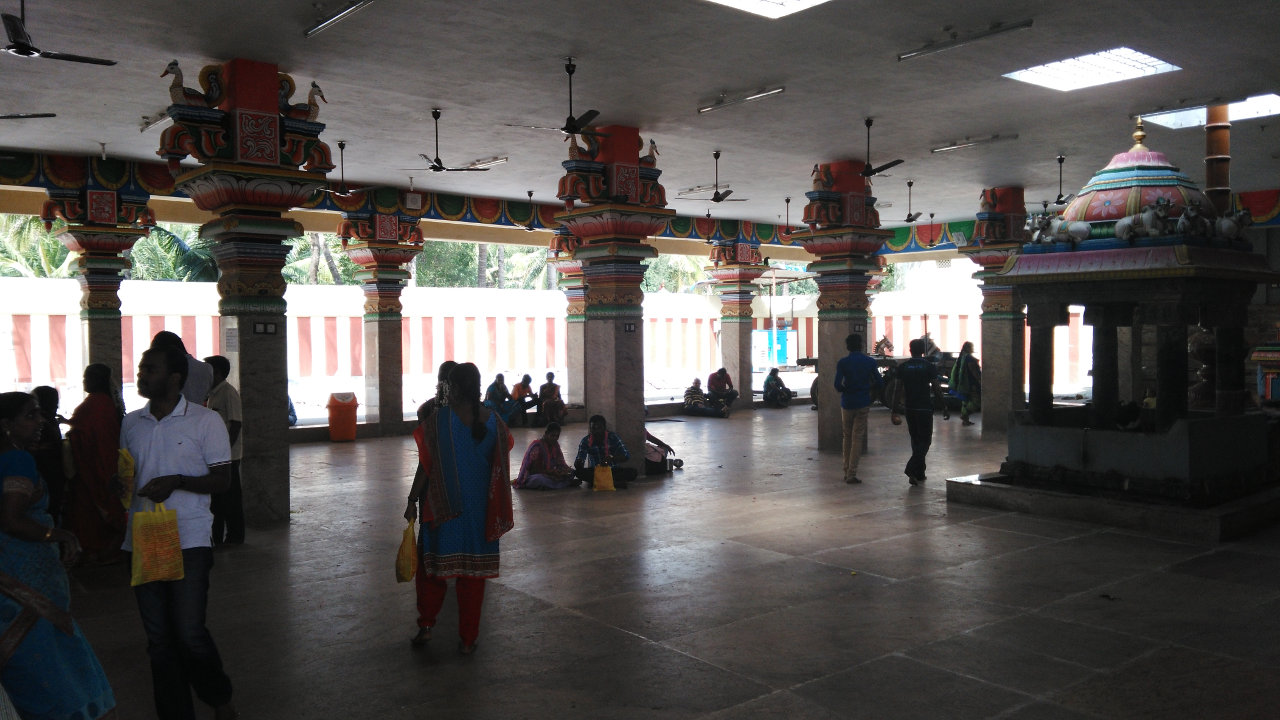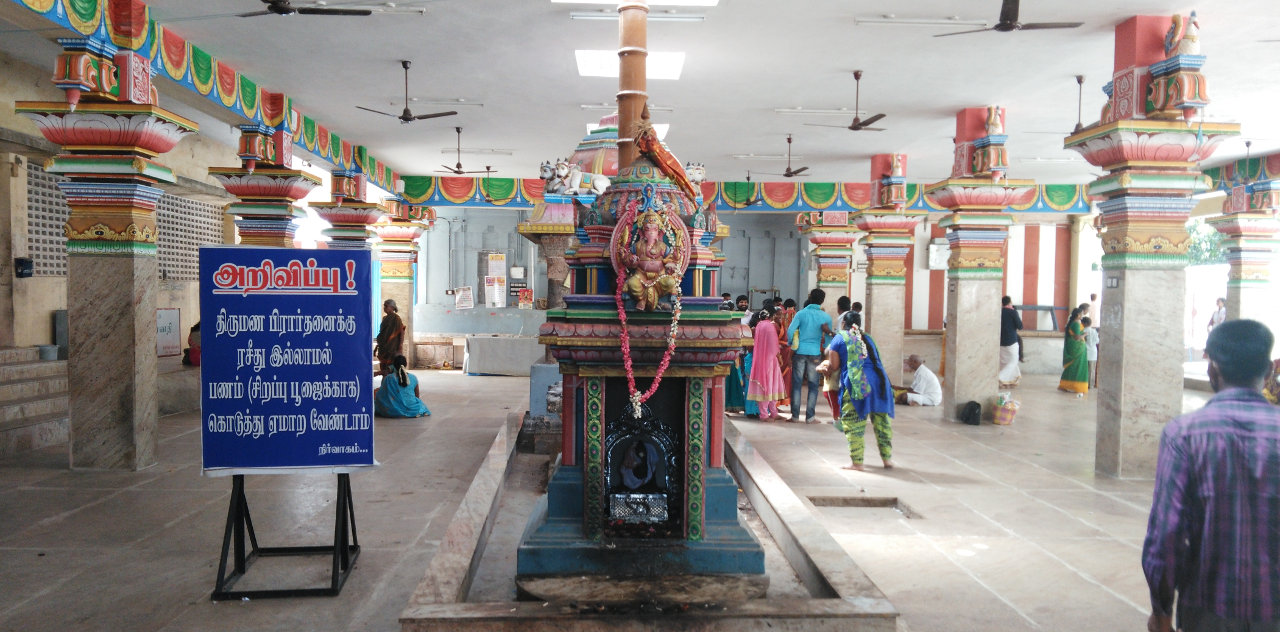 ---
Pathigam (Hymn) with English transliteration
Saint Thirugnanasambanthar visited this temple and sang this Pathigam.
Devotees visiting this temple should make it a practice to recite this Pathigam.
அயிலாரும் அம்பத னாற்புர மூன்றெய்து
குயிலாரும் மென்மொழி யாளொரு கூறாகி
மயிலாரும் மல்கிய சோலை மணஞ்சேரிப்
பயில்வானைப் பற்றிநின் றார்க்கில்லை பாவமே.
"Ayilārum ampatha ṉāṟpura mūṉtṟeythu
kuyilārum meṉmozhi yāḷoru kūṟāki
mayilārum malkiya chōlai maṇañchērip
payilvāṉaip patṟiniṉ tṟārkkillai pāvamē".
விதியானை விண்ணவர் தாந்தொழு தேத்திய
நெதியானை நீள்சடை மேல்நிகழ் வித்தவான்
மதியானை வண்பொழில் சூழ்ந்த மணஞ்சேரிப்
பதியானைப் பாடவல் லார்வினை பாறுமே.
"Vithiyāṉai viṇṇavar thānthozhu thēththiya
nethiyāṉai nīḷsaṭai mēlnikazh viththavāṉ
mathiyāṉai vaṇpozhil chūzhntha maṇañchērip
pathiyāṉaip pāṭaval lārviṉai pāṟumē".
எய்ப்பானார்க் கின்புறு தேனளித் தூறிய
இப்பாலா யெனையும் ஆள வுரியானை
வைப்பான மாடங்கள் சூழ்ந்த மணஞ்சேரி
மெய்ப்பானை மேவிநின் றார்வினை வீடுமே.
"Eyppāṉārk kiṉpuṟu thēṉaḷith thūṟiya
ippālā yeṉaiyum āḷa vuriyāṉai
vaippāṉa māṭaṅkaḷ chūzhntha maṇañchēri
meyppāṉai mēviniṉ tṟārviṉai vīṭume".
விடையானை மேலுல கேழுமிப் பாரெலாம்
உடையானை ஊழிதோ றூழி உளதாய
படையானைப் பண்ணிசை பாடு மணஞ்சேரி
அடைவானை யடையவல் லார்க்கில்லை யல்லலே.
"Viṭaiyāṉai mēlula kēzhumip pārelām
uṭaiyāṉai ūzhithō ṟūzhi uḷathāya
paṭaiyāṉaip paṇṇisai pāṭu maṇañchēri
aṭaivāṉai yaṭaiyaval lārkkillai yallalē".
எறியார்பூங் கொன்றையி னோடும் இளமத்தம்
வெறியாருஞ் செஞ்சடை யார மிலைத்தானை
மறியாருங் கையுடை யானை மணஞ்சேரிச்
செறிவானைச் செப்பவல் லார்க் கிடர் சேராவே.
"Eṟiyārpūṅ koṉtṟaiyi ṉōṭum iḷamaththam
veṟiyāruñ cheñchaṭai yāra milaiththāṉai
maṟiyāruṅ kaiyuṭai yāṉai maṇañchērich
cheṟivāṉaich cheppaval lārk kiṭar sērāvē".
மொழியானை முன்னொரு நான்மறை யாறங்கம்
பழியாமைப் பண்ணிசை யான பகர்வானை
வழியானை வானவ ரேத்து மணஞ்சேரி
இழியாமை யேத்தவல் லார்க்கெய்தும் இன்பமே.
"Mozhiyāṉai muṉṉoru nāṉmaṟai yāṟaṅkam
pazhiyāmaip paṇṇisai yāṉa pakarvāṉai
vazhiyāṉai vāṉava rēththu maṇañchēri
izhiyāmai yēththaval lārkkeythum iṉpamē".
எண்ணானை யெண்ணமர் சீரிமை யோர்கட்குக்
கண்ணானைக் கண்ணொரு மூன்று முடையானை
மண்ணானை மாவயல் சூழ்ந்த மணஞ்சேரிப்
பெண்ணானைப் பேசநின் றார்பெரி யோர்களே.
"Eṇṇāṉai yeṇṇamar sīrimai yōrkaṭkuk
kaṇṇāṉaik kaṇṇoru mūṉtṟu muṭaiyāṉai
maṇṇāṉai māvayal chūzhntha maṇañchērip
peṇṇāṉaip pēsaniṉ tṟārperi yōrkaḷē".
எடுத்தானை யெழில்முடி யெட்டும் இரண்டுந்தோள்
கெடுத்தானைக் கேடிலாச் செம்மை யுடையானை
மடுத்தார வண்டிசை பாடும் மணஞ்சேரி
பிடித்தாரப் பேணவல் லார்பெரியோர்களே.
"Eṭuththāṉai yezhilmuṭi yeṭṭum iraṇṭunthōḷ
keṭuththāṉaik kēṭilāch chem'mai yuṭaiyāṉai
maṭuththāra vaṇṭisai pāṭum maṇañchēri
piṭiththārap pēṇaval lārperiyōrkaḷē".
சொல்லானைத் தோற்றங்கண் டானும் நெடுமாலும்
கல்லானைக் கற்றன சொல்லித் தொழுதோங்க
வல்லார்நன் மாதவ ரேத்தும் மணஞ்சேரி
எல்லாமாம் எம்பெரு மான்கழல் ஏத்துமே.
"Sollāṉaith thōtṟaṅkaṇ ṭāṉum neṭumālum
kallāṉaik katṟaṉa sollith thozhuthōṅka
vallārnaṉ māthava rēththum maṇañchēri
ellāmām emperu māṉkazhal ēththumē".
சற்றேயுந் தாமஅறி வில்சமண் சாக்கியர்
சொற்றேயும் வண்ணமொர் செம்மை யுடையானை
வற்றாத வாவிகள் சூழ்ந்த மணஞ்சேரி
பற்றாக வாழ்பவர் மேல்வினை பற்றாவே.
"Satṟēyun thāma'aṟi vilsamaṇ sākkiyar
sotṟēyum vaṇṇamor chem'mai yuṭaiyāṉai
vatṟātha vāvikaḷ chūzhntha maṇañchēri
patṟāka vāzhpavar mēlviṉai patṟāvē".
கண்ணாருங் காழியர் கோன்கருத் தார்வித்த
தண்ணார்சீர் ஞானசம் பந்தன் தமிழ்மாலை
மண்ணாரும் மாவயல் சூழ்ந்த மணஞ்சேரி
பண்ணாரப் பாடவல் லார்க்கில்லை பாவமே.
"Kaṇṇāruṅ kāzhiyar kōṉkaruth thārviththa
thaṇṇārsīr gñāṉasam banthaṉ thamizhmālai
maṇṇārum māvayal chūzhntha maṇañchēri
paṇṇārap pāṭaval lārkkillai pāvamē".