Visited on: December 16, 2017.
Location
Thirunallam (Konerirajapuram) is situated at a distance of about 14 kms from Kumbakonam on the Kumbakonam to Karaikkal route. After crossing Thiruneelakkudi and S.Pudur, take the diversion road to Vadamattam and proceed further for about 4 kms to reach this temple.
Other Devara Paadal Petra Shiva Sthalams near this place are - Vaikal Madakkoil, Thiru Kozhambiam, Thiruneelakkudi, Thenkurangadu Thurai (Aduthurai), Thiruvidaimaruthur and Thiruvavaduthurai.
General Information
| | |
| --- | --- |
| Moolavar | Sri Uma Maheswarar, Sri Maamani Eswarar, Sri Bhoomi Nathar |
| Ambal | Sri Angavala Nayagi, Sri Mangala Nayagi, Sri Thega Soundari |
| Theertham (Holy water) | Sakthi Theertham / Bhoomi Theertham |
| Sthala Vriksham (Sacred Tree) | Peepal tree (Arasa maram) / Vilvam |
| Pathigam (Hymn) rendered by | Saint Thirugnanasambanthar-1 and Saint Thirunavukarasar (Appar)-1 |
This is one of the 276 Devara Paadal Petra Shiva Sthalams and 34th Shiva Sthalam on the Southern bank of the river Cauveri in Chozha Nadu (Thenkarai).
Lord Shiva in this temple is a Swayambumurthi (self-manifested).
This temple is very popular for the unique Swayambu metal Natarajar - the biggest in the world.
This west facing temple has two corridors and its main tower does not have any tiers. In place of the Gopuram, there is a beautiful sculpture depicting Lord Shiva, Goddess Parvathy, Vinayakar and Murugan.
The last consecration ceremony (Maha Kumbabishekam) was held on 29.05.2015 and prior to that on 04.02.2001.
History of the Temple
The historical name of this place is Thiru Nallam. It is believed that this place got submerged and later excavated. Queen Sembian Mahadevi, wife of Chola King Kandarathithan (Grandmother of king Raja Raja Chola), replaced the old brick temple with granite and enlarged it.
There are some stone inscriptions in this temple which date back to the periods of Chola King Kandarathithan, his wife Sembian Mahadevi and their son Uthama Chola. Some of the inscriptions also bear mention of kings Rajarajan, Rajendran, Rajathirajan-I, Rajendran-II, Kulothungan I and III and Rajarajan-III. From these inscriptions it is evident that this temple was maintained by Chola kings for almost two and a half centuries.
This temple is under the administrative control of the Hindu Religious and Charitable Endowments Department of Government of Tamil Nadu (HR&CE).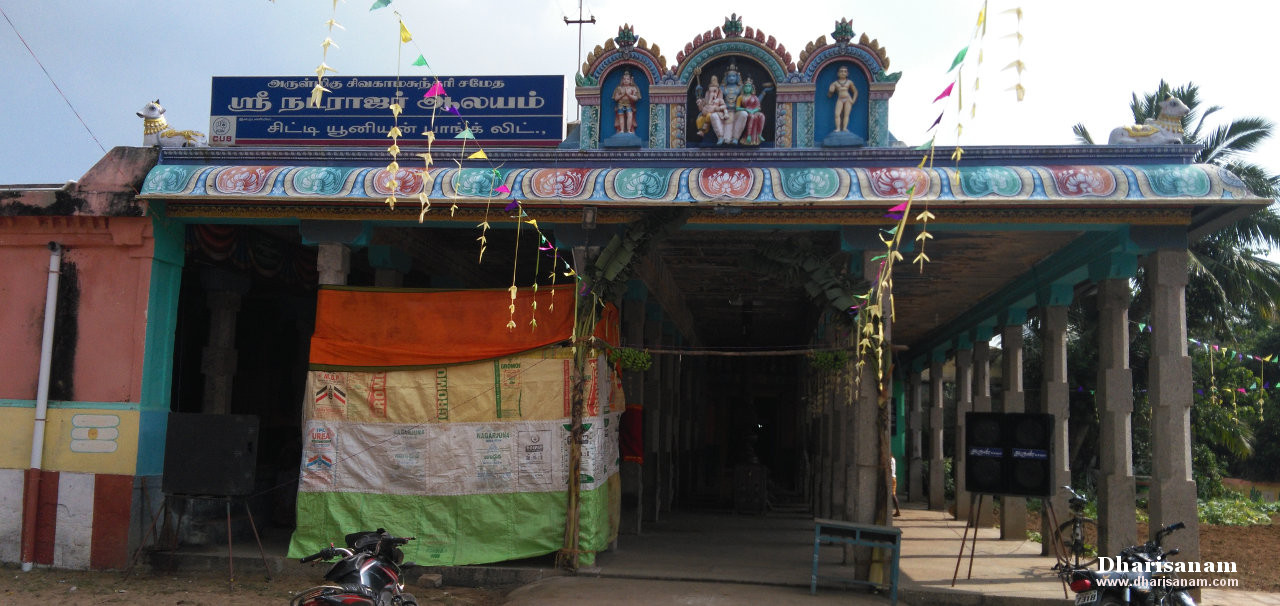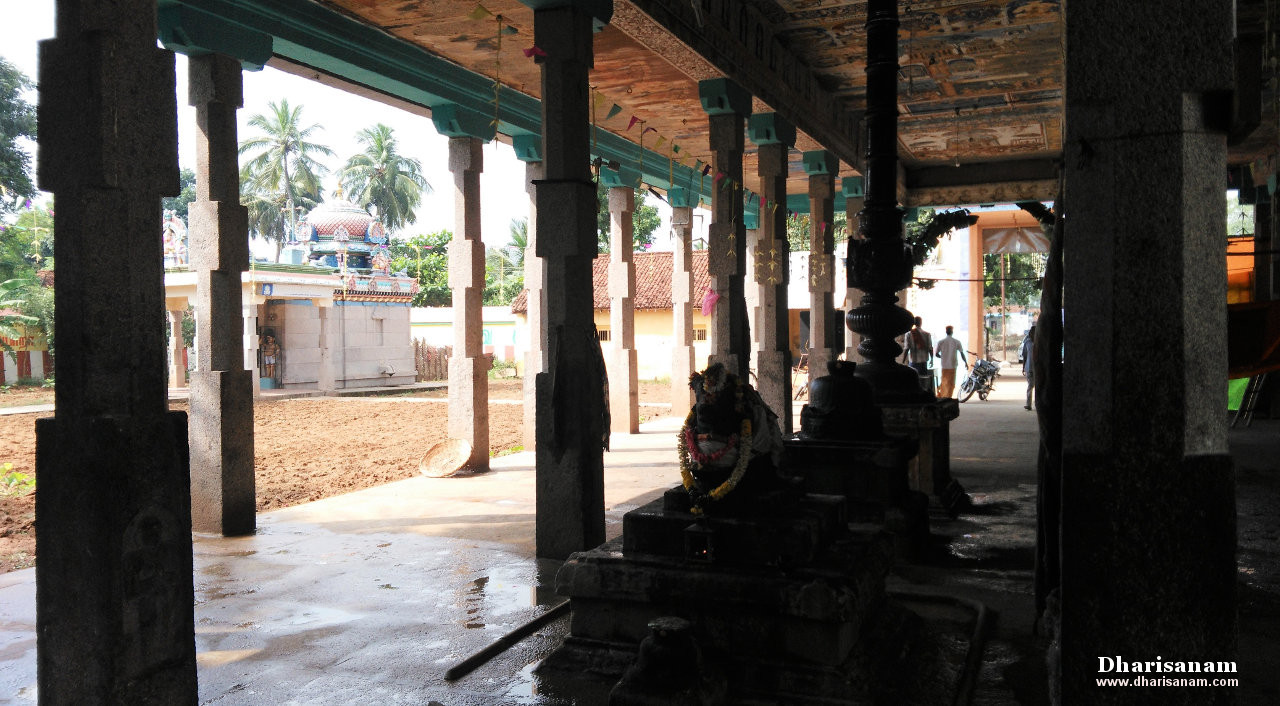 Legend
According to legend, King Varaguna Pandya wanted to create a huge life-size Natarajar idol and ordered to his sculptor ("Sthapathi" in Tamil) to prepare it in metal. Despite his continuous efforts, the sculptor was unable to make an idol taller than 3 feet. The king gave him some more time to work on the idol but warned him that if he did not accomplish his task before the deadline, his head would be chopped off. As the deadline approached, the worried and frantic sculptor prayed to Lord Shiva for help. Lord Shiva and Goddess Parvathi came to his house in the form of an elderly couple and asked for little water to drink. The sculptor was engrossed in his work and out of frustration, he told them to drink the molten metal ("pancha lokam" – an amalgamation of five different metals). Both Lord Shiva and Goddess Parvathy drank it and they instantly turned into a beautiful statue of Natarajar and Sivakami. This idol of Natarajar with Goddess Parvathi is about 7 feet high. It was then that the sculptor realized that the aged couple had been none other than Lord Shiva and Goddess Parvathy.
On hearing about this incident, the king visited the sculptor's place but he refused to believe the story. He hit the idol with his sword and to his astonishment, the idol started bleeding. The king surrendered to the lord and asked for forgiveness. The idol still bears the mark of the king's sword. Another interesting thing to note about it is its life-like appearances – fingernails, a mole in the body and fingerprints in the hands.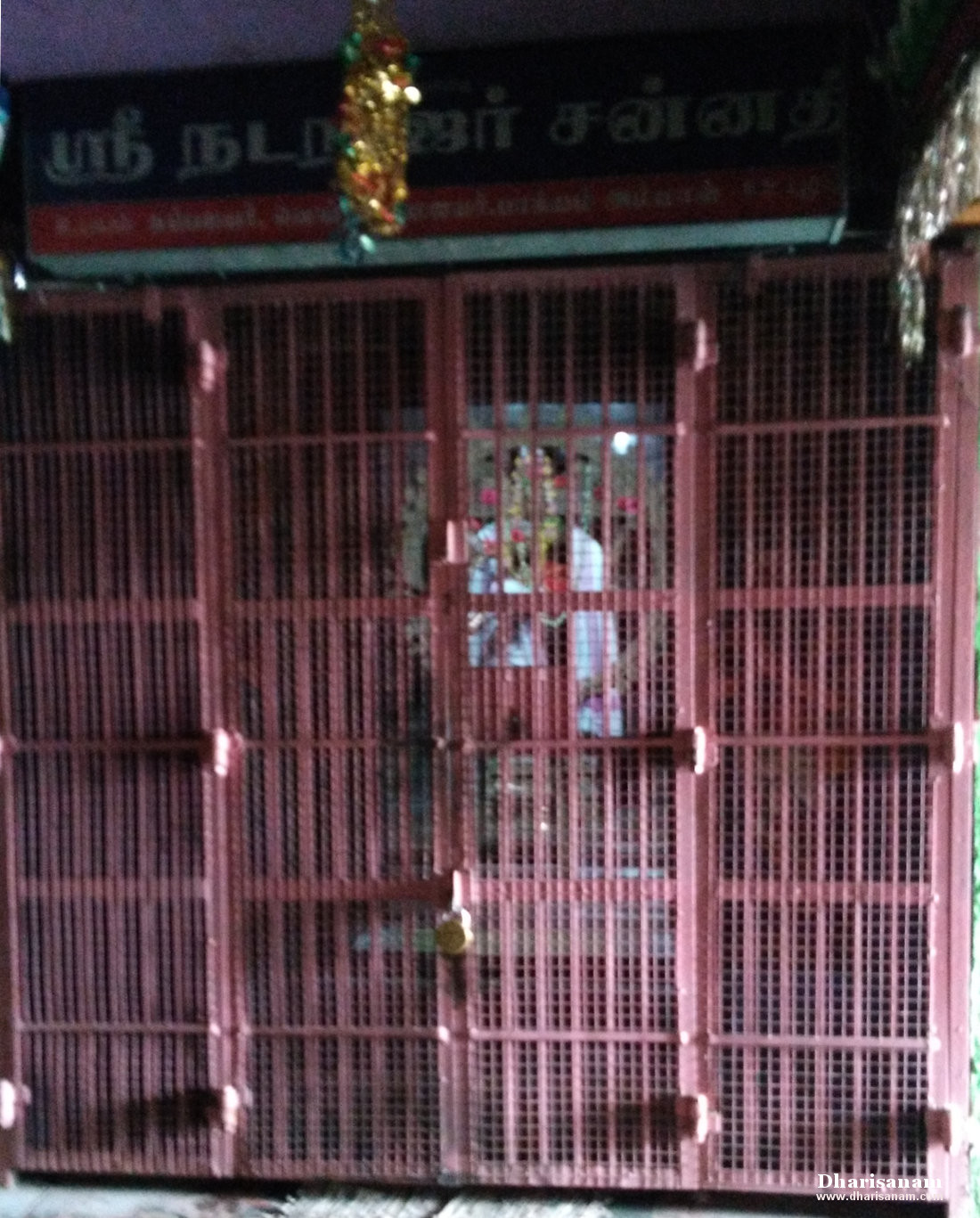 Other Legends
As per the Sthala Puranam, this temple was originally constructed by Goddess Bhooma Devi on the advice of Lord Mahavishnu. Hence, this place also gets the name "Bhoomicharam" and the lord is praised as Sri Bhoomi Nathar.
Another Sthala Puranam mentions the story of King Pururavas. The king visited a number of Shiva temples seeking a cure for his leprosy. Finally, he reached this temple and worshiped Lord Shiva. Lord Shiva advised him to worship Lord Vaidyanatha Swami - another Swayambu lingam in this temple. The king performed poojas to this lord and was cured of his illness. As a gesture of gratitude, he constructed the Vimanam with gold covering and arranged the festival of Brahmotsavam during Vaikasi Visakam.
It is believed that Nandhi (the bull mount of Lord Shiva), 16 Siddhars and the deities of the 8 directions (Ashta thik Balakas) have worshiped the lord here.
It is believed that Lord Shiva granted his wedding darshan to Sage Agasthiyar here.
Before their journey to Thirunallar, Nala and Damayanthi worshipped Saneeswarar in this temple to seek his blessings.
It is believed that after being kicked by Lord Shiva in Thirukadaiyur, Yama (the God of Death) came to this place, worshiped Goddess Durgai here to recover from his shock.
It is believed that Goddess Parvathy, Bhooma Devi, Devas, Sage Agasthiyar, Nandhi and King Pururavas have worshiped the lord here. The mantra ("slogams") believed to have been sung by Bhooma Devi and King Pururava are inscribed in stone and displayed in this temple.
Deities in the temple
Other than the shrines of Lord Shiva and Goddess Parvathy, shrines and idols of Vinayakar, Murugan with his consorts, Mahalakshmi, Nalvar, Brahmalingam, Agasthiya Lingam and the lingam worshiped by the Navagraham can be seen in the corridors and the main hall. Also, in the main hall are the idols of Vinayakar (six), Saneeswarar, Bairavar, Durgai and Suryan. In the Navagraham, all other planets are facing Suryan.
In the inner hall, there is a separate shrine that houses the Swayambu Natarajar and Sivakami. Other procession idols are also kept in that hall. For the procession purposes, there is a smaller procession idol of Natarajar with Sivakami.
In the "koshtam" (place surrounding the sanctum sanctorum), idols of Vinayakar, Dakshinamurthy, Agasthiyar, Jurahareswarar, Lingothbavar, Gangatharar, Natarajar, Pitchandavar, Arthanareeswarar, Durgai, Brahma and Chandikeswarar (three) can be seen. In Chandikeswarar's shrine, an idol of Sri Sundara Kusambikai can also be seen.
Also, in the corridors are idols of Sri Agneewarar, Sri Sanathkumara lingam, Sri Senbakaaranyeswarar, Sri Sundareswara lingam, Sri Pasupatheeswarar, Sri Kanva lingam, Sri Kailasa Nathar and Bairavar.
There are separate shrines for Goddess Parvathy, Vinayakar, Murugan with his consorts and Sri Vaithiyanathar in the corridor.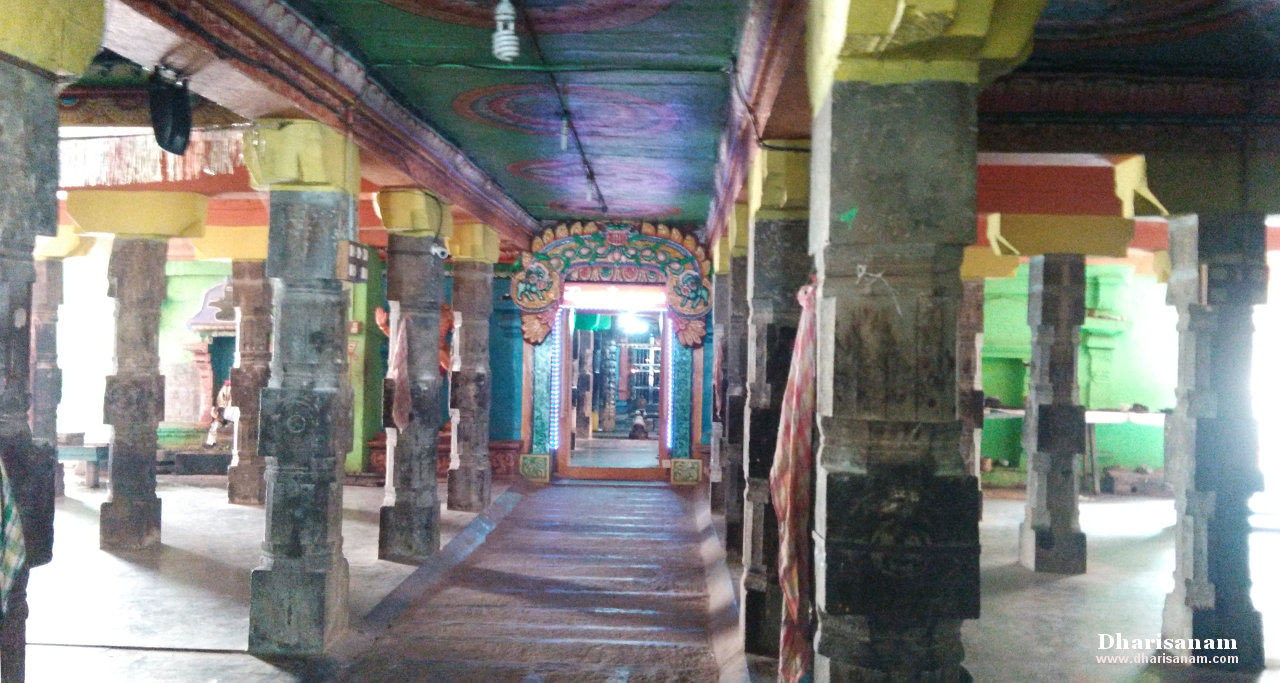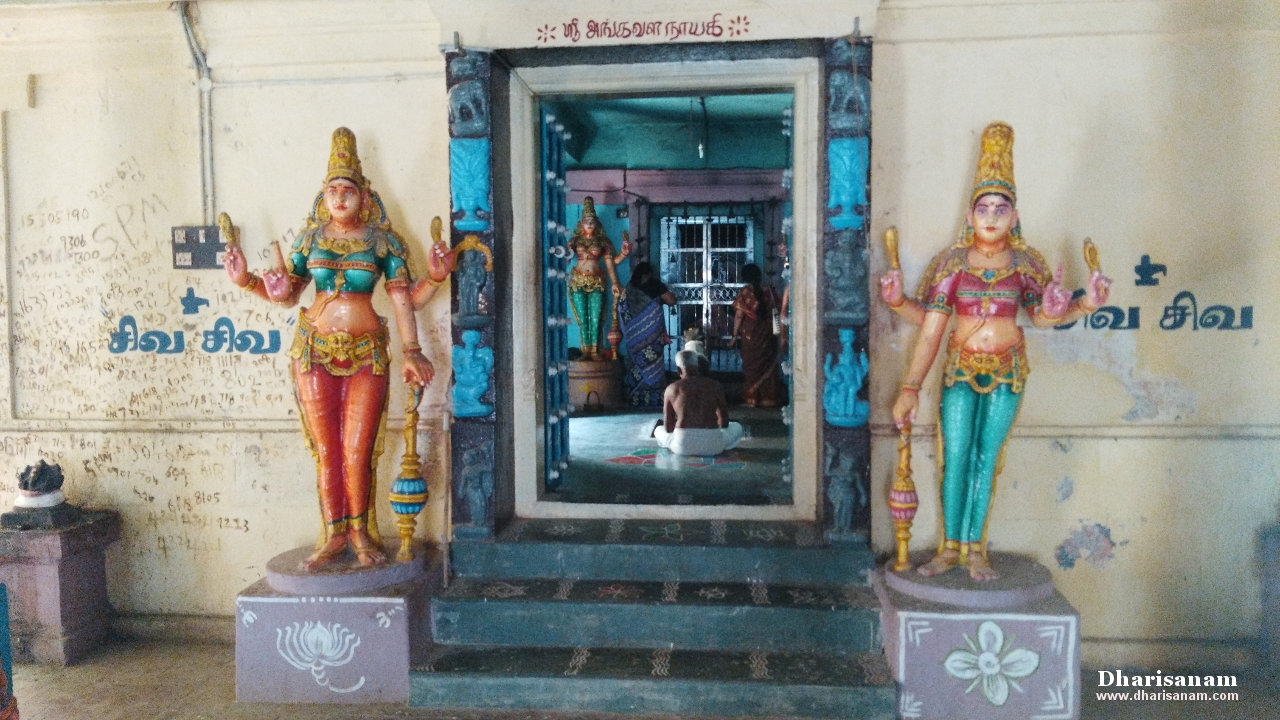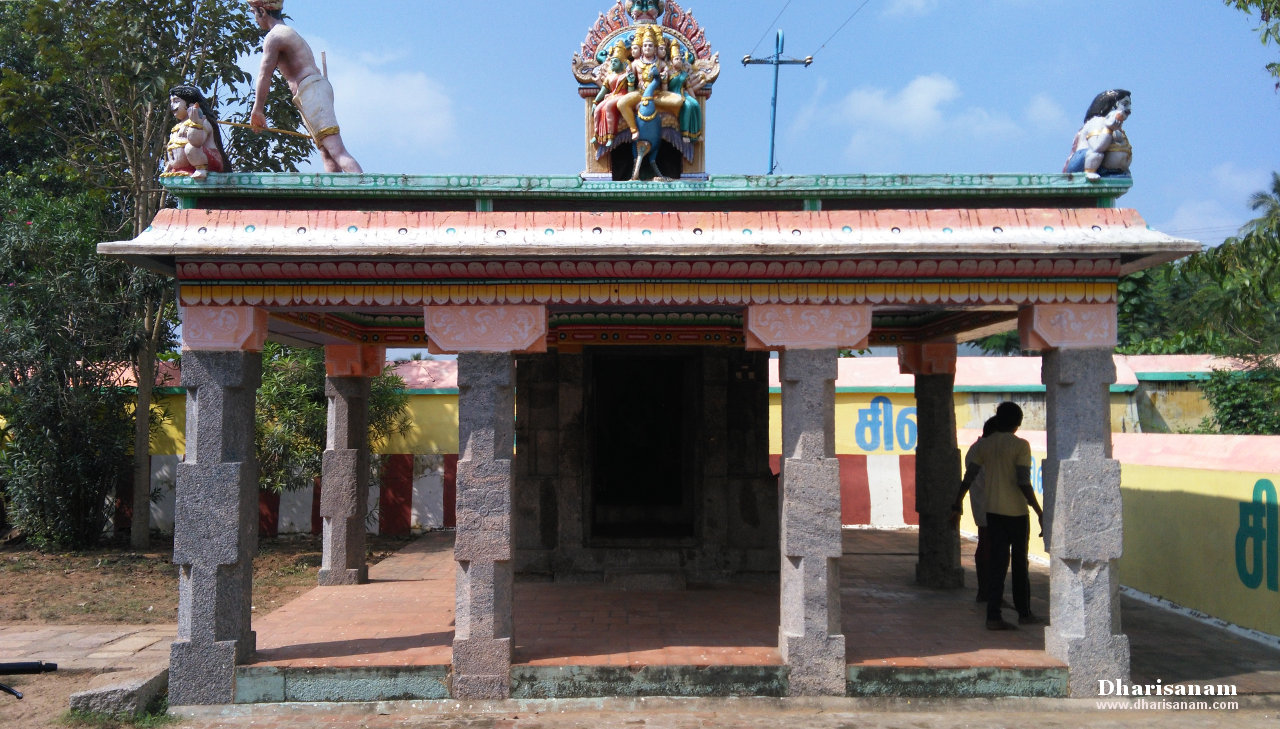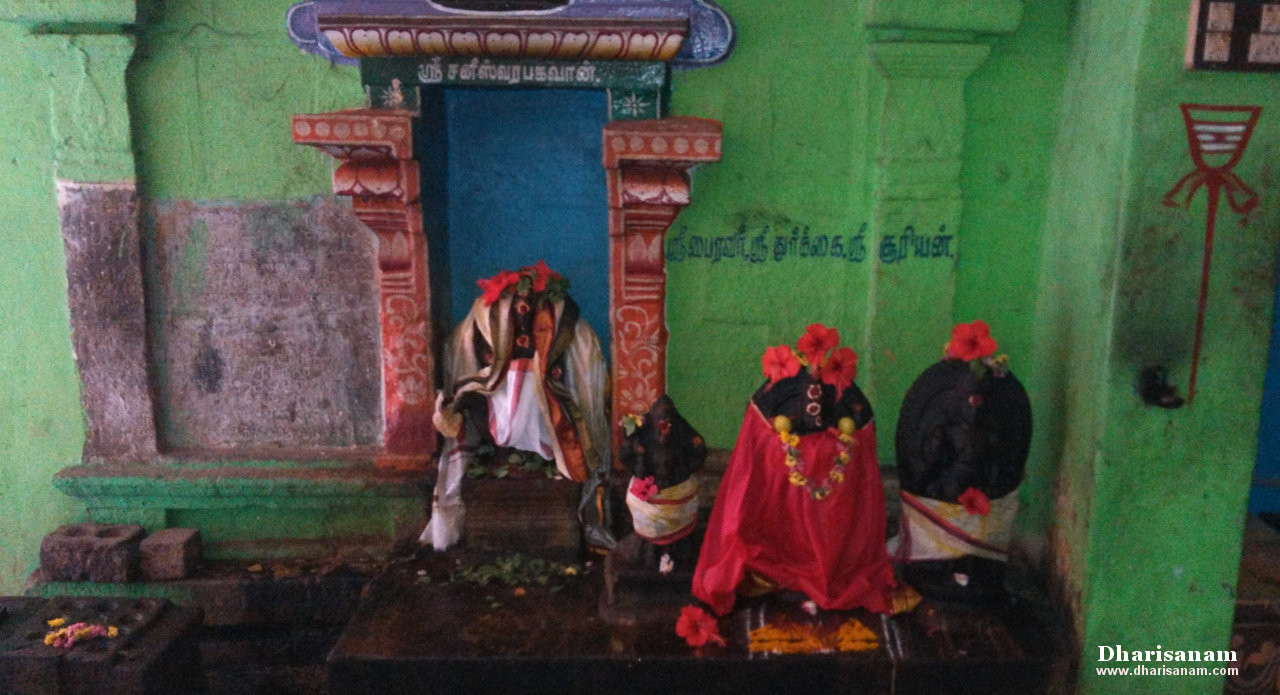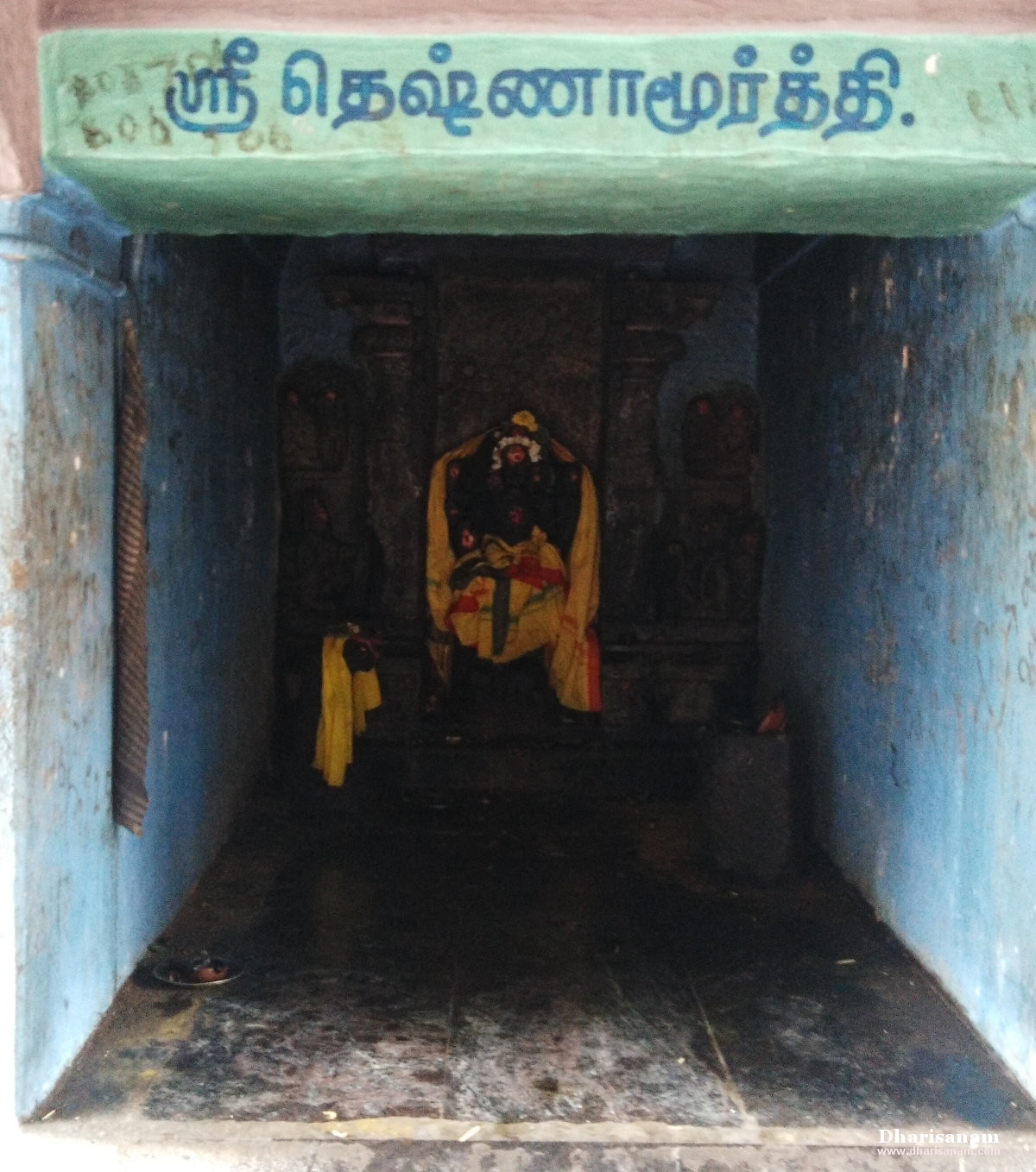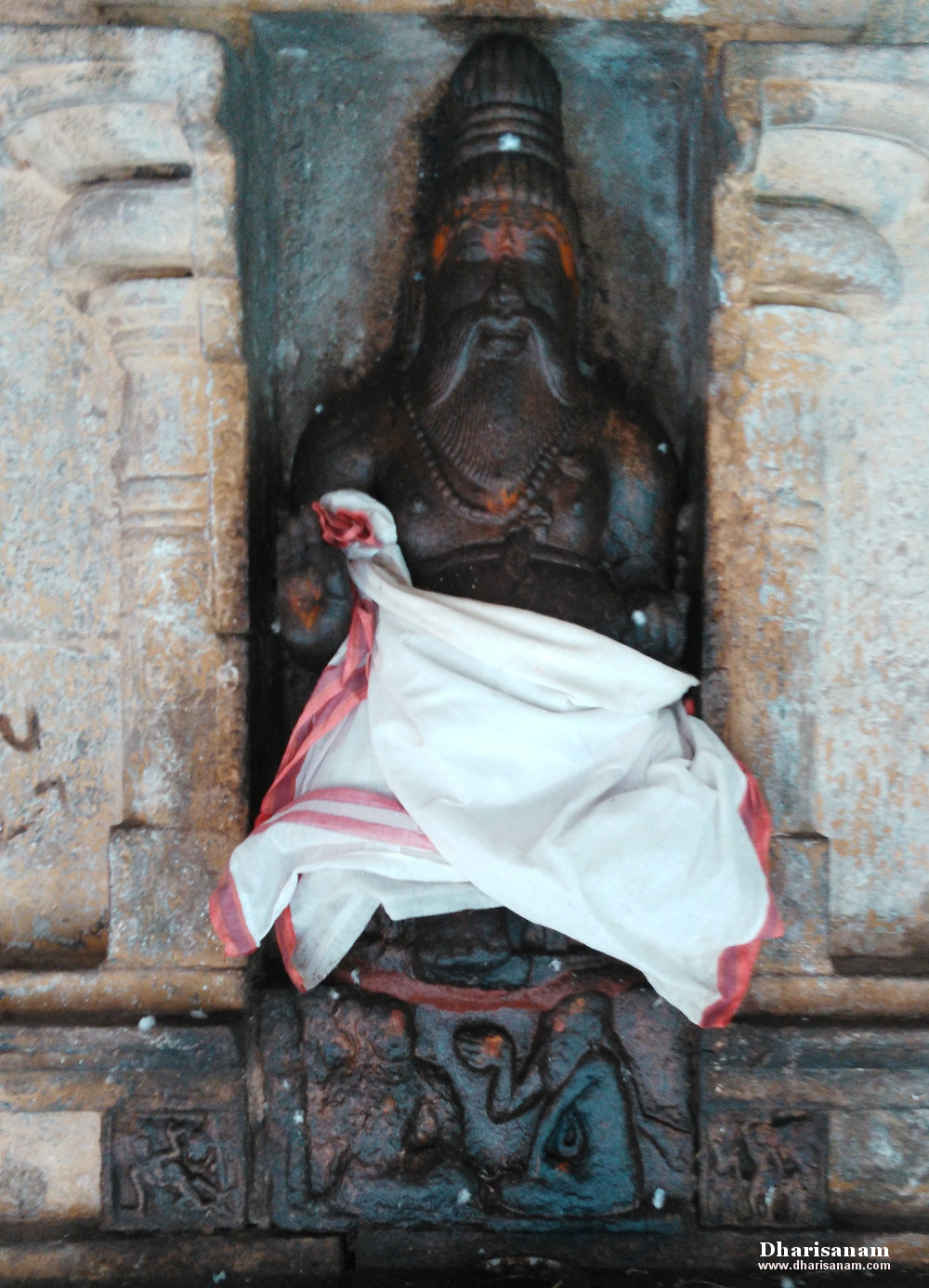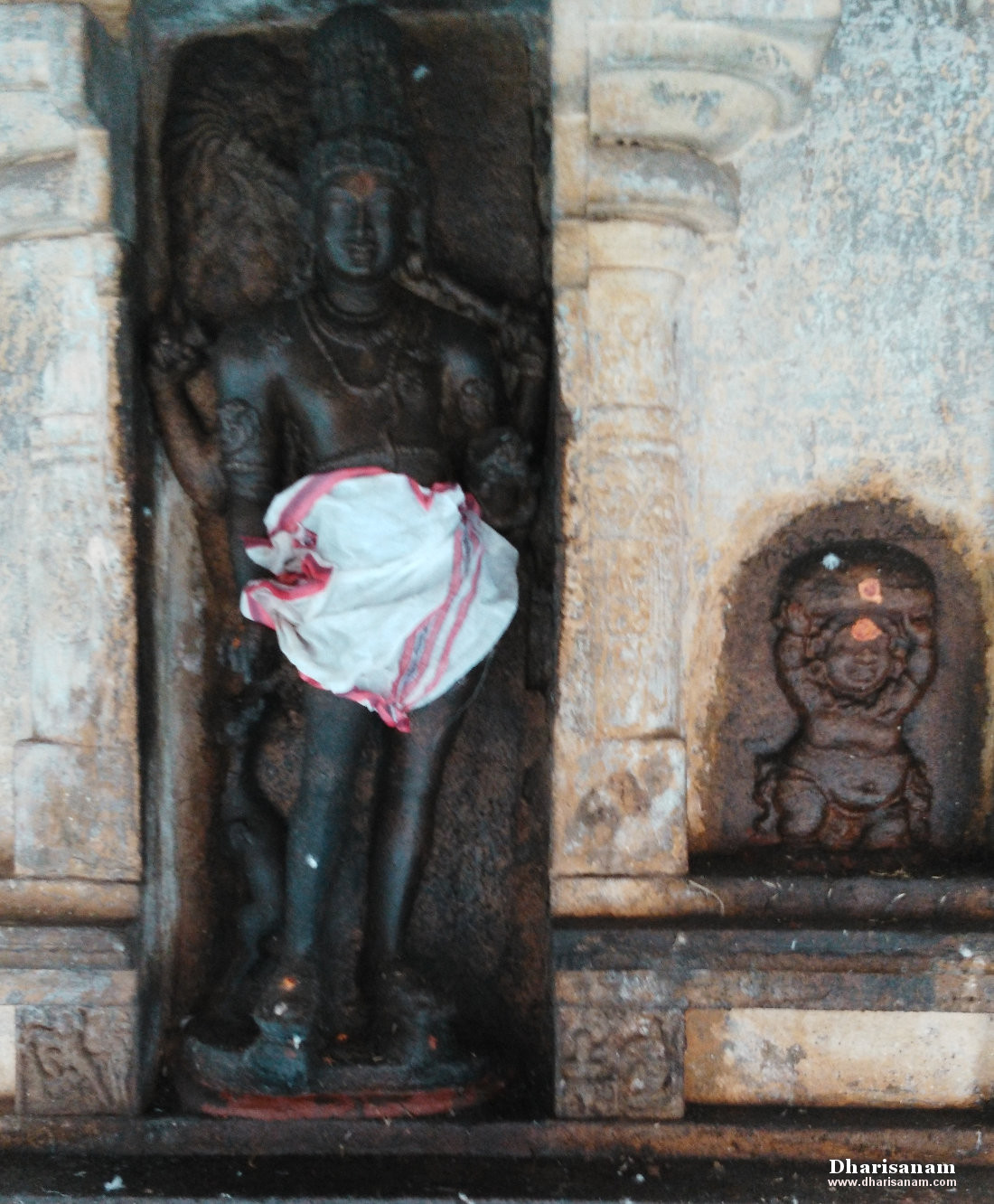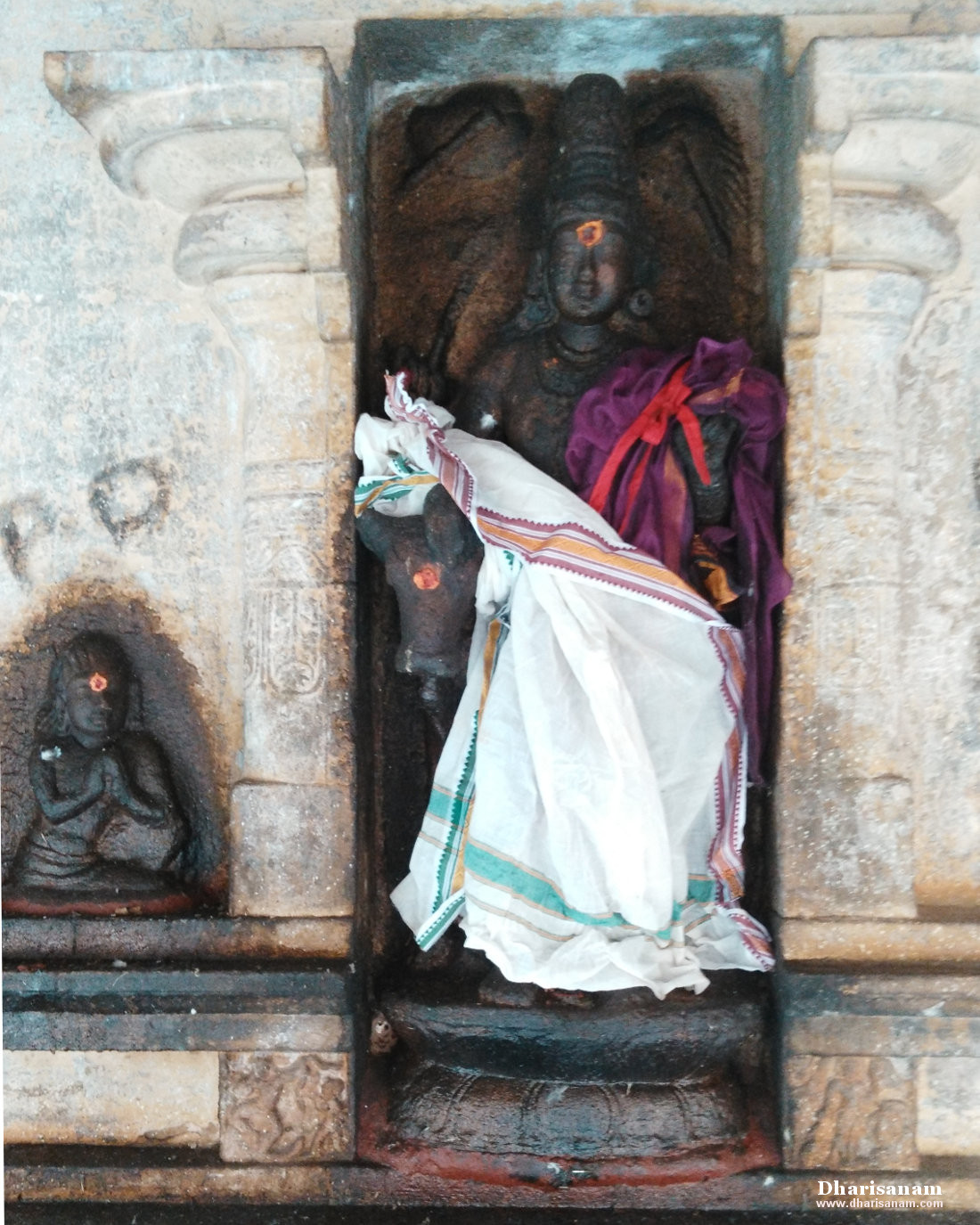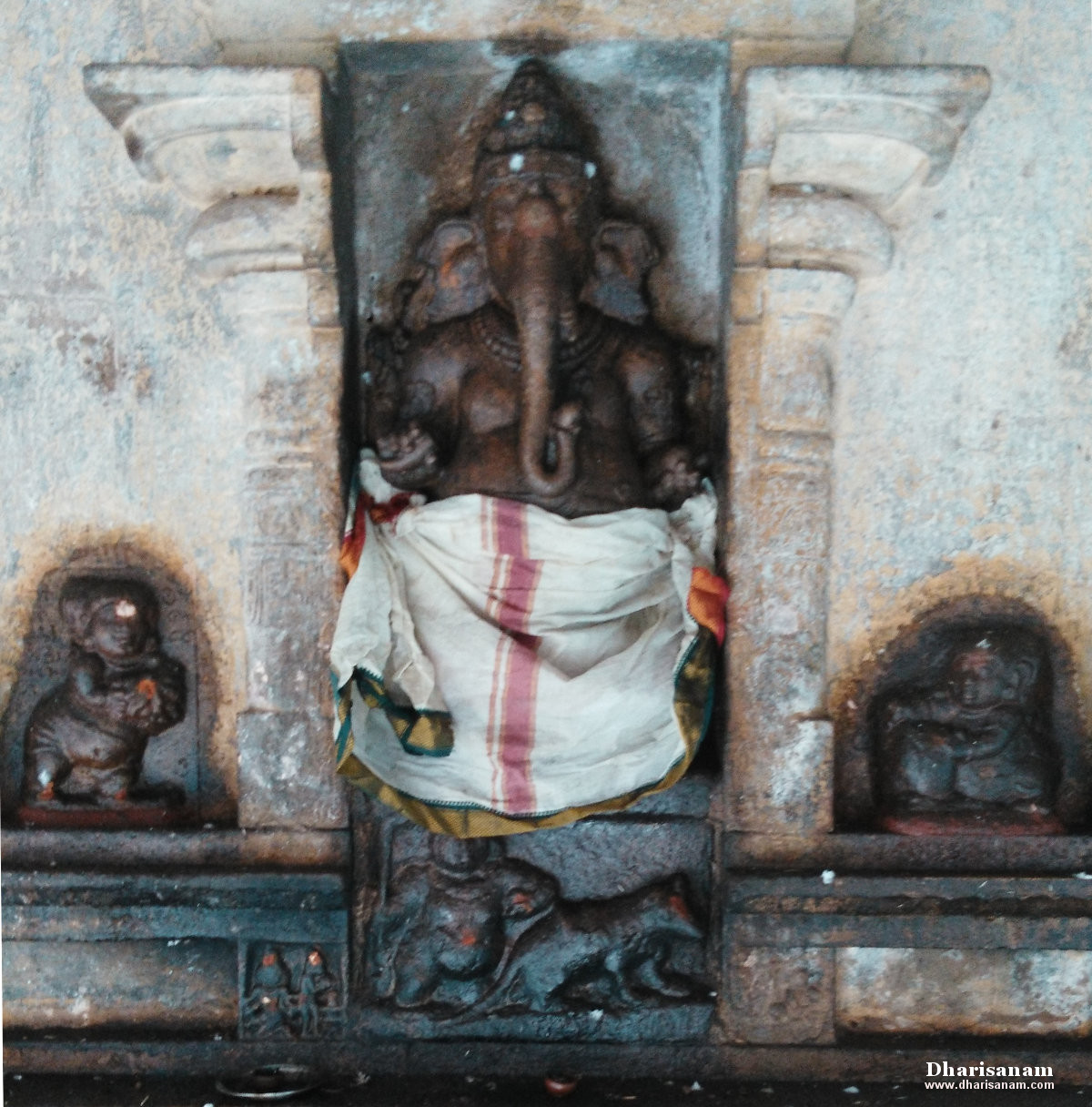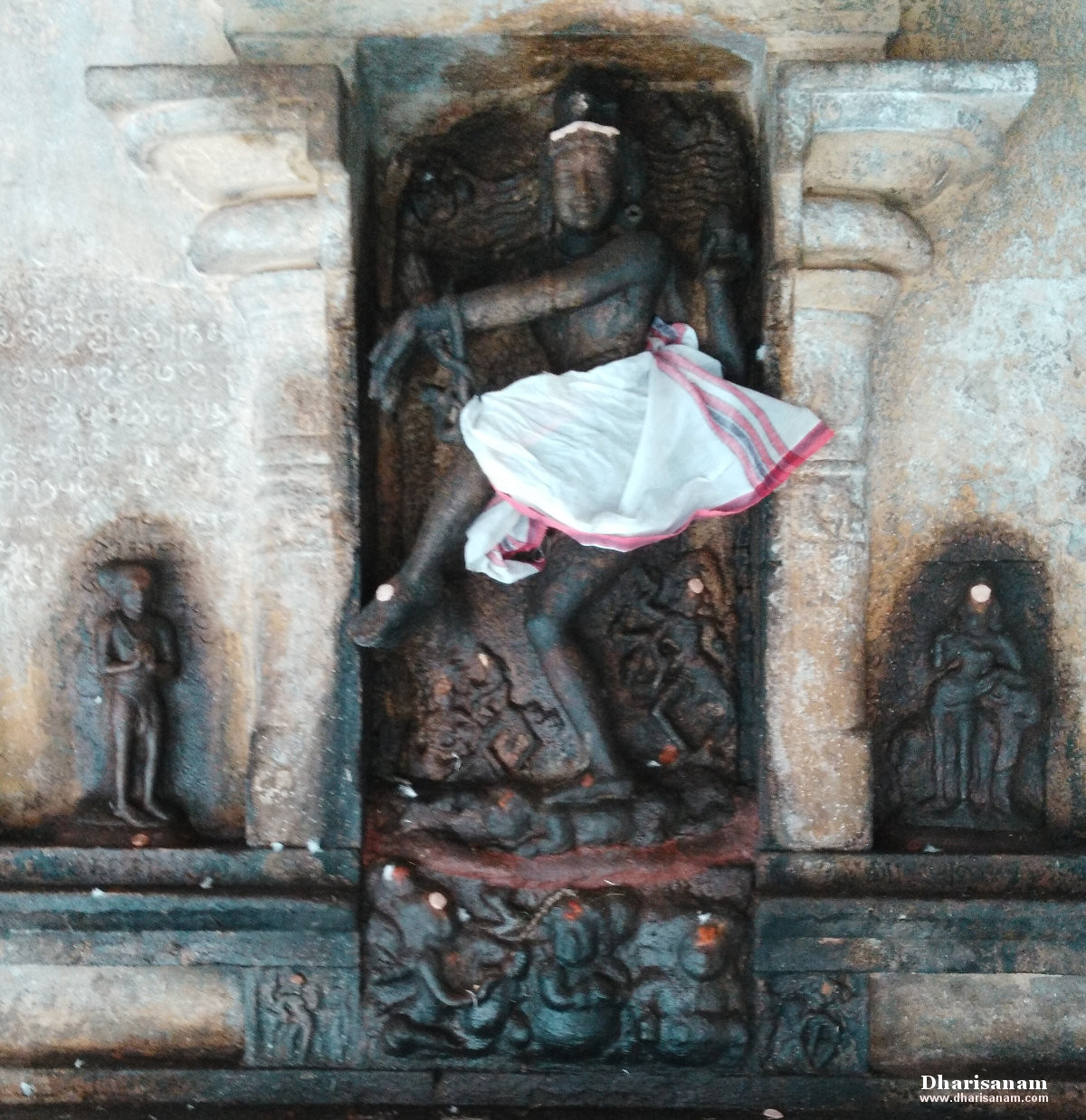 Near the Sanctum, there is a separate shrine for Sri Kalyanasundarar and Goddess Parvathy in their wedding posture. An idol of Lord Mahavishnu is also present with them. The idol depicts him as participating in the marriage ceremony and handing over Goddess Parvathy to Lord Shiva.
Salient Features
It is believed that this place is considered to be equivalent to Mount Kailash and the holy water here is as auspicious as the Ganges.
Saint Thirunavukkarasar (Appar) mentioned that only those having the blessings from their previous births ("poorva janma punyam") will have the good fortune of visiting this temple.
There are six idols of Lord Vinayakar in a single shrine.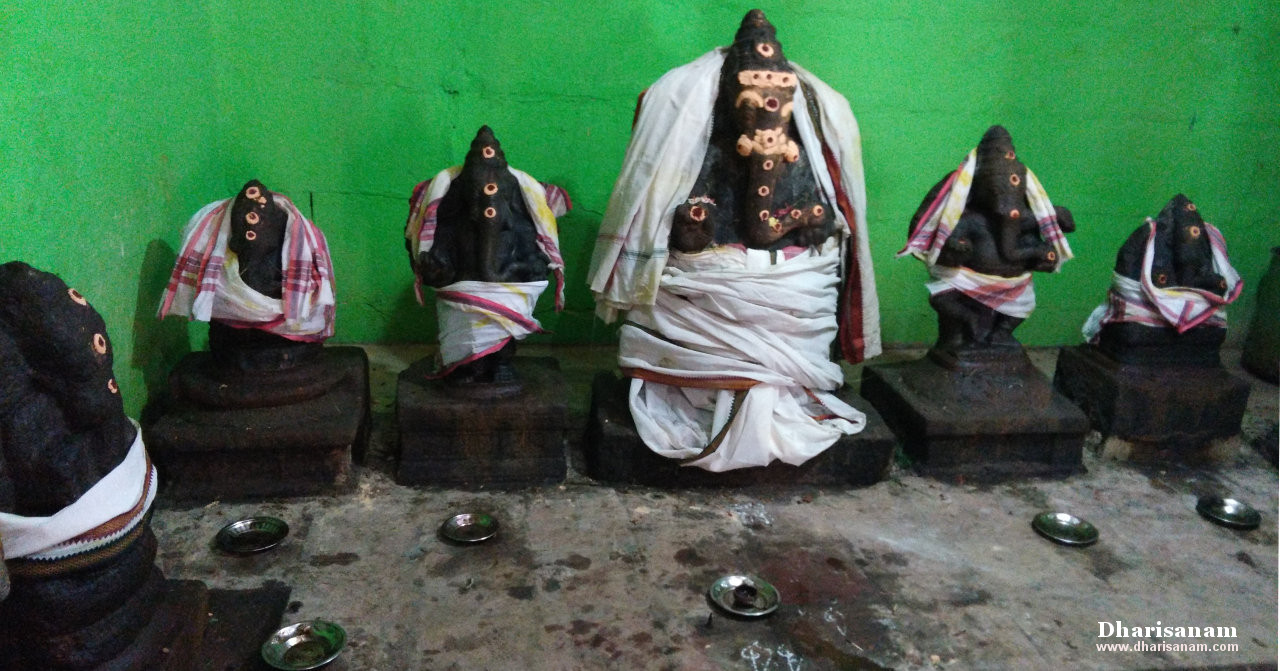 There are also three idols of Chandikeswarar in this temple.
Devotees believe that worshiping the lord here during Pradosham would bring manifold benefits.
Behind the sanctum sanctorum, on either sides of Lord Lingothbavar, there are idols of Lord Mahavishnu and Lord Brahma in a worshipping posture. Devotees can enjoy the darshan of all the three lords (Trimurthys) – Brahma, Vishnu and Shiva. This is considered to be very auspicious.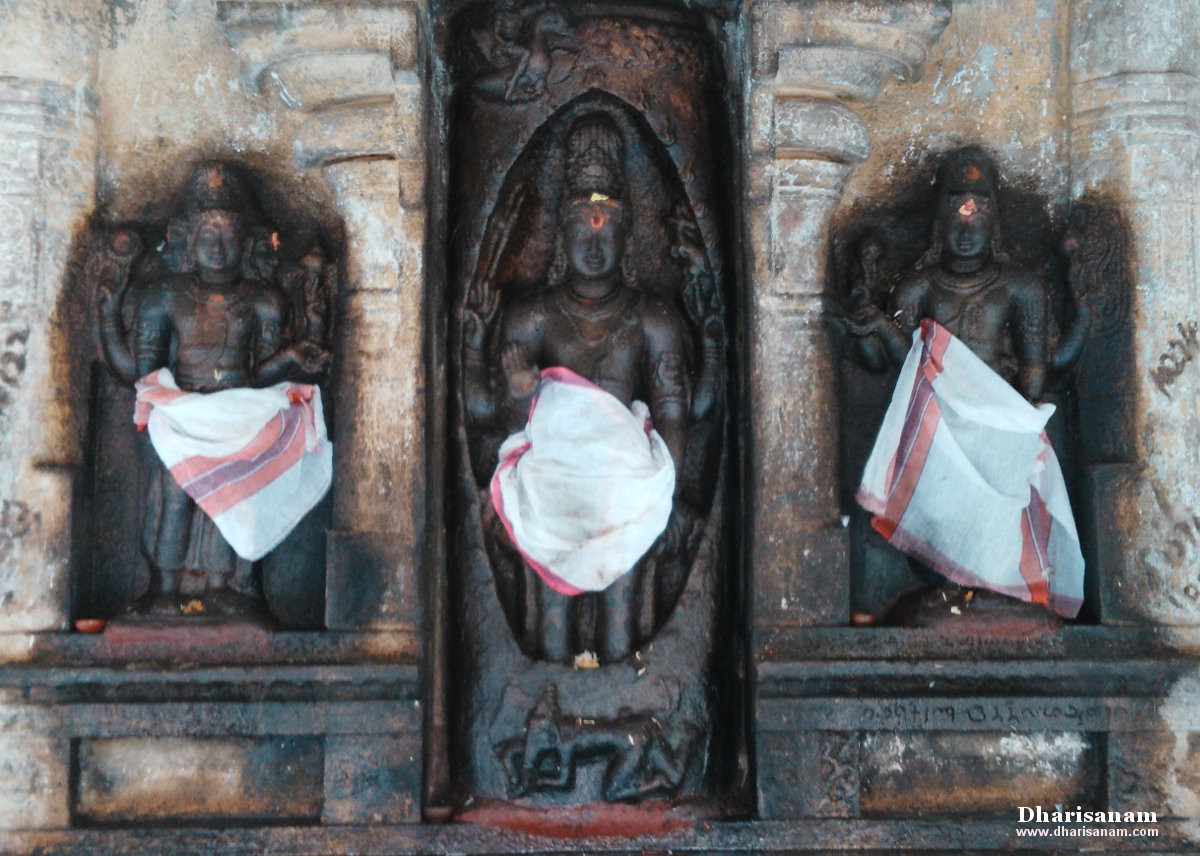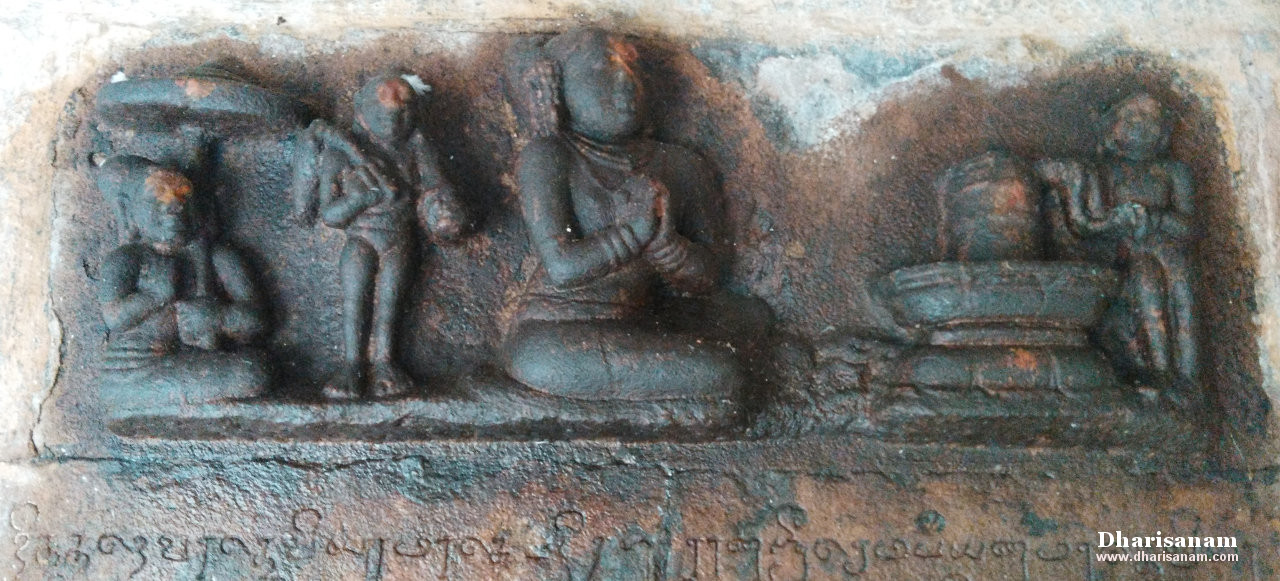 There is a beautiful relief on a wall in the corridor that depicts the Chola queen Sembian Maadevi worshiping Lord Shiva. Below this relief, there is a stone inscription. According to this inscription, the queen built this temple in memory of her husband, king Kandarathithan. This king was a staunch devotee of Lord Shiva and his devotional songs are known as "Thillai Thiruppathigam". These songs are a part of the "Thiruvisaippa".
There is a separate shrine for Lord Thiripura Samhara Murthy. It is believed that this lord burnt the three demons and their forts simply with his laughter. People pray here on Ashtami of new moon fortnight (eighth day from the full moon day) to conquer fear of death and to seek relief from the trouble caused by their enemies.
There are three important sthalams where the sacred tree (sthala viruksham) is peepal tree – they are Banaras (Kasi), Thiruvavaduthurai and this place.
Greatness of this temple
This is a "Parihara Sthalam" for doshas related to marriage and child birth. Those facing delays in their marriage or those seeking child boon ("Santhana Prapthi") can pray to the lord here.
Devotees believe that by worshiping Lord Vaithiyanathaswamy here, they will be cured of various diseases.
Students believe that worshiping the lord here will yield them good results.
Important Festivals
Two Brahmotsavams are celebrated in this temple – "Vaikasi Visakam" in May-June and "Margazhi Thiruvadhirai" in December-January.
Abhishekam to Natarajar is performed six times in a year (in the Tamil months of Chithirai, Aani, Aavani, Purattasi, Markazhi and Maasi).
Some of the important festivals celebrated in this temple are -
Vinayakar Chaturthi in the Tamil month of Aavani (Aug-Sept),
Skanda Shashti and Annabishekam in the Tamil month of Aippasi (Oct–Nov), and
Shivrathri in the Tamil month of Masi (Feb-Mar).
Pradosham is also observed regularly.
Temple Timings
From 06.30 AM to 12.00 Noon and from 04.30 PM to 08.30 PM.
Temple Address
Sri Uma Maheswarar Swamy Temple,
Thirunallam (Konerirajapuram),
Mayiladuthurai Taluk,
Nagapattinam District,
Tamil Nadu – 612201.
Tele: +91 94865 10515, 435-2449830 and 2449800.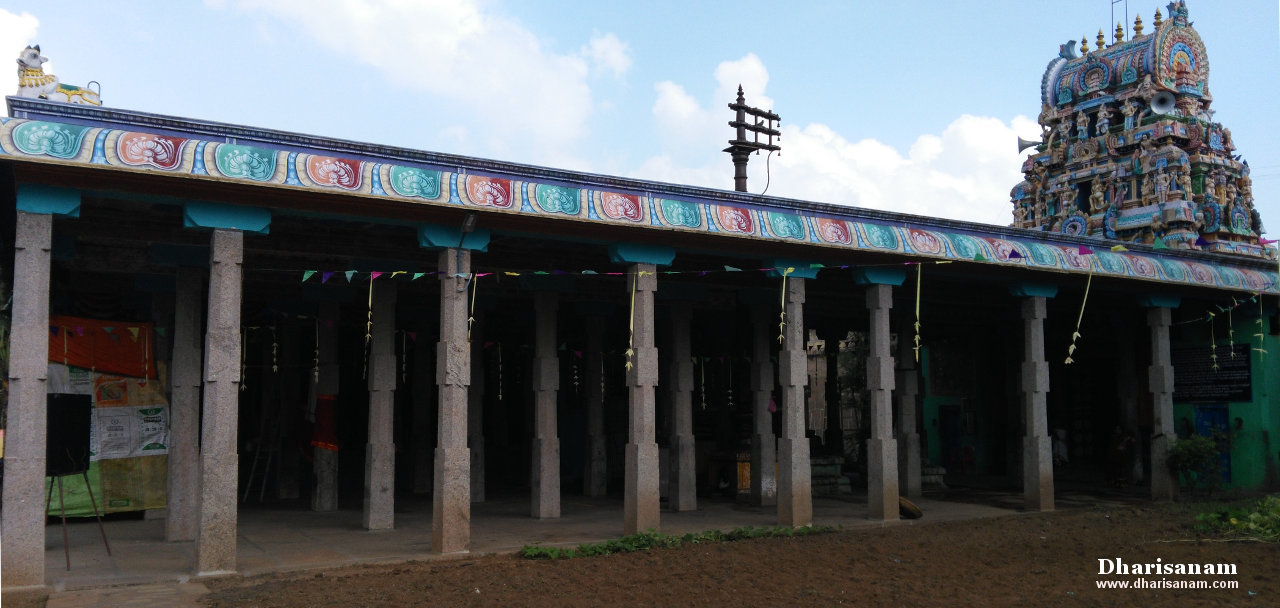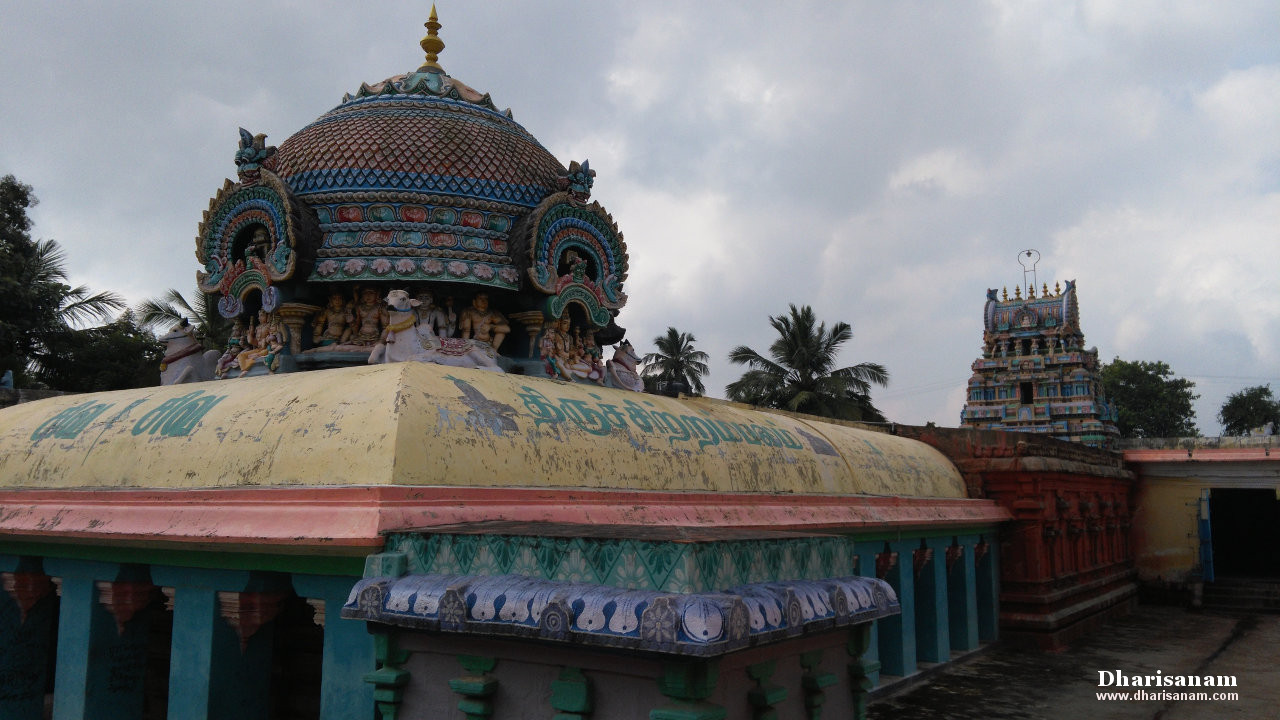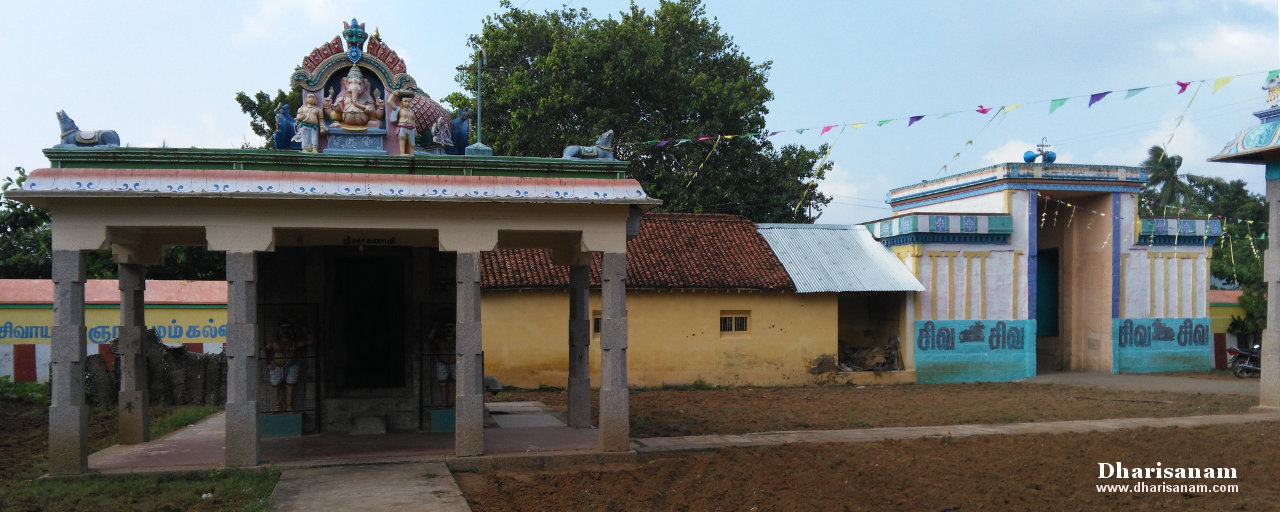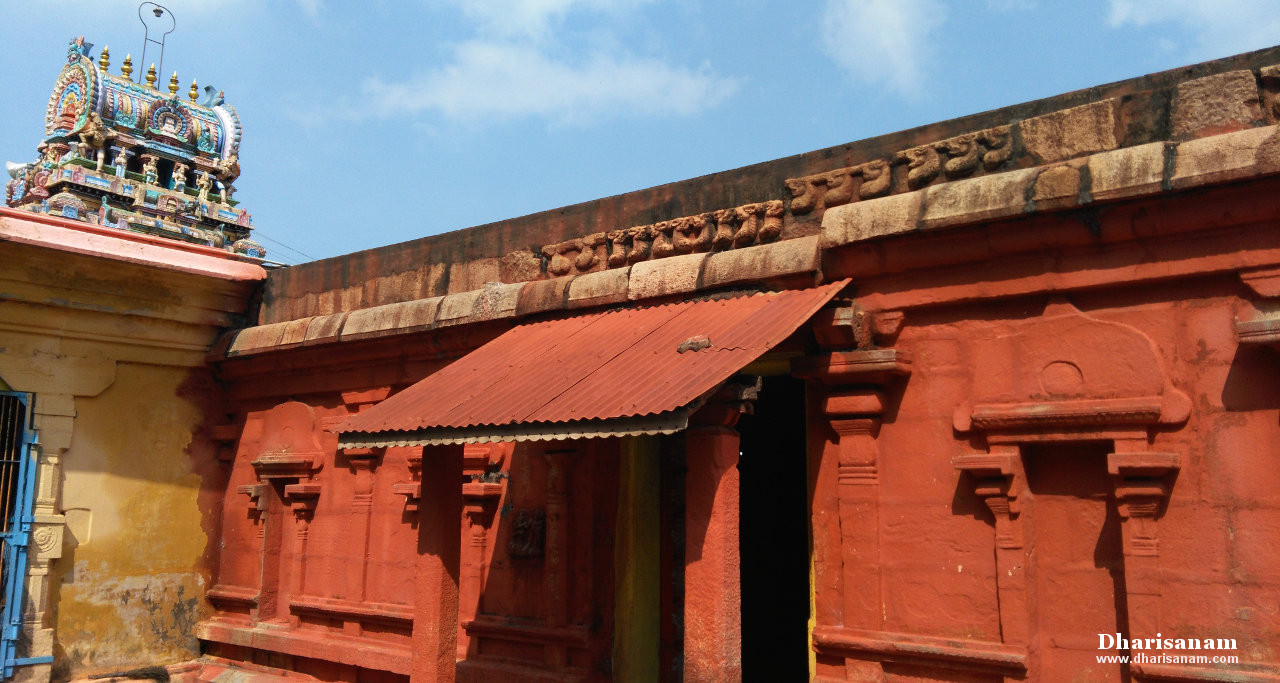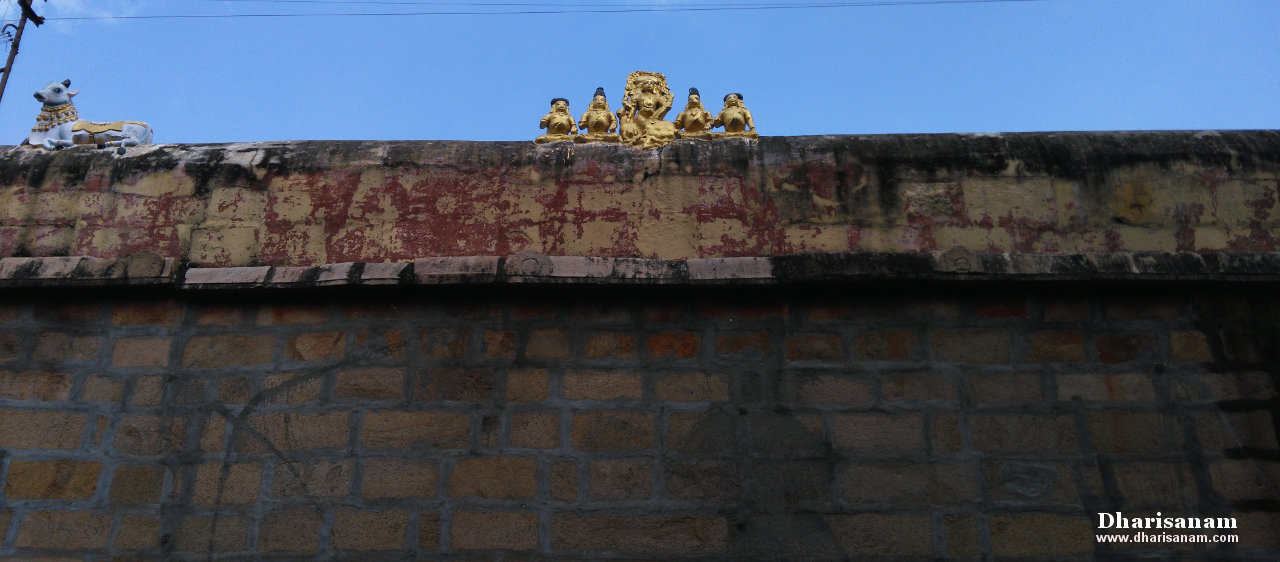 ---
Pathigam (Hymn) with English transliteration
Saint Thirugnanasambanthar visited this temple and sang this Pathigam.
Devotees visiting this temple should make it a practice to recite this Pathigam.
கல்லால் நிழல்மேய கறைசேர் கண்டாவென்
றெல்லா மொழியாலும் இமையோர் தொழுதேத்த
வில்லால் அரண்மூன்றும் வெந்து விழவெய்த
நல்லான் நமையாள்வான் நல்லம் நகரானே.
"Kallāl nizhalmēya kaṟaisēr kaṇṭāveṉ
tṟellā mozhiyālum imaiyōr thozhuthēththa
villāl araṇmūṉtṟum venthu vizhaveytha
nallāṉ namaiyāḷvāṉ nallam nakarāṉē".
தக்கன் பெருவேள்வி தன்னி லமரரைத்
துக்கம் பலசெய்து சுடர்பொற் சடைதாழக்
கொக்கின் இறகோடு குளிர்வெண் பிறைசூடும்
நக்கன் நமையாள்வான் நல்லம் நகரானே.
"Thakkaṉ peruvēḷvi thaṉṉi lamararaith
thukkam palaseythu suṭarpoṟ saṭaithāzhak
kokkiṉ iṟakōṭu kuḷirveṇ piṟaisūṭum
nakkaṉ namaiyāḷvāṉ nallam nakarāṉē".
அந்தி மதியோடும் அரவச் சடைதாழ
முந்தி யனலேந்தி முதுகாட் டெரியாடி
சிந்தித் தெழவல்லார் தீரா வினைதீர்க்கும்
நந்தி நமையாள்வான் நல்லம் நகரானே.
"Anthi mathiyōṭum aravach chaṭaithāzha
munthi yaṉalēnthi muthukāṭ ṭeriyāṭi
sinthith thezhavallār thīrā viṉaithīrkkum
nanthi namaiyāḷvāṉ nallam nakarāṉē".
குளிரும் மதிசூடிக் கொன்றைச் சடைதாழ
மிளிரும் மரவோடு வெண்ணூல் திகழ்மார்பில்
தளிருந் திகழ்மேனித் தையல் பாகமாய்
நளிரும் வயல்சூழ்ந்த நல்லம் நகரானே.
"Kuḷirum mathichūṭik koṉtṟaich chaṭaithāzha
miḷirum maravōṭu veṇṇūl thikazhmārpil
thaḷirun thikazhmēṉith thaiyal pākamāy
naḷirum vayalchūzhntha nallam nakarāṉē".
மணியார் திகழ்கண்டம் முடையான் மலர்மல்கு
பிணிவார் சடையெந்தை பெருமான் கழல்பேணித்
துணிவார் மலர்கொண்டு தொண்டர் தொழுதேத்த
நணியான் நமையாள்வான் நல்லம் நகரானே.
"Maṇiyār thikazhkaṇṭam muṭaiyāṉ malarmalku
piṇivār saṭaiyenthai perumāṉ kazhalpēṇith
thuṇivār malarkoṇṭu thoṇṭar thozhuthēththa
naṇiyāṉ namaiyāḷvāṉ nallam nakarāṉē".
வாசம் மலர்மல்கு மலையான் மகளோடும்
பூசுஞ் சுடுநீறு புனைந்தான் விரிகொன்றை
ஈசன் னெனவுள்கி யெழுவார் வினைகட்கு
நாசன் நமையாள்வான் நல்லம் நகரானே.
"Vāsam malarmalku malaiyāṉ makaḷōṭum
pūsuñ chuṭunīṟu puṉainthāṉ virikoṉtṟai
īsaṉ ṉeṉavuḷki yezhuvār viṉaikaṭku
nāsaṉ namaiyāḷvāṉ nallam nakarāṉē".
அங்கோல் வளைமங்கை காண அனலேந்திக்
கொங்கார் நறுங்கொன்றை சூடிக் குழகாக
வெங்கா டிடமாக வெந்தீ விளையாடும்
நங்கோன் நமையாள்வான் நல்லம் நகரானே.
"Aṅkōl vaḷaimaṅkai kāṇa aṉalēnthik
koṅkār naṟuṅkoṉtṟai chūṭik kuzhakāka
veṅkā ṭiṭamāka venthī viḷaiyāṭum
naṅkōṉ namaiyāḷvāṉ nallam nakarāṉē".
பெண்ணார் திருமேனிப் பெருமான் பிறைமல்கு
கண்ணார் நுதலினான் கயிலை கருத்தினால்
எண்ணா தெடுத்தானை யிறையே விரலூன்றி
நண்ணார் புரமெய்தான் நல்லம் நகரானே.
"Peṇṇār thirumēṉip perumāṉ piṟaimalku
kaṇṇār nuthaliṉāṉ kayilai karuththiṉāl
eṇṇā theṭuththāṉai yiṟaiyē viralūṉtṟi
naṇṇār purameythāṉ nallam nakarāṉē".
நாகத் தணையானும் நளிர்மா மலரானும்
போகத் தியல்பினாற் பொலிய அழகாகும்
ஆகத் தவளோடும் அமர்ந்தங் கழகாரும்
நாகம் மரையார்த்தான் நல்லம் நகரானே.
"Nākath thaṇaiyāṉum naḷirmā malarāṉum
pōkath thiyalpiṉāṟ poliya azhakākum
ākath thavaḷōṭum amarnthaṅ kazhakārum
nākam maraiyārththāṉ nallam nakarāṉē".
குறியில் சமணோடு குண்டர் வண்தேரர்
அறிவில் லுரைகேட்டங் கவமே கழியாதே
பொறிகொள் ளரவார்த்தான் பொல்லா வினைதீர்க்கும்
நறைகொள் பொழில்சூழ்ந்த நல்லம் நகரானே.
"Kuṟiyil samaṇōṭu kuṇṭar vaṇthērar
aṟivil luraikēṭṭaṅ kavamē kazhiyāthē
poṟikoḷ ḷaravārththāṉ pollā viṉaithīrkkum
naṟaikoḷ pozhilchūzhntha nallam nakarāṉē".
நலமார் மறையோர்வாழ் நல்லம் நகர்மேய
கொலைசேர் மழுவானைக் கொச்சை யமர்ந்தோங்கு
தலமார் தமிழ்ஞான சம்பந் தன்சொன்ன
கலைக ளிவைவல்லார் கவலை கழிவாரே.
"Nalamār maṟaiyōrvāzh nallam nakarmēya
kolaisēr mazhuvāṉaik kochchai yamarnthōṅku
thalamār thamizh gñāṉa samban thaṉsoṉṉa
kalaika ḷivaivallār kavalai kazhivārē".