Visited on: 11th February, 2017.
Location
Kuthalam is situated at a distance of about 12 kms from Mayiladuthurai on the Mayiladuthurai to Kumbakonam route. It is about 24 kms from Kumbakonam. There is a railway station in Kuthalam and this temple is about 2 kms away from it.
Other Devara Paadal Petra Shiva Sthalams near this place are - Therizhanthur, Thiruvaduthurai, Thiruvidaimaruthur, Thirumanancheri, Thiru Velvikkudi, Thiru Ethirkolpadi and Mayiladuthurai.
General Information
| | |
| --- | --- |
| Moolavar | Sri Sonnavaaru Arivar, Sri Uktha Vedeeswarar |
| Ambal | Sri Mukizhambikai, Sri Parimala Sugandha Nayaki, Sri Arumpanna Valamulaiyal |
| Theertham (Holy water) | Sundara Theertham, River Kaveri |
| Sthala Vriksham (Sacred Tree) | Kayilai tree/ Uththala tree |
| Pathigam (Hymn) rendered by | Saint Thirugnanasambanthar, Saint Thirunavukarasar and Saint Sundaramurthy |
This is one of the 276 Devara Paadal Petra Shiva Sthalams and 37th Shiva Sthalam on the Southern bank of the river Cauveri in Chozha Nadu (Thenkarai).
Lord Shiva in this temple is a Swayambumurthi (self-manifested).
This is a Moovar Paadal Petra Sthalam.
This west facing temple's main tower (Rajagopuram) has 5-tiers and it has 2 corridors. Goddess Parvathy's main tower has 3-tiers and a single corridor.
Last consecration ceremony (Kumbabishekam) took place on 01.02.1960.
History of the Temple
The historical name of this place is Uththala Vanam which has been changed over a period of time to Kuththalam.
In the scriptures found in this temple, this place has also been referred to as Choleeswaram and Thiruthurutthi. In the Devaram hymns, this place is mentioned as "Thuruthi" which means an island in Tamil. It is believed that in the ancient times this place was an island in the river Cauvery.
This is one of the 27 temples which comes under the administrative control of the Dharumapuram Aadheenam.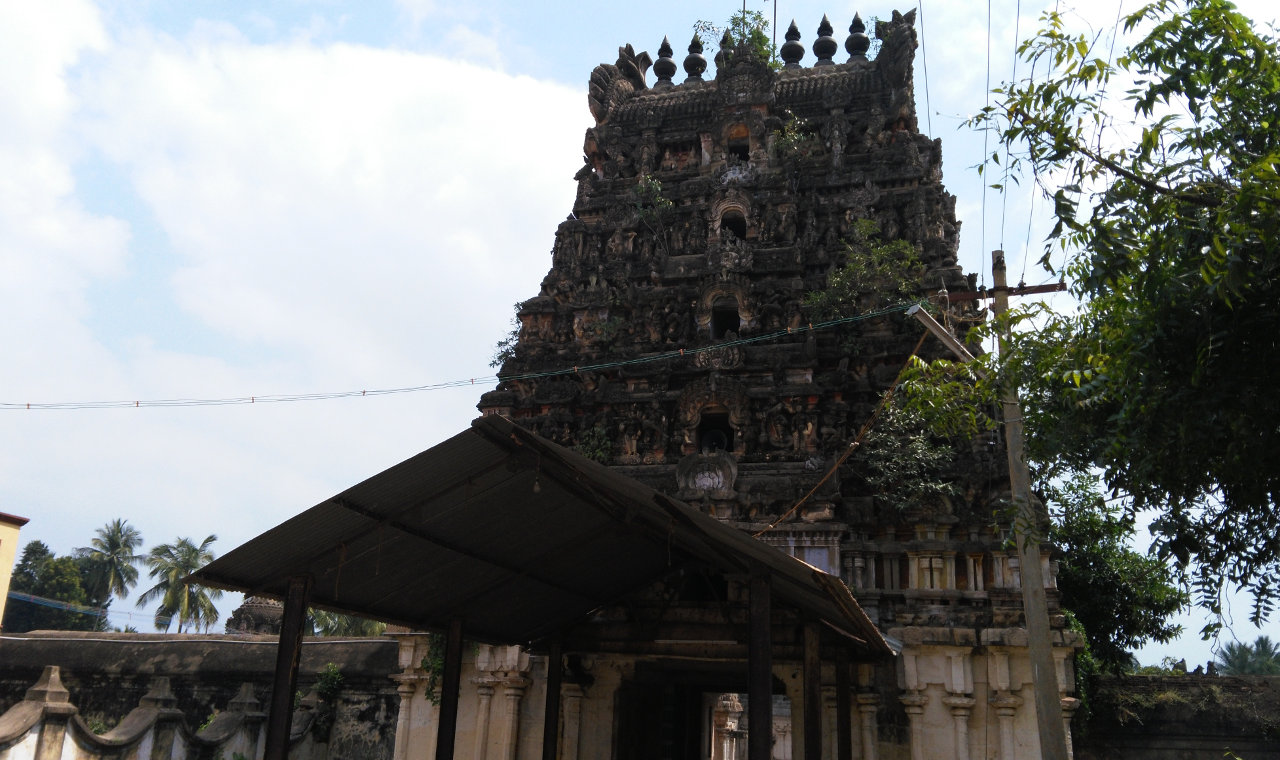 Legend
Thiruthuruthi enjoys a special place in mythology because it is linked to the legends of a few nearby Paadal Petra Shiva Sthalams.
At Therezhunthur, Lord Shiva cursed Goddess Parvathy which made her turn into a cow. Lord Mahavishnu played the role of a shepherd here.
At Thirukkozhambam, Goddess Parvathy, who was in the form of a cow, worshiped Lord Shiva. During the worship, as the cow's leg hit Lord Shiva by mistake, its hoof made a mark on the lord's chest.
At Thiruvaduthurai, again Goddess Parvathy (in the form a cow) worshiped Lord Shiva. It is here that Goddess Parvathy was relieved of her curse and got restored to her original form.
At Thiruthuruthi (Kuthalam), Sage Bharatha performed a yagna and it is believed that Goddess Parvathy came out of the fire in the form of a child.
At Ethirkolpadi, Lord Shiva was received as a groom by his father-in-law, Sage Bharatha.
At Thiruvelvikudi, the wedding ceremony including the yagna ("Velvi") was performed. This is the great place where the earthly wedding of Lord Shiva and Goddess Parvathy took place.
At Thirumanancheri, Lord Shiva and Goddess Parvathy granted their wedding darshan to everyone.
It is believed that once Goddess Parvathi was cursed to be born on earth. She is believed to have appeared from the fire of Sage Bharatha's "Kameshti yagna". The sage raised her as his owndaughter and she spent her childhood in this place. Wanting to marry Lord Shiva, she installed a shivalingam near the banks of the river Cauvery and would offer her prayers there every day. Lord Shiva was pleased with her penance and appeared before her and said that he would marry her as it was her destiny ("vidhi" in Tamil). Hence the lord here is also praised as "Sonnavaru Arivar" which means he kept his word to Goddess Parvathy.
When she grew up and attained the marriageable age, the sage prayed to Lord Shiva that he help him find a suitable groom for her. Responding to his prayers, Lord Shiva appeared before him and told him that he would marry his daughter soon. The lord further told the sage that his daughter was none other than Goddess Parvathy herself. He also explained him that the reason for her appearance on earth was to grant her the wish of being married on earth.
It is also believed that this is the place where their betrothal ceremony had taken place.
The Sthala Vriksham of this temple, "Ukthala tree", is believed to have come from the celestial world at the time of the lord's betrothal with Goddess Parvathy. This tree can still be seen today and it is a testament to that.
Since the betrothal is believed to have taken place under this tree, the footwear (Padakoradu/ Padukas) left by the lord can also be seen near it. It is also believed that this kind of Uthala tree is not available anywhere else in the world.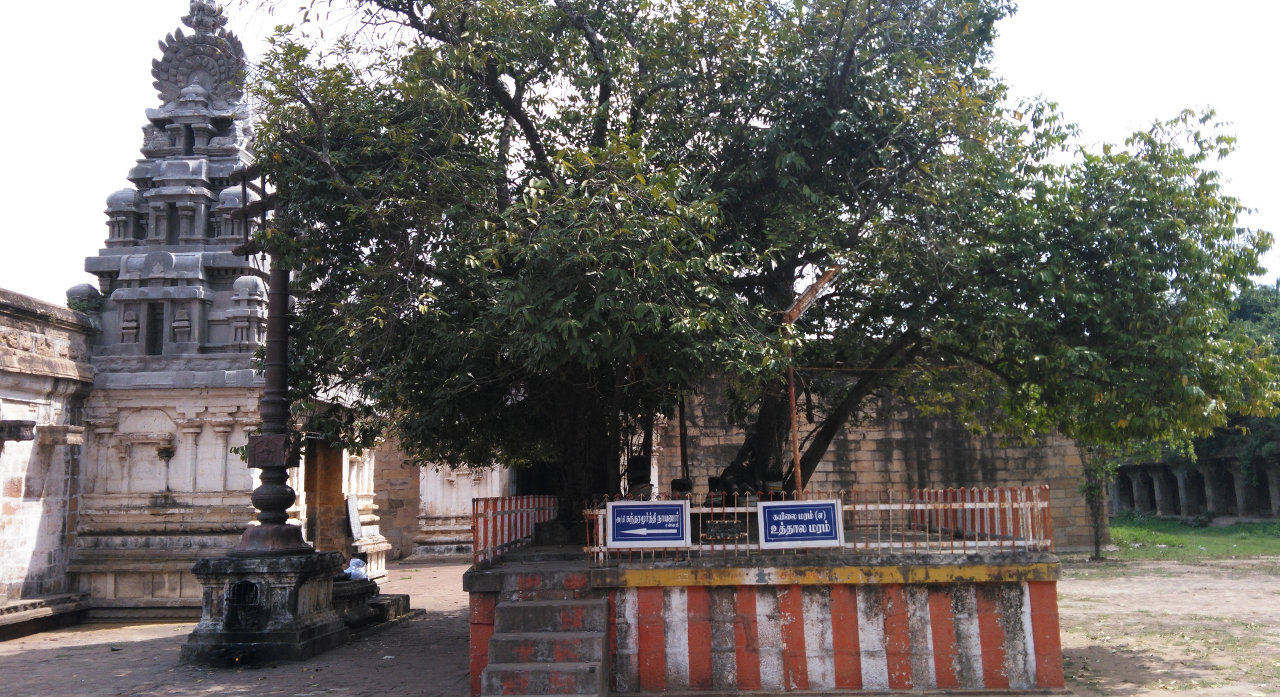 It is believed that when Saint Sundaramurthy Nayanar visited this place, he was very weak and was suffering from some illness. He prayed to lord for relief from his ailments. It is believed that Lord Shiva directed him to take a dip in the temple's tank (Paduma Theertham). After taking a dip, Sundarar was relieved from his illness and was energised. Thereafter the tank was named "Sundarar Theertham". A separate shrine for Sundarar can be seen near it. In his hymn, he sang about the lords of Thiruthuruthi and Thiruvelvikkudi.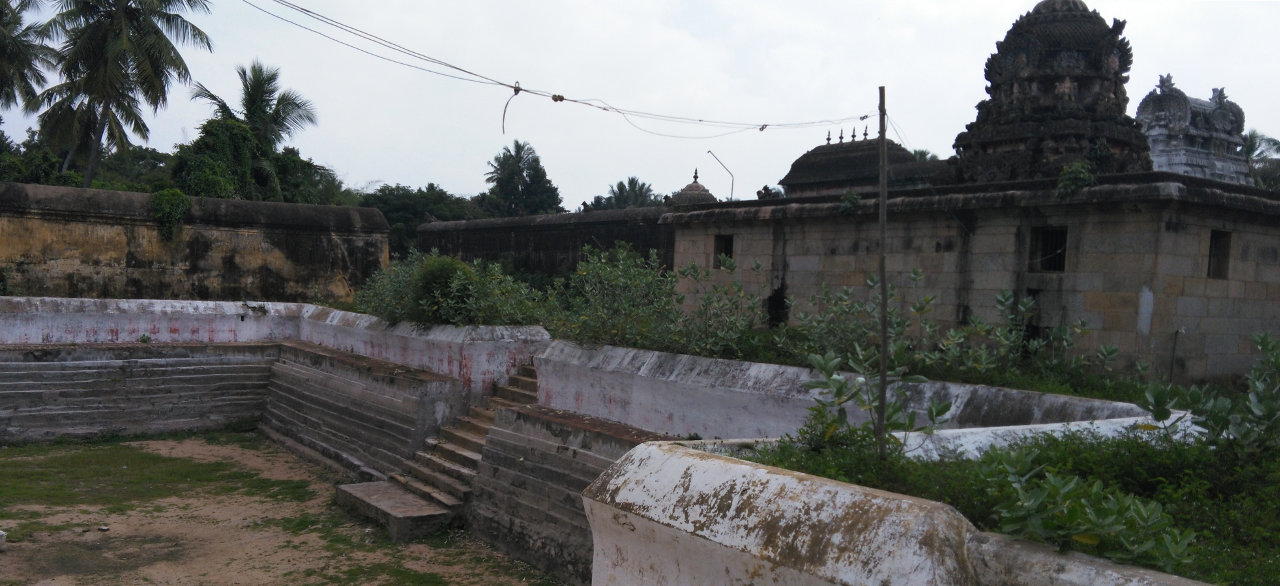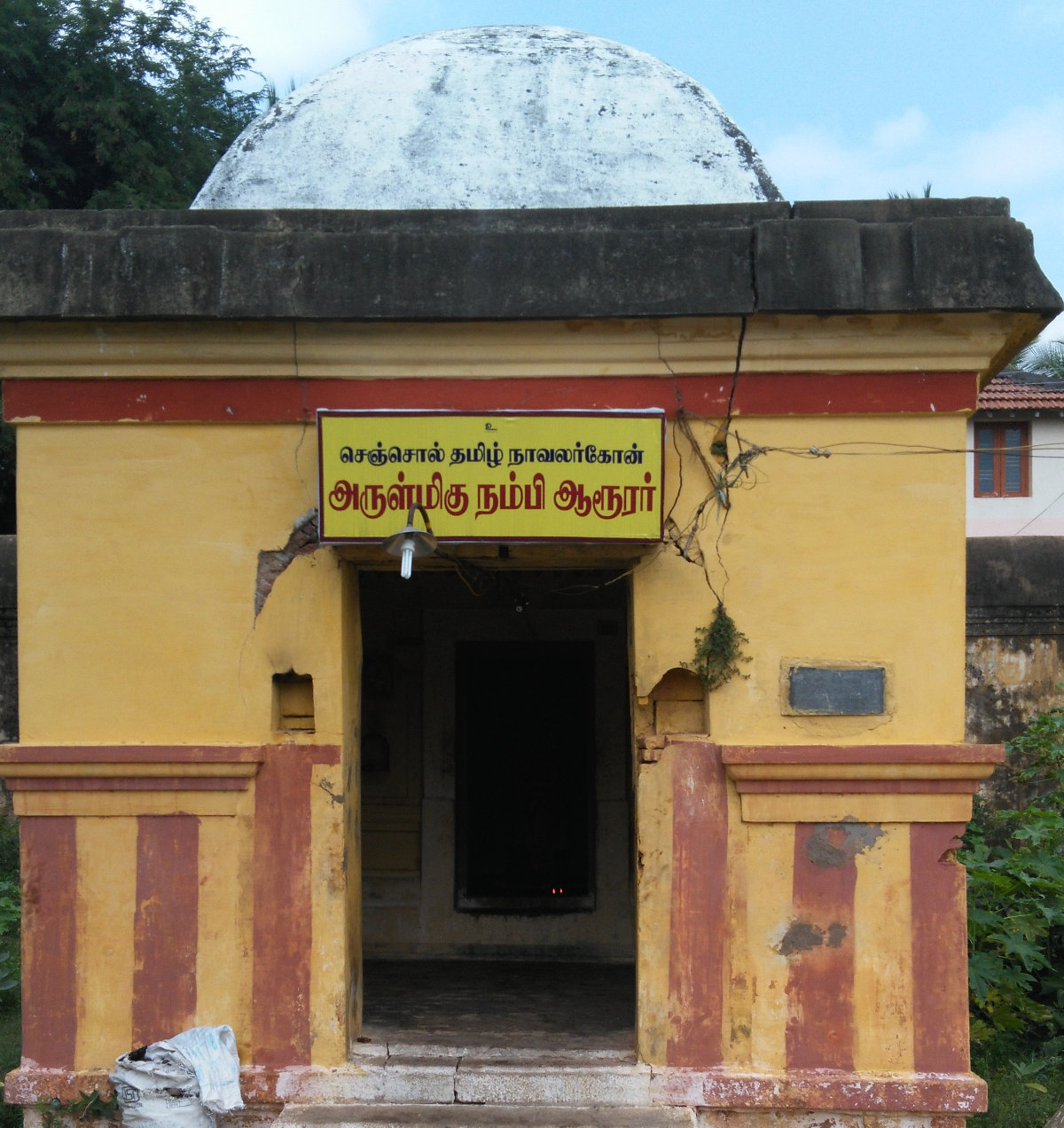 It is believed that lords Suryan, Agni, Varuna, Kali and Sage Baratha have worshiped the lord here. Lord Suryan (Kathiravan in Tamil) stayed in a nearby village (Kathiramangalam) and worshiped the lord of this temple.
The seven sages (Saptharishis) – Kasyapa, Aangirasa, Gaudama, Markandeya, Vashistar, Agasthiyar and Pulasthiyar have also worshiped the lord here.
Deities in the temple
In this temple, Goddess Parvathy can be seen in two places. There is a separate shrine where she is praised as Goddess Arumpannavalamulai Ammai. In the corridors, there is another smaller shrine where she is praised as Goddess Parimalasugantha Nayagi.
Other than the shrines of Lord Shiva and Goddess Parvathy, shrines and idols of lords Thunaivantha Vinayakar, Valanchuzhi Vinayakar, Murugan, Natarajar, Dakshinmurthy, Agasthiyar, Viswanathar, Sabtharishis, 63 Nayanmars, Nalvars, Pancha lingams, Navagraham, Mangala Saneeswarar, Mahalakshmi, Suryan and Bairavar can be seen in the corridors.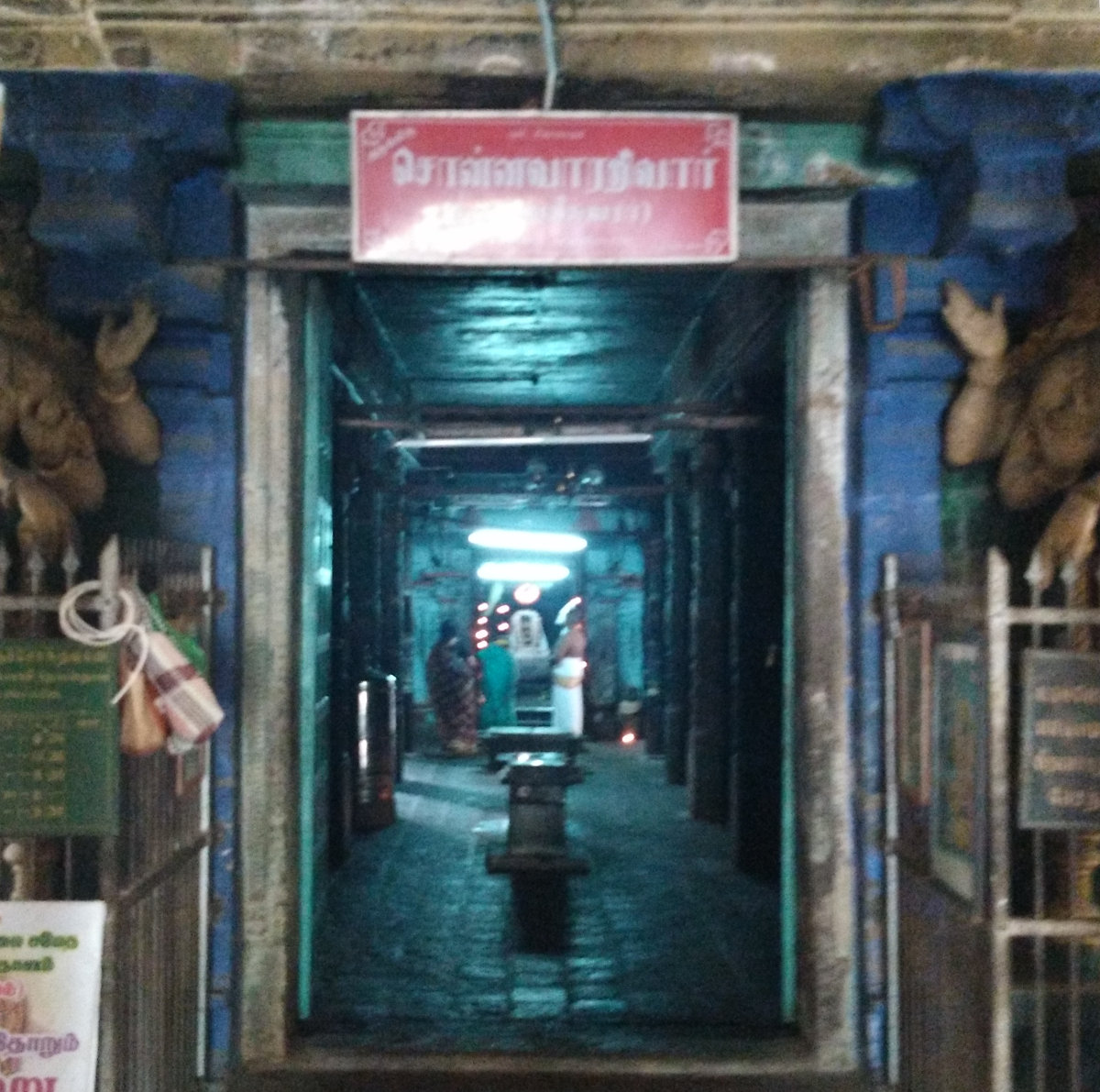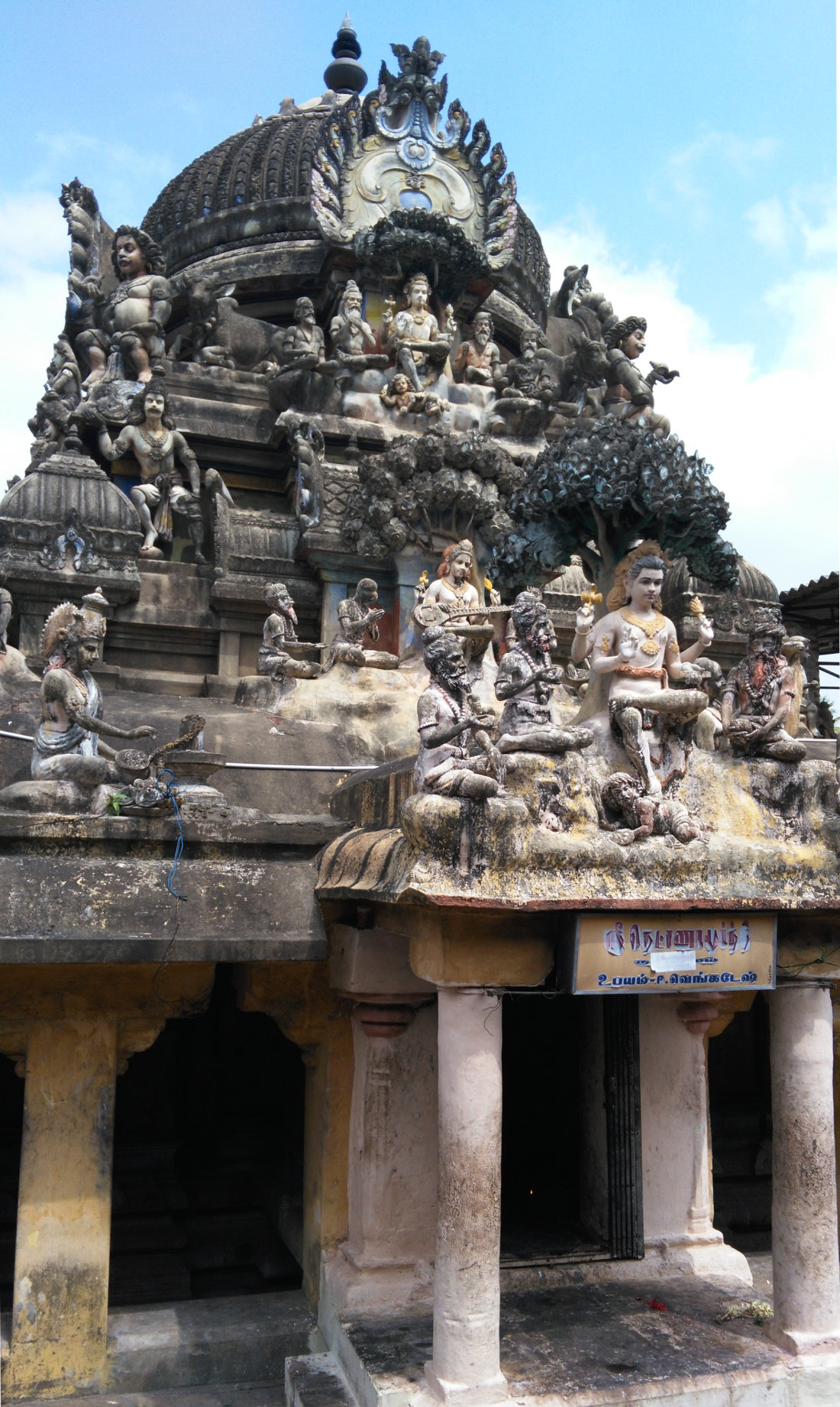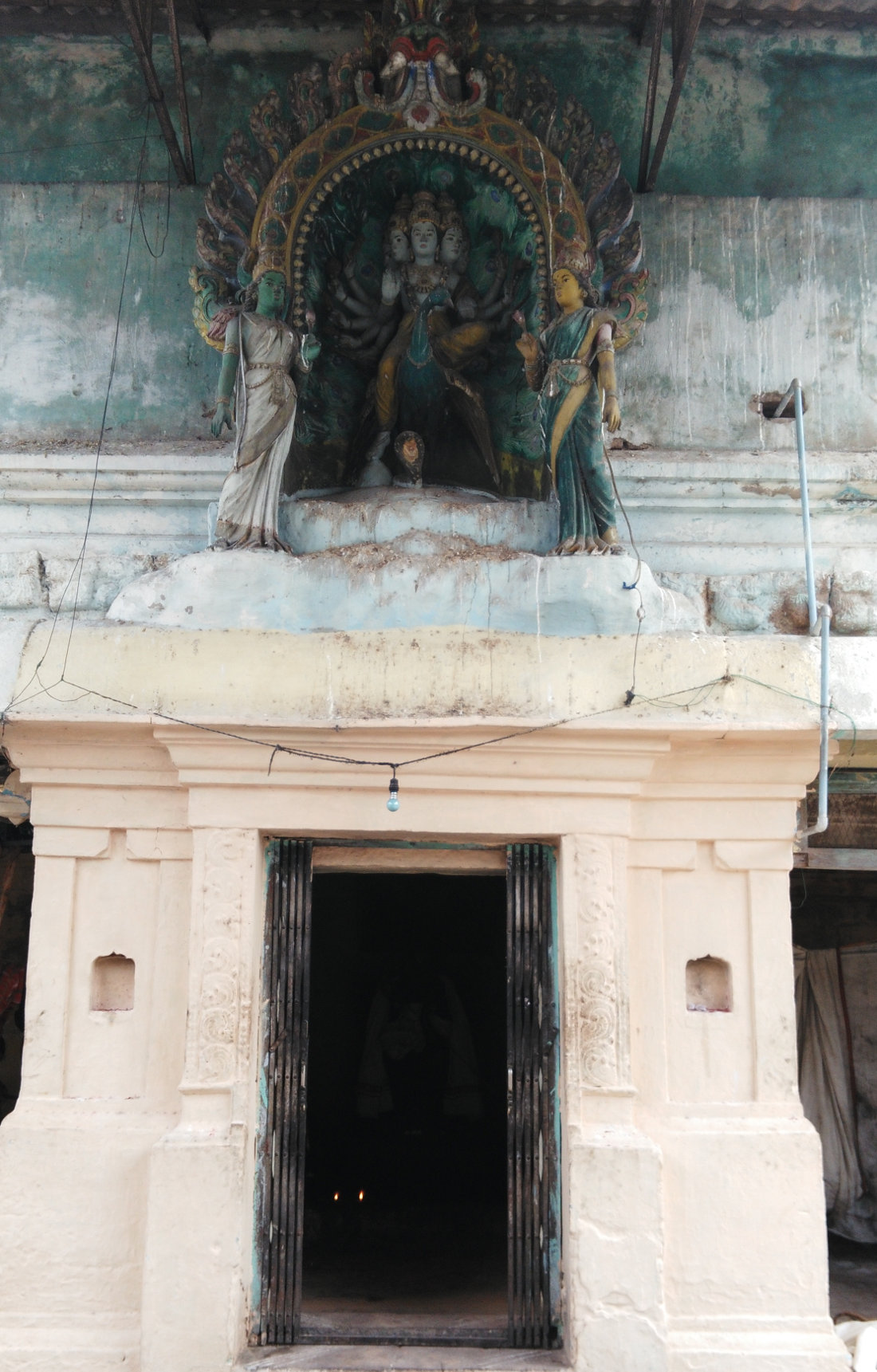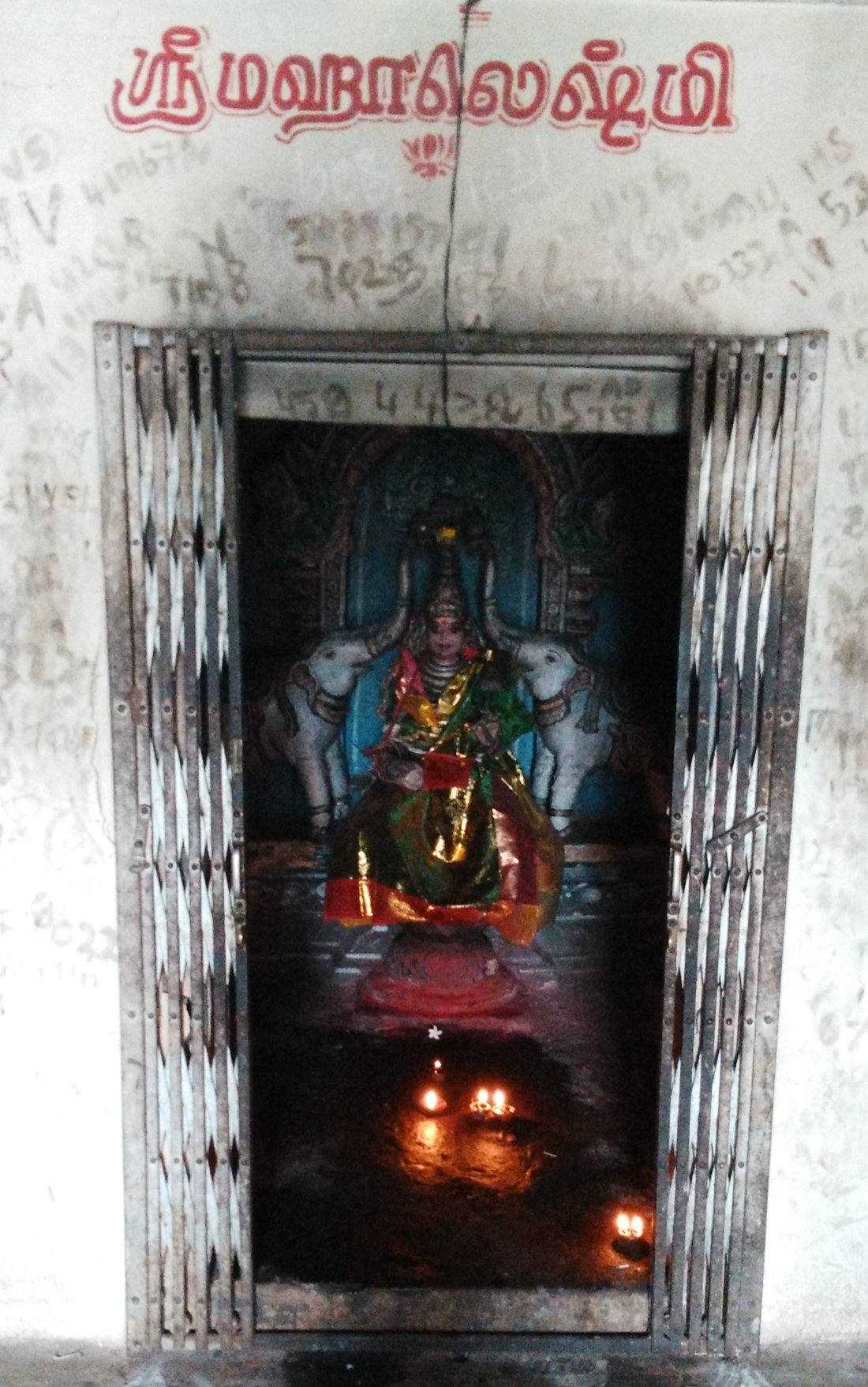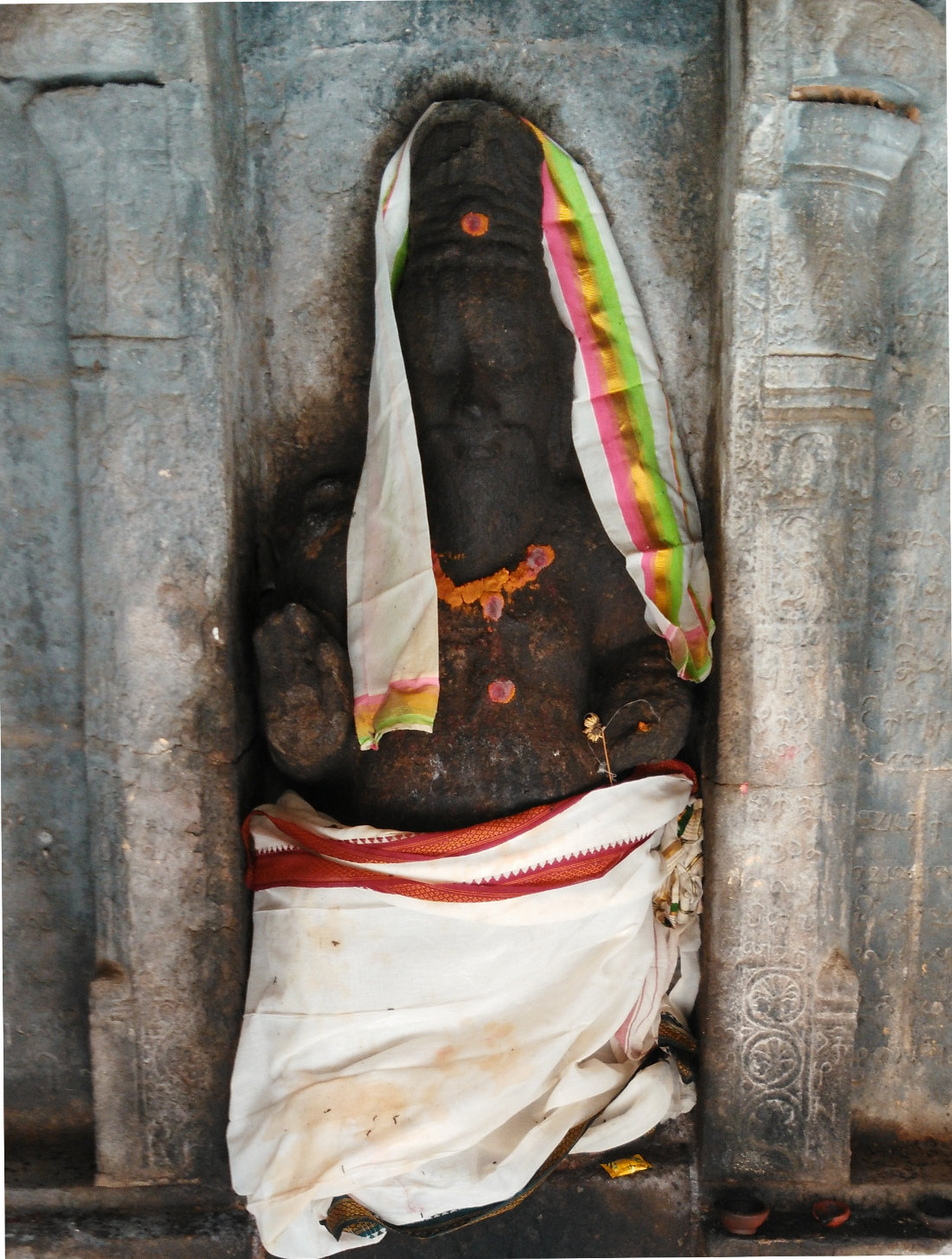 Salient Features
The idol of Lord Murugan looks very beautiful. The unique feature of this idol is that his peacock mount can be seen in front of him.
The sanctum sanctorum's tower has many beautiful sculptures which highlights the exemplary craftsmanship of the artists of that time.
The lord is also praised in saint Manickavasakar's Thiruvasagam. Iyadigal Kadavar Kon, Nambi Andar Nambi and Sekkizhar have also praised the lord of this temple in their songs.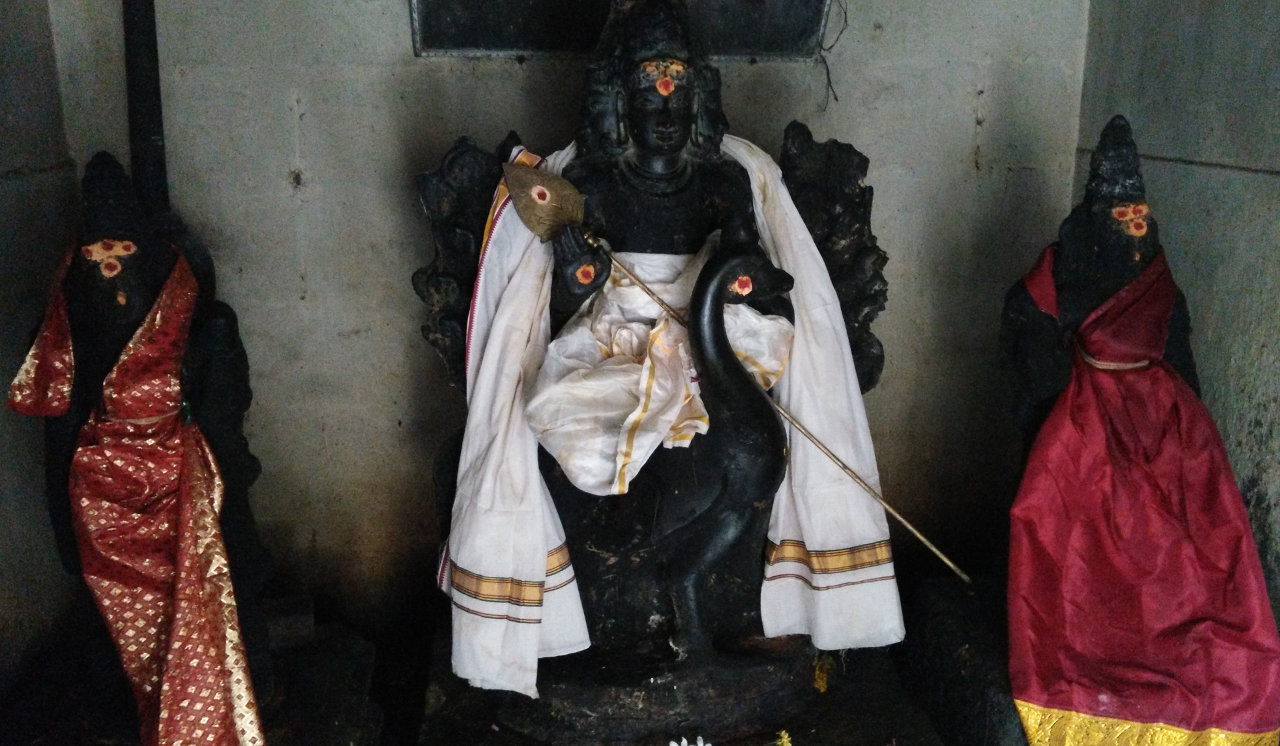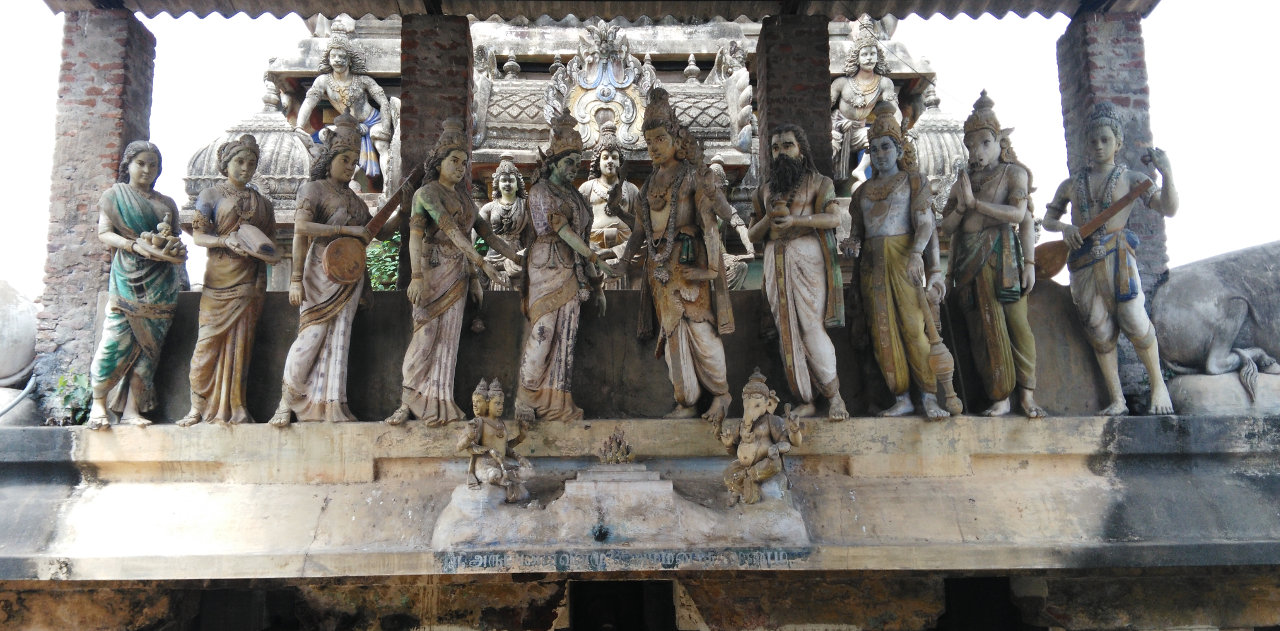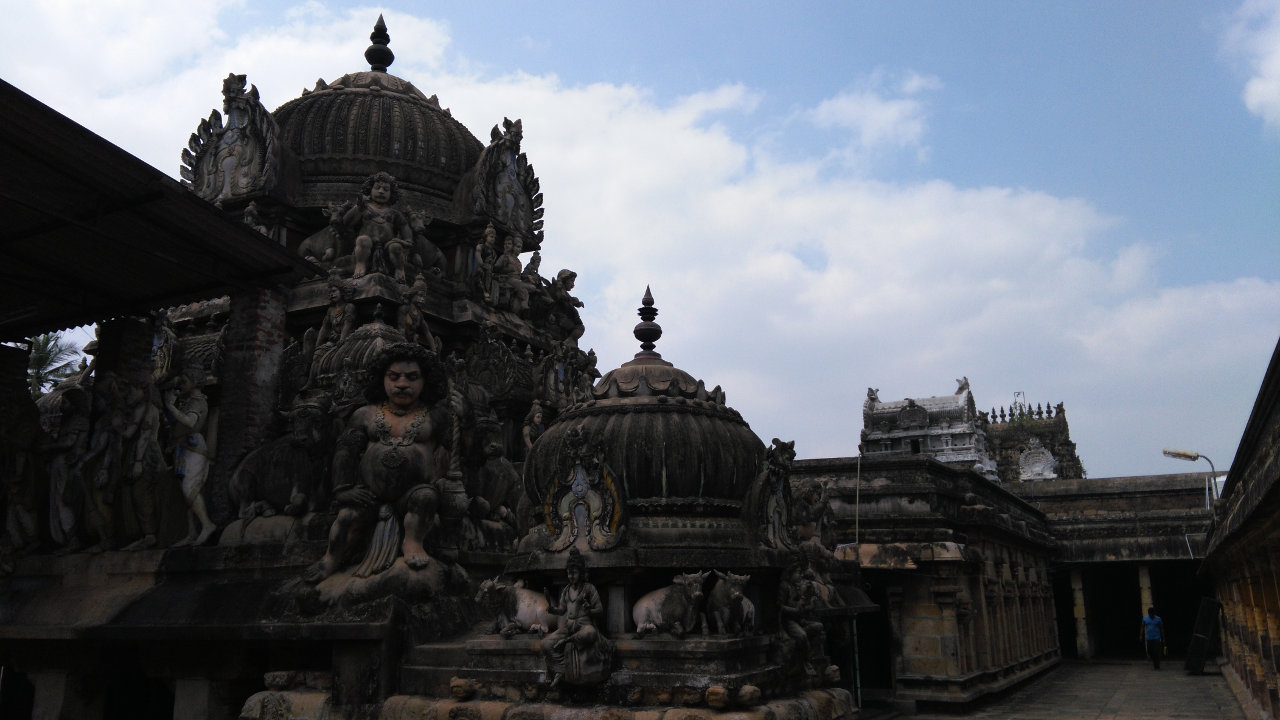 Greatness of this temple
Devotees believe that worshiping the lord here will remove obstacles from their wedding proposals.
Important Festivals
Some of the important festivals celebrated in this temple are –
Maha Shivrathri in the Tamil month of Masi (February-March);
Panguni Uthiram in the Tamil month of Panguni (March-April);
Vinayakar Chaturthi in the Tamil month of Aavani (Aug-Sept); and
Somavaram (Mondays) in the Tamil month of Karthikai (November-December).
Pradosham is also observed regularly.
Temple Timings
From 09.00 AM to 12.00 noon and 05.30 PM to 08.30 PM.
Temple Address
Sri Uktha Vedeeswararaswamy Temple,
Kutthalam Post,
Mayiladuthurai Taluk,
Nagapattinam District,
Tamil Nadu – 609 801.
Tele: +91 4364 235 225, 94878 83800.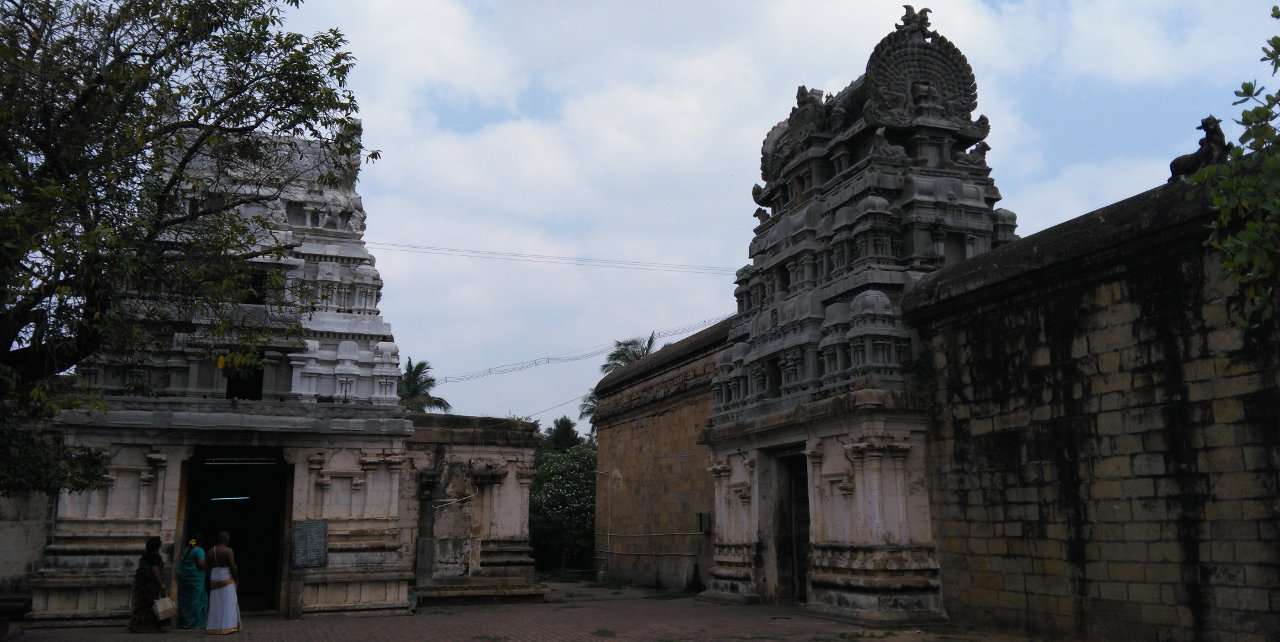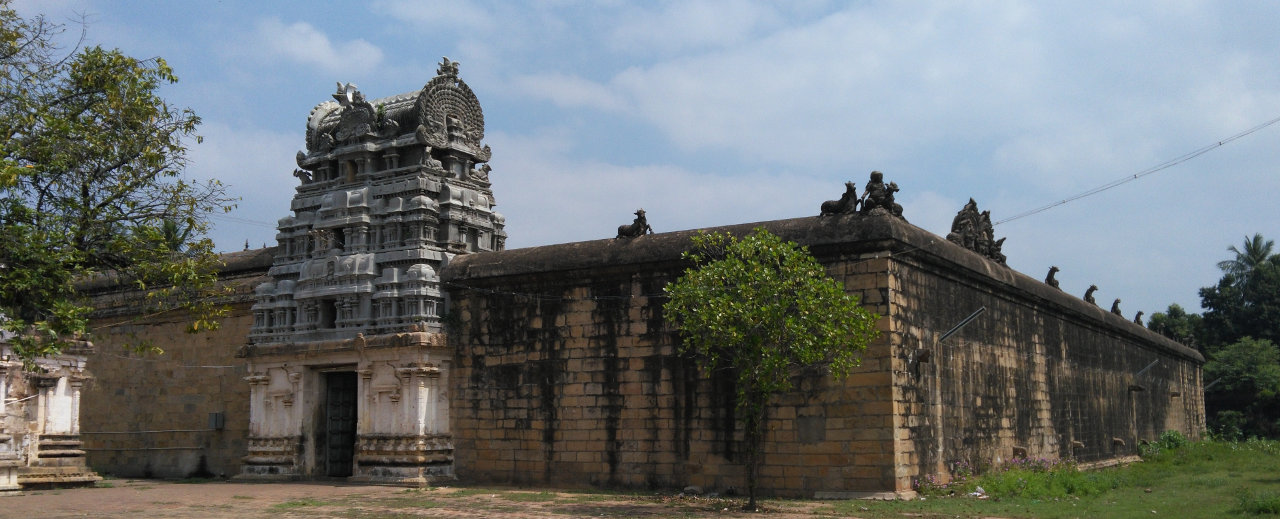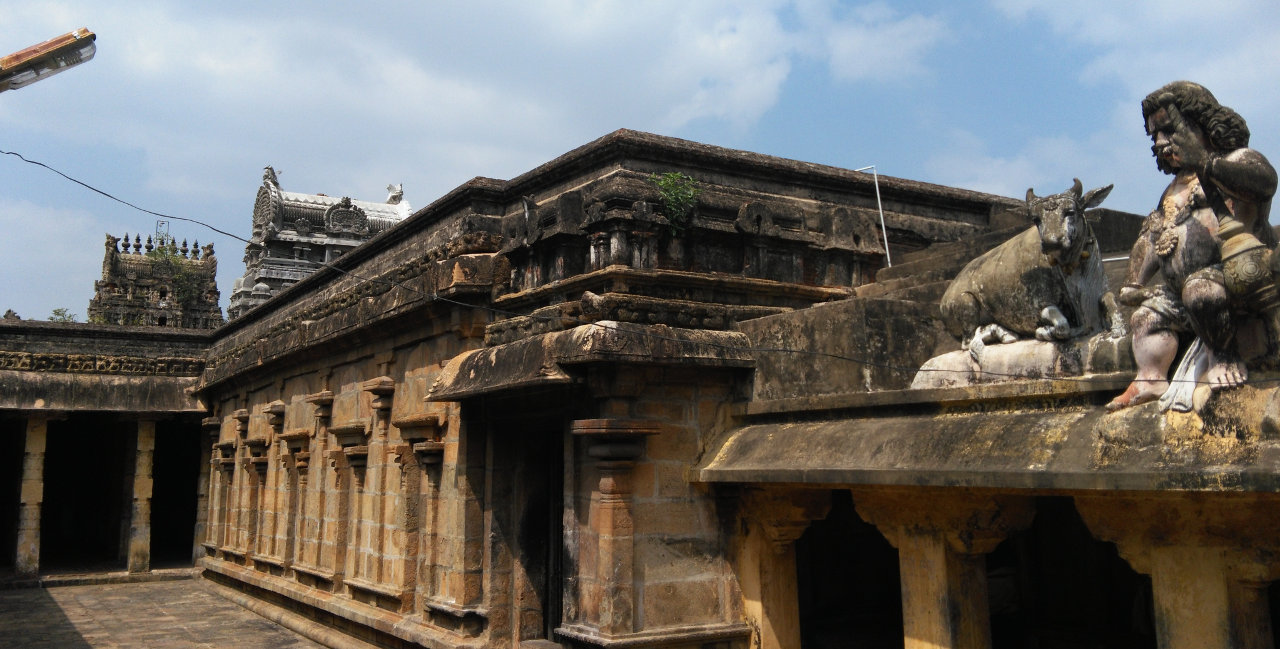 ---
Pathigam (Hymn) with English transliteration
Saint Thirunavukkarasar visited this temple and sang this Pathigam.
Devotees visiting this temple should make it a practice to recite this Pathigam.
பொருத்திய குரம்பை தன்னைப்
பொருளெனக் கருத வேண்டா
இருத்தியெப் போதும் நெஞ்சுள்
இறைவனை ஏத்து மின்கள்
ஒருத்தியைப் பாகம் வைத்தங்
கொருத்தியைச் சடையில் வைத்த
துருத்தியஞ் சுடரி னானைத்
தொண்டனேன் கண்ட வாறே.
"Poruththiya kurampai thaṉṉaip
poruḷeṉak karutha vēṇṭā
iruththiyep pōthum neñchuḷ
iṟaivaṉai ēththu miṉkaḷ
oruththiyaip pākam vaiththaṅ
koruththiyaich chaṭaiyil vaiththa
thuruththiyañ chuṭari ṉāṉaith
thoṇṭaṉēṉ kaṇṭa vāṟē".
சவைதனைச் செய்து வாழ்வான்
சலத்துளே யழுந்து கின்ற
இவையொரு பொருளு மல்ல
இறைவனை ஏத்து மின்னோ
அவைபுர மூன்றும் எய்தும்
அடியவர்க் கருளிச் செய்த
சுவையினைத் துருத்தி யானைத்
தொண்டனேன் கண்ட வாறே.
"Savaithaṉaich seythu vāzhvāṉ
salaththuḷē yazhunthu kiṉṟa
ivaiyoru poruḷu malla
iṟaivaṉai ēththu miṉṉō
avaipura mūṉtṟum eythum
aṭiyavark karuḷich cheytha
suvaiyiṉaith thuruththi yāṉaith
thoṇṭaṉēṉ kaṇṭa vāṟē".
உன்னியெப் போதும் நெஞ்சுள்
ஒருவனை ஏத்து மின்னோ
கன்னியை ஒருபால் வைத்துக்
கங்கையைச் சடையுள் வைத்துப்
பொன்னியின் நடுவு தன்னுள்
பூம்புனல் பொலிந்து தோன்றுந்
துன்னிய துருத்தி யானைத்
தொண்டனேன் கண்ட வாறே.
"Uṉṉiyep pōthum neñchuḷ
oruvaṉai ēththu miṉṉō
kaṉṉiyai orupāl vaiththuk
gaṅgaiyaich chaṭaiyuḷ vaiththup
poṉṉiyiṉ naṭuvu thaṉṉuḷ
pūmpuṉal polinthu thōṉtṟun
thuṉṉiya thuruththi yāṉaith
thoṇṭaṉēṉ kaṇṭa vāṟē".
ஊன்றலை வலிய னாகி
உலகத்துள் உயிர்கட் கெல்லாந்
தான்றலைப் பட்டு நின்று
சார்கன லகத்து வீழ
வான்றலைத் தேவர் கூடி
வானவர்க் கிறைவா வென்னுந்
தோன்றலைத் துருத்தி யானைத்
தொண்டனேன் கண்ட வாறே.
"Ūṉtṟalai valiya ṉāki
ulakaththuḷ uyirkaṭ kellān
thāṉṟalaip paṭṭu niṉtṟu
sārkaṉa lakaththu vīzha
vāṉtṟalaith thēvar kūṭi
vāṉavark kiṟaivā veṉṉun
thōṉṟalaith thuruththi yāṉaith
thoṇṭaṉēṉ kaṇṭa vāṟē".
உடல்தனைக் கழிக்க லுற்ற
உலகத்துள் உயிர்கட் கெல்லாம்
இடர்தனைக் கழிக்க வேண்டில்
இறைவனை ஏத்து மின்னோ
கடல்தனில் நஞ்ச முண்டு
காண்பரி தாகி நின்ற
சுடர்தனைத் துருத்தி யானைத்
தொண்டனேன் கண்ட வாறே.
"Udalthaṉaik kazhikka lutṟa
ulakaththuḷ uyirkaṭ kellām
iṭarthaṉaik kazhikka vēṇṭil
iṟaivaṉai ēththu miṉṉō
kaṭalthaṉil nañcha muṇdu
kāṇpari thāki niṉtṟa
suṭarthaṉaith thuruththi yāṉaith
thoṇṭaṉēṉ kaṇṭa vāṟē".
அள்ளலைக் கடக்க வேண்டில்
அரனையே நினைமி னீணர்கள்
பொள்ளலிக் காயந் தன்னுட்
புண்டரீ கத்தி ருந்த
வள்ளலை வான வர்க்குங்
காண்பரி தாகி நின்ற
துள்ளலைத் துருத்தி யானைத்
தொண்டனேன் கண்ட வாறே.
"Aḷḷalaik kaṭakka vēṇṭil
araṉaiyē niṉaimi ṉīṇarkaḷ
poḷḷalik kāyan thaṉṉuṭ
puṇṭarī kaththi runtha
vaḷḷalai vāṉa varkkuṅ
kāṇpari thāki niṉtṟa
thuḷḷalaith thuruththi yāṉaith
thoṇṭaṉēṉ kaṇṭa vāṟē".
பாதியில் உமையாள் தன்னைப்
பாகமா வைத்த பண்பன்
வேதியன் என்று சொல்லி
விண்ணவர் விரும்பி ஏத்தச்
சாதியாஞ் சதுர்மு கனுஞ்
சக்கரத் தானுங் காணாச்
சோதியைத் துருத்தி யானைத்
தொண்டனேன் கண்ட வாறே.
"Pāthiyil umaiyāḷ thaṉṉaip
pākamā vaiththa paṇpaṉ
vēthiyaṉ eṉtṟu solli
viṇṇavar virumpi ēththach
chātiyāñ chathurmu kaṉuñ
chakkarath thāṉuṅ kāṇāch
chōthiyaith thuruththi yāṉaith
thoṇṭaṉēṉ kaṇṭa vāṟē".
சாமனை வாழ்க்கை யான
சலத்துளே யழுந்த வேண்டா
தூமநல் லகிலுங் காட்டித்
தொழுதடி வணங்கு மின்னோ
சோமனைச் சடையுள் வைத்துத்
தொன்னெறி பலவுங் காட்டுந்
தூமனத் துருத்தி யானைத்
தொண்டனேன் கண்ட வாறே.
"Sāmaṉai vāzhkkai yāṉa
salaththuḷē yazhuntha vēṇṭā
thūmanal lakiluṅ kāṭṭith
thozhuthaṭi vaṇaṅku miṉṉō
sōmaṉaich chaṭaiyuḷ vaiththuth
thoṉṉeṟi palavuṅ kāṭṭun
thūmaṉath thuruththi yāṉaith
thoṇṭaṉēṉ kaṇṭā vāṟē".
குண்டரே சமணர் புத்தர்
குறியறி யாது நின்று
கண்டதே கருது வார்கள்
கருத்தெண்ணா தொழிமி னீணர்கள்
விண்டவர் புரங்கள் எய்து
விண்ணவர்க் கருள்கள் செய்த
தொண்டர்கள் துணையி னானைத்
துருத்திநான் கண்ட வாறே.
"Kuṇṭarē samaṇar puththar
kuṟiyaṟi yāthu niṉtṟu
kaṇṭathē karuthu vārkaḷ
karuththeṇṇā thozhimi ṉīṇarkaḷ
viṇṭavar puraṅkaḷ eythu
viṇṇavark karuḷkaḷ seytha
thoṇṭarkaḷ thuṇaiyi ṉāṉaith
thuruththināṉ kaṇṭa vāṟē".
பிண்டத்தைக் கழிக்க வேண்டிற்
பிரானையே பிதற்று மின்கள்
அண்டத்தைக் கழிய நீண்ட
அடலரக் கன்றன் ஆண்மை
கண்டொத்துக் கால்வி ரலால்
ஊன்றிமீண் டருளிச் செய்த
துண்டத்துத் துருத்தி யானைத்
தொண்டனேன் கண்ட வாறே.
"Piṇṭaththaik kazhikka vēṇṭiṟ
pirāṉaiyē pithatṟu miṉkaḷ
aṇṭaththaik kazhiya nīṇṭa
aṭalarak kaṉtṟaṉ āṇmai
kaṇṭoththuk kālvi ralāl
ūṉtṟimīṇ ṭaruḷich cheytha
thuṇṭaththuth thuruthtih yāṉaith
thoṇṭaṉēṉ kaṇṭa vāṟē".