Visited on: 11th March, 2017
Location
Thirunelvayil is located at a distance of about 5 kms from Chidambaram. The temple is 2 kms away from Annamalai University. From the university, take the Kavarapattu road and then take the Perampattu road. The temple is on this road itself.
Other Devara Paadal Petra Sthalams near this place are – Chidambaram, Thiruvetkalam and Thirukkazhippalai.
General Information
| | |
| --- | --- |
| Moolavar | Sri Uchinatheswarar, Sri Madhyaneswarar |
| Ambal | Sri Kanakambikai |
| Theertham (Holy water) | Kirupasamudram pond |
| Sthala Vriksham (Sacred Tree) | Nelli tree (Ghooseberry) |
| Pathigam (Hymn) rendered by | Saint Thirugnanasambanthar |
This is one of the 276 Devara Paadal Petra Shiva Sthalams and 3rd Shiva Sthalam on the northern bank of the river Cauvery in Chozha Nadu (Vadakarai).
Lord Shiva in this temple is a Swayambumurthi (self-manifested).
This east facing temple has a single corridor and it has a 5-tiered main tower (Rajagopuram).
The last consecration ceremony (Kumbabishekam) took place on 11.09.2008. Before that, the ceremonies were held on 01.09.1982, 16.06.1957 and 24.05.1928.
History of the Temple
The historical name of this place is Thirunelvoyil. "Thiru" a respectful prefix, "nel voyil" means "sprawling paddy fields at the entrance of the village". However, now this place is called "Shiva Puri".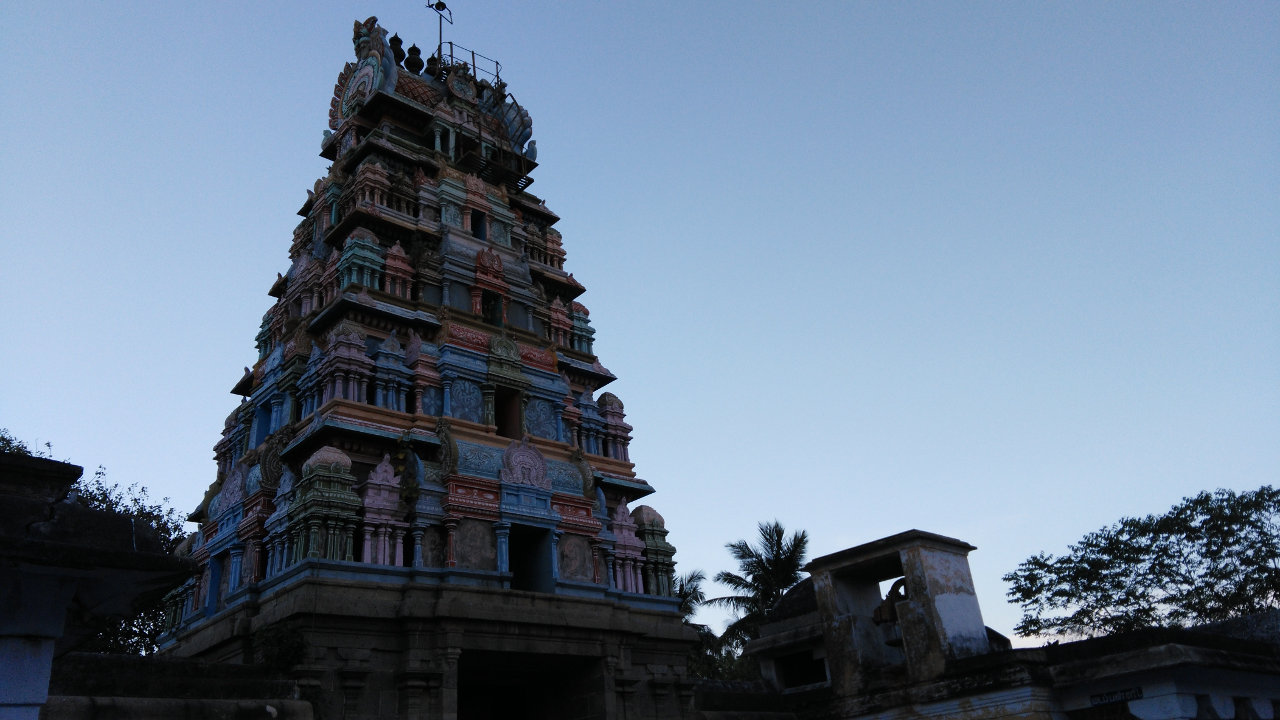 Legend
It is believed that Saint Thirugnanasambanthar stayed in Thiruvetkalam, a neighbouring Paadal Petra Shiva Sthalam, and visited other temples from there. During one of his visits to this temple, he was blessed with food at noon time by Lord Shiva in the guise of the temple priest. Hence, the lord here is praised as "Sri Uchinatheswarar" – "Uchi" means noon, "Nathar" means lord and "Eswarar" is a respectful suffix in Tamil. In Sanskrit, the lord is called "Sri Madhyaneswarar".
It is also believed that sage Agasthiyar and Kanva Maharishi have worshiped the lord of this temple.
Deities in the temple
Apart from Lord Shiva and Goddess Parvathy's shrines, shrines and idols of lords Vinayakar, Murugan, Narthana Vinayakar, Natarajar, Dakshinamurthy, Lingothbavar, Brahma, Pancha Lingams, Saneeswaran, Chandiran, Suryan, Thirugnanasaambanthar, Kasi Viswanathar, Navagraham, Bairavar, Durgai and Chandikeswarar can be seen in the corridors.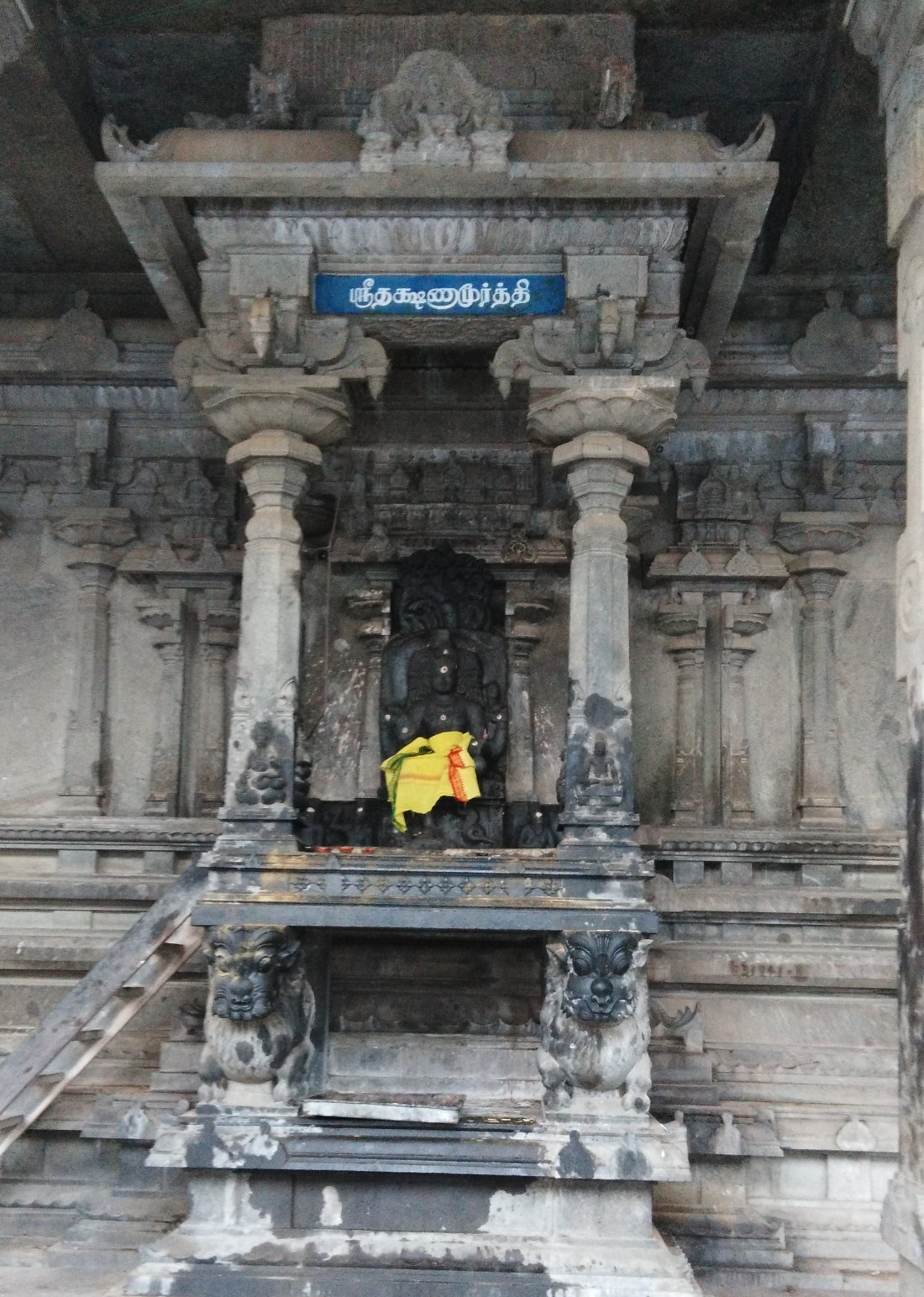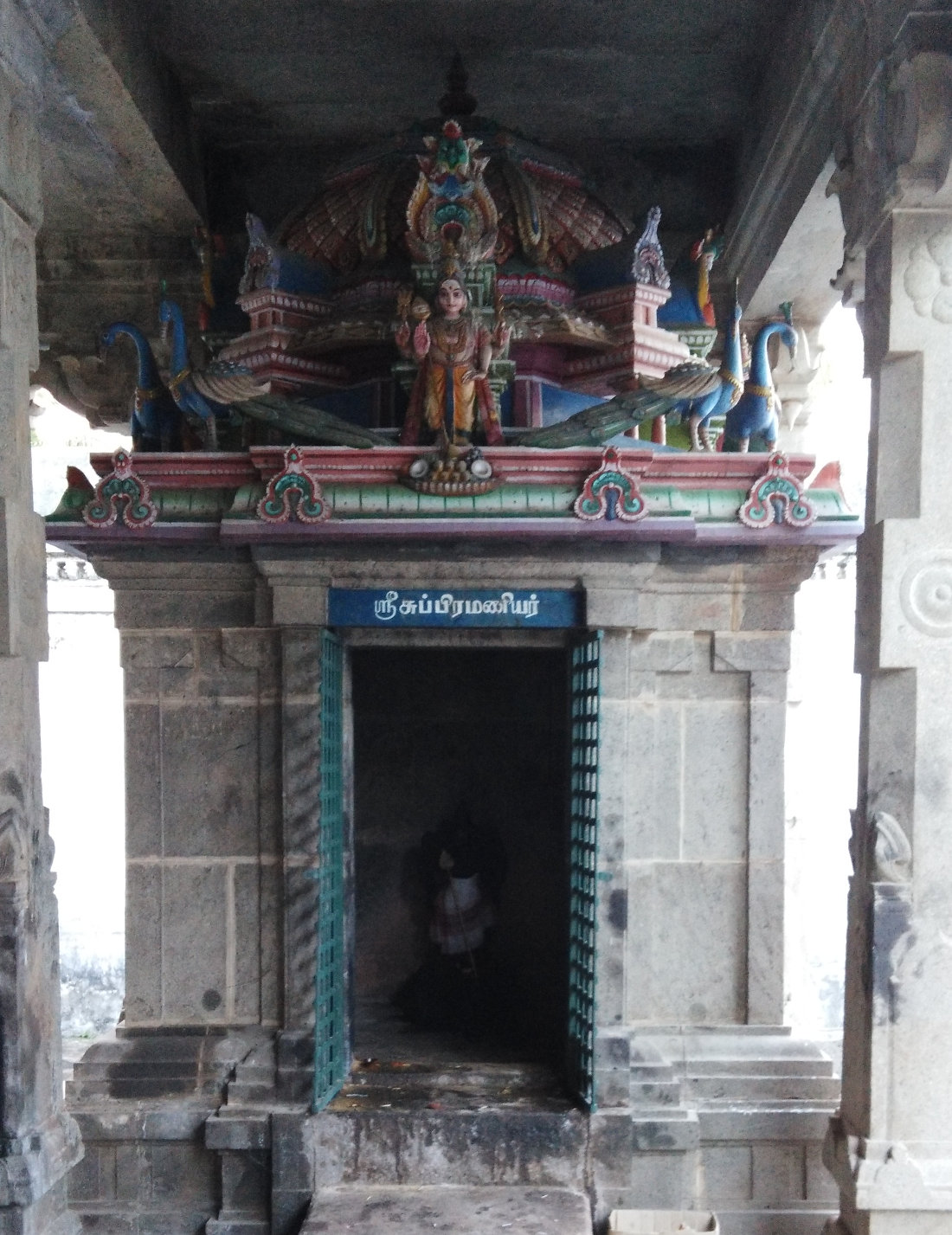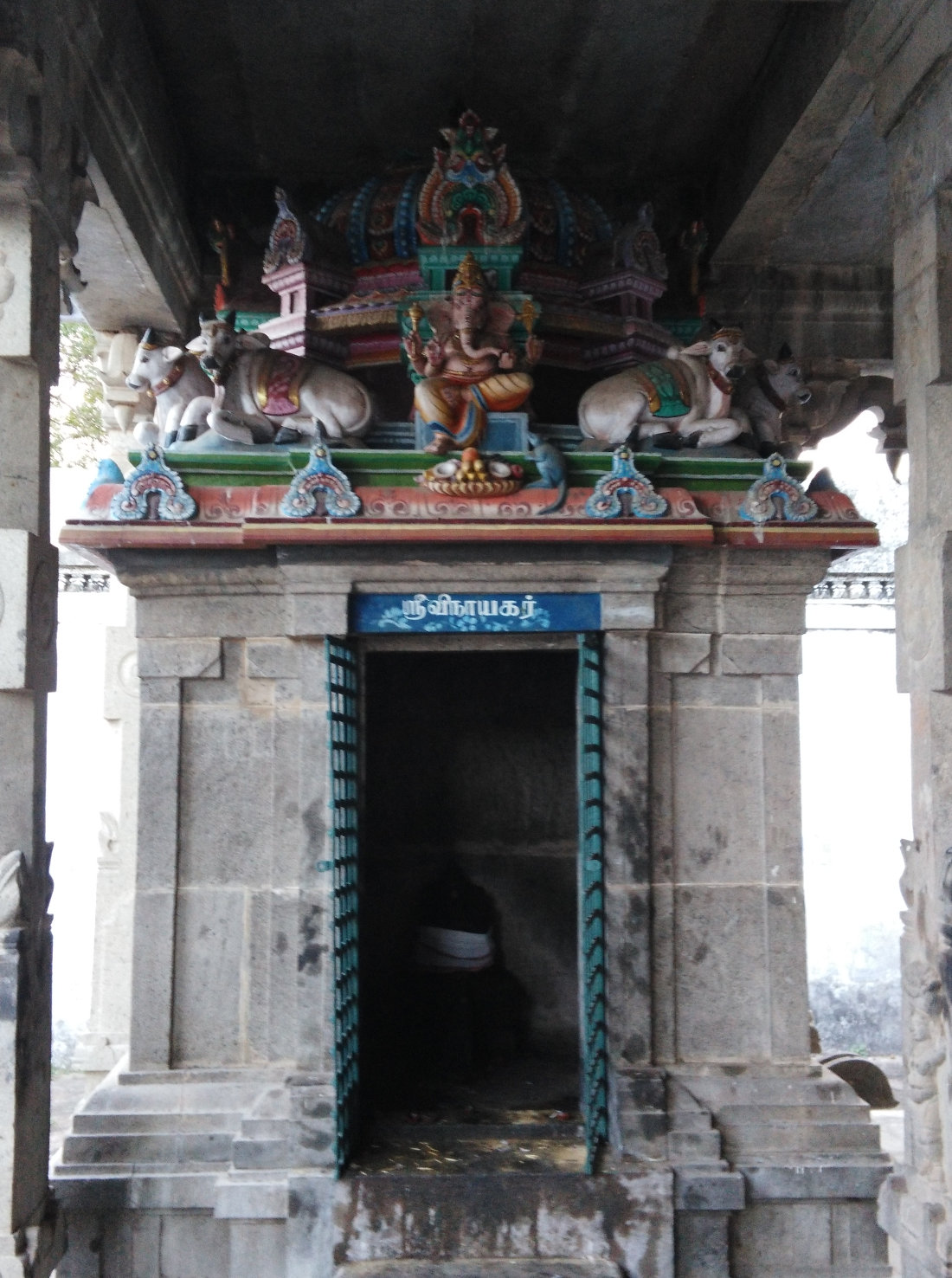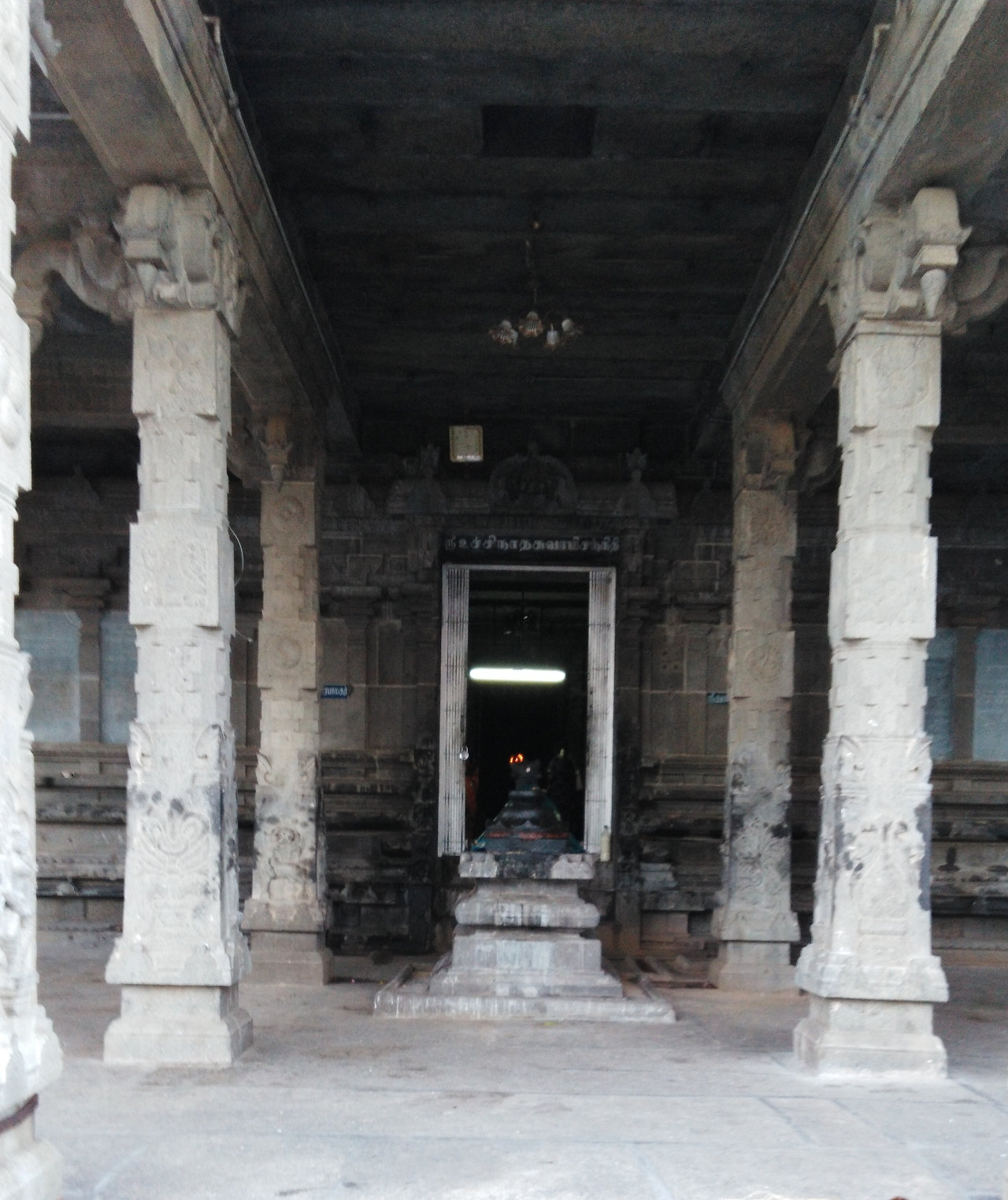 Salient Features
Behind the main deity in the sanctum sanctorum, there is a sculpture that depicts Lord Shiva and Goddess Parvathi in their wedding form.
Saint Arunagirinadhar has sang songs in praise of Lord Murugan of this temple in his revered Thirupugazh.
The pillars in this temple have beautifully carved reliefs.
Greatness of this temple
Devotees perform the ritual of "Annaprashan" (feeding the child rice for the first time) in this temple with the hope that their child would never have to face food shortage in his life.
Important Festivals
Some of the important festivals celebrated in this temple are –
Vaikasi Visakam in the Tamil month of Vaikasi (Mar-Apr),
Navarathri in the Tamil month of Purattasi (Sept-Oct),
Soma Varams (Mondays) in the Tamil month of Karthikai (Nov-Dec).
Pradosham is also observed regularly.
Temple Timings
From 07.00 AM to 12.00 noon and 04.30 PM to 07.30 PM
Temple Address
Sri Uchinatheswarar Temple,
Sivapuri Post,
Annamalai Nagar Via,
Chidambaram Taluk,
Cuddalore District,
Tamil Nadu – 608002.

Tele: +91 98426 24580.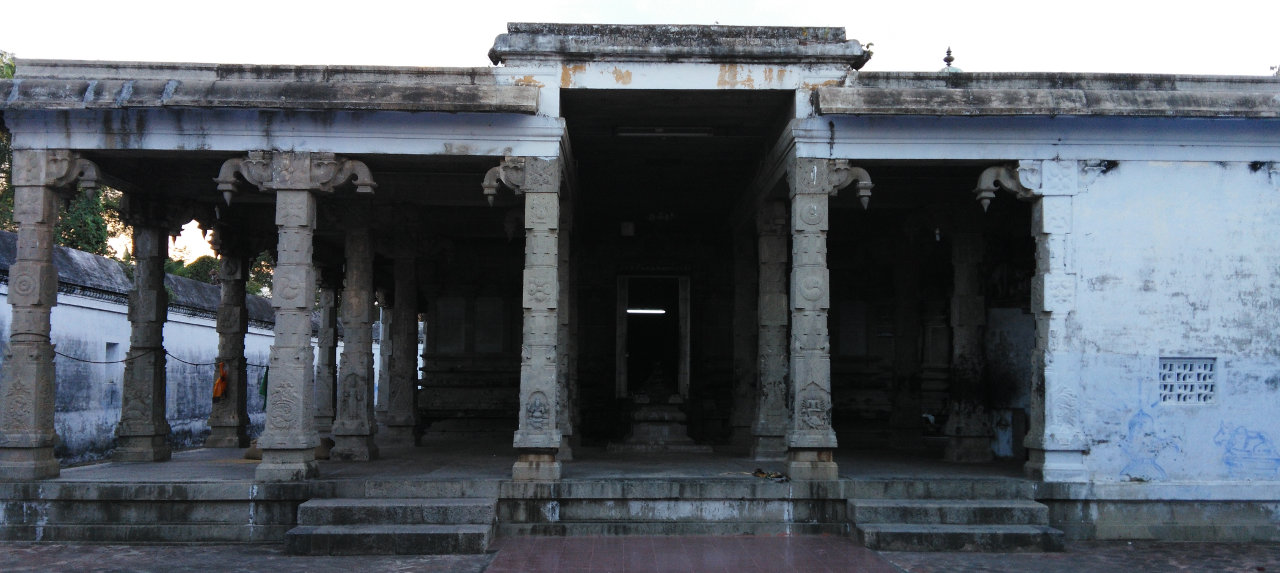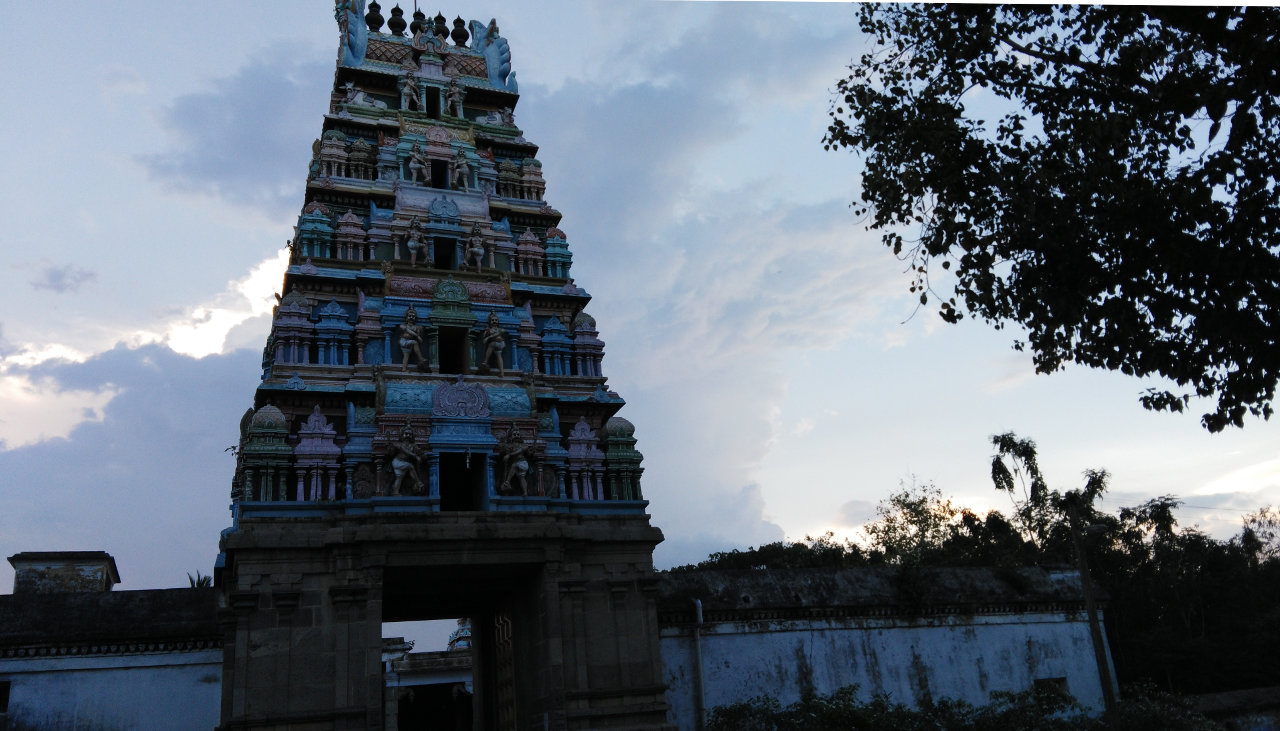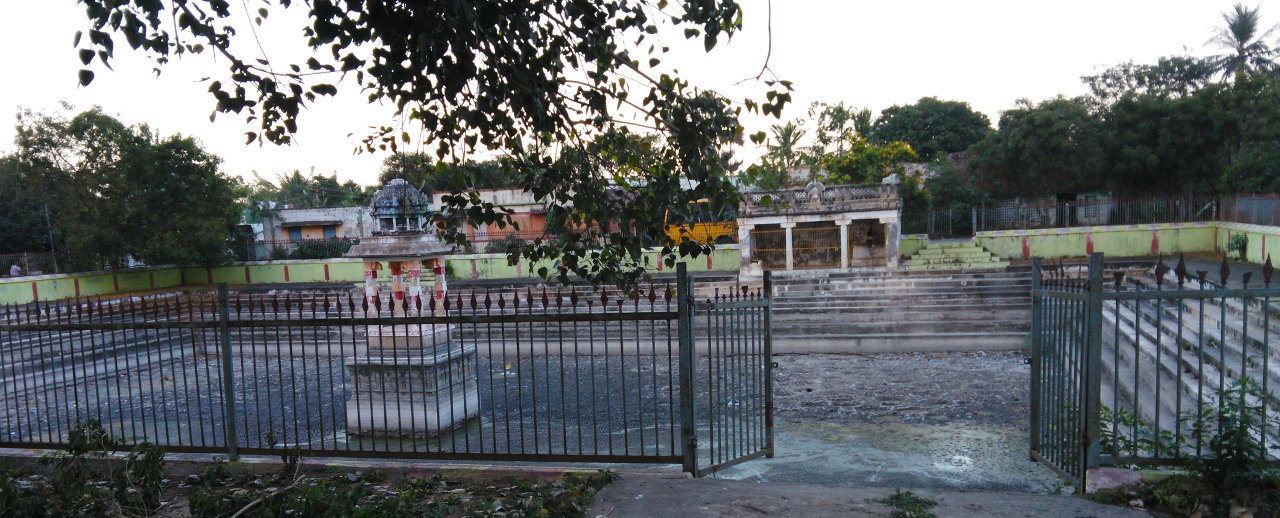 ---
Pathigam (Hymn) with English transliteration

Saint Thirugnanasambanthar visited this temple and sang this Pathigam.
Devotees visiting this temple should make it a practice to recite this Pathigam.
புடையி னார்புள்ளி கால்பொ ருந்திய
மடையி னார்மணி நீர்நெல் வாயிலார்
நடையில் நால்விரற் கோவ ணந்நயந்
துடையி னாரெம துச்சி யாரே.
"Puṭaiyi ṉārpuḷḷi kālpo runthiya
maṭaiyi ṉārmaṇi nīrnel vāyilār
naṭaiyil nālviraṟ kōva ṇannayan
thuṭaiyi ṉārema thuchi yārē".
வாங்கி னார்மதில் மேற்க ணைவெள்ளந்
தாங்கி னார்தலை யாய தன்மையர்
நீங்கு நீரநெல் வாயி லார்தொழ
ஓங்கி னாரெம துச்சி யாரே.
"Vāṅki ṉārmathil mēṟka ṇaiveḷḷan
thāṅki ṉārthalai yāya thaṉmaiyar
nīṅku nīranel vāyi lārthozha
ōṅki ṉārema thuchi yārē".
நிச்ச லேத்தும்நெல் வாயி லார்தொழ
இச்சை யாலுறை வாரெம் மீசனார்
கச்சை யாவதோர் பாம்பி னார்கவின்
இச்சை யாரெம துச்சி யாரே.
"Nicha lēthumnel vāyi lārthozha
ichai yāluṟai vārem mīsaṉār
kachai yāvathōr pāmpi ṉārkaviṉ
ichai yārema thuchi yārē".
மறையி னார்மழு வாளி னார்மல்கு
பிறையி னார்பிறை யோடி லங்கிய
நிறையி னாரநெல் வாயிலார் தொழும்
இறைவ னாரெம துச்சி யாரே.
"Maṟaiyi ṉārmazhu vāḷi ṉārmalku
piṟaiyi ṉārpiṟai yōṭi laṅkiya
niṟaiyi ṉāranel vāyilār thozhum
iṟaiva ṉārema thuchi yārē".
விருத்த னாகிவெண் ணீறு பூசிய
கருத்த னார்கன லாட்டு கந்தவர்
நிருத்த னாரநெல் வாயில் மேவிய
ஒருத்த னாரெம துச்சி யாரே.
"Virutha ṉākiveṇ ṇīṟu pūsiya
karuha ṉārkaṉa lāṭṭu kanthavar
nirutha ṉāranel vāyil mēviya
orutha ṉārema thuchi yārē".
காரி னார்கொன்றைக் கண்ணி யார்மல்கு
பேரி னார்பிறை யோடி லங்கிய
நீரி னாரநெல் வாயிலார் தொழும்
ஏரி னாரெம துச்சி யாரே.
"Kāri ṉārkoṉtṟaik kaṇṇi yārmalku
pēri ṉārpiṟai yōṭi laṅkiya
nīri ṉāranel vāyilār thozhum
ēri ṉārema thuchi yārē".
ஆதி யாரந்த மாயி னார்வினை
கோதி யார்மதில் கூட்ட ழித்தவர்
நீதி யாரநெல் வாயி லார்மறை
ஓதி யாரெம துச்சி யாரே.
"Āthi yārantha māyi ṉārviṉai
kōthi yārmathil kūṭṭa zhithavar
nīthi yāranel vāyi lārmaṟai
ōthi yārema thuchi yārē".
பற்றி னான்அரக் கன்க யிலையை
ஒற்றி னாரொரு கால்வி ரலுற
நெற்றி யாரநெல் வாயி லார்தொழும்
பெற்றி யாரெம துச்சி யாரே.
"Patṟi ṉāṉarak kaṉka yilaiyai
otṟi ṉāroru kālvi raluṟa
netṟi yāranel vāyi lārthozhum
petṟi yārema thuchi yārē".
நாடி னார்மணி வண்ணன் நான்முகன்
கூடி னார்குறு காத கொள்கையர்
நீடி னாரநெல் வாயி லார்தலை
ஓடி னாரெம துச்சி யாரே.
"Nāṭi ṉārmaṇi vaṇṇaṉ nāṉmukaṉ
kūṭi ṉārkuṟu kātha koḷkaiyar
nīṭi ṉāranel vāyi lārthalai
ōṭi ṉārema thuchi yārē".
குண்ட மண்துவர்க் கூறை மூடர்சொல்
பண்ட மாகவை யாத பண்பினர்
விண்ட யங்குநெல் வாயி லார்நஞ்சை
உண்ட கண்டரெம் உச்சி யாரே.
"Kuṇṭa maṇthuvark kūṟai mūṭarsol
paṇṭa mākavai yātha paṇpiṉar
viṇṭa yaṅkunel vāyi lārnañchai
uṇṭa kaṇṭarem uchi yārē".
நெண்ப யங்குநெல் வாயி லீசனைச்
சண்பை ஞானசம் பந்தன் சொல்லிவை
பண்ப யன்கொளப் பாட வல்லவர்
விண்ப யன்கொளும் வேட்கை யாளரே.
"Neṇpa yaṅkunel vāyi līsaṉaich
chaṇpai gñāṉasam banthaṉ sollivai
paṇpa yaṉkoḷap pāṭa vallavar
viṇpa yaṉkoḷum vēṭkai yāḷarē".