Visited on: 28th September, 2016 and 17th November, 2016.
Location
Vilanagar is situated at a distance of about 6 kms from Mayiladuthurai on the Mayiladuthurai to Sembanar Koil route. Vilanagar is also known as Arupathy.
Other Paadal Petra Shiva Sthalams near this place are –
Mayiladuthurai, Needur, Anniyur, Thiruppariyalur Veerattanam, Sembanar koil, Thiru Nintriyur, Vaitheeswaran Koil, Thiruppunkur, Thirukkannar Koil, Sirkazhi, Thirukkolakka, Therazhunthur and Kuththalam.
General Information
| | |
| --- | --- |
| Moolavar | Sri Thurai Kaattum Vallalar, Sri Uchira Vaneswarar |
| Ambal | Sri Thurai Kaattum Valli, Sri Veyuru Tholi Amman |
| Theertham (Holy water) | Cauveri river, Meygnana Theertham |
| Sthala Vriksham (Sacred Tree) | Vizhal plants |
| Pathigam (Hymn) rendered by | Saint Thirugnanasambanthar |
This is one of the 276 Devara Paadal Petra Shiva Sthalams and 40th Shiva Sthalam on the Southern bank of the river Cauveri in Chozha Nadu (Thenkarai).
Lord Shiva in this temple is a Swayambumurthi (self-manifested).
This east facing temple has a 5-tiered main tower (Rajagopuram) and it has 2 corridors.
The last consecration ceremony (Kumbabishekam) took place on 02.02.1959.
History of the Temple
According to legend, in ancient times, this region was densely covered by "Vizhal plants" (a type of grass). Because of this, this place is named Vizhal Nagar which has later been changed to Vila Nagar. The lord of this temple is also praised as "Sri Vizharkattu Nathar".
This is one of the 27 temples which falls under the administrative control of Dharumapuram Aadheenam. However, the temple is in a very bad state. The main tower as well as the towers in the sanctum are in ruins and are covered with a lot of weeds and plants. Even the compound walls and shrines are in a dilapidated condition.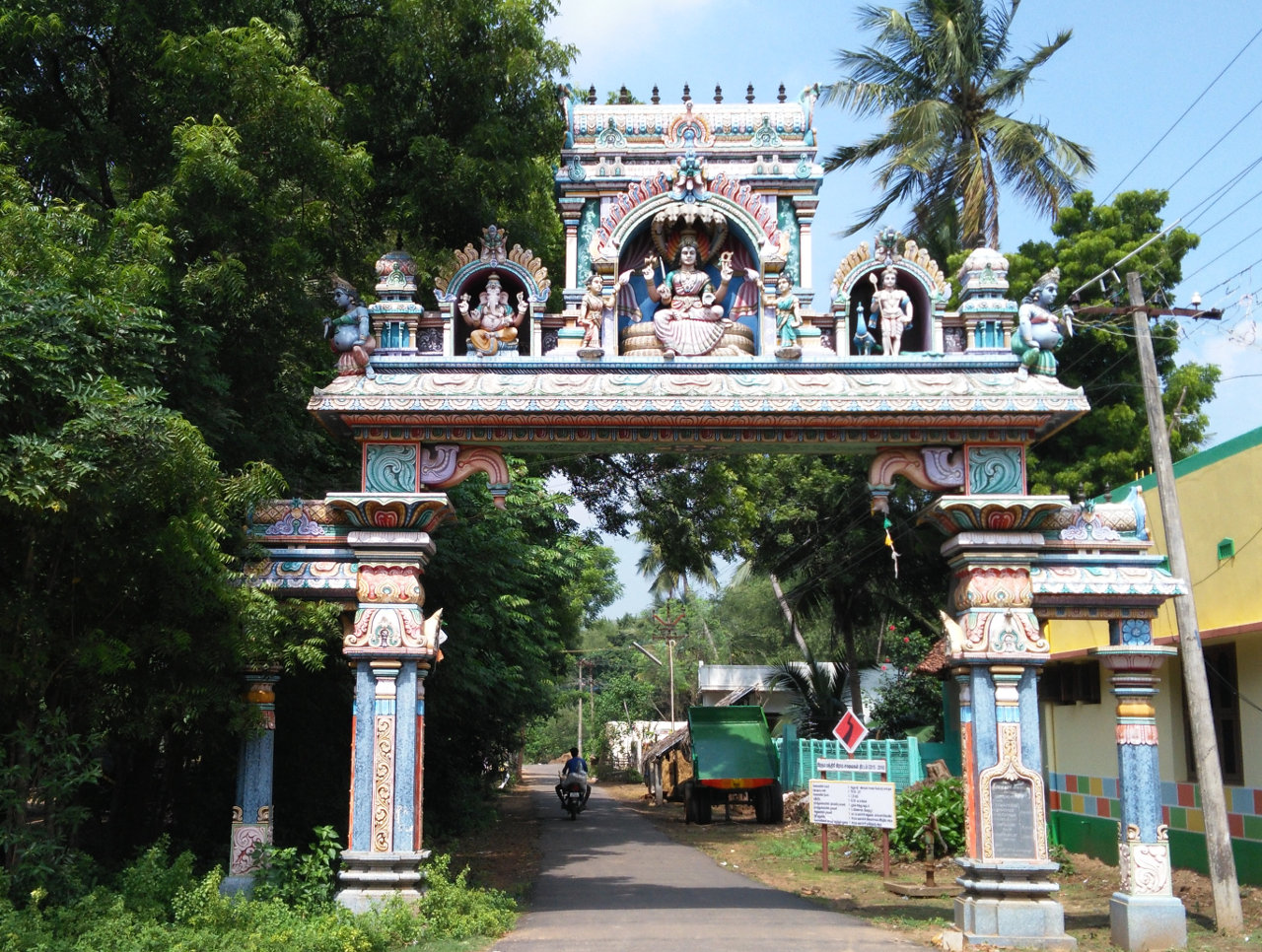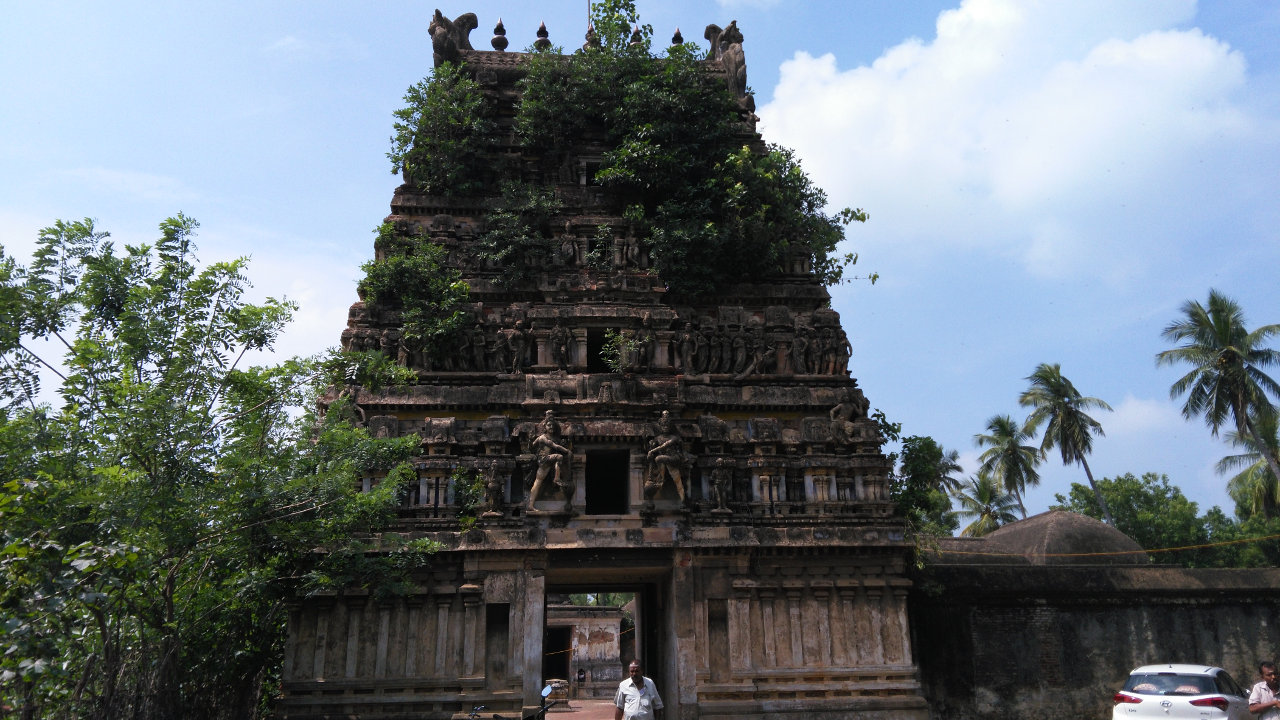 Legend
According to legend, there was a brahmin boy called Arulvithan who used to worship the lord here. He would bring offerings of flowers every day without fail. He had to cross the river Kaveri in order to reach the temple. One day, the river got flooded making it very dangerous to cross. Even then he decided to cross the river but got caught in the flood. Instead of trying to save his life he tried saving the flowers he had brought for the lord's pooja. Pleased with his determination and devotion, Lord Shiva rescued him. Hence the lord here is praised as "Thurai Kaattum Vallal". ("Thurai" means river bank, "Kaattum" means to show and "Vallal" means philanthropist in Tamil).
Another similar legend associated with this temple is that of Saint Thirugnanasambanthar. When he was on a pilgrimage to Kadaimudi and Mayiladuthurai, he could not proceed further due to heavy floods in the river Kaveri. The saint prayed to Lord Shiva seeking his help in crossing the river. It is believed that Lord Shiva came in the guise of a hunter and helped him reach the temple.
As per the Sthala Purana, a demon called Kapithan worshiped the lord of this temple and got relieved from the "Brahmahathi Dosham".
Deities in the temple
Other than the shrines of Lord Shiva and Goddess Parvathy, shrines and idols of Lords Vinayakar, Murugan, Natarajar, Dakshinamurthy, Vishnu, Brahma, Arunachaleswar, Somaskandar, Gajalakshmi, Durgai, Saneeswarar, Navagraham, Suryan, Chandran, Naalvars and Bairavar can be seen in the corridors.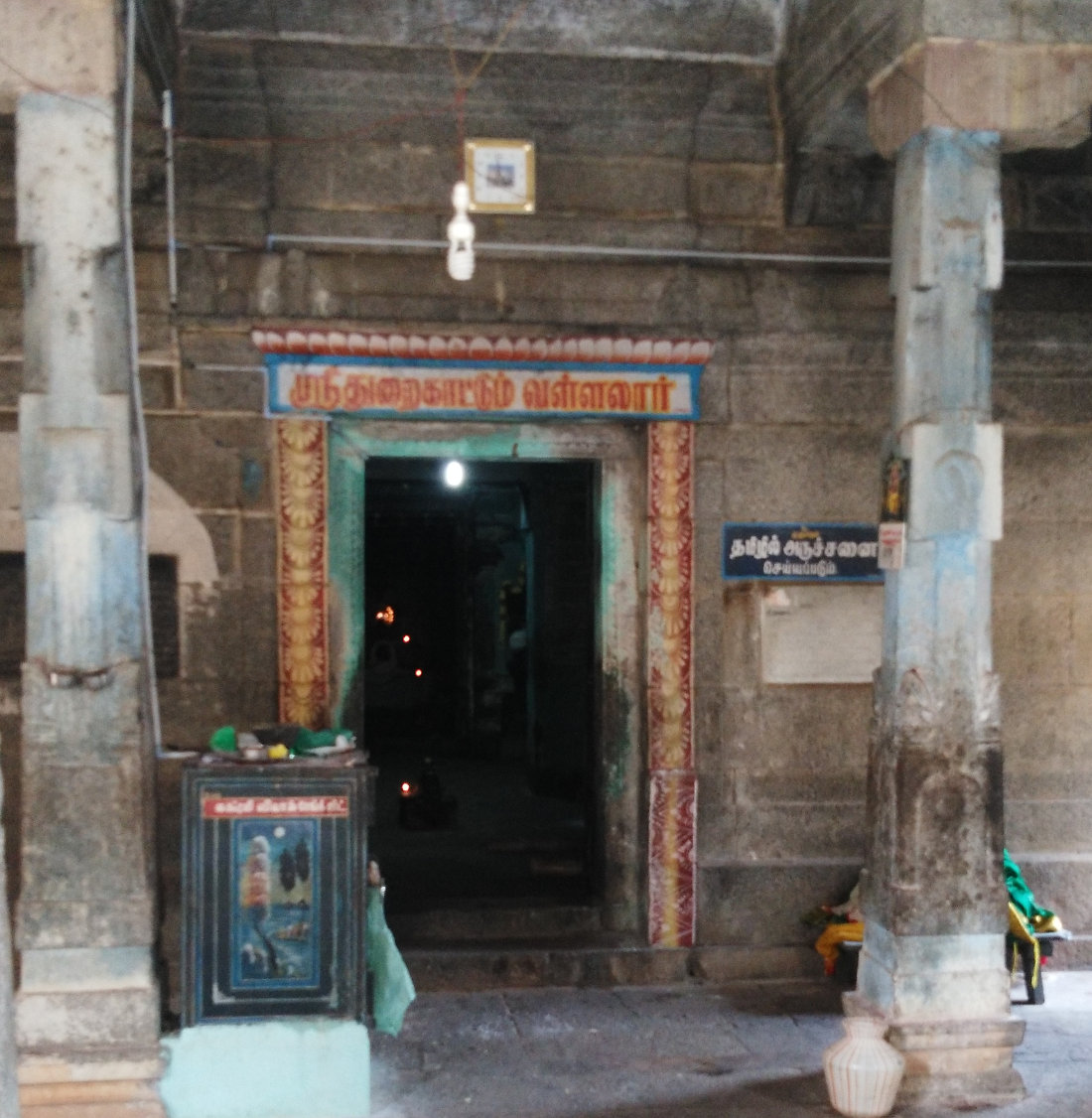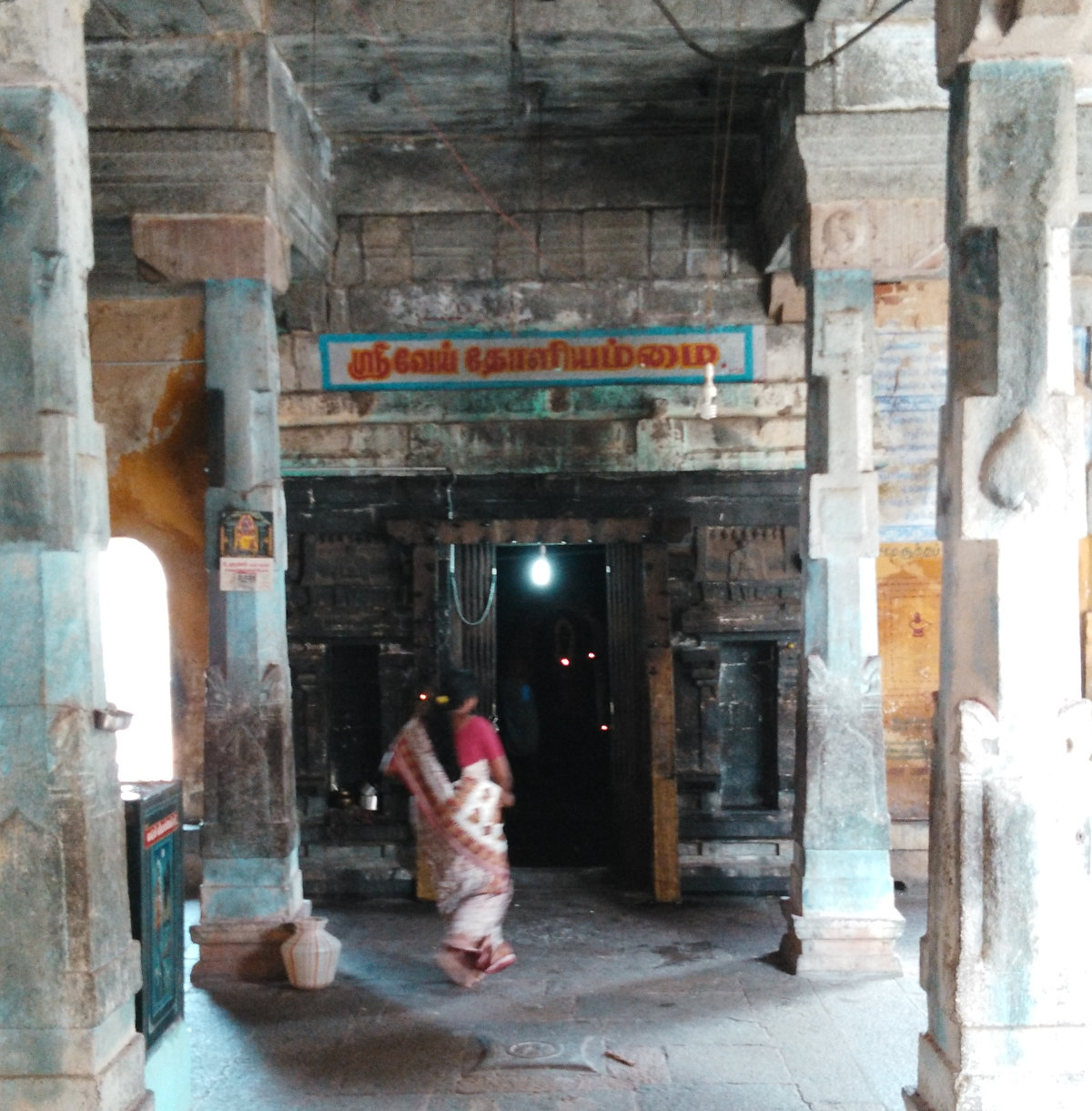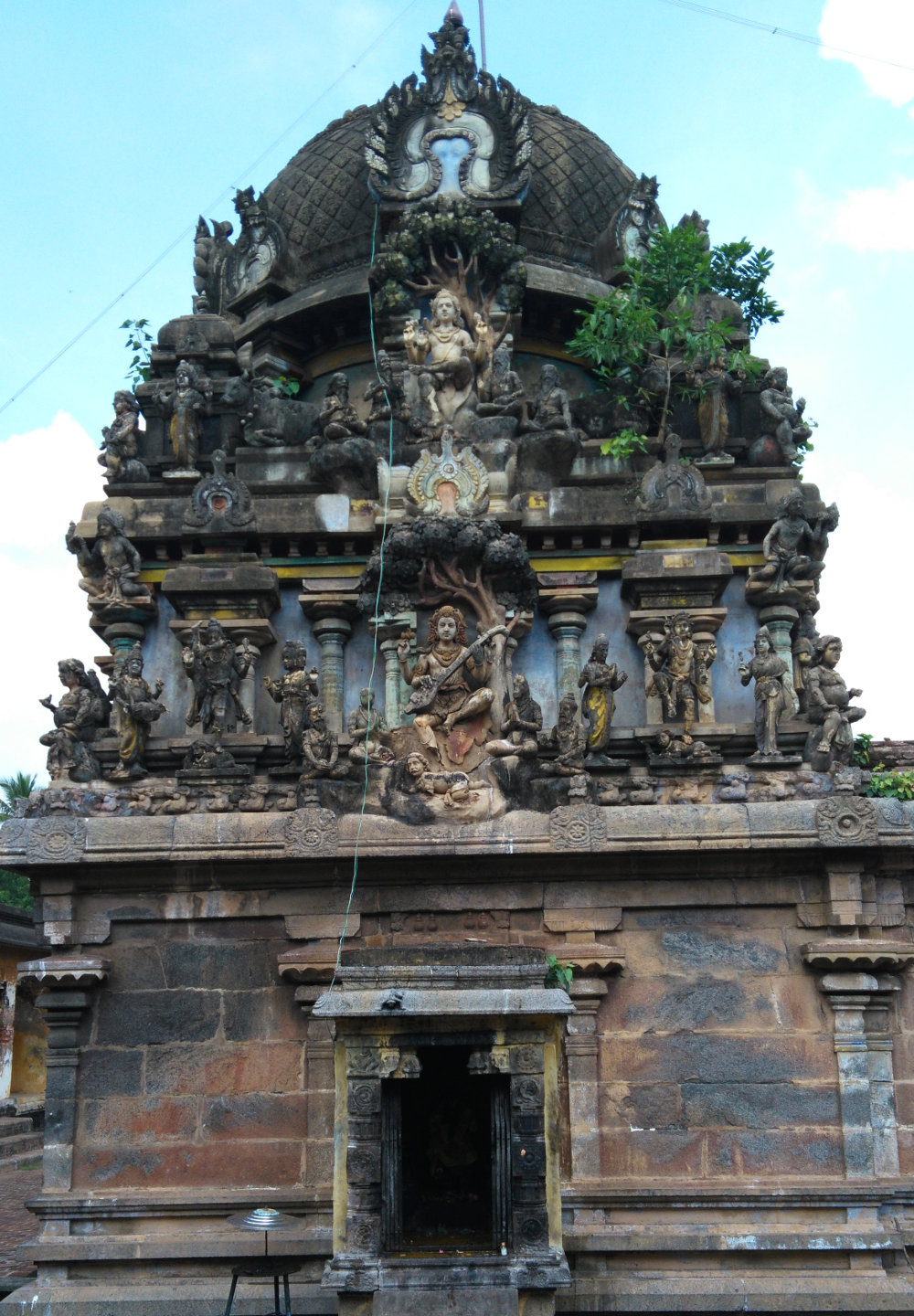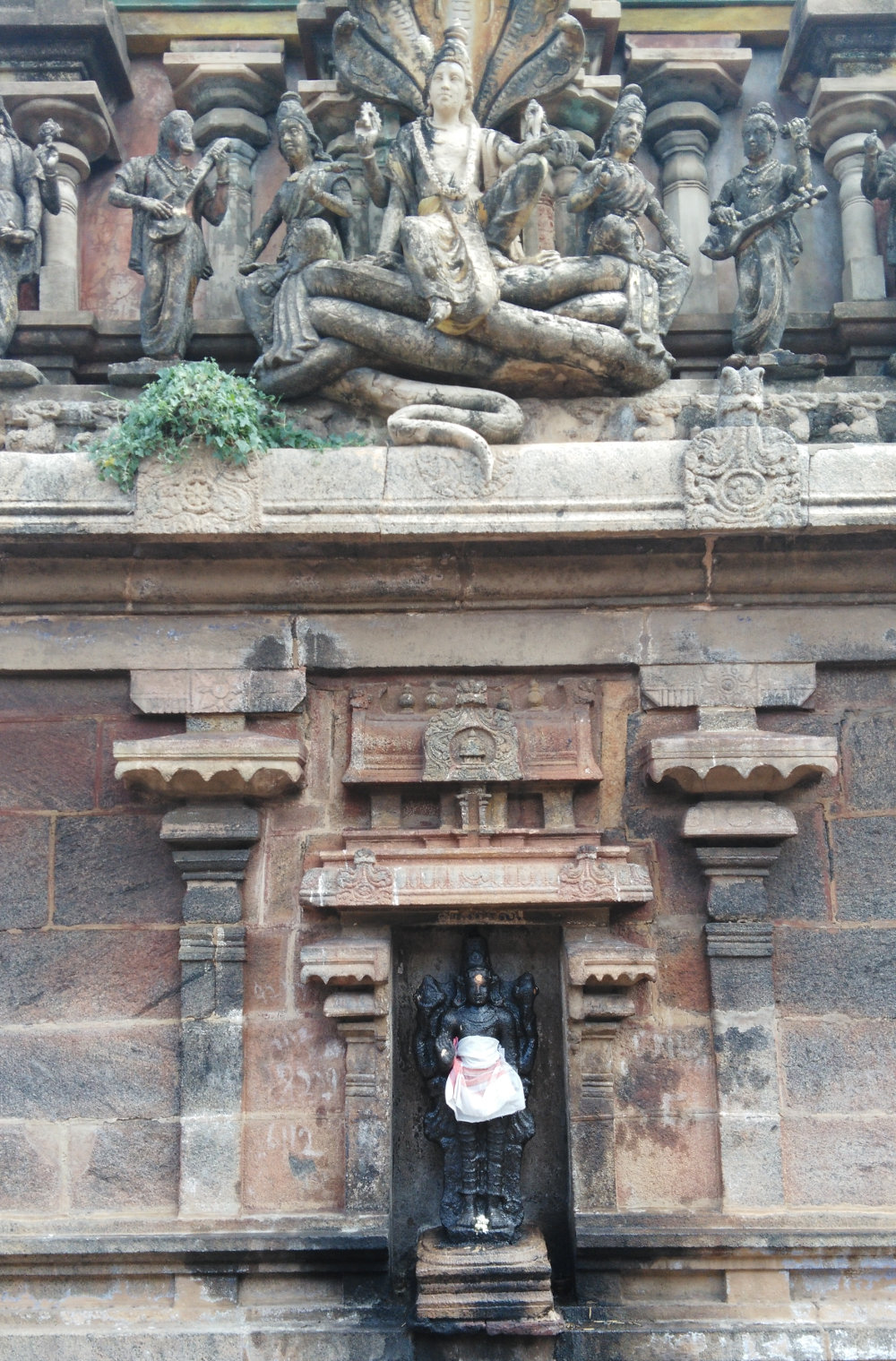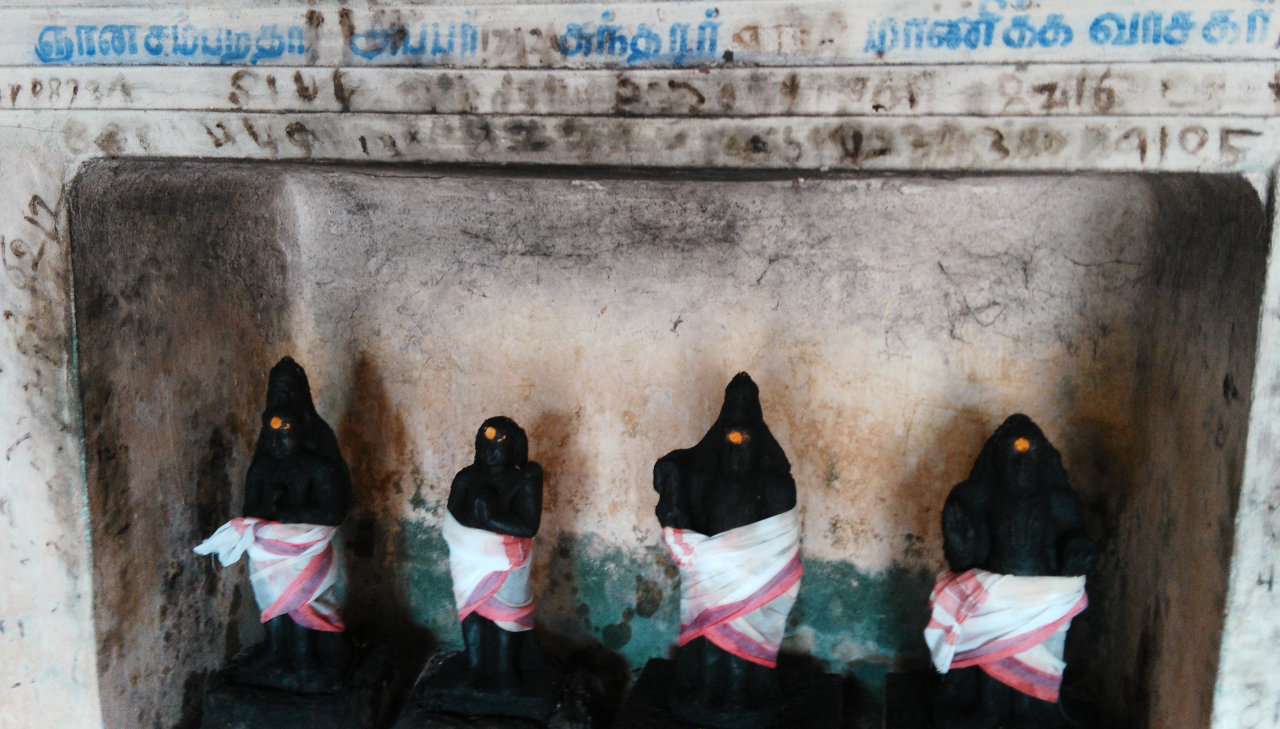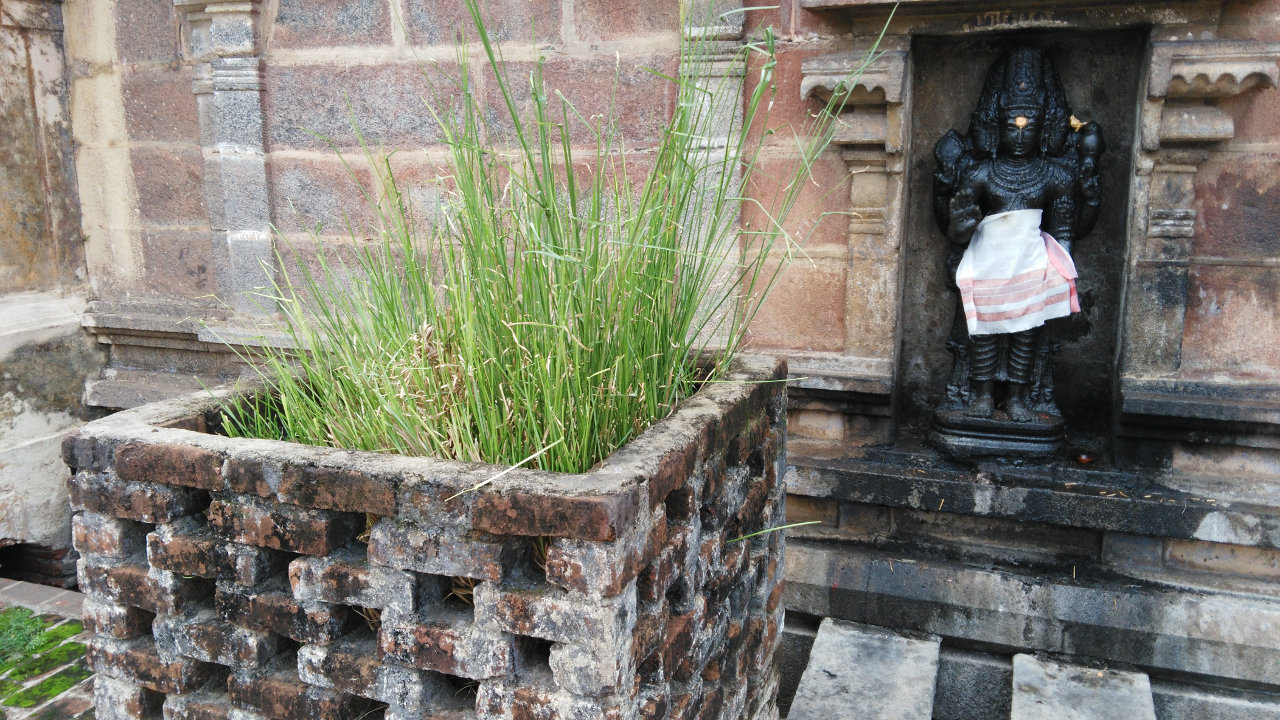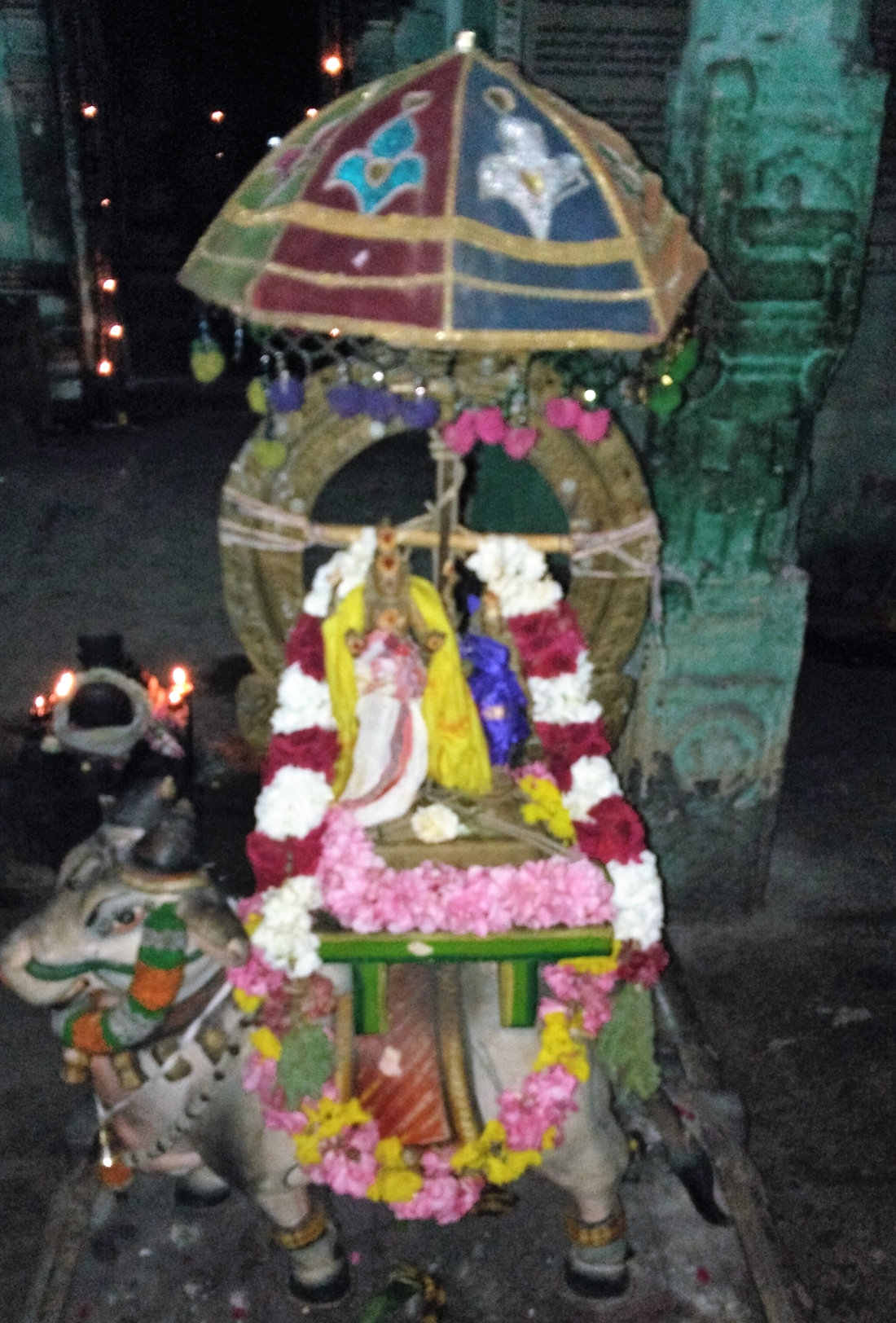 Salient Features
Goddess Veyuru Tholi Amman is holding a discus in one hand and a conch in the other.
In his hymn, Saint Thirugnanasambanthar mentioned about the incident of crossing the river and praised the lord as "Cauvery Thurai Kattinar" (the lord who showed the way to reach the river bank).
Greatness of this temple
Devotees believe that worshiping the lord here would help in obtaining quick resolutions of their problems. It is also believed that worshiping the lord here would help devotees break away from the repetitive cycle of birth and re-birth.
The Sthala Viruksham of this temple is the Vizhal plant. Devotees tie its leaves in a knot in the hope that their prayers would be heard.
Important Festivals
Some of the important festivals celebrated in this temple are –
Vinayakar Chaturthi in the Tamil month of Aavani (Aug-Sept),
Navarathri in the Tamil month of Purattasi (Sept-Oct),
Annabishekam in the Tamil month of Aippasi (Oct–Nov),
Makara Sankranthi in the Tamil month of Thai (Jan-Feb), and
Maha Shivrathri in the Tamil month of Maasi (Feb-Mar).
Pradosham is also observed regularly.
Temple Timings
From 07.00 AM to 12.00 Noon and 05.30 PM to 08.00 PM.
Temple Address
Sri Uchira Vaneswarar (Thurai Kattum Vallalar) Temple,
Thiruvila Nagar, Arupathy Post,
Mayiladuthurai Taluk,
Nagapattinam District,
Tamil Nadu - 609 309.
Tele: +91 4364 282 129.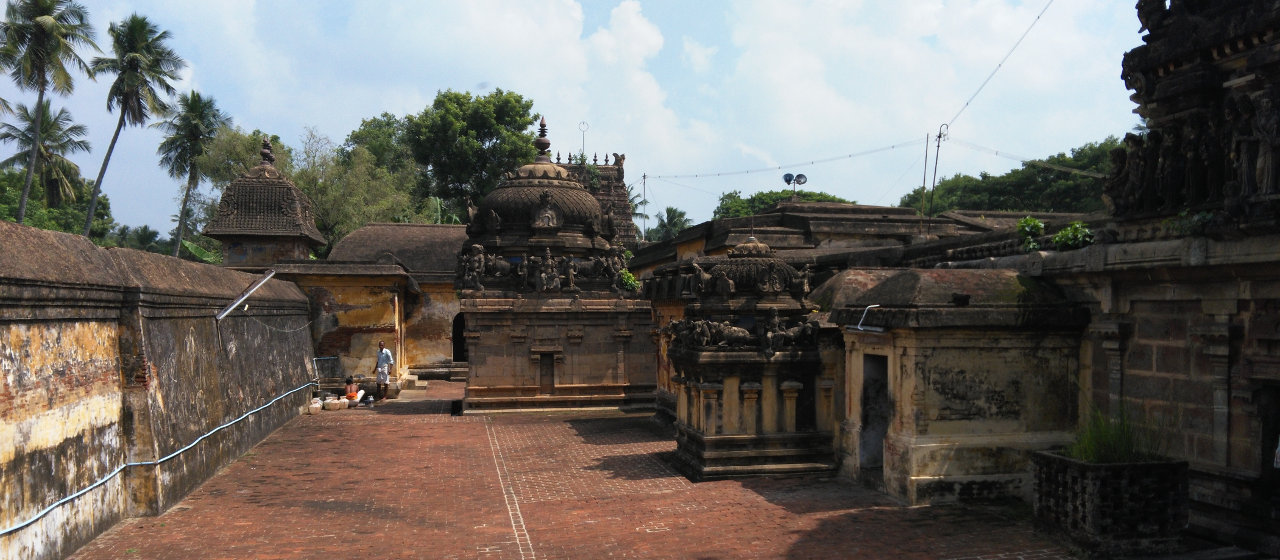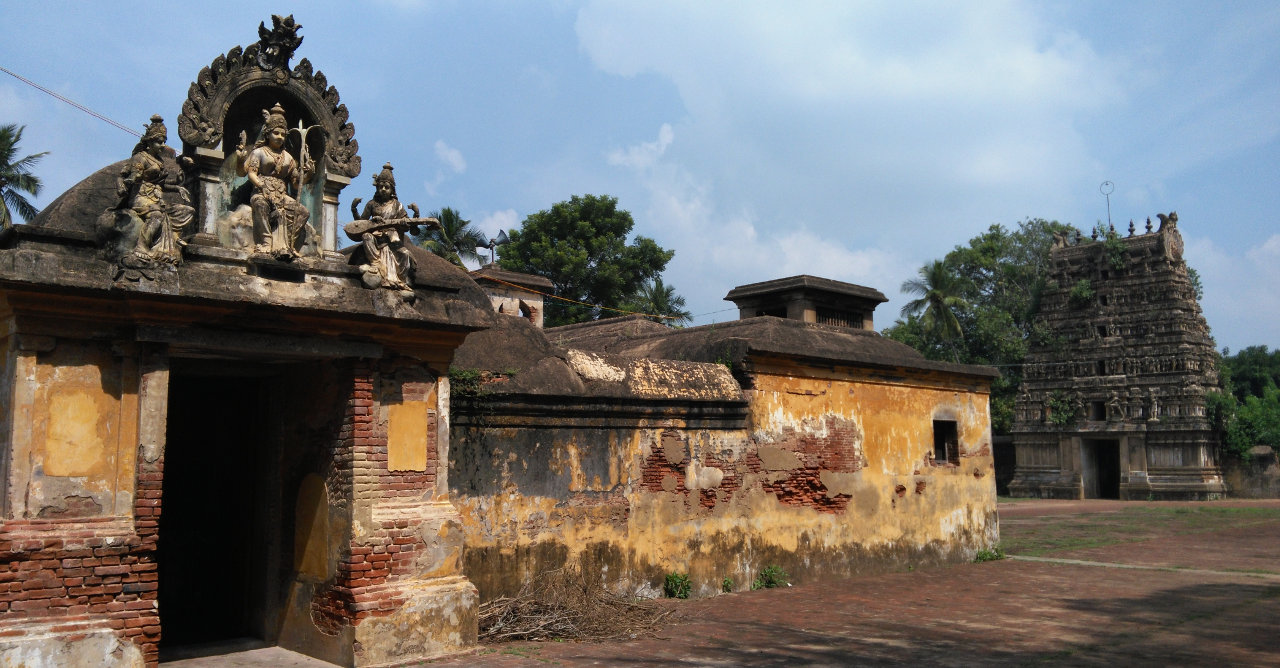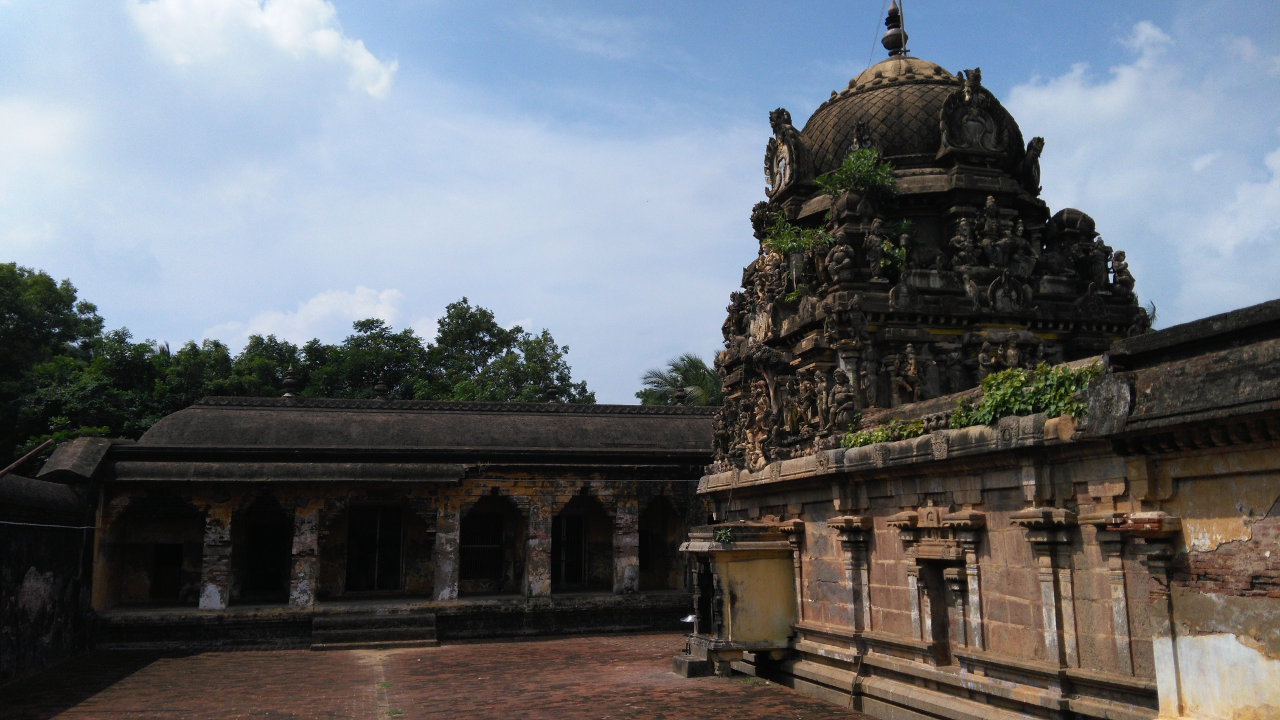 ---
Pathigam (Hymn) with English transliteration
Saint Thirugnanasambanthar visited this temple and sang this Pathigam.
Devotees visiting this temple should make it a practice to recite this Pathigam.
ஒளிரிளம்பிறை சென்னிமேல் உடையர் கோவணஆடையர்
குளிரிளம்மழை தவழ்பொழிற் கோலநீர்மல்கு காவிரி
நளிரிளம்புனல் வார்துறை நங்கைகங்கையை நண்ணினார்
மிளிரிளம்பொறி அரவினார் மேயதுவிள நகரதே.
"Oḷiriḷampiṟai seṉṉimēl uṭaiyar kōvaṇa'āṭaiyar
kuḷiriḷam'mazhai thavazhpozhiṟ kōlanīrmalku kāviri
naḷiriḷampuṉal vārthuṟai naṅkaigaṅgaiyai naṇṇiṉār
miḷiriḷampoṟi araviṉār mēyathuviḷa nakarathē".
அக்கரவ்வணி கலனென அதனொடார்த்ததொர் ஆமைபூண்
டுக்கவர்சுடு நீறணிந் தொளிமல்குபுனற் காவிரிப்
புக்கவர்துயர் கெடுகெனப் பூசுவெண்பொடி மேவிய
மிக்கவர்வழி பாடுசெய் விளநகரவர் மேயதே.
"Akkaravvaṇi kalaṉeṉa athaṉoṭārththathor āmaipūṇ
ṭukkavarsuṭu nīṟaṇin thoḷimalkupuṉaṟ kāvirip
pukkavarthuyar keṭukeṉap pūsuveṇpoṭi mēviya
mikkavarvazhi pāṭusey viḷanakaravar mēyathē".
வாளிசேரடங் கார்மதில் தொலையநூறிய வம்பின்வேய்த்
தோளிபாகம் அமர்ந்தவர் உயர்ந்ததொல்கடல் நஞ்சுண்ட
காளமல்கிய கண்டத்தர் கதிர்விரிசுடர் முடியினர்
மீளியேறுகந் தேறினார் மேயது விளநகரதே.
"Vāḷisēraṭaṅ kārmathil tholaiyanūṟiya vampiṉvēyth
thōḷipākam amarnthavar uyarnthatholkaṭal nañchuṇṭa
kāḷamalkiya kaṇṭaththar kathirvirisuṭar muṭiyiṉar
mīḷiyēṟukan thēṟiṉār mēyathu viḷanakarathē".
கால்விளங்கெரி கழலினார் கையிளங்கிய வேலினார்
நூல்விளங்கிய மார்பினார் நோயிலார்பிறப் பும்மிலார்
மால்விளங்கொளி மல்கிய மாசிலாமணி மிடறினார்
மேல்விளங்குவெண் பிறையினார் மேயதுவிள நகரதே.
"Kālviḷaṅkeri kazhaliṉār kaiyiḷaṅkiya vēliṉār
nūlviḷaṅkiya mārpiṉār nōyilārpiṟap pum'milār
mālviḷaṅkoḷi malkiya māsilāmaṇi miṭaṟiṉār
mēlviḷaṅkuveṇ piṟaiyiṉār mēyathuviḷa nakarathē".
பன்னினார்மறை பாடினார் பாயசீர்ப்பழங் காவிரித்
துன்னு தண்டுறை முன்னினார் தூநெறிபெறு வாரெனச்
சென்னி திங்களைப் பொங்கராக் கங்கையோடுடன் சேர்த்தினார்
மின்னுபொன்புரி நூலினார் மேயதுவிள நகரதே.
"Paṉṉiṉārmaṟai pāṭiṉār pāyasīrppazhaṅ kāvirith
thuṉṉu thaṇṭuṟai muṉṉiṉār thūneṟipeṟu vāreṉach
cheṉṉi thiṅkaḷaip poṅkarāk gaṅgaiyōṭuṭaṉ chērththiṉār
miṉṉupoṉpuri nūliṉār mēyathuviḷa nakarathē".
தேவரும்மம ரர்களுந் திசைகள்மேலுள தெய்வமும்
யாவரும்மறி யாததோர் அமைதியால்தழ லுருவினார்
மூவரும்மிவ ரென்னவும் முதல்வரும்மிவ ரென்னவும்
மேவரும்பொரு ளாயினார் மேயதுவிள நகரதே.
"Thēvarum'mama rarkaḷun thisaikaḷmēluḷa theyvamum
yāvarum'maṟi yāthathhōr amaithiyālthazha luruviṉār
mūvarum'miva reṉṉavum muthalvarum'miva reṉṉavum
mēvarumporu ḷāyiṉār mēyathuviḷa nakarathē".
சொற்றரும்மறை பாடினார் சுடர்விடுஞ் சடைமுடியினார்
கற்றருவ்வடங் கையினார் காவிரித்துறை காட்டினார்
மற்றருந்திரள் தோளினார் மாசில்வெண்பொடிப் பூசினார்
விற்றரும்மணி மிடறினார் மேயதுவிள நகரதே.
"Sotṟarum'maṟai pāṭiṉār suṭarviṭuñ chaṭaimuṭiyiṉār
katṟaruvvaṭaṅ kaiyiṉār kāviriththuṟai kāṭṭiṉār
matṟarunthiraḷ thōḷiṉār māsilveṇpoṭip pūsiṉār
vitṟarum'maṇi miṭaṟiṉār mēyathuviḷa nakarathē".
படர்தருஞ்சடை முடியினார் பைங்கழல்லடி பரவுவார்
அடர்தரும்பிணி கெடுகென அருளுவார்அர வரையினார்
விடர்தரும்மணி மிடறினார் மின்னுபொன்புரி நூலினார்
மிடல்தரும்படை மழுவினார் மேயதுவிள நகரதே.
"Paṭartharuñchaṭai muṭiyiṉār paiṅkazhallaṭi paravuvār
aṭartharumpiṇi keṭukeṉa aruḷuvār'ara varaiyiṉār
viṭartharum'maṇi miṭaṟiṉār miṉṉupoṉpuri nūliṉār
miṭaltharumpaṭai mazhuviṉār mēyathuviḷa nakarathē".
கையிலங்கிய வேலினார் தோலினார்கரி காலினார்
பையிலங்கர வல்குலாள் பாகமாகிய பரமனார்
மையிலங்கொளி மல்கிய மாசிலாமணி மிடறினார்
மெய்யிலங்குவெண் ணீற்றினார் மேயதுவிள நகரதே.
"Kaiyilaṅkiya vēliṉār thōliṉārkari kāliṉār
paiyilaṅkara valkulāḷ pākamākiya paramaṉār
maiyilaṅkoḷi malkiya māsilāmaṇi miṭaṟiṉār
meyyilaṅkuveṇ ṇītṟiṉār mēyathuviḷa nakarathē".
உள்ளதன்றனைக் காண்பன்கீ ழென்றமாமணி வண்ணனும்
உள்ளதன்றனைக் காண்பன்மே லென்றமாமலர் அண்ணலும்
உள்ளதன்றனைக் கண்டிலார் ஒளியார்தருஞ்சடை முடியின்மேல்
உள்ளதன்றனைக் கண்டிலா வொளியார்விளநகர் மேயதே.
"Uḷḷathaṉtṟaṉaik kāṇpaṉkī zheṉtṟamāmaṇi vaṇṇaṉum
uḷḷathaṉtṟaṉaik kāṇpaṉmē leṉtṟamāmalar aṇṇalum
uḷḷathaṉtṟaṉaik kaṇṭilār oḷiyārtharuñchaṭai muṭiyiṉmēl
uḷḷathaṉtṟaṉaik kaṇṭilā voḷiyārviḷanakar mēyathē".
மென்சிறைவண் டியாழ்முரல் விளநகர்த்துறை மேவிய
நன்பிறைநுதல் அண்ணலைச் சண்பைஞானசம் பந்தன்சீர்
இன்புறுந் தமிழாற் சொன்ன ஏத்துவார்வினை நீங்கிப்போய்த்
துன்புறுந்துய ரம்மிலாத் தூநெறிபெறு வார்களே.
"Meṉsiṟaivaṇ ṭiyāzhmural viḷanakarththuṟai mēviya
naṉpiṟainuthal aṇṇalaich chaṇpaigñāṉasham banthaṉsīr
iṉpuṟun thamizhāṟ soṉṉa ēththuvārviṉai nīṅkippōyth
thuṉpuṟunthuya ram'milāth thūneṟipeṟu vārkaḷē".