Visited on: Saturday, 16th July,2016
Location
Thiruvotriyur is about 25 kms from Koyambedu Bus Terminal and 8 kms from Central Railway Station, Chennai. There is a railway station in Thiruvotriyur (electric railway line) and this temple is situated about one kilometre away from it.
Chennai has five more Paadal Petra Shiva Sthalams – Thiruvalithayam, Thiruverkadu, Thirumullaivayil, Mylapore and Thiruvanmiyur.
General Information
Moolavar

Sri Thyiyagaraja Swamy, Sri Adipureeswarar
Sri Thiruvotreeswarar, Sri Manickathiyagar,
Sri Padampakkanathar, Sri Putridamkondar.

Ambal

Sri Vadivudai Ammai, Sri Thiripurasundari

Theertham (Holy water)

Brahma Theertham, Nandhi Theertham

Sthala Vriksham (Sacred Tree)

Makizham and Athi

Pathigam (Hymn) rendered by

Saint Thirugnanasambanthar- 1 Pathigam
Saint Thirunavukarasar (Appar)- 5 Pathigam
Saint Sundaramurthy (Sundarar)-2 Pathigam

This is one of the 276 Devara Paadal Petra Shiva Sthalams and 20th Shiva Sthalam in Thondai Nadu.
Lord Shiva in this temple is a Swayambu lingam. It is in the form of an ant-hill – it has a tall banalingam but does not have a base (Avudayar).
This lingam is not touched by human hands, not even by the priests, as it is "Theendathirumeni".
This is considered to be one of the 51 Shakti Peetas.
This is one of the 44 Paadal Petra Sthalams where all "Moovar" had rendered their Pathigams.
Saint Thiyagaraja Swamigal, Muthuswami Dikshithar and Marai Malai Adigalar had also visited here and sung the glory of Lord Shiva of this temple.
Adipuri is the historical name of this place.
The east facing temple has two corridors and its main tower (Rajagopuram) has 5-tiers.
The vimanam (roof tower) of the sanctum sanctorum is designed in a special way that is exclusive to Pallava architecture - the Gaja Brishtam, that looks like the rear of an elephant (Gaja - elephant, brishtam - rear).
This temple is one of the Saptha Vidanga Sthalams of Thondai Nadu as Lord Thiyagaraja is the main deity of this temple.
History of the Temple
This temple is said to be more than 1500 years old and was built in the Pallava and Chola dynasties.
Legend
Adhipureeswarar
Since Lord Shiva blessed Lord Brahma to create the world at the time of "Pralaya flood" (dissolution) by making way for the pralaya water to recede, this place is called Thiru Otriyur ("votra" or "vatra" in Tamil means receding water). The legend is that Lord Shiva took the form a huge fire to make the water recede and he stayed here as a Swayambu lingam under a Makizha tree. It is said that this is the first (Adhi in Tamil) Swayambu lingam that appeared in the earth after the Pralaya, hence the lord here is named "Adhipureeswarar".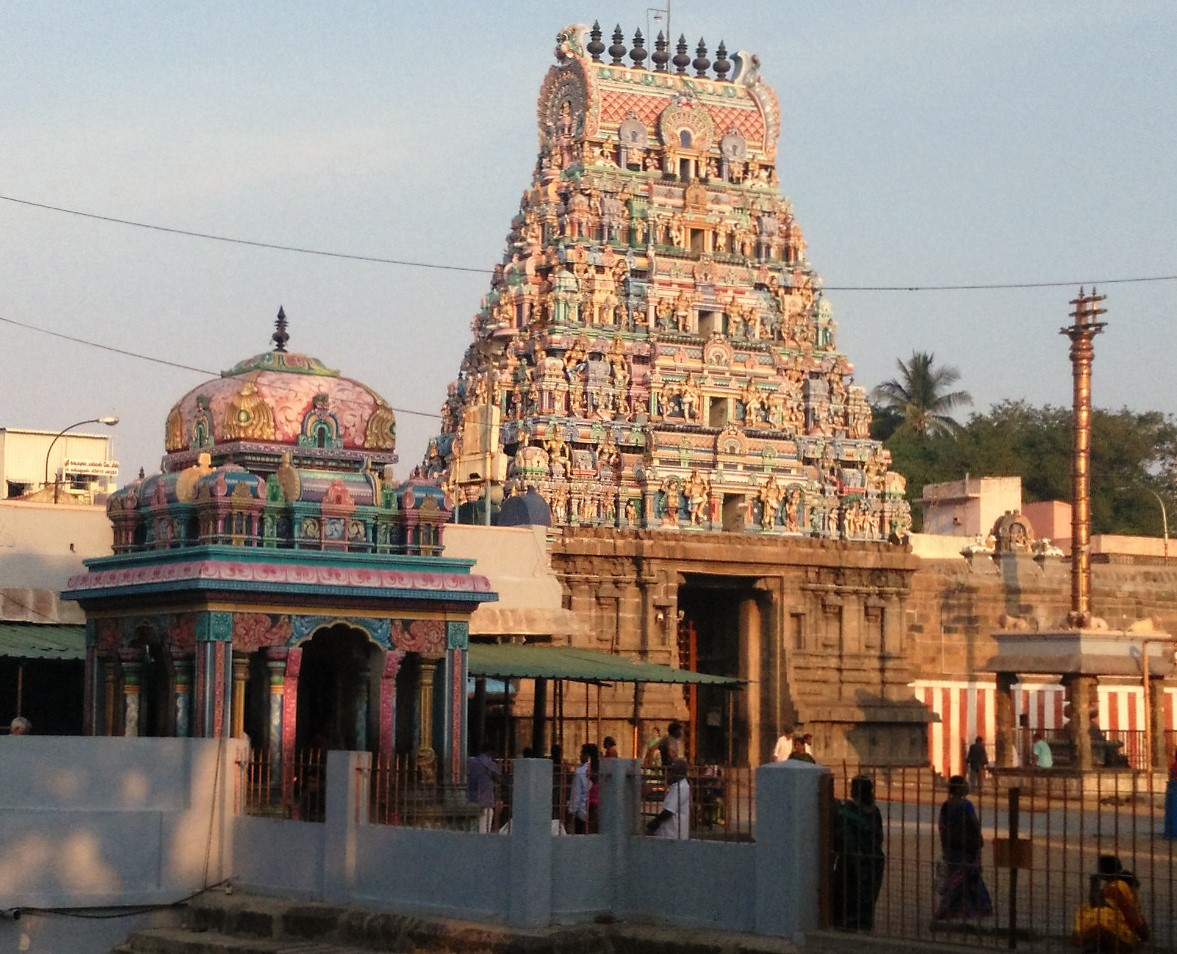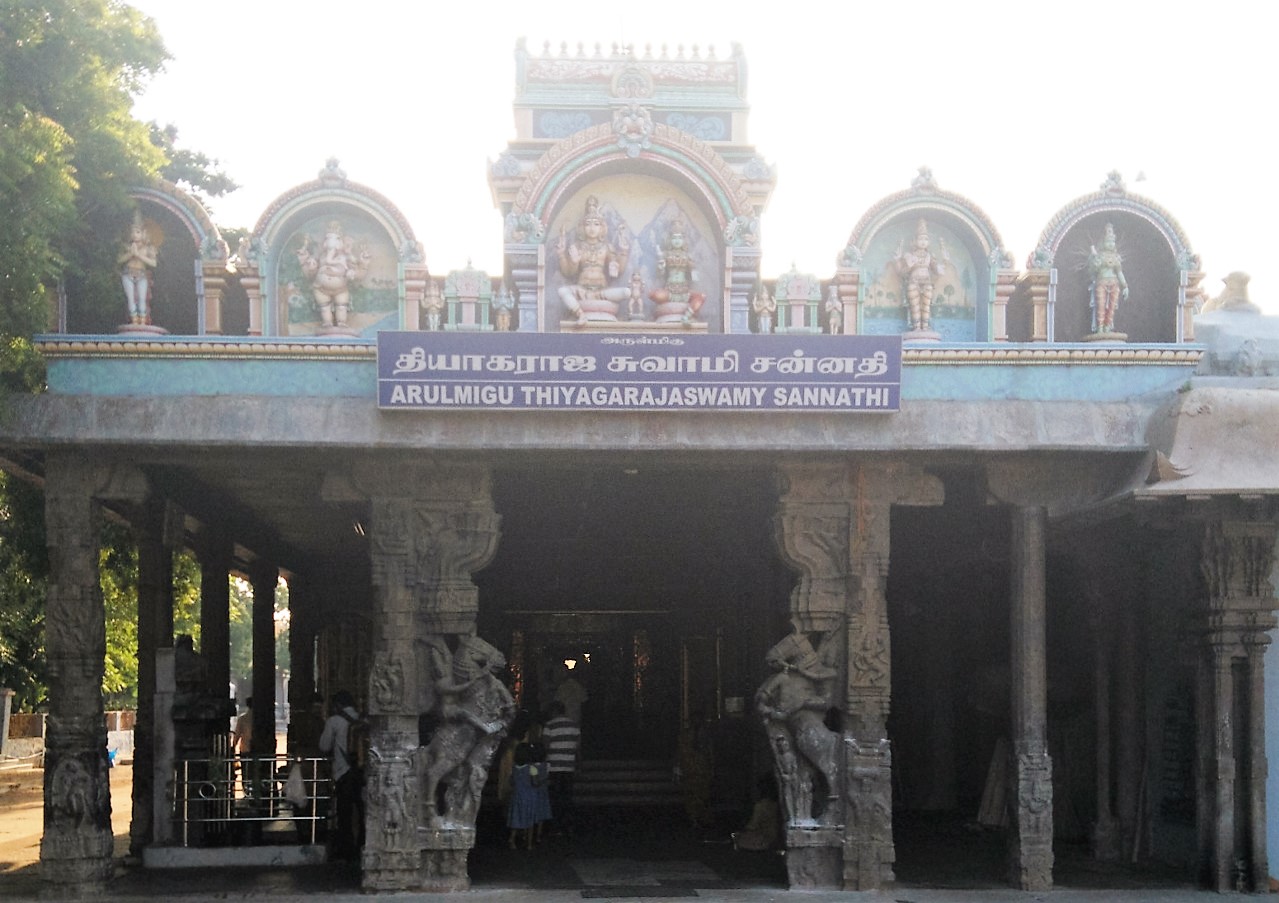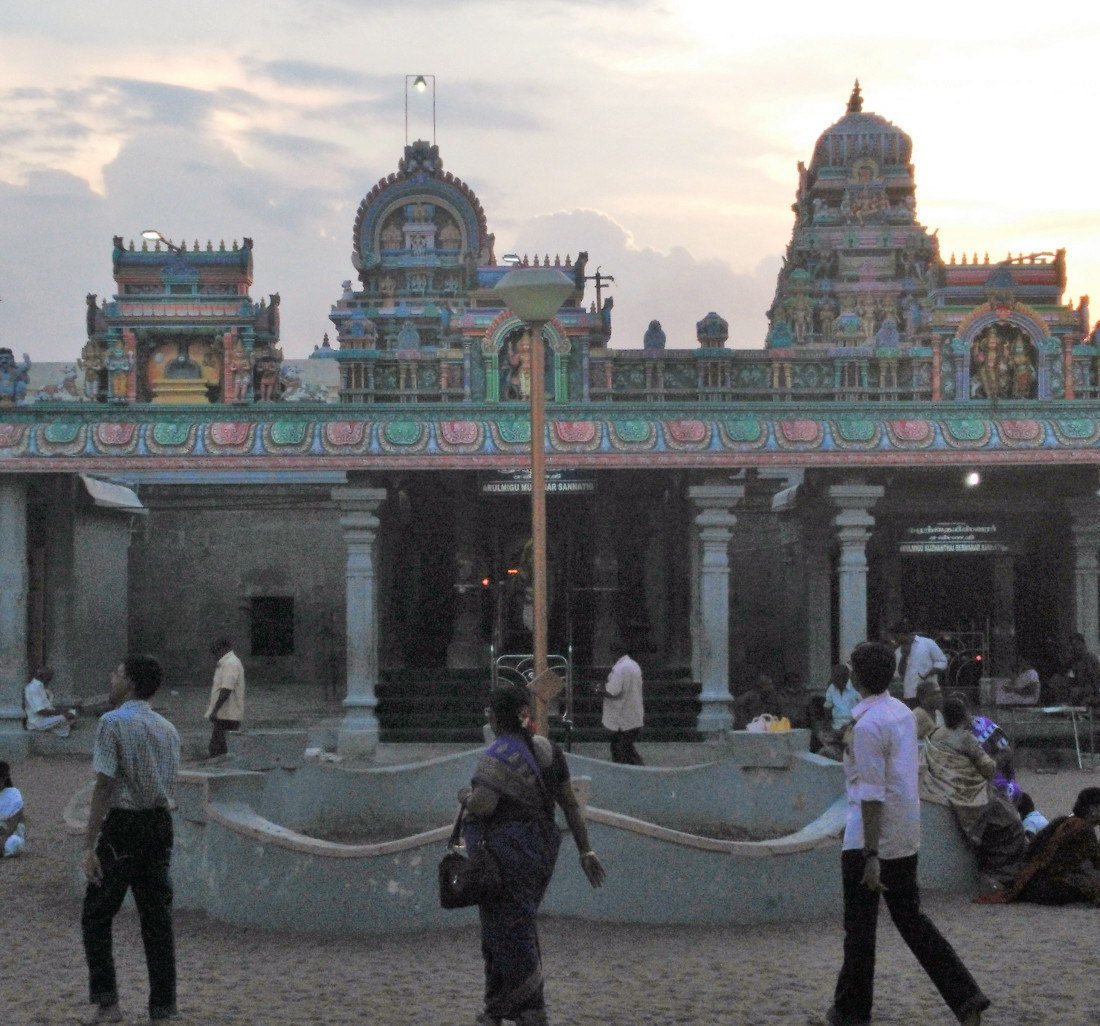 Lord Mahavishnu and Veda
It is believed that Lord Brahma created both the celestial gods and the demons. These two groups were constantly engaged in battle with one another. While the demons (asuras) used muscle power, the celestial gods (devas) used the power of the sacred texts - Vedas.
Once, two demons - Madhu and Kaithaba tricked the celestial gods to steal the Veda, chopped it into pieces and hid it in the bottom of the sea. Devas sought the help of Lord Mahavishnu to recover the Vedas. After worshiping Lord Shiva here, Lord Mahavishnu fought the demons and brought the Veda back to this place. Lord Shiva put it back in order and purified it.
Serpent Vasuki
Another legend associated with this place is that serpent Vasuki (king of serpants), who had received "Shiva Dheekshai" from Sage Upamanyu, had worshiped Lord Shiva here. Impressed by his penance, it is believed that Lord Shiva appeared from the ant-hill, blessed him and wore him as an ornament around his neck. Hence the lord here is called "Otreeswarar" and "Padampakkanathar".
Kaliyanar
Thiruvotriyur is the birth place of Kaliya Nayanaar, one of the 63 Nayanmars and a staunch devotee of Lord Shiva. He was a very wealthy oil merchant and wanted to perform services for Lord Shiva. Aware that lighting of lamps in the temple is one of the noblest services, he started lighting the lamps ("Thiruvilakku Thondu") in and around the temple every day without fail. Lord Shiva wanted to test his piety and made him poor. As Kalianar was left with no money to buy oil for the lighting of lamps - he sold all his possessions, did manual labour, and even tried to sell his wife but found it impossible. Finally, he decided to cut his throat and light the lamps with his blood. Lord Shiva appeared before him. made his devotion public and elevated him to the status of a Nayanar. This event is celebrated in the Tamil month of Aadi on Jyeshtha star day (Kettai in Tamil). On this day people light lamps in and around this temple to honour Kaliya Nayanar.
Elelasingar
Once, Elelasingar - an ardent devotee of Lord Shiva was in possession of some valuable ornaments which were supposed to be given to the king. Two Shiva devotees came to him from Kasi and asked him for those ornaments. It is believed that Lord Shiva instructed Elelasingar to give those jewels to the devotees which he promptly obeyed. When king came and asked for the ornaments, Elelasingar stood speechless. However, Lord Shiva came to his rescue and gave him those precious jewels. Hence, Lord Shiva here is also praised as "Manickathiyagar" (Manickam in Tamil means Diamond stones).
Ezhuthariyum Peruman
Another legend associated with this temple is that a king from the "Surya Vamsam" dynasty - Maan Dhada, a staunch Shiva devotee, established many charitable institutions. Because of his continued charitable deeds his longevity was increasing. He was vexed with his life on earth and yearned for a peaceful death. He consulted with many learned scholars and they advised him that his longevity was due to his charitable deeds. They told him to stop all his charitable and religious donations henceforth.
Accordingly, he wrote a deed and kept it in a safe but still his death was not forthcoming. Again, he called and consulted his advisors who asked him to show the deed. Surprisingly, his deed had been modified and had an insertion of the words "Except Thiruvotriyur", which the king did not write. The king realized and strongly believed that Lord Shiva himself had done this correction. Thus, the lord here is also called "Ezhuthariyum Peruman", literally translated as the "lord who knows how to write".
There is a mention about this incident in the celebrated Peria Puranam written by Saint Sekkizhar.
Saint Sundaramurthy Nayanar
Another legend associated with Thiruvotriyur is that concerning Saint Sundaramurthy Nayanar's life. It is believed that he was an attendant of Lord Shiva by the name Alala Sundararan in Mount Kailash. There he came across two girls, Aninthithai and Kamalini, who were attendants to Goddess Parvathi and wanted to marry them. Knowing his desire, Lord Shiva blessed them to born on earth. Alala Sundaran was born as Nambiyarurar, Kamalini as Paravai Nachiyar and Aninthithai as Sangili Nachiyar, in different locations.
During his pilgrimage in Thiruvarur, Nambiyarurar (Sundarar) met Paravai Nachiyar and in Thiruvotriyur he met Sangili Nachiyar. At the behest of Lord Shiva, Sundarar married Sangili Nachiar under the Makizha tree here. It is said that under this tree Sundarar promised Sangili Nachiyar that he would be with her forever. It is believed that Lord Shiva hid behind this tree and Sundarar's promise was actually addressed to Lord Shiva and not to Sangili Nachiyar. It is also said that Lord Shiva himself solemnized this marriage. In both the places – at Thiruvarur and Thiruvotriyur, it is believed that Lord Shiva had played a major role in getting Sundarar married to these two girls.
The wedding event under the Makizha tree is known as "Makizhadi Sevai" and Lord Shiva's foot prints can be seen under this tree. Devotees who are facing obstacles in their wedding proposals worship the lord's feet here and adorn it with sandal paste with the hope that the obstacles would be removed.
Makizha tree, the Sthala viruksham of this temple, where Sundaramurthy Nayanar is believed to have married Sangili Nachiyar, can still be seen in the second corridor of this temple.
Deities in the temple
There are two shrines for Lord Shiva – one for Sri Adipureeswarar and the other for Sri Otreeswarar. Similarly, there are two separate shrine for Goddess Parvathy - Vadivudai Amman and Vattaparai Amman. The shrine of Goddess Vattaparai Amman is located where Durgai is normally seen in other Shiva temples. In front of this goddess, a round rock (vatta parai in Tamil) can be seen.
Other shrines and idols that can be seen here are those of Lords Thiyagarajaswamy, Nagalingam, Kalatheeswarar, Jagathambigai - Jagannathar, Ramanathar, Parvathavarthini, Amirthakadeswarar, Goureeswarar with four hands in meditation posture, Nandavaneeswarar, Vinayakar, Murugan, Kuzhanthai Eswarar, Dakshinamurthy, Suryan, Nalvar, Sahasralingam (1008 very small lingams engraved in a big lingam), Annamalaiyar, Akasalingam, Jambukeswarar, Meenakshi Sundareswarar, Ekapathamurthy, Bairavar and Navagraham.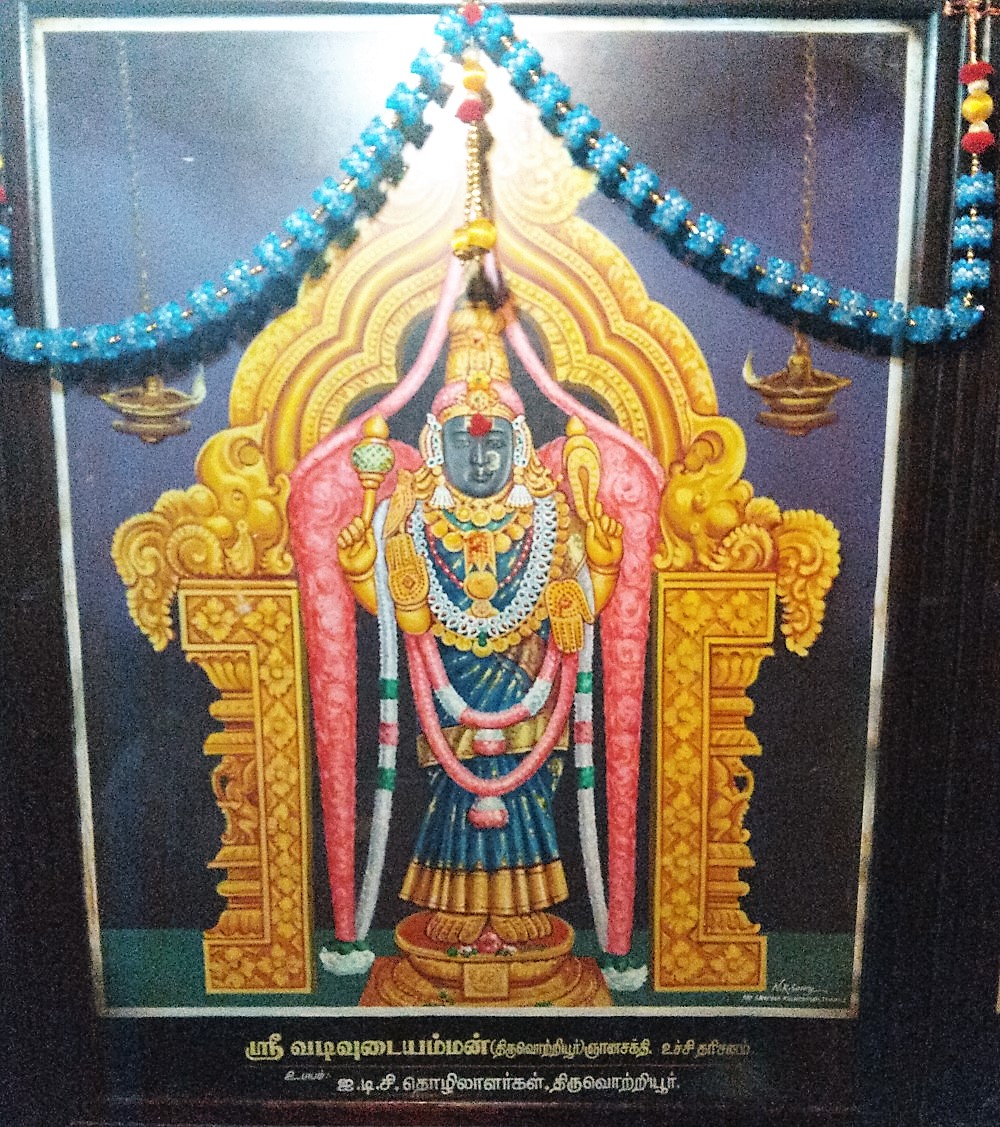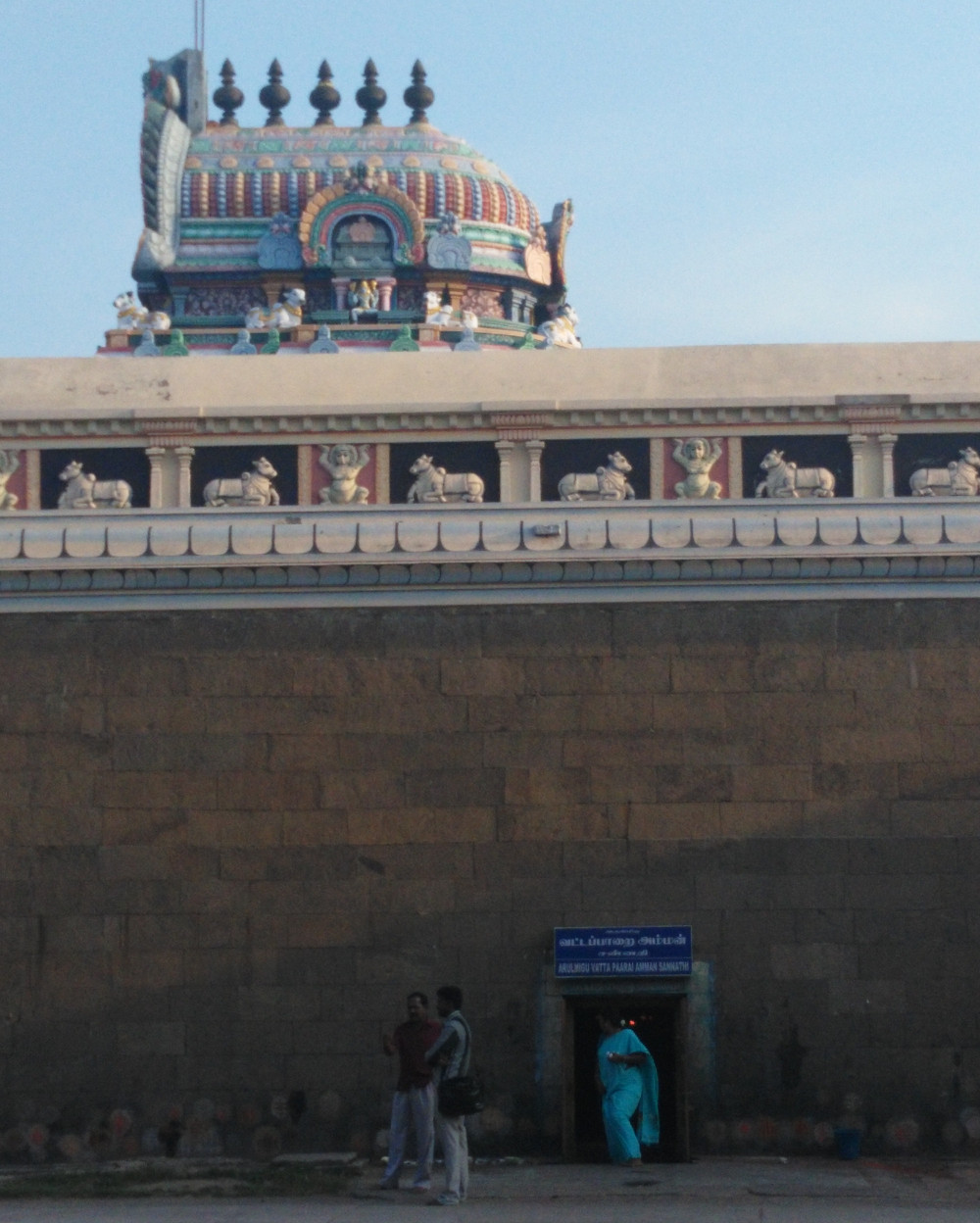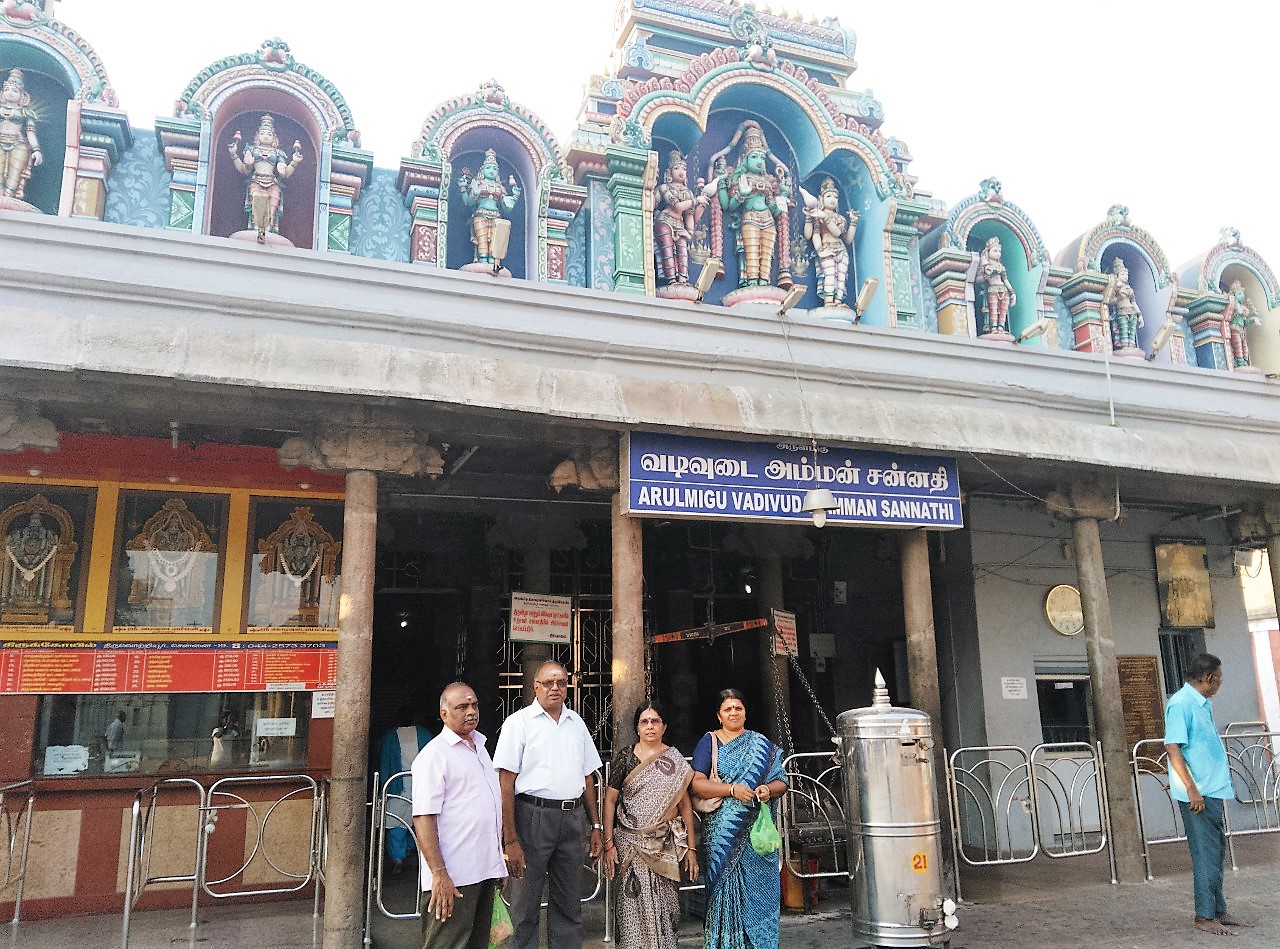 Salient Features
The main deity here is a Swayambu lingam in the form of an ant-hill with Lord Mahavishnu on the right side and Lord Brahma on the left side. Abhishekam is performed only to the Avudayar (base) and not to the lingam itself. On the full moon day in the Tamil month of Karthikai, the covers for the lingam are removed and "Punugu (civet) and Sambirani (styrax resin) oil" are smeared. One can see and worship the lingam as an ant-hill itself without the cover for three days only and thereafter for the entire year it will be covered. It is believed that Lord Vishnu, Lord Brahma and serpent Vasuki are worshipping Lord Shiva during these three days.
Another interesting aspect of this temple is that everything is present in duplets here. There are two presiding deities – Sri Adhipureeswarar and Sri Otreeswarar; two goddesses – Sri Vadivudai Amman and Sri Vattaparai Amman; two sacred trees - Athi and Makizham; two sacred theerthams -Brahma and Nandhi theerthams and two pooja procedures - Karana and Kameeka.
This is one of the seven temples (Saptha Vidanga) in Thondai Nadu where Lord Thiyagaraja can be seen. His dance performance in this temple is called Ananda Thandavam. Hence the lord here is also known as "Ananda Thiyagesar".
The Tri-Shakti temples - Itcha, Kriya and Gnana Shakthis are very popular and are of great significance. Of these, Sri Vadivudai Nayaki at Thiruvotriyur is considered to be Gnana Shakti.
The other two Shakti shrines are - Thiruvudai Nayaki at Melur and Kodi Idai Nayaki at Vada-Thirumullaivayil. These three idols are said to have been created by the same sculptor. It is believed that worshipping these three goddesses in a single day (especially on the full moon day) at morning, midday and evening rewards the devotees with manifold benefits. On full moon days, these three temples are open for the devotees throughout the day. In Thiruvotriyur, only Namboodhiris (priest) of Kerala can be seen performing the poojas for Vadivudai Amman.
It is believed that at both the places - Thiruvarur and Thiruvottriyur Lord Shiva's dance pattern is the same and is called "Padama Natanam". The dance pattern of this temple is a continuation of that in Thiruvarur temple. Lord Mahavishnu is believed to have missed seeing the dance at Thiruvarur, and Lord Thiyagaraja asked him to go to Thiruvottriyur to witness the same dance.
It is also believed that as per Nandhi's wishes, Lord Shiva blessed him to witness his dance which he performed while being in a seated posture. This performance is also believed to have been witnessed by Lord Mahavishnu, Lord Brahma, Romarishi, Vanmiki Rishi, Serpent Vasuki and Chandran.
In this temple, it is believed that Lord Shiva blessed Sage Agasthiar with his wedding dharisanam.
It is believed that all the 27 Nakshatrams (constellations) have worshipped Lord Shiva here to seek absolution and have stayed in this temple as Shiva lingams. All the 27 Shiva lingams, one for each Nakshatram, can be seen in the corridors.
It is said that Kavi Chakravarthi Kambar translated Valmiki's Ramayan from Sanskrit to Tamil in this temple only. It is also believed that every day he would pray to the Goddess Vattaparai Amman before starting his work. The legend is that the Goddess took the form of a woman and helped him by holding a torch while he was writing.
Saint Arunagirinadhar has also sang two songs in praise of Lord Murugan of this temple in his revered Thirupugazh.
This temple also has a shrine for Saint Pattinathar - a reputed Tamil ascetic-poet. He is also praised as "Thavaraja Singam" and he rendered many songs about Goddess Vadivudai Amman. It is believed that Pattinathar, a merchant from Poompuhar, worshiped to Lord Shiva to seek salvation. Lord Shiva appeared before him, gave him a sour sugarcane and asked him to travel to many places with it. The lord further advised him that when he felt sweetness at the end of the sugarcane, he would attain salvation. It is believed that it happened at this place - Thiruvotriyur. Realizing that his life was coming to an end, it is believed that Pattinathar asked his followers to cover him with a bowl. When they removed the bowl, to their surprise, they found a lingam in his place. Pattinathar had attained salvation and his Jeeva Samadhi (a shrine) was built near the Thiruvotriyur temple.
It is believed that many poets and sages including Kambar, Arunagirinathar, Muthuswamy Dikshithar, Ramalinga Swamigal and Maraimalai Adigal have worshipped Lord Shiva here.
Saint Thiyagaraja Swamigal, the Carnatic composer and an ardent devotee of Lord Rama visited this temple and composed the "Thiruvotriyur Pancharatna" (5 Gems) in praise of the Goddess Sri Thripurasundari. He had never sung about any other god or goddess other than Lord Rama, but after seeing Goddess Parvathi, he was mesmerized by her beauty and sung a song.
Saint Padagachery Ramalinga Swamigal's Jeeva Samadhi is also located near this temple.
Greatness of this temple
It is believed that just entering this temple itself will cure one's illnesses.
Devotees come to Thiruvotriyur temple and worship the lord here to seek wedding boon and for the welfare of their children. Devotees seeking child boon come here and pray to Lord Kuzhanthai Eswarar.
As there are 27 Shiva lingams representing the 27 Nakshatrams (constellations) in this temple, devotees who are facing the adverse effects of these Nakshatrams can be seen performing poojas here.
Important Festivals
During the 10-day Brahmotsavam festival in the Tamil month of Masi (February-March) the following important events are observed.
On the full moon day, the Panchamurthy procession to seashore for theerthavari. On the sixth day, the wedding dharisanam to Sage Agasthiyar is celebrated.
On the nineth day, Saint Sundarar and Sangili Nachiyar's wedding festival is observed under the Makizha tree (Makizhadi Sevai).
On the tenth day, Lord Thiyagaraja's 18 types of dance programmes are celebrated in a grand manner.
Other major festivals that are celebrated here are Pattinathar Guru Poojai in the Tamil month of Adi (July-August) and the 18-day festivals for Sri Vattaparai Amman in the Tamil month of Chithirai (April-May).
Temple Timings
06.00 AM to 12.00 noon and 04.00 PM to 08.30 PM

Temple Address
Sri Thiyagarajaswamy Temple,
Thiruvotriyur,
Thiruvallur District,
Chennai
Tamil Nadu - 600 019.
Tele: 044 - 2573 3703, 09962089290
---
Pathigam (Hymn) with English transliteration
Saint Thirugnanasambanthar visited this temple and sang this Pathigam.
Devotees visiting this temple should make it a practice to recite this Pathigam.
விடையவன் விண்ணுமண்ணுந் தொழநின்றவன் வெண்மழுவாட்
படையவன் பாய்புலித்தோல் உடைகோவணம் பல்கரந்தைச்
சடையவன் சாமவேதன் சசிதங்கிய சங்கவெண்தோ
டுடையவன் ஊனமில்லி யுறையும்மிடம் ஒற்றியூரே.
"Vidaiyavaṉ viṇṇumaṇṇun thozhaniṉtṟavaṉ veṇmazhuvāṭ
padaiyavaṉ pāypulithōl uṭaikōvaṇam palkaranthaich
chadaiyavaṉ sāmavēdaṉ sasithaṅkiya saṅkaveṇthō
ṭuṭaiyavaṉ ūṉamilli yuṟaiyum'miṭam otṟiyūrē".
பாரிடம் பாணிசெய்யப் பறைக்கட்செறு பல்கணப்பேய்
சீரொடும் பாடலாடல் இலயஞ்சிதை யாதகொள்கைத்
தாரிடும் போர்விடையன் தலைவன்றலை யேகலனா
ஊரிடும் பிச்சைகொள்வான் உறையும்மிடம் ஒற்றியூரே.
"Pāriṭam pāṇiseyyap paṟaikkaṭcheṟu palkaṇappēy
sīroṭum pādalādal ilayañchithai yāthakoḷkaith
thāriṭum pōrvidaiyaṉ thalaivaṉtṟalai yēkalaṉā
ūridum pichaikoḷvāṉ uṟaiyum'miṭam otṟiyūrē".
விளிதரு நீருமண்ணும் விசும்போடனல் காலுமாகி
அளிதரு பேரருளான் அரனாகிய ஆதிமூர்த்தி
களிதரு வண்டுபண்செய் கமழ்கொன்றையி னோடணிந்த
ஒளிதரு வெண்பிறையான் உறையும்மிடம் ஒற்றியூரே.
"Viḷitharu nīrumaṇṇum visumpōdaṉal kālumāki
aḷitharu pēraruḷāṉ araṉākiya āthimūrthi
kaḷitharu vaṇdupaṇsey kamazhkoṉtṟaiyi ṉōṭaṇintha
oḷitharu veṇpiṟaiyāṉ uṟaiyum'miṭam otṟiyūrē".
அரவமே கச்சதாக அசைத்தானலர்க் கொன்றையந்தார்
விரவிவெண் ணூல்கிடந்த விரையார்வரை மார்பன்எந்தை
பரவுவார் பாவமெல்லாம் பறைத்துப்படர் புன்சடைமேல்
உரவுநீ ரேற்றபெம்மான் உறையும்மிடம் ஒற்றியூரே.
"Aravamē kachathāka asaithāṉalark koṉtṟaiyanthār
viraviveṇ ṇūlkiṭantha viraiyārvarai mārpaṉenthai
paravuvār pāvamellām paṟaithuppaṭar puṉsaṭaimēl
uravunī rētṟapem'māṉ uṟaiyum'miṭam otṟiyūrē".
விலகினார் வெய்யபாவம் விதியாலருள் செய்துநல்ல
பலகினார் மொந்தைதாளந் தகுணிச்சமும் பாணியாலே
அலகினால் வீசிநீர்கொண் டடிமேல்அல ரிட்டுமுட்டா
துலகினா ரேத்தநின்றான் உறையும்மிடம் ஒற்றியூரே.
"Vilakiṉār veyyapāvam vithyālaruḷ seythunalla
palakiṉār monthaithāḷan thakuṇichamum pāṇiyālē
alakiṉāl vīsinīrkoṇ ṭaṭimēlala riṭṭumuṭṭā
thulakiṉā rēthaniṉtṟāṉ uṟaiyum'miṭam otṟiyūrē".
கமையொடு நின்றசீரான் கழலுஞ்சிலம் பும்ஒலிப்பச்
சுமையொடு மேலும்வைத்தான் விரிகொன்றையுஞ் சோமனையும்
அமையொடு நீண்டதிண்டோ ள் அழகாயபொற் றோடிலங்க
உமையொடுங் கூடிநின்றான் உறையும்மிடம் ஒற்றியூரே.
"Kamaiyodu niṉtṟasīrāṉ kazhaluñsilam pumolippach
chumaiyodu mēlumvaithāṉ virikoṉtṟaiyuñ sōmaṉaiyum
amaiyodu nīṇṭathiṇṭhō ḷ azhakāyapot ṟōṭilaṅka
umaiyoduṅ kūṭiniṉtṟāṉ uṟaiyum'miṭam otṟiyūrē".
நன்றியால் வாழ்வதுள்ளம் உலகுக்கொரு நன்மையாலே
கன்றினார் மும்மதிலுங் கருமால்வரை யேசிலையாப்
பொன்றினார் வார்சுடலைப் பொடிநீறணிந் தாரழல்அம்
பொன்றினால் எய்தபெம்மான் உறையும்மிடம் ஒற்றியூரே.
"Naṉtṟiyāl vāzhvathuḷḷam ulakukkoru naṉmaiyālē
kaṉtṟiṉār mum'mathiluṅ karumālvarai yēsilaiyāp
poṉtṟiṉār vārsudalaip podinīṟaṇin thārazhalam
poṉtṟiṉāl eythapem'māṉ uṟaiyum'miṭam otṟiyūrē".
பெற்றியாற் பித்தனொப்பான் பெருமான்கரு மானுரிதோல்
சுற்றியான் சுத்திசூலஞ் சுடர்க்கண்ணுதல் மேல்விளங்கத்
தெற்றியாற் செற்றரக்கன் னுடலைச்செழு மால்வரைக்கீழ்
ஒற்றியான் முற்றுமாள்வான் உறையும்மிடம் ஒற்றியூரே.
"Petṟiyāṟ pithaṉoppāṉ perumāṉkaru māṉurithōl
sutṟiyāṉ suthisūlañ sudarkkaṇṇuthal mēlviḷaṅkath
thetṟiyāṟ setṟarakkaṉ ṉudalaichezhu mālvaraikkīzh
otṟiyāṉ mutṟumāḷvāṉ uṟaiyum'miṭam otṟiyūrē".
திருவினார் போதினானுந் திருமாலுமோர் தெய்வமுன்னித்
தெரிவினாற் காணமாட்டார் திகழ்சேவடி சிந்தைசெய்து
பரவினார் பாவமெல்லாம் பறையப்படர் பேரொளியோ
டொருவனாய் நின்றபெம்மான் உறையும்மிடம் ஒற்றியூரே.
"Thiruviṉār pōthiṉāṉun thirumālumōr theyvamuṉṉith
theriviṉāṟ kāṇamāṭṭār thikazhsēvadi sinthaiseythu
paraviṉār pāvamellām paṟaiyappaṭar pēroḷiyō
doruvaṉāy niṉtṟapem'māṉ uṟaiyum'miṭam otṟiyūrē".
தோகையம் பீலிகொள்வார் துவர்க்கூறைகள் போர்த்துழல்வார்
ஆகம செல்வனாரை அலர்தூற்றுதல் காரணமாக்
கூகையம் மாக்கள்சொல்லைக் குறிக்கொள்ளன்மின் ஏழுலகும்
ஓகைதந் தாளவல்லான் உறையும்மிடம் ஒற்றியூரே.
"Thōkaiyam pīlikoḷvār thuvarkkūṟaikaḷ pōrthuzhalvār
ākama selvaṉārai alarthūtṟuthal kāraṇamāk
kūkaiyam mākkaḷsollaik kuṟikkoḷḷaṉmiṉ ēzhulakum
ōkaithan thāḷavallāṉ uṟaiyum'miṭam otṟiyūrē".
ஒண்பிறை மல்குசென்னி இறைவன்னுறை யொற்றியூரைச்
சண்பையர் தந்தலைவன் தமிழ்ஞானசம் பந்தன்சொன்ன
பண்புனை பாடல்பத்தும் பரவிப்பணிந் தேத்தவல்லார்
விண்புனை மேலுலகம் விருப்பெய்துவர் வீடெளிதே.
"Oṇpiṟai malkuseṉṉi iṟaivaṉṉuṟai yotṟiyūraich
chaṇpaiyar thanthalaivaṉ thamiḻ gñāṉasam banthaṉsoṉṉa
paṇpuṉai pādalpahtum paravippaṇin thēthavallār
viṇpuṉai mēlulakam viruppeythuvar vīṭeḷithē".