Visited on: 16th July, 2016
Location
Thiruvalithayam (Padi) is located at a distance of about 7 kms from the Koyambedu Bus Terminus on the Chennai to Thiruvallur route. It is about 12 kms from the Chennai Central railway station. The railway station nearest to Thiruvalithayam is Kurattur on the Chennai Central to Arakkonam route and this temple is about 2 kms away from it.
Thiruvalithayam is near the Paadi main junction and just opposite to the Lucas TVS Factory.
Other Devara Paadal Petra Shiva sthalams near this temple are – Thiruvotriyur, Thirumullaivayil, Thiruverkadu, Mylapore and Thiruvanmiyur.
General Information
| | |
| --- | --- |
| Moolavar | Sri Valithaya Nathar, Sri Valleeswarar |
| Ambal | Sri Jagadhambal, Sri Thayammai |
| Theertham (Holy water) | Baradwaja Theertham |
| Sthala Vriksham (Sacred Tree) | Padhiri tree |
| Pathigam (Hymn) rendered by | Saint Thirugnanasambanthar |
This is one of the 276 Devara Paadal Petra Shiva Sthalams and 21st Shiva Sthalam in Thondai Nadu.
Lord Shiva in this temple is a Swayambumurthi (self-manifested).
This east facing temple has a 3-tiered main tower (Rajagopuram) and it has two corridors.
Lord Vinayakar's wedding with Kamalai and Valli took place here.
The Vimanam (roof tower) of the sanctum sanctorum has been constructed according to the Gaja Brishtam style of architecture.
This temple is famous as a Parihara Sthalam for Lord Guru (planet Jupiter).
The last Consecration ceremony (Maha Kumbabishekam) took place on 29-01-2012.
History of the Temple
This ancient temple is believed to have been constructed by Chola kings. The historical name of this place is Thiruvalithayam but it is now known as Paadi.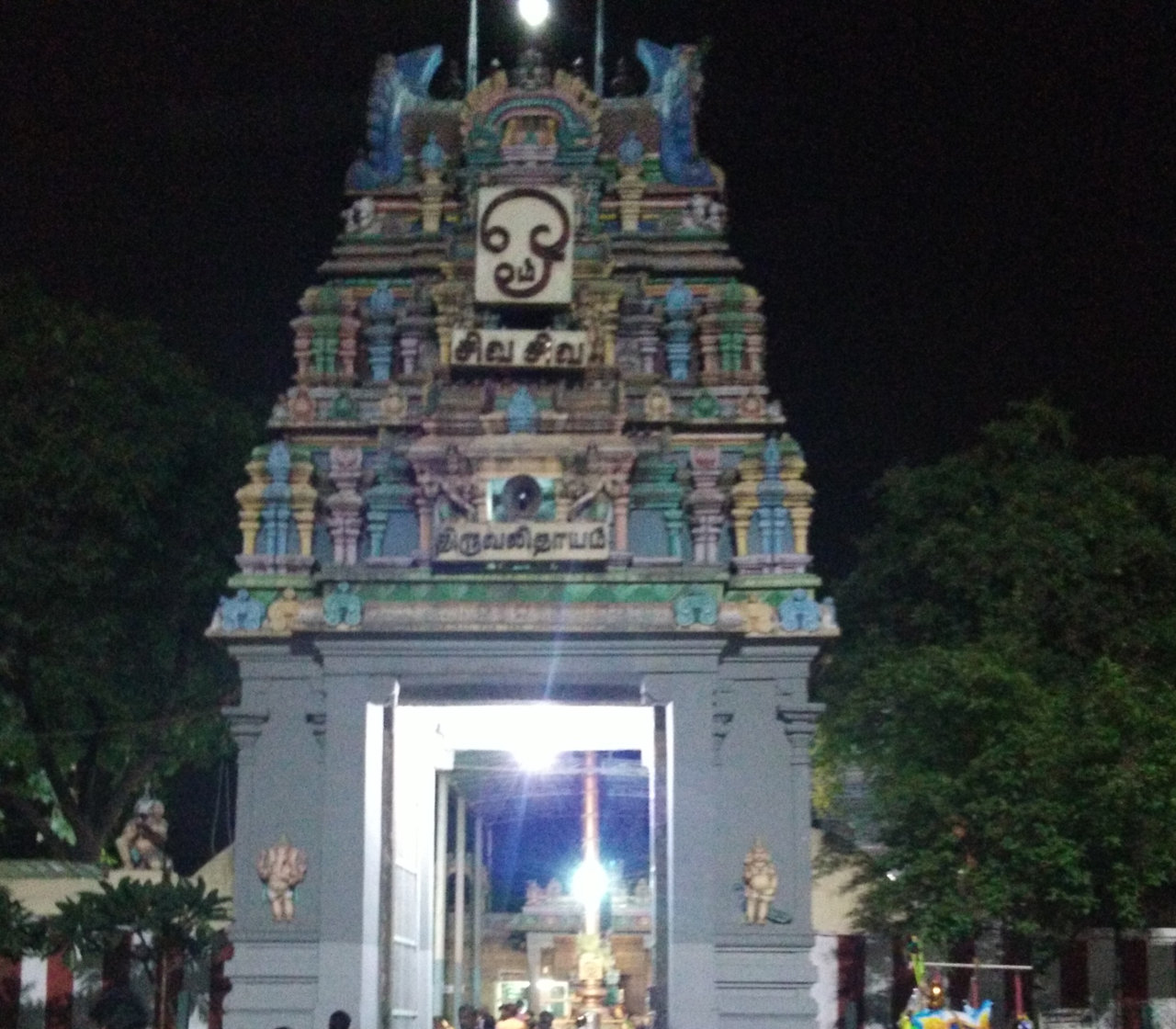 Legend
According to the legend, Lord Brahma's two daughters - Kamalai and Vimalai wished to marry Lord Shiva. Knowing that their wish is very difficult to be fulfilled, Lord Brahma sent them to worship Lord Shiva on the banks of river Paalaru. Lord Shiva was pleased with their penance and appeared before them. He told them that it was not possible for him to marry them as he was already married to Goddess Parvathi. He further advised them to marry Lord Vinayakar instead. Heading to Lord Shiva's wishes, they married Lord Vinayakar in this place as soon as he returned after conquering the demon king Gajamukasuran.
(Another legend states that Lord Vinayakar's wifes are called Siddhi and Buddhi.)
Another legend is associated with this place dates back to the time of Mahabharatha. It is believed that Sage Bharadwaj (Dhronachariyar's father), had visited this temple. It is believed that once Sage Bharadwaj had been cursed to take the form of a bird. He visited many Shiva temples and worship the lord to seek relief from this curse. Finally, he is believed to have reached this place, created a well (Bharadwaja Theertham), worshipped Lord Shiva here and got his curse lifted. The name Thiru Valithayam comes from "Valiyan" – a black bird in Tamil and "Thiru" is a respectful prefix. Hence, the lord here is also praised as "Sri Valithaya Nathar".
It is believed that Lords Indra, Mahavishnu, Ram, Hanuman, Lov, Kush, Manmadan, Sugreeva, Sage Agasthiar, Sage Bharadwaj, Yama, Vayu, Agni, Sun and Moon have worshiped the lord here.
It is believed that Planet Jupiter (Brahaspathi /Guru Bhagwan) worshipped Lord Shiva here and got relieved of his sins.
Deities in the temple
Apart from shrines for the main deities - Lord Tiruvalleeswarar and Goddess Jagathambikai, there are shrines and idols of lords Varasidhi Vinayakar, Murugan, Somaskandar, Anjaneyar, Meenakshi Sundareswarar, Mahavishnu, Brahma, Suryan, Chandran, Dakshinamoorthy, Durgai, Navagraham, Bairavar, Nalvar and Arunagirinathar in the corridors.
Lord Vinayakar can be seen with his consorts and he is in his wedding form.
The corridors of this temple have Shivalingams that are believed to have been worshipped by Lord Indra, Sage Bharadwaj and Hanuman.
There is a separate shrine for Jupiter (Lord Guru Bhagwan) in the outer corridor.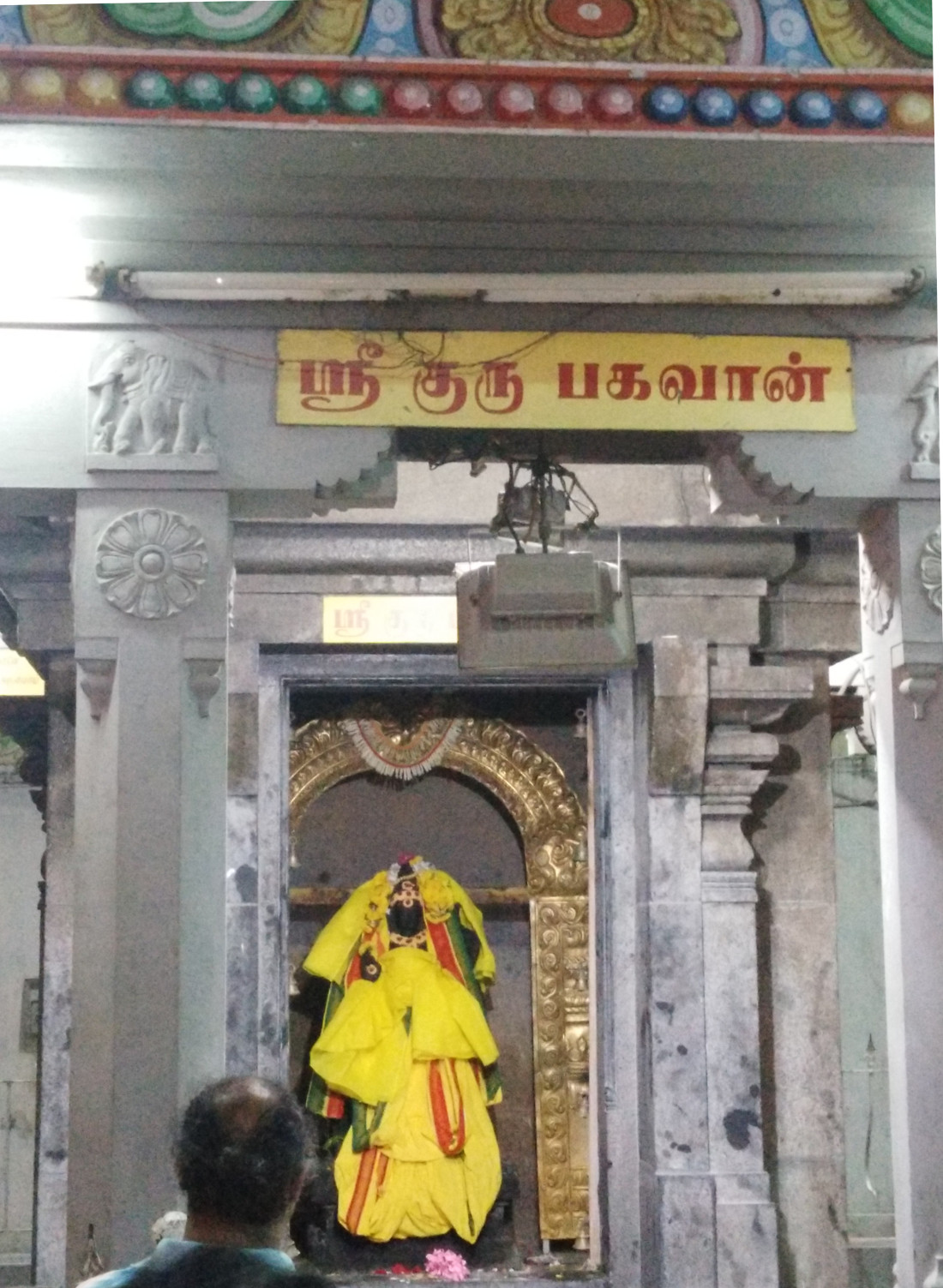 Salient Features
As per the sthala puranam, there are eleven temples situated around this temple that adorn Thiruvlithayam like a garland. This makes Thiruvalidayam very auspicious. These eleven temples are – Mylapore, Thiruvanmiyur, Thiruverkadu, Thiruvirkolam, Thiru Ilambayankottur, Thiruvooral, Thiruvalangadu, Thiruvenpakkam, Thirupachur, Thirumullaivoyal and Thiruvogtriyur.
The vimana (roof tower) of the sanctum sanctorum is designed in a special style of architecture called the Gaja Brishtam. This makes the vimanam look like the rear of an elephant (Gaja - elephant, brishtam - rear).
The sanctum sanctorum is in the form of a semi-circular tank (Akazhi in Tamil).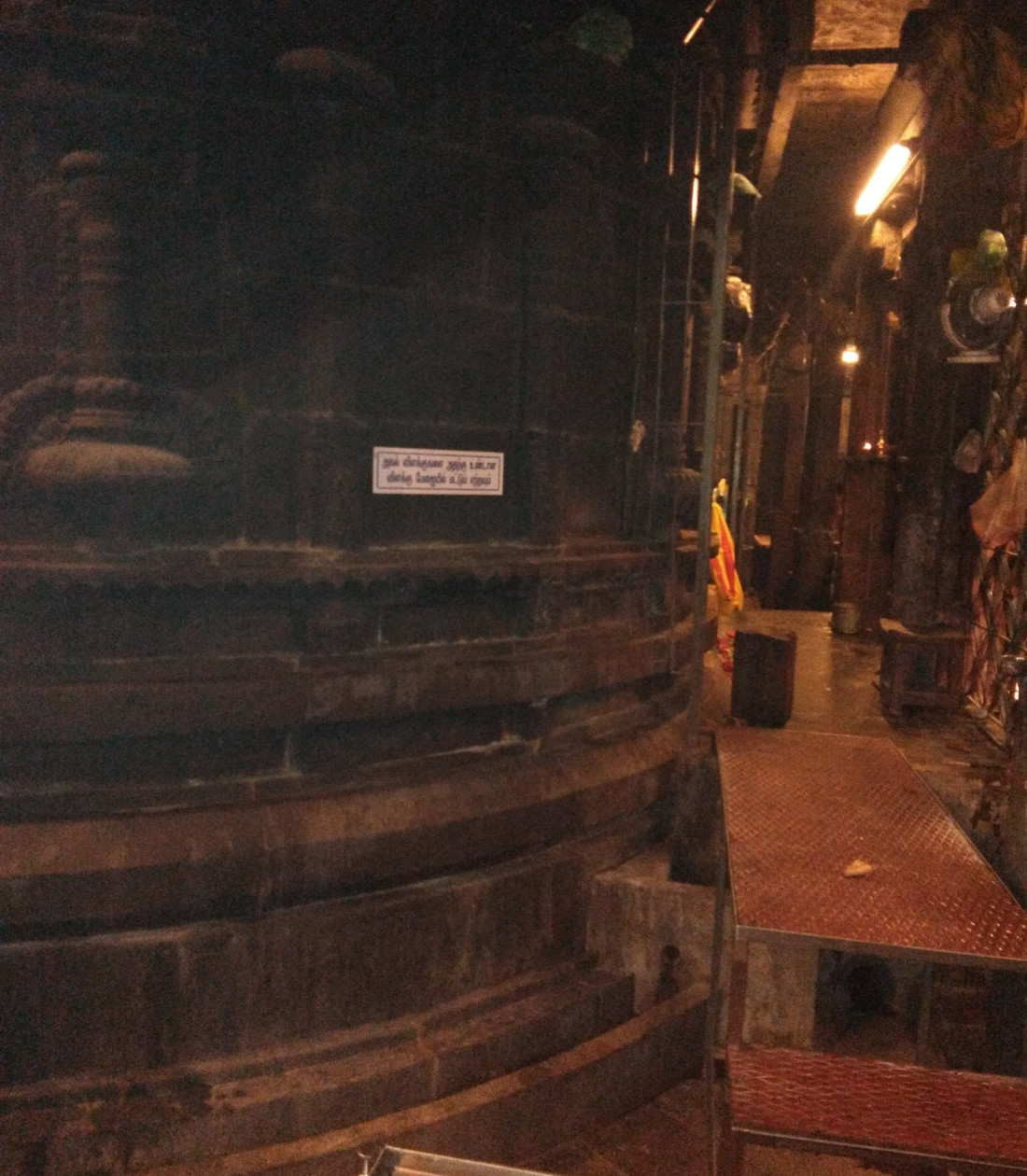 Goddess Jagathambikai is facing south. From a single place, one is able to get dharisanam of both Lord Valleeswarar and the Goddess Jagathambikai.
Saint Arunagirinadhar has sang songs in praise of Lord Murugan of this temple in his revered Thirupugazh.
The pillars of this temple have beautiful reliefs depicting many gods from the Hindu mythology. These include carvings of Lords Natarajar, Murugan, Kothandaramar, Machavathara Moorthy and Koormavadhara Moorthy.
Greatness of this temple
Devotees believe that worshiping the lord here on full moon days will grant them salvation.
This temple is considered as one of the Guru Parihara sthalams.
As Lord Vinayakar is in his wedding form in this temple, it is believed by devotees that worshiping him here will expedite their marriage proposals.
Important Festivals
Some of the important festivals celebrated in this temple are –
Brahmotsavam in the Tamil month of Chithirai (April-May),
Thai Kruthikai in the Tamil month of Thai (Jan-Feb),
Annabishekam in the Tamil month of Aippasi (Oct–Nov),
Thiruvadhirai in the Tamil month of Markazhi (Dec-Jan),
Shivrathri in the Tamil month of Masi (Feb-Mar) and
Jupiter (Guru) transit days.
Pradosham is also observed regularly.
Temple Timings
From 07.00 AM to 12.00 Noon and from 04.30 PM to 08.30 PM.
Temple Address
Sri Thiruvalleswarar Temple,
Thiruvalidayam, Padi,
Ambathur Taluk,
Thiruvallur District
Tamil Nadu – 600 050.
Tele: +91 - 44 - 2654 0706.
---
Pathigam (Hymn) with English transliteration
Saint Thirugnanasambanthar visited this temple and sang this Pathigam.
Devotees visiting this temple should make it a practice to recite this Pathigam.
பத்தரோடுபல ரும்பொலியம்மலர் அங்கைப் புனல்தூவி
ஒத்தசொல்லியுல கத்தவர்தாந்தொழு தேத்த உயர்சென்னி மத்தம்வைத்தபெரு மான்பிரியாதுறை கின்ற வலிதாயம்
சித்தம்வைத்தஅடி யாரவர் மேலடை யாமற் றிடர்நோயே.
"Patharōṭupala rumpoliyam'malar aṅkaip puṉalthūvi
othasolliyula kathavarthānthozhu thētha uyarseṉṉi
mathamvaithaperu māṉpiriyāthuṟai kiṉtṟa valithāyam
sithamvaitha'aṭi yāravar mēlaṭai yāmaṟ ṟiṭarnōyē".
படையிலங்குகரம் எட்டுடை யான்படி றாகக் கனலேந்திக்
கடையிலங்குமனையிற்பலிகொண்டுணுங் கள்வன்னுறை கோயில்
மடையிலங்குபொழி லின்நிழல்வாய்மது வீசும் வலிதாயம் அடையநின்றஅடி யார்க்கடையாவினை அல்லல் துயர்தானே.
"Paṭaiyilaṅkukaram eṭṭuṭai yāṉpaṭi ṟākak kaṉalēnthik
kaṭaiyilaṅku maṉaiyiṟ palikoṇṭuṇuṅ kaḷvaṉṉuṟai kōyil
maṭaiyilaṅkupozhi liṉnizhalvāymathu vīsum valithāyam
aṭaiyaniṉtṟa'aṭi yārkkaṭaiyāviṉai allal thuyarthāṉē".
ஐயனொய்யன்அணி யன்பிணியில்லவ ரென்றுந் தொழுதேத்தச்
செய்யன்வெய்யபடை யேந்தவல்லான்திரு மாதோ டுறைகோயில்
வையம்வந்துபணி யப்பிணிதீர்த்துயர் கின்ற வலிதாயம்
உய்யும்வண்ணம்நினை மின்நினைந்தால்வினை தீருந் நலமாமே.
"Aiyaṉoyyaṉaṇi yaṉpiṇiyillava reṉtṟun thozhuthēthach
cheyyaṉveyyapaṭai yēnthavallāṉthiru māthō ṭuṟaikōyil
vaiyamvanthupaṇi yappiṇithīrthuyar kiṉtṟa valithāyam
uyyumvaṇṇamniṉai miṉniṉainthālviṉai thīrun nalamāmē".
ஒற்றைஏறதுடை யான்நடமாடியோர் பூதப் படைசூழப்
புற்றில்நாகம்அரை யார்த்துழல்கின்றஎம் பெம்மான் மடவாளோ
டுற்றகோயிலுல கத்தொளிமல்கிட உள்கும் வலிதாயம்
பற்றிவாழும்அது வேசரணாவது பாடும் மடியார்க்கே.
"Otṟṟai'ēṟathuṭai yāṉnaṭamāṭiyōr pūthap paṭaichūḻzhp
putṟilnākamarai yārthuzhalkiṉtṟa'em pem'māṉ maṭavāḷō
ṭutṟakōyilula kathoḷimalkiṭa uḷkum valithāyam
patṟivāzhumathu vēsaraṇāvathu pāṭum maṭiyārkkē".
புந்தியொன்றிநினை வார்வினையாயின தீரப் பொருளாய அந்தியன்னதொரு பேரொளியான்அமர் கோயில் அயலெங்கும்
மந்திவந்துகடு வன்னொடுங்கூடி வணங்கும் வலிதாயஞ்
சிந்தியாதஅவர் தம்மடும்வெந்துயர் தீர்த லெளிதன்றே.
"Punthiyoṉtṟiniṉai vārviṉaiyāyiṉa thīrap poruḷāya
anthiyaṉṉathoru pēroḷiyāṉamar kōyil ayaleṅkum
manthivanthukaṭu vaṉṉoṭuṅkūṭi vaṇaṅkum valithāyañ
sinthiyātha'avar tham'maṭumventhuyar thīrtha leḷithaṉtṟē".
ஊனியன்றதலை யிற்பலிகொண்டுல கத்துள் ளவரேத்தக்
கானியன்றகரி யின்னுரிபோர்த்துழல் கள்வன் சடைதன்மேல் வானியன்றபிறை வைத்தஎம்மாதி மகிழும் வலிதாயம்
தேனியன்றநறு மாமலர்கொண்டுநின் றேத்தத் தெளிவாமே.
"Ūṉiyaṉtṟathalai yiṟpalikoṇṭula kathuḷ ḷavarēththak
kāṉiyaṉtṟakari yiṉṉuripōrthuzhal kaḷvaṉ saṭaithaṉmēl
vāṉiyaṉtṟapiṟai vaitha'em'māthi makizhum valithāyam
thēṉiyaṉtṟanaṟu māmalarkoṇṭuniṉ tṟēthath theḷivāmē".
கண்ணிறைந்தவிழி யின்னழலால்வரு காமன் னுயிர்வீட்டிப் பெண்ணிறைந்தவொரு பால்மகிழ்வெய்திய பெம்மா னுறைகோயில்
மண்ணிறைந்தபுகழ் கொண்டடியார்கள் வணங்கும் வலிதாயத்
துண்ணிறைந்தபெரு மான்கழலேத்தநம் உண்மைக் கதியாமே.
"Kaṇṇiṟainthavizhi yiṉṉazhalālvaru kāmaṉ ṉuyirvīṭṭip
peṇṇiṟainthavoru pālmakizhveythiya pem'mā ṉuṟaikōyil
maṇṇiṟainthapukazh koṇṭaṭiyārkaḷ vaṇaṅkum valithāyath
thuṇṇiṟainthaperu māṉkazhalēthanam uṇmaik kathiyāmē".
கடலில்நஞ்சமமு துண்டிமையோர்தொழு தேத்த நடமாடி
அடலிலங்கையரை யன்வலிசெற்றருள் அம்மா னமர்கோயில்
மடலிலங்குகமு கின்பலவின்மது விம்மும் வலிதாயம்
உடலிலங்கும் உயிர்ருள்ளளவுந்தொழ உள்ளத் துயர்போமே.
"Kaṭalilnañcamamu thuṇṭimaiyōrthozhu thēththa naṭamāṭi
aṭalilaṅkaiyarai yaṉvalisetṟaruḷ am'mā ṉamarkōyil
maṭalilaṅkukamu kiṉpalaviṉmatu vim'mum valithāyam
uṭalilaṅkum uyirruḷḷaḷavunthozha uḷḷat thuyarpōmē".
பெரியமேருவரை யேசிலையாமலை வுற்றா ரெயில்மூன்றும் எரியஎய்தவொரு வன்னிருவர்க்கறி வொண்ணா வடிவாகும் எரியதாகியுற வோங்கியவன்வலி தாயந் தொழுதேத்த
உரியராகவுடை யார்பெரியாரென உள்கும் முலகோரே.
"Periyamēruvarai yēsilaiyāmalai vutṟā reyilmūṉtṟum
eriya'eythavoru vaṉṉiruvarkkaṟi voṇṇā vaṭivākum
eriyathākiyuṟa vōṅkiyavaṉvali thāyan thozhuthēththa
uriyarākavuṭai yārperiyāreṉa uḷkum mulakōrē".
ஆசியாரமொழி யாரமண் சாக்கிய ரல்லா தவர்கூடி
ஏசியீரமில ராய்மொழிசெய்தவர் சொல்லைப் பொருளென்னேல்
வாசிதீர அடியார்க்கருள்செய்து வளர்ந்தான் வலிதாயம்
பேசும் ஆர்வமுடை யாரடியாரெனப் பேணும் பெரியோரே.
"Āsiyāramozhi yāramaṇ chākkiya rallā thavarkūṭi
ēsiyīramila rāymozhiseythavar sollaip poruḷeṉṉēl
vāsithīra aṭiyārkkaruḷseythu vaḷarnthāṉ valithāyam
pēsum ārvamuṭai yāraṭiyāreṉap pēṇum periyōrē".
வண்டுவைகும்மணம் மல்கியசோலை வளரும் வலிதாயத் தண்டவாணனடி யுள்குதலால்அருள் மாலைத் தமிழாகக்
கண்டல்வைகுகடற் காழியுள்ஞானசம் பந்தன் தமிழ்பத்துங் கொண்டுவைகியிசை பாடவல்லார்குளிர் வானத் துயர்வாரே.
"Vaṇṭuvaikum'maṇam malkiyachōlai vaḷarum valithāyath
thaṇṭavāṇaṉaṭi yuḷkutalālaruḷ mālaith thamizhākak
kaṇṭalvaikukaṭaṟ kāzhiyuḷ gñāṉasam banthaṉ tamizhpaththuṅ
koṇṭuvaikiyisai pāṭavallārkuḷir vāṉath thuyarvārē".