Visited On: November 1, 2015
Location
45 kms from Coimbatore and 5 kms from Avinashi and Tiruppur. Nearest airport is at Coimbatore.
General Information
Moolavar

Sri Avudainayagar /Sri Thirumuruganathar

Ambal

Sri Avudainayaki /
Sri MuyangupoonMulayammai

Thala Virutcham (Sacred Tree)

Gurukkathi / Mullai

Theertham

Shanmuga Theertham, Gnana Theertham, Brahmma Theertham

Pathigam (Hymn) rendered by

Saint Sundaramurthy Nayanar (Sundarar)

This is one of the 276 Thevara Paadal Petra Sthalams and 2nd Shiva Sthalam in Kongu Nadu.
Lord Shiva graces in the temple as Swayambumurthi (self-manifested)
The temple is west facing.
There is no main tower (Rajagopuram) here. A large stone Sthupam (Lamp Pillar) is present in front of the temple, as in most of the Kongu Nadu Shiva temples.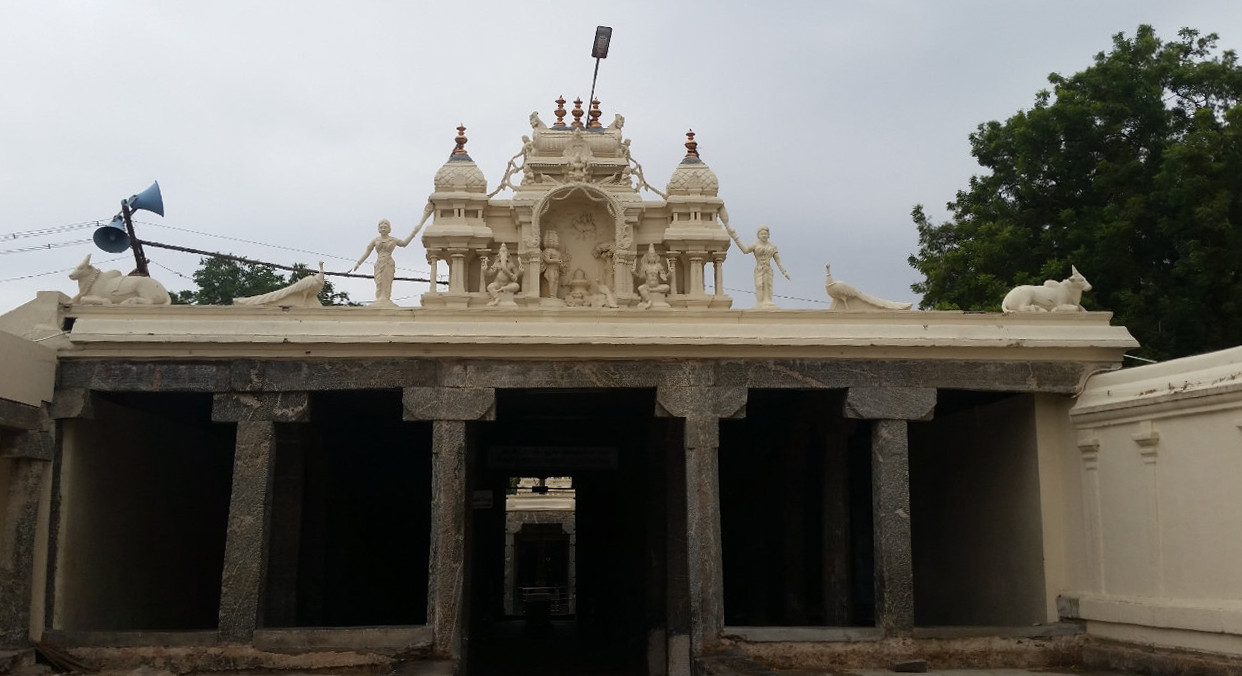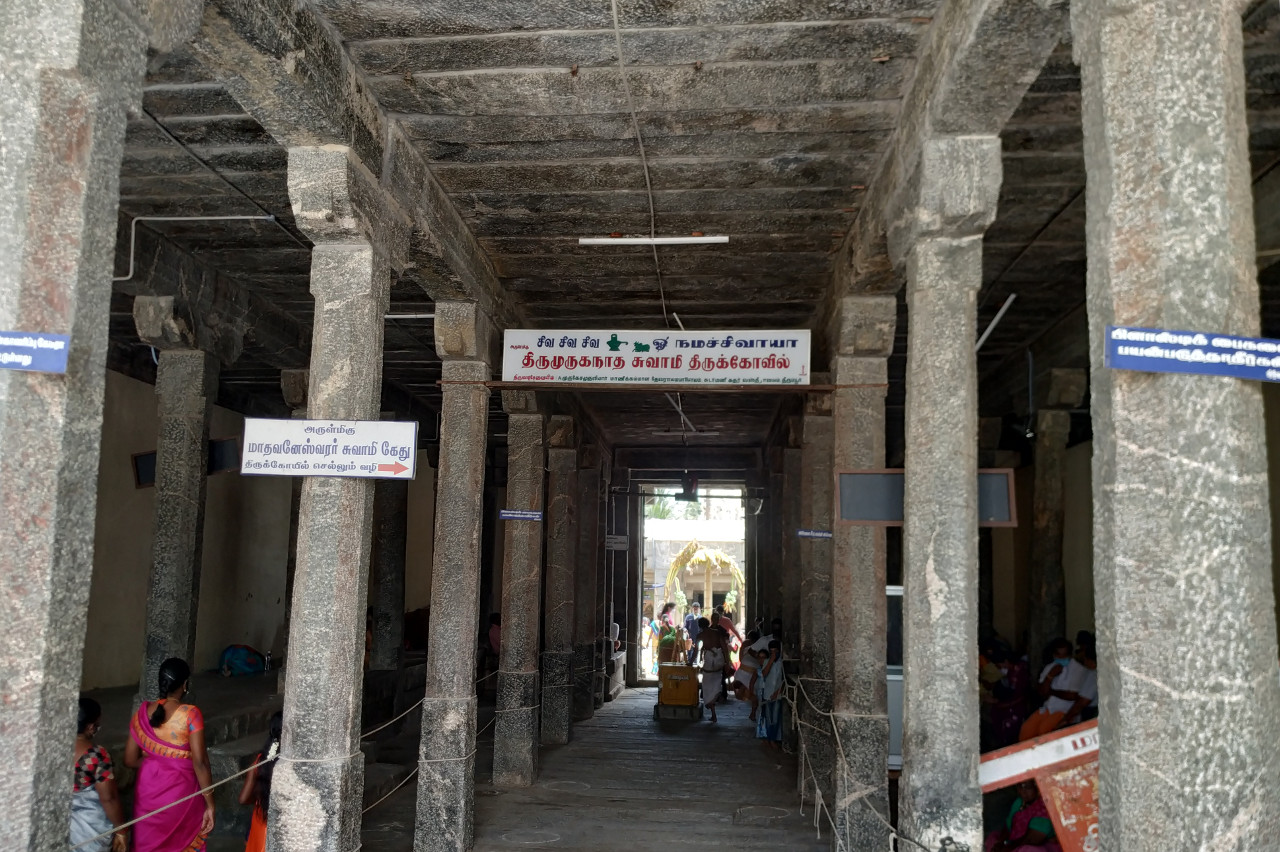 History of the Temple
This is an ancient temple and believed to have been built in the 9th Century CE.
The temple is now maintained by the Archaeological Survey of India (ASI) and is declared as a National Heritage Monument.
Legend
The temple has an interesting legend. Proud of his prowess gained through rigorous penance, demon king Soorapadman tortured the Celestial Gods (Devars) and imprisoned them. Fearing for their lives, the disturbed Devars approached Lord Shiva to seek his help. Lord Shiva sent Lord Murugan with a large number of soldiers headed by lieutenant, Veerabhahu to destroy Soorapadman and his associates. After a fierce battle, Lord Murugan destroyed the demon and relieved the Devars.
It is believed that Lord Murugan got Brahamahathi Dosham due to the killing of the demon king Soorapadman and others in the battle. This battle was referred to as "Surasamharam".
To seek respite from this dosham, Lord Murugan installed a lingam at this place and worshipped it. Since this lingam was installed by Lord Murugan, it was given the name "Thirumuruganathaswamy".
It is believed that while coming to worship Lord Shiva, Lord Murugan left his divine spear (Vel) and his mount peacock outside the temple. Because of this, Lord Murugan's idol inside the shrine does not have the Vel and the peacock with him.
It is believed that the Brahmmahati (the sin accrued by the killing of a Brahmin) that left Murugan is now in form of a square stone under a neem tree near the temple.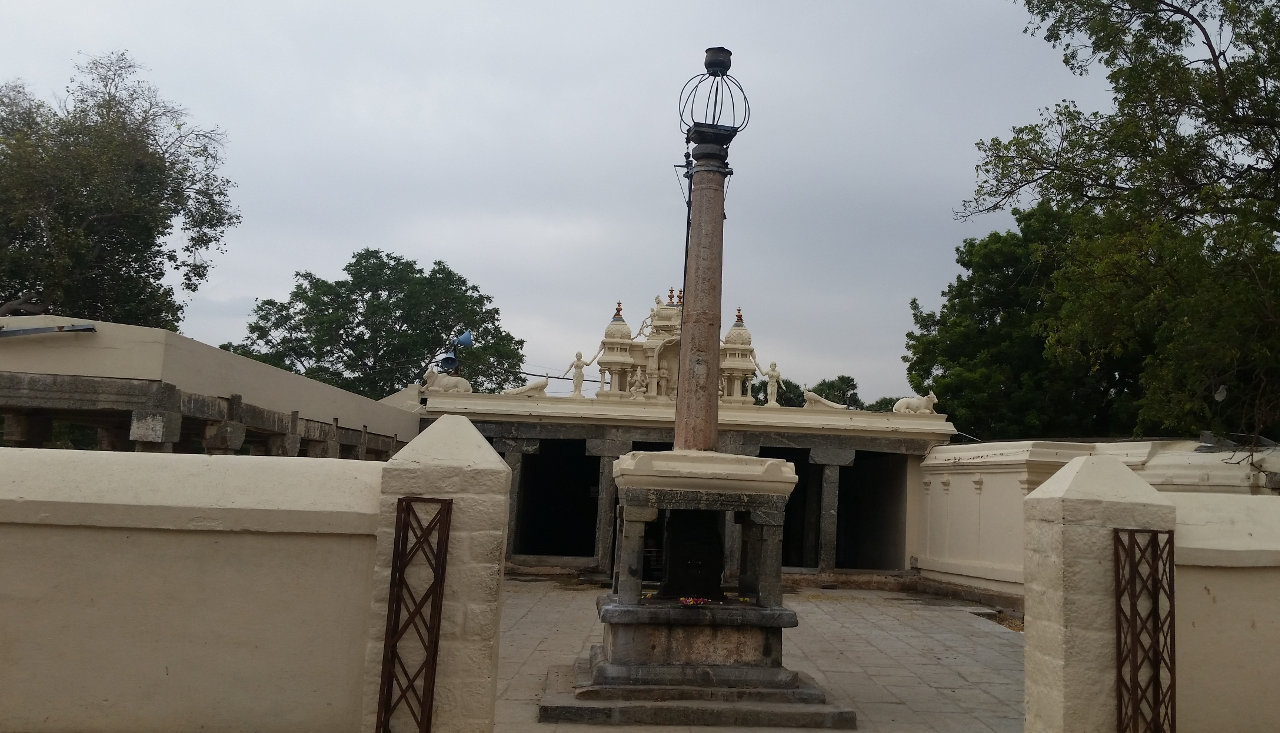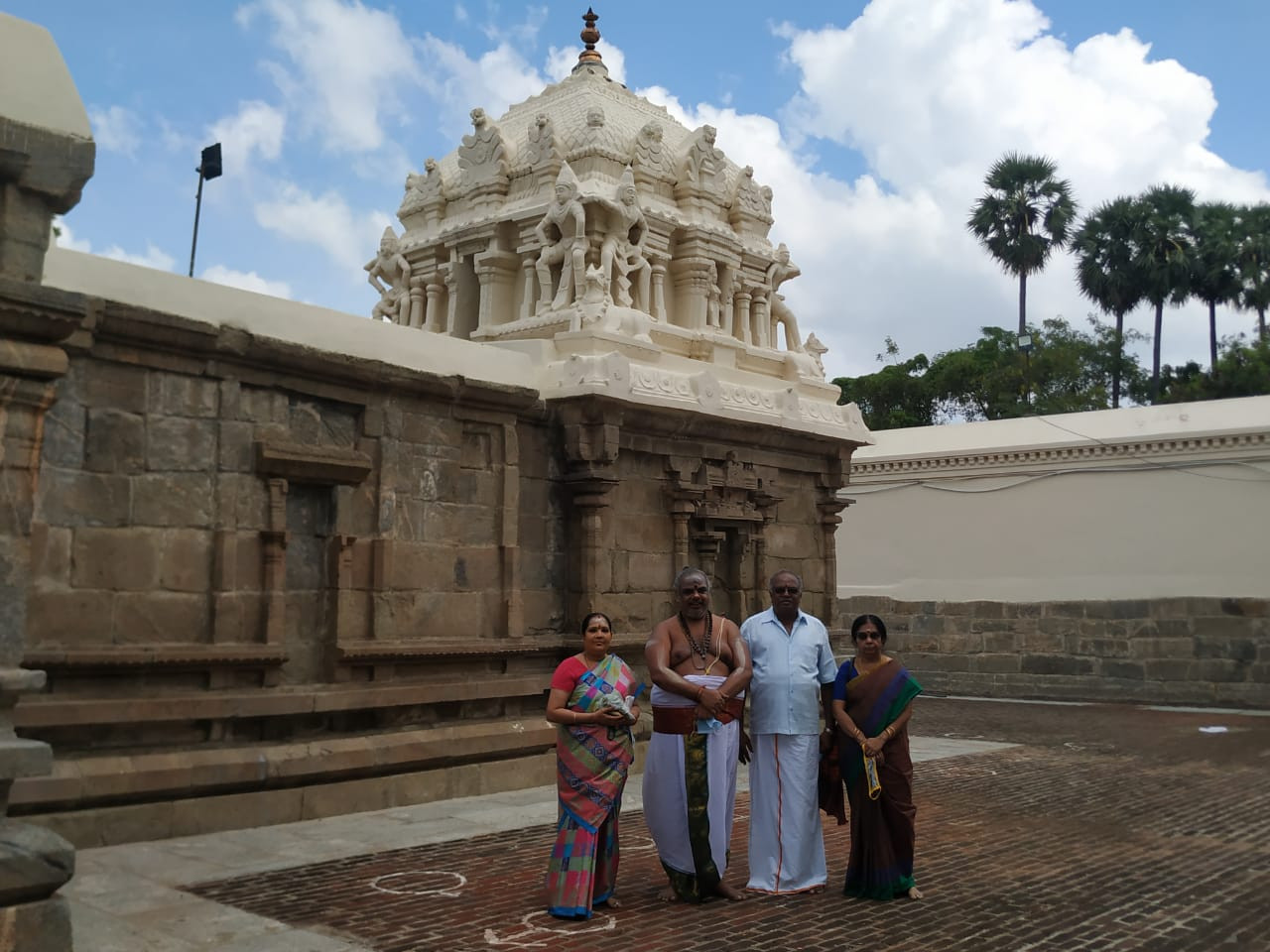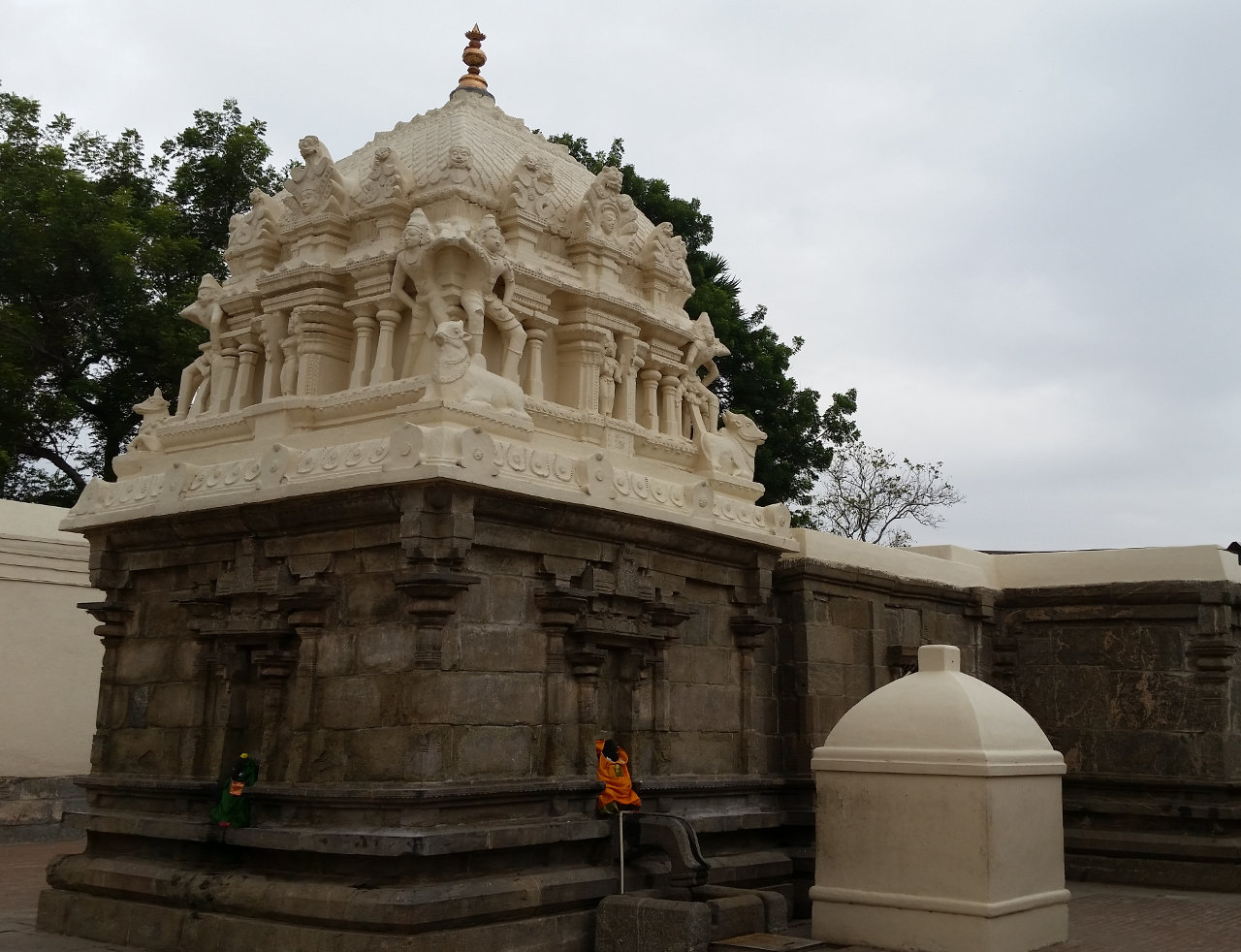 Another Historical Event
Another legend associated with this temple is that of Saint Sundarar, one of the most celebrated saints of Saivism. It is believed that Saint Sundarar received valuable gifts from king Cheraman Perumal for his poetic excellence.
When Sundarar was travelling with his gifts near this place, Lord Shiva felt the need to listen to his compositions. He decided to play a little game with the saint and sent his Boodhaganas (the Lord's army) in the guise of hunters to rob the Saint off all his valuables.
Sundarar complained and prayed to a nearby Vinayakar to help him recover the gifts. Lord Vinayakar in turn directed him to this Shiva temple. Sundarar went to the temple and rendered a pathigam blaming the Lord for not protecting him from the hunters. Through his song, he expressed that the Lord's divine presence in such a notorious place was meaningless. He demanded Lord Shiva's immediate action to help him get back his valuables.
Lord Shiva enjoyed the Saint's composition and returned the stolen goods. This incident is celebrated as a festival called 'Vedupari'. There is a separate place in this temple where it is believed that the Lord gave Saint Sundarar back his valuables (Pon maraithu vaidha idam).
Interestingly, the King Cheraman Perumal who brought Saint Sundarar to this place later became a revered Shiva devotee occupying a place among the 63 celebrated Nayanmars.
Deities in the temple
Ambal is in a separate temple adjacent to Moolavar's shrine.
Shrines for Saneeswarar, Navagrahas, Bairavar, Pancha Linganms, Suryan, Sandikeswarar, Dhakshinamoorthy, Bhavaneeswarar, 63 Nayanmars, Durgai and Lingothbavar are in the corridors.
You can see two Sundarar idols at the entrance of the Lord Shiva's shrine - one sad and the other joyous, depicting his state of mind prior to and after the incident. Lord Shiva's idol is also there as a Hunter (Veduvan).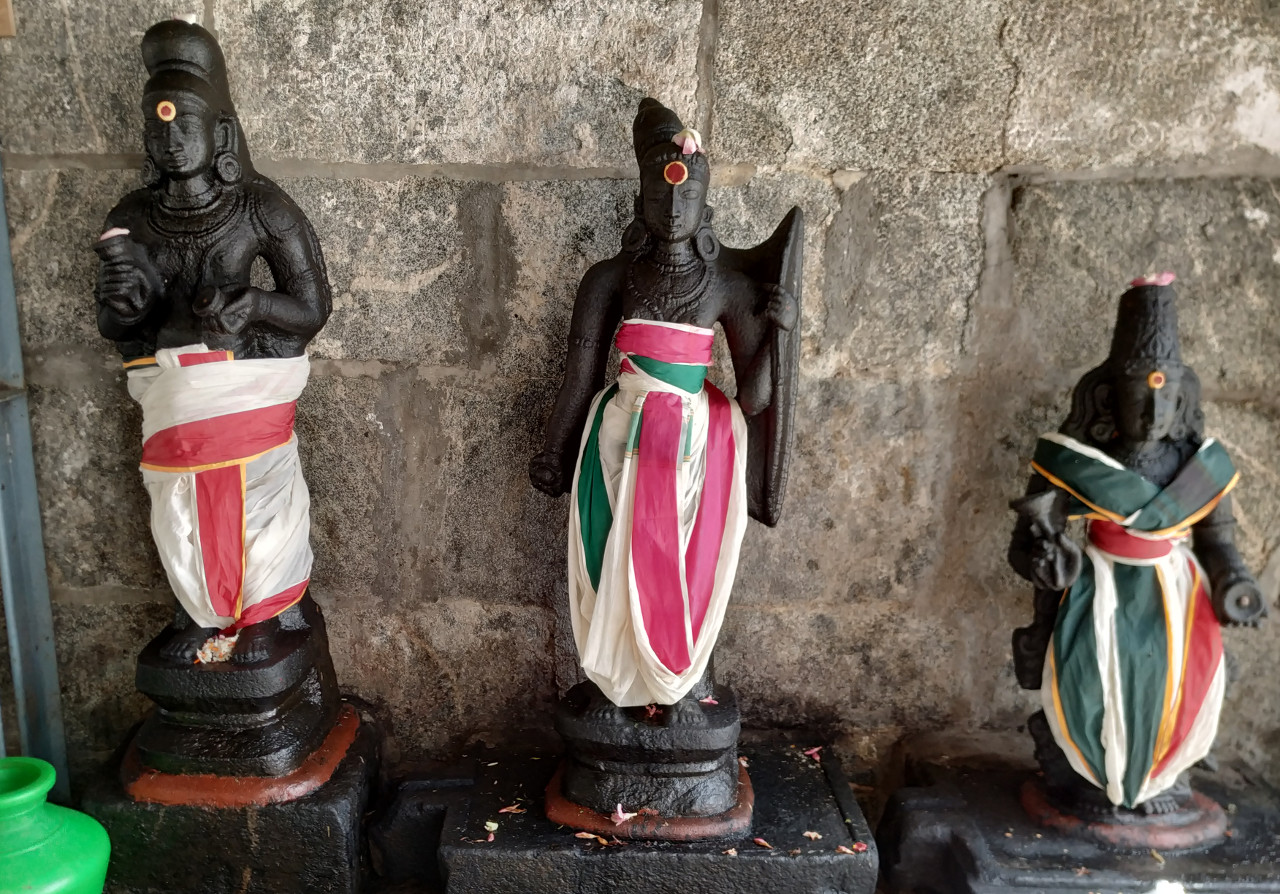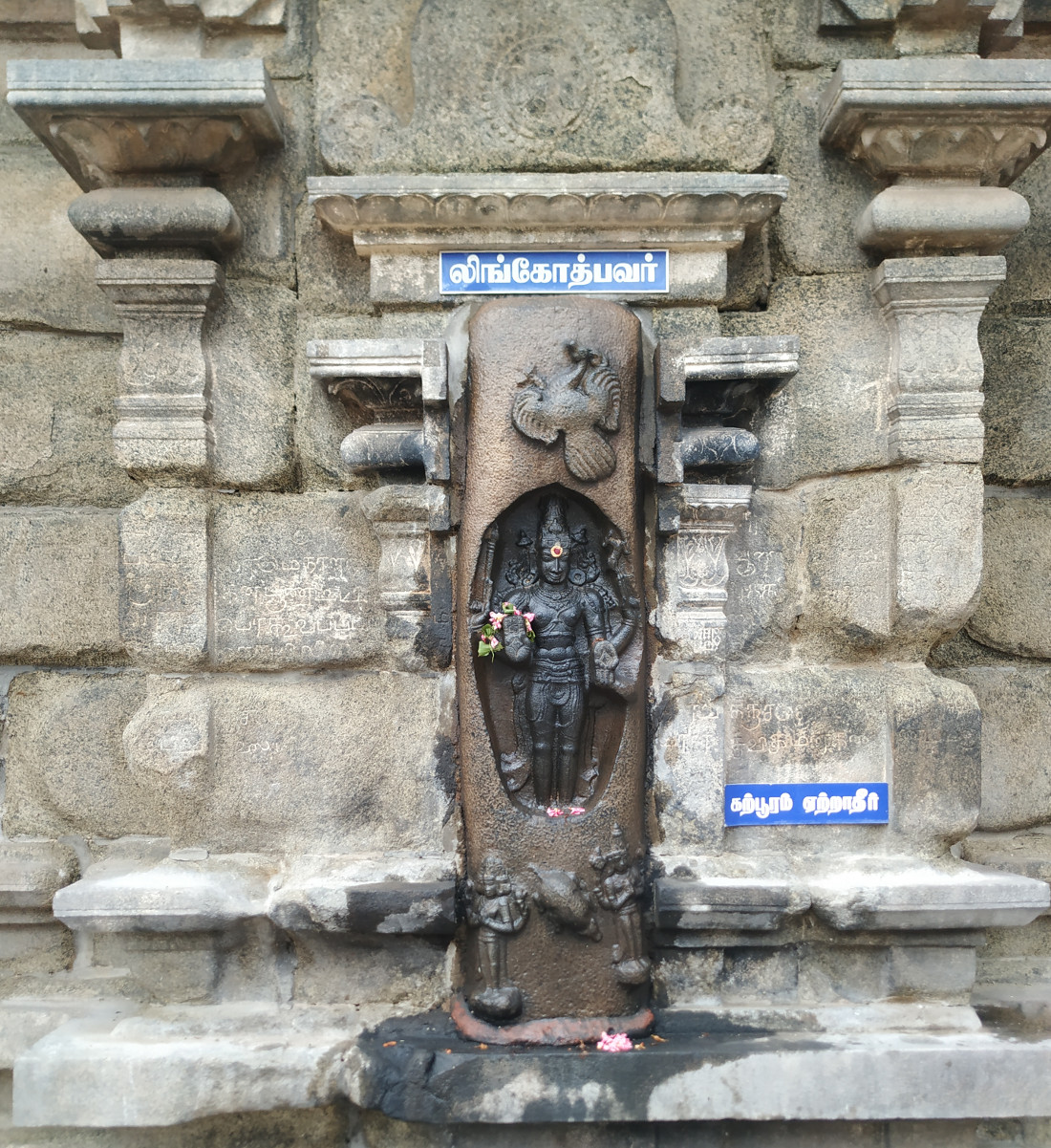 Salient Features
Sages Agasthyar, Markendeyar and Dhurvasar are believed to have worshipped the Lord here. Sage Durvasar is said to have brought the Mullai tree – the Sthala Vriksham from "Karpaka Lokam" (Heaven).
Behind the sanctum sanctorum, on either sides of Lord Lingothbavar, there are idols of Lord Mahavishnu and Lord Brahma in a worshipping posture. Devotees can enjoy the darshan of all the three lords (Trimurthys) – Brahma, Vishnu and Shiva. This is considered to be very auspicious.
There is also a hall in the outer corridor (Prakaram) called "Adalvallan Sabha" where the Lord is believed to have performed the "Brahmma Tandava" dance.
There are three springs in the temple - the Shanmuga Theertham, Gnana Theertham and Brahmma Theertham.
Saint Arunagirinadhar has also sang in praise of Lord Murugan of this temple in his revered Thirupugazh.
Lord Murugan's idol inside the sanctum Santorum has six faces and it has the distinguishing feature of being carved out of a single stone.
There is a shallow well opposite to Lord Vinayagar's temple. It is believed that once in every 12 years' water gushes out of this well.
Just across the road, there is another Shiva temple which houses Sri Madhavaneswarar and Goddess Mangalambika. This temple is considered to be the original Thirumuruganpoondy temple.
Greatness of this temple
It is believed that devotees can be relieved from mental ailments and can get respite from the evil effects of curses by worshipping the Lord at this temple.
This temple is also famous as a Parikara Sthalam for Kethu Dosham and Brahmahathi Dosham.
It is also believed that devotees can recover their lost items by reciting Saint Sundarar's Pathigam of this temple.
It is believed that taking a dip in the Shanmuga Theertham grants the boon of childbirth to the childless couples. It is also said that the Pandya King Maharadhan performed pooja here and was blessed with twins.
Important Festivals
The "Vedupari Urchavam" in the Tamil month of Thai (Jan/Feb) is very famous here.
The annual Brahmotsavam is celebrated in a grand manner in the Tamil month of Maasi (Feb/Mar).
Soora Samhaaram, Thai Poosam, Pankuni Uthiram, Skantha Shashti are also significant festivals celebrated in this temple.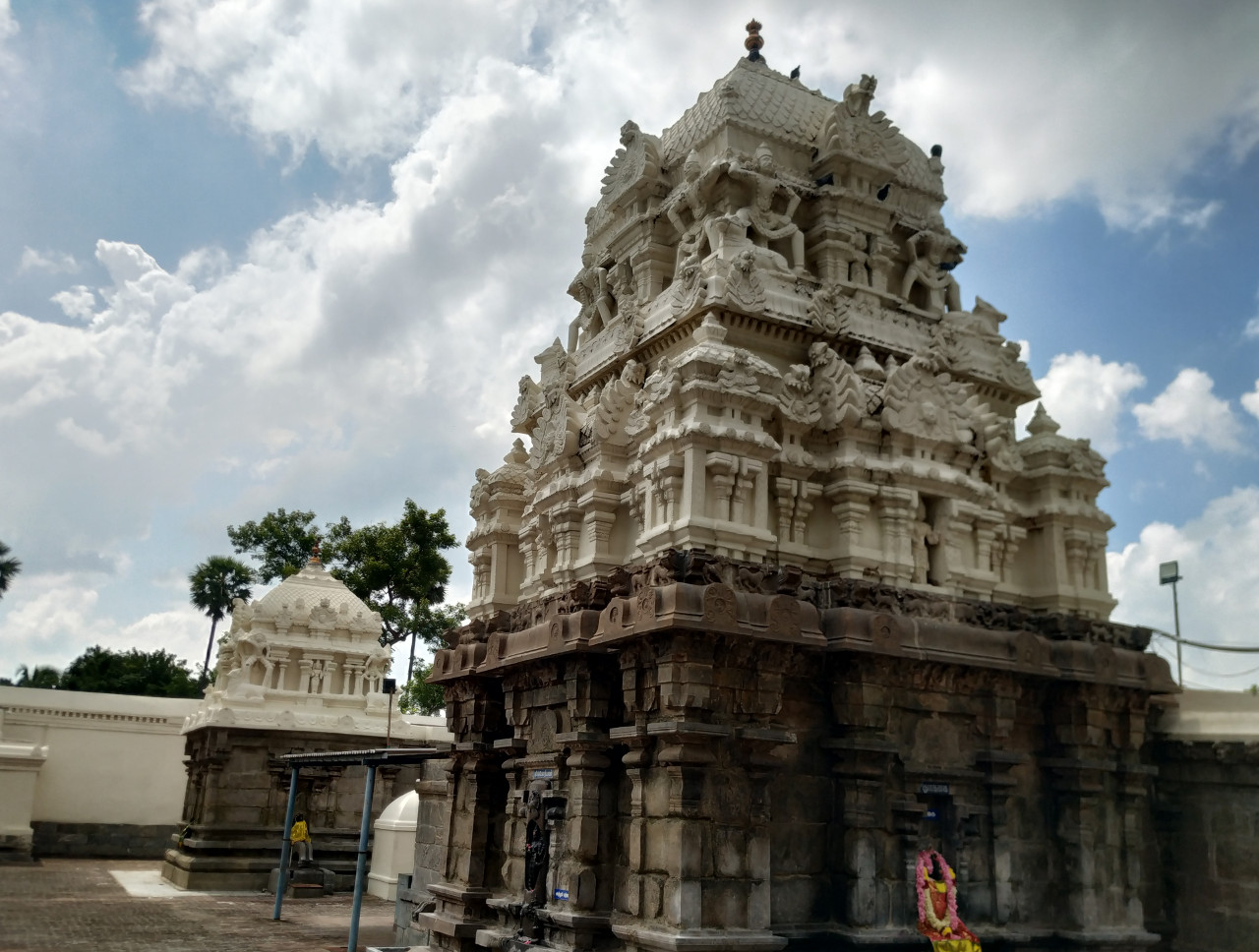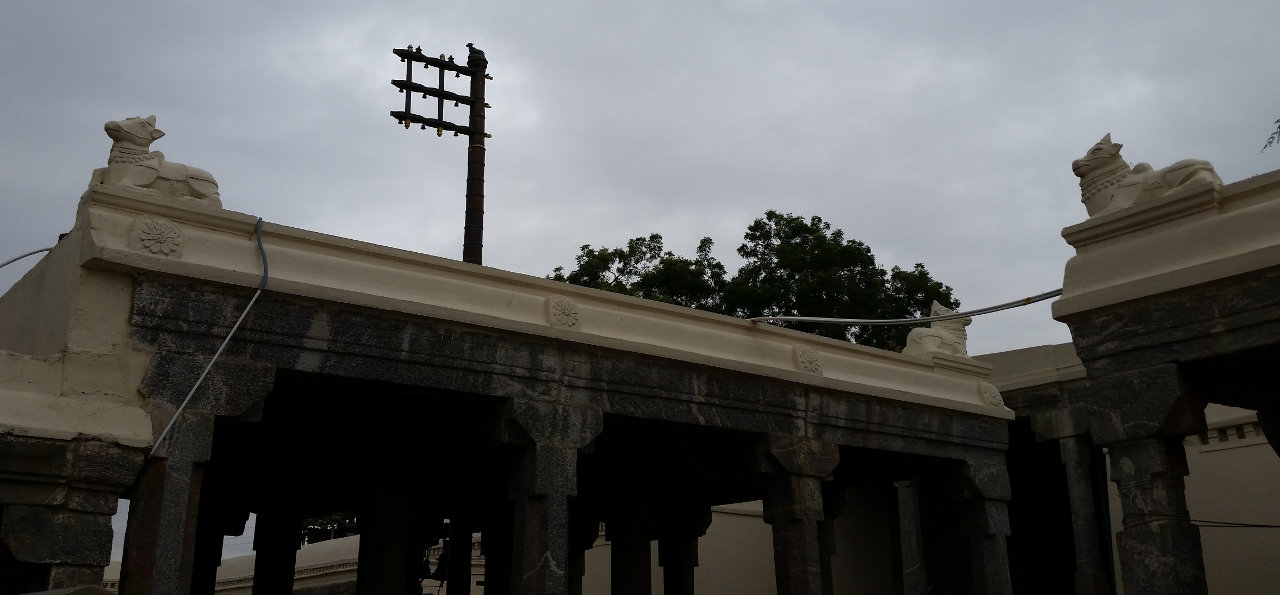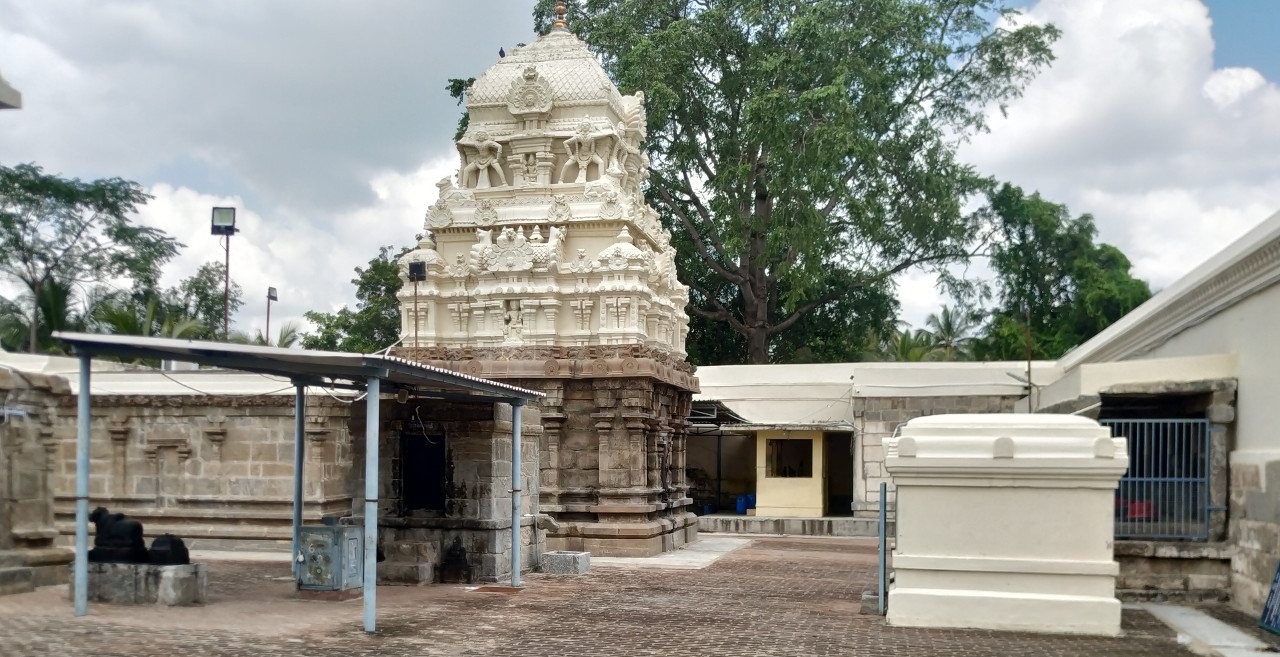 Temple Timings
From 05:30 AM to 12:45 PM and from 03:30 PM to 08:15 PM.
Temple Address
Sri Thirumuruganathaswamy Temple,
Thirumuruganpoondi, Avinasi-Taluk,
Tiruppur District
Pin code: 641 652.
Tele: +91- 4296- 273 507.
The priest Sri Muthu Subramaniya Gurukkal can be contacted at 094437 61520 and 090032 89179.
---
Pathigam (Hymn) with English transliteration
This is the Pathigam that Saint Sundarar rendered asking the Lord to return his stolen items.
Devotees visiting this temple should make it a practice to recite this Pathigam.
திருடர்கள் கொள்ளையடித்த பொருள்களை திருப்பித் தரும்படி இறைவனிடம் பாடி முறையிட்ட பதிகம் இதுவாகும்.
கொடுகு வெஞ்சிலை வடுக வேடுவர் விரவ லாமை சொல்லித்
திடுகு மொட்டெனக் குத்திக் கூறைகொண் டாற லைக்கு மிடம்
முடுகு நாறிய வடுகர் வாழ்முருகன் பூண்டி மாநகர் வாய்
இடுகு நுண்ணிடை மங்கை தன்னொடும் எத்துக்கிங் கிருந்தீரெம் பிரானீரே.
"Koduku veñchilai vaduka vēduvar virava lāmai chollith
thiduku moṭṭeṉak kuthik kūṟaikoṇ dāṟa laikku midam
muduku nāṟiya vadukar vāzhmurugaṉ pooṇṭi mānakar vāi
iduku nuṇṇidai maṅgkai thaṉṉodum ethukkiṅg kirunthīrem pirāṉīrē".
வில்லைக் காட்டி வெருட்டி வேடுவர் விரவ லாமை சொல்லிக்
கல்லி னாலெறிந் திட்டும் மோதியுங் கூறை கொள்ளு மிடம்
முல்லைத் தாது மணங்கமழ் முருகன் பூண்டி மாநகர் வாய்
எல்லைக் காப்பதொன் றில்லை யாகில்நீர் எத்துக்கிங் கிருந்தீரெம் பிரானீரே.
"Villaik kāṭṭi veruṭṭi vēduvar virava lāmai chollik
kalli ṉāleṟin thiṭṭum mōthiyuṅg kūṟai koḷḷu midam
mullaith thāthu maṇaṅgkamazh murugaṉ pooṇṭi mānakar vāi
ellaik kāppathoṉ ṟillai yākilnīr ethukkiṅg kirunthīrem pirāṉīrē".
பசுக்க ளேகொன்று தின்று பாவிகள் பாவ மொன் றறியார்
உசிர்க்கொ லைபல நேர்ந்து நாடொறுங் கூறை கொள்ளு மிடம்
முசுக்கள் போற்பல வேடர்வாழ் முருகன் பூண்டி மாநகர் வாய்
இசுக்க ழியப் பயிக்கங் கொண்டுநீர் எத்துக்கிங் கிருந்தீரெம் பிரானீரே.
"Pasukka ḷēkoṉtṟu thiṉtṟu pāvikaḷ pāva moṉ tṟaṟiyār
usirkko laipala nērnthu nāṭoṟuṅg kūṟai koḷḷu midam
musukkaḷ pōṟpala vēdarvāzh murugaṉ pooṇṭi mānakar vāi
isukka zhiyap payikkaṅg koṇdunīr ethukkiṅg kirunthīrem pirāṉīrē".
பீறற் கூறை உடுத்தோர் பத்திரங் கட்டி வெட்டன ராய்ச்
சூறைப் பங்கிய ராகி நாடொறுங் கூறை கொள்ளு மிடம்
மோறை வேடுவர் கூடிவாழ் முருகன் பூண்டி மாநகர் வாய்
ஏறு காலிற்ற தில்லை யாய்விடில் எத்துக்கிங் கிருந்தீரெம் பிரானீரே.
"Pīṟaṟ kūṟai uṭuthōr pathiraṅg kaṭṭi veṭṭaṉa rāich
chūṟaip paṅgkiya rāki nāṭoṟuṅg kūṟai koḷḷu miṭam
mōṟai vēduvar kūṭivāzh murugaṉ pooṇṭi mānakar vāi
ēṟu kālitṟa thillai yāyvidil ethukkiṅg kiruntīrem pirāṉīrē".
தயங்கு தோலை உடுத்த சங்கரா சாம வேத மோதி
மயங்கி ஊரிடு பிச்சை கொண்டுணும் மார்க்க மொன்றறி யீர்
முயங்கு பூண்முலை மங்கையாளொடு முருகன் பூண்டி மாநகர் வாய்
இயங்க வும்மிடுக் குடைய ராய்விடில் எத்துக்கிங் கிருந்தீரெம் பிரானீரே.
"Thayaṅku thōlai udutha saṅkarā sāma vēda mōthi
mayaṅgki ūridu pichai koṇṭuṇnum mārkka moṉtṟaṟi yīr
muyaṅgku pūṇmulai maṅgkaiyāḷodu murugaṉ pooṇṭi mānakar vāi
iyaṅgka vum'miṭuk kudaiya rāividil ethukkiṅg kiruntīrem pirāṉīrē".
விட்டி சைப்பன கொக்க ரைகொடு கொட்டி தத்த ளகங்
கொட்டிப் பாடுமித் துந்து மியொடு குடமுழா நீர் மகிழ்வீர்
மொட்ட லர்ந்து மணங்கமழ் முருகன் பூண்டி மாநகர் வாய்
இட்ட பிச்சைகொண் டுண்ப தாகில்நீர் எத்துக்கிங் கிருந்தீரெம் பிரானீரே.
"Viṭṭi saippaṉa kokka raikodu koṭṭi thatha ḷakaṅg
koṭṭip pādumith thunthu miyodu kuṭamuzhā nīr makizhvīr
moṭṭa larnthu maṇaṅgkamazh murugaṉ pooṇṭi mānakar vāi
iṭṭa pichaikoṇ ṭuṇpa thākilnīr ethukkiṅg kiruntīrem pirāṉīrē".
வேதம் ஓதிவெண் ணீறு பூசிவெண் கோவணந் தற்ற யலே
ஓதம் மேவிய ஒற்றி யூரையும் முத்தி நீர் மகிழ்வீர்
மோதி வேடுவர் கூறைகொள்ளும் முருகன் பூண்டி மாநகர் வாய்
ஏது காரணம் எது காவல்கொண் டெத்துக்கிங் கிருந்தீரெம் பிரானீரே.
"Vēdam ōthiveṇ ṇīṟu pūsiveṇ kōvaṇanth tatṟa yalē
ōtham mēviya otṟi yūraiyum muthi nīr makizhvīr
mōthi vēduvar kūṟaikoḷḷum murugaṉ pooṇṭi mānakar vāi
ēthu kāraṇam ethu kāvalkoṇ ṭethukkiṅg kiruntīrem pirāṉīrē".
படவ ரவுநுண் ணேரி டைப்பணைத் தோள்வ ரிநெடுங் கண்
மடவ ரல்லுமை நங்கை தன்னையோர் பாகம் வைத்து கந்தீர்
முடவ ரல்லீர் இடரிலீர் முருகன் பூண்டி மாநகர் வாய்
இடவ மேறியும் போவ தாகில்நீர் எத்துக்கிங் கிருந்தீரெம் பிரானீரே.
"Paṭdva ravunuṇ ṇēri ṭaippaṇaith thōḷva rineṭuṅg kaṇ
madava rallumai naṅgkai thaṉṉaiyōr pākam vaithu kanthīr
mudava rallīr iṭarilīr murugaṉ pooṇṭi mānakar vāi
idava mēṟiyum pōva thākilnīr ethukkiṅg kiruntīrem pirāṉīrē".
சாந்த மாகவெண் ணீறு பூசிவெண் பற்ற லைக லனா
வேய்ந்த வெண்பிறைக் கண்ணி தன்னையோர் பாகம் வைத்து கந்தீர்
மோந்தை யோடு முழக்கறா முருகன் பூண்டி மாநகர் வாய்
ஏந்து பூண்முலை மங்கை தன்னொடும் எத்துக்கிங் கிருந்தீரெம் பிரானீரே.
"Sāntha mākaveṇ ṇīṟu pūsiveṇ patṟa laika laṉā
vēyntha veṇpiṟaik kaṇṇi thaṉṉaiyōr pākam vaithu kanthīr
mōnthai yōdu muzhakkaṟā murugaṉ pooṇṭi mānakar vāi
ēnthu pūṇmulai maṅgkai thaṉṉoṭum ethukkiṅ kirunthīrem pirāṉīrē".
முந்தி வானவர் தாந்தொழு முருகன் பூண்டி மாநகர் வாய்ப்
பந்த ணைவிரற் பாவை தன்னையோர் பாகம் வைத்த வனைச்
சிந்தை யிற்சிவ தொண்ட னூரன் உரைத்தன பத்துங் கொண்
டெந்தம் மடிகளை ஏத்து வாரிடர் ஒன்றுந் தாமி லரே.
"Munthi vāṉavar thānthozhu murugaṉ pooṇṭi mānakar vāip
pantha ṇaiviraṟ pāvai thaṉṉaiyōr pākam vaitha vaṉaich
chinthai yiṟsiva thoṇṭa ṉūraṉ uraithaṉa pathuṅg koṇ
ṭentham madikaḷai ēthu vāridar oṉtṟunth thāmi larē".