Visited on: 8th July, 2017
Location
Thiruvettakkudi is situated at a distance of about 9 kms from Karaikkal. On the Karaikkal to Tharangampadi route, there is a village called Varichikkudi at a distance of about 7 kms. From this village, take a diversion road and proceed further for about 2 kms to reach Thiruvettakkudi. A beautiful arch can be seen at the entrance of the diversion road.
Other Devara Paadal Petra Shiva Sthalam near this place are – Thirunallaru, Dharumapuram, Thiruthelichery, Thirukkadaiyur and Thirukkadaiyur Mayanam.
General Information
| | |
| --- | --- |
| Moolavar | Sri Thirumeniyazhagar, Sri Sundareswarar |
| Ambal | Sri Soundara Nayaki, Sri Santha Nayaki |
| Theertham (Holy water) | Deva Theertham, Chandra Pushkarini and Sea |
| Sthala Vriksham (Sacred Tree) | Punnai tree |
| Pathigam (Hymn) rendered by | Saint Thirugnanasambanthar |
This is one of the 276 Devara Paadal Petra Shiva Sthalams and 49th Shiva Sthalam on the Southern bank of the river Cauveri in Chozha Nadu (Thenkarai).
Lord Shiva in this temple is a Swayambumurthi (self-manifested).
This east facing temple has a 5-tiers main tower (Rajagopuram) and it has a single corridor.
The last consecration ceremony (Kumbabishekam) took place on 28.05.1999.
History of the Temple
As Lord Shiva came to this place in the guise of a hunter, this place is called Thiruvettakkudi ("Thiru" is a respectful prefix, "Vedan" means hunter and "Kudi" means village in Tamil). This place is also known as "Ambikapuram" because Goddess Parvathy is believed to have been born in this place in a fisherman's family ("Ambikai" means goddess and "puram" means village in Tamil).

The historical names of this place are Punnagavanam, Devakodipuram and Ambikapuram but now it is known as Thiruvettakkudi.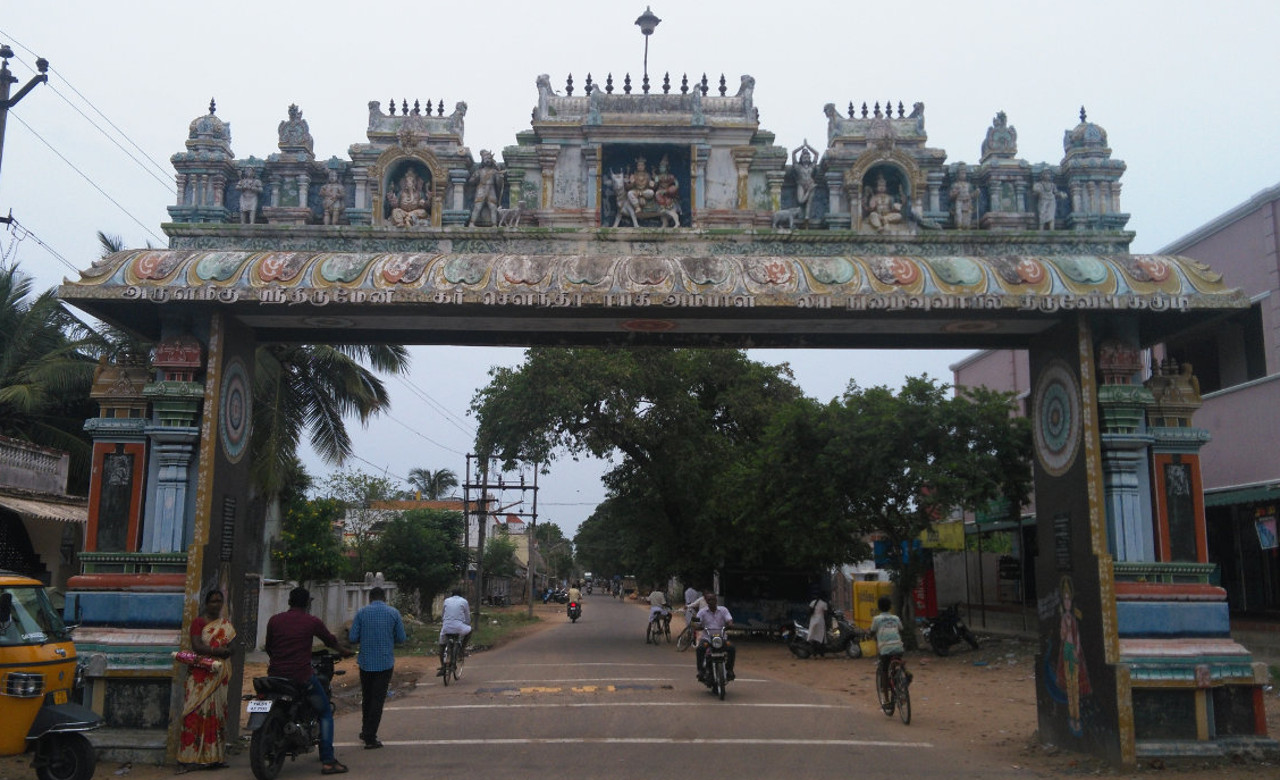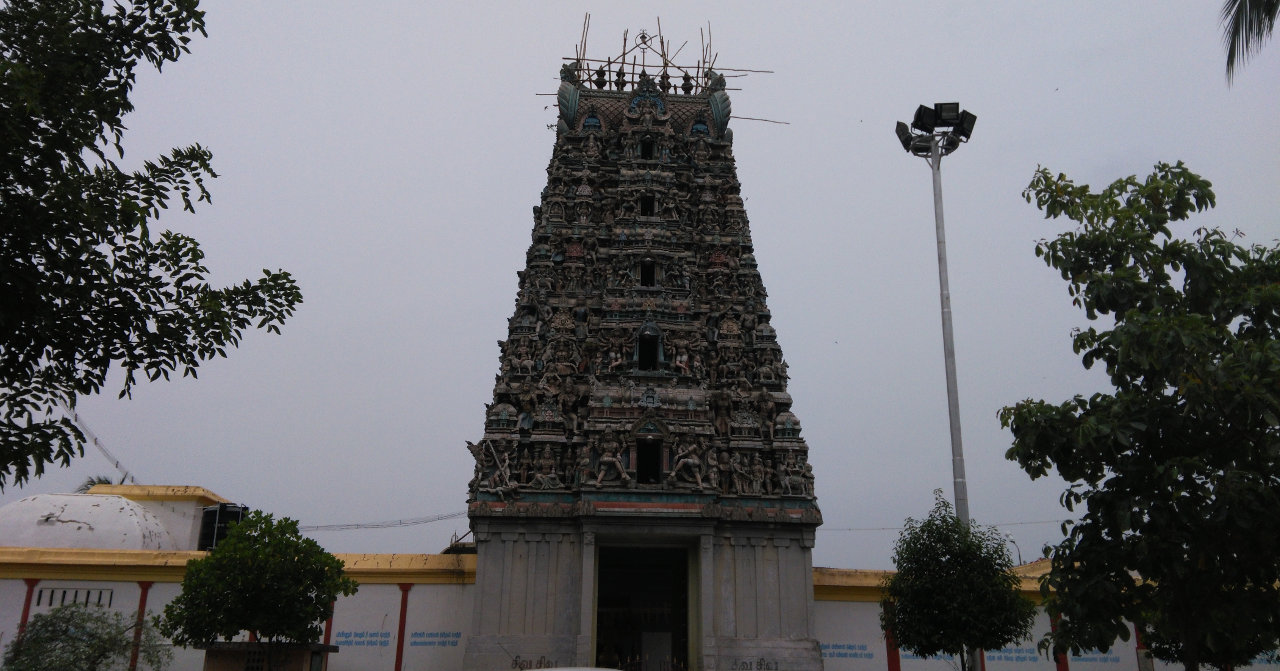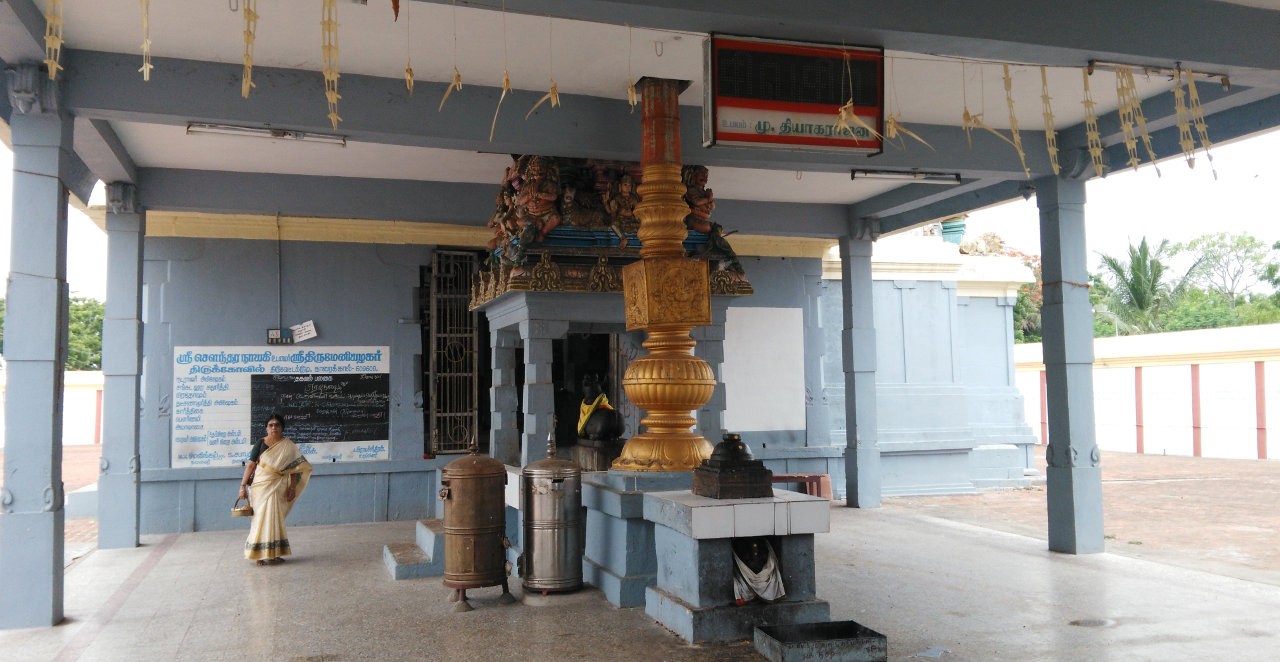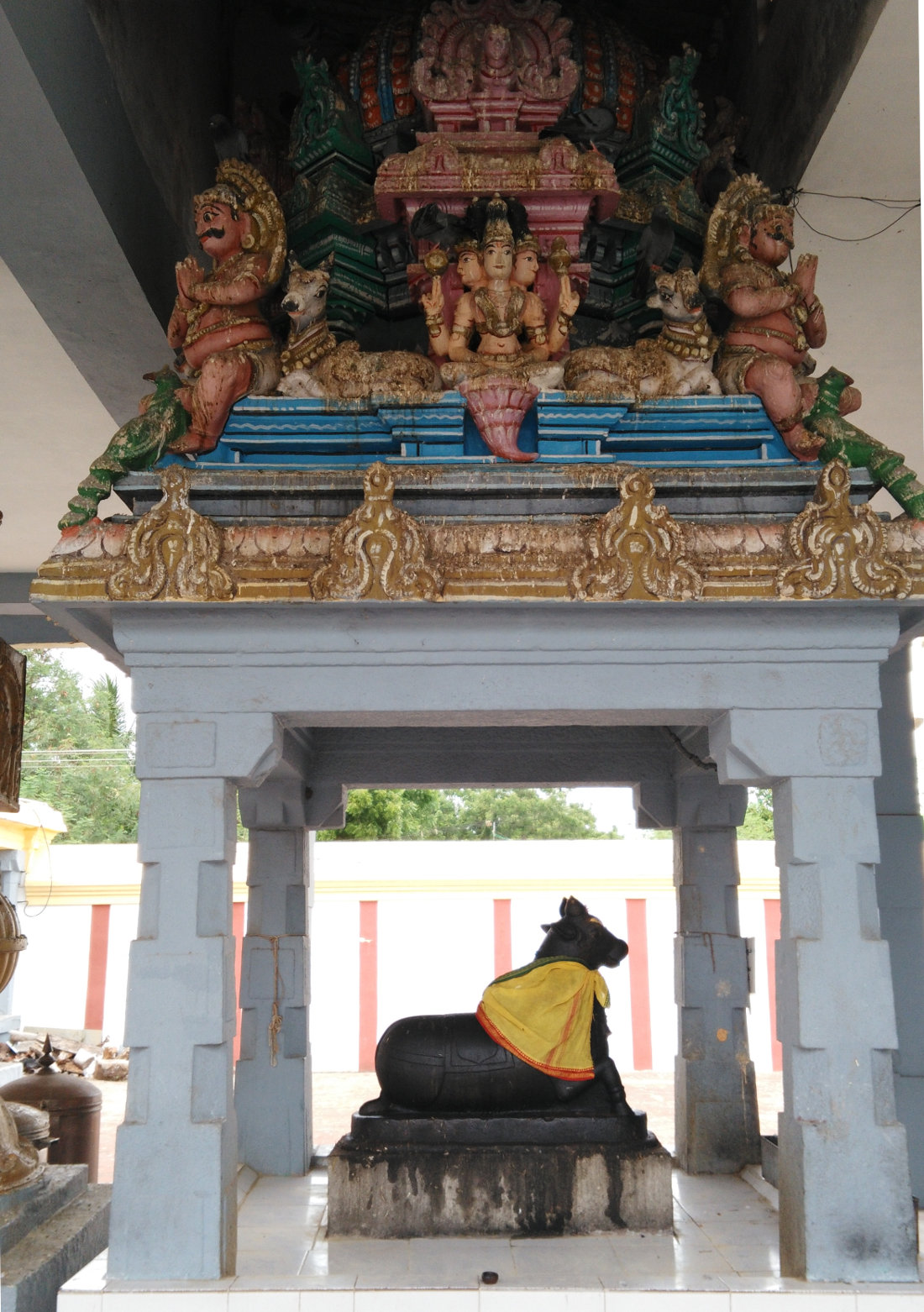 Legend
According to legend, Arjuna is believed to have worshipped Lord Shiva and performed rigorous penance here during the Dwapara Yuga. Lord Shiva and Goddess Parvathy are believed to have given him dharisanam in the guise of a hunter and his wife.
As advised by Sage Veda Vyasa, Arjuna came to this place "Punnagavanam" to meditate upon Lord Shiva to obtain the "Pasupathasthiram" (an arrow) to fight the enemies when a war between the Kauravas and Pandavas became imminent. When Duryodhana came to know about this, he sent the demon Mookasura in the form of a boar to disturb Arjuna's penance. But the demon was shot down with an arrow by Arjuna. Simultaneously, Lord Shiva came there as a hunter with Goddess Parvathy as a hunter woman. Lord Vinayakar and Lord Murugan also accompanied them. The four Vedas came as four dogs and the six Sastras came as the necklace on Lord Shiva's neck.
Lord Shiva claimed that the boar was shot by him and tried to claim it. Arjuna refused to part with the animal. A war of words took place between the two. The lord disclosed his identity to Arjuna and blessed him with the arrow. However, Goddess Parvathi raised a doubt about Arjuna's eligibility for the boon. Lord Shiva told her that Arjuna had the "Masya Rekha" - a lucky line in his palm, and he deserved the boon. Arjuna showed his palm to Goddess Parvathy and satisfied her. Lord Shiva blessed Arjuna with the "Pasupathasthiram" and that he would be born again in the hunter community as "Kannappa Nayanar". On Arjuna's request, Lord Shiva stayed in this place as a swayambumurthy to bless the devotees. This event is commemorated during the Masi Maham festival in this temple.
Another legend associated with this temple is that once during a conversation in Mount Kailash, Goddess Parvathi told Lord Shiva that he alone could not protect the world without her contribution. Lord Shiva felt that she was influenced by undeserved pride. Wanting to teach her a lesson, he cursed her to be born in a fishermen community on Earth. Goddess Parvathy was born in a fisherman family at Thiruvettakkudi and performed rigorous penance to win back the lord's trust. Pleased with her penance Lord Shiva came to this place in the guise of a fisherman and married her. To commemorate this event, the nearby fishermen community celebrates the "Kadalaadu" festival in the Tamil month of Maasi when the procession idol of Lord Shiva is taken to their village as if he was their son-in-law.
It is believed that when Saint Thirugnanasambanthar came to this place by sea. He found Shiva Lingam in each and every particle of sand. Hence, he did not want to step foot on the sand and disrupt its sanctity. He worshipped the lord and rendered his hymn from the sea itself.
It is believed that Goddess Parvathy, the celestial gods (Devas), Saint Vishvamitra, Iyadigal Kadavargkone Nayanar, Arjuna and king Anavaratha Maharaj have worshiped the lord of this temple.
Deities in the temple
Other than the shrines of Lord Shiva and Goddess Parvathy, shrines and idols of Lords Sundara Vinayakar, Murugan with his consorts, Natarajar, Dakshinamurthy, Mahalakshmi, Durgai, Chandikeswarar, Navagraham, Nalvar, Suryan, Chandiran, Bairavar, Aiyappan with his consorts Poorana and Pushkalai can be seen in the corridors.
There is a separate shrine for Lord Punnaivananathar in the corridor.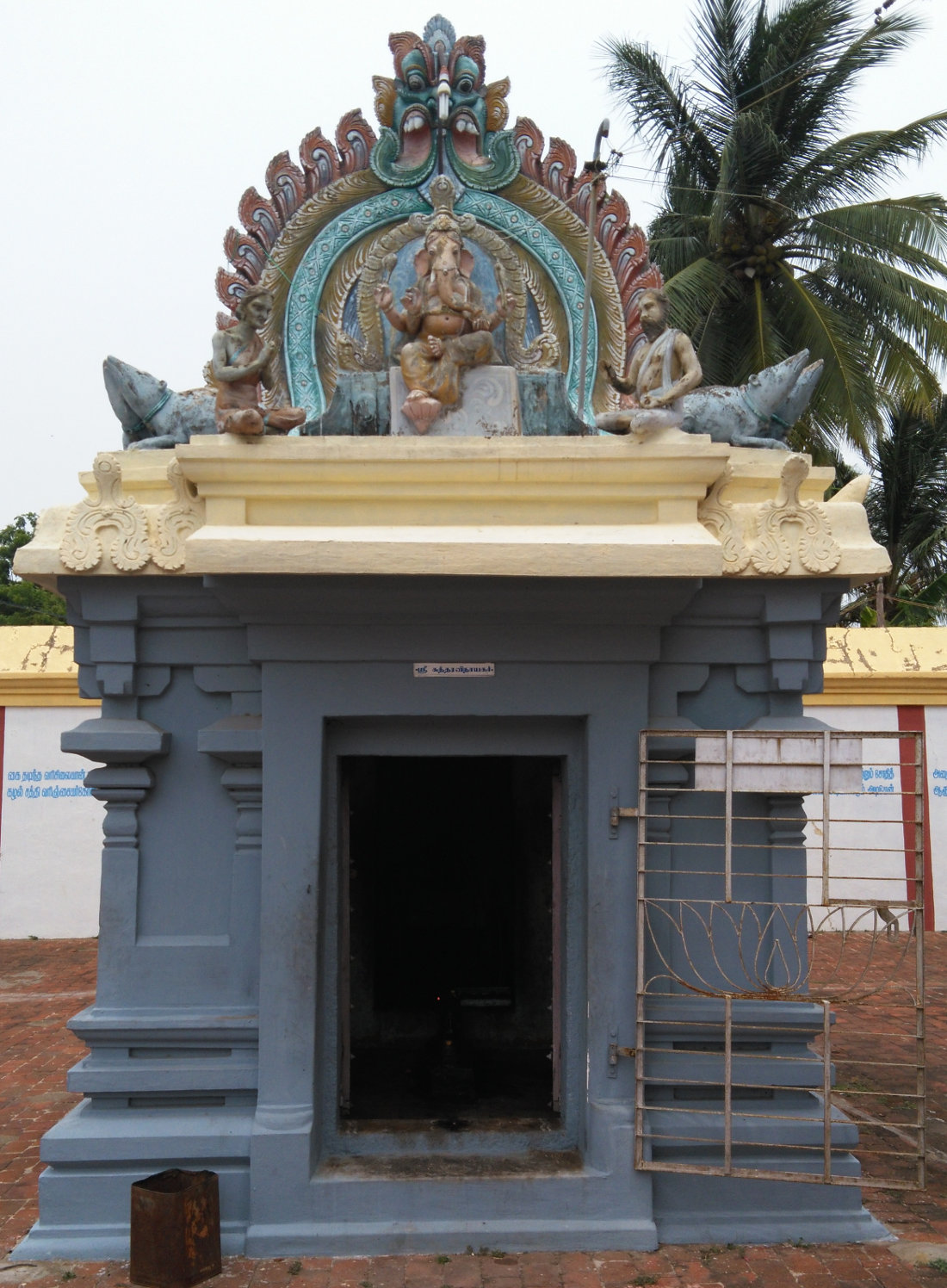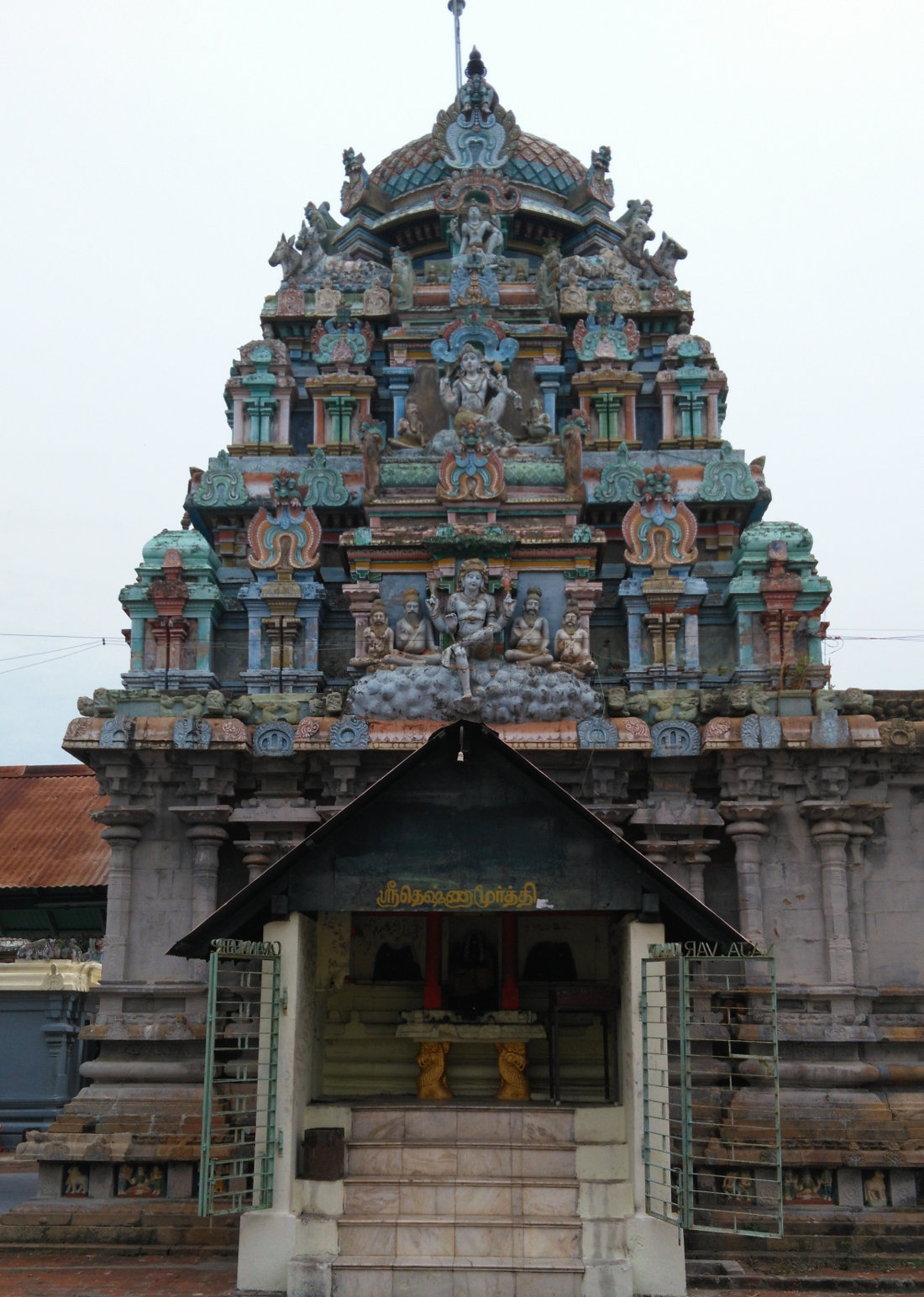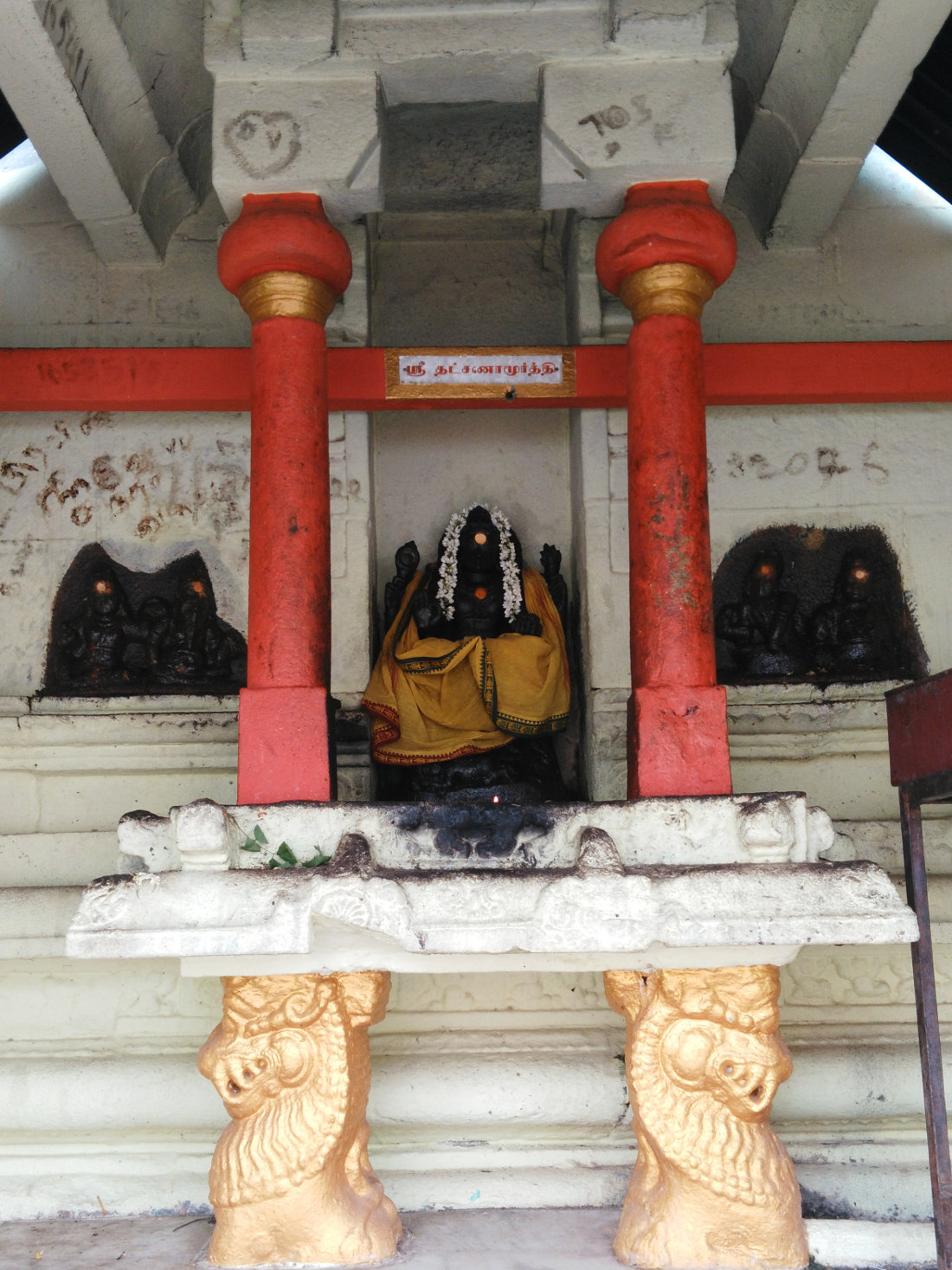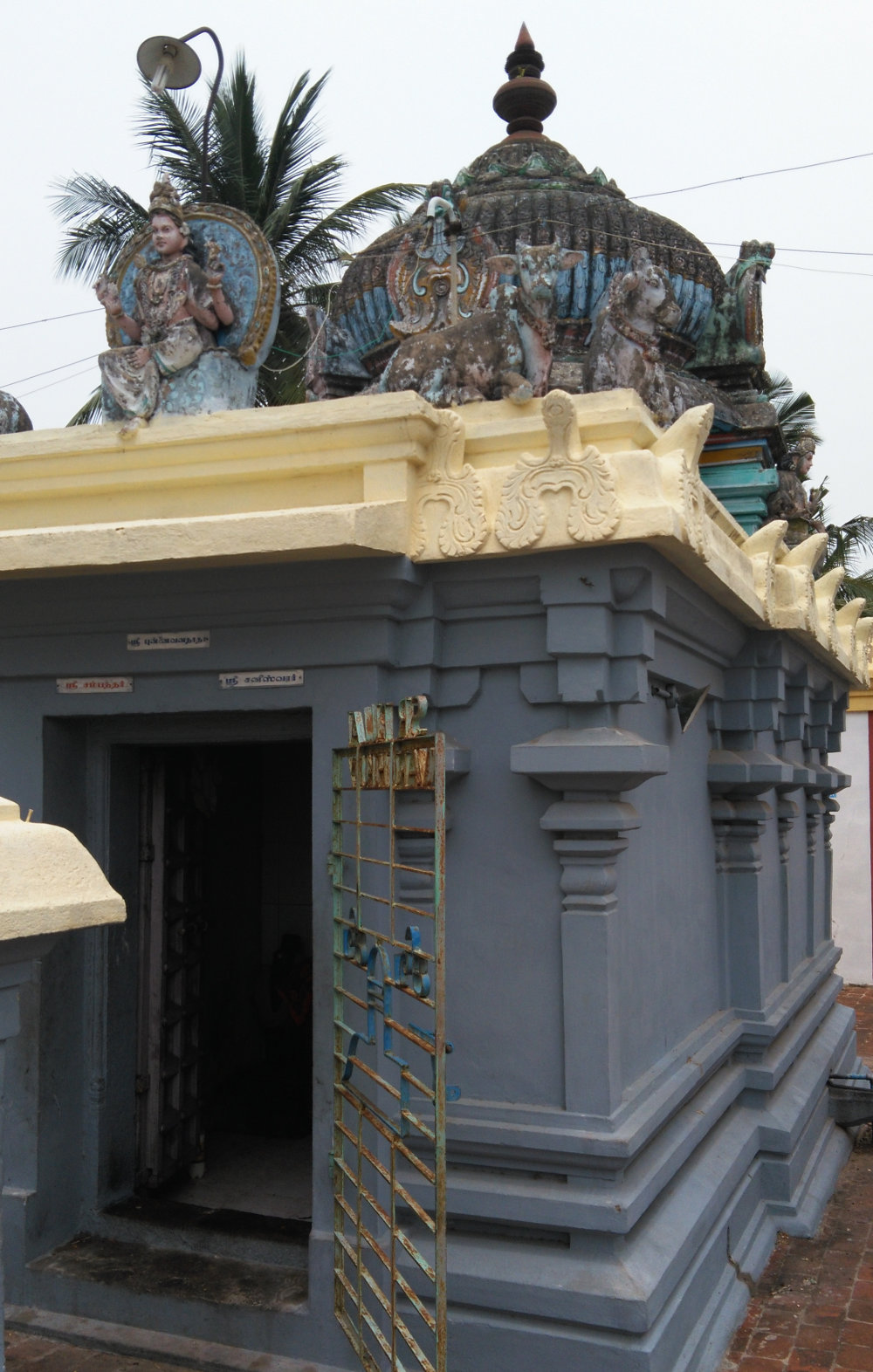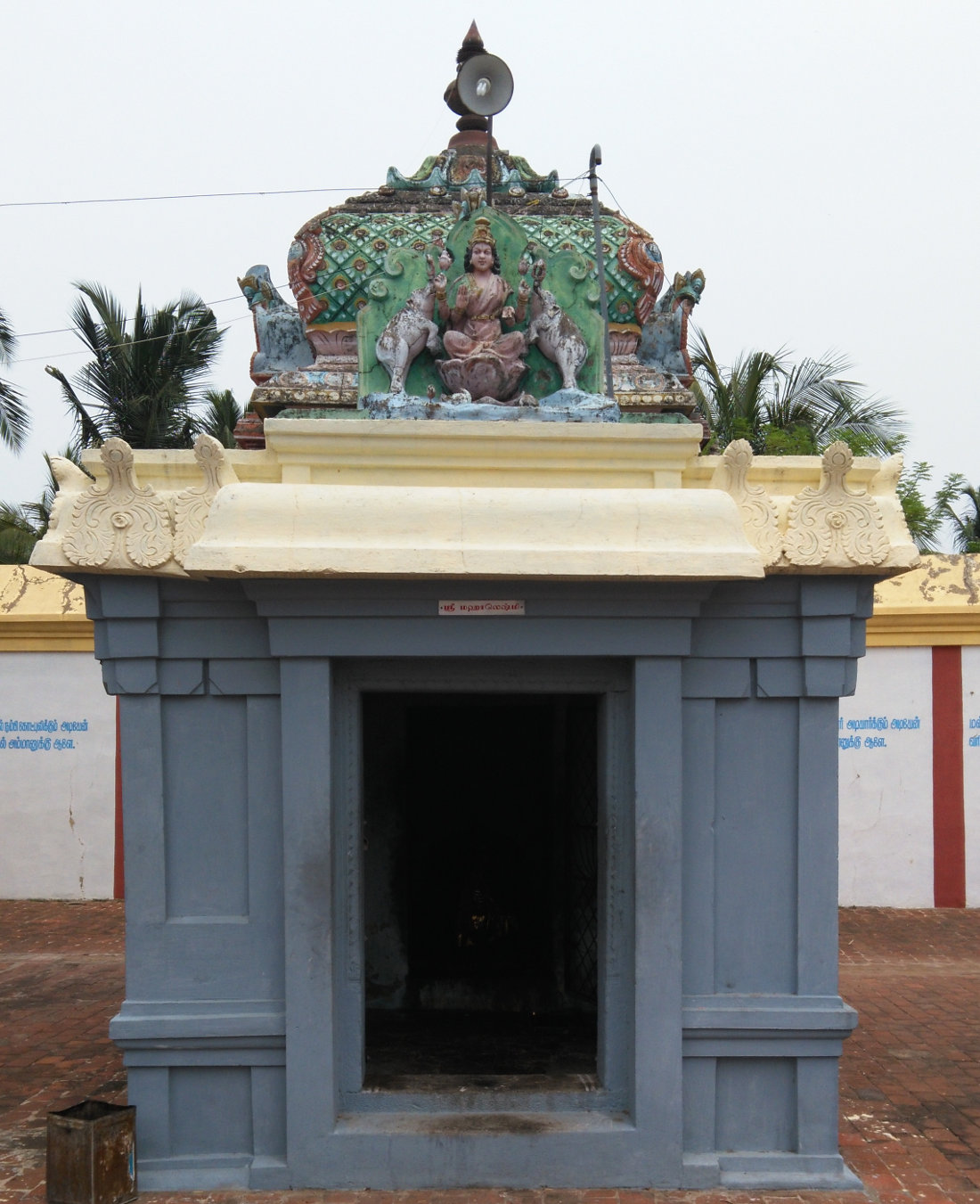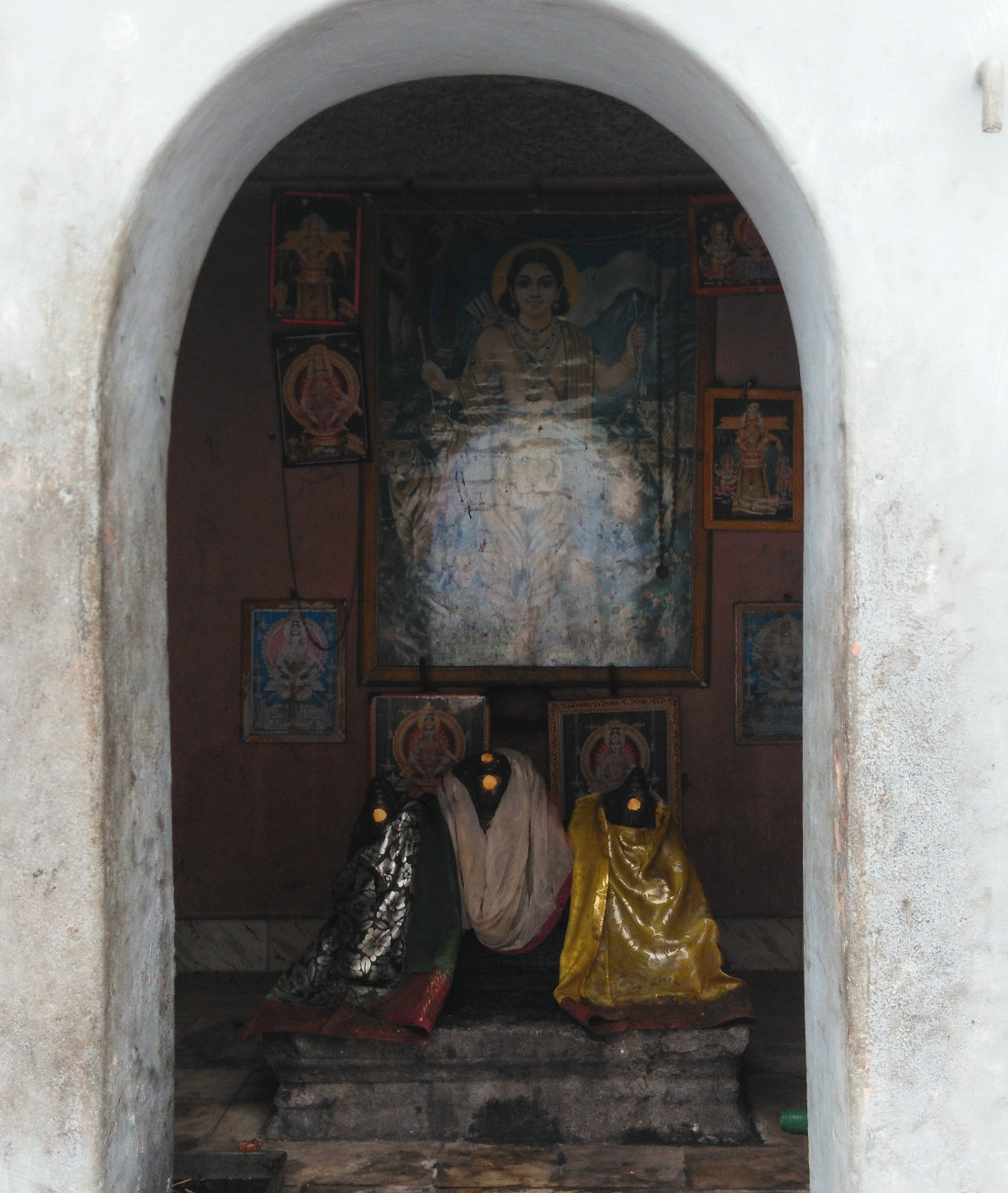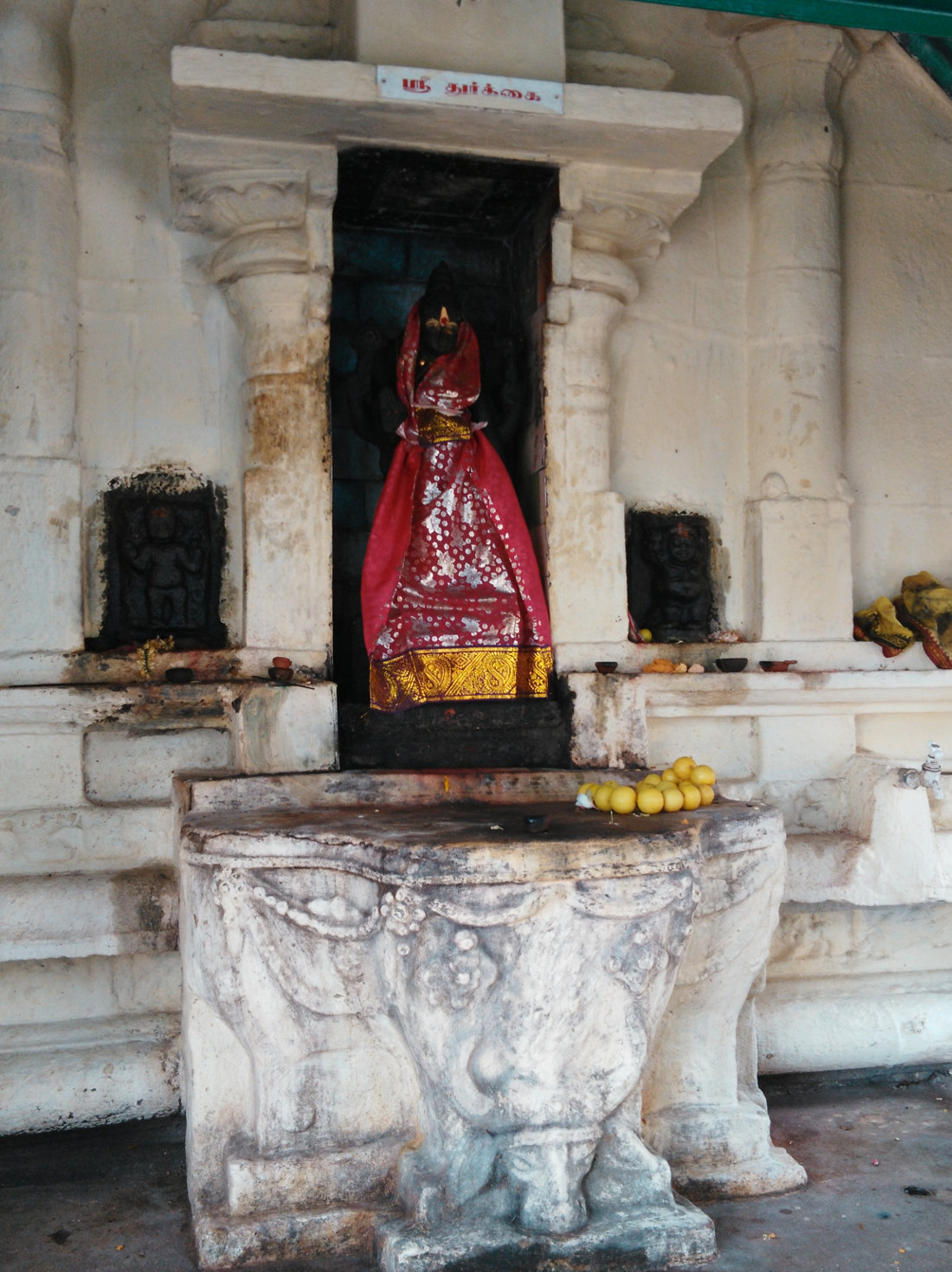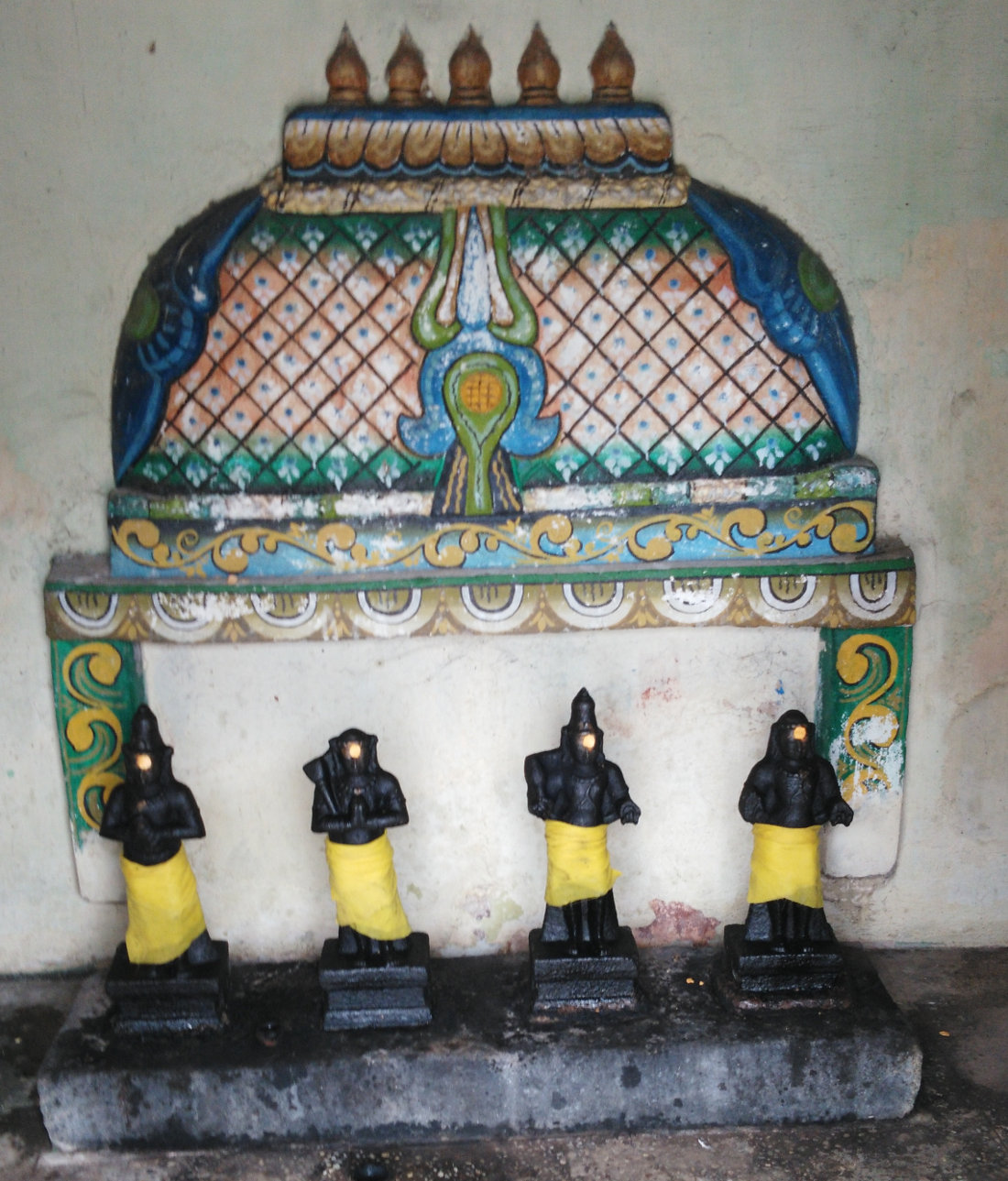 Salient Features
The procession idol of Lord Shiva as "Vedamurthy" (Vedan means hunter) and Goddess Parvathy as a hunter woman is very beautiful. When Lord Shiva came here as a hunter, he brought Lord Murugan also with him. Both Lord Shiva and Lord Murugan are holding the bow and arrow. It is unique to see here both Lord Shiva and Lord Murugan holding bow and arrow.
The procession idol of Arjuna, who was blessed with the "Pasupathasthiram", holds a bow and arrow in his hands.
This temple has the reputation of Lord Shiva gracing here in the forms of both a fisherman and a hunter.
Lord Shiva also graces from a separate shrine as "Sri Punnaivana Nathar". Idols of Lord Saneeswaran and Saint Thirugnanasambanthar can also be seen in this shrine.
This temple is considered to be significant for its three important attributes – Moorthy, Sthalam and Theertham - glory of Lord, sacredness of the land and the auspicious temple tank.
Greatness of this temple
Devotees believe that by worshiping the lord here they would get relief from the adverse effects of the nine planets (Navagraham).
Also, separated couples can pray to Goddess Parvathy here for re-union.
Important Festivals
Some of the important festivals celebrated in this temple are-
3-day Maasi Magam festival in the Tamil month of Masi,
Shivarathri in the Tamil month of Maasi (Feb-Mar),
Vinayakar Chaturthi in the Tamil month of Aavani (Aug-Sept), and
Thirukarthikai in the Tamil month of Karthikai (Nov-Dec)
Pradosham is also observed regularly.
Temple Timings
From 06.30 AM to 12.00 Noon and from 04.30 PM to 08.30 PM.
Temple Address
Sri Thirumeniyazhakar Temple,
Thiruvettakudi,
Near Karaikkal,
Puducherry - 609 609.
Tele: +91- 4368 - 265 693, 265 691, 98940 51753.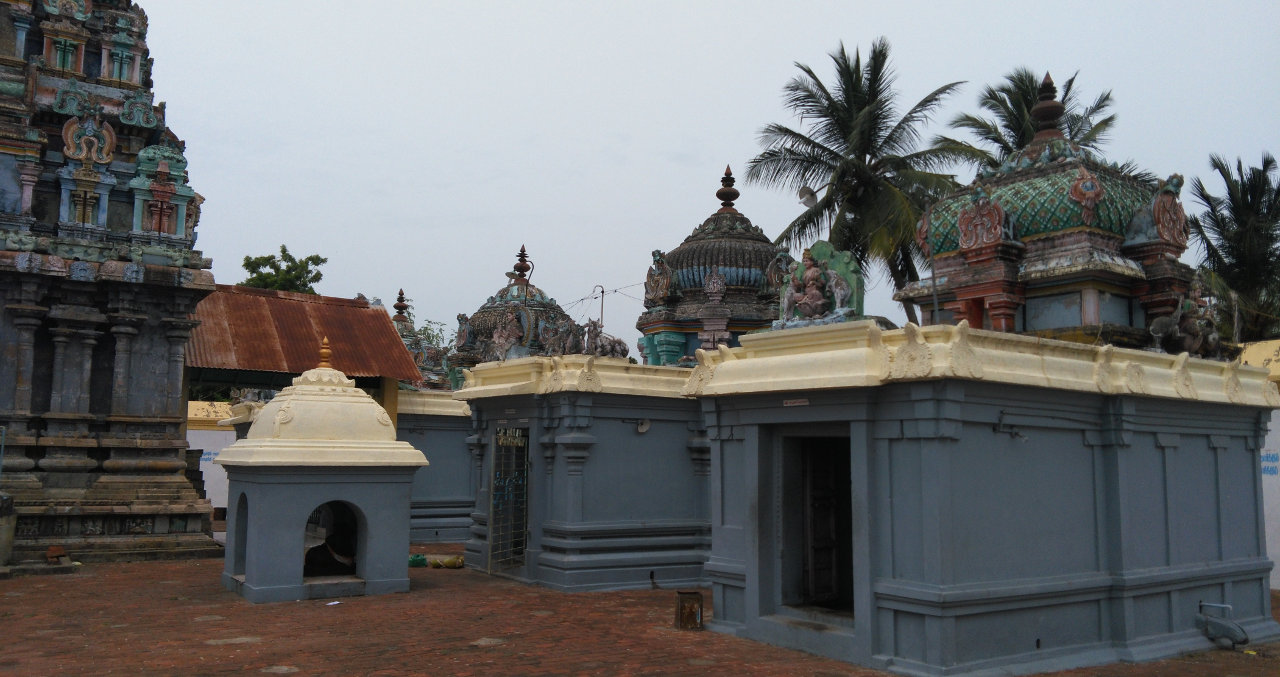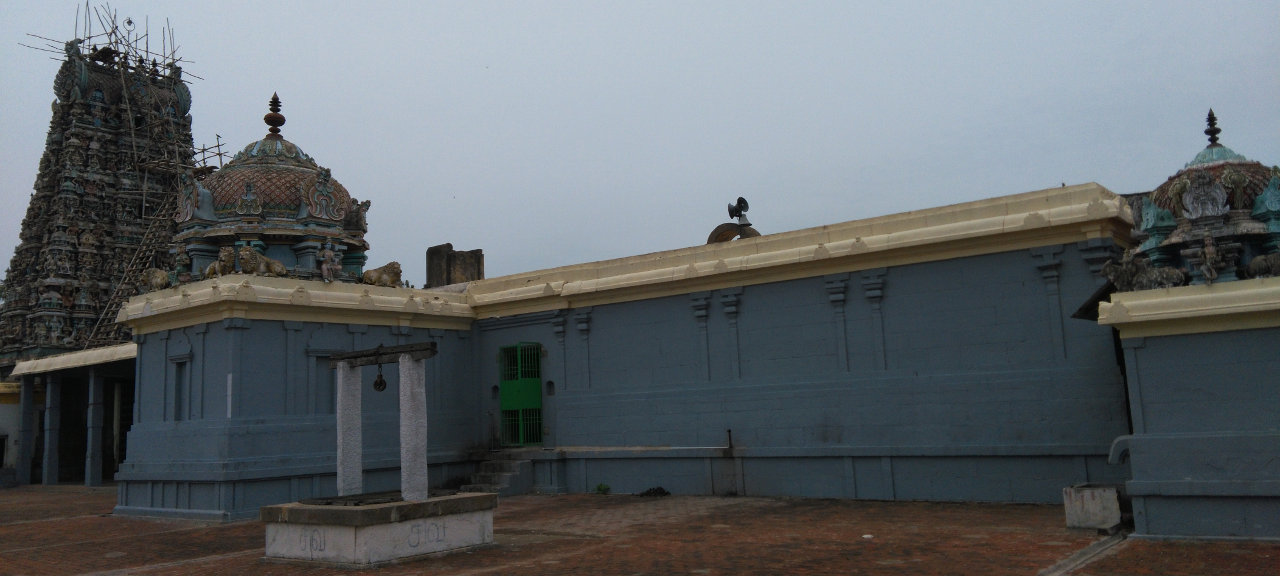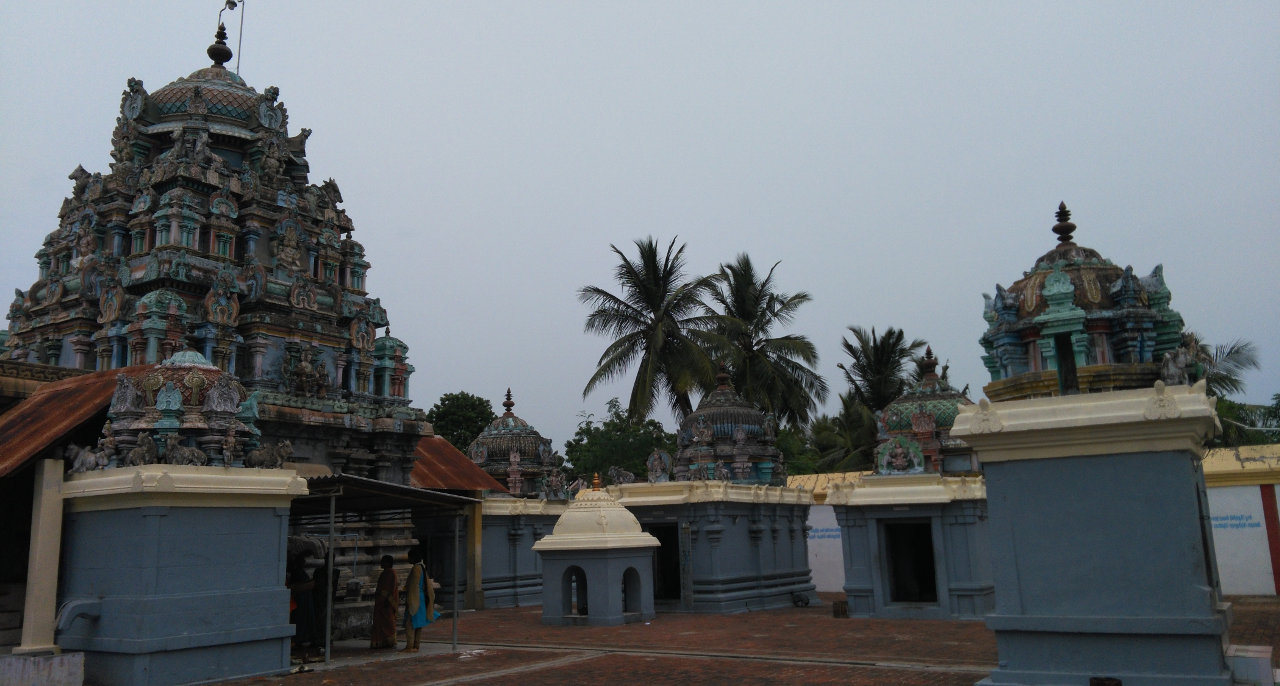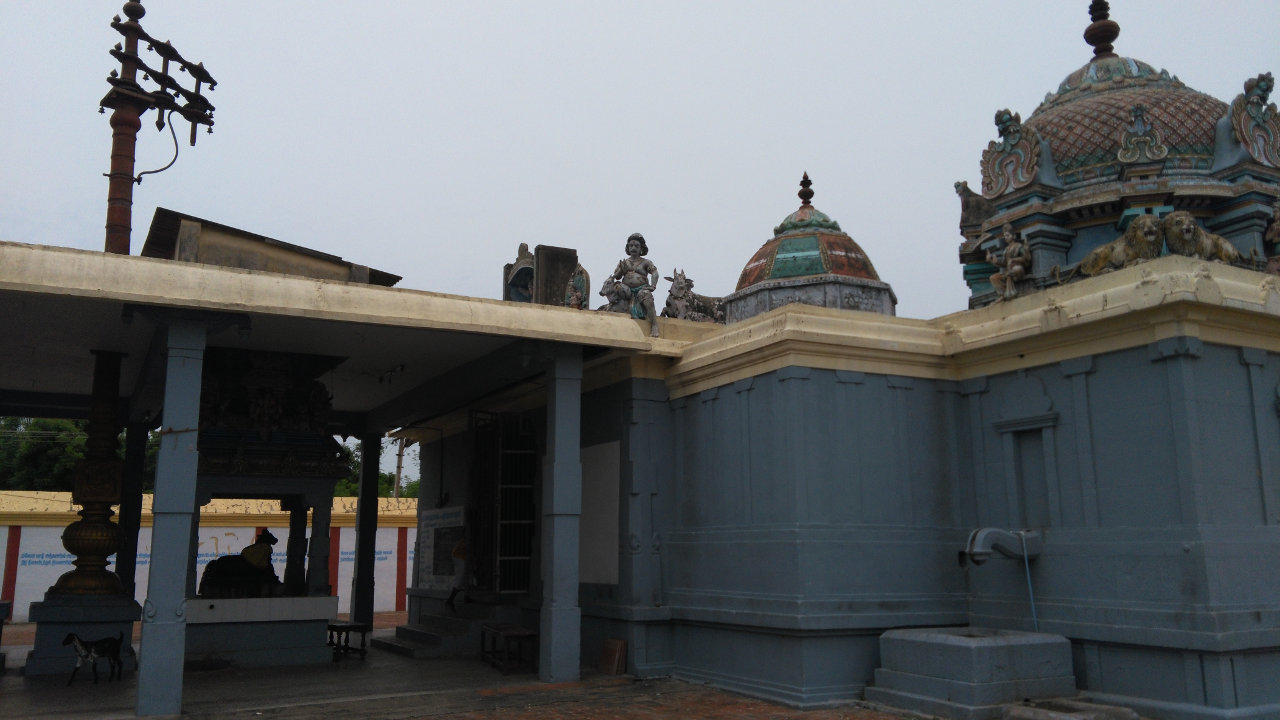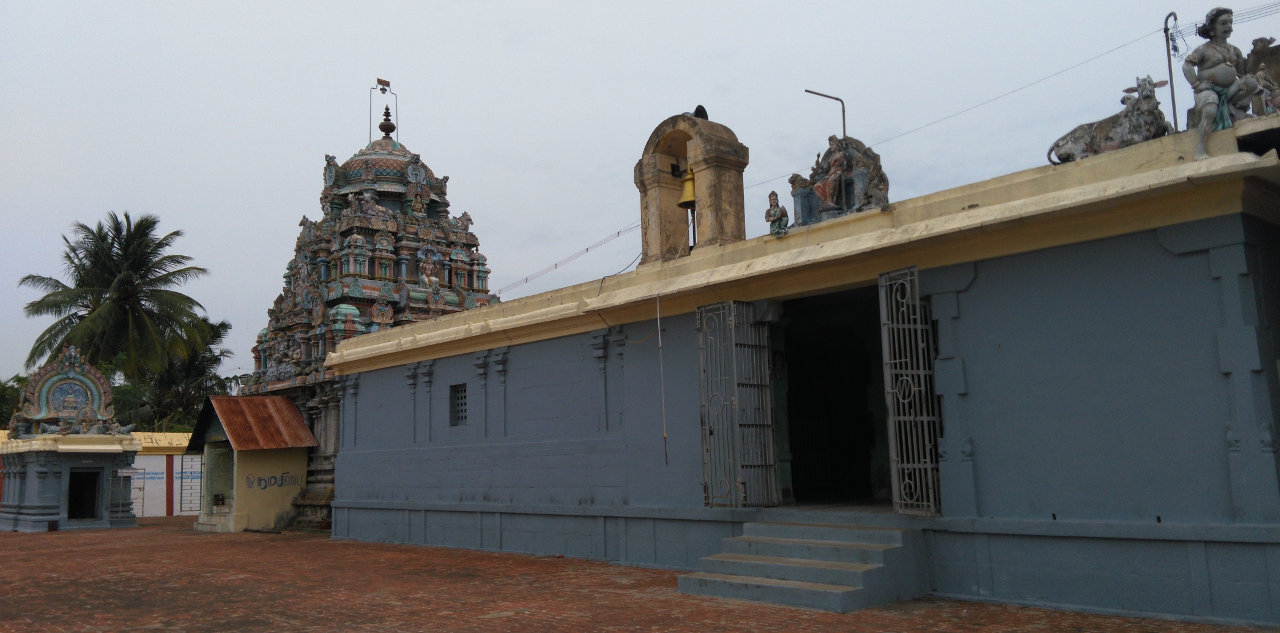 ---
Pathigam (Hymn) with English transliteration
Saint Thirugnanasambanthar visited this temple and sang this Pathigam.
Devotees visiting this temple should make it a practice to recite this Pathigam.
வண்டிரைக்கும் மலர்க்கொன்றை விரிசடைமேல் வரியரவங்
கண்டிரைக்கும் பிறைச்சென்னிக் காபாலி கனைகழல்கள்
தொண்டிரைத்துத் தொழுதிறைஞ்சத் துளங்கொளிநீர்ச் சுடர்ப்பவளந்
தெண்டிரைக்கண் கொணர்ந்தெறியுந் திருவேட்டக் குடியாரே.
"Vaṇṭiraikkum malarkkoṉtṟai virisaṭaimēl variyaravaṅ
kaṇṭiraikkum piṟaichcheṉṉik kāpāli kaṉaikazhalkaḷ
thoṇṭiraiththuth thozhuthiṟaiñchath thuḷaṅkoḷinīrch chuṭarppavaḷan
theṇṭiraikkaṇ koṇarntheṟiyun thiruvēṭṭak kuṭiyārē".
பாய்திமிலர் வலையோடு மீன்வாரிப் பயின்றெங்குங்
காசினியிற் கொணர்ந்தட்டுங் கைதல்சூழ் கழிக்கானல்
போயிரவிற் பேயோடும் புறங்காட்டிற் புரிந்தழகார்
தீயெரிகை மகிழ்ந்தாருந் திருவேட்டக் குடியாரே.
"pāythimilar valaiyōṭu mīṉvārip payiṉtṟeṅkuṅ
kāsiṉiyiṟ koṇarnthaṭṭuṅ kaithalchūzh kazhikkāṉal
pōyiraviṟ pēyōṭum puṟaṅkāṭṭiṟ purinthazhakār
thīyerikai makizhnthārun thiruvēṭṭak kuṭiyārē".
தோத்திரமா மணலிலிங்கத் தொடங்கியஆன் நிரையிற்பால்
பாத்திரமா ஆட்டுதலும் பரஞ்சோதி பரிந்தருளி
ஆத்தமென மறைநால்வர்க் கறம்புரிநூ லன்றுரைத்த
தீர்த்தமல்கு சடையாருந் திருவேட்டக் குடியாரே.
"Thōththiramā maṇaliliṅkath thoṭaṅkiya'āṉ niraiyiṟpāl
pāththiramā āṭṭuthalum parañchōti parintharuḷi
āththameṉa maṟainālvark kaṟampurinū laṉtṟuraiththa
thīrththamalku saṭaiyārun thiruvēṭṭak kuṭiyārē".
கலவஞ்சேர் கழிக்கானல் கதிர்முத்தங் கலந்தெங்கும்
அலவஞ்சேர் அணைவாரிக் கொணர்ந்தெறியும் அகன்றுறைவாய்
நிலவஞ்சேர் நுண்ணிடைய நேரிழையா ளவளோடுந்
திலகஞ்சேர் நெற்றியினார் திருவேட்டக் குடியாரே.
"Kalavañchēr kazhikkāṉal kathirmuththaṅ kalantheṅkum
alavañchēr aṇaivārik koṇarntheṟiyum akaṉtṟuṟaivāy
nilavañchēr nuṇṇiṭaiya nērizhaiyā ḷavaḷōṭun
thilakañchēr netṟiyiṉār thiruvēṭṭak kuṭiyārē".
பங்கமார் கடலலறப் பருவரையோ டரவுழலச்
செங்கண்மால் கடையஎழு நஞ்சருந்துஞ் சிவமூர்த்தி
அங்கம்நான் மறைநால்வர்க் கறம்பொருளின் பயனளித்த
திங்கள்சேர் சடையாருந் திருவேட்டக் குடியாரே.
"Paṅkamār kaṭalalaṟap paruvaraiyō ṭaravuzhalach
cheṅkaṇmāl kaṭaiya'ezhu nañcharunthuñ sivamūrththi
aṅkamnāṉ maṟainālvark kaṟamporuḷiṉ payaṉaḷiththa
thiṅkaḷsēr saṭaiyārun thiruvēṭṭak kuṭiyārē".
நாவாய பிறைச்சென்னி நலந்திகழு மிலங்கிப்பி
கோவாத நித்திலங்கள் கொணர்ந்தெறியுங் குளிர்கானல்
ஏவாரும் வெஞ்சிலையால் எயின்மூன்றும் எரிசெய்த
தேவாதி தேவனார் திருவேட்டக் குடியாரே.
"Nāvāya piṟaichcheṉṉi nalanthikazhu milaṅkippi
kōvātha niththilaṅkaḷ koṇarntheṟiyuṅ kuḷirkāṉal
ēvārum veñchilaiyāl eyiṉmūṉtṟum eriseytha
thēvāthi thēvaṉār thiruvēṭṭak kuṭiyārē".
பானிலவும் பங்கயத்துப் பைங்கானல் வெண்குருகு
கானிலவு மலர்ப்பொய்கைக் கைதல்சூழ் கழிக்கானல்
மானின்விழி மலைமகளோ டொருபாகம் பிரிவரியார்
தேனிலவு மலர்ச்சோலைத் திருவேட்டக் குடியாரே.
"Pāṉilavum paṅkayaththup paiṅkāṉal veṇkuruku
kāṉilavu malarppoykaik kaitalchūzh kazhikkāṉal
māṉiṉvizhi malaimakaḷō ṭorupākam pirivariyār
thēṉilavu malarchchōlaith thiruvēṭṭak kuṭiyārē".
துறையுலவு கடலோதஞ் சுரிசங்க மிடறிப்போய்
நறையுலவும் பொழிற்புன்னை நன்னீழற் கீழமரும்
இறைபயிலும் இராவணன்றன் தலைபத்தும் இருபதுதோள்
திறலழிய அடர்த்தாருந் திருவேட்டக் குடியாரே.
"Thuṟaiyulavu kaṭalōthañ churisaṅka miṭaṟippōy
naṟaiyulavum pozhiṟpuṉṉai naṉṉīzhaṟ kīzhamarum
iṟaipayilum irāvaṇaṉtṟaṉ thalaipaththum irupathuthōḷ
thiṟalazhiya aṭarththārun thhiruvēṭṭak kuṭiyārē".
அருமறைநான் முகத்தானும் அகலிடம்நீ ரேற்றானும்
இருவருமாய் அளப்பரிய எரியுருவாய் நீண்டபிரான்
வருபுனலின் மணியுந்தி மறிதிரையார் சுடர்ப்பவளத்
திருவுருவில் வெண்ணீற்றார் திருவேட்டக் குடியாரே.
"Arumaṟaināṉ mukaththāṉum akaliṭamnī rētṟāṉum
iruvarumāy aḷappariya eriyuruvāy nīṇṭapirāṉ
varupuṉaliṉ maṇiyunthi maṟithiraiyār suṭarppavaḷath
thiruvuruvil veṇṇītṟār thiruvēṭṭak kuṭiyārē".
இகழ்ந்துரைக்குஞ் சமணர்களும் இடும்போர்வைச் சாக்கியரும்
புகழ்ந்துரையாப் பாவிகள்சொற் கொள்ளேன்மின் பொருளென்ன
நிகழ்ந்திலங்கு வெண்மணலின் நிறைத்துண்டப் பிறைக்கற்றை
திகழ்ந்திலங்கு செஞ்சடையார் திருவேட்டக் குடியாரே.
"Ikazhnthuraikkuñ samaṇarkaḷum iṭumpōrvaich chākkiyarum
pukazhnthuraiyāp pāvikaḷsoṟ koḷḷēṉmiṉ poruḷeṉṉa
nikazhnthilaṅku veṇmaṇaliṉ niṟaiththuṇṭap piṟaikkatṟai
thikazhnthilaṅku cheñchaṭaiyār thiruvēṭṭak kuṭiyārē".
தெண்டிரைசேர் வயலுடுத்த திருவேட்டக் குடியாரைத்
தண்டலைசூழ் கலிக்காழித் தமிழ்ஞான சம்பந்தன்
ஒண்டமிழ்நூல் இவைபத்தும் உணர்ந்தேத்த வல்லார்போய்
உண்டுடுப்பில் வானவரோ டுயர்வானத் திருப்பாரே.
"Theṇṭiraisēr vayaluṭuththa thiruvēṭṭak kuṭiyāraith
thaṇṭalaichūzh kalikkāzhith thamizhgñāṉa sambanthaṉ
oṇṭhamizhnūl ivaipaththum uṇarnthēththa vallārpōy
uṇṭuṭuppil vāṉavarō ṭuyarvāṉath thiruppārē".