Visited on: 17th July, 2016
Location
Coovam is situated at a distance of about 20 kms from Thiruvallur via Kadampathur and Perambakkam. It is about 18 kms from Sriperumbudur, via Kadampathur and Sunguvar Chathiram.
From Koyambedu, Thiruvallur is about 40 kms.
Other Paadal Petra Shivasthalams near Thiruvirkolam are – Ilambaiyangkottur (10 kms), Thiruvenpakkam (32 kms), Thakkolam (17 kms), Thiruvalangadu (20 kms) and Thirupachur (19 kms).
General Information
| | |
| --- | --- |
| Moolavar | Sri Thiripuranthakeswarar, Sri Thiruvirkolanathar |
| Ambal | Sri Thiripurasundari Sri Thiripuranthaki Ammai |
| Theertham (Holy water) | Koovagni Theertham, Achirutha Theertham |
| Sthala Vriksham (Sacred Tree) | Vilvam |
| Pathigam (Hymn) rendered by | Saint Thirugnanasambanthar |
This is one of the 276 Devara Paadal Petra Shiva Sthalams and 14th Shiva Sthalam in Thondai Nadu.
Lord Shiva in this temple is a Swayambumurthi (self-manifested).
This Shiva lingam is not touched by human hands, not even by the priests, as it is "Theendathirumeni".
The east facing temple has two corridors and its main tower (Rajagopuram) has 5-tiers.
The vimana (roof tower) of the sanctum sanctorum is designed in a special way that is exclusive to Pallava architecture - the Gaja Brishtam, that looks like the rear of an elephant (Gaja - elephant, brishtam - rear).
There is separate set of Pancha Bootha Sthalams around Chennai and out of that, this is the "Agni" Sthalam.
History of the Temple
This temple is believed to have been built by the kings of the Chola dynasty.
The temple is situated at the origin point of the Coovam river with its sparkling and clear waters.
Legend
It is believed that three demons - Tharakatchan, Kamalakshan and Vidyunmali had obtained the blessings of Lord Shiva through rigorous penance. Using the gifts that Lord Shiva had given them, they constructed three forts made of gold, silver and iron respectively in three different towns for their protection and these forts became impregnable to any kind of retaliation by anyone. The demons started terrorising the celestial gods and sages who went to Lord Shiva to seek his help.
When Lord Shiva decided to destroy these demons at the request of the celestial gods, the world turned into a chariot, Suryan and Chandran became the drivers (Saradhi), the celestial gods (Devas) form the wheels and Meru, Vasuki and Agri became the bow, the arrow and the arrow's tip respectively. This event is called "Thiripura Samharam" - Thiri meaning three, Puram meaning town and Samharam meaning destroy in Tamil.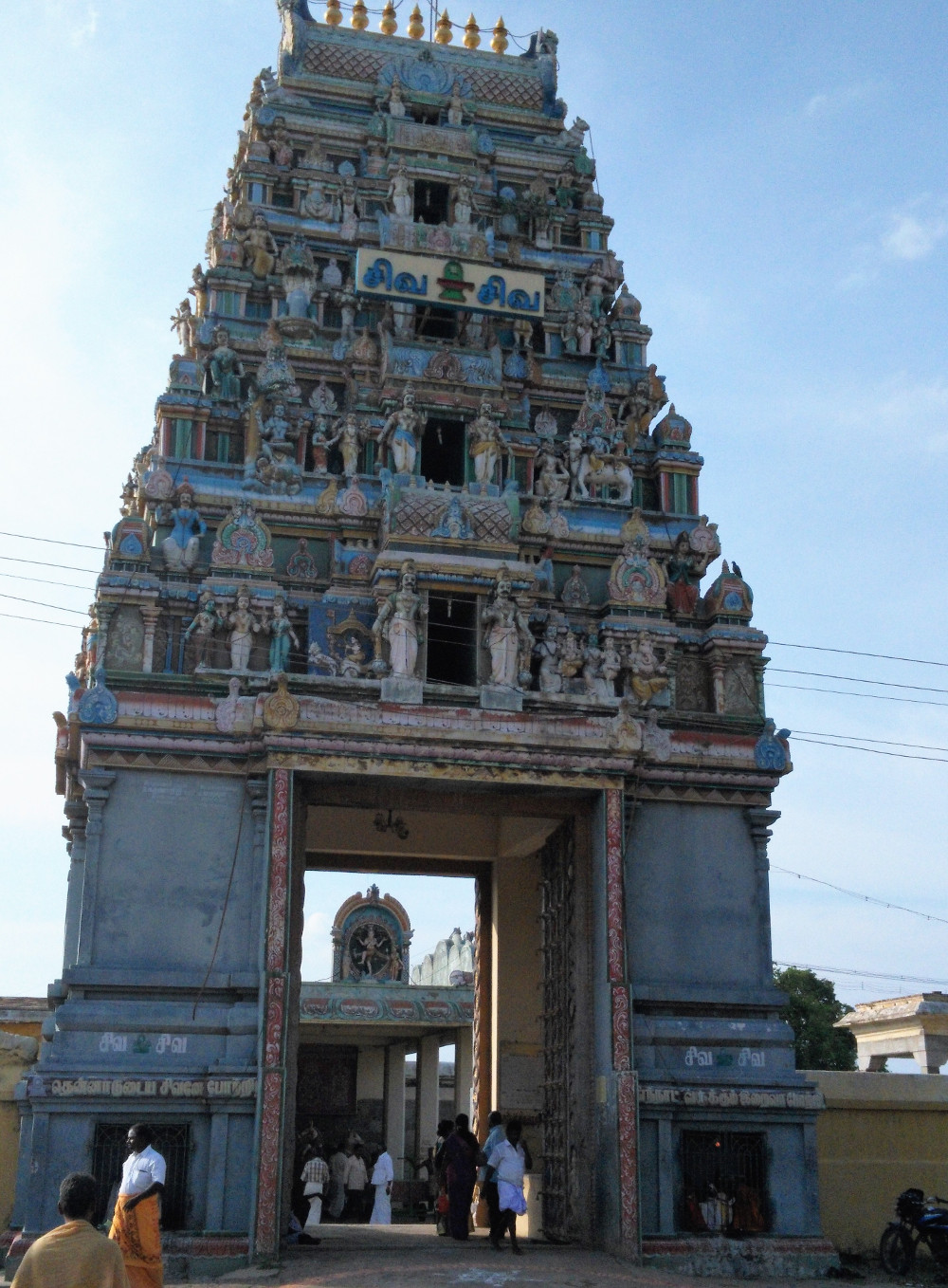 It is believed that, during their march, at this place the axle of the chariot broke because the celestial gods forgot to worship Lord Vinayakar. They realised their error, worshipped Lord Vinayakar and sought his blessing to help them succeed in their mission. It is also believed that it was Lord Mahavishnu who held the chariot from falling down when the axle broke. Since this is the place where the axle (Kooram in Tamil) broke, this place got the name "Kooram" which has later changed to Coovum. Since Lord Shiva had resumed his march for the "Thiripura Samharam" from this place, he is also praised here as "Thiripuranthakar".
It is said that on his march to destroy the demons, Lord Siva carried the bow and arrow in his hands. Hence, he is also praised here as "Thiruvirkola Nathar" ("Vil" meaning bow and "kolam" meaning appearance in Tamil) and the place is also called Thiru Virkolam.
Another legend associated with this place is that on request of Sages Munjikesar and Karkodar, Lord Shiva competed with Goddess Kali in a dance performance. He performed his "Oordhuva Thandavam" – a dance with very fast movements at Thiruvalangadu and was adjudged as the winner of the competition. Kali was very angry at her defeat. Lord Shiva appeased her anger by telling her that he would perform a pleasing dance – "Raksha dance" at this place.
Goddess Kali was pleased to witness Lord Shiva's dance and can be seen gracing the devotees by the name of "Tharka Madha" in a separate shrine. This shrine is at a distance of about one kilometre from the Thiruvirkolam temple. Goddess Kali is called by the name of Tharka Madha here because she had contested against Lord Shiva in the dance competition ("Tharka" in Sanskrit means argument).
Deities in the temple
Shrines and idols of Lords Achirutha Vinayakar, Natarajar, Murugan with his consorts, Dakshinamurthy, Lingothbavar, Meenakshi-Sundareswarar, Balamurugan, Durgai, Chandikeswarar, Bairavar and Navagraham can be seen in the corridors.
Outside this temple, there is a separate shrine for Lord Mahavishnu.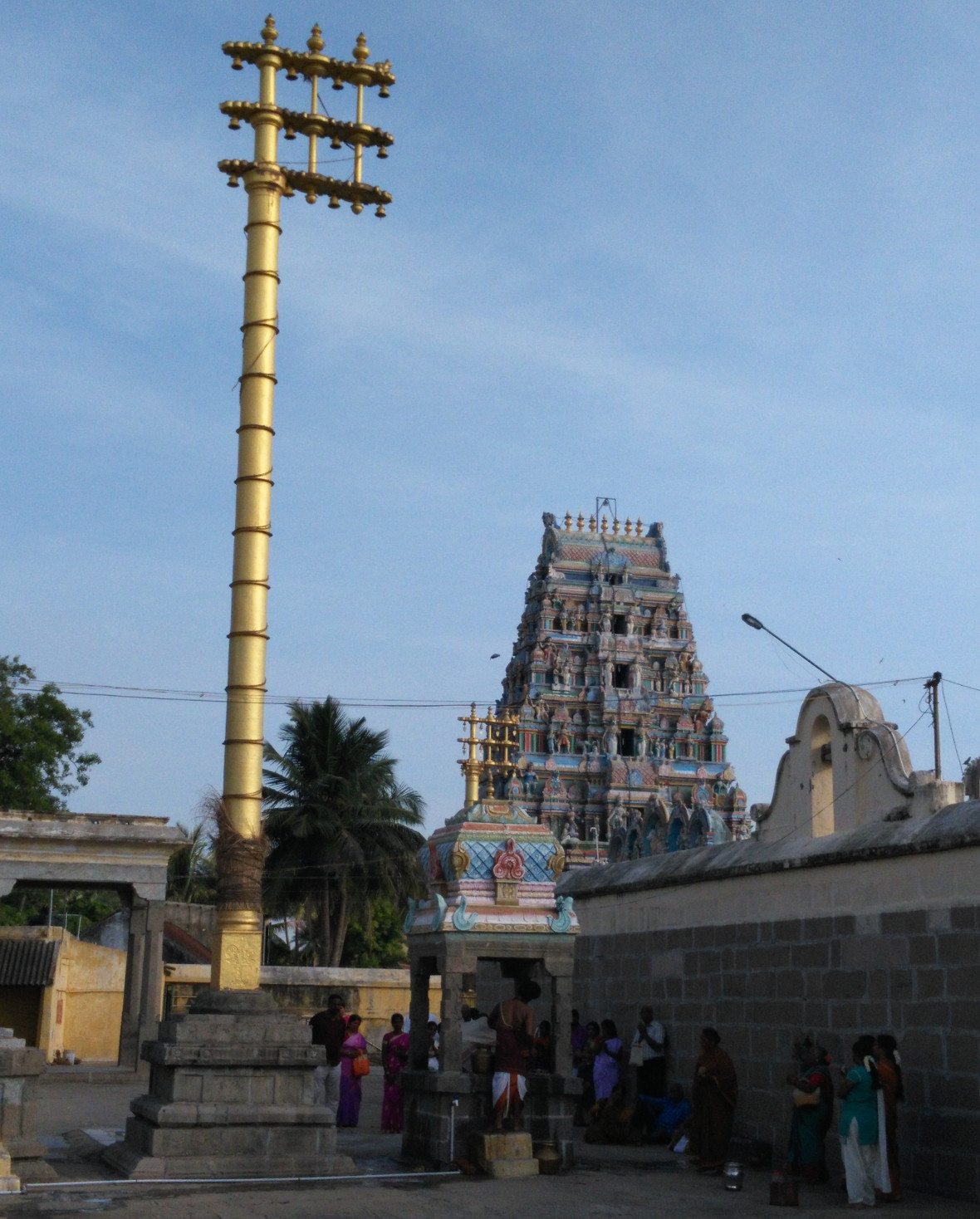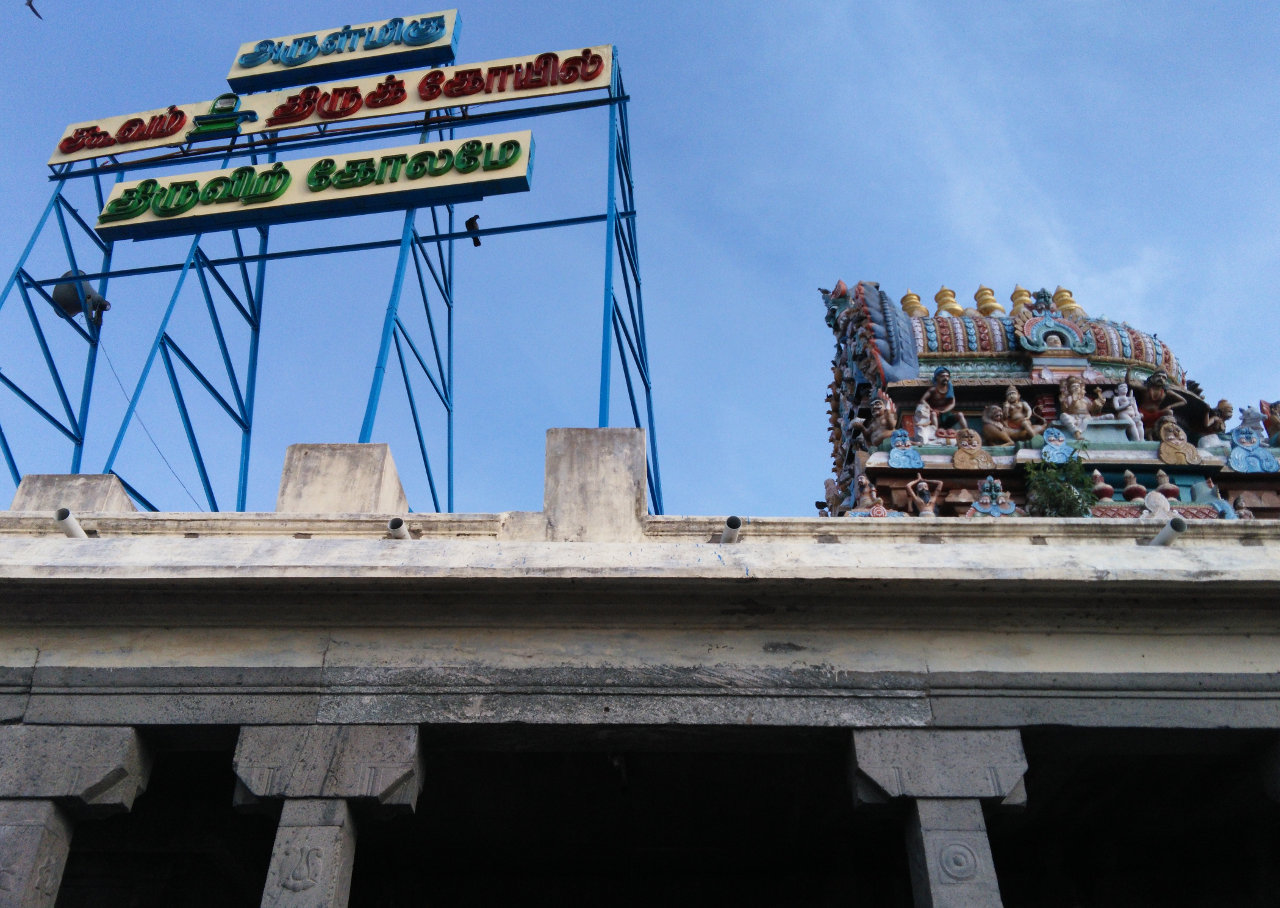 Salient Features
The unique feature of this temple is that Lord Shiva's procession idol (Utsavar) can be seen holding a bow and arrow in his hands. Such an idol is very rare and cannot be seen anywhere else.
The Shiva lingam here is "Theendaa Thirumeni" and is always covered by an armour (metal cover).
A unique custom followed in this temple is that devotees are to worship Goddess Thiripurasundari before worshipping Lord Thiripuranthakar.
Another speciality of this temple is that Goddess Thiripurasundari's shrine is situated on the right side of Lord Shiva's shrine. This is considered to be more auspicious.
The significance of this Shiva lingam is that its colour changes to white before heavy rainfall and to red when the rain is less. This used to serve as an indication for rainfall. Saint Thiru Gnanasambandhar in his hymns on Lord Shiva of this temple has mentioned about the changes in colour of this lingam. However, now the colour of the lingam does not seem to change. Apart from this phenomenon, Saint Thiru Gnanasambanthar also talks about the Thiripura Samharam in his hymns.
It is said that the demons, Tharakatchan and Vidyunmali have become the gate keepers (Dwarapalakas) of the sanctum sanctorum.
The shrine where Lord Shiva performed the "Raksha dance" can be seen near the entrance of the sanctum sanctorum.
Every day poojas are performed four times and the Archakars perform these poojas only after taking bath in the temple tank. It is surprising to see this custom being followed even today.
It is also said that every day water is brought for abhishekam from the "Thirumanchana Kuzhi" tank. This tank is the property of this temple and is located at a distance of about 2 kms from this temple. It is believed that if water from any other source is used for abhishekam, one can see a lot of ants on the lingam.
Lord Vinayakar is said to have been the one who broke the axle of Lord Shiva's chariot at this place. Hence, he is named "Achirutha Vinayakar" ("achu" meaning axle and "muritha" meaning break in Tamil). This temple's tank is also called Achirutha tank.
It is said that there are no frogs in this temple's tank and if anyone puts a frog there, it will not stay there but come out immediately. Another interesting aspect of this tank is that it never goes dry.
As per information available from the temple, the last sacred consecration ceremony (Kumbabishekam) took place on 31st August, 2007.
There is a "Rudraksha" tree near this temple.
Greatness of this temple
It is believed that worshiping the lord here can relieve devotees from the sins of their previous birth.
It is also believed that any sort of misunderstanding between husband and wife can be resolved if they worship the lord here.
Important Festivals
Almost all important festivals are observed in this temple. The major festivals that are celebrated in a grand manner are - Brahmotsavam in the Tamil month of Chithirai (April-May), Adipuram festival to Goddess Parvathi in the Tamil month of Adi (July-August), Thai Poosam in the Tamil month of Thai (January-February), Thiru Karthikai in the Tamil month of Karthikai (November-December), Annabishegam in the Tamil month of Aipasi (October-November), Arudra dharisanam in the Tamil month of Margazhi (December-January) and Maha Shivrathri in the Tamil month of Masi (February-March)
Monthly Pradosham is also regularly observed.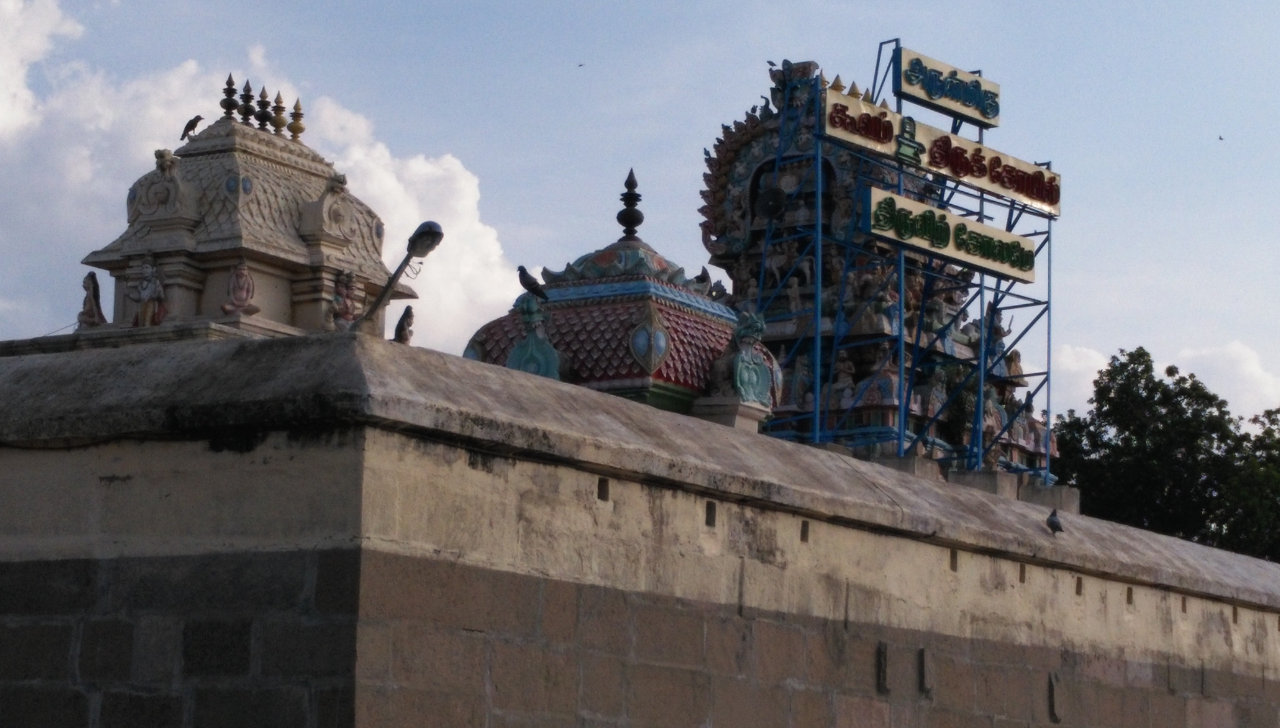 Temple Timings

06.00 AM to 12.00 Noon and 05.00 PM to 08.00 PM
Temple Address

Sri Thripuranthakeswarar Temple,
Thiruvirkolam, Coovum Post,
Perambakkam Via,
Tiruvallur District
Tamil Nadu - 631 402.
Tele: +91 94432 53325.
---
Pathigam (Hymn) with English transliteration
Saint Thirugnanasambanthar visited this temple and sang this Pathigam.
Devotees visiting this temple should make it a practice to recite this Pathigam.
உருவினார் உமையொடும் ஒன்றி நின்றதோர்
திருவினான் வளர்சடைத் திங்கள் கங்கையான்
வெருவிவா னவர்தொழ வெகுண்டு நோக்கிய
செருவினான் உறைவிடந் திருவிற் கோலமே.
"Uruviṉār umaiyodum oṉtṟi niṉtṟathōr
thiruviṉāṉ vaḷarsadaith thiṅkaḷ kaṅgaiyāṉ
veruvivā ṉavarthozha vekuṇdu nōkkiya
seruviṉāṉ uṟaiviṭan thiruviṟ kōlamē".
சிற்றிடை யுமையொரு பங்கன் அங்கையில்
உற்றதோர் எரியினன் ஒருச ரத்தினால்
வெற்றிகொள் அவுணர்கள் புரங்கள் வெந்தறச்
செற்றவன் உறைவிடந் திருவிற் கோலமே.
"sitṟidai yumaiyoru paṅkaṉ aṅkaiyil
utṟathōr eriyiṉaṉ orusa rathiṉāl
vetṟikoḷ avuṇarkaḷ puraṅkaḷ venthaṟach
chetṟavaṉ uṟaiviṭan thiruviṟ kōlamē".
ஐயன்நல் அதிசயன் அயன்விண் ணோர்தொழும்
மையணி கண்டனார் வண்ண வண்ணம்வான்
பையர வல்குலாள் பாக மாகவுஞ்
செய்யவன் உறைவிடந் திருவிற் கோலமே.
"Aiyaṉnal athisayaṉ ayaṉviṇ ṇōrthozhum
maiyaṇi kaṇṭaṉār vaṇṇa vaṇṇamvāṉ
paiyara valkulāḷ pāka mākavuñj
seyyavaṉ uṟaiviṭan thiruviṟ kōlamē".
விதைத்தவன் முனிவருக் கறமுன் காலனை
உதைத்தவன் உயிரிழந் துருண்டு வீழ்தரப்
புதைத்தவன் நெடுநகர்ப் புரங்கள் மூன்றையுஞ்
சிதைத்தவன் உறைவிடந் திருவிற் கோலமே.
"Vithaithavaṉ muṉivaruk kaṟamuṉ kālaṉai
uthaithavaṉ uyirizhan thuruṇṭhu vīzhtharap
puthaithavaṉ neṭunakarp puraṅkaḷ mūṉtṟaiyuñj
sithaithavaṉ uṟaiviṭan thiruviṟ kōlamē".
முந்தினான் மூவருள் முதல்வ னாயினான்
கொந்துலாம் மலர்ப்பொழிற் கூகம் மேவினான்
அந்திவான் பிறையினான் அடியர் மேல்வினை
சிந்துவான் உறைவிடந் திருவிற் கோலமே.
"Munthiṉāṉ mūvaruḷ muthalva ṉāyiṉāṉ
konthulām malarppozhiṟ kūkam mēviṉāṉ
anthivāṉ piṟaiyiṉāṉ aṭiyar mēlviṉai
sinthuvāṉ uṟaiviṭan thiruviṟ kōlamē".
தொகுத்தவன் அருமறை யங்கம் ஆகமம்
வகுத்தவன் வளர்பொழிற் கூகம் மேவினான்
மிகுத்தவன் மிகுத்தவர் புரங்கள் வெந்தறச்
செகுத்தவன் உறைவிடந் திருவிற் கோலமே.
"Thokuthavaṉ arumaṟai yaṅkam ākamam
vakuthavaṉ vaḷarpozhiṟ kūkam mēviṉāṉ
mikuthavaṉ mikuthavar puraṅkaḷ venthaṟach
chekuthavaṉ uṟaiviṭan thiruviṟ kōlamē".
விரித்தவன் அருமறை விரிச டைவெள்ளந்
தரித்தவன் தரியலர் புரங்கள் ஆசற
எரித்தவன் இலங்கையர் கோனி டர்படச்
சிரித்தவன் உறைவிடந் திருவிற் கோலமே.
"Virithavaṉ arumaṟai virisa daiveḷḷan
tharithavaṉ thariyalar puraṅkaḷ āsaṟa
erithavaṉ ilaṅkaiyar kōṉi ṭarpaṭach
sirithavaṉ uṟaiviṭan thiruviṟ kōlame".

இப்பதிகத்தில் 8-ம் செய்யுள் சிதைந்து போயிற்று.
Ippatikattil 8-m seyyuḷ sithainthu pōyitṟu.
திரிதரு புரமெரி செய்த சேவகன்
வரியர வொடுமதி சடையில் வைத்தவன்
அரியொடு பிரமன தாற்ற லால்உருத்
தெரியலன் உறைவிடந் திருவிற் கோலமே.
"Thiritharu purameri seytha sēvakaṉ
variyara voṭumathi sadaiyil vaithavaṉ
ariyodu piramaṉa thātṟa lāluruth
theriyalaṉ uṟaiviṭan thiruviṟ kōlamē".
சீர்மையில் சமணொடு சீவ ரக்கையர்
நீர்மையில் உரைகள்கொள் ளாத நேசர்க்குப்
பார்மலி பெருஞ்செல்வம் பரிந்து நல்கிடுஞ்
சீர்மையி னானிடந் திருவிற் கோலமே.
"Sīrmaiyil samaṇodu sīva rakkaiyar
nīrmaiyil uraikaḷkoḷ ḷātha nēsarkkup
pārmali peruñchelvam parinthu nalkiṭuñj
sīrmaiyi ṉāṉiṭan thiruviṟ kōlamē".
கோடல்வெண் பிறையனைக் கூகம் மேவிய
சேடன செழுமதில் திருவிற் கோலத்தை
நாடவல் லதமிழ் ஞானசம் பந்தன
பாடல்வல் லார்களுக் கில்லை பாவமே.
"Kōdalveṇ piṟaiyaṉaik kūkam mēviya
sēṭaṉa cezhumathil thiruviṟ kōlathai
nāṭaval latamizh gñāṉasam panthaṉa
pāṭalval lārkaḷuk killai pāvamē".