Visited on: 27th August, 2016 and 22nd November, 2016
Location
Thiru Vanparthan Panangkattur is at a distance of about 19 kms from Kanchipuram. From Kanchipuram, first reach Thusi (10 kms) on Kanchipuram to Vandavasi route. After travelling a distance of 6 kms on Kalavai – Venpakkam -Perungkattur route, you can find a beautiful arch at the beginning of the road to Thirupanangkadu. From the arch the temple is at a distance of about 3 kms.
Other Paadal Petra Shivasthalams near Vanparthan Panangkattur are – Kuranganil Muttam (10 kms), Thiruvothur (20 kms), Thirumagaral (26 kms) and Thirumalpur (37 kms).
General Information
| | |
| --- | --- |
| Moolavar and Ambal | 1. Sri Thalapureeswarar & Sri Amirthavalli |
| Moolavar and Ambal | 2. Sri Krupanatheswarar & Sri Krupanayaki |
| Theertham (Holy water) | Jada Gangai tank, Sundarar Theertham |
| Sthala Vriksham (Sacred Tree) | Palm Tree |
| Pathigam (Hymn) rendered by | Saint Sundaramurthy Nayanar (Sundarar) |
This is one of the 276 Devara Paadal Petra Shiva Sthalams and 9th Shiva Sthalam in Thondai Nadu.
There are two main presiding deities in this temple.
Lord Thalapureeswarar was installed and worshiped by Sage Agasthiyar. This lingam is said to be a Swayambumurthi (self-manifested).
Lord Krupanatheswarar was installed and worshiped by Sage Agasthiyar's disciple, Sage Pulasthiyar.
This is an east facing temple and it has an arch type entrance with two corridors. There is no main tower (Rajagopuram) in this temple.
The vimanam (roof tower) of both the sanctum sanctorum is designed in a special way that is exclusive to Pallava architecture - the Gaja Brishtam, that looks like the rear of an elephant (Gaja - elephant, brishtam - rear).
Of the 276 Paadal Petra Shivasthalams, very few temples have Palm tree (Panai) as their Sthala Viruksham. This temple is one of them. Some of the others are Panaiyur, Panankattur, Puravaar Panankattur, Cheyyar, Thirumazhapadi, Thiru Valampuram and Thiruppanandal.
The last consecration ceremony (Mahakumbabishekam) was conducted in the year 1995.
History of the Temple
It is said that in ancient times this place was full of palm (Panai) trees and hence the place is called Panangkattur and the lord here is named "Sri Panangkatteeswarar". However, now this place is known as Thirupanangadu.
As per the stone inscriptions installed in the temple, Devakottai Sri A.Ekappa Chettiar's family had renovated and constructed this temple. The consecration ceremony (Mahakumbabishekam) was also conducted by them in the year 1928. Sri Ekappa Chettiar's statue can be seen in the main hall of the temple. It is believed that in the year 1915, Ekappa Chettiar who was in a property litigation case, prayed to Lord Shiva for help. Further, after browsing the devaram book he selected the pathigam of this temple and started reciting it. He also committed himself to do something for this temple if the judgement in the legal case fell in his favour. Later, after he won the case he visited this temple and found that it was in ruins. He renovated it using all the money that he had got from the settlement.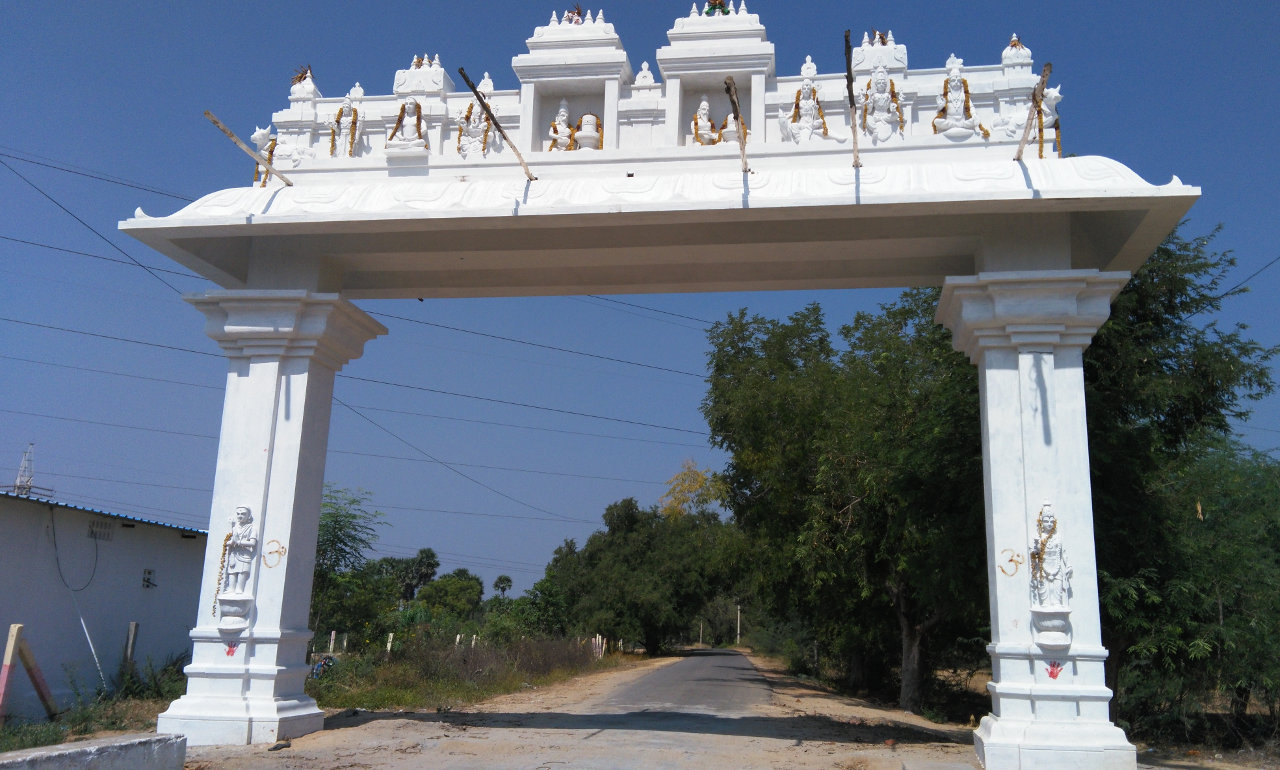 Legend
The legend is that when Saint Sundaramurthy Nayanar visited this place, Lord Shiva appeared before him in the form of an old man and offered food (Kattamudu). Sundarar laughed at him and said that when there is no water available here then what is the use of the food. The old man scratched the land under his feet and water started flowing. The old man disappeared and Sundarar realized that the old man was none other than Lord Shiva himself. He then followed the foot prints of a bull and found this temple. It is believed that Lord Shiva and Goddess Parvathi blessed Sundarar with their dharisanam. In his hymns, Sundarar refers to this place as "Vanparthan Panangkattur".
The well which is believed to have been created by Lord Shiva, is called "Sundarar Theertham". It is well maintained and has a fencing around it. There is a small shrine nearby where Sundarar is believed to have had the food that Lord Shiva gave him. This Theertham and the shrine is at a distance of about one kilometre from the temple. On the main road itself you can see a sign board pointing to this well. People say that the water level at Sundarar Theertham is just 3 feet whereas the nearby well's water level is around 30 feet.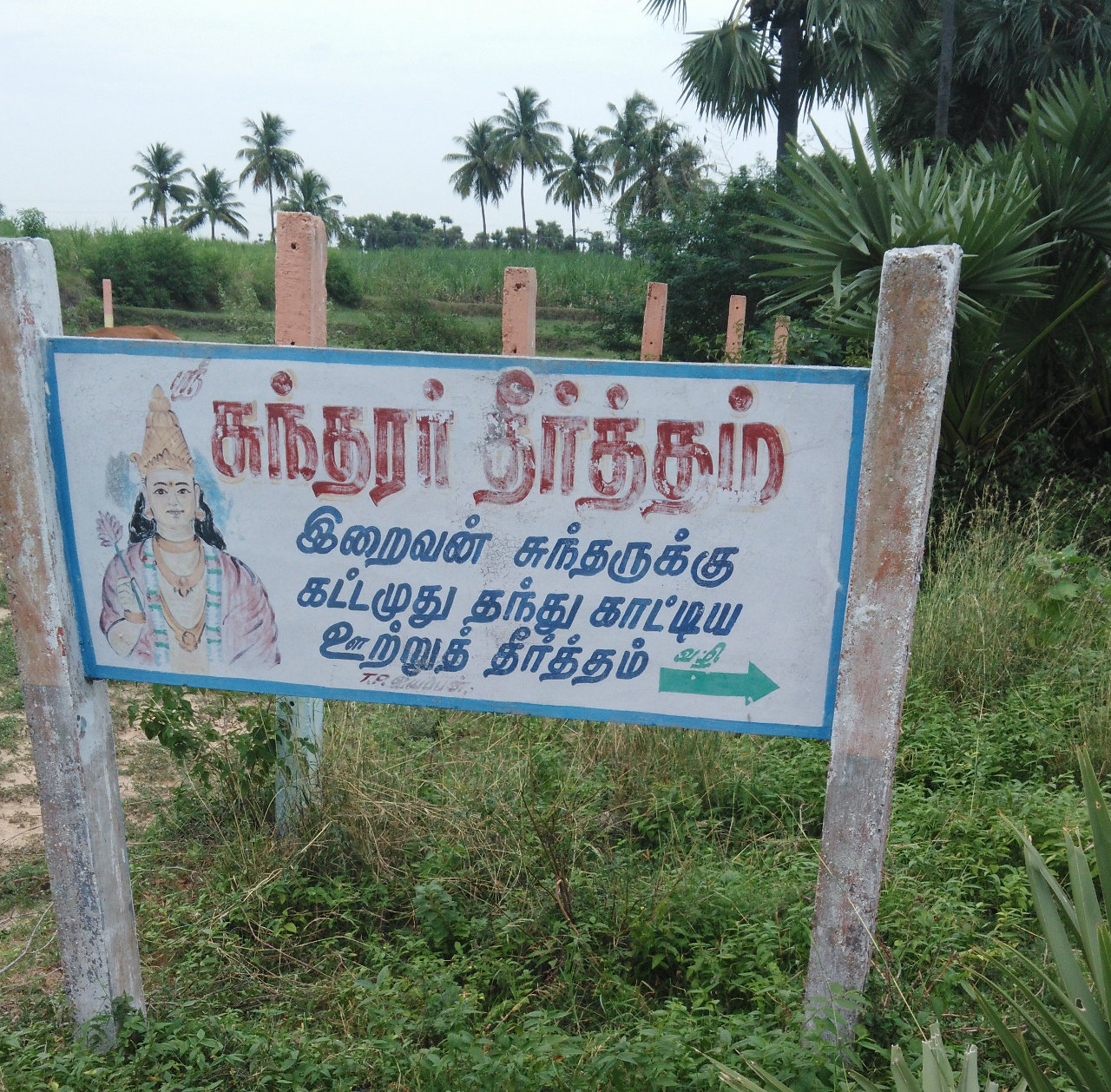 Sign Board showing Sundarar Theertham
Sundarar Theertham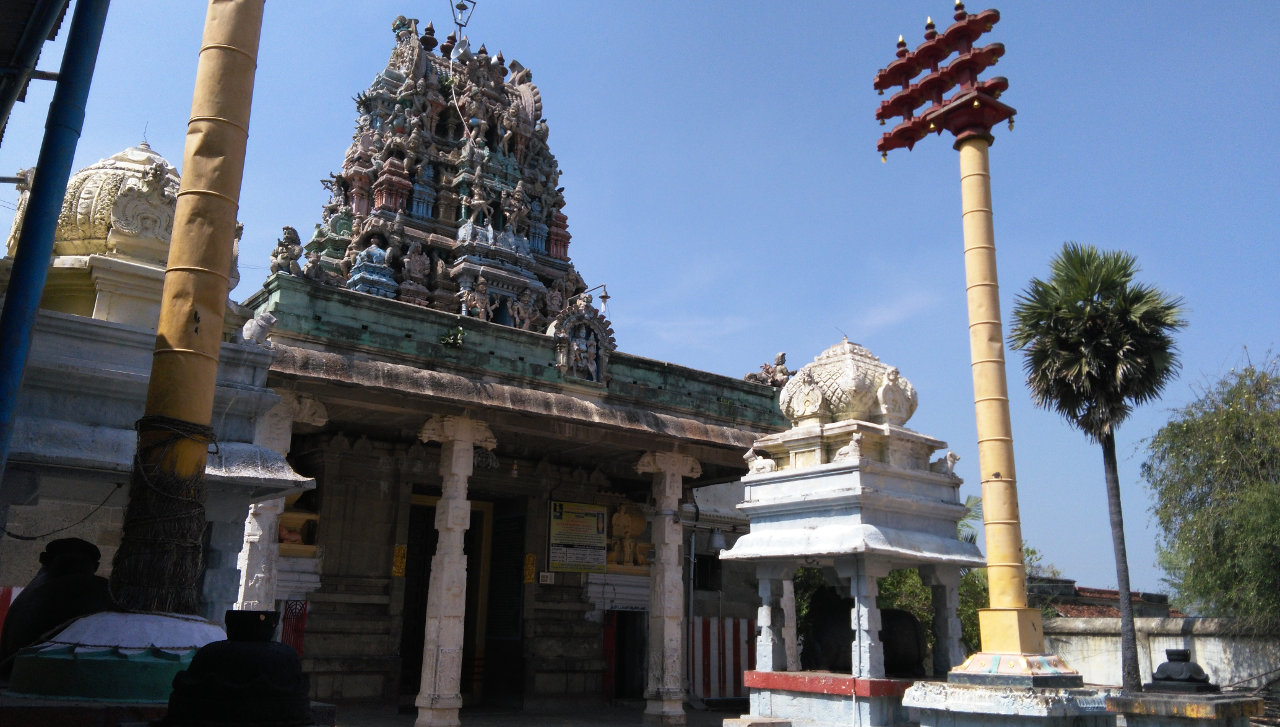 There are two separate shrines for Lord Shiva in this temple - one is said to have been installed and worshipped by Sage Agasthiyar and the other one by his disciple, Sage Pulasthiyar. The deity installed and worshiped by Sage Agasthiyar is known as Sri Thalapureeswarar (also known as Sri Panangkatteswarar) with Goddess Amirthavalli. The deity installed and worshiped by Sage Pulasthiyar is known as Sri Krupanatheswarar with Goddess Krupanayaki.
The legend is that when Sage Agasthiyar reached this place, he wanted to worship Lord Shiva and searched for a temple. He found another sage by the name of "Kottai Muniswarar' (Yogananda Muniswarar) meditating under a neem tree. Agasthiyar asked him if there was a temple nearby, Muniswarar told him that there was a Shivalingam beneath this tree itself. It is believed that Sage Agasthiyar took the lingam out, installed it in a nearby shrine and worshiped it.
Pleased with the worship of Sage Agasthiyar, Lord blessed him with his dharisanam. Further it is believed that when Agasthiyar was looking to make offerings of fruits to the lord, the lord made the fruits from the palm tree fall on the lingam. Because of this incident, the lord here is named "Thalapureeswarar" (Thalam meaning Palm tree in Grantham). It is said that while leaving this place Sage Agasthiyar advised Sage Muneeswarar to look after this Shiva temple. In front of this temple, there is also a separate small temple for "Sri Kottai Muneeswarar".
It is said that after some time, Sage Pulasthiyar had also visited this place and installed a lingam on the banks of river Palar and worshiped it. At a later date, this lingam is believed have been discovered by a Chola king who brought it to this temple and installed it next to the lingam that was installed by Sage Agasthiyar.
Another legend is that once, a staunch devotee called Panangkattu Thambiran prayed to Lord Shiva to provide drinking water to the local people. Lord conceded to his request and water started flowing from the lord's head. This water was stored in a nearby tank called "Jada Gangai Theertham". This is being used by locals even today.
It is also said that lords Brahma, Mahavishnu, Indiran and Sage Kannuva have worshiped Lord Shiva of this temple.
Salient Features
Since there are two lingams in this temple, this temple also has two separate sets of Nandhi, Pali Peedam (altar for making offerings) and flag post (dwajasthambam). Similarly, in both the outer sanctums, separate idols of lords Dakshinamurthy, Mahavishnu and Brahma can be seen.
The posture of one of the idols of Lord Dakshinamurthy's is unique to this temple - with his right hand placed on his chest ("Chin muthirai" in Tamil).
Beautifully engraved Idols of Saint Agasthiar, Saint Pulasthiar and palm trees can be seen at the entrance of the sanctum sanctorum.
In the inner corridors, a beautiful stone palm tree with Lord Sundareswarar and Goddess Meenakshi can be seen.
The pillars of the main hall have intricate reliefs and sculptures. One such sculpture depicts Vali and Sugreev fighting with each other and another pillar depicts Lord Ram watching this fight. An interesting point to note about these pillars is that you can see Vali and Sugreev from Lord Ram's relief whereas you cannot see Lord Ram from the pillar in which Vali and Sukreev reliefs are chiselled. Similar reliefs of Nagalingam, Garudazhvar, Mahavishnu and Anjaneyar can also be seen in other pillars.
Though there are two Lord Shiva's shrines in this temple, Saint Sundarar mentioned about Lord Thalapureeswarar (also known as Sri Panangkatteswarar) only.
Another interesting aspect of this place is that there is a stone inscription in this temple stating that cutting down a palm tree is a sin.
Deities in the temple
In the inner corridor, shrines and idols of Lords Vinayakar, Murugan with his consorts, Natarajar, Mahavishnu, Brahma, Goddess Gaja Lakshmi, Dakshinamurthy, Sri Meenakshi Sundareswarar, Mahalingam, Suryan, Chandran, Bairavar, Nalvars with Sekkizhar, 63 Nayanmars, Navagraham, Chandikeswarar can be seen.
Greatness of this temple
In the outer corridor, there are two sacred palm trees - one male and the other female. It is believed that those seeking child boon can pray to the lord here by making offerings of palm fruits and then consuming it.
Devotees also pray for prosperity and relief from vision / eye sight related problems. They can also circumambulate these trees and worship Lord Shiva for removal of obstacles from their wedding proposals.
Important Festivals
Brahmotsavam in the Tamil month of Masi (February-March), Somavarams in the Tamil month of Karthikai (November-December), Annabishekam in the Tamil month of Aipasi (October-November) and Arudra Dharisanam in the Tamil month of Marghazhi (December-January) are the major festivals celebrated in this temple.
During Brahmotsavam, on the Masi Magam day, "Thiruvural" festival is celebrated on the banks of the river Palaru. The procession idol of Lord Ekambareswar of Kanchipuram is brought to this place.
During the Brahmotsavam festival, special poojas called "Kattamudhu" are also performed, to celebrate the incident of Lord Shiva of giving food to Saint Sundarar.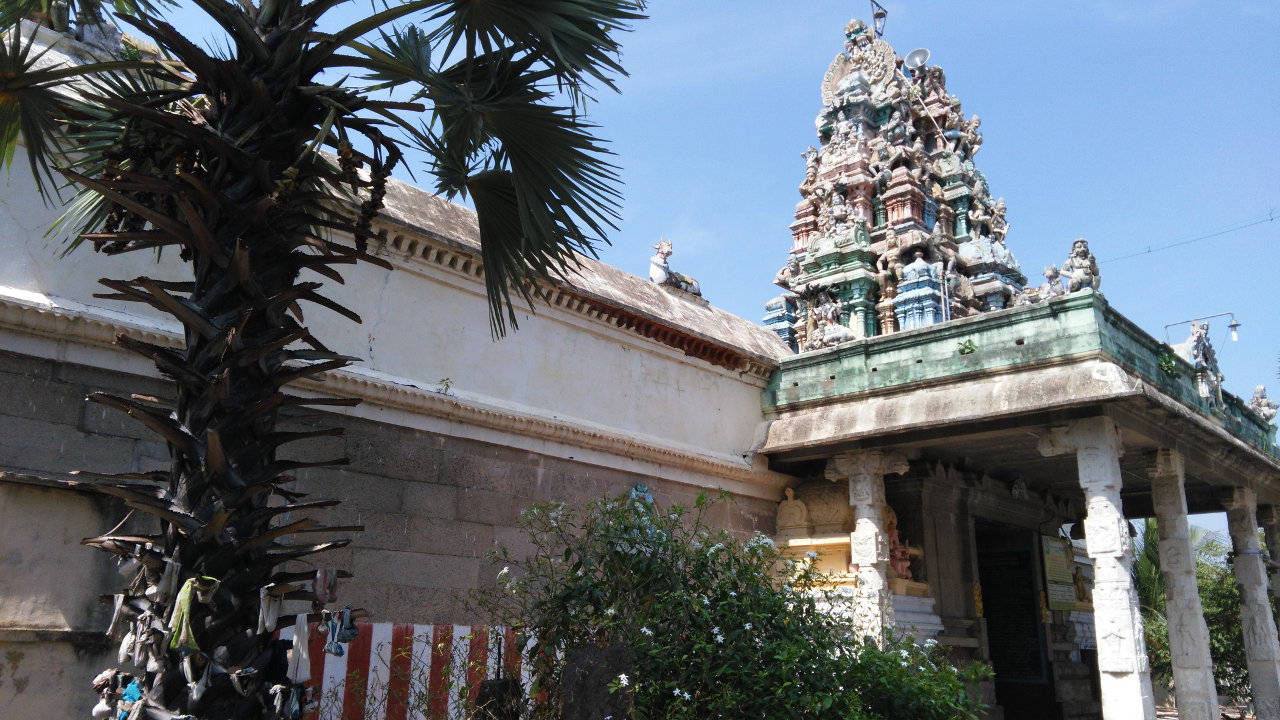 Sthala Viruksham Panai Tree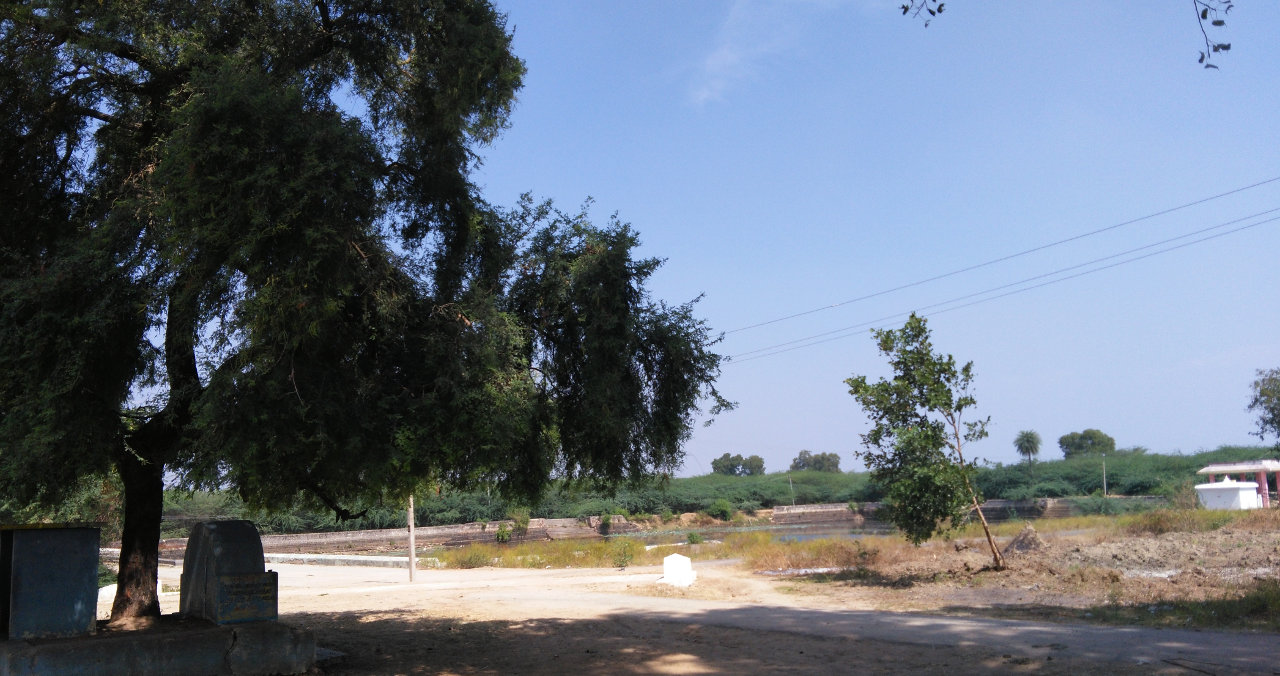 Jada Gangai tank
| | |
| --- | --- |
| | |
| | |
| Vali & Sukreev | Sri Ram |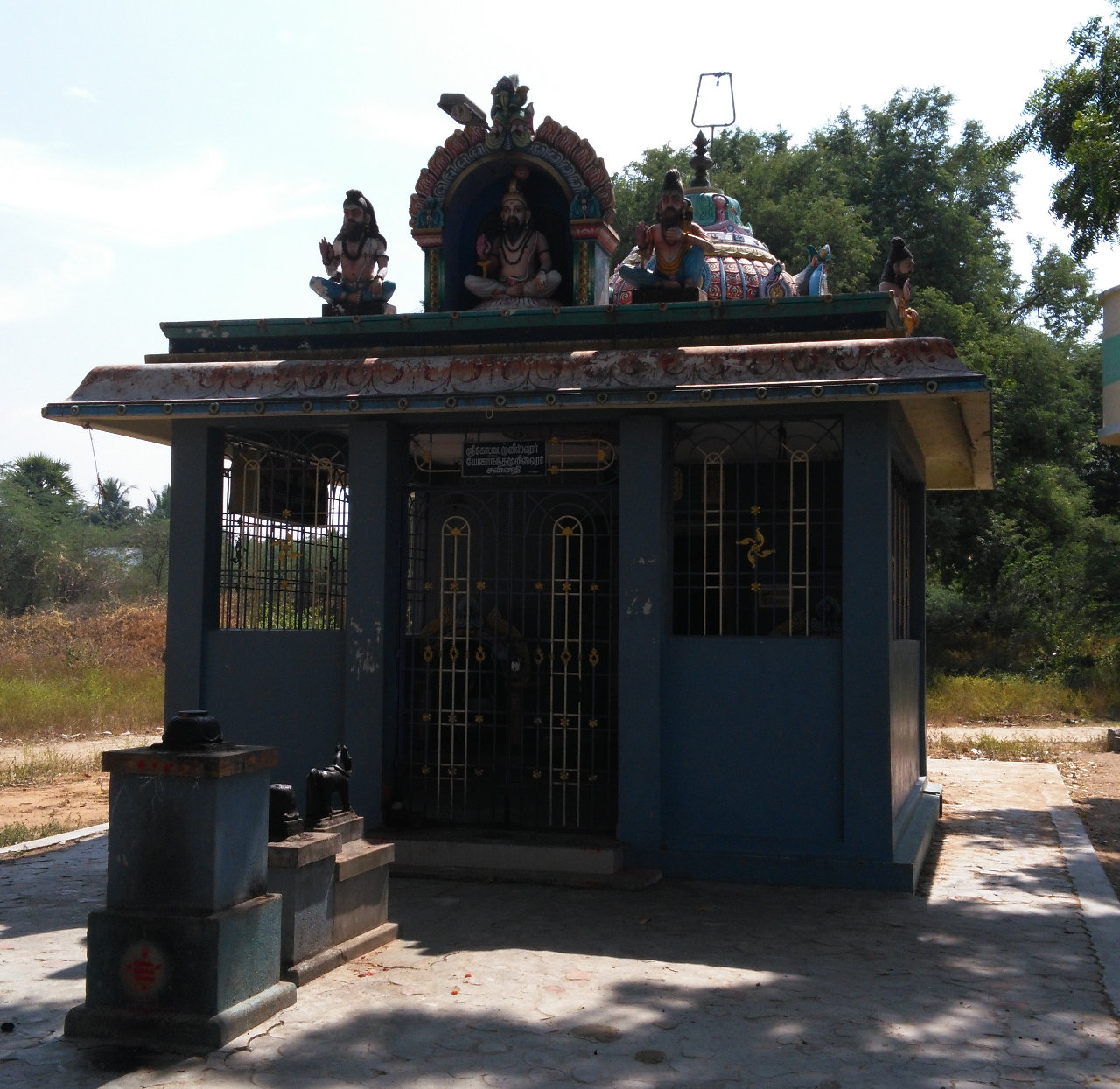 Kottai Muneeswarar Shrine

Temple Timings
From 07:00 AM to 12:00 Noon and from 04:30 PM to 08:00 PM.
Temple Address
Sri Thalapureeswarar Temple
Thiruppanagkadu Post
Vembakkam Via, Cheyyaru Taluk,
Thiruvannamalai District
Tamil Nadu – 604 410.
Tele: +91- 44 2431 2807.
The priest, Sri N.Devaraj Sharma may be contacted at 09843568742.
---
Pathigam (Hymn) with English transliteration
Saint Sundarar visited this temple and sang this Pathigam.
Devotees visiting this temple should make it a practice to recite this Pathigam.
விடையின்மேல் வருவானை வேதத்தின் பொருளானை
அடையில்அன் புடையானை யாவர்க்கும் அறியொண்ணா
மடையில்வா ளைகள்பாயும் வன்பார்த்தான் பனங்காட்டூர்ச்
சடையிற்கங்கை தரித்தானைச் சாராதார் சார்பென்னே.
"Vidaiyiṉmēl varuvāṉai vēthathiṉ poruḷāṉai
adaiyilaṉ pudaiyāṉai yāvarkkum aṟiyoṇṇā
madaiyilvā ḷaikaḷpāyum vaṉpārthāṉ paṉaṅkāṭṭūrch
chadaiyiṟgaṅgai tharithāṉaich chārāthār chārpeṉṉē".
அறையும்பைங் கழலார்ப்ப அரவாட அனலேந்திப்
பிறையுங்கங் கையுஞ்சூடிப் பெயர்ந்தாடும் பெருமானார்
பறையுஞ்சங் கொலிஓவாப் படிறன்றன் பனங்காட்டூர்
உறையுமெங்கள் பிரானாரை உணராதார் உணர்வென்னே.
"Aṟaiyumpaiṅ kazhalārppa aravāda aṉalēnthip
piṟaiyuṅgaṅ gaiyuñchūṭip peyarnthādum perumāṉār
paṟaiyuñchaṅ koli'ōvāp paṭiṟaṉtṟaṉ paṉaṅkāṭṭūr
uṟaiyumeṅkaḷ pirāṉārai uṇarāthār uṇarveṉṉē".
தண்ணார்மா மதிசூடித் தழல்போலுந் திருமேனிக்
கெண்ணார்நாண் மலர்கொண்டங் கிசைந்தேத்தும் அடியார்கள்
பண்ணார்பா டல்அறாத படிறன்றன் பனங்காட்டூர்ப்
பெண்ணாணா யபிரானைப் பேசாதார் பேச்சென்னே.
"Thaṇṇārmā mathichūdith thazhalpōlun thirumēṉik
keṇṇārnāṇ malarkoṇṭaṅ kisainthēthum adiyārkaḷ
paṇṇārpā dalaṟātha paṭiṟaṉtṟaṉ paṉaṅkāṭṭūrp
peṇṇāṇā yapirāṉaip pēsāthār pēcheṉṉē".
நெற்றிக்கண் ணுடையானை நீறேறுந் திருமேனிக்
குற்றமில் குணத்தானைக் கோணாதார் மனத்தானைப்
பற்றிப்பாம் பரையார்த்த படிறன்றன் பனங்காட்டூர்ப்
பெற்றொன்றே றும்பிரானைப் பேசாதார் பேச்சென்னே.
"Netṟikkaṇ ṇudaiyāṉai nīṟēṟun thirumēṉik
kutṟamil kuṇathāṉaik kōṇāthār maṉathāṉaip
patṟippām paraiyārtha paṭiṟatṉṟaṉ paṉaṅkāṭṭūrp
petṟoṉtṟē ṟumpirāṉaip pēsāthār pēcheṉṉē".
உரமென்னும் பொருளானை உருகிலுள் ளுறைவானைச்
சிரமென்னுங் கலனானைச் செங்கண்மால் விடையானை
வரம்முன்ன மருள்செய்வான் வன்பார்த்தான் பனங்காட்டூர்ப்
பரமன்எங் கள்பிரானைப் பரவாதார் பரவென்னே.
"Urameṉṉum poruḷāṉai urukiluḷ ḷuṟaivāṉaich
chirameṉṉuṅ kalaṉāṉaich cheṅkaṇmāl vidaiyāṉai
varam'muṉṉa maruḷseyvāṉ vaṉpārthāṉ paṉaṅkāṭṭūrp
paramaṉeṅ kaḷpirāṉaip paravāthār paraveṉṉē".
எயிலார்பொக் கம்எரித்த எண்டோ ள்முக் கண்இறைவன்
வெயிலாய்க்காற் றெனவீசி மின்னாய்த்தீ எனநின்றான்
மயிலார்சோ லைகள்சூழ்ந்த வன்பார்த்தான் பனங்காட்டூர்ப்
பயில்வானுக் கடிமைக்கட் பயிலாதார் பயில்வென்னே.
"Eyilārpok kameritha eṇṭō ḷmuk kaṇiṟaivaṉ
veyilāykkātṟ ṟeṉavīsi miṉṉāythī eṉaniṉṟtāṉ
mayilārchō laikaḷchūzhntha vaṉpārthāṉ paṉaṅkāṭṭūrp
payilvāṉuk kadimaikkaṭ payilāthār payilveṉṉē".
மெய்யன்வெண் பொடிபூசும் விகிர்தன்வே தமுதல்வன்
கையில்மான் மழுவேந்திக் காலன்கா லம்அறுத்தான்
பைகொள்பாம் பரையார்த்த படிறன்றன் பனங்காட்டூர்
ஐயன்எங் கள்பிரானை அறியாதார் அறிவென்னே.
"Meyyaṉveṇ podipūsum vikirthaṉvē thamuthalvaṉ
kaiyilmāṉ mazhuvēnthik kālaṉkā lamaṟuthāṉ
paikoḷpām paraiyārtha padiṟaṉtṟaṉ paṉaṅkāṭṭūr
aiyaṉeṅ kaḷpirāṉai aṟiyāthār aṟiveṉṉē".
வஞ்சமற்ற மனத்தாரை மறவாத பிறப்பிலியைப்
பஞ்சிச்சீ றடியாளைப் பாகம்வைத் துகந்தானை
மஞ்சுற்ற மணிமாட வன்பார்த்தான் பனங்காட்டூர்
நெஞ்சத்தெங் கள்பிரானை நினையாதார் நினைவென்னே.
"Vañchamatṟa maṉathārai maṟavātha piṟappiliyaip
pañchichī ṟadiyāḷaip pākamvaith thukanthāṉai
mañchutṟa maṇimāda vaṉpārthāṉ paṉaṅkāṭṭūr
neñchatheṅ kaḷpirāṉai niṉaiyāthār niṉaiveṉṉē".
மழையானுந் திகழ்கின்ற மலரோனென் றிருவர்தாம்
உழையாநின் றவருள்க உயர்வானத் துயர்வானைப்
பழையானைப் பனங்காட்டூர் பதியாகத் திகழ்கின்ற
குழைகாதற் கடிமைக்கட் குழையாதார் குழைவென்னே.
"Mazhaiyāṉun thikazhkiṉtṟa malarōṉeṉ tṟiruvarthām
uzhaiyāniṉ tṟavaruḷka uyarvāṉath thuyarvāṉaip
pazhaiyāṉaip paṉaṅkāṭṭūr pathiyākath thikazhkiṉtṟa
kuzhaikāthaṟ kaṭimaikkaṭ kuzhaiyāthār kuzhaiveṉṉē".
பாரூரும் பனங்காட்டூர்ப் பவளத்தின் படியானைச்
சீரூருந் திருவாரூர்ச் சிவன்பேர்சென் னியில்வைத்த
ஆரூரன் அடித்தொண்டன் அடியன்சொல் அடிநாய்சொல்
ஊரூரன் உரைசெய்வார் உயர்வானத் துயர்வாரே.
"Pārūrum paṉaṅkāṭṭūrp pavaḷathiṉ padiyāṉaich
chīrūrun thiruvārūrch sivaṉpērseṉ ṉiyilvaitha
ārūraṉ adithoṇdaṉ adiyaṉsol adināysol
ūrūraṉ uraiseyvār uyarvāṉath thuyarvārē".