Visited on: 2nd June, 2016 and 23rd May, 2017.
Location
Thiruvenkadu is situated at a distance of about 23 kms from Mayiladuthurai on the Mayiladuthurai to Tharangambadi route (Via Mangaimadam). From Sirkazhi, this place is at a distance of about 13 kms on the Sirkazhi to Poompuhar route.
Other Devara Paadal Petra Shiva Sthalams near this temple are – Thiruppallavaneecharam (Poompuhar), Chayavanam, Kezhai Thirukkattuppalli, Thirukkalikkamur (Annappan Pettai), Pariyal Veerattam, Thiruchempon Palli, Nani Palli, Valampuram, Thalaichangadu, Aakkur, Thirukkadaiyur and Thirukkadaiyur Mayanam.
General Information
| | |
| --- | --- |
| Moolavar | Sri Swetharanyeswarar, Sri Venkaattu Nathar |
| Ambal | Sri Brahma Vidhyambigai |
| Theertham (Holy water) | Surya, Chandra and Agni Theerthams |
| Sthala Vriksham (Sacred Tree) | Vadavaal, Vilvam and Kondrai trees |
| Pathigam (Hymn) rendered by | Saint Thirugnanasambanthar, Saint Thirunavukarasar (Appar) and Saint Sundaramurthy (Sundarar) |
This is one of the 276 Devara Paadal Petra Shiva Sthalams and 11th Shiva Sthalam on the northern bank of the river Cauvery in Chozha Nadu (Vadakarai).
Lord Shiva in this temple is a Swayambumurthi (self-manifested).
This is one of the famous Navagraha "parihara sthalam" – Lord Budhan (Mercury) is represented here.
This is one of the 51 Shakthi Peetams – Goddess Parvathy is praised here as "Pranava Shakthi".
This temple is one of the 6 Shiva Sthalams on the banks of river Cauvery that are considered to be equal in significance with Kasi (Banaras). The others being (1) Thiruvaiyaru, (2) Mayiladuthurai, (3) Chayaavanam, (4) Thiruvidaimaruthur, and (5) Thiruvanchiyam.
This is one of the 44 Paadal petra sthalams where the "Moovar" (the three saints - Saint Thirugnanasambanthar, Saint Thirunavukarasar (Appar) and Saint Sundaramurthy (Sundarar) had rendered their Pathigams.
This temple has five corridors and its main tower (Rajagopuram) has 5-tiers.
The last consecration ceremony (Kumbabishekam) took place on 11.04.2016 and prior to that on 11.07.2007, 13.07.1986 and 26.03.1961.
History of the Temple
This temple is mentioned in Valmiki Ramayan and Silapathikaram. This underscores the antiquity of this temple.
The name of this place in Sanskrit is "Swetharanyam" ("Sweth" means white and "Aranyam" means forest). In Tamil, this can be translated as "Venmai" meaning "white" and "Kaadu" meaning forest.Hence this place is called "Thiru Venkaadu". The lord here is known as "Sri Swetharanyeswarar". Lord Shiva here is also praised as Thiruvenkaadar, Thiruvenkaattu Devar, Thiruvenkaadaiyar and Thiruvenkaattu Peruman.
There are stone inscriptions available here which relate to the period of Chola Kings Adhithiyan, Rajarajan, Rajendran, kulothungan, Vikrama Cholan and Rajathirajan. Some stone inscriptions relate to Pandiya kings Kulasekara Pandiyan, Vikrama Pandiyan, Sundara Pandiyan and Parakirama Pandian. There are also some stone inscriptions dating back to the Vijayanagar dynasty.
This temple's campus covers an area of almost 12 acres. The rivers, Kaveri and Manikarnigai, flow near this holy shrine. It is believed that taking dip in the river Manikarnigai is equivalent to taking dips in the 64 bath ghats in Kasi.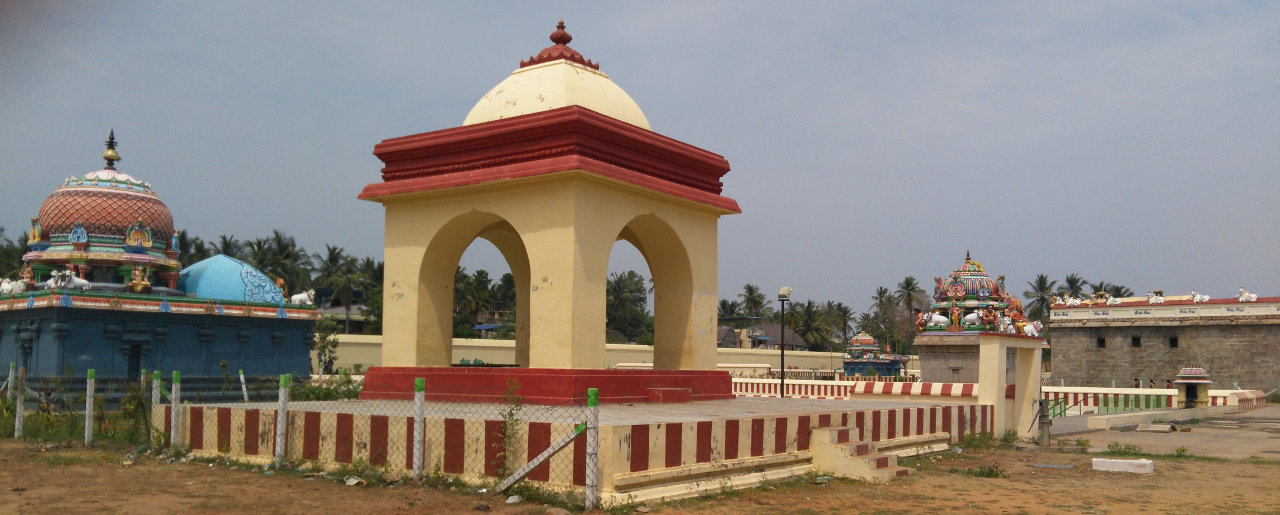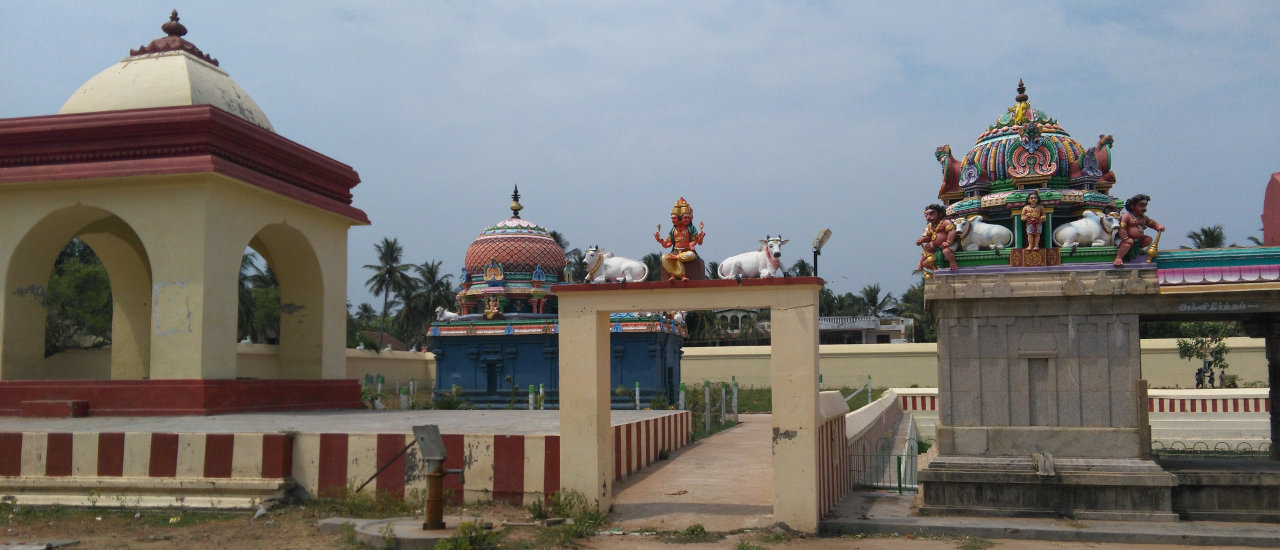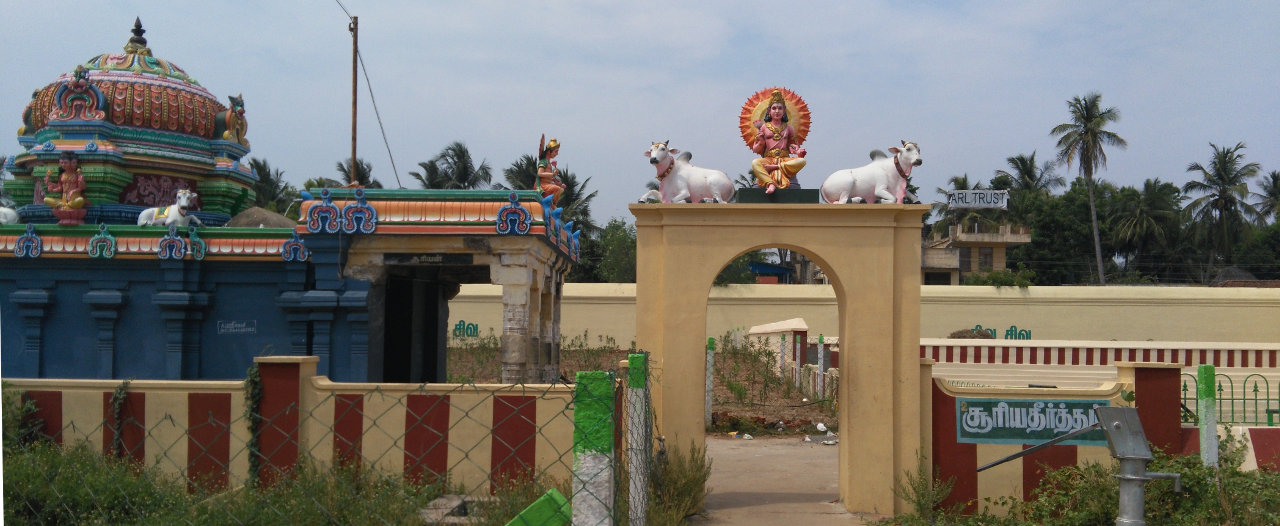 Legend
Lord Budhan
It is believed that Budhan performed his penance here and was relived from his "ali dosham".
Brahma Samaadhu (Brahma Adhishtanam)
Another legend associated with this temple is that of Lord Brahma. It is believed that Lord Murugan imprisoned Lord Brahma for not being able to explain the meaning of "Pranava Mantra" (Aum / Om). Lord Shiva himself went to Lord Murugan and explained him the importance of Lord Brahma's work which were being put on hold due to his captivity. Lord Shiva then got Lord Brahma released. Because of the imprisonment, Lord Brahma forgot the Brahmagnanam" (his duty of maintaining balance in the world).
It is believed that Lord Brahma came to this place and performed rigorous penance in order to regain his memory. The method of penance he adopted here is known as "Samaadhu Nilai" (by holding his breath). Pleased with his penance, Lord Shiva, in the form of Lord Dakshinamurthy, taught him the "Brahmagnanam" again. Also, Goddess Parvathy is believed to have taught him the "Brahma Kalai" ("arts of brahma"). Hence, Goddess Parvathy here is known as "Sri Brahma Vidhyambigai". There is a separate shrine here in the name of "Brahma Samaadhu".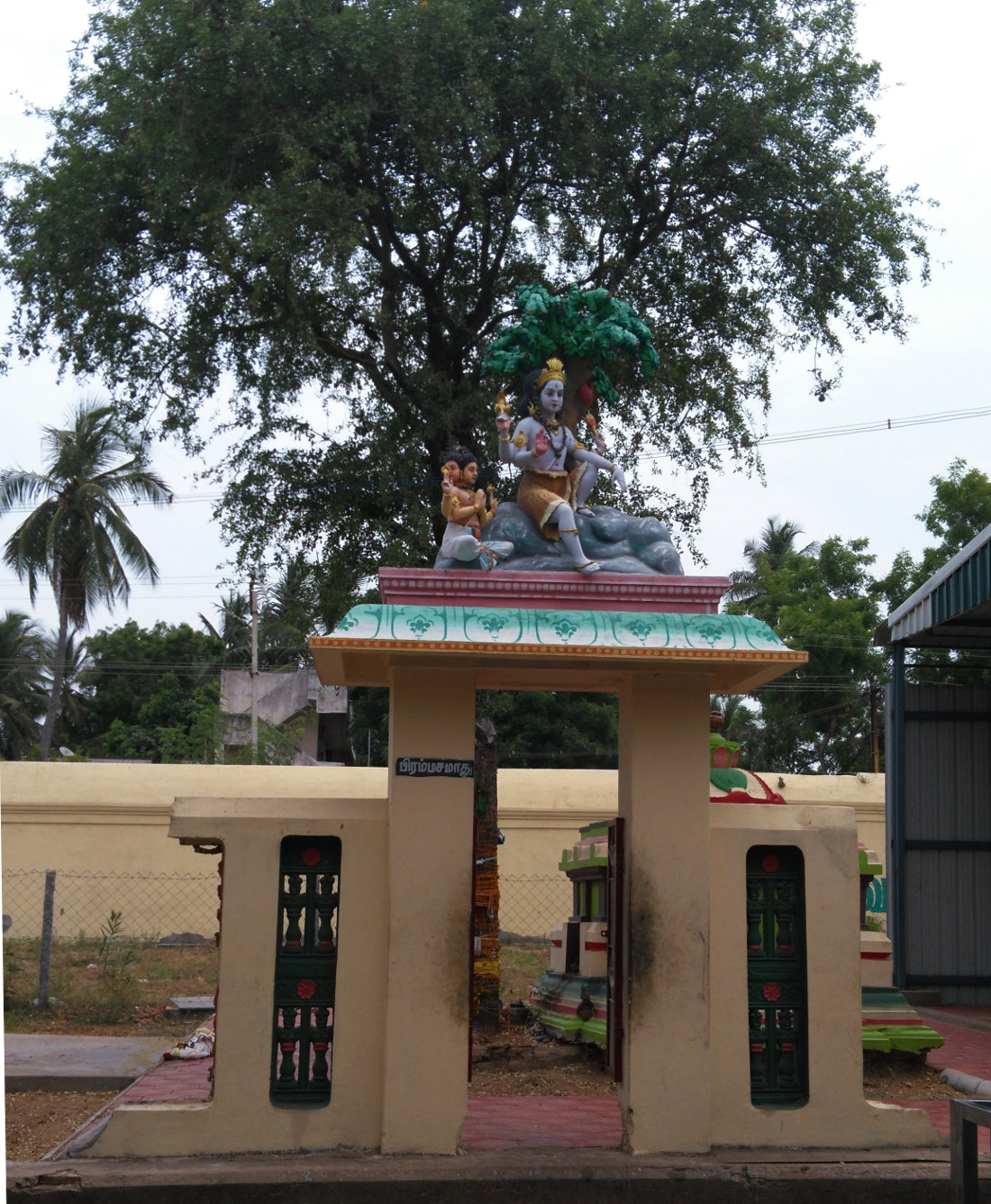 Lord Agoramurthy
As per mythology, Lord Shiva has five faces - Eesanam, Thatpurusham, Aghoram, Vamadhevam and Sadhyojatam. Each represent a direction and an aspect of Lord Shiva.
Eesaanam faces the sky and represents purity;
Vamadhevam faces north and represents sustenance;
Thathpurusha faces east and represents spirituality that has destroyed the ego;
Aghoram faces south and represents the lord's destructive and regenerative aspect; and
Sadhyojatam faces west and represents creation.
Another legend associated with this temple is that of demon Maruthuvan, son of demon Salanthiran. Maruthuvan was a staunch devotee of Lord Shiva. He performed rigours penance and was blessed with a trident ("Soolam" in Tamil). After receiving this blessing, he started terrorising the Devas. On the request of Devas, Lord Shiva instructed Nandhi to punish Maruthuvan. In the fight that ensued, Maruthuvan hit Nandhi in 9 places with the trident. On knowing this, Lord Shiva took the form of "Aghoramurthy" and vanquished the demon. This Murthy is the furious incarnation of Lord Shiva. It represents one of his five faces - "Aghoram". It is believed that Lord Aghoramurthi killed the demon under a tree here. This tree can still be seen in the temple. The idol of Nandhi which is in front of the lord can be seen with 9 scars on its body.
It is believed that Lord Shiva destroyed the demon on a Sunday which happened to be a "Puram" star day. Special poojas are performed on these days. It is believed that Lord Shiva took 64 forms and this "Aghoramurthy" is the 43rd form. We can see this form of the lord only in this temple.
Goddess Pillai Idukki Ambal
There is a shrine for "Goddess Pillai Idukki ambal" in the corridor. It is believed that when Saint Thirugnanasambanthar came to this place, he found that this place looked like Mount Kailash and the sand dunes looked like Shivlingams. So, he was reluctant to step on this holy ground and called the Goddess Parvathy as "Ammaye" for help. On hearing his voice, Goddess Parvathy came there and carried the child Thirugnanasambanthar to the temple.
The place from where he called the goddess is known as "Kooppittan Kulam" and the idol of Vinayakar near this tank is known as "Sambanthar Vinayakar". Devotees believe that by worshiping the goddess here and by making an offering of a cradle, they will be blessed with "Santhana Prapthi" (child boon).
Swedakedu
Lord Yama, the Lord of Dharma and Death, was punished by Lord Shiva here for trying to take the life of Swedakedu, son of King Seyandan from a kingdom in North India. Yama prayed to Lord Shiva here to seek absolution for his sins.
Saint Meikkandaar
Saint Meikkandaar, the first of the four "Santhana Kuravars" and the author of "Shivagnanabodham" is believed to have been born by the grace of Sri Swetharanyeswarar of this temple. Meikkandaar's birth name was Swethavanaperumal. There is a shrine for the saint on the banks of the Agni Theertham here.
Ananda Thandavam
It is believed that Lord Shiva performed 9 Thandavas (type of dances) here. These Thandavas are: Ananda, Kali Thandavam, Gowri thandavam, Muni Thandavam niruthum, Sandhya Thandavam, Thripura Thandavam, Bujanga Thandavam, Samhara Thandavam and Byshadanam.
As per Goddess Parvathy's wish, Lord Shiva performed his "Ananda thandavam". While performing this dance, water drops came out from his three eyes which formed the three theerthams of this temple.
Other legends
As per legend, Budhan worshiped the lord here and was rewarded with a place in the Navagraham.
It is a customary here to offer green colour cloth to Lord Budhan while making other offerings.
It is also believed that Lord Indra, Iraavatham, Lord Mahavishnu, Suryan, Chandran and Agni have worshipped Lord Shiva here.
It is believed that Saint Pattinathar was given "Shiva Dheeksha" by Lord Shiva himself here.
Deities in the temple
Other than the shrines of Lord Shiva and Goddess Parvathy, shrines and idols of Vinayakar, Murugan, Vallabha Ganapathy, Swedha Maha Kaali, Bairavar,
Swethavana Perumal, Pancha Lingams, Nageswarar, Veerabhadrar, Suhasana Murthy, Idumban, Viswanathar with Visalakshi, Ankalaparameswari, Gajalakshmi, Nalvar, 63 Nayanmars (both stone as well as procession idols), Sattanathar,
Solaiyappa Mudaliar with his minister, Periya Vaarana Pillayar, Dhana Vinayakar, Lakshmi and Saraswathi can be seen in the corridors.
In the "koshtam" (place surrounding the sanctum sanctorum), idols of Narthana Vinayakar, Metha Dakshinamurthy, Mahavishnu, Brahma and Durgai can be seen.
There is a separate shrine for Lord Budhan.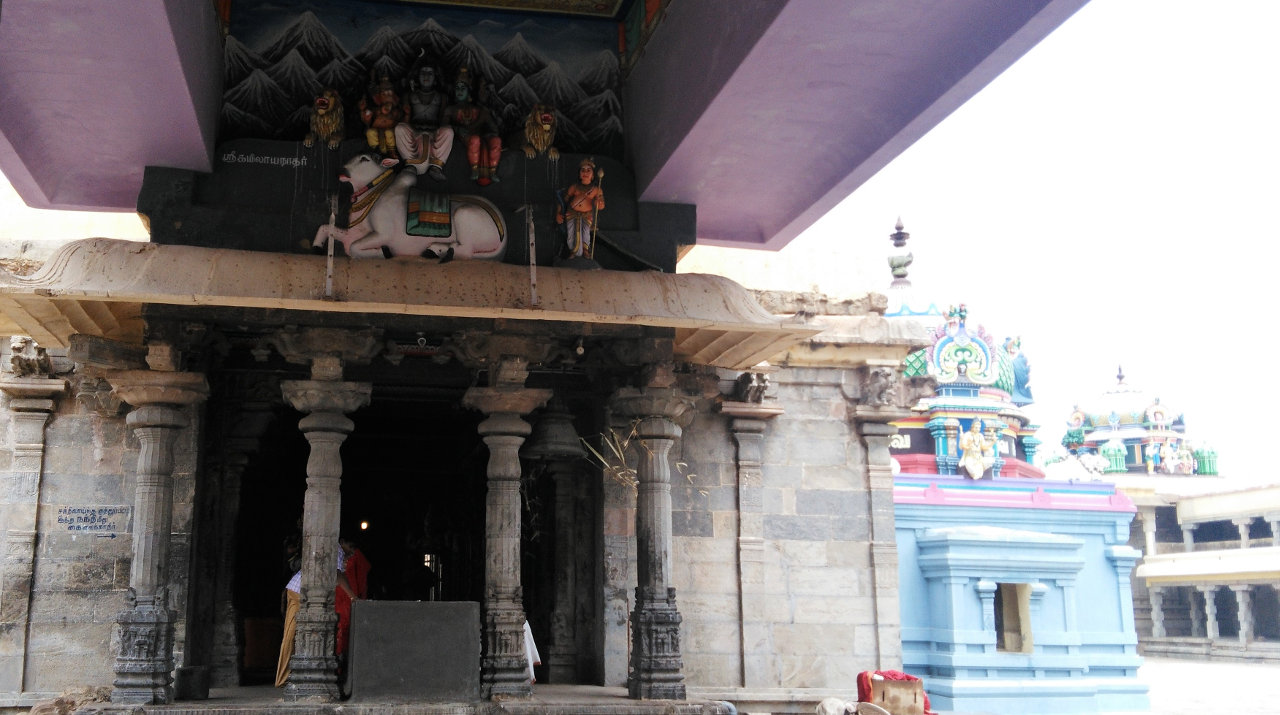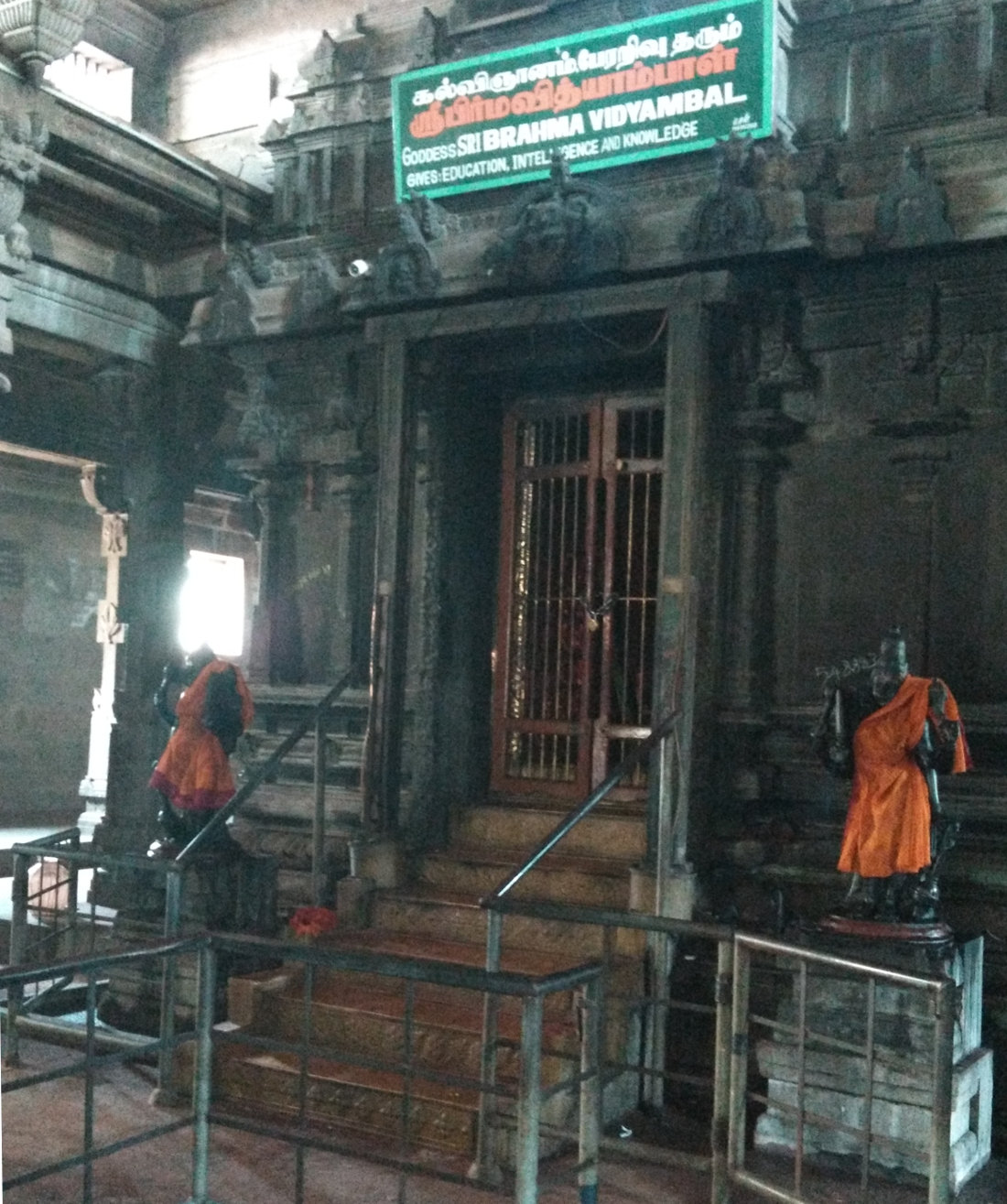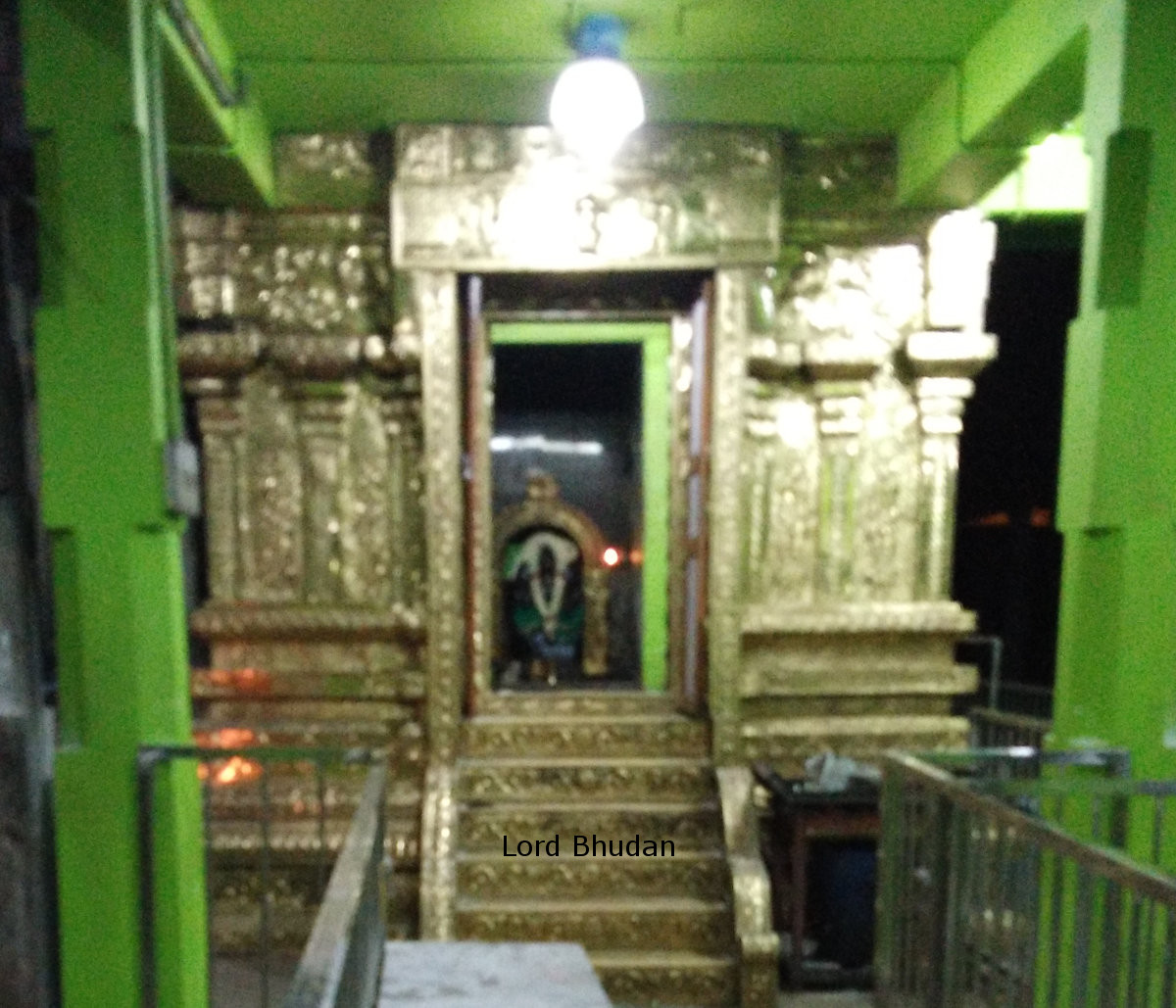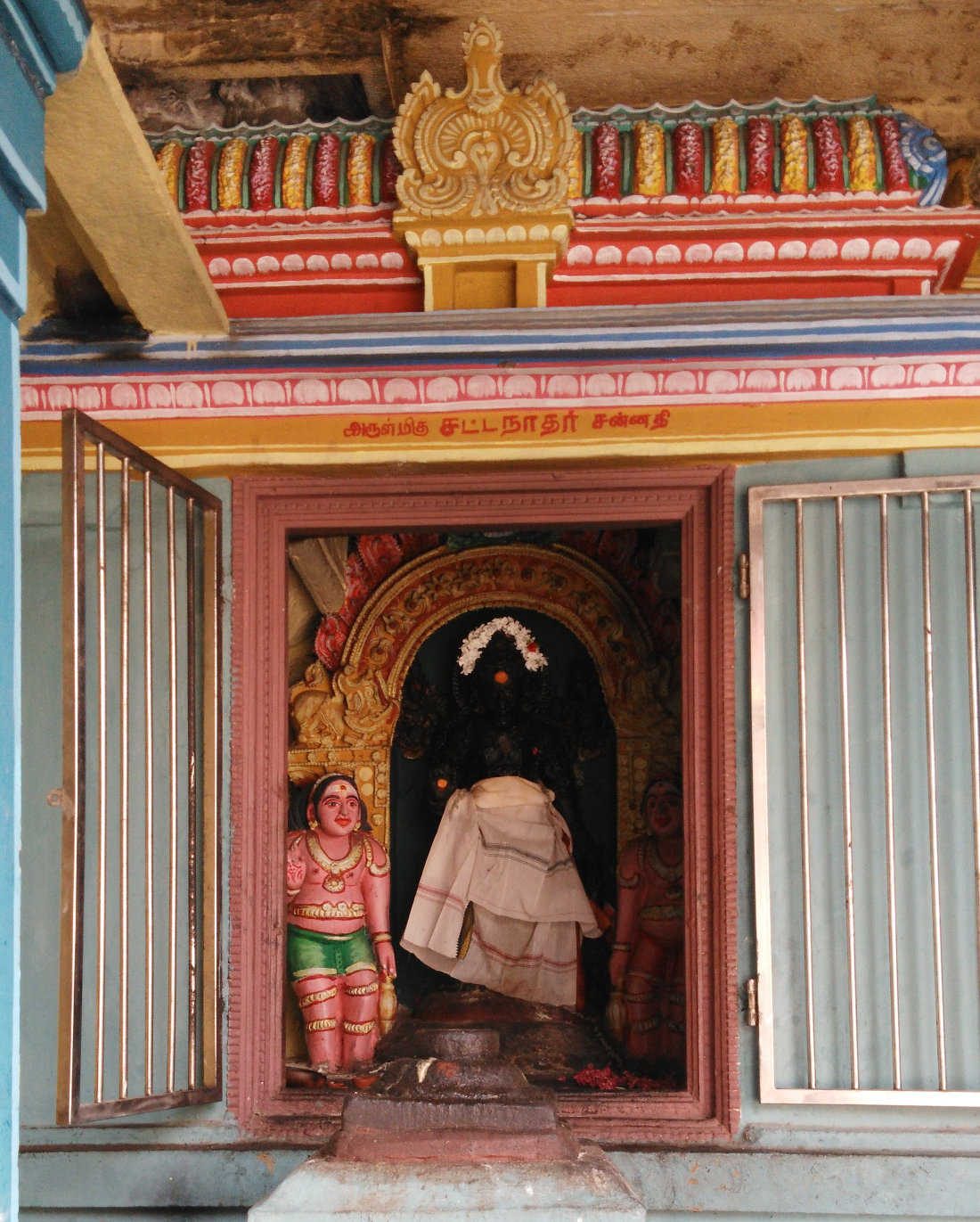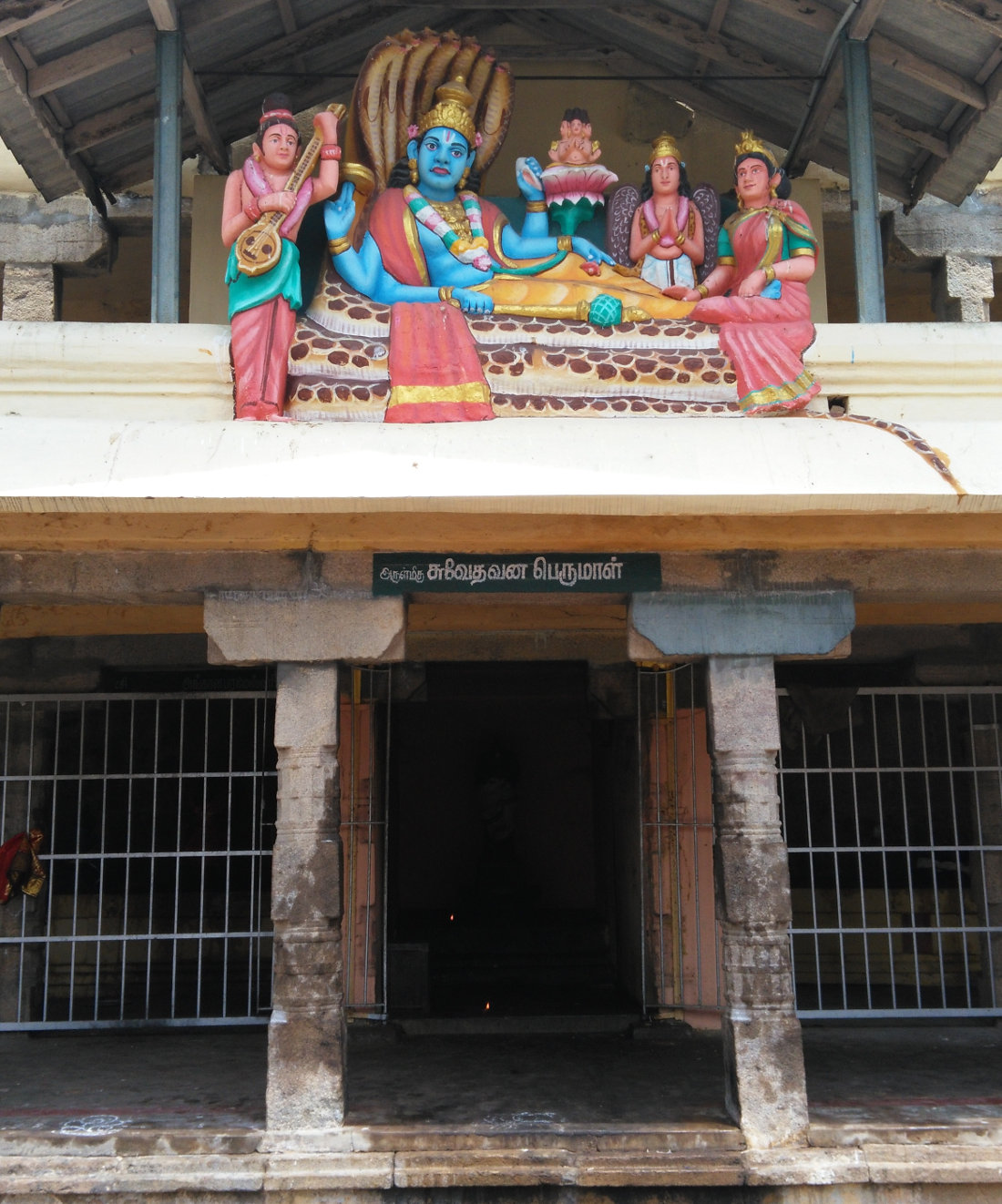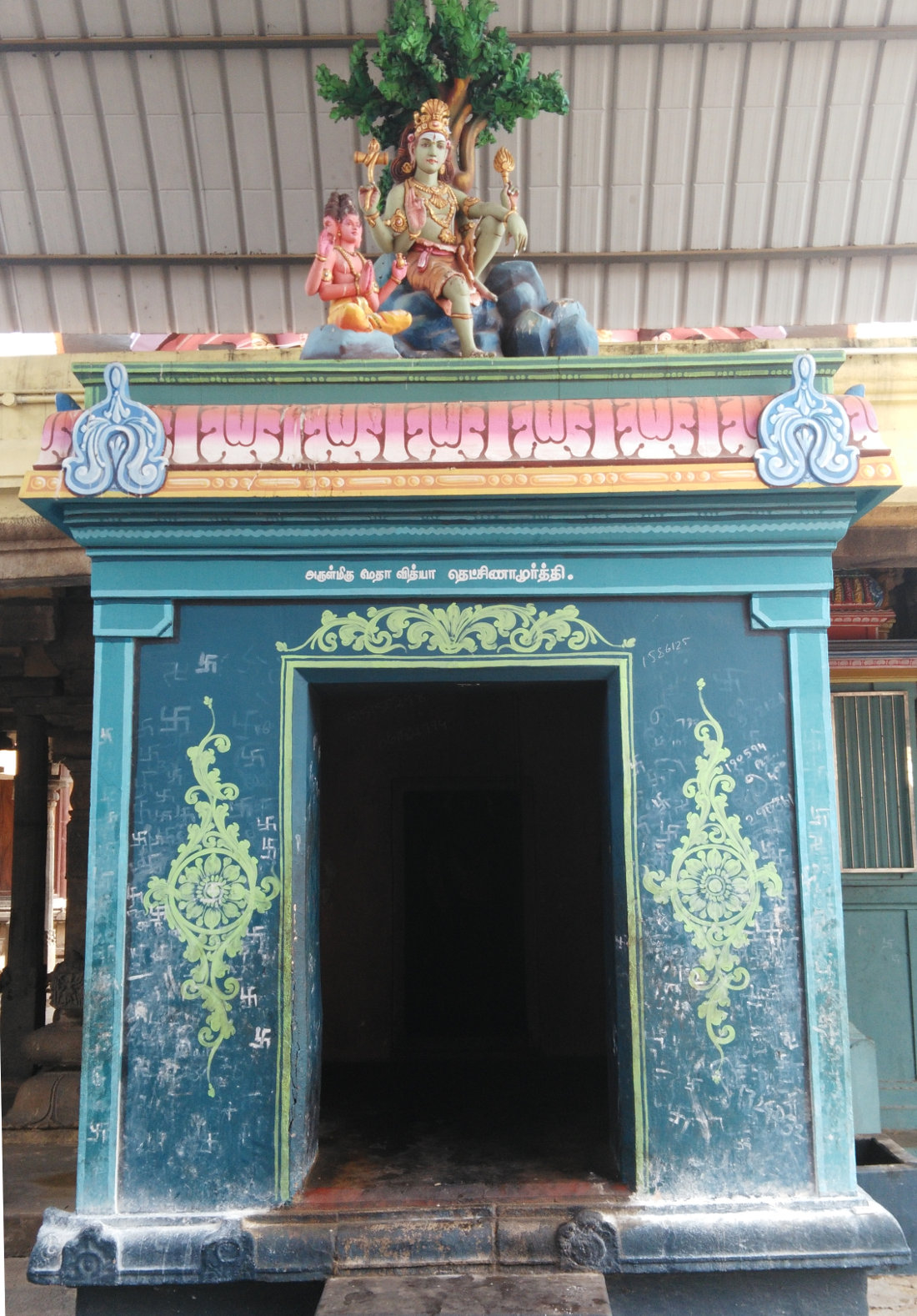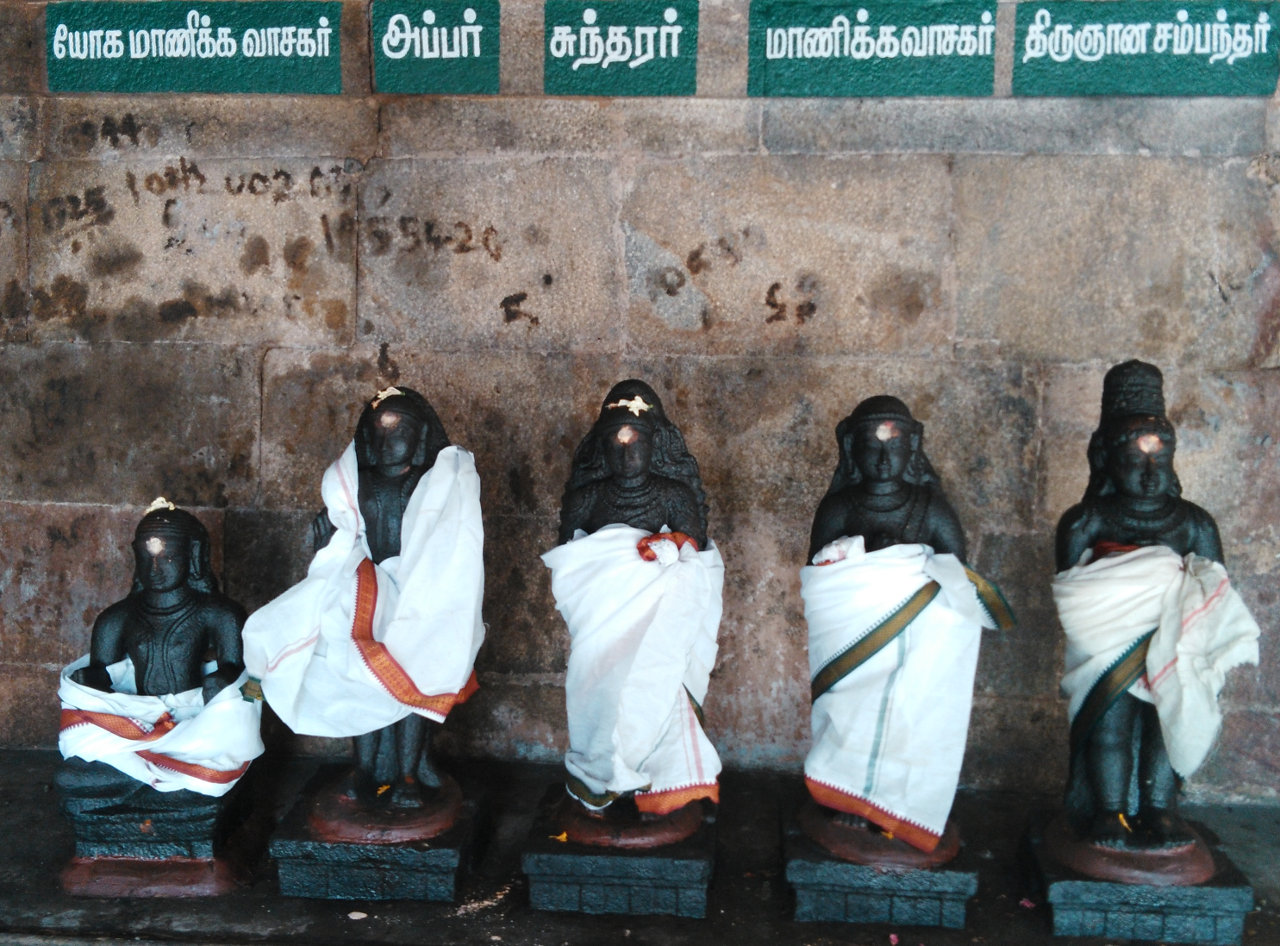 Salient Features
The significance of this temple is that there are -
3 Main deities - Sri Swetharanyeswarar (Swayambu lingam), Sri Natarajar and Sri Aghora Moorthy;
3 Goddesses - Goddess Brahma Vidya Nayaki, Goddess Kaali and Goddess Durgai;
3 Holy waters – Surya Theertham, Chandra Theertham and Agni Theertham; and
3 Sthala Virukshams - Vadavaal, Vilvam and Kontrai.
This temple is very famous for Lord Budhan. It is one of the Navagraha temples. Lord Budhan's shrine is situated to the left of Goddess Parvathy's shrine.
Lord Budhan is the son of Lord Chandran. Lord Chandran's shrine and Chandra Theertham are located just opposite to Lord Budhan's shrine. A large number of devotees can always be seen in this shrine.
This temple is called "Aadhi (first) Chidambaram" because it is believed that Lord Shiva performed his dance here before performing it in Chidambaram.
Similar to Chidambaram, there is a shrine for Lord Vishnu near the Natarajar's shrine. "Shiva Thandavam" festival is also celebrated here as in Chidambaram. The idol of Natarajar is very beautiful.
The poojas and festivals for Lord Natarajar here are similar to those in Chidambaram. Here also we can see "Spadika Lingam" and "Chidambara Rakashiyam". For the Spadika Lingam, abhishekams are performed four times every day. For the Natarajar, only six abishekams are performed in a year.
It is considered very auspicious to worship the lord here after taking a dip in all the three Theerthams. Devotees believe that by doing so they will be blessed with prosperity. It is also considered beneficial for the betterment of their children. In his hymn, Saint Thirugnanasambanthar also sang about the benefits of worshiping the lord here.
Special poojas called "Agorapoojai" are performed during midnight on the 3rd Sunday in the Tamil month of Karthigai (Nov-Dec) to Lord Agoramurthy. Worshiping the lord during this pooja is believed to be very auspicious.
Sri Vallabha Ganapathy (Sri Vallabha Devi with Sri Ganapathy) is housed in a shrine which looks like an old and traditional house. It is actually a granary for storing cereals and paddy. Worshiping this Vinayakar will lift one from the clutches of poverty. Since Lord Vinayakar can be seen along with his wife here, devotees believe that worshiping them will help in removing obstacles from marriage proposals.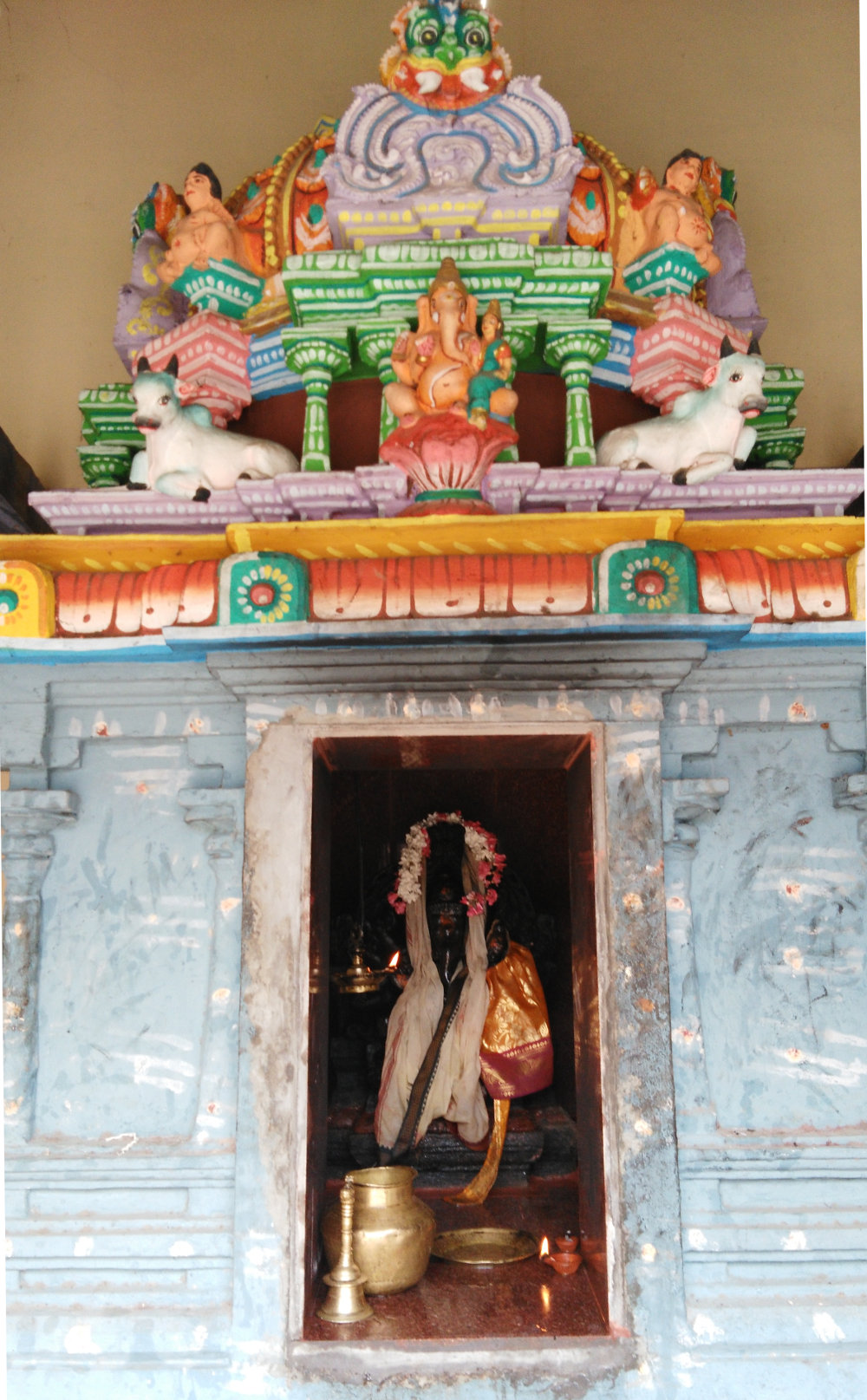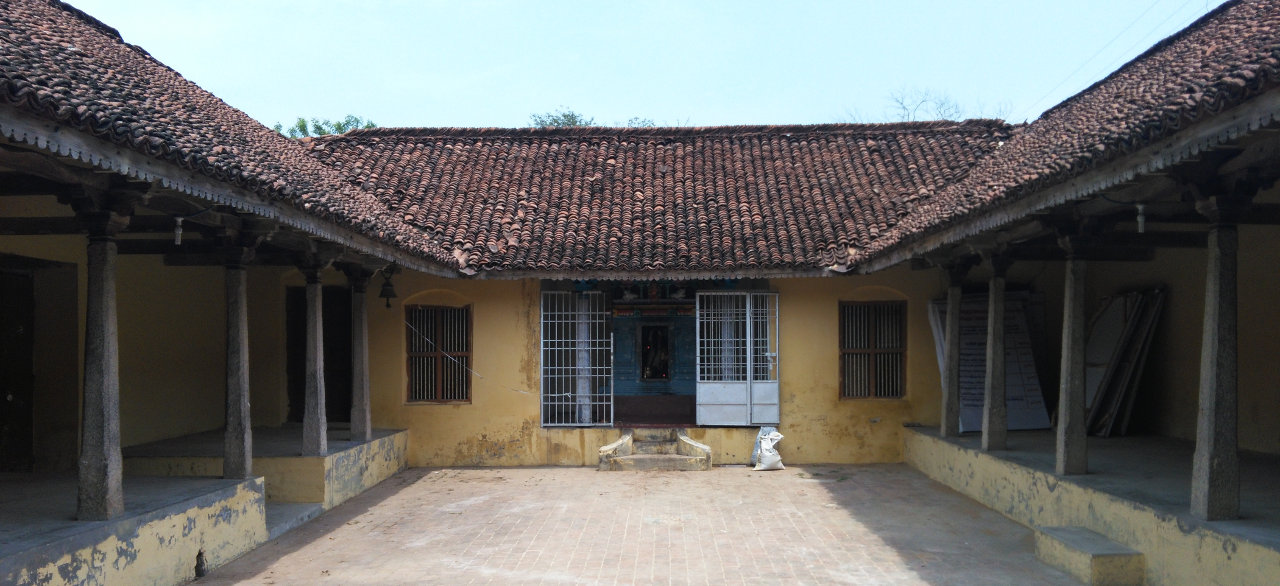 Goddess Durgai and Goddess Kaali are very famous here. Both these idols are very artistically carved.
This temple is considered to be significant for its three important attributes – Moorthy, Sthalam and Theertham - glory of Lord, sacredness of the land and the auspicious temple tanks.
In this temple, near the Chandra Theertham, there is an old and huge peepal (Vadavaal) tree. Under this tree Lord Shiva's footprint ("Rudra Paadham) is placed similar to the "Vishnu Paadham" seen in Gaya. Performing ritual ceremonies like "srardh" and "dharpanam" here to the ancestors are considered to be very auspicious. A large number of people can be seen performing such ritual ceremonies here.
Saints Manikkavasakar, Pattinathar, Sekkizhar, Kabilar and Baranar have also rendered their hymns here.
This is the birth place of Thiruvenkattu Nangai, wife of Saint Siruthonda Nayanar, one of the 63 Nayanmars.
Greatness of this temple
This is a famous "Parihara sthalam" for Lord Budhan (Mercurry).
Those suffering from nerve related ailments can worship lord Budhan here for relief. Lord Budhan is believed to be the lord responsible for education and business. Hence, devotees believe that by worshiping lord Bhudan,they will be blessed with better education, knowledge, wisdom, oratory excellence and improvement in their businesses.
Devotees also believe that worshiping the lord here will lead to removal of sins accrued in their previous births.
It is believed that those seeking wedding boon and "santhana prapthi" (child boon) can pray to the lord here.
Important Festivals
Some of the important festivals celebrated in this temple are -
13-day Brahmotsavam (Indra Vizha) in the Tamil month of Masi (Feb-Mar),
10-day Aadi Pooram in the Tamil month of Aadi (Jul-Aug),
Vinayakar Chaturthi in the Tamil month of Aavani (Aug-Sept),
Navrathiri in the Tamil month of Purattasi (Sept-Oct),
Skantha Shashti and Annabishekam in the Tamil month of Aippasi (Oct – Nov),
Arudra Dharisanam in the Tamil month of Markazhi (Dec-Jan) and
"Laksharchanai" to Lord Agoramurthy in the Tamil month of Panguni (Mar-Apr).
Special poojas called "Agorapoojai" are performed during midnight on the third Sunday in the Tamil month of Karthigai (Nov-Dec) to Lord Agoramurthy,
There is a festival in the Tamil month of Vaikasi (May-June) to celebrate the incident of Iraavadham (Lord Indra's white elephant) getting relief from his curse.
In the Tamil month of Aadi (Jul-Aug), there is a festival to celebrate the legend of Saint Pattinathar receiving "Shiva Deeksha" from Lord Shiva.
Pradosham is also observed regularly.
Temple Timings
From 06.00 to 01.00 PM and 04.00 PM to 09.00 PM.
Temple Address
Sri Swetharanyeswarar Temple,
Thiruvenkadu Post,
Sirkazhi Taluk,
Nagapattinam District,
Tamil Nadu - 609 114.
Tele: 04364- 256424.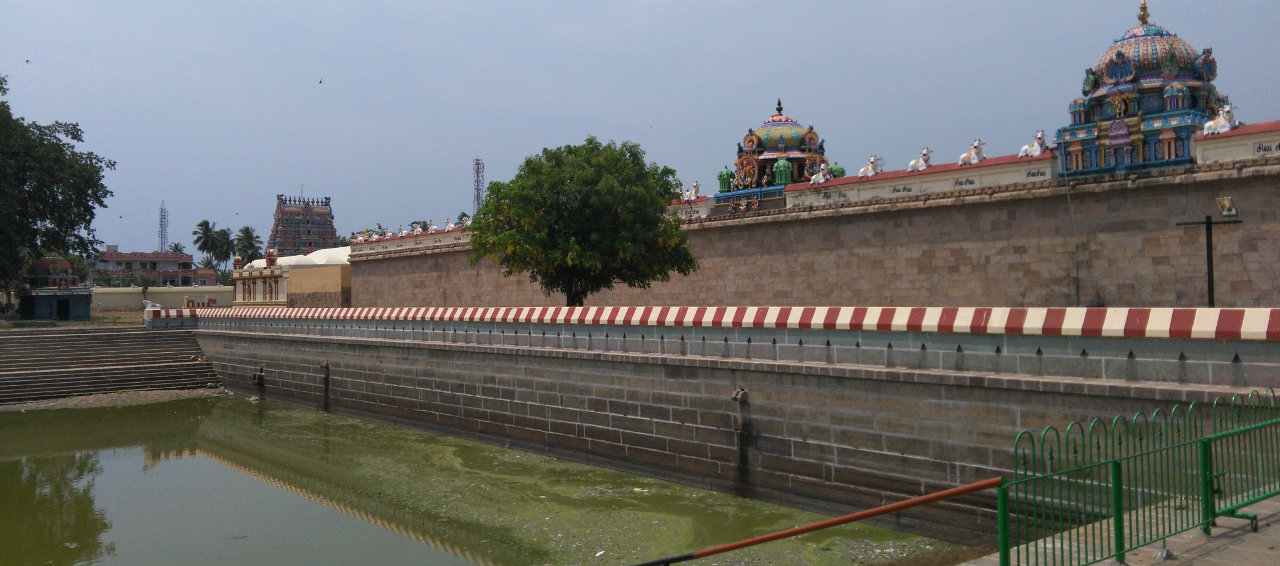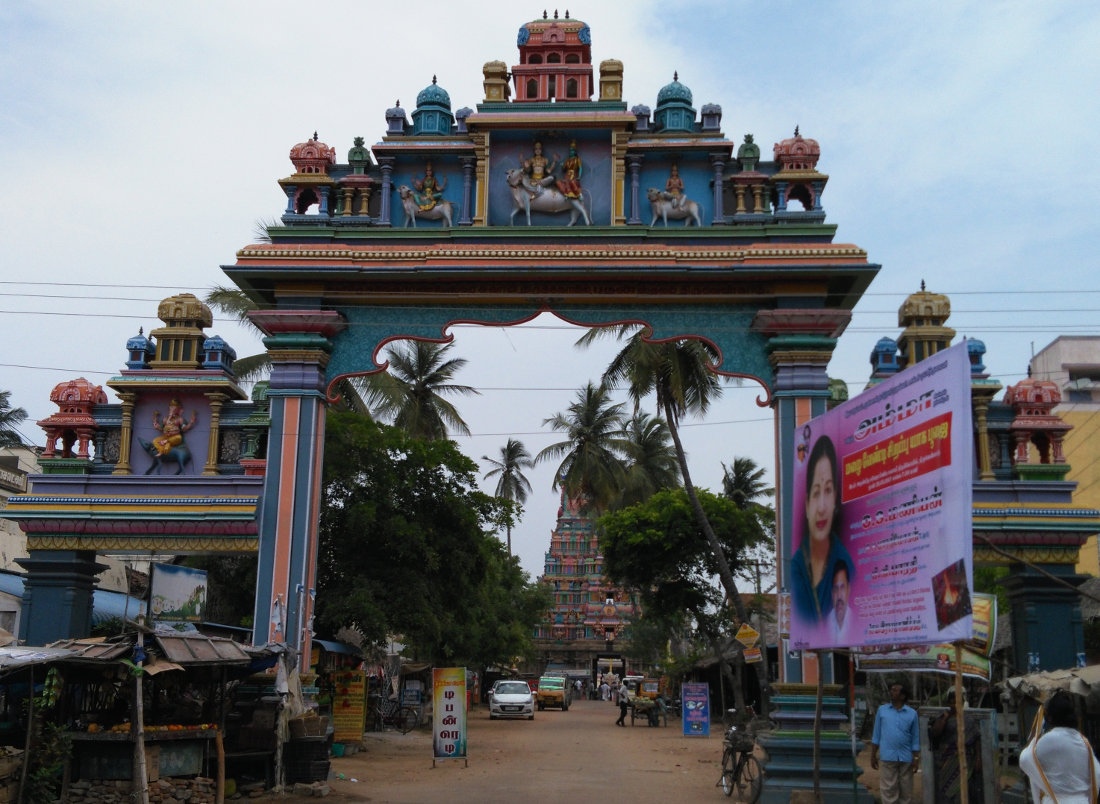 ---
Pathigam (Hymn) with English transliteration
Saint Thirugnanasambanthar visited this temple and sang this Pathigam.
Devotees visiting this temple should make it a practice to recite this Pathigam.
கண்காட்டு நுதலானுங் கனல்காட்டுங் கையானும்
பெண்காட்டும் உருவானும் பிறைகாட்டுஞ் சடையானும்
பண்காட்டும் இசையானும் பயிர்காட்டும் புயலானும்
வெண்காட்டில் உறைவானும் விடைகாட்டுங் கொடியானே.
"Kaṇkāṭṭu nuthalāṉuṅ kaṉalkāṭṭuṅ kaiyāṉum
peṇkāṭṭum uruvāṉum piṟaikāṭṭuñ chaṭaiyāṉum
paṇkāṭṭum isaiyāṉum payirkāṭṭum puyalāṉum
veṇkāṭṭil uṟaivāṉum viṭaikāṭṭuṅ koṭiyāṉē".
பேயடையா பிரிவெய்தும் பிள்ளையினோ டுள்ளநினை
வாயினவே வரம்பெறுவர் ஐயுறவேண் டாவொன்றும்
வேயனதோ ளுமைபங்கன் வெண்காட்டு முக்குளநீர்
தோய்வினையா ரவர்தம்மைத் தோயாவாந் தீவினையே.
"Pēyaṭaiyā piriveythum piḷḷaiyiṉō ṭuḷḷaniṉai
vāyiṉavē varampeṟuvar aiyuṟavēṇ ṭāvoṉtṟum
vēyaṉathō ḷumaipaṅkaṉ veṇkāṭṭu mukkuḷanīr
thōyviṉaiyā ravartham'maith thōyāvān thīviṉaiyē".
மண்ணொடுநீ ரனல்காலோ டாகாயம் மதிஇரவி
எண்ணில்வரு மியமானன் இகபரமு மெண்டிசையும்
பெண்ணினொடாண் பெருமையொடு சிறுமையுமாம் பேராளன்
விண்ணவர்கோன் வழிபடவெண் காடிடமா விரும்பினனே.
"Maṇṇoṭunī raṉalkālō ṭākāyam mathi'iravi
eṇṇilvaru miyamāṉaṉ ikaparamu meṇṭisaiyum
peṇṇiṉoṭāṇ perumaiyoṭu siṟumaiyumām pērāḷaṉ
viṇṇavarkōṉ vazhipaṭaveṇ kāṭiṭamā virumpiṉaṉē".
விடமுண்ட மிடற்றண்ணல் வெண்காட்டின் தண்புறவின்
மடல்விண்ட முடத்தாழை மலர்நிழலைக் குருகென்று
தடமண்டு துறைக்கெண்டை தாமரையின் பூமறையக்
கடல்விண்ட கதிர்முத்த நகைகாட்டுங் காட்சியதே.
"Viṭamuṇṭa miṭatṟaṇṇal veṇkāṭṭiṉ thaṇpuṟaviṉ
maṭalviṇṭa muṭaththāzhai malarnizhalaik kurukeṉtṟu
thaṭamaṇṭu thuṟaikkeṇṭai thāmaraiyiṉ pūmaṟaiyak
kaṭalviṇṭa kathirmuththa nakaikāṭṭuṅ kāṭchiyathē".
வேலைமலி தண்கானல் வெண்காட்டான் திருவடிக்கீழ்
மாலைமலி வண்சாந்தால் வழிபடுநன் மறையவன்றன்
மேலடர்வெங் காலனுயிர் விண்டபினை நமன்தூதர்
ஆலமிடற் றான்அடியார் என்றடர அஞ்சுவரே.
"Vēlaimali thaṇkāṉal veṇkāṭṭāṉ thiruvaṭikkīzh
mālaimali vaṇsānthāl vazhipaṭunaṉ maṟaiyavaṉtṟaṉ
mēlaṭarveṅ kālaṉuyir viṇṭapiṉai namaṉthūthar
ālamiṭat ṟāṉaṭiyār eṉṟaṭara añchuvarē".
தண்மதியும் வெய்யரவுந் தாங்கினான் சடையினுடன்
ஒண்மதிய நுதலுமையோர் கூறுகந்தான் உறைகோயில்
பண்மொழியால் அவன்நாமம் பலவோதப் பசுங்கிள்ளை
வெண்முகில்சேர் கரும்பெணைமேல் வீற்றிருக்கும் வெண்காடே.
"Thaṇmathiyum veyyaravun thāṅkiṉāṉ saṭaiyiṉuṭaṉ
oṇmathiya nuthalumaiyōr kūṟukanthāṉ uṟaikōyil
paṇmozhiyāl avaṉnāmam palavōthap pasuṅkiḷḷai
veṇmukilsēr karumpeṇaimēl vītṟirukkum veṇkāṭē".
சக்கரமாற் கீந்தானுஞ் சலந்தரனைப் பிளந்தானும்
அக்கரைமே லசைத்தானும் அடைந்தயிரா வதம்பணிய
மிக்கதனுக் கருள்சுரக்கும் வெண்காடும் வினைதுரக்கும்
முக்குளம்நன் குடையானும் முக்கணுடை இறையவனே.
"Sakkaramāṟ kīnthāṉuñ chalantharaṉaip piḷanthāṉum
akkaraimē lasaiththāṉum aṭainthayirā vathampaṇiya
mikkathaṉuk karuḷsurakkum veṇkāṭum viṉaithurakkum
mukkuḷamnaṉ kuṭaiyāṉum mukkaṇuṭai iṟaiyavaṉē".
பண்மொய்த்த இன்மொழியாள் பயமெய்த மலையெடுத்த
உன்மத்தன் உரம்நெரித்தன் றருள்செய்தான் உறைகோயில்
கண்மொய்த்த கருமஞ்ஞை நடமாடக் கடல்முழங்க
விண்மொய்த்த பொழில்வரிவண் டிசைமுரலும் வெண்காடே.
"Paṇmoyththa iṉmozhiyāḷ payameytha malaiyeṭuththa
uṉmaththaṉ uramneriththaṉt ṟaruḷseythāṉ uṟaikōyil
kaṇmoyththa karumañjai naṭamāṭak kaṭalmuzhaṅka
viṇmoyththa pozhilvarivaṇ ṭisaimuralum veṇkāṭē".
கள்ளார்செங் கமலத்தான் கடல்கிடந்தான் எனஇவர்கள்
ஒள்ளாண்மை கொளற்கோடி உயர்ந்தாழ்ந்தும் உணர்வரியான்
வெள்ளானை தவஞ்செய்யும் மேதகுவெண் காட்டானென்(று)
உள்ளாடி உருகாதார் உணர்வுடைமை உணரோமே.
"Kaḷḷārseṅ kamalaththāṉ kaṭalkiṭanthāṉ eṉa'ivarkaḷ
oḷḷāṇmai koḷaṟkōṭi uyarnthāzhnthum uṇarvariyāṉ
veḷḷāṉai thavañcheyyum mēthakuveṇ kāṭṭāṉeṉ(tṟu)
uḷḷāṭi urukāthār uṇarvuṭaimai uṇarōmē".
போதியர்கள் பிண்டியர்கள் மிண்டுமொழி பொருளென்னும்
பேதையர்கள் அவர்பிறிமின் அறிவுடையீர் இதுகேண்மின்
வேதியர்கள் விரும்பியசீர் வியன்திருவெண் காட்டானென்
றோதியவர் யாதுமொரு தீதிலரென் றுணருமினே.
"Pōthiyarkaḷ piṇṭiyarkaḷ miṇṭumozhi poruḷeṉṉum
pēthaiyarkaḷ avarpiṟimiṉ aṟivuṭaiyīr ithukēṇmiṉ
vēthiyarkaḷ virumpiyasīr viyaṉthiruveṇ kāṭṭāṉeṉ
tṟōthiyavar yāthumoru thīthilareṉt ṟuṇarumiṉē".
தண்பொழில்சூழ் சண்பையர்கோன் தமிழ்ஞான சம்பந்தன்
விண்பொலிவெண் பிறைச்சென்னி விகிர்தனுறை வெண்காட்டைப்
பண்பொலிசெந் தமிழ்மாலை பாடியபத் திவைவல்லார்
மண்பொலிய வாழ்ந்தவர்போய் வான்பொலியப் புகுவாரே.
"Thaṇpozhilchūzh saṇpaiyarkōṉ thamiḻgñāṉa sambanthaṉ
viṇpoliveṇ piṟaichcheṉṉi vikirthaṉuṟai veṇkāṭṭaip
paṇpolichen thamizhmālai pāṭiyapath thivaivallār
maṇpoliya vāzhnthavarpōy vāṉpoliyap pukuvārē".