Visited on: 12th March, 2017 and 23rd May, 2017.
Location
Thiruchemponpalli is situated at a distance of about 10 kms from Mayiladuthurai on the Mayiladuthurai to Porayar route.
Other Devara Paadal Petra Shiva Sthalams near this temple are – Thiruppallavaneecharam (Poompuhar), Chayavanam, Thiruvenkadu, Kezhai Thirukkattuppalli, Thirukkalikkamur (Annappan Pettai), Pariyal Veerattam, Nani Palli, Valampuram, Thalaichangadu, Aakkur, Thirukkadaiyur and Thirukkadaiyur Mayanam.
General Information
| | |
| --- | --- |
| Moolavar | Sri Swarnapureeswarar, Sri Semponpalliyar |
| Ambal | Sri Sugantha Kunthalambikai, Sri Suganthavana Nayaki, Sri Maruvar kuzhali Amman |
| Theertham (Holy water) | Surya Theertham |
| Sthala Vriksham (Sacred Tree) | Vanni, Vilvam |
| Pathigam (Hymn) rendered by | Saint Thirugnanasambanthar and Saint Thirunavukarasar (Appar) |
This is one of the 276 Devara Paadal Petra Shiva Sthalams and 42nd Shiva Sthalam on the Southern bank of the river Cauveri in Chozha Nadu (Thenkarai).
Lord Shiva in this temple is a Swayambumurthi (self-manifested).
This temple is counted as one of the Maadak Koils built by King Kochengat Cholan.
This east facing temple has no main tower (Rajagopuram) but it has a beautiful arch at the entrance.
The temple has a single corridor and it has no flag post.
The last consecration ceremony (Kumbabishekam) took place in the year 2007.
History of the Temple
There are six stone inscriptions in this temple dating back to the periods of Chola Kings Kulothungan, Rajathirajan and King Saraboji of Tanjure.
The historical names of this place are Lakshmi Puri, Indirapuri and Skandapuri.
There are few reasons why this place gets the name Sembanarkoil.
One is that Chola kings built and renovated this temple hence it gets the name "Sembian Palli" ("Sembian" is another name for Cholas and "Palli" means village).
Another reason is that the roof of Lord Shiva's sanctum tower was earlier believed to have been made using many gold ("Sempon" in Tamil) sheets.
Another reason is that the Swayambu lingam of this temple once sparkled like gold. For this reason, the lord is also praised as "Sri Semponpalliyar".
Usually, the village around the temple does not have a separate name and is referred to by the name of the temple itself. Following this norm, the village here is called Sembanar Koil.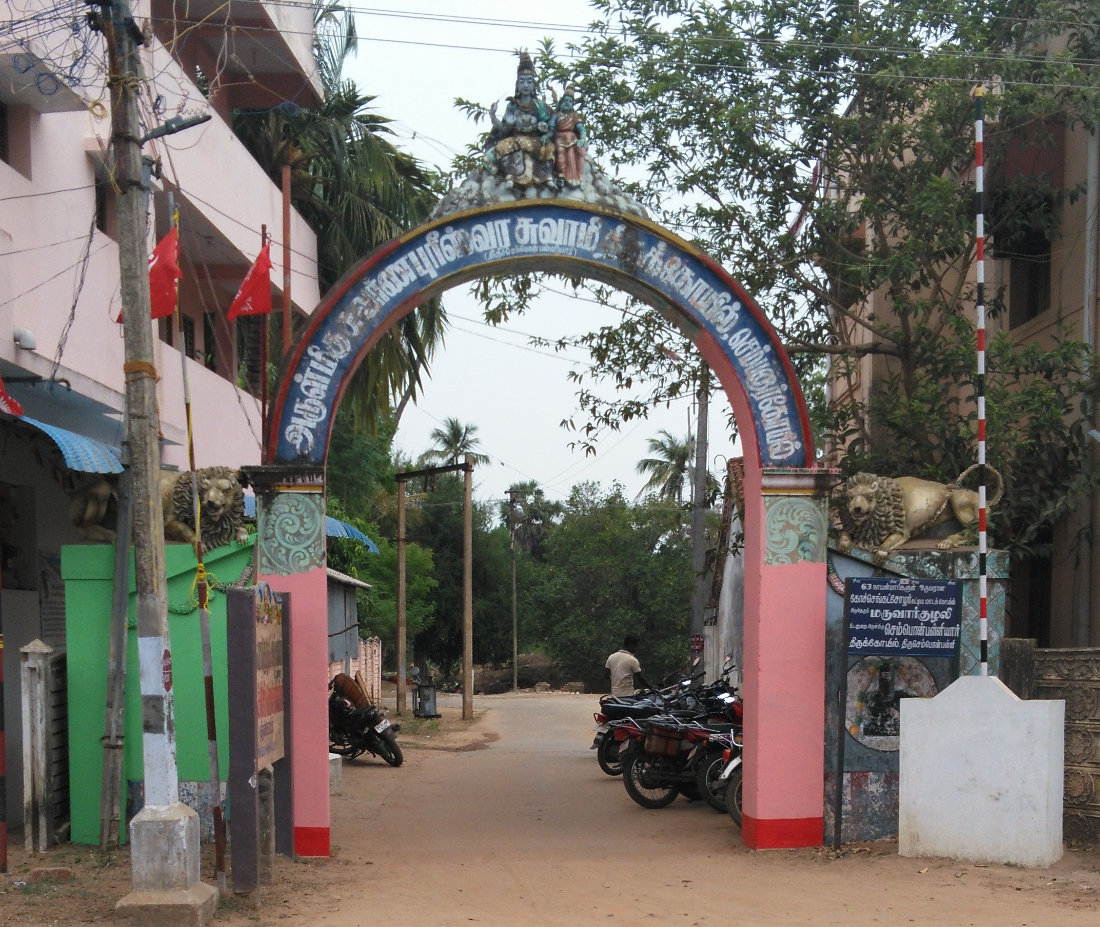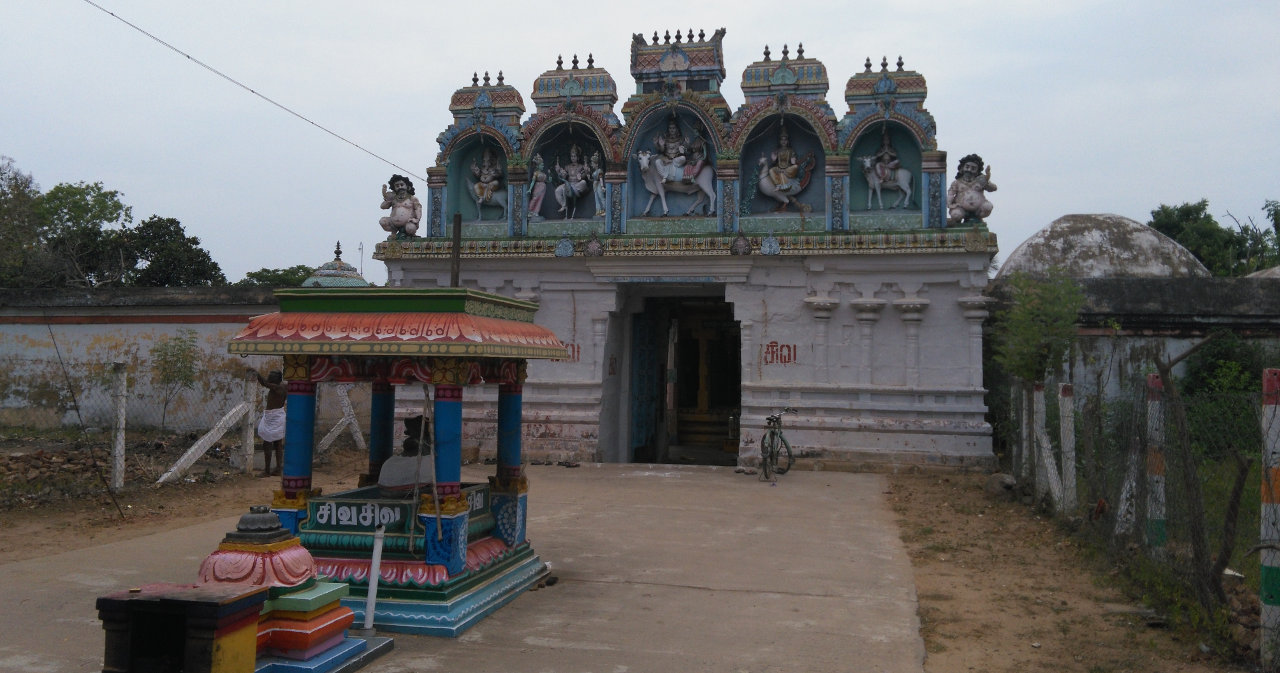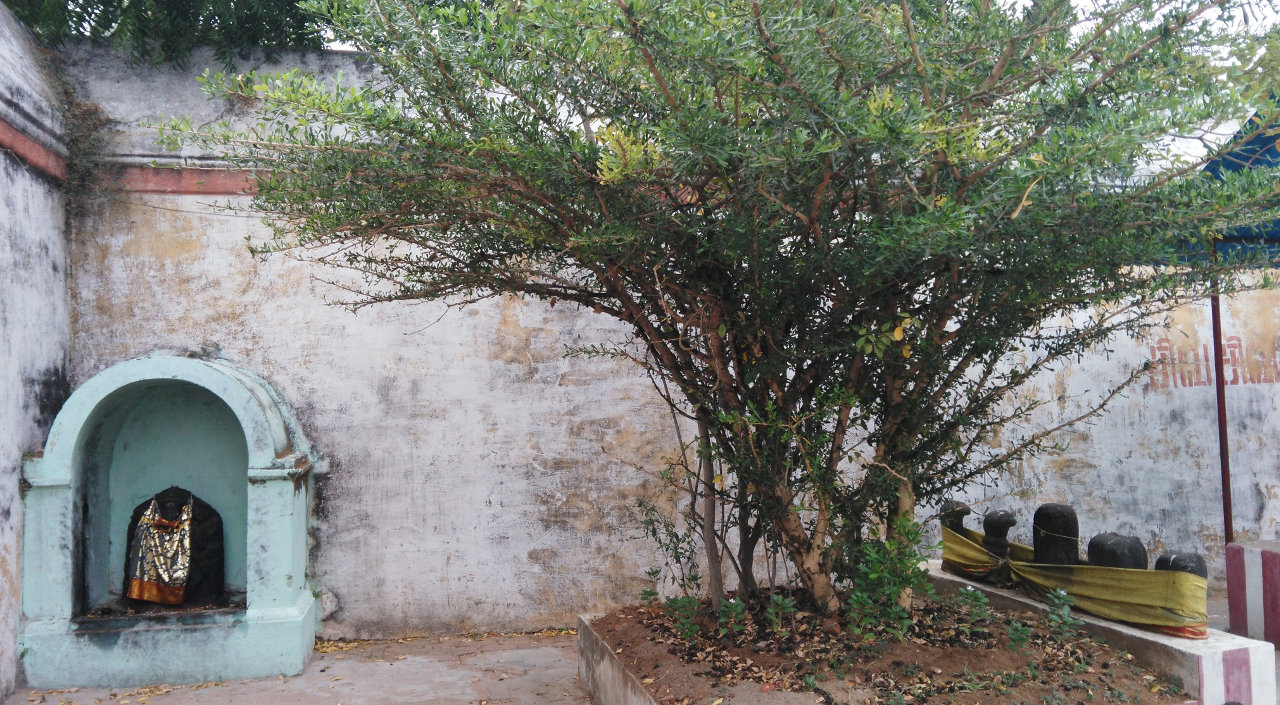 Legend
The legend of this temple revolves around Dakshan, also known as "Dakshaprajapathi", the son of Lord Brahma. His daughter Dhaakshayani was married to Lord Shiva. In spite of this, he intentionally failed to invite Lord Shiva for a grand Yagna that he performed in Thiru Pariyal Veerattam, a nearby place. Goddess Dhaakshayani decided to visit the Yagna against the wishes of her husband. Instead of participating the yagna, she intent to go there and ask her father to correct his mistake. But clouded by arrogance and pride, Dakshan not only humiliated her, he also disrespected Lord Shiva. Furious Dhaakshayani cursed her father that his Yagna would not be successful. She came back to Lord Shiva and requested him to disrupt the Yagna.
It is believed that in Sembanarkoil Lord Shiva created Veerabadrar and Badrakali and sent them to Thiru Pariyal Veerattam to destroy Dakshan and the yagna. It is believed that Veerabadrar punished the guests which included Vishnu, Brahma, Indiran, Suryan and Chandran. He beheaded Dakshan and put his head in the fire. Dakshan pleaded to Lord Shiva for his life. Thereafter Lord Shiva appeared at the yagna and pardoned the guests. He also pardoned Dakshan and saved his life by placing a goat's head in place of his original head. The idol of Veerabadrar along with Dakshan can be seen here in the corridor.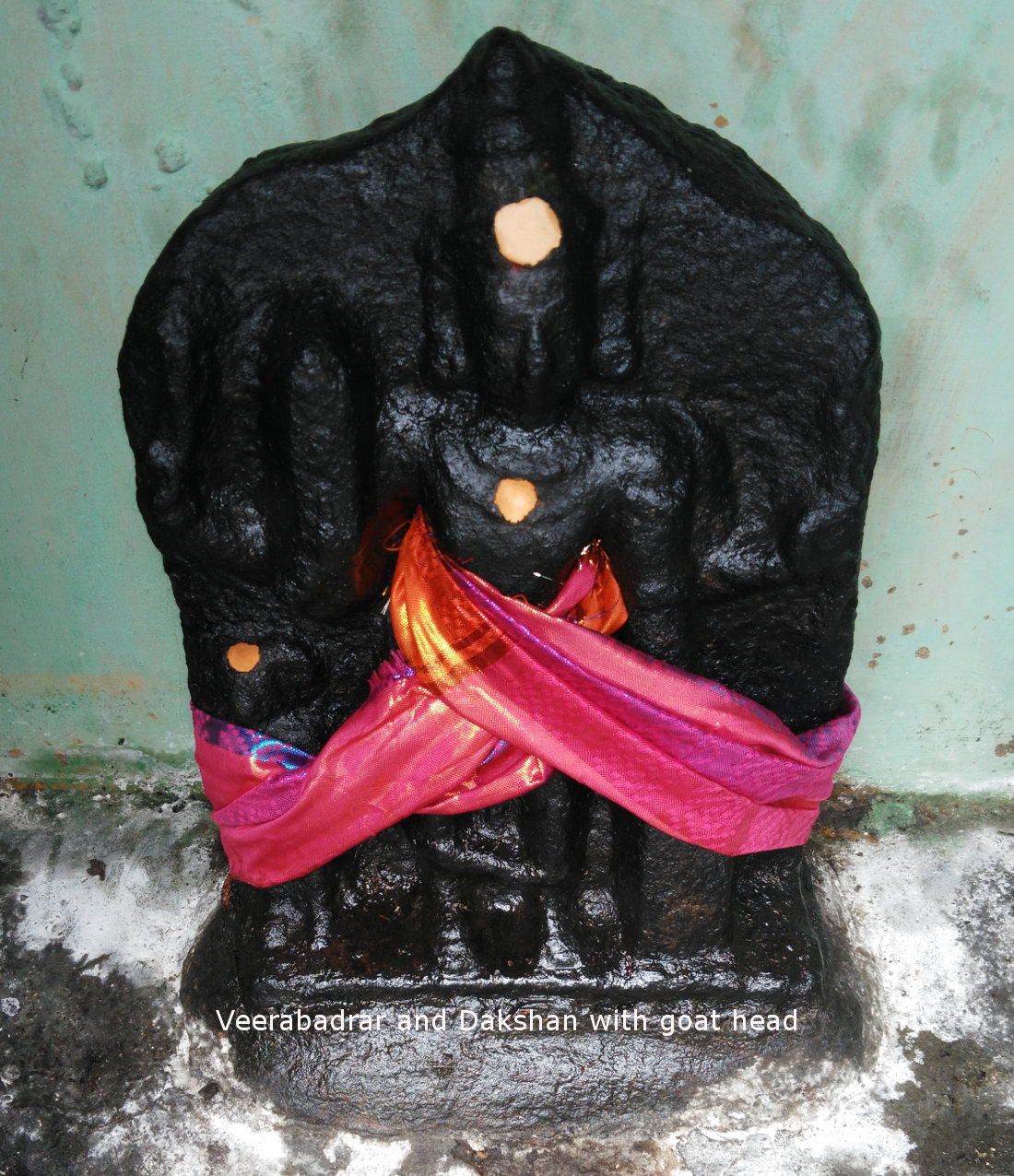 Dhaakshayani sought relief from the sin of having been born as the daughter of someone who opposed Lord Shiva. She decided to perform penance in this place by sitting in a place surrounded by fire ("Panchakni"). Pleased with her penance, Lord Shiva appeared before her and blessed her with the name, "Sugantha Kunthalambikai" and took her to Mount Kailash.
Other Legends
It is believed that Goddess Mahalakshmi performed penance here to marry Lord Mahavishnu. Lord Shiva of this temple bestowed his blessing on her. Hence, this place also gets the name Lakshmipuri.
This place is also called Indirapuri because Lord Indiran worshipped Lord Shiva here to get the weapon "Vajrayutham" which he needed to destroy demon Vruddhasuran.
The third name of this place is Skandapuri as Lord Murugan (also known as Skanda) worshipped Lord Shiva here to seek his blessings to destroy demon Tharakasuran.
It is believed that Lord Mahavishnu, Lord Brahma, Veerabadrar, Indran, Sage Agasthiar, Sage Vasishtar, Kaveri, Nagakanyas, Kuberan and Ashtadikbalakars have worshipped Lord Shiva in this place. Rathi Devi is also believed to have prayed to the lord here to get back her husband, Manmathan.
Deities in the temple
Other than the shrines of Lord Shiva and Goddess Parvathy, shrines and idols of Prakasa Vinayakar, Murugan with his consorts, Natarajar, Somaskandar, Chandrasekar, Surya Maha Ganapathy, Surya Lingam, Chandra Lingam, Nalvar, Srinivasa Perumal, Suryan, Sapthamathas, Yoga Sastha, Pitchandavar, Kasi Viswanathar, Balasubramaniar, Katchinathar, Vanadurgai, Gajalakshmi, Jeshtadevi, Veerabadrar, Navagraham, Suryan, Sornakala Bairavar, Kshetrakala Bairavar and Chandikeswarar can be seen in the corridor.
In the "koshtam" (place surrounding the sanctum sanctorum), idols of Indira Ganapathy, Dakshinamurthy, Arthanareeswarar and Durgai can be seen.
There are idols for King Kulothunga Cholan and his minister in the corridor.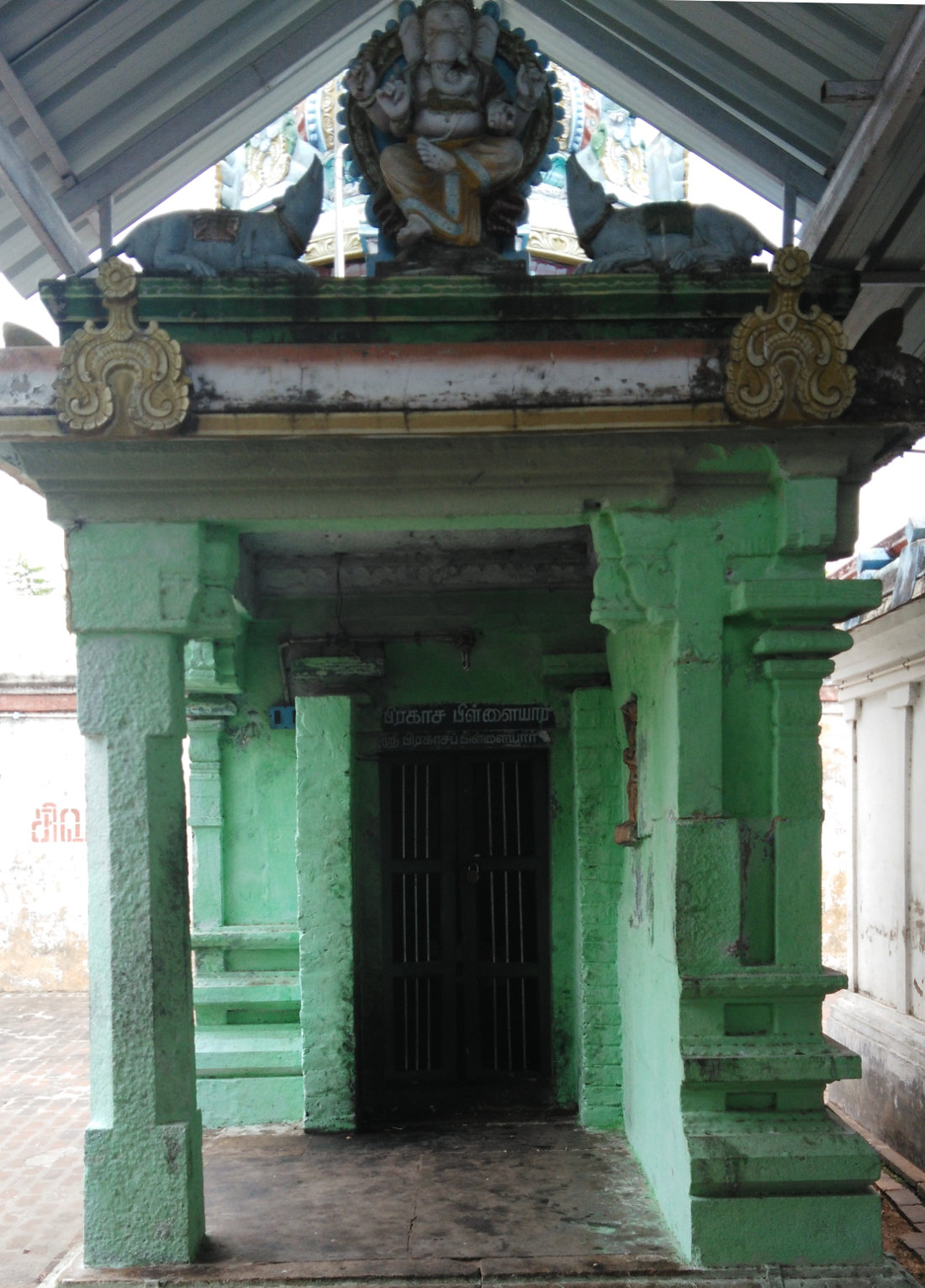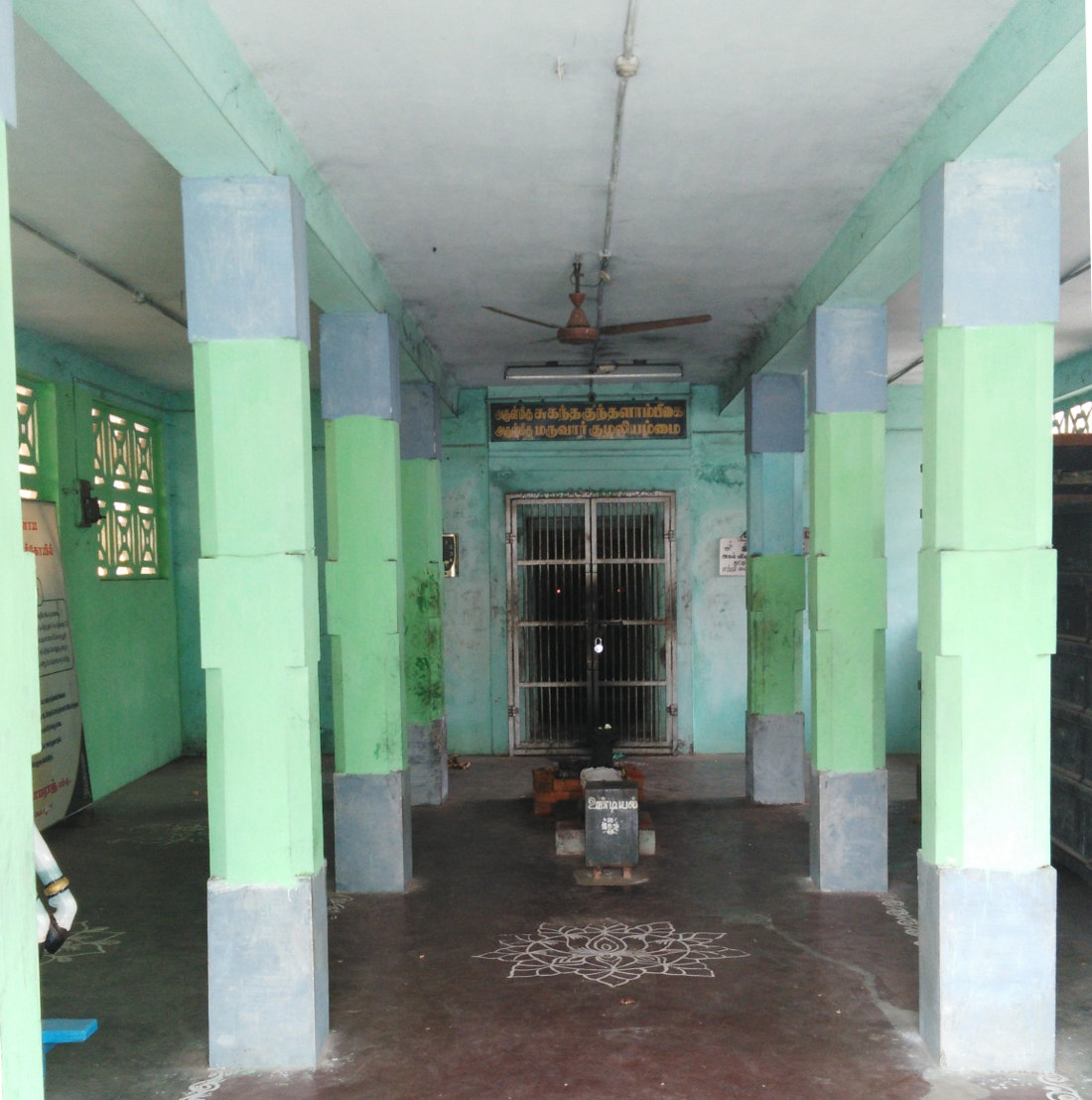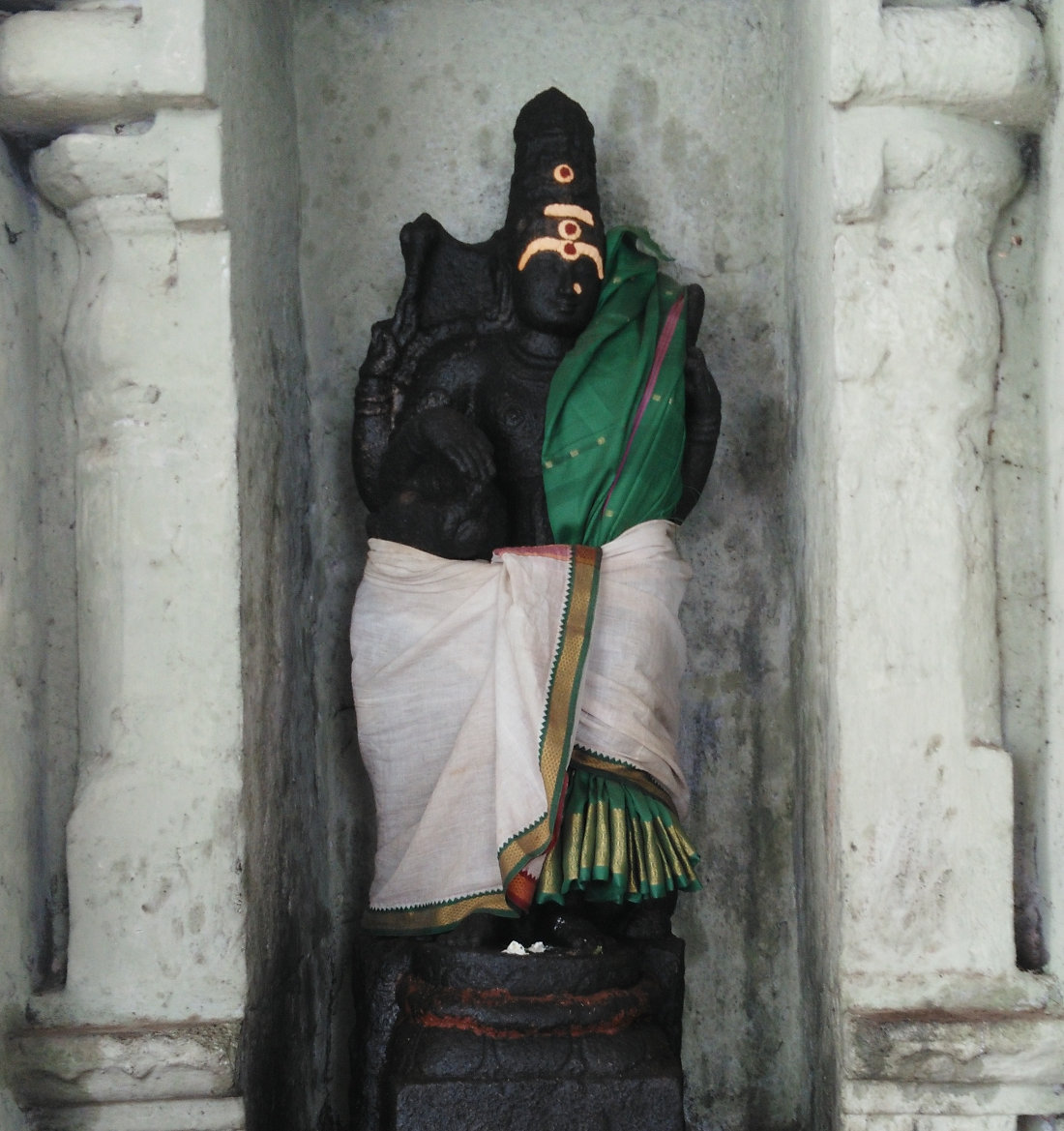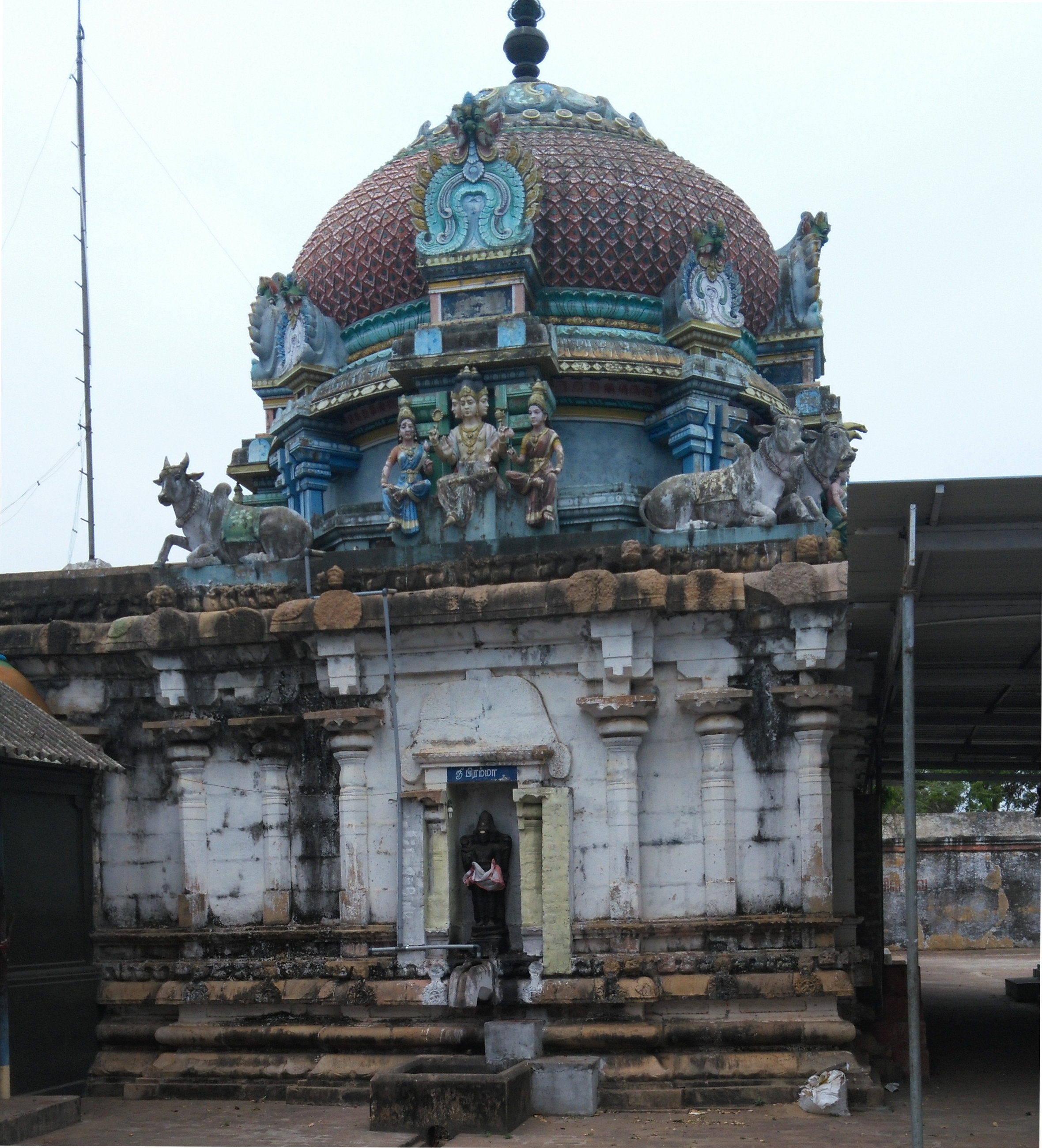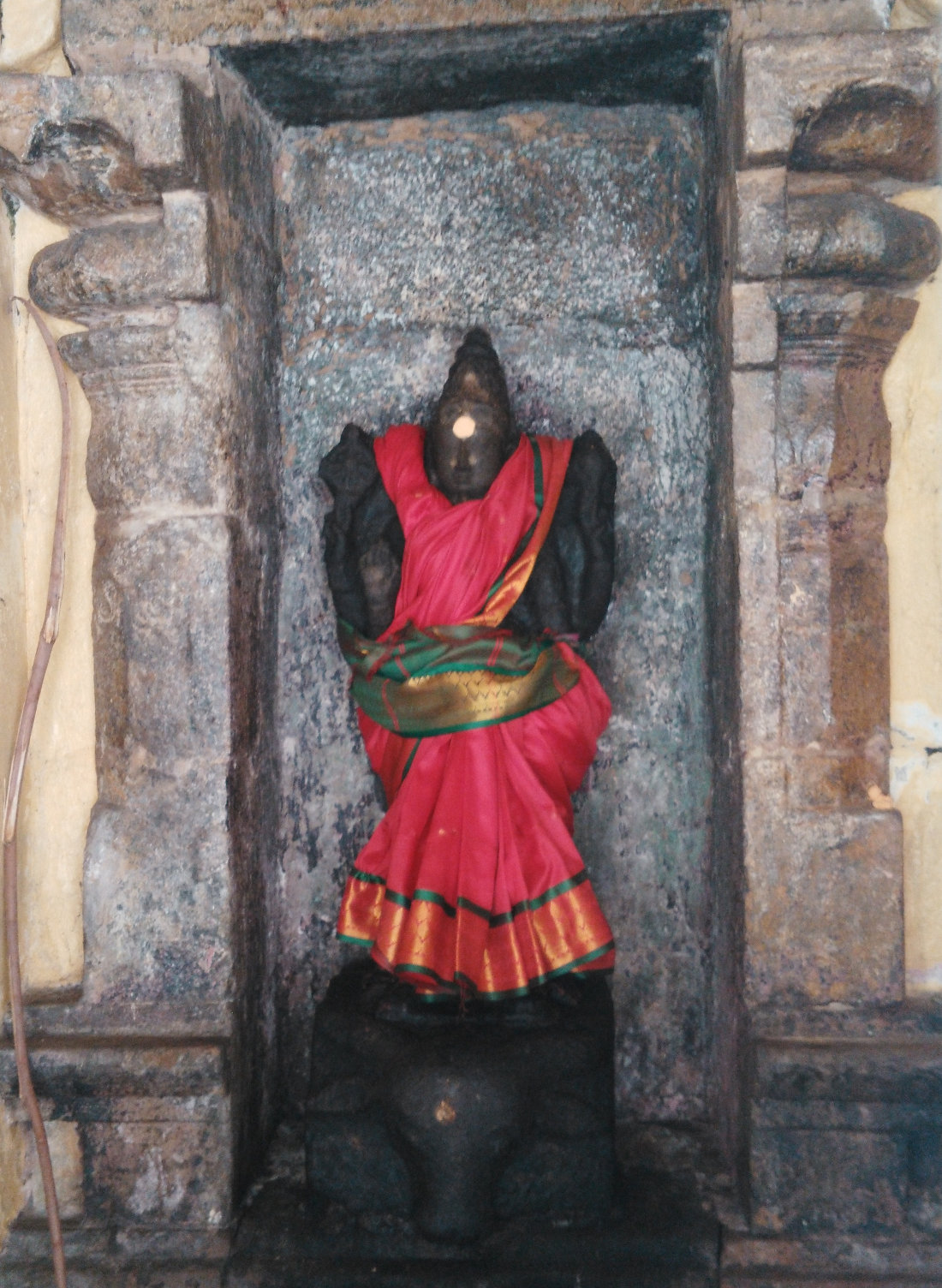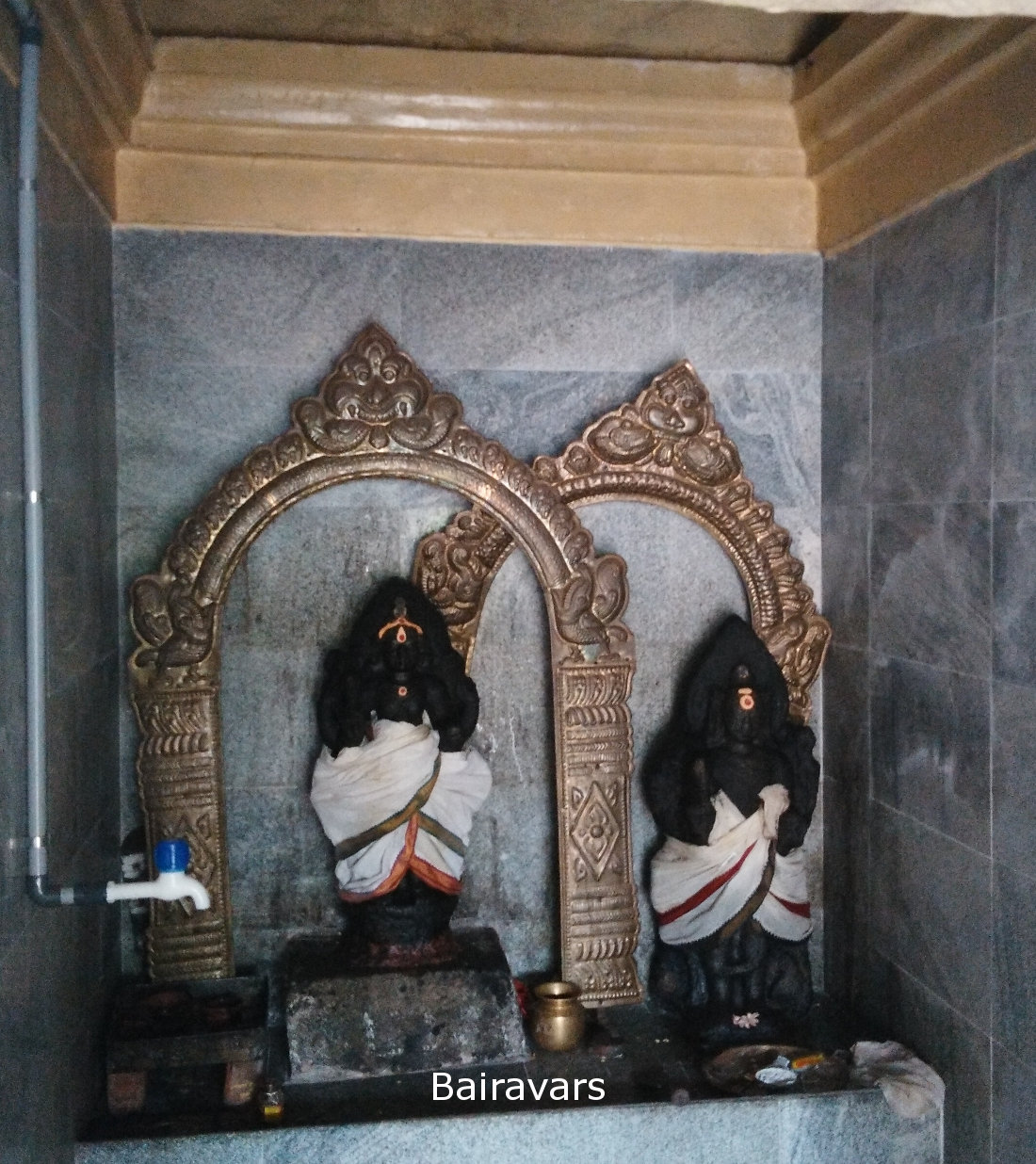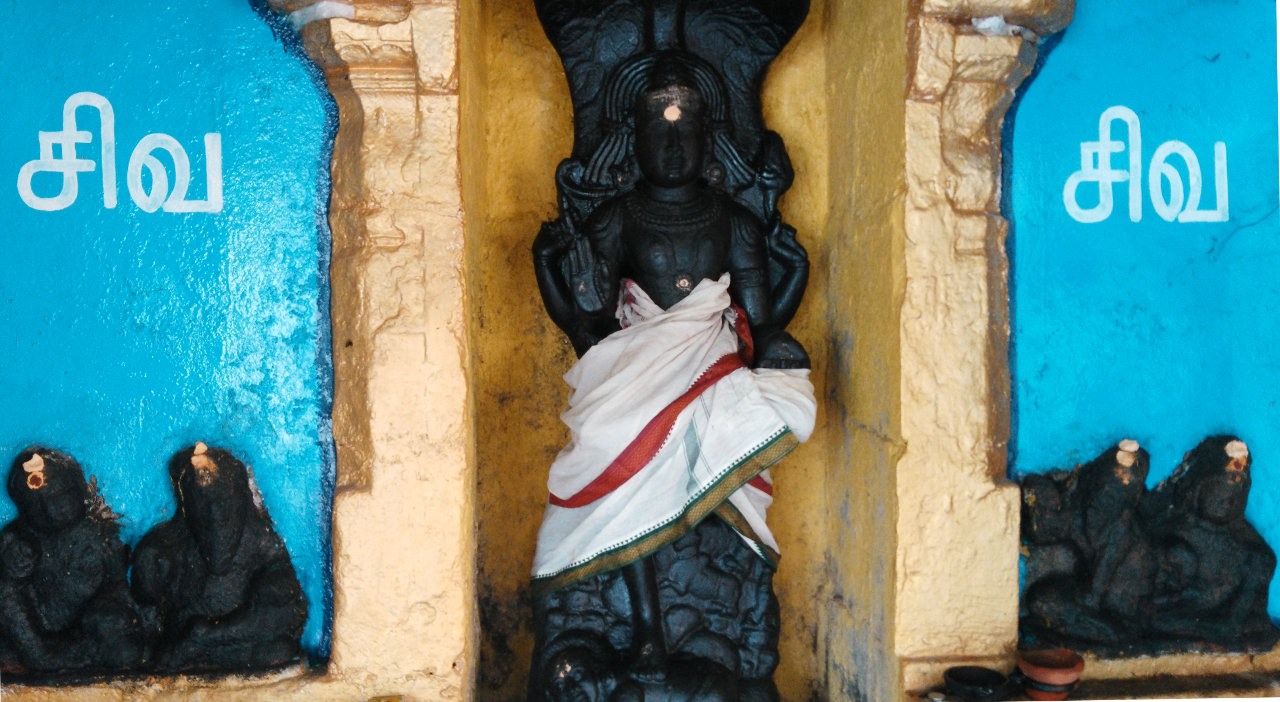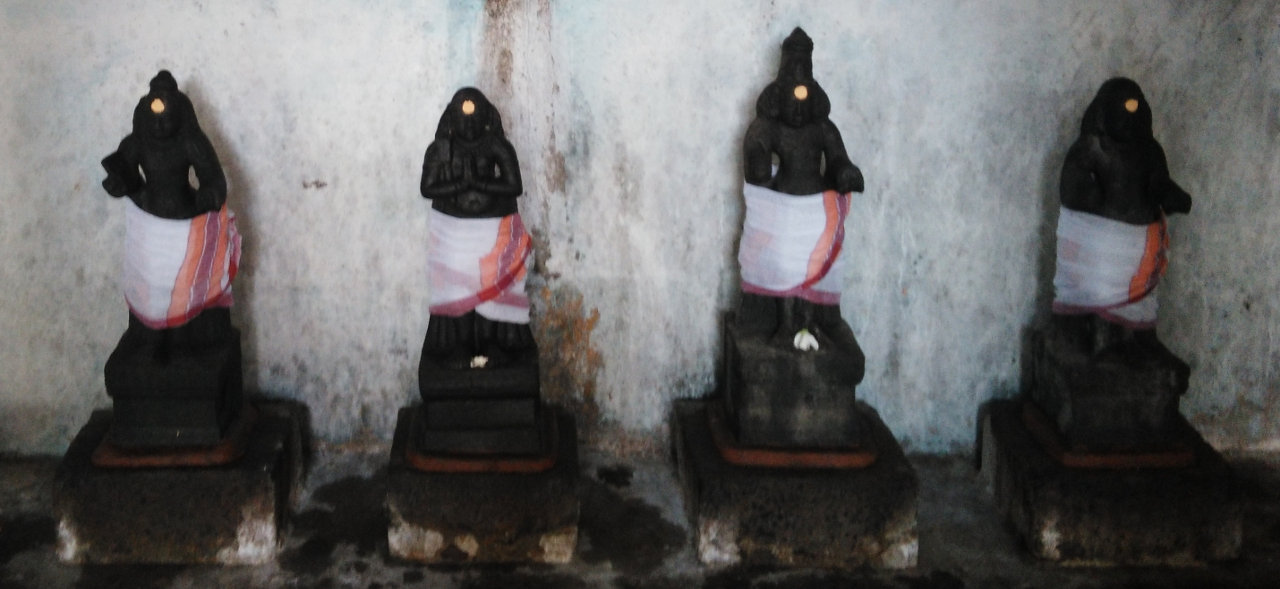 Salient Features
In this temple, the Shivalingam is placed on a lotus-shaped base (avudayar) with two rows of 16 petals each.
There are beautiful reliefs on the walls - like Lord Pitchandavar, and various kings, queens and saints.
It is believed that King Kochengat Chola built about 70 "Madakkoils". The distinguishing feature of a Madakkoil is that it is not easily approachable by an elephant. He built these temples at an elevation and there are a few steps that need to be climbed before seeing the lord. Also, the sanctum sanctorum's (Karpagragam) entrance is narrow such that no elephant can enter it.
It is believed that Lord Suryan (Sun) worships Lord Shiva of this temple by directing his rays on the lingam every year for 12 days from 7th to 18th of the Tamil month Chithirai (April-May) in the morning hours.
An interesting aspect in this temple is that women, after purchasing new jewels and ornaments, first offer them to Goddess Sugantha Kunthalaambikai before wearing it themselves. They believe that doing so will help them buy more gold in the future.
Greatness of this temple
Devotees believe that taking a holy dip on new moon day in the Tamil months of Chithirai (April-May) and Vaikasi (May-June) will help them seek absolution for their sins.
It is also believed that worshiping the Sapthamathas here will remove obstacles from marriage proposals.
Important Festivals
Some of the important festivals celebrated in the temple are –
Aani Thirumanjanam in the Tamil month of Aani (June-July)
Vinayakar Chaturthi in the Tamil month of Aavani (Aug-Sept)
Annabishekam in the Tamil month of Aippasi (Oct – Nov)
Thiru Karthikai in the Tamil month of Karthikai (Nov-Dec)
Thiruvadhirai in the Tamil month of Markazhi (Dec-Jan) and
Shivrathri in the Tamil month of Masi (Feb-Mar).
In the Tamil month of Chithirai (April-May), special "Surya poojas" are performed when sun rays fall on the presiding deity.
On all Mondays (Somavaaram in the Tamil month Karthikai, 108-conch abhishekam is performed to the lord.
Pradosham is also observed regularly.
Temple Timings
From 07.30 AM to 12.00 Noon and 04.30 PM to 08.30 PM.
Temple Address
Sri Swarnapureeswarar Temple,
Sembanar Koil Post,
Tharangambadi Taluk,
Nagapattinam District,
Tamil Nadu – 609 309.
Tele: +91-99437 97974.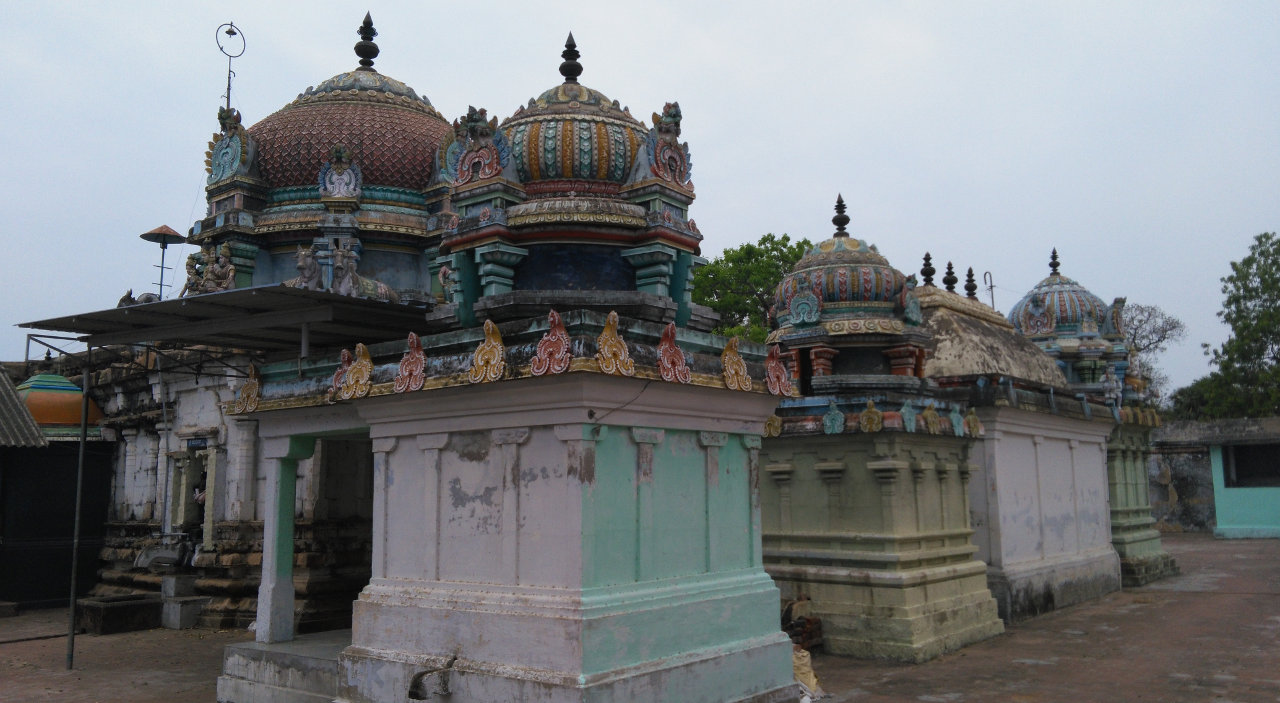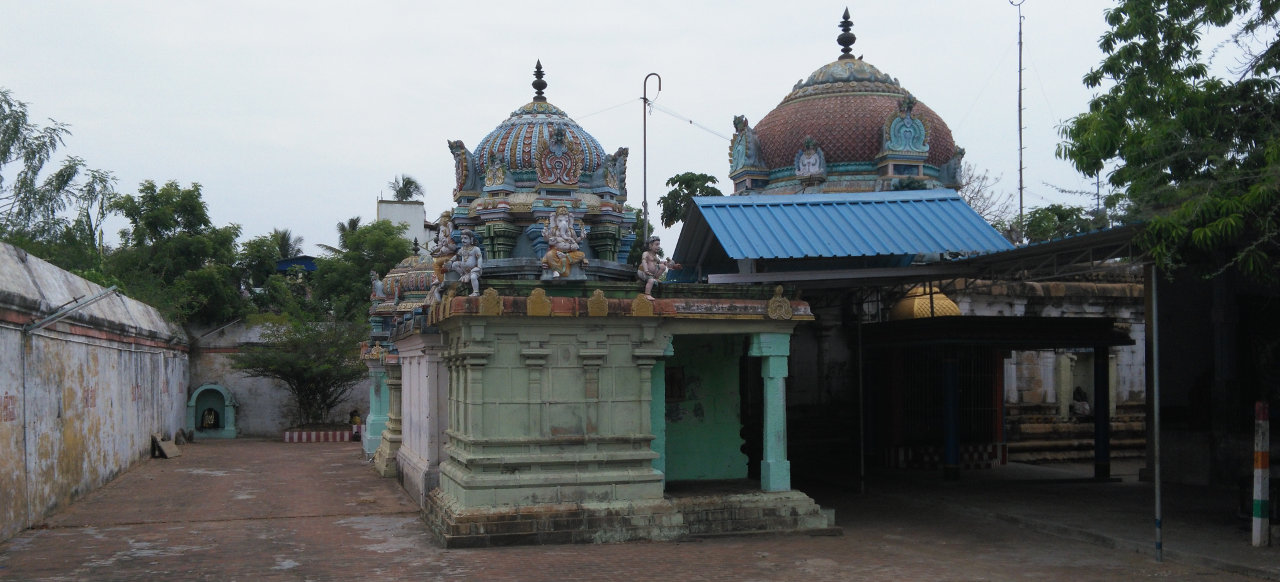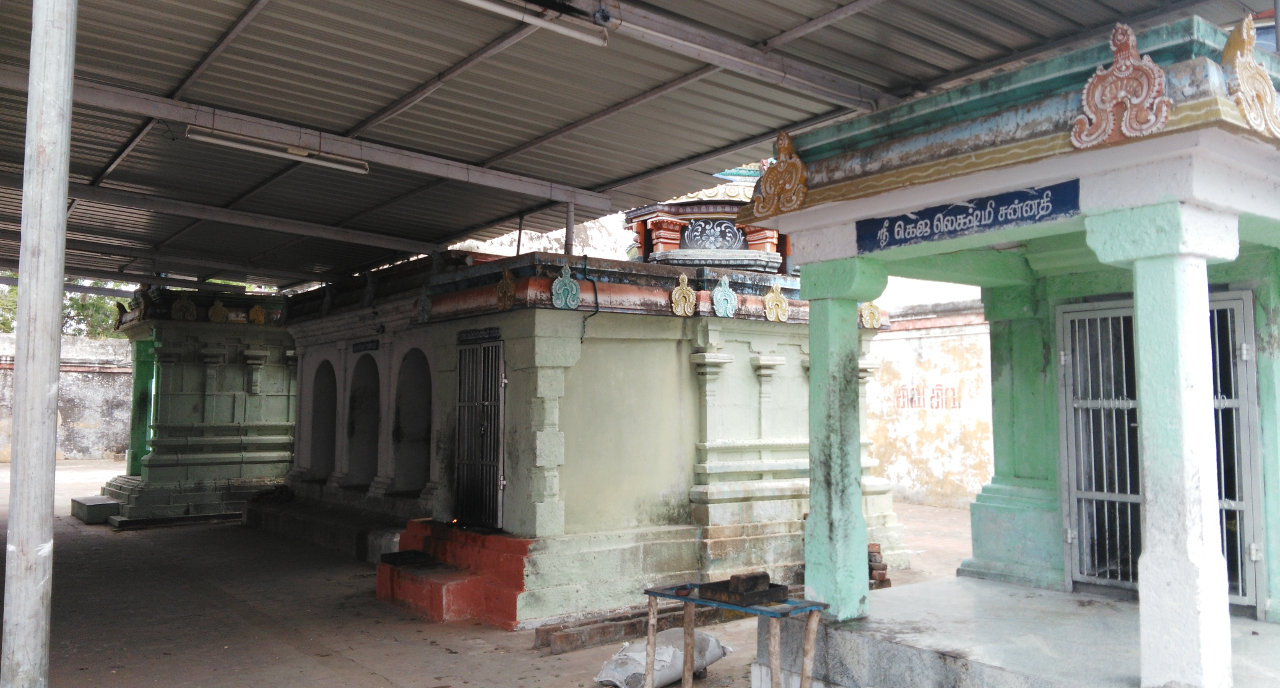 ---
Pathigam (Hymn) with English transliteration
Saint Thirugnanasambanthar visited this temple and sang this Pathigam.
Devotees visiting this temple should make it a practice to recite this Pathigam.
மருவார் குழலி மாதோர் பாகமாய்த்
திருவார் செம்பொன் பள்ளி மேவிய
கருவார் கண்டத் தீசன் கழல்களை
மருவா தவர்மேல் மன்னும் பாவமே.
"Maruvār kuzhali māthōr pākamāyth
thiruvār sempoṉ paḷḷi mēviya
karuvār kaṇṭath thīsaṉ kazhalkaḷai
maruvā thavarmēl maṉṉum pāvamē".
வாரார் கொங்கை மாதோர் பாகமாய்ச்
சீரார் செம்பொன் பள்ளி மேவிய
ஏரார் புரிபுன் சடையெம் ஈசனைச்
சேரா தவர்மேற் சேரும் வினைகளே.
"Vārār koṅkai māthōr pākamāych
chīrār sempoṉ paḷḷi mēviya
ērār puripuṉ saṭaiyem īsaṉaich
chērā thavarmēṟ sērum viṉaikaḷē".
வரையார் சந்தோ டகிலும் வருபொன்னித்
திரையார் செம்பொன் பள்ளி மேவிய
நரையார் விடையொன் றூரும் நம்பனை
உரையா தவர்மே லொழியா வூனமே.
"Varaiyār santhō ṭakilum varupoṉṉith
thiraiyār sempoṉ paḷḷi mēviya
naraiyār viṭaiyoṉ tṟūrum nampaṉai
uraiyā thavarmē lozhiyā vūṉamē".
மழுவா ளேந்தி மாதோர் பாகமாய்ச்
செழுவார் செம்பொன் பள்ளி மேவிய
எழிலார் புரிபுன் சடையெம் மிறைவனைத்
தொழுவார் தம்மேல் துயர மில்லையே.
"Mazhuvā ḷēnthi māthōr pākamāych
chezhuvār sempoṉ paḷḷi mēviya
ezhilār puripuṉ saṭaiyem miṟaivaṉaith
thozhuvār tham'mēl thuyara millaiyē".
மலையான் மகளோ டுடனாய் மதிலெய்த
சிலையார் செம்பொன் பள்ளி யானையே
இலையார் மலர்கொண் டெல்லி நண்பகல்
நிலையா வணங்க நில்லா வினைகளே.
"Malaiyāṉ makaḷō ṭuṭaṉāy mathileytha
silaiyār sempoṉ paḷḷi yāṉaiyē
ilaiyār malarkoṇ ṭelli naṇpakal
nilaiyā vaṇaṅka nillā viṉaikaḷē".
அறையார் புனலோ டகிலும் வருபொன்னிச்
சிறையார் செம்பொன் பள்ளி மேவிய
கறையார் கண்டத் தீசன் கழல்களை
நிறையால் வணங்க நில்லா வினைகளே.
"Aṟaiyār puṉalō ṭakilum varupoṉṉich
chiṟaiyār sempoṉ paḷḷi mēviya
kaṟaiyār kaṇṭath thīsaṉ kazhalkaḷai
niṟaiyāl vaṇaṅka nillā viṉaikaḷē".
பையார் அரவே ரல்கு லாளொடுஞ்
செய்யார் செம்பொன் பள்ளி மேவிய
கையார் சூல மேந்து கடவுளை
மெய்யால் வணங்க மேவா வினைகளே.
"Paiyār aravē ralku lāḷoṭuñ
cheyyār sempoṉ paḷḷi mēviya
kaiyār chūla mēnthu kaṭavuḷai
meyyāl vaṇaṅka mēvā viṉaikaḷē".
வானார் திங்கள் வளர்புன் சடைவைத்துத்
தேனார் செம்பொன் பள்ளி மேவிய
ஊனார் தலையிற் பலிகொண் டுழல்வாழ்க்கை
ஆனான் கழலே அடைந்து வாழ்மினே.
"Vāṉār thiṅkaḷ vaḷarpuṉ saṭaivaiththuth
thēṉār sempoṉ paḷḷi mēviya
ūṉār thalaiyiṟ palikoṇ ṭuzhalvāzhkkai
āṉāṉ kazhalē aṭainthu vāzhmiṉē".
காரார் வண்ணன் கனகம் அனையானுந்
தேரார் செம்பொன் பள்ளி மேவிய
நீரார் நிமிர்புன் சடையெந் நிமலனை
ஓரா தவர்மே லொழியா வூனமே.
"Kārār vaṇṇaṉ kaṉakam aṉaiyāṉun
thērār sempoṉ paḷḷi mēviya
nīrār nimirpuṉ saṭaiyen nimalaṉai
ōrā thavarmē lozhiyā vūṉamē".
மாசா ருடம்பர் மண்டைத் தேரரும்
பேசா வண்ணம் பேசித் திரியவே
தேசார் செம்பொன் பள்ளி மேவிய
ஈசா என்ன நில்லா இடர்களே.
"Māsā ruṭampar maṇṭaith thērarum
pēsā vaṇṇam pēsith thiriyavē
thēsār sempoṉ paḷḷi mēviya
īsā eṉṉa nillā iṭarkaḷē".
நறவார் புகலி ஞான சம்பந்தன்
செறுவார் செம்பொன் பள்ளி மேயானைப்
பெறுமா றிசையாற் பாட லிவைபத்தும்
உறுமா சொல்ல வோங்கி வாழ்வரே.
"Naṟavār pukazhi ñāṉa sambanthaṉ
seṟuvār sempoṉ paḷḷi mēyāṉaip
peṟumā ṟisaiyāṟ pāṭa livaipaththum
uṟumā cholla vōṅki vāzhvarē".