Visited on: April 1, 2018.
Location
Kaduvaikarai Puthur (Andan koil) is situated at a distance of about 12 kms from Kumbakonam on the Kumbakonam – Kudavasal – Valangaiman route. It is about 2 kms southeast of Valangaiman.
Other Devara Paadal Petra Shiva Sthalams near this place are – Thirucherai, Kudavasal, Thalaiyalangaadu, Peruvelur, Karaveeram, Nalur Mayanam, Thiru Kollamputhur, Penu Perunthurai, Naraiyur Siththecharam, Arisirkarai Puthur, Sivapuram, Karukkudi and Kalayanallur.
General Information
| | |
| --- | --- |
| Moolavar | Sri Swarnapureeswarar, Sri Sempon Nathar |
| Ambal | Sri Swarnambikai, Sri Sivambigai, Sri Sivasekari, Sri Poornambikai |
| Theertham (Holy water) | Thirisula Gangai, Sorna Gangai (well), river Kudamurutti |
| Sthala Vriksham (Sacred Tree) | Vanni tree |
| Pathigam (Hymn) rendered by | Saint Thirunavukarasar (Appar) |
This is one of the 276 Devara Paadal Petra Shiva Sthalams and 97th Shiva Sthalam on the Southern bank of the river Cauveri in Chozha Nadu (Thenkarai).
Lord Shiva in this temple is a Swayambumurthi (self-manifested).
This east facing temple has two corridors and its main tower (Rajagopuram) has 5-tiers.
History of the Temple
This ancient temple is on the banks of the river Kudamurutti. Earlier this river's name was "Kaduvai", hence this place gets the name Kaduvai Karai Puthur. "Karai" means bank and "Puthur" means village in Tamil. However, now this place is called Andankoil.
This temple is under the administrative control of the Hindu Religious and Charitable Endowments Department of Government of Tamil Nadu (HR&CE).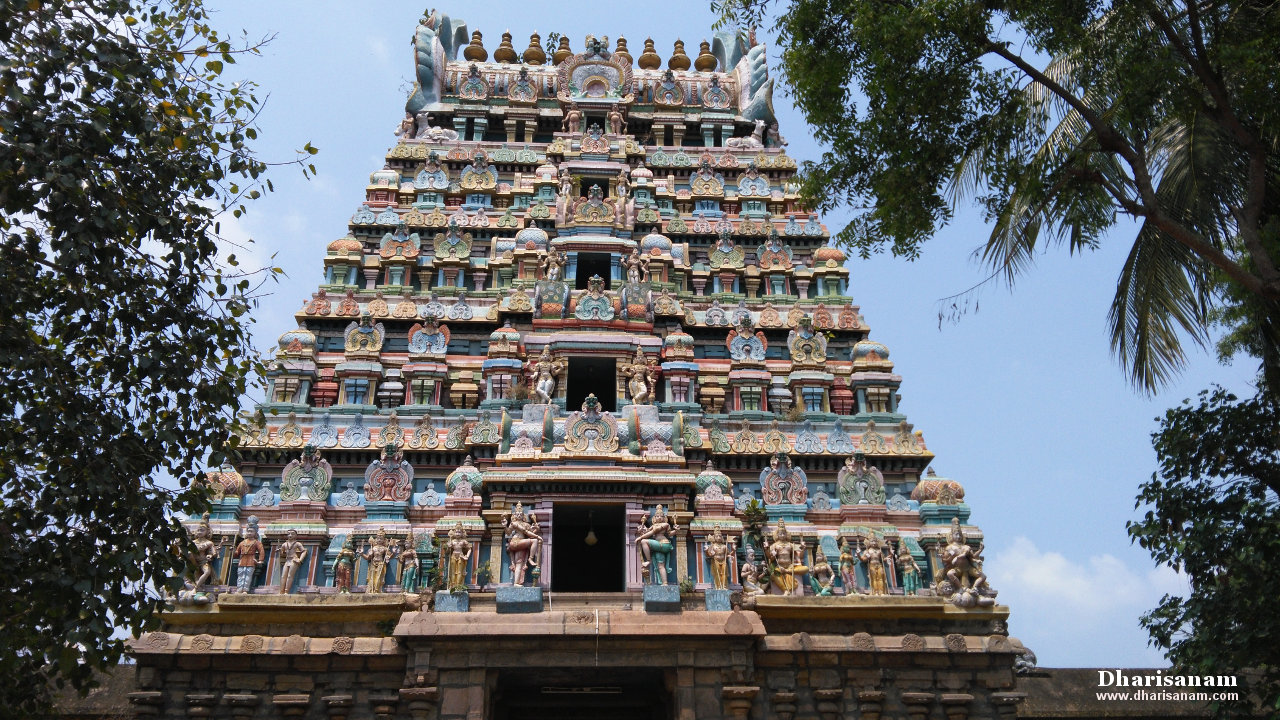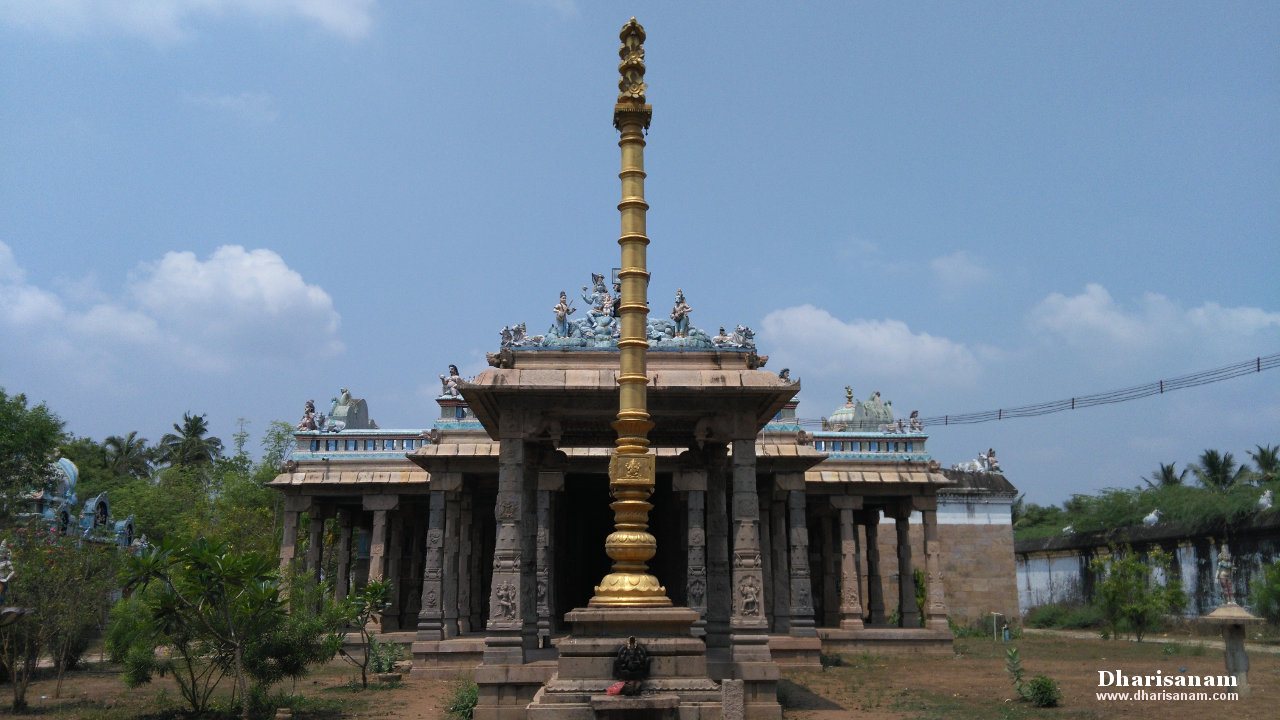 Legend
It is believed that Lord Shiva and Goddess Parvathi chose this place as a resting place since it is a quaint village. They were attracted by its richness and fertility. The Ganges was brought here by the lord. Goddess Parvathi performed abhishekam to Lord Shiva using the Ganges water and worshiped him by making offerings of flowers and gold. Hence the lord here is praised as "Sri Sempon Nathar" ("sempon" means gold in Tamil).
According to legend, when the Chola King Musukundha Chakravarthy was building a temple for Lord Thiyagaraja in Thiruvarur, his minister Sunda Devar was assigned the task of procuring the construction material. When Sunda Devar reached this place for buying some goods, it had become dark. Sundadevar had made it a habit to go to a temple and seek the darshan of Lord Shiva before having dinner. However, he was told by the villagers that there was no temple here. As he could not worship the lord, he did not eat and sat under a tree to take rest. Lord Shiva appeared in his dream and said that there was a Shivalingam under a Vanni tree nearby. The lord did not want his devotee to sleep without having his food. So the lord advised him to worship that Shivalingam and have his dinner.
Sundadevar wanted to build a small temple where the Shivalingam was found. He started squirrelling some stones and mortar from each cart that was meant to go to Thiruvarur. Using this material, he built this temple. Later, the minister told the story to the king and requested him to visit this temple. After seeing the temple, the king demanded the minister to pay for the cost incurred and also the "karma" that he had earned by building this temple.
The minister replied that he could not part with the karma but he was willing to pay for it with his life. The king was not convinced. He said that since the temple was built using stolen material, he should be punished. The king ordered his men to behead the minister in front of the temple itself. King Musukundha's men executed the order. While falling, the last word that was uttered by the minister was - "Andava" ("oh my lord"). The king then realized that he had killed a true Shiva devotee and wanted to severe his own head as a repayment for his sin. At this point, it is believed that Lord Shiva appeared before the king and stopped him from killing himself. Further, the lord restored the minister's life. Hence, this place is named "Aandavankoil" which has later been changed to Aandankoil. On a pillar in this temple, there is a relief that depicts this incident.
It is believed that Sage Kasyaba, Roma Maharishi, King Musukundha Chakravarthy, his minister Sundadevar and Saint Thirunavukkarasar have worshiped Lord Shiva here.
Deities in the temple
Other than the shrines of Lord Shiva and Goddess Parvathy, shrines and idols of
Siddhi Vinayakar, Sorna Vinayakar, Murugan with his consorts, Natarajar, Mahalakshmi, Chandran, Musukundan, Roma rishi, Sunda Devar, Nalvar with Sekkizhar, Dakshina Kailasa Nathar, Uthira Kailasa Nathar, Arunachaleswarar, Kasi Viswanathar with Visaalakshi, Navagraham, Saraswathi, Durgai, Suryan and Bairavar can be seen in the main hall and the corridors.
There are two shrines for Goddess Parvathy here – one as Sri Sornambikai and the other as Sri Poornambikai.
In the "koshtam" (place surrounding the sanctum sanctorum), idols of Narthana Vinayakar, Dakshinamurthy, Lingothbavar, Brahma and Vishnu Durgai can be seen.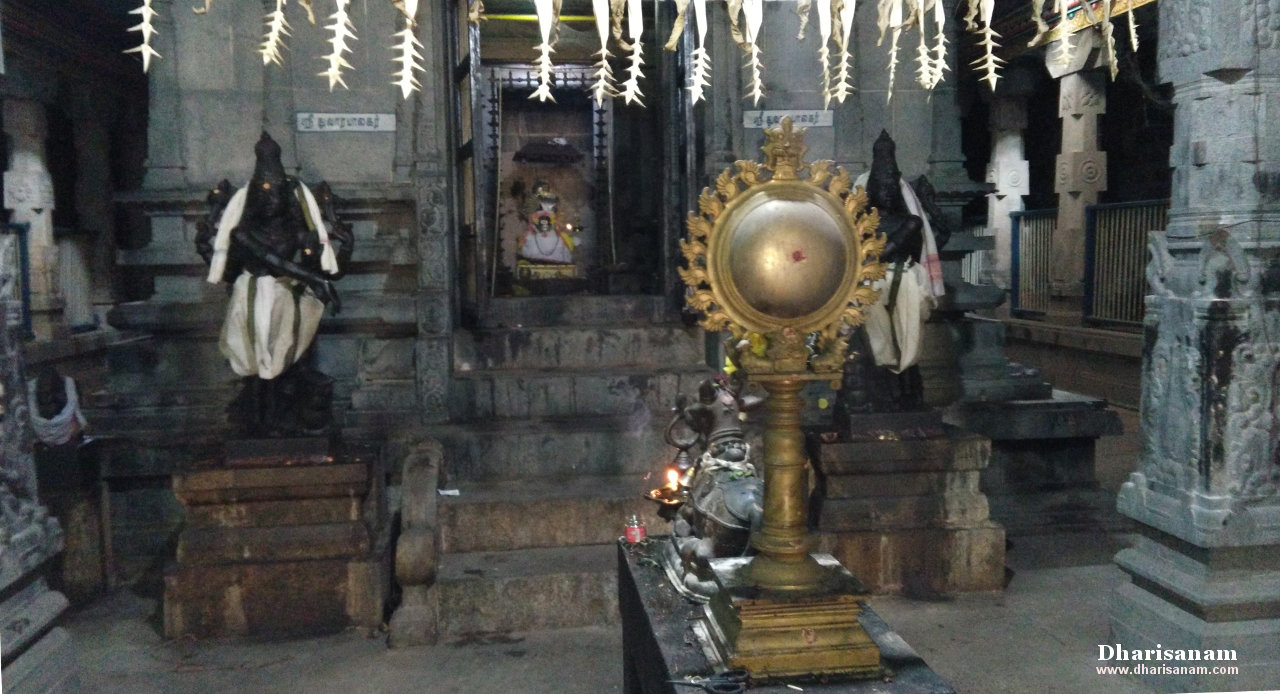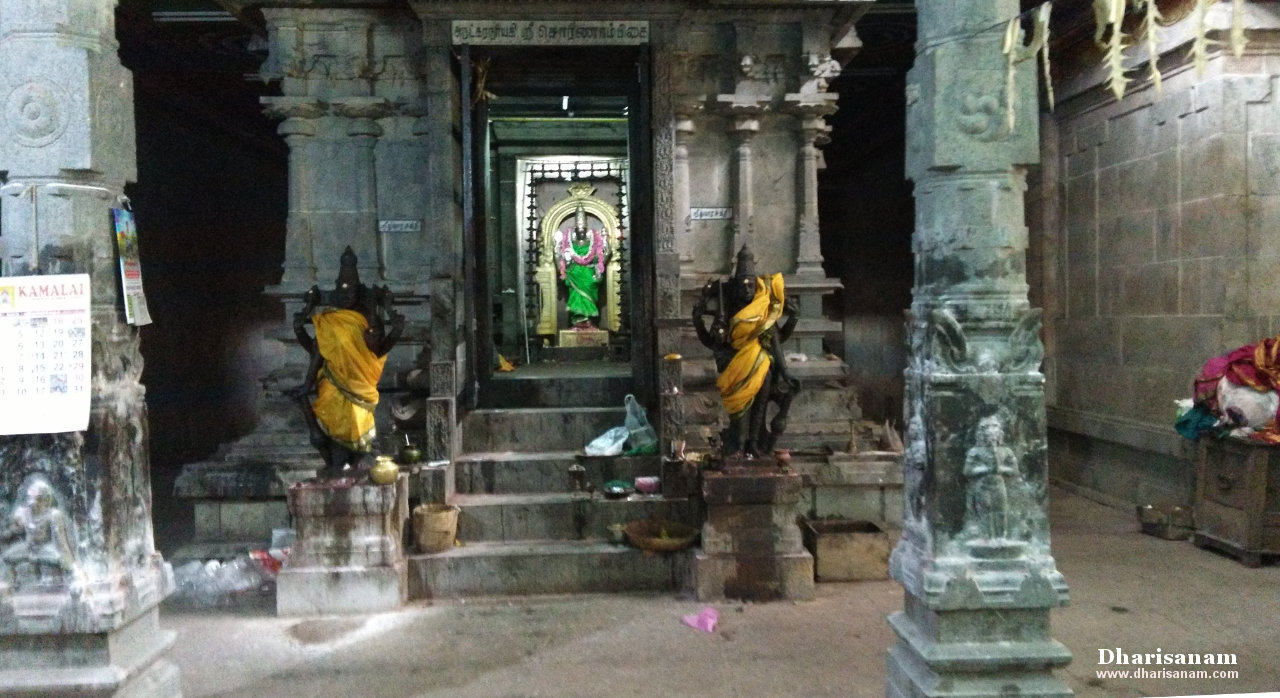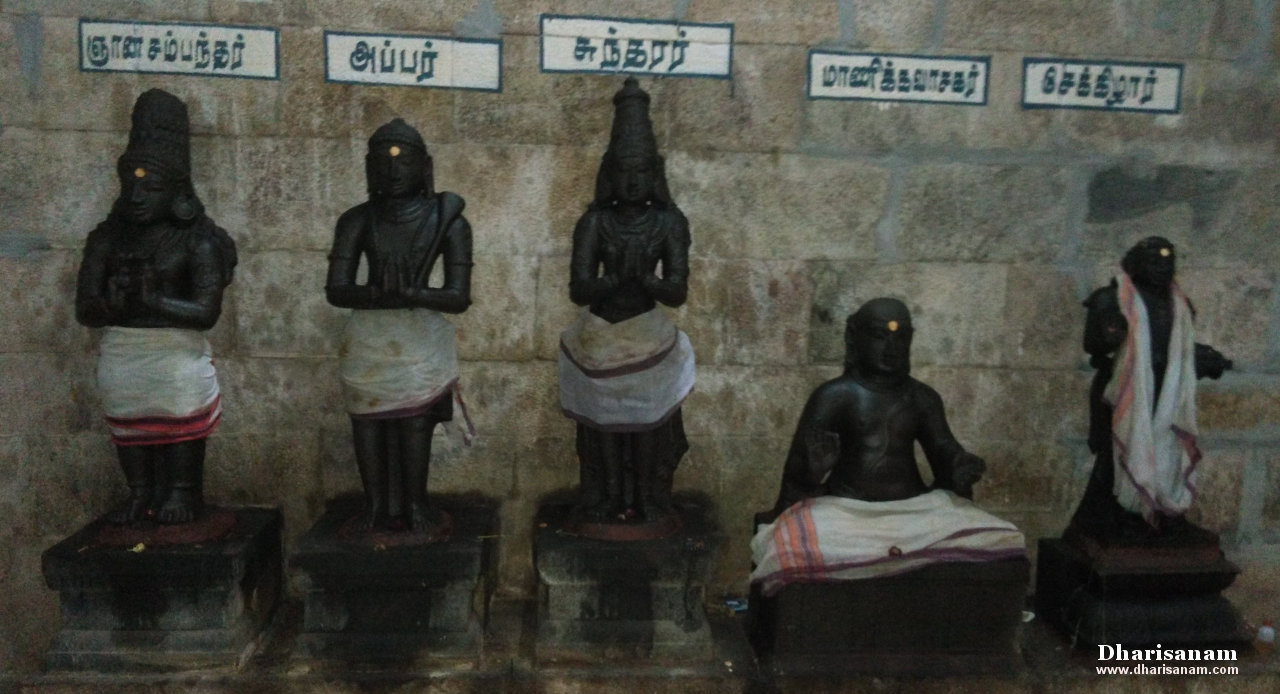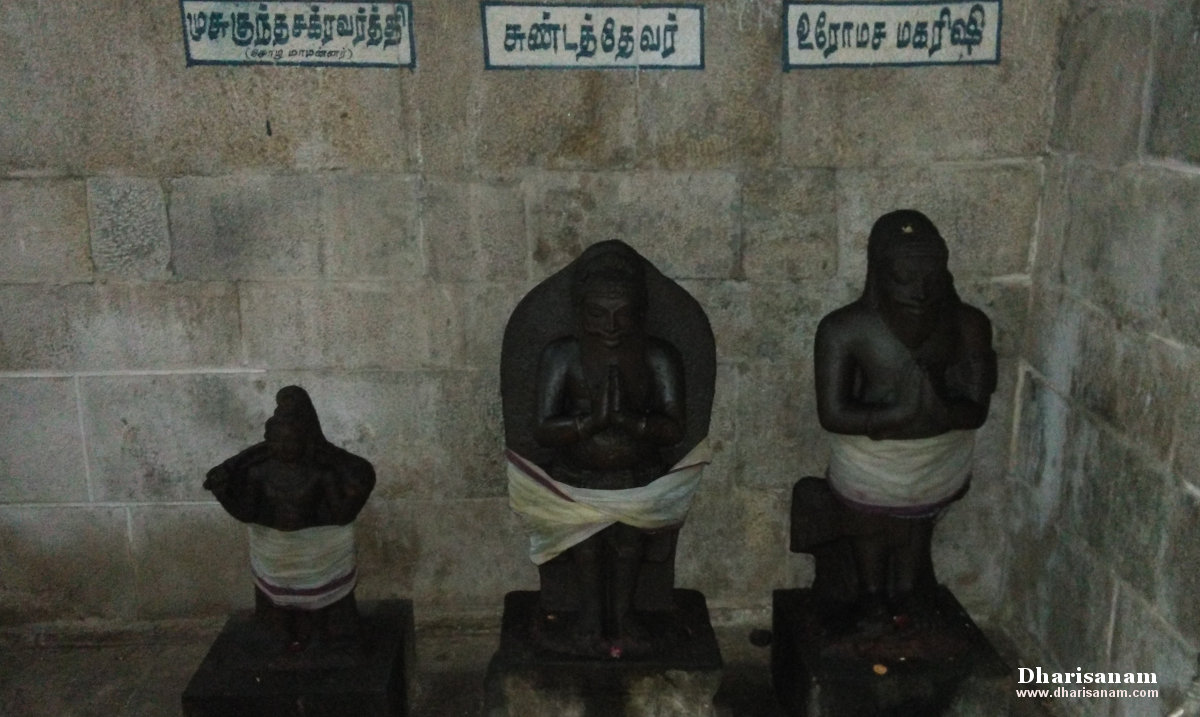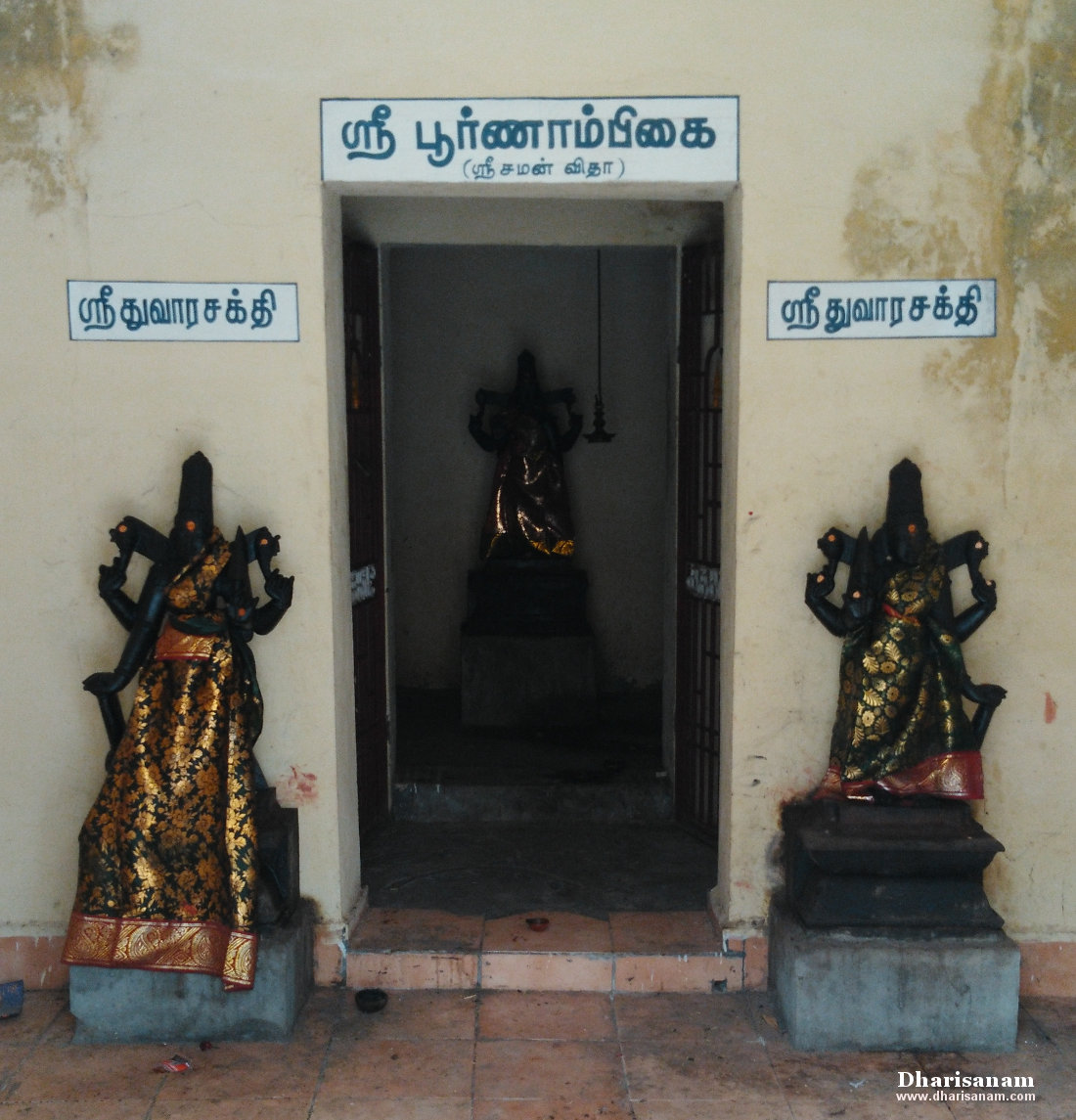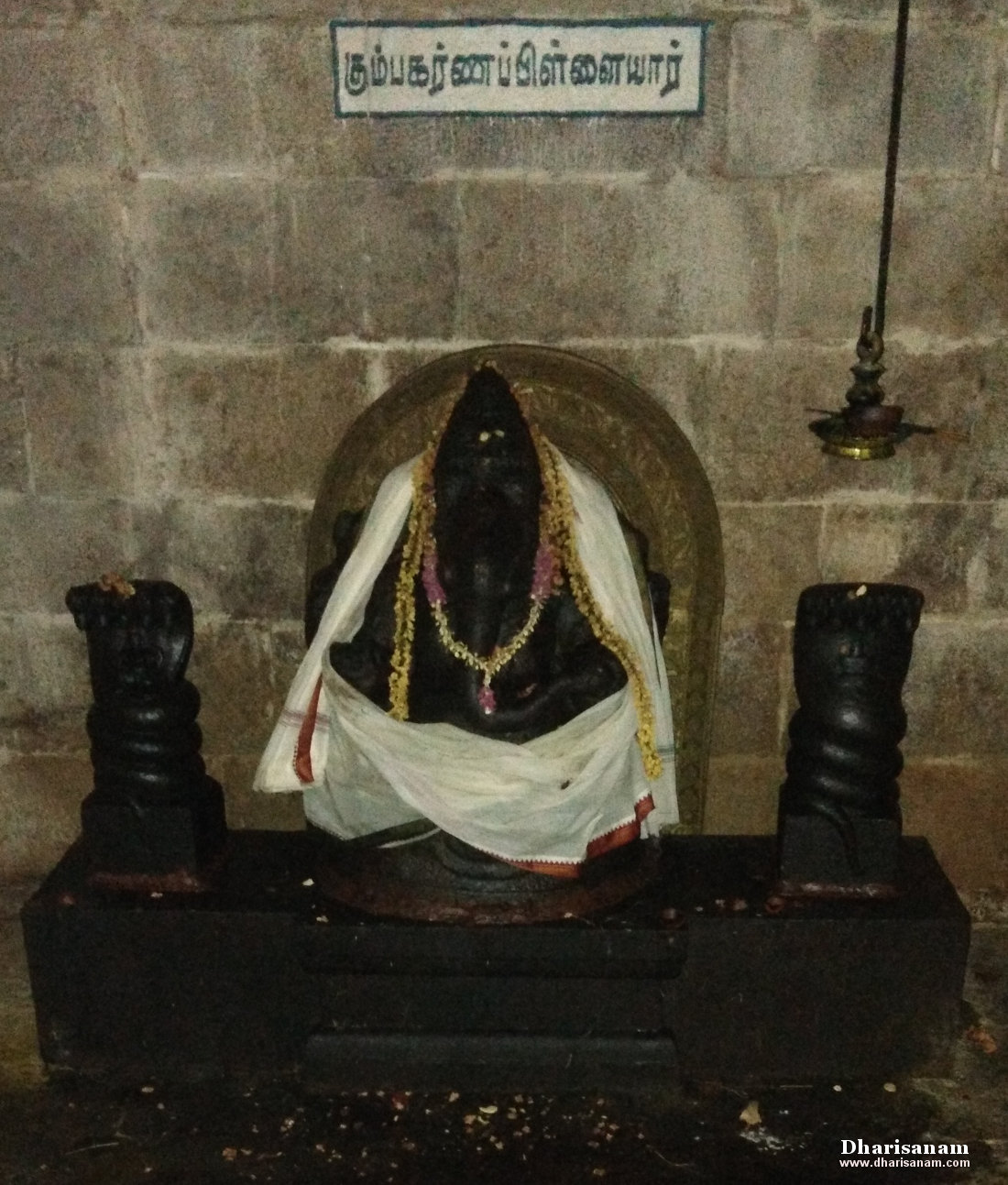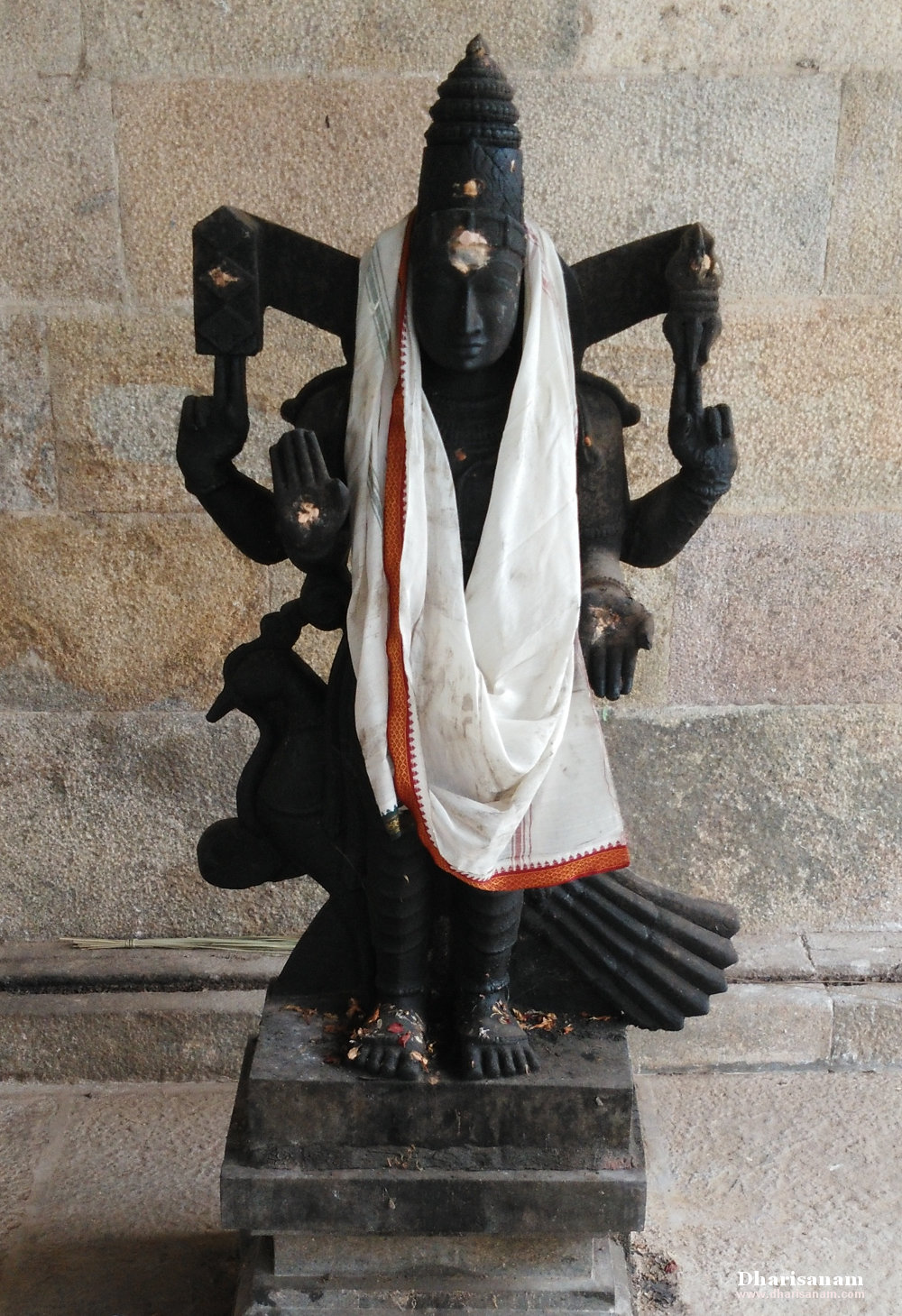 Salient Features
The shrines of Lord Shiva and Goddess Parvathy are a few feet above the ground level.
The Sthala Vinayakar in this temple is praised as "Sri Kumbakarna Vinayakar".
There are many beautiful idols in this temple like those of Lord Dakshinamurthy, Lingothbavar and Saneeswarar.
There are two idols of Lord Dakshinamurthy here.
Behind the sanctum sanctorum, on either sides of Lord Lingothbavar, there are idols of Lord Mahavishnu and Lord Brahma in a worshipping posture. Devotees can enjoy the darshan of all the three lords (Trimurthys) – Brahma, Vishnu and Shiva. This is considered to be very auspicious.
In front of the hall of Goddess Parvathy's shrine, on the ceiling, 12 zodiac signs (Raasi) are carved beautifully in stone. It is believed that by standing under one's respective zodiac sign and praying to the goddess, one's wishes will be fulfilled.
It is believed that Lord Suryan (Sun) worships Lord Shiva of this temple by directing his rays on the lingam every year for three days from 11th to 13th in the Tamil month of Chithirai (April-May). Special Surya poojas are performed during this period.
It is believed that this temple was originally built by a minister in the Chola king Musukundha Chakravarthy's court. Later this temple was completely renovated and reconstructed using granite by the "Nattukkottai Nagarathaar". They are also the current trustees of this temple.
The front hall has many beautiful pillars that are engraved with many sculptures. These sculptures are taken from various themes in Hindu mythology .
In his hymn, Saint Thirunavukkarasar refers to this place as "Kaduvaikkarai Thenputhur". In all his stanzas, he has also mentioned that he was fortunate enough to get the lord's darshan here.
Important Festivals
Some of the important festivals celebrated in this temple are –
Aadi Pooram in the Tamil month of Aadi (July-Aug),
Vinayakar Chaturthi in the Tamil month of Aavani (Aug-Sept),
Navarathri in the Tamil month of Purattasi (Sept-Oct),
Skanda Shashti and Annabishekam in the Tamil month of Aippasi (Oct–Nov),
Thiru Karthikai in the Tamil month of Karthikai (Nov-Dec),
Thiruvadhirai in the Tamil month of Markazhi (Dec-Jan),
Shivrathri in the Tamil month of Masi (Feb-Mar) and
Panguni Uthiram in the Tamil month of Panguni (Mar-Apr).
Pradosham is also observed regularly.
Temple Timings
From 08.00 AM to 12.00 Noon and from 05.00 PM to 07.30 PM.
Temple Address
Sri Swarnapureeswarar Temple,
Kaduvaikarai Puthur (Aandankoil) Post,
Valangaiman Taluk,
Thiruvarur District,
Tamil Nadu-612 804.
The temple priest Sri A.V.Durai Kurukkal can be contacted at: 04374 - 265 130.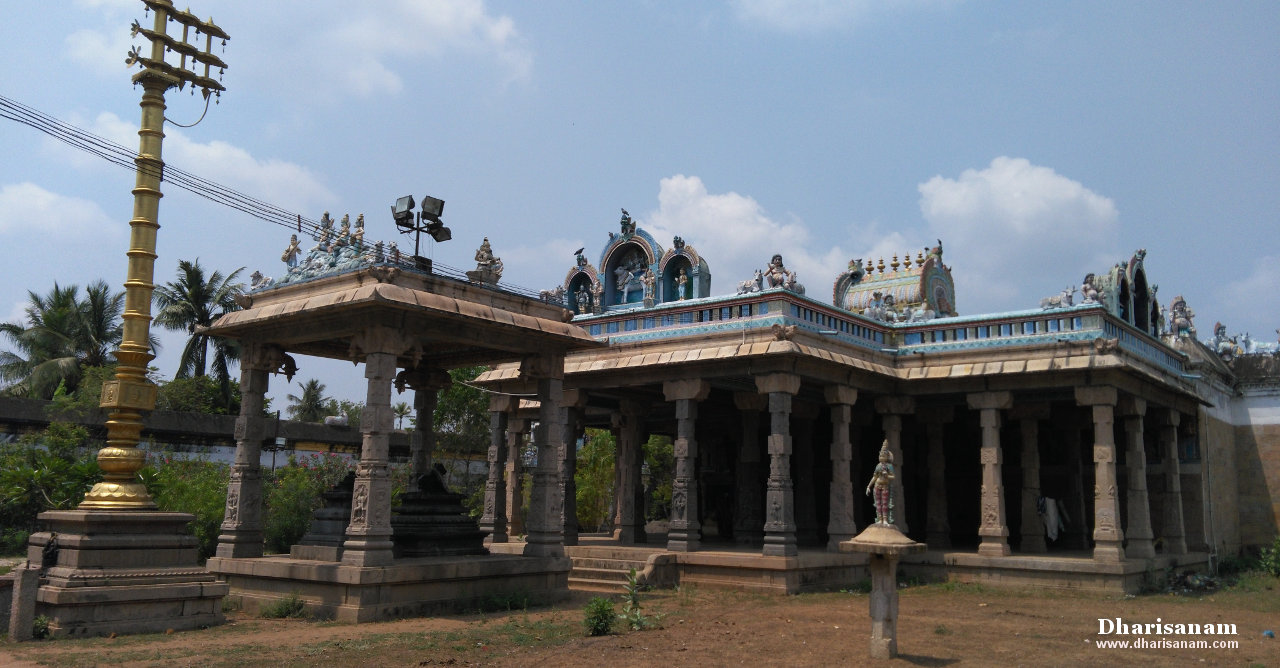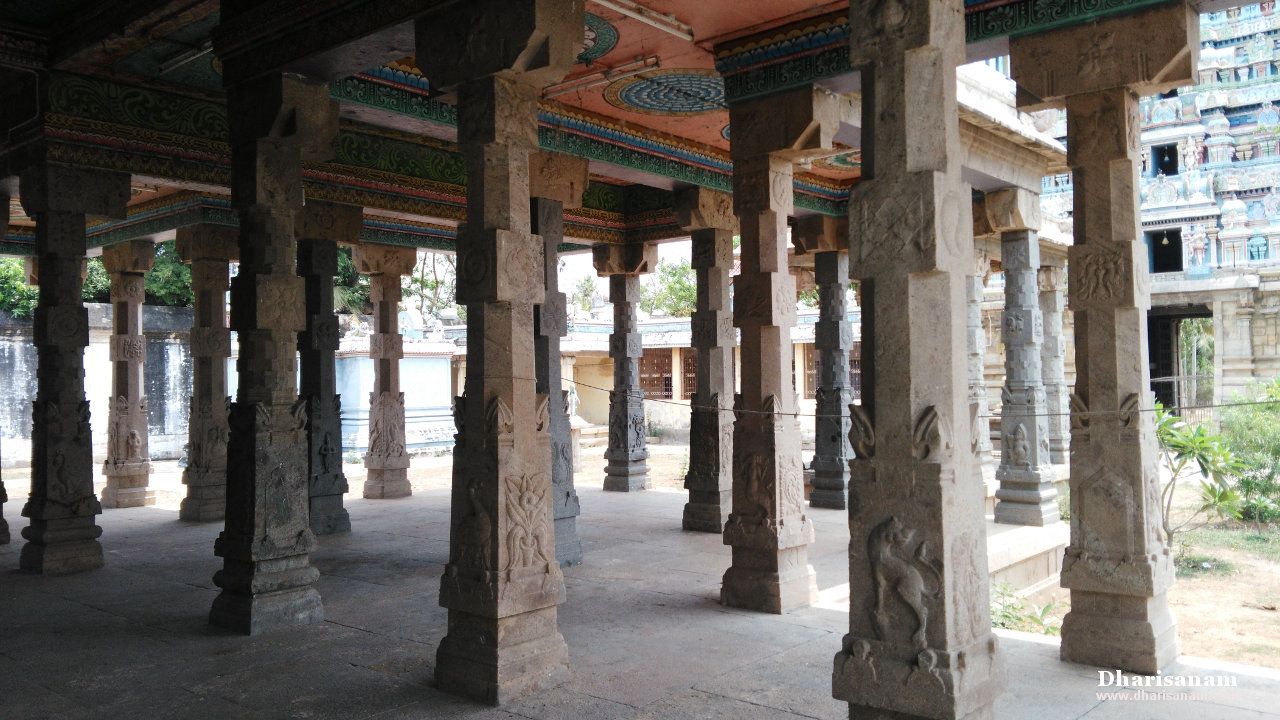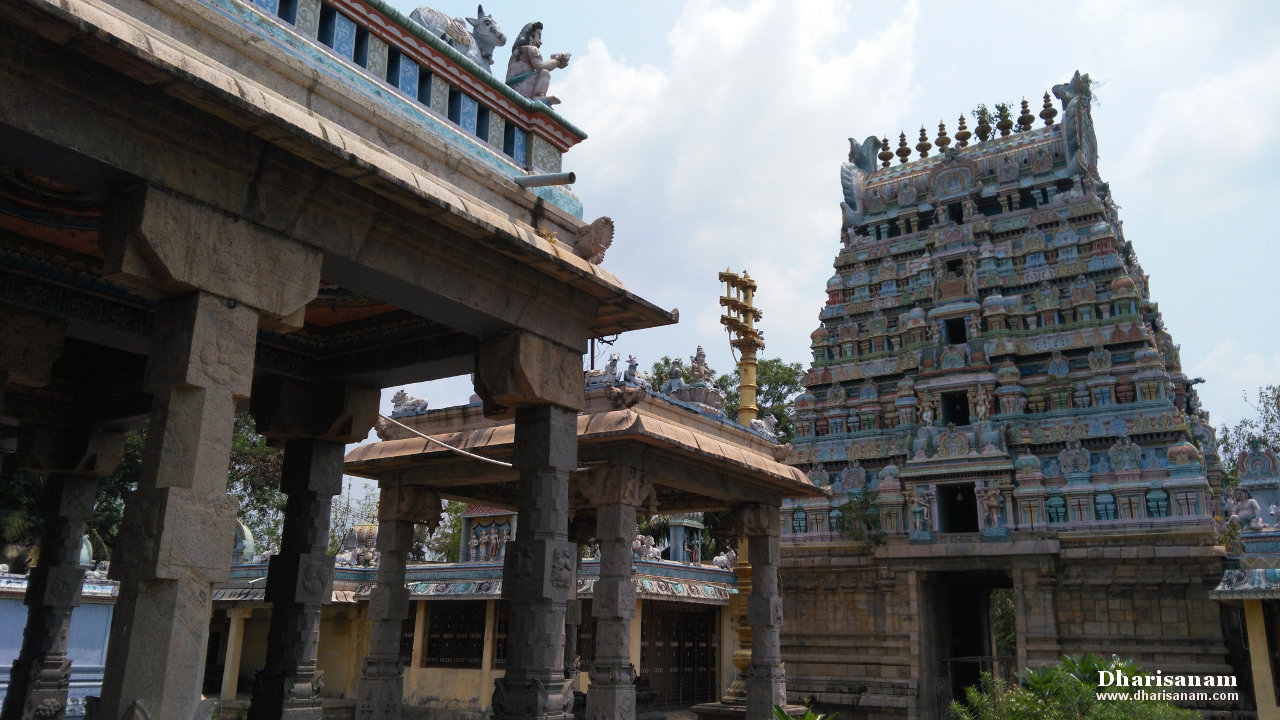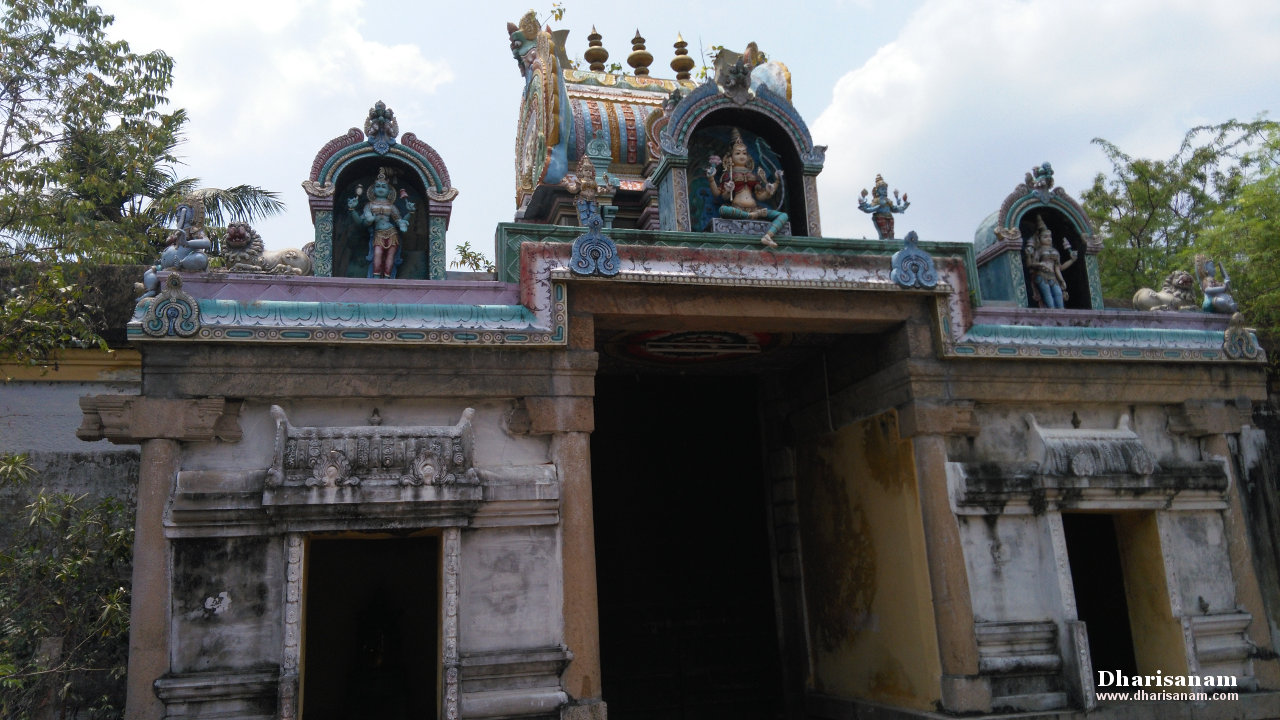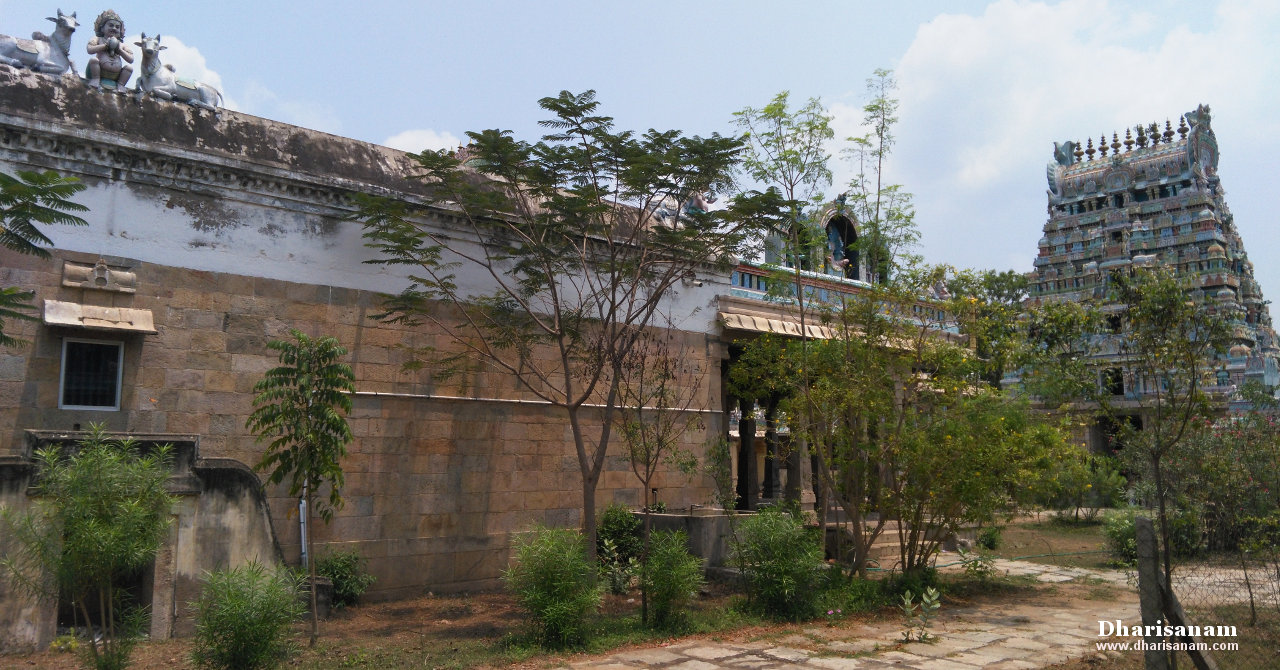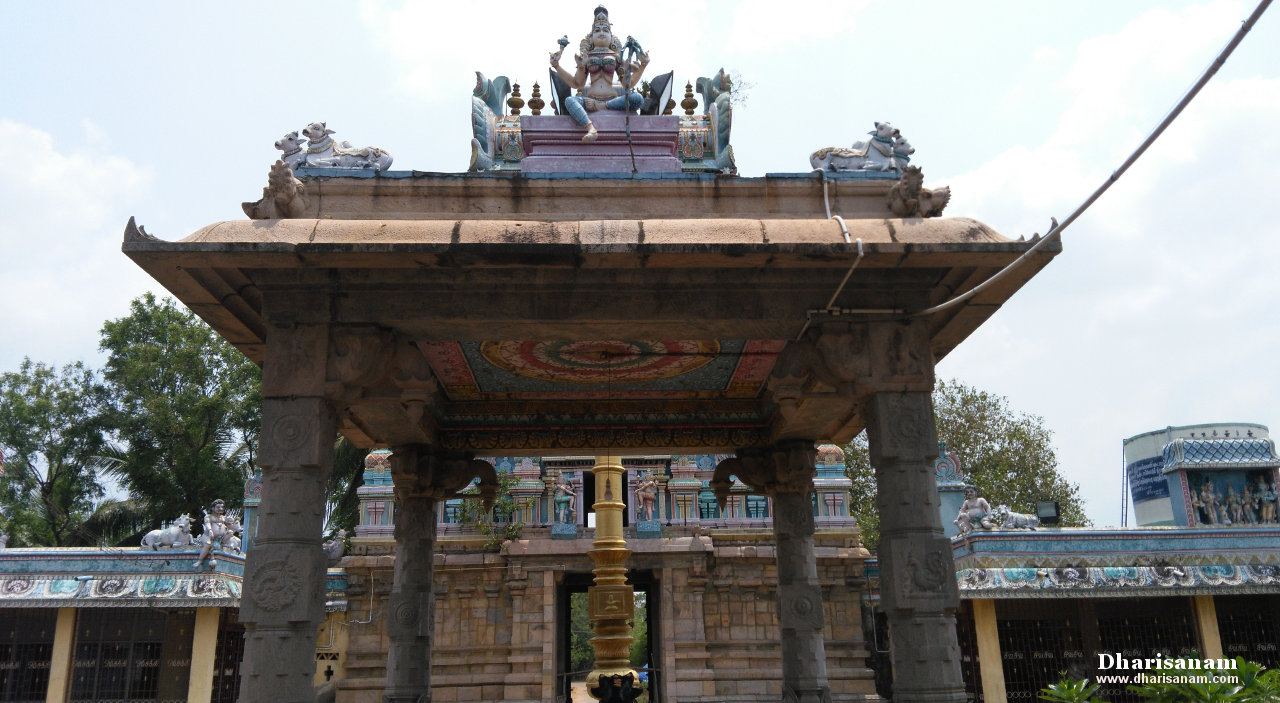 ---
Pathigam (Hymn) with English transliteration and Tamil meaning.
Saint Thirunavukarasar visited this temple and sang this Pathigam.
Devotees visiting this temple should make it a practice to recite this Pathigam.
ஒருத்த னைமூ வுலகொடு தேவர்க்கும்
அருத்த னையடி யேன்மனத் துள்ளமர்
கருத்த னைக்கடு வாய்ப்புன லாடிய
திருத்த னைப்புத்தூர் சென்றுகண் டுய்ந்தெனே.
"Oruththa ṉaimū vulakoṭu thēvarkkum
aruththa ṉaiyaṭi yēṉmaṉath thuḷḷamar
karuththa ṉaikkaṭu vāyppuṉa lāṭiya
thiruththa ṉaippuththūr seṉtṟukaṇ ṭuyntheṉē".
ஒப்பற்றவனும், மூன்றுலகங்களுக்கும் தேவர்க்கும் பொருளாய் உள்ளவனும்,
அடியேன் மனத்துள் அமர்கின்ற கருத்தனும், தீயாடிய
திருத்தமுற்றவனுமாகிய பெருமானைப் புத்தூரிற் சென்று, கண்டு,
உய்ந்தேன்.
யாவ ருமறி தற்கரி யான்றனை
மூவ ரின்முத லாகிய மூர்த்தியை
நாவின் நல்லுரை யாகிய நாதனைத்
தேவனைப் புத்தூர் சென்றுகண் டுய்ந்தெனே.
"Yāva rumaṟi thaṟkari yāṉtṟaṉai
mūva riṉmutha lākiya mūrththiyai
nāviṉ nallurai yākiya nāthaṉaith
thēvaṉaip puththūr seṉṟukaṇ ṭuyntheṉē".
எல்லோரானும் அறிதற்கு அருமை உடையவனும், மும்மூர்த்திகளுக்கும்
முதலாகிய கடவுளும், நாவில் நல்ல உரையாகி அருளும் நாதனும்,
தேவனுமாகிய பெருமானைப் புத்தூரிலே சென்று கண்டு உய்ந்தேன்.
அன்ப னையடி யாரிடர் நீக்கியைச்
செம்பொ னைத்திக ழுந்திருக் கச்சியே
கம்ப னைக்கடு வாய்க்கரைத் தென்புத்தூர்
நம்ப னைக்கண்டு நானுய்யப் பெற்றெனே.
"Aṉpa ṉaiyaṭi yāriṭar nīkkiyaich
chempo ṉaiththika zhunthiruk kachchiyē
kampa ṉaikkaṭu vāykkaraith theṉpuththūr
nampa ṉaikkaṇṭu nāṉuyyap petṟeṉē".
அன்பே வடிவானவனும், அடியார்கள் துன்பங்களை நீக்குபவனும்,
செம்பொன் மேனியனும் விளங்கும் திருக்கச்சியேகம்பத்தில்
வீற்றிருப்பவனும் ஆகிய கடுவாய்க் கரைத் தென்புத்தூரில் உள்ள நம்
பெருமானைக் கண்டு நான் உய்யப் பெற்றேன்.
மாத னத்தைமா தேவனை மாறிலாக்
கோத னத்திலைந் தாடியை வெண்குழைக்
காத னைக்கடு வாய்க்கரைத் தென்புத்தூர்
நாத னைக்கண்டு நானுய்யப் பெற்றெனே.
"Mātha ṉaththaimā thēvaṉai māṟilāk
kōtha ṉaththilain thāṭiyai veṇkuzhaik
kātha ṉaikkaṭu vāykkaraith theṉpuththūr
nātha ṉaikkaṇṭu nāṉuyyap petṟeṉē".
பெருஞ்செல்வமாகிய அருட்செல்வம் உடையானும், மகாதேவனும்,
மாறுபாடில்லாத பஞ்சகவ்வியத் திருமுழுக்குக் கொள்பவனும்,
சங்கவெண்குழையணிந்த காதுடையவனும் ஆகிய கடுவாய்க்கரைத்
தென்புத்தூரின் நாதனைக் கண்டு நான் உய்யப்பெற்றேன்.
குண்டு பட்டகுற் றந்தவிர்த் தென்னையாட்
கொண்டு நற்றிறங் காட்டிய கூத்தனைக்
கண்ட னைக்கடு வாய்க்கரைத் தென்புத்தூர்
அண்ட னைக்கண் டருவினை யற்றெனே.
"Kuṇṭu paṭṭakut ranthavirth theṉṉaiyāṭ
koṇṭu natṟiṟaṅ kāṭṭiya kūththaṉaik
kaṇṭa ṉaikkaṭu vāykkaraith theṉpuththūr
aṇṭa ṉaikkaṇ ṭaruviṉai yatṟeṉē".
மிகுந்த பல குற்றத்தை நீக்கி என்னை ஆட்கொண்டு நல்ல அருள் திறம்
காட்டிய கூத்தனும், திருநீல கண்டனும் ஆகிய கடுவாய்க்கரைத்
தென்புத்தூரில் பொருந்தியிருக்கும் பெருமானைக் கண்டு அருவினைகள்
அற்றேன்.
பந்த பாச மறுத்தெனை யாட்கொண்ட
மைந்த னைம்மண வாளனை மாமலர்க்
கந்த நீர்க்கடு வாய்க்கரைத் தென்புத்தூர்
எந்தை யீசனைக் கண்டினி தாயிற்றே.
"Pantha pāsa maṟuththeṉai yāṭkoṇṭa
maintha ṉaim'maṇa vāḷaṉai māmalark
kantha nīrkkaṭu vāykkaraith theṉpuththūr
enthai yīsaṉaik kaṇṭiṉi thāyitṟē".
பாசமாகிய கட்டினை அறுத்து, என்னை ஆட்கொண்ட பெருவீரனும்,
மணவாளக்கோலம் உடையானும், பெரிய மலர்களின் நறுமணம் மிக்க நீரை
உடைய கடுவாய்க் கரையிலுள்ள தென்புத்தூரில் உள்ள எந்தையும் ஆகிய
ஈசனைக் கண்டதனால் அடியேற்கு இனிதாயிற்று.
உம்ப ரானை உருத்திர மூர்த்தியை
அம்ப ரானை அமலனை ஆதியைக்
கம்பு நீர்க்கடு வாய்க்கரைத் தென்புத்தூர்
எம்பி ரானைக்கண் டின்பம தாயிற்றே.
"Umpa rāṉai uruththira mūrththiyai
ampa rāṉai amalaṉai āthiyaik
kampu nīrkkaṭu vāykkaraith theṉpuththūr
empi rāṉaikkaṇ ṭiṉpama thāyitṟē".
தேவர் உலகத்துக்கும் அப்பால் உள்ளவனும், உருத்திரமூர்த்தியும்,
அம்பர்த்தலத்து எழுந்தருளியிருப்பவனும், மலம் அற்றவனும்,
ஆதியானவனும், சங்குகளையுடைய நீர்பாயும் கடுவாய்க்கரை
தென்புத்தூரில் உள்ளவனும் ஆகிய எம்பெருமானைக் கண்டதனால்
அடியேற்கு இன்பம் ஆயிற்று.
மாசார் பாச மயக்கறு வித்தெனுள்
நேச மாகிய நித்த மணாளனைப்
பூச நீர்க்கடு வாய்க்கரைத் தென்புத்தூர்
ஈச னேயென இன்பம தாயிற்றே.
"Māsār pāsa mayakkaṟu viththeṉuḷ
nēsa mākiya niththa maṇāḷaṉaip
pūsa nīrkkaṭu vāykkaraith theṉpuththūr
īsa ṉēyeṉa iṉpama thāyitṟē".
குற்றம் நிறைந்த பாசமாகிய மயக்கத்தை அறுமாறு செய்து
என்னுள்ளத்துக்குள் நேசம் ஆகிய நித்தமணாளன் என்ற
திருப்பேர்கொண்டவனும், பூசத்திருநாளில் ஆடற்குரிய கடுவாய்க் கரைத்
தென்புத்தூரின்கண் உள்ளவனும் ஆகிய ஈசனே என்று கூற அடியேற்கு
இன்பமாயிற்று.
இடுவா ரிட்ட கவளங் கவர்ந்திரு
கடுவா யிட்டவர் கட்டுரை கொள்ளாதே
கடுவாய்த் தென்கரைப் புத்தூ ரடிகட்காட்
படவே பெற்றுநான் பாக்கியஞ் செய்தெனே.
"Iṭuvā riṭṭa kavaḷaṅ kavarnthiru
kaṭuvā yiṭṭavar kaṭṭurai koḷḷāthē
kaṭuvāyth theṉkaraip puththū raṭikaṭkāṭ
paṭavē petṟunāṉ pākkiyañ cheytheṉē".
பிச்சையிடுவார் இட்ட சோற்றுருண்டையினைப் பெற்றுத் தம் பெரிய
கொடிய வாயில் இடும் சமணர்களது கட்டியுரைக்கும்
பேச்சைக்கொள்ளாமல், கடுவாய்த்தென்கரைப் புத்தூரின் கண்
எழுந்தருளியுள்ள அடிகட்கு ஆட்படப் பெற்று நான் பெரும் பாக்கியம்
செய்தவன் ஆயினேன்.
அரக்க னாற்றல் அழித்தவன் பாடல்கேட்
டிரக்க மாகி அருள்புரி யீசனைத்
திரைக்கொள் நீர்க்கடு வாய்க்கரைத் தென்புத்தூர்
இருக்கு நாதனைக் காணப்பெற் றுய்ந்தெனே.
"Arakka ṉātṟal azhithtavaṉ pāṭalkēṭ
ṭirakka māki aruḷpuri yīsaṉaith
thiraikkoḷ nīrkkaṭu vāykkaraith theṉpuththūr
irukku nāthaṉaik kāṇappet ṟuyntheṉē".
இராவணனது ஆற்றலை அழித்து அவன்பாடல் கேட்டுப் பின்னர் இரங்கி
அருள்புரியும் ஈசனாகிய, அலைகளைக் கொண்ட கடுவாய்க்கரைத்
தென்புத்தூரில் இருக்கும் நாதனைக் காணப்பெற்று உய்ந்தேன்.