Visited on: November 3, 2017.
Location
Annappan Pettai is situated at a distance of about 14 kms from Sirkazhi on the Sirkazhi to Thiruvenkadu route (via Mangaimadam). From Mangaimadam, take the diversion road to Thirunakari and reach Konaiyampattinam and then proceed to this temple.
Other Devara Paadal Petra Shiva Sthalams near this place are – Sirkazhi, Thirukkolakka, Mauiladuthurai, Vilanagar, Thiruppallavaneecharam (Poompuhar), Chayavanam, Thiruvenkadu, Kezhai Thirukkattuppalli, Sembanar Koil, Nani Palli, Valampuram (Mela Perumpallam), Thalaichangadu, Aakkur, Thirukkadaiyur and Thirukkadaiyur Mayanam.
General Information
| | |
| --- | --- |
| Moolavar | Sri Sundareswarar |
| Ambal | Sri Sundarambal, Sri Azhagammai, Sri Azhaguvana Mulaiyammai |
| Theertham (Holy water) | Ambuli Theertham / Chandra Theertham |
| Sthala Vriksham (Sacred Tree) | Vilvam tree |
| Pathigam (Hymn) rendered by | Saint Thirugnanasambanthar |
This is one of the 276 Devara Paadal Petra Shiva Sthalams and 8th Shiva Sthalam on the northern bank of the river Cauvery in Chozha Nadu (Vadakarai).
Lord Shiva in this temple is a Swayambumurthi (self-manifested).
This east facing temple has no main tower (Rajagopuram) but it has a beautiful arch at the entrance.

There is no Flag post (Kodimaram) here.

The last consecration ceremony (Maha Kumbabishekam) took place on 09.02.2017.


History of the Temple
This ancient temple is located on the southern banks of the river Uppanaru. This temple is also very close to the Bay of Bengal, near Poompuhar.
In ancient times, this place was densely covered with Vilva trees. Hence this place gets the name "Vilvaranyam" and the lord here is praised as Sri Vilva Vana Nathar.
Lord Shiva of this temple is believed to be the lord who removes hardships ("kali" in Tamil). Hence this place gets the name Kalikkamur.
The historical names of this place are Vilvaranyam and Thirukkalikkamur. However, now this place is known as Annappan Pettai.
This temple is under the administrative control of the Hindu Religious and Charitable Endowments Department of Government of Tamil Nadu (HR&CE).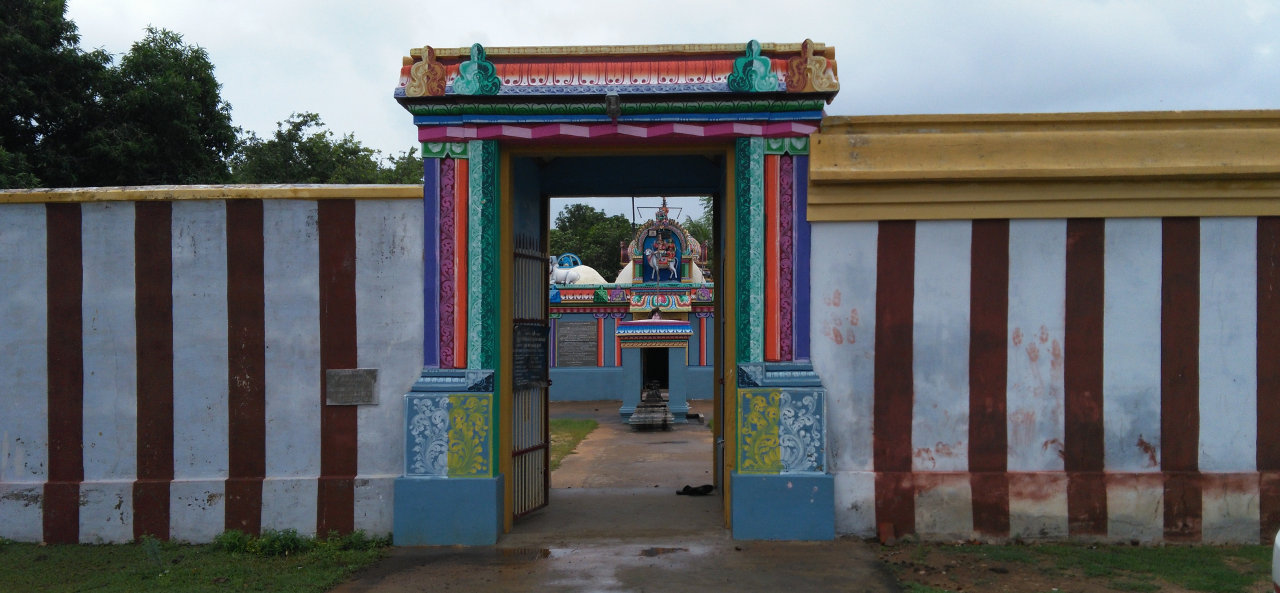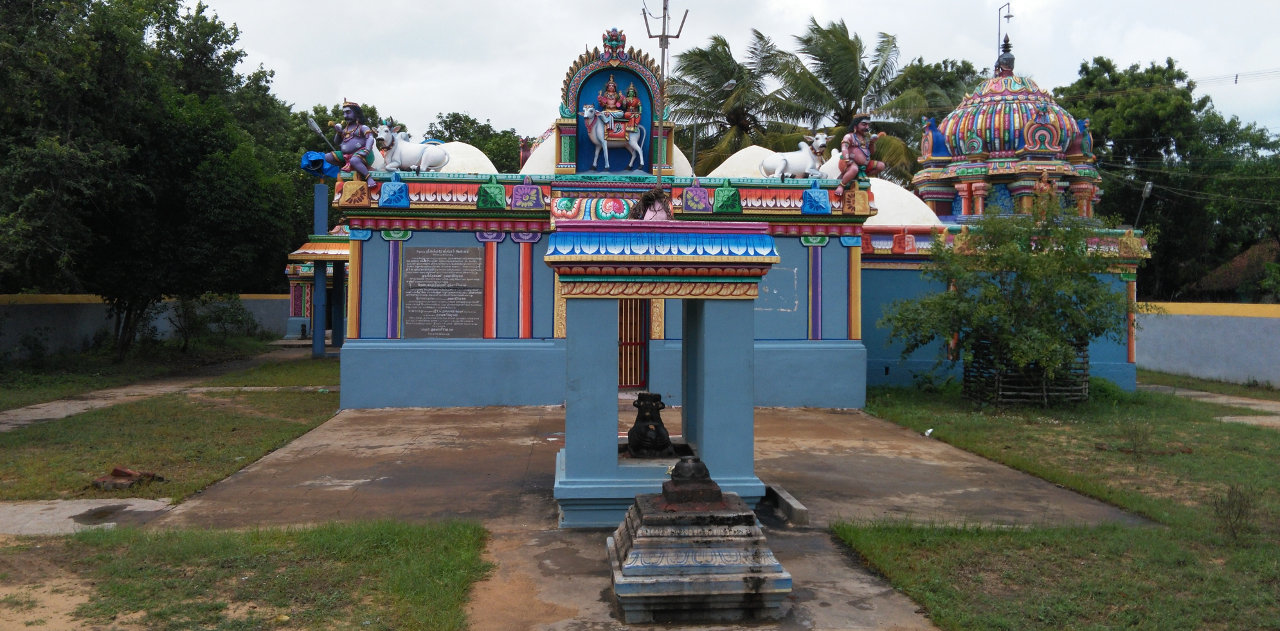 Legend
The legend of this temple involves Sage Shakti, a staunch devotee of Lord Shiva. When his wife Thirashanti was pregnant, Sage Shakti was killed by a demon called Udhiran. His son Parasarar was very sad when he learnt of the death of his father. He grew into a great scholar of Vedas and scriptures and became a learned sage. He conducted a yagna to take revenge on the demon Udhiran. He also successfully exacted his revenge. However, to seek absolution for the sin that he had accrued by killing a person, he started visiting many Shiva temples. It is believed that he was granted darshan by Lord Shiva in this temple. As requested by Sage Parasarar, Lord Shiva stayed here in the form of a Shivalingam and is now praised as Sri Sundareswarar ("Sundaram" means beauty in Tamil).
It is believed that Sage Parasarar was an expert in astrology, hence those who are interested in astrology can visit this temple and worship the lord to seek his blessings.
As per the Sthala Puranam of this temple, once a trader was suffering from continuous and severe stomach pain. He visited Thirumullaivayil Shiva temple, a nearby place, and worshiped the lord there. He got some relief from his pain. Thereafter, he continued his travel along the seashore. On his way, he found an idol of a goddess and prayed to her. To his surprise, he was completely relieved of his stomach pain. He came to know that this idol was found in the sea by some fishermen. When he was resting, it is believed that the lord's divine voice was heard directing him to come to this temple. He took the idol also along with him to this temple and installed it there. Interestingly, prior to his visit, there was no idol of Goddess Parvathy here.
To commemorate this event, during the Theerthavari (a bathing festival), the idol of Goddess Parvathy alone is brought to the sea shore. The idol of Lord Shiva is not brought.
Deities in the temple
Other than the shrines of Lord Shiva and Goddess Parvathy, shrines and idols of lords Selva Siddhi Vinayakar, Murugan, Dakshinamurthy, Mahalakshmi, Chandikeswarar, Kailasanathar, Vinayakar, Bhadrakali, Bairavar, Suryan, Navagraham and Sage Paraasar can be seen in the corridors.
There is a separate shrine for Goddess Akhilandeswari with Lord Vilvanathar in the corridor.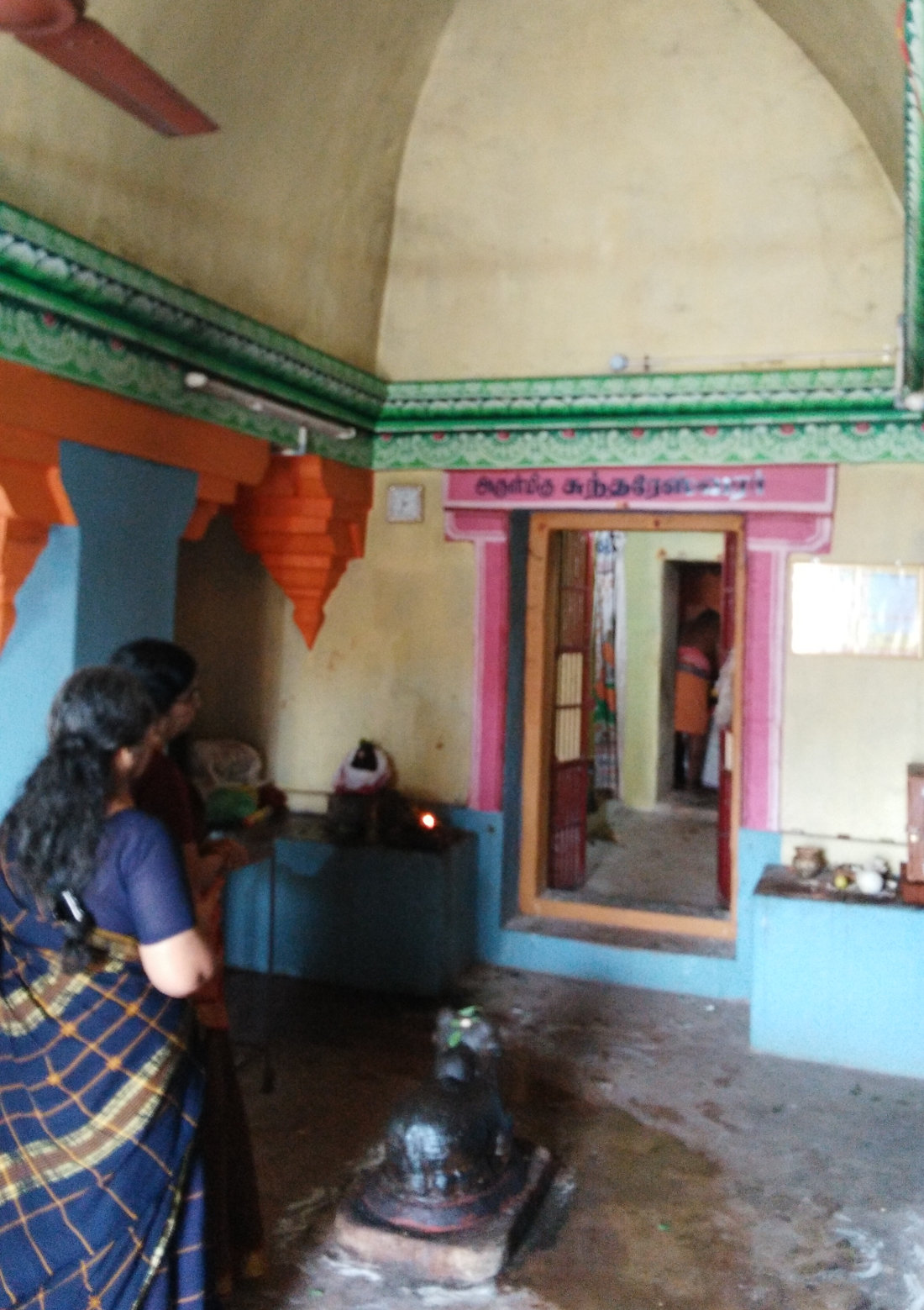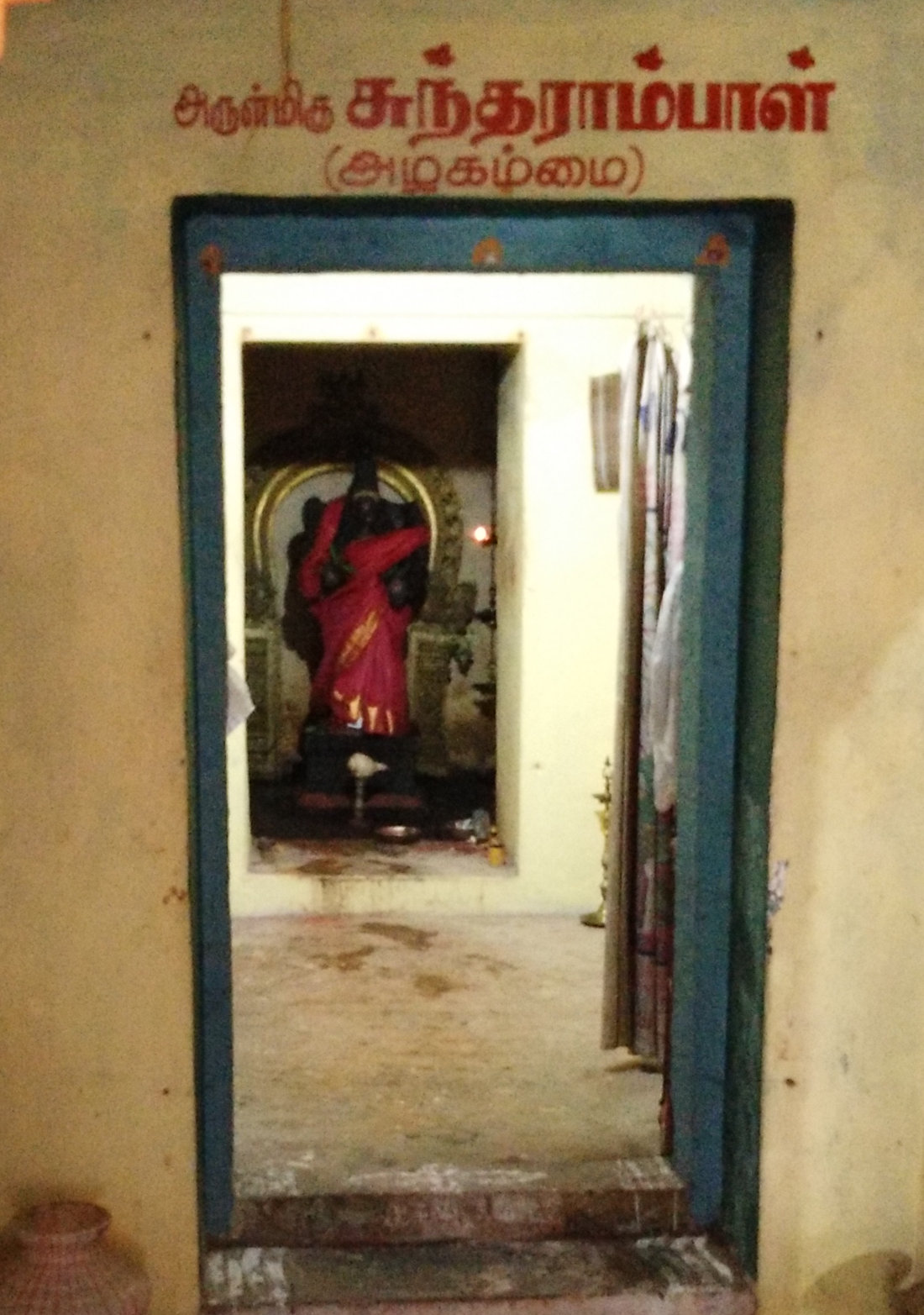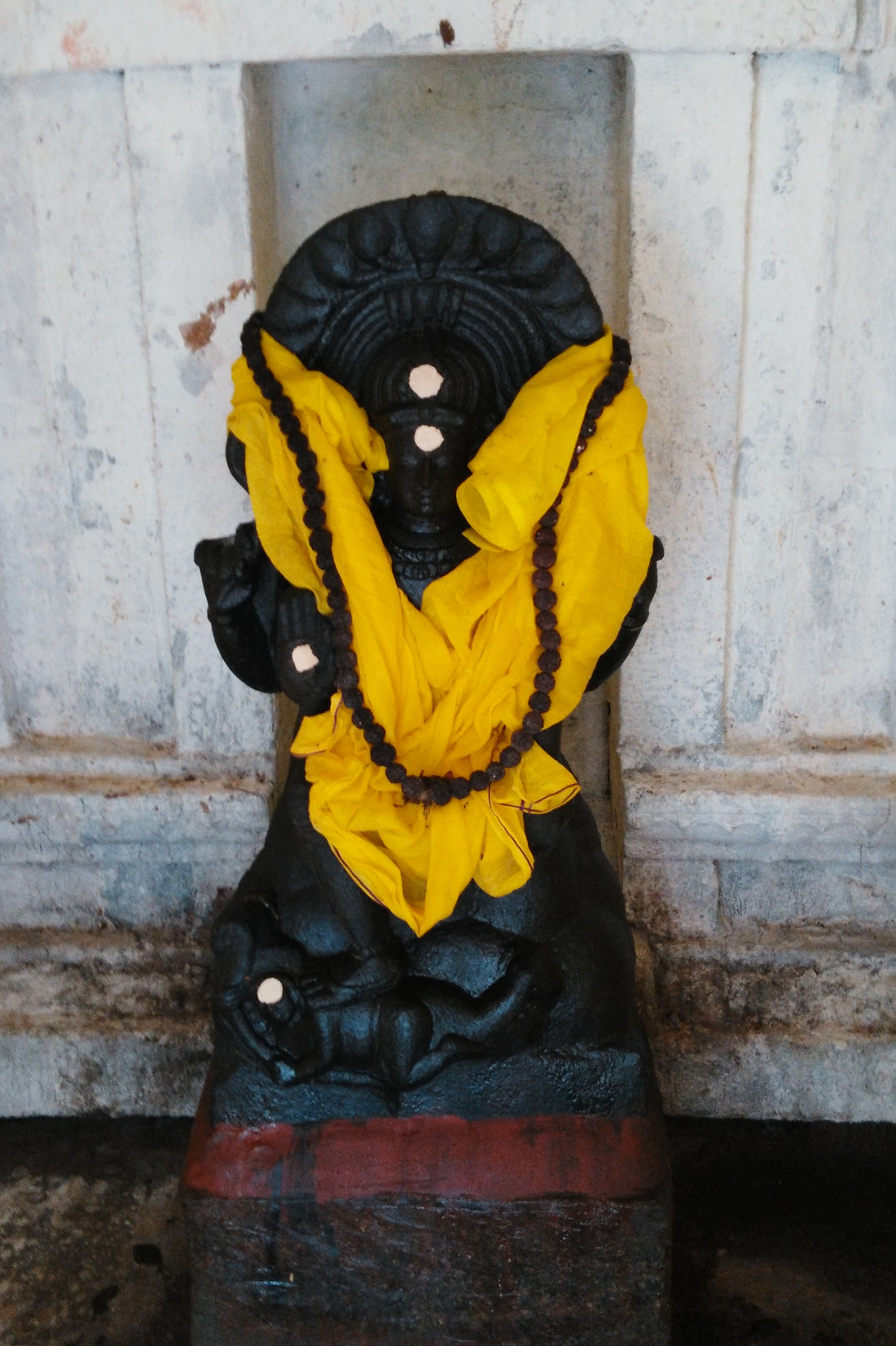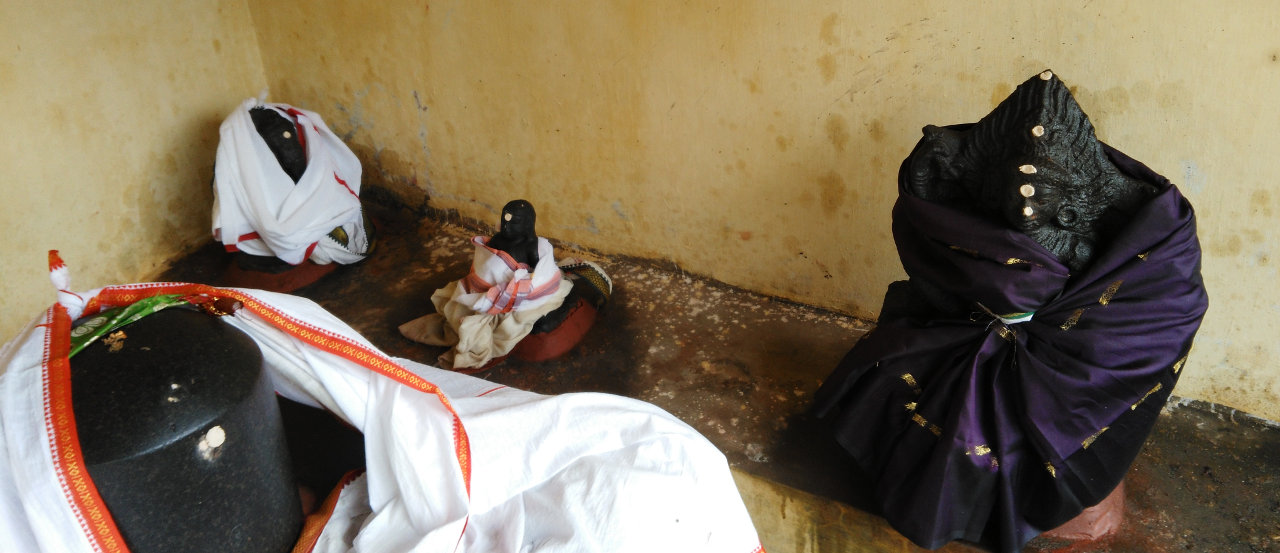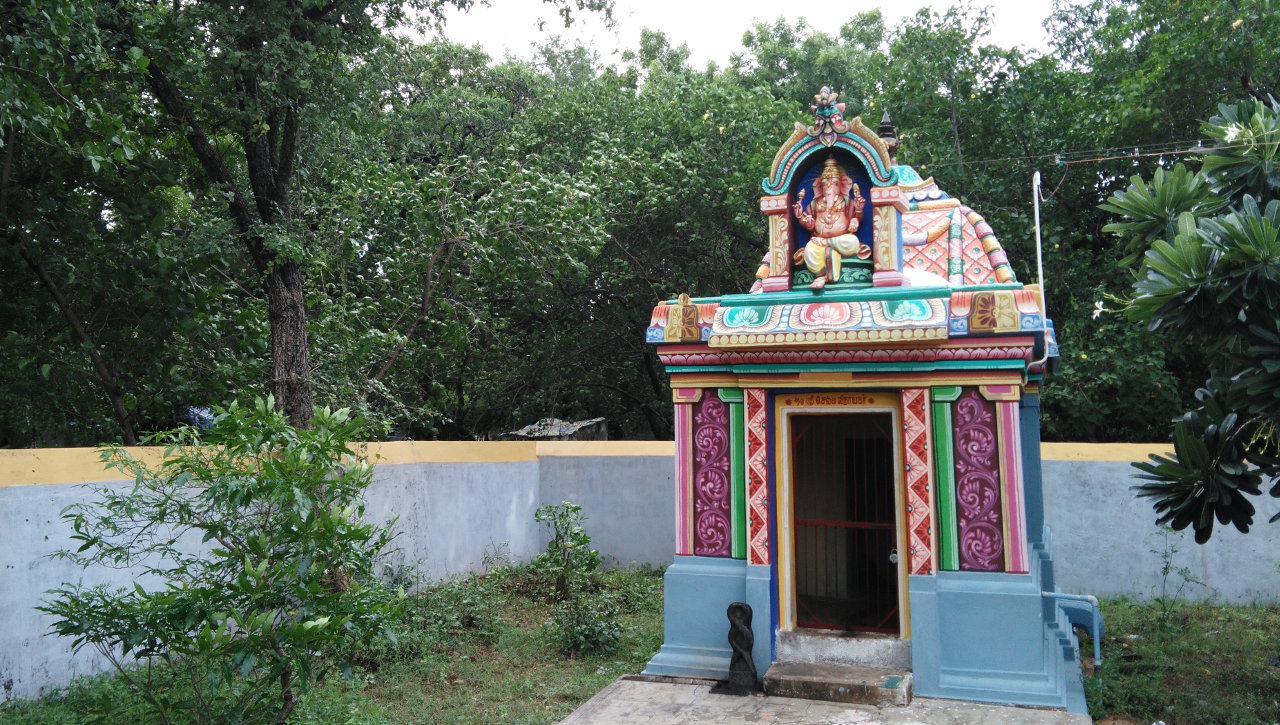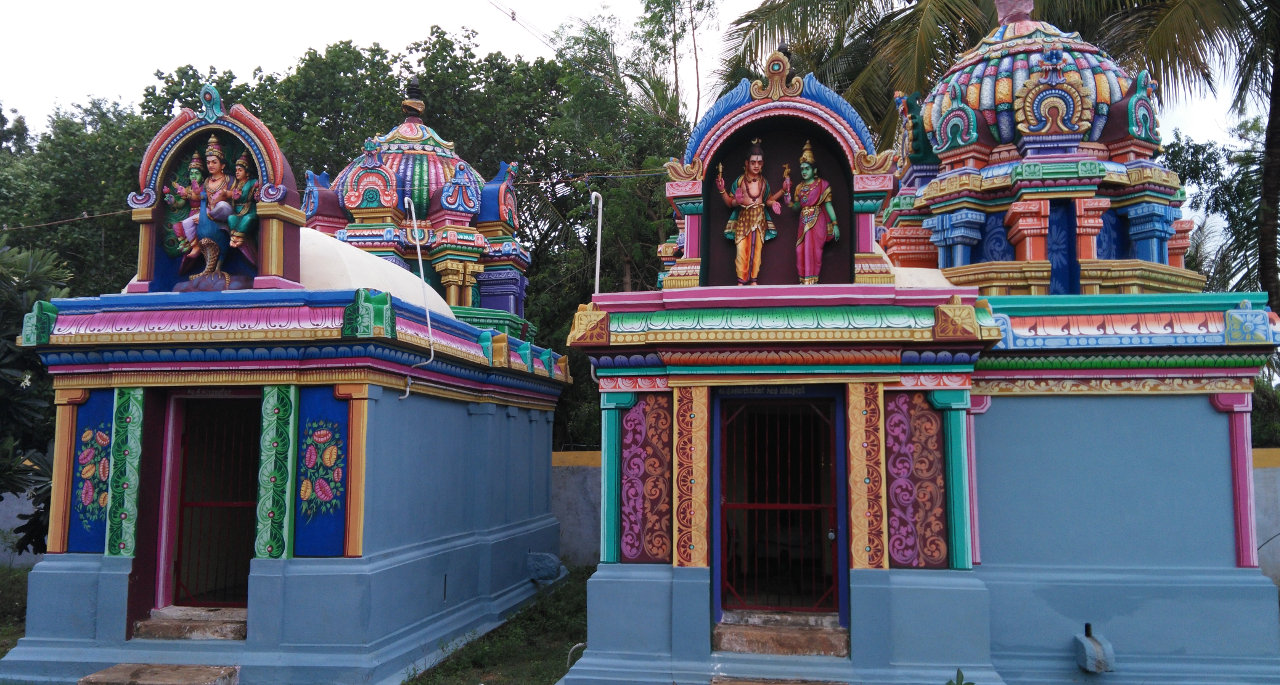 Salient Features
There are two Vinayakars at the entrance of the Sanctum Sanctorum on either side in the form of Dwarapalakas.
Goddess Durgai is not present here but an idol of Goddess Bhadrakali with 8 hands can be seen blessing the devotees.
Those who have prolonged and incurable stomach pain can worship the lord by reciting this temple's Pathigam for 11 consecutive Mondays. Devotees can even do this at their home. On the 12th Monday, they can visit this temple to worship the lord. By doing so, it is believed that their stomach ailments will be cured.
Devotees believe that it is beneficial to consume the "Vilva" leaves used for the pooja of the lord. It is also given as prasad to all devotees. It is believed that these vilva leaves have medicinal properties.
The idols in the Navagraha are seen without their respective mounts (Vahanam).
Greatness of this temple
Saint Tirugnanasambanthar, in his Pathigam, mentioned that if devotees worship Lord Shiva of this temple, they would be cured of their ailments and would be blessed with happiness and prosperity.
Important Festivals
Some of the major festivals celebrated in this temple are –
Theerthavari on the full moon day in the Tamil month Masi (Feb-Mar),
Shivrathri in the Tamil month of Masi (Feb-Mar),
Skanda Shashti and Annabishekam in the Tamil month of Aippasi (Oct–Nov),
Navarathri in the Tamil month of Purattasi (Sept-Oct) and
Thiruvadhirai in the Tamil month of Markazhi (Dec-Jan).
Pradosham is also observed regularly.
Temple Timings
From 08.00 AM to 10.00 AM.
Temple Address
Sri Sundareswarar Temple,
Thirukalikamoor, Annappanpettai,
Thenampattinam Post,
Mangaimadam Via,
Sirkali Taluk,
Nagapattinam District
Tamil Nadu - 609 106.
Tele: +91- 93605 77673, 97879 29799.
The temple Priest Sri N.Rajamani Gurukkal can be contacted at: 97151 70451.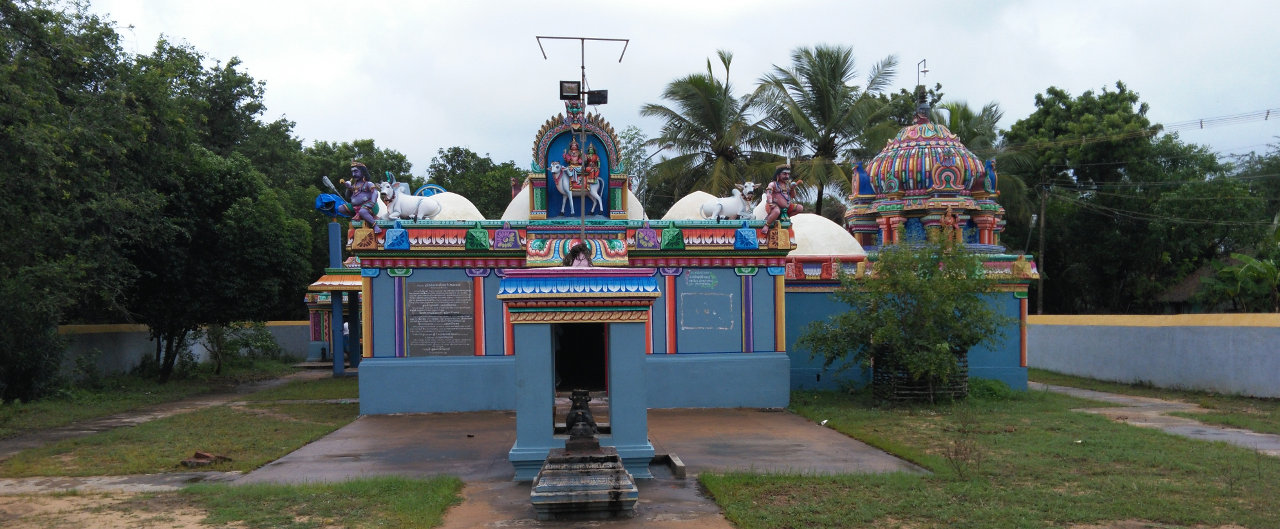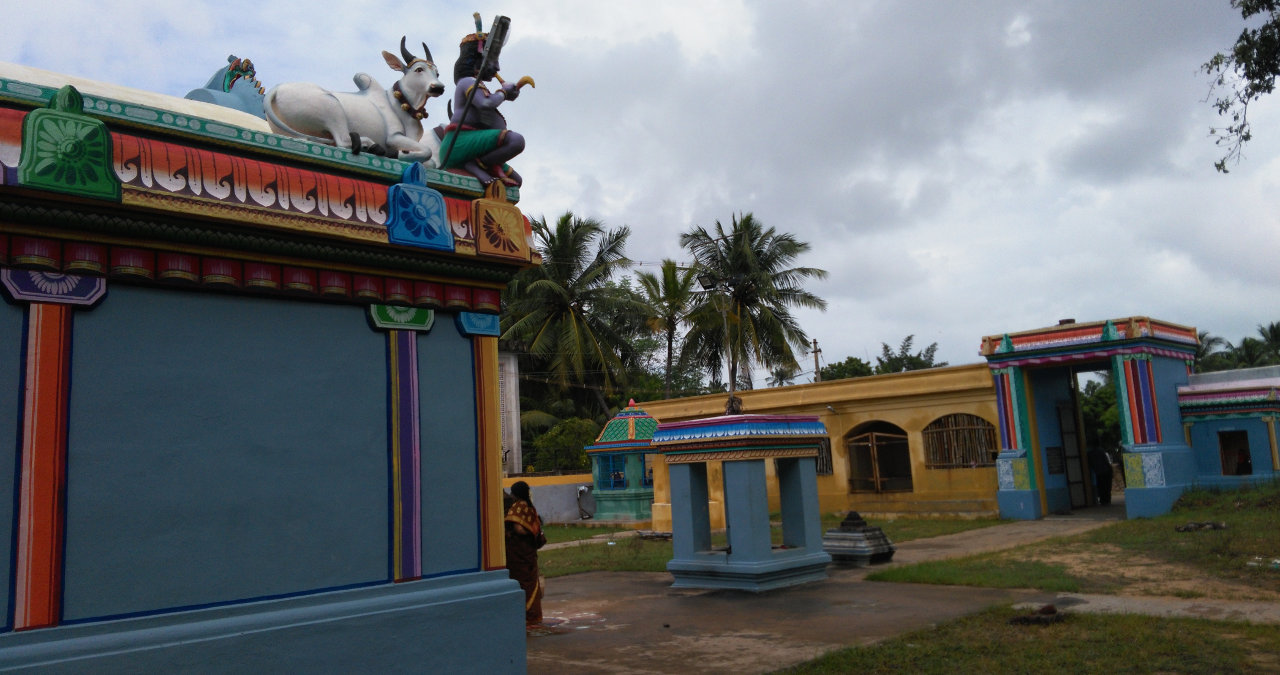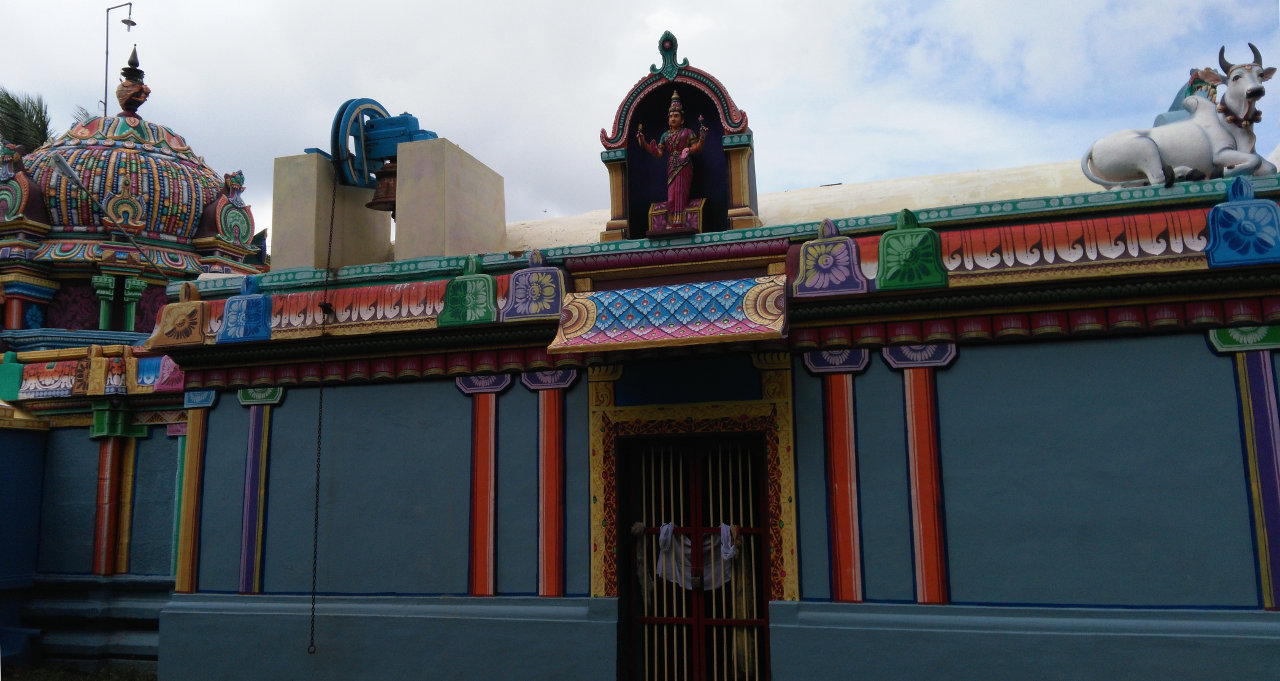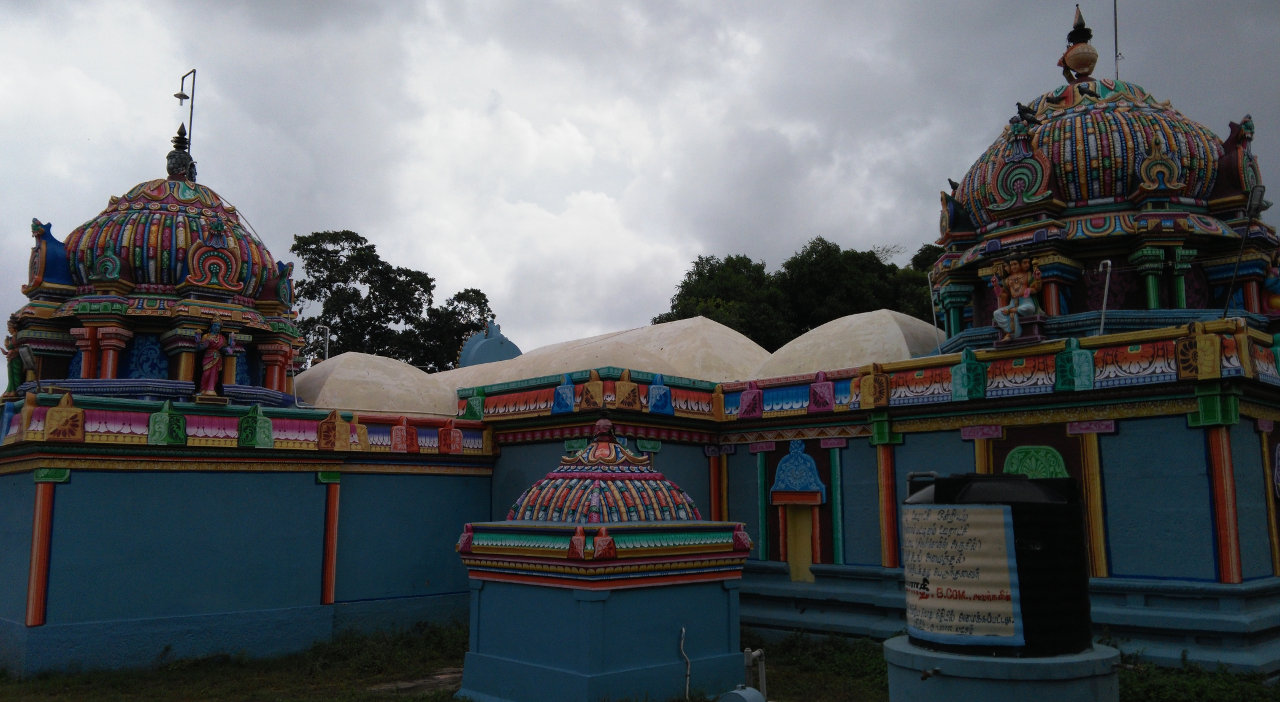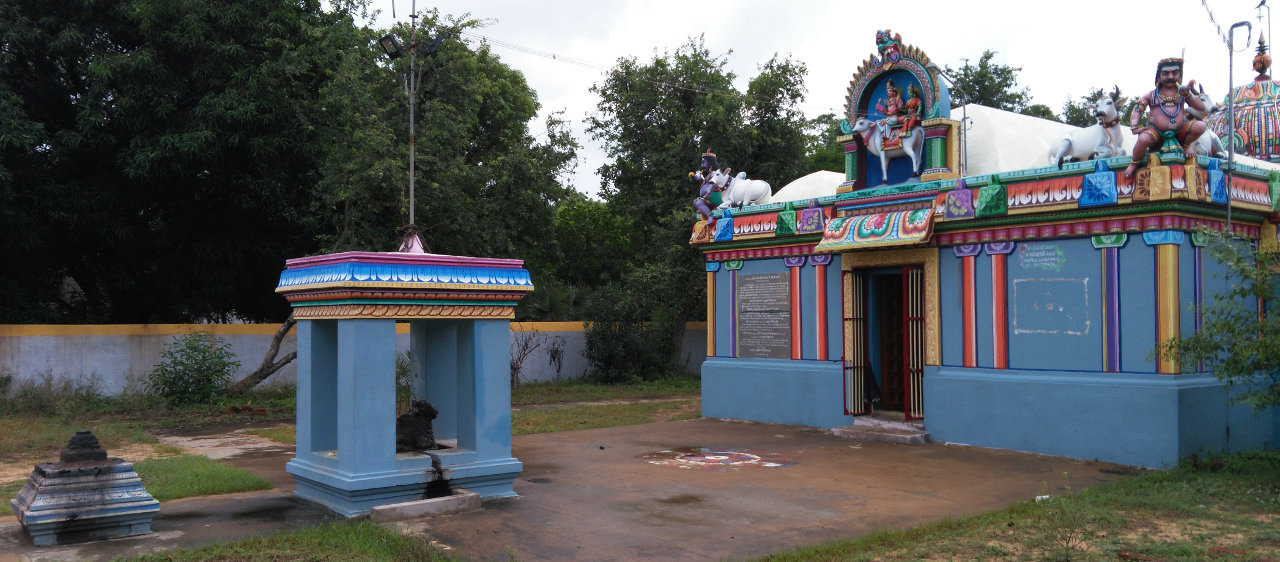 ---
Pathigam (Hymn) with English transliteration
Saint Thirugnanasambanthar visited this temple and sang this Pathigam.
Devotees visiting this temple should make it a practice to recite this Pathigam.
மடல்வரை யின்மது விம்முசோலை வயல்சூழ்ந் தழகாருங்
கடல்வரை யோதங் கலந்துமுத்தஞ் சொரியுங் கலிக்காமூர்
உடல்வரை யின்னுயிர் வாழ்க்கையாய வொருவன் கழலேத்த
இடர்தொட ராவினை யானசிந்தும் இறைவன் னருளாமே.
"Maṭalvarai yiṉmathu vim'muchōlai vayalchūzhn thazhakāruṅ
kaṭalvarai yōthaṅ kalanthumuththañ choriyuṅ kalikkāmūr
uṭalvarai yiṉṉuyir vāzhkkaiyāya voruvaṉ kazhalēththa
iṭarthoṭa rāviṉai yāṉasinthum iṟaivaṉ ṉaruḷāmē".
மைவரை போற்றிரை யோடுகூடிப் புடையே மலிந்தோதங்
கைவரை யால்வளர் சங்கமெங்கு மிகுக்குங் கலிக்காமூர்
மெய்வரை யான்மகள் பாகன்தன்னை விரும்ப உடல்வாழும்
ஐவரை யாசறுத் தாளுமென்பர் அதுவுஞ் சரதமே.
"Maivarai pōtṟirai yōṭukūṭip puṭaiyē malinthōthaṅ
kaivarai yālvaḷar saṅkameṅku mikukkuṅ kalikkāmūr
meyvarai yāṉmakaḷ pākaṉthaṉṉai virumpa uṭalvāzhum
aivarai yāsaṟuth thāḷumeṉpar athuvuñ charathamē".
தூவிய நீர்மல ரேந்திவையத் தவர்கள் தொழுதேத்தக்
காவியின் நேர்விழி மாதரென்றுங் கவினார் கலிக்காமூர்
மேவிய ஈசனை யெம்பிரானை விரும்பி வழிபட்டால்
ஆவியுள் நீங்கலன் ஆதிமூர்த்தி அமரர் பெருமானே.
"Thūviya nīrmala rēnthivaiyath thavarkaḷ thozhuthēththak
kāviyiṉ nērvizhi māthareṉtṟuṅ kaviṉār kalikkāmūr
mēviya īsaṉai yempirāṉai virumpi vazhipaṭṭāl
āviyuḷ nīṅkalaṉ āthimūrththi amarar perumāṉē".
குன்றுகள் போல்திரை உந்தியந்தண் மணியார் தரமேதி
கன்றுடன் புல்கியா யம்மனைசூழ் கவினார் கலிக்காமூர்
என்றுணர் ஊழியும் வாழுமெந்தை பெருமான் அடியேத்தி
நின்றுணர் வாரை நினையகில்லார் நீசர் நமன்தமரே.
"Kuṉtṟukaḷ pōlthirai unthiyanthaṇ maṇiyār tharamēthi
kaṉtṟuṭaṉ pulkiyā yam'maṉaichūzh kaviṉār kalikkāmūr
eṉtṟuṇar ūzhiyum vāzhumenthai perumāṉ aṭiyēththi
niṉtṟuṇar vārai niṉaiyakillār nīsar namaṉthamarē".
வானிடை வாண்மதி மாடந்தீண்ட மருங்கே கடலோதங்
கானிடை நீழலிற் கண்டல்வாழுங் கழிசூழ் கலிக்காமூர்
ஆனிட யைந்துகந் தாடினானை அமரர் தொழுதேத்த
நானடை வாம்வணம் அன்புதந்த நலமே நினைவோமே.
"Vāṉiṭai vāṇmathi māṭanthīṇṭa maruṅkē kaṭalōthaṅ
kāṉiṭai nīzhaliṟ kaṇṭalvāzhuṅ kazhichūzh kalikkāmūr
āṉiṭa yainthukan thāṭiṉāṉai amarar thozhuthēththa
nāṉaṭai vāmvaṇam aṉputhantha nalamē niṉaivōmē".
துறைவளர் கேதகை மீதுவாசம் சூழ்வான் மலிதென்றல்
கறைவள ருங்கட லோதமென்றுங் கலிக்கும் கலிக்காமூர்
மறைவள ரும்பொரு ளாயினானை மனத்தால் நினைந்தேத்த
நிறைவள ரும்புக ழெய்தும்வாதை நினையா வினைபோமே.
"Thuṟaivaḷar kēthakai mīthuvāsam chūzhvāṉ malitheṉṟal
kaṟaivaḷa ruṅkaṭa lōthameṉtṟuṅ kalikkum kalikkāmūr
maṟaivaḷa rumporu ḷāyiṉāṉai maṉaththāl niṉainthēththa
niṟaivaḷa rumpuka zheythumvāthai niṉaiyā viṉaipōmē".
கோலநன் மேனியின் மாதர்மைந்தர் கொணர்மங் கிலியத்திற்
காலமும் பொய்க்கினுந் தாம்வழுவா தியற்றுங் கலிக்காமூர்
ஞாலமுந் தீவளி ஞாயிறாய நம்பன் கழலேத்தி
ஓலமி டாதவர் ஊழியென்று உணர்வைத் துறந்தாரே.
"Kōlanaṉ mēṉiyiṉ mātharmainthar koṇarmaṅ kiliyaththiṟ
kālamum poykkiṉun thāmvazhuvā thiyatṟuṅ kalikkāmūr
gñālamun thīvaḷi gñāyiṟāya nampaṉ kazhalēththi
ōlami ṭāthavar ūzhiyeṉtṟu uṇarvaith thuṟanthārē".
ஊரர வந்தலை நீள்முடியான் ஒலிநீர் உலகாண்டு
காரர வக்கடல் சூழவாழும் பதியாங் கலிக்காமூர்
தேரர வல்குல்அம் பேதையஞ்சத் திருந்து வரைபேர்த்தான்
ஆரர வம்பட வைத்தபாதம் உடையான் இடமாமே.
"Ūrara vanthalai nīḷmuṭiyāṉ olinīr ulakāṇṭu
kārara vakkaṭal chūzhavāzhum pathiyāṅ kalikkāmūr
thērara valkulam pēthaiyañchath thirunthu varaipērththāṉ
ārara vampaṭa vaiththapātham uṭaiyāṉ iṭamāmē".
அருவரை யேந்திய மாலும்மற்றை அலர்மேல் உறைவானும்
இருவரும் அஞ்ச எரியுருவாய் எழுந்தான் கலிக்காமூர்
ஒருவரை யான்மகள் பாகன்தன்னை உணர்வால் தொழுதேத்தத்
திருமரு வுஞ்சிதை வில்லைச்செம்மைத் தேசுண் டவர்பாலே.
"Aruvarai yēnthiya mālum'matṟai alarmēl uṟaivāṉum
iruvarum añcha eriyuruvāy ezhunthāṉ kalikkāmūr
oruvarai yāṉmakaḷ pākaṉthaṉṉai uṇarvāl thozhuthēththath
thirumaru vuñchithai villaichchem'maith thēsuṇ ṭavarpālē".
மாசு பிறக்கிய மேனியாரும் மருவுந் துவராடை
மீசு பிறக்கிய மெய்யினாரும் அறியார் அவர்தோற்றங்
காசினி நீர்த்திரள் மண்டியெங்கும் வளமார் கலிக்காமூர்
ஈசனை யெந்தைபி ரானையேத்தி நினைவார் வினைபோமே.
"Māsu piṟakkiya mēṉiyārum maruvun thuvarāṭai
mīsu piṟakkiya meyyiṉārum aṟiyār avarthōtṟaṅ
kāsiṉi nīrththiraḷ maṇṭiyeṅkum vaḷamār kalikkāmūr
īsaṉai yenthaipi rāṉaiyēththi niṉaivār viṉaipōmē".
ஆழியுள் நஞ்சமு தாரவுண்டன் றமரர்க் கமுதுண்டு
ஊழிதொ றும்முள ராவளித்தான் உலகத் துயர்கின்ற
காழியுள் ஞானசம் பந்தன்சொன்ன தமிழாற் கலிக்காமூர்
வாழி யெம்மானை வணங்கியேத்த மருவா பிணிதானே.
"Āzhiyuḷ nañchamu thāravuṇṭaṉ tṟamarark kamuthuṇṭu
ūzhitho ṟum'muḷa rāvaḷiththāṉ ulakath thuyarkiṉtṟa
kāzhiyuḷ gñāṉasam banthaṉchoṉṉa tamizhāṟ kalikkāmūr
vāzhi yem'māṉai vaṇaṅkiyēththa maruvā piṇithāṉē".