Visited on: 1st September, 2016 and 10th December, 2016
Location
Thiru Sirukudi is situated at a distance of about 5 kms from Karkathi. Karkathi is 28 kms away from Kumbakonam on the Kumbakonam to Karaikkal road.
From Peralam, Sirugudi is about 9 kms. Peralam is on the Mayiladuthurai to Thiruvarur route.
This temple is hardly a kilometre away from Thiruppampuram temple.
Other Paadal Petra Shiva Sthalams near this place are –
Thiruppampuram, Thiruvizhimazhalai, Vanniyur, Ambal Maahalam, Ambar Perunthirukkoil, Thirumeyechur and Thirumeyechur Ilangkoil.
General Information
| | |
| --- | --- |
| Moolavar | Sri Sukshumapureeswarar, Sri Mangalanathar, Sri Chirukudiesar, Sri Kalyanasundaresar |
| Ambal | Sri Mangalanayaki |
| Theertham (Holy water) | Surya Theertham / Mangala Theertham |
| Sthala Vriksham (Sacred Tree) | Vilvam tree |
| Pathigam (Hymn) rendered by | Saint Thirugnanasambanthar |
This is one of the 276 Devara Paadal Petra Shiva Sthalams and 60th Shiva Sthalam in Chozha Nadu on Southern bank of the river Cauveri (Thenkarai).
Lord Shiva in this temple is a Daiviga (Dhivya) lingam.
This east facing temple's main tower (Rajagopuram) has 3-tiers and it has a single corridor.
There is no flag post (Dwajasthambam) in this temple.
The last consecration ceremony (Kumbabishekam) took place on 22.05.2013.
History of the Temple
The historical name of this place is Sukshamapuri.
It is believed that this is the birth place of Pannan, a landlord and a friend of Chola King Killi Valavan. Pannan is famous for his philanthropic activities. He has been praised in the Sangam age literary works – "Akananuru" and "Purananuru".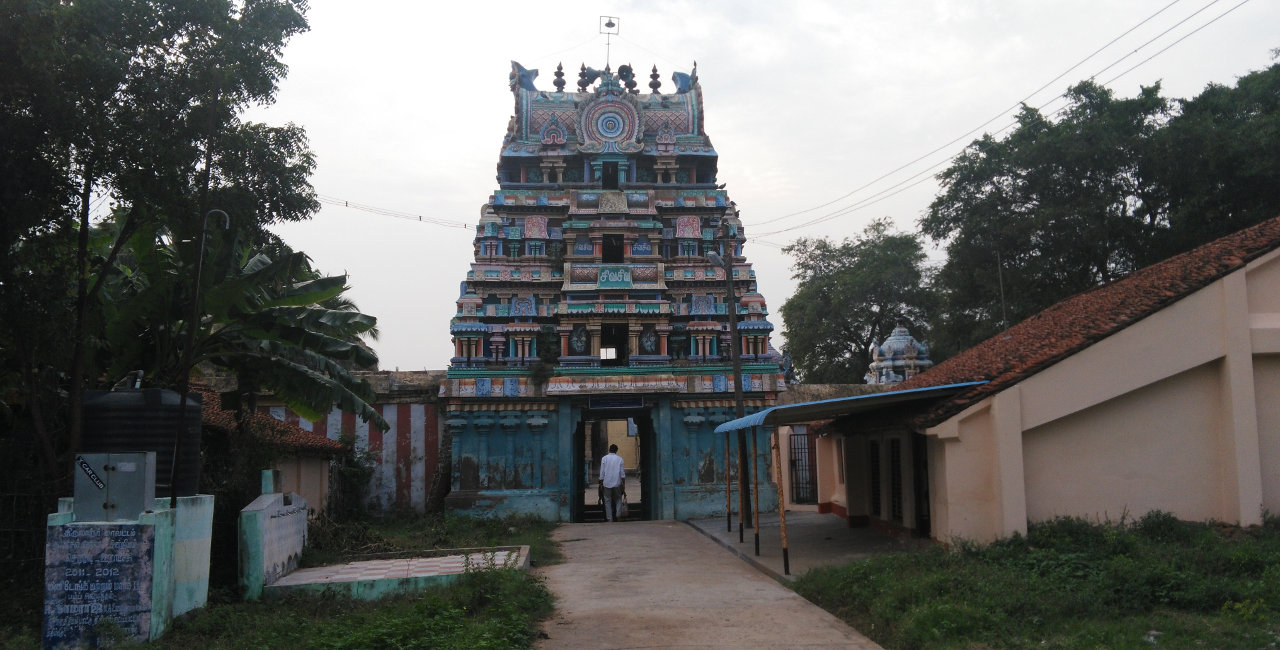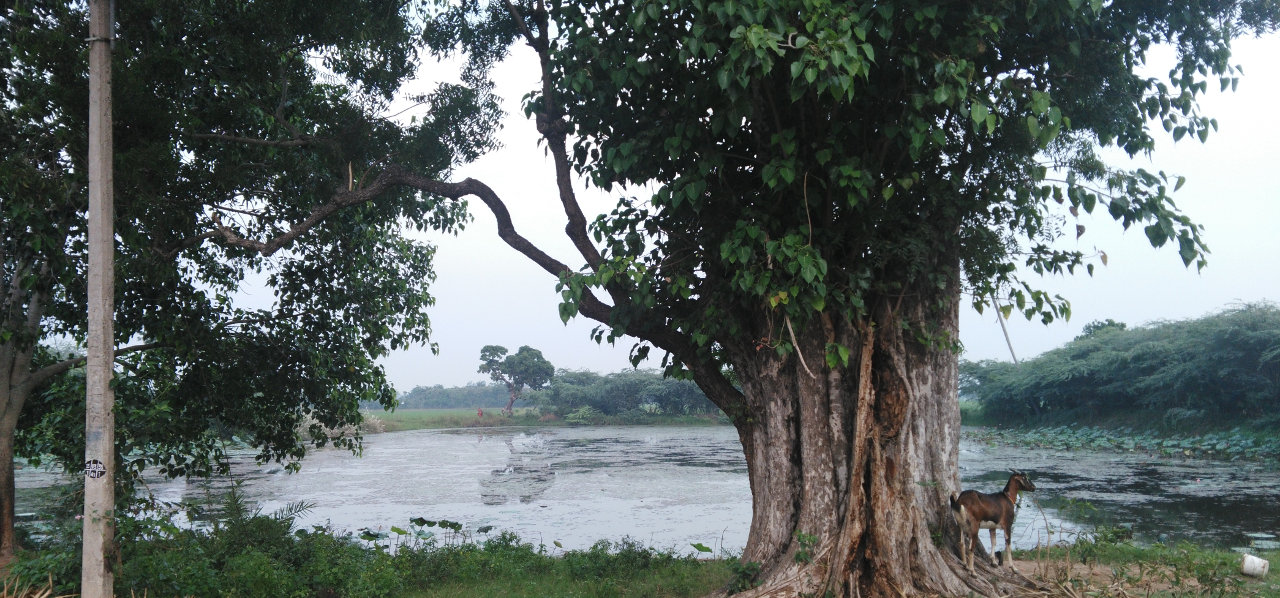 Legend
According to the Sthala puranam, the legend of this temple is as follows. Once Lord Shiva and Goddess Parvathy were playing a game of dice (Sokkattan) in the Mount Kailash. It is believed that Goddess Parvathy won the game and the lord instantly disappeared. Worried about his whereabouts, Goddess Parvathy visited this place, created the Mangala Theertham, created a lingam with a handful of earth, installed it here and worshipped it.
Lord Shiva gave dharisanam to her and took her back to Kailash. Since goddess created a lingam with a handful of earth, this place is known as Siru pidi (meaning handful in Tamil). This has now been changed to Sirukudi. The hand impressions of Goddess Parvathy can be seen on the lingam during Aarthi. The lord here is also known as "Sri Sukshmapureeswarar" meaning the one who disappeared magically.
It is believed that Garudan, Gantharvas, Sage Vishvamitra and Ankarakan (Planet Mars) have worshipped Lord Shiva in this temple.
Deities in the temple
Shrines and idols of lords Mangalavinayakar, Murugan with his consorts, Dakshinamurthy, Mahavishnu, Brahma, Arthanareeswarar, Navagraham, Saint Thirugnanasambanthar, Suryan, Bairavar and Chandikeswarar can be seen in the corridors.
There is a separate shrine in this temple for Ankarakan.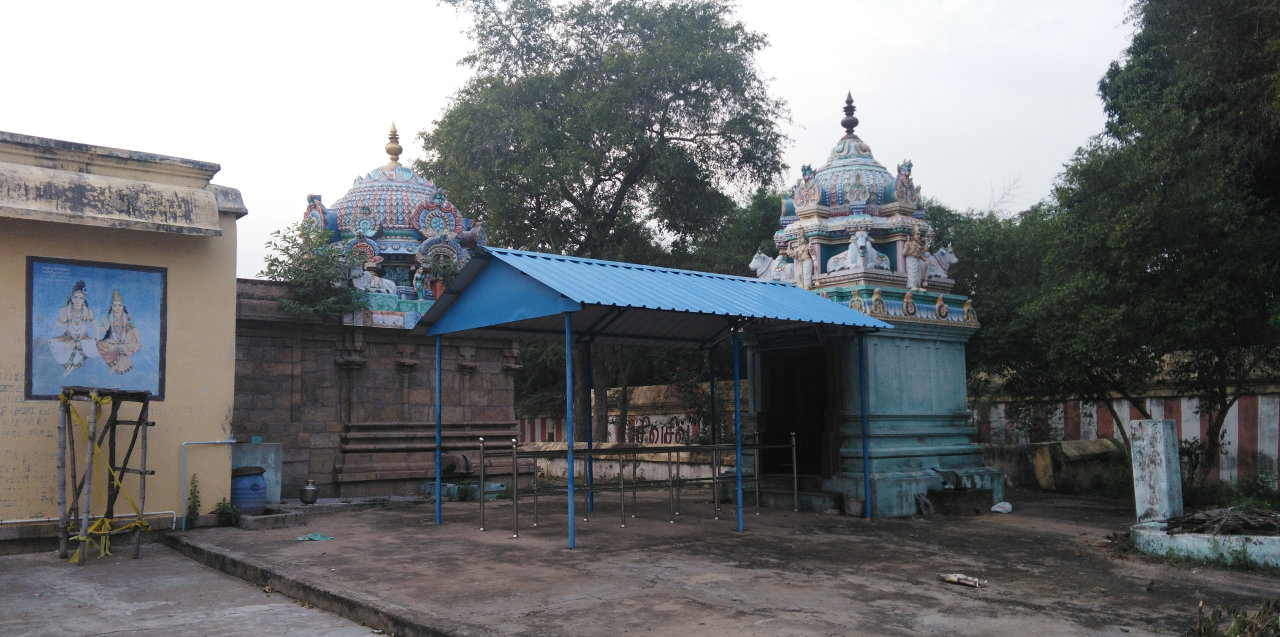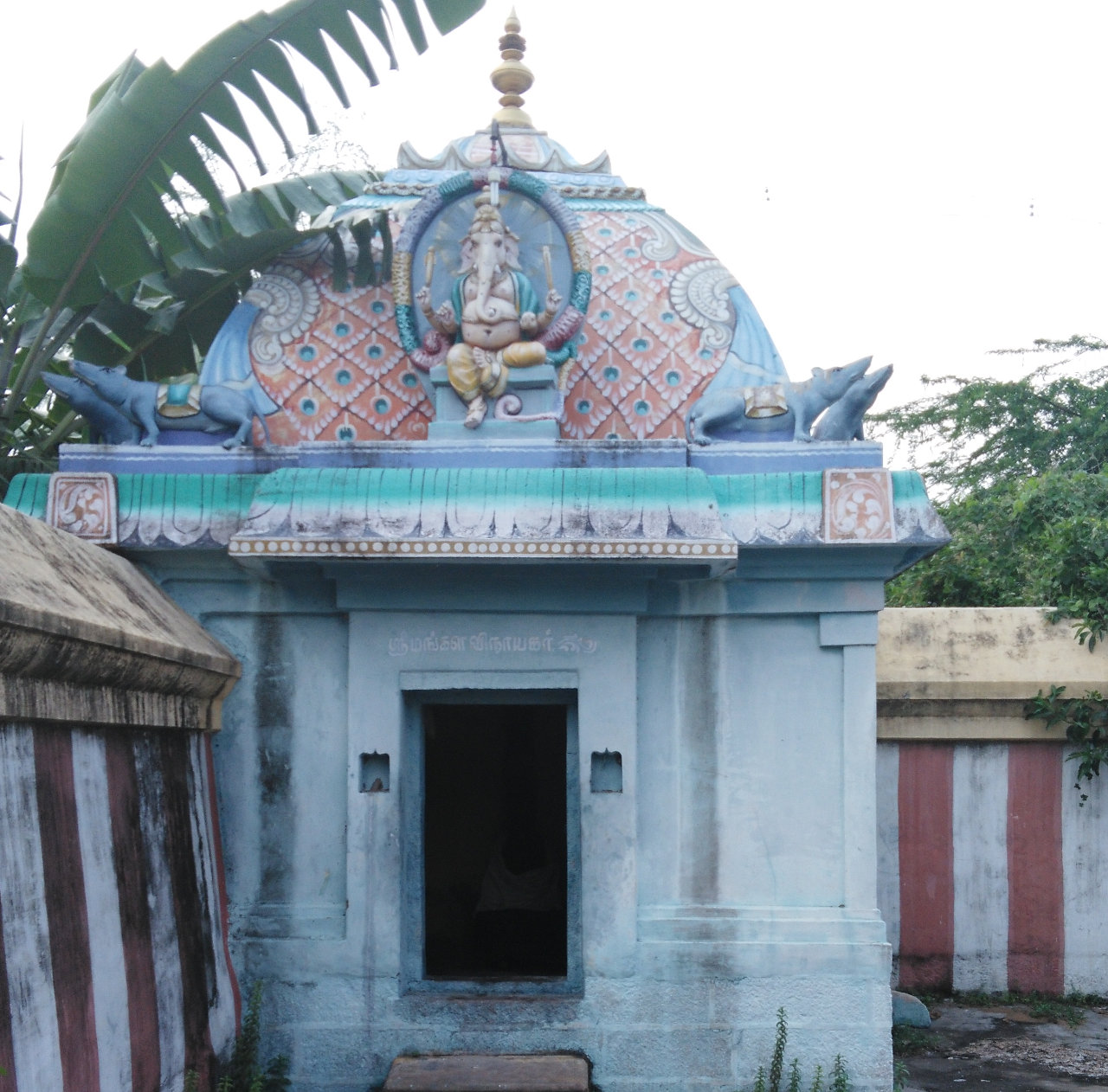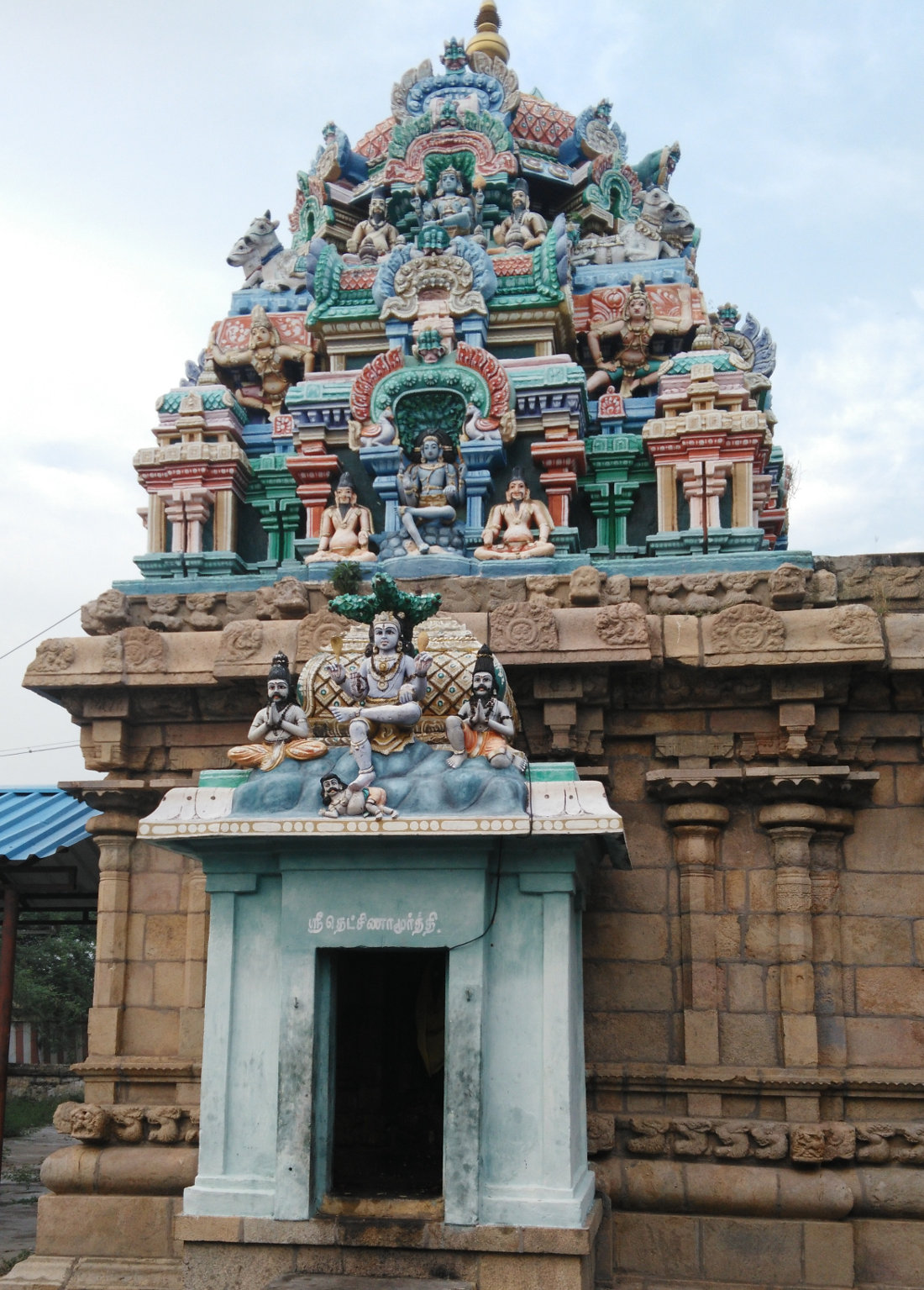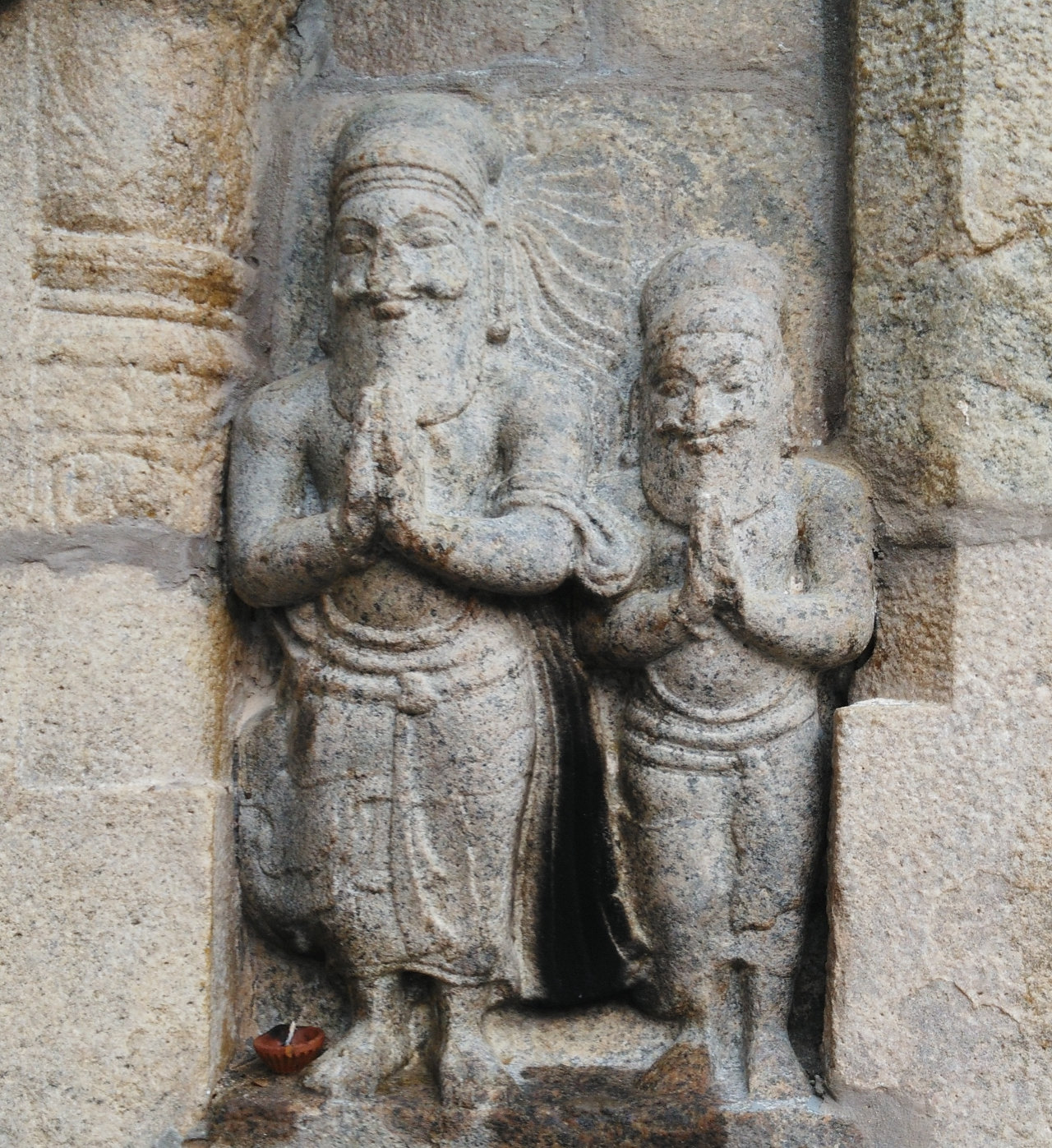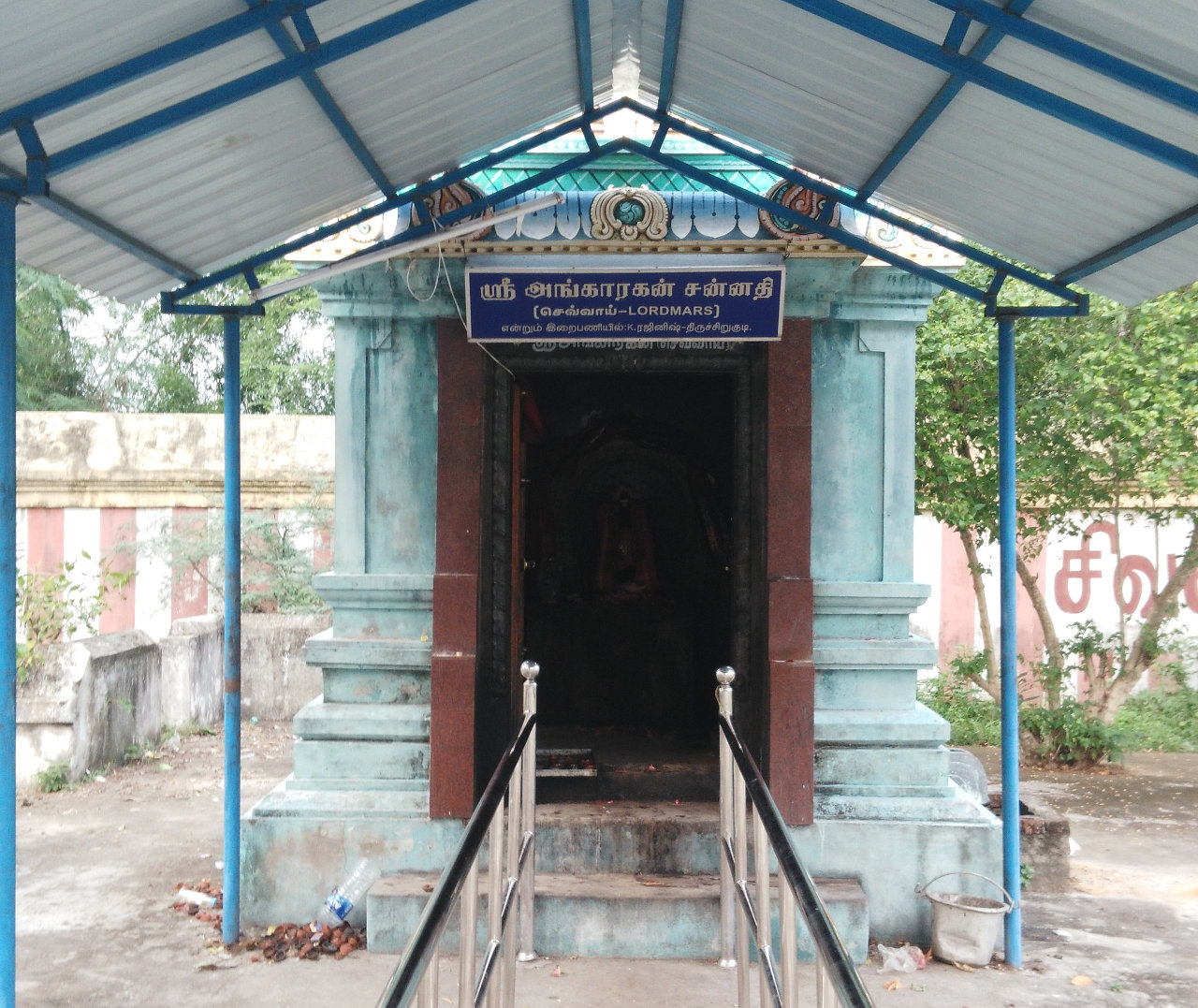 Salient Features
The procession idol of Lord Shiva portrays him as "Santosha Alinganamoorthy" – the "lord who embraced the goddess with joy". This idol looks very beautiful and is unique to this temple.
Since the lingam is made of earth, the abishekam is performed only to the base (Aavudayar). Only "Punugu" is applied to the lingam once in a while. The lingam is always covered with metal sheet ("kavasam").
In this temple, along with the Navagraham, idols of Saint Thirugnanasambanthar, Lord Bairavar and Lord Vinayakar are installed. This is a rare combination. Interestingly, Sambanthar sang the "Kolaru Pathigam" here. It is a prayer to Lord Shiva and Goddess Parvathy to seek relief from the adverse aspects of planets.
In the first stanza of his hymn, saint Thirugnanasambanthar mentions that those who worship the lord here will attain salvation and will get a place in the lord's abode. In his 11th stanza he mentions that this temple attracts a lot of honeybees ("Thenamar Pozhilani Sirugudi mevia…. "). Interestingly, we can still see beehives in this temple's hall.
Greatness of this temple
This is a parikara sthalam for doshas related to Planet Mars ("Sevvai dosham" - Ankaraka dosham). Devotees believe that worshiping the lord here would remove obstacles from their marriage proposals. It is also believed that worshiping the Lord Shiva here will result in the reunion of estranged couples.
Important Festivals
Some of the important festivals celebrated in this temple are -
Vinayakar Chaturthi in the Tamil month of Aavani (Aug-Sept),
Tirukarthikai in the Tamil month of Karthikai (November-December),
Thiruvadhirai in the Tamil month of Markazhi (Dec-Jan),
Maasi Maham and Maha Shivrathri in the Tamil month of Maasi (Feb-Mar).
Pradosham is also observed regularly.
Temple Timings
From 06.30 AM to 11.30 AM and 04.30 PM to 07.30 PM.
Temple Address
Sri Sukshumapureeswarar Temple,
Thiru Sirukudi,
Sarabojirajapuram Post,
Poonthottam Via,
Kudavasal Taluk,
Thiruvarur District,
Tamil Nadu – 609 503.
Tele: +91 4366 291 646.
The temple priest Shri V.Muthusubramaniya Gurukkal can be contacted at +91 9585160660.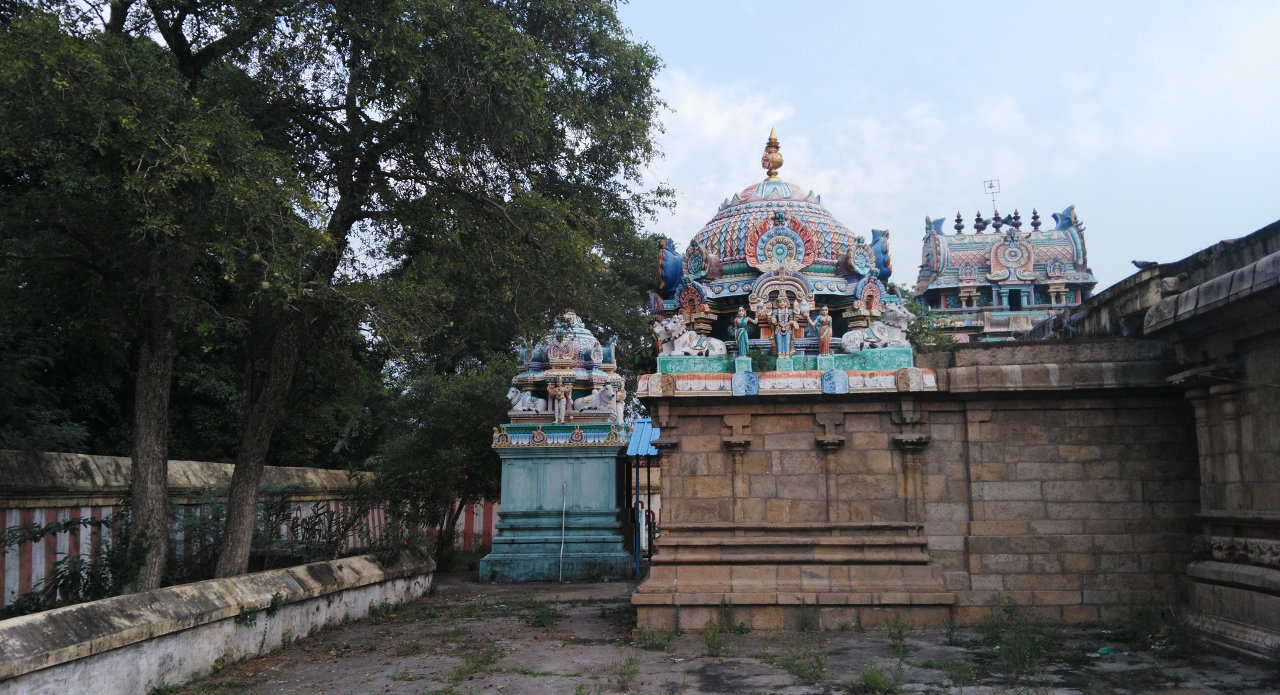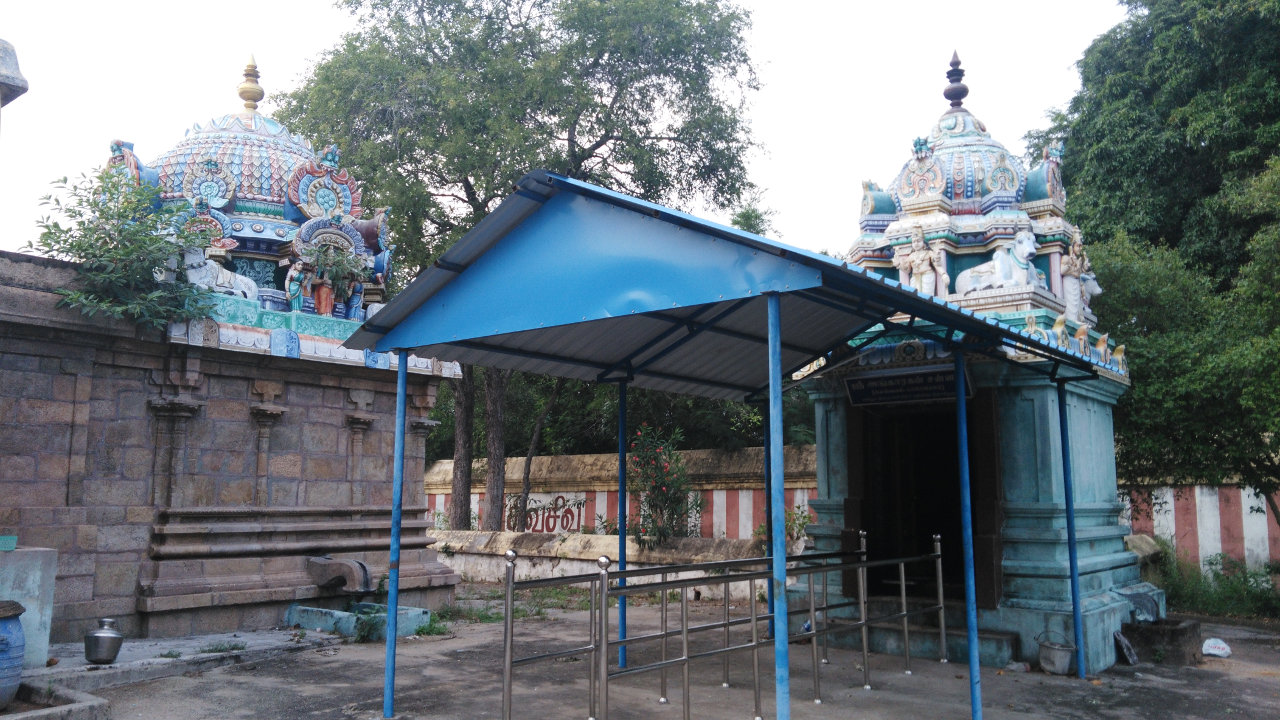 ---
Pathigam (Hymn) with English transliteration
Saint Thirugnanasambanthar visited this temple and sang this Pathigam.
Devotees visiting this temple should make it a practice to recite this Pathigam.
திடமலி மதிலணி சிறுகுடி மேவிய
படமலி அரவுடை யீரே
படமலி அரவுடை யீருமைப் பணிபவர்
அடைவதும் அமருல கதுவே.
"Thiṭamali mathilaṇi siṟukudi mēviya
paṭamali aravuṭai yīrē
paṭamali aravuṭai yīrumaip paṇipavar
aṭaivathum amarula kathuvē".
சிற்றிடை யுடன்மகிழ் சிறுகுடி மேவிய
சுற்றிய சடைமுடி யீரே
சுற்றிய சடைமுடி யீரும தொழுகழல்
உற்றவர் உறுபிணி யிலரே.
"Sitṟiṭai yuṭaṉmakizh siṟukudi mēviya
chutṟiya saṭaimuṭi yīrē
chutṟiya saṭaimuṭi yīruma thozhukazhal
utṟavar uṟupiṇi yilarē".
தெள்ளிய புனலணி சிறுகுடி மேவிய
துள்ளிய மானுடை யீரே
துள்ளிய மானுடை யீரும தொழுகழல்
உள்ளுதல் செயநலம் உறுமே.
"Theḷḷiya puṉalaṇi siṟukudi mēviya
thuḷḷiya māṉuṭai yīrē
thuḷḷiya māṉuṭai yīruma thozhukazhal
uḷḷuthal seyanalam uṟumē".
செந்நெல வயலணி சிறுகுடி மேவிய
ஒன்னலர் புரமெரித் தீரே
ஒன்னலர் புரமெரித் தீருமை யுள்குவார்
சொன்னலம் உடையவர் தொண்டே.
"Sennela vayalaṇi siṟukudi mēviya
oṉṉalar puramerith thīrē
oṉṉalar puramerith thīrumai yuḷkuvār
soṉṉalam uṭaiyavar thoṇṭē".
செற்றினின் மலிபுனல் சிறுகுடி மேவிய
பெற்றிகொள் பிறைமுடி யீரே
பெற்றிகொள் பிறைமுடி யீருமைப் பேணிநஞ்
சற்றவர் அருவினை யிலரே.
"Setṟiṉiṉ malipuṉal siṟukudi mēviya
petṟikoḷ piṟaimuṭi yīrē
petṟikoḷ piṟaimuṭi yīrumaip pēṇinañ
chatṟavar aruviṉai yilarē".
செங்கயல் புனலணி சிறுகுடி மேவிய
மங்கையை இடமுடை யீரே
மங்கையை இடமுடை யீருமை வாழ்த்துவார்
சங்கைய திலர்நலர் தவமே.
"Seṅkayal puṉalaṇi siṟukudi mēviya
maṅkaiyai iṭamuṭai yīrē
maṅkaiyai iṭamuṭai yīrumai vāzhththuvār
saṅkaiya thilarnalar thavamē".
செறிபொழில் தழுவிய சிறுகுடி மேவிய
வெறிகமழ் சடைமுடி யீரே
வெறிகமழ் சடைமுடி யீருமை விரும்பிமெய்ந்
நெறியுணர் வோருயர்ந் தோரே.
"Seṟipozhil thazhuviya siṟukudi mēviya
veṟikamazh saṭaimuṭi yīrē
veṟikamazh saṭaimuṭi yīrumai virumpimeyn
neṟiyuṇar vōruyarn thōrē".
திசையவர் தொழுதெழு சிறுகுடி மேவிய
தசமுகன் உரநெரித் தீரே
தசமுகன் உரநெரித் தீருமைச் சார்பவர்
வசையறும் அதுவழி பாடே.
"Thisaiyavar thozhuthezhu siṟukudi mēviya
thasamukaṉ uranerith thīrē
thasamukaṉ uranerith thīrumaich chārpavar
vasaiyaṟum athuvazhi pāṭē".
செருவரை வயலமர் சிறுகுடி மேவிய
இருவரை அசைவுசெய் தீரே
இருவரை அசைவுசெய் தீருமை யேத்துவார்
அருவினை யொடுதுய ரிலரே.
"Seruvarai vayalamar siṟukudi mēviya
iruvarai asaivusey thīrē
iruvarai asaivusey thīrumai yēththuvār
aruviṉai yoṭuthuya rilarē".
செய்த்தலை புனலணி சிறுகுடி மேவிய
புத்தரோ டமண்புறத் தீரே
புத்தரோ டமண்புறத் தீருமைப் போற்றுதல்
பத்தர்கள் தம்முடைப் பரிசே.
"Seyththalai puṉalaṇi siṟukudi mēviya
puththarō ṭamaṇpuṟath thīrē
puththarō ṭamaṇpuṟath thīrumaip pōtṟuthal
paththarkaḷ tham'muṭaip parisē".
தேனமர் பொழிலணி சிறுகுடி மேவிய
மானமர் கரமுடை யீரே
மானமர் கரமுடை யீருமை வாழ்த்திய
ஞானசம் பந்தன தமிழே.
"Thēṉamar pozhilaṇi siṟukudi mēviya
māṉamar karamuṭai yīrē
māṉamar karamuṭai yīrumai vāzhththiya
gñāṉasam banthaṉa thamizhē".