Visited on: 30th March, 2018.
Location
Though the historical name of this place is Pazhayarai Vadathali, now there are two separate villages – one called Pazhayarai and the other called Vadathali. Both of them are approximately one kilometre apart. The Devara Paadal Petra Sthalam is located in Pazhayarai. In Vadathali, there is a separate temple. Saint Thirunavukkarasar (Appar), while rendering his hymn, combined these two temples.
Pazhayarai is situated at a distance of about 12 kms from Kumbakonam on the Kumbakonam – Patteswaram – Muzhaiyur - Avoor route. It is about 2 kms from Patteeswaram.
Other Devara Paadal Petra Shiva Sthalams near this place are –Sakthimutram, Patteeswaram, Thiruvalanchuzhi, Kottaiyur, Innambur, Thiruppurambiam, Thiruvaikavur, Thiruvisayamangai, Kumbakonam (3 temples – Kudamukku, Keezhkkottam and Karonam).
Vadathali temple
Sri Vimalanayaki along with Sri Dharmapureeswarar grace the temple at Vadathali. This temple is also known as Vallalar Koil and it is considered as one of the "Vaippu Sthalams". This is a Madakkoil built by king Kochengat Cholan.
It is believed that once this temple was closed and buried under the ground by some Jains (Samanar). When Saint Thirunavukkarasar (Appar) had come to Pazhayarai, he realized that something was unusual about Vadathali. When he enquired the local people, he was told that the temple in the village was hidden under the ground by the Jains. He then started fasting ("Sathyagraham") here in order to find the location of the Shivalingam. It is believed that Lord Shiva came in the dream of the local Chola king Manimudi Devan and told him to assist Appar. The temple and the Shivalingam were found and re-established for worship.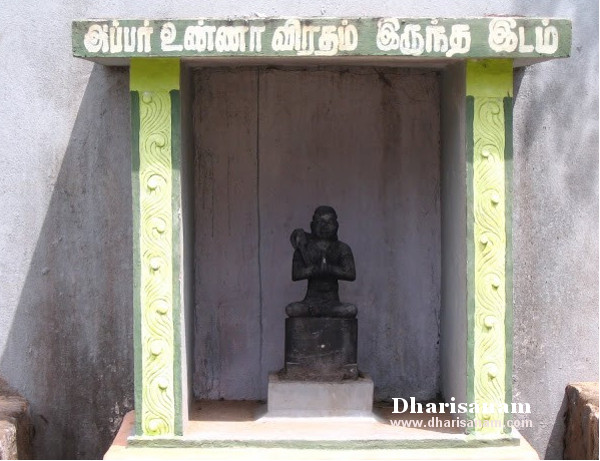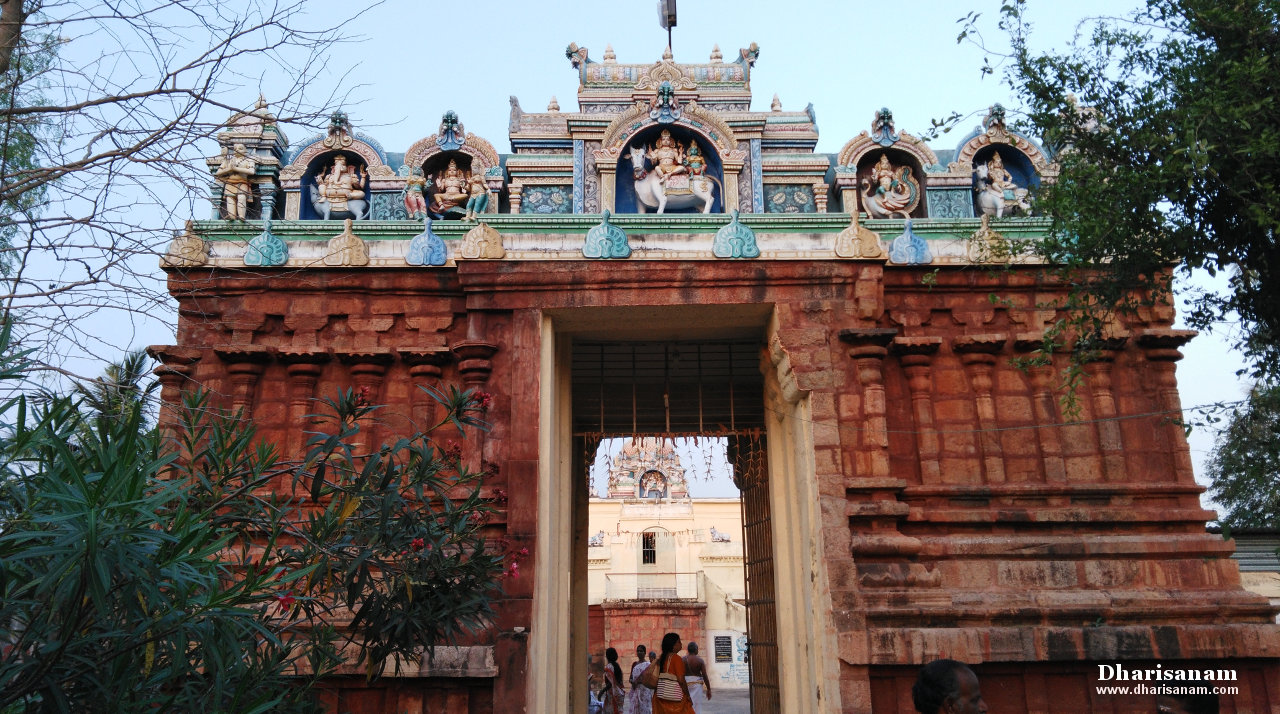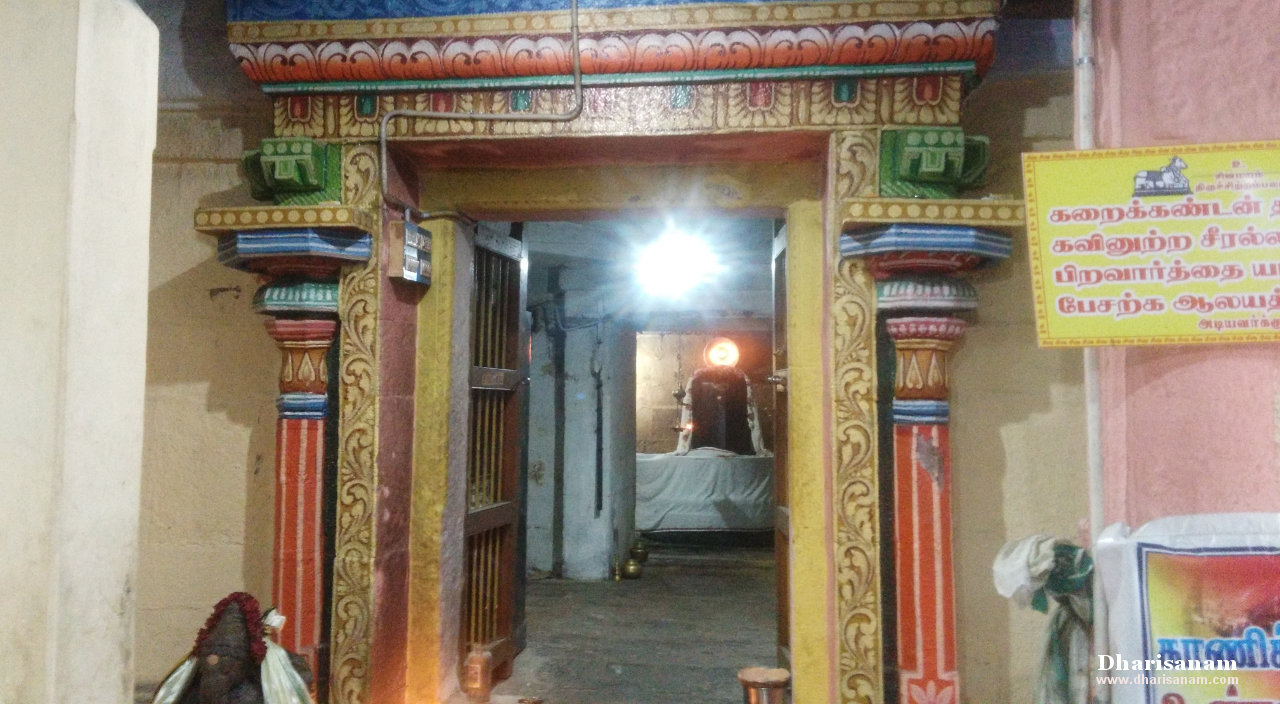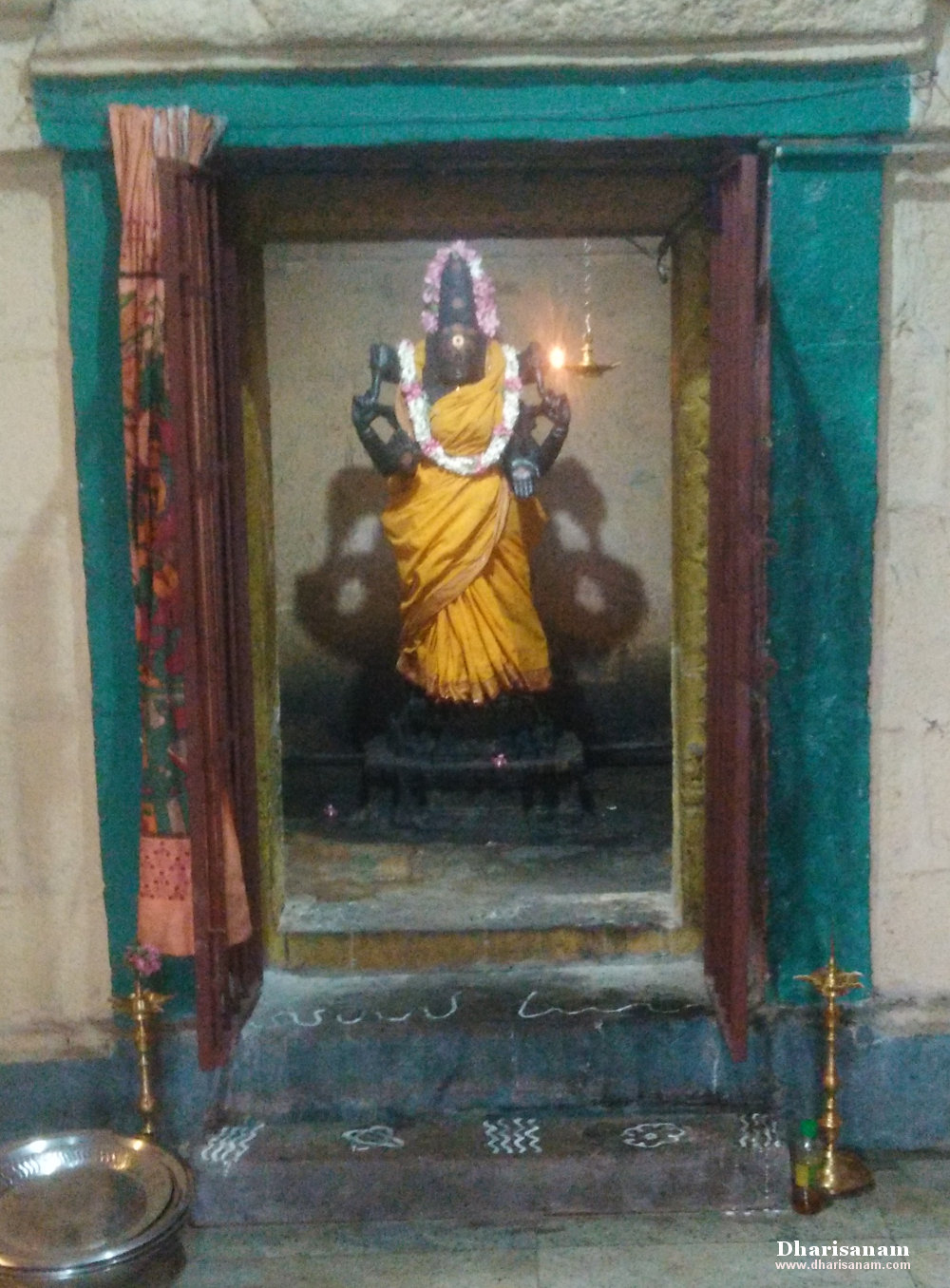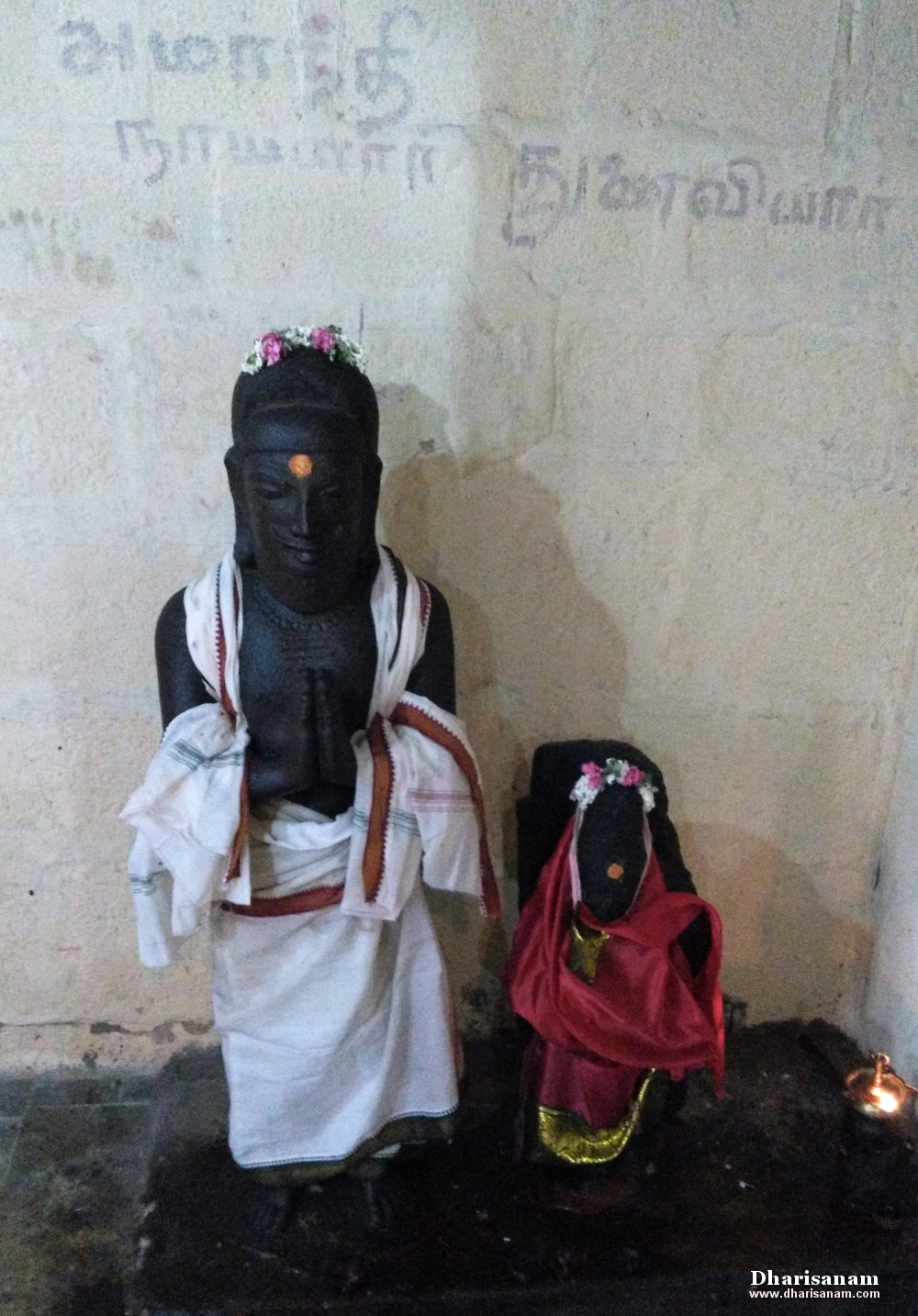 Pazhayarai Temple
General Information
| | |
| --- | --- |
| Moolavar | Sri Somanathar, Sri Somesar |
| Ambal | Sri Somakamalambigai |
| Theertham (Holy water) | Soma Theertham, Jatayu Theertham, Indra Theertham, Kamala Theertham |
| Sthala Vriksham (Sacred Tree) | Amla tree |
| Pathigam (Hymn) rendered by | Saint Thirunavukarasar (Appar) |
This is one of the 276 Devara Paadal Petra Shiva Sthalams and 24th Shiva Sthalam on the Southern bank of the river Cauveri in Chozha Nadu (Thenkarai).
Lord Shiva in this temple is a Swayambumurthi (self-manifested).
This is the birthplace of Amarneethi Nayanar, one of the 63 Nayanmars.
This is the birthplace of Mangayarkkarasiyar, one of the 63 Nayanmars.
This east facing temple has two corridors and its main tower (Rajagopuram) is in a dilapidated /unfinished condition. Its second entrance tower has 3-tiers.
There is no flag post ("dhwajasthambam") in this temple.
The last consecration ceremony (Kumbabishekam) took place on 29.01.2016.
History of the Temple
In ancient times, this place was a part of the Chola capital and many Chola kings ruled from Pazhayarai. During that time, Pazhayarai was a big city that spanned 8 kms in length and 3.5 kms in width. It consisted of many villages such as Patteswaram, Muzhayur, Udayalur, Shakti Mutram, Cholan Maligai (where the king's palace was situated), Darasuram and Ramanathan Koil. Pazhaiyarai was divided into four blocks. These are – Vadathali, Metrali, Keezh Thali and Then Thali. This temple is located at Keezh Thali.
This village is bounded by the river Mudikondan on the south and the river Thirumalairayan on the north. The river Mudikondan is also known as Pazhaiyaru and hence this place gets the name Pazhayarai. The village on the river's northern side is known as Pazhayarai Vadathali ("vada" means north and "thali" means temple in Tamil).
During Gnanasambanthar's period, Pazhayarai housed the following the battle camps of the Cholas - Aariyap padaiyur, Pampab padaiyur, Manap padaiyur and Puthup padaiyur.
This place has had different names throughout history. It was called Pazhaiyarai Nagar in the 7th century, Nandhipuram in the 8th century, Pazhaiyarai Nandhipuram in the 9th and 10th centuries, Mudikonda Cholapuram in the 11th century and Rajarajapuram in the 12th century.
This temple was believed to be built by Chola King Aditya and was renovated by Chola King Raja Rajan. Raja Raja's birth name is Arunmozhi Devan and hence this place is also known as Arunmozhi Thevecharam.
This temple is under the administrative control of the Hindu Religious and Charitable Endowments Department of Government of Tamil Nadu (HR&CE).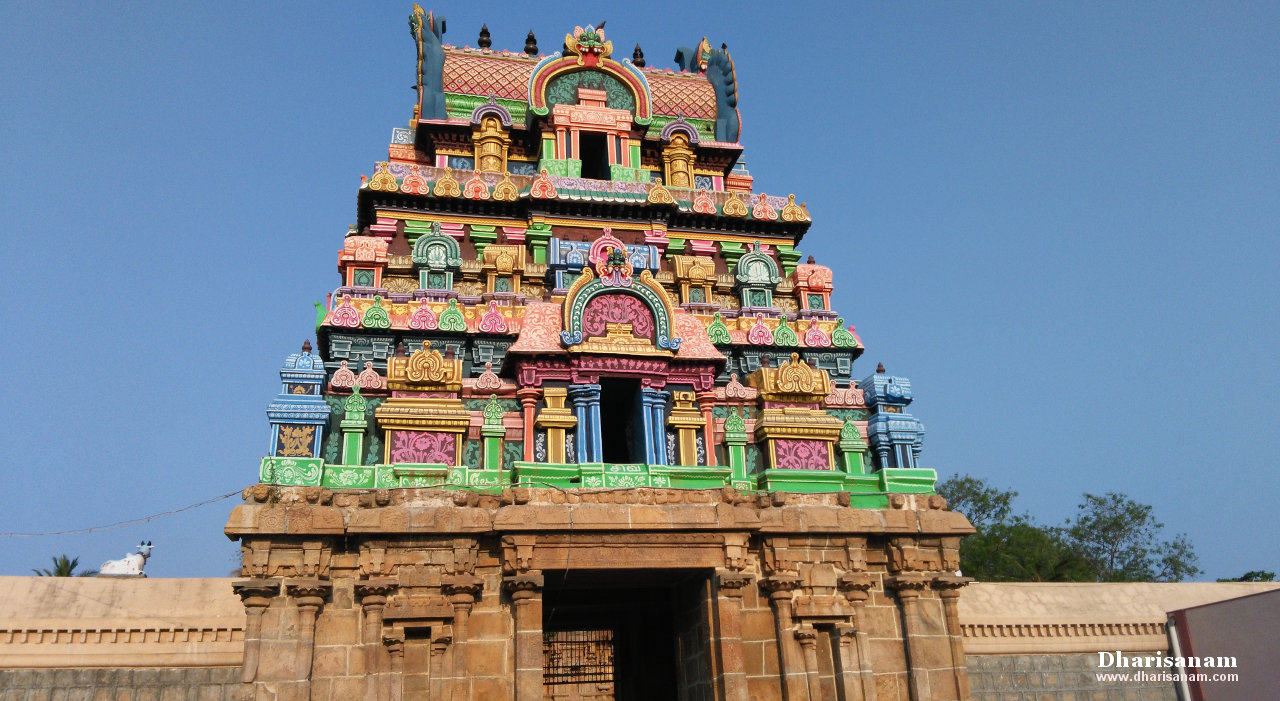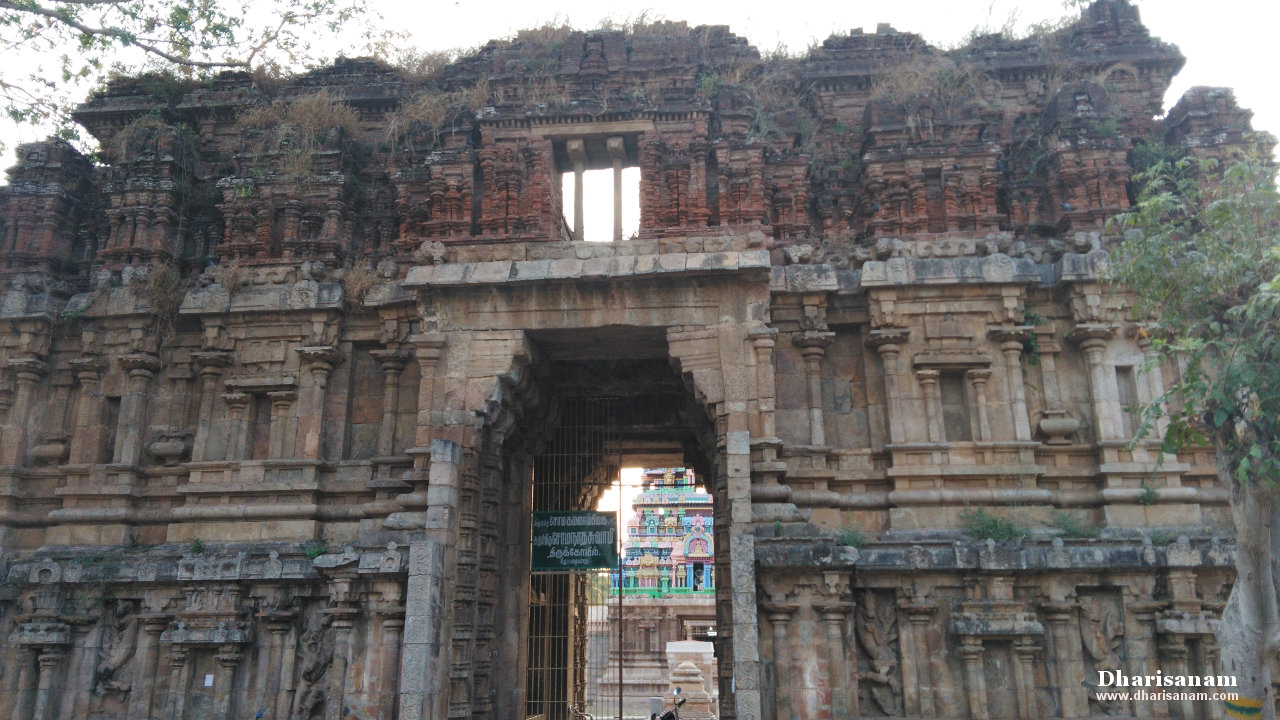 Legend
According to legend, Garudan, the eagle mount of Lord Mahavishnu, wanted to release his mother from slavery. In order to do so he had to bring a pot full of nectar from Lord Indhra. When he was on his way to deliver the pot of nectar, he was attacked by some demons (asuras). Three drops of nectar fell down at this place and these drops turned into a lingam, a goddess and the Theertham. Garudan had a dip in this Theertham and worshiped Lord Shiva here. He made a pond here which is known as "Jatayu Theertham".
It is believed that Chandran created a theertham here and worshiped the lord. He was relieved from his curses and regained his strength and brightness. The theertham created by him is known as Soma Theertham. The lord gets the name Soma Nathar and the goddess is praised as Soma Kamala Nayagi ("Soma" is another name for Chandran).
It is believed that Chandran, the serpent king Aadhi Seshan, Garudan, Ganga and Kamadenu's daughter Vimali have worshipped the lord here.
Deities in the temple
Other than the shrines of Lord Shiva and Goddess Parvathy, shrines and idols of Vinayakar (4), Murugan with his consorts, Bairavar, Suryan, Chandran, Nalvar with Sekkizhar, Mangayarkarasi, Kailasa Nathar, Navagraham and Chandikeswarar can be seen in the main hall and the corridors.
In the "koshtam" (place surrounding the sanctum sanctorum), idols of Dakshinamurthy, Ardhanareeswarar with Vishnu and Brahma on his either side and Veera Durgai can be seen.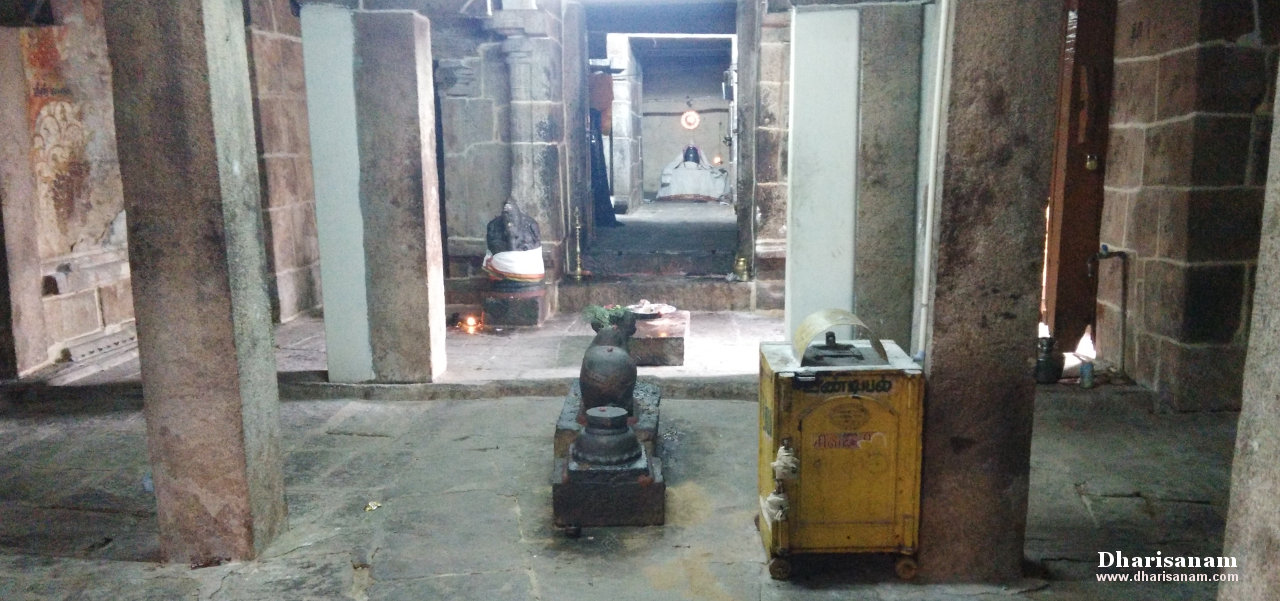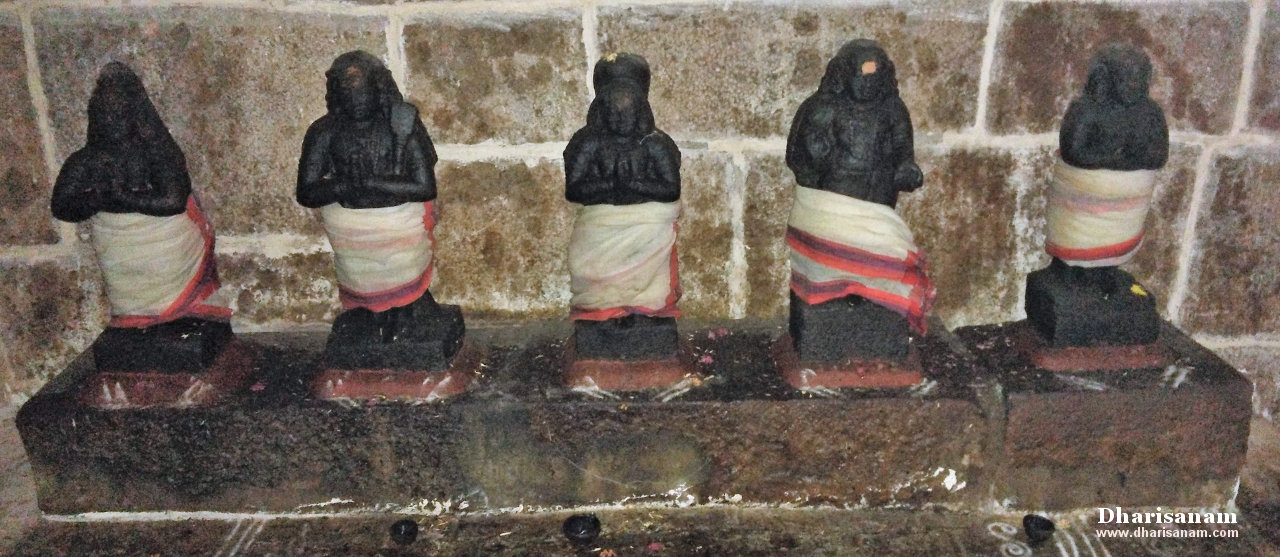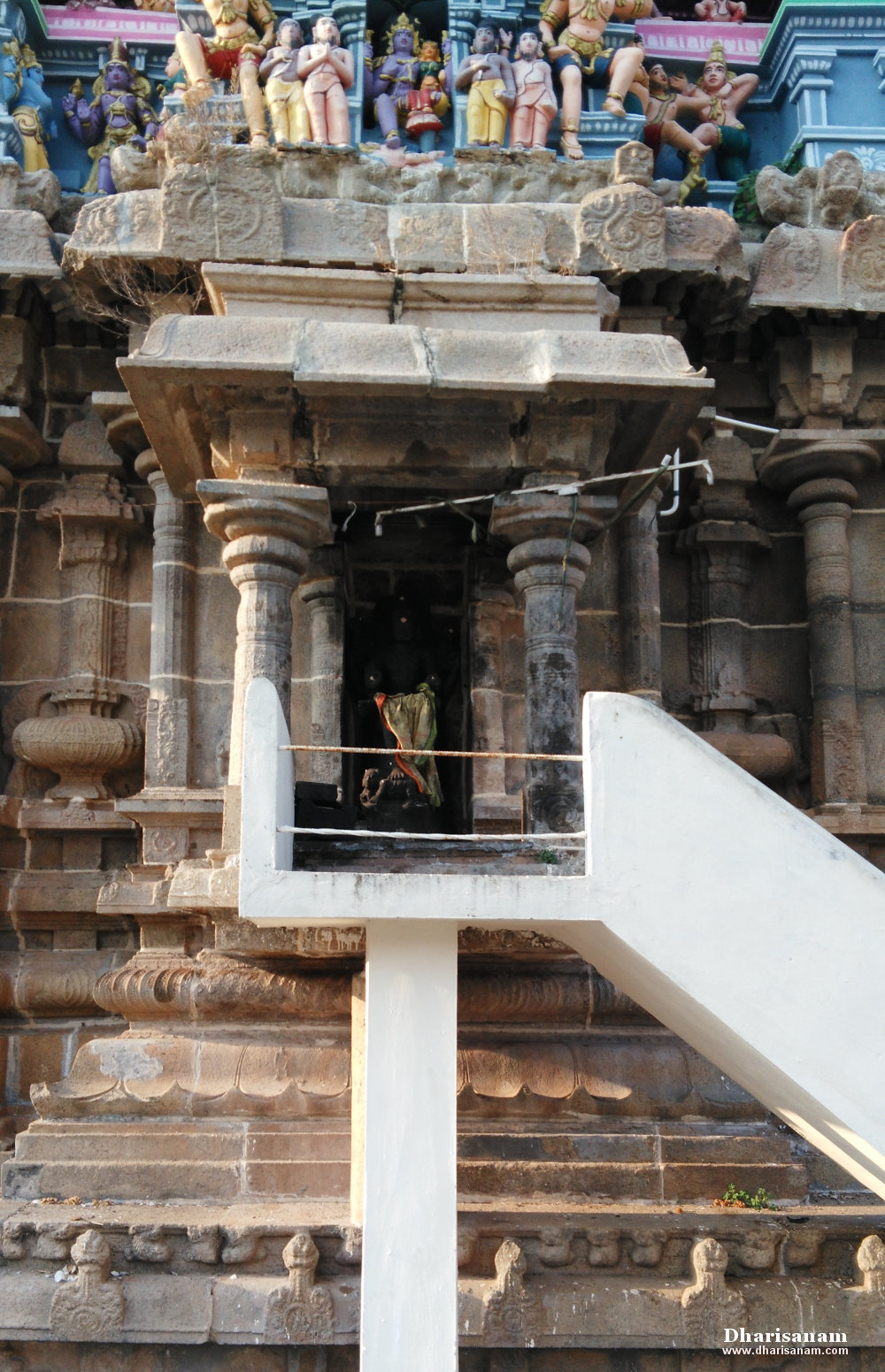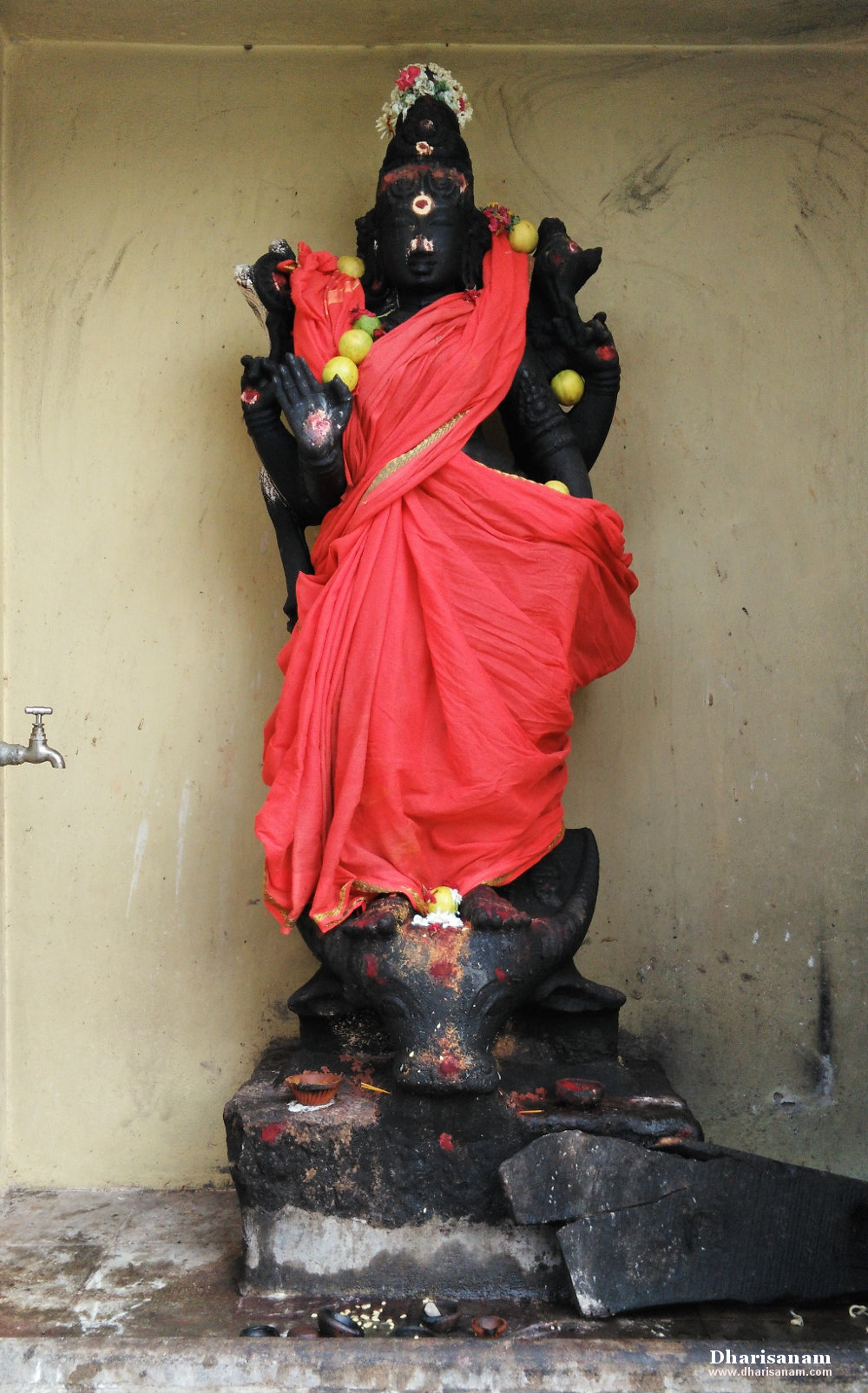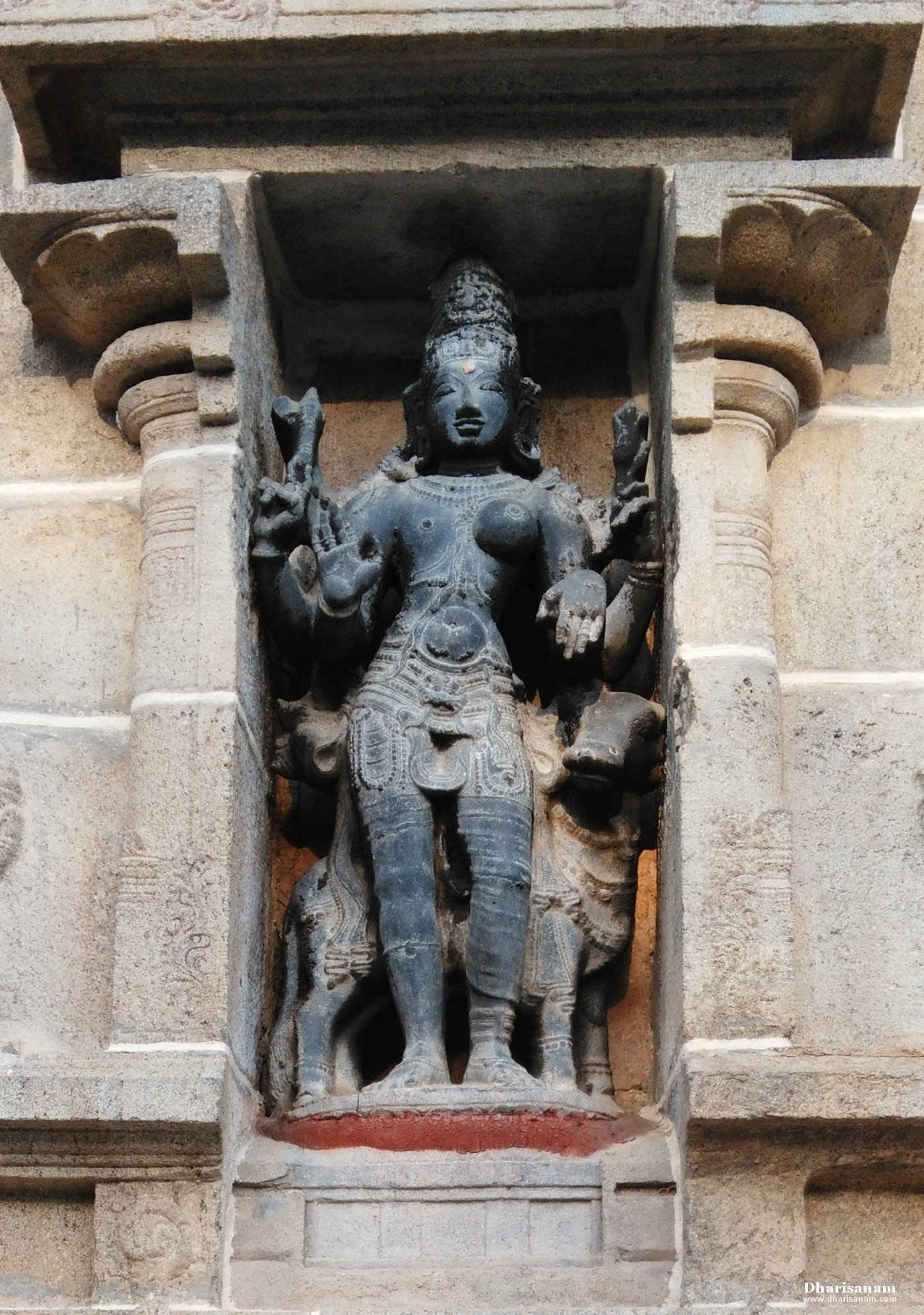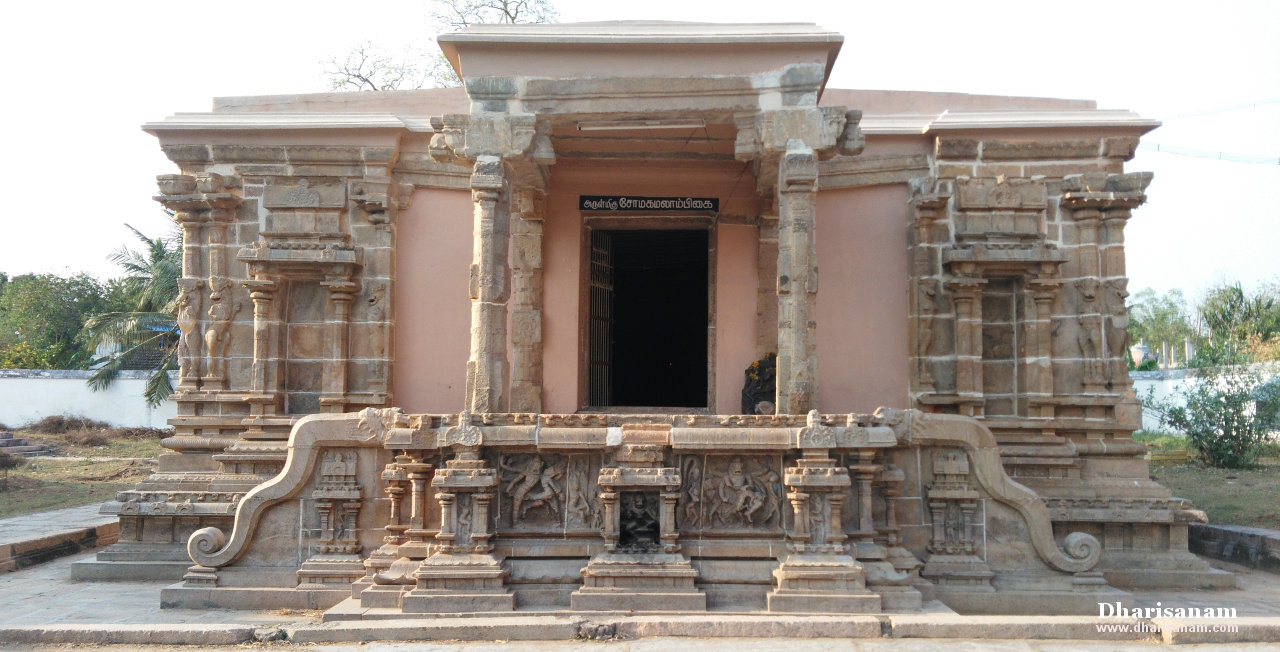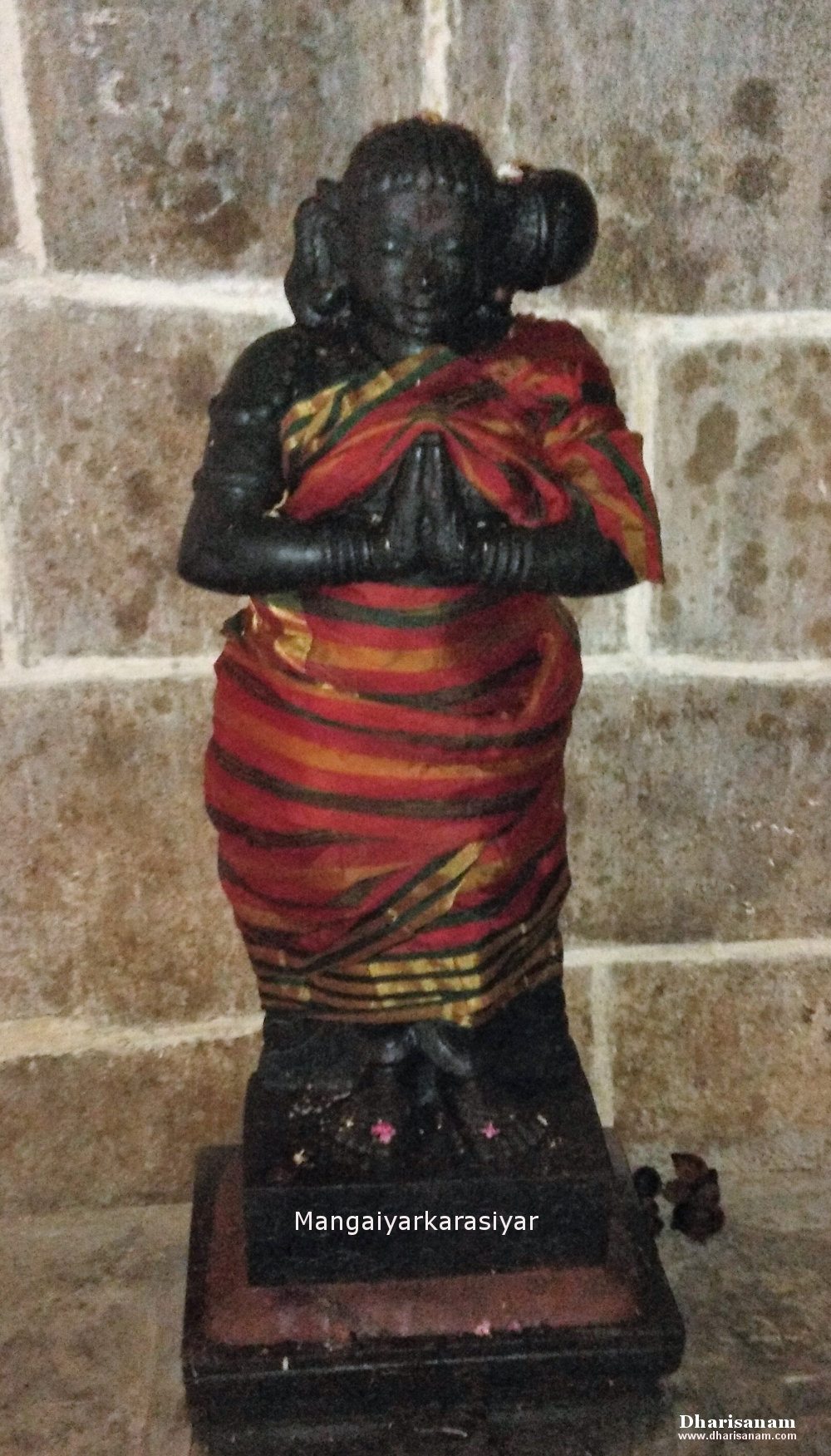 Salient Features
The idol of Kailasanathar is incredibly beautiful and unique. It looks as if Ravana is carrying Mount Kailash over his head.
Idols of Dakshinamurthy, Ardhanareeswarar and Durgai are very beautiful.
Saint Thirunavukkarasar (Appar), while rendering his hymn, combined these two temples.
This place was a dense forest covered with neem trees in Kretha Yuga, plantain in Thretha Yuga, Kadamba trees in Dvapara Yuga and Amla trees in this Kali Yuga.
Keezhap Pazhaiyarai is the birthplace of Mangaiyarkkarasiyar, one of the 63 Nayanmars. She is the daughter of Chola King Manimudi Devan of Pazhayarai.
She is the wife of Koon Pandiyan of Madurai. She was the instrumental in bringing Saint Thirugnanasambanthar to Madurai to save Saivism at a time when Jainism was spreading across the land. Mangaiyarkkarasiyar attained salvation in Madurai. She got the opportunity to be honoured by Saint Thirugnanasambanthar in his pathigam.
Chola King Manimudi Devan was associated with Saint Thirunavukkarasar in finding out the Shivalingam in Vadathali temple. The king was also associated with straightening the Shivalingam in Thiruppananthal, another Devara Padal Petra Sthalam.
Keezhap Pazhaiyarai is also the birthplace of Amarneethi Nayanar, one of the 63 Nayanmars. He attained salvation in Nallur, a nearby village.
At the entrance of Goddess Parvathy's shrine, there are many sculptures depicting the story of Pragalad and Lord Mahavishnu.
Saint Arunagirinadhar has sang songs in praise of Lord Murugan of this temple in his revered Thirupugazh.
King Rajendra Chola was brought up in this place by his grandmother Queen Kunthavai Piratti.
Greatness of this temple
Devotees believe that taking a dip in this temple's holy water (Soma Theertham) can cure them from mental disorder like "sitha piramai".
Devotees also believe that taking a dip in the Jatayu Theertham can cure disease like leprosy.
Important Festivals
Some of the important festivals celebrated here are –
Aadi Pooram in the Tamil month of Aadi (July-Aug),
Vinayakar Chaturthi in the Tamil month of Aavani (Aug-Sept),
Navarathri in the Tamil month of Purattasi (Sept-Oct),
Skanda Shashti and Annabishekam in the Tamil month of Aippasi (Oct–Nov),
Thiru Karthikai in the Tamil month of Karthikai (Nov-Dec),
Makara Sankranthi in the Tamil month of Thai (Jan-Feb),
Maha Shivrathri in the Tamil month of Masi (Feb-Mar) and
Panguni Uthiram in the Tamil month of Panguni (Mar-Apr).
Pradosham is also observed regularly.
Temple Timings
From 07:00 AM to 12:00 Noon and from 05:00 PM to 08:00 PM.
Temple Address
Sri Someswarar Temple,
Pazhayarai Vadathali,
Patteeswaram Post,
Kumbakonam Taluk,
Tanjore District,
Tamil Nadu – 612 703.
Tele: +91 – 98945 69543.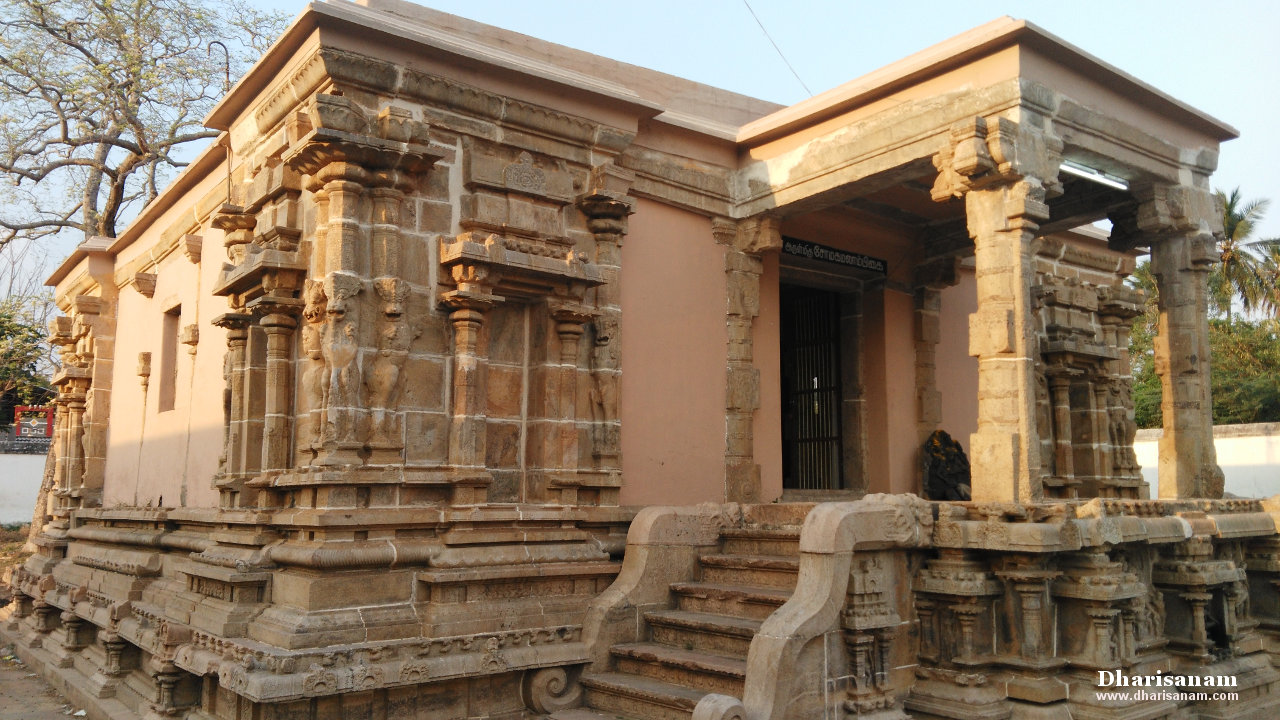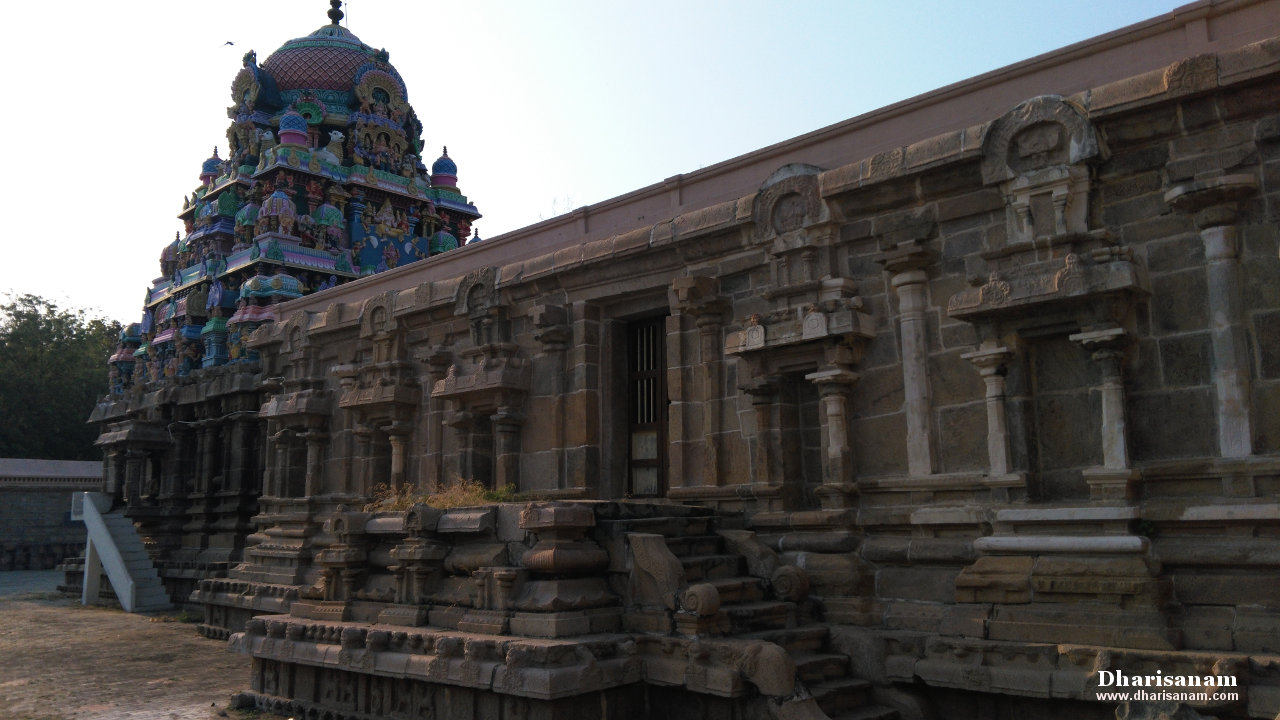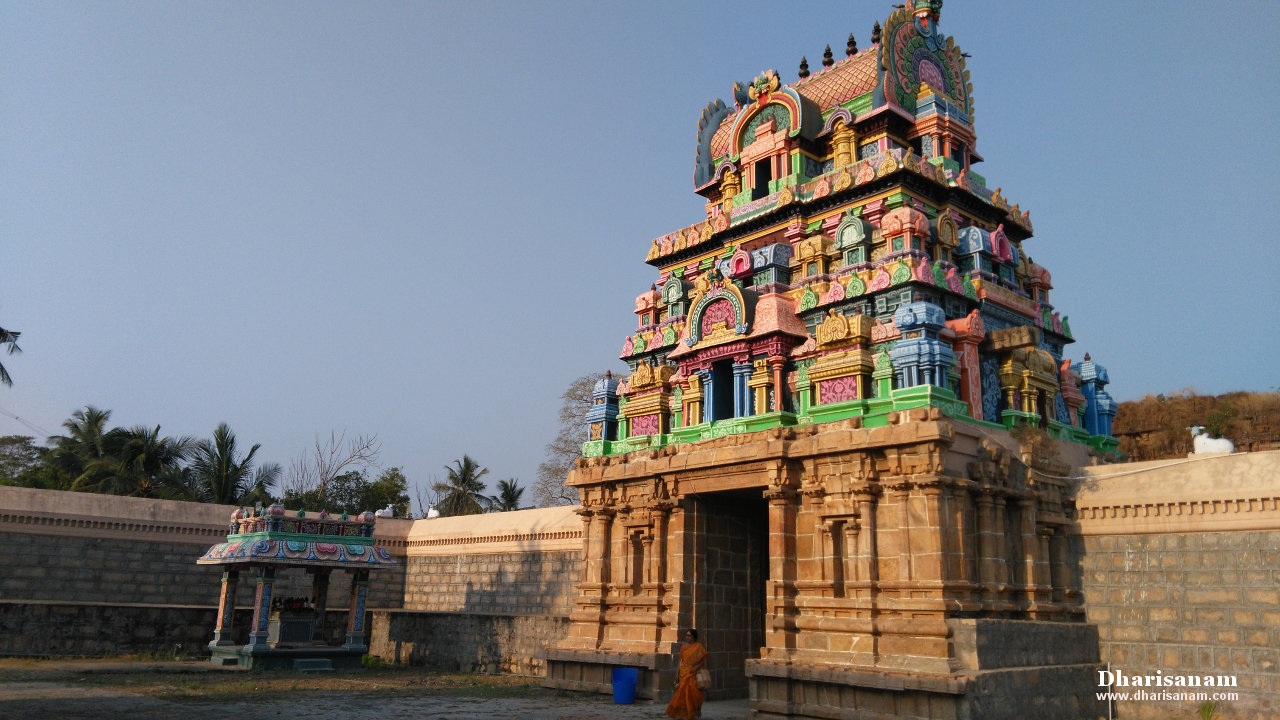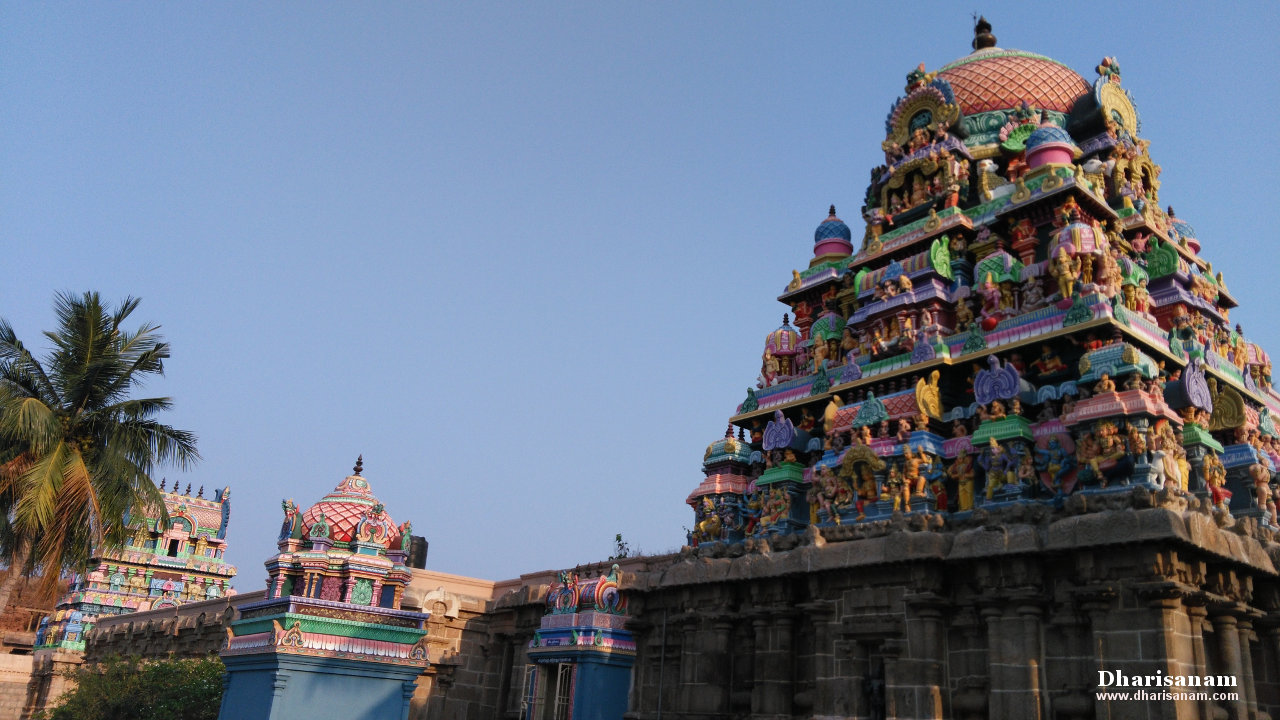 ---
Pathigam (Hymn) with English transliteration and Tamil meaning.
Saint Thirunavukkarasar (Appar) visited this temple and sang this Pathigam.
Devotees visiting this temple should make it a practice to recite this Pathigam.
Pathigam No. 5.058.
தலையெ லாம்பறிக் குஞ்சமண் கையருள்
நிலையி னான்மறைத் தான்மறைக் கொண்ணுமே
அலையி னார்பொழி லாறை வடதளி
நிலையி னானடி யேநினைந் துய்ம்மினே.
"Thalaiye lāmpaṟik kuñchamaṇ kaiyaruḷ
nilaiyi ṉāṉmaṟaith thāṉmaṟaik koṇṇumē
alaiyi ṉārpozhi lāṟai vaṭathaḷi
nilaiyi ṉāṉaṭi yēniṉain thuym'miṉē".

தலைமயிரெல்லாவற்றையும் பறிக்கின்ற சமண் ஒழுக்கம் உடையவர்கள் உள்ளத்து நிலையினால் மறைத்தால் மறைக்கவியலுமோ? அலைநீரின் மருங்கிலுள்ள பொழில்கள் சூழ்ந்த பழையாறைவடதளியின்கண் நிலைபெற்றவன் திருவடிகளையே நினைந்து உய்வீர்களாக.
மூக்கி னால்முரன் றோதியக் குண்டிகை
தூக்கி னார்குலந் தூரறுத் தேதனக்
காக்கி னானணி யாறை வடதளி
நோக்கி னார்க்கில்லை யாலரு நோய்களே.
"Mūkki ṉālmuraṉt ṟōthiyak kuṇṭikai
thūkki ṉārkulan thūraṟuth thēthaṉak
kākki ṉāṉaṇi yāṟai vaṭathaḷi
nōkki ṉārkkillai yālaru nōykaḷē".
மூக்கினால் ஒலிக்குமாறு தம் மந்திரங்களை ஓதி, அக்குண்டிகை தூக்கினாராகிய சமணர்கள் குலத்தை அடியோடு வேரறுத்துத் தனக்கு அணியாறைவடதளியை ஆக்கிக் கொண்டானாகிய பெருமானை நோக்கினார்க்கு அருநோய்கள் இல்லை.
குண்ட ரைக்குண மில்லரைக் கூறையில்
மிண்ட ரைத்துரந் தவிம லன்றனை
அண்ட ரைப்பழை யாறை வடதளிக்
கண்ட ரைத்தொழு துய்ந்தன கைகளே.
"Kuṇṭa raikkuṇa millaraik kūṟaiyil
miṇṭa raiththuran thavima laṉtṟaṉai
aṇṭa raippazhai yāṟai vaṭathaḷik
kaṇṭa raiththozhu thuynthaṉa kaikaḷē".

குண்டர்களும், நற்குணமில்லாதவர்களும், உடையணியாத மிண்டர்களுமாகிய சமணர்களைத் துரத்திய விமலனும்,தேவதேவனும் ஆகிய பழையாறைவடதளியில் உள்ள திருநீல கண்டரைத் தொழுது அடியேனின் கரங்கள் உய்ந்தன.
முடைய ரைத்தலை முண்டிக்கும் மொட்டரை
கடைய ரைக்கடிந் தார்கனல் வெண்மழுப்
படைய ரைப்பழை யாறை வடதளி
உடைய ரைக்குளிர்ந் துள்குமென் உள்ளமே.
"Muṭaiya raiththalai muṇṭikkum moṭṭarai
kaṭaiya raikkaṭin thārkaṉal veṇmazhup
paṭaiya raippazhai yāṟai vaṭathaḷi
uṭaiya raikkuḷirn thuḷkumeṉ uḷḷamē".

முடைநாற்றம் உடையோரும், தலையை மழித்த மொட்டையர்களும், கீழானவர்களுமாகிய சமணர்களை நீக்கியவரும், கனலையும் வெண்மழுப் படையினையும் உடையவரும் ஆகிய பழையாறை வடதளிக்குடையவரை என் உள்ளம் குளிர்ந்து நினைகின்றது.
ஒள்ள ரிக்கணார் முன்னமண் நின்றுணுங்
கள்ள ரைக்கடிந் தகருப் பூறலை
அள்ள லம்புன லாறை வடதளி
வள்ள லைப்புக ழத்துயர் வாடுமே.
"Oḷḷa rikkaṇār muṉṉamaṇ niṉtṟuṇuṅ
kaḷḷa raikkaṭin thakarup pūṟalai
aḷḷa lampuṉa lāṟai vaṭathaḷi
vaḷḷa laippuka zhaththuyar vāṭumē".

ஒளியும் அரியும் உடைய கண்ணை உடைய பெண்டிர்க்கு முன்னும் உடையற்றவராய் நின்றுண்ணும் கள்ளர்களாகிய சமணரைக் கடிந்தவரும், கரும்பின் ஊறும் சாறு பாய்ந்தோடிச்சேறாகிய நீர்வளம் உடைய பழையாறை வடதளியில் உள்ள வள்ளலும் ஆகிய பெருமானைப் புகழத் துயரங்கள் வாடும்.
நீதி யைக்கெட நின்றம ணேயுணுஞ்
சாதி யைக்கெடு மாசெய்த சங்கரன்
ஆதி யைப்பழை யாறை வடதளிச்
சோதி யைத்தொழு வார்துயர் தீருமே.
"Nīthi yaikkeṭa niṉtṟama ṇēyuṇuñ
chāti yaikkeṭu māseytha saṅkaraṉ
āthi yaippazhai yāṟai vaṭathaḷich
chōthi yaiththozhu vārthuyar thīrumē".
முறைமை கெடநின்று ஆடையற்றவராய் உண்ணும் சாதியாகிய சமணரைக் கெடுமாறு செய்தருளிய சங்கரனும், ஆதியும் ஆகிய புழையாறைவடதளியில் உள்ள சோதியைத் தொழுவாருடைய துயர் தீரும்.
திரட்டி ரைக்க வளந்திணிக் குஞ்சமண்
பிரட்ட ரைப்பிரித் தபெரு மான்றனை
அருட்டி றத்தணி யாறை வடதளித்
தெருட்ட ரைத்தொழத் தீவினை தீருமே.
"Thiraṭṭi raikka vaḷanthiṇik kuñchamaṇ
piraṭṭa raippirith thaperu māṉtṟaṉai
aruṭṭi ṟaththaṇi yāṟai vaṭathaḷith
theruṭṭa raiththozhath thīviṉai thīrumē".
திரட்டிய இரையாகிய சோற்றுக் கவளத்தையே மிகத்திணிக்கும் சமண் பொய்யர்களை அங்கிருந்தும் பிரித்த பெருமானை. அருள் திறத்தை உடைய அழகு பொருந்திய பழையாறை வடதளியில் தௌவிக்கும் பிரானைத் தொழத் தீவினைகள் யாவும் தீரும்.
ஓதி னத்தெழுத் தஞ்சுண ராச்சமண்
வேதி னைப்படுத் தானைவெங் கூற்றுதை
பாத னைப்பழை யாறை வடதளி
நாத னைத்தொழ நம்வினை நாசமே.
"Ōthi ṉaththezhuth thañchuṇa rāchchamaṇ
vēthi ṉaippaṭuth thāṉaiveṅ kūtṟuthai
pātha ṉaippazhai yāṟai vaṭathaḷi
nātha ṉaiththozha namviṉai nāsamē".

அடியார் இனத்தே ஓதப்படும் திருவஞ்செழுத்தை உணராத சமணர்களை வேதனைப்படுத்தியவனும், வெங்கூற்றுவனை உதைத்த பாதம் உடையவனும் ஆகிய பழையாறை வடதளியில் உறையும் நாதனைத் தொழ நம் வினைகள் நாசமாம்.
வாயி ருந்தமி ழேபடித் தாளுறா
ஆயி ரஞ்சம ணும்மழி வாக்கினான்
பாயி ரும்புன லாறை வடதளி
மேய வன்னென வல்வினை வீடுமே.
"Vāyi runthami zhēpaṭith thāḷuṟā
āyi rañchama ṇum'mazhi vākkiṉāṉ
pāyi rumpuṉa lāṟai vaṭathaḷi
mēya vaṉṉeṉa valviṉai vīṭumē".
மெய்ம்மையும் பெருமையும் உடைய தெய்வத் தமிழையே பயின்று ஆளாக உறாத ஆயிரஞ் சமணரையும் அழிவின் கட்படுத்தவனும்இ பாய்கின்ற பெருந்தண்ணீர் வளம் உடைய பழையாறை வடதளியில் மேவியவனும் ஆகிய பெருமான் என்று சொல்லுமளவிலேயே வல்வினைகள் கெடும்.
செருத்த னைச்செயுஞ் சேணரக் கன்னுடல்
எருத்தி றவிர லாலிறை யூன்றிய
அருத்த னைப்பழை யாறை வடதளித்
திருத்த னைத்தொழு வார்வினை தேயுமே.
"Seruththa ṉaichcheyuñ chēṇarak kaṉṉuṭal
eruththi ṟavira lāliṟai yūṉtṟiya
aruththa ṉaippazhai yāṟai vaṭathaḷith
thiruththa ṉaiththozhu vārviṉai thēyumē".
போரினைச் செய்யும் சேண் புகழ் உடைய இராவணனின் உடலும், பிடரியும் இறும்படித் திருவிரலால் சிறிதே ஊன்றிய சொற்பொருள் வடிவானவனாகிய பழையாறைவடதளியின் அழகிய பெருமானைத் தொழுவார் வினைகள் தேயும்.