Visited on: 25th March, 2018.
Location
Thiruviyalur (Thiruvisanallur) is situated at a distance of about 8 kms from Kumbakonam on the Kumbakonam to Poombuhar route (Via Veppathur).

Other Paadal Petra Shiva Sthalams near this place are – Thirunthudevankudi (about one kilometre away from this temple), Thirunageswaram, Kumbakonam (3 temples – Kudamukku, Kharonam and Keezhkkottam), Thiruvidaimaruthur, Aduthurai, Thiruneelakkudi and Thiruvavaduthurai.
General Information
| | |
| --- | --- |
| Moolavar | Sri Sivayoga Nathar, Sri Yoganandheswarar, Sri Vilvaaranyeswarar, Sri Puraathaneswarar |
| Ambal | Sri Soundra Nayagi, Sri Santha Nayagi |
| Theertham (Holy water) | Jadayu Theertham |
| Sthala Vriksham (Sacred Tree) | Vilvam tree |
| Pathigam (Hymn) rendered by | Saint Thirugnanasambanthar-1 |
This is one of the 276 Devara Paadal Petra Shiva Sthalams and 43rd Shiva Sthalam on the northern bank of the river Cauvery in Chozha Nadu (Vadakarai).
Lord Shiva in this temple is a Swayambumurthi (self-manifested).
There are 4 Bairavar idols placed in a row and is known as Chathurkala Bairavars.
This east facing temple has two corridors and its main tower (Rajagopuram) has 5-tiers.
This is the birth place of the renowned scholar Saint Sridhara Venkatesa Iyyavaal.
History of the Temple
According to legend, in ancient times, this region was a forest densely covered with Vilwa trees and hence the lord here is praised as Sri Vilvaranyeswarar.
There are 94 stone inscriptions in this temple which date back to the periods of Cholas (14 kings – from Paranthakan-I to Kulothungan-III), Pandyas (king Varakuna Pandian) and the Vijayanagara kingdom (king Krishnadevarayar).
This temple is one of the 88 temples controlled by Tanjore Palace Devasthanam.
This temple is also under the purview of the Hindu Religious and Charitable Endowments Department of Government of Tamil Nadu (HR&CE).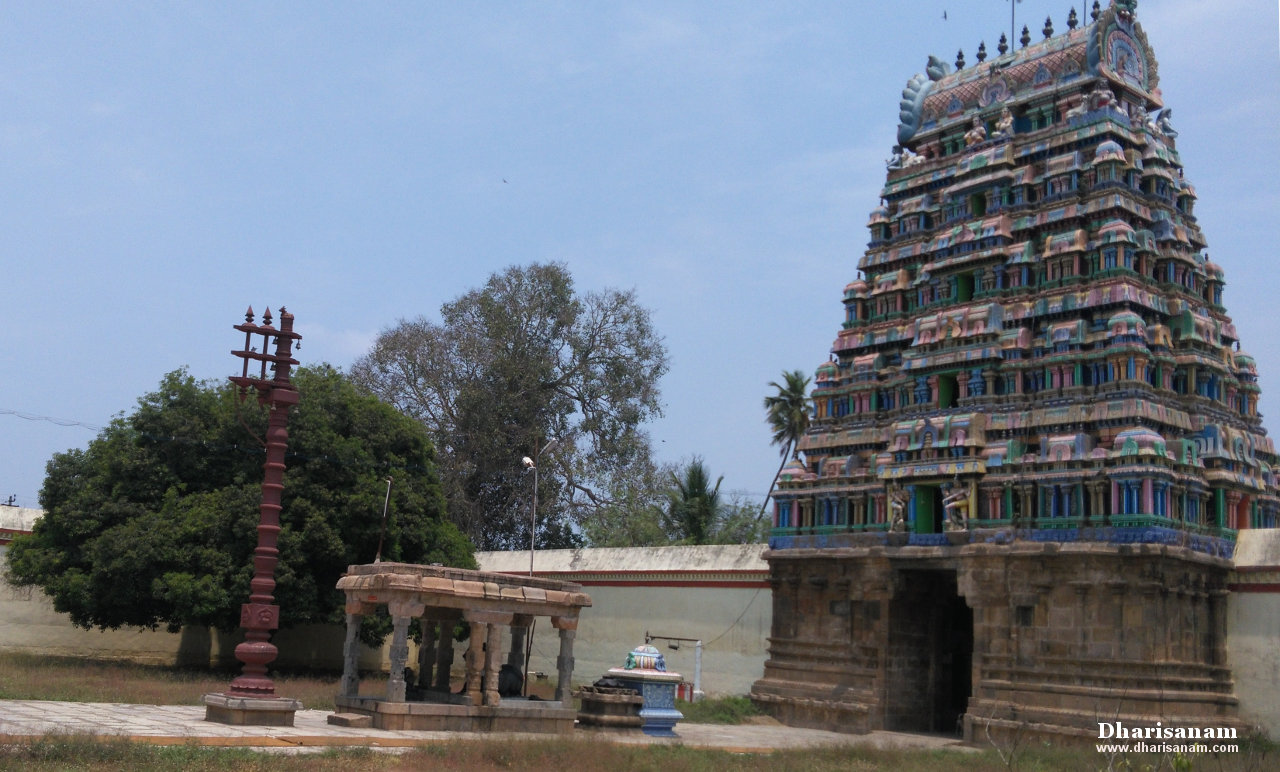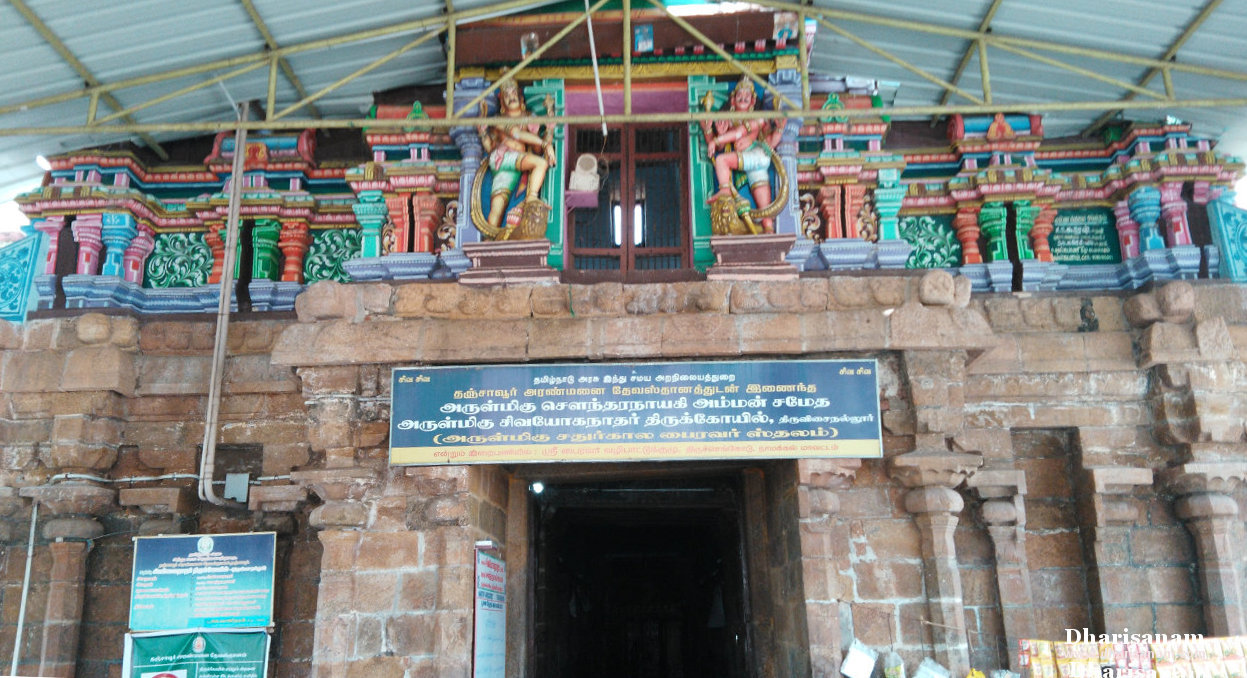 Legend
As per legend, this sacred place has existed during all the four Yugas. Lord Shiva is worshipped as Sri Puraathaneswarar in the Kritha Yuga, Sri Vilvaaranyeswarar in the Tretha Yuga, Sri Yoganandeeswarar in the Dwaapara Yuga and Sri Sivayoginaathar in the Kali Yuga.
It is believed that Lord Mahavishnu and Goddess Lakshmi received the blessings of Lord Shiva here for their marriage. There is a shrine for Lakshmi Narayanar in the corridor which is quite unique. Goddess Lakshmi is seen sitting on Narayanar's lap. Worshiping this Lakshmi Narayanar on "Shravan Nakshatram", "Ekadasi" and on all Saturdays is considered very auspicious.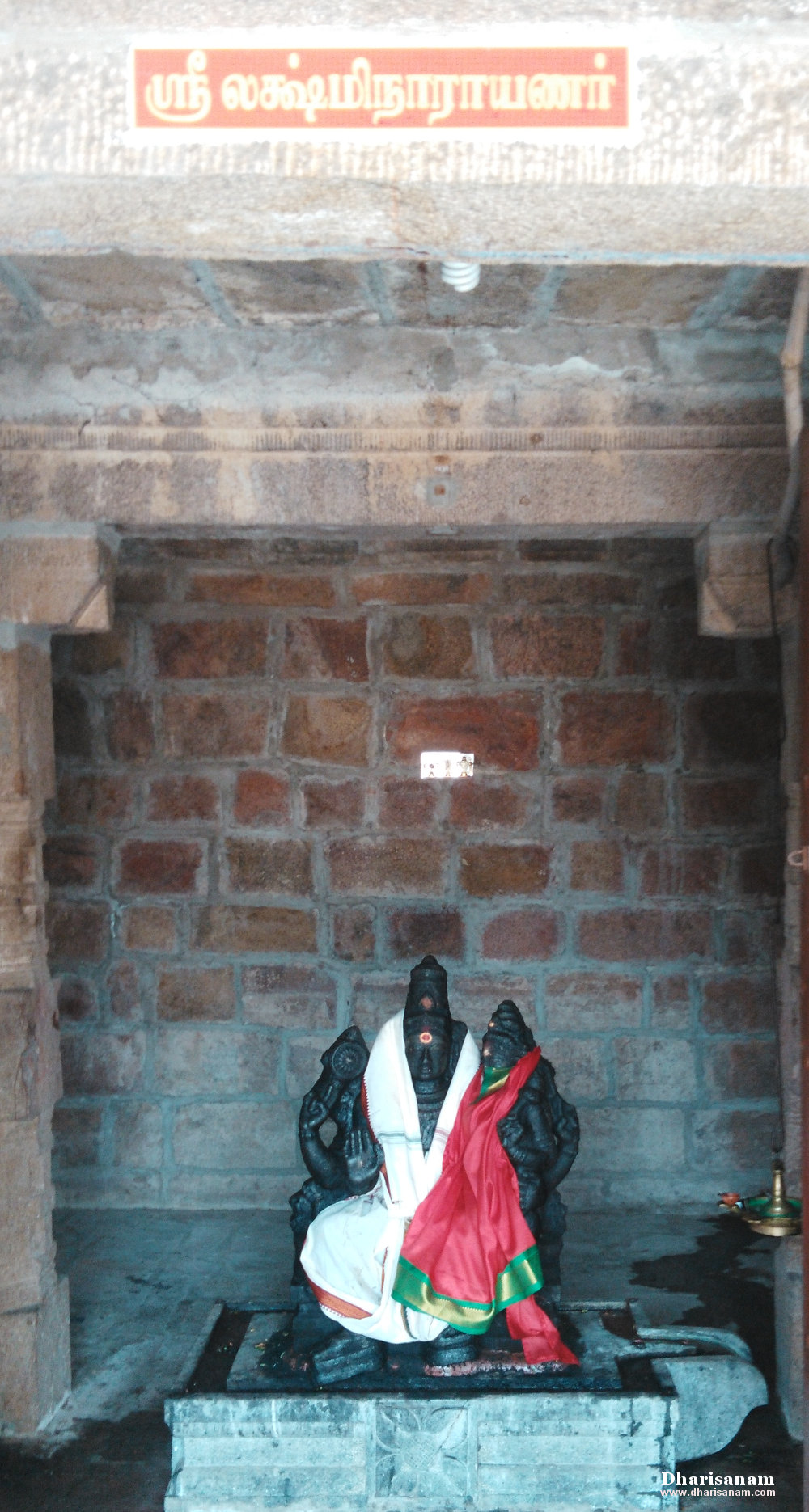 It is believed that Saint Agasthiyar worships Lord Shiva here on every Maha Shivaratri.

It is also believed that Jadayu, the king of vultures, worshipped Lord Shiva here.
It is believed that Lord Brahma was once born on earth to one Vishnu Sharma. He along with six other yogis performed rigorous penance here. On a Shivrathiri day, Lord Shiva appeared before them and blessed them by turning them into seven guiding lights. He also granted them salvation by merging them with himself. It is believed that seven strands of hair are present at the back of the Shiva lingam to depict this merger. Hence, Lord Shiva here is also praised as "Sri Shivayogi Nathar".
The Sthala Puranam of this temple mentions the following stories:
(a) There was once a brahmin who had ignored his duties and was leading his life in a wrong way. When he realised his mistakes, he visited this temple and worshiped the lord. Although he was a habitual sinner, he came to Lord Shiva with full devotion. For this reason, Lord Shiva blessed him by absolving him of his sins ("papa vimochanam").
(b) There was once a prince called Ganapathy, from a kingdom in Kerala. The prince was involved in various criminal activities. He had illicit relationships with women and had also committed many other sins. He came to this place and worshiped the lord here after taking a dip in this temple's Theertham. It is believed that Lord Shiva pardoned his mistakes and blessed him with salvation.
( c) Another legend is that of a devotee of Lord Shiva. This devotee visited this temple to worship the lord. However, his life was about to end by that time. Yama, the lord of death had also reached there to perform his duty. In order to save the devotee, Nandhi stopped Yama and punished him. Yama realised his mistake and pleaded to Lord Shiva for forgiveness. It is believed that Lord Shiva pardoned him and let him go. The Nandhi in this temple is positioned in between the Bali Peet and the flag post. Further, the Nandhi's head is turned to a side.
Chathur Kala Bairavars
There are four Bhairavars in this temple (Chathur Kala Bhairavars). Each of them represents a phase in the lifespan of a human. They are also referred to as the four Yugas. These four Bairavars are -
Gnana Kala Bhairavar: The Brahmacharya phase of the human life is dominated by his quest for knowledge. Gnana Bhairavar bestows good education and good employment opportunities to his devotees.
Swarna Akarshana Bhairavar: In the Grahastha phase, Swarna Akarshana Bhairavar blesses his devotees with excellent growth in career and material gains.
Unmaththa Bhairavar: In the Vanaprastha phase, his devotees are blessed with good health, financial stability and good luck.
Yoga Kala Bhairavar: In the Sanyasa stage of life, a man is supposed to be totally devoted to God.
It is believed that by praying to Yoga Kala Bhairavar and Uthara Kailasa Nathar (who is besides the Yoga Kala Bhairavar), devotees can attain salvation.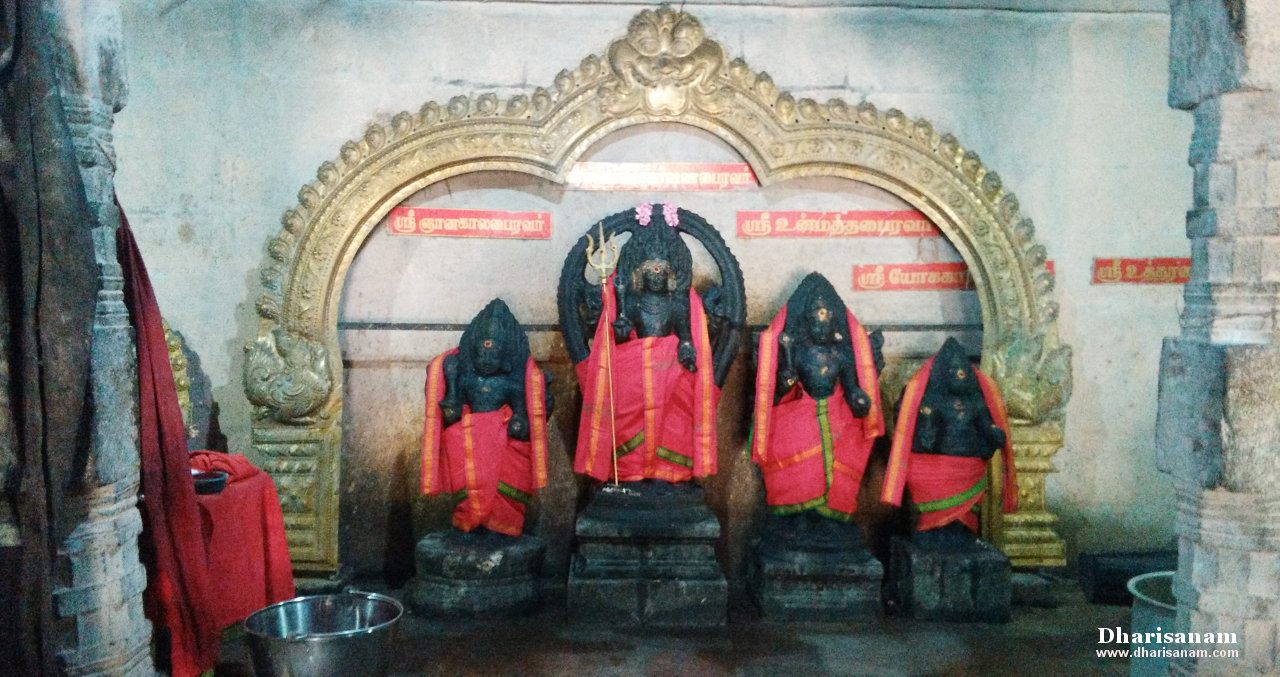 Deities in the temple
Other than the shrines of Lord Shiva and Goddess Parvathy, shrines and idols of Vinayakar, Murugan with his consorts, Gajalakshmi, Mahalingeswarar, Niruthi Vinayakar, Naga Kanni, Saptha Mathas, Lakshmi Narayanar, Suryan, Chandran and Navagraham can be seen in the corridors.
The corridor also houses the "Pancha lingams" (Boomi lingam, Jala lingam, Agni lingam, Vayu lingam and Akasha lingam representing the five elements of Earth, Water, Fire, Air and Sky respectively).
Idols of Saint Uyyavantha Nayanar, Nalvar and Sekkizhar are placed in a row in the corridor.
Chathurkala Bairavars, Kailasa Nathar, Bala Sani, Chandikeswarar and Dakshinamurthy are placed in a separate shrine.
In the "koshtam" (place surrounding the sanctum sanctorum), idols of Narthana Vinayakar, Dakshinamurthy, Mahavishnu, Brahma, Durgai and Chandikeswarar can be seen.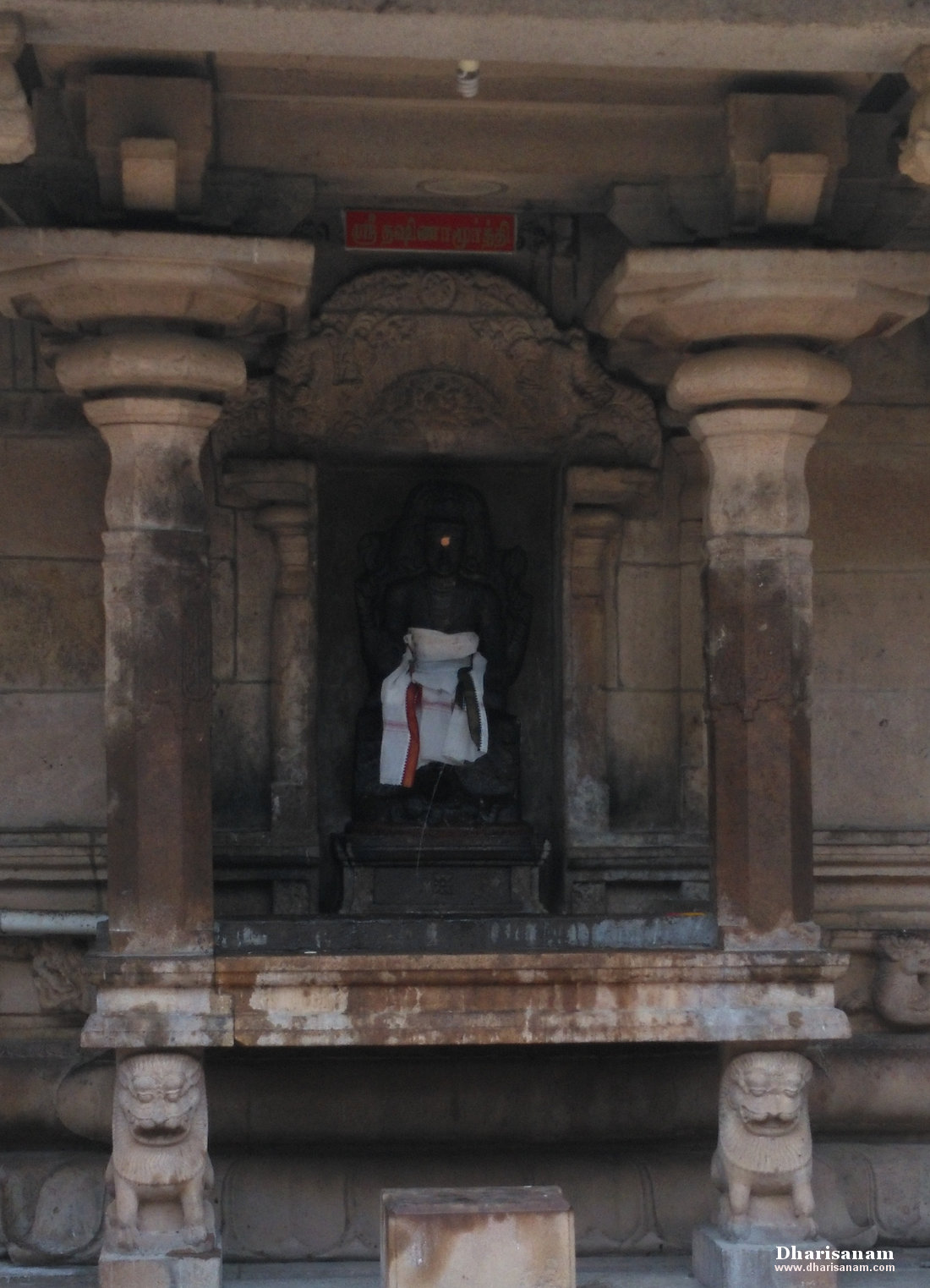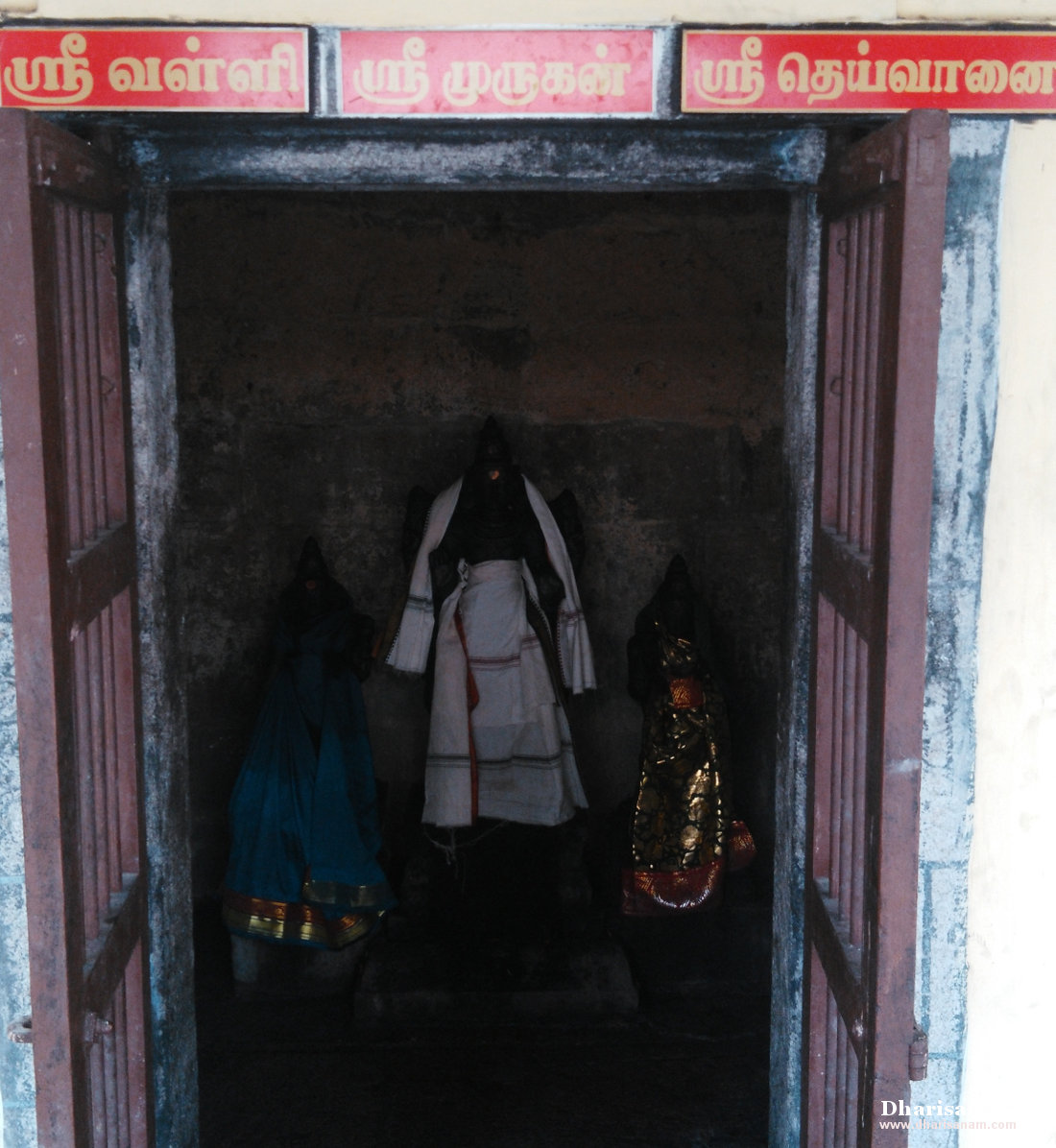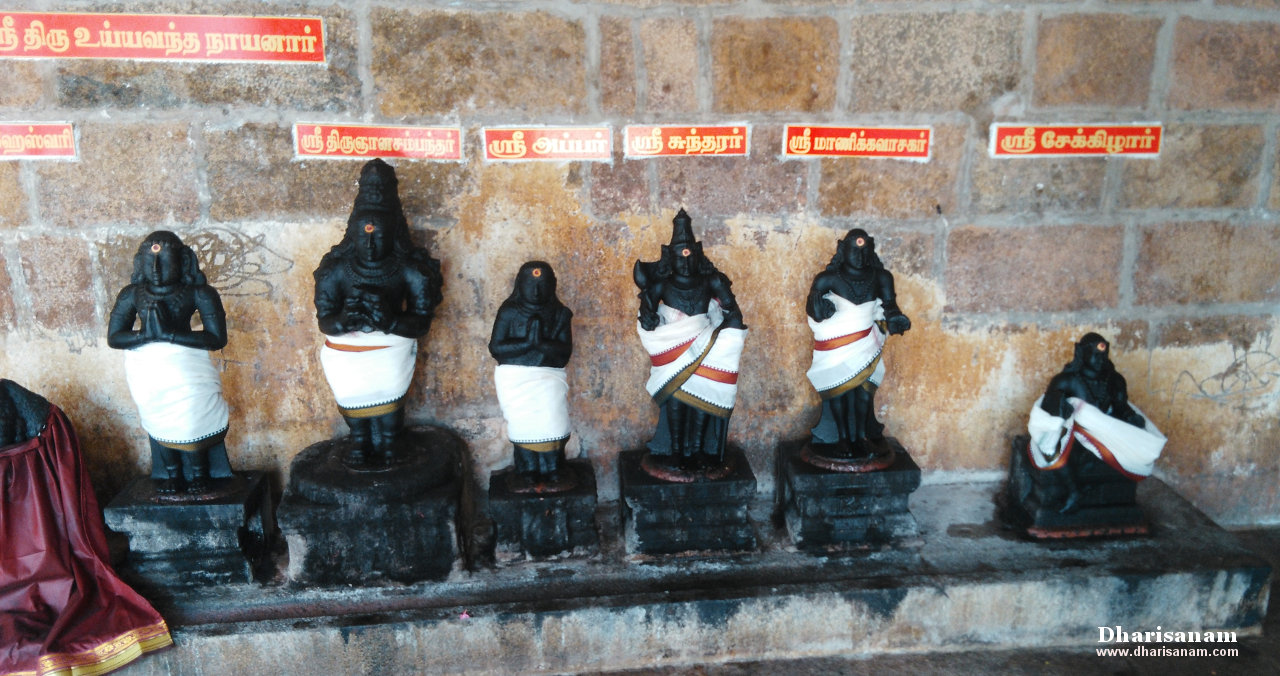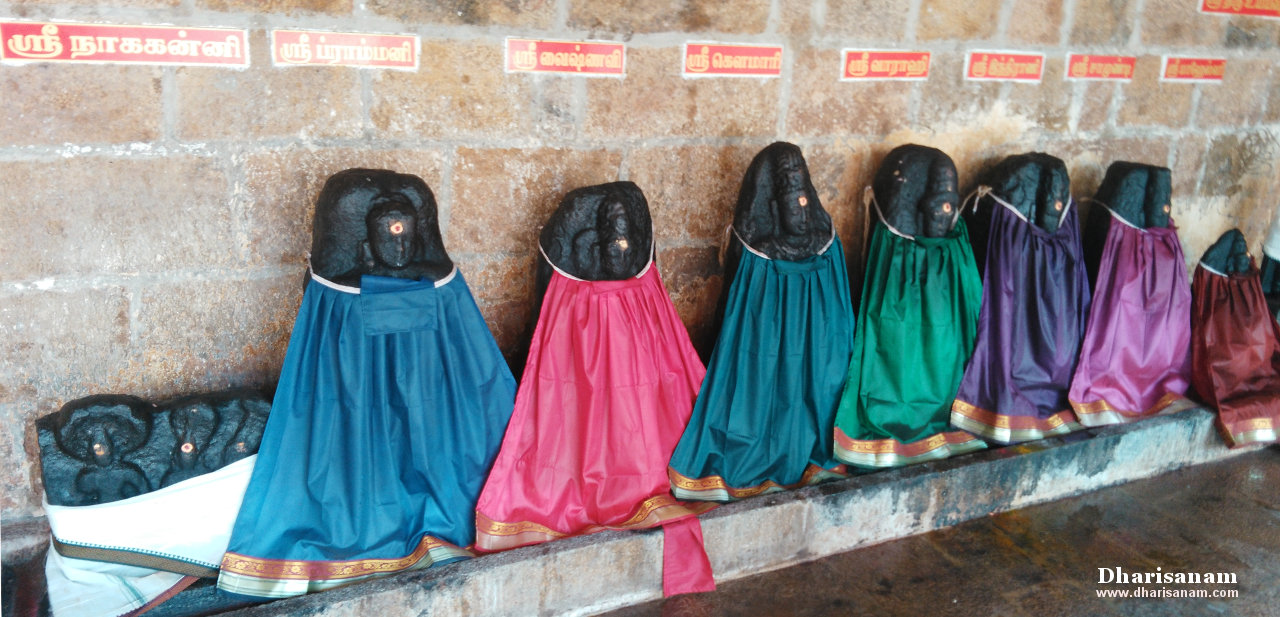 Salient Features
The unusual thing in this temple is that the Nandhi is placed in between the Bali peetam and the flag post (dwajastambam). Normally in all temples, the flag post is placed in between Bali peetam and Nandhi.
It is believed that Lord Suryan (Sun) worships Lord Shiva of this temple by directing his rays on the lingam every year for three days (on 1st, 2nd and 3rd) in the Tamil month of Chithirai (Apr-May). Special poojas are performed during these days.
This is the birth place of Uyyavantha Deva Nayanar (12th century), who authored one of the fourteen Meykanda Sasthras, "Thiruvunthiyar".
There is a beautiful relief on the wall of the sanctum which depicts Lord Brahma and Lord Vishnu worshiping Lord Shiva.
There are eight Theerthams and eight trees associated with this temple.
There is a sundial in the periphery wall of this temple opposite to Goddess Parvathy's shrine. This shows the time accurately from 6 AM to 6 PM. It is believed that this clock is more than 800 years old. This shows the architectural, astronomical and scientific knowledge of the people during the Chola period.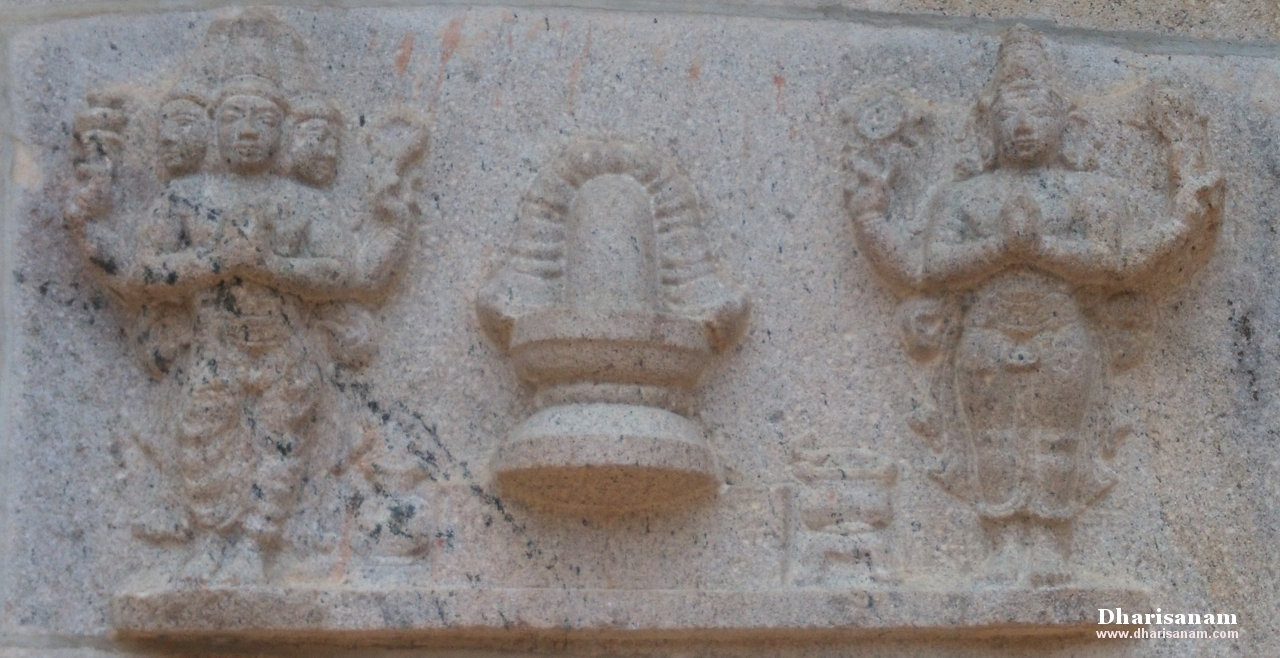 This is the birth place of the renowned scholar Saint Sridhara Venkatesa Iyyavaal who lived in this place about 300 years ago. He was an ardent devotee of Lord Shiva. He is known for bringing the river Ganges to a well in his house. The legend is that while performing the yearly ritual ceremony ("Srardh") to his ancestors, he offered food to an outcaste hungry beggar. The brahmins attending the ceremony opposed this as the tradition did not allow any food offering to be made before completion of the ceremony. They boycotted him and asked him to go to Banaras (Kasi) to take a dip in the holy Ganges and seek absolution for the sin that he has committed. Instead, Iyyavaal prayed to Lord Shiva who directed the Ganges to flow to a well in his house. As the water from the well started flooding the village, the villagers fell at his feet and requested him to stop this flood. He then prayed to the lord to restore normalcy. Even now, thousands of people throng to his house to bathe in the water from this well on the new moon day in the Tamil month of Karthikai (Nov-Dec).
Greatness of this temple
It is believed that by worshiping the Chathur Kala Bhairavars during the "Ashtami" days, devotees will get prosperity, better prospects in business, good health and protection from evil spirits.
Devotees are advised to light lamps containing gingili oil and black pepper for eight consecutive Sundays during "Rahu kalam" (4.30 PM to 6.00 PM) at this Bhairavar's shrine. Doing so will help them in getting back the lost property and wealth.

It is believed that those who pray to the lord here during Pradosham days will be absolved of all their past sins.
This is a "Parihara sthalam" for all those whose birth star is "Rishabha Rasi".
Important Festivals
Some of the important festivals celebrated in the temple are –
Vinayakar Chaturthi in the Tamil month of Aavani (Aug-Sept),
Navarathri in the Tamil month of Purattasi (Sept-Oct),
Skanda Shashti and Annabishekam in the Tamil month of Aippasi (Oct–Nov),
Thiru Karthikai and Somavaram (Mondays) in the Tamil month of Karthikai (Nov-Dec),
Makara Sankranthi in the Tamil month of Thai (Jan-Feb) and
Shivrathri in the Tamil month of Masi (Feb-Mar).
Pradosham is also observed regularly.
Temple Timings
From 07.30 AM to 12.30 PM and from 04.30 PM to 08.00 PM.
Temple Address
Sri Sivayoga Nathar Temple,
Thiruvisanallur Post,
Veppathur Via,
Kumbakonam Taluk,
Tanjure District,
Tamil Nadu – 612 105.
Tele: +91- 435-200 0679, 94447 47142.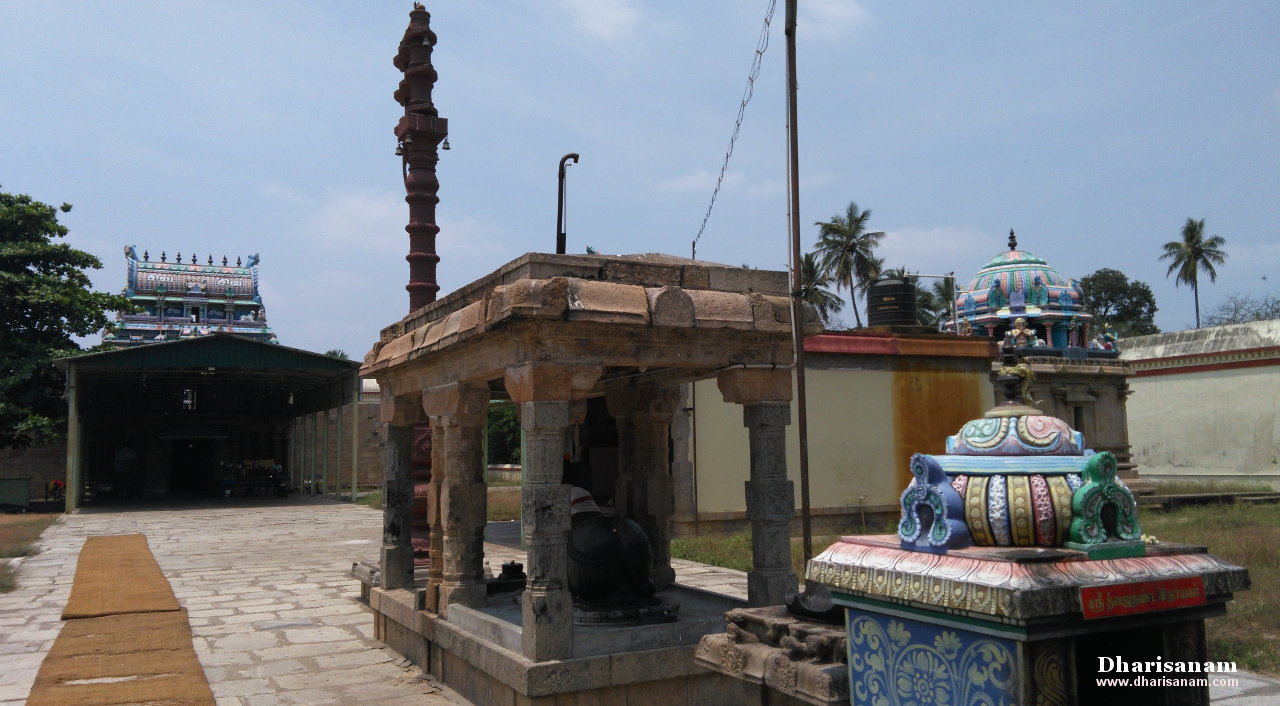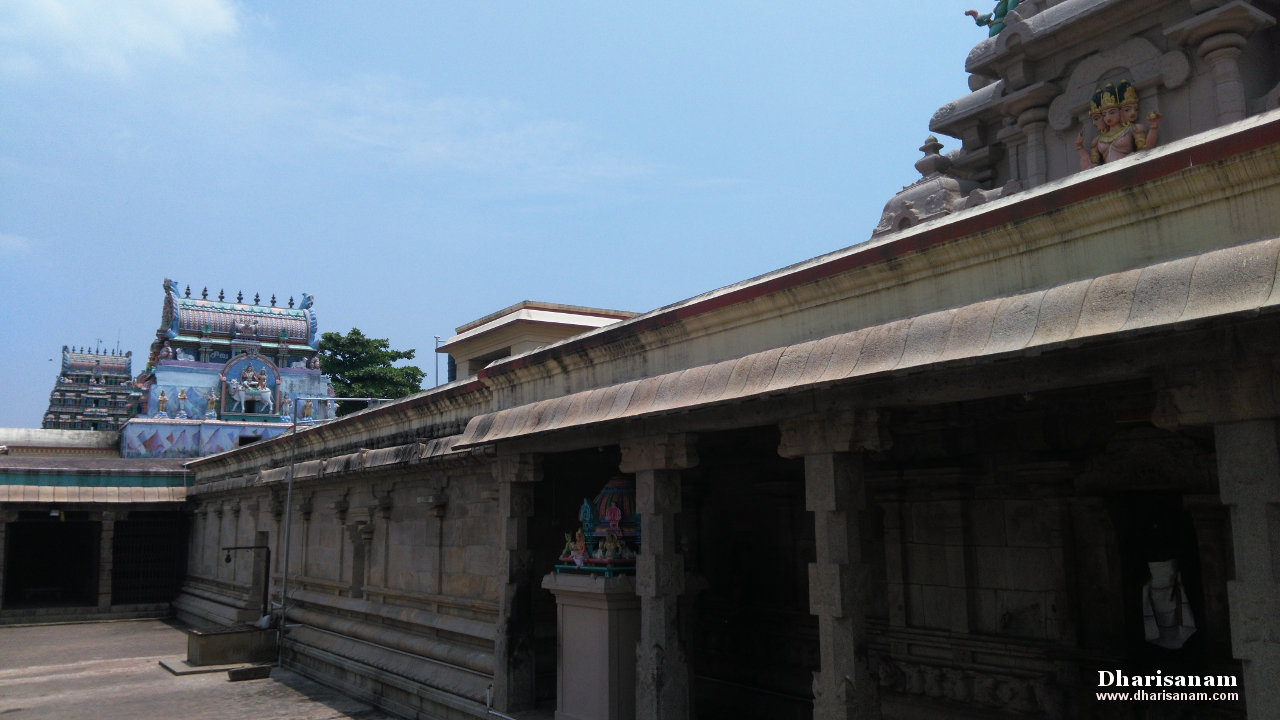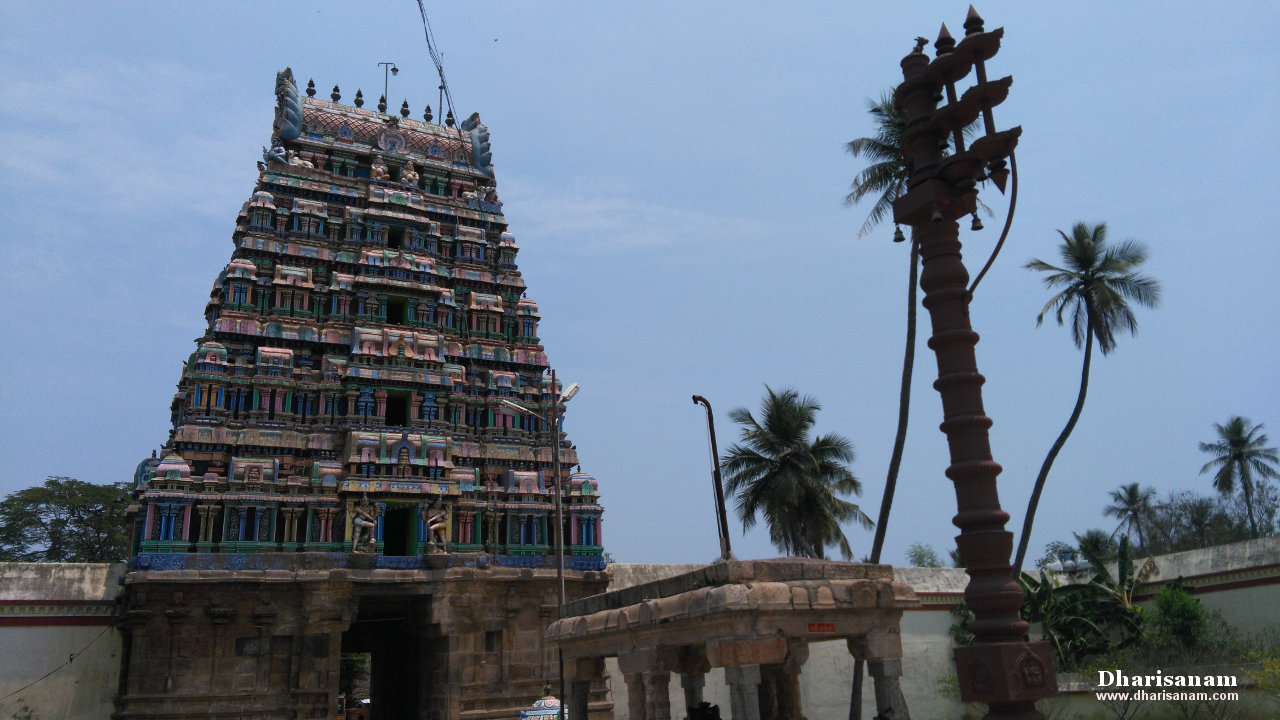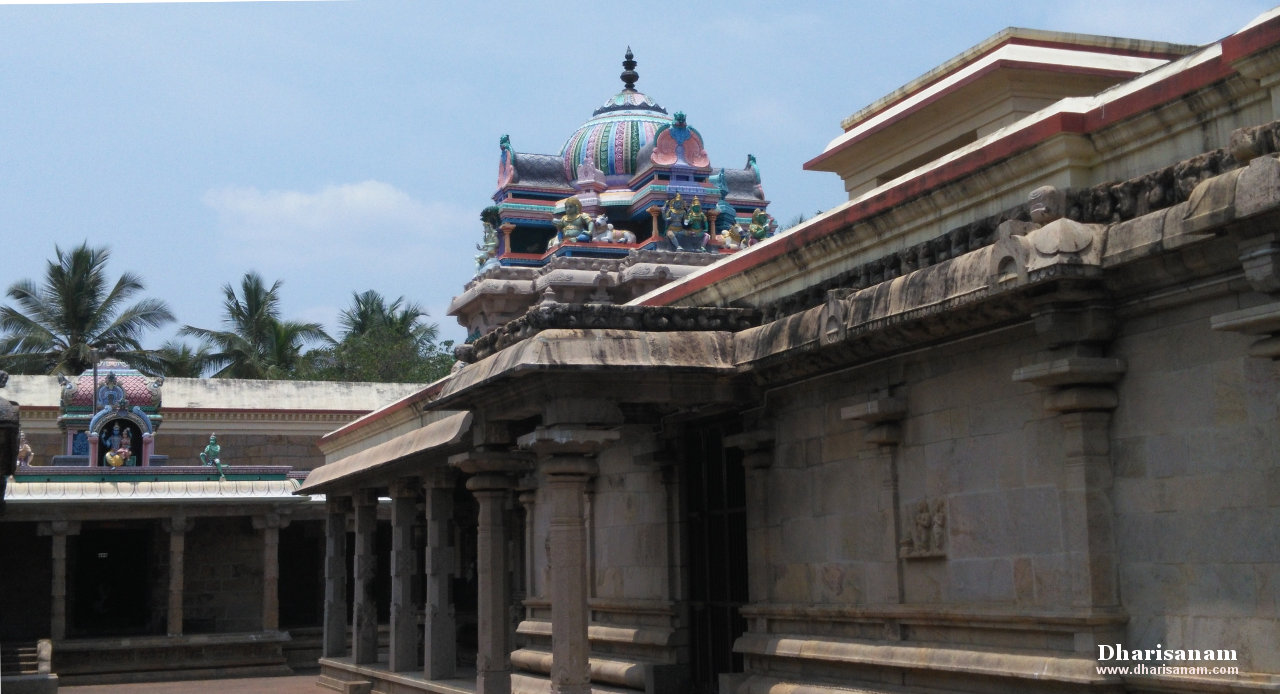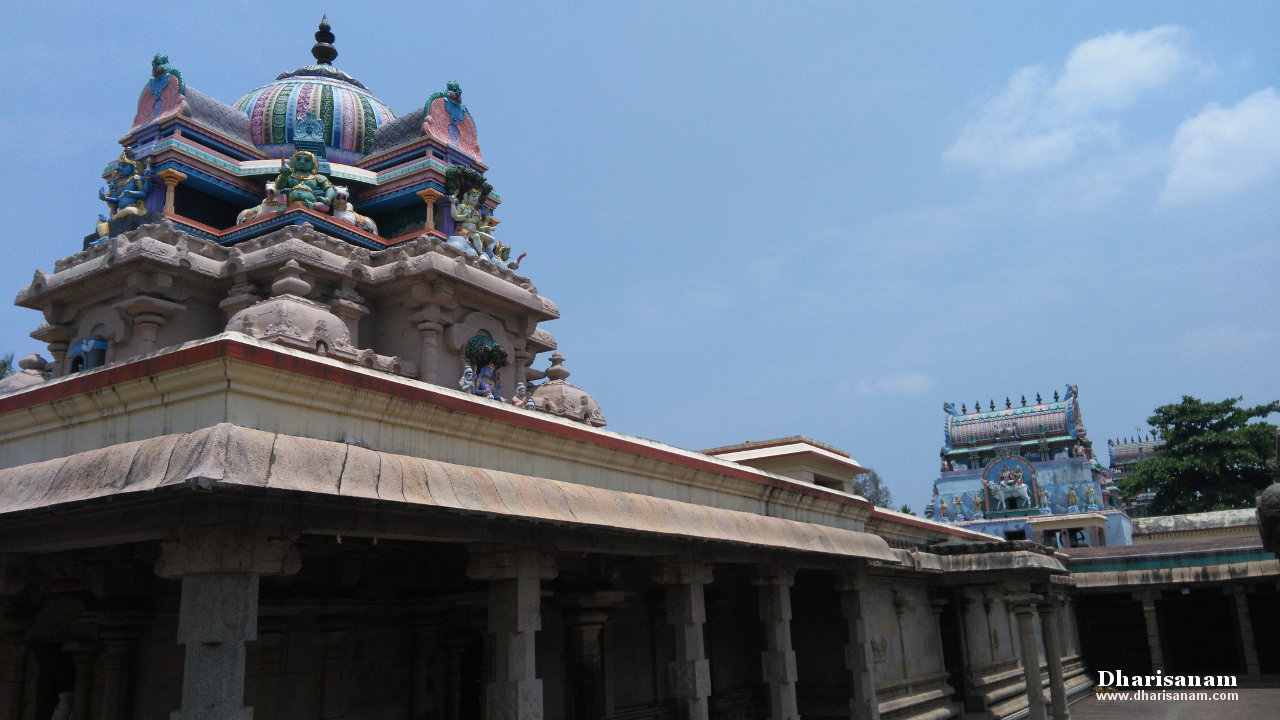 ---
Pathigam (Hymn) with English transliteration
Saint Thirugnanasambanthar visited this temple and sang this Pathigam.
Devotees visiting this temple should make it a practice to recite this Pathigam.
குரவங்கமழ் நறுமென்குழல் அரிவையவள் வெருவப்
பொருவெங்கரி படவென்றதன் உரிவையுடல் அணிவோன்
அரவும்மலை புனலும்மிள மதியுந்நகு தலையும்
விரவுஞ்சடை யடிகட்கிடம் விரிநீர்விய லூரே.
"Kuravaṅkamazh naṟumeṉkuzhal arivaiyavaḷ veruvap
poruveṅkari paṭaveṉtṟathaṉ urivaiyuṭal aṇivōṉ
aravum'malai puṉalum'miḷa mathiyunnaku thalaiyum
viravuñchaṭai yaṭikaṭkiṭam virinīrviya lūrē".
ஏறார்தரும் ஒருவன்பல வுருவன்னிலை யானான்
ஆறார்தரு சடையன்னன லுருவன்புரி வுடையான்
மாறார்புரம் எரியச்சிலை வளைவித்தவன் மடவாள்
வீறார்தர நின்றானிடம் விரிநீர்விய லூரே.
"Ēṟārtharum oruvaṉpala vuruvaṉṉilai yāṉāṉ
āṟārtharu saṭaiyaṉṉaṉa luruvaṉpuri vuṭaiyāṉ
māṟārpuram eriyachchilai vaḷaiviththavaṉ maṭavāḷ
vīṟārthara niṉtṟāṉiṭam virinīrviya lūrē".
செம்மென்சடை யவைதாழ்வுற மடவார்மனை தோறும்
பெய்ம்மின்பலி யெனநின்றிசை பகர்வாரவ ரிடமாம்
உம்மென்றெழும் அருவித்திரள் வரைபற்றிட வுரைமேல்
விம்மும்பொழில் கெழுவும்வயல் விரிநீர்விய லூரே.
"Semmeṉsaṭai yavaithāzhvuṟa maṭavārmaṉai thōṟum
peym'miṉpali yeṉaniṉtṟisai pakarvārava riṭamām
um'meṉtṟezhum aruviththiraḷ varaipatṟiṭa vuraimēl
vim'mumpozhil kezhuvumvayal virinīrviya lūrē".
அடைவாகிய அடியார்தொழ அலரோன்தலை யதனில்
மடவாரிடு பலிவந்துண லுடையானவ னிடமாம்
கடையார்தர அகிலார்கழை முத்தந்நிரை சிந்தி
மிடையார்பொழில் புடைசூழ்தரு விரிநீர்விய லூரே.
"Aṭaivākiya aṭiyārthozha alarōṉthalai yathaṉil
maṭavāriṭu palivanthuṇa luṭaiyāṉava ṉiṭamām
kaṭaiyārthara akilārkazhai muththannirai sinthi
miṭaiyārpozhil puṭaichūzhtharu virinīrviya lūrē".
எண்ணார்தரு பயனாயய னவனாய்மிகு கலையாய்ப்
பண்ணார்தரு மறையாயுயர் பொருளாயிறை யவனாய்க்
கண்ணார்தரும் உருவாகிய கடவுள்ளிட மெனலாம்
விண்ணோரொடு மண்ணோர்தொழு விரிநீர்விய லூரே.
"Eṇṇārtharu payaṉāyaya ṉavaṉāymiku kalaiyāyp
paṇṇārtharu maṟaiyāyuyar poruḷāyiṟai yavaṉāyk
kaṇṇārtharum uruvākiya kaṭavuḷḷiṭa meṉalām
viṇṇōroṭu maṇṇōrthozhu virinīrviya lūrē".
வசைவிற்கொடு வருவேடுவ னவனாய்நிலை யறிவான்
திசையுற்றவர் காணச்செரு மலைவான்நிலை யவனை
அசையப்பொரு தசையாவணம் அவனுக்குயர் படைகள்
விசையற்கருள் செய்தானிடம் விரிநீர்விய லூரே.
"Vasaiviṟkoṭu varuvēṭuva ṉavaṉāynilai yaṟivāṉ
thisaiyutṟavar kāṇachcheru malaivāṉnilai yavaṉai
asaiyapporu thasaiyāvaṇam avaṉukkuyar paṭaikaḷ
visaiyaṟkaruḷ seythāṉiṭam virinīrviya lūrē".
மானார்அர வுடையான்இர வுடையான் பகல்நட்டம்
ஊனார்தரும் உயிரானுயர் விசையான்விளை பொருள்கள்
தானாகிய தலைவன்னென நினைவாரவ ரிடமாம்
மேனாடிய விண்ணோர்தொழும் விரிநீர்விய லூரே.
"Māṉār'ara vuṭaiyāṉira vuṭaiyāṉ pakalnaṭṭam
ūṉārtharum uyirāṉuyar visaiyāṉviḷai poruḷkaḷ
thāṉākiya thalaivaṉṉeṉa niṉaivārava riṭamām
mēṉāṭiya viṇṇōrthozhum virinīrviya lūrē".
பொருவா ரெனக்கெதிரா ரெனப்பொருப்பை யெடுத்தான்றன்
கருமால்வரை கரந்தோளுரங் கதிர்நீள்முடி நெரிந்து
சிரமாயின கதறச்செறி கழல்சேர்திரு வடியின்
விரலாலடர் வித்தானிடம் விரிநீர்விய லூரே.
"Poruvā reṉakkethirā reṉapporuppai yeṭuththāṉtṟaṉ
karumālvarai karanthōḷuraṅ kathirnīḷmuṭi nerinthu
siramāyiṉa kathaṟachcheṟi kazhalsērthiru vaṭiyiṉ
viralālaṭar viththāṉiṭam virinīrviya lūrē".
வளம்பட்டலர் மலர்மேலயன் மாலும்மொரு வகையால்
அளம்பட்டறி வொண்ணாவகை அழலாகிய அண்ணல்
உளம்பட்டெழு தழல்தூணதன் நடுவேயொரு வுருவம்
விளம்பட்டருள் செய்தானிடம் விரிநீர்விய லூரே.
"Vaḷampaṭṭalar malarmēlayaṉ mālum'moru vakaiyāl
aḷampaṭṭaṟi voṇṇāvakai azhalākiya aṇṇal
uḷampaṭṭezhu thazhalthūṇathaṉ naṭuvēyoru vuruvam
viḷampaṭṭaruḷ seythāṉiṭam virinīrviya lūrē".
தடுக்கால்உடல் மறைப்பாரவர் தவர்சீவர மூடிப்
பிடக்கேயுரை செய்வாரொடு பேணார்நமர் பெரியோர்
கடற்சேர்தரு விடமுண்டமு தமரர்க்கருள் செய்த
விடைச்சேர்தரு கொடியானிடம் விரிநீர்விய லூரே.
"Thaṭukkāluṭal maṟaippāravar thavarsīvara mūṭip
piṭakkēyurai seyvāroṭu pēṇārnamar periyōr
kaṭaṟsērtharu viṭamuṇṭamu thamararkkaruḷ seytha
viṭaichchērtharu koṭiyāṉiṭam virinīrviya lūrē".
விளங்கும்பிறை சடைமேலுடை விகிர்தன்விய லூரைத்
தளங்கொண்டதொர் புகலித்தகு தமிழ்ஞானசம் பந்தன்
துளங்கில்தமிழ் பரவித்தொழும் அடியாரவ ரென்றும்
விளங்கும்புக ழதனோடுயர் விண்ணும்முடை யாரே.
"Viḷaṅkumpiṟai saṭaimēluṭai vikirthaṉviya lūraith
thaḷaṅkoṇṭathor pukaliththaku thamizhñāṉasam banthaṉ
thuḷaṅkiltamizh paraviththozhum aṭiyārava reṉtṟum
viḷaṅkumpuka zhathaṉōṭuyar viṇṇum'muṭai yārē".