Visited on: Sunday, September 18, 2016
Location
Thiru Mundeecharam is situated at a distance of about 17 kms from Villupuram on the Villupuram to Thirukkovilur route.
Other Devara Paadal Petra Shiva Sthalams near this place are –
Thiruvennainallur, T.Idaiyaru, Thiruvamathur, Puravar Panangkattur, Thirunavalur, Thiruvathigai Veerattanam and Thiruthuraiyur.
General Information
Moolavar

Sri Shivalokanathar, Sri Mundeeswarar

Ambal

Sri Soundarya Nayagi, Sri Kaanaar Kuzhali,
Sri Selvanayaki

Theertham (Holy water)

Brahma Theertham/ Mundaka Theertham

Sthala Vriksham (Sacred Tree)

Vanni

Pathigam (Hymn) rendered by

Saint Thirunavukarasar (Appar)

This is one of the 276 Devara Paadal Petra Shiva Sthalams and 19th Shiva Sthalam in Nadu Naadu.
Lord Shiva in this temple is a Swayambumurthi (self-manifested).
This east facing temple has a single corridor and its main tower (Rajagopuram) has 5-tiers.
The flag post (Dwajasthambam) was installed recently.
The last consecration ceremony (Maha Kumbabishekam) took place on 10.09.2006.
History of the Temple
This temple is located on the southern bank of the Malattaru (Pennai river), now known as Malattaar. As per the stone inscriptions available in this temple, this place was once the capital of Mudiyur Nadu.
Also, these stone inscriptions reveal that this place was once called "Mouli Gramam" ("Mouli" means chieftain and "gramam" means village in Tamil). However, over a period of time, this was shortened to just Gramam.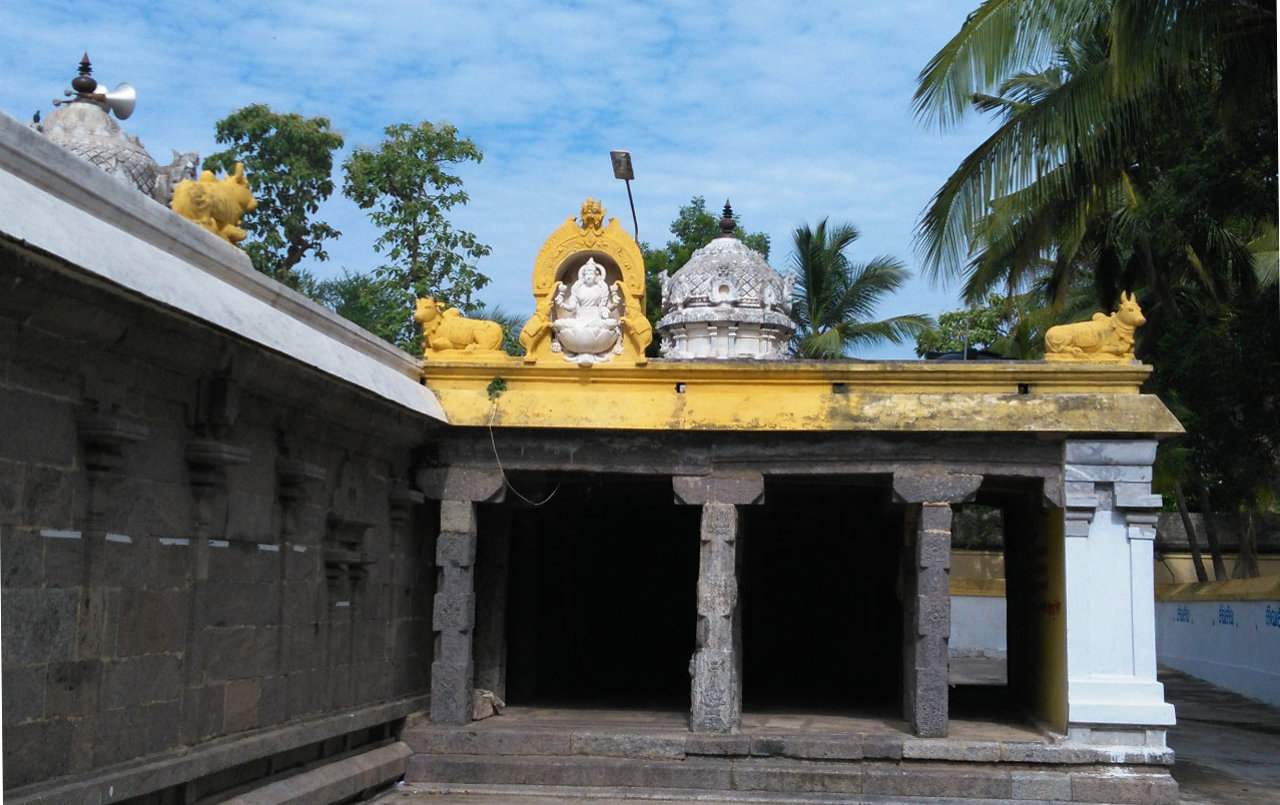 Legend
According to legend, this is the place where Mundi, one of Lord Shiva's securities (Dwarapalakas), worshiped him. Hence this place is called "Mundeescharam" and the lord is praised as "Sri Mundeeswarar". Lord Shiva's other dwarapalaka, Thindi is believed to have worshipped Lord Shiva in "Thindeeswaram" (now called Tindivanam).
Another legend associated with this place is that of a king called Chokkalingam who is believed to have visited this place in Dwapara Yuga. He is believed to have noticed a strange lotus flower in a pond. He wanted to pluck the flower but was unable to do so as it kept moving in the water. The king shot an arrow and as soon as it hit the flower, the water turned red. Upon further investigation, he found a Shivalingam inside the flower. He immediately built a temple there. The Shivalingam still has a scar on it.
It is also believed that it is in this place that Lord Shiva gave a bag (Pokkanam) of sacred ash (Vibhuthi) to a king called Veerapandiyan. Hence the lord here is also praised as "Pokkanam Kodutha Nayanar".
It is believed that Lord Brahma and Lord Indira have worshipped Lord Shiva here.
Deities in the temple
Shrines and Idols of lords Vinayagar, Murugan with his consorts, Natarajar, Somaskandar, Dakshinamurthy, lingothbavar, Brahma and Mahavishnu, Nalvar, Navagraham, Saptamadakkal, Aiyanar, Bairavar, Suryan, Pancha lingams (5 lingams), Chandiran, Thindi and Mundi, Durgai and Chandikeswarar, can be seen in the corridors.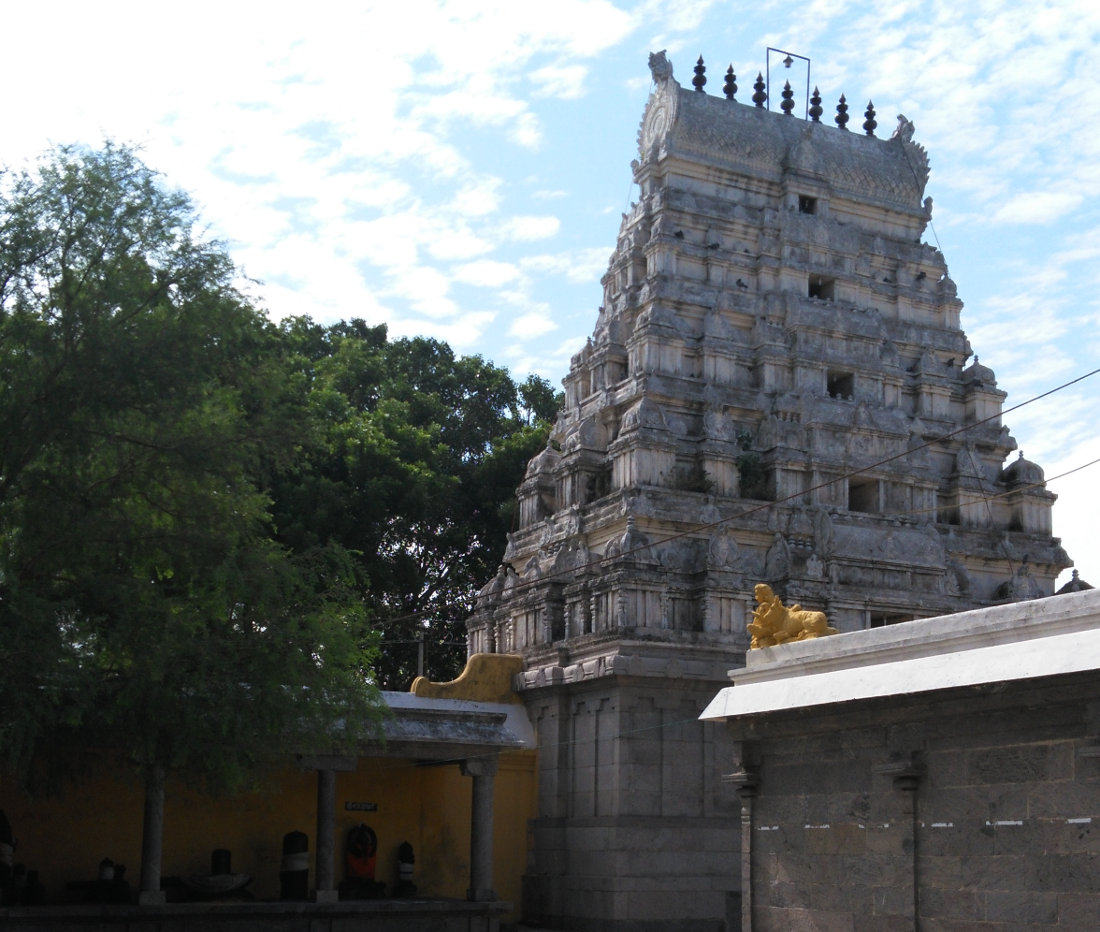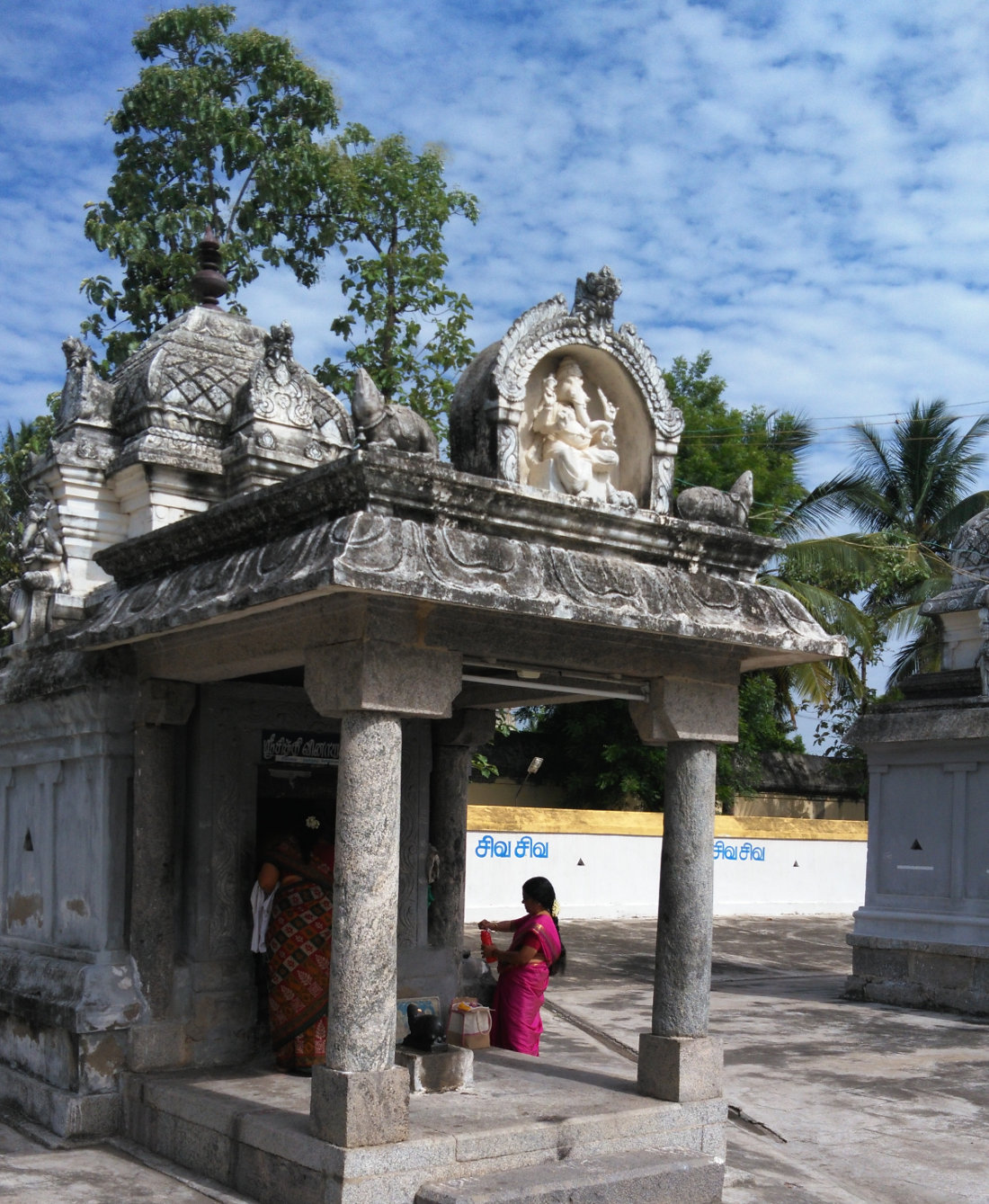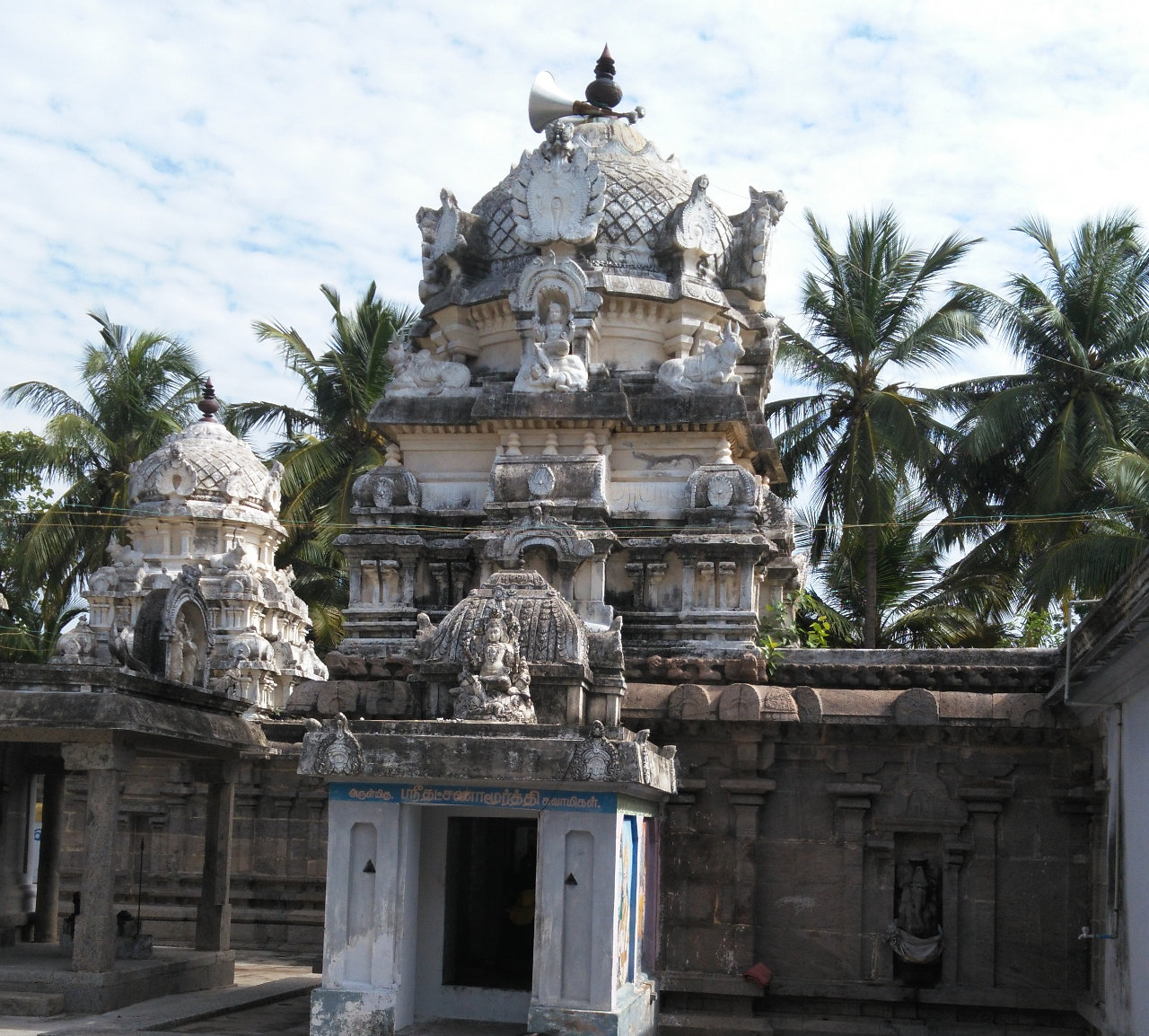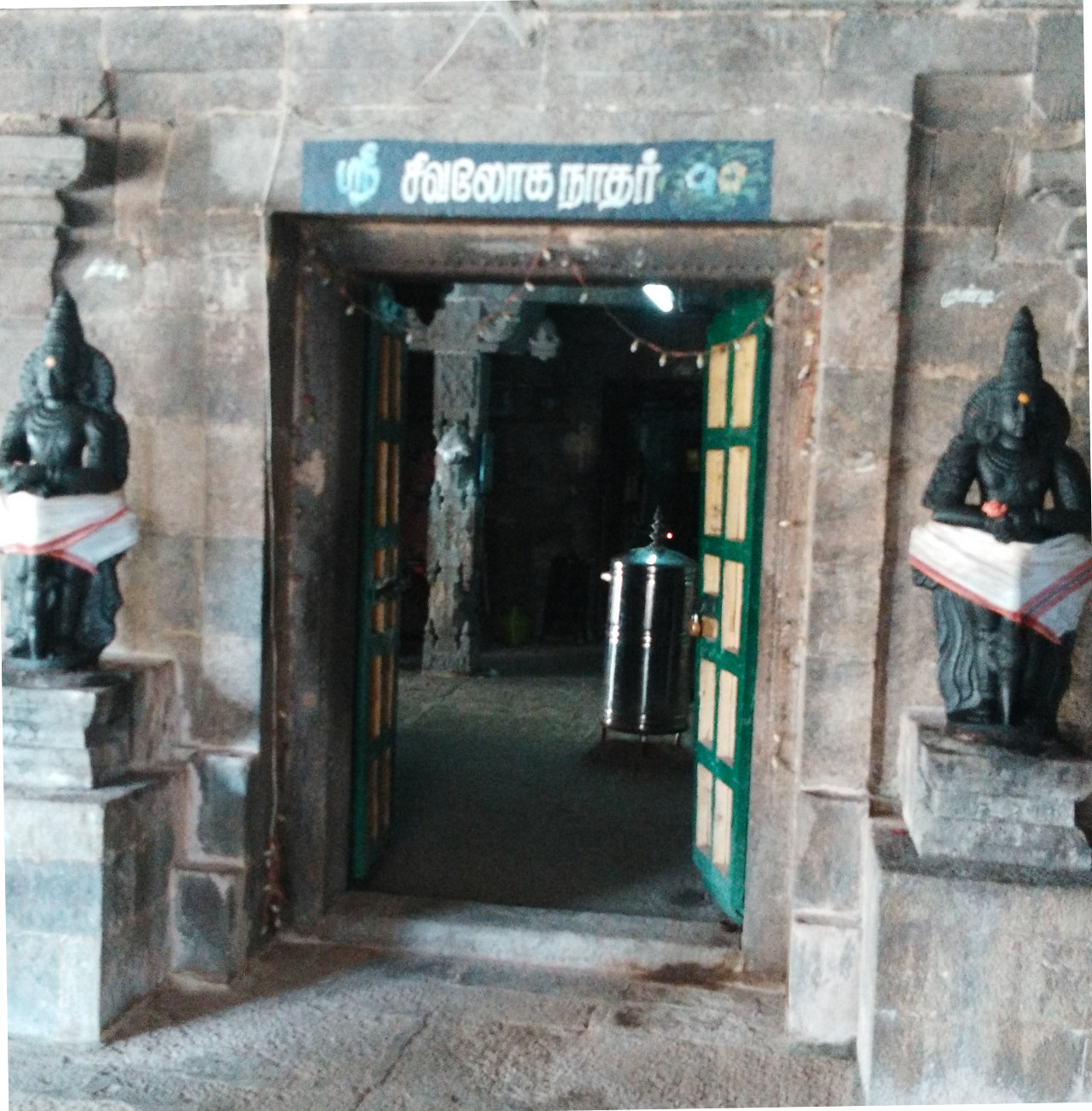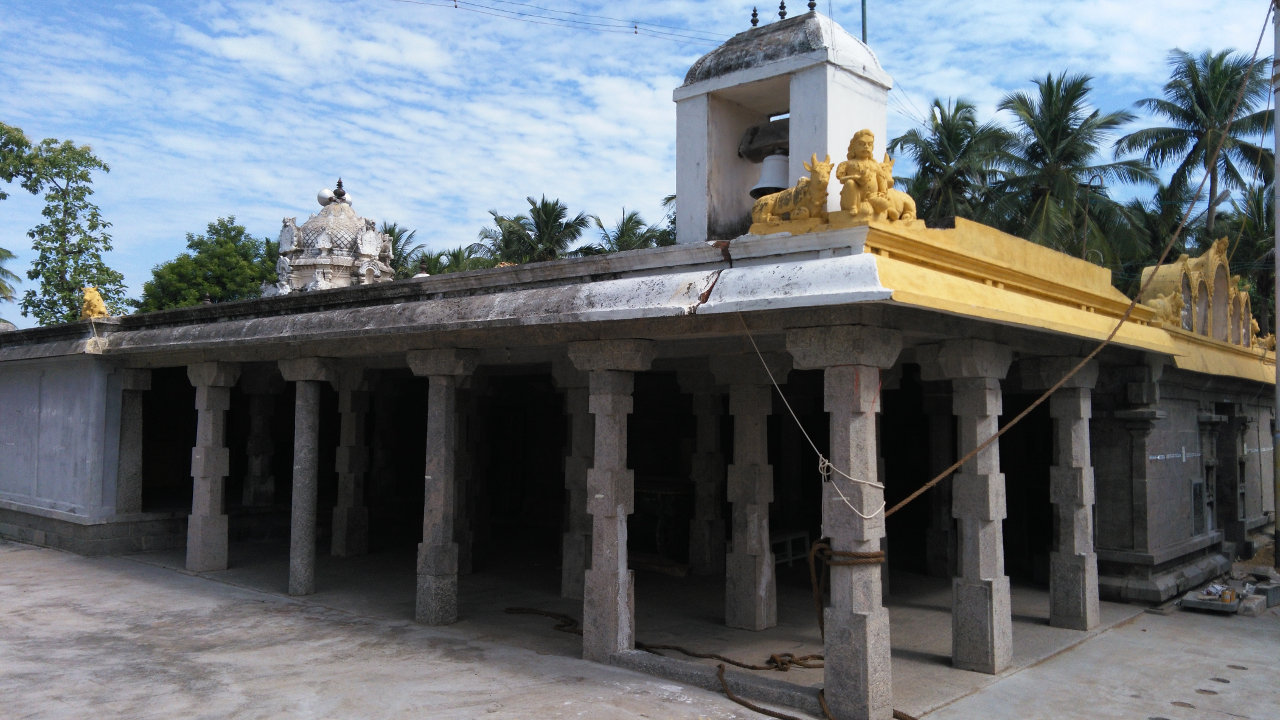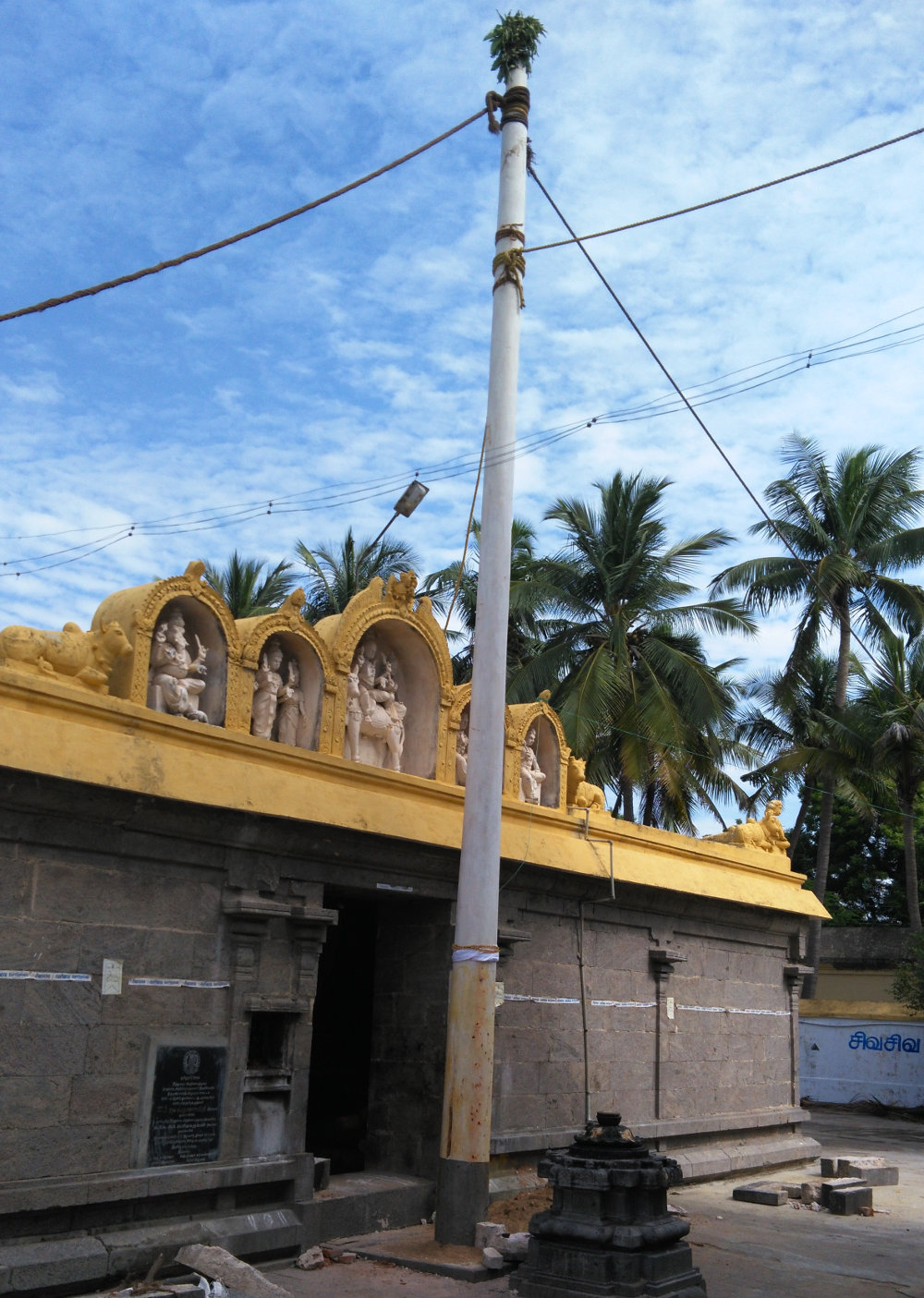 Salient Features
The temple is of Somaskanda design as the shrine of Lord Murugan is in between those of Lord Shiva and Goddess Parvathi.
Lord Dakshinamurthy is seated on his bull mount (Rishaba Vahanam) on a hill instead of being seated under the banyan (Kallala) tree.
There is a beautiful 25-pillared hall (Mandapam) with lots of intricately carved reliefs.
It is believed that this is one of the temples where Saint Thirunavukkarasar performed his cleaning services (Uzhavara Pani).
Greatness of this Temple
Worshiping Goddess Soundarya Nayaki here is considered to be auspicious for those seeking excellence in the fields of music and dance.
Important Festivals
Many festivals are celebrated in this temple. Some of them are –
Appar Vizha is celebrated in the Tamil month of Chithirai (April-May),
Aani Thirumanjanam in the Tamil month of Aani (June-July),
Vinayakar Chaturthi in the Tamil month of Aavani (Aug-Sept),
Navarathri in the Tamil month of Purattasi (Sept-Oct),
Skanda Shashti and Annabishekam in the Tamil month of Aippasi (Oct–Nov),
Thiruvadhirai in the Tamil month of Markazhi (Dec-Jan),
Makara Sankranthi in the Tamil month of Thai (Jan-Feb),
Mahashivrathri in the Tamil month of Masi (Feb-Mar) and
Panguni Uthiram in the Tamil month of Panguni (Mar-Apr).
Pradosham is also observed regularly.
Temple Timings
From 06:00 AM to 10:00 AM and from 06:00 PM to 08:00 PM.
Temple Address
Sri Sivalokanathar Temple,
Gramam (Thirumundeecharam),
Thiruvennainallur Taluk,
Villupuram District,
Tamil Nadu - 607 203
Temple priest Sri Kannan Gurukkal can be contacted at +91 4146 206 700.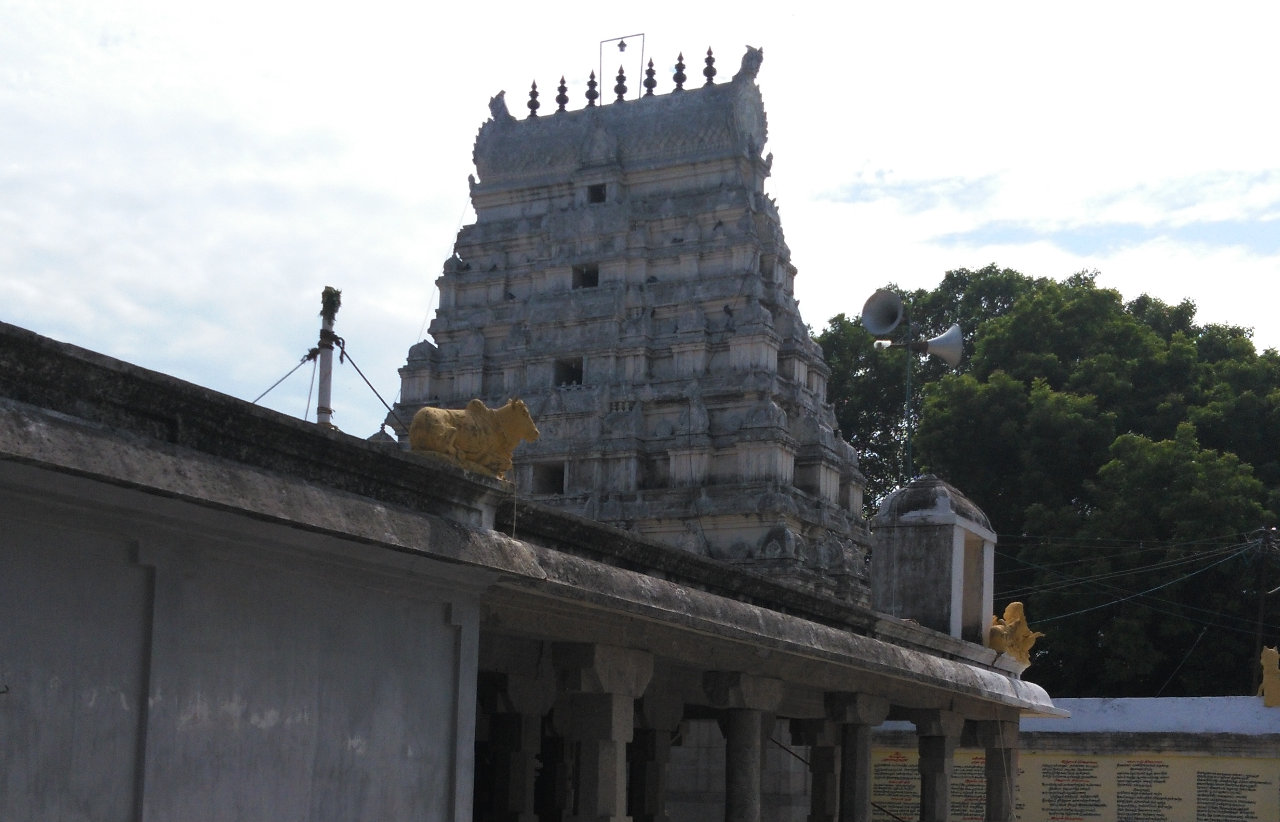 ---
Pathigam (Hymn) with English transliteration
Saint Thirunavukarasar visited this temple and sang this Pathigam.
Devotees visiting this temple should make it a practice to recite this Pathigam.
ஆர்த்தான்காண் அழல்நாகம் அரைக்கு நாணா
அடியவர்கட் கன்பன்காண் ஆனைத் தோலைப்
போர்த்தான்காண் புரிசடைமேற் புனலேற் றான்காண்
புறங்காட்டி லாடல் புரிந்தான் றான்காண்
காத்தான்காண் உலகேழுங் கலங்கா வண்ணங்
கனைகடல்வாய் நஞ்சதனைக் கண்டத் துள்ளே
சேர்த்தான்காண் திருமுண்டீச் சரத்து மேய
சிவலோகன் காணவனென் சிந்தை யானே.
"Ārthāṉkāṇ azhalnākam araikku nāṇā
aṭiyavarkaṭ kaṉpaṉkāṇ āṉaith thōlaip
pōrthāṉkāṇ purisaṭaimēṟ puṉalēṟ tṟāṉkāṇ
puṟaṅkāṭṭi lāṭal purinthāṉ tṟāṉkāṇ
kāthāṉkāṇ ulakēzhuṅ kalaṅkā vaṇṇaṅ
kaṉaikaṭalvāy nañchathaṉaik kaṇṭath thuḷḷē
sērthāṉkāṇ thirumuṇṭīch charathu mēya
sivalōkaṉ kāṇavaṉeṉ chinthai yāṉē".
கருத்தன்காண் கமலத்தோன் றலையி லொன்றைக்
காய்ந்தான்காண் பாய்ந்தநீர் பரந்த சென்னி
ஒருத்தன்காண் உமையவளோர் பாகத் தான்காண்
ஓருருவின் மூவுருவா யொன்றாய் நின்ற
விருத்தன்காண் விண்ணவர்க்கும் மேலா னான்காண்
மெய்யடியா ருள்ளத்தே விரும்பி நின்ற
திருத்தன்காண் திருமுண்டீச் சரத்து மேய
சிவலோகன் காணவனென் சிந்தை யானே.
"Karuthaṉkāṇ kamalathōṉ tṟalaiyi loṉtṟaik
kāynthāṉkāṇ pāynthanīr parantha seṉṉi
oruthaṉkāṇ umaiyavaḷōr pākath thāṉkāṇ
ōruruviṉ mūvuruvā yoṉtṟāy niṉtṟa
viruthaṉkāṇ viṇṇavarkkum mēlā ṉāṉkāṇ
meyyaṭiyā ruḷḷathē virumpi niṉtṟa
thiruthaṉkāṇ thirumuṇṭīch charathu mēya
sivalōkaṉ kāṇavaṉeṉ chinthai yāṉē".
நம்பன்காண் நரைவிடையொன் றேறி னான்காண்
நாதன்காண் கீதத்தை நவிற்றி னான்காண்
இன்பன்காண் இமையாமுக் கண்ணி னான்காண்
ஏசற்று மனமுருகும் அடியார் தங்கட்
கன்பன்காண் ஆரழல தாடி னான்காண்
அவனிவனென் றியாவர்க்கும் அறிய வொண்ணாச்
செம்பொன்காண் திருமுண்டீச் சரத்து மேய
சிவலோகன் காணவனென் சிந்தை யானே.
"Nampaṉkāṇ naraiviṭaiyoṉ tṟēṟi ṉāṉkāṇ
nāthaṉkāṇ kīthathai navitṟi ṉāṉkāṇ
iṉpaṉkāṇ imaiyāmuk kaṇṇi ṉāṉkāṇ
ēsatṟu maṉamurukum aṭiyār thaṅkaṭ
kaṉpaṉkāṇ ārazhala thāṭi ṉāṉkāṇ
avaṉivaṉeṉ tṟiyāvarkkum aṟiya voṇṇāch
chempoṉkāṇ thirumuṇṭīch charathu mēya
sivalōkaṉ kāṇavaṉeṉ chinthai yāṉē".
மூவன்காண் மூவர்க்கும் முதலா னான்காண்
முன்னுமாய்ப் பின்னுமாய் முடிவா னான்காண்
காவன்காண் உலகுக்கோர் கண்ணா னான்காண்
கங்காளன் காண்கயிலை மலையி னான்காண்
ஆவன்காண் ஆவகத்தஞ் சாடி னான்காண்
ஆரழலாய் அயற்கரிக்கும் அறிய வொண்ணாத்
தேவன்காண் திருமுண்டீச் சரத்து மேய
சிவலோகன் காணவனென் சிந்தை யானே.
"Mūvaṉkāṇ mūvarkkum muthalā ṉāṉkāṇ
muṉṉumāyp piṉṉumāy muṭivā ṉāṉkāṇ
kāvaṉkāṇ ulakukkōr kaṇṇā ṉāṉkāṇ
kaṅkāḷaṉ kāṇkayilai malaiyi ṉāṉkāṇ
āvaṉkāṇ āvakathañ chāṭi ṉāṉkāṇ
ārazhalāy ayaṟkarikkum aṟiya voṇṇāth
thēvaṉkāṇ thirumuṇṭīch charathu mēya
sivalōkaṉ kāṇavaṉeṉ chinthai yāṉē".
கானவன்காண் கானவனாய்ப் பொருதான் றான்காண்
கனலாட வல்லான்காண் கையி லேந்தும்
மானவன்காண் மறைநான்கு மாயி னான்காண்
வல்லேறொன் றதுவேற வல்லான் றான்காண்
ஊனவன்காண் உலகத்துக் குயிரா னான்காண்
உரையவன்காண் உணர்வவன்காண் உணர்ந்தார்க் கென்றுந்
தேனவன்காண் திருமுண்டீச் சரத்து மேய
சிவலோகன் காணவனென் சிந்தை யானே.
"Kāṉavaṉkāṇ kāṉavaṉāyp poruthāṉ tṟāṉkāṇ
kaṉalāṭa vallāṉkāṇ kaiyi lēnthum
māṉavaṉkāṇ maṟaināṉku māyi ṉāṉkāṇ
vallēṟoṉ tṟathuvēṟa vallāṉ tṟāṉkāṇ
ūṉavaṉkāṇ ulakathuk kuyirā ṉāṉkāṇ
uraiyavaṉkāṇ uṇarvavaṉkāṇ uṇarnthārk keṉtṟun
thēṉavaṉkāṇ thirumuṇṭīch charathu mēya
sivalōkaṉ kāṇavaṉeṉ chinthai yāṉē".
உற்றவன்காண் உறவெல்லா மாவான் றான்காண்
ஒழிவற நின்றெங்கு முலப்பி லான்காண்
புற்றரவே ஆடையுமாய்ப் பூணு மாகிப்
புறங்காட்டி லெரியாடல் புரிந்தான் றான்காண்
நற்றவன்காண் அடியடைந்த மாணிக் காக
நணுகியதோர் பெருங்கூற்றைச் சேவ டியினாற்
செற்றவன்காண் திருமுண்டீச் சரத்து மேய
சிவலோகன் காணவனென் சிந்தை யானே.
"Utṟavaṉkāṇ uṟavellā māvāṉ tṟāṉkāṇ
ozhivaṟa niṉtṟeṅku mulappi lāṉkāṇ
putṟaravē āṭaiyumāyp pūṇu mākip
puṟaṅkāṭṭi leriyāṭal purinthāṉ tṟāṉkāṇ
natṟavaṉkāṇ aṭiyaṭaintha māṇik kāka
naṇukiyathōr peruṅkūtṟaich chēva ṭiyiṉāṟ
cetṟavaṉkāṇ thirumuṇṭīch charathu mēya
sivalōkaṉ kāṇavaṉeṉ chinthai yāṉē".
உதைத்தவன்காண் உணராத தக்கன் வேள்வி
உருண்டோ டத் தொடர்ந்தருக்கன் பல்லை யெல்லாந்
தகர்த்தவன்காண் தக்கன்றன் தலையைச் செற்ற
தலையவன்காண் மலைமகளாம் உமையைச் சால
மதிப்பொழிந்த வல்லமரர் மாண்டார் வேள்வி
வந்தவியுண் டவரோடு மதனை யெல்லாஞ்
சிதைத்தவன்காண் திருமுண்டீச் சரத்து மேய
சிவலோகன் காணவனென் சிந்தை யானே.
"Utaithavaṉkāṇ uṇarātha thakkaṉ vēḷvi
uruṇṭō ṭath thoṭarntharukkaṉ pallai yellān
thakarthavaṉkāṇ thakkaṉtṟaṉ thalaiyaich chetṟa
thalaiyavaṉkāṇ malaimakaḷām umaiyaihc chāla
mathippozhintah vallamarar māṇṭār vēḷvi
vanthaviyuṇ ṭavarōṭu mathaṉai yellāñ
chithaithavaṉkāṇ thirumuṇṭīch charatth mēya
sivalōkaṉ kāṇavaṉeṉ chinthai yāṉē".
உரிந்தவுடை யார்துவரா லுடம்பை மூடி
உழிதருமவ் வூமரவர் உணரா வண்ணம்
பரிந்தவன்காண் பனிவரைமீப் பண்ட மெல்லாம்
பறித்துடனே நிரந்துவரு பாய்நீர்ப் பெண்ணை
நிரந்துவரும் இருகரையுந் தடவா வோடி
நின்மலனை வலங்கொண்டு நீள நோக்கித்
திரிந்துலவு திருமுண்டீச் சரத்து மேய
சிவலோகன் காணவனென் சிந்தை யானே.
"Urinthavuṭai yārthuvarā luṭampai mūṭi
uzhitharumav vūmaravar uṇarā vaṇṇam
parinthavaṉkāṇ paṉivaraimīp paṇṭa mellām
paṟithuṭaṉē niranthuvaru pāynīrp peṇṇai
niranthuvarum irukaraiyun thaṭavā vōṭi
niṉmalaṉai valaṅkoṇṭu nīḷa nōkkith
thirinthulavu thirumuṇṭīch charathu mēya
sivalōkaṉ kāṇavaṉeṉ chinthai yāṉē".

இப்பதிகத்தில் 9-ம் செய்யுள் சிதைந்து போயிற்று.
Ippathikathil 9-m seyyuḷ sithainthu pōyitṟu.
அறுத்தவன்காண் அடியவர்கள் அல்ல லெல்லாம்
அரும்பொருளாய் நின்றவன்காண் அனங்க னாகம்
மறுத்தவன்காண் மலைதன்னை மதியா தோடி
மலைமகள்தன் மனம்நடுங்க வானோ ரஞ்சக்
கறுத்தவனாய்க் கயிலாய மெடுத்தோன் கையுங்
கதிர்முடியுங் கண்ணும் பிதுங்கி யோடச்
செறுத்தவன்காண் திருமுண்டீச் சரத்து மேய
சிவலோகன் காணவனென் சிந்தை யானே.
"Aṟuthavaṉkāṇ aṭiyavarkaḷ alla lellām
arumporuḷāy niṉtṟavaṉkāṇ aṉaṅka ṉākam
maṟuthavaṉkāṇ malaithaṉṉai mathiyā thōṭi
malaimakaḷthaṉ maṉamnaṭuṅka vāṉō rañchak
kaṟuthavaṉāyk kayilāya meṭuthōṉ kaiyuṅ
kathirmuṭiyuṅ kaṇṇum pithuṅki yōṭach
cheṟuthavaṉkāṇ thirumuṇṭīhc charathu mēya
sivalōkaṉ kāṇavaṉeṉ chinthai yāṉē".