Visited on: August 15, 2016
Location
The nearest town to Thirukkallil is Periyapalayam. To reach Periyapalayam there are two routes –
(1) Periyapalayam is around 40 kms from Koyambedu on the Chennai - Puzhal – Redhills - Periyapalayam route.
(2) Another route is from Uthukottai, Uthukottai to Periyapalayam is 16 kms.
From Periyapalayam first reach Kannigaiper (Kanniputhur) which is at a distance of 5 kms and then travel for another 3 kms to reach Thirukkallil (Thirukkandalam).
General Information
Moolavar

Sri Shivanandheswarar, Sri Thirukalleeswarar
Sri Shakti Dakshinamurthy

Ambal

Sri Anandavalli Ammai

Theertham (Holy water)

Nandhi Theertham/Sivananda Theertham

Sthala Vriksham (Sacred Tree)

Kalli

Pathigam (Hymn) rendered by

Saint Thirugnanasambanthar

This is one of the 276 Devara Paadal Petra Shiva Sthalams and 18th Shiva Sthalam in Thondai Nadu.
Moolavar is Swayambhumurthy (self-manifested lingam).
This temple has a single corridor and its main tower (Rajagopuram) has 5-tiers.
Moolavar's shrine (vimanam) is of Gaja Brishtam type.
This temple is east facing and has a beautiful tank in front of it.
History of the Temple
The temple is situated on the banks of Kushasthali river and is said to have been built in the Chola period.
According to the legend, Lord Rama's sons - Lava and Kusha lived at Siruvapuri, a village near Thirukkallil. It is believed that they would often come to Thirukkallil, take a dip in the river and worship Lord Shiva. Since Kusha took a dip in this river, it is called Kushasthali. Another interesting story is that once Lava and Kusha had fought in a war against Lord Rama himself without knowing that he was their father.
In ancient times this place was dense with kalli trees (Vajravanam in Sanskrit) and the sacred tree of this temple is also kalli, hence this place is called "Kallil". Another name for this place is "Thirukkandalam".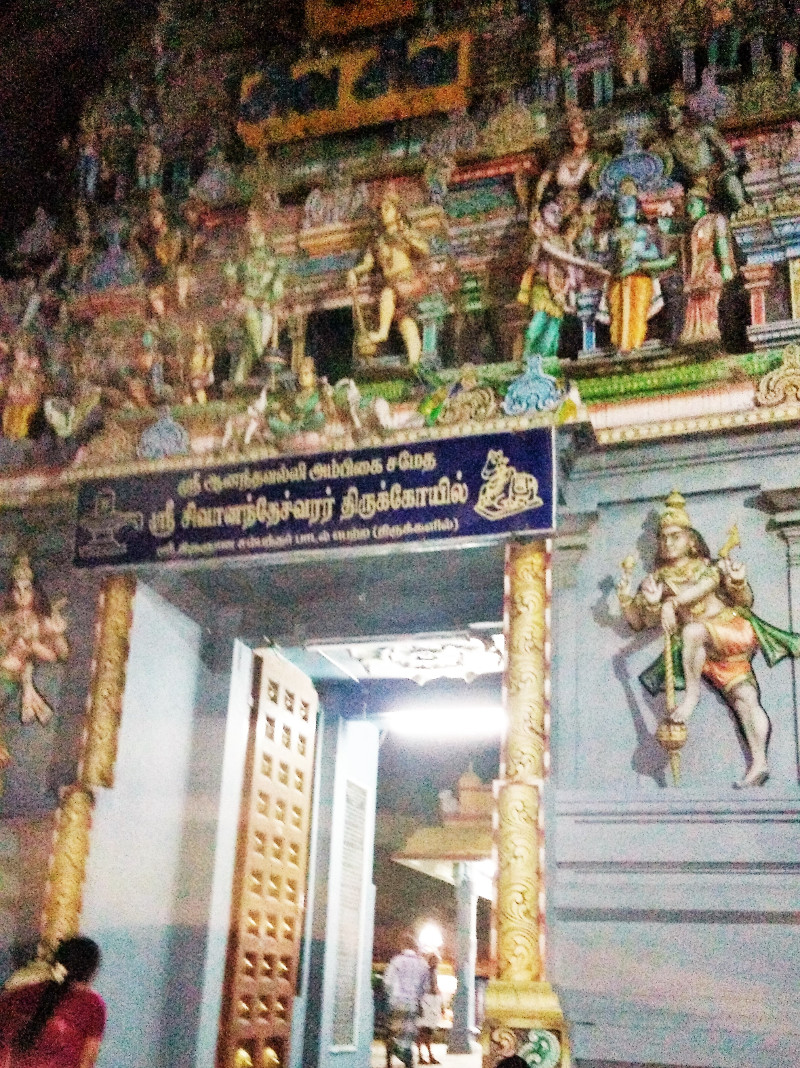 Legend
The legend is that Saint Thirugnanasambhanthar came to Thirukkallil after visiting Thiruvenpakkam, another Paadal Petra Sthalam.
When he was taking a dip in the Kushasthali river, his belongings – a pooja box and vibhoothi (sacred ash) bag went missing. Searching for his belongings, he found a Shiva lingam in the midst of Kalli trees with his missing items near it. In his pathigam, he sang of the lord of this temple "Lord Sivanandeswarar" as a thief (kalvan).
Another legend is that Sage Bhrigu worshipped Lord Shiva here and made offerings of thousands of Kalli flowers (huge Indian hedge cactus). Hence the lord here is also called "Sri Thirukalleeswarar" and this place is called Thirukallil. Pleased by his devotion Lord Shiva appeared before him in the form of "Shakthi Dhakshinamurthy" – Lord Dhakshinamurthy with Goddess Shakthi on his lap.
Sage Bhrigu had a peculiar habit of circumambulating only Lord Shiva without worshipping Goddess Parvathy. Goddess Parvathy took offence to this. In order placate her, Lord Shiva decided to give dharisanam to Sage Bhrigu in the form of Shakthi Dakshinamurthy and show him that he was one with the Goddess. The sage sought the pardon of Goddess Parvathy for his folly. Pleased with his worship, Goddess Parvathy blessed him by saying that he would always be in a state of bliss – "Anandam". Hence, Goddess Parvathy is called Anandavalli here.
The unique feature of this temple is that the idol of Dakshinamurthy here is in the form of Shakti Dakshinamurthy. An idol of Sage Bhrigu worshiping Lord Shiva can also be seen next to Dakshinamurthy's idol.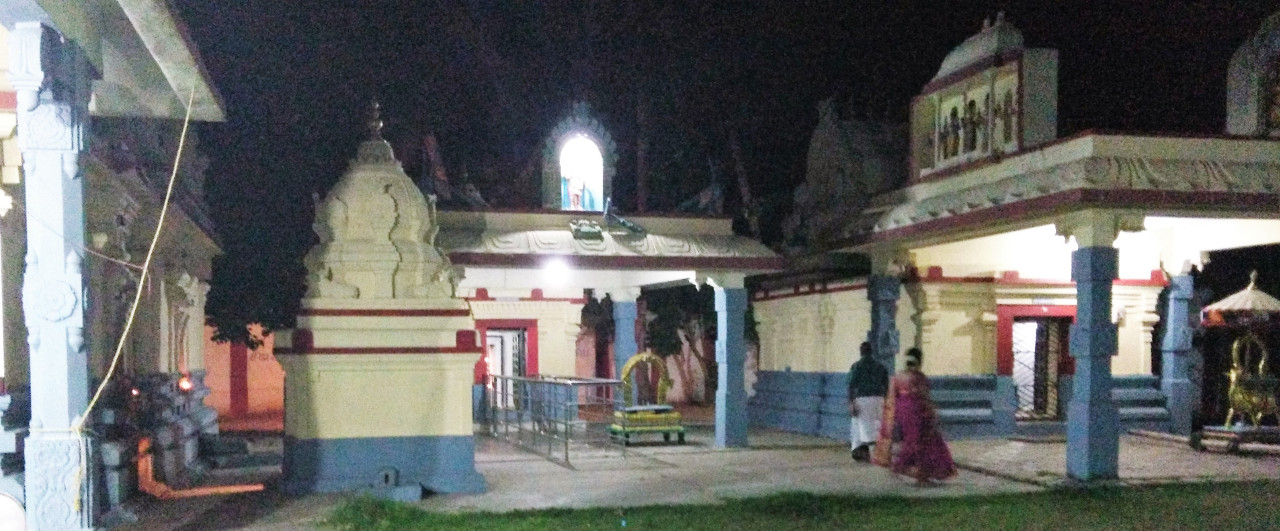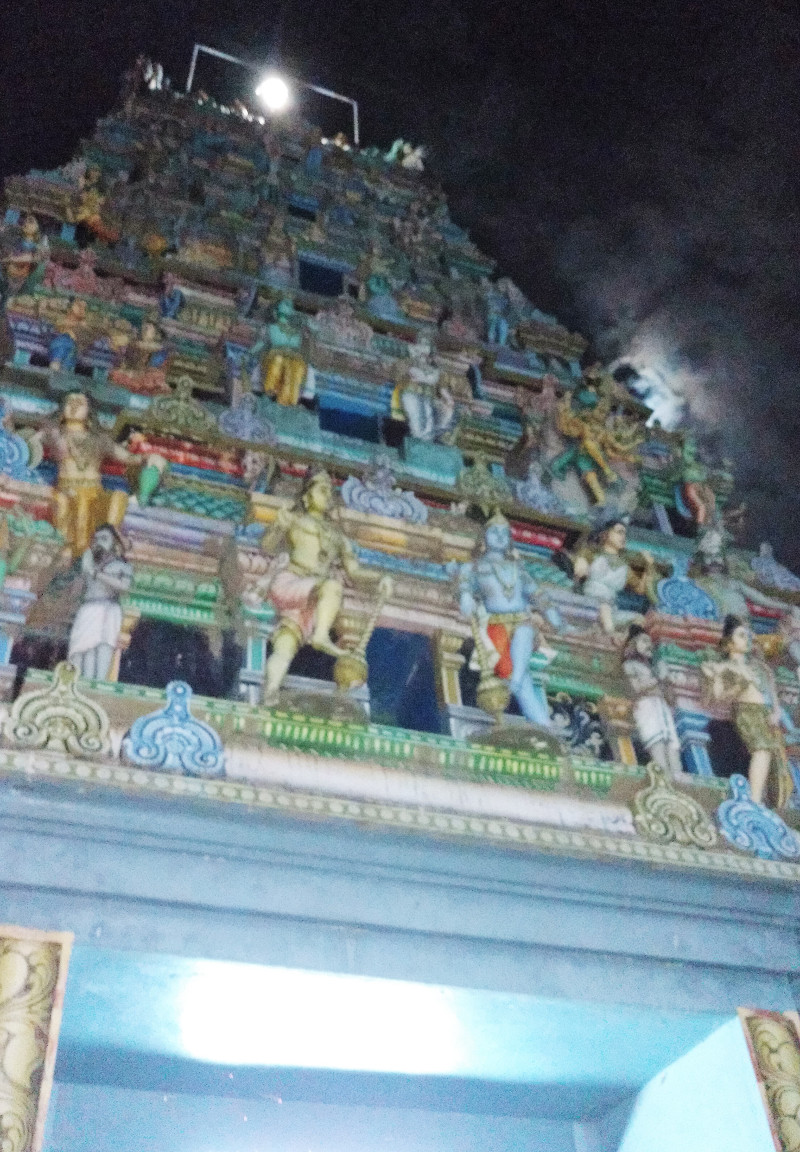 Another legend associated with this temple is that, when Lord Shiva and Goddess Parvathy was getting married, the celestial world came into a state of imbalance and dipping towards the north side due to the combined weight of the celestial gods (Devars) and sages who had gathered to witness the wedding. To restore the balance, Lord Shiva asked Sage Agasthiar to go to the south. Agasthiar reached a place called Pancheshti near Thirukkallil and performed five yagnas - Deva Yagam, Brahma Yagam, Bhootha Yagam, Pithur Yagam and Manusha Yaaam.
Lord Shiva appeared before him in the form of "Somaskandar" and asked him to go to Thirukkallil. Somaskandar is derived from the term – "So-Uma-Skanda" where So means Lord Shiva, Uma means Goddess Parvathy and Skanda means Lord Murugan. It signifies that Lord Murugan is in the lap of Lord Shiva and Goddess Parvathy.
When Agasthiar reached Thirukkallil, he was surprised to see that the temple itself was in the form of Somaskandar – with Lord Murugan's shrine situated in between the shrines of Lord Shiva and Goddess Parvathi.
He stayed in Thirukkallil for one mandalam (41 days) and worshipped Lord Shiva. It is believed that Lord Shiva and Goddess Parvathy gave "Shiv-anandha dharisanam" to Agasthiar because he was unable to attend their wedding. Hence Lord Shiva here is also called Sri Shivanandeswarar.
Sage Agasthiar prayed to lord that this dharisanam should be available to all devotees. Granting this boon to the sage, Lord Shiva stayed here as a Swayambu Lingam.
Deities in the temple
Apart from separate shrines for Lord Shiva and Goddess Anandavalli, idols of Lord Sundara Vinayakar, Lord Murugan, Lord Kalatheswarar, Nalvars with Sekizhar, Suryan, Kala Bairavar, Anjaneyar, Chantikeswarar and Navagraham can be seen in the corridors.
Lord Shiva is seen in this temple as "Shakti Dakshinamurthy" and is in a separate shrine. He is holding a nectar pot and palm leaves in his left hand and is embracing Goddess Parvathy.
Here Lord Murugan is seen as Balasubramanyar and he is without his consorts. His shrine is in between those of Lord Shiva and Ambal.
Salient Features
The vimana (roof tower) of the sanctum sanctorum is designed in the "Gaja Brishtam" style - a form of architecture that is exclusive to the Pallava Dynasty. In this style, the roof top looks like the rear of a sleeping elephant (Gaja meaning elephant and brishtam meaning rear). This is also called as "Thoonganai Maadam" in Tamil where thoong(um) means sleeping, aanai means elephant and maadam refers to the top of a temple.
It is believed that Sage Bhrigu, Sage Agasthiar and Lord Rama's sons – Lava and Kusha have worshiped Lord Shiva at this temple.
Greatness of this temple
It is believed that the differences between married couples can be resolved if they worship Lord Shiva here. Also, it is believed by the devotees that worshiping the lord here will remove hindrances in marriage proposals. It is said that devotees who worship Lord Shiva here with Kalli flowers, especially on Thursdays, will be blessed with wealth and wisdom.
It is noteworthy to mention here that the priest (Gurukkal) in this temple is aged 106 years but still performs his duties. He has been doing a wonderful job for the past 85 years by offering his dedicated services to the lord. Now he is also helped by his son.
Left to Right: A.V.Ganesan (my brother), the priest and myself
Important Festivals
Navratri in the Tamil month of Purattasi (September-October), Skanda Sashti in the Tamil month of Ayppasi (October-November), Thirukarthikai in the Tamil month of Karthikai (November-December), Thiruvadhirai in the Tamil month of Margazhi (December-January) and Mahashivrathri in the Tamil month of Maasi (February-March) are the major festivals celebrated in this temple. Pradosham is also celebrated every month in a grand manner.
Temple Timings
From 08.00 AM to 12.00 Noon and from 05.00 PM to 8.00 PM.
Temple Address
Sri Shiva Nandeeswarar Temple,
Thirukandalam, (Thirukallil)
Vengal-Via
Oothukottai-Taluk, Thiruvallur-District - 601 103
Telephone: +91-44 - 2762 9144, 099412 22814.
---
Pathigam (Hymn) with English transliteration
Saint Thirugnanasambanthar visited this temple and sang this Pathigam.
Devotees visiting this temple should make it a practice to recite this Pathigam.
முள்ளின்மேல் முதுகூகை முரலுஞ் சோலை
வெள்ளின்மேல் விடுகூறைக் கொடி விளைந்த
கள்ளில்மேய அண்ணல் கழல்கள் நாளும்
உள்ளுமேல் உயர்வெய்தல் ஒரு தலையே.
"Muḷḷiṉmēl muthukūkai muralunj chōlai
veḷḷiṉmēl vidukūṟaik koṭi viḷaintha
kaḷḷilmēya aṇṇal kazhalkaḷ nāḷum
uḷḷumēl uyarveythal oru thalaiyē".
ஆடலான் பாடலான் அரவங்கள் பூண்டான்
ஓடலாற் கலனில்லான் உறை பதியால்
காடலாற் கருதாத கள்ளில் மேயான்
பாடெலாம் பெரியார்கள் பரசு வாரே.
"Ādalāṉ paādalāṉ aravaṅgkaḷ pūṇdāṉ
ōdalāṟ kalaṉillāṉ uṟai pathiyāl
kādalāṟ karuthātha kaḷḷil mēyāṉ
pādelām periyārkaḷ parasu vārē".
எண்ணார்மும் மதிலெய்த இமையா முக்கண்
பண்ணார்நான் மறைபாடும் பரம யோகி
கண்ணார் நீறணிமார்பன் கள்ளில் மேயான்
பெண்ணாணாம் பெருமானெம் பிஞ்ஞ கனே.
"Eṇṇārmum mathileytha imaiyā mukkaṇ
paṇṇārnāṉ maṟaipādum parama yōki
kaṇṇār nīṟaṇimārpaṉ kaḷḷil mēyāṉ
peṇṇāṇām perumāṉem pinjja kaṉē".
பிறைபெற்ற சடையண்ணல் பெடைவண் டாலும்
நறைபெற்ற விரிகொன்றைத் தார் நயந்த
கறைபெற்ற மிடற்றண்ணல் கள்ளில் மேயான்
நிறைபெற்ற அடியார்கள் நெஞ்சு ளானே.
"Piṟaipetṟa sadaiyaṇṇal pedaivaṇ ṭālum
naṟaipetṟa virikoṉtṟaith thār nayantha
kaṟaipetṟa miṭatṟaṇṇal kaḷḷil mēyāṉ
niṟaipetṟa adiyārkaḷ nenjchu ḷāṉē".
விரையாலும் மலராலும் விழுமை குன்றா
உரையாலு மெதிர்கொள்ள வூரா ரம்மாக்
கரையார்பொன் புனல்வேலிக் கள்ளில் மேயான்
அரையார்வெண் கோவணத்த அண்ணல் தானே.
"Viraiyālum malarālum vizhumai kuṉtṟā
uraiyālu methirkoḷḷa vūrā ram'māk
karaiyārpoṉ puṉalvēlik kaḷḷil mēyāṉ
araiyārveṇ kōvaṇatha aṇṇal thāṉē".
நலனாய பலிகொள்கை நம்பான் நல்ல
வலனாய மழுவாளும் வேலும் வல்லான்
கலனாய தலையோட்டான் கள்ளில் மேயான்
மலனாய தீர்த்தெய்தும் மாதவத் தோர்க்கே.
"Nalaṉāya palikoḷkai nampāṉ nalla
valaṉāya mazhuvāḷum vēlum vallāṉ
kalaṉāya thalaiyōṭṭāṉ kaḷḷil mēyāṉ
malaṉāya thīrtheythum māthavath thōrkkē".
பொடியார்மெய் பூசினும் புறவின் நறவங்
குடியாவூர் திரியினுங் கூப்பி டினுங்
கடியார்பூம் பொழிற்சோலைக் கள்ளில் மேயான்
அடியார்பண் பிகழ்வார்கள் ஆதர் களே.
"Poṭiyārmey pūsiṉum puṟaviṉ naṟavaṅg
kuṭiyāvūr thiriyiṉuṅg kūppi ṭiṉuṅg
kaṭiyārpūm pozhiṟchōlaik kaḷḷil mēyāṉ
adiyārpaṇ pikazhvārkaḷ āthar kaḷē".
திருநீல மலரொண்கண் தேவி பாகம்
புரிநூலுந் திருநீறும் புல்கு மார்பில்
கருநீல மலர்விம்மு கள்ளி லென்றும்
பெருநீல மிடற்றண்ணல் பேணு வதே.
"Tirunīla malaroṇkaṇ thēvi pākam
purinūlunth thirunīṟum pulku mārpil
karunīla malarvim'mu kaḷḷi leṉtṟum
perunīla miṭatṟaṇṇal pēṇu vathē".
வரியாய மலரானும் வையந் தன்னை
உரிதாய அளந்தானும் உள்ளு தற்கங்
கரியானும் அறியாத கள்ளில் மேயான்
பெரியானென் றறிவார்கள் பேசு வாரே.
"Variyāya malarāṉum vaiyanth thaṉṉai
urithāya aḷanthāṉum uḷḷu thaṟkaṅg
kariyāṉum aṟiyātha kaḷḷil mēyāṉ
periyāṉeṉ tṟaṟivārkaḷ pēsu vārē".
ஆச்சியப் பேய்களோ டமணர் குண்டர்
பேச்சிவை நெறியல்ல பேணு மின்கள்
மாச்செய்த வளவயல் மல்கு கள்ளில்
தீச்செய்த சடையண்ணல் திருந் தடியே.
"Āchiyap pēykaḷō ṭamaṇar kuṇdar
pēchivai neṟiyalla pēṇu miṉkaḷ
mācheytha vaḷavayal malku kaḷḷil
thīcheytha sadaiyaṇṇal thirun thadiyē".
திகைநான்கும் புகழ்காழிச் செல்வம் மல்கு
பகல்போலும் பேரொளியான் பந்தன் நல்ல
முகைமேவு முதிர்சடையான் கள்ளி லேத்தப்
புகழோடும் பேரின்பம் புகுதும் அன்றே.
"Thikaināṉkum pukazhkāzhich selvam malku
pakalpōlum pēroḷiyāṉ panthaṉ nalla
mukaimēvu muthirsaṭaiyāṉ kaḷḷi lēthap
pukazhōdum pēriṉpam pukuthum aṉtṟē".