Visited on: 12th March, 2017
Location
Achalpuram is situated at a distance of about 5 kms from Kollidam. Kollidam is on the Chidambaram to Mayiladuthurai route. There is a railway station in Kollidam on the Chidambaram to Mayiladuthurai line.
Other Devara Paadal Petra Sthalams near this place are – Sirkazhi, Thirukkolakka, Thirumullaivasal, Mahendrapalli, Thirukkurukavur, Thiruvenkadu, Chayavanam and Poompukar.
General Information
| | |
| --- | --- |
| Moolavar | Sri Shivalokath Thyagaraja Swamy, Sri Perumanamudaya Mahadevar |
| Ambal | Sri Venneetru Umaiyammai, Sri Swetha Viboothi Nayaki |
| Theertham (Holy water) | Panchakshara, Brihu, Ashwa, Vasishta, Athiri, Jamadagni, Vyasa and Mirukandu Theerthams |
| Sthala Vriksham (Sacred Tree) | Vilvam tree |
| Pathigam (Hymn) rendered by | Saint Thirugnanasambanthar |
This is one of the 276 Devara Paadal Petra Shiva Sthalams and 5th Shiva Sthalam on the northern bank of the river Cauvery in Chozha Nadu (Vadakarai).
Lord Shiva in this temple is a Swayambumurthi (self-manifested).
This east facing temple has two corridors and its main tower (Rajagopuram) has 5-tiers.
It is said that Saint Thirugnanasambanthar attained salvation (mukthi) here during his wedding along with the entire gathering. Hence, this is the only temple where Thirugnanasambanthar can be seen with his wife.
Thirugnanasambanthar sang his last Pathigam here.
The last consecration ceremony took place on 24.06.2010 and prior to that on 29.04.1964.
History of the Temple
The historical name of this place is "Nallur Perumanam" – Nallur is the village where Saint Gnanasambanthar's bride hails from. "Perumanam" or "periya thirumanam" means a "big wedding" in Tamil. Other historical names of this place are Shivalogam, Thirunallur, Mukthipuram and Thirumanavai. Now it is known as Achalpuram.
This is one of the 27 temples that are under the administration of the Dharumapuram Aadheenam.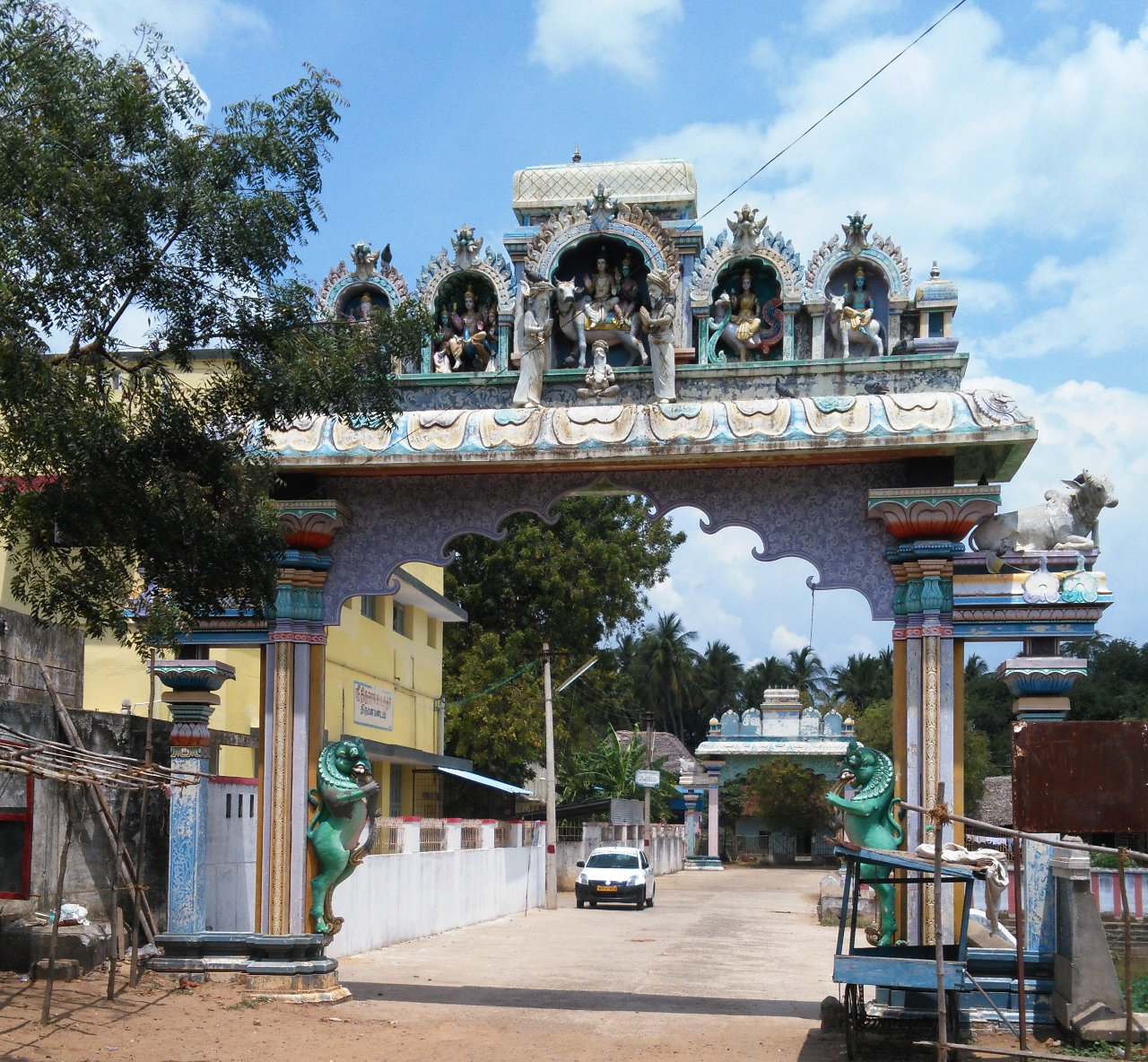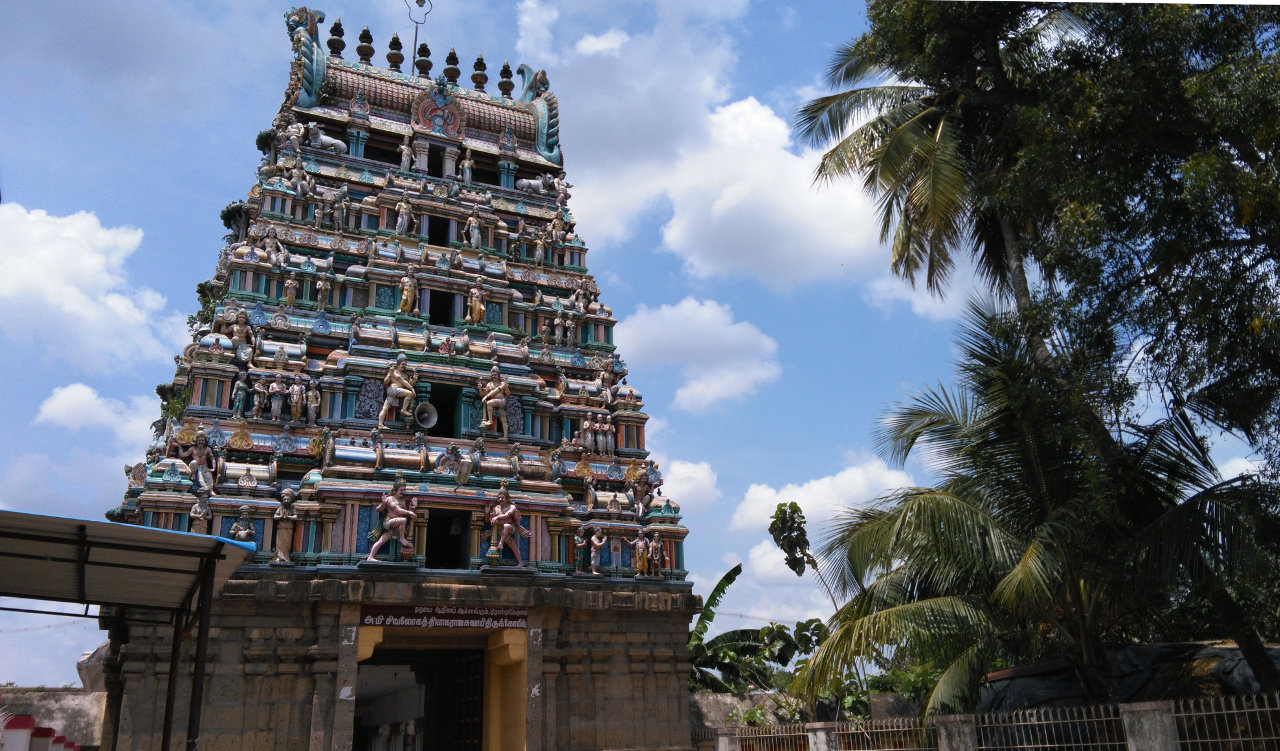 Legend
According to legend, Gnanasambanthar's father, Shivapada Hrudayar, chose Mangai Nallal (Sthothra Poornambigai) – the daughter of Nambandar Nambi of Nallur village as the bride for his son. Nallur is very near to this place and it is believed that the bride was brought in a procession from that village for their marriage. The wedding took place at this place. Thiruneelanakka Nayanar, one of the 63 Nayanmars, conducted the rituals.
While circumambulating the wedding fire pit with his bride, Gnanasambathar prayed to Lord Shiva to protect him from the problems of a marital life and praised him with Kallur Perumanam hymn. Lord Shiva appeared in the form of a huge fire (Agni) and invited Sambanthar to merge with him (Shiva Jyothi) along with the entire gathering. Enchanted with Lord Shiva's darshan, Sambanthar sang his last Pathigam – "Namachivaya Thiruppathigam" and merged with Lord Shiva in the fire ("Agni") along with the entire gathering and attained salvation. His last pathigam highlights the glory of "Panchakshara Mantra" – Na Ma Shi Va Ya.
This is the only temple where 4 Nayanmars – Thirugnanasambandhar, Thiruneelanakka Nayanar, Thiruneelakanda Yazhpaanar, Muruga Nayanar – have attained Mukthi (Salvation). Apart from them, Thiruneelakanda Yazhpaanar's wife, Mathanga Soolaamaniyar also merged in the Agni and attained salvation.
Since Goddess Parvathy herself gave Vibudhi (sacred ash) prasadam to the entire marriage gathering, Goddess Parvathy is called Thiruvenneetru Umaiyammai and this place is called Achalpuram. So, as a unique feature of this temple, Vibudhi prasadam is given in the Goddess's shrine. This Vibudhi prasadam is considered very auspicious.
The name Achalpuram is believed to have been arrived at from "Aayal" which means Goddess Parvathi and "Puram" which means place in Tamil.
Another reasoning behind this name is that it is believed to have been derived from the name "Achariyapuram". "Achariya" means learned guru and "Puram" means place in Tamil. This name signifies the fact that Saint Thirugnasambanthar attained salvation here as he is often referred to as "Achariya".
Sages Vashishtar, Kakabujandar, Viswamithrar, Parasara, Jamadagni, Dhurvasar, Brigu and Manthatha were blessed with a vision of Shivalokam (Kailash darshan) after their rigourous penance here. For this reason, Lord Shiva of this temple is also praised as "Sri Shivalokathyakar".
It is believed that Sage Kakabujandar travelled to this place by walking with his hands. He considered this place so sacred that he did not want to soil it by placing his feet there. It is believed that he was also one of the attendees of Sambanthar's wedding and he also attained salvation here.
Lords Vishnu, Brahma, Murugan, Indhiran, Chandran, Ganga Devi and king Manthatha of Ayodya are also believed to have worshipped Lord Shiva here.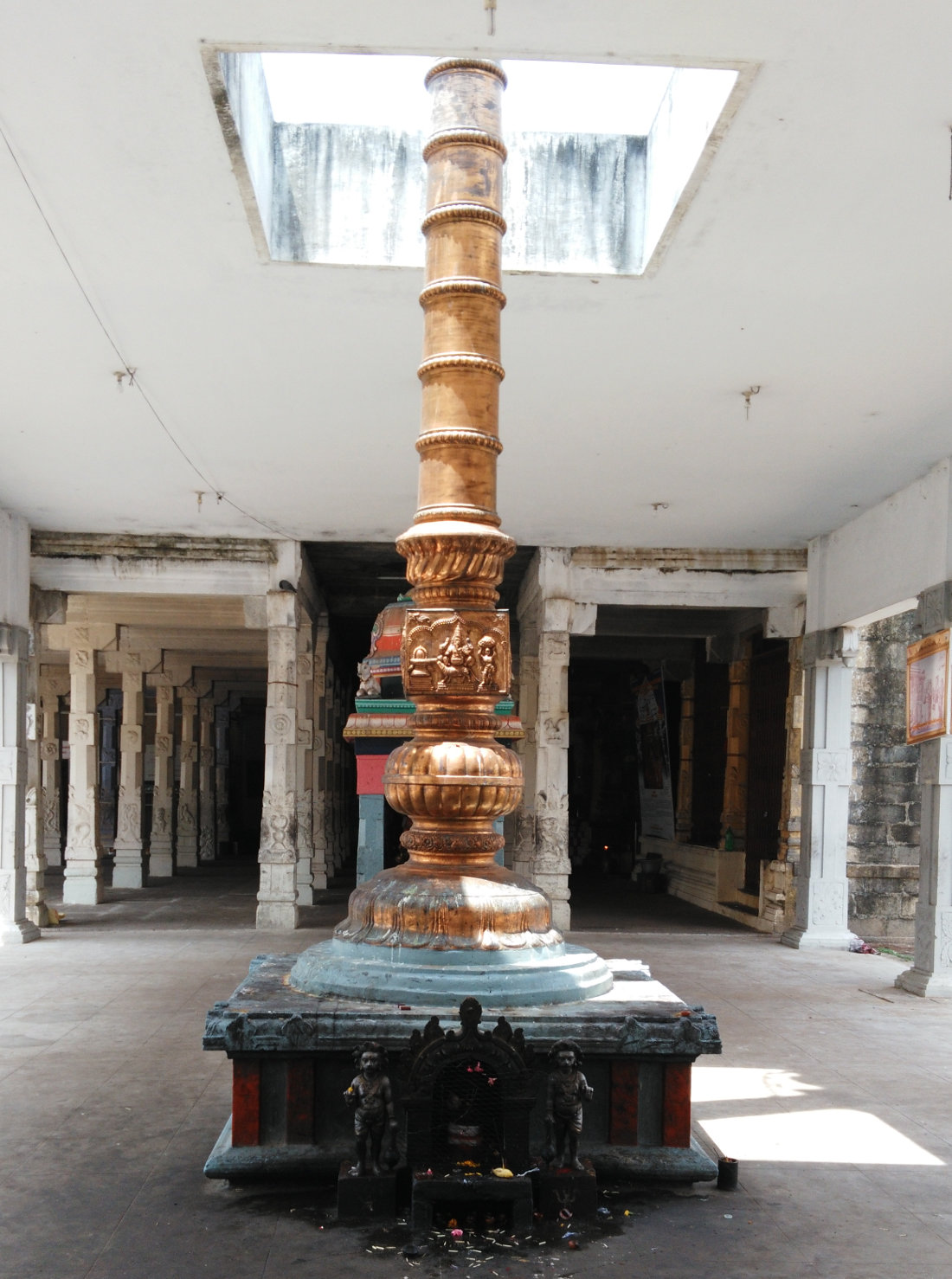 Deities in the temple
Other than the shrines of the main deities, shrines and idols of lords Vinayakar, Murugan, Mahalakshmi, Bairavar, Sattanathar, Dakshinamurthy, Lingothbavar, Brahma, Durgai (with 8 hands), 63 Nayanmars, Suryan, Chandran, Thiripura Samharar, Naganathar, Chandrasekar, Sekkizhar, Pitchandavar, Thiruneelakanda Yazhpaanar and his wife, Mathanga Soolaamaniyar, Thiruneela Nakkar and Muruga Nayanar can be seen in the corridors.
There is a separate shrine for Lord Rina Vimochanar in the corridor. "Rina" (Runa) means debts and "Vimochanam" means relief in Tamil.
Goddess Parvathy's shrine is in a separate temple with a Nandhi in front of her instead of a lion that is usually seen there.
There is a separate shrine for Saint Thirugnanasambanthar and his wife Sthothra Poornambigai.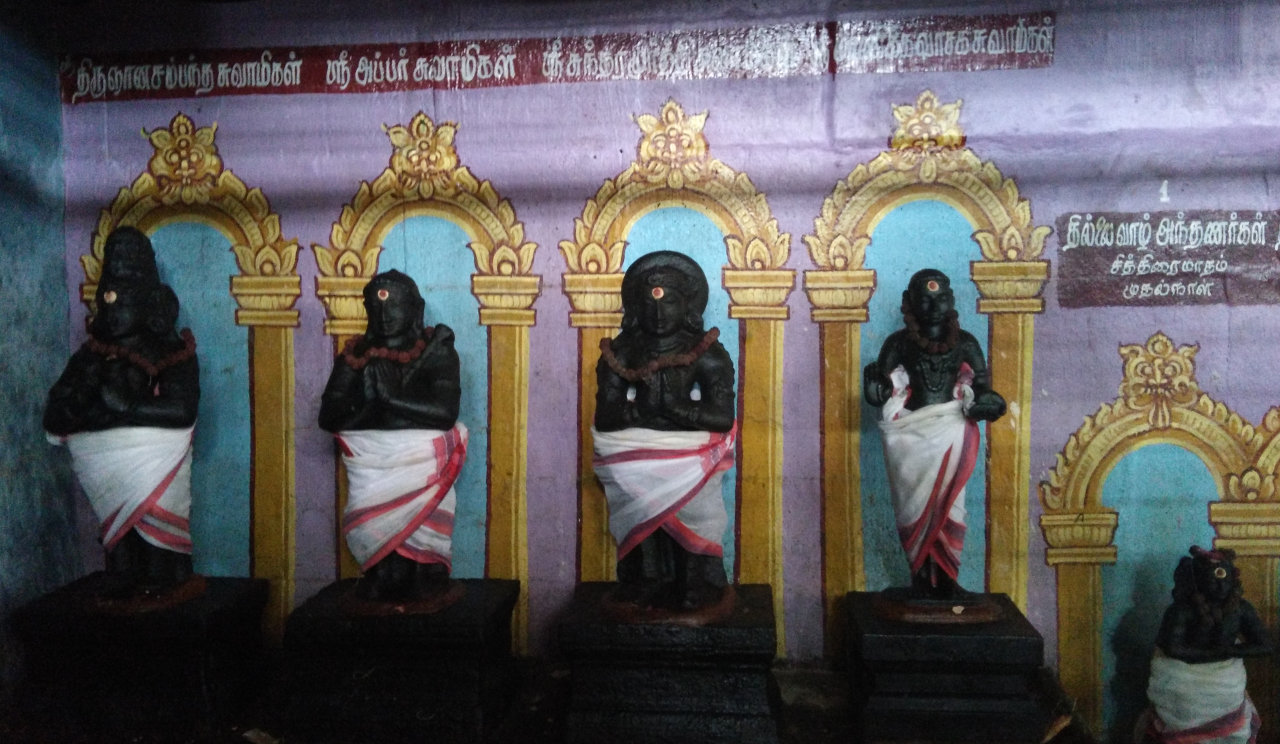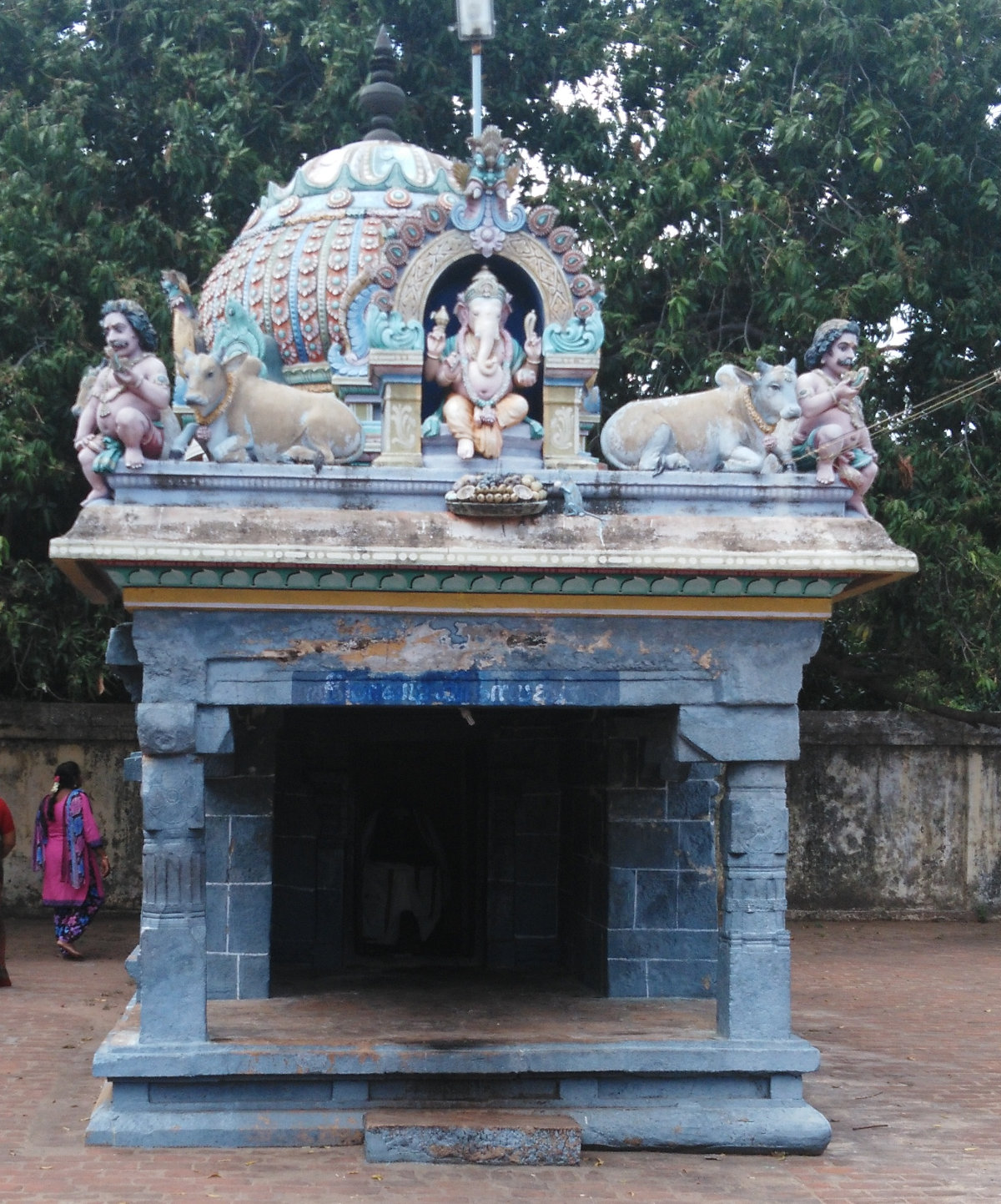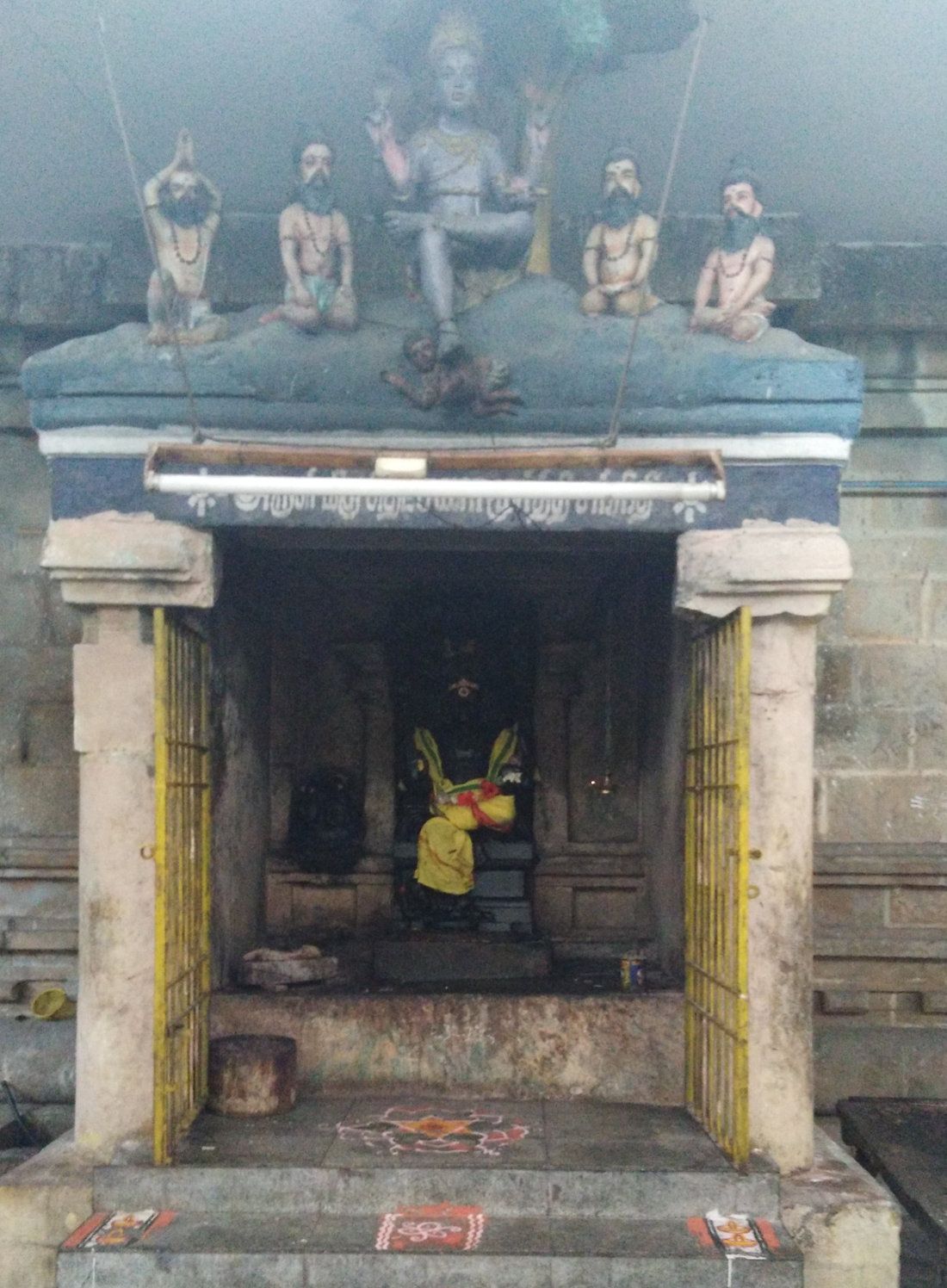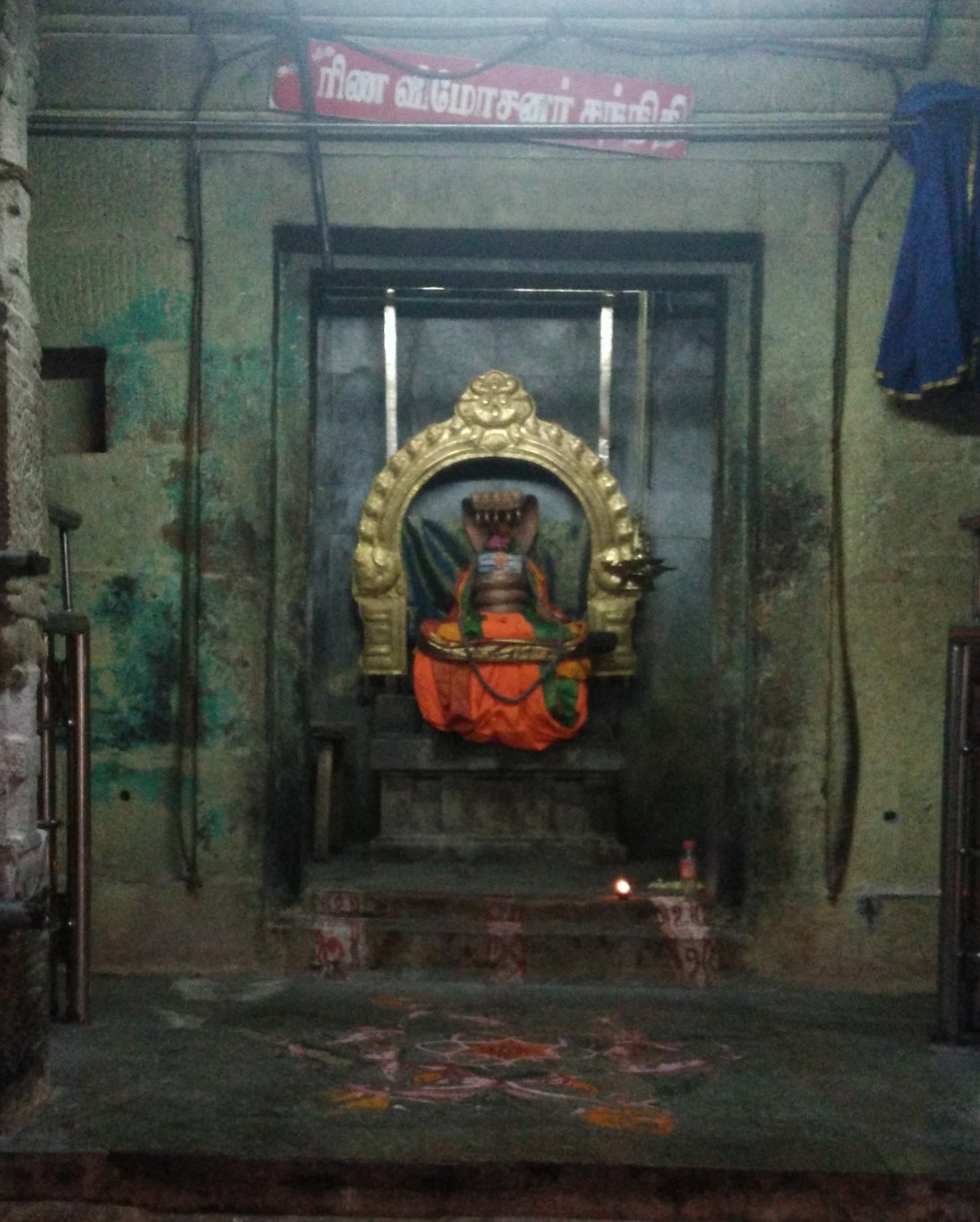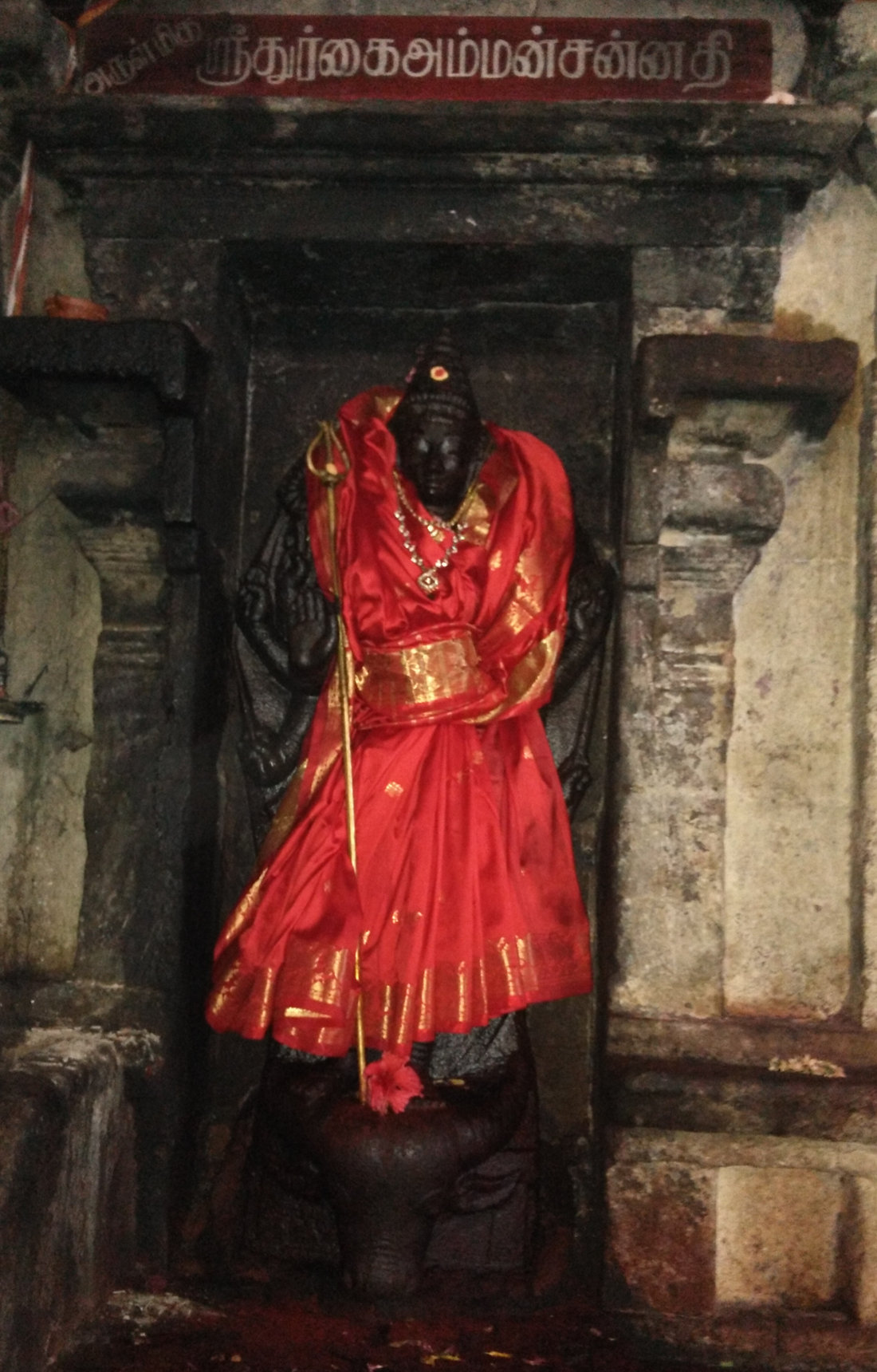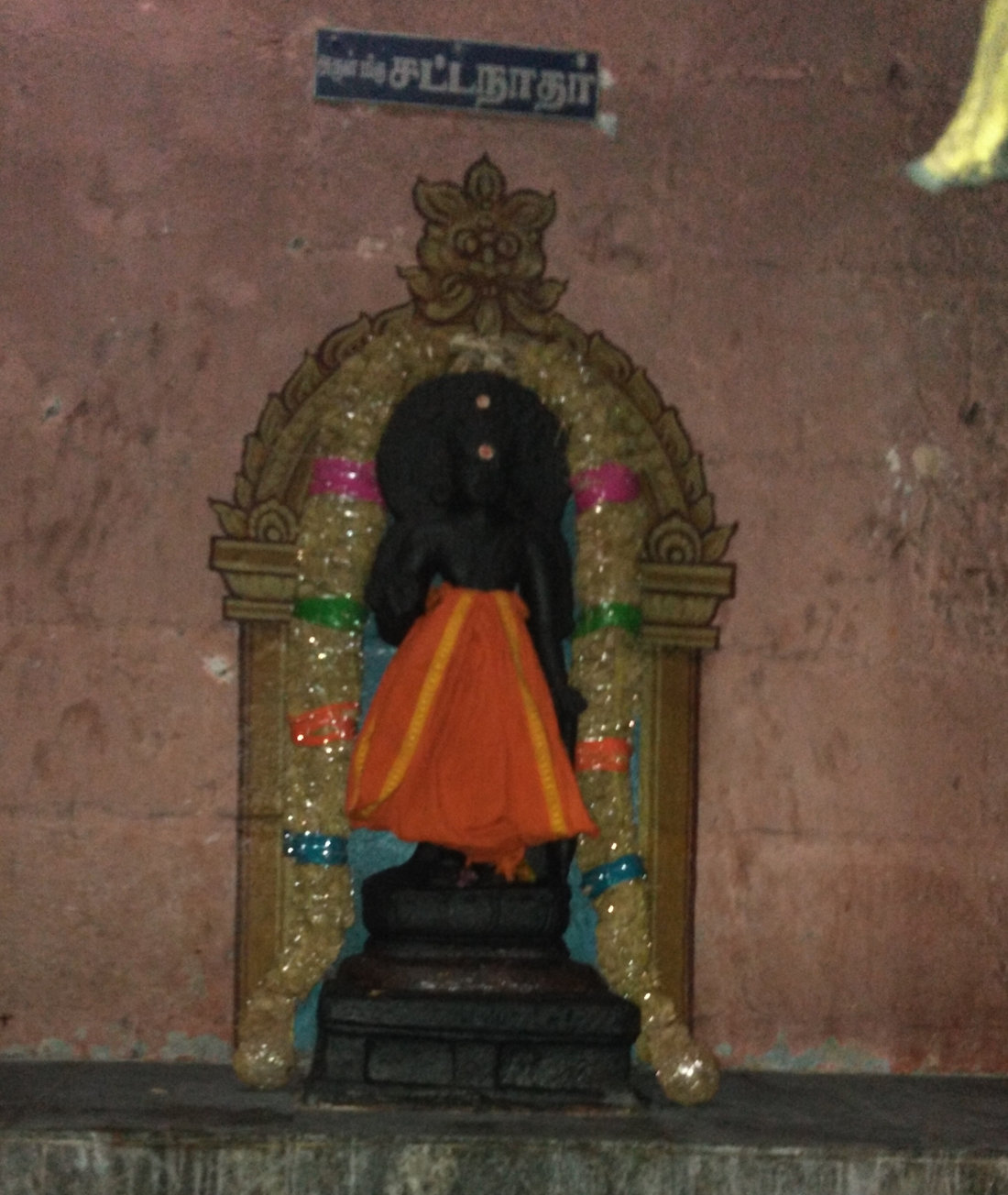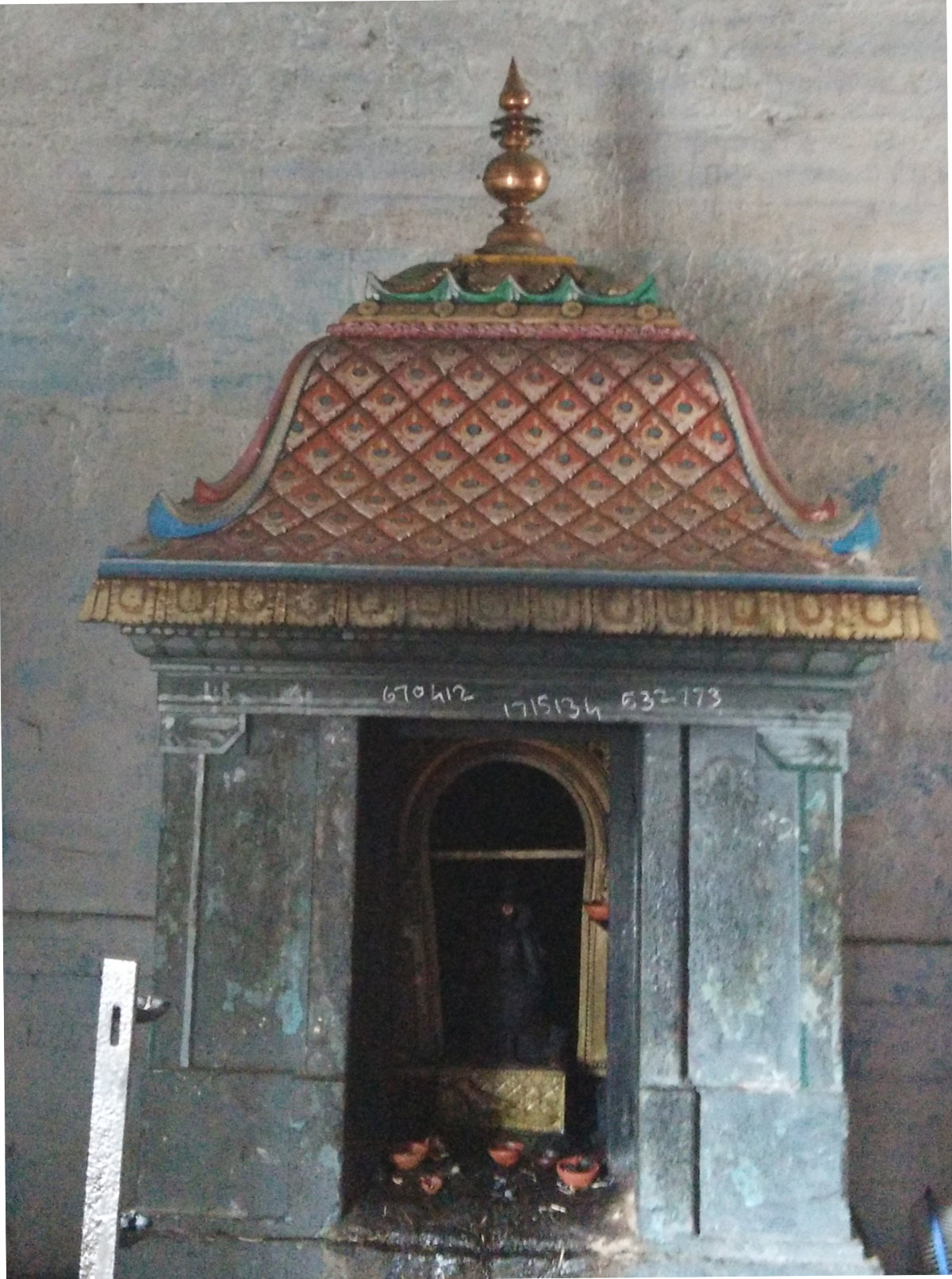 Salient Features
In the corridor, there is a relief of Narthana Ganapathy, carved in the wall. The specialty of this relief is that it looks like a small temple in itself.
It is believed that there are 11 Theerthams (holy waters) associated with this temple. Of these, the "Panchatchara Theertham" (temple tank) is situated opposite to the temple.
There is a beautiful 100-pillared hall in front of the sanctum. This hall houses the shrine of Saint Thirugnanasambanthar and his wife.
Saint Thirugnanasambanthar's Mutt as well as a small temple for Naadi Vakkiyar Saint Kakabhujandar are situated near this temple.
Greatness of this temple
This temple is considered to be a Mukthi Sthalam (a place to attain salvation).
It is believed that worshiping Lord Rina Vimochanar (a form of Lord Shiva) here will clear all our debts and remove obstacles from marriage proposals. It is also believed that those seeking "santhana prapthi" (child boon) can pray to this lord. It is considered especially auspicious to worship him on Mondays.
It is significant to note that Lord Rina Vimochanar is present only in three temples – Thirucherai, Thiruvarur and Achalpuram.
In Goddess Thiruveneetru Ammai's shrine, sacred ash is given as prasadam instead of the usual Kumkum. It is believed that by applying this sacred ash on their forehead, women will be blessed with a long and prosperous married life.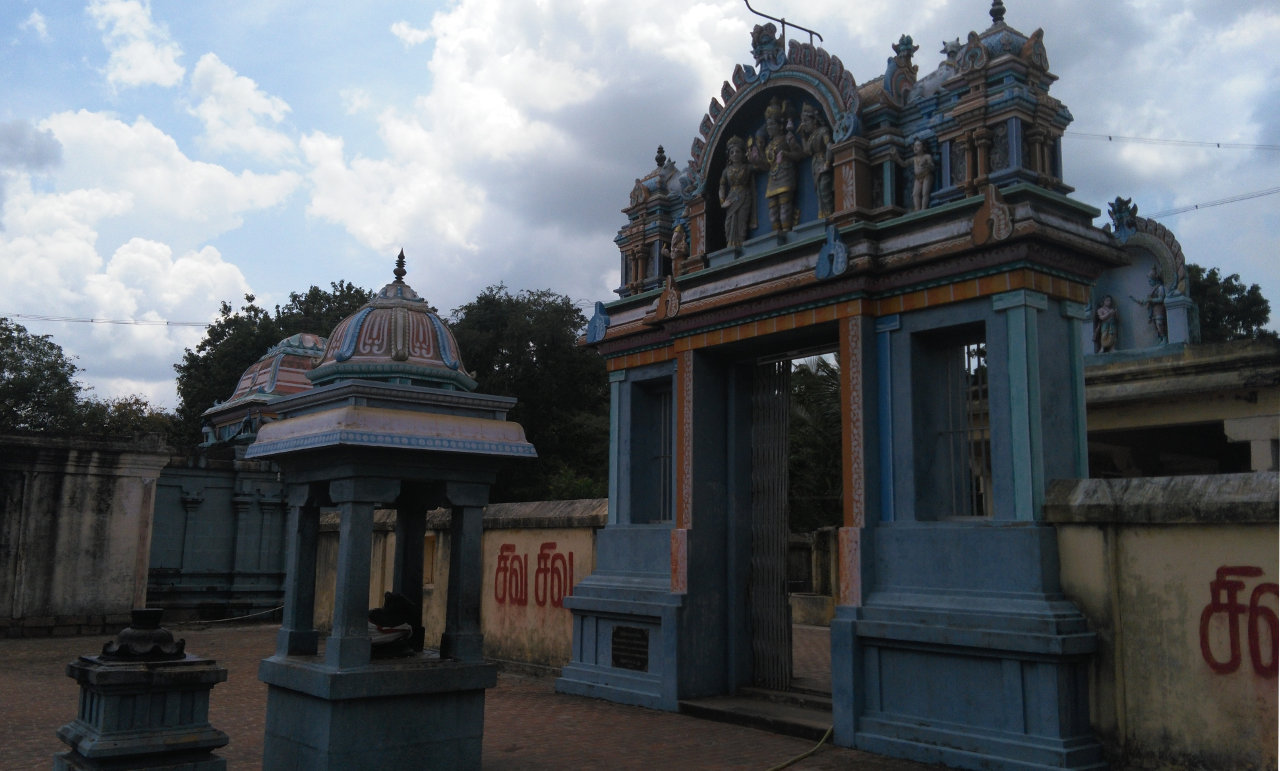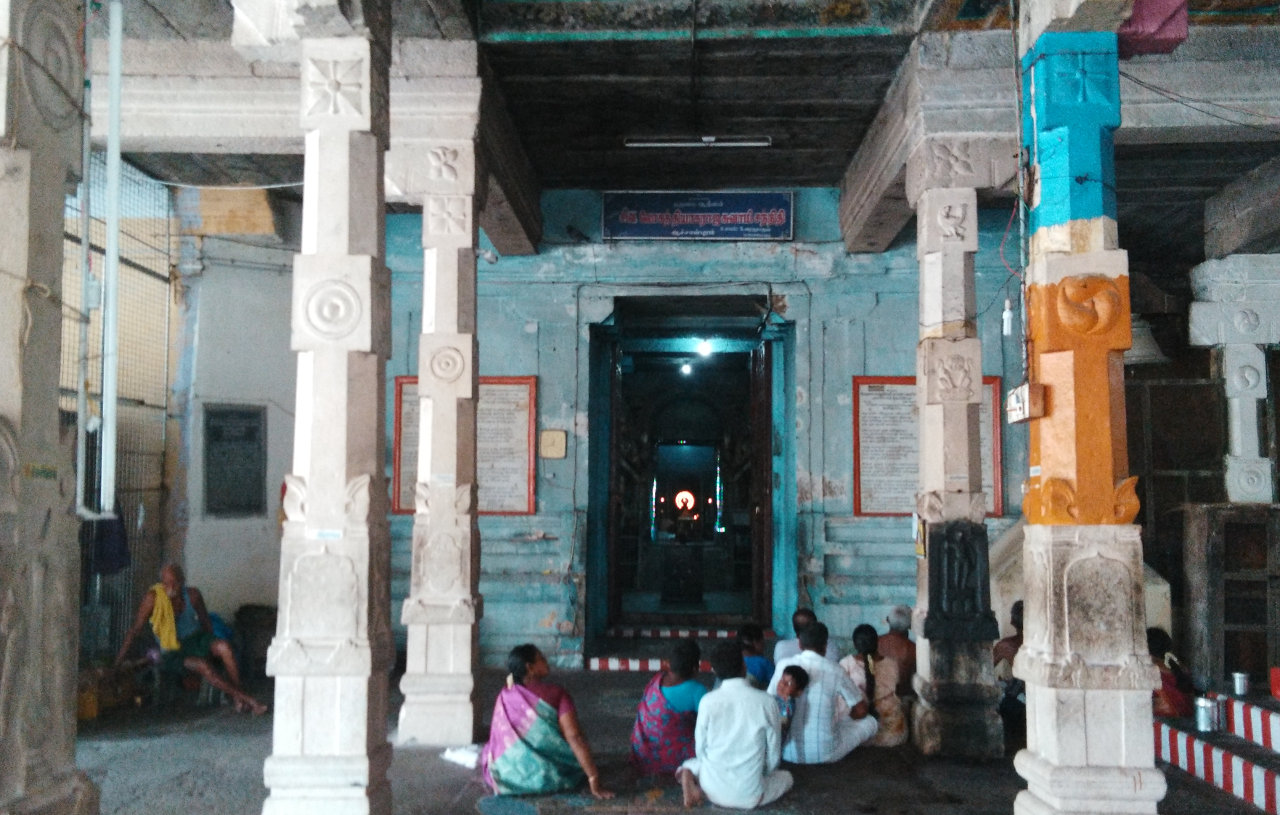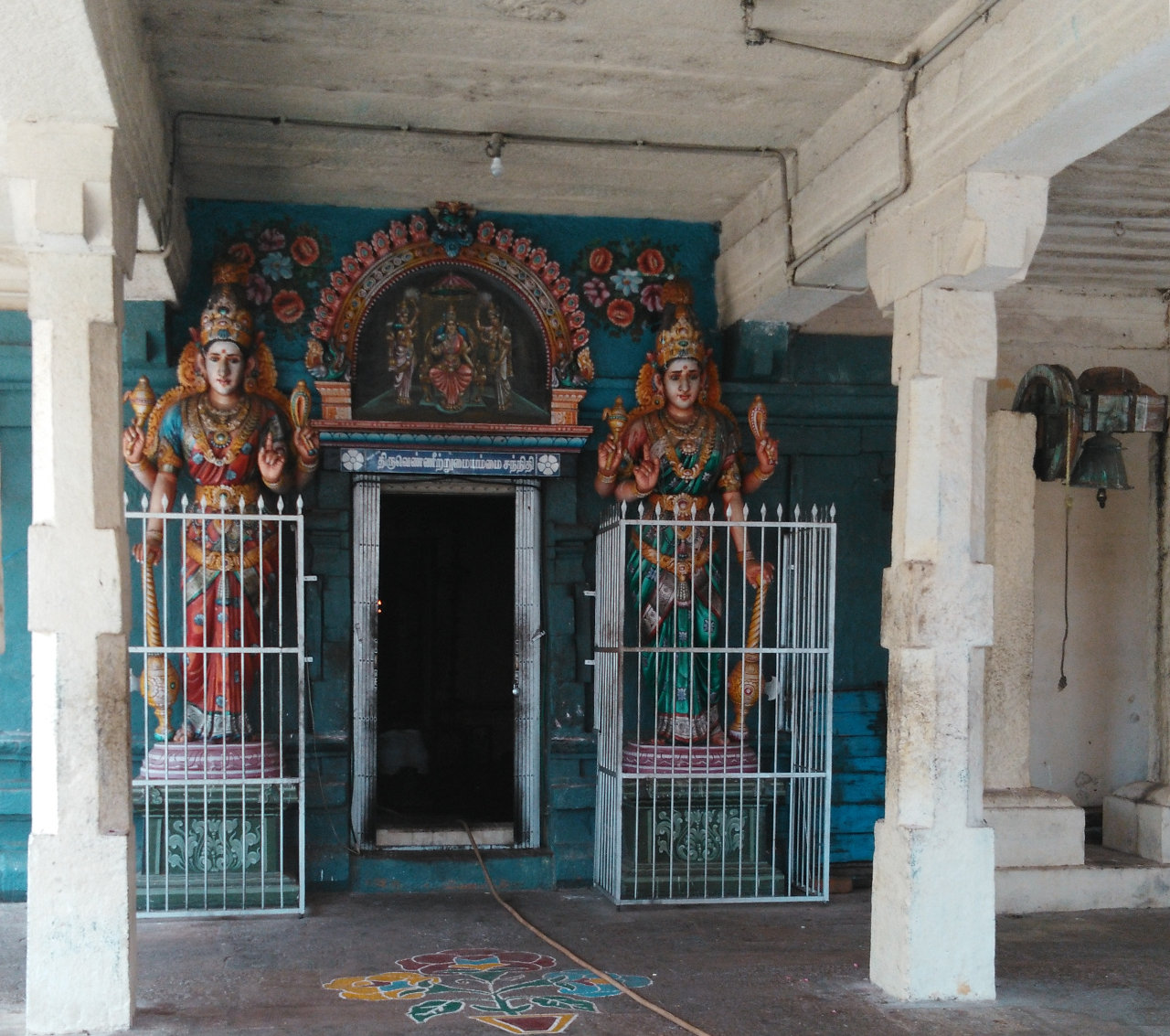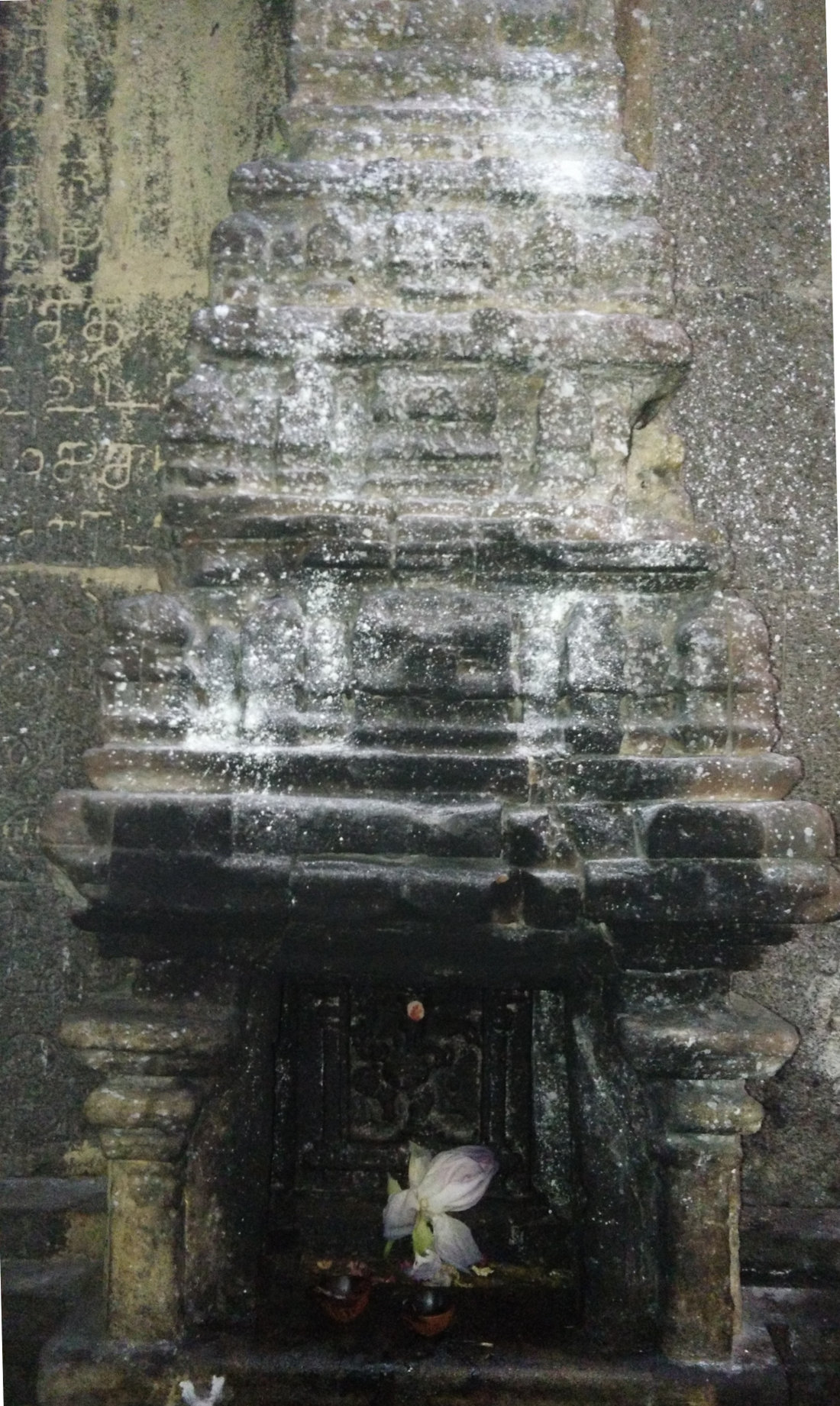 Important Festivals
The event of Sambanthar's wedding where the entire gathering was blessed by Thiruveneetru Ammai (Goddess Parvathy) and attained salvation is commemorated every year during the Moolam star day in the Tamil month of Vaikasi.
Mahashivrathri is also celebrated in the Tamil month of Maasi (Feb-Mar).
Pradosham is also observed regularly.
Temple Timings
From 06.00 AM to 12.00 Noon and 04.00 PM to 08.00 PM.
Temple Address
Sri Shivalokath Thyagaraja Swami Temple,
Achalpuram Post,
Sirkazhi Taluk,
Nagapattinam District,
Tamil Nadu – 609 101.

Tele: The temple priest Sri Balaji can be contacted at: +91 4364 278 272, 277 800.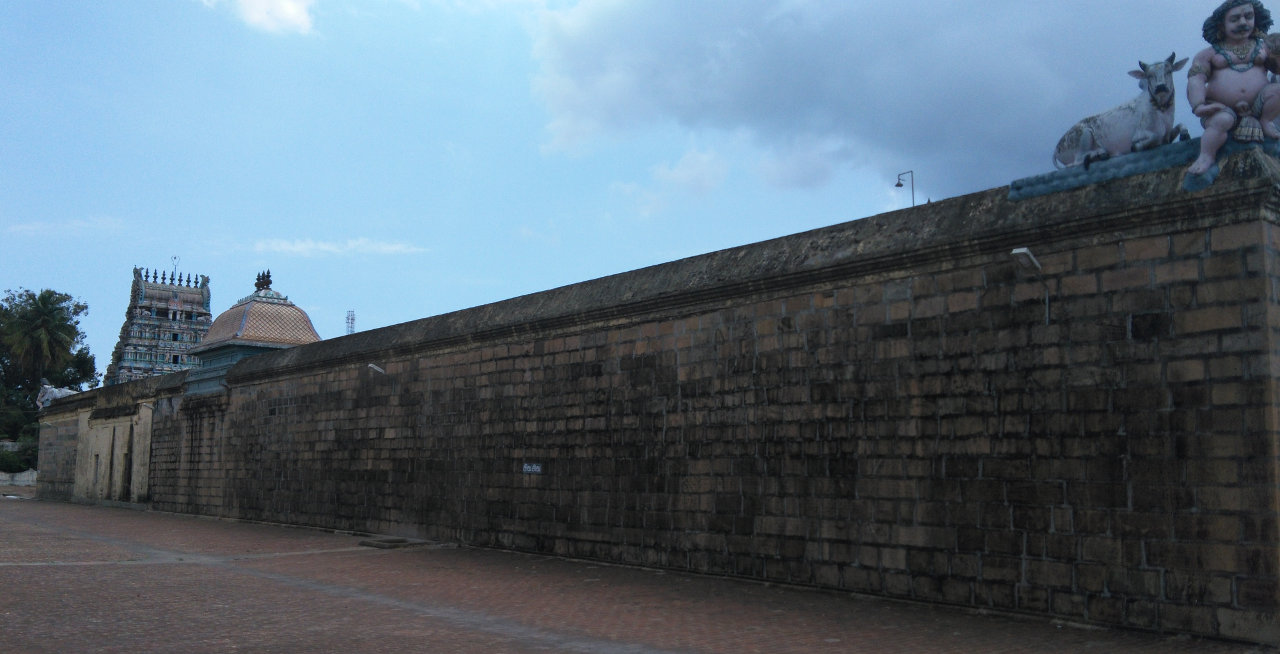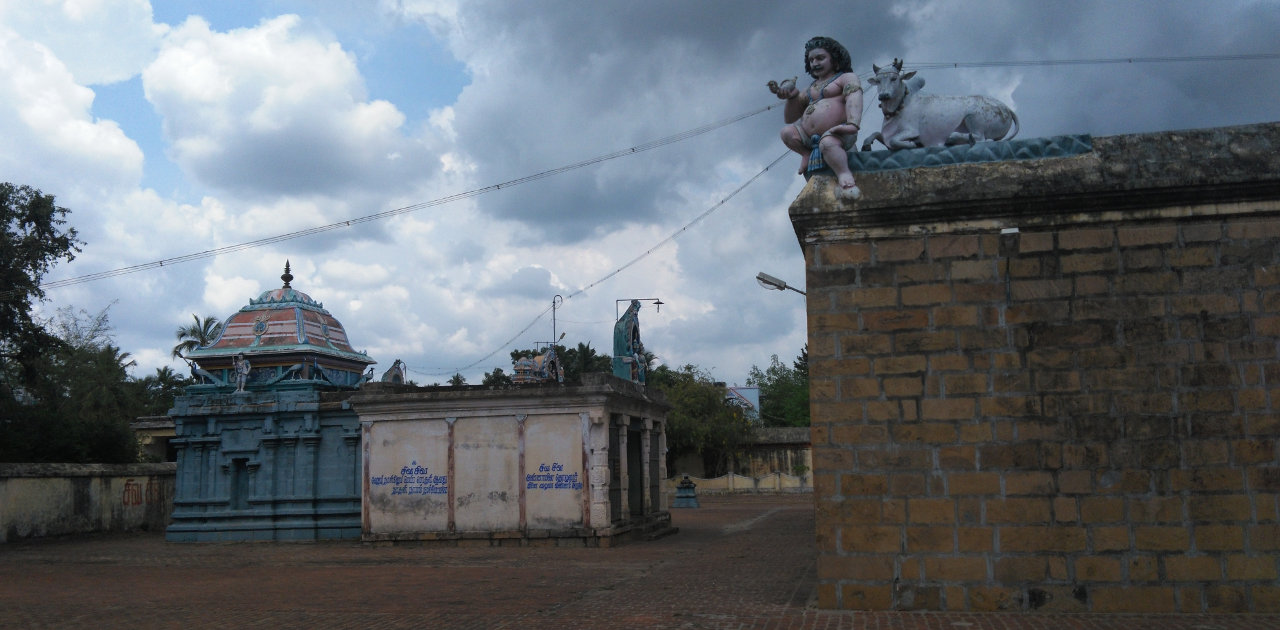 ---
Pathigam (Hymn) with English transliteration
Saint Thirugnanasambanthar visited this temple and sang this Pathigam.

Devotees visiting this temple should make it a practice to recite this Pathigam.
கல்லூர்ப் பெருமணம் வேண்டா கழுமலம்
பல்லூர்ப் பெருமணம் பாட்டுமெய் யாய்த்தில
சொல்லூர்ப் பெருமணஞ் சூடல ரேதொண்டர்
நல்லூர்ப் பெருமண மேயநம் பானே.
"Kallūrp perumaṇam vēṇṭā kazhumalam
pallūrp perumaṇam pāṭṭumey yāyththila
sollūrp perumaṇañ chūṭala rēthoṇṭar
nallūrp perumaṇa mēyanam pāṉē".
தருமண லோதஞ்சேர் தண்கடல் நித்திலம்
பருமண லாக்கொண்டு பாவைநல் லார்கள்
வருமணங் கூட்டி மணஞ்செயும் நல்லூர்ப்
பெருமணத் தான்பெண்ணோர் பாகங்கொண் டானே.
"Tharumaṇa lōthañchēr thaṇkaṭal niththilam
parumaṇa lākkoṇṭu pāvainal lārkaḷ
varumaṇaṅ kūṭṭi maṇañceyum nallūrp
perumaṇath thāṉpeṇṇōr pākaṅkoṇ ṭāṉē".
அன்புறு சிந்தைய ராகி அடியவர்
நன்புறு நல்லூர்ப் பெருமணம் மேவிநின்
றின்புறும் எந்தை இணையடி யேத்துவார்
துன்புறு வாரல்லர் தொண்டுசெய் வாரே.
"Aṉpuṟu chinthaiya rāki aṭiyavar
naṉpuṟu nallūrp perumaṇam mēviniṉ
tṟiṉpuṟum enthai iṇaiyaṭi yēththuvār
thuṉpuṟu vārallar thoṇṭusey vārē".
வல்லியந் தோலுடை யார்ப்பது போர்ப்பது
கொல்லியல் வேழத் துரிவிரி கோவணம்
நல்லிய லார்தொழு நல்லூர்ப் பெருமணம்
புல்கிய வாழ்க்கையெம் புண்ணிய னார்க்கே.
"Valliyan thōluṭai yārppathu pōrppathu
kolliyal vēzhath thuriviri kōvaṇam
nalliya lārthozhu nallūrp perumaṇam
pulkiya vāzhkkaiyem puṇṇiya ṉārkkē".
ஏறுகந் தீரிடு காட்டெரி யாடிவெண்
ணீறுகந் தீர்நிரை யார்விரி தேன்கொன்றை
நாறுகந் தீர்திரு நல்லூர்ப் பெருமணம்
வேறுகந் தீருமை கூறுகந் தீரே.
"Ēṟukan thīriṭu kāṭṭeri yāṭiveṇ
ṇīṟukan thīrnirai yārviri thēṉkoṉtṟai
nāṟukan thīrthiru nallūrp perumaṇam
vēṟukan thīrumai kūṟukan thīrē".
சிட்டப்பட் டார்க்கெளி யான்செங்கண் வேட்டுவப்
பட்டங்கட் டுஞ்சென்னி யான்பதி யாவது
நட்டக்கொட் டாட்டறா நல்லூர்ப் பெருமணத்
திட்டப்பட் டாலொத்தீ ராலெம்பி ரானீரே.
"Siṭṭappaṭ ṭārkkeḷi yāṉcheṅkaṇ vēṭṭuvap
paṭṭaṅkaṭ ṭuñcheṉṉi yāṉpathi yāvathu
naṭṭakkoṭ ṭāṭṭaṟā nallūrp perumaṇath
thiṭṭappaṭ ṭāloththī rālempi rāṉīrē".
மேகத்த கண்டன்எண் தோளன்வெண் ணீற்றுமை
பாகத்தன் பாய்புலித் தோலொடு பந்தித்த
நாகத்தன் நல்லூர்ப் பெருமணத் தான்நல்ல
போகத்தன் யோகத்தை யேபுரிந் தானே.
"Mēkaththa kaṇṭaṉeṇ thōḷaṉveṇ ṇītṟumai
pākaththaṉ pāypulith thōloṭu panthiththa
nākaththaṉ nallūrp perumaṇaht thāṉnalla
pōkaththaṉ yōkaththai yēpurin thāṉē".
தக்கிருந் தீரன்று தாளால் அரக்கனை
உக்கிருந் தொல்க உயர்வரைக் கீழிட்டு
நக்கிருந் தீரின்று நல்லூர்ப் பெருமணம்
புக்கிருந் தீரெமைப் போக்கரு ளீரே.
"Thakkirun thīraṉtṟu thāḷāl arakkaṉai
ukkirun tholka uyarvaraik kīzhiṭṭu
nakkirun thīriṉtṟu nallūrp perumaṇam
pukkirun thīremaip pōkkaru ḷīrē".
ஏலுந்தண் டாமரை யானும் இயல்புடை
மாலுந்தம் மாண்பறி கின்றிலர் மாமறை
நாலுந்தம் பாட்டென்பர் நல்லூர்ப் பெருமணம்
போலுந்தங் கோயில் புரிசடை யார்க்கே.
"Ēlunthaṇ ṭāmarai yāṉum iyalpuṭai
māluntham māṇpaṟi kiṉtṟilar māmaṟai
nāluntham pāṭṭeṉpar nallūrp perumaṇam
pōlunthaṅ kōyil purisaṭai yārkkē".
ஆதர் அமணொடு சாக்கியர் தாஞ்சொல்லும்
பேதைமை கேட்டுப் பிணக்குறு வீர்வம்மின்
நாதனை நல்லூர்ப் பெருமணம் மேவிய
வேதன தாள்தொழ வீடெளி தாமே.
"Āthar amaṇoṭu sākkiyar thāñchollum
pēthaimai kēṭṭup piṇakkuṟu vīrvam'miṉ
nāthaṉai nallūrp perumaṇam mēviya
vēthaṉa thāḷthozha vīṭeḷi thāmē".
நறும்பொழிற் காழியுள் ஞானசம் பந்தன்
பெறும்பத நல்லூர்ப் பெருமணத் தானை
உறும்பொரு ளாற்சொன்ன வொண்டமிழ் வல்லார்க்
கறும்பழி பாவம் அவலம் இலரே.
"Naṟumpozhiṟ kāzhiyuḷ gñāṉasam banthaṉ
peṟumpatha nallūrp perumaṇath thāṉai
uṟumporu ḷāṟsoṉṉa voṇṭhamizh vallārk
kaṟumpazhi pāvam avalam ilarē".