Visited on: 4th June, 2016 and 29th October, 2017.
Location
Thiruppunkur is situated at a distance of about 4 kms from Vaitheeswaran Koil on the Vaitheeswaran Koil to Manalmedu route. From Mayiladuthurai it is about 17 kms and from Chidambaram it is about 29 kms.
Other Devara Paadal Petra Shiva Sthalam near this place are – Vaitheeswaran Koil, Thirukkannar Koil, Thirunintriyur, Thiruvazhkoliputhur, Thiru Karuppariyalur, Thiru Kurakkuka, Thiru Kurukkai, Mayiladuthurai, Thiru Needur and Thiru Anniyur.
General Information
| | |
| --- | --- |
| Moolavar | Sri Shivalokanathar |
| Ambal | Sri Sokkanayaki Amman, Sri Soundaranayaki |
| Theertham (Holy water) | Punka Theertham, Rishaba Theertham |
| Sthala Vriksham (Sacred Tree) | Punka tree |
| Pathigam (Hymn) rendered by | Saint Thirugnanasambanthar, Saint Thirunavukarasar (Appar) and Saint Sundaramurthy (Sundarar) |
This is one of the 276 Devara Paadal Petra Shiva Sthalams and 20th Shiva Sthalam on the northern bank of the river Cauvery in Chozha Nadu (Vadakarai).
Lord Shiva in this temple is a Swayambumurthi (self-manifested).
This is one of the 44 Paadal petra sthalams where the "Moovar" (the three saints - Saint Thirugnanasambanthar, Saint Thirunavukarasar (Appar) and Saint Sundaramurthy (Sundarar) had rendered their Pathigams.
The Nandhi in this temple is huge and is placed a little distance away from its regular position to give a good view of the lord to Nanthanar, one of the 63 Nayanmars, from outside the temple.
This east facing temple has three corridors and its main tower (Rajagopuram) has 5-tiers.
The last consecration ceremony (Maha Kumbabishekam) took place on 03.05.1974.
History of the Temple
According to legend, in ancient times, this region was a forest densely covered with Punga trees. Hence this place gets the name Thiruppungur.
There are 5 stone inscriptions available here which date back to the period of Pallava Kings Sakalabhuvana and Kopperunsinga Devar. As per these inscriptions, this temple was renovated by these two kings.
The historical name of this place is "Karinchaaranyam" and the lord is praised as "Sri Sivalokamudaya Nayanar".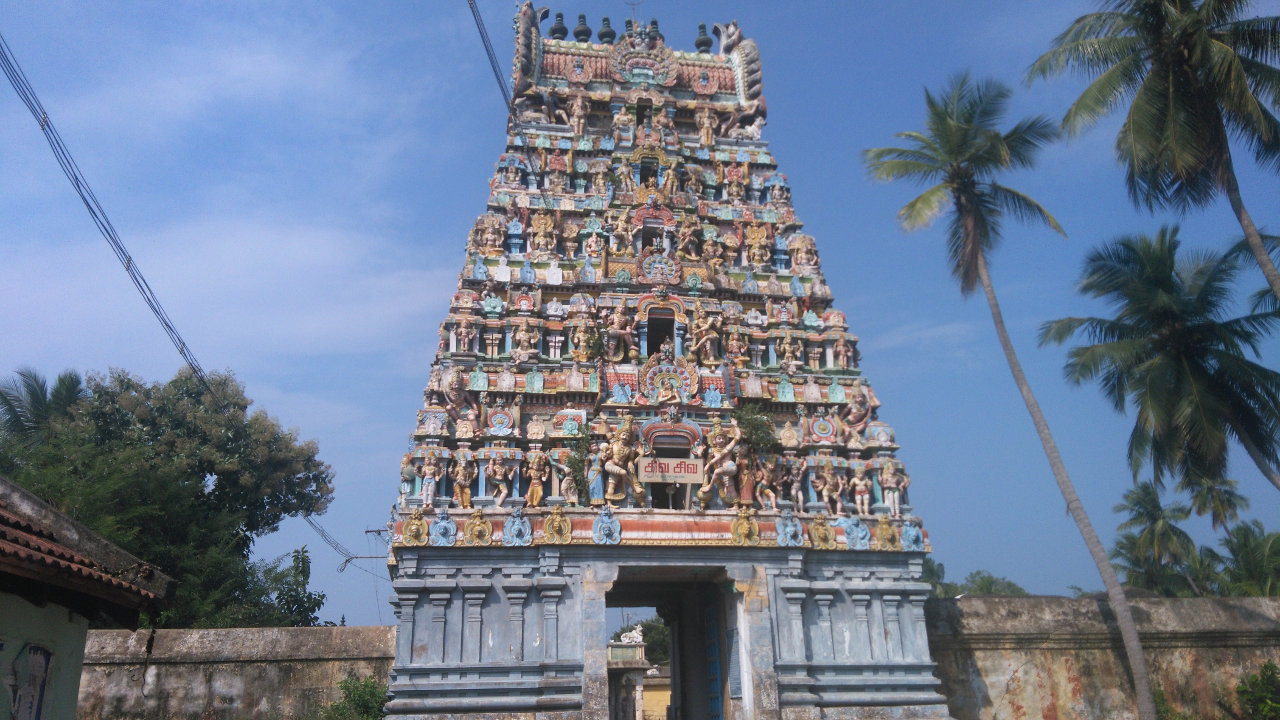 Legend
It is believed that Lord Brahma, Indran, Suryan, Chandran, Agni, Saints Agasthiyar, Patanjali, Vyakrapathar, Saptha Kanniyars and the monkeys (Vanaras) who were in search of Lord Ram's wife, Sita have worshiped the lord here. Kings Rajendra Chola, Veera Vikrama Chola and his son Chirsabesa Chola have also worshiped the lord here.
It is believed that Saint Agasthiyar got the wedding dharshan of Lord Shiva here.
Thiru Nalai Povaar Nayanar
According to legend, Nanthanar, an ardent devotee of Lord Shiva, was born in Mela Adhanur village on the banks of the river Kollidam in a backward community. Though he was working as a peasant in a farm, he used to devote most of his time in the worship of Lord Shiva. He was very keen to worship Lord Shiva at the famous Chidambaram (Nataraja) temple and waited for an opportunity to go there. However, he could not get permission from his employer who kept stalling Nandanar's request. Whenever anyone asked him about his trip, he used to say that "he would go tomorrow". This earned him the nick name of "Thiru Nalai Povaar" – meaning "one who would go tomorrow".
Noticing his eagerness, one day his employer finally granted him permission to go to Chidambaram. Nanthanar came to Thiruppungur en route Chidambaram. In those days, people from backward community were not allowed to enter into temples and hadto worship the lord from the outside. However, in this temple, the Nandhi in front of the lord was so big that he could not see the lord. He then prayed to Lord Shiva to allow him to get his darshan. It is believed that Lord Shiva directed Nandhi to step aside to allow Nanthanar to see him fully without any hindrance. Nandhi obeyed immediately and the ecstatic Nanthanar got a full darshan of Lord Shiva.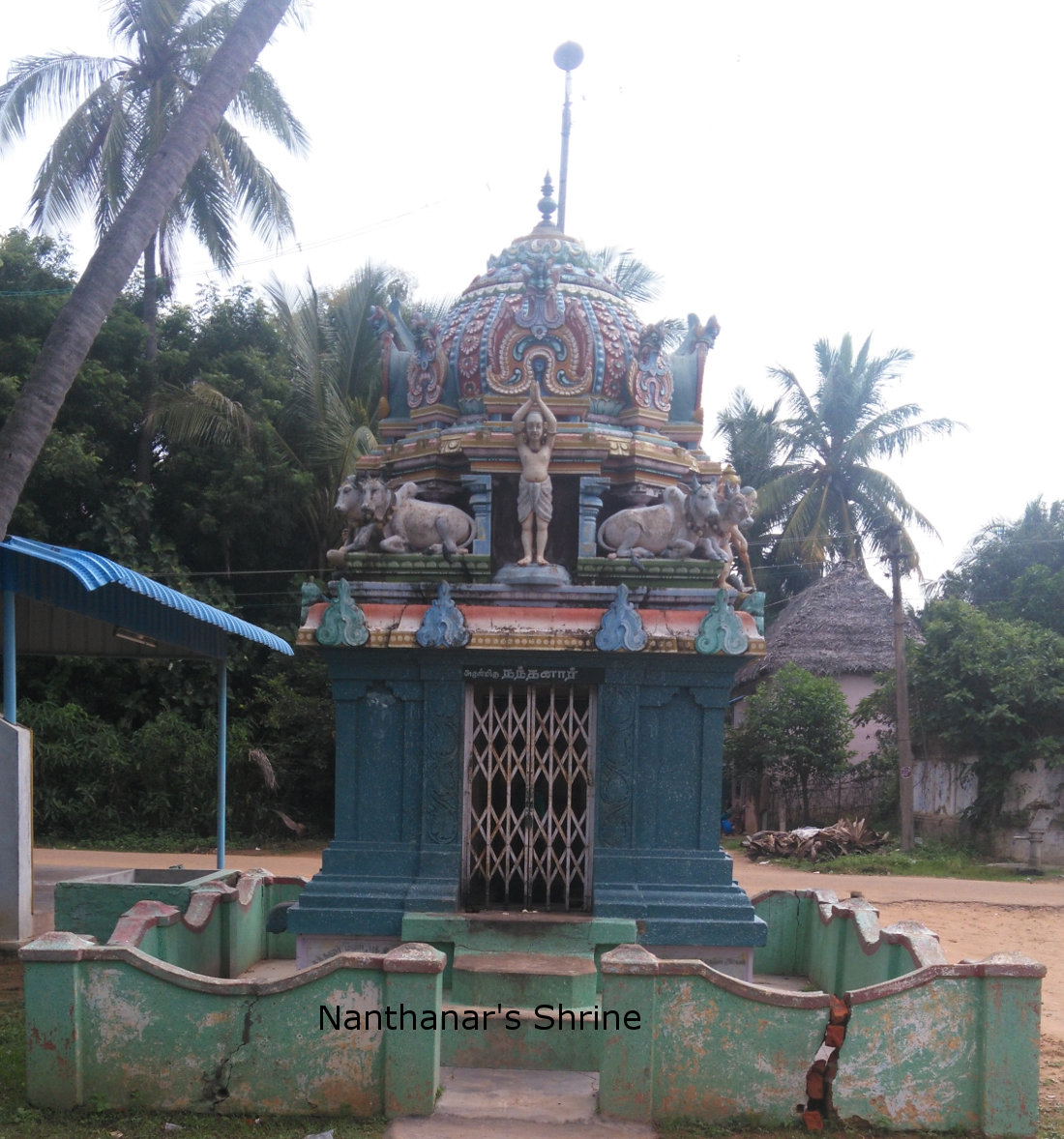 Overcome with joy, Nanthanar wanted to do something for tis temple. He started digging a pond near the temple for the welfare of the devotees. He prayed to Lord Shiva for his blessings to accomplish his task. It is believed that Lord Shiva instructed Lord Vinayakar to help Nanthanar to complete his task. Lord Vinayakar along with his "Boothaganas" (the lord's security), in the form of labourers, dug the pond overnight. This pond is known as "Rishabha Theertham" (also known as Ganapathy Theertham). Lord Vinayakar here is praised as "Kulam Vettiya Vinayakar" (meaning the god who dug the pond).
Nornally the idols of Dhwarabalakas (gate keepers) at the sanctum's entrance in Shiva temples are standing erect and facing ahead. However, here their faces are slightly tilted and positioned diagonally. This is meant to signify that one Dhwarabalaka informs the lord that "Nanthanar has come for a dharshan and is waiting outside". The other one seems to be passing the lord's instructions to Nandhi to step aside. Both the Nandhis, the one inside the sanctum and the other outside it is not in their regular position.
Pancha Lingams
Another legend associated with this temple is that involving a debate between Lord Shiva and Goddess Parvathi. When they had a debate as to who was more charming, Lord Shiva took out a Dharbhai (a grass used in rituals) and made three knots in it and threw it down to the earth. He further said that wherever the Dharbhai falls to the ground, he would comment on Goddess Parvathy's beauty. The Dharbhai fell on the ground at this place and got converted into the "Pancha lingams". These Pancha lingams are situated inside the temple.
Saint Sundaramurthy Nayanar
Sundaramurthy Nayanar visited this temple along with his friend Eyarkon Kalikkama Nayanar of Thiru Perumangalam, a nearby village. Kalikkama Nayanar is also one of the 63 Nayanmars. Interestingly, his wife is Manakkanchara Nayanar's daughter (Manakkanchara Nayanar is also one of the 63 Nayanmars).
At the same time, it is believed that the Chola King Rajendran was also staying here. He had come to this place to worship the lord and seek his blessing for a good monsoon as that region had been facing a drought for a long time. The king requested Sundarar to address this problem. Sundarar put up a condition saying that 12 Veli* of land had to be given to the temple if he could make it rain. The king readily agreed to his proposition. Upon completing his songs, Lord Shiva brought rains to this place. Since the rains had not stopped for a few days, Sundarar was again summoned by the king to fix the problem of imminent floods. Sundarar once again insisted that 12 more Veli of land be given to the temple should the rains cease after his song. The king accepted to Sundarar's demand. The rain stopped after his songs and the temple became richer by 12 more Veli. In his hymn of this temple, in the 2nd stanza, Saint Sundarar mentioned about this incident.
*(1 Veli = 5 kaani = 20 Ma = 6.62 Acre = 2.679 Hectares).
After the Thiripura Samharam (an incident involving the killing of three demons), Lord Shiva made two of the demons as the gate keepers (Dwarapalakas) of the sanctum sanctorum. The third one became the lord's drummer.
In his hymn of this temple, in the 8th stanza, Saint Sundarar mentioned about this incident. Also, in front of Lord Natarajar of this temple, there is a musical instrument ("Panchamukha Vadhyam" or "Manimuzha" in Tamil) which is played by this demon.
Deities in the Temple
Other than the shrines of Lord Shiva and Goddess Parvathy, shrines and idols of lords Sundara Vinayakar, Murugan with his consorts, Somaskandar, Natarajar, Gajalakshmi, Nagar, Nalvar, Kalikkama Nayanar, Suryan, Lingams worshiped by Suryan and Agasthiyar can be seen in the corridors.
There are four Shivlingams in the inner corridor. Each of this lingam is said to represent one of Lord Shiva's faces – Thathpurusha, Aghora, Vamadeva and Sadyojatha.
The idols of Ganapathy, Mahavishnu, Mahalkshmi and Durgai are placed in a row in the inner corridor.
In the outer corridor, "Kulam Vettiya Vinayakar, Murugan with his consorts, Brahma lingam, Pancha lingams, 7 Santhana Nagars, Navagraham, Bairavar, Chandran can be seen.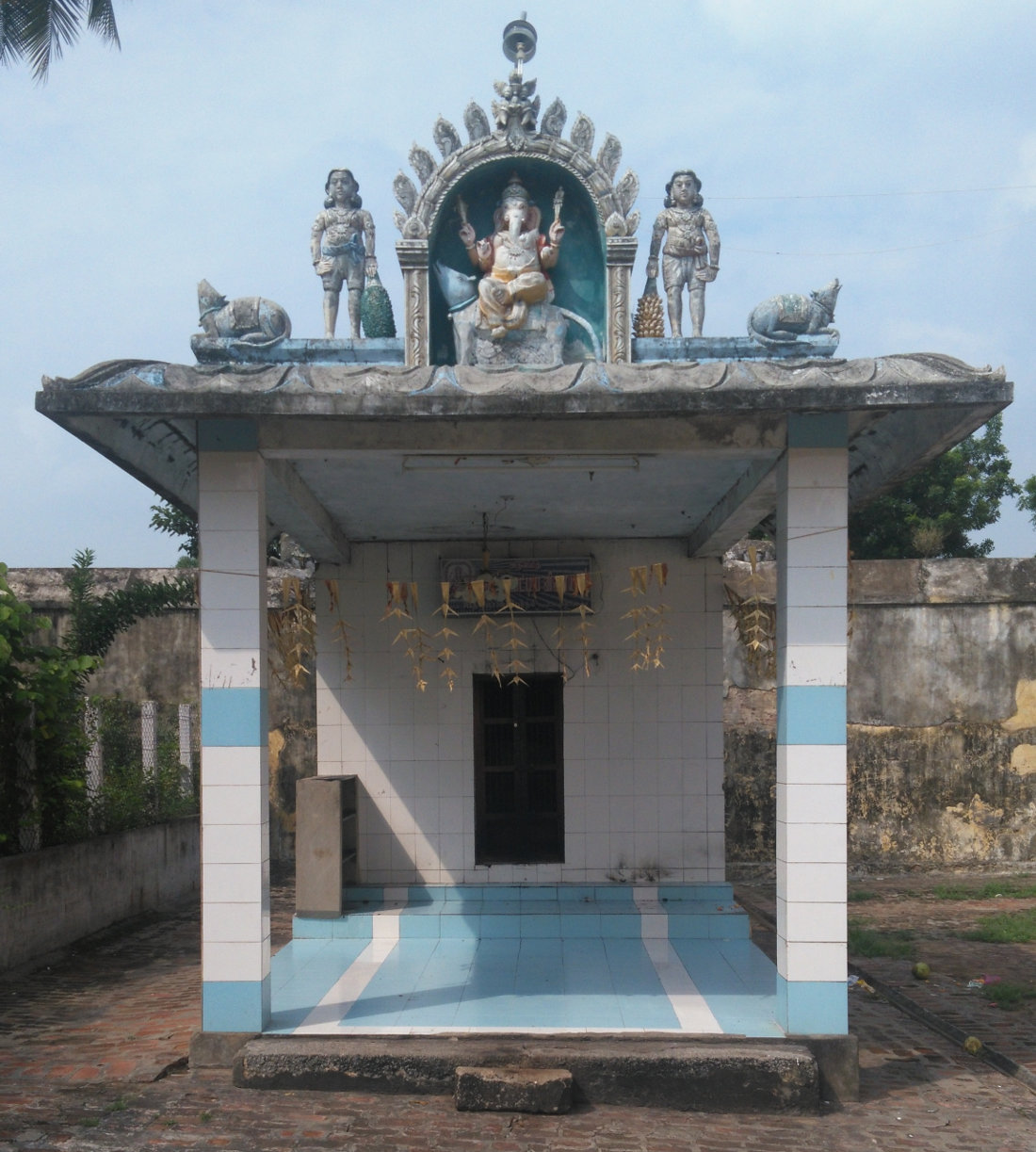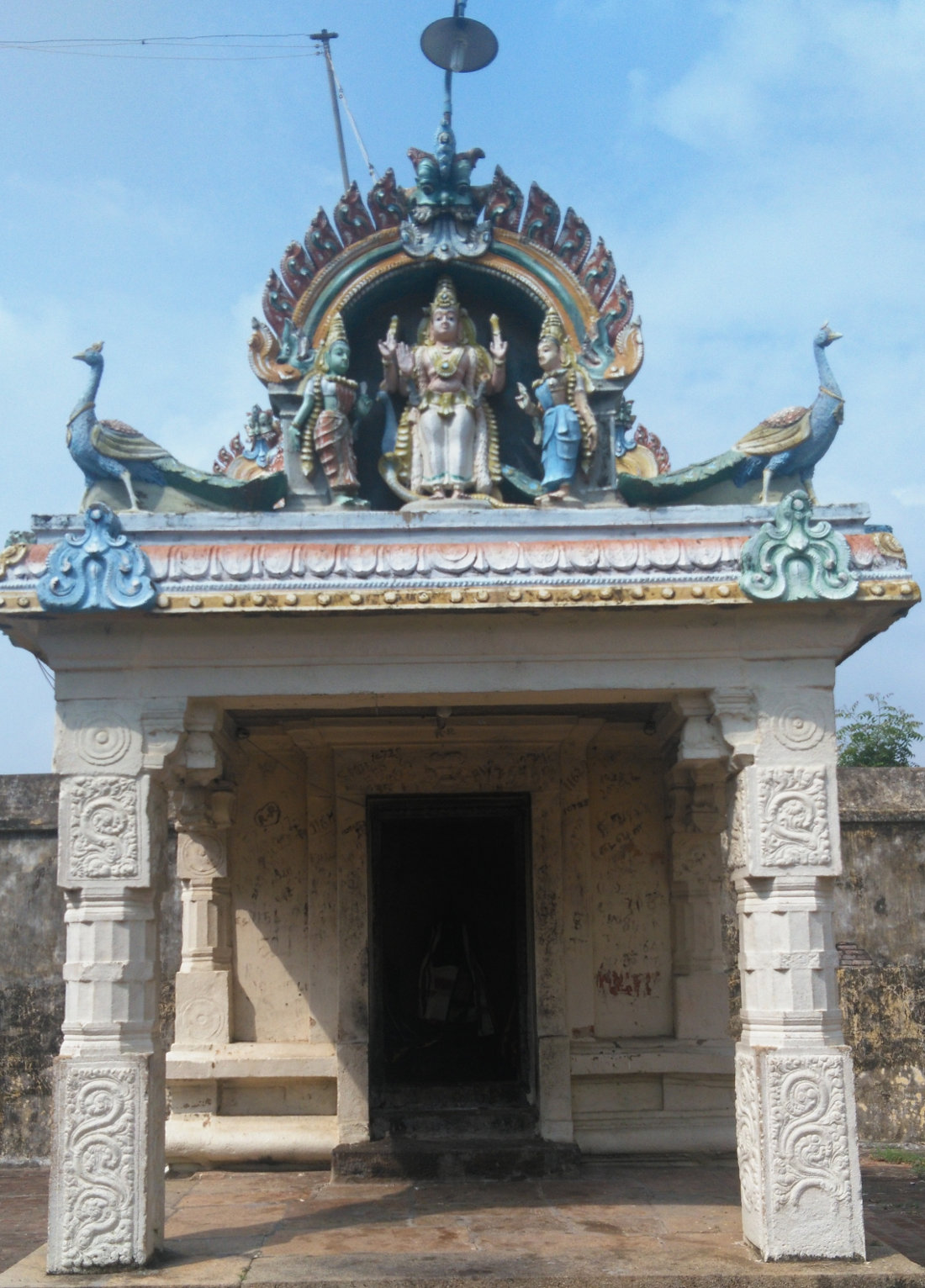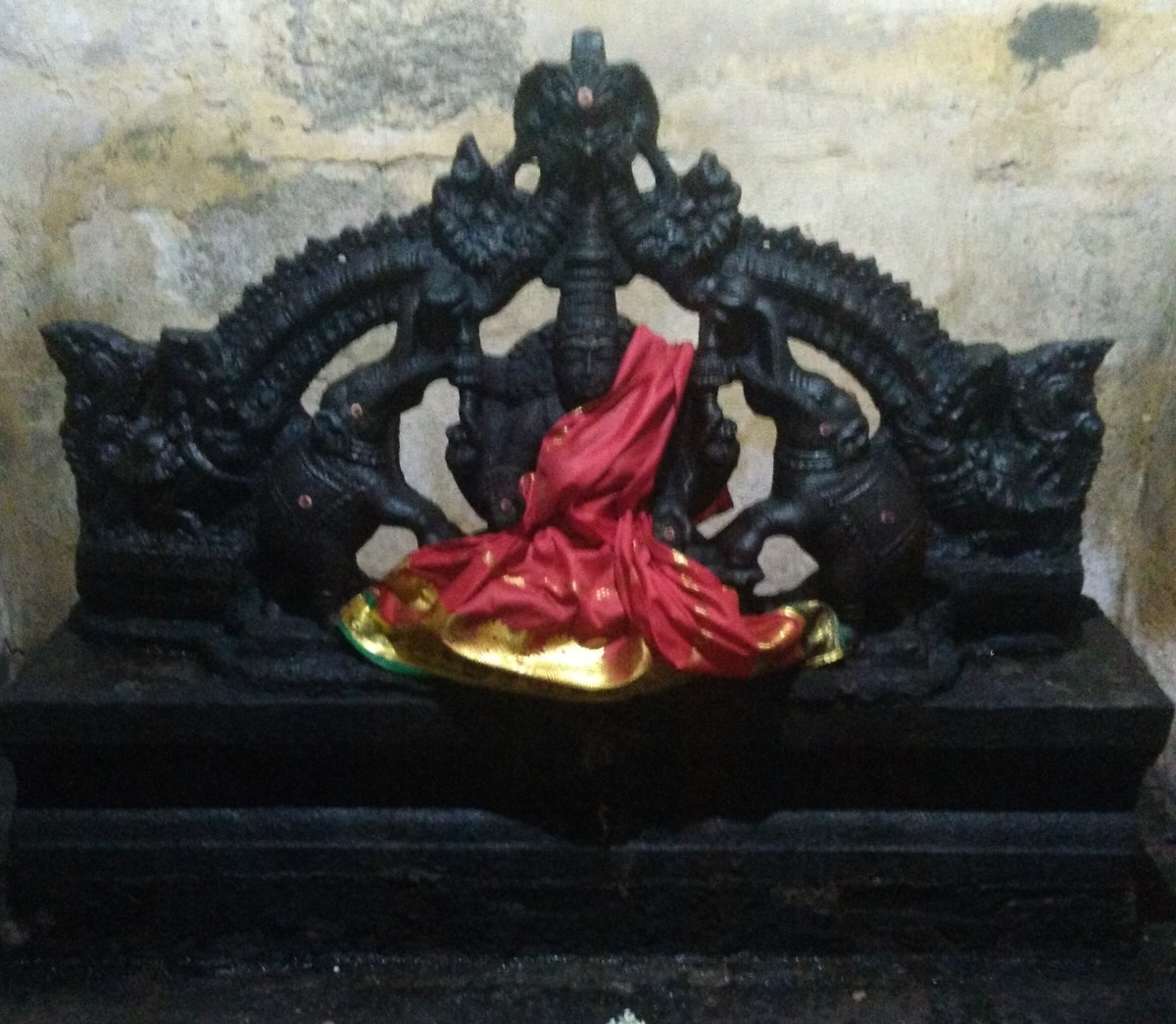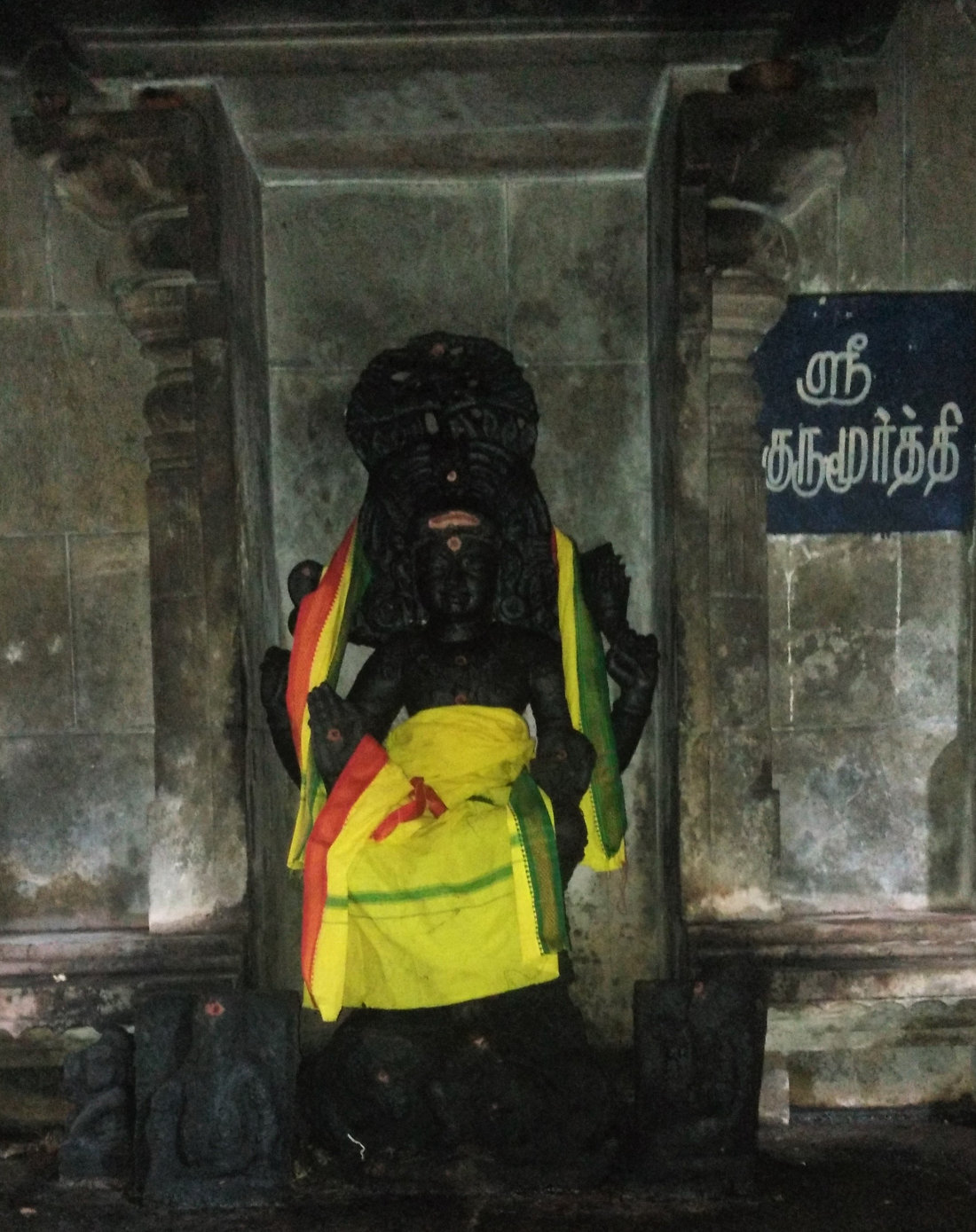 In the "koshtam" (place surrounding the sanctum sanctorum), idols of Narthana Vinayakar, Pitchandavar, Agasthiyar, Dakshinamurthy, Lingothbavar, Brahma, Durgai, Arthanareeswarar and Kshethrabalar (Bairavar) can be seen.
There are five Shivalingams representing Lord Shiva's "panchamukham". These lingams can be seen under the Sthala Viruksham of this temple and are in front of Lord Bhrama's shrine.
There are two separate shrines for Nanthanar here – one in the outer corridor and the other one outside the temple near the main tower.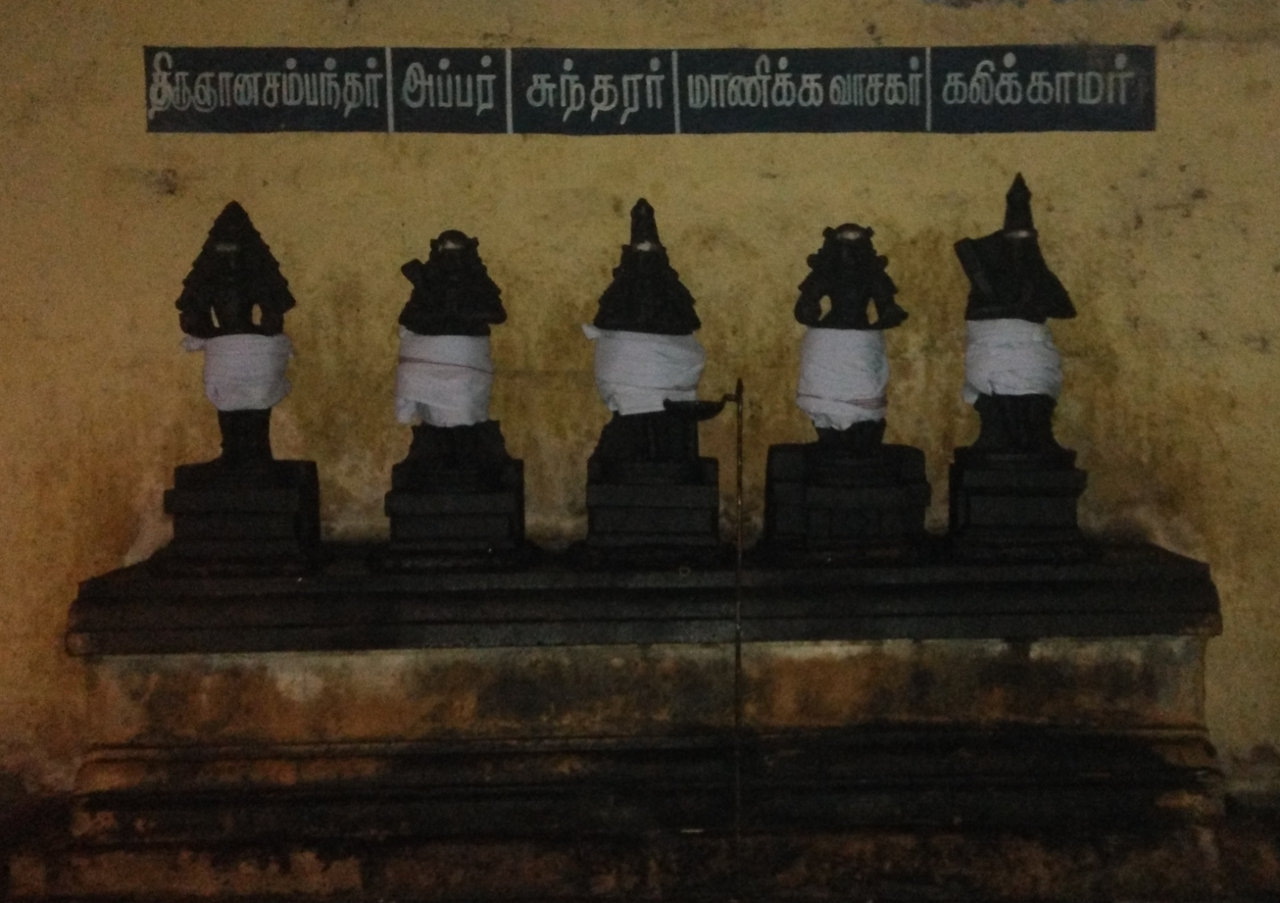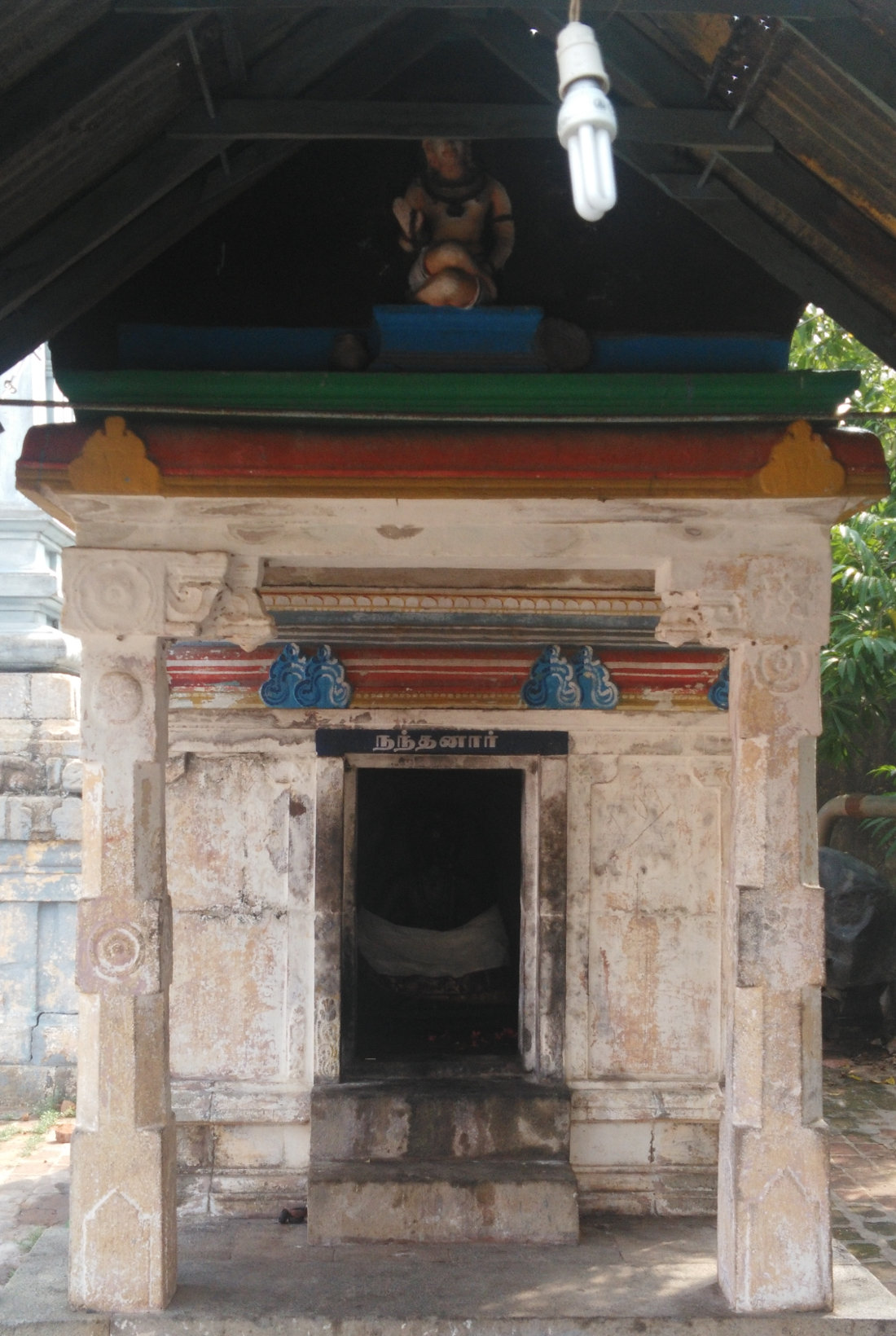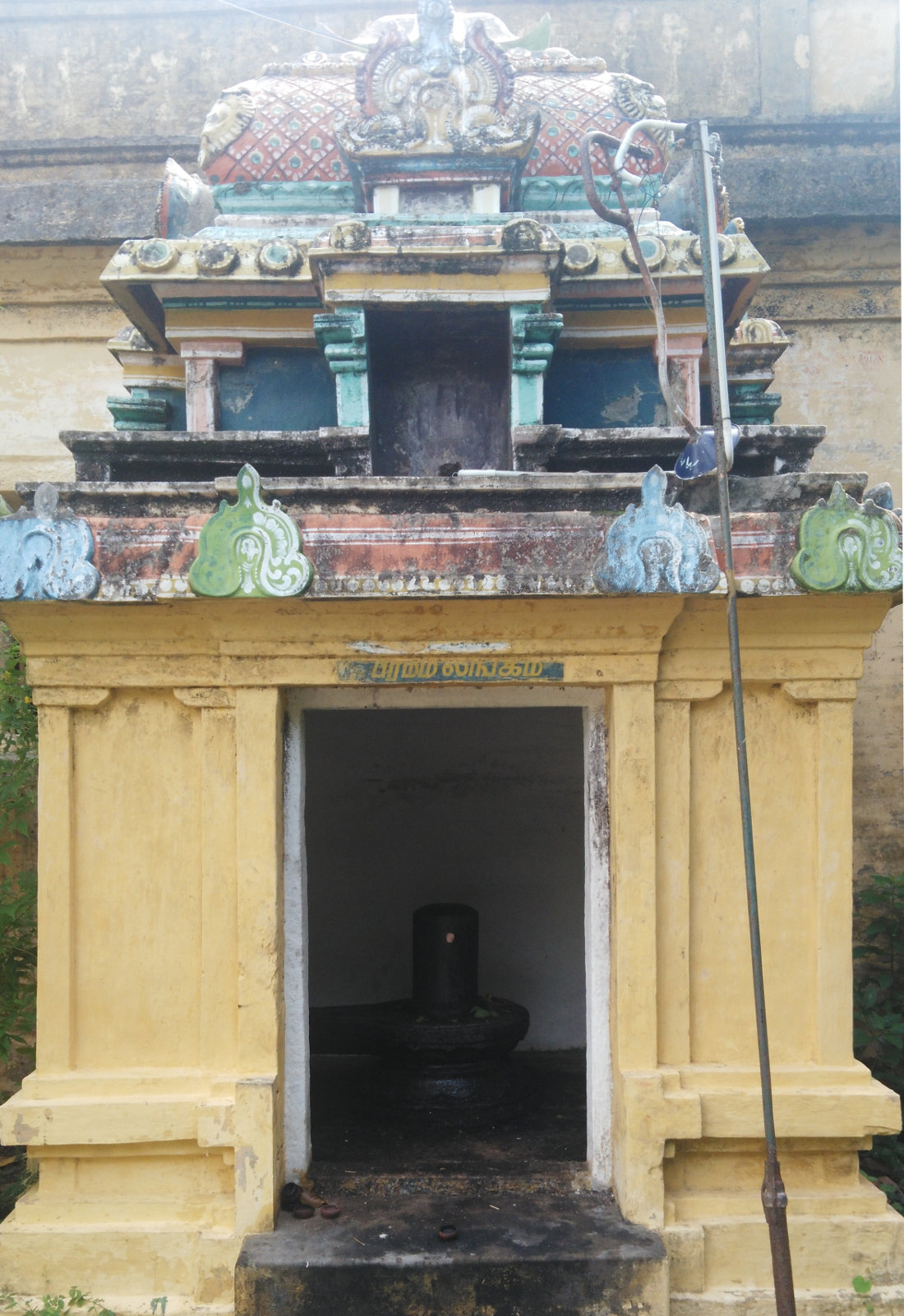 Salient Features
In this temple, almost all the idols are artistically made and look very beautiful.
Since the lingam is made out of sand, abishekam is not performed to the lingam but only to the base (Aavudayar). Only "Punugu" (civet) is applied to the lingam on every Monday at the time of night pooja. The lingam is always covered with a metal sheet ("kavasam").
In most of the temples, Nandhi will have its tongue protruding out but in this temple, its tongue is not visible. This Nandhi is carved out of a single stone and it looks very beautiful. Also, this is one of the biggest Nandhis in Tamil Nadu – it is 15 feet long, 7 feet wide and 7 feet tall.
At the entrance of the sanctum sanctorum, on either side, beautiful reliefs of lord Vinayakar and Murugan can be seen.
Behind the sanctum sanctorum, on either sides of Lord Lingothbavar, there are idols of Lord Mahavishnu and Lord Brahma in a worshipping posture. Devotees can enjoy the darshan of all the three lords (Trimurthys) – Brahma, Vishnu and Shiva. This is considered to be very auspicious.
This temple is considered to be significant for its three important attributes – Moorthy, Sthalam and Theertham - glory of Lord, sacredness of the land and the auspicious temple tank.
The sanctum sanctorum is in the form of semi-circular tank (akazhi in Tamil).
Greatness of this Temple
Devotees believe that worshiping the lord here will lead to removal of "Naga doshams" (related to serpent) and sins from their previous birth.
Devotees also believe that worshipping the "Pancha lingams" here will remove the obstacles from their marriage proposals.
Important Festivals
Some of the important festivals celebrated in the temple are –
10-day Vaikasi Visakam Brahmotsavam in the Tamil month of Vaikasi (May-June)
Vinayakar Chaturthi in the Tamil month of Aavani (Aug-Sept)
Navarathri in the Tamil month of Purattasi (Sept-Oct)
Skanda Shashti and Annabishekam in the Tamil month of Aippasi (Oct–Nov)
Thiru Karthikai in the Tamil month of Karthikai (Nov-Dec)
Thiruvadhirai in the Tamil month of Markazhi (Dec-Jan) and
Shivrathri in the Tamil month of Masi (Feb-Mar).
Pradosham is also observed regularly.
Temple Timings
From 07.00 AM to 12.00 Noon and 04.00 PM to 08.30 PM.
Temple Address
Sri Shivalokanathar Temple,
Thiruppungur Post,
Sirkazhi Taluk,
Nagapattinam District,
Tamil Nadu 609 112.
Tele: 04364 279784 and 094867 17634.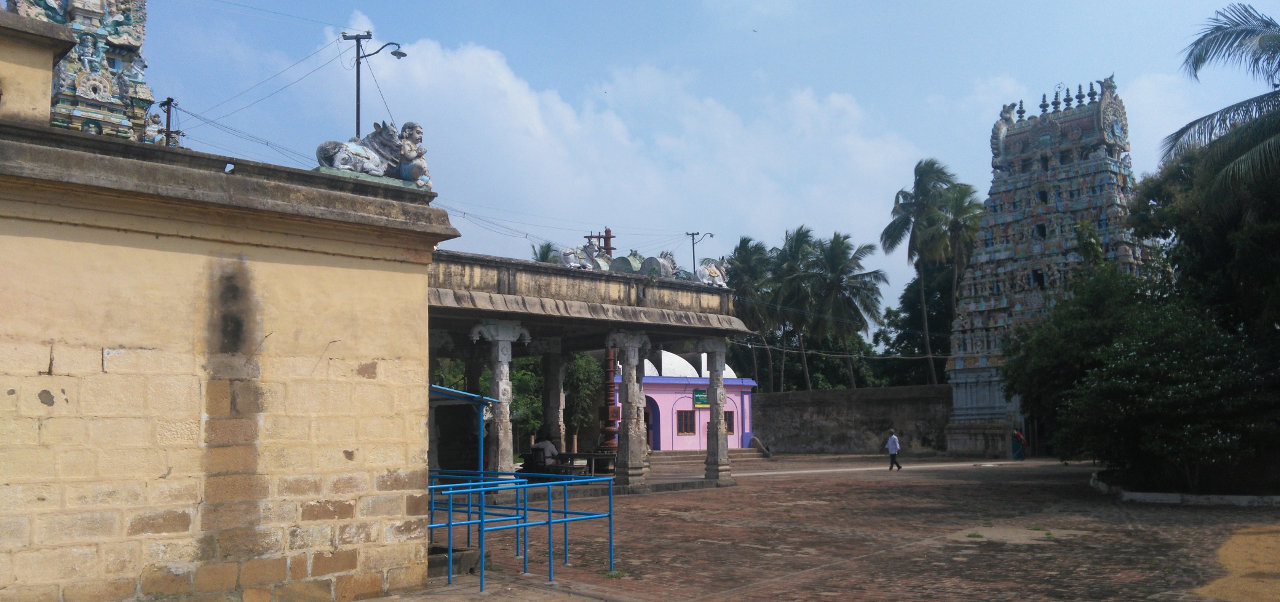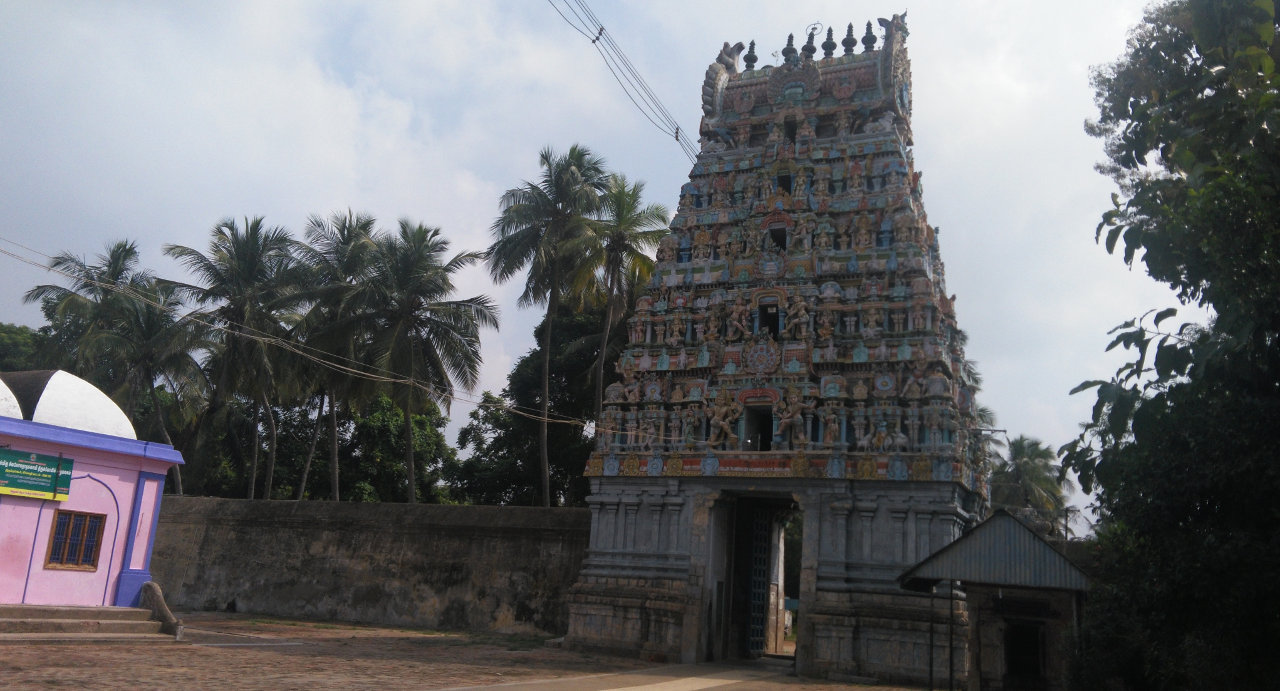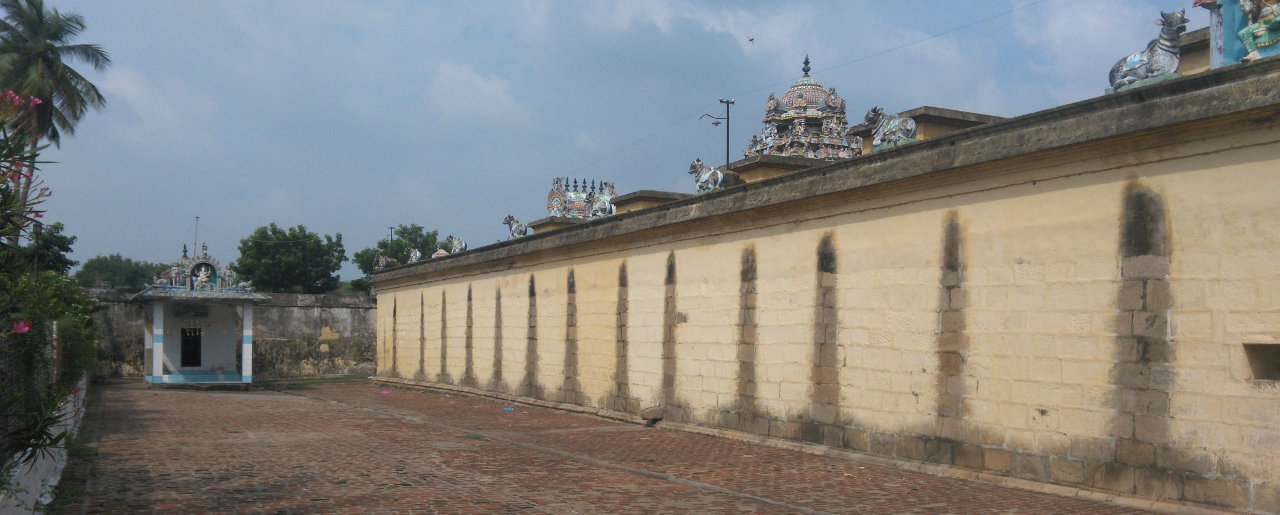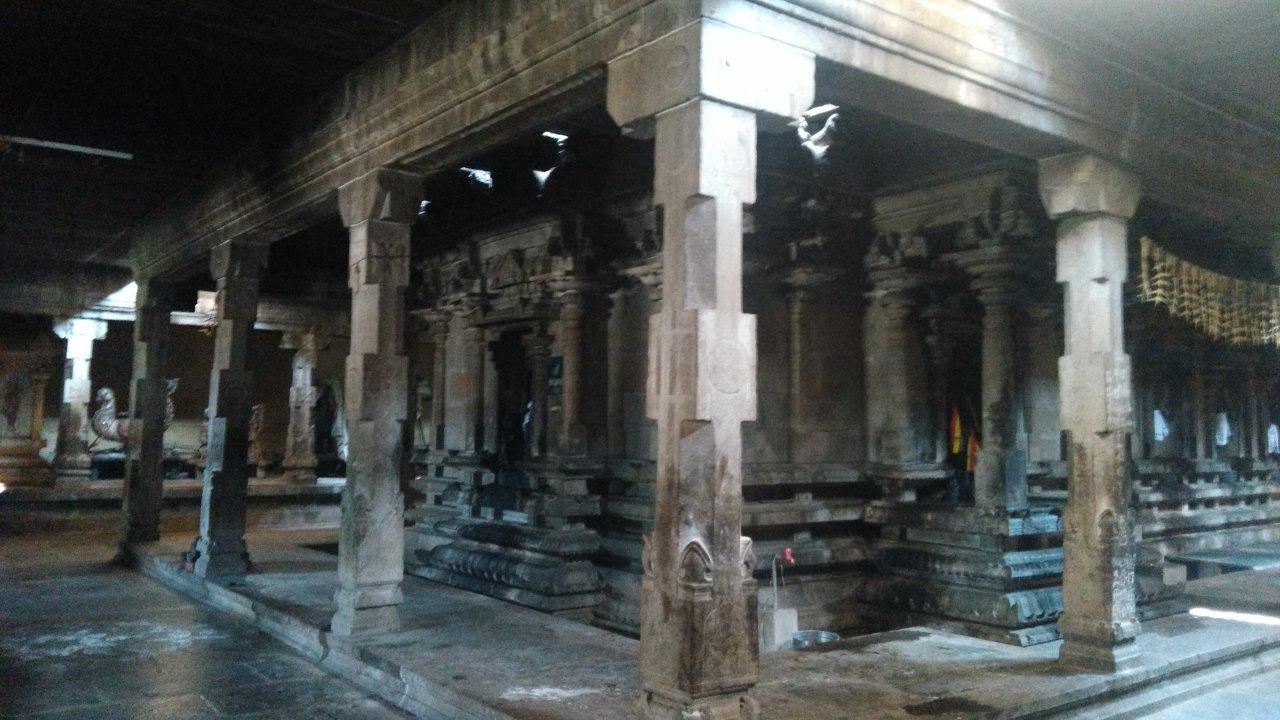 ---
Pathigam (Hymn) with English transliteration
Saint Sundaramurthy Nayanar visited this temple and sang this Pathigam.
Devotees visiting this temple should make it a practice to recite this Pathigam.
அந்த ணாளன்உன் அடைக்கலம் புகுத
அவனைக் காப்பது காரண மாக
வந்த காலன்றன் ஆருயி ரதனை
வவ்வி னாய்க்குன்றன் வன்மைகண் டடியேன்
எந்தை நீயெனை நமன்றமர் நலியின்
இவன்மற் றென்னடி யானென விலக்குஞ்
சிந்தை யால்வந்துன் றிருவடி அடைந்தேன்
செழும்பொ ழிற்றிருப் புன்கூர் உளானே.
"Antha ṇāḷaṉuṉ aṭaikkalam pukutha
avaṉaik kāppathu kāraṇa māka
vantha kālaṉtṟaṉ āruyi rathaṉai
vavvi ṉāykkuṉtṟaṉ vaṉmaikaṇ ṭaṭiyēṉ
enthai nīyeṉai namaṉtṟamar naliyiṉ
ivaṉmat ṟeṉṉaṭi yāṉeṉa vilakkuñ
chinthai yālvanthuṉ tṟiruvaṭi adainthēṉ
sezhumpo zhitṟirup puṉkūr uḷāṉē".
வைய கமுற்றும் மாமழை மறந்து
வயலில் நீரிலை மாநிலந் தருகோம்
உய்யக் கொள்கமற் றெங்களை என்ன
ஒலிகொள் வெண்முகி லாய்ப்பரந் தெங்கும்
பெய்யும் மாமழைப் பெருவெள்ளந் தவிர்த்துப்
பெயர்த்தும் பன்னிரு வேலிகொண் டருளுஞ்
செய்கை கண்டுநின் றிருவடி அடைந்தேன்
செழும்பொ ழிற்றிருப் புன்கூர் உளானே.
"Vaiya kamutṟum māmazhai maṟanthu
vayalil nīrilai mānilan tharukōm
uyyak koḷkamat ṟeṅkaḷai eṉṉa
olikoḷ veṇmuki lāypparan theṅkum
peyyum māmazhaip peruveḷḷan thavirthup
peyarthum paṉṉiru vēlikoṇ ṭaruḷuñ
seykai kaṇṭuniṉt ṟiruvaṭi aṭainthēṉ
sezhumpo zhitṟirup puṉkūr uḷāṉē".
ஏத நன்னிலம் ஈரறு வேலி
ஏயர் கோனுற்ற இரும்பிணி தவிர்த்துக்
கோத னங்களின் பால்கறந் தாட்டக்
கோல வெண்மணற் சிவன்றன்மேற் சென்ற
தாதை தாளற எறிந்ததண் டிக்குன்
சடைமி சைமலர் அருள்செயக் கண்டு
பூத ஆளிநின் பொன்னடி அடைந்தேன்
பூம்பொ ழிற்றிருப் புன்கூர் உளானே.
"Ētha naṉṉilam īraṟu vēli
ēyar kōṉutṟa irumpiṇi thavirththuk
kōtha ṉaṅkaḷiṉ pālkaṟan thāṭṭak
kōla veṇmaṇaṟ sivaṉtṟaṉmēṟ seṉtṟa
thāthai thāḷaṟa eṟinthathaṇ ṭikkuṉ
saṭaimi saimalar aruḷseyak kaṇdu
pūtha āḷiniṉ poṉṉaṭi aṭainthēṉ
pūmpo zhitṟirup puṉkūr uḷāṉē".
நற்ற மிழ்வல்ல ஞானசம் பந்தன்
நாவினுக் கரையன் நாளைப்போ வானுங்
கற்ற சூதன்நற் சாக்கியன் சிலந்தி
கண்ணப் பன்கணம் புல்லனென் றிவர்கள்
குற்றஞ் செய்யினுங் குணமெனக் கருதுங்
கொள்கை கண்டுநின் குரைகழல் அடைந்தேன்
பொற்றி ரள்மணிக் கமலங்கள் மலரும்
பொய்கை சூழ்திருப் புன்கூர் உளானே.
"Natṟa mizhvalla gñāṉasam banthaṉ
nāviṉuk karaiyaṉ nāḷaippō vāṉuṅ
katṟa chūthaṉnaṟ chākkiyaṉ silanthi
kaṇṇap paṉkaṇam pullaṉeṉt ṟivarkaḷ
kutṟañ seyyiṉuṅ kuṇameṉak karuthuṅ
koḷkai kaṇṭuniṉ kuraikazhal aṭainthēṉ
potṟi raḷmaṇik kamalaṅkaḷ malarum
poykai chūzhthirup puṉkūr uḷāṉē".
கோல மால்வரை மத்தென நாட்டிக்
கோள ரவுசுற் றிக்கடைந் தெழுந்த
ஆல நஞ்சுகண் டவர்மிக இரிய
அமரர் கட்கருள் புரிவது கருதி
நீல மார்கடல் விடந்தனை உண்டு
கண்டத் தேவைத்த பித்தநீ செய்த
சீலங் கண்டுநின் றிருவடி அடைந்தேன்
செழும்பொ ழிற்றிருப் புன்கூர் உளானே.
"Kōla mālvarai maththeṉa nāṭṭik
kōḷa ravusut ṟikkaṭain thezhuntha
āla nañchukaṇ ṭavarmika iriya
amarar kaṭkaruḷ purivathu karuthi
nīla mārkaṭal viṭanthaṉai uṇṭu
kaṇṭath thēvaiththa piththanī seytha
sīlaṅ kaṇṭuniṉ tṟiruvaṭi aṭainthēṉ
sezhumpo zhitṟirup puṉkūr uḷāṉē".
இயக்கர் கின்னரர் யமனொடு வருணர்
இயங்கு தீவளி ஞாயிறு திங்கள்
மயக்கம் இல்புலி வானரம் நாகம்
வசுக்கள் வானவர் தானவர் எல்லாம்
அயர்ப்பொன் றின்றிநின் றிருவடி அதனை
அர்ச்சித் தார்பெறும் ஆரருள் கண்டு
திகைப்பொன் றின்றிநின் றிருவடி அடைந்தேன்
செழும்பொ ழிற்றிருப் புன்கூர் உளானே.
"Iyakkar kiṉṉarar yamaṉoṭu varuṇar
iyaṅku thīvaḷi gñāyiṟu thiṅkaḷ
mayakkam ilpuli vāṉaram nākam
vasukkaḷ vāṉavar thāṉavar ellām
ayarppoṉ tṟiṉtṟiniṉ tṟiruvaṭi athaṉai
archchith thārpeṟum āraruḷ kaṇṭu
thikaippoṉ tṟiṉtṟiniṉ tṟiruvaṭi aṭainthēṉ
sezhumpo zhitṟirup puṉkūr uḷāṉē".
போர்த்த நீள்செவி யாளர்அந் தணர்க்குப்
பொழில்கொள் ஆல்நிழற் கீழறம் புரிந்து
பார்த்த னுக்கன்று பாசுப தங்கொடுத்
தருளி னாய்பண்டு பகீரதன் வேண்ட
ஆர்த்து வந்திழி யும்புனற் கங்கை
நங்கை யாளைநின் சடைமிசைக் கரந்த
தீர்த்த னேநின்றன் றிருவடி அடைந்தேன்
செழும்பொ ழிற்றிருப் புன்கூர் உளானே.
"Pōrththa nīḷsevi yāḷar'an thaṇarkkup
pozhilkoḷ ālnizhaṟ kīzhaṟam purinthu
pārththa ṉukkaṉtṟu pāsupa thaṅkoṭuth
tharuḷi ṉāypaṇṭu pakīrathaṉ vēṇṭa
ārththu vanthizhi yumpuṉaṟ gaṅgai
naṅkai yāḷainiṉ saṭaimisaik karantha
thīrththa ṉēniṉtṟaṉ tṟiruvaṭi aṭainthēṉ
sezhumpo zhitṟirup puṉkūr uḷāṉē".
மூவெ யில்செற்ற ஞான்றுய்ந்த மூவரில்
இருவர் நின்றிருக் கோயிலின் வாய்தல்
காவ லாளரென் றேவிய பின்னை
ஒருவ நீகரி காடரங் காக
மானை நோக்கியோர் மாநடம் மகிழ
மணிமு ழாமுழக் கஅருள் செய்த
தேவ தேவநின் றிருவடி அடைந்தேன்
செழும்பொ ழிற்றிருப் புன்கூர் உளானே.
"Mūve yilsetṟa gñāṉtṟuyntha mūvaril
iruvar niṉtṟiruk kōyiliṉ vāythal
kāva lāḷareṉ tṟēviya piṉṉai
oruva nīkari kāṭaraṅ kāka
māṉai nōkkiyōr mānaṭam makizha
maṇimu zhāmuzhak ka'aruḷ seytha
thēva thēvaniṉ tṟiruvaṭi aṭainthēṉ
sezhumpo zhitṟirup puṉkūr uḷāṉē".
அறிவி னால்மிக்க அறுவகைச் சமயம்
அவ்வ வர்க்கங்கே ஆரருள் புரிந்து
எறியு மாகடல் இலங்கையர் கோனைத்
துலங்க மால்வரைக் கீழடர்த் திட்டுக்
குறிகொள் பாடலின் இன்னிசை கேட்டுக்
கோல வாளொடு நாளது கொடுத்த
செறிவு கண்டுநின் றிருவடி அடைந்தேன்
செழும்பொ ழிற்றிருப் புன்கூர் உளானே.
"Aṟivi ṉālmikka aṟuvakaich chamayam
avva varkkaṅkē āraruḷ purinthu
eṟiyu mākaṭal ilaṅkaiyar kōṉaith
thulaṅka mālvaraik kīzhaṭarth thiṭṭuk
kuṟikoḷ pāṭaliṉ iṉṉisai kēṭṭuk
kōla vāḷoṭu nāḷathu koṭuththa
seṟivu kaṇṭuniṉ tṟiruvaṭi aṭainthēṉ
sezhumpo zhitṟirup puṉkūr uḷāṉē".
கம்ப மால்களிற் றின்னுரி யானைக்
காமற் காய்ந்ததோர் கண்ணுடை யானைச்
செம்பொ னேயொக்குந் திருவுரு வானைச்
செழும்பொ ழிற்றிருப் புன்கூர் உளானை
உம்பர் ஆளியை உமையவள் கோனை
ஊரன் வன்றொண்டன் உள்ளத் தாலுகந்
தன்பி னாற்சொன்ன அருந்தமிழ் ஐந்தோ
டைந்தும் வல்லவர் அருவினை இலரே.
"Kampa mālkaḷit ṟiṉṉuri yāṉaik
kāmaṟ kāynthathōr kaṇṇuṭai yāṉaich
chempo ṉēyokkun thiruvuru vāṉaich
chezhumpo zhitṟirup puṉkūr uḷāṉai
umpar āḷiyai umaiyavaḷ kōṉai
ūraṉ vaṉtṟoṇṭaṉ uḷḷath thālukan
thaṉpi ṉāṟsoṉṉa arunthamizh ainthō
ṭainthum vallavar aruviṉai ilarē".