Visited on: 23rd July, 2016 and 5th November, 2016.
Location
Thiruthinai Nagar is at a distance of about 25 kms from Cuddalore. Take the Cuddalore to Chidambaram route to reach Mettupalayam (20 Kms). From Mettupalayam, take a diversion route and travel for about 5 kms to reach Thiruthinai Nagar.
The nearest railway station is Puduchathiram. It is at a distance of about 6 kms from Thiruthinai Nagar on the Chidambaram to Cuddalore route.
General Information
Moolavar

Sri Shivakkozhuntheeswarar, Sri Shivangareswarar,
Sri Thiruntheeswarar

Ambal

Sri Neelayathakshi, Sri Oppila Nayagi,
Sri Karunthadankanni, Sri Ilangkompannal

Theertham (Holy water)

Jambava Theertham

Sthala Vriksham (Sacred Tree)

Kontrai tree

Pathigam (Hymn) rendered by

Saint Sundaramurthy Swamigal (Sundarar)

This is one of the 276 Devara Paadal Petra Shiva Sthalams and 5th Shiva Sthalam in Nadu Naadu.
Lord Shiva in this temple is a Swayambumurthi (self-manifested).
This east facing temple has a single corridor and its main tower (Rajagopuram) has 3-tiers.
History of the Temple
This temple is situated on the banks of river Pennai and is believed to have been built in the 6th century. The historical name of the village around the temple is "Thiru Thinai Nagar". It has now been changed to "Theerthanagiri".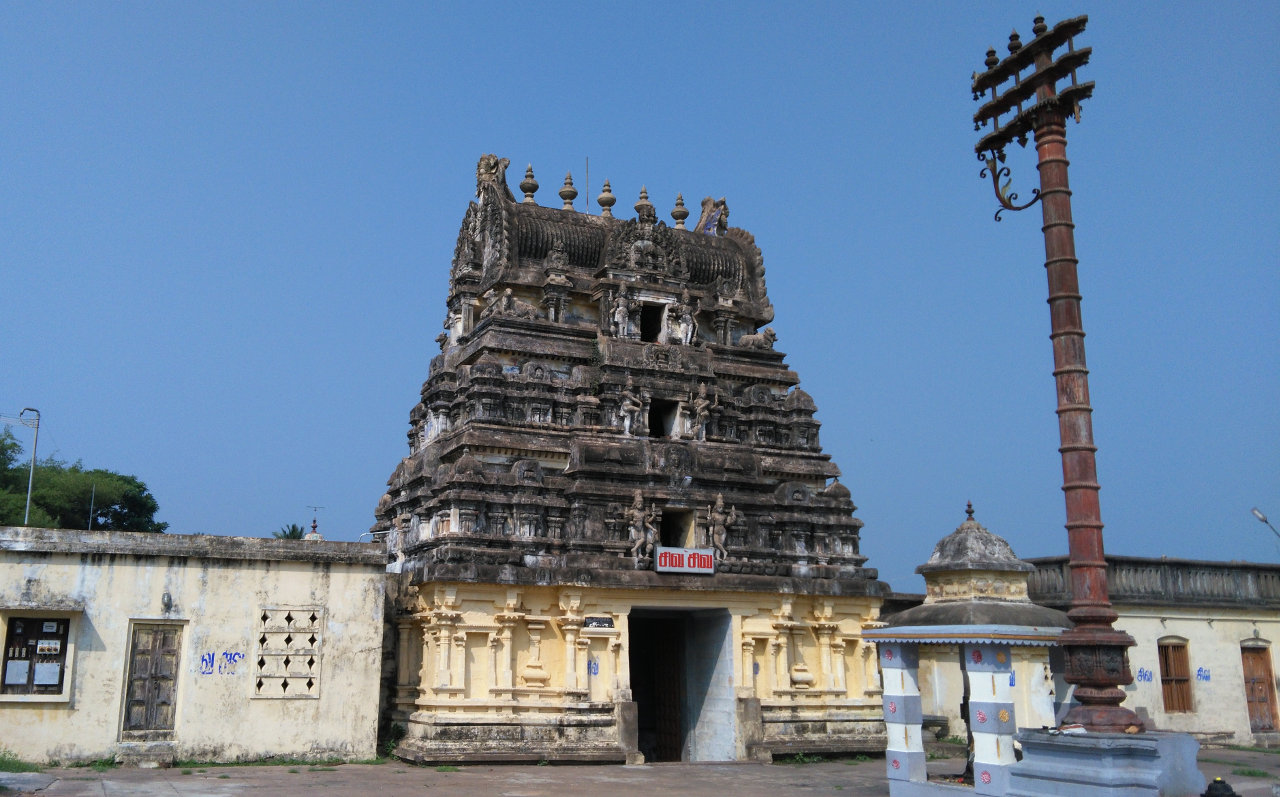 Legend
It is believed that Jambavan, the king of the bears, worshiped Lord Shiva here and received his blessing. This temple's tank is named after him - "Jambava Theertham". It is believed that taking a dip in this tank will absolve you off your sins.
As per the Sthala Puranam, a farmer called Periyan and his wife lived in this village. They had the habit of taking food only after offering it to a Shiva devotee. One day, Lord Shiva decided to test their faith. That day, the couple could not find anyone to offer the food to. Periyan came to his field to ask one of his workers to come to his house so that he could make his offering. Surprisingly, he could not find anyone in the field. He waited for some time for them to return.
After some time, Periyan saw an old man pass by and he requested him to come and have food. The old man said that he could not accept food without earning it. He offered to some work in the field and then accept the food as wage. The farmer asked him to plough the field. Once the old man started ploughing the field, the farmer went back home to fetch some food for him. When he returned with the food, he was astonished to see that the crops were fully grown and ready for harvest.
Periyan and his wife served the food for the old man under the kontrai tree. After he had finished eating, they asked him how he was able to do such a miraculous thing. The old man disappeared before answering. Thereafter Lord Shiva appeared on his bull mount (Rishabha Vakanam) with Goddess Parvathy and gave dharisanam to the couple. The lord further informed them that he had only come there in the form of an old man.
After worshiping the lord, Periyan and his wife requested Lord Shiva to stay back in the place and bless them. Lord Shiva stayed back as a Swayambu Lingam in this place under the kontrai tree.
The lord here is named as "Sivakozhundeeswarar". Since the Lord Shiva himself is believed to have ploughed the field, sowed millet seeds ("Thinai") and made it ready for harvest, this place gets the name "Thiru Thinai Nagar".
Another legend associated with this temple is that of a king named Veeraseran who was suffering from leukoderma. Once he had come to this temple for worshiping the lord. His dog, who was also suffering from skin diseases, had also come with him. His dog accidentally fell in the temple's tank. When it came out, its skin diseases had disappeared. Noticing this, the king decided to take a dip in the tank. To his surprise, when he came out, he was cured of his leukoderma. He worshiped the lord and conveyed his gratitude. It is believed that thereafter King Veeraseran constructed this temple. His idol can also be seen in the temple corridors.
Deities in the temple
Goddess Parvathi's shrine can be seen in the outer corridors. The lingam worshiped by Jambavan is inside the Goddess's shrine.
Shrines and idols of Lords Vinayakar, Murugan with his consorts, Saint Thirugnanasambanthar, Nalvar, Yoga Dakshinamurthy, Durgai, Chandikeswarar with his consort, Valampuri Vinayakar, Dandapani, Agasthiar Lingam, Bairavar, Suryan, Navagraham and King Veerasenan can be seen in the corridors.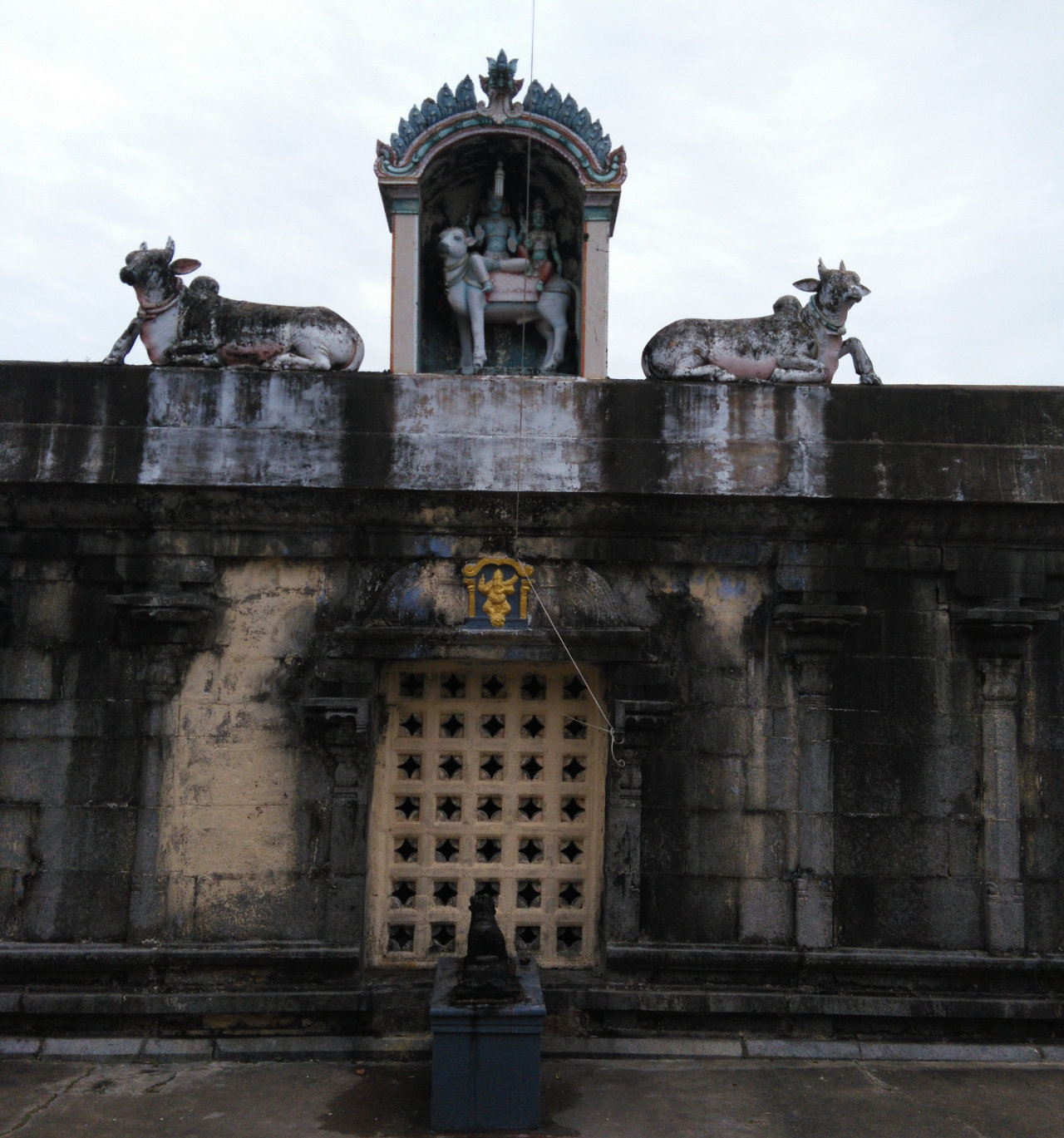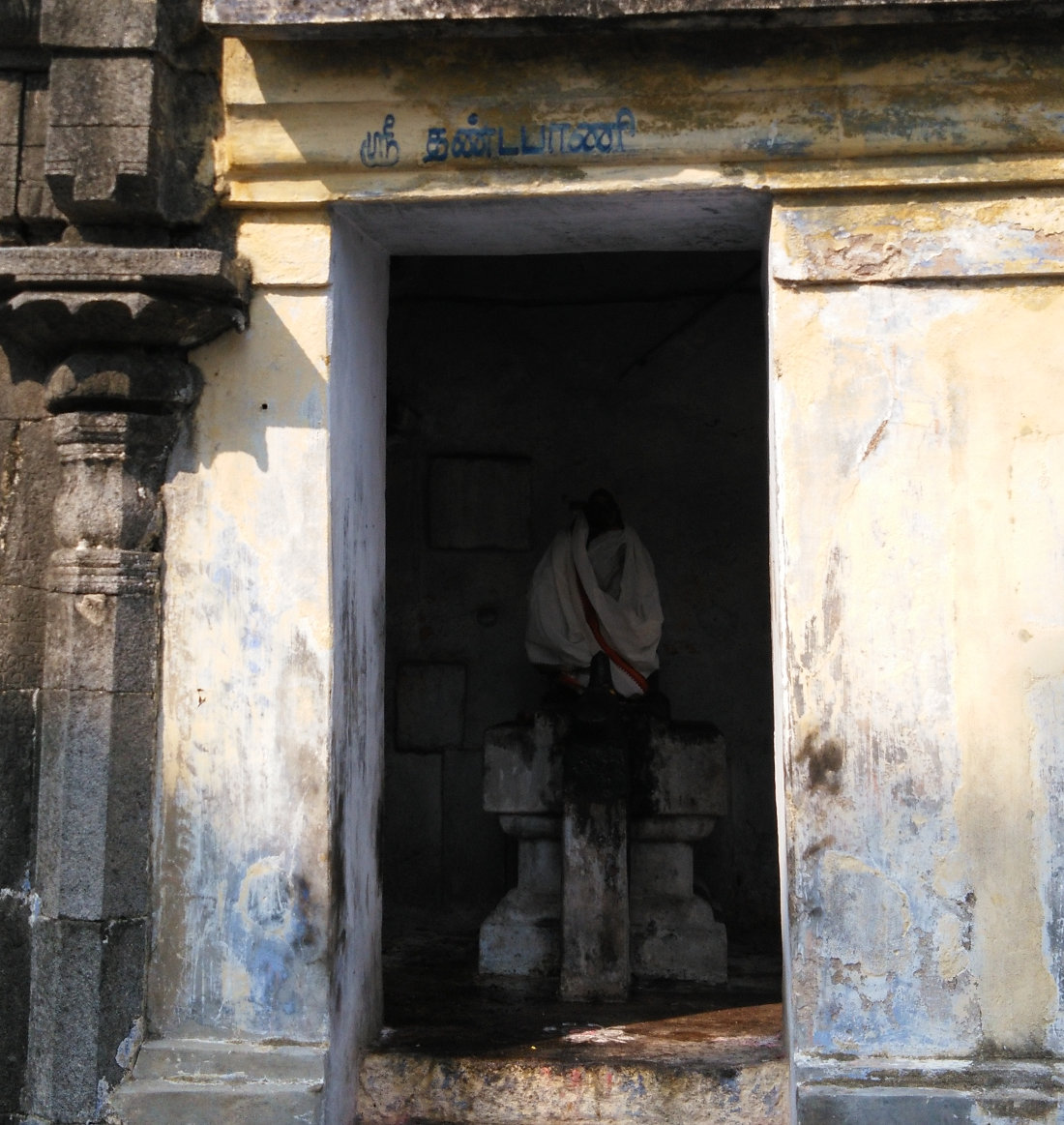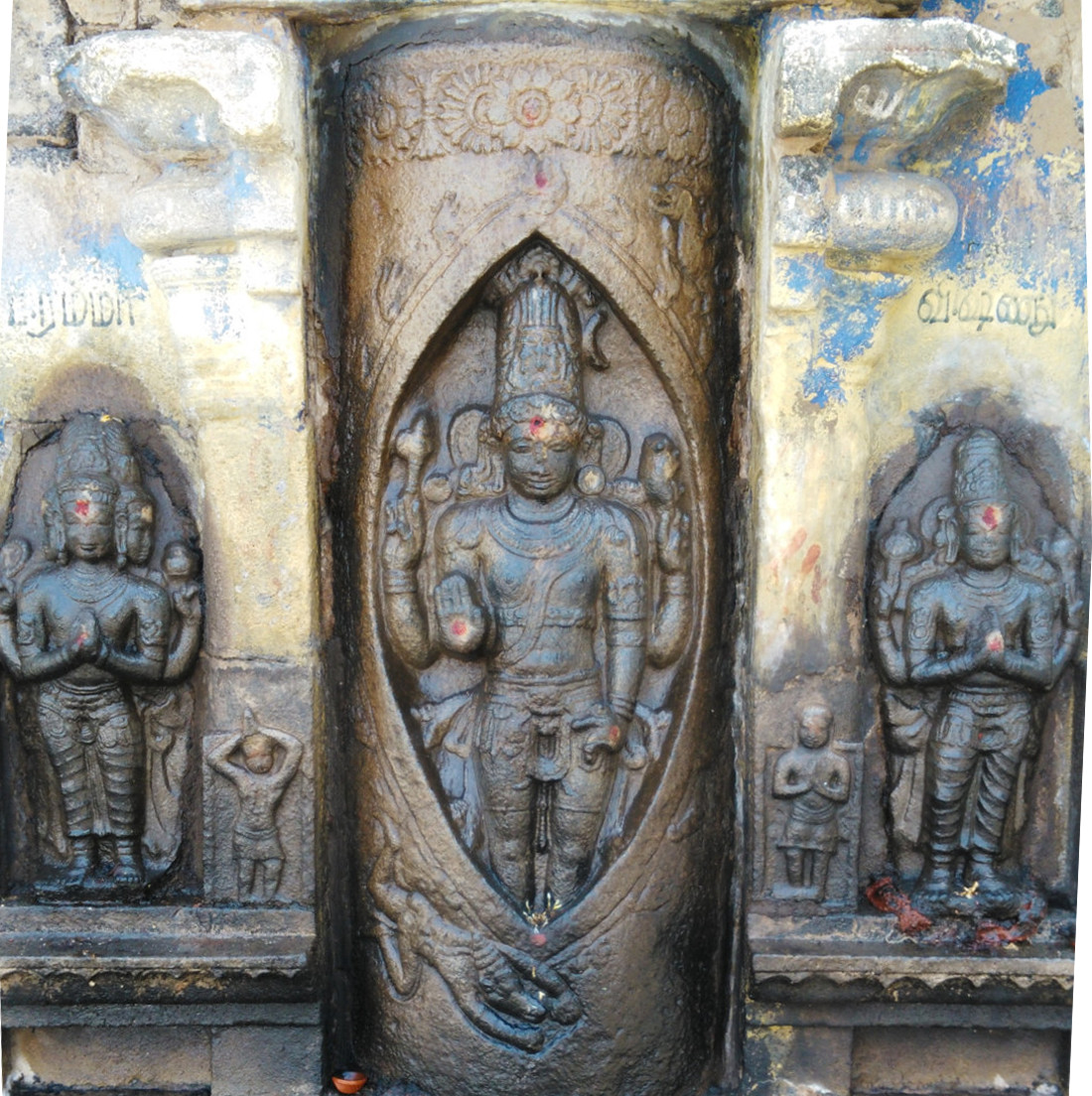 Salient Features
The Sthala Vriksham of this temple is a kondrai tree. In the corridor, there is a kondrai tree with a Shiva Lingam under it.
Idols of Lord Mahavishnu and Lord Brahma can be seen behind the sanctum sanctorum in a worshipping posture on either sides of Lord Lingothbavar. Devotees can enjoy the darshan of all the three Lords (Trimurthys) – Brahmma, Vishnu and Shiva here. This is considered to be very auspicious.
On the walls of the sanctum, one can see beautifully chiselled sculptures (Pudai Sirpangal). These sculptures depict the stories related to the sthala puranam – the farmer couple, Lord Shiva ploughing the field and King Veeraseran.
There is also a sculpture of Nardhana Ganapathy with four "Boodha Ganas" (soldiers of the lord).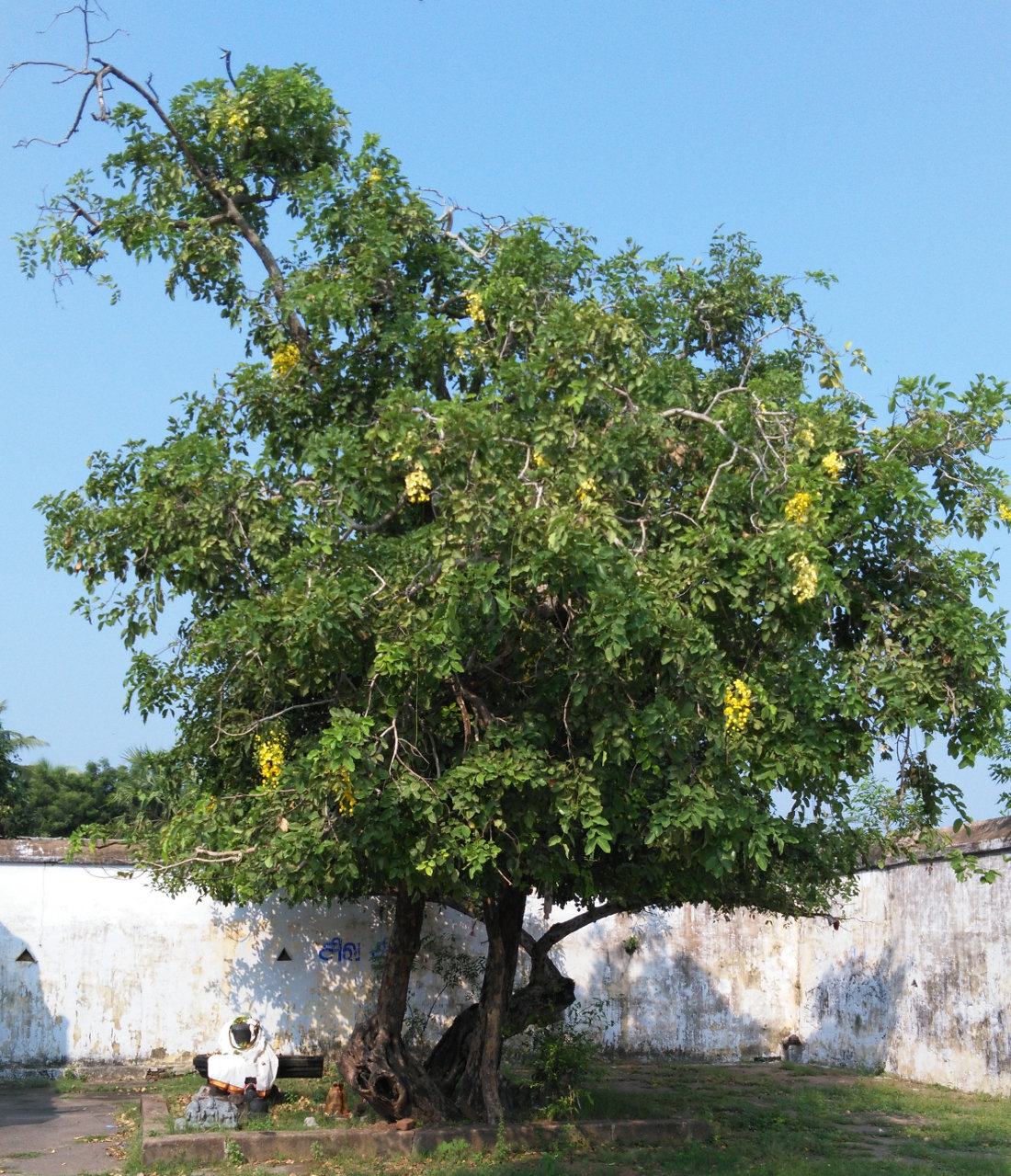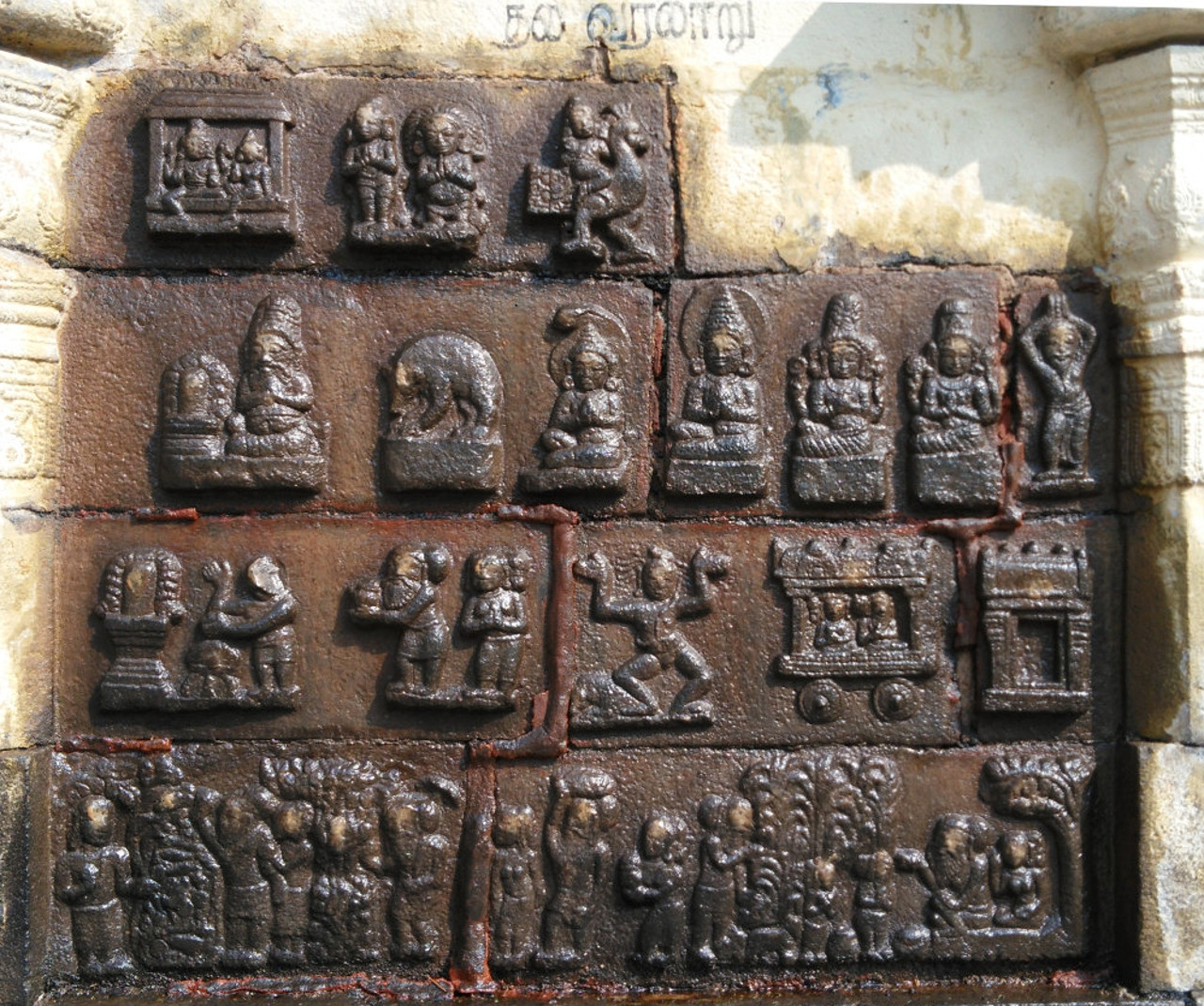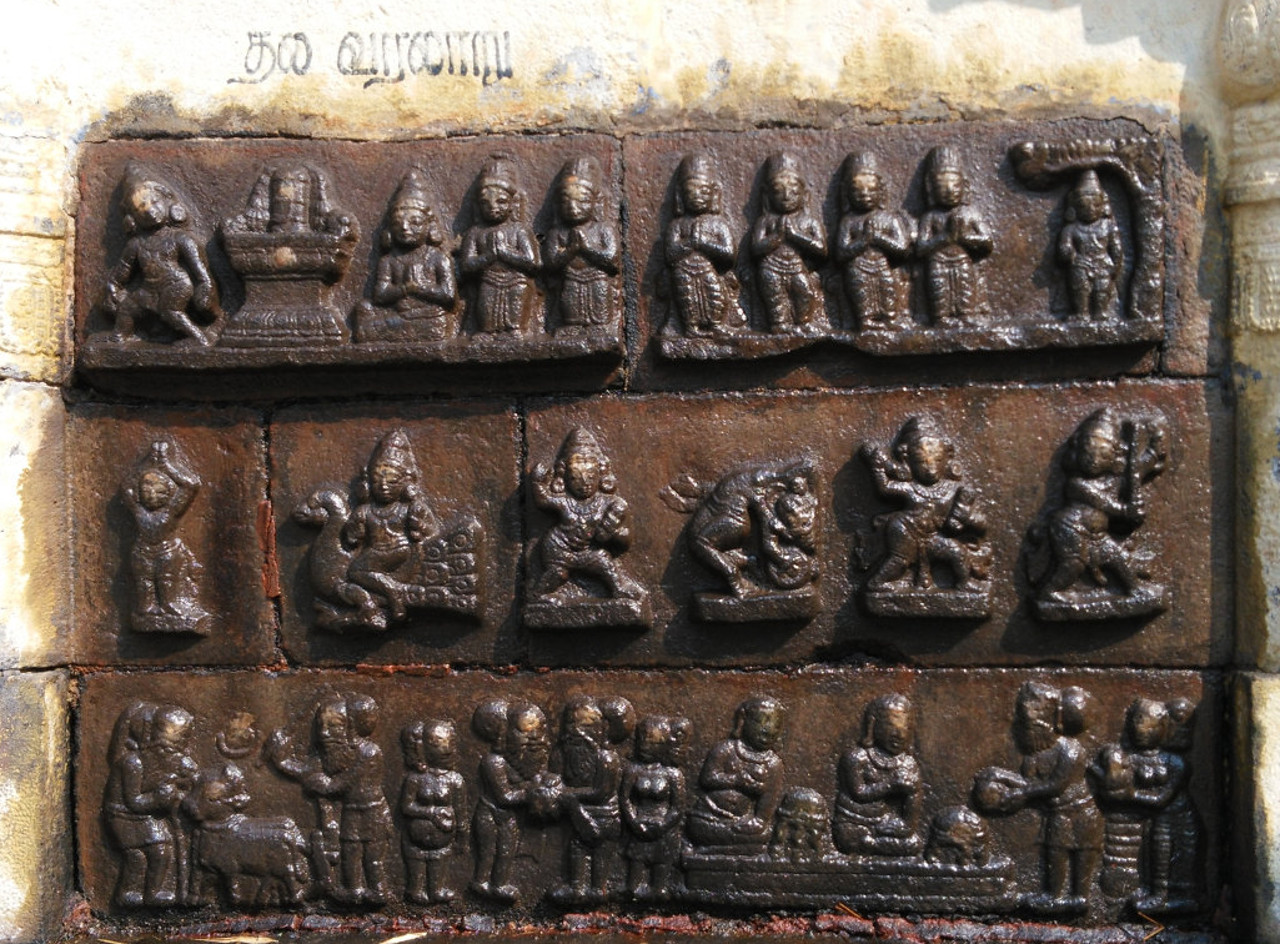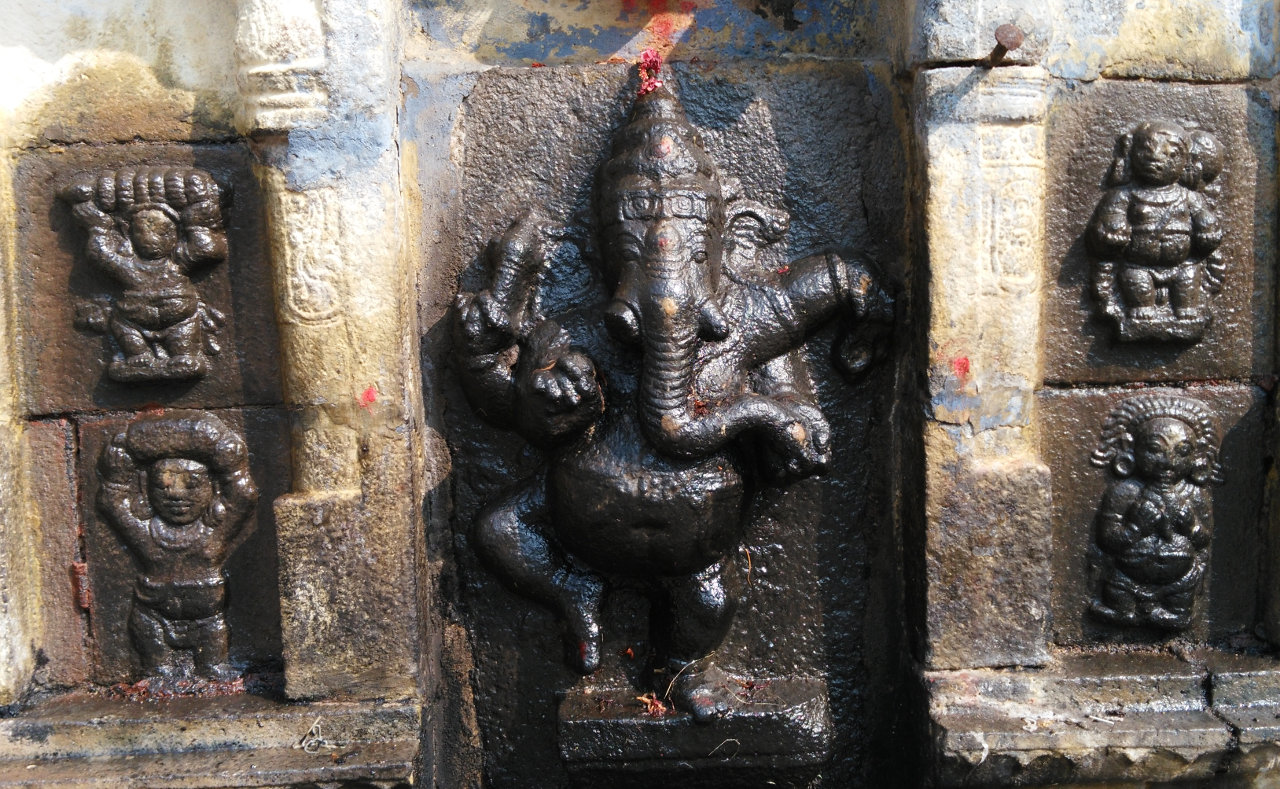 An idol of Lord Natarajar can be seen in a separate shrine along with idols of Lord Mahavishnu and Lord Brahma. Here Lord Vishnu is seen with his conch and Lord Brahma with a percussion instrument called "Panchamuga Vadhyam" (an instrument similar to Tabla). Lord Natarajar is seen in his "Ananda Thandavam" posture to which Lord Vishnu is singing with his conch and Lord Brahma is playing the Panchamuga Vadhyam. Such a display of the "Trimurthy" is very rare.
Lord Dakshinamurthy is seen sitting on a platform (peedam) with his legs folded. Four of his disciples are seen sitting near him. Unlike Lord Dakshinamurthy's posture in other temples, Abhasmaram (the demon representing ignorance) is not seen under his foot. It is believed that when the farmer couple served food to Lord Shiva, he took it by sitting on the floor with his legs folded. To depict this, Lord Dakshinamurthy graces here in this form.
It is believed that every year, Suryan worships Lord Shiva for a period of three days from 20th to 22nd of the Tamil month of Panguni (Mar-Apr) by illuminating the lingam in the sanctum.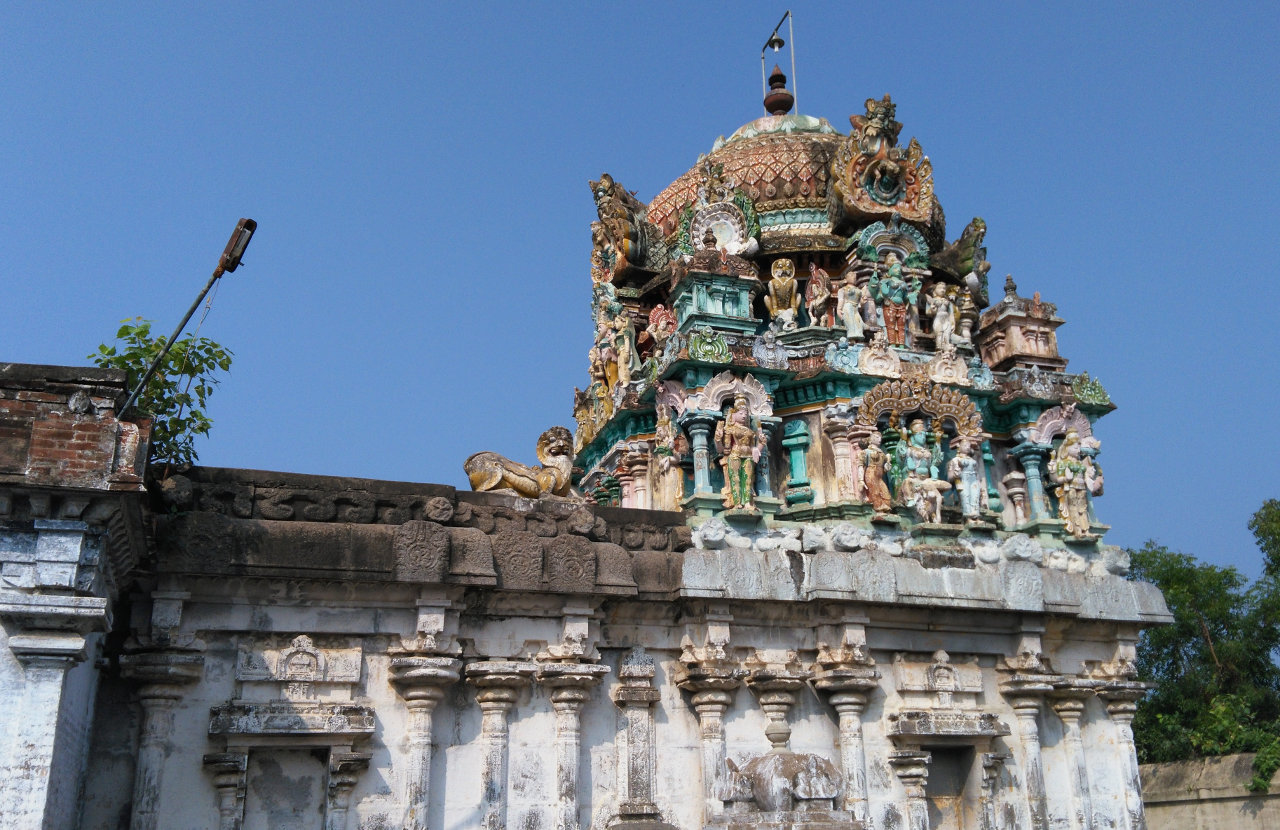 Greatness of this temple
Worshiping of Lord Natarajar here is considered to be auspicious for those seeking excellence in the fields of music and dance.
It is also believed that worshiping Lord Dakshinamurthy here will reward devotees with a rich yield from their farms.
Important Festivals
Important festivals celebrated in this temple are –
13-day Vaikasi Brahmotsavam in the Tamil month of Vaikasi (May-June),
Shivrathri in the Tamil month of Masi (Feb-Mar),
Annabishekam in in the Tamil month of Aipasi (Oct-Nov),
Arudra Dharisanam in the Tamil month of Margazhi (Dec-Jan).
Pradosham is also observed regularly.
Temple Timings
From 06:00 AM to 12:00 Noon and from 05:00 PM to 08:00 PM
Temple Address
Sri Sivakkozhuntheswarar Temple,
Theerthanagiri Post,
Cuddalore Taluk and District,
Tamil Nadu – 608801.
Tele: +91 4142 278324.

Contact the temple priest Sri S.Venkatarama Iyer at 97864 67593, 90471 40464.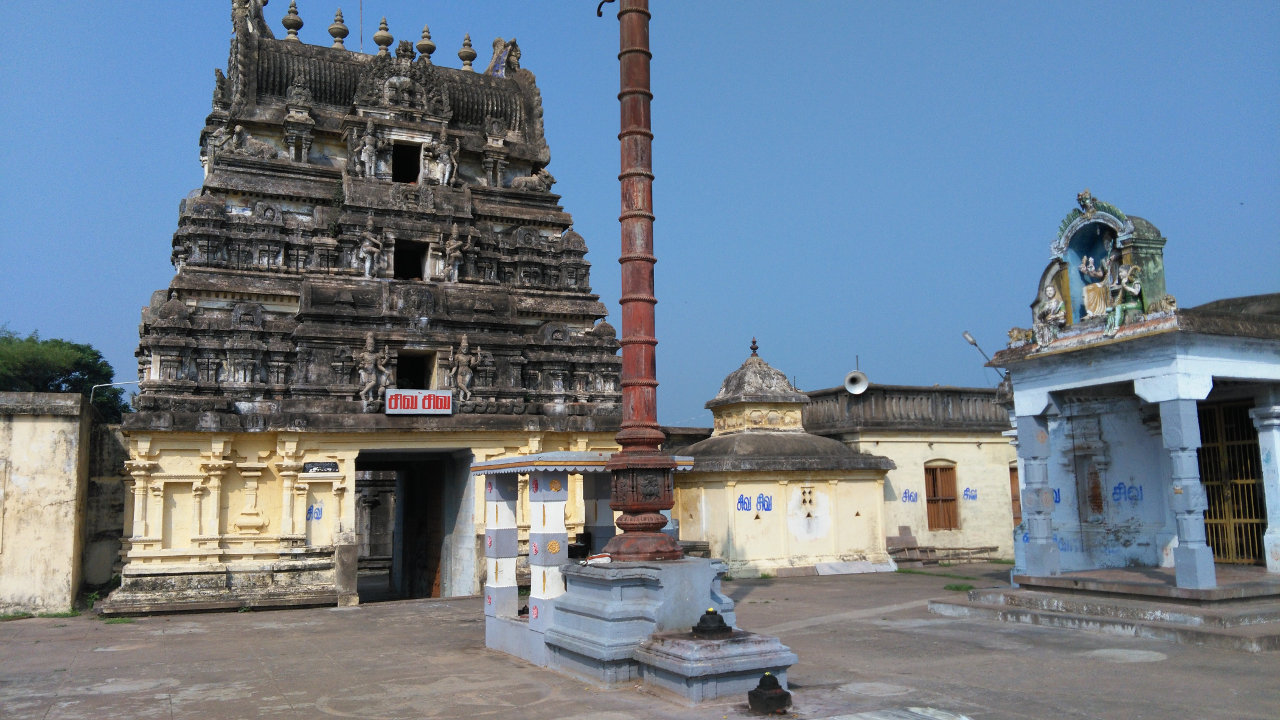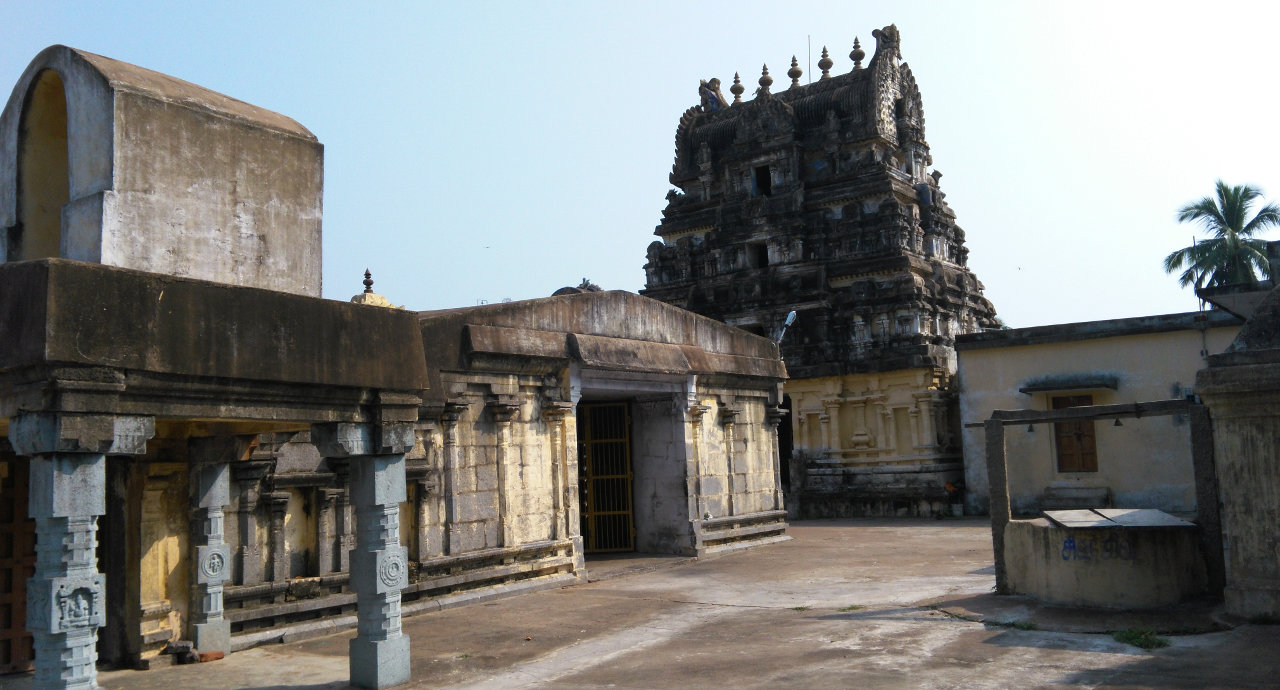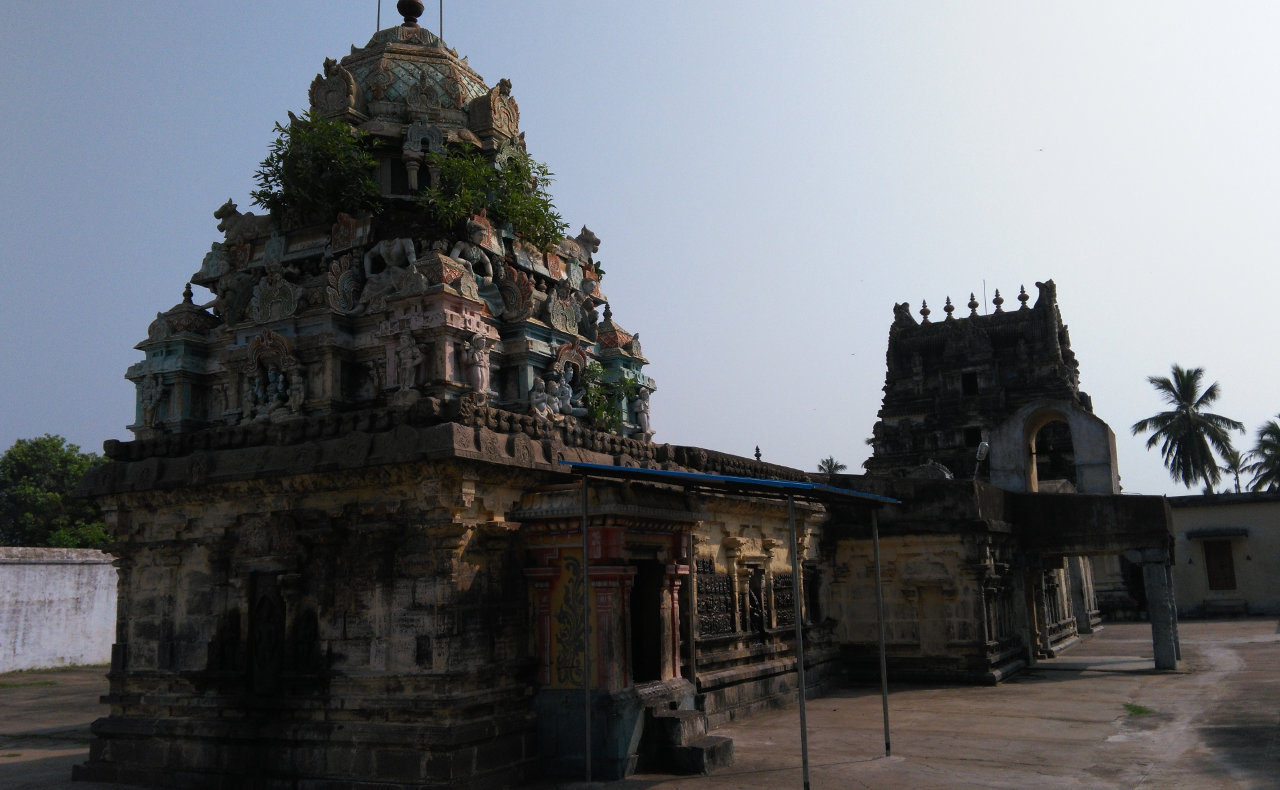 ---
Pathigam (Hymn) with English transliteration
Saint Sundaramurthy Nayanar visited this temple and sang this Pathigam.
Devotees visiting this temple should make it a practice to recite this Pathigam.
நீறு தாங்கிய திருநுத லானை
நெற்றிக் கண்ணனை நிரைவளை மடந்தை
கூறு தாங்கிய கொள்கையி னானைக்
குற்றம் இல்லியைக் கற்றையஞ் சடைமேல்
ஆறு தாங்கிய அழகனை அமரர்க்
கரிய சோதியை வரிவரால் உகளுஞ்
சேறு தாங்கிய திருத்தினை நகருட்
சிவக்கொ ழுந்தினைச் சென்றடை மனனே.
Nīṟu thāṅkiya thirunutha lāṉai
netṟik kaṇṇaṉai niraivaḷai maṭanthai
kūṟu thāṅkiya koḷkaiyi ṉāṉaik
kutṟam illiyaik katṟaiyañ chaṭaimēl
āṟu thāṅkiya azhakaṉai amarark
kariya chōthiyai varivarāl ukaḷuñ
chēṟu thāṅkiya thiruthiṉai nakaruṭ
sivakko zhunthiṉaich cheṉtṟaṭai maṉaṉē.
பிணிகொள் ஆக்கை பிறப்பிறப் பென்னும்
இதனைநீக்கி ஈசன் திருவடி யிணைக்காள்
துணிய வேண்டிடிற் சொல்லுவன் கேள்நீ
அஞ்சல் நெஞ்சமே வஞ்சர்வாழ் மதின்மூன்
றணிகொள் வெஞ்சிலை யால்உகச் சீறும்
ஐயன் வையகம் பரவிநின் றேத்துந்
திணியும் வார்பொழில் திருத்தினை நகருட்
சிவக்கொ ழுந்தினைச் சென்றடை மனனே.
Piṇikoḷ ākkai piṟappiṟap peṉṉum
ithaṉainīkki īsaṉ thiruvaṭi yiṇaikkāḷ
thuṇiya vēṇṭiṭiṟ cholluvaṉ kēḷnī
añchal neñchamē vañcharvāzh mathiṉmūṉ
tṟaṇikoḷ veñchilai yālukach chīṟum
aiyaṉ vaiyakam paraviniṉ tṟēthun
thiṇiyum vārpozhil thiruthiṉai nakaruṭ
sivakko zhunthiṉaich cheṉtṟaṭai maṉaṉē.
வடிகொள் கண்ணிணை மடந்தையர் தம்பால்
மயல துற்றுவஞ் சனைக்கிட மாகி
முடியு மாகரு தேலெரு தேறும்
மூர்த்தி யைமுத லாயபி ரானை
அடிகள் என்றடி யார்தொழு தேத்தும்
அப்பன் ஒப்பிலா முலைஉமை கோனைச்
செடிகொள் கான்மலி திருத்தினை நகருட்
சிவக்கொ ழுந்தினைச் சென்றடை மனனே.
Vaṭikoḷ kaṇṇiṇai maṭanthaiyar thampāl
mayala thutṟuvañ chaṉaikkiṭa māki
muṭiyu mākaru thēleru thēṟum
mūrthi yaimutha lāyapi rāṉai
aṭikaḷ eṉtṟaṭi yārthozhu thēthum
appaṉ oppilā mulai'umai kōṉaich
cheṭikoḷ kāṉmali thiruthiṉai nakaruṭ
sivakko zhunthiṉaich cheṉtṟaṭai maṉaṉē.
பாவ மேபுரிந் தகலிடந் தன்னிற்
பலப கர்ந்தல மந்துயிர் வாழ்க்கைக்
காவ என்றுழந் தயர்ந்துவீ ழாதே
அண்ணல் தன்றிறம் அறிவினாற் கருதி
மாவின் ஈருரி உடைபுனைந் தானை
மணியை மைந்தனை வானவர்க் கமுதைத்
தேவ தேவனைத் திருத்தினை நகருட்
சிவக்கொ ழுந்தினைச் சென்றடை மனனே.
Pāva mēpurin thakaliṭan thaṉṉiṟ
palapa karnthala manthuyir vāzhkkaik
kāva eṉtṟuzhan thayarnthuvī zhāthē
aṇṇal thhaṉṟiṟam aṟiviṉāṟ karuthi
māviṉ īruri uṭaipuṉain thāṉai
maṇiyai mainthaṉai vāṉavark kamuthaith
thēva thēvaṉaith thiruthiṉai nakaruṭ
sivakko zhunthiṉaich cheṉtṟaṭai maṉaṉē.
ஒன்ற லாவுயிர் வாழ்க்கையை நினைந்திட்
டுடல்த ளர்ந்தரு மாநிதி இயற்றி
என்றும் வாழலாம் எமக்கெனப் பேசும்
இதுவும் பொய்யென வேநினை உளமே
குன்று லாவிய புயமுடை யானைக்
கூத்த னைக்குலா விக்குவ லயத்தோர்
சென்றெ லாம்பயில் திருத்தினை நகருட்
சிவக்கொ ழுந்தினைச் சென்றடை மனனே.
Oṉtṟa lāvuyir vāzhkkaiyai niṉainthiṭ
ṭuṭaltha ḷarntharu mānithi iyatṟi
eṉtṟum vāzhalām emakkeṉap pēsum
ithuvum poyyeṉa vēniṉai uḷamē
kuṉtṟu lāviya puyamuṭai yāṉaik
kūtha ṉaikkulā vikkuva layathōr
seṉtṟe lāmpayil thiruthiṉai nakaruṭ
sivakko zhunthiṉaich cheṉtṟaṭai maṉaṉē.
வேந்த ராயுல காண்டறம் புரிந்து
வீற்றி ருந்தஇவ் வுடலிது தன்னைத்
தேய்ந்தி றந்துவெந் துயருழந் திடுமிப்
பொக்க வாழ்வினை விட்டிடு நெஞ்சே
பாந்த ளங்கையில் ஆட்டுகந் தானைப்
பரமனைக் கடற் சூர்தடிந் திட்ட
சேந்தர் தாதையைத் திருத்தினை நகருட்
சிவக்கொ ழுந்தினைச் சென்றடை மனனே.
Vēntha rāyula kāṇṭaṟam purinthu
vītṟi runtha'iv vuṭalithu thaṉṉaith
thēynthi ṟanthuven thuyaruzhan thiṭumip
pokka vāzhviṉai viṭṭiṭu neñchē
pāntha ḷaṅkaiyil āṭṭukan thāṉaip
paramaṉaik kaṭaṟ chūrthaṭin thiṭṭa
sēnthar thāthaiyaith thiruthiṉai nakaruṭ
sivakko zhunthiṉaich cheṉtṟaṭai maṉaṉē.
தன்னில் ஆசறு சித்தமு மின்றித்
தவ முயன்றவ மாயின பேசிப்
பின்ன லார்சடை கட்டியென் பணிந்தாற்
பெரிதும் நீந்துவ தரிதது நிற்க
முன்னெ லாம்முழு முதலென்று வானோர்
மூர்த்தி யாகிய முதலவன் றன்னைச்
செந்நெ லார்வயல் திருத்தினை நகருட்
சிவக்கொ ழுந்தினைச் சென்றடை மனனே.
Thaṉṉil āsaṟu chithamu miṉtṟith
thava muyaṉtṟava māyiṉa pēsip
piṉṉa lārsaṭai kaṭṭiyeṉ paṇinthāṟ
perithum nīnthuva tharithathu niṟka
muṉṉe lām'muzhu muthaleṉtṟu vāṉōr
mūrthi yākiya muthalavaṉ tṟaṉṉaich
chenne lārvayal thiruthiṉai nakaruṭ
sivakko zhunthiṉaich cheṉtṟaṭai maṉaṉē.
பரிந்த சுற்றமும் மற்றுவன் றுணையும்
பலருங் கண்டழு தெழவுயிர் உடலைப்
பிரிந்து போமிது நிச்சயம் அறிந்தாற்
பேதை வாழ்வெனும் பிணக்கினைத் தவிர்ந்து
கருந்த டங்கண்ணி பங்கனை உயிரைக்
கால காலனைக் கடவுளை விரும்பிச்
செருந்தி பொன்மலர் திருத்தினை நகருட்
சிவக்கொ ழுந்தினைச் சென்றடை மனனே.
Parintha sutṟamum matṟuvaṉ tṟuṇaiyum
palaruṅ kaṇṭazhu thezhavuyir uṭalaip
pirinthu pōmithu nichayam aṟinthāṟ
pēthai vāzhveṉum piṇakkiṉait thavirnthu
karuntha ṭaṅkaṇṇi paṅkaṉai uyiraik
kāla kālaṉaik kaṭavuḷai virumpich
cherunthi poṉmalar thiruthiṉai nakaruṭ
sivakko zhunthiṉaich cheṉtṟaṭai maṉaṉē.
நமையெ லாம்பலர் இகழ்ந்துரைப் பதன்முன்
நன்மை ஒன்றிலாத் தேரர்புன் சமணாஞ்
சமய மாகிய தவத்தினார் அவத்தத்
தன்மை விட்டொழி நன்மையை வேண்டில்
உமையோர் கூறனை ஏறுகந் தானை
உம்பர் ஆதியை எம்பெரு மானைச்
சிமய மார்பொழில் திருத்தினை நகருட்
சிவக்கொ ழுந்தினைச் சென்றடை மனனே.
Namaiye lāmpalar ikazhnthuraip pathaṉmuṉ
naṉmai oṉtṟilāth thērarpuṉ samaṇāñ
chamaya mākiya thavattiṉār avaththath
thaṉmai viṭṭozhi naṉmaiyai vēṇṭil
umaiyōr kūṟaṉai ēṟukan thāṉai
umpar āthiyai emperu māṉaich
chimaya mārpozhil thiruthiṉai nakaruṭ
sivakko zhunthiṉaich cheṉtṟaṭai maṉaṉē.
நீடு பொக்கையிற் பிறவியைப் பழித்து
நீங்க லாமென்று மனத்தினைத் தெருட்டிச்
சேடு லாம்பொழில் திருத்தினை நகருட்
சிவக்கொ ழுந்தினைத் திருவடி யிணைதான்
நாடெ லாம்புகழ் நாவலூ ராளி
நம்பி வன்றொண்ட னூரன் உரைத்த
பாட லாந்தமிழ் பத்திவை வல்லார்
முத்தி யாவது பரகதிப் பயனே.
Nīṭu pokkaiyiṟ piṟaviyaip pazhithu
nīṅka lāmeṉtṟu maṉathiṉaith theruṭṭich
chēṭu lāmpozhil thiruthiṉai nakaruṭ
sivakko zhunthiṉaith thiruvaṭi yiṇaithāṉ
nāṭe lāmpukazh nāvalū rāḷi
nampi vaṉtṟoṇṭa ṉūraṉ uraitha
pāṭa lāntamizh pathivai vallār
muthi yāvathu parakathip payaṉē.