Visited on: Sunday, 18th September, 2016
Location
Thiruthuraiyur is situated at a distance of about 10 kms from Panruti on the Villupuram to Panruti route. From Villupuram it is about 20 kms and from Cuddalore it is about 32 kms.
There is a railway station here on the Villupuram to Cuddalore railway line. This temple is about 3 kms away from there.
General Information
Moolavar

Sri Shista Gurunatha Eswarar, Sri Pasupatheeswarar,
Sri Thava Neri Aaludayar

Ambal

Sri Shivaloka Nayaki, Sri Poongothai Nayaki

Theertham (Holy water)

Surya Theertham and Chandra Theertham

Sthala Vriksham (Sacred Tree)

Kontrai tree

Pathigam (Hymn) rendered by

Saint Sundaramurthy Nayanar (Sundarar)

This is one of the 276 Devara Paadal Petra Shiva Sthalams and 15th Shiva Sthalam in Nadu Naadu.
Lord Shiva in this temple is a Swayambumurthi (self-manifested).
This west facing temple has no main tower (Raja Gopuram) and has one corridor.
This is the birth place of Saint Arul Nandhi Sivachariyar - one of the four "Santhana Kuravarkal".
History of the Temple
The temple is situated on the southern bank of the river Pennai / Malattaru. From Sundarar's hymn of this temple it is known that during his period the river was flowing on northern side of the temple, but now it flows on the opposite side. The historical name of this place is Thiruthuraiyur but it is now known as Thiruthalur.
As per the stone inscriptions, this village was earlier called "Rajaraja Valanattuth Thirumunaippadi Thiruthuraiyur". The lord here is named "Thava Neri Aludaiyar".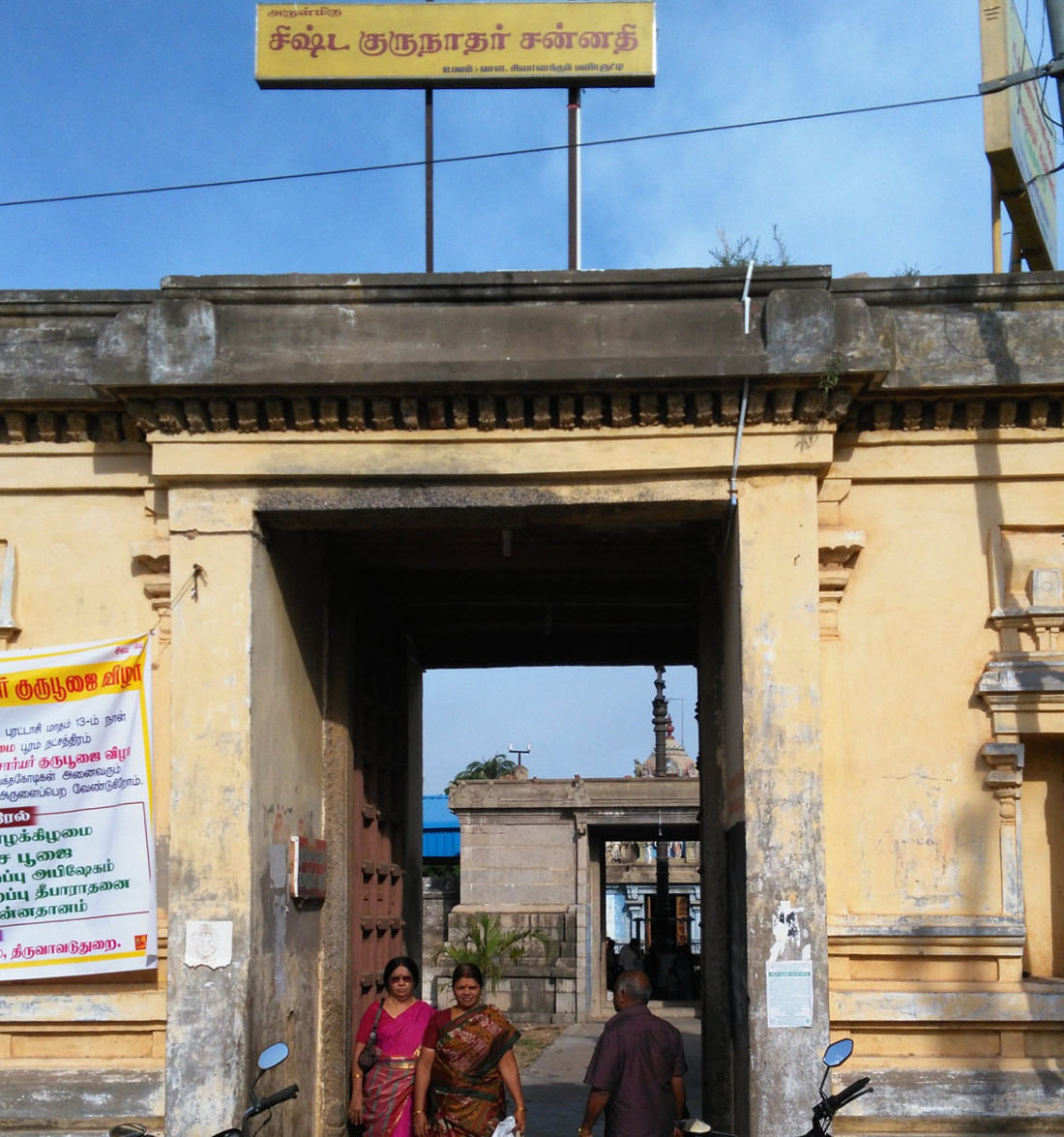 Legend
As per the sthala purana of this temple, Saint Sundarar came to this temple after visiting Thiruvennainallur. Thiruvennainallur is where he is believed to have rendered his first hymn and been bestowed with sainthood. On his way to this temple, he was unable to cross the river Thenpennai. He prayed to the lord for his help in crossing the river. Lord Shiva and Goddess Parvathi appeared before him in the form of an old couple and helped him cross the river on a reef boat (Odam).
After crossing the river, the old couple disappeared and there was a divine voice that directed him to this temple. This story is believed to be the origin of the name "Kizhappakkam". When Sundarar looked towards this temple, he is believed to have seen Lord Shiva and Goddess Parvathy on their bull mount (Rishaba Vakanam).
A beautiful sculpture depicting this dharisanam can be seen on top of the entrance hall. There is also a relief in a pillar that depicts Sundarar crossing the river Pennai on a reef boat.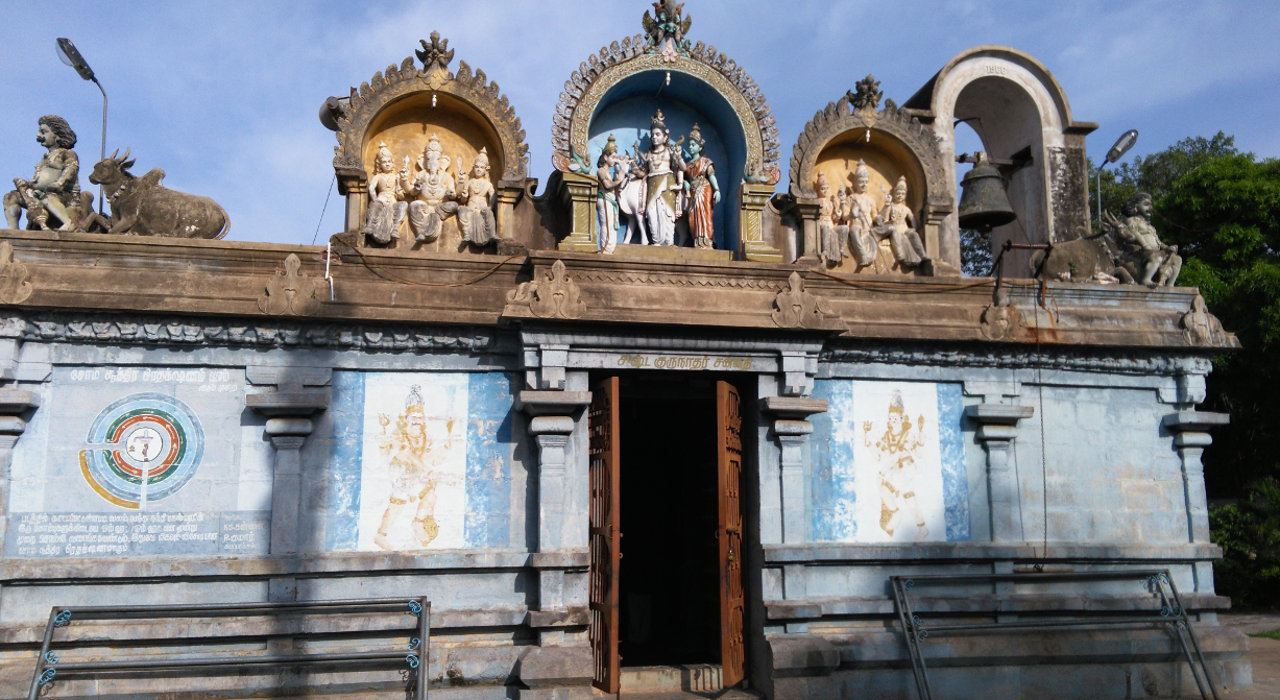 It is believed that in this temple Saint Sundarar was blessed with spiritual powers by Lord Shiva. This was witnessed by Lord Vinayakar. Since Lord Shiva is believed to have taught the rules and principles of penance ("Thava Neri" and "Arumaraikal"), as a guru, the lord here is praised as "Shista Guru Natheswarar". Prior to this, the lord was known as Sri Pasupatheeswarar and the Goddess was known as Sri Poongothai Nayaki.
Beautiful stone reliefs of Sundarar getting the darshan of Lord Shiva and Goddess Parvathi can be seen next to Lord Dakshinamurthy's shrine. Idols of Lord Vinayakar, who witnessed Lord Shiva's discourses can also be seen there.
It is believed that Sage Narada, Sage Vashistar, Sage Agasthiar, Suryan, Lord Ram, Seeta and Bhima have worshiped the lord of this temple.
Deities in the Temple
Apart from the shrines of the main deities, there are shrines and idols of lords Narthana Vinayakar, Bala Murugan, Natarajar, Rama Lingam, Bheema Lingam, Adi Kesava Pakthavatsala Perumal, Subramanyar with his consorts, Dakshinamurthy, Annamalaiyar, Durgai, Chandikeswarar, Kalabairavar, Surya Lingam, Suryan, Nalvar and Navagraham in the corridors.
There is another Shivalingam near the temple's sthala viruksham that is believed to have been worshiped by Sage Agasthiar.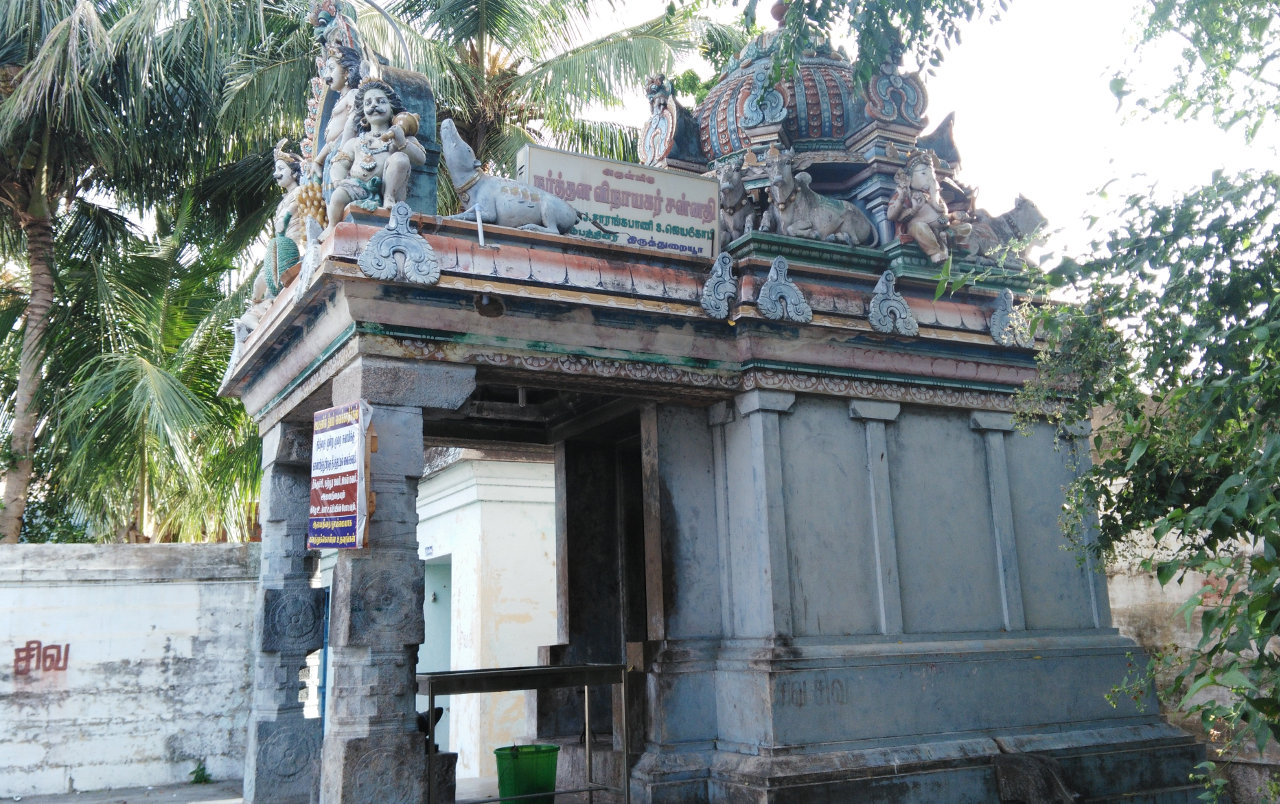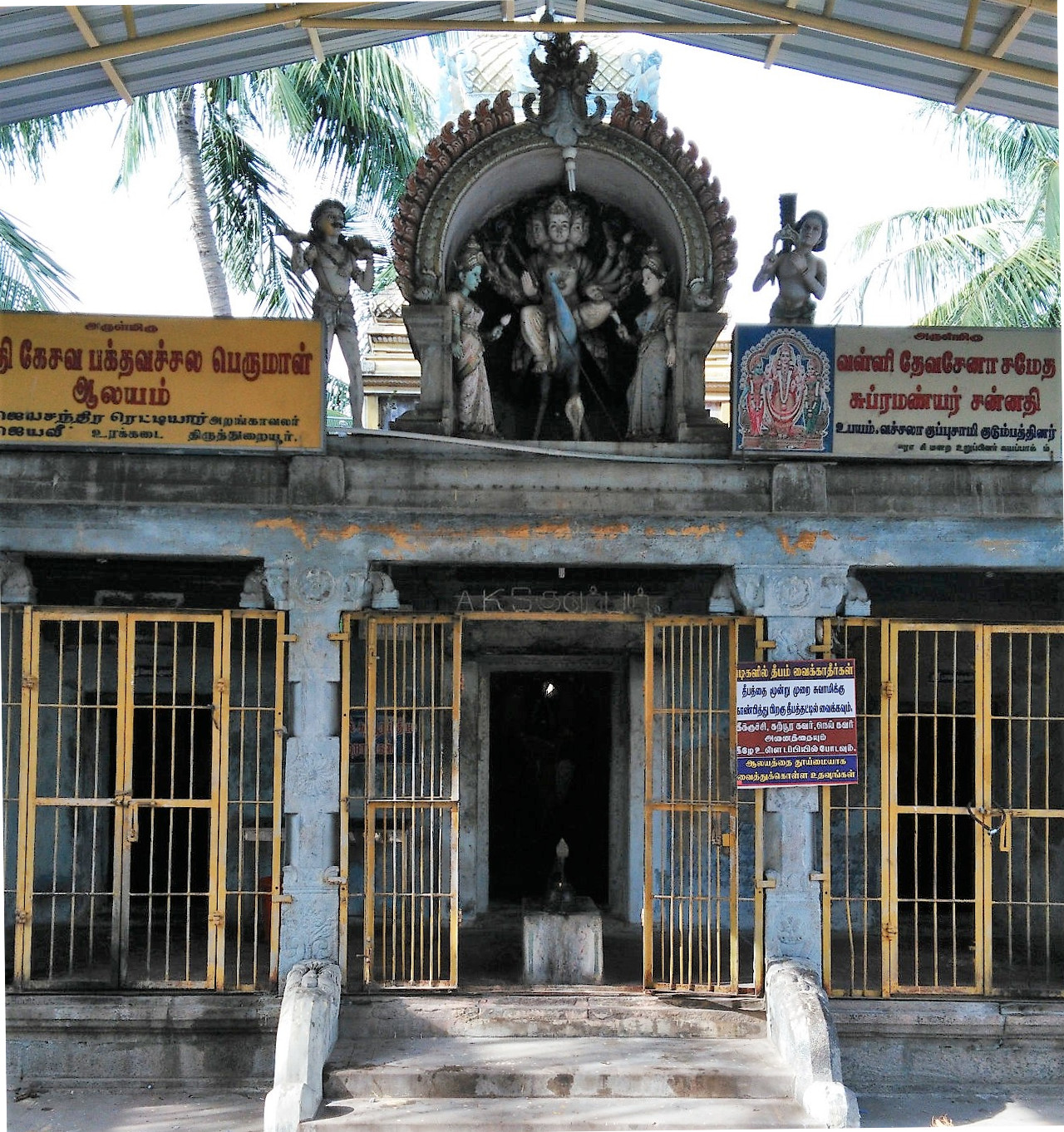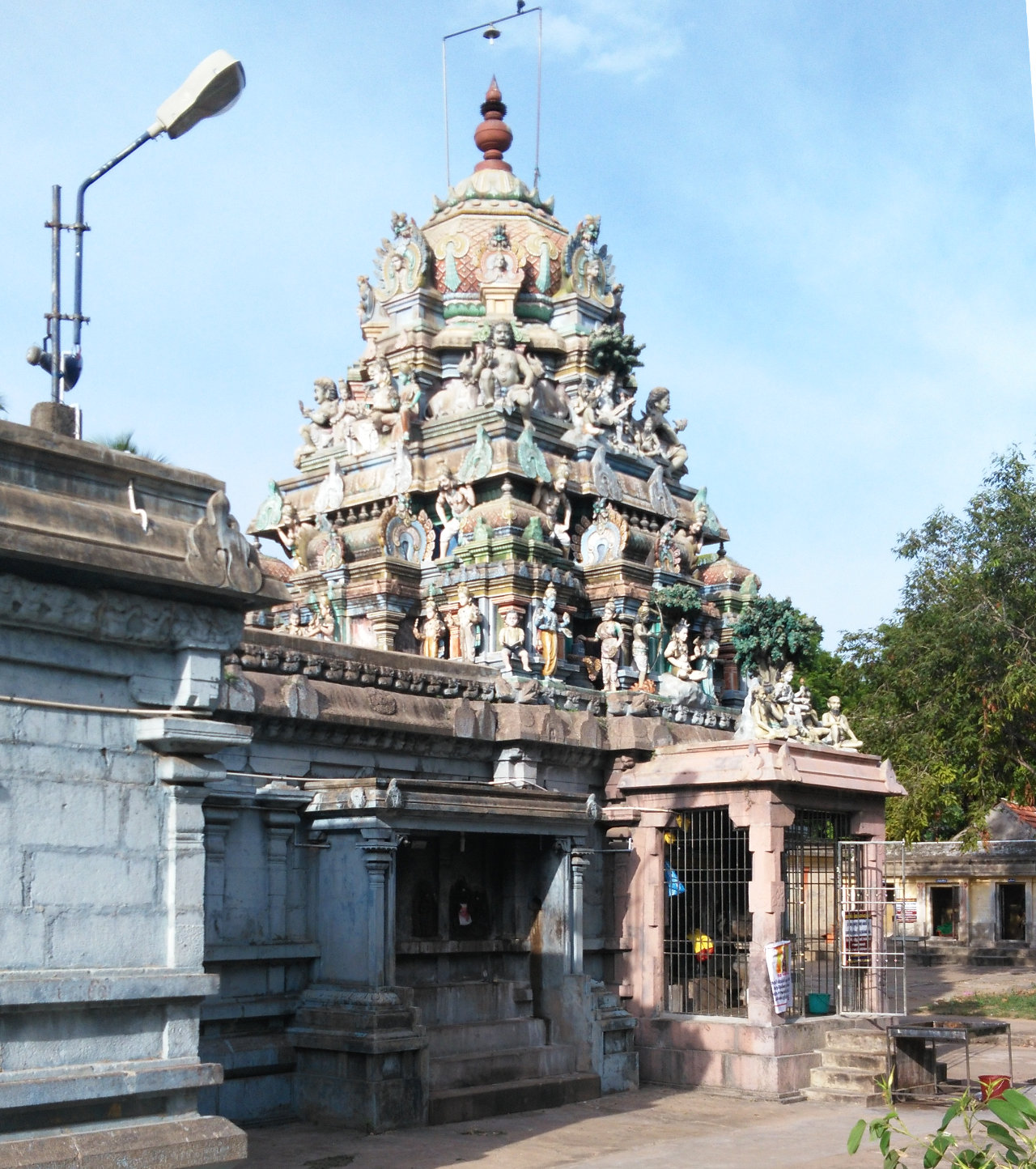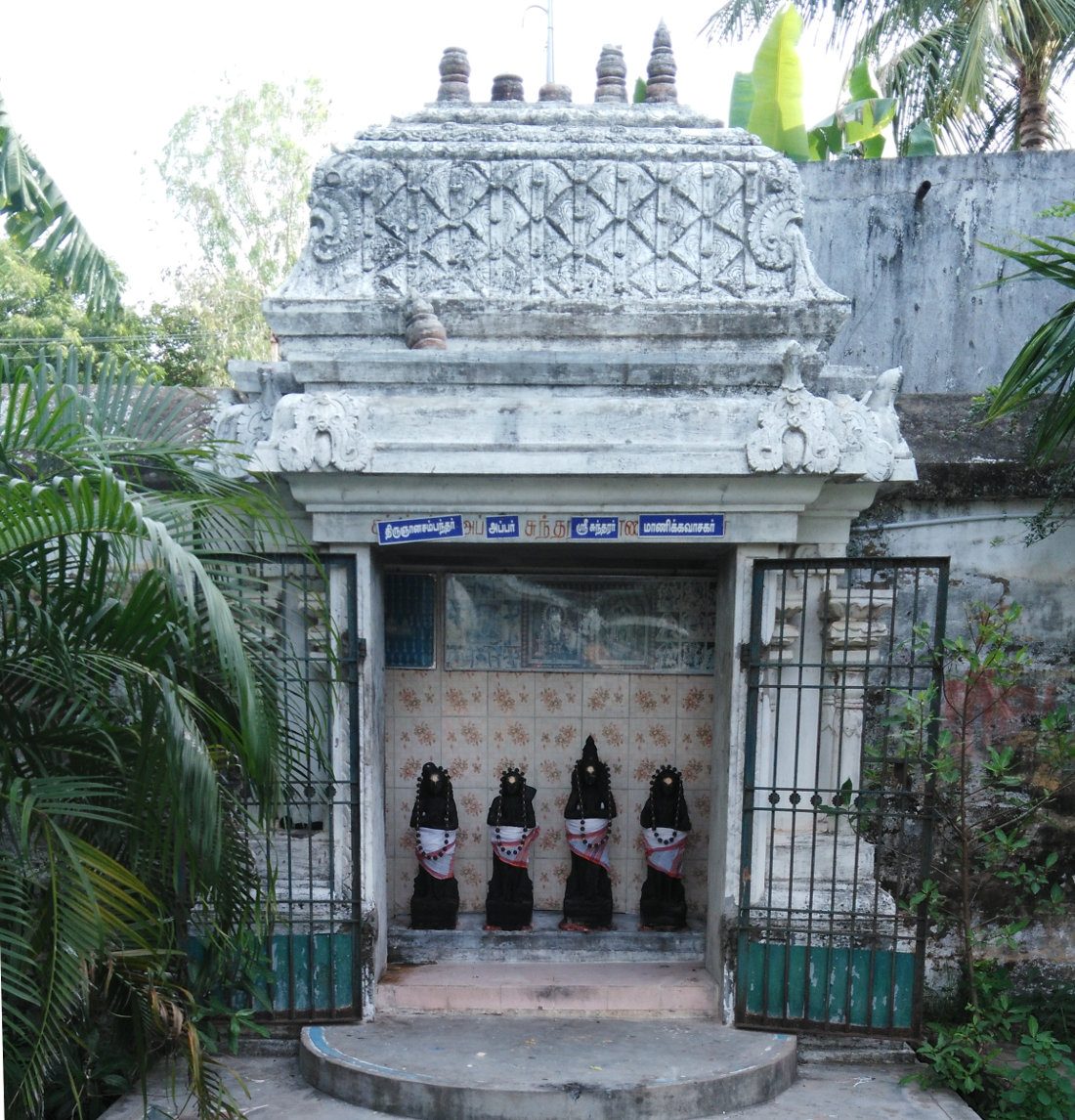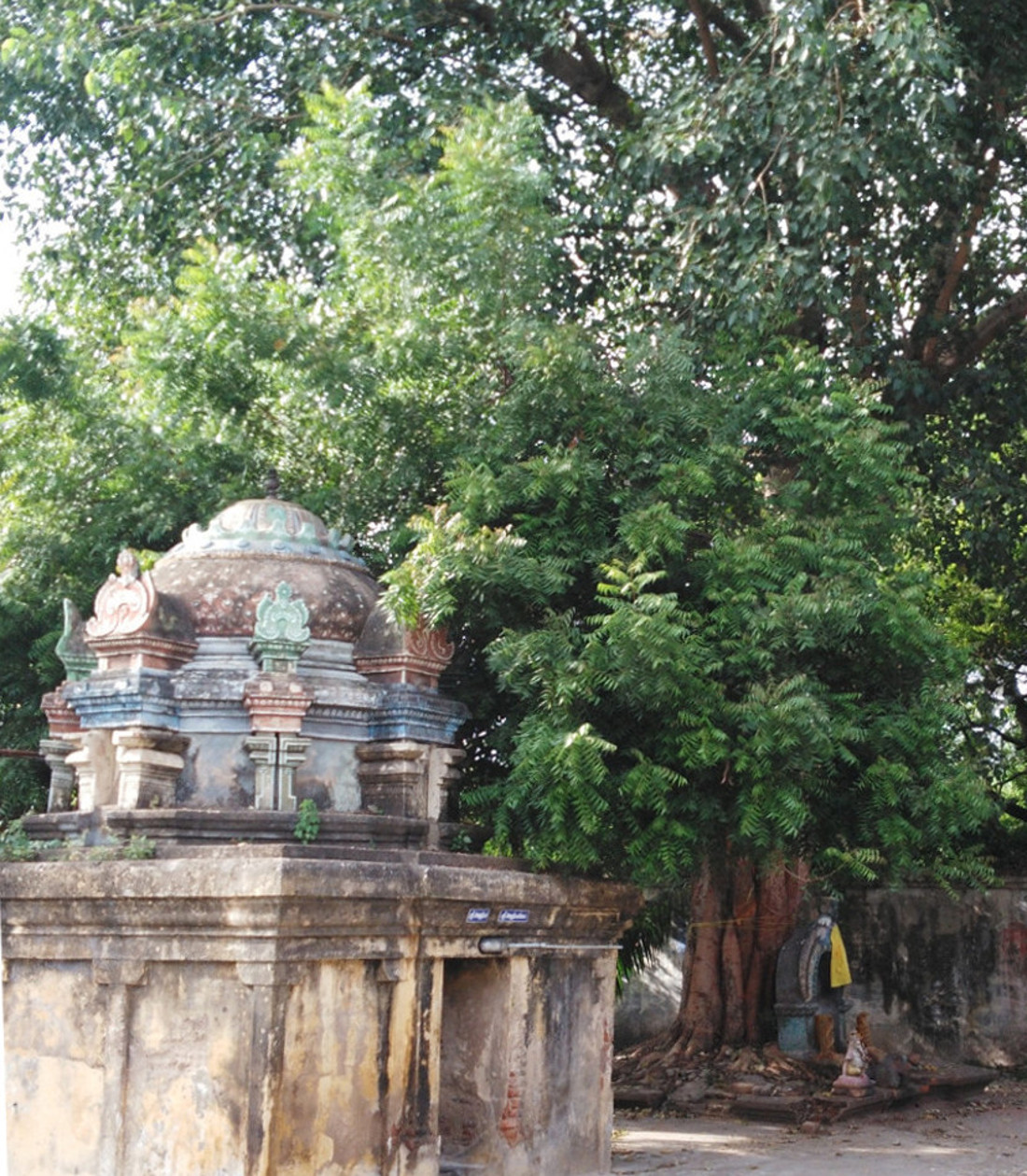 Salient Features
The significance of this temple is that Lord Vinayakar is facing the east, Lord Shiva is facing the west, Lord Murugan is facing the south and the Goddess Parvathi is facing the north. Since the four main deities are facing different directions, this temple is considered very unique and auspicious.
Thiruthuraiyur is the first temple where Sundarar rendered his hymn after obtaining sainthood at Thiruvennainallur. Before this he had rendered a hymn at his birth place Thirunavalur. In his hymn of this temple, saint Sundarar can be seen pleading with the lord to teach him the principles of penance.
Saint Arunagirinadhar has sang songs in praise of Lord Murugan of this temple in his revered Thirupugazh.
It is said that Suryan is worshiping the Lord here during the first week of Tamil month Chithirai (April-May) by directing his rays on the lingam in the evenings.
There is a famous shrine for Ashtapuja Pathrakali (Kali with eight hands) outside this temple. There is also another shrine for Lord Shiva at Kizhappakkam (a place near this temple).
This is the birth place of Saint Arul Nandhi Sivachariyar, popularly known as "Sakalakama Pandithar". He is the second of the four "Santhana Kuravarkal" and has written the famous treatises on "sastra" - "Shivagnana Sidhiyar" and "Iruba Irubadu". There is a separate shrine at his place of burial (Gurumurtham).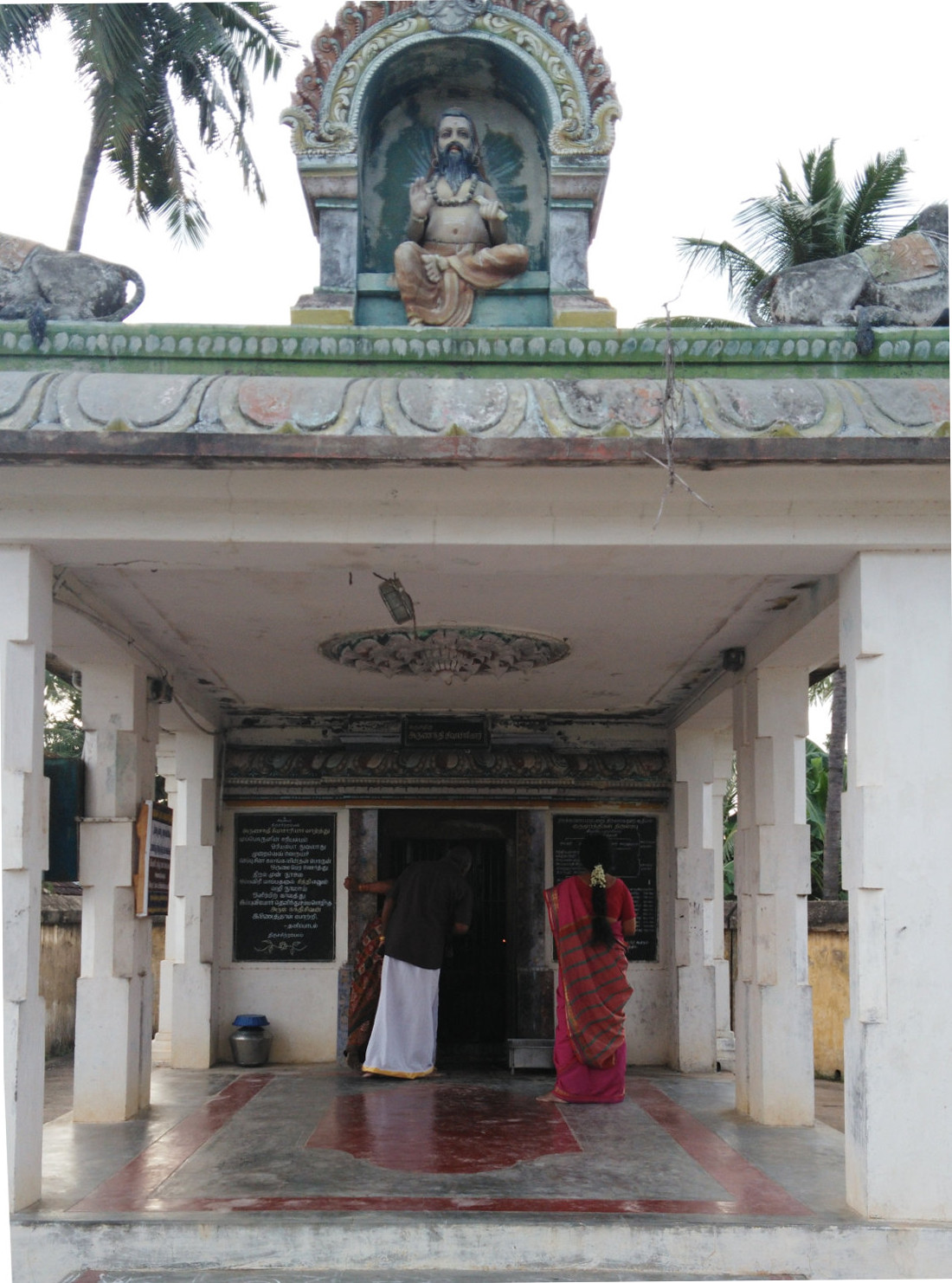 Greatness of this Temple
This is the temple where Lord Guru occupies an important position. Hence, special pujas are conducted on all Thursdays to Lord Shiva and Lord Dakshinamurthy. Devotees believe that worshiping the lord here on Thursdays will bless them with excellence in education.
It is believed that those seeking "santhana prapthi" (child boon) can pray to Goddess Shivaloka Nayaki here for nine consecutive Fridays.
Important Festivals
10-day Brahmotsavam in "Vaikasi Visakam" in the Tamil month of Vaikasi (May-June),
Skanda Sashti and Annabishekam in the Tamil month of Aippasi (October-November), and
Shivrathri in the Tamil month of Masi (Feb-Mar) are the important festivals celebrated in this temple.
Pradosham is also observed regularly.
Temple Timings
From 06:00 AM to 12:00 Noon and from 05:00 PM to 08:00 PM.
Temple Address
Sri Shista Gurunathar Temple,
Thiruthuraiyur Post,
Panruti Taluk,
Cuddalore District
Tamil Nadu – 607 205.
Tele: +91 4142 248498.

The temple priest Sri A.Murali Gurukkal can be contacted at 094448 07393.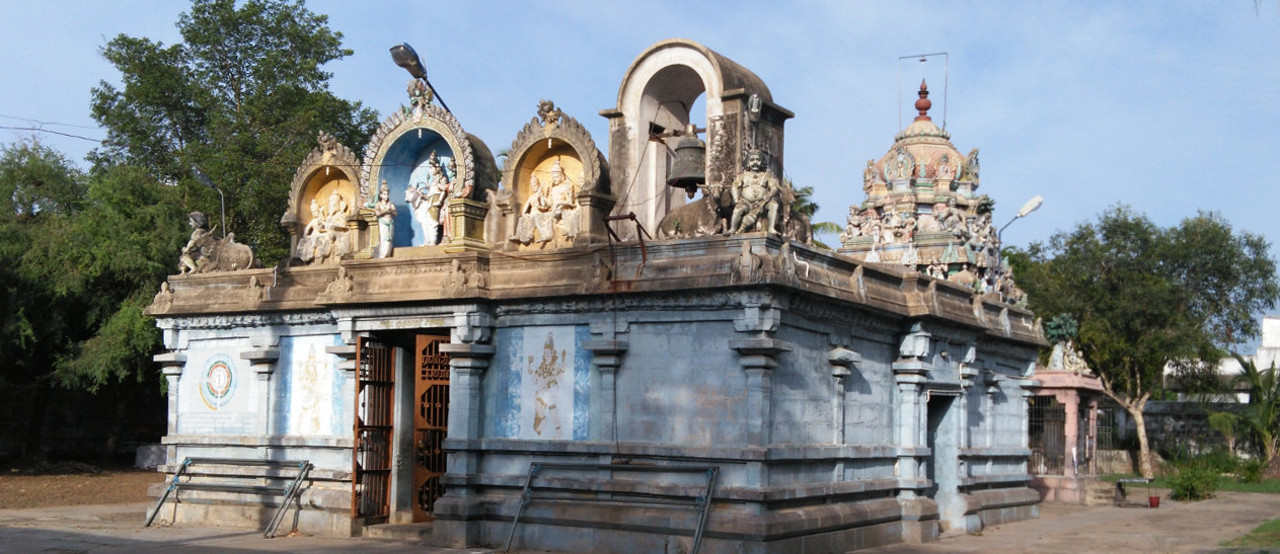 ---
Pathigam (Hymn) with English transliteration
Saint Sundaramurthy Nayanar visited this temple and sang this Pathigam.
Devotees visiting this temple should make it a practice to recite this Pathigam.
மலையார் அருவித் திரள்மா மணியுந்திக்
குலையாரக் கொணர்ந்தெற்றி யோர்பெண்ணை வடபாற்
கலையார் அல்குற்கன் னியராடுந் துறையூர்த்
தலைவா உனைவேண்டிக் கொள்வேன் தவநெறியே.
"Malaiyār aruvith thiraḷmā maṇiyunthik
kulaiyārak koṇarnthetṟi yōrpeṇṇai vaṭapāṟ
kalaiyār alkuṟkaṉ ṉiyarāṭun thuṟaiyūrth
thalaivā uṉaivēṇṭik koḷvēṉ thavaneṟiyē".
மத்தம் மதயானை யின்வெண் மருப்புந்தி
முத்தங் கொணர்ந்தெற்றி யோர்பெண்ணை வடபாற்
பத்தர் பயின்றேத்திப் பரவுந் துறையூர்
அத்தா உனைவேண்டிக் கொள்வேன் தவநெறியே.
"Matham mathayāṉai yiṉveṇ maruppunthi
muthaṅ koṇarnthetṟi yōrpeṇṇai vaṭapāṟ
pathar payiṉtṟēthip paravun thuṟaiyūr
athā uṉaivēṇṭik koḷvēṉ thavaneṟiyē".
கந்தங் கமழ்கா ரகில்சந் தனமுந்திச்
செந்தண் புனல்வந் திழிபெண்ணை வடபால்
மந்தி பலமா நடமாடுந் துறையூர்
எந்தாய் உனைவேண்டிக் கொள்வேன் தவநெறியே.
"Kanthaṅ kamazhkā rakilsan thaṉamunthich
chenthaṇ puṉalvan thizhipeṇṇai vaṭapāl
manthi palamā naṭamāṭun thuṟaiyūr
enthāy uṉaivēṇṭik koḷvēṉ thavaneṟiyē".
அரும்பார்ந் தனமல் லிகைசண் பகஞ்சாடிச்
சுரும்பாரக் கொணர்ந்தெற்றி யோர்பெண்ணை வடபால்
கரும்பார் மொழிக்கன் னியராடுந் துறையூர்
விரும்பா உனைவேண்டிக் கொள்வேன் தவநெறியே.
"Arumpārn thaṉamal likaisaṇ pakañchāṭich
churumpārak koṇarnthetṟi yōrpeṇṇai vaṭapāl
karumpār mozhikkaṉ ṉiyarāṭun thuṟaiyūr
virumpā uṉaivēṇṭik koḷvēṉ thavaneṟiyē".
பாடார்ந் தனமாவும் பலாக்க ளுஞ்சாடி
நாடார வந்தெற்றி யோர்பெண்ணை வடபால்
மாடார்ந் தனமாளி கைசூழுந் துறையூர்
வேடா உனைவேண்டிக் கொள்வேன் தவநெறியே.
"Pāṭārn thaṉamāvum palākka ḷuñchāṭi
nāṭāra vanthetṟi yōrpeṇṇai vaṭapāl
māṭārn thaṉamāḷi kaichūzhun thuṟaiyūr
vēṭā uṉaivēṇṭik koḷvēṉ thavaneṟiyē".
மட்டார் மலர்க்கொன் றையும்வன்னி யுஞ்சாடி
மொட்டாரக் கொணர்ந்தெற்றி யோர்பெண்ணை வடபால்
கொட்டாட் டொடுபாட் டொலியோவாத் துறையூர்ச்
சிட்டா உனைவேண்டிக் கொள்வேன் தவநெறியே.
"Maṭṭār malarkkoṉ tṟaiyumvaṉṉi yuñchāṭi
moṭṭārak koṇarnthtṟṟi yōrpeṇṇai vaṭapāl
koṭṭāṭ ṭoṭupāṭ ṭoliyōvāth thuṟaiyūrch
chiṭṭā uṉaivēṇṭik koḷvēṉ thavaneṟiyē".
மாதார் மயிற்பீலி யும்வெண் ணுரையுந்தித்
தாதாரக் கொணர்ந்தெற்றி யோர்பெண்ணை வடபால்
போதார்ந் தனபொய்கை கள்சூழுந் துறையூர்
நாதா உனைவேண்டிக் கொள்வேன் தவநெறியே.
"Māthār mayiṟpīli yumveṇ ṇuraiyunthith
thāthārak koṇarnthetṟi yōrpeṇṇai vaṭapāl
pōthārn thaṉapoykai kaḷchūzhun thuṟaiyūr
nāthā uṉaivēṇṭik koḷvēṉ thavaneṟiyē".
கொய்யா மலர்க்கோங் கொடுவேங்கை யுஞ்சாடிச்
செய்யாரக் கொணர்ந்தெற்றி யோர்பெண்ணை வடபால்
மையார் தடங்கண் ணியராடுந் துறையூர்
ஐயா உனைவேண்டிக் கொள்வேன் தவநெறியே.
"Koyyā malarkkōṅ koṭuvēṅkai yuñchāṭich
cheyyārak koṇarnthetṟi yōrpeṇṇai vaṭapāl
maiyār thaṭaṅkaṇ ṇiyarāṭun thuṟaiyūr
aiyā uṉaivēṇṭik koḷvēṉ thavaneṟiyē".
விண்ணார்ந் தனமேகங் கள்நின்று பொழிய
மண்ணாரக் கொணர்ந்தெற்றி யோர்பெண்ணை வடபால்
பண்ணார் மொழிப்பா வையராடுந் துறையூர்
அண்ணா உனைவேண்டிக் கொள்வேன் தவநெறியே.
"Viṇṇārn thaṉamēkaṅ kaḷniṉtṟu pozhiya
maṇṇārak koṇarnthetṟi yōrpeṇṇai vaṭapāl
paṇṇār mozhippā vaiyarāṭun thuṟaiyūr
aṇṇā uṉaivēṇṭik koḷvēṉ thavaneṟiyē".
மாவாய்ப் பிளந்தானும் மலர்மிசை யானும்
ஆவா அவர்தேடித் திரிந்தல மந்தார்
பூவார்ந் தனபொய்கை கள்சூழுந் துறையூர்த்
தேவா உனைவேண்டிக் கொள்வேன் தவநெறியே.
"Māvāyp piḷanthāṉum malarmisai yāṉum
āvā avarthēṭith thirinthala manthār
pūvārn thaṉapoykai kaḷchūzhun thuṟaiyūrth
thēvā uṉaivēṇṭik koḷvēṉ thavaneṟiyē".
செய்யார் கமல மலர்நாவ லூர்மன்னன்
கையாற் றொழுதேத்தப் படுந்துறை யூர்மேற்
பொய்யாத் தமிழூரன் உரைத்தன வல்லார்
மெய்யே பெறுவார்கள் தவநெறி தானே.
"Seyyār kamala malarnāva lūrmaṉṉaṉ
kaiyāṟ tṟozhuthēthap paṭunthuṟai yūrmēṟ
poyyāth thamizhūraṉ uraithaṉa vallār
meyyē peṟuvārkaḷ thavaneṟi thāṉē".