Visited on: 10th December, 2016 and 10th April, 2017.
Location
Thiruppampuram is situated at a distance of about 3 kms from Karkathi. Karkathi is 28 kms away from Kumbakonam on the Kumbakonam to Karaikkal road.
From Peralam, Thiruppampuram is about 9 kms. Peralam is about 15 kms from Mayiladuthurai on the Mayiladuthurai to Thiruvarur route.
Other Devara Paadal Petra Shiva Sthalams near this place are –
Thiru Sirukudi, Thiruvizhimizhalai, Ambal Maahaalam, Ambar Perunthirukkoil, Thirumeyechur and Thirumeyechur Ilangkoil.
General Information
| | |
| --- | --- |
| Moolavar | Sri Seshapureeswarar, Sri Pampuranathar |
| Ambal | Sri Vanduserkuzhali Ammai, Sri Bramarambigai |
| Theertham (Holy water) | Adhishesha Theertham/ Naga theertham |
| Sthala Vriksham (Sacred Tree) | Vanni tree |
| Pathigam (Hymn) rendered by | Saint Thirugnanasambanthar |
This is one of the 276 Devara Paadal Petra Shiva Sthalams and 59th Shiva Sthalam in Chozha Nadu on Southern bank of the river Cauveri (Thenkarai).
Lord Shiva in this temple is a Swayambumurthi (self-manifested).
This is a very popular parihara sthalam for "Raghu-Kethu" dosham. It is also popularly known as "South Kalahasthi".
This east facing temple has 2 corridors and it has a 3-tiered main tower (Rajagopuram).
The last Consecration ceremony (Kumbabishekam) took place on 10.04.2017 and prior to that on 11.09.2002.
History of the Temple
This place's name "Thiru Pampuram" is derived from "Pampu" + "Puam" – "Pampu" means snake and "Puram" means place in Tamil. "Thiru" is a respectful prefix.
There are 28 stone inscriptions available in this temple which are from the periods of Kings Kulothunga Cholan-III, Rajaraja Cholan, Rajendra Cholan, Thiribhuvana Veera Devan, Sundara Pandiyan and Saraboji Maharaja.
The historical names of this place are Pampura Nannagar, Sheshapuri, Uragapuram and Pampuram.

Legend
The significance of this temple is that Raghu and Kethu worshiped the lord here intertwined with one another. They can be seen holding Lord Shiva near their chest.
The legend is that once Lord Vinayakar worshipped his father Lord Shiva in Mount Kailash. Vasuki (Nagaraj), the king of serpents, who can be seen on Lord Shiva's neck thought that Vinayakar was worshipping him instead of Lord Shiva. On knowing this, Lord Shiva cursed the serpent for his arrogance. Due to his curse, the entire serpent community lost their strength and powers.
All the "Ashtamaha" serpents – the eight great serpents- (Ananthan, Vasuki, Thatchakan, Karkodakan, Sankapalan, Kulikan, Padman and Mahapadman)
prayed to Lord Shiva to seek forgiveness for the mistake committed by Vasuki. Lord Shiva advised them to go to earth and worship him on the night of Maha Shivratri. During Mahashivratri the night is divided into 4 parts ("kaalams").
Serpents headed by Adhisheshan visited four different temples on that night in each of the 4 kaalams to worship Lord Shiva. These four temples are as follows:
Sri Nageswarar at Kumbakonam,
Sri Naganathar at Thirunageswarm,
Sri Sheshapureeswarar at Thiruppampuram and
Sri Naganathar at Nagore.

One of the legends of Hindu mythology states that the serpent king Adisheshan holds the earth in its place. Once he was tired and was unable to hold the earth. He pleaded to Lord Shiva to give him enough strength to continue doing his job. Lord Shiva advised him to go to earth and worship him at Thiruppampuram to regain his strength. Adisheshan visited Thiruppampuram on a Mahashivratri day and worshiped the lord. Due to unavailability of flowers that time, Adhisheshan tied "akathi" flowers in "alamvizhudhu" (banyan tree twigs) and finished his pooja. It is believed that this is the reason why in this village akathi plants don't flower and the stems of the banyan trees don't touch the ground.
As per the sthala puranam, Goddess Parvathy, Lord Brahma, Indra, Agni, Ganga, Suryan, Chandran, Dakshan, Sage Agasthiyar, Serpent Karkodakan, King Kochengat Cholan and King Sunithan (a king from Northern Indian kingdom) have worshipped Lord Shiva here.
There are many idols of snakes in this temple. The predominant one is where Raghu and Kethu are intertwined.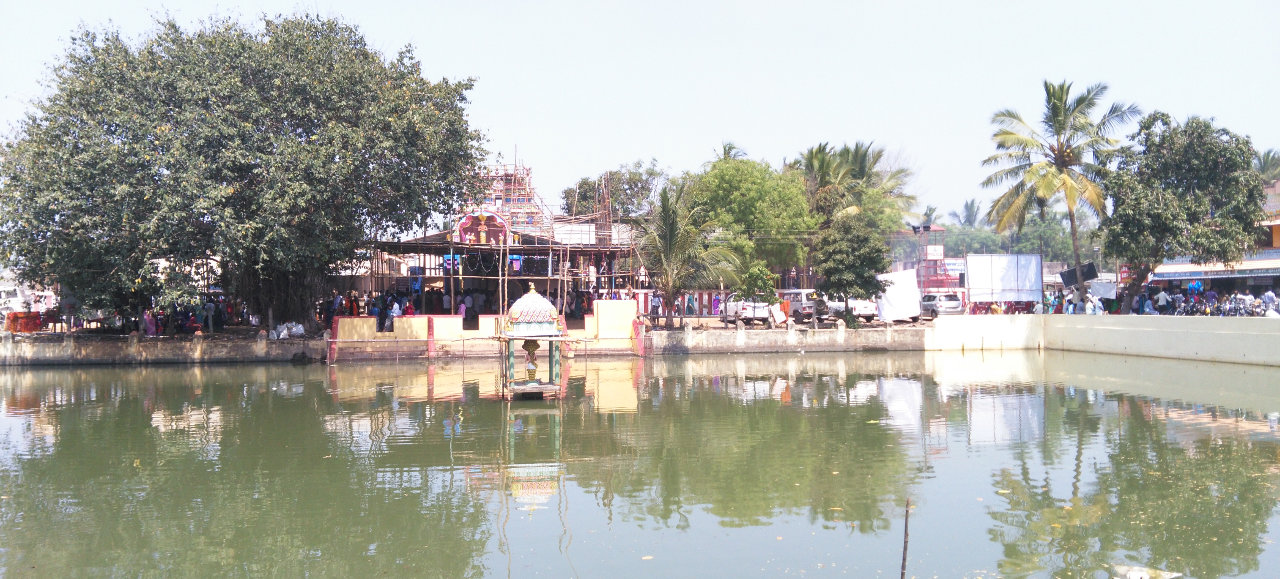 Deities in the temple
Other than the shrines of Lord Shiva and Goddess Parvathy, shrines and idols of lords Rajaraja Vinayakar, Murugan with his consorts, Natarajar, Somaskandar, Dakshinamurthy, Sattanathar, Durgai and Chandikeswarar can be seen in the corridors.
There is a separate shrine for Lord Malaieswarar which is in the form of a "Maadakkoil". Lord Adhi Pampureswarar's shrine is under the Sthala Viruksham.
There is also a separate shrine for Raghu and Kethu. In this shrine, idols of Lord Vishnu, Brahma, Suryan, Adisheshan, Bairavar, Saneeswaran, Five Shivalingams and Devara Nalvars can be seen.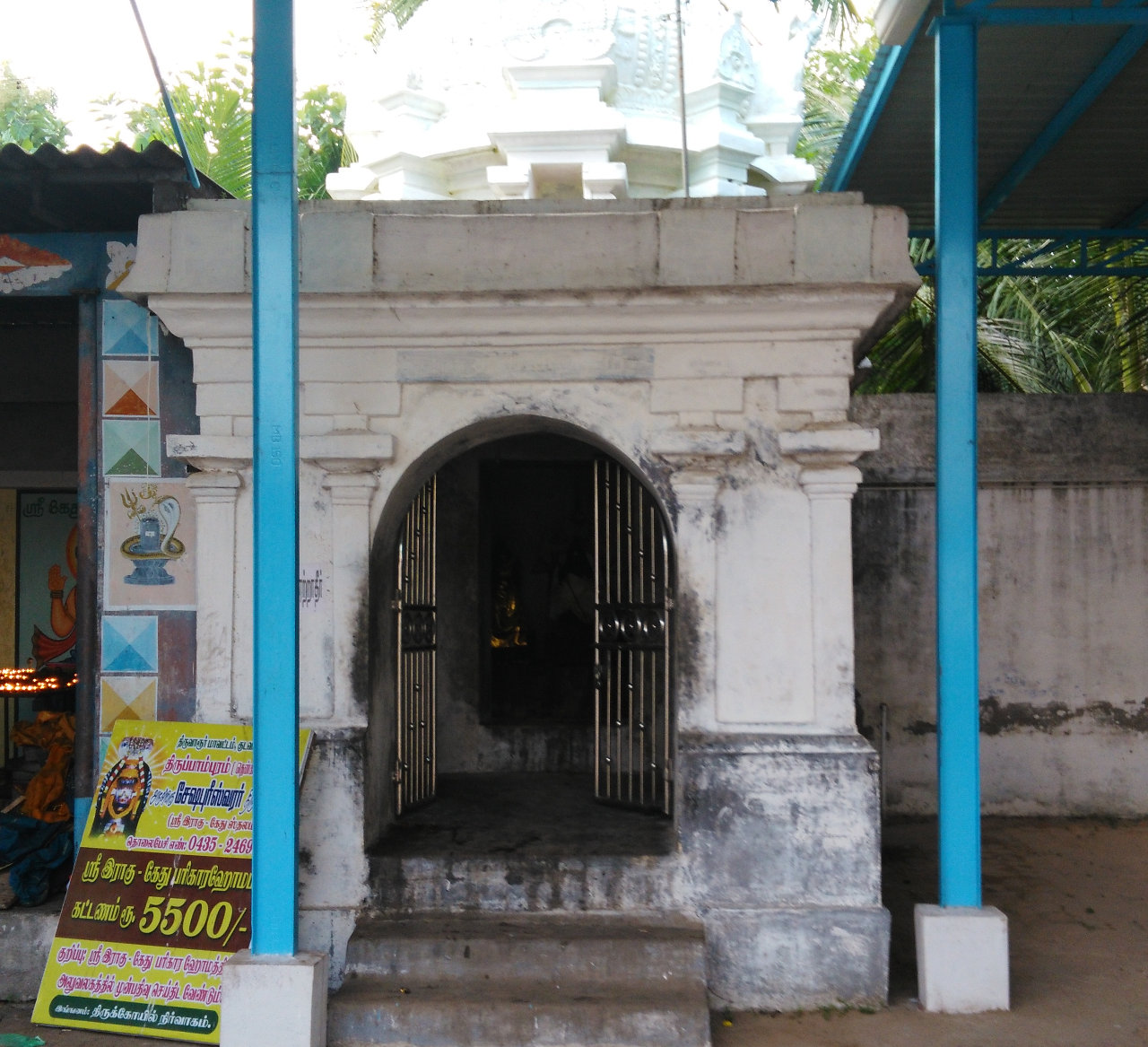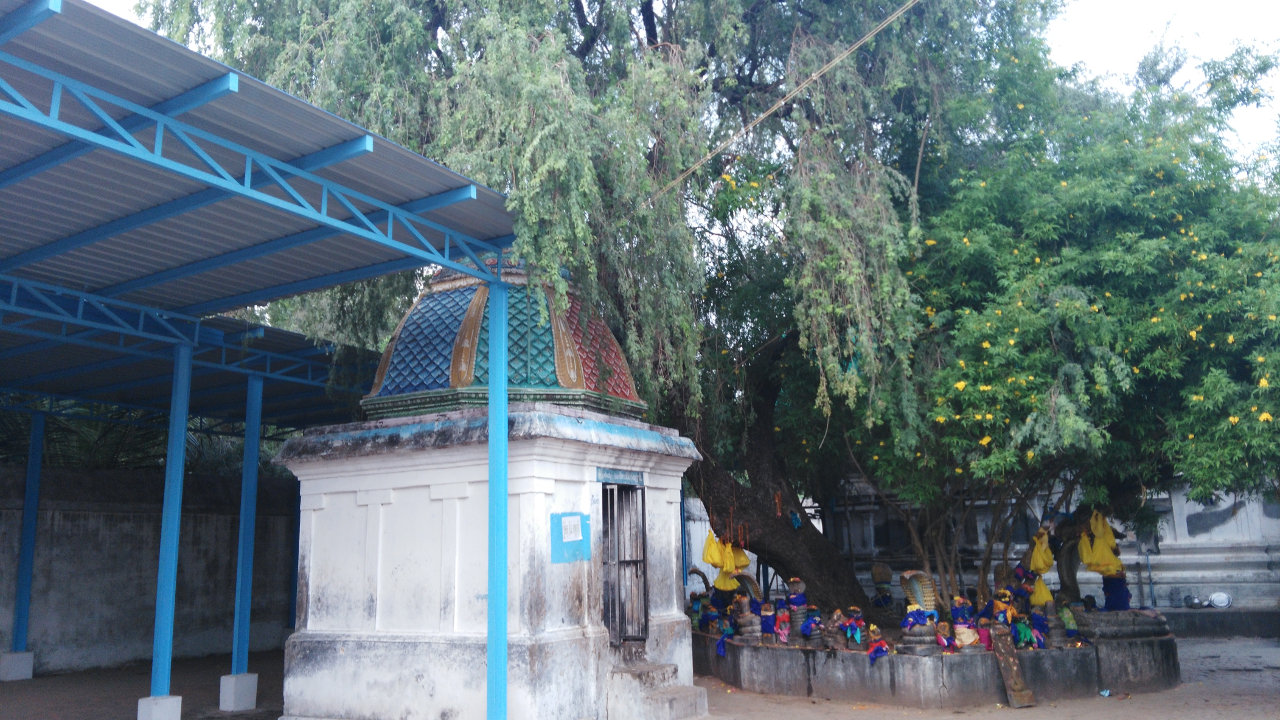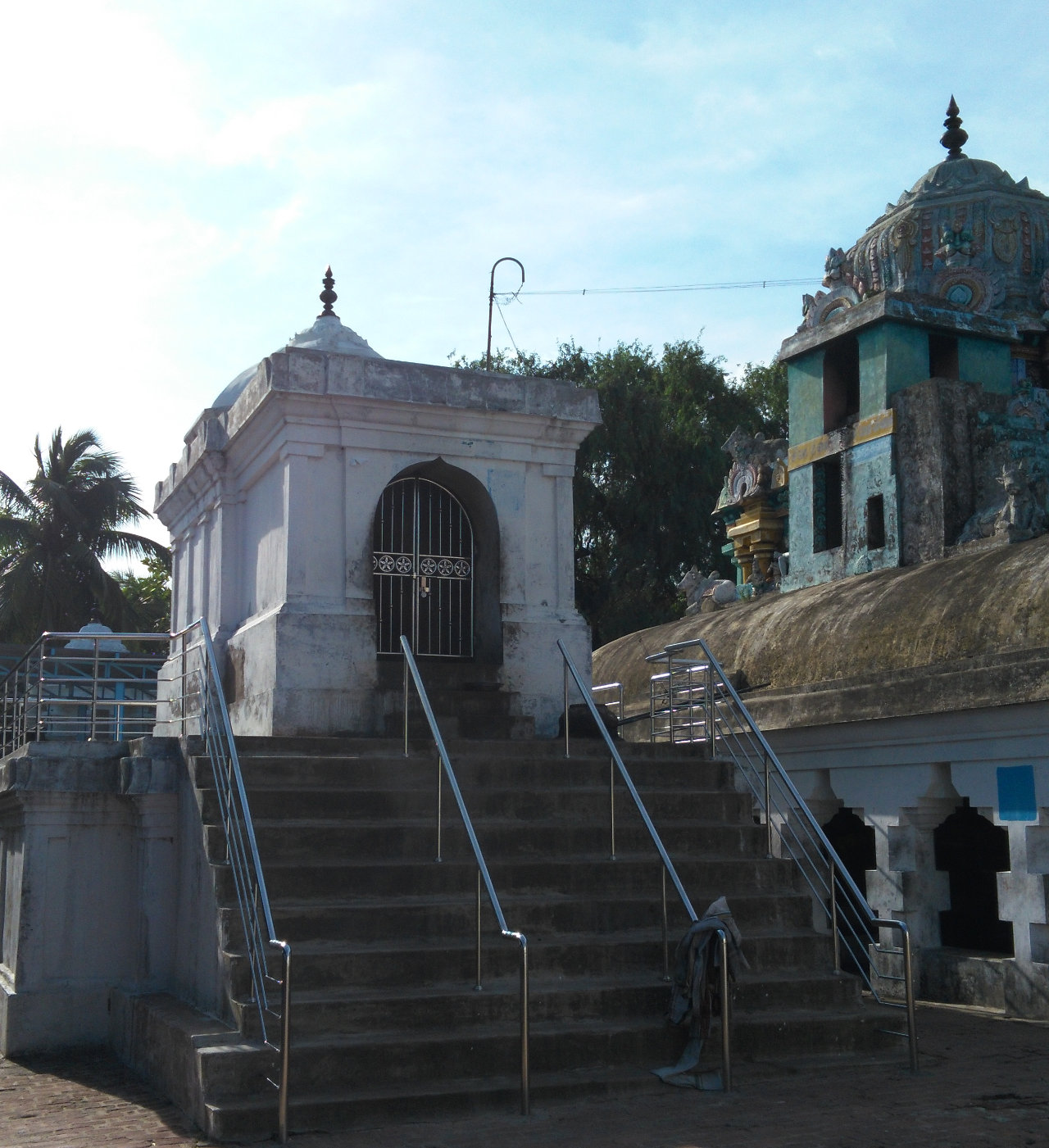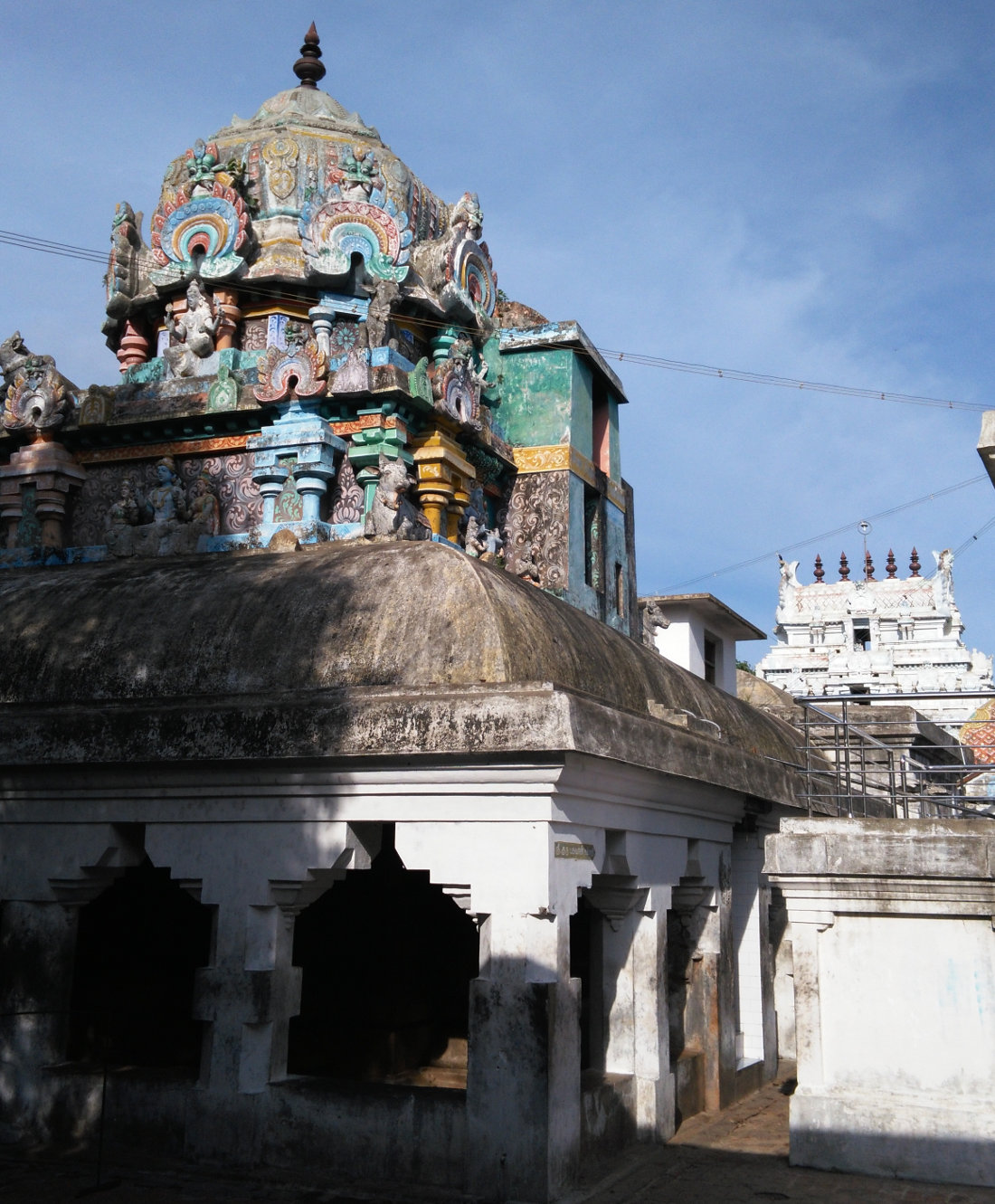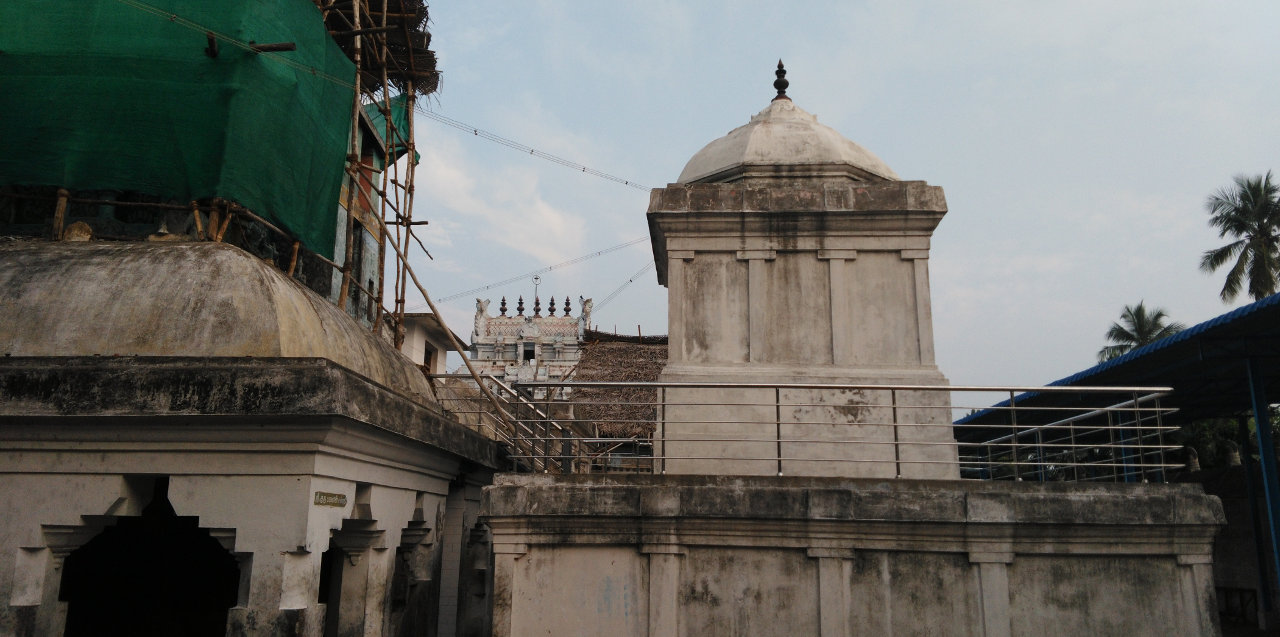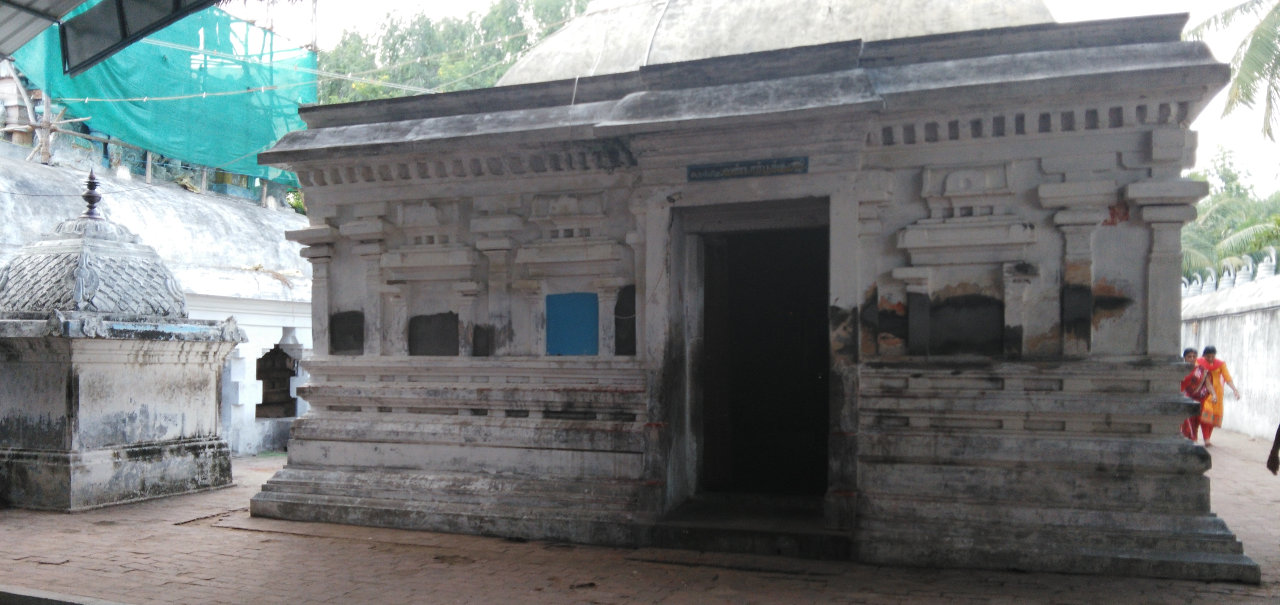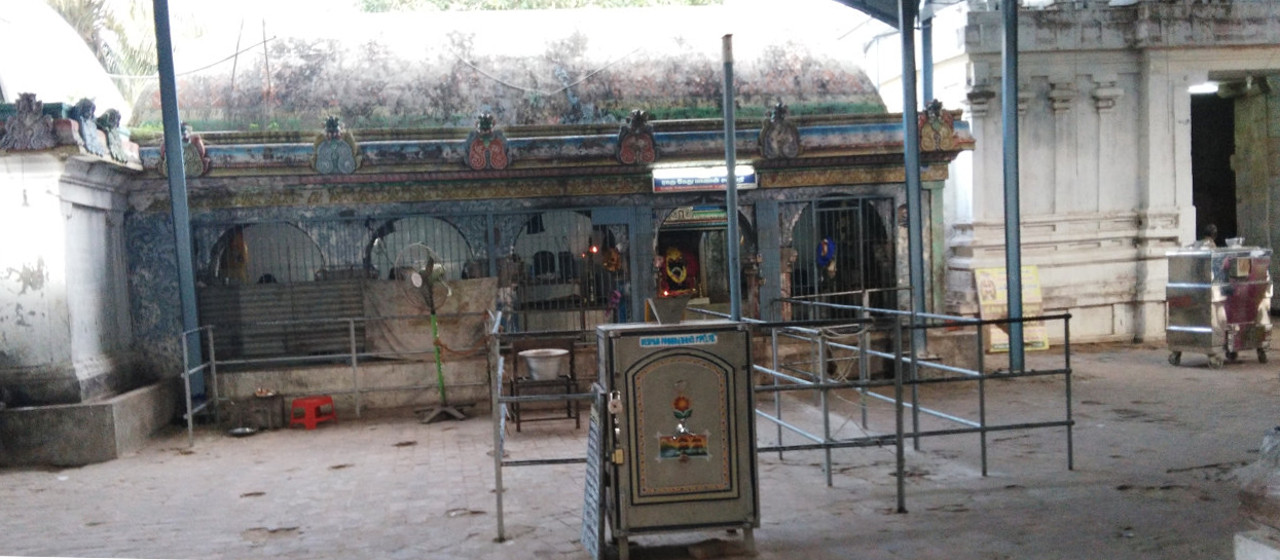 Salient Features
In the sanctum sanctorum, there is an idol of Adisheshan in front of the shivalingam. Adisheshan is seen in a worshiping form.
Both Lord Shiva and Goddess Parvathy's shrines are facing east. Another significance of this temple is that Goddess Parvathy is on the left side of Lord Shiva. They are depicted in their wedding posture and this is considered to be very auspicious.
As per the "sthala purana", worshiping Lord Shiva in this temple alone is equal to worshiping the lord at these five famous temples – Kumbakonam, Nagore, Thirunageswaram, Kalahasthi and Kezhapperumpallam.
Often large snakes appear in this temple and shed their skin. In this temple, there are photographs of such occurrences. On 21.03.2002, a snake shed its skin (length 7.5 feet) on the idol of Goddess Vanduser Pungkuzhali. On 26.05.2002, another snake shed its skin (length 8.3 feet) in the form of a garland on the idol of Lord Sheshapureeswarar.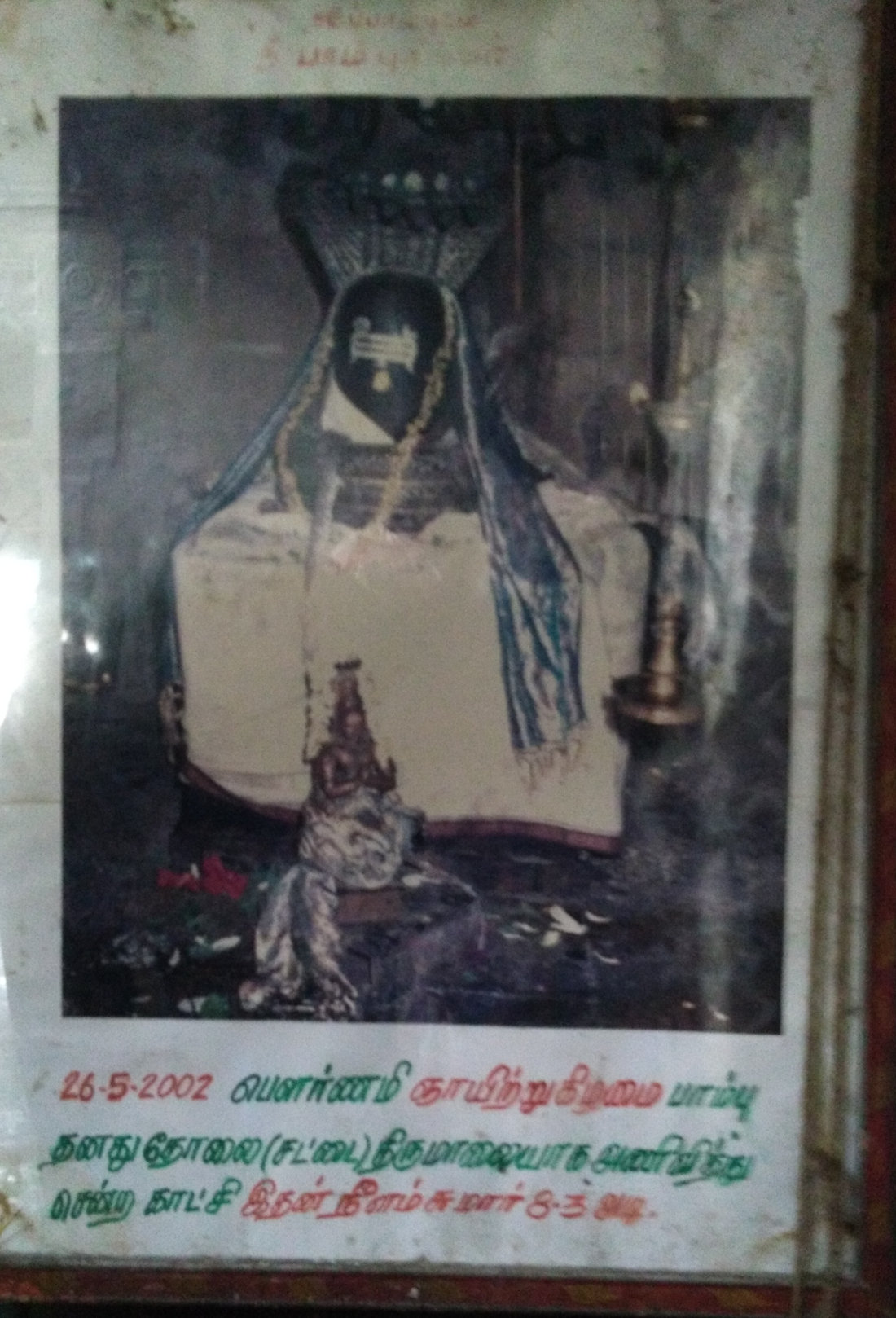 Both these occurrences were witnessed by a large number of devotees. It is believed that these snakes came to worship Lord Shiva and Goddess Parvathy here.
There has been no recorded incident of anyone dying due to a snake bite in this village.
The sanctum sanctorum is in the form of semi-circular tank (akazhi in Tamil).
This temple is considered to be significant for its three important attributes – Moorthy, Sthalam and Theertham - glory of Lord, sacredness of the land and the auspicious temple tank.
Greatness of this temple
This temple is very famous as a parihara sthalam for Raghu-Kethu doshams such as "Kaala sarba dosha", "Puthira dosha" and "Kalathira dosha". A large number of devotees can be seen performing poojas to seek relief from the ill effects of such doshas.
Important Festivals
Some of the important festivals celebrated here are as follows:
Raghu- Kethu transition days (Peyarchi),
Maasi Maham in the Tamil month of Maasi (Feb-Mar),
Mahashivratri in the Tamil month of Masi (Feb-Mar),
Vinayakar Chaturthi in the Tamil month of Aavani (Aug-Sept),
Navarathri in the Tamil month of Purattasi (Sept-Oct), and
Thiruvathirai in the Tamil month of Markazhi (Dec-Jan).
Pradosham is also observed regularly.
Temple Timings
From 07.00 AM to 12.00 Noon and 04.00 PM to 08.00 PM.

Temple Address
Sri Seshapureeswarar Temple,
Thiruppampuram Post,
Kudavasal Taluk,
Thiruvarur District,
Tamil Nadu – 612 203.

Tele: +91 435 2469555.
The temple priest Sri Prem Kumar Gurukkal can be contacted at 94439 43665 and 94430 47302.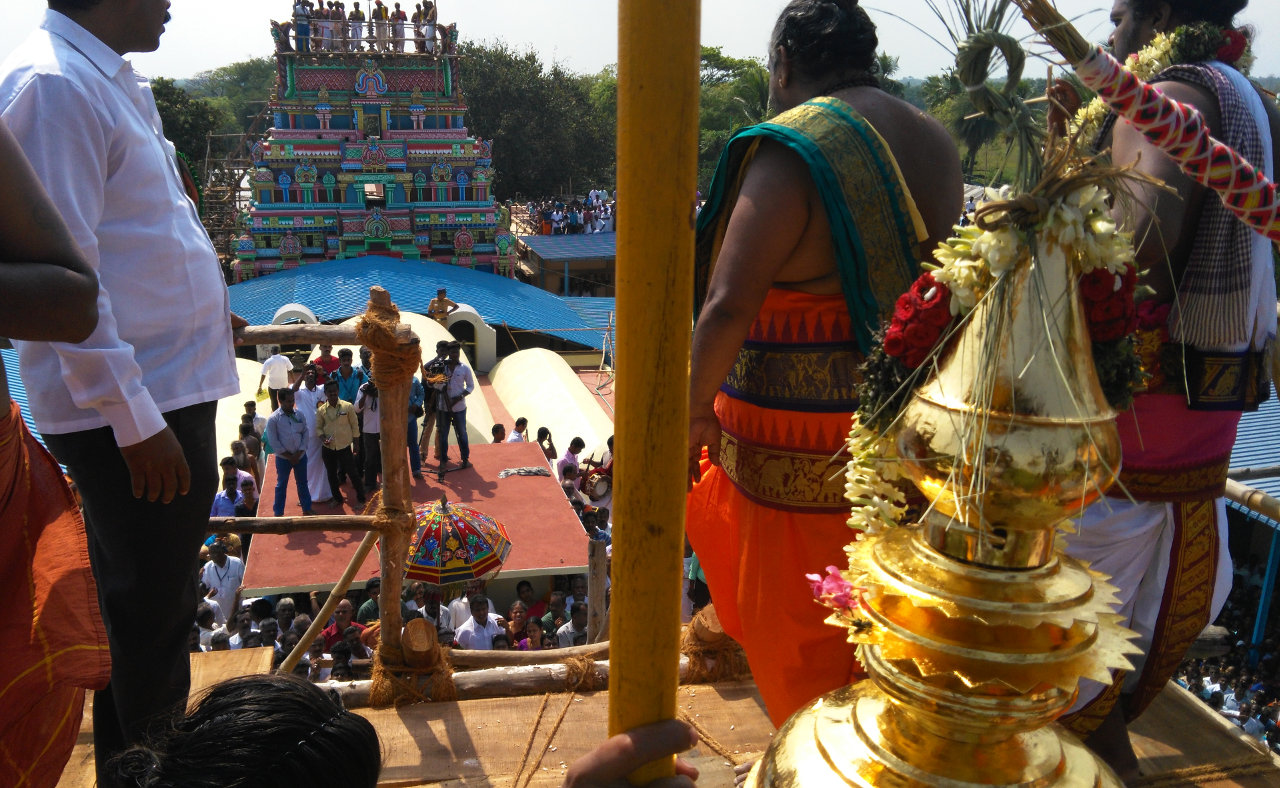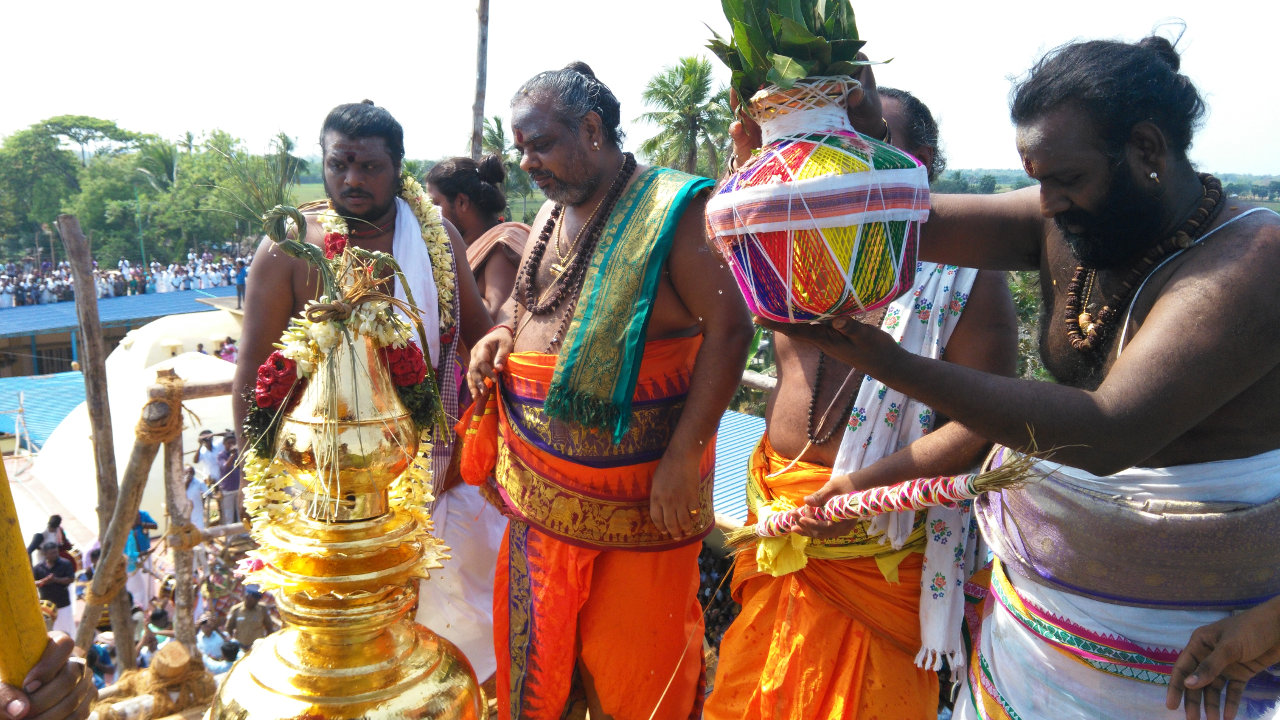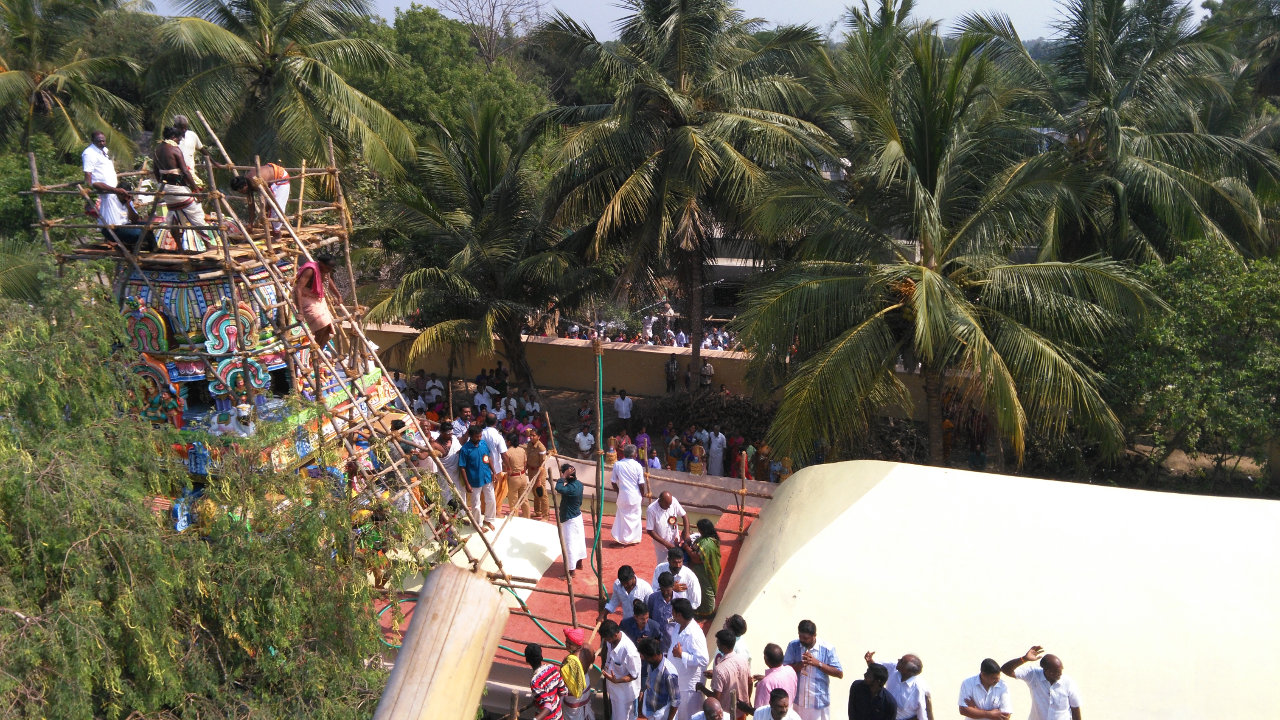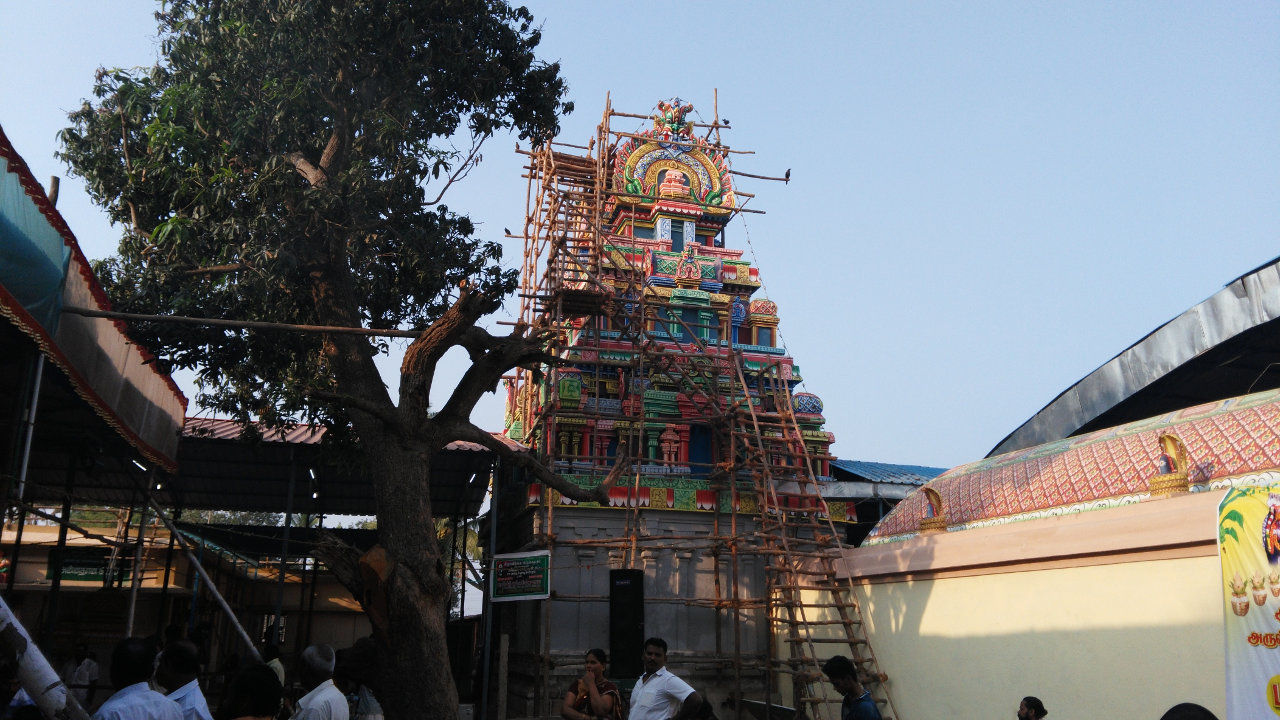 ---
Pathigam (Hymn) with English transliteration
Saint Thirugnanasambanthar visited this temple and sang this Pathigam.
Devotees visiting this temple should make it a practice to recite this Pathigam.
சீரணி திகழ்திரு மார்பில் வெண்ணூலர்
திரிபுர மெரிசெய்த செல்வர்
வாரணி வனமுலை மங்கையோர் பங்கர்
மான்மறி யேந்திய மைந்தர்
காரணி மணிதிகழ் மிடறுடை யண்ணல்
கண்ணுதல் விண்ணவ ரேத்தும்
பாரணி திகழ்தரு நான்மறை யாளர்
பாம்புர நன்னக ராரே.
"Sīraṇi thikazhthiru mārpil veṇṇūlar
thiripura meriseytha selvar
vāraṇi vaṉamulai maṅkaiyōr paṅkar
māṉmaṟi yēnthiya mainthar
kāraṇi maṇithikazh miṭaṟuṭai yaṇṇal
kaṇṇuthal viṇṇava rēthum
pāraṇi thikazhtharu nāṉmaṟai yāḷar
pāmpura naṉṉaka rārē".
கொக்கிற கோடு கூவிள மத்தங்
கொன்றையொ டெருக்கணி சடையர்
அக்கினொ டாமை பூண்டழ காக
அனலது ஆடுமெம் மடிகள்
மிக்கநல் வேத வேள்வியு ளெங்கும்
விண்ணவர் விரைமலர் தூவப்
பக்கம்பல் பூதம் பாடிட வருவார்
பாம்புர நன்னக ராரே.
"Kokkiṟa kōṭu kūviḷa maththaṅ
koṉtṟaiyo ṭerukkaṇi saṭaiyar
akkiṉo ṭāmai pūṇṭazha kāka
aṉalathu āṭumem maṭikaḷ
mikkanal vētha vēḷviyu ḷeṅkum
viṇṇavar viraimalar thūvap
pakkampal pūtham pāṭiṭa varuvār
pāmpura naṉṉaka rārē".
துன்னலி னாடை யுடுத்ததன் மேலோர்
சூறைநல் லரவது சுற்றிப்
பின்னுவார் சடைகள் தாழவிட் டாடிப்
பித்தராய்த் திரியுமெம் பெருமான்
மன்னுமா மலர்கள் தூவிட நாளும்
மாமலை யாட்டியுந் தாமும்
பன்னுநான் மறைகள் பாடிட வருவார்
பாம்புர நன்னக ராரே.
"Thuṉṉali ṉāṭai yuṭuththathaṉ mēlōr
chūṟainal laravathu chutṟip
piṉṉuvār saṭaikaḷ thāzhaviṭ ṭāṭip
piththarāyth thiriyumem perumāṉ
maṉṉumā malarkaḷ thūviṭa nāḷum
māmalai yāṭṭiyun thāmum
paṉṉunāṉ maṟaikaḷ pāṭiṭa varuvār
pāmpura naṉṉaka rārē".
துஞ்சுநாள் துறந்து தோற்றமு மில்லாச்
சுடர்விடு சோதியெம் பெருமான்
நஞ்சுசேர் கண்ட முடையவென் நாதர்
நள்ளிருள் நடஞ்செயும் நம்பர்
மஞ்சுதோய் சோலை மாமயி லாட
மாடமா ளிகைதன்மே லேறி
பஞ்சுசேர் மெல்லடிப் பாவையர் பயிலும்
பாம்புர நன்னக ராரே.
"Thuñchunāḷ thuṟanthu thōtṟamu millāch
chuṭarviṭu chōthiyem perumāṉ
nañchusēr kaṇṭa muṭaiyaveṉ nāthar
naḷḷiruḷ naṭañcheyum nampar
mañchuthōy chōlai māmayi lāṭa
māṭamā ḷikaithaṉmē lēṟi
pañchusēr mellaṭip pāvaiyar payilum
pāmpura naṉṉaka rārē".
நதியத னயலே நகுதலை மாலை
நாண்மதி சடைமிசை யணிந்து
கதியது வாகக் காளிமுன் காணக்
கானிடை நடஞ்செய்த கருத்தர்
விதியது வழுவா வேதியர் வேள்வி
செய்தவர் ஓத்தொலி ஓவாப்
பதியது வாகப் பாவையுந் தாமும்
பாம்புர நன்னக ராரே.
"Nathiyatha ṉayalē nakuthalai mālai
nāṇmathi saṭaimisai yaṇinthu
kathiyathu vākak kāḷimuṉ kāṇak
kāṉiṭai naṭañcheytha karuththar
vithiyathu vazhuvā vēthiyar vēḷvi
seythavar ōththoli ōvāp
pathiyathu vākap pāvaiyun thāmum
pāmpura naṉṉaka rārē".
ஓதிநன் குணர்வார்க் குணர்வுடை யொருவர்
ஒளிதிகழ் உருவஞ் சேரொருவர்
மாதினை யிடமா வைத்தவெம் வள்ளல்
மான்மறி யேந்திய மைந்தர்
ஆதிநீ யருளென் றமரர்கள் பணிய
அலைகடல் கடையவன் றெழுந்த
பாதிவெண் பிறைசடை வைத்தவெம் பரமர்
பாம்புர நன்னக ராரே.
"Ōthinaṉ kuṇarvārk kuṇarvuṭai yoruvar
oḷithikazh uruvañ chēroruvar
māthiṉai yiṭamā vaiththavem vaḷḷal
māṉmaṟi yēnthiya mainthar
āthinī yaruḷeṉ tṟamararkaḷ paṇiya
alaikadal kadaiyavaṉ tṟezhuntha
pāthiveṇ piṟaisaṭai vaiththavem paramar
pāmpura naṉṉaka rārē".
மாலினுக் கன்று சக்கர மீந்து
மலரவற் கொருமுக மொழித்து
ஆலின்கீ ழறமோர் நால்வருக் கருளி
அனலது ஆடுமெம் மடிகள்
காலனைக் காய்ந்து தங்கழ லடியாற்
காமனைப் பொடிபட நோக்கிப்
பாலனுக் கருள்கள் செய்தவெம் மடிகள்
பாம்புர நன்னக ராரே.
"Māliṉuk kaṉtṟu sakkara mīnthu
malaravaṟ korumuka mozhiththu
āliṉkī zhaṟamōr nālvaruk karuḷi
aṉalathu āṭumem maṭikaḷ
kālaṉaik kāynthu thaṅkazha laṭiyāṟ
kāmaṉaip poṭipaṭa nōkkip
pālaṉuk karuḷkaḷ seythavem maṭikaḷ
pāmpura naṉṉaka rārē".
விடைத்தவல் லரக்கன் வெற்பினை யெடுக்க
மெல்லிய திருவிர லூன்றி
அடர்த்தவன் றனக்கன் றருள்செய்த வடிகள்
அனலது ஆடுமெம் மண்ணல்
மடக்கொடி யவர்கள் வருபுன லாட
வந்திழி அரிசிலின் கரைமேற்
படப்பையிற் கொணர்ந்து பருமணி சிதறும்
பாம்புர நன்னக ராரே.
"Viṭaiththaval larakkaṉ veṟpiṉai yeṭukka
melliya thiruvira lūṉtṟi
aṭarththavaṉ tṟaṉakkaṉ tṟaruḷseytha vaṭikaḷ
analathu āṭumem maṇṇal
maṭakkoṭi yavarkaḷ varupuṉa lāṭa
vanthizhi arisiliṉ karaimēṟ
paṭappaiyiṟ koṇarnthu parumaṇi sithaṟum
pāmpura naṉṉaka rārē".
கடிபடு கமலத் தயனொடு மாலுங்
காதலோ டடிமுடி தேடச்
செடிபடு வினைகள் தீர்த்தருள் செய்யுந்
தீவணர் எம்முடைச் செல்வர்
முடியுடையமரர் முனிகணத் தவர்கள்
முறைமுறை யடிபணிந் தேத்தப்
படியது வாகப் பாவையுந் தாமும்
பாம்புர நன்னக ராரே.
"Kaṭipaṭu kamalath thayaṉoṭu māluṅ
kāthalō ṭaṭimuṭi thēṭach
cheṭipaṭu viṉaikaḷ thīrththaruḷ seyyun
thīvaṇar em'muṭaich chelvar
muṭiyuṭaiyamarar muṉikaṇath thavarkaḷ
muṟaimuṟai yaṭipaṇin thēththap
paṭiyathu vākap pāvaiyun thāmum
pāmpura naṉṉaka rārē".
குண்டர்சாக் கியருங் குணமிலா தாருங்
குற்றுவிட் டுடுக்கையர் தாமுங்
கண்டவா றுரைத்துக் கால்நிமிர்த் துண்ணுங்
கையர்தாம் உள்ளவா றறியார்
வண்டுசேர் குழலி மலைமகள் நடுங்க
வாரணம் உரிசெய்து போர்த்தார்
பண்டுநாம் செய்த பாவங்கள் தீர்ப்பார்
பாம்புர நன்னக ராரே.
"Kuṇṭarsāk kiyaruṅ kuṇamilā thāruṅ
kutṟuviṭ ṭuṭukkaiyar thāmuṅ
kaṇṭavā ṟuraiththuk kālnimirth thuṇṇuṅ
kaiyarthām uḷḷavā ṟaṟiyār
vaṇdusēr kuzhali malaimakaḷ naṭuṅka
vāraṇam uriseythu pōrththār
paṇṭunām seytha pāvaṅkaḷ thīrppār
pāmpura naṉṉaka rārē".
பார்மலிந் தோங்கிப் பருமதில் சூழ்ந்த
பாம்புர நன்னக ராரைக்
கார்மலிந் தழகார் கழனிசூழ் மாடக்
கழுமல முதுபதிக் கவுணி
நார்மலிந் தோங்கும் நால்மறை ஞான
சம்பந்தன் செந்தமிழ் வல்லார்
சீர்மலிந் தழகார் செல்வம தோங்கிச்
சிவனடி நண்ணுவர் தாமே.
"Pārmalin thōṅkip parumathil chūzhntha
pāmpura naṉṉaka rāraik
kārmalin thazhakār kazhaṉichūzh māṭak
kazhumala muthupathik kavuṇi
nārmalin thōṅkum nālmaṟai gñāṉa
sambanthaṉ senthamizh vallār
sīrmalin thazhakār selvama thōṅkich
chivaṉaṭi naṇṇuvar thāmē".