Visited on: July 24, 2016 and November 25, 2017.
Location
Seinganur is situated at a distance of about 2 kms from Thiruppananthal. This sthalam is situated on the Kumbakonam to Anaikkarai road and is about 2 kms before Thiruppanandal. From Kumbakonam it is about 18 kms and from Aduthurai, it is about 13 kms.
Other Devara Paadal Petra Shiva Sthalam near this place are –Thiruvaippadi, Thiruppananthal and Panthanallur.
General Information
Moolavar

Sri Sathya Gireeswarar, Sri Shakti Gireeswarar,

Sri Shivaloka Nathar

Ambal

Sri Sakidevi Ammai

Theertham (Holy water)

Manniyaru, Sathya Pushkarani, Kumara Theertham, Appan tank

Sthala Vriksham (Sacred Tree)

Aathi

Pathigam (Hymn) rendered by

Saint Thirugnanasambanthar
This is one of the 276 Devara Paadal Petra Shiva Sthalams and 41st Shiva Sthalam on the northern bank of the river Cauvery in Chozha Nadu (Vadakarai).
Lord Shiva in this temple is a Swayambumurthi (self-manifested).
This is the birth place of Chandikeswarar, one of the 63 revered Nayanmars.
This temple is counted as one of the Maadak Koils built by King Kochengat Cholan.
This east facing temple has no main tower (Rajagopuram) but it has a beautiful arch at the entrance. The temple has 2 corridors, one is at the top around the sanctum and the other at the base level.
There is no flag post (dwajasthambam) here but only idols of Nandhi and Balipetam can be seen.
The last consecration ceremony (Kumbabishekam) took place on 12.09.2014 and prior to that on 11.02.2000.
History of the Temple
This ancient temple is situated on the southern banks of the river Manniyaru.
The historical names of this place are Sathyagiri, Kumara Puram, Asumathakavanam and Chandeswara Puram.
This temple is under the administrative control of the Hindu Religious and Charitable Endowments Department of Government of Tamil Nadu (HR&CE).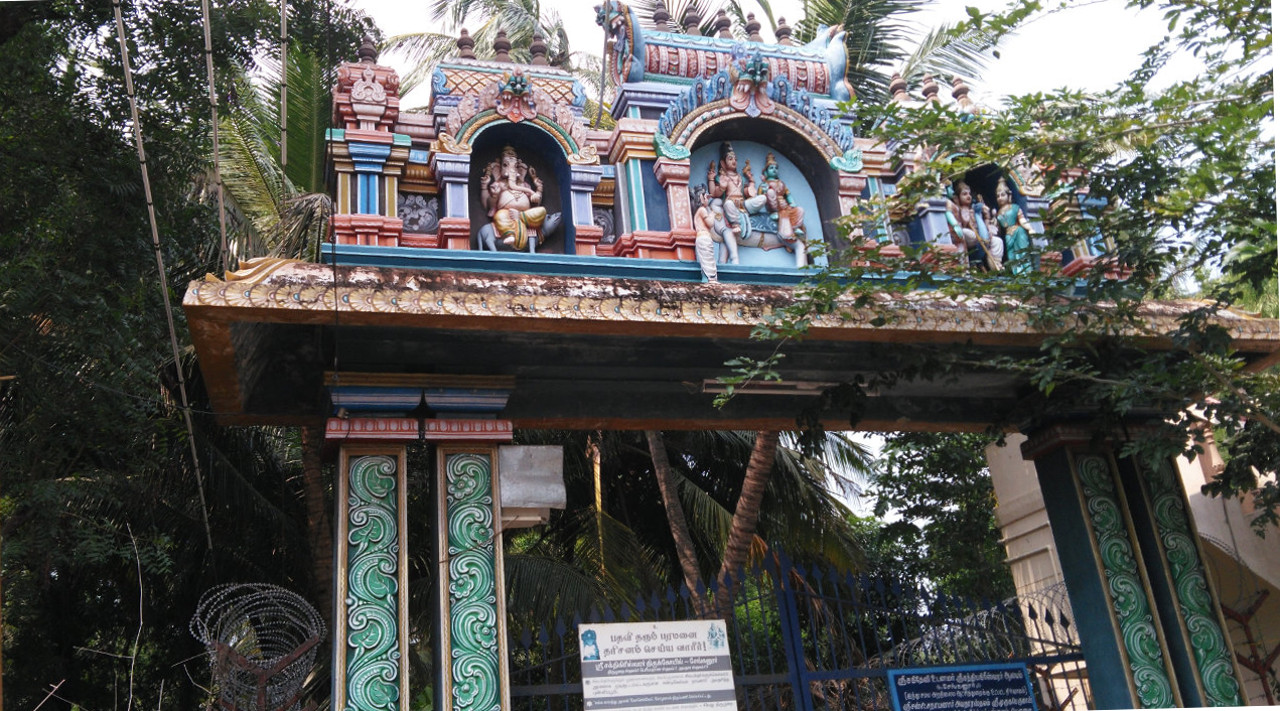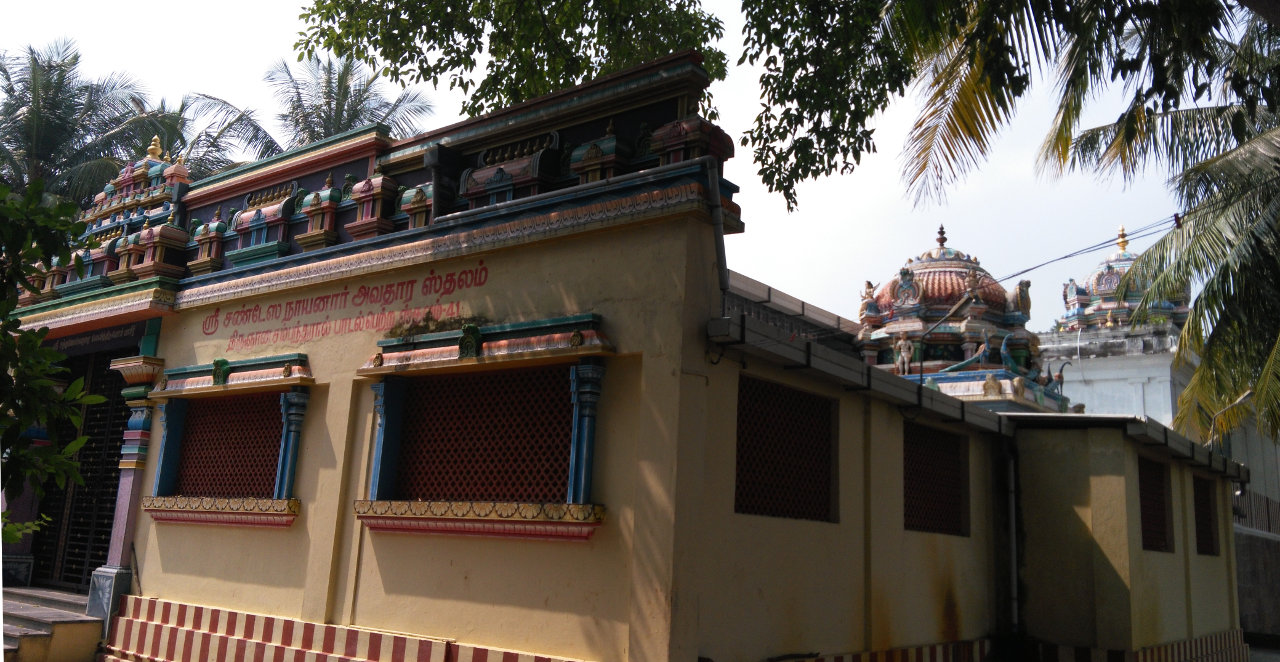 Legend
The legend associated with this temple is that of Adisheshan and Vayu. Once there was a contest between Adisheshan and Vayu regarding their prowess. Adisheshan held the Meru Mount tightly and Vayu blew violently to break the mount. It is believed that a small piece called "Sathyam" fell at this place and formed a small hill. This temple was constructed on top of it. Hence, this place was named Sathyagiri and the lord here is known as Sri Sathyagireeswarar.
Another legend associated with this temple is that of Lord Murugan. It is believed that Lord Murugan created a tank here and worshiped Lord Shiva to get "Rudhra Pasupatham" that he needed to destroy the demon Sooran. As this place yielded fruitful results for Lord Murugan, it gets the name "Seinjalur". Seinjalur is derived from the words "Sei" meaning Murugan, "nal" meaning fruitful and "Oor" meaning place in Tamil. The tank is named after Lord Murugan as "Kumara Theertham". The name of the river "Manni Aru", that flows close to this temple, is said to have been derived from its original name of "Subramanya Nadhi". (Lord Murugan is also known as "Kumaran" and "Subramanyar". "Nadhi" means river in Tamil).
Chandikeswarar is one of the 63 revered Nayanmars and is the only one with the title of "lord" (Easwaran). He was the first Nayanmars and was crowned as the head of all the other Shiva devotees by Lord Shiva.
The legend is that there was a brahmin couple, Echathathan and Pavithrai in Seinganur. They had a son called Visara Sarmar. His sacred thread wearing ceremony (Upanayanam) was performed when he turned seven. He was gifted and quickly learnt the Vedas and other scholarly arts at a very young age. He was also very devout and would always think about Lord Shiva.
One day he saw a shepherd beating a calf that had attempted to hit him. Visara Sarmar asked the shepherd not to beat the cows whereupon the shepherd asked the child in jest to take up the job of shepherding. Visara Sarmar thought that this would be the best way for him to serve Lord Shiva as he saw the cows to be representing Kamadhenu (the divine cow). He further considered the cows in high esteem because they give "Panchakavyam" (five offerings) to the lord. So he decided to take up the shepherd's offer and requested the cattle owners that he be given the job of grazing the cows. They agreed to his request. He used to bring the cows to Thiruvaipadi for grazing. As he showed much affection towards the cows, the cows reciprocated his love by producing plenty of milk.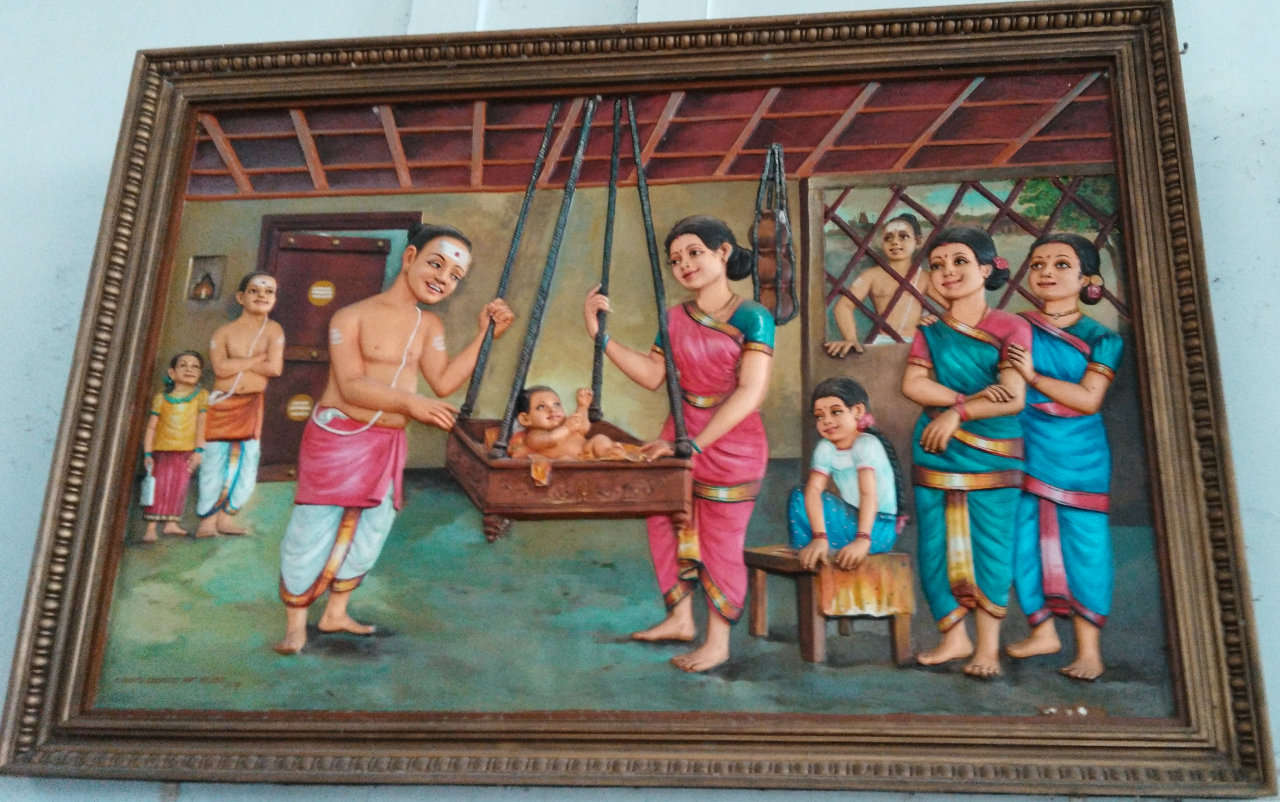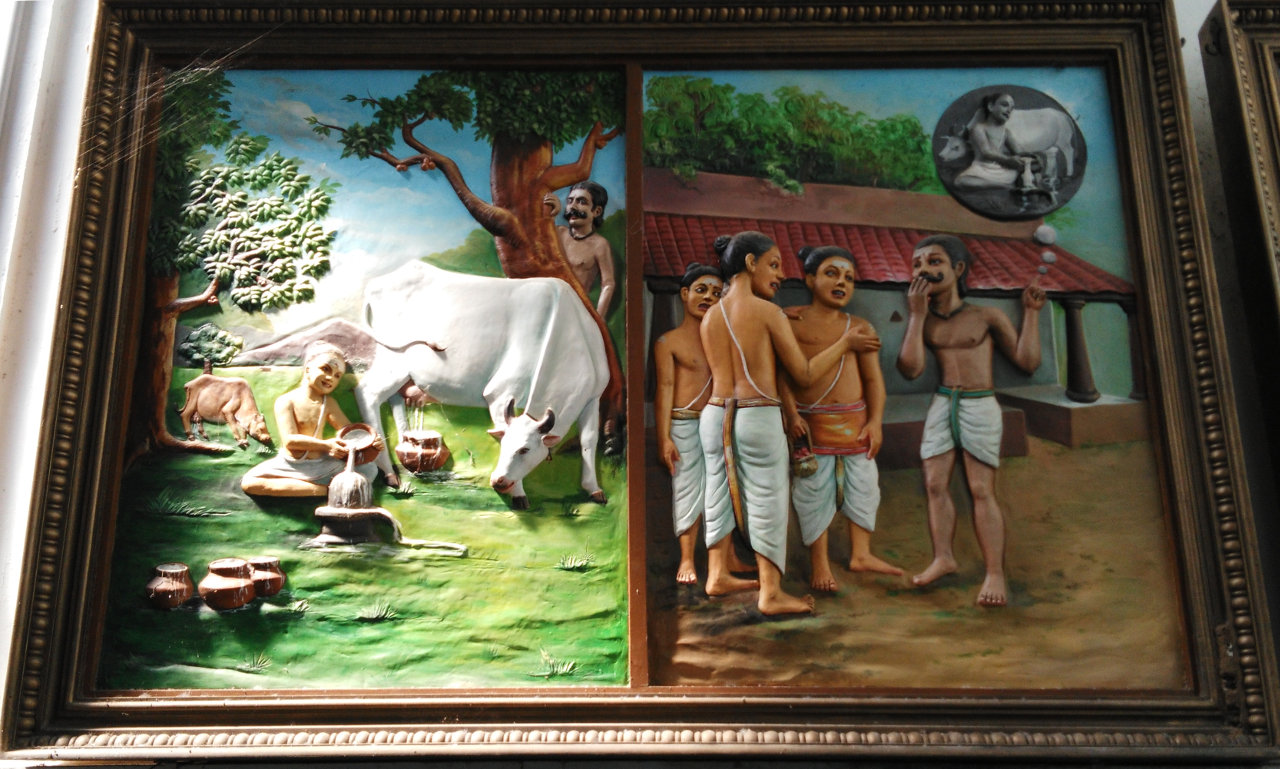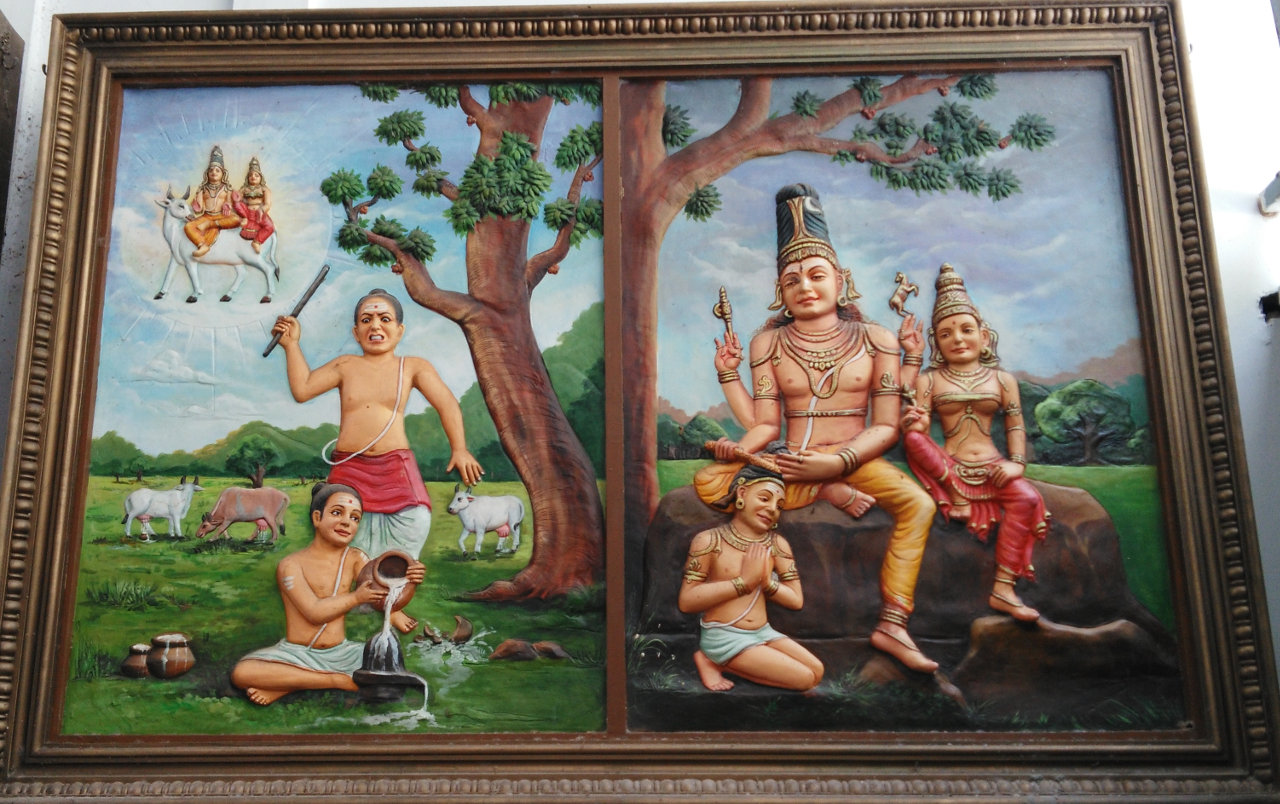 As Visara Saruman was always drowned in thoughts about Lord Shiva, he made a lingam with the river sands, installed it on the banks of the river under an Aathi tree and performed pujas. He would offer milk to the lingam which he himself milked from the cows. In spite of this, the cows gave their routine amount of milk to their owners too. The shepherd from whom Visara Sarmar took the job watched his activities and complained to the cow owners that the boy is milking the cows and wasting some of the milk which could be used for other purposes. This news reached his father and he wanted to know the truth. One day he visited the grazing place and saw his son performing pujas and abishekam. Angered by what he saw, his father hit Visara Sarmar and then kicked away the pots of milk.
Since Visara Sarmar was deep in his worship, he did not see who was disrupting his pooja. Instinctively, he retaliated by attacking the intruder with a stick and then continued his worship. However, the stick turned into an axe and cut the legs of his father. At this point, Lord Shiva along with Goddess Parvathi granted darshan to Visara Sarmar and said that he had cut his own father's legs because of his devotion. The lord was so impressed by his devotion that he decided to act as Visara Sarmar's father. The lord further honoured Visara Sarmar by embracing him and adorning his neck with a garland that he himself had worn. The lord also made him the chief caretaker of his wealth. The lord further named him as "Chandikeswara".
While praying to Chadikeshwarar, devotees click their fingers or clap. This is to show Chandikeshwarar that their hands are empty and that they are not taking away any of Lord Shiva's wealth. Since Chandikeshwara is always in deep meditation, this clicking / clapping sound is also to awaken him.
In his hymn of this temple, Saint Thirugnanasambanthar mentioned about this incident. According to "Periya Puranam", since this is Chandikeswarar's birth place, in order to pay respect to him, Saint Thirugnanasambanthar got down from his palanquin and walked down to the temple.
It is believed that on a new moon day on Shivrathri, Sandikeswara Nayanar attained salvation ("Moksham") in Thiruvaippadi, which is very near to this place.
It is also believed that Chola King Kochengat, Kaampeeli King Sibi Chakravarthi and Ayodhya King Harichandran have worshiped the lord here.
Deities in the temple
Other than the shrines of Lord Shiva and Goddess Parvathy, shrines and idols of Maha Ganapathy, Subramaniyar, Natarajar, Kasi Vinayakar, Kasi Viswanathar with Visalakshi and Gajalakshmi can be seen in the corridors.
The idols of Nalvars, two Bairavars, Suryan and Chandiran are placed in the hall.
In the "koshtam" (place surrounding the sanctum sanctorum), idols of Dakshinamurthy, Mahavishnu, Brahma, Durgai and Chandikeswarar can be seen.
There is a separate shrine for Lord Murugan in the front hall.
There is also a separate shrine for Sri Shakthi Gireeswarar (under the tree) and Chandikeswarar in the outer corridor.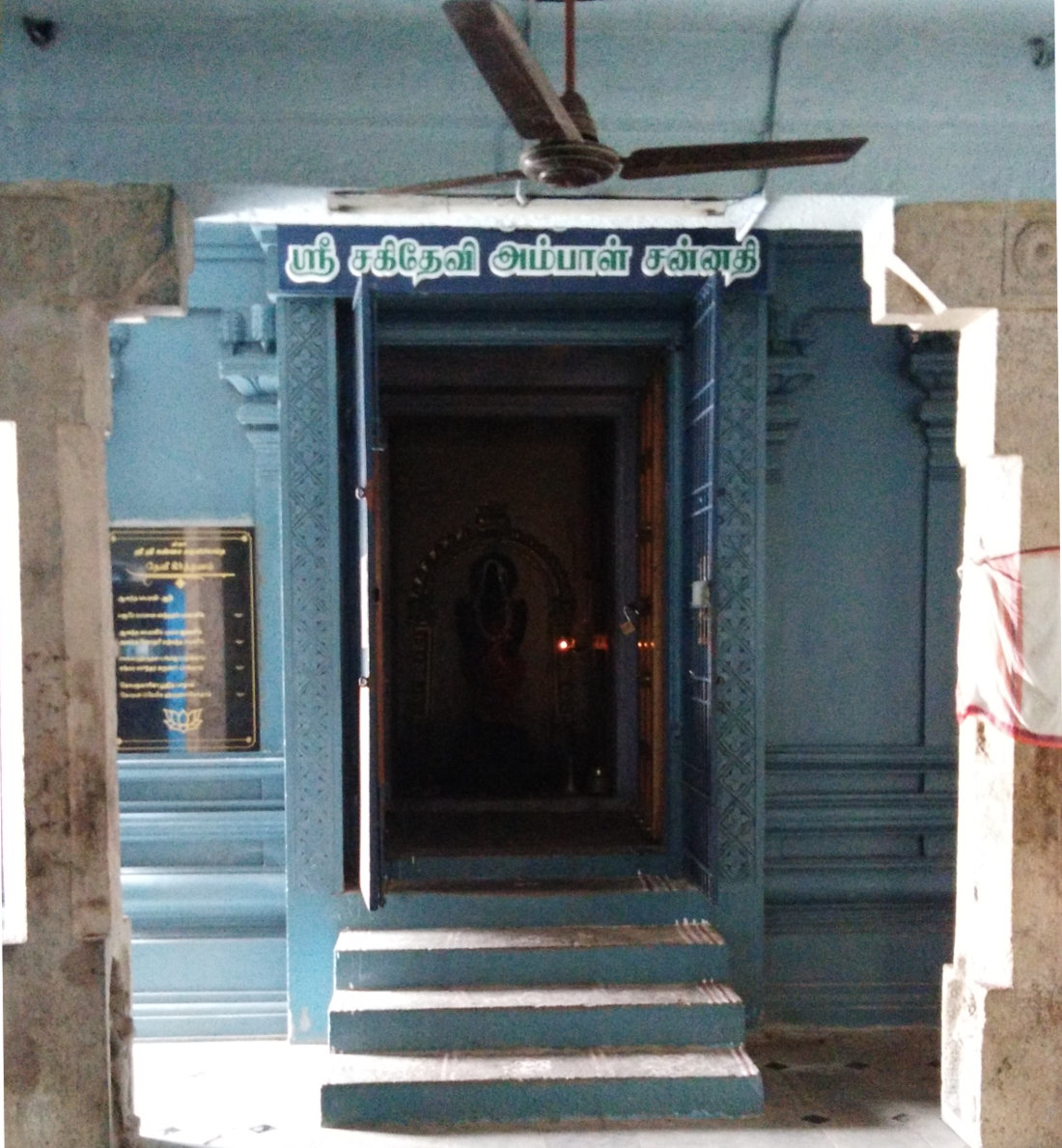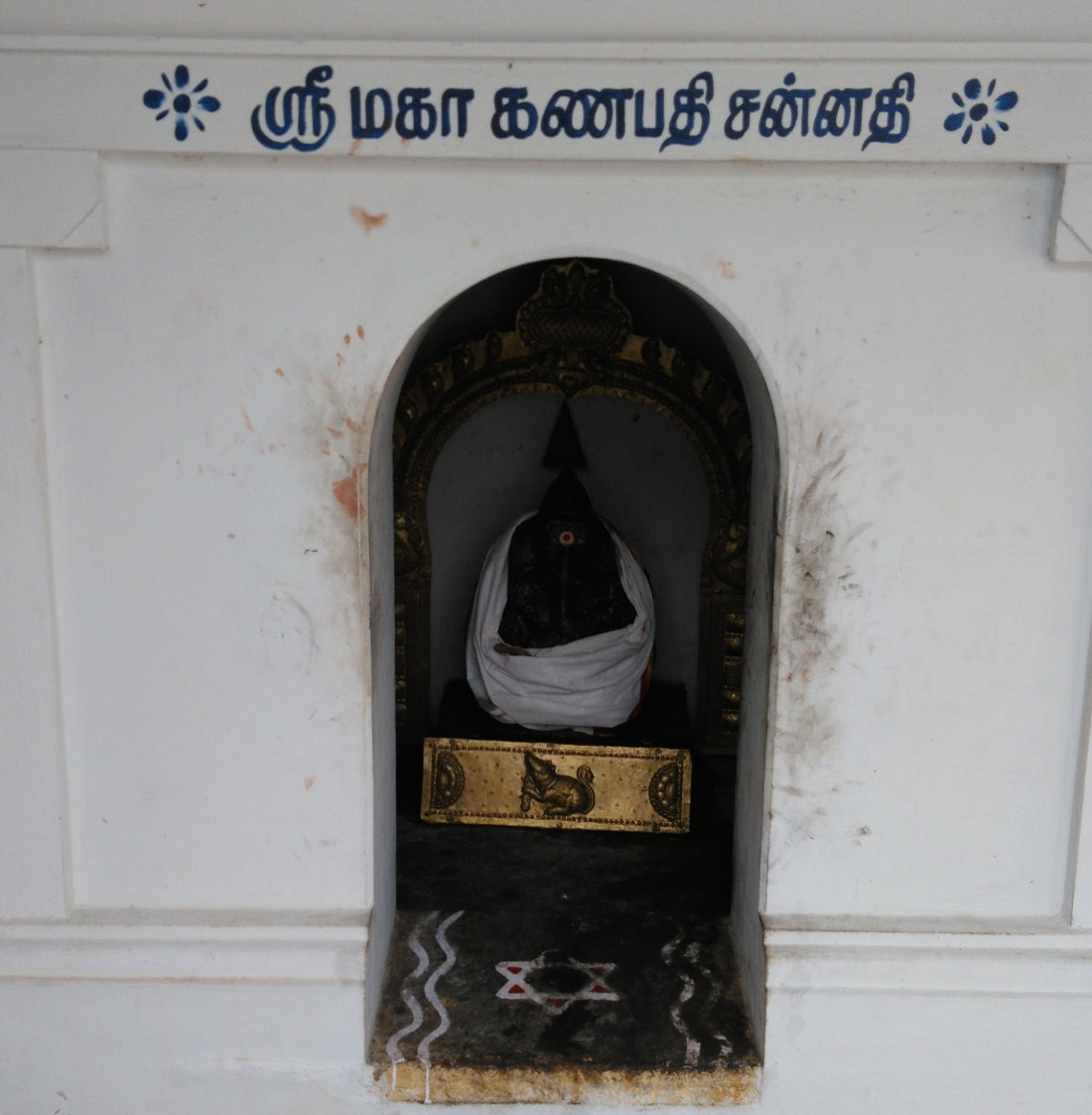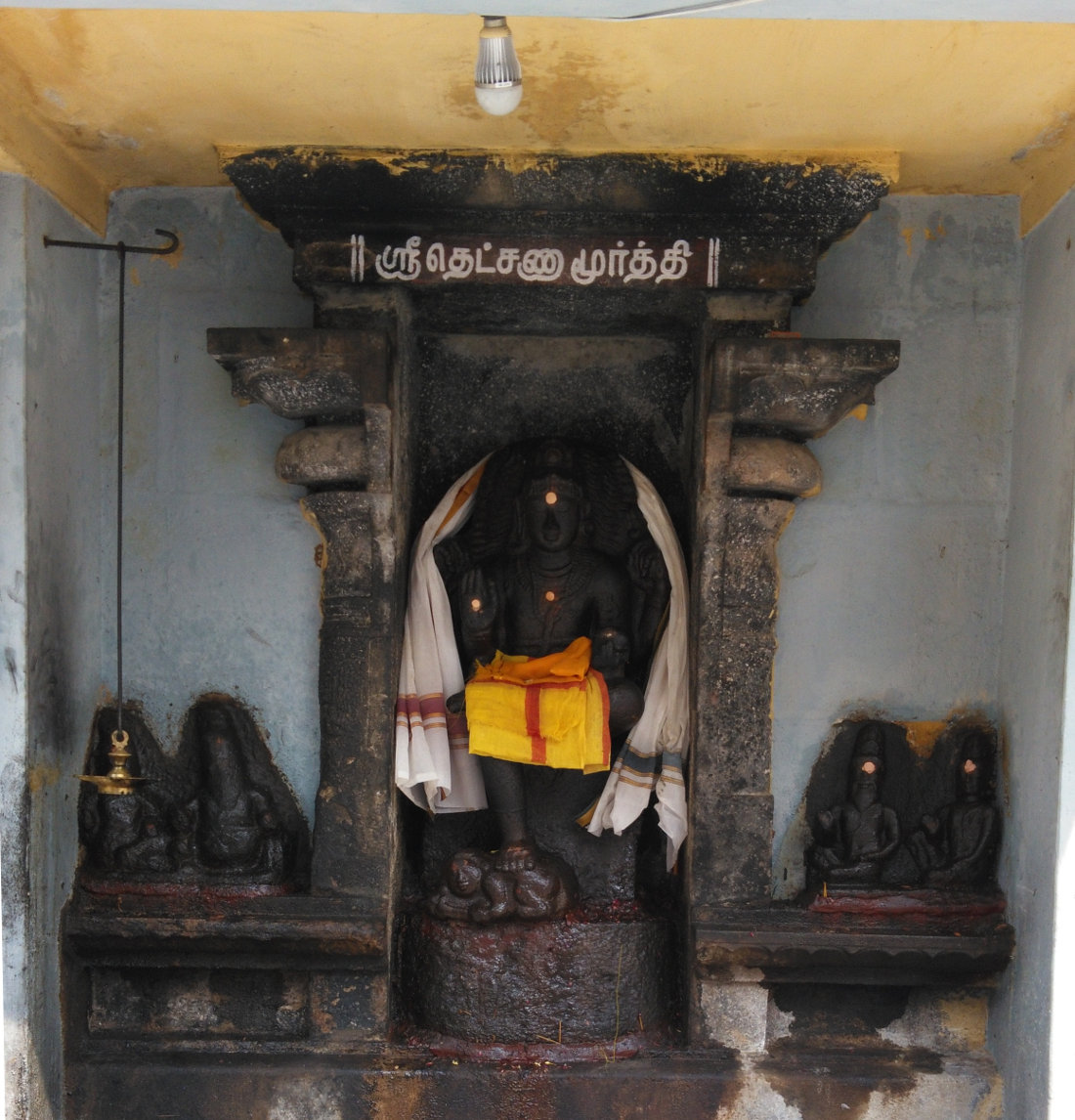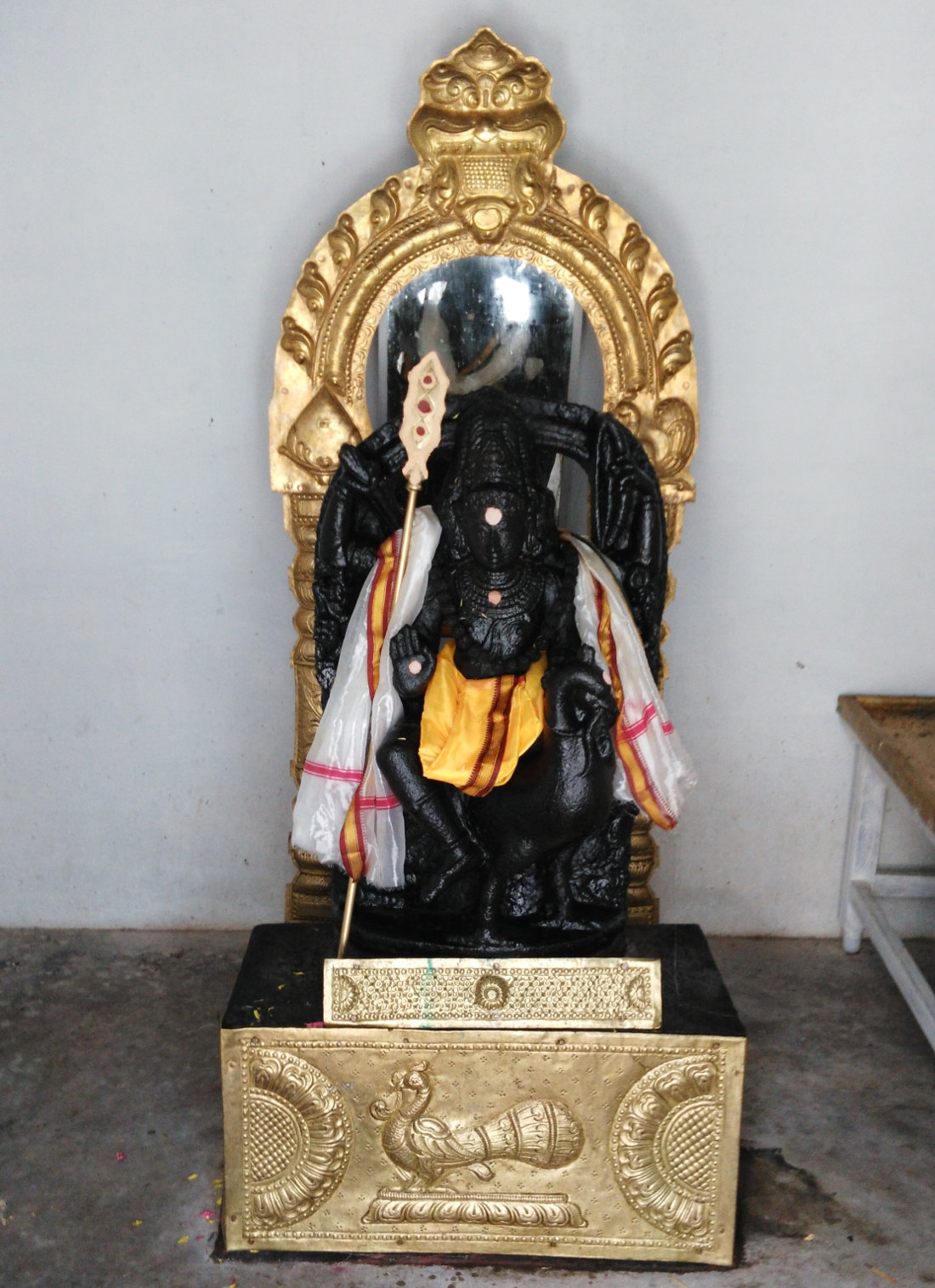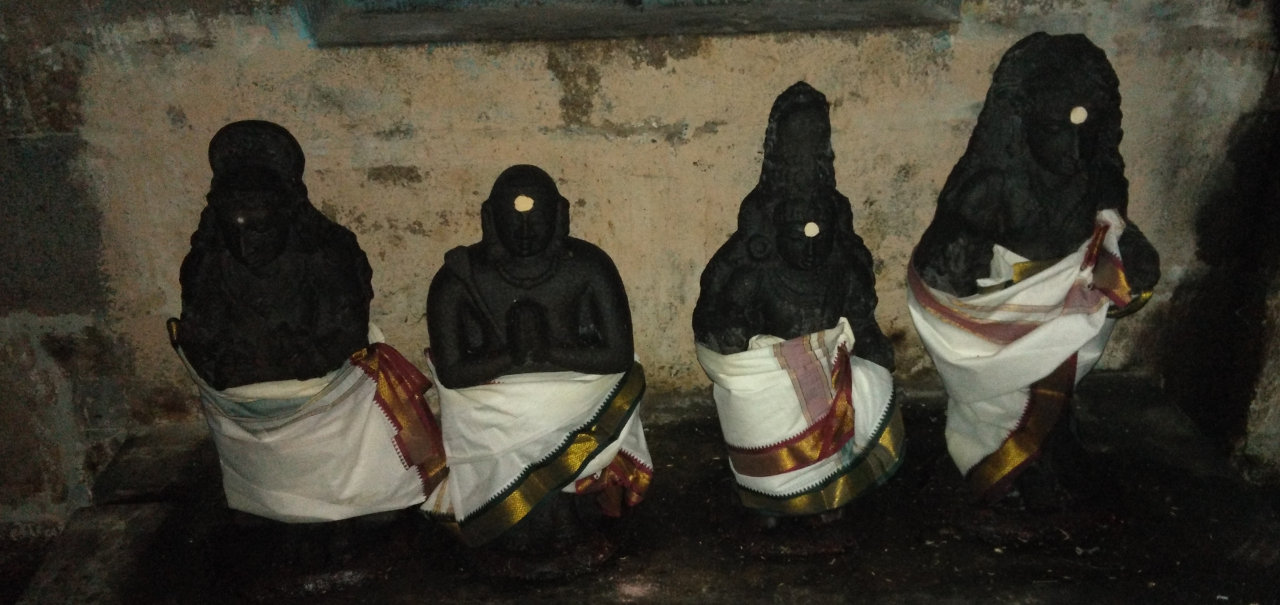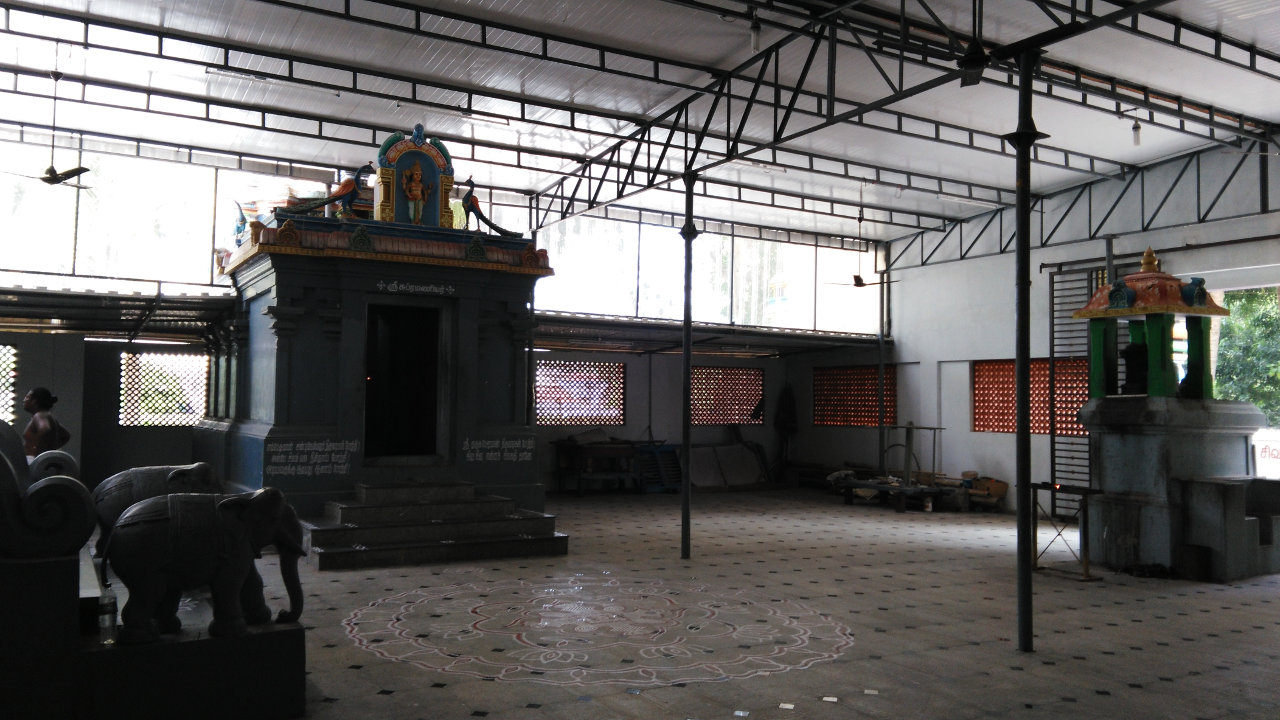 Salient Features
Goddess Parvathy is praised here as Sri Sakidevi. This is very unique as she is not referred to by this name anywhere else.
The unique feature of the idol of Chandikeswarar here is that he is seen wearing "Kundalam" in his ears and has dreadlocks ("jadamudi"). On his head, moon and Ganges can also be seen. This posture is indicative of the legend that Lord Shiva gave darshan to him here.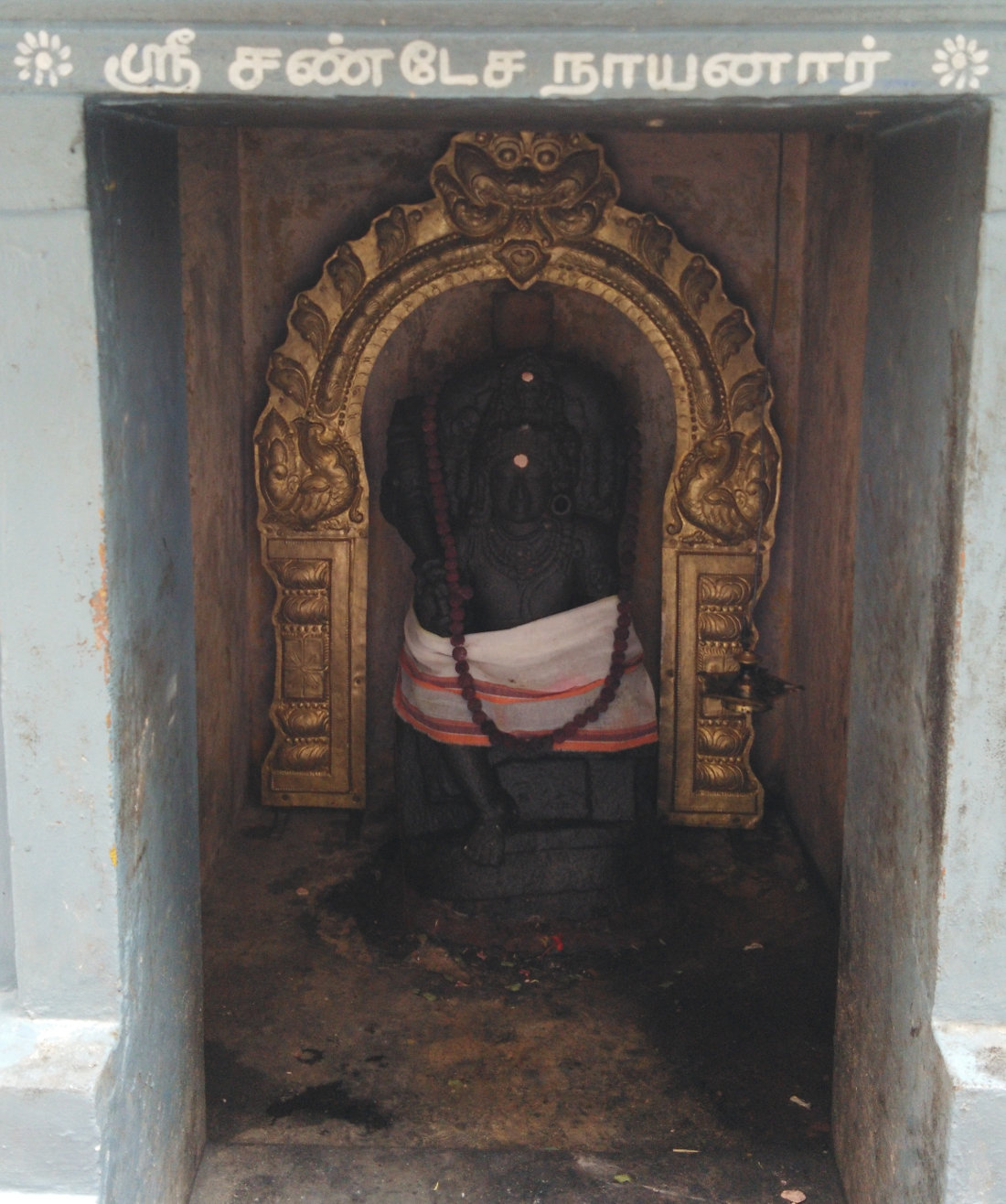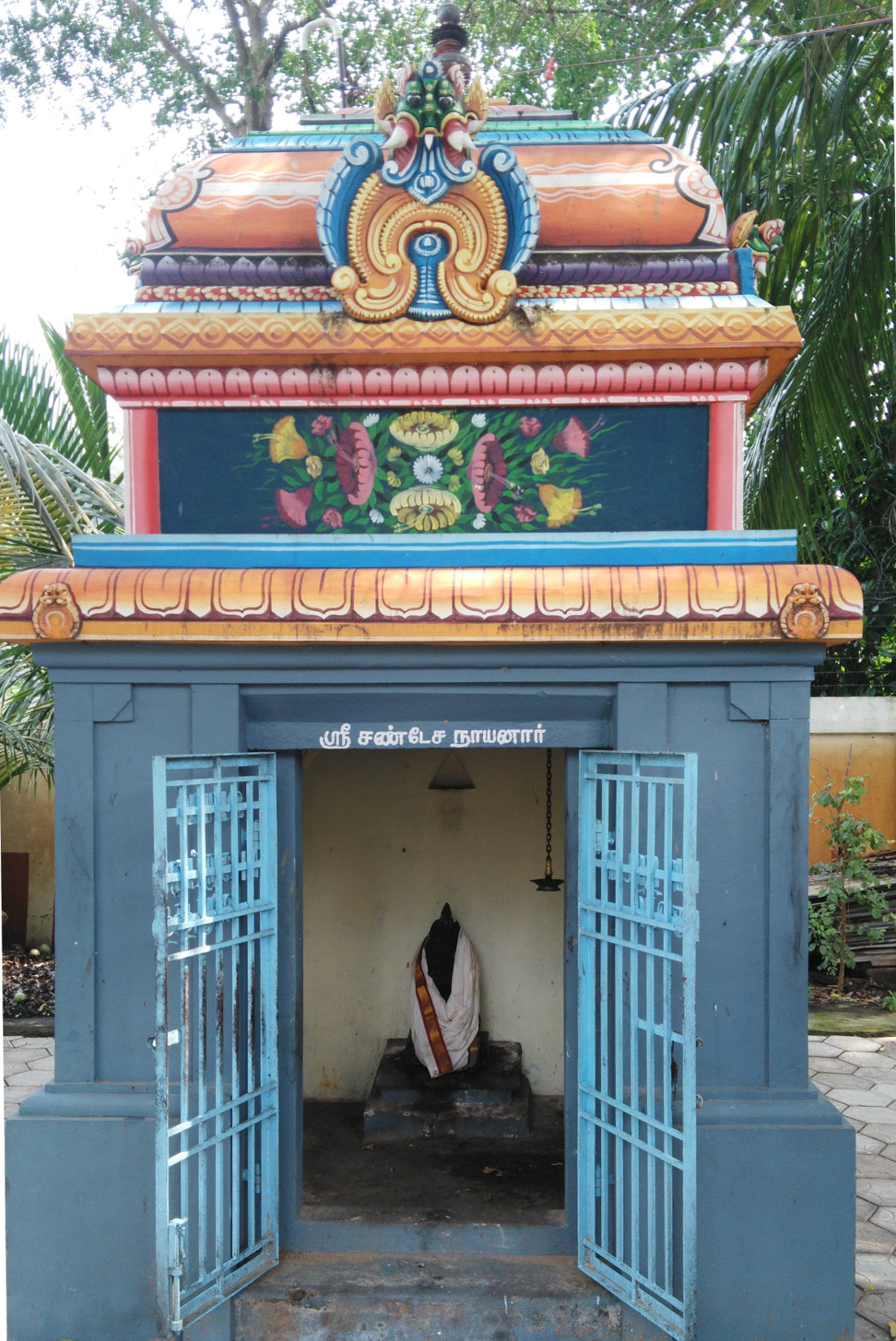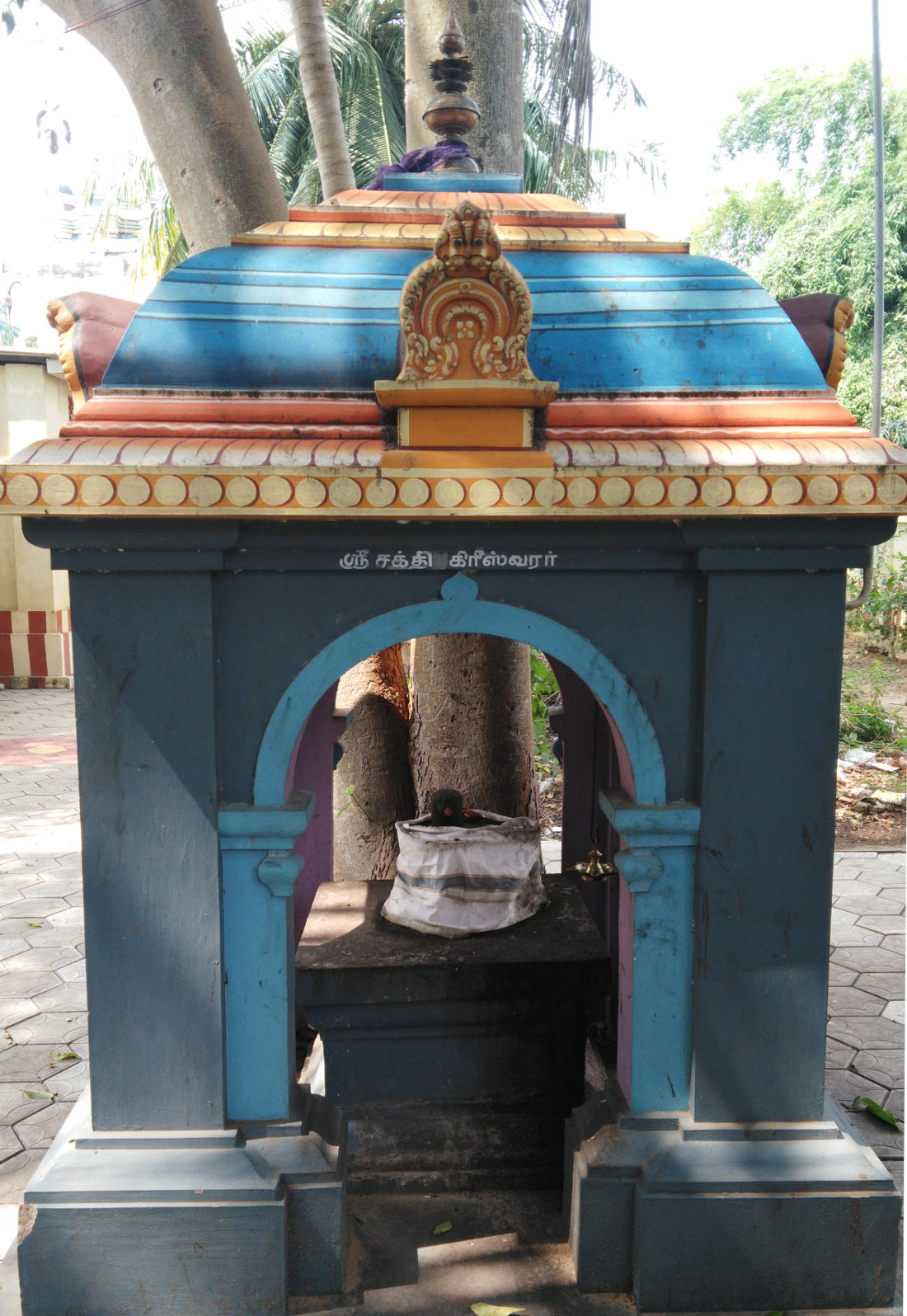 As per Periyapuranam, there were five sthalams where the crowning ceremony of Chola kings used to take place. Of these, Seinganur was of prime importance.
All temples have a separate shrine for Chandikeswarar. In that respect, this temple itself is considered to be the Chandikeswarar shrine for the Thiruvidaimaruthur Sri Mahalingaswamy temple.
Saint Arunagirinadhar has sang songs in praise of Lord Murugan of this temple in his revered Thirupugazh.
The stone idol of Lord Bhairavar is placed in the main hall. If we gently tap on this idol, it gives the sound that would be produced from a metallic bronze idol.
It is believed that King Kochengat Chola built about 70 "Madakkoils". The distinguishing feature of a Madakkoil is that it is not easily approachable by an elephant. He built these temples at an elevation and there are a few steps that need to be climbed before seeing the lord. Also, the sanctum sanctorum's (Karpagragam) entrance is narrow such that no elephant can enter it.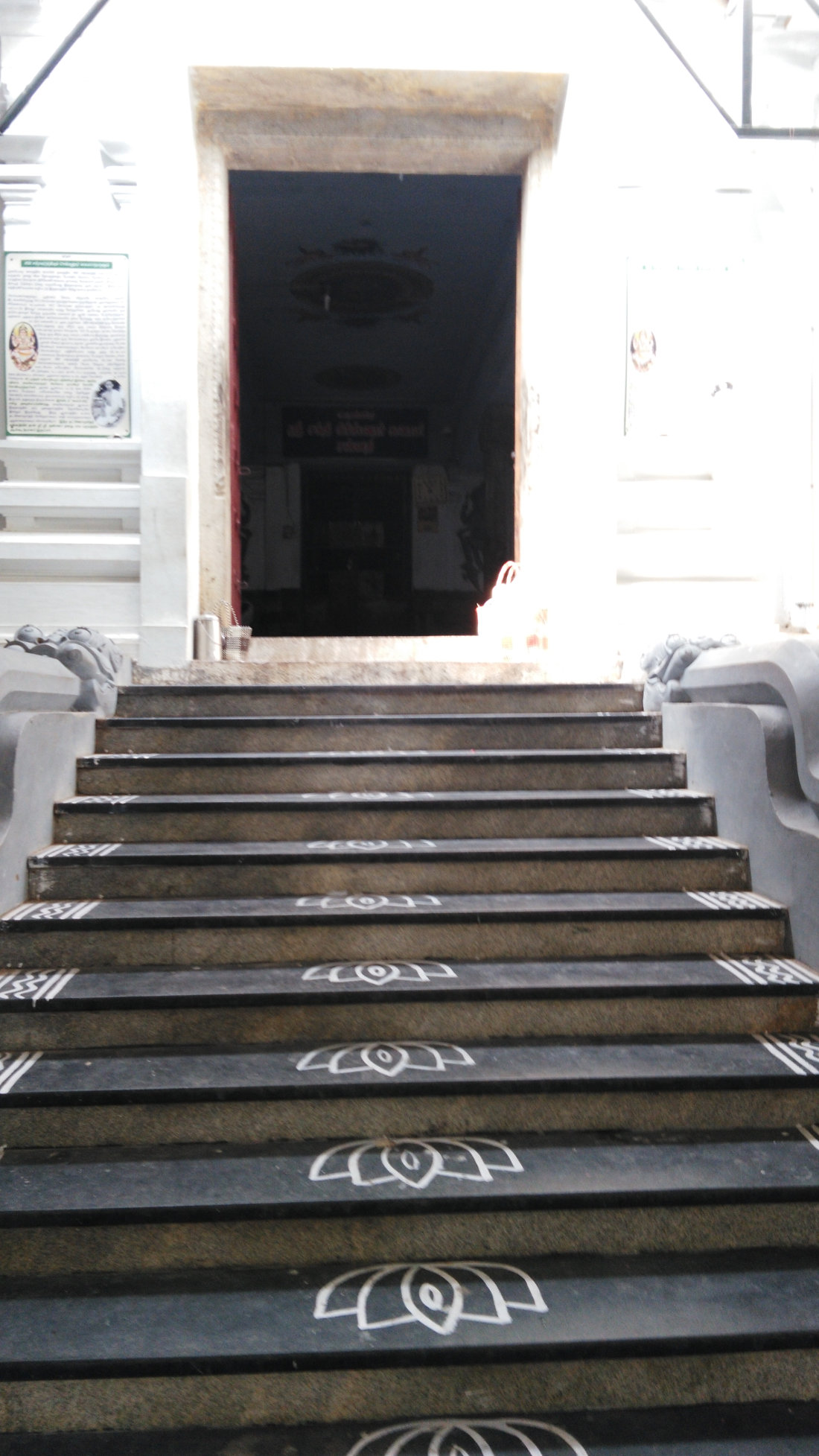 This temple is considered to be significant for its three important attributes – Moorthy, Sthalam and Theertham - glory of Lord, sacredness of the land and the auspicious temple tank.
Greatness of this temple
It is believed that even after worshiping Lord Shiva in various temples from Kanyakumari to Kasi (Banaras), one will get the benefits of their worship only after worshiping Lord Chandikeswarar in this temple.
It is believed that worshiping the lord here will result in regaining one's lost power or position.
Devotees believe that worshipping Lord Shiva here will bring them wealth and prosperity.
Important Festivals
Some of the important festivals celebrated in the temple are –
Chandikeswara Nayanar's birthday on the "Uthiram" star day in the Tamil month of Thai (Jan-Feb).
Vinayakar Chaturthi in the Tamil month of Aavani (Aug-Sept),
Skanda Shashti and Annabishekam in the Tamil month of Aippasi (Oct – Nov),
Thiru Karthikai in the Tamil month of Karthikai (Nov-Dec),
Shivrathri in the Tamil month of Masi (Feb-Mar) and
Pradosham is also observed regularly.
Temple Timings
From 09.00 AM to 10.30 AM and from 05.30 PM to 07.00 PM.
Temple Address
Sri Sathyagireeswarar Temple,
Seinganur,
Thiruppanandal Post,
Thiruvidaimarudur Taluk,
Tanjure District,
Tamil Nadu- 612 504.
Tele: +91 435 2457459.

The temple priest, Sri Ramakrishna Gurukkal can be contacted at +91- 93459 82373 and 94890 35556.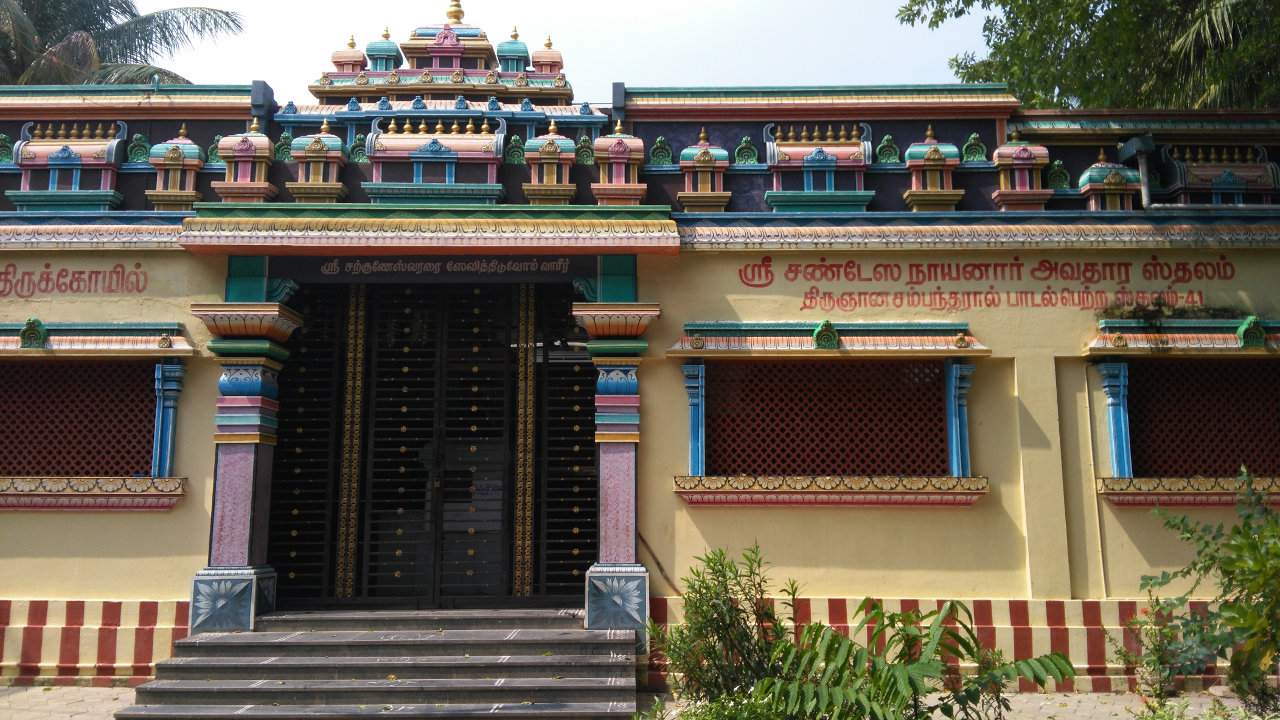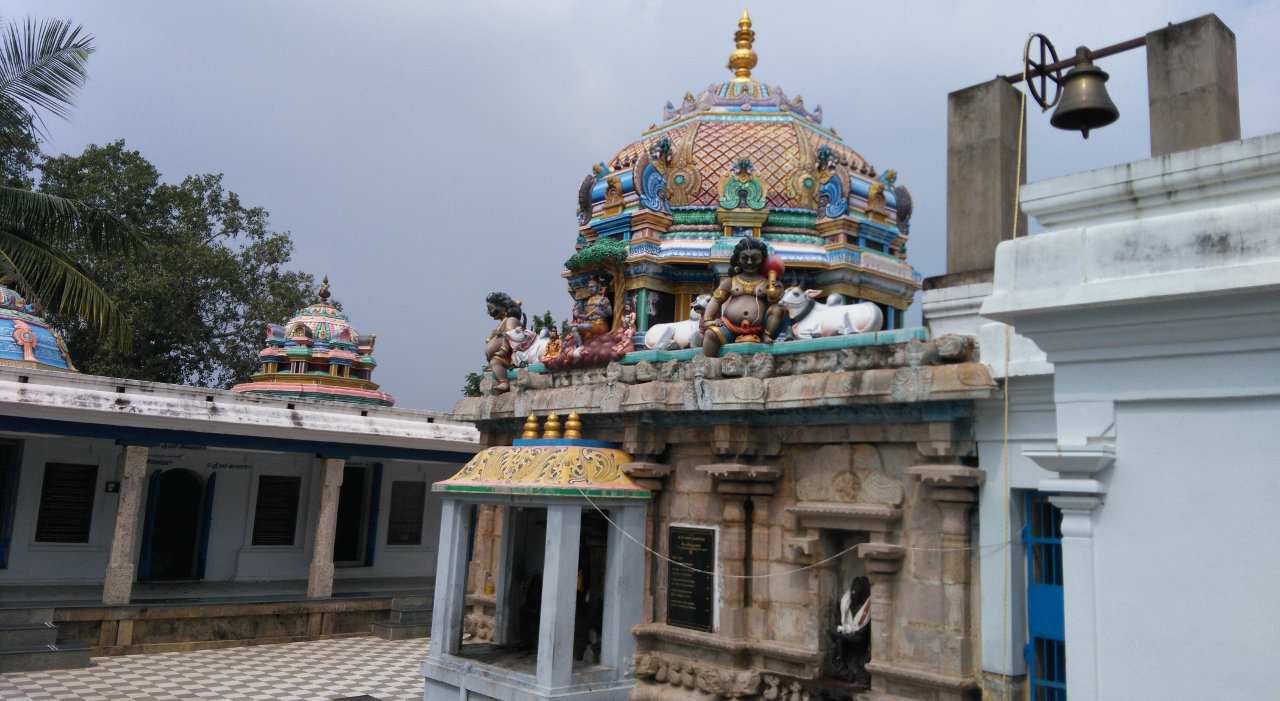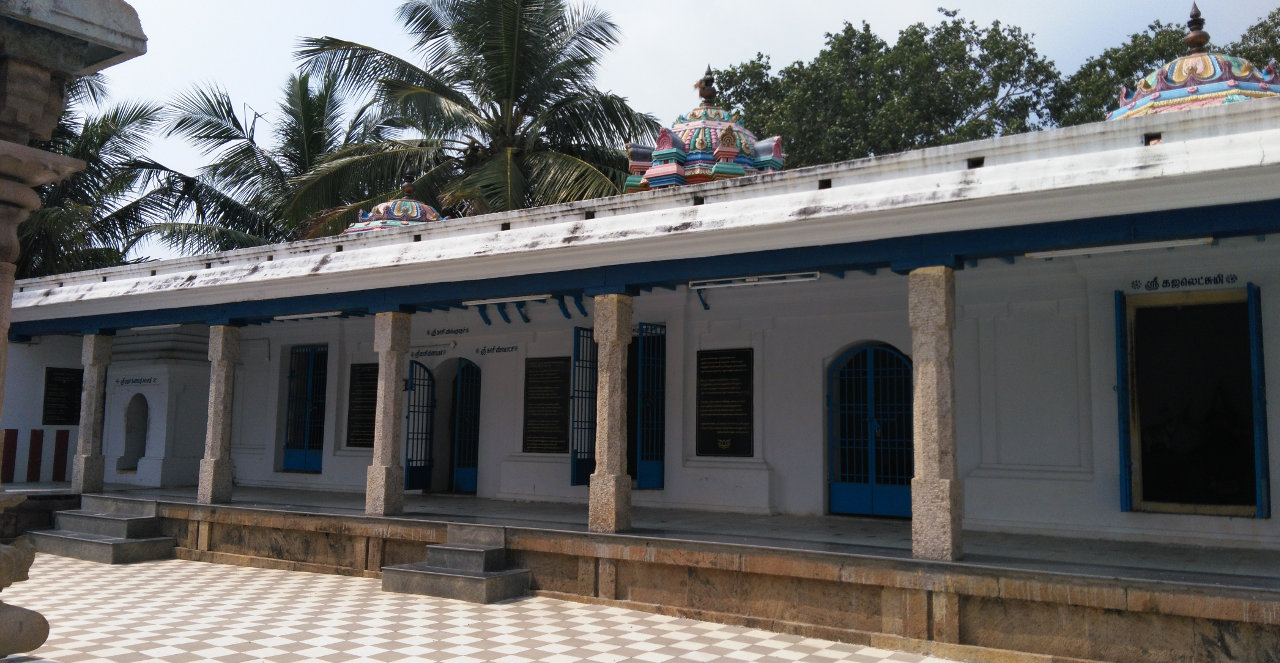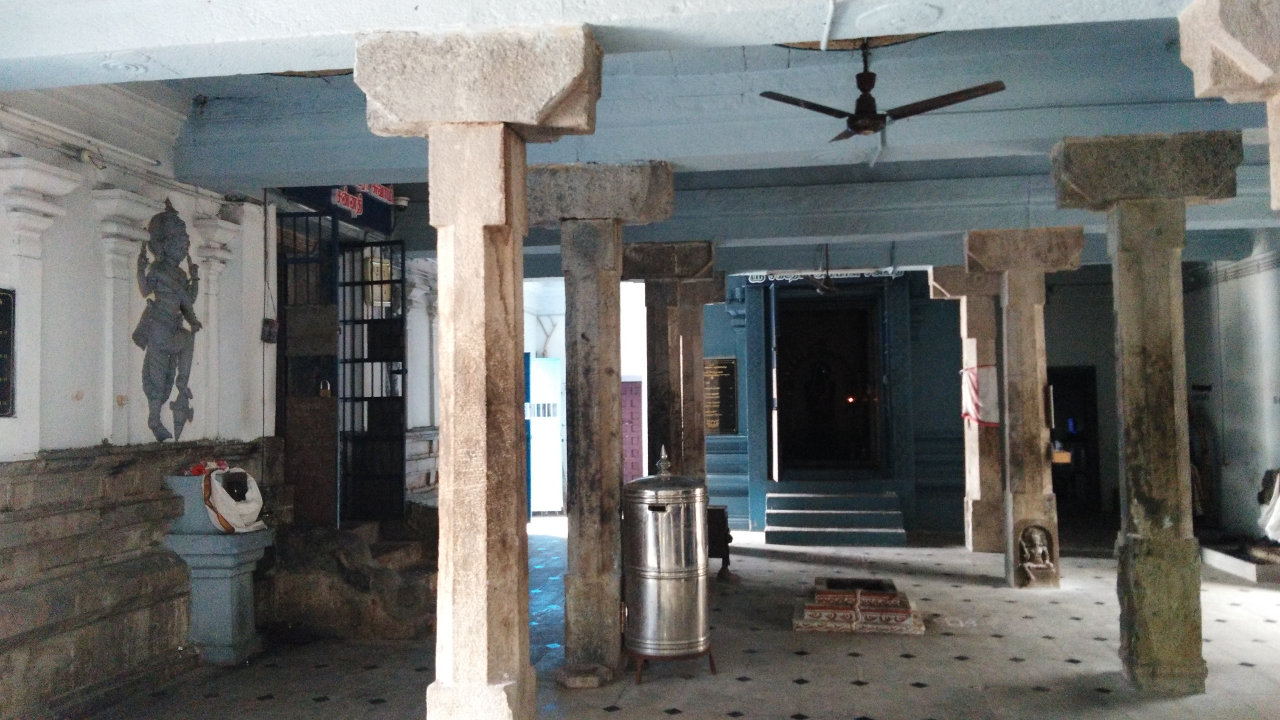 ---
Pathigam (Hymn) with English transliteration
Saint Thirugnanasambanthar visited this temple and sang this Pathigam.
Devotees visiting this temple should make it a practice to recite this Pathigam.
நூலடைந்த கொள்கையாலே நுன்னடி கூடுதற்கு
மாலடைந்த நால்வர்கேட்க நல்கிய நல்லறத்தை
ஆலடைந்த நீழல்மேவி யருமறை சொன்னதென்னே
சேலடைந்த தண்கழனிச் சேய்ஞலூர் மேயவனே.
"Nūlaṭaintha koḷkaiyālē nuṉṉaṭi kūṭuthaṟku
mālaṭaintha nālvarkēṭka nalkiya nallaṟaththai
ālaṭaintha nīzhalmēvi yarumaṟai soṉṉatheṉṉē
sēlaṭaintha thaṇkazhaṉich chēygñalūr mēyavaṉē".
நீறடைந்த மேனியின்கண் நேரிழையா ளொருபால்
கூறடைந்த கொள்கையன்றிக் கோலவளர் சடைமேல்
ஆறடைந்த திங்கள்சூடி யரவம் அணிந்ததென்னே
சேறடைந்த தண்கழனிச் சேய்ஞலூர் மேயவனே.
"Nīṟaṭaintha mēṉiyiṉkaṇ nērizhaiyā ḷorupāl
kūṟaṭaintha koḷkaiyaṉṟik kōlavaḷar saṭaimēl
āṟaṭaintha thiṅkaḷsūṭi yaravam aṇinthatheṉṉē
sēṟaṭaintha thaṇkazhaṉich chēygñalūr mēyavaṉe".
ஊனடைந்த வெண்டலையி னோடுபலி திரிந்து
கானடைந்த பேய்களோடு பூதங் கலந்துடனே
மானடைந்த நோக்கிகாண மகிழ்ந்தெரி யாடலென்னே
தேனடைந்த சோலைமல்கு சேய்ஞலூர் மேயவனே.
"Ūṉaṭaintha veṇṭalaiyi ṉōṭupali thirinthu
kāṉaṭaintha pēykaḷōṭu pūthaṅ kalanthuṭaṉē
māṉaṭaintha nōkkikāṇa makizhntheri yāṭaleṉṉē
thēṉaṭaintha chōlaimalku chēygñalūr mēyavaṉē".
வீணடைந்த மும்மதிலும் வில்மலை யாவரவின்
நாணடைந்த வெஞ்சரத்தால் நல்லெரி யூட்டலென்னே
பாணடைந்த வண்டுபாடும் பைம்பொழில் சூழ்ந்தழகார்
சேணடைந்த மாடம்மல்கு சேய்ஞலூர் மேயவனே.
"Vīṇaṭaintha mum'mathilum vilmalai yāvaraviṉ
nāṇaṭaintha veñcharaththāl nalleri yūṭṭaleṉṉē
pāṇaṭaintha vaṇṭupāṭum paimpozhil chūzhnthazhakār
sēṇaṭaintha māṭam'malku chēygñalūr mēyavaṉē".
பேயடைந்த காடிடமாப் பேணுவ தன்றியும்போய்
வேயடைந்த தோளியஞ்ச வேழம் உரித்ததென்னே
வாயடைந்த நான்மறையா றங்கமோ டைவேள்வித்
தீயடைந்த செங்கையாளர் சேய்ஞலூர் மேயவனே.
"Pēyaṭaintha kāṭiṭamāp pēṇuva thaṉtṟiyumpōy
vēyaṭaintha thōḷiyañcha vēzham uriththatheṉṉē
vāyaṭaintha nāṉmaṟaiyā ṟaṅkamō ṭaivēḷvith
thīyaṭaintha seṅkaiyāḷar chēygñalūr mēyavaṉē".
காடடைந்த ஏனமொன்றின் காரண மாகிவந்து
வேடடைந்த வேடனாகி விசயனொ டெய்ததென்னே
கோடடைந்த மால்களிற்றுக் கோச்செங்க ணாற்கருள்செய்
சேடடைந்த செல்வர்வாழுஞ் சேய்ஞலூர் மேயவனே.
"Kāṭaṭaintha ēṉamoṉtṟiṉ kāraṇa mākivanthu
vēṭaṭaintha vēṭaṉāki visayaṉo ṭeytatheṉṉē
kōṭaṭaintha mālkaḷitṟuk kōchcheṅka ṇāṟkaruḷsey
sēṭaṭaintha selvarvāzhuñ chēygñalūr mēyavaṉē".
பீரடைந்த பாலதாட்டப் பேணா தவன்தாதை
வேரடைந்து பாய்ந்ததாளை வேர்த்தடிந் தான்றனக்குத்
தாரடைந்த மாலைசூட்டித் தலைமை வகுத்ததென்னே
சீரடைந்த கோயில்மல்கு சேய்ஞலூர் மேயவனே.
"Pīraṭaintha pālathāṭṭap pēṇā thavaṉthāthai
vēraṭainthu pāynthathāḷai vērththaṭin thāṉtṟaṉakkuth
thāraṭaintha mālaichūṭṭith thalaimai vakuththatheṉṉē
sīraṭaintha kōyilmalku chēygñalūr mēyavaṉē".
மாவடைந்த தேரரக்கன் வலிதொலை வித்தவன்றன்
நாவடைந்த பாடல்கேட்டு நயந்தருள் செய்ததென்னே
பூவடைந்த நான்முகன்போற் பூசுரர் போற்றிசெய்யுஞ்
சேவடைந்த ஊர்தியானே சேய்ஞலூர் மேயவனே.
"Māvaṭaintha thērarakkaṉ valitholai viththavaṉtṟaṉ
nāvaṭaintha pāṭalkēṭṭu nayantharuḷ seythatheṉṉē
pūvaṭaintha nāṉmukaṉpōṟ pūsurar pōtṟiseyyuñ
sēvaṭaintha ūrthiyāṉē chēygñalūr mēyavaṉē".
காரடைந்த வண்ணனோடு கனக மனையானும்
பாரிடந்தும் விண்பறந்தும் பாத முடிகாணார்
சீரடைந்து வந்துபோற்றச் சென்றருள் செய்ததென்னே
தேரடைந்த மாமறுகிற் சேய்ஞலூர் மேயவனே.
"Kāraṭaintha vaṇṇaṉōṭu kaṉaka maṉaiyāṉum
pāriṭanthum viṇpaṟanthum pātha muṭikāṇār
sīraṭainthu vanthupōtṟach cheṉtṟaruḷ seythatheṉṉē
thēraṭaintha māmaṟukiṟ chēygñalūr mēyavaṉē".
மாசடைந்த மேனியாரும் மனந்திரி யாதகஞ்சி
நேசடைந்த ஊணினாரும் நேசமி லாததென்னே
வீசடைந்த தோகையாட விரைகமழும் பொழில்வாய்த்
தேசடைந்த வண்டுபாடுஞ் சேய்ஞலூர் மேயவனே.
"Māsaṭaintha mēṉiyārum maṉanthiri yāthakañchi
nēsaṭaintha ūṇiṉārum nēsami lāthatheṉṉē
vīsaṭaintha thōkaiyāṭa viraikamazhum pozhilvāyth
thēsaṭaintha vaṇṭupāṭuñ chēygñalūr mēyavaṉē".
சேயடைந்த சேய்ஞலூரிற் செல்வன சீர்பரவித்
தோயடைந்த தண்வயல்சூழ் தோணி புரத்தலைவன்
சாயடைந்த ஞானமல்கு சம்பந்தன் இன்னுரைகள்
வாயடைந்து பாடவல்லார் வானுல காள்பவரே.
"Sēyaṭaintha chēygñalūriṟ selvaṉa sīrparavith
thōyaṭaintha thaṇvayalchūzh thōṇi puraththalaivaṉ
chāyaṭaintha gñāṉamalku sambanthaṉ iṉṉuraikaḷ
vāyaṭainthu pāṭavallār vāṉula kāḷpavarē".